Spooky!
Details

Written by

Joanne Wallenstein

Hits: 1602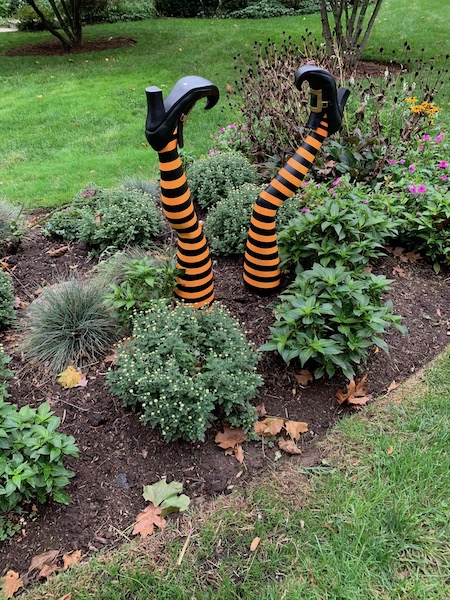 Scarsdale residents are at the height of their creativity this month, with enchanting Halloween decorations in their front yards. We've spotted skeletons, ghosts, witches, spider webs and of course pumpkins. Here are just a few of the scenes from the 'Dale. If you see any notable displays, take photos and email them to scarsdalecomments@gmail.com and we'll add them to our gallery.
Happy Halloween!
Photos by Midori Im and Joanne Wallenstein
Think Snow!
Details

Written by

Joanne Wallenstein

Hits: 1545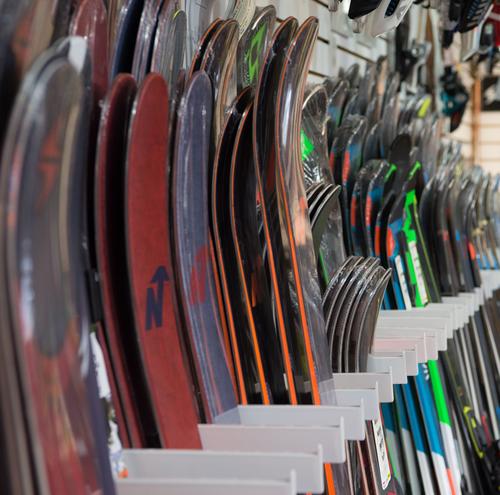 With temperatures starting to drop and snow already falling around the country, it's time to start getting psyched for the winter season. While western resorts and New England ski areas offer great vacations, Scarsdale residents also have plenty of local options for daily and weekend getaways on the slopes. In fact New York has more ski areas than any other state in the country! With almost 60 years in business just up the road in Armonk, the folks at Hickory & Tweed ski shop has had plenty of time to sample our local mountains over the years. We rounded up several of our favorites, suitable for all types of skiing abilities, for both individuals and families alike.
Thunder Ridge – the closest mountain for most of us here in Westchester (located in Patterson, NY). Thunder Ridge isn't the largest ski area around but touts loyal and dedicated skiers and boarders. A great place to simply get the kids out on the hill for their first couple seasons, learning the fundamentals (while not having to travel too far).
Windham Mountain – A favorite of Hickory & Tweed. Windham Sports in Windham, NY is one of the more robust race programs and best ski schools in the area. Along with multiple high-speed lifts, Windham has also beefed up its amenities and on-hill lodging over the recent years, making it a great option for a weekend trip.
Mountain Creek – The largest ski area, located in Vernon, New Jersey. While largely known for its vast terrain park filled with multiple jump and rail features for shredders of all abilities – Mountain Creek also offers lots of beginner terrain, along with night skiing and snow tubing.
Catamount – A classic local ski area with retro vibes in HIllsdale, NY. The area features trails that straddle the Berkshire and Taconic ranges. Catamount offers a good variety of terrain and boasts the steepest trail in the Berkshires, aptly named, Catapult. It is also home to an impressive junior race program that is home to many Westchester racers.
What will you need to hit the slopes? Here is what Hickory and Tweed suggests:
Equipment Checklist
Equipment

• Skis/Snowboards (with bindings!) – a ski shop will be able to help determine the proper ski type and length, based on your ability and the desired terrain that you intend to ski
• Poles (if applicable, based on age and/or skiing ability)
• Ski Boots/Snowboard boots – Proper fitting ski boots are the most important piece of equipment. Ill-fitting boots are both uncomfortable and will hinder your skiing performance and control.
• Helmet – there's no messing around with head injuries
• Goggles – if you can't see, you can't ski. Proper goggles are key for sun-protection and visibility.
Skiwear

• Baselayers (top and bottom) – for warmth and moisture wicking. Avoid cotton materials, as they are not very breathable or waterproof.
• Ski socks - for warmth, moisture wicking and additional padding in toes/heel/shin. They can also help promote blood flow to keep your feet warm.
• Midlayers – vest or fleece top to provide proper insulation and warmth
• Ski jacket or shell – we recommend that the jacket should have Gore-tex or similar technology, for proper wind & water proofing.
• Ski pants - we recommend that the ski pants should have Gore-tex or similar technology, for proper wind & water proofing.
• Gloves/Mittens – again, look for gloves with Gore-tex or similar technology. Wet gloves or mittens are no fun and will eventually freeze throughout the day. Its not a bad idea to invest in two pairs if you are skiing consecutive days.
• Neck Gaiter – for added warmth and insulation above the collar of your ski jacket.

We hope you find this list helpful for planning your winter ski season. Questions about a specific area? Feel free to email Hickory and Tweed at the shop (mac@hickoryandtweed.com). Having been named Best Ski Shop in the Country by Ski Magazine, we have plenty of experience and would be happy to share it with our fellow Westchester residents. Start thinkin' snow, Winter is on its way!



JLCW Asks for Diaper Donations for Families in Need
Details

Written by

Joanne Wallenstein

Hits: 940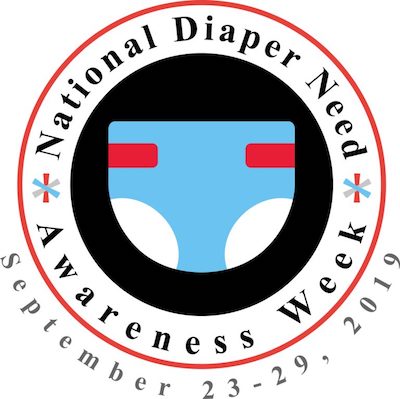 The Westchester County Diaper Bank, in partnership with Westchester County Executive George Latimer, the Westchester County Department of Social Services, and the Junior League of Central Westchester (JLCW), is proud to participate in Diaper Need Awareness Week, September 23-29, 2019.

Diaper need is a silent crisis with parents and caregivers often forced to choose between food, rent, or buying diapers. One in three American families struggles to afford an adequate supply of diapers.

The Westchester County Diaper Bank was launched in 2014 to help families who struggle to afford diapers, so they can avoid risking a child's health. There is no state or federal child safety-net program that allocates dollars specifically for the purchase of diapers. An average monthly supply of diapers costs approximately $80.

"Diaper Need Awareness Week educates the public on the vital role The Westchester County Diaper Bank plays to positively impact the lives of hundreds of families in our County who struggle to afford diapers," said Valerie Phillips, President, Junior League of Central Westchester. "The Westchester County Diaper Bank, operated by the Junior League of Central Westchester in partnership with Westchester County Department of Social Services, has distributed over 600,000 diapers to local families in need, helping them obtain this basic necessity for their children."

The Junior League of Central Westchester believes that, together with the support of the County Executive's office and the help of the community, we can reduce diaper deprivation and, in so doing, improve the lives of babies and their families throughout the county.
For more information about receiving or donating diapers, contact the Junior League of Central Westchester at 914-723-6442, jlcwdiaperbank@gmail.com or www.JLCentralwestchester.org/diaperbank.
Let There Be Light: Village Board Clears the Way for Lights at Butler Field
Details

Written by

Laura Halligan

Hits: 7228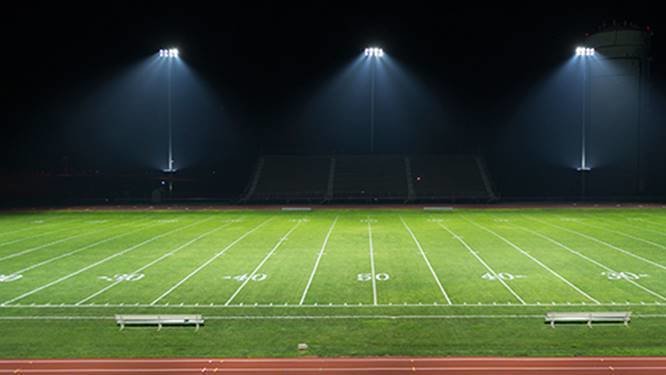 While the Village Board's Tuesday meeting agenda listed a pending vote on the Butler Field lighting project, Mayor Marc Samwick foreshadowed the result by in his opening remarks, stating, "The Butler Field Lights proposal is very familiar to many, as the community has been engaged in thorough and thoughtful dialogue nearly a year… The school district has been responsive to community as evidenced by the adoption of the ninth version of its field use policy that was introduced at last night's board of education meeting. After at least 26 meetings and a comprehensive and responsive process run by the school district, it is time to advance this project forward."
He then stated that if approved, the project would provide residents with "1) more focused and environmentally friendly lights; 2) an amplified sound policy that resulted from the district's outreach process; and 3) an enhanced sound system that will minimize amplified sound beyond the field and track area."
After hearing numerous comments from both adults and student athletes in support of the proposal (two residents were less enthusiastic, citing concerns about noise) the trustees voted 6-0 to approve the light installation, with Trustee Justin Arest abstaining. The board also outlined several conditions that the school district must meet, which included:
• Maintaining a "Field Use Hotline" or other method for the public to communicate field-use concerns to the school district;

• Establishing a "Butler Field Advisory Committee" to review any proposed changes with regard to the use of the field lights, which will include two representatives from village government, including the superintendent of Scarsdale Parks, Recreation and Conservation and a sitting member of the BOT (or other representative selected by the mayor);

• Ensuring that any exceptions or amendments to the district's field use regulations are approved by the superintendent, or his/her designee, on a limited basis, when extenuating circumstances require;

• Limiting the number of lighted school district sports events to no more than two over the maximum number outlined in the field use regulations;

• Purchasing/installing lights that are substantially similar to the quantity, type, make, and model depicted and presented to the Scarsdale Planning Board;

• Preparing and installing an enhanced landscaping plan to help screen illuminated areas around the track, field and associated infrastructure; and

• Installing a amplified sound system that is substantially similar to the type, make, and model depicted and presented to the Scarsdale Planning Board.
The Official Tally
When addressing the resolution to approve the lighting project, the trustees did not have the opportunity to publicly debate the issue. Instead, each board member expressed his or her thoughts when casting their votes, rather than simply saying yea or nay.
Trustee Arest began by saying, "Who can't get behind garnering an advanced sense of community and finding a way for more parents with demanding work schedules to have the flexibility to attend events? And, obviously, the lights would provide that, and I think that's amazing." He then read from the Planning Board's recommendations on the project: "The record before the planning board was limited to the school board's presentation and comments by neighbors. The information did not include studies of the impact that might be expected from a substantial change usage. Therefore, the Planning Board was unable to evaluate or recommend regulations… respecting use of the field and lights that would alter the current level of usage."
Arest went on, "I think this is a land use issue… Why do we have land use boards? Why do we have the code that enforces our municipal zoning? …(Because) structure and processes… give us the best chance for an objective, fair outcome… I'm not sure why we didn't listen to the Planning Board; I'm not sure why we didn't meet to discuss next steps. And, I'm not really sure that this resolution… provides any protections beyond what the school board has already promised… Am I saying there shouldn't be lights? No, of course not… What I'm saying is there a better way we could have done this… where everybody could win?"
He provided an idea about how the school district could move forward exactly as planned but need Planning Board approval for any changes that are less restrictive than the original regulations. He went on to say he appreciates the outreach efforts of the district as well as the generosity of Maroon and White and its donors. After, Arest stated his fondness of public-private partnerships and that we should always try to provide our children with the best tools. He concluded by saying, "I can't vote against this, because I see the benefits of the lights to the community… but at the same time, there's no way, in good conscience, I can vote for this resolution so I will abstain."
Trustee Lena Crandall said, "Trustee Arest has a very thoughtful way of looking at most any situation, always on top of process – which is important to our democracy." She continued, "I've given this a lot of thought because I do see the lights as a change that will materially affect the area around our community around the school… the games, the noise… will have an impact. Everyone sees that… and there will be unintended consequences." After discussing the benefits of evening sports events and the need for a skilled landscape architect and suitable landscape plan, Crandall stated, "I'm putting a lot of faith in the Butler Field Advisory Committee… this will be a process where all of us will need to be flexible… with the intention of being good neighbors. With that, I vote yes."
Trustee Jonathan Lewis said, "Trustee Arest deserves our respect for taking a courageous stand and explaining… his views on the subject. It's not easy to lean against the wind… With regard to this process itself, I think it has been transparent, and balanced, and thorough, and respectful. The conversations have reflected good policy making, and good debate and analysis." He continued, "Also I'd like to note that there are important things going on here that transcend the Butler Field lights. I think that there have been important new pathways of collaboration between the Village government and the Board of Education. The Butler Field Advisory Committee, in fact, creates a level of jointness between how the Village and the school district can work together… I (also) want to say how much I respect all my neighbors here who have come to express their views (and) how much I admire the spirit, conviction, and vigor of the viewpoints expressed by our youth… for those reasons, I feel comfortable voting yes."
Trustee Jane Veron stated, "Over the course of many months, there has been extensive conversation, analysis, input, iteration, rethinking, iterating again, and, finally, tonight a resolution. The Board of Education, school administration, neighbors, Maroon and White, parents, students, Village staff, and the Village Planning board have all weighed in on this proposal. Together they refined the plans for lights, sound, screening, and scheduling. At this point, I believe it is time to move forward." She went on, "I'm always sensitive to neighbors' needs, and take very seriously our responsibility to serve all residents. I feel confident that the proposed guidelines, along with the dedicated contact number and newly commissioned Butler Field Advisory Committee… will provide ample opportunities for issues that might arise to be addressed, and I vote aye."
Trustee Rochelle Waldman said, "After careful consideration of the many intricacies of the question at hand, I do believe that, with prudent and judicious management of the field lights, there will be significant benefits to the community. The opportunity for evening athletics will go a long way to promote school spirit and be yet another reason our school district is among the strongest in the nation." She continued, "I do recognize the significant concerns of neighbors, but feel comfortable that, with state-of-the-art equipment and parameters limiting use, the field lights can be used with minimal intrusiveness to the surrounding community. I vote yes."
In casting the last "yea" vote, Mayor Samwick said, "I want to reiterate the importance of the listening, and the interaction, and the collaboration that went into this. We make better decisions when we do that as a community. In this instance, we had at least 26 touch points with the community; we had nine versions of the use policy that were well thought-out, that were responsive… I'd like to thank everyone who supported the process… and I'd also like to vote aye."
Scarsdale Rocks Out at Village's First Music Festival
Details

Written by

Joanne Wallenstein

Hits: 5180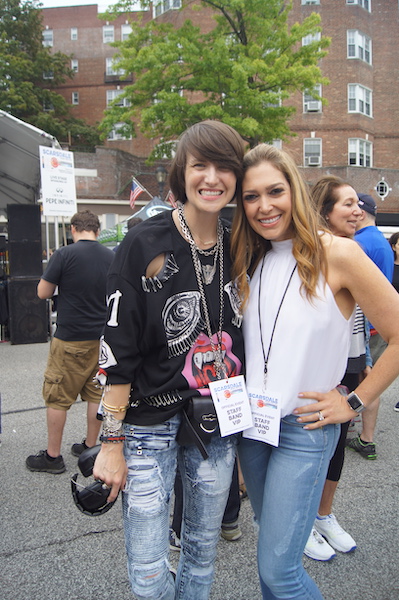 Event organizers ML Perlman and Marcy Berman-GoldsteinScarsdale Village was transformed into our own little Woodstock on Saturday September 14 when hundreds of rockers of all ages descended on the Village to hear some talented local bands, sample wines from the world over and feast from the food trucks. The concept of a downtown music festival was an ambitious one…. requiring funds from sponsors, a large stage and sound system, big tents, promotion, parking, and cooperation from Scarsdale Village government, the police and more. And if that wasn't enough, just days before the event, originally dubbed "Scarchella," the Scarsdale Business Alliance (SBA) received a letter from the Coachella Music Festival in California, asking for a name change for the Scarsdale event. Eager to avoid any legal challenges, the team worked quickly to change the name to the Scarsdale Music Festival and reworked all their branding and marketing materials to reflect this new name. Undaunted, they pulled off a perfectly executed day.
Who knew that Scarsdale was home to so many talented musicians, and these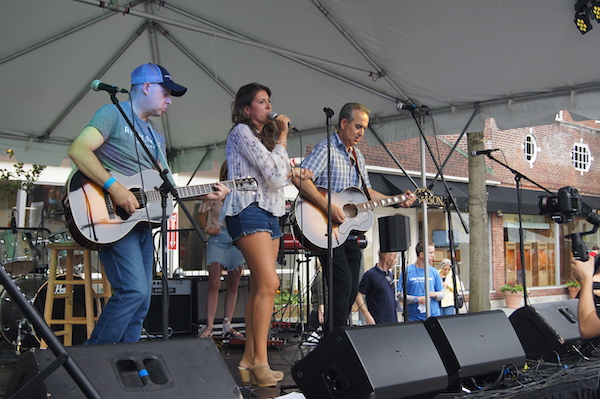 Randi Culang and members of Louise in Troublebands put on a great show from 12 to 6 pm on a big stage set up on Chase Road. Moms, dads, IT folks, realtors and high school students were just a few of the musicians we saw playing and singing on stage. We caught The Del Bocas, Louise in Trouble and Anytime – and if you didn't know better you would think you were at a professionally produced rock concert. Fans danced in the street to The Del Bocas rendition of "Feels Like the First Time," and sang along when Randi Culang and Abby Sroka of Louise in Trouble harmonized their way through Lady Gaga's "Shallow." We can't wait to hear more from these groups.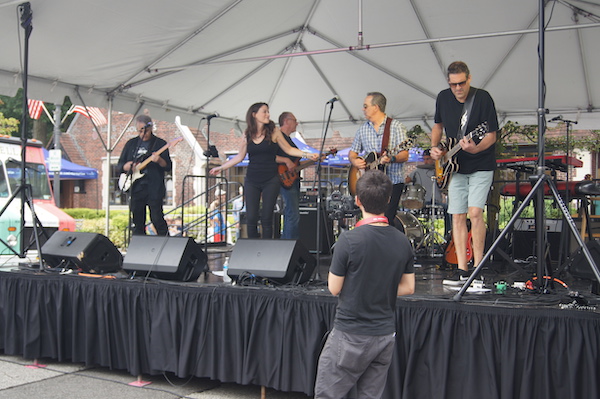 Erika Radin and The Del BocasThe music was just one attraction of this big event. Zachys "Wine Village" tasting tent covered Boniface Circle and brought vintners from the world over to the streets of Scarsdale. Adults – 25 and over of course –enjoyed white, reds and roses from California, France, Italy and even Argentina. It was perhaps Scarsdale's biggest ever tasting.
In the family fun zone, kids were lined up to have their faces painted while others enjoyed hair braiding from Plush Blow, a balloon artist, bouncy castles and beading. There were two Gaga pits on site where kids were having a great time kicking around balls.
Running the show were Marcy Berman-Goldstein, owner of village store "I Am More Scarsdale," and President of the Scarsdale Business Alliance along with ML Perlman who heads the Arts Advisory Council, Andrew McMurray from Zachys and Robert Shire.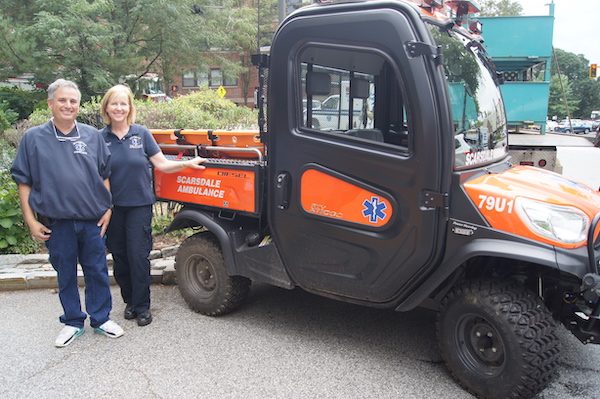 David Raizen and Angela Manson with SVAC's newest emergency vehicle.We spotted David Raizen and Angela Manson from the Scarsdale Village Ambulance Corps who were proudly displaying their new emergency vehicle – part jeep and part ambulance- that can be driven in tough to access areas like golf courses, to help those in distress. The vehicle was purchased with a gift from Quaker Ridge Golf Club.
Also on hand were Village Mayor Marc Samwick, Deputy Mayor Jane Veron, Village Trustees Justin Arest, Lena Crandall, Seth Ross and Rochelle Waldman, Deputy Village Manager Rob Cole and Assistant Village Manager Ingrid Richards. SNAP, representing Scarsdale's Neighborhood Association was on hand with tatoos.
The Police Benevolent Association hosted a smoky barbecue where police were grilling up burgers and hot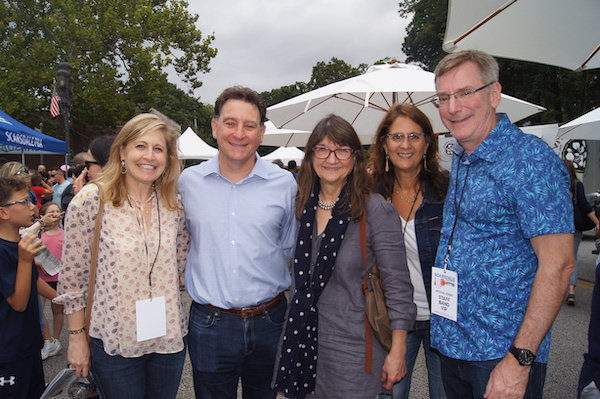 Jane Veron, Marc Samwick, Deb Pekarek, Susan and Seth Rossdogs. People stood on long lines to buy good eats from the food trucks offering sloppy joe's, crepes, pizza and burgers, from the new Westchester Burger Company, soon to open on Garth Road. Local restauranteurs from Bistro 808 and Sapori also offered lunch and of course there was ice cream.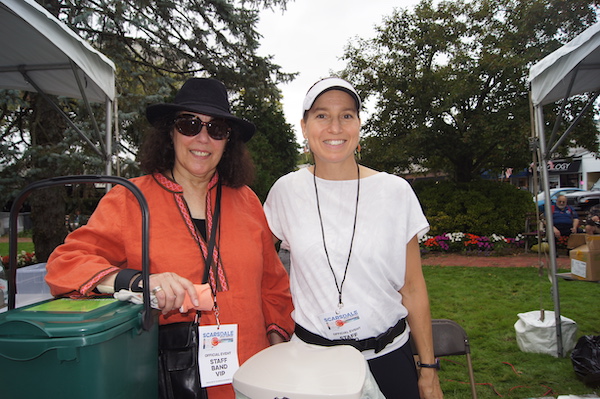 Madelaine Eppenstein and Michelle Sterling from the Conservation Advisory CouncilEven better, the Scarsdale Music Festival was a no waste event. Unlike other street fairs that result in huge mounds of trash, just about everything that was used on Saturday could be recycled. Food was served on compostable or recyclable serveware, and representatives from the Conservation Advisory Council were busy enrolling new participants in the Village's food scrap recycling program.
It was a proud day for Scarsdale, and a joyous celebration for everyone who participated.
Commenting on the event, Marcy Berman-Goldstein and ML Perlman said the following:
Marcy Berman-Goldstein: "The Scarsdale Business Alliance believes that everyone in our community shares in the benefit of a thriving merchant community. We are thrilled with the overwhelming positive response from everyone involved in the event; attendees, merchants, sponsors, the Village Board, Staff, and Councils, community groups, and charity partners. The extraordinary turnout is exactly what this event needed to continue into the future, and we are grateful to have been a part of something so meaningful to our community. This event could not be possible without our sponsors who provided us every resource we needed to succeed; especially our presenting sponsor Morgan Stanley Wealth Management and platinum sponsors Zachys who were the first to join the event and Pepe Infiniti who sponsored the live stage and Houlihan Lawrence who sponsored the Family Fun Zone. The Arts Advisory Council assembled the local musical talent and we are proud to announce that the Conservation Advisory Council organized 40 local residents (including local students!) who made sure the event generated less than one bag of garbage - all waste from 3,000 attendees over 6 hours was either composted or recycled.
ML Perlman: "Like so many other attendees, I was filled with joy to spend the day with neighbors and friends of all ages. This event is the culmination of countless years of effort from so many residents and local community groups who have endeavored to provide structure and guidance toward a strategy for downtown vibrance and public engagement. Having the Scarsdale Business Alliance is a game changer for our community and this event is a direct result of their dedication to forging a meaningful program for compelling events in the public realm. As the Chair of the Arts Advisory Council, the Village Board has provided our council with the opportunity to advise them of opportunities for the arts to be more accessible to all residents - and having the SBA provides a valuable opportunity for the costs of this enormous undertaking to be subsidized by the generous support of the event sponsors. Two of our Arts Advisory Council members, Robert Shire and Lee Miller, organized the lineup of local Scarsdale talent and oversaw the production of the live stage program. This event demonstrates that the arts are an enduring shared value of our community and I look forward to seeing this event become a model for success over many years to come."