Scarsdale Business Alliance Announces Holiday Shop & Dine the 'Dale Initiative and Merchant Raffle
Details

Written by

Joanne Wallenstein

Hits: 1412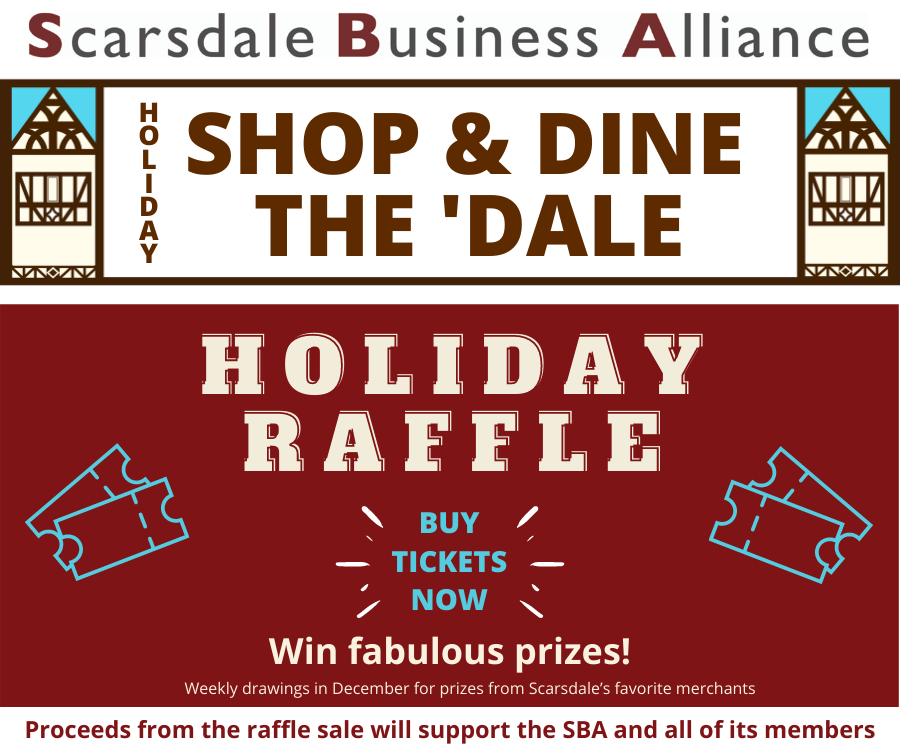 The Scarsdale Business Alliance (SBA) is thrilled to announce its Holiday Shop & Dine the 'Dale initiative, which will take place from November 1st through December 31st. Join fellow community members this holiday season and celebrate our independent and local businesses. By choosing to shop and dine locally, you are investing in our neighborhood and strengthening our community.

This year more than ever, Scarsdale brick and mortar businesses need your support. As sales and dining decreased due to the lockdown, merchant spending has increased in order to meet new safety regulations. Our merchants have invested in helping to keep us safe. In return, we should help them keep their businesses viable.

As a core part of its Holiday Shop & Dine the 'Dale campaign, the SBA will be selling raffle tickets, with chances to win gift cards and items from Scarsdale's favorite merchants. Raffle tickets are available for purchase for $10 each, with a package of 6 for $50 (www.scarsdalebusinessalliance.com). Weekly drawings for winners will take place throughout the month of December. Proceeds from the raffle sale will support the Scarsdale Business Alliance and all of its members

The SBA is a non-profit organization dedicated to supporting the Village of Scarsdale and its local businesses. Like all other businesses, the SBA suffered financially this year as well. Many merchant members were unable to pay their annual dues, and free provisional memberships were given to all 10583 businesses in order for the SBA to offer its assistance and services to its local businesses. In addition, the Scarsdale Music Festival, the SBA's largest fundraising event, was unable to be held.

This spring and summer, the SBA, in collaboration with the Village Board and staff, worked diligently to reimagine outdoor usage of space to support its local businesses. Codes were amended to allow sidewalk usage for the display and sale of wares, and sidewalk cafe footprints were expanded to allow for safe outdoor dining. The Dine the 'Dale tent area has been a huge success in the downtown Village center. The SBA is grateful to its donors, both local property owners and corporate sponsors, whose generosity has helped to create a safe venue for community members to dine and socialize. Key sponsors include presenting sponsor, Scarsdale Improvement Corp., and Platinum Sponsors, Advocate Brokerage Corp., Chubb, Houlihan Lawrence, Julia B. Fee Sotheby's International Realty, Spencer East Realty and White Plains Hospital.

"The Scarsdale Business Alliance has been integral in finding ways to support our local merchants during this unprecedented time," said Deputy Mayor Justin Arest. "It is more important than ever to shop and dine locally. Entering the holiday season, let's make sure that we continue to support the SBA and our retail community."

Please consider supporting the SBA with your purchase of raffle tickets. Proceeds from the raffle sale will support the Scarsdale Business Alliance and all of its members.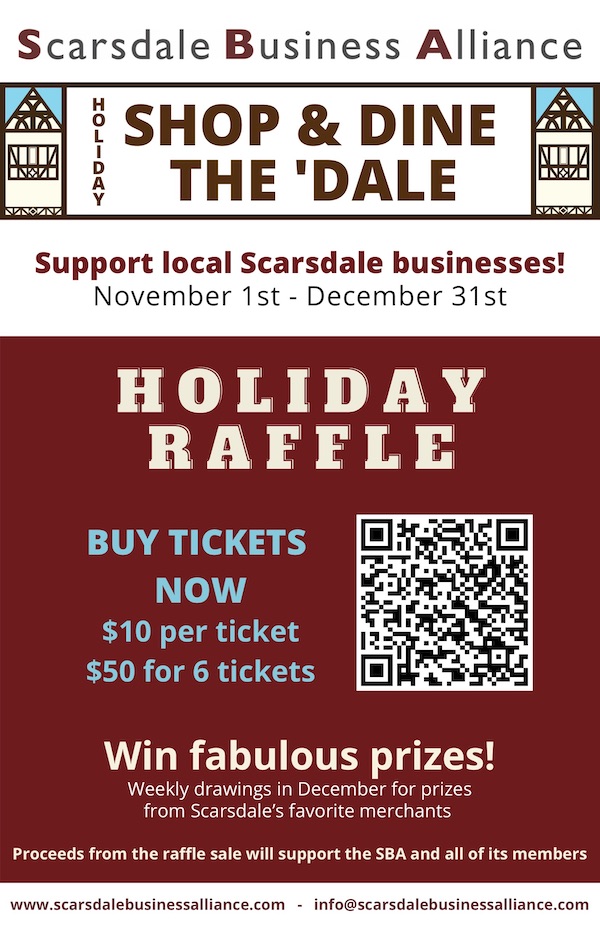 80 Quarantined in Scarsdale Following PSAT Exam at SHS
Details

Written by

Sydney Piccoli

Hits: 9066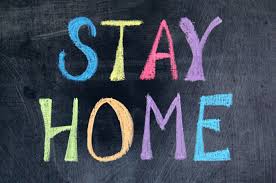 (Update October 20) In a second incident in just one week, the Scarsdale School district ran into another COVID challenge on Saturday October 17. After students took the PSAT test at Scarsdale High School, an individual who had been in the room with 80 students in the cafeteria, received a positive diagnosis for COVID-19.
According to the email from the district, "The individual was asymptomatic during the test but noticed a loss of taste/smell while eating lunch after the exam. The person immediately went for testing and then contacted the District with this information." It was later revealed that the COVID positive individual was a proctor or a person administering the test.
Though students were placed six feet apart and wore masks during the exam, the positive diagnosis required for contact tracing to be done. The Westchester County Department of Health said that the students and staff who were in the cafeteria will need to quarantine for 14 days. However, siblings of these students will not be required to quarantine.
The email from the school district says, "The Department of Health believes the risk for transmission is low due to the safeguards that were put into place but issued the quarantine to ensure there is no further infection from this gathering. The approximately 80 students and staff members who need to quarantine will be contacted directly by the Department of Health over the next 24-48 hours. Additionally, the High School staff will also be contacting all affected students/families."
The schools custodial team cleaned all affected areas in compliance with the district's restart protocols and CDC guidance.
School will re-open as scheduled on Monday.
We asked Assistant Superintendent Eric Rauschenbach for more information and here is what he shared.
"Once we were informed of the test result we immediately contacted the Department of Health. On the weekends there is a hotline and you leave a message. In the meantime, the District interviewed the individual and immediately gathered contacts for all of the students and staff that could have come in contact. The DOH contacted us shortly thereafter and we discussed the particulars of the situation and where there could have been exposure. The DOH collected contact information for students and staff so they could follow-up and confirmed they would place all students and staff in the cafeteria during testing on quarantine."
We wondered if they were investigating where the exposed student may have contracted the virus and contacting whoever else may have been exposed? Rauschenbach said, "The individual was not in the buildings for 2 weeks prior to the test administration so there was no chance of in-school exposure prior to yesterday. The school's role was limited to providing information about yesterday. The Department of Health also interviewed the individual and will be following up on all non-school related contacts and public health concerns as per their procedures."
How will the 80 quarantined students keep up with their work? Rauschenback said, "They will attend their classes virtually similarly to the way virtual-only students do.
And will they need to be tested before they can return? Rauschenbach answered, "The DOH requires a 14 day quarantine regardless of testing results. If a person completes the 14 day quarantine symptom free they may return to normal life (including school). We encourage families to contact their primary care providers to discuss testing and follow their recommendations. If a person becomes symptomatic during the 14 days they should immediately contact their doctor and follow their advice for testing and follow up."
SHS Junior Sydney Piccoli interviewed some of the students who took the PSAT in the cafeteria on Saturday October 17 and here are their comments:
Shamolie Panjwani '22:
Finding out about the COVID case at the PSAT, I was shocked. I was sitting with my mom when she had heard that where a case in the cafeteria and immediately went up to my room and called my friends to find out more information. I had always thought that if I were to be quarantined or get COVID it would be at school, not something I voluntarily went to. My first thoughts were whether I had contracted COVID and if I had spread it to my parents. While I wasn't as scared about getting COVID myself, I was worried about my parents getting the virus. While I know that going to school, hanging out with friends, and daily activities are all a risk, I felt that this case was a wake up call for many in realizing that COVID is still prevalent within Scarsdale. In terms of my school schedule, I'll be zooming into classes in the morning in addition to the start of cross-cohort streaming. Because many clubs and extra-curriculars are happening on zoom, quarantine doesn't affect my schedule too much, apart from hanging out with friends and family.
Charlotte Davis '22:
I'm glad that the school was so quick to respond to the issue so that it hopefully won't continue to spread, but I'm personally kind of irritated that I have to spend two weeks locked in my room when I have been following all the protocols and such. I have to be fully online for the next two weeks which I am not excited about because of the added screen time when cross streaming is on the horizon as well. I am also annoying because I've had to cancel some of my upcoming plans with family and friends.
Samuel Drescher '22
I think it's really unfortunate but not entirely surprising. The event definitely could have been regulated better. The seats were not assigned and the school did not keep track of who sat where so as to best inform people if they were close to patient 0. The lines in front of the school to check people in were unregulated and crowded, so there was much more room to be exposed than was necessary. It's ultimately understandable that this happened, but I believe the effects of this exposure could have been mitigated.
Being in quarantine definitely throws a wrench in things. I'm now all virtual, which comes with its own consequences because I have to be on zoom all day. I believe this will have negative effects on my education and my mental health. Before quarantine, I was participating in cross country, but now that I cannot go to practices or meets for two weeks, I may not be able to have a significant season. Also, I will be unable to go on runs and exercise in public, which will probably make it harder to keep up with my physical health.
I was definitely shocked when I found out I had to quarantine. At first I was very concerned for at-risk people in my house, and in case I have the virus, I have to be very careful. This feeling quickly involved into panic as all of the sudden my life felt very out of control, and I know that the next thirteen days are going to be a big challenge. However, I'm optimistic that I will be able to keep up with all of my responsibilities and come out of this having undergone a tough experience.
Fire Prevention Week Focuses on Safety in the Kitchen
Details

Written by

Joanne Wallenstein

Hits: 803

Traditionally, the Scarsdale Fire Department celebrates Fire Prevention Week by holding its annual Fire Fair. In light of the current Public Health guidelines, the Scarsdale Fire Department has decided not to hold its annual Fire Fair this fall. Even though we will be unable to hold the fair in its traditional manner, we remain committed to providing this service to our community in a virtual manner.
This year's theme for Fire Prevention week is "Serve Up Fire Safety in the Kitchen". The focus on fire safety while cooking is a response to the fact that home cooking fires represents the leading cause of U.S. home fires. Nearly half (49 percent) of all home fires involving cooking equipment, and unattended cooking is the leading cause of these fires.
Key messages of this year's Fire Prevention Week campaign, "Serve Up Fire Safety in the Kitchen" will include the following:
Keep a close eye on what you're cooking; never leave cooking unattended
Keep anything that can catch fire — oven mitts, wooden utensils, food packaging, towels or curtains — at least three feet away from your stove top.
Be on alert. If you are sleepy or have consumed alcohol, don't use the stove or stovetop.
To get this fire safety message out to the public, the Scarsdale Fire Department will be posting several safety messages and videos throughout October on our social media platforms. Check out the sites listed below and be on the lookout for new information and fun throughout the month of October. If you have any question, please contact the Scarsdale Fire Department Fire Prevention office at (914) 722-1221.
Check Out these sites throughout October:
Website:
https://www.scarsdale.com/fire
Facebook:
https://www.facebook.com/scarsdalefire
Instagram:
https://www.instagram.com/scarsdalefire
What To Do If You See a Coyote
Details

Written by

Joanne Wallenstein

Hits: 1845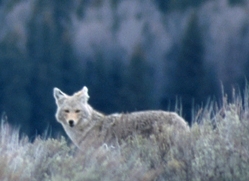 Scarsdale Police are reporting several coyote sightings in recent weeks throughout the Village. Here is some information from the New York State Department of Environmental Conservation (NYS DEC) about what to do should you come across a coyote.
According to NYS DEC, if you see a coyote:
Be aggressive in your behavior – stand tall and hold arms out to look large. If a coyote lingers for too long, then make loud noises, wave your arms, throw sticks and stones.
Contact your local police department and DEC regional office for assistance if you notice coyotes exhibiting "bold" behaviors and having little or no fear of people, or if you see them repeatedly during the daytime in a human-populated area or near residences. Seeing a coyote occasionally throughout the year is not evidence of bold behavior.
Do not allow pets to run free. Supervise all outdoor pets to keep them safe from coyotes and other wildlife, especially at sunset and at night. Small dogs and cats are especially vulnerable.
Teach children to appreciate coyotes from a distance.
Of course, if there is ever an emergency involving a coyote, please contact the Scarsdale Police Department at (914) 722-1200. A police officer will be dispatched.
Please check the DEC website for further guidance and information.
DEP Regional Office: 845-256-3000
Inside Scarsdale High School -Signs, Distancing, Masks and Virtual Learners
Details

Written by

Anna Cho

Hits: 2046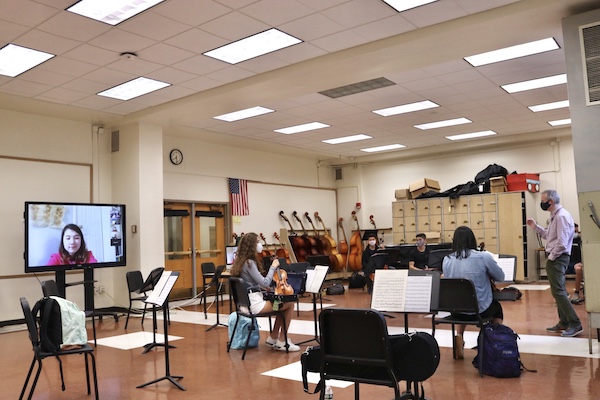 Mr. Williams conducting his Chamber Orchestra class.September 18, 2020 marked the first day of school for students in Cohort A at Scarsdale High School. As students shuffled into school with masks wrapped around their faces, they followed stickers that showed them which direction to walk and to remain six feet apart.
Many changes can be seen around the high school such as the new safety guidelines featured on signs all throughout the building. As one steps inside, one's eyes are immediately attracted to the Old Commons, an area once filled with noisy students one next to another in the morning, sitting in tables preparing for their classes, and feasting on a protein bar or two before class started. Now, the lounge area has become filled with empty rows of seats separated from each other.
As one enters into the classrooms, one can notice that the rooms all consist of the same layout, rows of chairs with several feet of distance between them. An empty chair is placed in the front of the classroom for the teacher to place his or her laptop for all virtual students to watch the lesson, while other teachers chose to display the virtual students on the smartboard.
The teachers no longer walk up to student's desks, but rather remain at the front of the classroom, teaching through their masks.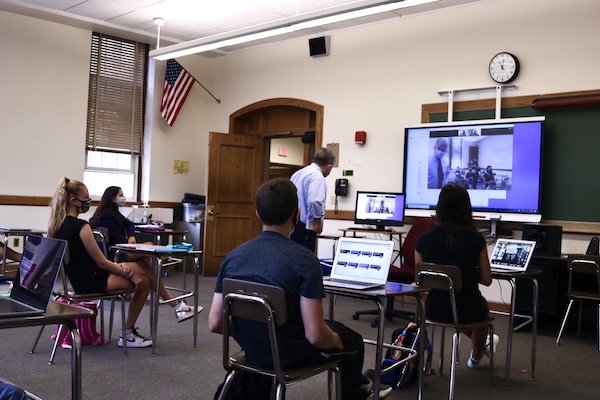 Mr. Harrison, Social Studies Department Chair, talking to his virtual students in the AT US Government class.
As senior Andrew Lofaso discusses his first day of school he describes how as he walked into the building, "At first it was a shock, just to see the school in that kind of state, but after a little time, adjusting wasn't so bad. The biggest adjustment was having to wear a mask all day and not being able to interact as intimately with your peers and teachers."
While there is a learning curve to virtual classes and it can take time adjusting to the hybrid schedule, students and teachers alike are working together every day to make the transitions as smooth as possible for everyone.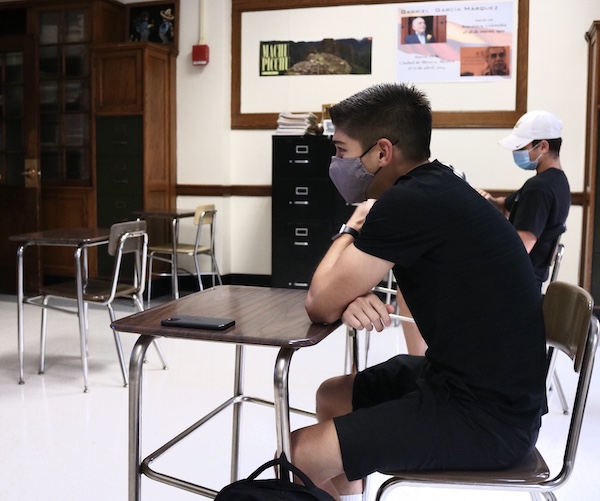 Seniors Andrew Lofaso and Trevor Koch wearing their masks while participating in their Spanish class.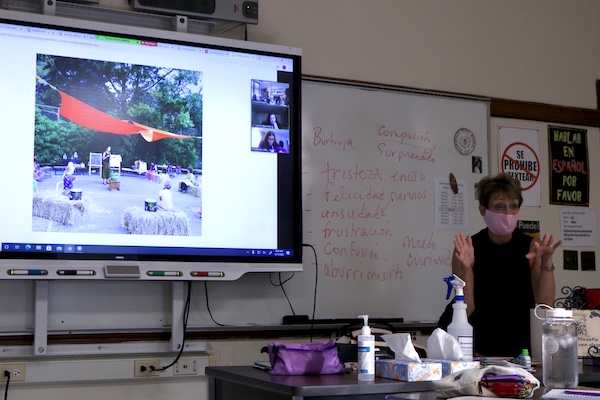 Spanish teacher, Ms. D"Angelo, teaching her students, including her virtual students, that remain on the smartboard.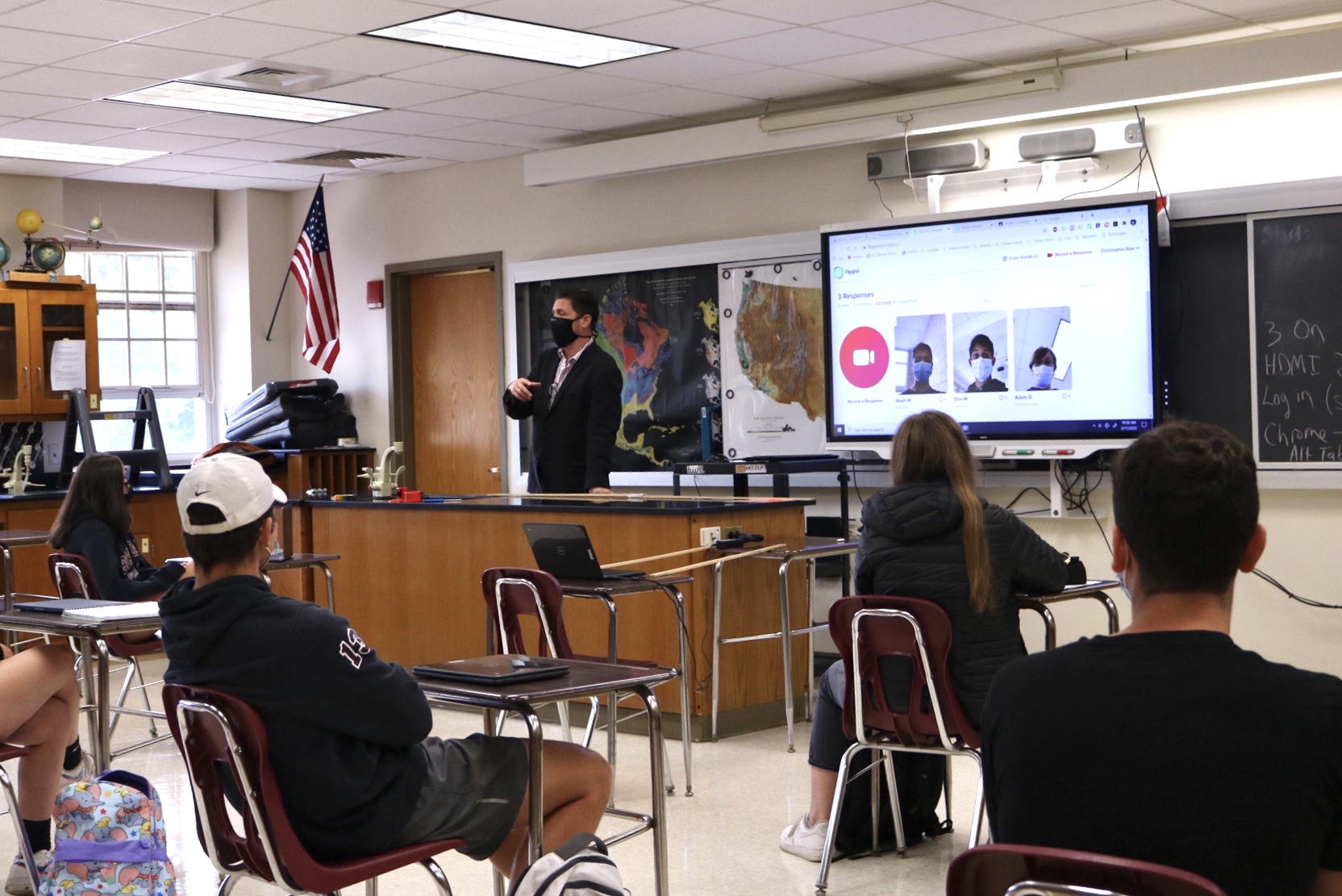 Mr. Sipe teaching Honors Geology class to his seniors.