One Down, Two To Go: Girls Varsity A Soccer Moves On To The Next Round Of Playoffs
Details

Written by

Sophia Caione

Category: The Goods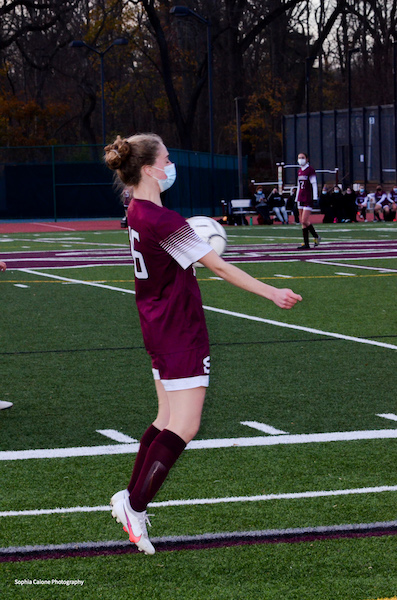 Jojo Denion, #16, chest trapping a ball in the air. On Thursday, November 19th, the Girls Varsity A Soccer team was triumphant- once again- claiming victory against Ardsley in round one of the playoffs. The victory was captured through stylistic goals and a strong team presence on the field. Intense pressure was put on Ardsley from the start, as the Raiders presented an urge to win, but beyond winning, to conquer the field a by an overwhelming margin.
The final score was 6-2; The first 4 goals were scored in the first half of the game, leaving Ardsley with a large gap to fill. Ardsley had a difficult time catching up as their play was mostly "kick and chase". The Raiders defensive line, lead by Captains Victoria Von Redden, #17, and Emily Yacob, #19, proved to be fierce as they stopped breakaways, captured long balls, and maneuvered through Ardsley's attacking players. Additionally, senior goalkeeper Dylan Gross, #35, was a powerful and leading communicator on the field, commanding the defense and encouraging her teammates.
Season leading scorers, Alessia Schettino, #20, and Riena Parente Ribeiro, #7, were two leading performers during the first playoff game. Both players scored two goals each, in addition to one goal scored by Jojo Denion, #16, and one goal scored by Lizzie Wachs, #23. Lola Tirabassi, #13, showed her skills by providing 4 assists, and Victoria Von Redden demonstrated that a defensive player could do it all by assisting a goal.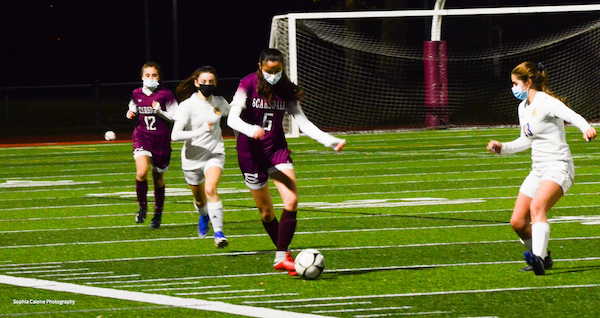 Kate Braverman, #6, maneuvers around an Ardsley player.
Schettino put constant pressure on Ardsely's defense and was highly aggressive in the final third of the field, especially when it came time to shoot and score. Riena Parente Ribeiro, nicknamed "RPR" by her coaches and teammates has been an essential part of the midfield. Parente Riberio acknowledges that "after a strong start, our team started to struggle to connect simple passes and there were a few miscommunications. [However,] we were able to overcome these difficulties and dominated the end of the second half. We ended the game with a confident mindset to lead us to the semifinals."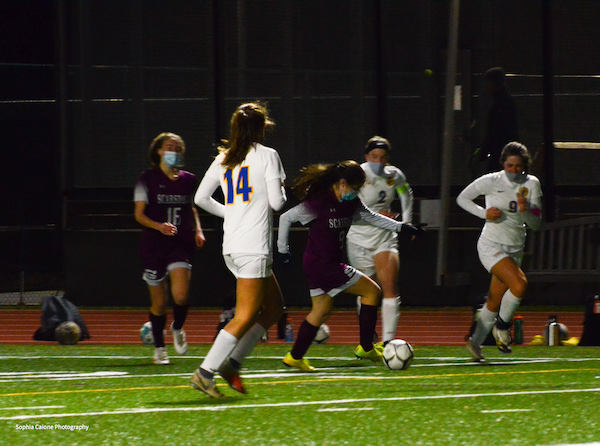 Audrey Gendel, #9, dribbles around Ardsley.
The second playoff game against rivals New Rochelle-on Saturday, November 21st-will be packed with action, competition, and heart. Schettino says, in the next playoff game "We need to capitalize on our opportunities... If we see the net, we have to score." Parente Riberio comments that "New Rochelle is a tough opponent and we always look forward to playing them because they are our rivals and a competitive team. The stakes are going to be higher than during our previous games and both teams will bring 100%. I'm excited for the energy and the competition." Girls Varsity A Soccer will put their all into every second of the game, until the desired outcome.

Photos and text by Sophia Caione.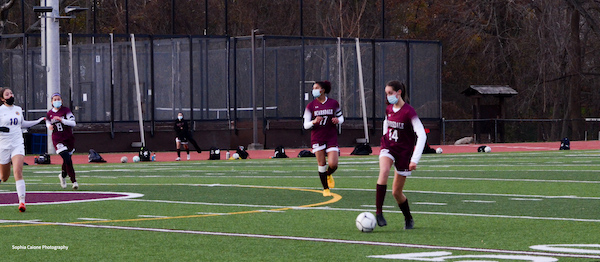 Abigail Talish, #14.
Girls Varsity A Soccer is Back on Top: Winning the League, Triumphing Over North Rockland and Preparing for Playoffs
Details

Written by

Sophia Caione

Category: The Goods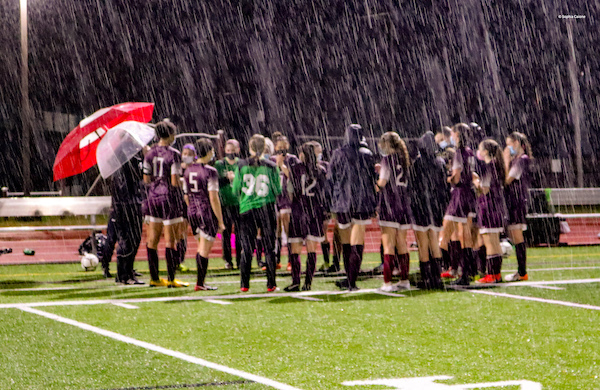 The Girls Varsity A Soccer team celebrates a 4-2 victory against North Rockland in the pouring rain. Girls Varsity Soccer has risen back to the top after last season ended abruptly with a loss against Suffern in the first playoff game. The 2020 team is made up of returning players and rising stars, all of whom have the mentality that losing is not an option.

COVID-19 may have delayed the path to victory, but it was just another obstacle this team has overcome. As Coach Mindy Genovese said, "Playing during a pandemic makes us all appreciate the sport and being able to come together to be a part of a team to focus on something positive. We play like it's our last game or practice because it very well could and this has elevated our level of intensity during every training session and game." For safety precautions, cohorts were created and the team was separated into specific groups during practices. However, Coach Genovese said that once the "cohorts were able to join forces, we were able to incorporate more drills that involved closer physical play, but continued to distance during any breaks or while waiting in lines to participate in drills."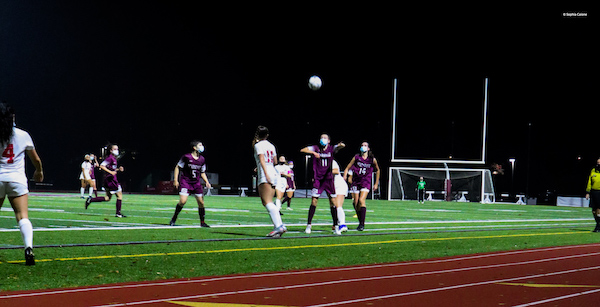 Senior Sasha Fischer, #11, goes for a header.

Being a captain of a team is not always easy, but it certainly can be rewarding. During this time, the captains have had to adapt to the circumstances while still being effective leaders. Captain Victoria Von Redden comments "When I was first elected captain, I talked to my previous captain on what I could do to make this year memorable and this team amazing. Unfortunately, a lot of their advice is not usable for me since the pandemic ruined so many of the teams off field traditions. But I must say, even though it's been challenging, being able to have this season during this time feels like a gift."
This team has certainly proved that- in these unprecedented times- a united group can face a world of adversity. Coach Mindy Genovese recognizes that despite the minimal time given to prepare for the season, "the dynamic between our upperclassmen and rookies has been amazing." She notes that the seniors on the team "have stepped up to help lead and guide [the] newest members from the start, especially the captains (Anastasia Stefanou, Victoria Von Redden, and Emily Yacob)."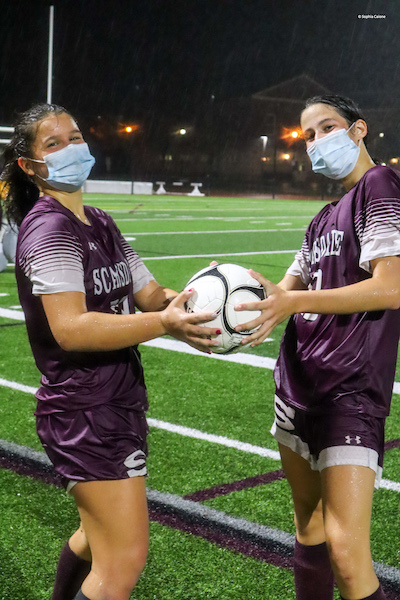 The tag team Alessia Schettino, #20, and Lola Tirabassi, #13.

The team has welcomed 10 newbies, adding to the 14 returning players. This group puts the "team" in "teamwork." Captain Victoria Von Redden explains that "our team tries to incorporate all players of the team into our plays [because] relying too much on one player and not really connecting with your teammates isn't an efficient strategy."
Girls Varsity A Soccer has outperformed any other team in the league. They are the "League Champions" with numbers to prove it. They had six wins, no losses and two ties. Out of these 6 victories are 2 highly significant wins- one against long time rival Mamaroneck and the other against New Rochelle. Scarsdale defeated Mamaroneck in a 3-2 victory that featured 2 goals from second year varsity athlete Alessia Schettino, #20, and one goal by newbie freshman Lola Tirabassi, #13, with assists from Lola Tirabassi and junior Justine Karp, #10.

On November 13th, Scarsdale Raiders proved to be deserving of the title "League Champions" with an intense home game, resulting in a 2-1 victory against New Rochelle. Lola Tirabassi, scoring the first goal and veteran player Jojo Denion, #16, putting the second goal in the back of the net, leading the team to a major win. In addition to winning the league, the team has claimed victory against North Rockland for the first time in 4 years with goals by Alessia Schnettino, Kate Braverman, #6, Lola Tirabassi, and Abigail Talish, #14 and assists by: Alessia Scnettino and Sasha Fischer, #11. Senior Sasha Fischer believes that the team "truly deserved [winning the league because] every girl put her heart out on the field and was determined to represent Scarsdale." The final score against North Rockland was 4-2, two goals were scored in the last ten minutes of the second half. Thus far the 2020 Girls Varsity A Soccer team showed up and showed out with combined league and non-league games resulting in an 8-0-2 record.


The Girls Varsity A Soccer team is now preparing for playoffs. Their first playoff game is Thursday, November 18th. The team had a BYE the first round of playoffs which has allowed them additional time to train hard. Coach Mindy Genovese advised that they are currently "working on drills that focus on possessing the ball through passing patterns, pressing, dropping, changing the point of attack, playing under pressure quickly, and staying organized defensively." With the title of "League Champions" on their shoulders, according to Victoria Von Redden, the team has made "sure not [to be] overconfident because [they] never want to underestimate [their] opponents'', while still being "happy with how [they've] done so far and confident that [they will] continue [their] amazing record." The team is looking forward to the playoffs; Coach Mindy Genovese "hope[s] to have a deep run in [the] regional playoffs", and captain Victoria Von Redden is "looking towards the playoffs with an optimistic view." With the mentality, teamwork, and effort put into this season, the first playoff game will be quite a show.

Text and Photos by Sophia Caione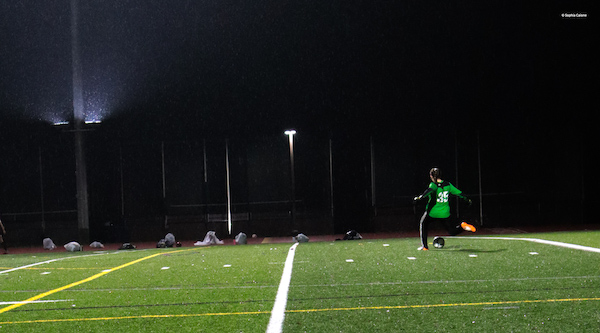 Senior goalkeeper Dylan Gross, #35.
Surveys and Focus Groups Indicate that Stakeholders are at Odds About How to Move Forward
Details

Written by

Joanne Wallenstein

Category: The Goods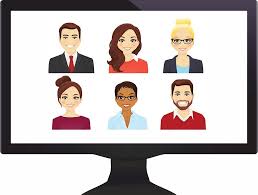 In the past few weeks the district conducted focus groups and sent out surveys to assess community views on the hybrid learning model in the Scarsdale Schools. In depth results of this research is available online. At the November 2 meeting of the Board of Education, Assistant Superintendent Edgar McIntosh reviewed the top line results from the surveys while Superintendent Thomas Hagerman gave topline conclusions from the focus groups. The results mirrored comments the Board has heard from parents at recent meetings.
Here's a summary of the primary findings from the surveys. Click on the links for an indepth analysis.
Elementary school surveys revealed the following:
-73.5% of fourth and fifth grade students felt that they could learn well in the am/pm cohort model.
-A large majority of fourth and fifth graders said they could independently log on, find materials and stay organized.
-11% of fourth and fifth graders reported having difficulty staying focused during independent time.
-About 64% of parents of K-1 students reported that the children were having trouble signing on and working independently.
Elementary School Teachers
81.9% reported that teaching smaller groups allowed them to monitor student progress. They feel that daily contact and small cohorts are benefits of the current elementary school model. However, teachers cited the challenge of limited time with students and are missing the opportunity to do hands on, collaborative and group work. They found planning time on Wednesdays to be valuable and that planning time with colleagues was essential and had a positive impact on teaching. Last, 55% of teachers believe their input has had little impact on district decision-making.
Elementary School Parents
The highest number asked for more instructional time, in person. Second, they expressed their appreciation for the teachers and noted communications challenges.
Middle School surveys surveys showed:
-The majority of students find that work load was just right
-Few students are using faculty office hours. Instead they seek clarification through email.
-Parents feel comfortable with safety measures
-Movement of teachers leads to a loss of instructional time, due to the technology set up that is required.
-The majority of parents and students believe that students benefit more from synchronous rather than asynchronous activities. Students can have their questions answered in real time and feel more connected.
High School surveys surveys revealed the following:
-Students said they are doing the same or more work on the mornings they are home rather than in school. However, 62% of parents disagree.
-Students are using the tutorial time on Wednesdays, and doing the same or more work on Wednesdays. However only 54% of parents agree that the same amount of work is being done.
-2/3 of students say they are as busy at home as they are in school, and believe they are busier this year than in a typical year.
-Only ¼ agree that students feel connected to their teachers and colleagues.
-Half of the students agree that they know how their grades will be determined.
-Only 5% of students and 7% of the faculty believe that synchronous at home learning should replace asynchronous work, while 34% of the parents are in favor of cross cohort live-streaming.
McIntosh said that district will fully analyze the data to see what steps they can take.
Dr. Hagerman reviewed the outcome of 39 focus groups conducted by the Tri State Consortium. He reported that 400 participants including parents, teachers, students, board of ed members and administrators had participated.
He said that questions focused on communications, what practices have been effective and how can they be improved and teaching and learning in the hybrid model.
Hagerman provided a summary of 12 broad points of feedback:
-Most support the safety protocols and feel that they are working well.
-Participants expressed an appreciation for how the district is adapting.
-Everyone believes in person instruction is going well under the current conditions.
-People want more in person instruction, some within the hybrid model and some calling for a full instructional model.
-Parents have less confidence about what is happening when children are not in school
-Concerns were expressed about the quality of asynchronous learning experiences.
-Special education and virtual only families feel marginalized by the district's plans
-Parents believe that district communications have been overwhelming in volume and length.
-Parents distrust district communications because they don't explain the how and why decisions are being made.
-While the majority of parents are advocating for more in person instruction, the preponderance of teachers are concerned about bringing more children back for longer periods of time in school for health and safety reasons.
-Teachers believe district communication has been top down in nature and does not include feedback from teachers. They perceive that decisions are made in a reactive nature, often in response to parent pressure.
-The Wednesday schedule has produced widely different perspectives. Parents feel that Wednesdays are a waste of time and students find the schedule to be confusing, while teachers need the time for planning and preparation.
-The decision to experiment with cross cohort streaming lacked meaningful teacher participation. Communication about it was unclear and the technology was not in place to deliver a high quality experience.
-Participants called for improved emphasis on social and emotional health for all stakeholders. Stressors includes students' need for more social interaction, parents fears about their children falling behind and teachers feeling the pressure of totally overhauling their curriculum without adequate time and training.
In conclusion, Dr. Hagerman said," teachers, parents and students appear to be at odds about how to move forward."
Two Openings Celebrated in Scarsdale Village
Details

Written by

Joanne Wallenstein

Category: The Goods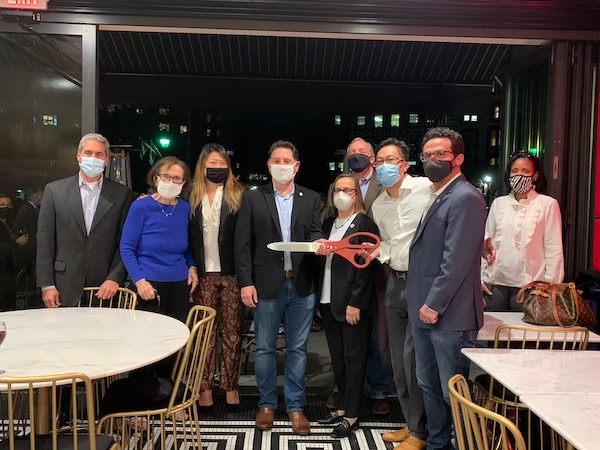 Akai Lounge Ribbon CuttingThough the dining tent in Scarsdale Village will come down this week, things are looking up for shopping and dining downtown.
This week Scarsdale celebrated the opening of two new businesses. On Thursday, a unique aroma design studio called Scent Fluence opened in the former location of Imagine Candy at 22 Harwood Court and the long-awaited Asian Fusion restaurant Akai Lounge held an opening reception in their location formerly occupied by Lange's of Scarsdale.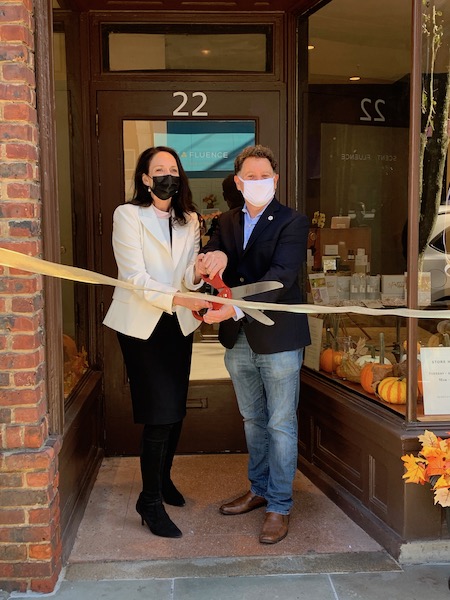 Caroline Fabrigas and Scarsdale Mayor Marc Samwick Open Doors at Scentfluence
On Thursday November 6, Village officials, realtors and business leaders gathered for a ceremonial ribbon cutting at Scent Fluence. The studio is owned by Scarsdale resident and former beauty and fragrance executive Caroline Fabrigas who has formulated custom scents for hotels and luxury retailers and is now offering a wide range of scents and diffusers for home use. The beautifully designed store is a jewel box of aromas. Stop by and take a whiff of what's in store or ask them to design a custom blend for you.
It's an intriguing concept and will make for one of a kind holiday gifts for friends and family this season.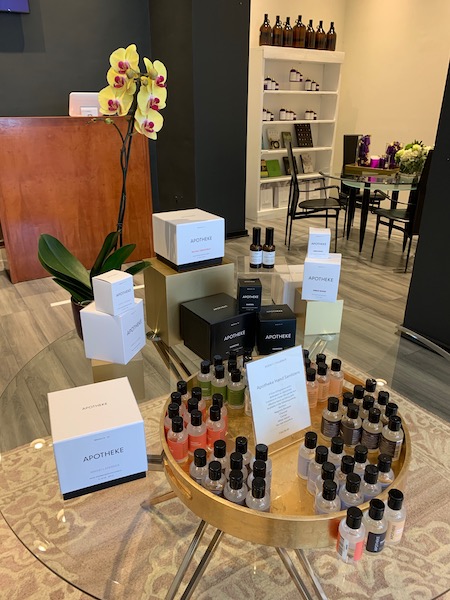 On Monday evening November 9, James Du and Lillian Pien held a ribbon cutting and reception for trustees, realtors and supporters at their new Asian Fusion restaurant Akai Lounge at 57 Spencer Place in Scarsdale. The space has been fully renovated in bright red, chrome and glass. The weather cooperated and allowed the restaurant to open their glass doors fronting Spencer Place to spill out onto the sidewalk. Guest sipped lychee nut sangria and sampled sushi appetizers including tuna tartar and agedashi tofu. The restaurant is holding their soft opening this week and will be in full swing next week. Attendees were thrilled to have another dining option in the Village.

Owners James Du and Lillian Pien were introduced to Scarsdale by Evelyn Stock. Stock had a delicious dinner at one of their restaurants in New Jersey and met the owners and encouraged them to open here. After they expressed an interest, Stock introduced the two to Rush Wilson and a match was made.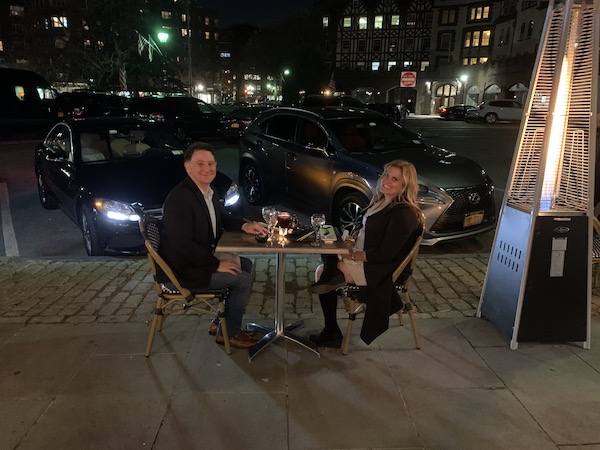 Marc and Cynthia Samwick sampling fare at the new Akai Lounge.
Sadly, the dining tent will be taken down this week. However the outdoor picnic tables will remain. Upon hearing that the tent was going down, reader Anthony Leone said, "Wish the dining tent at Spencer Place would remain (with heat lamps if legal). It's been a welcomed addition to town."
The Scarsdale Business Alliance encourages you to continue to shop and dine downtown and purchase raffle tickets to win prizes from local businesses and support the Village. Purchase raffles here: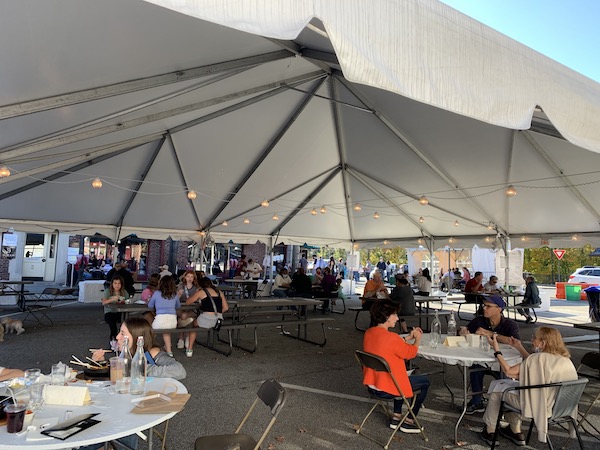 The dining tent on Spencer Place will come down this week. The picnic tables will remain.
Fall for Scarsdale
Details

Written by

Olivia Halligan

Category: The Goods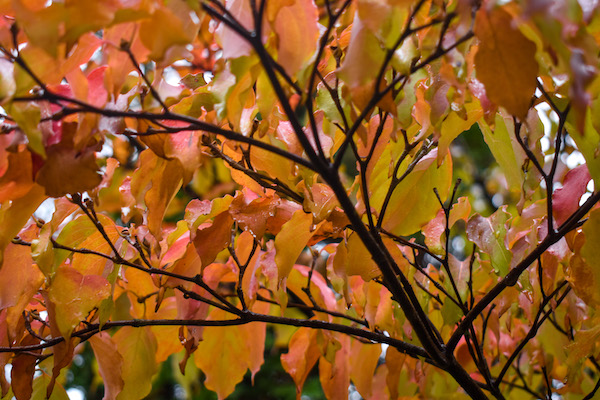 One silver lining of the pandemic has been the gift of time -- time to take a walk, appreciate nature and notice our surroundings. As the leaves turn this year, we're seeing beautiful vistas of yellow, orange, pink and red. Scarsdale High School junior Olivia Halligan shared these stunning fall photos of the Village we are fortunate to call home.