Maroon and White Recognizes Senior Athletes
Details

Written by

Adam Katcher

Category: The Goods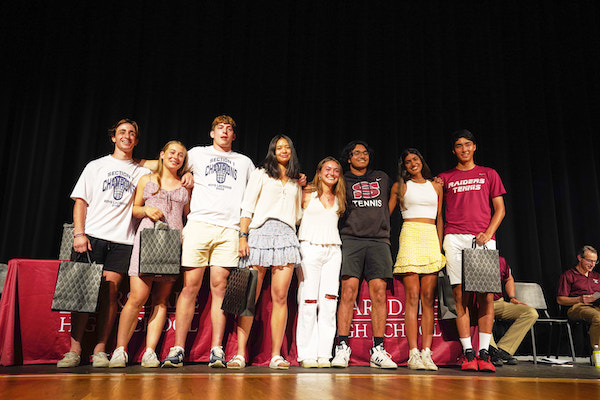 18 Raiders will be playing sports for their colleges (image credits for this article: Elliott Zhang)On May 31st, Maroon and White's Spring Picnic and Awards Ceremony took place, celebrating some of Scarsdale High School's most decorated athletes for their achievements both in sport and academics. The Maroon and White awarded the Timberger Award, the Mooney Award, the Knopp Award, and the Pepper Awards. The Athletic Department awarded the SHS Scholar Student Athlete Honor Society Award and the Scarsdale Raider Award.
The celebration started with Director of Athletics Ray Pappalardi's opening remarks, emphasizing how "it is very nice to be back together in this way to celebrate and to recognize the achievements of our outstanding senior student-athletes." Stewardship of the event was then handed over to Maroon and White Co-Presidents David Alin and Joe Feldman.
Before the named awards were given out, two groups of students received special recognition. The Iron Man Award recognizes athletes who participated in sports for all high school seasons available (three seasons per year for all four years). Kenneth Aldridge, Simon Bandsma, Ryan Cahaly, Jordan Cascade, Elizabeth Fine, Elizabeth Hurshman, Maeve Jacobson, Patrick Kantor, Natalyn Kapner, Dylan Manin, Benjamin Sommer, Jeremy Suzman, Rafael Tassari, and Sophia Yazdi were the 14 athletes to take home the prestigious award.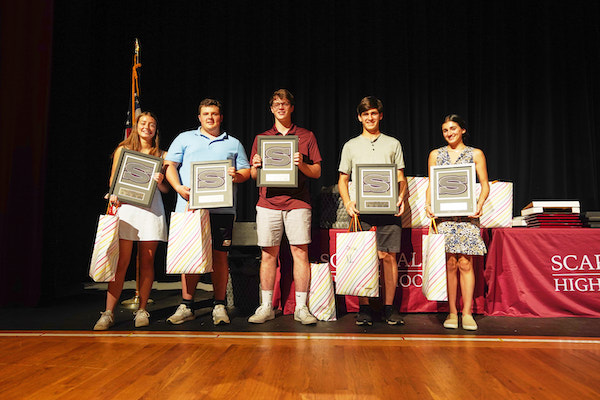 The Iron Man Award winners stand proudly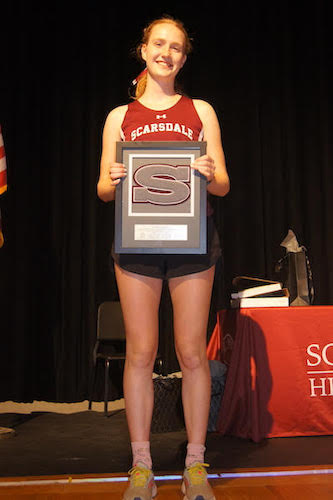 Iron Man Award Winner Lizzie Hurshman lived up to the award's name, having to miss the award ceremony for a qualifying meet for nationalsMany other high schools have "signing days" for their student athletes who are set to continue their athletic careers in college. As Scarsdale does not have one of these designated days, the awards ceremony is used as the time to acknowledge their tremendous accomplishments.
Scarsdale has 18 athletes continuing their sports at the highest-level next year:
1) Bennett Abbe is set to play football at the University of Massachusetts.
2) Graydon Diamond is off to Connecticut College to continue his lacrosse career.
3) Olivia Franco will continue playing lacrosse at the Catholic University of America.
4) Sedna Gandhi will be attending Notre Dame, where she will come up against the nation's best fencers.
5) Julian Glantz will be playing football at Big Easy powerhouse Villanova.
6) Drew Hill is set to be a swimmer at Union College.
7) Elizabeth Hurshman, also an Iron man Award recipient, will continue her track and field endeavors at Lafayette College.
8) Adin Lamport is bringing his tennis skills to Colby College.
9) Jackie Lu and
10) Jason Schuler are both heading to Williams College for golf and tennis respectively.
11) Haley Matusz caps off Scarsdale's lacrosse commitment class, with Boston University as her next destination.
12) Aditya Menon is going to continue playing tennis at Virginia Polytechnical Institute and University.
13) Caitlin Needham is set to swim at Colby-Sawyer College.
14) Diya Shadaksharappa is going to continue her track and field career at Washington University in St. Louis.
15) Jeremy Sobel is set to be on the track and field team at Worcester Polytechnic Institute.
16) Rafaella Vogt is attending Lesley University, where she was recently recruited to further her track and field career.
17) Kenny Xu is bringing his tennis prowess to the United States Military Academy at West Point.
18) David Zoota is bound to continue his swimming career at Carnegie Mellon University.
Next, the Elizabeth Timberger Memorial Award is handed out to honor and outstanding member of the Scarsdale Athletic Community. This award is not reserved for athletes: rather, it is intended for someone in a supporting role (manager, statistician, etc.) who goes above and beyond in their contribution to the Scarsdale athletic community.
Alin described this year's recipient as someone with "unbridled support and enthusiasm for the Raider." He continued, "I always looked forward to hearing his voice as I watched an athletic contest online…This person always has gone above the call of duty. There was never any task that this year's recipient would not undertake."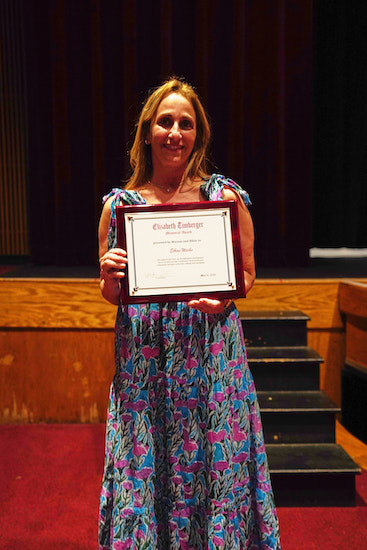 Ethan Wachs' mother accepted the Timberger Award on her son's behalf
As the manager of the Boys' Varsity Football Team, as well as being the voice of Scarsdale High School athletic commentary, Ethan Wachs was deservedly presented with the reputable award.
The Nina Mooney Award followed, presented to a senior female athlete who "displays commitment, enthusiasm, spirit, concern for others, and a positive work ethic." When describing the significance of the award, it was noted how Nina Mooney "made everyone around her better" in sports.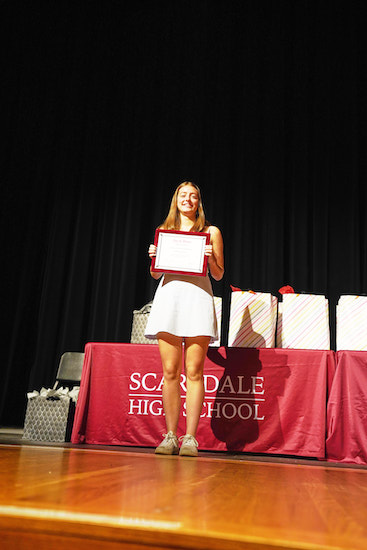 Jacobsen receives prestigious Mooney Award The recipient of the award was described by Feldman as "a leader in the classroom and on the field…as one coach commented, 'her actions speak loudly to the incredible human being who she is.'"
A captain of both the basketball and field hockey team this past year, Maeve Jacobsen took home the esteemed honor.
The Nonie Knopp Award succeeded the Nina Mooney Award, this time designated for male athletes. Feldman explained, "This year's award winner displays the positive attitude, direction, devotion, enthusiasm, and spirit of Nonie Knopp. One coach described this year's winner as 'a great athlete as well as a great teammate. He is always the first one to help in any way that he can and is always there for his teammates…He sets a great example of how to do things the Raider Way.'"
Ryan Cahaly accepted the award.
Adrian Duval and Audrey Gendel, in recognition for their "all-heart, all-hustle, all-effort" mindset, earned the Scarsdale Raider Award.
The Peppers Awards are given to students who "have distinguished themselves through their dedication and hard work," in conjunction with high academic achievements. Winning all-league honors 9 times, 4-time league champion, 3-time county champion, and many other acclaims such as the top 2021-2022 Westchester County Field Athlete, combined with her academic strength, Diya Shadaksharappa earned the Female Peppers Award.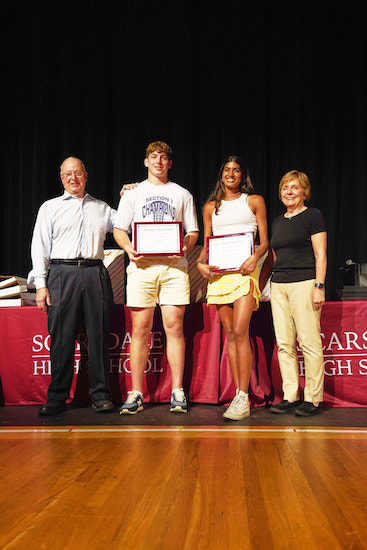 Glantz and Shadaksharappa receives Peppers Awards
Spending three years as a varsity football player and two years as a varsity lacrosse and basketball player, Julian Glantz capped off an illustrious high school sports career with honors such as being all-state football star and being named first team Golden Dozen by the Westchester Chapter of the National Football Foundation Hall of Fame. With an excellent academic record as well, the Male Peppers award was given to him.
The ceremony was a fitting way to cap off the first full year of "normal" sports since the COVID-19 pandemic derailed the world, including the world of athletics. It appears as if the level of Scarsdale's top athletic members, both on and off the court/field/track, continues to reach higher.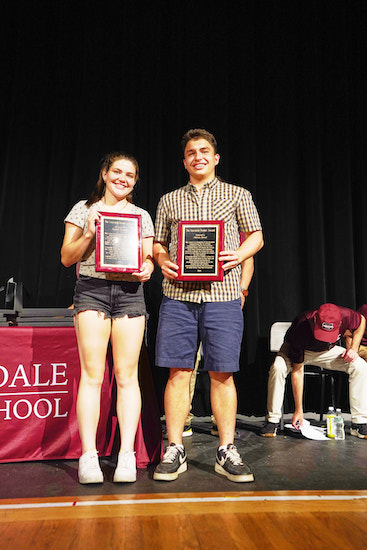 Duval and Gendel were presented with the Scarsdale Raider Award
Interfaith Clergy Holds Vigil Against Gun Violence
Details

Written by

Joanne Wallenstein

Category: The Goods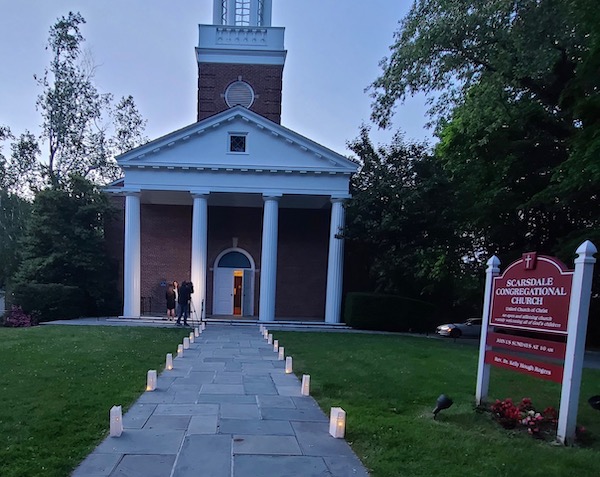 (Updated 5/26/2022) Following yet another tragic school shooting that took the lives of 19 children and two adults in Texas, Scarsdale's interfaith clergy joined forces to organize a vigil against gun violence on Wednesday evening May 23 at 7:30 pm.
An email from the clergy at Westchester Reform Temple said, "It is an outrage and a horror that we as a nation tolerate the brutal murder of children in school, again and again and again. Our hearts are broken for the victims' families in Uvalde, Texas and all the families who have lost loved ones to gun violence.
This gathering, comprised of clergy, concerned community members, and our elected officials, is our opportunity to say NO to the unrelenting plague of gun violence and mass shootings in America, and to hold responsible the US Congress, gun manufacturers and distributors, and a gun lobby which continues to work against the wishes of a majority of American citizens who want sensible legislation to help curb the bloodshed.
If you would like to take action, stand up to the gun lobby by texting ACT to 644-33. Call NY Senator Schumer 202-224-6542 and tell him to put the Background Check Expansion Act on the floor for a vote now! If you would like to make a donation, please consider Everytown for gun safety: https://www.everytown.org/donation-information/
"They shall beat their swords into plowshares and their spears into pruning hooks, and never again train for combat" - Isaiah 2:4. "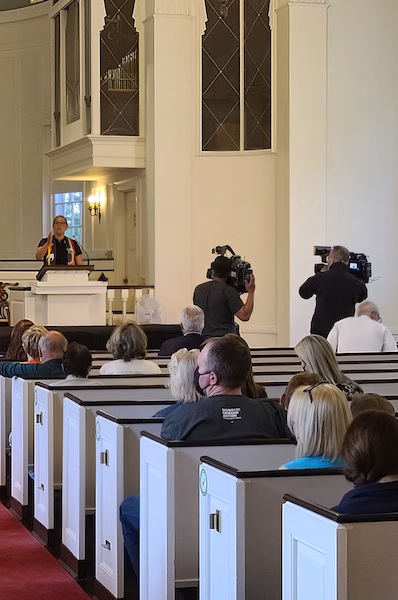 Reverend Kelly Rogers
Reverend Pete Jones from Hitchcock Church said, "Tomorrow Annie and I will send Jack to elementary school like we do every morning. I will drop him off at the door and say a prayer, and I will take a deep sigh of relief when I watch him walk back out of that school at the end of the day. When I was at Martha's chorus concert at the middle school last night, I checked to see where the exits were, and I scanned the crowd several times. That is the reality of having children today.
I know that all of you are as sick as I am about the incredible loss of life today in Texas. A few years ago, Nelba Marquez-Greene, who lost her daughter, Ana Grace, at Sandy Hook came and spoke to us at Hitchcock. Here we are again...with at least 18 elementary school kids killed at school in America, as well as two adults.
In the church, we often talk about repentance. Well, the word "repent" literally means to turn around and to go in a different direction. So, I ask for your prayers this night for the families of these young victims and for the survivors who will never be the same. In addition, I ask that you join me in a prayer of confession for the sin of gun violence in our nation. We have not done enough, and this happened on our watch. We must demand change."

Participating in the Vigil were the following:
Dr. John T. King
Rabbi David Levy
Reverend Kelly Rogers
Arshad Kahn
Elder Deborah Milcarek
Reverend Katherin Pater
Reverend Pete Jones
Can Danielle Rodnizki
Rabbi Shira Milgrom
Representative Jamaal Bowman
NYS Senator Andrea Stewart-Cousins
Mayor Jane Veron
Villate Trustee Randall Whitestone
Moms Demand Action for Gun Sense in America

Speaking at the vigil, NYS Assemblymember Amy Paulin said, "What happened yesterday at Robb Elementary School is beyond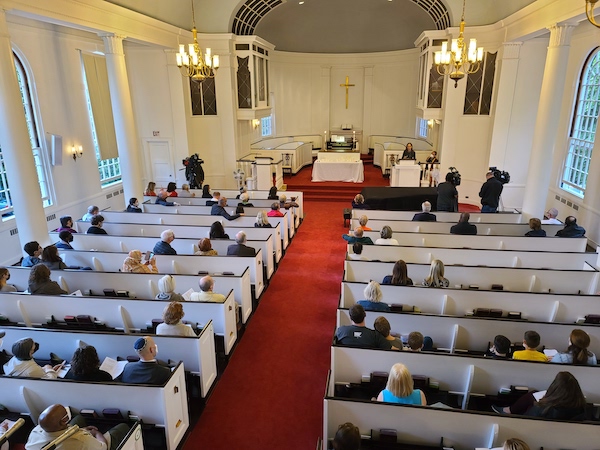 words. As a parent, I am overwhelmed with grief for the families of those who were killed. As a citizen, I am outraged that once again, gun violence has cut short the lives of children.

My prayers are with the families of Uvalde, Texas who have lost a child, friend, parent or mentor. But it's not enough to pray.
We have been here too many times before. Just eleven days ago, we mourned those shot in a grocery store in Buffalo. Today we stand together facing another horrific tragedy. This is just devastating, and almost impossible to bear.

This is not the way the world should be.

Kids should not have to go to school thinking that they might be shot that day. Parents should not drop off their kids at school and have it be the last time they ever see them alive.

This is no way to live.

This country must have a comprehensive reevaluation of its out-of-control gun culture and policies.

On an average day in the U.S., more than 110 people are shot and killed by a gun. And there have been more mass shootings in the U.S. so far in 2022 than days in the year.

Our federal government and our state legislature must pass bills to end our gun crisis. And I will not stop fighting until they do."

National leaders like Senator Chris Murphy, who represented Newtown CT at the time of the school shooting at Sandy Hook pleaded with his fellow lawmakers to pass meaningful gun control legislation. On Tuesday May 24, 2022 he said, "What are we doing? … Sandy Hook will never, ever be the same. This community in Texas will never, ever be the same. Why? Why are we here? If not to try to make sure that fewer schools and fewer communities go through what Sandy Hook has gone through. What Uvalde is going through."
Murphy described the U.S. government's failure to act after such instances of gun violence "a quiet message of endorsement."
The vigil was held on Wednesday May 23 at 7:30 pm at Scarsdale Congregational Church at 1 Heathcote Road in Scarsdale.
Planning Board Tosses the Question of Lights at Crossway Field Back to Village Trustees
Details

Written by

Joanne Wallenstein

Category: The Goods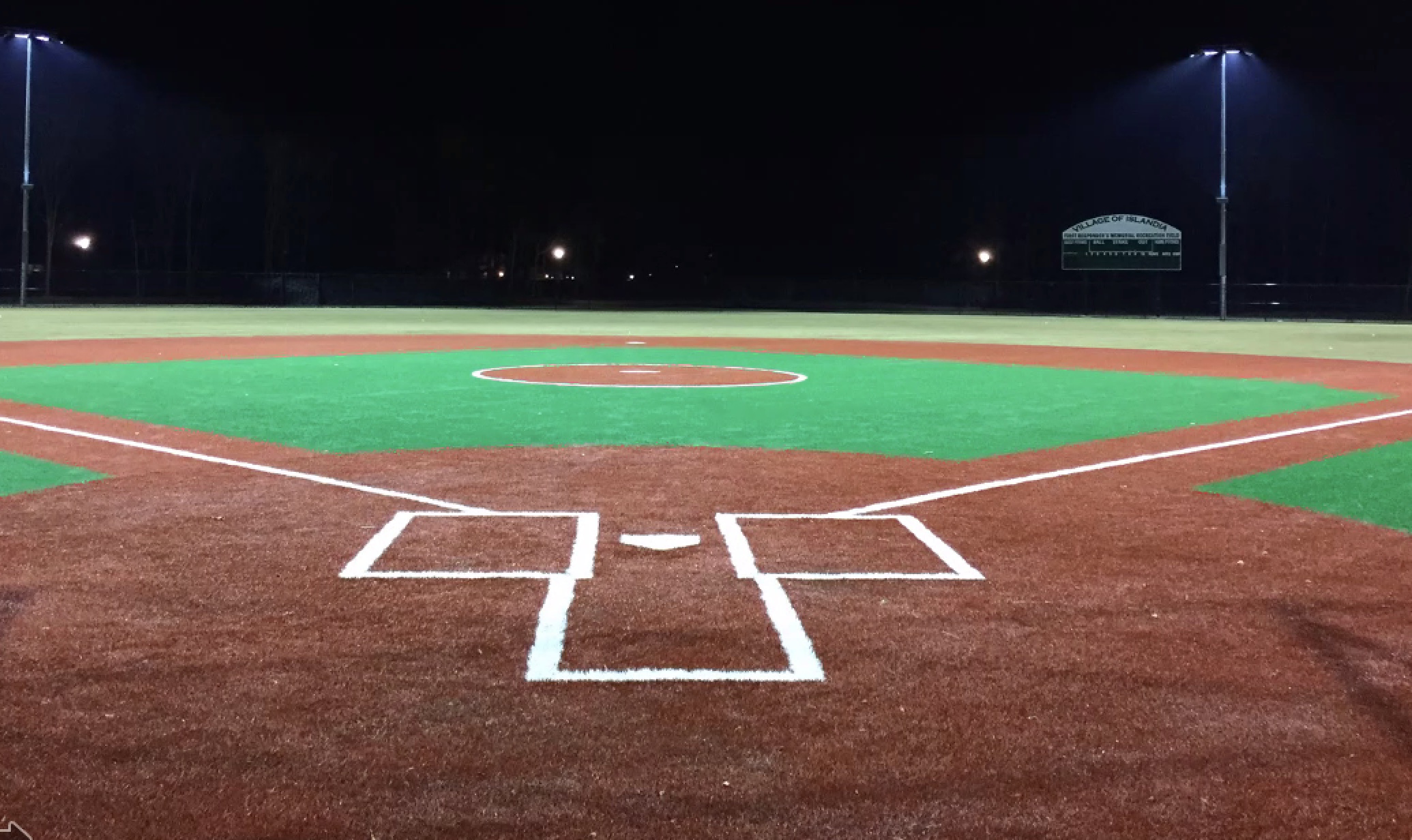 After a second five hour hearing on an application to install field lights at Crossway on May 4, 2022, the Scarsdale Planning Board punted on making a recommendation for or against the application and threw the ball back to the Scarsdale Board of Trustees for a decision.
This followed another lengthy hearing of the Planning Board on this application. On March 23, 2022, the board heard many of the same reasons to install the lights as well as objections from those who live nearby.
After that meeting the Village Board of Trustees considered the Planning Board's memo and came back to them to ask them to make more specific recommendations on the following questions:
1) the location of all proposed lights to be installed;
2) details related to the type of lights proposed;
3) the direction of light and potential spillage;
4) the potential impacts on adjacent land uses, including but not limited to potential increase in noise and traffic created by athletic events, including practices and contests conducted after sundown; and
5) all other information and considerations deemed appropriate by the Planning Board in their review of the proposed installation.
On May 4, the highly contentious proposal galvanized both Quaker Ridge residents who live near the field against baseball lovers around town, both passionate about their viewpoints.
On the one side, those who live near the field repeatedly voiced objections, centering on:
-The abundance of recreational facilities in one small area – including the pool, fields, tennis courts and stables, all in one corner of the Village.
-The possibility that night games would bring more traffic, noise, light and disruption to the area around Crossway.
-Safety issues posed by the lights which would not be installed in compliance with National Little League standards.
-The potential for night games to pose danger to passing cars, pedestrians.
-The deficiencies of the current field which lacks a safe spot for spectators and a dugout for the players, both which might be exacerbated at night games.
New information at this meeting was conveyed by Sarah Bell, President of the West Quaker Ridge Neighborhood Association. Though she said she was not for or against the proposal, she presented the 2017 Lighting Standards and Safety Audit for installation of lights from the National Little League which specify that the light poles be 40-55 feet from the foul line and located outside a fence. Current plans call for the poles to be located at less than half that distance and no fence will be erected.
Bell pointed out that the technical proposal was made by MUSCO, the light installation company, and had not been evaluated by a licensed engineer. She said, "The Scarsdale Little League application fails to meet safety, legal and technical standards."
Both Steve Pass from the Scarsdale Little League and David Kulis from MUSCO said these standards were recommended but not mandatory and that other fields in the area were not in compliance. Kulis said, "We could add safety padding to the poles. Most fields in this area do not have the space to place the poles 60 feet from the foul line." They cited a letter from the SLL District Administrator who found that the plan was safe and within the Little League's minimum guidelines for play. See his letter here.

Supporters of the proposal said that the presence of the lights would allow the league to increase participation by 15% to 20% by adding a field to their schedule and also cited the novelty and fun of playing under the lights.

Much of the conversation centered on potential usage. The Little League said they would use the lights not more than 76 nights a year. Board members and neighbors questioned whether or not other Village teams or non-resident teams would apply to use the field on additional nights.
Recreation Superintendent Brian Gray said, "We allocate the fields – if we have available time we allow other teams to get permitted. But the majority of the team must be residents. Non-resident teams cannot have permits. If the light proposal goes through, we could update our usage policy."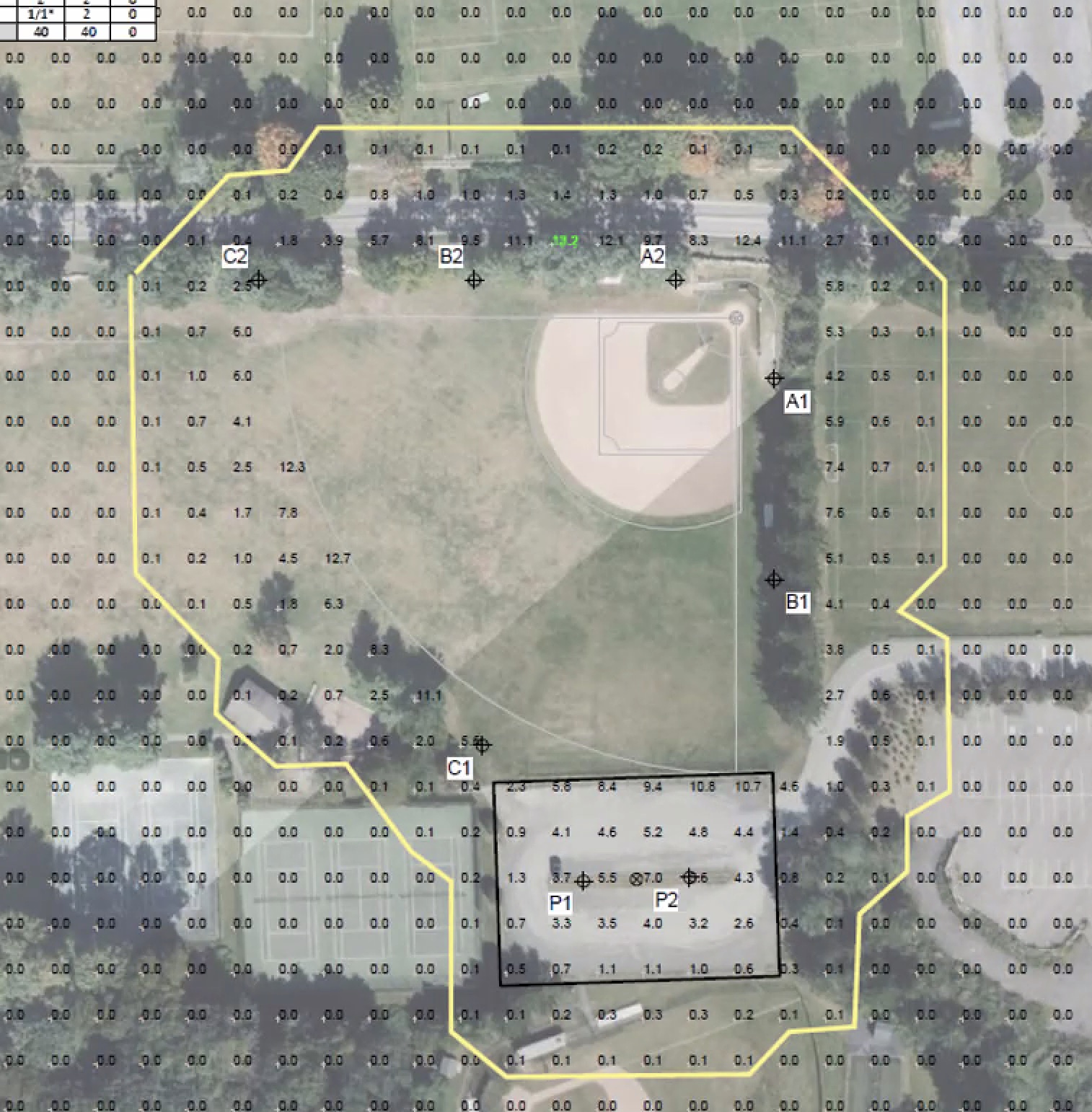 Light coverage of field
On the subject of light spillage, the applicants presented findings from the International Dark Sky Association, a group that protects the night sky. He said, "They are the authority on light pollution. They created guidelines and standards for outdoor lighting. They have design criteria to make objective evaluations of sports lighting….They determined that the MUSCO design met their criteria with one change. They changed two fixtures to help with the glare metrics. The diagram shows zero light at the edge of the field though the neighbors are afraid they will see lots of light."
Steve Pass added, "These are the same lights that are at Butler Field – and the lights do not seem to be an issues – just the sound/noise from the games. Kulis, said, "Our light plan is as good as it gets…. light will be projected upward – it does not spill into the neighborhood. You will see a lit field – but there will be no glare."
On the question of whether or not the lit field will result in increased traffic, Steve Pass showed a photo showing relatively few spectators at Little League games. He showed a time lapse video taken from 8:38am to 9:20am on a Saturday morning when three games were being played at once that showed no traffic build up on Crossway. He said, "This would cause somewhere between an additional 24 and 50 cars. Parking gets maxed out when there are three games going on – but there would only be one."
There was hours of testimony from residents. Gerry Antell who has gathered a petition against the project with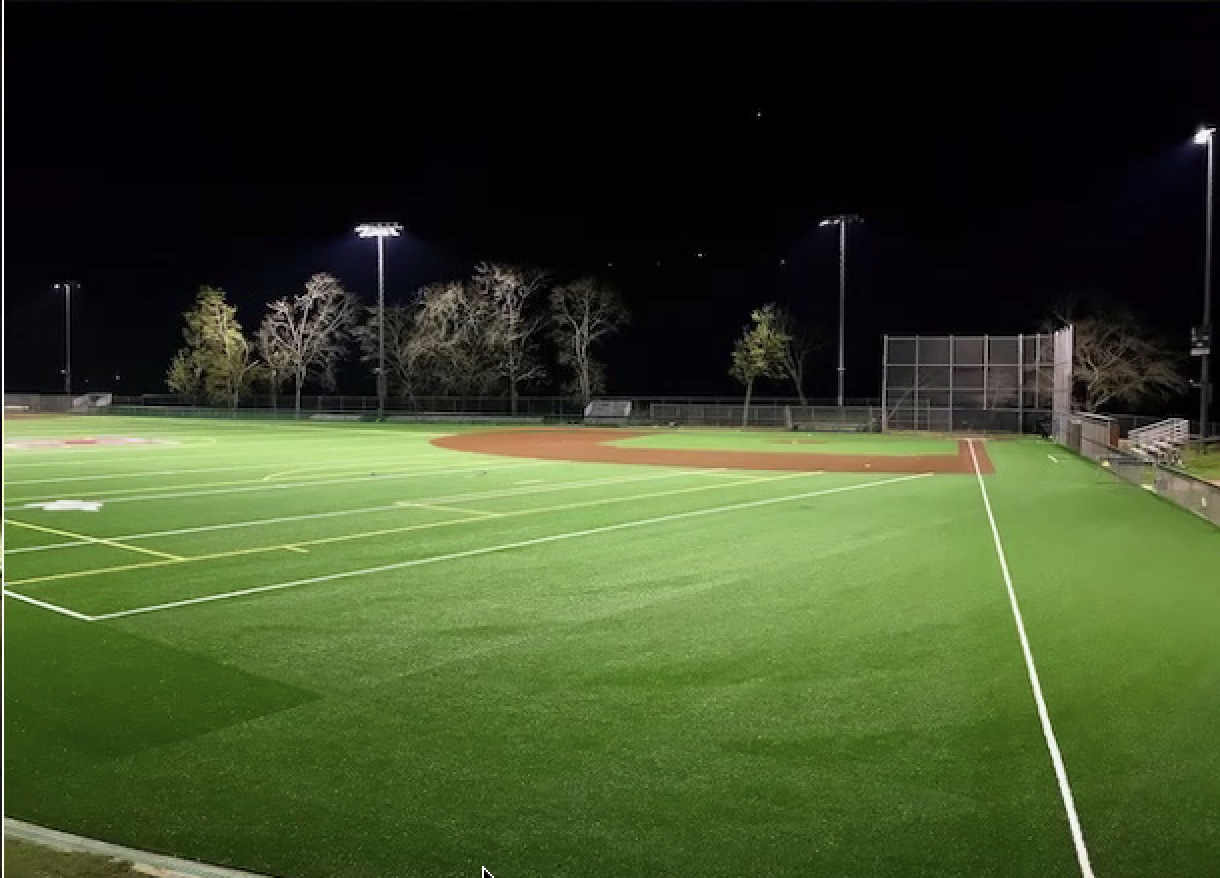 164 names suggested that instead of installing lights, the Little League "could use $500,000 to improve many fields in Scarsdale – that would benefit more players." He said, "How about SLL spearheading a field improvement coalition for all teams that need a field. They could use their surplus to enhance facilities for the entire village." He continued, "It is necessary to acknowledge the League's generosity. Neighbors fighting with each other stinks – how can we find common ground? Poor condition of fields stinks – there are no restrooms and some fields are overused. The league is motivated and wishes to improve youth sports – why not use this money to improve all of our fields. It favors girls sports over boys sports."
"We met with several members of the Little League board about our idea last week – and it can be done. Fields can be improved, turf installed, an effort like this would be a tremendous asset. Everyone would get behind it."
Neighbor John Lofaso of Harvest Drive said, "I will have a view of the lights if they go up – from every window on the back of the house.. I think the lights would be an eyesore. These studies were done by a company that wants to install these lights. If there are not enough spots, expand the size of the teams. – they are very small. This will set a dangerous precedent to let a large donation sway the trustees."
Paul Friedman agreed. He said, At Fox Meadow Tennis Club the noise and the lights affected the neighbors. I don't believe this will be the end of this. Friday night football will be next. Where does it lead?"
Baseball supporters spoke in favor of the lights and posited the situation as a NIMBY issue.
Dan Ornstein from Carstensan Road said he lives across the street from the A School in one of houses closest to Butler Field. He said, "I can see if from my front door. I had concerns about the bleed of the lights and the aesthetics of the poles but I have been pleasantly surprised. They do not bleed beyond the field. It is not a disruption to the neighborhood. The poles are nowhere near as I feared it might be. This is a case of NIMBY. Maroon and White supported the lights at Butler Field. I don't remember Quaker Ridge residents objecting to lights at Butler Field."
Dan Besikof said, "What makes this town great is that it's a great place for kids. Here, a half a million is being donated to make this town better. The town will pay for nothing and these lights will attract young families for years to come."
He continued, "The people who are objecting bought houses around the field next to our sports complex. Only a few houses can be seen from the field – that's when the trees are bare. A small group of houses are trying to block something that will benefit all the kids. I think we heard that the impact is quite minimal. The Dark Sky organization did independent vetting. The light does not end on anyone's property. The poles will hardly be visible and they will blend in. It is a classic NIMBY situation – but these people chose their backyard, and that is a baseball field. They are trying to block a benefit for thousands of kids who are here now and will move to Scarsdale."
Ryan Spicer from 51 Tunstall Road in Edgewood said, "We are looking at a single game at night… At most 50 cars. We are looking to improve the use of a single field. We are looking to give more kids the opportunity to participate in a recreational sport."
David Glattstein of 6 Old Lyme Road said, "New Rochelle has a lit baseball field. I coach little league. We don't improve the community because it is necessary – we do it because it's right. I support a free benefit to the community. We are listening to the trustees. We are tired of things being turned down because of a few loud voices."
Well near midnight, the Planning Board deliberated on the issue. Chairman John Clapp said, "The neighbors seem to be pretty monolithic on this one. They don't like it … In the end the trustees have to make that call."
After considerable discussion, the Planning Board said they would draft a recommendation to the Village Board of Trustees in response to the questions posed.
Reviewing the safety issues, they suggested a study to determine whether or not the field is safe, if the positioning of the lights would be safe, and the potential impacts on pedestrian and traffic safety.
Board member Harold Porosoff said, "Given that we are not following the requirements, what does that mean for the safety of the children? Village Planner Greg Cutler added, "There is a disagreement about those rules and the setbacks. Scarsdale Little League says that the National Little League says they are recommended, but not required setbacks."
Should a traffic study be done to assess the increase of cars in the area?
About field usage, they said it would be necessary for the Recreation Department to draft firm usage rules and demonstrate that there were resources to enforce them. Was it possible to limit usage to Scarsdale Little League? Could other ISO's and teams be barred from using a Village field?
They suggested that more information was needed on the presence of lit fields in residential neighborhoods. How many are there and what has been the experience of neighbors?
Cutler said the application would be subject to a SQRA review, i.e. an environmental impact report, with the Planning Board as the lead agency.
Chair John Clapp agreed to work with Cutler to craft a memo on the questions that needed to be answered in time for the May 24, 2022 meeting of the Scarsdale Village Board.
Thank you Scarsdale Schools Community
Details

Written by

Joanne Wallenstein

Category: The Goods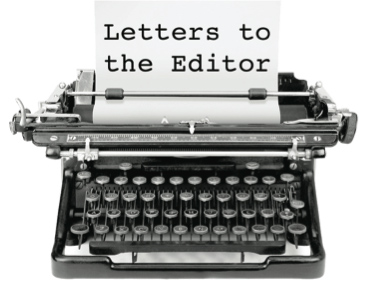 (This letter was written by Colleen Brown, Suzie Hahn Pascutti and Ron Schulhof)

Dear Scarsdale Schools Community,
Thank you for your support in the Board of Education election this past Tuesday. We are grateful for the trust the community has placed in us to serve as your representatives on the Board of Education. We are committed to do all that we can to serve our community, including continuing Scarsdale's great education for our students.
We look forward to working with our Board colleagues, Dr. Patrick, and the administration on the important work that is ahead of us. We also realize that as your elected representation on the Board of Education, a core part of our job is listening to and engaging with the community. We take this role very seriously and will strive to fulfill it in all ways possible. The engagement and volunteerism of our community is an essential part of the Scarsdale schools.
Thank you to District Clerk Honore Adams, Election Chair Rita Golden, the poll workers, the Scarsdale Middle School custodial staff, and everyone else who helped manage the polls on election day.
We also extend our thanks to the volunteers on the School Board Nominating Committee for their thoughtful process and nomination. We are proud to continue the non-partisan tradition in Scarsdale.
Sincerely,
Colleen Brown
Suzie Hahn Pascutti
Ron Schulhof
Shop and Dine Local for Mother's Day on May 8
Details

Written by

Joanne Wallenstein

Category: The Goods

It may not feel like spring is in the air, but Mother's Day is just days away, and now is the time to find something to give Mom on Sunday May 8, 2022. The Village is hopping. Shop and eat local for gifts for Mom and support our retail community. Take a look at a few suggestions from local merchants and if you would like to add your gifts to the guide, email us at scarsdalecomments@gmail.com.
Greenwich Medical Spa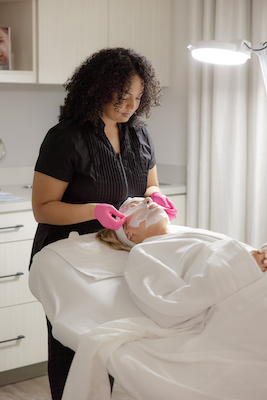 Greenwich Medical Spa is founded on deeply personalized care to ensure your non-surgical facial and body contouring treatments perfectly align with the results you seek. Our nationally recognized team works closely with you, providing award-winning care and results found nowhere else. Treat your Mother or loved one to a skin-glowing facial or let them call the shots with a GMS gift card.
1132 Wilmot Rd, Scarsdale, NY 10583
914-722-6869
www.greenwichmedicalspa.com
Email: yourskinspecialist@greenwichmedicalspa.com
I Am More Scarsdale
Treat Mom to the hottest clothing, accessories and jewelry from I Am More on Spencer Place in Scarsdale Village. Shop for these gifts and more fashionable items she'll love.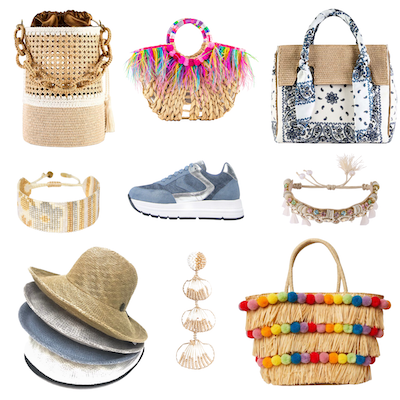 I Am More Accessories: The perfect finishing touch to any outfit (Retail $40 - $375)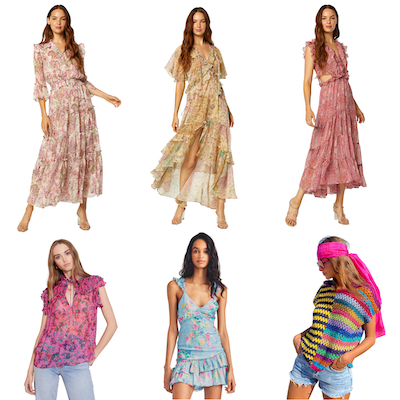 I Am More Spring Clothing: Curated spring blouses and long dresses (Retail $198 - $480)
I Am More Scarsdale
6 Spencer Place
Scarsdale
(914) 723-6673
Iammorescarsdale.com
La Casa Bronxville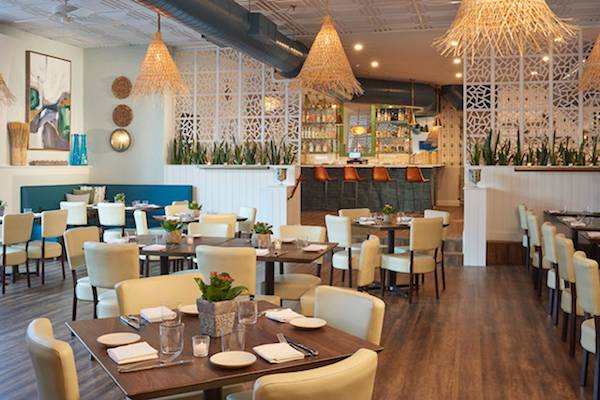 Mother's Day at La Casa Bronxville - El Día de la Madre

The beautiful design of La Casa has become a firm favorite and beloved by Westchester (and beyond) moms. Both the inside dining room and bar areas, and the individual outdoor cabana spaces reflect a warm, welcoming coastal Mexican vibe which makes the heart sing.

Favorite Mother's Day dishes include:

-La Casa Ensalada - beets, jicama, green mango, queso fresco, pumpkin seeds, citrus vinaigrette
-Ensalada Mixta - Organic salad greens, cucumber, red onion, orange, citrus vinaigrette
-Tostada de Jaiba - Maine crab on crispy tortilla with avocado, tomato, cilantro
-Camerones a la Diabla - Shrimp in red pepper sauce, white beans, bok choy
-Salmon a la Plancha - Pan seared salmon with mango pico de gallo salsa, La Casa quinoa and bok choy

We'll be open from 11.30am - 4pm serving lunch and brunch and dinner from 4pm - 9pm
Moms always love our margaritas, and right now are also being wowed by our just launched, new spring cocktails. El Pepino has become the hot new fave! It's a perfect blend of tequila, cucumber & celery juice and serrano syrup. Full of flavor, fresh, light with little spice. The team at La Casa are looking forward to making Mother's Day an extra special day for all their guests.
Website: www.lacasabronxville.com
Phone: 914-222-9016
Address: 7 Pondfield Road, Bronxville, NY 10708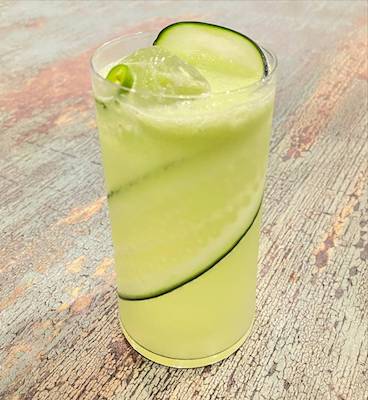 ScentFluence

Flowers, Champagne, and Chocolate are in the air this Mother's Day with ambient scented oils and luxury diffusers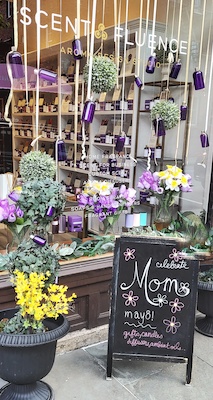 from ScentFluence. Stop in for a beautiful selection of memorable gifts, including our beloved hotel scents, inspiring yoga scents, uplifting and refreshing scents, and so much more. So many beautiful gift options, PLUS FREE gift wrapping!

ScentFluence
22 Harwood Court, Scarsdale Village
Tues-Fri 12-5 / Sat 11-6
www.scentfluence.com
Eye Gallery of Scarsdale
The Eye Gallery of Scarsdale invites you to check out the latest sunglasses and eyewear for spring. With new styles from Celine, Chanel, Chrome Hearts, Jacques Marie Mage, and Barton Perriera you will never run out of options for gifts this year! And while you're in town make sure to make an appointment for your annual eye check-up.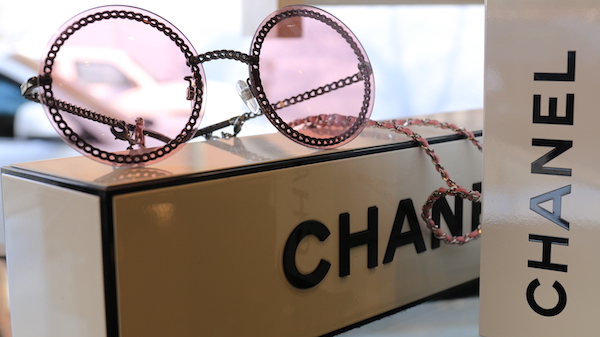 Eye Gallery of Scarsdale
8 Spencer Place
Scarsdale
(914) 472-2020
To add your gifts to the guide, email us today at scarsdalecomments@gmail.com.