David Spiro Wins Championship at Scarsdale Golf Club
Details

Written by

Joanne Wallenstein

Category: The Goods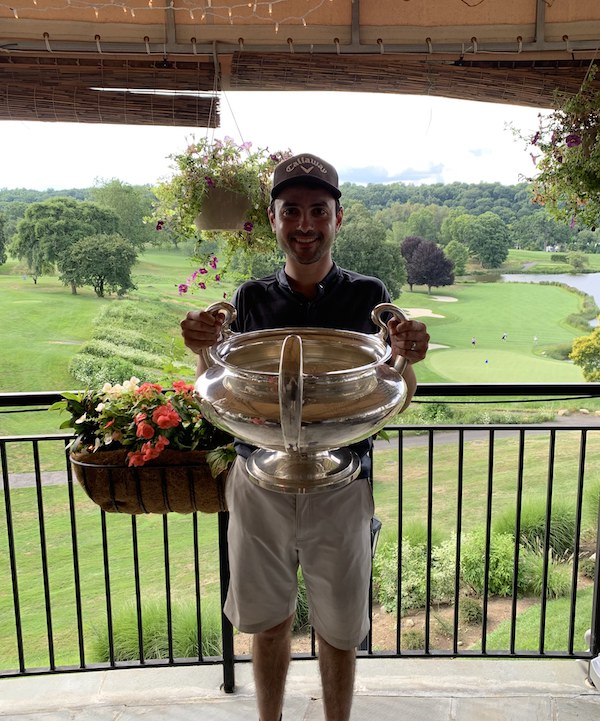 David Spiro, a 2010 graduate of Scarsdale High School, won the Scarsdale Golf Club Men's Club Championship on Sunday, July 31, 2022, triumphing over defending champion, John Kawakami, in the 36-hole final. He won the finals 2&1 on the 35th hole. The club championship is match play format, with an 8-player bracket. Spiro was the #2 seed as a result of having the lowest score, 76, in the stroke play qualifier (the defending champion, John, was the #1 seed automatically).
This was Spiro's first year as a member at Scarsdale Golf Club and first time winning the club championship there. He had previously won the club championship at Sunningdale Country Club (also in Scarsdale) in 2021 and at Fairview Country Club (in Greenwich, CT) in 2009 and 2012.
Spiro, who is 30 years old, is a Managing Director at Insight Partners, a venture capital and private equity firm based in NYC. He currently lives in NYC with his wife, Jessica.
Village to Continue Leaf Vacuuming, Despite Environmental Concerns
Details

Written by

Joanne Wallenstein

Category: The Goods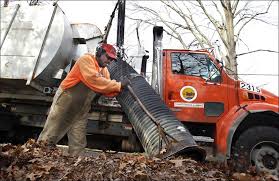 For the third consecutive year, the Village Board has examined the impact of changing their leaf pick-up program to end leaf vacuuming from the curb in place of the collection of bagged leaf and grass clipping collection and the promotion of mulch mowing.
An April 2021 report from the Scarsdale Forum recommended that the vacuuming of leaves be halted and replaced with the pick-up of bagged leaves as well as mulch mowing and grass cycling. Why? They found that a 2011 effort by the village to educate the public about the benefits of mulch mowing did not result in changes in behavior of residents or landscapers. Furthermore they say that local landscapers have failed to transition to safe best practices and often misinform their customers about the process and the costs. They concluded that "education alone has proven to be insufficient."
The Forum report found that leaf piles in the streets are hazardous to navigate and that wet leaves are slippery and dangerous. The leaf piles provide optimal conditions for the growth of fungi and mold. The leaf piles clog storm drains and catch basins, resulting in flooding. The emissions from the leaf vacuuming trucks disperse pollutants and it's wasteful to truck 5,000 tons of leaves to Goshen for recycling when this organic matter could be used to nourish village lawns.
Neighboring towns of New Rochelle and Greenburgh ended leaf vacuuming as a result and Greenburgh Town Supervisor Paul Feiner says the program is a success.
Countering the Forum report are some residents who see the end of the program as a cut in services that will result in property owners assuming the additional cost burden of disposing of their leaves.
In order to analyze the program, the Scarsdale Department of Public Works provided a cost/benefit analysis of trading leaf vacuuming for pick up of bagged leaves and mulching. If the vacuum program were suspended, the Village estimates that 10% - 20% of leaves would be mulch mowed and that the cost burden of disposing of the leaves would be transferred from the Village to the residents.
The Village received estimates from a local landscaper who claimed that the average homeowner would pay $220 more per year to have their leaves bagged and transferred to the Recycling Center. Overall residents would pay $1,188,000 to dispose of the leaves that are now vacuumed by the Village.
To facilitate the transition to the pick up of bagged leaves, the Village estimated that they would need to purchase two garbage packers at a cost of $260,000 each to pick up the bagged leaves. As it would take two years to get the equipment, the Village would initially need to rent the equipment at a cost of $48,900 per year.
Overall, they conclude that the existing program costs the Village $1,011 mm and the bagged leaf program would cost $1,647 mm with $1mm in costs shifted to residents.

So the question boiled down to whether or not Village Trustees could end the leaf vacuuming and force residents to either mulch mow or pay increased costs for disposal of their leaves. Would residents be willing to change their behavior to make the Village more environmentally sustainable, reduce our carbon footprint and take a small step toward addressing climate change?
At a work session on July 19, 2022, trustees voiced their views on the report from the Department of Public Works and asked for public comments.
Overall the trustees understood the environmental impact of the leaf vacuuming program but believed that residents desired the vacuuming service and did not want to assume the costs of leaf disposal. They were not ready to take the unpopular step of ending the program and burdening some with increased work to maintain their lawns.
Explaining the Village analysis, Jeff Coleman who heads the Department of Public Works said, "We concluded we are doing the job as efficiently as possible with the Village and the landscaping community….Though we do not by law have to provide this service, we provide excellent service….I do recognize that there are a number of ways to analyze this, but the conclusion will be the same each time."
Each Trustee weighed in and reached the same conclusion.
Trustee Ahuja said, "There has been deep debate about this topic since I have been on the Board. I have heard from a lot of residents on this topic. From the people I have spoken to, no one wants to change the current set up. People feel like additional cost burdens have already been placed on them -and no one I spoke to is excited about this change…. People are concerned about the aesthetics of their lawns and they should not be demonized. If it is our policy to shift more cost onto the residents, we should be clear about that. It's a struggle.
Trustee Mazer said, "In this case I will defer to the experts to make this decision."
Trustee Gans said, "I echo what Trustee Ahuja said. I was a member of the Scarsdale Forum when this report was written so I know people feel strongly about this. But the vast majority of people I spoke to do not want a change. It would be more costly and the environmental impact is not clear. Everyone will not mulch mow. So then there will be multiple trucks driving to multiple locations. It's in the Village's interest as a whole to preserve the status quo."
Trustee Whitestone said, "We have been through this analysis for several budget seasons. I would encourage residents to do what they want to do – but this is a service people are used to. Based on my sense of the DPW need for planning, I am comfortable continuing this. There are always going to be new ideas down the road and I am confident the Superintendent will continue to look at them."
Trustee Lewis said, "I support the staff's work. One observation: we often tackle things on an issue by issue basis. The intersection of all these things is climate change. Maybe we can focus on climate change more strategically at a session in the fall. How can we have a more sustainable Scarsdale, decrease our carbon footprint and address climate change? I think we should move the climate discussion higher on the agenda. If we conduct a more strategic analysis we can come up with a more comprehensive plan. These initiatives would probably support our bond rating. I would like us to think about this more strategically."
Mayor Veron read comments from Trustee Brew who was not present. She said, "We live in a community with a large and lovely tree cover but that means we have a lot of leaves on the ground. I believe we are not ready to not collect leaves. We can make a decision that would have unintended consequences. The role of the government is to provide service in a cost-efficient manner. I do not believe we cannot stop collecting leaves as it is far more efficient to vacuum them to bag them."
Mayor Jane Veron agreed saying, "It is the government's role to provide services in a cost-efficient manner. From the current analysis, I am not persuaded that the bagging the leaves has environmental benefits over vacuuming them. I am convinced that we would just be transferring an additional financial burden to our residents. It doesn't seem feasible to mulch mow all of the leaves that come down in the fall and it is our duty to perform services for our residents. We will always look for ways to do things better. I have read the Forum Report, I have listened to those who will be disappointed. I have attended neighborhood association meetings where people expressed disappointment about the discontinuation of the leaf program. I think people expect this program to continue."
Several residents who spoke were devastated by the decision.
Dr. Darlene Le Francois Haber said, "I am here tonight to make a plea in line with our climate crisis which is very much here. It is our obligation to set policy to do the right thing to be part of the solution. We are paying for this in terms of our health, safety and our climate. We need to mitigate this curbside collection, transition and if not, outright end to it. 5,000 tons of leaves carted off each year and stolen from our lawns and carted to Goshen New York. What a waste. What a disgrace. The analysis assumes only 10% would be mulched if we stopped the carting. It almost ripped my heart out to read that. I understand this burden shift of $1 mm to residents. Which of course would cancel the $636,000 benefit to the village. Where is your faith in our community? Do you read your own memos to residents that encourages residents to mulch their leaves on their properties? I believe I have more trees on my small property per acreage than any other person in Scarsdale, and I don't leave you a single leaf at the curb, not a single one. I don't have to buy any fertilizer or water my lawn. It's the circle of life. As a physician I think about what kind of report card I would get if I got 10%. If I got 10% of my patients to take their blood pressure medicine? 10% to take their COVID vaccine? I would have to fire myself. Behavior change is tough. I get it. But there is so much at stake. The environmental price tag is too high. Scarsdale is full of highly educated folks who want to do the right thing. I believe that. Maybe I am an optimist. Maybe I am deluded. Mulching would nourish our top soil and eliminate the need for fertilizer which contribute to the nitrogen phosphorous run off that our Save our Sound friends are worried about. Lets cut our carbon footprint by not carting these leaves thousands of miles. Look around at Larchmont and New Rochelle that eliminated this years ago. New Rochelle put in an all electric policy for equipment. While we can't mandate it, who should pay for hauling leaves from private properties? Should I be asked to finance the aesthetics of my neighbor's lawn?"
Susan Douglass 59 Crane Road heartily endorse Darlene's comments. I would say this is a disservice. It is harming our future, causing slippery roads, and things piling up on our roads. Friends in Greenburgh are not paying more. Our lawn service mulch mows in the fall and grass cycling in the summer and we don't pay more. They heartily endorse this method of lawn maintenance. Our lawn is healthy with worms. I personally don't want to pay for others to maintain their lawns the way they think it should look. Scarsdale has always been a leader especially with the food scrap recycling. This service is a disservice to all of us in the community.
Madelaine Eppenstein said "There are times when I feel like I am living on another planet. A Cornell Coop study did not find a problem with ticks. After Hurricane Sandy there were a lot of leaves in the streets. Landscapers blow the leaves into the streets and then to the curb. Those leaves can collect dangerous fungus. There are many towering oaks on my street. During the Hurricane they blew an enormous amount of leaves onto my property. I hired David Duarte to collect leaves from my property and my neighbors and they mulched all of the leaves and created mulch for my tree beds and it was a great benefit to the property. I am in support of what Trustee Lewis said – in putting our climate issues and sustainability issues in perspective.
A chorus of landscapers called in to discourage the Village from discontinuing the leaf vacuuming program.
Mike Ciganolfi Landscaper – mulching in place is not the answer either. Did anyone consider the dust from mulching in place and the respiratory issues? You would be taking a service away from the residents. For landscapers we would actually make more money. If you leave the leaves in place, it clogs the waterways that need to be cleaned out. The little things all add up. You could make your own compost pile and resell it to residents."
Michael Iorio, President of the NYS Turf and Landscape Association called in and said, "Scarsdale could collect those leaves, mulch them and sell them back to the residents. There are studies showing that the mulch creates ticks. Yes some mulching is good. But some times of the year you can't mulch all that is out there. Residents pay steep taxes and would not want this service taken away."
Wayne Stuetz, a landscaper from White Plains said. "I am all for mulch mowing. But it is impossible to do it all doing it during the heavy time in the fall. Mulching all the leaves and branches and making it aesthetically pleasing is impossible. People with larger properties can push it off to the side and mulch it there. Smaller homes with few trees can possibly do it. Is it worth it? "
The Mayor thanked everyone for their input and said the Village valued their feedback. For now, the Village will plan to continue vacuuming leaves this fall.
Arthur Manor Hosts 94th Annual July 4th Parade and Celebration
Details

Written by

Matthew Martin

Category: The Goods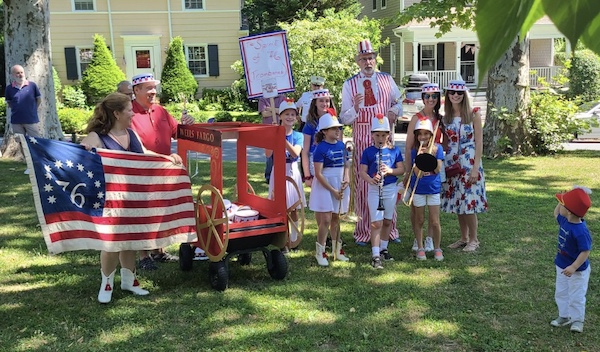 The Arthur Manor Neighborhood Association held its 94th Annual 4th of July parade throughout the streets of Arthur Manor and the ceremony and picnic in Davis Park on a beautiful and sun filled Monday morning, July 4th. This annual neighborhood association celebration started in 1928!
The parade marchers began gathering at the corner of Bell and Sprague Roads at 9:15 am on Monday morning to compete in the various categories of parade and float participants. Before the parade the judges carefully reviewed and ranked the individual and group marchers in categories such as most patriotic costume, stroller, tricycles, and of course the floats.
At 9:45 am, a special Scarsdale Police Department escort led the parade, accompanied by Scarsdale Volunteer Fire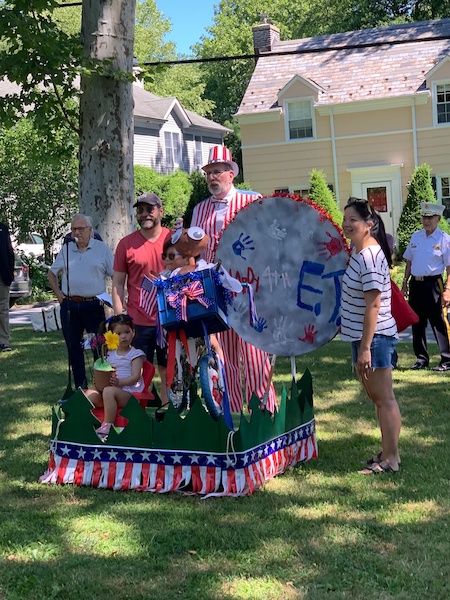 Company No. 1 (founded on Sprague Road in 1893) together with all of the marchers, including Scarsdale Mayor Jane Veron and Trustees Jonathan Lewis and Randy Whitestone, from Bell and Sprague Roads, down Sprague Road to Lyons Road and then on to Davis Park.
The parade ended at Davis Park where the traditional 4th of July ceremony was held before the flagpole at the north end of the park.
The ceremony began with the raising of the flag by Scarsdale Volunteer Fire Company No. 1's color guard. Long time Arthur Manor resident Richard Gast sang the National Anthem, followed by the recitation of the Pledge of Allegiance. The crowd observed a moment of silence to remember all of the men and women who sacrificed so much for liberty and democracy in the United States and abroad.
Scarsdale Mayor Jane Veron addressed the crowd on the importance of July 4th and the relevance of this special day for all residents. Village Trustee Randy Whitestone spoke on the significance of Scarsdale's role in the American Revolution. Trustee Jonathan Lewis and former Trustee Matt Callaghan were also in attendance together with Arthur Manor's own Uncle Sam (played perfectly, as always, by Teegan Lee).
Former Arthur Manor President Al Stuart then conducted the awards ceremony for the day's marchers and other parade participants announcing winners in categories such as floats, bicycles, and tricycles. 2022.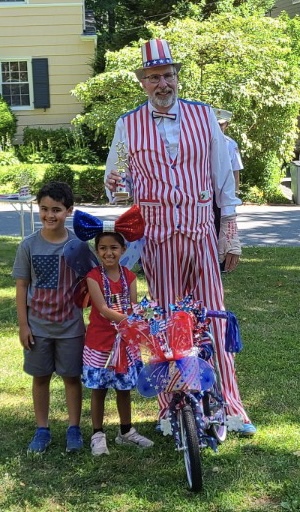 The Arthur Manor Neighborhood Association's July 4th parade and picnic was sponsored by its own members and the awards for the 2022 field events were provided by local merchants such as Bagel Power and Big Top Toys on Weaver Street, Bronx River Books on Spencer Place, Carvel on Mill Road, Happy Days Pizza on Post Road, Italian Village Pizza at the Golden Horseshoe, Martine's on East Parkway, Pizzarelli's on Depot Place, Scarsdale Pastry Center on Weaver Street, Trader Joes in Eastchester, Via Forno on Garth Road and Scarsdale Pizza Station on Scarsdale Avenue. The Arthur Manor association encourages all of its residents to buy local when possible.

At the conclusion of the 4th of July ceremony, the crowd walked to the other end of Davis Park for the annual field events including the 50 yard dash, parent-child relay, three-legged race, potato sack and wheel-barrow races, and Arthur Manor's all-time favorite annual "egg toss" - first appearing at Arthur Manor's July 4th picnic in 1944! This year the games were expertly conducted by Arthur Manor residents Andrew Krause and Sam Bryant. (A list of the winning field event participants also follows below).
Shannon and Sean Cover won the egg toss, with second place to Louis and Liam Mancini and third place to Barbara and Robert Carpenter. Congratulations all those who participated in the 2022 egg toss event!
Hosting the event was Arthur Manor Neighborhood Association President, Matt Martin.
This annual event in Arthur Manor is made possible through the collective efforts of the Arthur Manor volunteer residents including the Marcus, Roche, Porco, Bonanno, Bongiorno and Stuart families, and all of the other Arthur Manor volunteers too numerous to list here. A tremendous THANK YOU to all those residents who helped make the special day happen!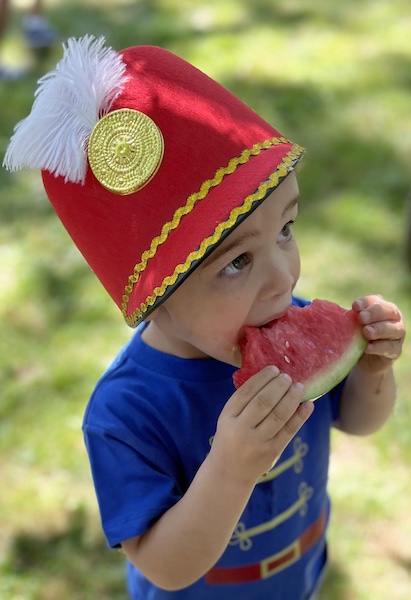 The Arthur Manor association also encourages all of its residents to start practicing now for the July 4th, 2023 egg toss.
Arthur Manor 4th of July Celebration Parade Winners, July 4, 2022
Marchers in Patriotic Costumes
1st place: "Spirit of 76 Trombones", Grace Horne, Stella Bower, Sophia Elliott,
2nd place: "Team 4 Star", Lily and George Fradkin
3rd place: "Team Birthday", Lily and Mia Tamuro
Honorable Mention: "Ruth Bader Ginsburg Collar", Ashani Shah
Scooters
1st place: Bobby Carlton
2nd place: Penny Stuart
3rd place: The Haggerty Kids
Honorable Mention: Max Amato
Bicycles
1st place: Malula Schuerlein
2nd place: Zoe Zeng
3rd place: Henry Delucin
Honorable Mention: Grace Piekarski and Leila Capossela
Tricycles
1st place: Cole Capossela
Carriages and Strollers
1st place: Miles Koppel
2nd place: Super Ruby, Ruby Kirsch
3rd place: Joshua Koppel
Honorable Mention: Mia Amato
Floats
1st place: "ET, 40th Anniversary"", Jack and Sloane Callaghan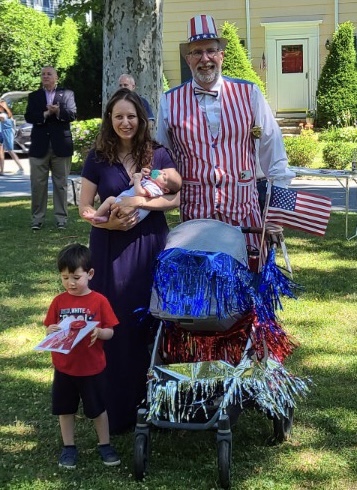 2nd place: "Powering Ahead", Porter Nathanson Families
3rd place: "Spirit of 76 Trombones", Horne, Elliot & Bower Families
Honorable Mentions: "Discover Space Shuttle", Ferjack-Seely, and
"Mister Softee", Bandsma Family
Arthur Manor 4th of July Celebration Field Events, July 4, 2022
Dash
1st Heat: 5 yrs. Old and under, boys and girls together
1st- James Hagerty
2nd- Max Panzer
3rd-Jack Callaghan
2nd Heat: 6 and 7 old, boys and girls together
1st- Johan Schuerlein
2nd- Will Steinhaus
3rd – Rory Delucia
3rd Heat: 8,9,10 year old, girls
1st- Mila Lundy
2nd- Grace Piekarski
3rd- Ellen Chang
4th Heat: 8,9,10 year old, boys
1st- Pierce Bower
2nd- Anthony Sannicandro
3rd- Nicholas Kimmel
5th Heat: 11 yr old and older, girls
1st- Zoe Zheng
2nd- Riku Oba
3rd- Arya Goyal
6th Heat: 11 yr old and older, boys
1st-xxxxxxx (no competitors)
2nd- xxxxxxxxxx
3rd-xxxxxxxxxx
Wheelbarrow Race (Teams of two, boys and girls mixed)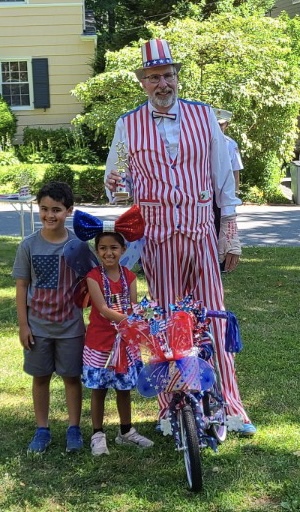 1st Heat: 7 yrs old and under
1st- Rory Delucia and Shea Piekarski
2nd- Kiely Piekarski and Penny Stuart
3rd- Malula Schuerlein and Finn Mancini
2nd Heat: 8,9,10 yr olds
1st- Kiely Piekarski and Grace Piekarski
2nd- Pierce Bower and Patrick Hagerty
3rd – Grace Horne and Stella Bower
3rd Heat: 11 yr old and older
1st- Olivia Elliot and Avery Bower
2nd- Zoe Sheng and Arya Goyal
3rd- Riku Oba and Mila Lundy
Potato Sack Race/ Girls
1st Heat: Girls 6 and under
1st- Rory Delucia
2nd- Olivia Garvey
3rd- Kiely Piekarski
2nd Heat: Girls, 7 and 8 yr olds
1st- Grace Piekarski
2nd- Grace Lundy
3rd- Alisa Schul
3rd Heat: Girls, 9 and 10 yr olds
1st- Sophia Vuu
2nd- Lily Tamura
3rd- Ellen Chang
4th Heat: Girls, 11yr old and older
1st- Zoe Zheng
2nd- Riku Oba
3rd- Olivia Elliott
Potato Sack Race/Boys
1st Heat: Boys, 6 yrs and under
1st- Timothy Hagerty
2nd- James Hagerty
3rd- Kaiden Keany
2nd Heat: Boys, 7 and 8 yrs old
1st- Johan Schuerlein
2nd- Pierce Bower
3rd- Vishnu Sridhar
3rd Heat: Boys, 9 and 10 yrs old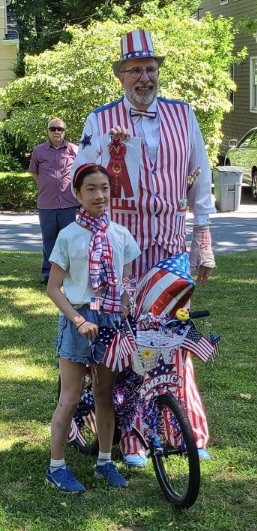 1st- Ben Maibrunn
2nd- Miles Mancini
3rd- Anthony Sannicandro
4th Heat: Boys, 11 yrs old and older
1st- Ari Maibrunn
2nd- Liam Mancini
3rd- Selo Adege
Parent and Child Relay
1st Heat: Children 5 and under
1st- Shea Piekarski
2nd- James Hagerty
3rd- Jack Callaghan
2nd Heat: Children 6,7,8 yrs old
1st- Grace Piekarski
2nd- Johan Schuerlein
3rd- Kiley Piekarski
3rd Heat: Children 9 and 10 yrs old
1st- Ben Maibrunn
2nd- Patrick Hagerty
3rd- Ellen Chang
4th Heat: Children 11 and older
1st- Elena Sannicandro
2nd- Elliot Zheng
3rd- Zoe Zheng
Three Legged Race (Teams of Two, Boys and Girls Mixed)
1st Heat: 6 and under
1st- Kiely Piekarski and Rory Delucia
2nd- Kaiden Keany and Shiv Goyal
3rd- Eliza Krause and Natalie Bates
2nd Heat: 7 and 8 yr olds
1st- Grace Piekarski and Aila Delucia
2nd- Will Steinhaus and Vishnu Sridhar
3rd- Pierce Bower and Johan Schuerlein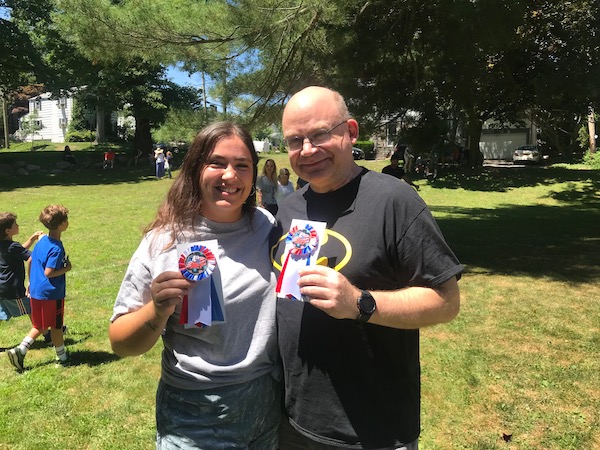 3rd Heat: 9 and 10 yr olds
1st- Grace Horne and Sophia Elliott
2nd- Rohan Pandit and Nicholas Kimmel
3rd- Sophia Vuu and Lily Tamura
4th Heat: 11 yr olds and older
1st- Ari Maibrunn and Liam Mancini
2nd- Zoe Zheng and Arya Goyal
3rd- Olivia Elliott and Avery Bower
Egg Toss
1st- Shannon Cover and Sean Cover
2nd- Louis Mancini and Liam Mancini
3rd- Barbara Carpenter and Robert Carpenter
Summer Reading: The Most Popular Books at the Scarsdale Library
Details

Written by

Joanne Wallenstein

Category: The Goods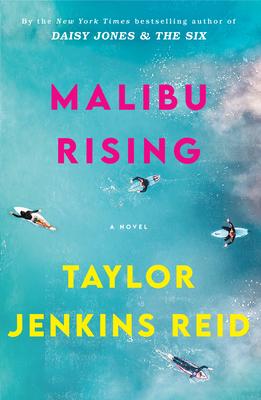 If you're looking for your next read, just survey your Scarsdale neighbors. We asked Erika Heinzelman at the Scarsdale Library for a list of the most circulated books from their collection, and she shared the names below of fiction, non-fiction and audiobooks.
The sixth book on the list of fiction is Malibu Rising by Jenkins Reid which will be the subject of a book discussion on Zoom led by Katie Karchek from the library on August 9 at 7 pm. You can sign up here:
What is it about? Sounds like a good beach read to me: Here's the synopsis:
Malibu: August, 1983. It's the day of Nina Riva's annual end-of-summer party, and anticipation is at a fever pitch. Everyone wants to be around the famous Rivas: Nina, the talented surfer and supermodel; brothers Jay and Hud, one a championship surfer, the other a renowned photographer; and their adored baby sister, Kit. Together, the siblings are a source of fascination in Malibu and the world over—especially as the offspring of the legendary singer, Mick Riva.
The only person not looking forward to the party of the year is Nina herself, who never wanted to be the center of attention, and who has also just been very publicly abandoned by her pro tennis player husband. Oh, and maybe Hud—because it is long past time to confess something to the brother from whom he's been inseparable since birth.
Jay, on the other hand, is counting the minutes until nightfall, when the girl he can't stop thinking about promised she'll be there.
And Kit has a couple secrets of her own—including a guest she invited without consulting anyone.
By midnight the party will be completely out of control. By morning, the Riva mansion will have gone up in flames. But before that first spark in the early hours before dawn, the alcohol will flow, the music will play, and the loves and secrets that shaped this family's generations will all come bubbling to the surface.
Malibu Rising is a story about one unforgettable night in the life of a family: the night they each have to choose what they will keep from the people who made them... and what they will leave behind.
Share your ideas for summer reading in the comments section below:
Top Circulating Fiction
The Paper Palace--by Miranda Cowley Heller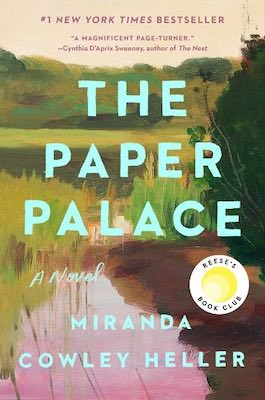 Klara and the Sun--by Kazuo Ishiguro
The Last Thing He Told Me--by Laura Dave
Apples Never Fall--Liane Moriarty
Malibu Rising--by Jenkins Reid
Our Country Friends--by Gary Shteyngart
Oh William!: a novel--by Elizabeth Strout
The Lincoln Highway--by Amor Towles
The Maid--by Nita Prose
The Plot--by Jean Hanff Korelitz

Top Circulating Non Fiction
The Changing World Order: why nations succeed and fail--by Ray Dalio
100 Things We've Lost to the Internet--by Pamela Paul
In the Garden of Beasts: love, terror, and an American family in Hitler's Berlin--by Erik Larson
The Premonition: a pandemic story--by Michael Lewis
A Carnival of Snackery: diaries (2003-2020)--by David Sedaris
A Good Bake: the art and science of making perfect pastries and breads at home--by Melissa Weller
Betrayal: The Final Act of the Trump Show–by Jonathan Karl
Blockchain–by Tiana Laurence
Claudia Roden's Mediterranean: Treasured Recipes from a Lifetime of Travel. a Cookbook–by Claudia Roden
Don't Worry: 48 lessons on relieving anxiety from a Zen Buddhist monk–by Shunmyo Masuno

Top Circulating Audiobooks
A History of India-- by Michael Herbert Fisher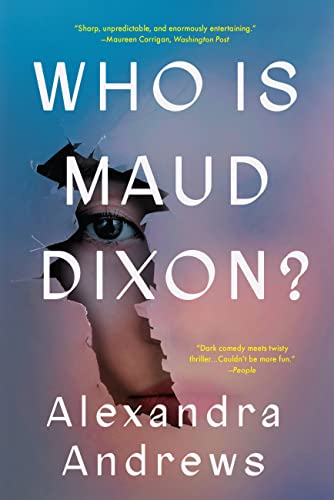 Dear Mr. M–by Herman Koch
Starting out in Spanish–from Living Language
The Best of Me–by David Sedaris
The Gift of Failure: How the Best Parents Learn to Let Go So Their Children Can Succeed–by Jessica Lahey
The Last Painting of Sara de Vos a novel–by Dominic Smith
The Long Drop a novel–by Denise Mina
The Red Lotus: a novel–by Chris Bohjalian
The Searcher–by Tana French
Uncle Tom's Cabin–by Harriet Beecher Stowe
Who is Maud Dixon?: a novel–by Alexandra Andrews
Share your book ideas in the comments section below.
Greenacres Fifth Graders Move Up
Details

Written by

Joanne Wallenstein

Category: The Goods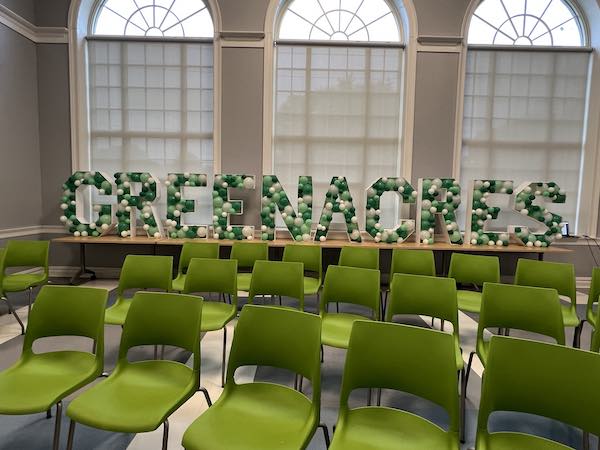 In a joyous celebration, a moving up ceremony for members of the Greenacres Class of 2022 was held in the new multipurpose room of the school on June 22, 2022. The space was decorated with a large Greenacres sign made of green and white ballo0ns, behind bright green chairs.
The class had weathered two years of construction, the trials of remote learning and social distancing during COVID and navigated a host of unusual circumstances during their tenure at the school. So it was lovely to see their smiling faces as parents, grandparents and teachers lauded their success.
Fifth graders filed in and started with the school song, followed by welcoming remarks from Principal Sharon Hill. She called the students flexible, creative, optimistic, and resilient and said, "We are extremely proud of you." She said the students have a "solid foundation for future pursuits," and "are ready to take the next steps," using their "critical thinking and problem solving" skills. She advised them to "achieve your very best, make good choices, to be curious, patient, to exercise empathy and kindness," and said, "the doors of Scarsdale Middle School will be open wide."
Each student was named individually and stood to loud applause.
Dr. Blackhurst, Mr. Missett and Mr. Orengo, who are music teachers at the school formed a trio to perform "In My Life" by the Beatles, and then Assistant Principal Sharon De Lorenzo continued a long tradition of acknowledging families whose last child was leaving Greenacres.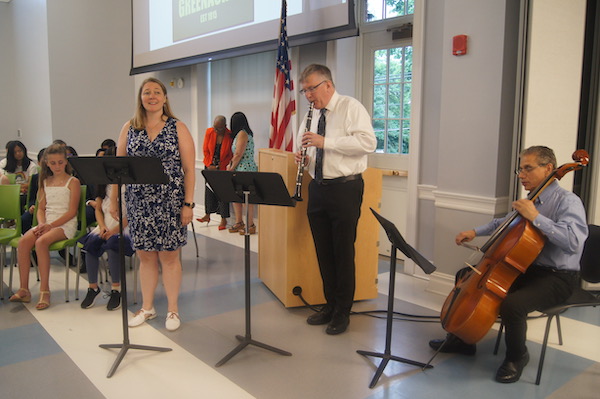 After a spirited performance of "Rise Up" by the fifth graders, a video montage of the class through the years was shown, with cameos from each graduating student, saying phrases such as, "I am powerful, I am unique, I am adventurous, I am creative, I am intelligent, I am incredible, I am imaginative, I am friendly, I am awesome." It was a show of confidence from students on their way to a new school and a new stage in their development.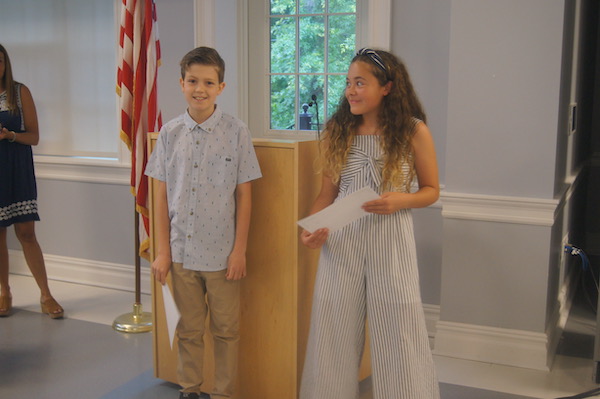 Benjamin Pearson and Mercedes Rodriguez Lecuona An announcement was made about a gift of tulip bulbs and plants to be given to the school by the fifth grade class.
Awards were granted in the name of Paulie Jimenez to those who went above and beyond in being inclusive and kind. This year the awards went to Benjamin Pearson and Mercedes Rodriguez Lecuona and they came to the front to be applauded.
With that, the class filed out and received a gift of an SMS sweatshirt, which most put on immediately on the cool cloudy day. Families and friends posed in front of the large Greenacres sign and there were smiles all around.