Two Openings Celebrated in Scarsdale Village
Details

Written by

Joanne Wallenstein

Category: The Goods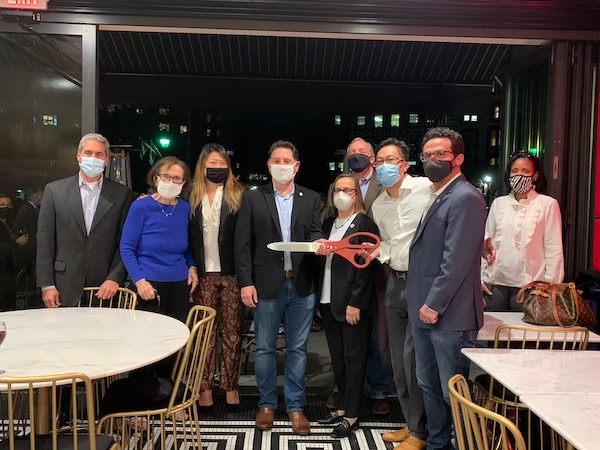 Akai Lounge Ribbon CuttingThough the dining tent in Scarsdale Village will come down this week, things are looking up for shopping and dining downtown.
This week Scarsdale celebrated the opening of two new businesses. On Thursday, a unique aroma design studio called Scent Fluence opened in the former location of Imagine Candy at 22 Harwood Court and the long-awaited Asian Fusion restaurant Akai Lounge held an opening reception in their location formerly occupied by Lange's of Scarsdale.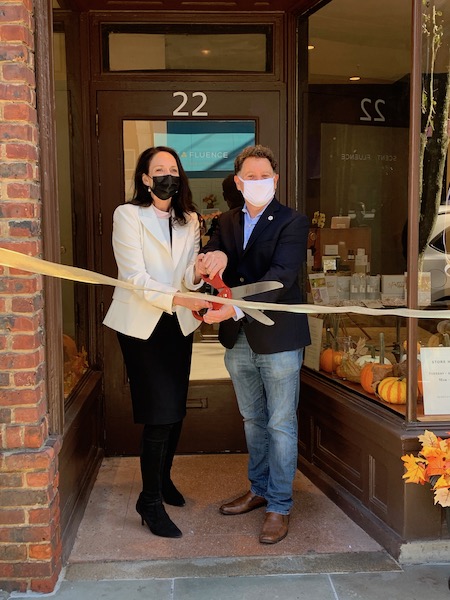 Caroline Fabrigas and Scarsdale Mayor Marc Samwick Open Doors at Scentfluence
On Thursday November 6, Village officials, realtors and business leaders gathered for a ceremonial ribbon cutting at Scent Fluence. The studio is owned by Scarsdale resident and former beauty and fragrance executive Caroline Fabrigas who has formulated custom scents for hotels and luxury retailers and is now offering a wide range of scents and diffusers for home use. The beautifully designed store is a jewel box of aromas. Stop by and take a whiff of what's in store or ask them to design a custom blend for you.
It's an intriguing concept and will make for one of a kind holiday gifts for friends and family this season.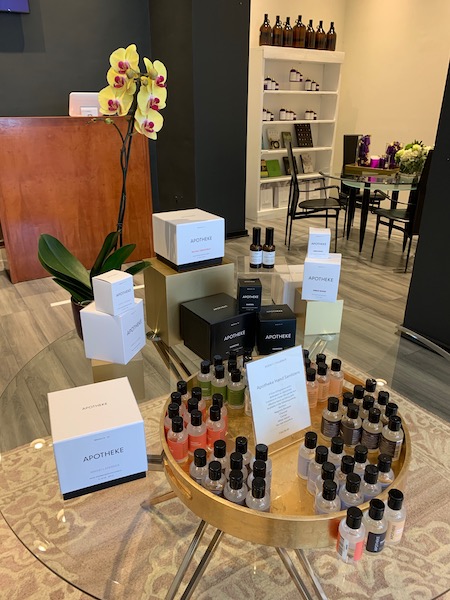 On Monday evening November 9, James Du and Lillian Pien held a ribbon cutting and reception for trustees, realtors and supporters at their new Asian Fusion restaurant Akai Lounge at 57 Spencer Place in Scarsdale. The space has been fully renovated in bright red, chrome and glass. The weather cooperated and allowed the restaurant to open their glass doors fronting Spencer Place to spill out onto the sidewalk. Guest sipped lychee nut sangria and sampled sushi appetizers including tuna tartar and agedashi tofu. The restaurant is holding their soft opening this week and will be in full swing next week. Attendees were thrilled to have another dining option in the Village.

Owners James Du and Lillian Pien were introduced to Scarsdale by Evelyn Stock. Stock had a delicious dinner at one of their restaurants in New Jersey and met the owners and encouraged them to open here. After they expressed an interest, Stock introduced the two to Rush Wilson and a match was made.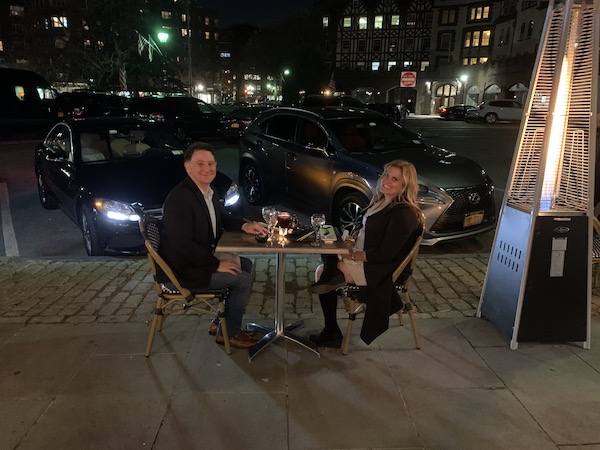 Marc and Cynthia Samwick sampling fare at the new Akai Lounge.
Sadly, the dining tent will be taken down this week. However the outdoor picnic tables will remain. Upon hearing that the tent was going down, reader Anthony Leone said, "Wish the dining tent at Spencer Place would remain (with heat lamps if legal). It's been a welcomed addition to town."
The Scarsdale Business Alliance encourages you to continue to shop and dine downtown and purchase raffle tickets to win prizes from local businesses and support the Village. Purchase raffles here: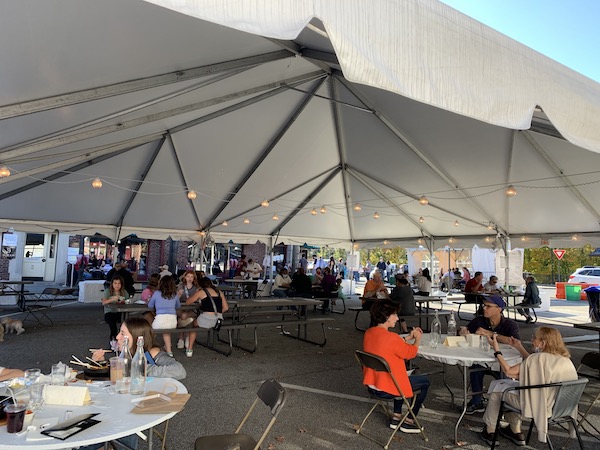 The dining tent on Spencer Place will come down this week. The picnic tables will remain.
Surveys and Focus Groups Indicate that Stakeholders are at Odds About How to Move Forward
Details

Written by

Joanne Wallenstein

Category: The Goods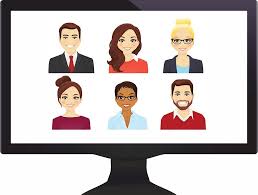 In the past few weeks the district conducted focus groups and sent out surveys to assess community views on the hybrid learning model in the Scarsdale Schools. In depth results of this research is available online. At the November 2 meeting of the Board of Education, Assistant Superintendent Edgar McIntosh reviewed the top line results from the surveys while Superintendent Thomas Hagerman gave topline conclusions from the focus groups. The results mirrored comments the Board has heard from parents at recent meetings.
Here's a summary of the primary findings from the surveys. Click on the links for an indepth analysis.
Elementary school surveys revealed the following:
-73.5% of fourth and fifth grade students felt that they could learn well in the am/pm cohort model.
-A large majority of fourth and fifth graders said they could independently log on, find materials and stay organized.
-11% of fourth and fifth graders reported having difficulty staying focused during independent time.
-About 64% of parents of K-1 students reported that the children were having trouble signing on and working independently.
Elementary School Teachers
81.9% reported that teaching smaller groups allowed them to monitor student progress. They feel that daily contact and small cohorts are benefits of the current elementary school model. However, teachers cited the challenge of limited time with students and are missing the opportunity to do hands on, collaborative and group work. They found planning time on Wednesdays to be valuable and that planning time with colleagues was essential and had a positive impact on teaching. Last, 55% of teachers believe their input has had little impact on district decision-making.
Elementary School Parents
The highest number asked for more instructional time, in person. Second, they expressed their appreciation for the teachers and noted communications challenges.
Middle School surveys surveys showed:
-The majority of students find that work load was just right
-Few students are using faculty office hours. Instead they seek clarification through email.
-Parents feel comfortable with safety measures
-Movement of teachers leads to a loss of instructional time, due to the technology set up that is required.
-The majority of parents and students believe that students benefit more from synchronous rather than asynchronous activities. Students can have their questions answered in real time and feel more connected.
High School surveys surveys revealed the following:
-Students said they are doing the same or more work on the mornings they are home rather than in school. However, 62% of parents disagree.
-Students are using the tutorial time on Wednesdays, and doing the same or more work on Wednesdays. However only 54% of parents agree that the same amount of work is being done.
-2/3 of students say they are as busy at home as they are in school, and believe they are busier this year than in a typical year.
-Only ¼ agree that students feel connected to their teachers and colleagues.
-Half of the students agree that they know how their grades will be determined.
-Only 5% of students and 7% of the faculty believe that synchronous at home learning should replace asynchronous work, while 34% of the parents are in favor of cross cohort live-streaming.
McIntosh said that district will fully analyze the data to see what steps they can take.
Dr. Hagerman reviewed the outcome of 39 focus groups conducted by the Tri State Consortium. He reported that 400 participants including parents, teachers, students, board of ed members and administrators had participated.
He said that questions focused on communications, what practices have been effective and how can they be improved and teaching and learning in the hybrid model.
Hagerman provided a summary of 12 broad points of feedback:
-Most support the safety protocols and feel that they are working well.
-Participants expressed an appreciation for how the district is adapting.
-Everyone believes in person instruction is going well under the current conditions.
-People want more in person instruction, some within the hybrid model and some calling for a full instructional model.
-Parents have less confidence about what is happening when children are not in school
-Concerns were expressed about the quality of asynchronous learning experiences.
-Special education and virtual only families feel marginalized by the district's plans
-Parents believe that district communications have been overwhelming in volume and length.
-Parents distrust district communications because they don't explain the how and why decisions are being made.
-While the majority of parents are advocating for more in person instruction, the preponderance of teachers are concerned about bringing more children back for longer periods of time in school for health and safety reasons.
-Teachers believe district communication has been top down in nature and does not include feedback from teachers. They perceive that decisions are made in a reactive nature, often in response to parent pressure.
-The Wednesday schedule has produced widely different perspectives. Parents feel that Wednesdays are a waste of time and students find the schedule to be confusing, while teachers need the time for planning and preparation.
-The decision to experiment with cross cohort streaming lacked meaningful teacher participation. Communication about it was unclear and the technology was not in place to deliver a high quality experience.
-Participants called for improved emphasis on social and emotional health for all stakeholders. Stressors includes students' need for more social interaction, parents fears about their children falling behind and teachers feeling the pressure of totally overhauling their curriculum without adequate time and training.
In conclusion, Dr. Hagerman said," teachers, parents and students appear to be at odds about how to move forward."
STA President Urges Community to Maintain a Spirit of Trust
Details

Written by

Joanne Wallenstein

Category: The Goods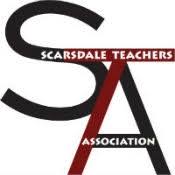 These comments were made by Scarsdale Teachers' Association President David Wixted at the Board of Education meeting on October 19, 2020.

Thank you for this opportunity to speak. When I came before the Board in August, I said that STA officers do not typically make these kinds of public statements. The fact that I find myself here again two months later says something about the extraordinary times we are living in-- times driven by the ever-increasing pace in which demands arise and decisions must be made. Times that bring tremendous stress and worry to us all.
I will begin by asserting that seven weeks into the school year, the educators of this district are doing everything possible to provide excellent educational experiences to students in this time of pandemic. Tonight I hope to give voice to these remarkable efforts but I know my words will not provide their full measure. Much of what I am about to say is known to the Board and district administrators. Still, given the recent comments at Board meetings, the time requires that I step forward and speak about these realities to a broader audience.
To begin with the obvious: this school year is unfolding in a time of pandemic. Any reading of the news makes clear we will again confront a surge of the virus's spread. Indeed, the events of the past weekend demonstrates how close the threat of the virus remains. Rightly, this district has asserted as a priority the health and safety of all working within its schools, students and educators alike. Over the past decade, this priority has been the source of consuming discussion at Board meetings. Since the outbreak of the virus, these concerns have become more pressing, leading to instructional modalities in line with guidance from authorities in Albany. Since March, teachers and administrators alike have worked to find their footing in this reality, and while we stumbled at times on the unfamiliar terrain, we became increasingly more assured at providing remote learning experiences to students.
Then, with an eye on the coming school year, and through ongoing deliberation among the professional educators collaborating with stakeholder groups, over the summer the district devised a series of plans for school restart. These discussions unfolded while we awaited directives from Albany. These deliberations were challenging and contentious because priorities were often in conflict. Over the summer, the STA, concerned with the well-being of students and faculty, argued for a commitment to remote learning. We sought to take what we learned from the spring and apply it to the work of the coming school year. Administrators and other stakeholders cited guidance from the State favoring in-person instruction. The argument was that through the cohorting of students, through strict adherence to guidelines including social distancing and the wearing of masks, and through a commitment to professional development and common planning time, schools could be reopened in a way that provided a reasonable degree of safety while also advancing the education of students. This led to the adoption of the hybrid models currently in place.
Once these models became defined, this district's faculty has been and remains committed to answering the question of how to make instruction come alive in the minds of students. Let there be no doubt about this. The educators of this school district have dedicated themselves to planning meaningful and coherent learning experiences within unfamiliar modalities. Teachers currently find themselves living again what they remember as first year teachers striving to make instructional connections with students. Yet, in spite of laboring in modes that are unfamiliar, the work teachers are creating is deep, rich, and significantly advances students through curricula. Some may point to seeming limitations arising from the structure of school schedules required by the pandemic. However, they should know that teachers are always striving to provide students with learning that leverages the live instruction they receive with the work they do asynchronously. Every day, teachers teach the students in the room with them. Every day, they remotely teach the students whose families have decided to keep their children home. Every day, they plan learning for students who are off cohort. Every day, teachers have answered the demands arising from hybrid learning models, and they are making it work. And it is worth mentioning that the students have been wonderfully responsive.

These efforts are demanding, hugely time-consuming, and require the sustained commitment of educators working in service of students. But this is who Scarsdale educators are. They are devoting hours upon hours restructuring lessons, creating new ones, deepening their abilities with technology, and seeking new ways to connect to students when they are away from the classroom. Know that everything about teaching last spring and now this year is more complicated. Everything we do takes more time. These efforts require sacrifices teachers are willing to make because of their commitment to students. But to be clear, in this unfamiliar and challenging modality, teachers are sacrificing their well-being and commitments within their personal lives so as to provide the education their students deserve-- education that will prepare them for the work to come-- education that is at least the equal to that provided by any other school district.
But they also openly worry if their efforts are sustainable.
Since the start of the pandemic in March, the teachers of the school district have tuned into the broadcasts of Board meetings. They know in these exceptional times, listening to the tenor of the community's conversations with the Board is important. In recent weeks, teachers, especially at the secondary level, have heard increasing criticisms for what is being provided along with calls for the 'live streaming' of classes. They have heard speakers defining the education offered by Scarsdale teachers as being 'less than' that found at other school districts-- that teacher efforts can be defined through classroom hour counts and opportunities for students to live stream. There is a truth that most area school districts are allowing off-cohort students into the classroom. I recognize that in part because of this truth, the district feels compelled to follow suit. But I do not accept that such practice is superior to the asynchronous work teachers have been providing. And I mostly worry that the practice will place additional strain upon teachers now required to engage three audiences at once-- the students in the room, the students learning remotely, and the off cohort students. I worry that the practice of live streaming will diminish the educational experience everyone receives.
When I came to Scarsdale thirty years ago, I remember being struck by the degree to which the professional educators-- teachers and administrators-- were trusted to make the decisions about what is in the educational interest of students. There was faith that the instruction provided to students was grounded on sound pedagogical principles, and that we could be relied upon to provide the learning opportunities students needed. Over the years, at the heart of this extraordinary district has been this spirit of trust. I recognize that this spirit is not always easy to maintain and relies upon a continuous dialogue between the Board of Education and all those working in these schools. These impossible times make maintaining this trust even more complicated, but it is in such times that it is most needed. It begins with this recognition, that your district's educators, an expansive word that includes teachers, school counselors and deans, librarians, nurses and therapists, psychologists, and all professional service providers, are doing everything they can to make this hybrid model work, and they are doing it at great personal expense. They have been disheartened and discouraged hearing voices questioning their labor, their intentions, their commitment to their students. And every time there is a change that requires something more, the thought becomes 'what's next?' All of this can have the effect of distancing teachers from their work, of seeing these obligations simply as a job and not as their life's calling.
This year is sure to bring challenges that will be best addressed by a dialogue that places the voices of educators, the ones who will be required to implement decisions, at the center. Together, knowing that there is appreciation for the work of teachers within the Board, among building and district administrators and from many in the community, we must continue to maintain the trust at the heart of this school district. Doing so is the best way to be true to our educational culture and to find ourselves intact when this pandemic eventually ends.
Fall for Scarsdale
Details

Written by

Olivia Halligan

Category: The Goods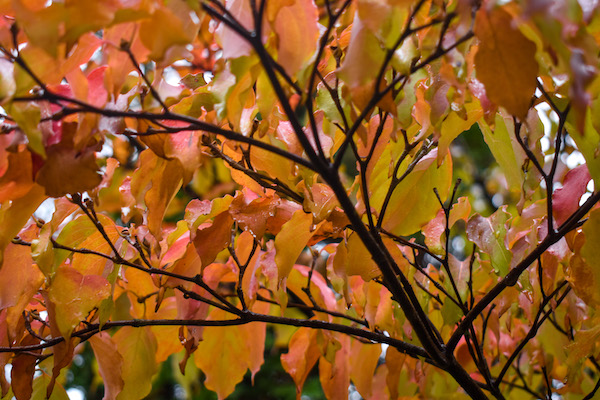 One silver lining of the pandemic has been the gift of time -- time to take a walk, appreciate nature and notice our surroundings. As the leaves turn this year, we're seeing beautiful vistas of yellow, orange, pink and red. Scarsdale High School junior Olivia Halligan shared these stunning fall photos of the Village we are fortunate to call home.
Scarsdale Forum Proposes Formation of a Permanent Committee to Facilitate Communication Between the School District and Stakeholders
Details

Written by

Joanne Wallenstein

Category: The Goods

The Scarsdale Forum is proposing the formation of a permanent advisory committee to improve communications among stakeholders in the Scarsdale learning community including the Board of Education, the district administration, educators, students, parents and community members.
Citing the need to improve communications in light of the COVID-19 pandemic, the group is calling for "transparent, substantive, timely and ongoing communications between the school district, Board of Education and community stakeholders. The purpose of the Scarsdale Community Communications Committee (SCCC) would be to "promote synergistic communication and participation among and between educators, parents, students, the wider Scarsdale community, the BOE and the District, among other stakeholders in the Scarsdale learning community and educational hierarchy.

The Education Committee proposal notes that during the school closures and the restart process, many stakeholders wanted to express themselves and become engaged in the process, and this committee could facilitate that engagement. The proposal says, "Many stakeholders desired more interactive opportunities to express their thoughts over remote learning experiences. In addition, there appeared to be heightened interest among stakeholders in becoming more involved in the development of the Restart Plan."

The proposal envisions that the SCCC would be an active committee, ready to become engaged whenever the need arises. According to the proposal, "This proposal envisions the SCCC as an active, vibrant committee, ready to become more or less engaged as events demand, both during periods when communication and participation strategies are necessary to support ongoing information sharing, as well as during the rare occasions when immediate action may become necessary. As current events have shown, an unexpected crisis may consist of power outages greater than several days, or a long-term situation such as a global pandemic that has the potential to exert a profound impact on the lives of stakeholders and the functionality of school operations."
Barry Meiselman is the Chair of the Scarsdale Forum Education Committee that is proposing the formation of the SCCC. We asked him a few questions to learn more about the proposal:
Why is the education committee proposing the formation of the School Community Communications Committee now? What was the impetus?

The pandemic and community reaction to the Restart Plan seemed to indicate that there might have been better ways to engage a broader representation of stakeholders in both the Restart planning process and decision-making for the start of the upcoming school year. Stakeholders desired more constructive, interactive and inclusive opportunities to contribute to the planning, policy development and decision-making that formed the basis for the Restart Plan.

How will members of the SCCC be selected?

The report cites a toolbox developed at MIT that identifies the roles that should be assumed by those who participate in an SCCC-like committee, as well as procedures to ensure appropriate selection of committee members from the stakeholder community. Certain decisions about the SCCC will need to be made when the committee develops its mission and goals. The Education Committee is confident that these details can be worked out in a reasonable fashion, utilizing the framework provided in the report.

In the discussions about the restart plan this summer, the community was not able to hear the perspective of the teachers until very late in the game. Will teachers be included on the committee?

Yes, educators are a key stakeholder group. The sense gleaned from hearing STA leaders speak at a BOE meeting, as well as public comments from the Board and District, is that there was a great deal of collaborative work involving educators in developing the Restart Plan. Perhaps their roles were not as publicized until later in the process. The proposed SCCC would have representatives from major stakeholder groups in the "design thinking" room together, so that everyone could benefit by understanding the rationale behind potentially contentious views. The anticipated result of these discussions would be a plan developed after reaching a reasonable consensus among all stakeholder groups.

The Board has traditionally held all negotiations with teachers in private sessions, which prevents transparency with the community. How will this committee facilitate increased transparency while respecting this tradition?

We all recognize the sensitivity involved in negotiations between the STA and the District, and the constraints that might place on what's doable despite what appears to be reasonable expectations by the community. There's no simple answer, but at the end of the day, it might have helped stakeholders to have a better understanding of the role and perspectives of educators at the outset of the Restart Plan development process.

In times of crisis, the school administration and BOE have limited time to meet their own obligations. Do you think it's reasonable to ask them to participate in another committee at the same time?

Effective participation and communication strategies must be a high priority for the District and BOE, during periods when such strategies are necessary to support ongoing information sharing, as well as during the crisis situation we had last spring when schools were initially closed. These strategies are just as important now, as the pandemic has turned into a long-term situation. The Education Committee believes they are key components for the successful rollout of the District's overall Strategic Plan and its Information Technology Plan, as well as other initiatives that are being considered. That is why the SCCC is viewed as a permanent and neutral entity, working in an advisory capacity with the District, BOE and community.

To some degree, it is the role of the Board of Education to represent the wider community and to present these views to the administration. Is this process working? If not, why?
Indeed, the BOE is a group of individuals elected by the community for representation. The SCCC is a forward-thinking proposal that provides a workable platform to enable a diverse group of stakeholders to maintain an ongoing, relevant, interactive and innovative dialogue as a vital adjunct to help inform successful District planning, policy development, decision-making and operations. It is very much a collaborative venture among stakeholders, which includes the BOE, District, educators, students, parents and community members who may not have children attending district schools at this time.

Have you submitted your proposal to the school administration and Board of Education? What was their response?

Both the District and BOE have the report. I will be presenting the report at the BOE meeting on October 19th and then we will have a better idea of their reaction. The Education Committee is optimistic that the response will be positive based on public statements made by District leadership and BOE members that appear to support the conceptual basis for creating an SCCC. It was also gratifying to learn that the District partially used the same research cited by the Education Committee's report to develop the District's own set of beliefs that formed the basis for curriculum decisions for the 2020/2021 school year. Finally, another positive sign is the BOE/District's Community Engagement Committee, created towards the end of 2019, and the work it will be doing to update the District's Communications Plan, originally developed several years ago.