Inspired Gifts and Eats for Valentine's Day
Details

Written by

Joanne Wallenstein

Category: The Goods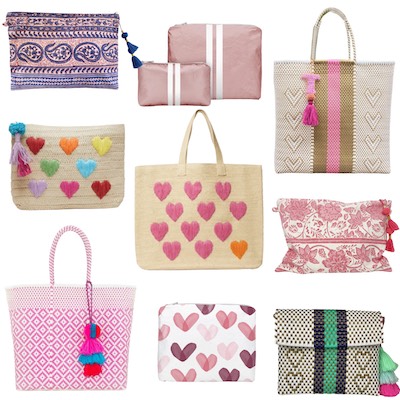 Valentine's Day falls on a Monday this year. But don't let the fact that it's a Monday prevent you from celebrating all the loved ones in your lives. Village merchants and restaurants have great treats in store – so get prepared.
For the ladies in your life, I Am More Scarsdale retail boutique at 6 Spencer Place in Scarsdale Village, features the best in fashion, accessories and jewelry.
Find an assortment of pouches, clutches and totes from Hi Love Travel, Squeeze De Citron, Bell and B2B Los Angeles ($45-$165), statement earrings and adjustable bracelets from Deepa Gurnani and Mishky ($50-$63) and dresses and beach cover-ups from Love Shack Fancy, Sunday St. Tropez, MISA and 9 Seed ($235-$525).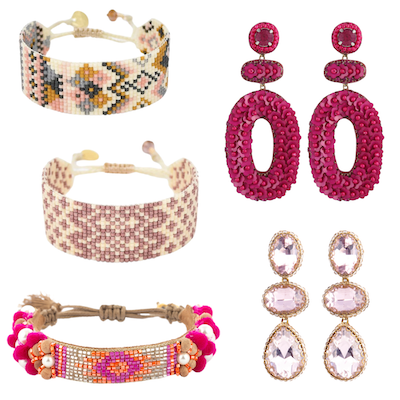 I Am More Scarsdale is offering a 20% discount on almost all regular-priced clothing through Valentine's Day. In addition get 70% off a huge selection of 2021 fall and winter merchandise. Discounts are available in-store and automatically applied online here.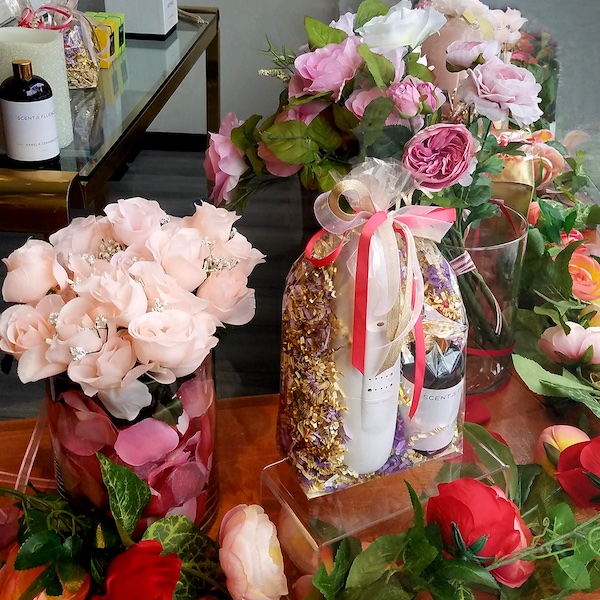 Follow the alluring scent of Red Roses to ScentFluence in Scarsdale and discover a fantastic selection of aromatic Valentine gifts. Gorgeous scent blends that last and last, diffusers & ambient oils, candles, bath bombs, and more! ScentFluence, 22 Harwood Court, Scarsdale Village. Call for hours: 914-338-5070 or visit them online here.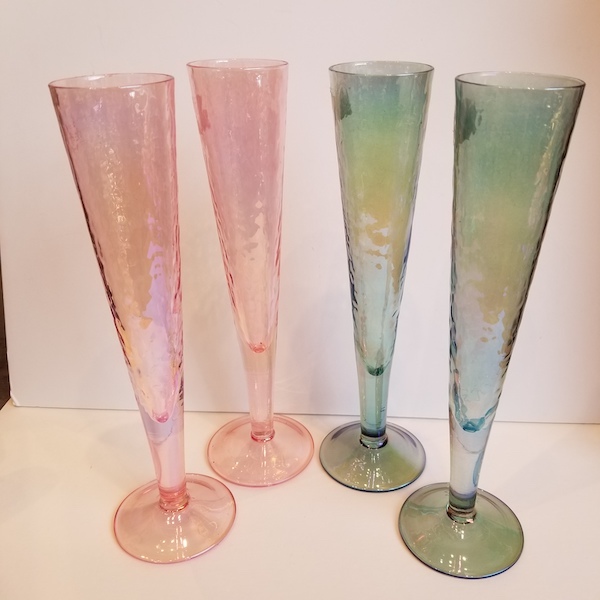 The Dark Horse at 2 Harwood Court offers unique home and garden furnishings, original paintings, jewelry and gifts from all over the world. For Valentines Day, they have great treats in store for her and for him including hand blown champagne flute glasses in luster pink or luster blue, ($95 for a four piece set) and assorted handmade sterling silver heart jewelry. Stop by the store, call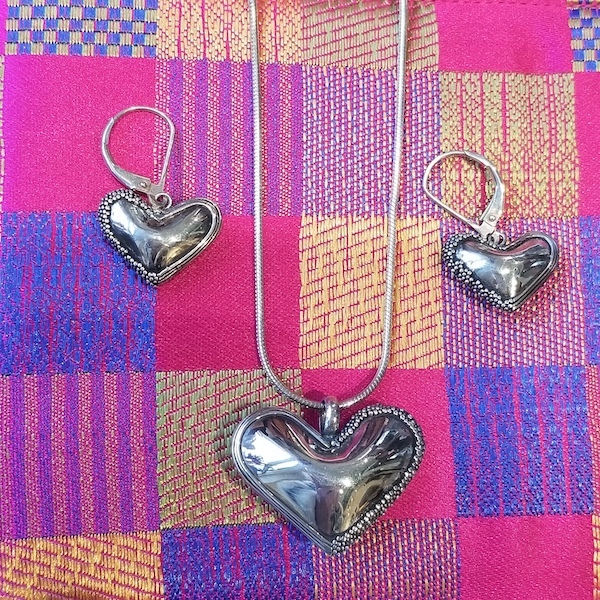 914-722-2599 or visit them online here.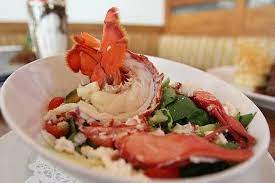 What to eat? Eastchester Fish Gourmet is serving oysters, lobster, champagne and souffles. Dine at the restaurant at 837 White Plains Road in Scarsdale or order curbside takeout. See their menu here and call them at 914-725-3450.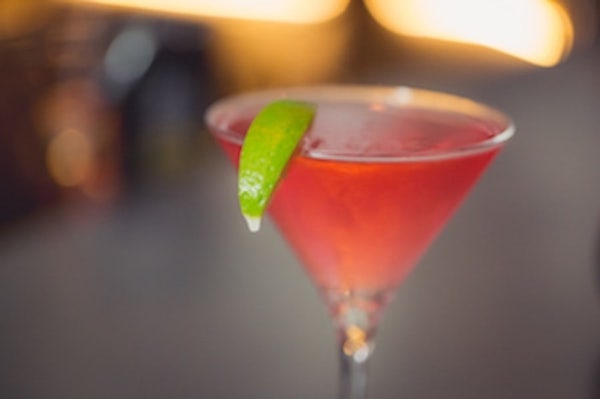 The 808 Bistro will be open on Valentine's Day, Monday February 14 and is currently accepting reservations by phone at 914-722-0808 or on their website here: Limited seating available. 808 Bistro, 808 Scarsdale Avenue, Scarsdale, 914-722-0808.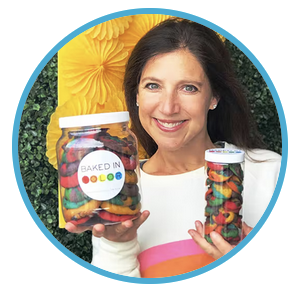 Baked in Color, a Scarsdale based business inspired by Julie Waxman, is offering decadent treats. For Valentine's Day, there are four giant red brookie squares - brownie bottom, oreo inside and rainbow chocolate chip cookie top. Decadent and delicious, each square can be sliced into fourths for bite size brookies to share. Just $25. Dessert lovers will devour these treats. Freshly baked to order. Order them at Baked in Color today.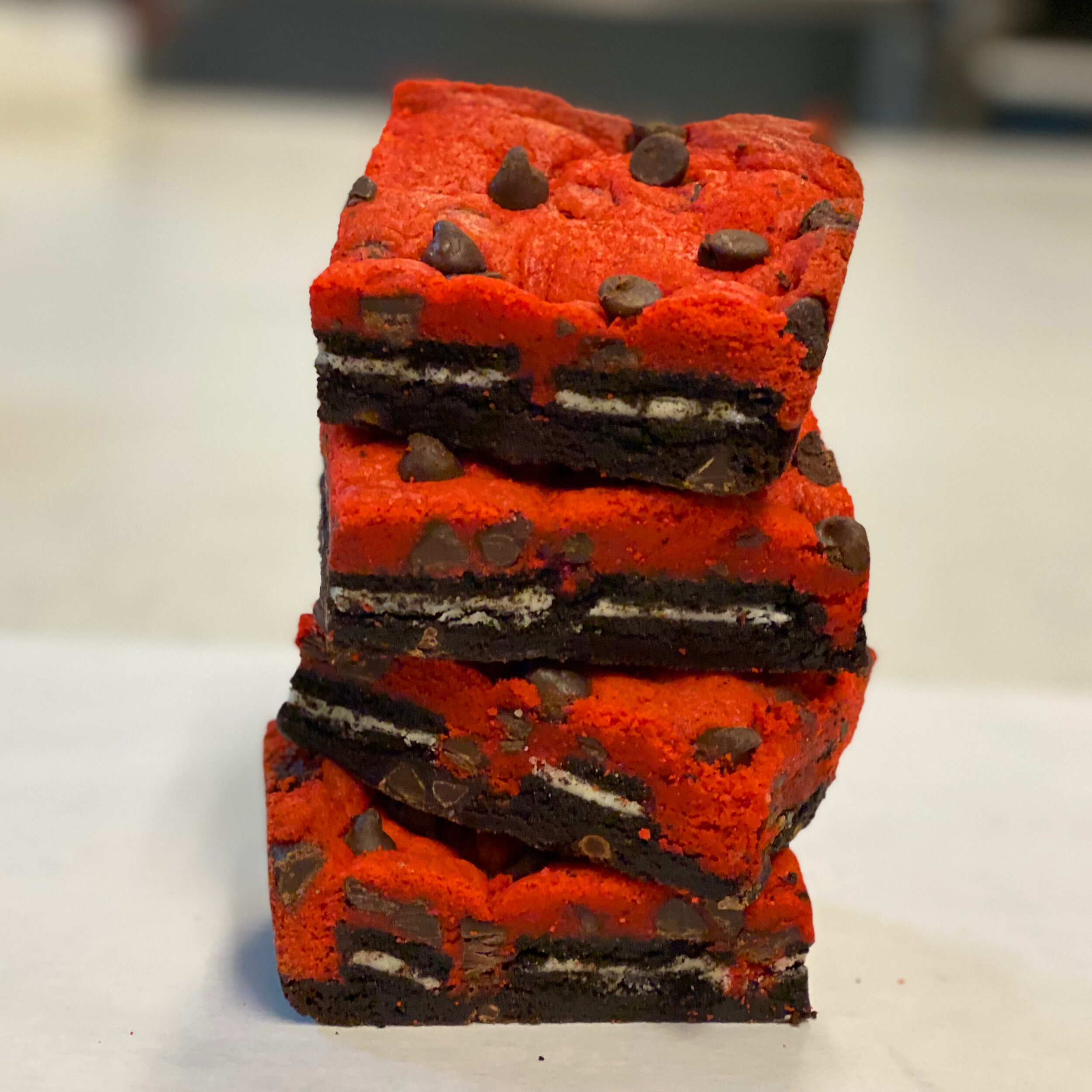 Love is in the Hair and Hair Saloon & Cafe at 62 Scarsdale Avenue is all about love and gratitude. Valentine's Day weekend it's a blowout bonanza of live. Each client will enjoy a complementary rose and their trademark "love is in the hair" complementary cocktail.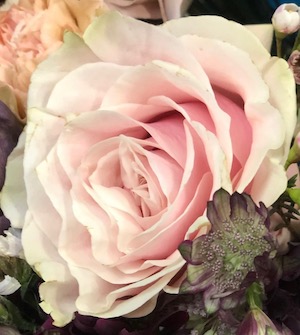 Hair or spa service it's nothing but Love. Look forward to seeing you. Call 914-881-1233 or vist them here.


Bagels @ More Reopens in Hartsdale: 50% Off
Details

Written by

Joanne Wallenstein

Category: The Goods
After a four and a half month closure due to storm damage from Hurricane Ida, Bagels & More reopened on January 14, 2022. The bagel store on Hartsdale Avenue which first opened roughly 18 years ago has been greatly missed by the surrounding Scarsdale and Hartsdale communities.
On September 2, 2021, Hurricane Ida flooded the store's basement with approximately 16 feet of water causing damage to all of their machines and inventory. The inundations forced them to shut down for several months for renovation which involved remodeling their basement and kitchen with all new machinery, equipment, refrigerators and freezers.
The last time Bagels & More suffered damage from a nor'easter was in 2007, when the basement flooded with four feet of water, but it was nothing compared to the damage from Hurricane Ida. Bagels & More plans to install massive pumps to mitigate future flooding.
Most of 2021 was difficult for their business due to the Covid-19 pandemic and Bagels & More believes they would not have survived if it wasn't for the support of their loyal customers. Like other small businesses they rely on people coming out to socialize and eat in Hartsdale. Fortunately, the majority of their staff is now back behind the counter.
According to Bagel & More's management, "We are so thankful for our community's love and support during the restoration process. All the visits, kind and hopeful words really helped us a lot to drive through the whole process. To show our appreciation for our community, we are offering a 50% off sale on bagels and sandwiches so please check us out."
Bagels & More
224 East Hartsdale Avenue
Hartsdale, NY
Hours:
Monday to Saturday 6am – 5pm
Sunday 6am to 3pm
Ask Ellie: Finding Love in 2022
Details

Written by

Joanne Wallenstein

Category: The Goods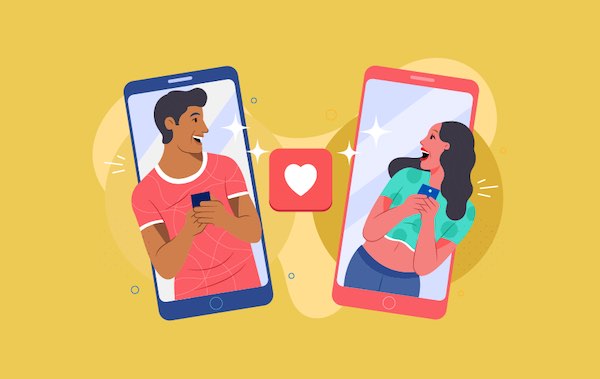 2022 is nigh - and the familiar grind of "what's your resolution" is upon us. Sigh.
If you ask me, I think the only resolution really worth going after is finding love.
Yeah, yeah perhaps that's a little too corny for your East coast sensibilities - but it's the way I feel, people!
Maybe you're a recent divorcee or a not-so-recent divorcee. Maybe you've never been married and are feeling disillusioned by all of this.
Maybe you're just confounded by the phrase "dating scene" - and frankly, a lot of us are. Everything is online now and it seems that's how everyone meets people these days.
In fact, a Stanford sociology study found that that for heterosexual couples, meeting online is the most popular way to find a partner. And this isn't just for millennials -- boomers are embracing the online dating scene, too.
Even more hopeful, a Pew research poll stated that 4 in 10 new marriages are comprised of people remarrying. But despite online tools, individuals are also finding that dating has become harder in the last 10 years; with 75% of people reporting that dating has become "very difficult."
Perhaps some personal help could improve your chances of finding the right person online. That's where I come in. My name is Ellie and I'm a millennial dating app expert and I want to help you. After working under a major matchmaker - and running a popular dating advice booth in NYC, I helped my own father find love on the apps!
To get started, here are five dating tips to think about for 2022.
Lead with authenticity: Don't say you love museums because you think most chicks love art/museums. You'll be leading with an inauthentic version of yourself and worse … hiding your displeasure on a first date at The Frick. If you like home renovations, classic cars and spicy wings, say it! Plenty of women like the stuff you do too. You'd be surprised.
Use good pictures: Use well-lit photos from a variety of settings for your app pictures. 5 selfies of you in your living room is A) a little weird! and B) doesn't show who you really are. Let's see pictures of you out and about - doing things you love and with friends and family. NO pictures of exes please.
Coffee is for closers: When you go online, don't get too chatty on the app. Exchange a few back and forth messages to determine initial chemistry and then suggest either a quick phone call or a first date. Giving your potential date options is always great, like "how's coffee or dinner sometime next week?" Remember this process is overwhelming for everyone and people often appreciate flexibility.
No catfishing: Meaning, don't present as something you're not. Don't lie about your height or marital status or what you're looking for. It'll mess up your dating karma and leave you in a bad way. Remember, you always want to treat people with respect.
Leave the party while you're having fun: When looking for love, bright stars burn out fast. Don't spend 5 hours on your first date. Let the conversation linger and find that cheeky little glimmer in each other's eyes (hey maybe there's a kiss too - I won't tell!) but keep the magic and mystery alive for date #2.
And….
P.S.
For my over 40 crowd I love Hinge and Bumble.
P.P.S.
Need more advice or help setting up your online profile? Have questions about a potential relationship or anything dating related? Ask away … we won't publish your name if you wish to remain anonymous.
Write to me, Ellie, at askellie10583@gmail.com. I'll be back with more advice and answers. In the meantime, happy dating!
MTA Says They Are Seeking an Operator for the Cafe at the Hartsdale Train Station
Details

Written by

Joanne Wallenstein

Category: The Goods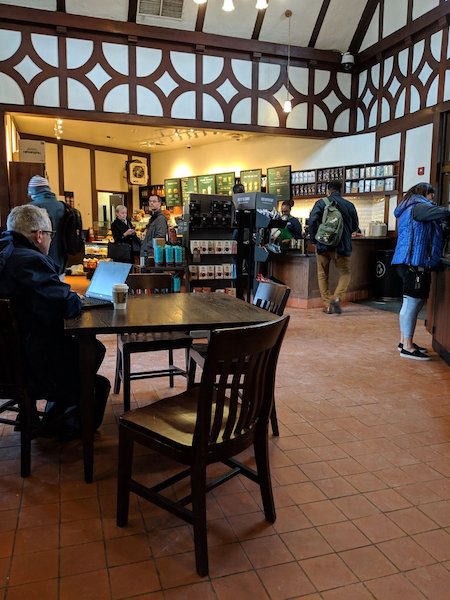 Though some retail locations appear to be coming back from the COVID crisis, others have not.
One popular spot that closed during the pandemic was the Starbucks in the Hartsdale Train Station. The coffee bar was frequented by both commuters and locals who often congregated at the tables inside and outside.
On cold days, commuters could get coffee and stay warm while they awaited their train. In addition, the bathrooms inside were open to commuters and the public.
The building has been shuttered for some time now, leaving commuters to wait for their train on the platform. We reached out to Ray Raimundi at the MTA Press Office to find out when we might expect a new operator to re-open the station. He didn't offer much hope to anyone waiting for a hot cup of java.
Commenting on the situation, he said, "The MTA has been marketing the space since Starbucks elected to leave when its lease expired. The station building will remain closed until a new tenant occupies the stationhouse. The Hartsdale Station provides heated shelters on the platforms for customers.
Does anyone want to open a concession in Hartsdale?
Season's Readings from Our Local Experts: Books for Everyone On Your List
Details

Written by

Joanne Wallenstein

Category: The Goods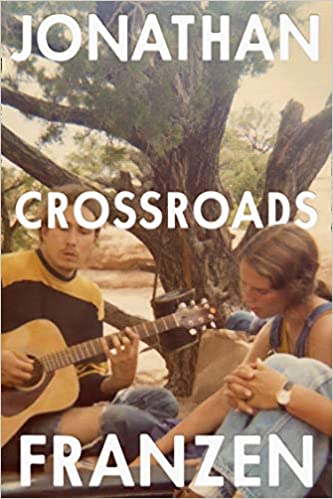 Looking for the perfect books to give this year to family and friends? We asked Scarsdale's local experts, Mark and Jessica Fowler, owners of Bronx River Books at 37 Spencer Place in Scarsdale Village for their suggestions. Here are their top season's readings:
Crossroads is Jonathan Franzen's first novel in six years, and his most realistic storyline to date. Five members of a family in 1970s suburban Chicago strive mightily to do the right thing. But living an ethical life is far from easy. The portrait of teenage psychology, in particular, is terrific.
Codebreaker by Walter Isaacson is a gripping biography of Jennifer Doudna, the charismatic winner of the 2020 Nobel Prize in Biology for the discovery of the CRISPR gene editing technique, which has the potential to cure genetic disorders and transform the future of the species in unpredictable ways.
A perfect companion read to Codebreaker is Hidden Valley Road by Robert Kolker, a wonderfully compassionate account of a midcentury American family with twelve children, six of whom were diagnosed with schizophrenia. They became the focus of research into the origins of the disorder, which gene-editing tools, such as CRISPR, may someday treat or prevent.
In Empire of Pain, Westchester resident and longtime New Yorker contributor Patrick Radden Keefe (who read at the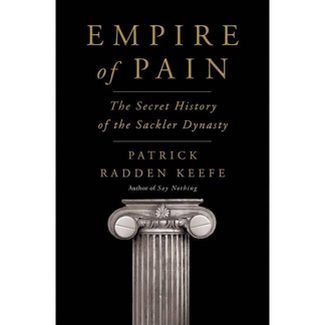 bookstore from his wonderful previous book, "Say Nothing") explores the role of the Sackler family in the OxyContin addiction crisis. The book won the Baillie Gifford Prize for best work of non-fiction in 2021.
Best known for her novel Fates and Furies about a troubled contemporary marriage, Lauren Groff goes in an entirely different direction in Matrix, a historical novel about Marie de France, the illegitimate sister of Eleanor of Aquitaine, who was banished to a convent in 1158. There Marie, a poet and visionary, builds an intentional community of women, living and working together, thriving in the absence of men.
Mary Jane by Jessica Anya Blau is a joyous coming-of-age novel, also set in the 1970s. A 14-year-old girl from a very strait-laced family expands her horizons when she nannies for the child of a psychiatrist, who happens to be administering intensive addiction therapy to a rock star and his actress wife, who are staying at his home for the summer. Cultures clash.
If you think "graphic novels" are just comic books by another name, immerse yourself in Seek You by Kristin Radtke, a moving and beautifully drawn exploration of the "silent epidemic of loneliness" in America. Shortlisted for the 2022 Carnegie Medal for best nonfiction book.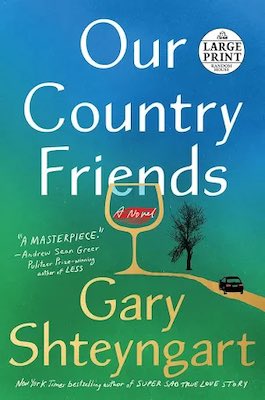 In Our Country Friends, by Gary Shteyngart, eight friends gather in a compound in the Hudson Valley to wait out the pandemic together. A tale of wine, friendship, romance, and betrayal – very funny, but with a dose of heartbreak.
Orson Scott Card of Ender's Game renown has written a touching new young adult novel, entitled Lost & Found about the challenges of growing up and harnessing one's potential.
In Gaia Cornwall's picture book, Jabari Jumps, young Jabari, with the help of his patient father, works up the courage to jump off a diving board.
In his Klara and the Sun, Kazuo Ishiguro effectively and movingly suggests that humans must confront the line between consciousness and sentient artificial intelligence or risk losing their own humanity.
An arrogant young MFA candidate tells his writing instructor that he has devised the perfect plot for a novel, one so good he can't possibly disclose it. Shortly thereafter the student turns up dead. The Plot by Jean Hanff Korelitz is the bookstore's favorite psychological thriller of the 2021.
Finally, Walkable Westchester, a longtime favorite local guidebook, was completely revised and updated in 2021. It is the perfect cure for cabin fever, anytime of year.