Application Filed to Raze Iconic Home at 11 Dolma Road
Details

Written by

Joanne Wallenstein

Category: The Goods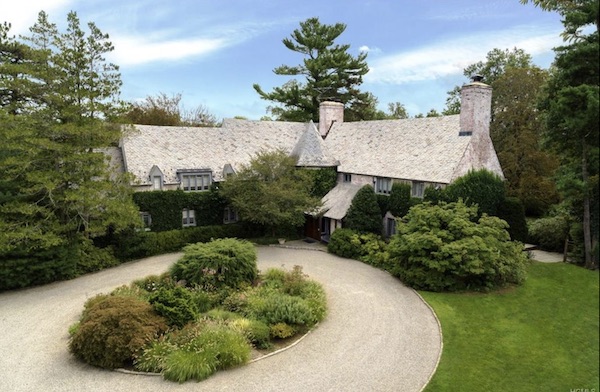 The young buyers of an iconic home at 11 Dolma Road in Scarsdale have filed an application to raze the house, pool and pool house on the 3.26 acre property. Sarah and Steven Binetter purchased the home in November 2019 for $7.8 million along with an adjacent 1.6 acre property at 100 Mamaroneck Road from Daniel and Jane Och. The main house is 8,391 square feet with 6 bedrooms and 6.5 baths. It was built in 1928 and designed by noted architect Julius Gregory who was also a Scarsdale resident.
The applicants retained White Plains law firm Cuddy and Feder to show why the house lacks merit for preservation. Cuddy and Feder in turn retained senior architectural historian, Emily T. Cooperman from Paulus, Sokolowski and Sartor, LLC to provide architectural background on the house and the architect and demonstrate why the applicants should be given the go ahead to take it down.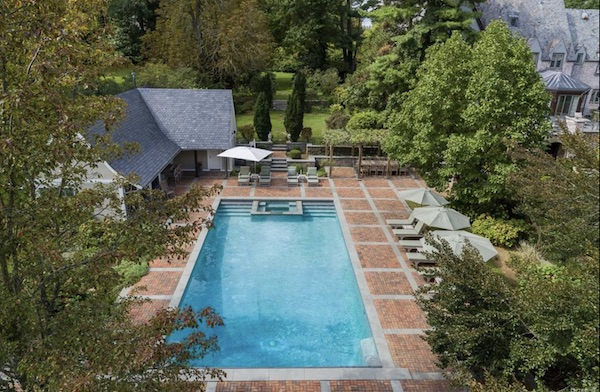 As background, in 2012, the Village of Scarsdale retained cultural historian Andrew Dolkhart and architects Li-Saltzman to produce a Reconnaissance Level Cultural Resource Survey of homes and landmarks in the Village. The comprehensive report recommends both individual homes that warrant preservation as well as neighborhoods – or areas – that contain groups of historic homes. The house at 11 Dolma Road was noted individually as a part of the Dolma Road study area which was singled out for its historic homes.
About Dolma Road, the study says the following, "Dolma Road, running from Murray Hill Road to Birchall Road, is a short street lined with exclusive houses on large lots, most erected between 1926 and 1929 (one dates from 1935), primarily for wealthy businessmen and their families (Figure 7-10-1). Dolma Road was largely a project of Walter J. Collet, the Scarsdale builder who was responsible for the construction of many substantial houses in the village. Collet claimed that he chose the name Dolma in reference to a mountain range in Bengal, India; just why he made this choice remains a mystery."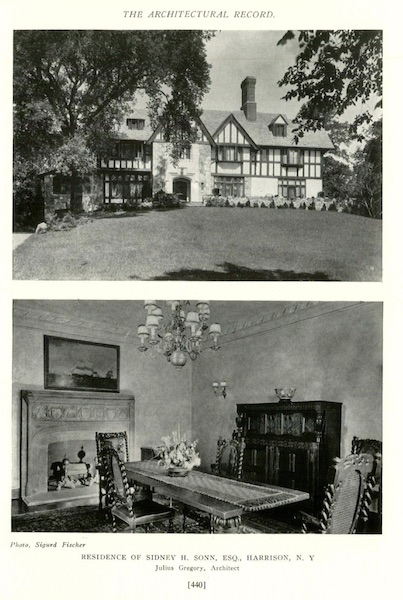 An article in the Architectural Record about a home Gregory designed in Harrison.Turning to the house at 11 Dolma Road, the report says, "The talented architect Julius Gregory, whose work can be seen in other areas of Scarsdale (including his own house), designed a huge French farmhouse at No. 11, one of the finest houses of the type in Scarsdale (Figure 7-10-11). The L-shaped brick house has a polygonal corner tower and an entrance set beneath a shed hood, a sophisticated rendition of vernacular rural French design."
The report says Gregory was a "specialist in suburban homes, and among the most talented architects in the United States, designing this type of house for the upper middle class."
According to Scarsdale Village Code, in order to save the house, the Committee for Historic Preservation has to rule that it meets one of the following five criteria:
(1) That the building is associated with events that have made a significant contribution to broad patterns of Village, regional, state or national history; or
(2) That the building is associated with the life of a person or persons of historical significance; or
(3) That the building is the work of a master; or
(4) That the building embodies the distinctive characteristics of a type, period or method of construction that possess high artistic value; or
(5) That the building has yielded or may be likely to yield information important in prehistory or history.
So, the decision might depend on whether or not Julius Gregory can be considered a master.
In the reconnaissance report, cultural historian Andrew Dolkhart has much to say about Julius Gregory, the architect of the home.
Discussing English Cottage style homes the report says, "In their picturesque massing, with steep roof slopes, gables, and dormers, and in their use of such features and slate roofs, casement windows, and tall chimneys, English Cottages resemble their Tudor Revival cousins; some even have small amounts of half timbering. But these buildings tend to have less decorated facades, relying for effect largely on the use of wide expanses of stucco. Architect Julius Gregory, a resident of Scarsdale and major proponent of the English Cottage style, noted in the magazine Architectural Forum that these houses constitute "one of the most interesting and picturesque forms of our domestic architecture. When carried out in the spirit of the old work and placed amid a proper setting, no other type of architecture can equal it in its quality of charm and what we may call 'livableness.'
…. Julius Gregory, among the leading architects of traditional houses, worked throughout the metropolitan area, but designed several of his finest buildings in Scarsdale. He also lived in the community, in a medieval French style house at 3 Church Lane.
He also notes that Gregory designed 1 Chase Road in downtown Scarsdale. "The Scarsdale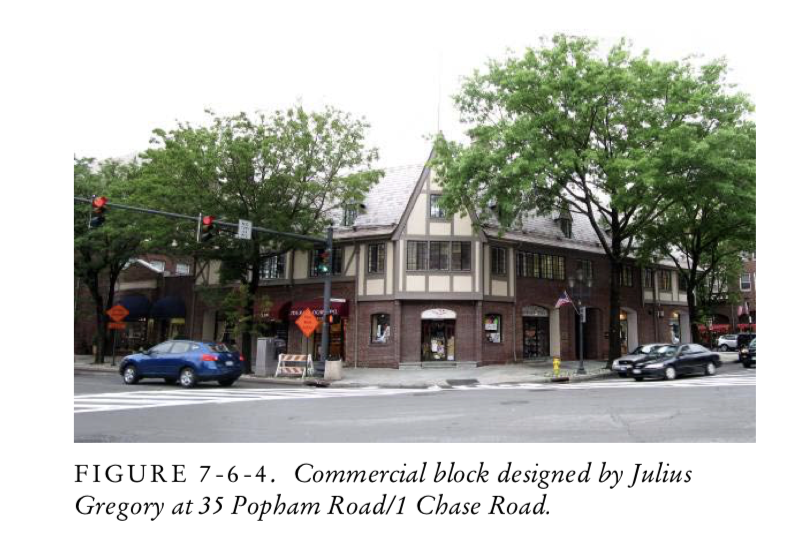 Improvement Corporation established Tudor as the style for the Downtown and almost every building to follow was designed in this style. In 1926, Julius Gregory, the architect responsible for some of Scarsdale's finest houses, designed the two-story Tudor Revival style commercial block at 35 Popham Road/1 Chase Road (Figure 7-6-4)."
In addition to his work in Scarsdale, Gregory was an active residential architect in the Bronx and Westchester. He designed 42 homes in the Fieldston historic district in Riverdale along with W. Stanwood Phillips and Dwight James Baum. Many of those historic homes remain today in the area that was landmarked as a historic district in 2003.
He also built in Edgemont, where a listing for 19 Cotswold Way said, "Designed in 1928 by Julius Gregory, the University of California-schooled Sacramento native best known for his commissions in Scarsdale and Riverdale's tony Fieldston enclave, this magnificent Tudor is truly in a league of its own. Dubbed Dunmovin, the elegantly English residence was completed in 1928 for Matthew S. Eylar, marketing master for what would ultimately become the Underwood-Sunstrand typewriter empire. One would be challenged to find any feature the home that doesn't strike awe. Every block of its robust masonry was sourced on-site. Some was salvaged from an old farmhouse that stood on the property, while the bulk is composed of the very granite blasted to lay the manor's foundation. Restored leaded glass windows, terracotta and antique limestone flooring and a Ludowici tile roof."
In order to decide whether or not Gregory is a master, the committee might also consider references to Gregory's work in publications of the day, of which there are many:
Here are just a few:
Gregory is quoted in "The American Architect and Architecture Review, in Volume 26, published in 1924.
In 1927, the residence of Sidney J. Sonn, esq. in Harrison, designed by Gregory is included in the Architectural Record.
Julius Gregory, "On the Charm and Character of the English Cottage," was published in Architectural Forum 42 in March 1926. 147.
Another study, "The Country House, an Analysis of the Architect's Method of Approach" published in the November 1927 Architectural Record includes homes designed by Gregory along with a home for C.E. Chamber in Riverdale in a 1921 issue of the Architectural Record.
However, in their report, the attorneys from Cuddy and Feder deny that Gregory was a master. It notes that his 1920 application for membership in the American Institute of Architects and a 1935 application for election to the American Institute of Architects College of Fellows were rejected. They say, "details of his architectural training are scarce."
They diminish the importance of his publications, denying that they are architectural journals. The lawyers say, "many of these publications appear in popular homemaking periodicals, which is unsurprising given that his wife was a freelance magazine illustrator."
Also since Gregory was well known for English Cottage style homes and Andrew Dolkhart called 11 Dolma a "French farmhouse" in the reconnaissance study, the attorneys claim that 11 Dolma is a departure from Gregory's style and "not representative of the work for which he was so well known."
About the house, the attorneys show that over the almost 100 years since the house was built, alterations have been made that "resulted in substantial changes to the historic appearance, volumetric organization and materials," and compromised the architectural appearance of the main residence."
The alterations they note are changes to the windows and dormers, including the addition of a bay window, a change in the roof above the entry from shed to gable, reconfiguring of the garage doors and construction of a chimney for a fireplace.
Below find the original photo of the home and the home as it appeared in 2019.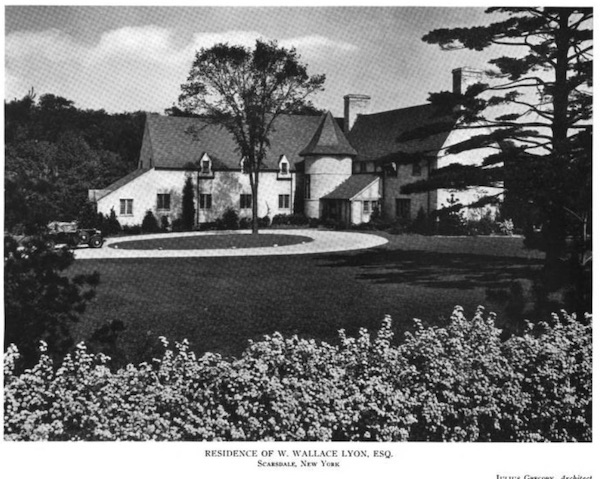 In deciding whether or not the home is worthy of preservation the committee might also consider whether or not the building is associated with the life of a person or persons of historical significance. The home was most recently owned by the Och family. In his bio on Wikipedia, Dan Och is described as follows: "Daniel Och (born 1961) is an American billionaire investor, hedge fund manager, and philanthropist. He is the founder, chairman and former CEO of Och-Ziff Capital Management, a global hedge fund and alternative asset management firm. According to Forbes he has a net worth of US$3.1 billion (as of May 2020)."
Ultimately, the committee will need to decide whether the home meets any of their criteria for preservation, and if so why. In 2016, the committee denied the owners of a neighboring property at 12 Dolma Road permission to tear it down. But the following year, the homeowners pleaded hardship and claimed they were unable to sell it, and the Committee for Historic Preservation's decision was overturned by the Board of Trustees.
Now another home on this historic street will be considered for demolition. You can watch the hearing without leaving home. The proceedings of the Committee for Historic Preservation will be held on Zoom at 7 pm on Tuesday June 30. Find the link to review all the supporting documents and to watch the meeting here:

Commenting on the above, reader Alan Sacks said,
"Ladies & Gents: The demolition of such a fine gem of a building by these cynics seeking to do so would be another Penn Station. Smaller footprint, but same lesson. I would be disappointed if the editorial board would not take a stronger stand. We are in an age where standing by is complicit. The enablers have no love for this place called Scarsdale, only the deal they rub their hands together to close."
Phase 2 Businesses Expected to Open on Tuesday June 9; Some Stores Closing
Details

Written by

Joanne Wallenstein

Category: The Goods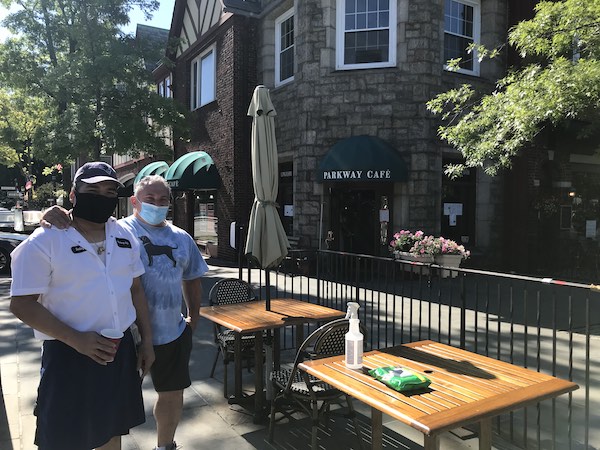 Parkway is now serving outside, six feet apart. Photo credit B.K. MunguiaIt's one step forward two steps back for the local retail and restaurant scene. Scarsdale Village retailers, who were already struggling before the COVID crisis, have been particularly hard hit but there are some bright spots.
On the positive side, Westchester County has entered Phase 2 of the re-opening process and outdoor dining will be permitted as long as the tables are six feet apart, servers wear face masks and guests wear masks when they are not seated at tables. Today, we were pleased to find Parkway Diner serving outside. In addition to dining, many residents are looking forward to seeing their hairdressers and barbers.
Other businesses that will open in Phase 2 are:


-Offices 
Real Estate
Essential and Phase II In-Store Retail
-Vehicle Sales, Leases, and Rentals
-Retail Rental, Repair, and Cleaning
-Commercial Building Management
-Hair Salons and Barbershops
-Outdoor Dining at Restaurants
On Tuesday June 9 the Village Board of Trustees will hold a public hearing on a law to permit "temporary outdoor retail and food sales in the Village." According to a memo from Scarsdale's new Village Planner Gregory Cutler, "The proposed local law is intended to give local businesses the option to conduct commerce outdoors, where greater social distancing is possible, and uninhibited air circulation may reduce viral transmission rates." In other words, Village food purveyors could expand service out to the sidewalk.
There still appear to be plans afoot to open a branch of The Shade Store on Spencer Place as well as a new Asian restaurant in the site formerly occupied by Lange's. Akai Asian Fusion Sushi Lounge announced plans to open in December and hopefully they intend to move forward with the restaurant. Mister Chen, serving handmade dumplings in Mamaroneck, also has a sign announcing their intent to open on Garth Road.
As many businesses are in the process of re-opening, it appears that some will not be returning. A walk around the Village revealed that jeweler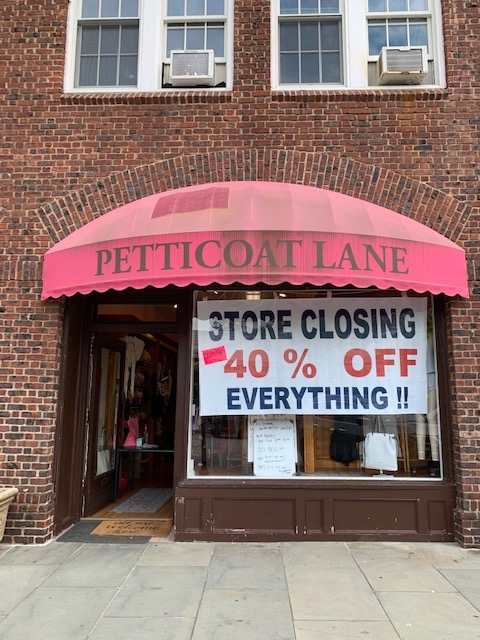 Petticoat Lane is closing their Scarsdale store. Photo credit: Emily GilmanSam Lehr has closed its doors along with Daniele Trissi. Petticoat Lane, a favorite for handbags, wallets, accessories and lingerie's also announced that they will close their Scarsdale location, though they will remain open in Chappaqua and continue to sell online. A sign in the window says everything is 40% off.
These vacancies compound the loss in Scarsdale where many storefronts have been vacant for years. Large spaces once occupied by LF, Space NK, and Vaccaro's remain empty along with smaller sites like those previously occupied by Wyatt Lily and Taiim Cellar.
All of these losses make it more difficult for the retailers who hang in, as street traffic is reduced as residents have fewer reasons to visit the village.
In Hartsdale, commuters were surprised to find that Starbucks has closed at the Hartsdale Train Station. A sign on the door says that they are permanently closed, though the MTA spokesperson we contacted said they had not received notice that Starbucks would not renew their lease.
LWVS Encourages You to Watch Candidates' Forum and Vote in Election for the School Budget and School Board
Details

Written by

Joanne Wallenstein

Category: The Goods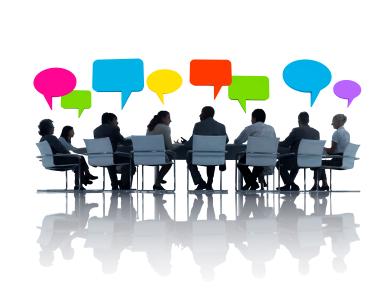 The annual School Budget Vote and School Board Election is scheduled for June 9th. In the School Board Election, voters will have a choice of candidates. There are three candidates running for two available seats on the School Board. The two highest vote recipients will win seats on the Scarsdale School Board.
The candidates are Robert Klein, Mayra Kirkendall-Rodriguez and Amber Yusuf. Since this is a contested School Board election, the Scarsdale League of Women Voters is hosting a virtual candidate forum taking place this Sunday May 31st at 8:00 PM on Zoom. Please register here to view the candidate forum live. The candidate forum will then be available to view on the League's website at LWVS.org .
The forum will consist of questions prepared by League Board members and questions submitted by members of the community. We encourage community members to submit any questions here.
All questions must be received by 12:00 PM on Saturday, May 30th for review by a panel of League Board members. A representative set of questions will be presented to the candidates at the forum.
The upcoming School Budget and School Board Vote will be administered by mail with NO IN-PERSON VOTING due to the pandemic. All qualified voters are entitled to receive an Absentee Ballot . Absentee Ballots will be mailed on May 28th and should arrive within a few days of the mailing date. If your absentee ballot is not received by June 1st, please contact Scarsdale District Clerk, Honore Adams at hadams@scarsdaleschools.org. Since the post office needs ample time to deliver ballots, voters should complete and return their ballots immediately in the enclosed postage paid envelope.
All ballots must be received BY MAIL to Scarsdale Schools' Office of the District Clerk by 5:00 PM on June 9th. Due to the pandemic and need for social distancing, there will be no in-person drop off of the ballots; they all must be submitted by mail and RECEIVED by June 9th, regardless of the postmark.
If you are not currently a registered voter, you may register to vote in the School Budget and School Board election through the Scarsdale Schools' Office of the District Clerk by June 2nd. Voter registration and absentee ballot information, can be found here.
In addition, if you have any questions regarding voting, please contact the League of Women Voters, voter service at: LWVSVoterService@gmail.com
Stay safe and remember to vote!
Alissa Baum
Ronny Hersch
Beatrice Sevcik
Voter Service Co-Chairs
League of Women Voters of Scarsdale
School Board Candidates Share Perspectives at LWVS Forum
Details

Written by

Joanne Wallenstein

Category: The Goods

(Top) Leah Dembitzer, Bob Klein, Sheila Miller Bernson, (Bottom) Mayra Kirkendall-Rodriguez, Amber YusufOn Sunday night May 31 the three candidates for Scarsdale School Board met for Scarsdale's first candidates' forum held on Zoom, as Scarsdale's first school board and budget vote by mail was in process in Scarsdale. The forum was sponsored by the League of Women Voters of Scarsdale who reported that 150 viewers logged on to watch the live event. The event was recorded and can be viewed here.

The three candidates, Mayra Kirkendall-Rodriguez, Bob Klein and Amber Yusuf are vying for two seats on the school board. Klein and Yusuf were nominated by the School Board Nominating Committee, a non-partisan group of 30 elected nominators who seek out, evaluate and vet candidates. Kirkendall-Rodriguez is running as an independent candidate. The two candidates with the most votes will win the seats of current Board of Education members Chris Morin and Scott Silberfein who will complete six years of service on the Board in June.
After an introduction from League President Leah Dembitzer, the candidates presented their qualifications and answered nine questions posed but the League and audience. In a very congenial event, the candidates appeared to agree on far more than they disagreed. They all support the proposed 2020-21 school budget that is also on the ballot, and all agreed that the current school board did a good job pivoting this spring, when the economic challenges posed by the COVID crisis caused them to revise and reduce the proposed 2020-21 budget.
In opening statements the three showcased their qualifications for the job. Kirkendall-Rodriguez stressed her financial acumen and academic resume, Yusuf highlighted her leadership qualifications and experience as a volunteer in the schools and Klein, a semi-retired architect discussed his ability to analyze and weigh information, and act in a fiscally prudent manner.
Each candidate was given the opportunity to respond to nine questions posed by the League and the public in rotating order. All three candidates demonstrated awareness of the current issues before the Board of Education.
The candidates were asked how they would approach a situation that may soon be faced by the actual board of education. The moderator posed the following scenario, "A sharply divided board and community is considering a bond to build cafeterias at Fox Meadow and Edgewood, to install air conditioning at the schools, and to complete the renovation work on the auditorium," and asked, "How should the board move forward?"
Calling on his professional experience, Klein said "as an architect that question is clearly within my comfort zone. He said that the board, "needs good consultants to get accurate numbers." He said he would, "Define the problem, gather data and make a decision… and have a transparent process and gain consensus." Once they had the relevant facts, he said the board should "weigh priorities and make a decision."
Kirkendall-Rodriguez related this question to the decision to the one about renovating or building a school at Greenacres and said, "Let's set up the metrics. Let's hold a meeting at Village Hall to get all the people in the room…. I don't think we should be afraid of disagreement…. diversity makes us stronger." She cautioned, "I would be very careful with consultants. There has to be a framework for vetting consultants to make sure they deliver in a timely and cost-efficient manner."
Yusuf took another approach. She said, "Why is the board divided? Are they divided on the prioritization of the projects? … Where do the differences lie?" "I would like to get feedback from the stakeholders in the community … We need to have inclusive discussions… and hopefully come to an agreement on what should be the priorities for a bond."
To a question about improving collaboration between the school and the village boards Yusuf cited recent collaboration between the two boards on the installation of lights at Butler Field. She said, "The High School parking lot often floods and that is owned by the Village. They are sharing the tennis courts at the middle school and the Greenacres playground. Regular communications would be helpful."
Klein said, "The key here is trust and communication. Attending Village meetings to show an interest is important. Payment of school taxes (in two installments) is an example of a successful collaboration."
Krikendall-Rodriguez emphasized her involvement. She said, "For six years I have regularly attended Board of Education and Board of Trustee meetings. One suggestion is for both boards to meet more frequently in Village Hall or at the high school so that everyone can attend. I would suggest more shared services…. Freightway is an example where the two board need to work together.… installment billing of taxes will be great for our residents. Traffic is another area for collaboration."
Responding to a question on building consensus regarding fiscal matters and budgeting Kirkendall-Rodriguez said, "We need to go out to reach the community in different ways… to
get everyone from newcomers to empty nesters. I would go to the train station from 5:30am- 10 am and also sit in front of DeCiccos. We need to get all these views and hear all of these voices. It is easier to build consensus. We need to go to where the people are – we can't wait for them to come to us."
Yusuf said, "Building consensus means listening to other viewpoints, being respectful and collaborating. When I was the PT Council President, safety was an issue. I listened to everyone's viewpoints and respected their views. We need to speak to everyone so that we can come up with the best plan."
Klein said "One of the core attributes we are looking for in a board member is the ability to build consensus and be part of a team. You do this by being thorough in your listening skills, not having an agenda and being open minded. The key here is for the board to demonstrate sincere interest and a process for data gathering. We want people to understand that we're being thorough."
One of the lighter moments in the forum were the answers to the question, "What are 3 adjectives your children would use to describe you and are they right?"
Klein quoted a letter of recommendation his son had written for him that called him "patient and curious," and said he could "be a lot of fun." He said, "These are all good attributes and I am open minded as well."
Kirkendall-Rodriguez said her kids would call her a "great cook" and said she has been very inventive during the crisis. They would also call her "a jaguar mom" as she is "emphatic about how they do their homework." In addition, she is "linguistic and talkative," as she speaks to the children in Spanish and has also has them enrolled in Chinese classes. Fourth, she said they would describe her as "loving."
Yusuf said her kids would call her "organized" as she likes to get things done and does not like procrastinating. She is also "chatty" and engages with people who she meets around town. She is "loving" and said she likes "to help people and to give advice" She added, "It gives me great joy."
A question was posed about the candidates' recommendations for developing a long-range facilities plan:
Klein said, "There is already a long-range plan underway. You need to hire the right consultants.
The first step is to know what you've got. He quoted Teddy Roosevelt who said, "The first thing is to know how many trees I have …. (he continued) The better your information, the more nimble you are…. as someone who did this for a living, you need a professional to create that timeline and provide information."
Kirkendall recommended getting more community involvement. She would "talk to the stakeholders who are in the schools." She recommended setting us a committee, including "empty nesters who can see why the money is being spent." She said, "Do an inventory of the facilities and the building conditions and marry the facilities plan with a long-term financial plan." She said, "We need master facilities plan along with financial plan and model."
Yusuf said, "The District does a building conditions survey every couple of years. I was on the building level committee for Heathcote for the last plan. There was a district level committee that rolled up this information. Get out to the community and explain the projects… and then work on the budget."
In closing statements the candidates said the following:
Bob Klein
"Here are four facts to know about Bob Klein….
-I offer a new perspective. The board needs to be diverse both professionally, culturally, intellectually… The more views you get the better the outcome is.
-I am an empty nester on a fixed income.
-I am an active volunteer and helped found "Neighbors for Refugees" to help refugees get re-settled in Westchester.
-I am semi-retired and have the time to do this. It is almost a part time job. "
Amber Yusuf
"I hope you can see now why I am so enthusiastic about having the opportunity to serve as trustee on the Board of Education. For the last 10 years my volunteer experience has been around education in the Scarsdale Schools. Most recently as PTC President I had the opportunity to work directly with the district cabinet, the board and Dr. Hagerman. After I finished my years as PTC President, I took a year off to evaluate what I should do next. I discovered that education was my passion and where I wanted to spend my time. I made a thoughtful and deliberate decision to apply to the SBNC to be a candidate for the Board of Education and I am honored to be nominated by the SBNC."
Mayra Kirkendall-Rodriguez
My whole life I have been a member of a team. I am one of 15 children…. having to work things out is in my genes. I have worked in over 30 countries in six different languages. I worked and participated in conflict resolution courses at Hebrew University because I am a Raoul Wallenberg Scholar. As an MBA from Wharton, it's all about working on teams. I worked with lots or different people in Scarsdale whether it's cleaning up for the cub scouts or generating newsletters at the Old Scarsdale Neighborhood Association. Right now, our children's challenges know no borders. We are going to have to reimagine what a global education should be in Scarsdale. Our students can be leaders can be leaders in global economic and health initiatives. I believe in teaching our children gratitude because there are millions around the world who couldn't even imagine, much less have, such a great school system."
If you missed it, you can watch the recorded candidate forum on the League website (www.lwvs.org) or at this link -
Your ballot must be received by mail by the district office by June 9th.
Voters Will Need to Act Fast to Count in the School Budget and Board Election
Details

Written by

Joanne Wallenstein

Category: The Goods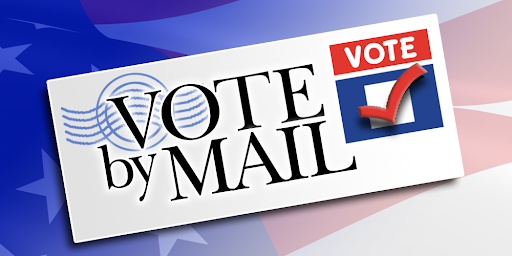 Scarsdale voters will be forced to act quickly if they want their votes for the school budget and school board candidates to be counted. This year, by Governor's orders, voting is by mail. All ballots must be received by the district by June 9 to be counted.
However, due to the condensed timeline, the ballot packages will not be mailed until May 28. If they take 2-5 days to arrive in residents' mailboxes, voters should receive their absentee ballots no later than June 3 (not counting Sunday) and will then need to mail them back immediately to meet the June 9 cut off. This only allows 5 business days for the ballots to be received by the district to be counted in the election.
Given the COVID crisis, if mail delivery is not speedy, many will miss this deadline.
We asked Scarsdale School Superintendent Thomas Hagerman for the timeline and this is what he explained.
An introductory postcard about the budget process will be mailed on May 21.
The district's newsletter, "Insight", containing detailed budget information will be mailed on May 27.
The absentee ballot packages will be mailed on May 28.
And the "six day" Property Tax Report Card postcard with the budget numbers will be mailed on 6/1.
Dr. Hagerman explained, "It is important to note that these are the days they will leave the publication house to be dropped off at the White Plains Post Office for processing. From there, they will be sent to the Scarsdale Post Office for distribution. We estimate that it will take another day or two to arrive in Scarsdale residents' mailboxes."
The ballots will automatically be sent to all registered voters. However, qualified voters who are not registered can download an application for an absentee ballot on the district's website here: www.scarsdaleschools.org/voterinfo. A qualified voter is defined as follows: "Voters are qualified if they are: a citizen of the United States, at least 18 years old by June 9, 2020, a resident of the Scarsdale School District for at least thirty days prior to June 9th and, not otherwise ineligible to vote."
Voters will be asked to approve a $162,696,316 school budget for the 2020-21 school year, which represents a 1.5% increase for Scarsdale residents and a 2.31% increase for those in the Mamaroneck strip.
Voters will also elect two members of the school board, to fill the vacancies of current board members Scott Silberfein and Chris Morin who will complete their service on the board in June. Two candidates were vetted and nominated by the School Board Nominating Committee, who selected Robert Klein and Amber Yusuf. Mayra Kirkendall-Rodriguez is running as an independent candidate. An online candidates' forum, hosted by the League of Women Voters of Scarsdale, will be held on Sunday May 31 at 8 pm. Learn more here:
Traditionally, if the school budget does not pass in the first round of voting, the Board of Education can present a revised budget to the community and hold a second vote. However this year, due to the delay in voting, this will not be possible.
The League of Women Voters of Scarsdale alerted the community to this issue, saying, "The new timeline does not allow sufficient time to revise the Budget and hold a second Budget vote. In the event the Budget is rejected by voters, the Board most likely would be forced, under State law, to adopt a contingency budget which requires a reduction in the tax levy and a steep reduction in permitted expenditures. The Board estimates that a contingency budget would require an additional $2.5 million in cuts and significantly alter many aspects of the conduct of school, including the reduction in staffing and the reduction of athletic and extracurricular activities."
So watch for your ballot in the mail. When you do receive it, complete it and mail it back ASAP to be counted in the 2020 School Budget and Board election.