Healthy Snacks for Your Student
Details

Written by

Joanne Wallenstein

Category: Health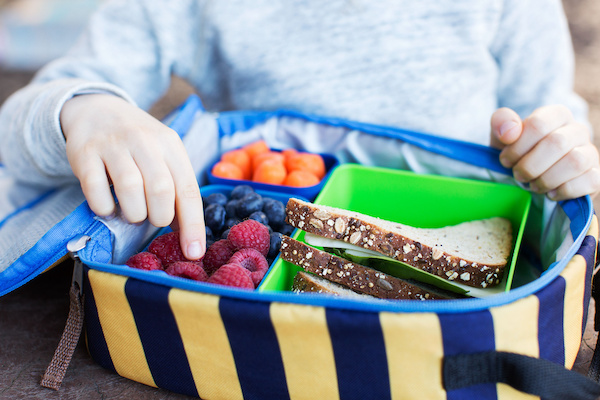 If you dread packing school lunches – here are a few snack ideas to keep your students energized throughout the school day.
Typical school morning. You know the routine. You remind your child to pack her sneakers for gym, even a clean shirt for her school pictures. Then just as she heads out the door, she yells, "Mom, you forgot my snack!
Well, before you throw her a bag of Doritos, take a minute to think about what snack time in school is really about – giving your child the fuel she or he needs to focus, stay alert, and get through an action-packed day – not filling her with empty calories.
Children need a pick-me-up full of protein and nutrients to keep their bodies (and minds) growing and going. "Healthy snacks will provide children with energy, vitamins, and minerals to support their growth and mental alertness to help them focus," says Samantha Lowe, MD, a pediatrician at White Plains Hospital Medical & Wellness in Armonk.
But packing a nutritious snack is just the beginning. You also have to consider your child's specific needs. Is your child underweight? Overweight? Gluten-free? Nut-free? No worries.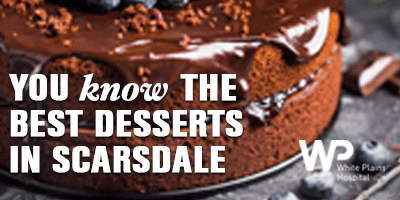 Here are some ideas to help you step up your snack game with nutritional treats that cater to every kid's diet and taste.

• For the underweight kid with no allergies, try unsalted nuts, trail mix, fruits, and vegetables with cheese, guacamole, bean dip, hummus, or peanut butter.

• For the overweight child, how about low-fat cheese on low-fat whole-grain crackers, baked chips and salsa, and fresh fruit with the fiber-filled skin on?

• For the gluten-free kid, try cheese and rice crackers, yogurt, apples, cheddar and cottage cheese, celery and peanut butter, fresh fruits and vegetables.

• And for the nut-free kid, how about apples, oranges and bananas or other fresh fruits and vegetables? Although yogurt, dried fruit and most dips are fine, anything that comes in a package means you'll have to read the food label.

Should make the "Mom, you forgot my snack" moment a little less stressful.
Staying Healthy by Boosting Your Immunity
Details

Written by

Joanne Wallenstein

Category: Health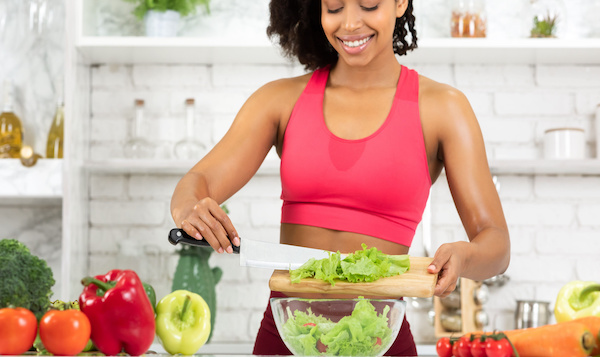 As we make our way through summer and approach fall, it's a good idea to find ways to boost your immunity. There are several easy ways of achieving this, beginning with making sure you're current with vaccinations.

A recent survey by the National Poll on Healthy Aging found that about 30% of people aged 50 and older with a scheduled procedure, primary care or dental visit in 2021 postponed that procedure due to COVID, and that many have yet to reschedule or return to their practitioner's office – especially unvaccinated people. The poll found that while 81% of vaccinated and boosted older adults had rescheduled their COVID-delayed test, procedure or operation, just 44% of unvaccinated older adults had done so.

Staying up to date with vaccinations is crucial – not just for COVID, but also for the flu and shingles, as well as a Tdap (tetanus, diphtheria and pertussis) booster. You probably had the Tdap as a child, but the Centers of Disease Control and Prevention (CDC) recommends that adults get a booster every 10 years.
Anyone with a persistent cough, pain or other abnormal symptom should see their provider as soon as possible. I recently had a patient come in for an exam who said he had recurring indigestion, but only while walking; he was surprised to learn that that is a possible symptom of heart disease.

Other Recommendations

For those who have visited their provider recently – and even for those who haven't (yet) – there are plenty of other proactive measures you can take to boost your immunity. Some are obvious, some not so much:

• Washing your hands
• Eating a well-balanced, nutritious diet
• Not smoking
• Getting plenty of sleep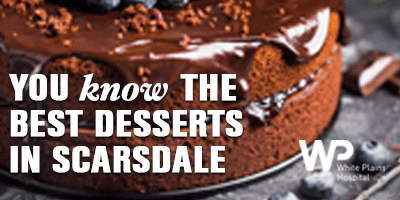 • Getting regular exercise
• Enjoying the outdoors; sunshine is a good source of vitamin D
• Vitamin C: Helps heal wounds and repair and maintain healthy bones, teeth, skin and cartilage; since it is not naturally produced by the body, you can boost your intake of vitamin C by eating most fruits and vegetables
• Zinc: Can help control infections by slowing down the immune response, thus preventing runaway inflammation
• Garlic: Has antibiotic properties that are effective in fighting a varied range of bacteria, fungi and viruses
• Calcium: In some cases can drive the body's reaction to invading organisms, and decrease that reaction down as the infection wanes.
• Red rice yeast: Long a popular medicinal product in China, certain strains of red rice yeast can significantly lower levels of total cholesterol and specifically LDL, or "bad" cholesterol. However, research indicates that red rice yeast may actually be harmful, depending on how it is prepared.

Obviously, consulting your healthcare provider before starting any of the supplements is highly advised; they may come up with additional ideas depending on your individual condition.

Dr. Michael Finkelstein, board-certified in Internal Medicine and Wound Care, sees patients at the Scarsdale Medical Group office in Harrison. For an appointment, call 914-723-8100.
A Walk in the Woods at the Scarsdale Middle School
Details

Written by

Joanne Wallenstein

Category: Health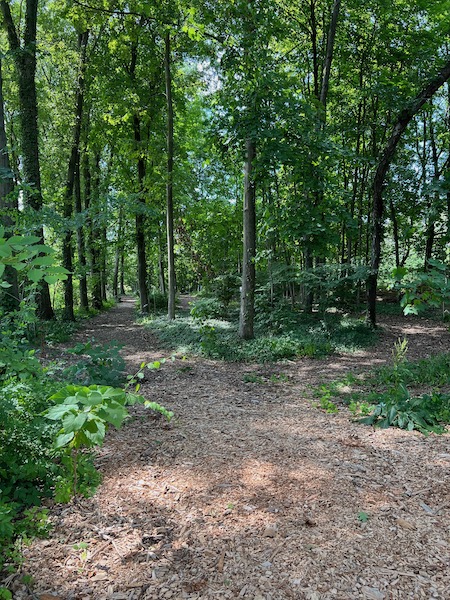 A new outdoor classroom and nature trail inspired by Scarsdale Middle School Teachers has become an integral part of the SMS learning experience.
Sixth Grade Science teacher Ben Turner explained how an unused stretch of woods along Mamaroneck Avenue and Catherine Road was reimagined as the setting for multi-discliplinary learning.
Turner said, "During the 2020-21 school year, I designed an Authentic Learning Unit focused on Ecology, which tasked my students with designing a nature trail in the unused, wooded lot adjacent to the tennis courts on the grounds of the middle school. In addition to planning a potential pathway through the area, they were also charged with creating augmented reality (AR) signs, which would highlight ecological concepts connected with local flora and fauna. In the spring of 2021, my students submitted their proposals and signs as an open-ended, summative assessment. The augmented reality platform that they used to create the signs is called ZapWorks. (If you intend to scan any of the signs posted along the trail, download the app Zappar to unlock the digital content.)"
Turner continued, "Behind the scenes that same spring, I began asking around about the status of the would-be trail area. It turned out that other members of the Science Department as well as the Physical Education Department had also been trying to gain momentum in utilizing the land for various educational purposes. In the spirit of collaboration, several of us approached Principal Meghan Troy for permission to propose some summer professional development days in order to get the proverbial ball rolling. As always, she was incredibly supportive, asking what she could do to help bring our vision to fruition. "
Building the Trail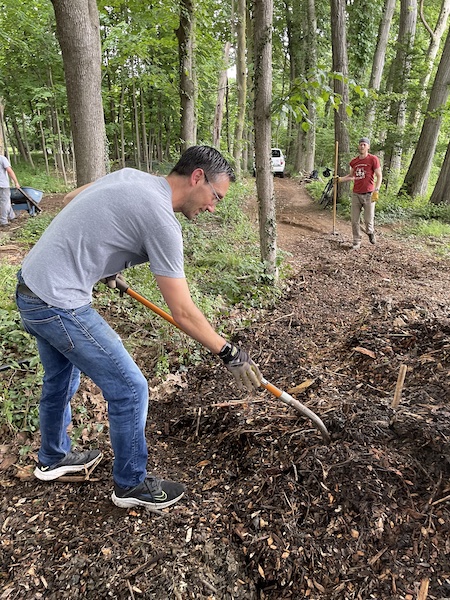 Teachers built the trail with help from the Buildings and Grounds Department.
Once approved, the trail had to be built. Turner says, "For two days during the summer of 2021 Bob Keith and Kevin Roemer (Physical Education) as well as Jessica Lincoln, Travis Richards, and myself (Science) worked with the district facilities/grounds crew to create what is now called the "inner loop" of the SMS Nature Trail. Using a chain saw and a backhoe, an elliptical path was rototilled near the center of the lot and many, many dump trucks' worth of wood chips were laid down. An outdoor classroom area was added to one "corner" of the trail as well. My students' AR signs were placed around the periphery of the loop and a welcome sign was installed at the trail entrance. The sign was created by one of my students using her iPad."
The 2020-21 School Year
Turner says, "Over the course of the 2021-22 school year, the SMA Nature Trail was visited frequently. Scarsdale Teachers Institute classes and department meetings were held in the outdoor classroom area. Many teachers took their classes to the trail for some al fresco reading sessions. There were several projects inspired by the trail.
Alex Fung's music classes worked on natural soundscapes.

Jessie Fass brought her students to the trail to research organic textures for a project focused on artist Yayoi Kasuma.

Michelle Gould held mindfulness and meditation classes.

Meghan Lahey worked with her students on Earth Day Haikus using found materials.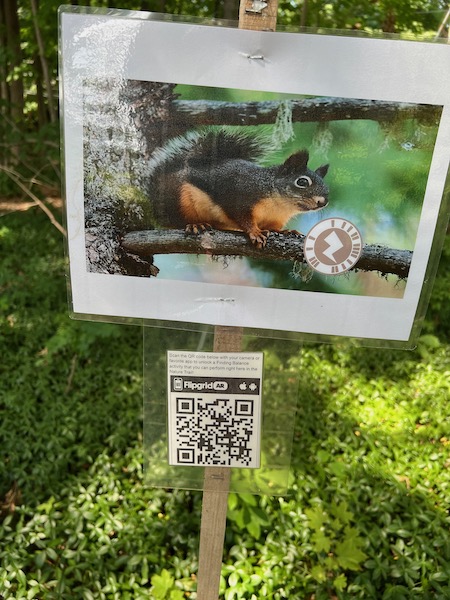 Augmented Reality (AR) signs highlight ecological concepts connected with local flora and fauna. The Cooper 6 team created QR codes which linked to videos of them suggesting ways of "Finding Balance" while walking the trail.
During our school-wide Wellness Wednesday back in March, students created a Painted Rock Garden.
The trail was in so much demand that technology guru Michael Pincus worked with Turner to create a self-sustaining Google reservation calendar in order to manage the trail's use.
Spring 2022
In the spring of 2022, Turner's students again created ecology-themed and locally relevant AR signs for the trail. Around that time, the original team responsible for the inception of the trail got together to brainstorm what was next in its development. The Physical Education department designed a mountain biking unit and are eager to install some trails in order to implement it during the 2022-23 school year. Just this past Monday, the team congregated in the "inner loop" and created the new "outer loop", consisting of half a dozen or so biking trails. These paths were created using string trimmers, rakes, hedge clippers, and shovels. They lined them with logs and branches left in situ and cleaned up several bags' worth of litter that had accumulated over many years.
Moving into the 2022-23 school year there are even more exciting projects planned for the SMS Nature Trail. For example, the Cooper 6 team intends to install a wildflower garden along the front entrance as part of their "Growing Kindness" theme for the year. Also, the Library Media Specialist, Shana Frazin, and Technology Education teacher, Caroline Quentin, are working on signage for a Story Walk exhibit.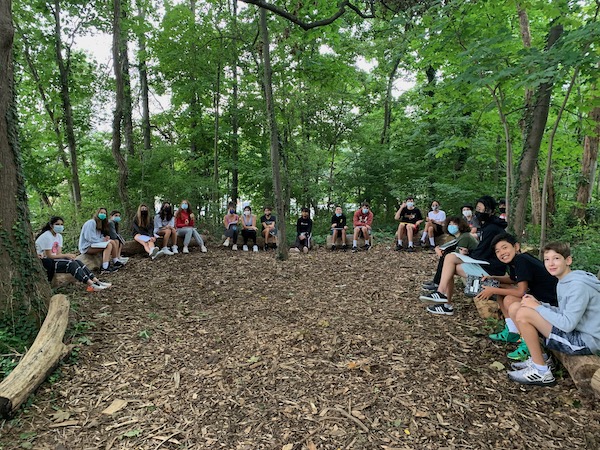 The outdoor classroom
During this quiet time of the year, you can experience the nature trail. Access it from Catherine Road and wander inside. Scan the QR codes on your phone. You'll be surprised at all you will find and learn. Watch a video about the trail here.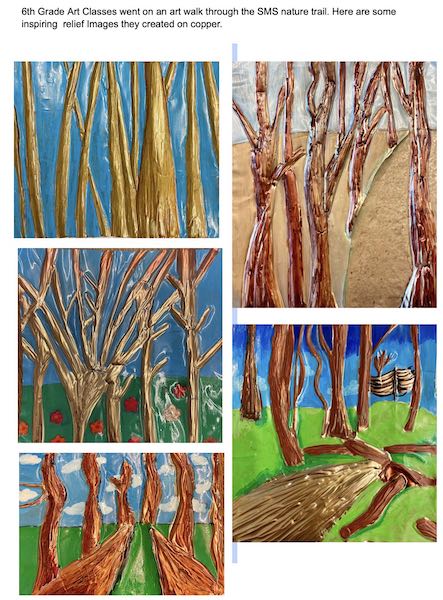 Copper images inspired by the trail.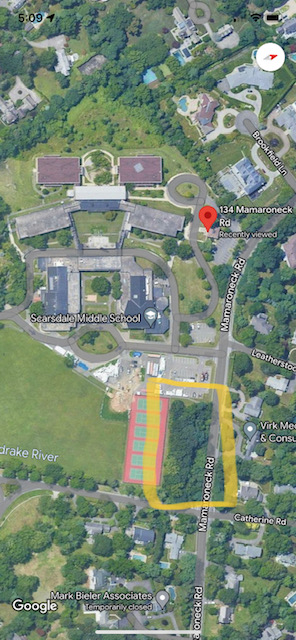 Here's where to find the trail.
Lift Your Mood with Acupuncture
Details

Written by

Dr. Eugenio Jimenez de Castro, Acupuncture

Category: Health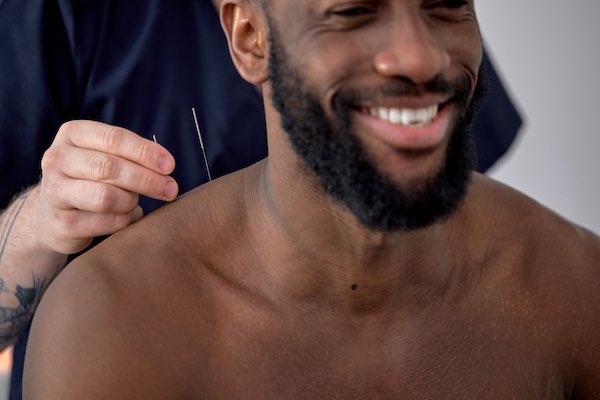 If you're feeling anxious about staying healthy this summer, you're not alone. As the stressors pile up, it may be time to lie down, close your eyes, and go under the needle — the acupuncture needle, that is.

Acupuncture is a treatment that has existed for thousands of years. The fact that this treatment now often qualifies for insurance coverage shows that it's finally recognized as an important complementary medicine; that is, when used alongside medication and other traditional treatment regimens, acupuncture can support healing and expedite recovery.

In fact, acupuncture is a preventative measure to keep such mood disorders as stress, anxiety and depression at bay, with minimal side effects. Receiving a series of treatments, combined with medication, yields optimal results. I always recommend that my patients use both. As they progress in their treatment, they often need less medication down the road.

The mind-body connection has received more attention than ever, thanks in part to the pandemic; last November, the CDC highlighted the intersection of anxiety, depression, and COVID-19. (Not only does the virus heighten the risk of depression and anxiety, but those with mood disorders appear to be at increased risk for COVID-19.) In keeping with that connection, acupuncture triggers physical changes in the body and brain that regulate mood and mindset.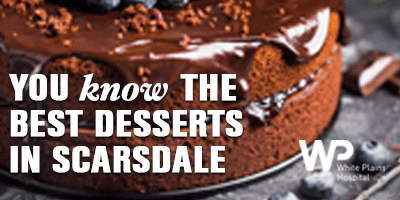 Inserting the needle stimulates the body's calming parasympathetic nervous system, increases mood-enhancing brain chemicals, relaxes blood vessels, fights inflammation, and calms regions of the brain associated with stress. Acupuncture is a holistic medicine, in that it can be used to the entire body.

I tailor my approach to the individual patient, using sterile, single-use needles approved by the FDA. With each 45-minute treatment, I work my way down the body from head to foot, inserting needles into specific points. Most patients start to see results after four visits, with optimal effects after 14 treatments. Patients range from teenagers to senior citizens, all of whom benefit from treatment.

My own acupuncture journey dates back to when I practiced as an orthopedic surgeon in my native Cuba, In the 1990s, one of my family members had a herniated disc and went to an acupuncturist for treatment. I was skeptical: "You mean to tell me they'll feel better with needles?" After several treatments, he did. Then I began to study it more seriously, and began studying acupuncture and complementary medicine on my way to completing advanced coursework in acupuncture for physicians at Harvard Medical School.

For the past two decades, I have focused on acupuncture as a treatment for diseases from cancer to the coronavirus.

This is science, not magic. Acupuncture cannot cure diabetes or hypertension, but it can help decrease blood pressure and increase blood flow. It cannot cure migraines, anxiety, or depression, but it can boost circulation, increase your appetite, and help you start to feel better.

For those preparing for or recovering from surgery, please note that acupuncture stimulates our natural ability for self-healing. And it can help bring the peace of mind that's key to well-being. Anxiety and stress are underlying factors that can make diseases worse. Acupuncture helps relieve that.

Dr. Eugenio Jimenez de Castro is an acupuncturist at White Plains Hospital and owner of Acupuncture of Northern Westchester PLLC in Mount Kisco and White Plains. For an appointment, call 914-849-7653.
Not Enough Time to Exercise? Try Express Workouts and Yoga
Details

Written by

Dr. Douglas J. Hart

Category: Health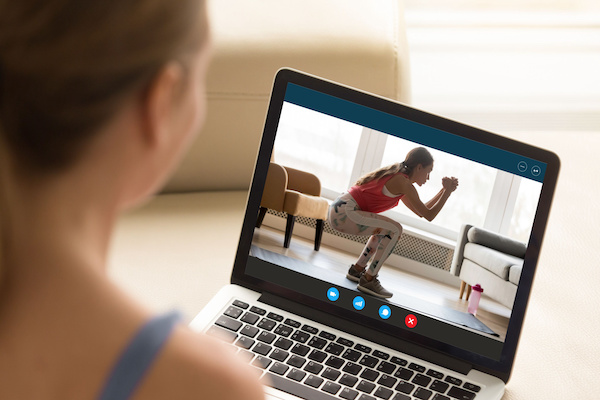 You've got only 20 minutes free to hit the gym. Should you even bother going?

Absolutely! In fact, I have found 20 minutes to be the ideal workout length. I personally makes it a point to fit such "express" workouts into my days spent practicing medicine, and I encourage patients to follow suit to stay healthy, without burnout.

The 20-minute workout is a habit I started many years ago. During medical school, when I was under pressure and didn't have a lot of time, I learned that if I just went to the gym for 20 minutes, and got my weights and cardio in, it was totally doable. And it was more useful than a longer workout because I had time to complete it consistently.

In addition, although I've tried various fitness routines over the years, I always return to the practice of yoga for its focus on finding moments of calm through deep, slow breathing. I especially enjoy aerial yoga, a form of assisted yoga with hammocks and silks.

When the COVID-19 lockdown temporarily forced the suspension of gym and fitness center activities, I migrated online by following Yoga With Adriene, a popular instructor on YouTube. Adriene's 30-day yoga challenges, often done in 15- or 20-minute sessions, complemented my approach of fast, feasible workouts.

Like many people, I have back issues, which means that I'm not the most flexible. But I love how yoga makes me feel relaxed and ready to take on the day.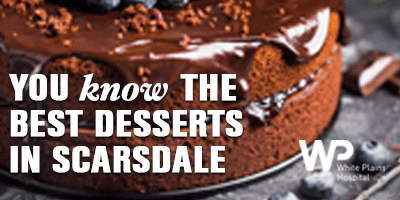 In fact, I have incorporated the breathwork practiced on the yoga mat into my visits with patients, who can come into my office carrying a lot of anxiety and stress. When I ask them to take a breath while listening to their lungs, I can hear the tightness in their chest. And their blood pressure tends to increase in the office — a phenomenon known as white-coat hypertension, which is common among those he treats. For many patients, slow breathing for two minutes helps bring their blood pressure down.

Again, rather than give up on exercising when you find yourself pressed for time, consider these healthy alternatives. The best way to stick with any fitness routine is to make sure it fits into your schedule. If the prospect of spending an hour-plus at the gym feels daunting or downright impossible, don't do it. Anything you can tackle in small increments or tiny bites is your best bet.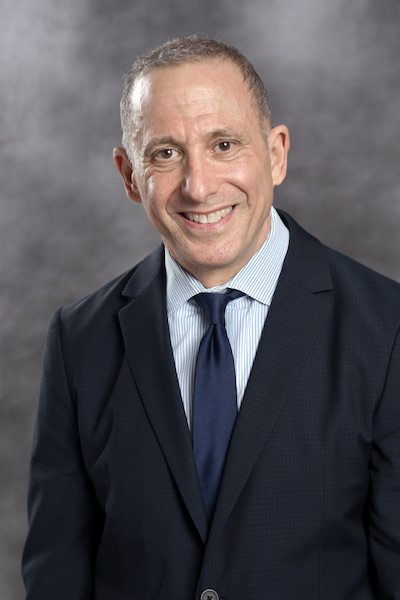 Dr. Douglas J. Hart is Director of Echocardiography at White Plains Hospital. He specializes in cardiovascular disease, echocardiography, and nuclear cardiology. For an appointment, call 914-849-4800.