Over 500 Runners Participate in 52nd Annual 15K and 4 Mile Runs
Details

Written by

Joanne Wallenstein

Category: Health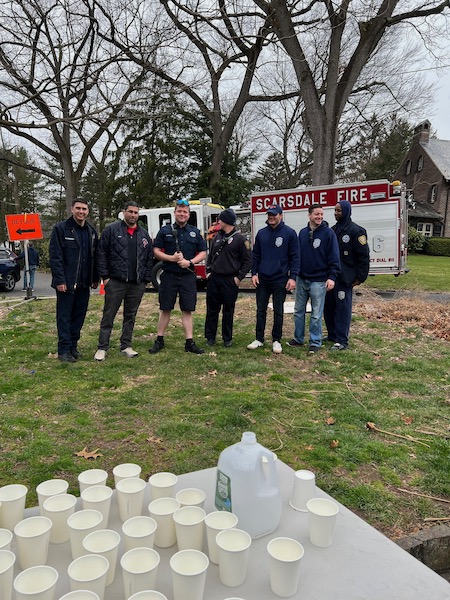 Scarsdale staffers handed out water to runners along the route.The rain held off on Sunday April 3 just long enough for almost everyone to complete Scarsdale's four mile and 15 K road race. The route extends around Fox Meadow and Greenacres and is popular with runners of all ages, from teens to those in their eighties.

This year there were 530 registrants, 181 for the 15K race and 342 for the four mile race with a few signing up to run the races on their own time and submit their scores virtually.
Managing the race is a big undertaking for the Village, with staff from the Parks and Recreation Department, Department of Public Works, Police Department, and Fire Department. They were assisted by 40 volunteers. Streets were closed off, route signage was posted and tables with were set up with water for the contestants.
More than 50 members of the Wind Runners participated in the race and about 15 people volunteered at the water station or took photographs on the road. Many members motivated their kids and friends' kids to come out to either race or volunteer in the event. Ten members of the group, Chen Zou and Shangyuan Luo, Yixin Li, Xiaojuan Hu, Adella Lin, Laibin Liu, Rita Pan, Hongwei Zhou, Joyce Liu and Joning Wang, were among the winners.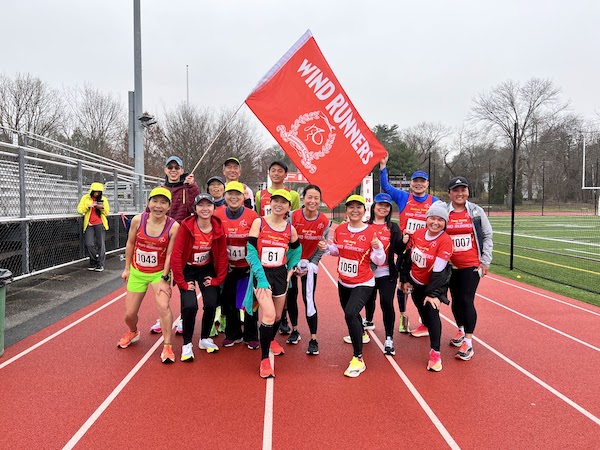 Wind Runners
Here's the list of the winners of both races in all groups:
4 Mile Race Winners
Top Female Christine Lee
Female to age 14
1- Jennifer Schwartz
2- Helen Gimbel
3-Joyce Liu
Female Ages 15 – 19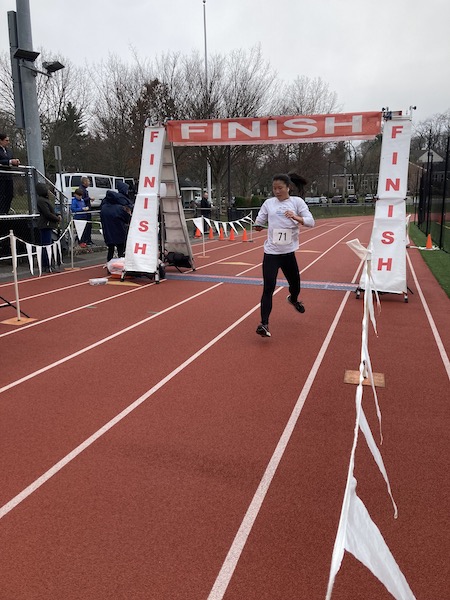 Christine Lee was the first woman to complete the 4 mile race.
1-Lizzie Hurshman
2-Natalyn Kapner
3-Sophia Yazdi
Female Ages 20-29
1- Carly Glickenhaus2- Sarah Garcia
3- Maya Cutforth
Female Ages 30-39
1 Leena Gyftopoulos
2- Lee Cohen
3-Alison Zwerling
Female Ages 40- 49
1-Julie Graham
2- Ilaria Fleischer
3 – Michole Eisenberg
Females Ages 50-59
1. Hongwei Zhou
2. Rita Pan
3. Djoeke Van Beest
Females Ages 60-69
1- Dorian Glickenhaus
2- Loretta Adamo
3- Jill Horowtiz
Top Male – Avi Portillo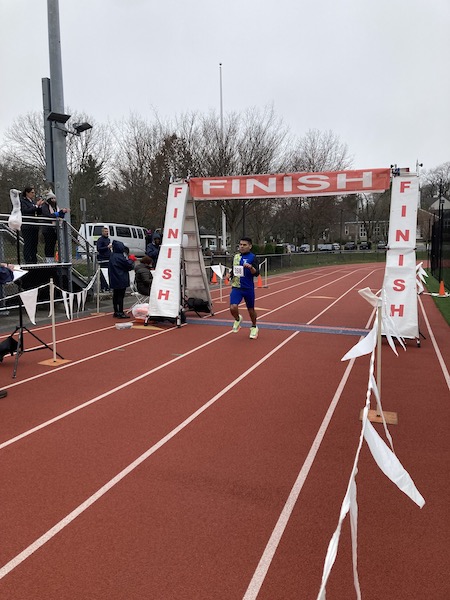 Avi Portillo was the first male finisher in the 4 mile race.
Males 14 and Under
1-Yuhan Cruz
2- Rishi Shadaksharappa
3- Benjamin Weiner
Males 15-19
1- Santiago Gomez
2- JOning Wang
3- Fairs Amin
Males 20-29
1-Bryam Morocho
2-Stefan Kim
3- Bruno Teixerira
Males 30-39
1-Kevin Hoty
2-Brian Metro
3-Timothy Bliss
Males 40-49
1- Carolos E Gomez
2-Christopher Hinder
3- Babk Ghatan
Males 50-59
1-Michael Racanello
2-Vivek Pabby
3-Glenn Dickstein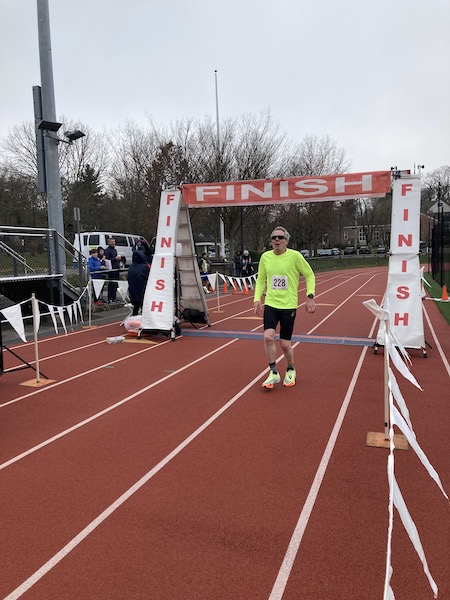 Paul Greenberg came in first in the 4 mile run for those age 60-69.
Males 60 -69
Paul Greenberg
2- Michael Blumstein
3- Jonathan York
Males 70-79
1-Ted Piekarski
2-Donald Sonnenborn
3-Steven Bernstein
Males 80-99
1-John Gibbons
2-Leonard Rich
15 K Race Winners
Female Overall Winner Chen Zou
Females Ages 1-29
1- Charlotte Hoskins
2- Yixin Li
3- Casey Steveko
Females Ages 30-39
1- Aliyah Frumin
2- Rebecca Berry
3- Maria Krentzman
Females Ages 40-49
1-Vanesss Chaladovsky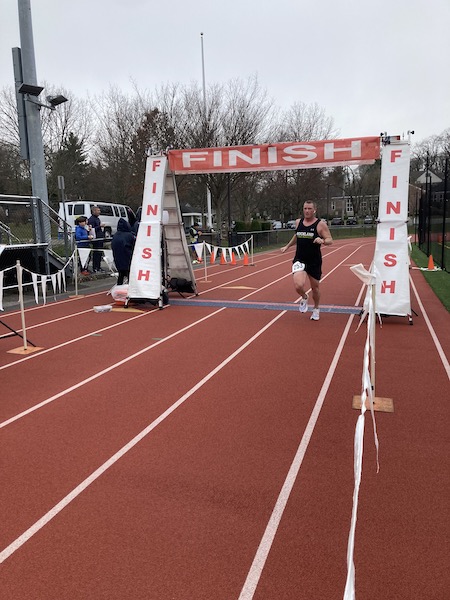 Kevin Hoyt fishined first of men ages 30-39.
2- Julia Mord
3- Xiaojuan Hu
Females Ages 50-59
1- Adella Lin
2- Christine Hees
3- Stephanie Mehta
Females Ages 60-69
Diane Calderon
Male Overall Winner – Corey Levin
Males 1-29
1-Adam Abramowitz
2 Timothy Barbella
3 Jan Breuer
Males 30-39
1- Lanie Van Heerden
2- Chris Cavanaugh
3- Allesandro Zori
Males 40-49
1-Robert Cruz
2-Shangyuan Luo
3-Darrell Moye
Males 50-59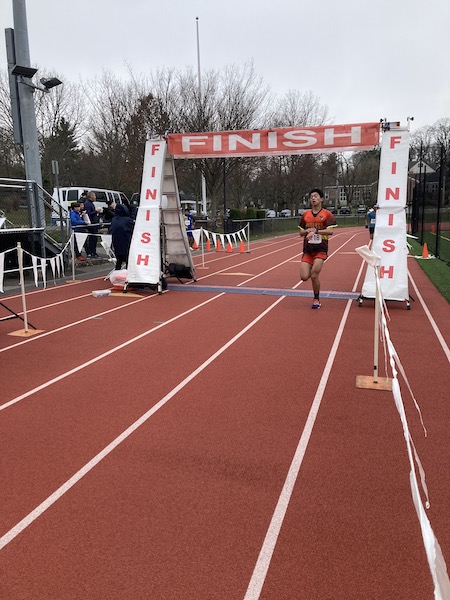 Yuhan Cruz first place 4 mile race 14 and under.
1 Raymond Russell
2- Laibin Liu
3- Rodney Cutler
Males 60-69
1-David Furnari
2- Tom Dube
3- Acho Nwana
Male 70-99
1- Glen Kirchoff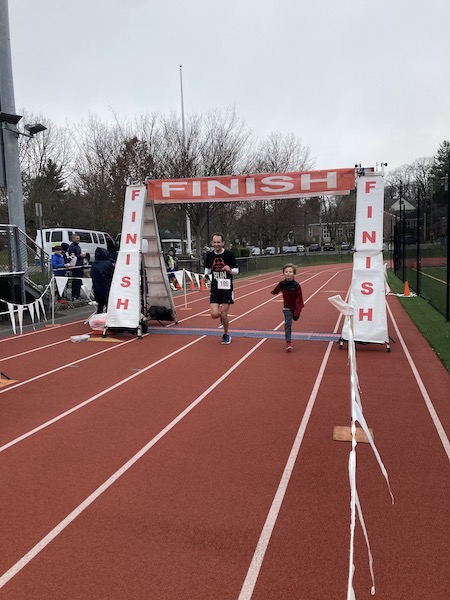 Brian Metro came in second for males ages 30-39 in the 4 mile race.
Stephanie Oricchio finished fifth for female runners ages 20-29 in the 4 mile race.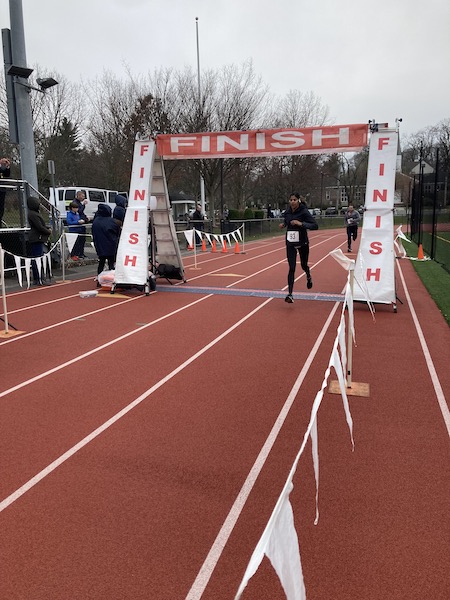 Leena Gyftopolous, first female in 4 mile race, ages 30-39.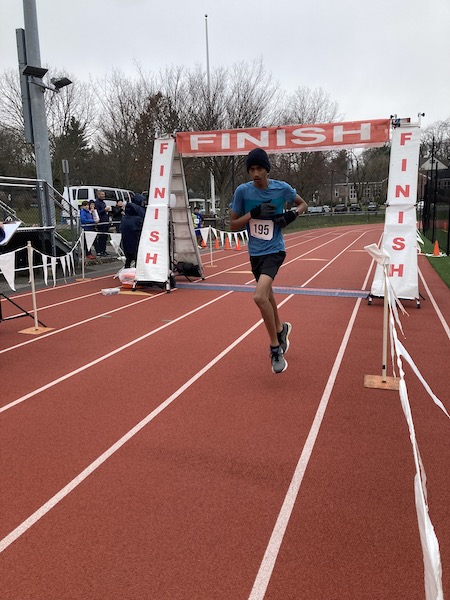 Rishi Shadaksharappa was second for males 14 and under in the 4 mile race.
Medical Discoveries are Offering Hope Against the Third Leading Cause of Cancer-related Death
Details

Written by

Joanne Wallenstein

Category: Health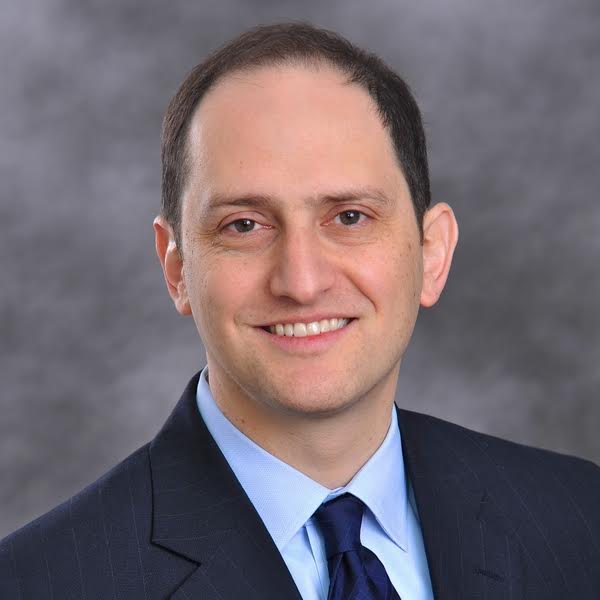 Patients often ask me, "What are the newest treatments in colorectal cancer?" Happily, I can respond with encouraging news. Recent discoveries are promising to improve the outcomes of those at risk for and currently battling this disease. This is especially heartening as colorectal cancer is no longer a disease exclusive to our older population; it is now on the rise in younger people as well.
As the only hospital in the New York City metropolitan area to be accredited by the National Accreditation Program for Rectal Cancer, White Plains Hospital is committed to ensuring our patients with colorectal cancer receive the highest level of advanced care using evidence-based medicine and strategies, such as the following exciting developments:
Earlier Detection
Diagnosing colorectal cancer as early as possible is the key to better outcomes and longer life. The lowering of the recommended age for colorectal screening to age 45 (from 50) will catch thousands more cases at earlier stages, allowing for more simple and successful treatment.
In addition, the use of "circulating tumor DNA" is showing promise as a novel means of finding colorectal cancer earlier than previously possible. This up-and-coming technology identifies and measures microscopic fragments of tumor DNA from the blood and will help physicians get a step ahead of the disease.
More Precise Treatment
A new trend in colorectal cancer treatment is the development of "precision cancer medicines." Not only are they easier to administer, these agents work better than chemotherapy by targeting specific molecular features (such as HER2, BRAF, and MSI). About 25% of people with advanced colorectal cancer have appropriate genetic targets for precision medicine or immunotherapy.
Shorter Chemo

When chemotherapy is the best option, the good news is that medical advances are making the processes easier and shorter for many patients dealing with stage 3 colon cancer. Recent data from a large international study has suggested shortening the current chemotherapy duration from six months to three months. In addition, the three-month regimen uses a chemo pill instead of an infusion pump, improving quality of life without sacrificing the benefits.
Despite all these exciting developments, it's important to remember that prevention is still priority number one. Eat well, get exercise, and follow guidelines for regular screening via colonoscopy. If you are 45 or older, or have a family history of cancer, schedule an appointment with your primary care physician to discuss your risks and a screening plan.

Dr. Joshua Raff is a medical oncologist and Director of the Digestive Cancer Program at White Plains Hospital, as well as the Leader of the Hospital's GI Cancer Program Conference. To make an appointment, call 914-849-7600.
When Hearing Aids Are No Longer Sufficient
Details

Written by

Joanne Wallenstein

Category: Health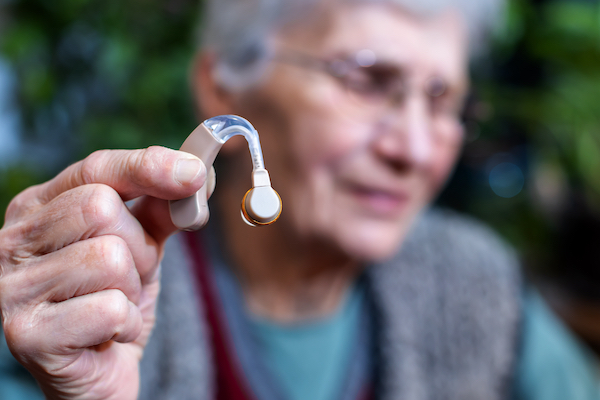 Hearing aids have undeniably been a boon for many patients over the years. But as many of those patients will attest, hearing aids do a very good job making things louder – but they can fall short in making things clearer.

A common complaint about using hearing aids is that it can be difficult to separate speech from the ambient background "noise," such as in a movie theater. This was the situation faced by one of my older patients who used a hearing aid. He is a practicing attorney who was beginning to feel he could no longer do his job as effectively as he had in the courtroom, due to other people talking and other background sounds. As a result, he tended to work primarily from his office, feeling that he was being pushed into retirement by his loss of hearing.

Fortunately he was the right candidate for a cochlear implantation surgery. The difference his cochlear implant made was huge – at work, at home, at restaurants, and so on. He thanked me profusely in what proved to be a very emotional moment for both of us.

To rewind a bit: the cochlea is a part of the inner ear that is involved with hearing. The implant itself is a small electronic device that electrically stimulates the cochlear nerve; its external part sits behind the ear and picks up sounds with a microphone. Those sounds are then processed and transmitted to the implant's internal part.


That part, placed under the skin behind the ear, includes a thin wire and small electrodes that lead to the cochlea in the inner ear. The wire sends signals to the cochlear nerve, which in turn sends sound information to the brain to produce a hearing sensation, essentially duplicating what a person's cochlea normally does.

It is important to note that this procedure, which typically takes about two hours, does not "recover" lost hearing, but it can improve the patient's hearing experience. And one should not expect to immediately return to hearing things as well as they did earlier in life. Some retraining of the brain is required to make sense of the sounds that are suddenly detectable again. This can take weeks, even months, but ultimately the clarity of speech that can be detected will be much better.

Cochlear Implant Candidacy

The ideal cochlear implantation candidate is one with significant – that is, moderate to profound – hearing loss, and who, having used hearing aids in the past, no longer derives benefit from them. And while many of us may associate such hearing loss with age, which can definitely be a factor, you may be surprised to learn that patients as young as eight months old can benefit from the procedure.

To determine the severity of a patient's hearing loss, a series of tests are conducted. These include a pure tone audiogram – familiar to most of us as the "when you hear the tone, raise your hand" exercise – and a pair of audiometry tests. The first of those involves your being asked to repeat a list of words to determine the lowest volume at which you can hear speech.
The second audiometry test is conducted in a similar fashion, but is used to determine how well you can understand speech at a certain level. Typically, someone with significant hearing loss will have difficulty hearing sibilant, high-frequency sounds like "s," "sh," "ch" and "j."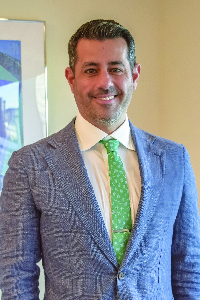 As research continues into addressing hearing loss, so too will forward strides be made in auditory-related surgery. But for countless individuals, cochlear implantation procedures have made all the difference. If you have concerns about your own hearing, get in touch with an audiologist, or consult with your physician about your options.

Dr. Brian D. Nicholas is the Director of Hearing and Balance at White Plains Hospital and sees patients at 122 Maple Avenue in White Plains and at 21 Laurel Avenue, Suite 290, in Cornwall. To make an appointment, call 914-849-3755.
Assemblymember Amy Paulin Joins Rally for Fully Funding Universal Full-Day Pre-K Statewide
Details

Written by

Joanne Wallenstein

Category: Health
Could prekindergarten classes for four year-olds be available in Scarsdale? Over 30 Assembly Members from across the State, joined by school officials and advocates, rallied in Albany to support full funding for universal full-day pre-K in the State budget and address the inequities between New York City and the outer districts on Tuesday March 8.

Since 2014, NYC has received $300M annually under the Statewide Universal Full-Day Pre-K (SUFDPK) program. The SUFDPK program, which allocates $10,000 per child, has allowed NYC to offer universal pre-K to all children. As a result, if you live in NYC, whether you are rich or poor, your child can go to pre-K for free just as they can with public school.

Districts outside of NYC however, which enroll more than half of the public students in the State, are only allocated $40M in annual funding under the SUFDPK program, and for FY 2022 an additional $15M in available grants, which similarly gives $10,000 per child for full day pre-K, was provided. This allotment is largely insufficient to provide pre-K for the vast majority of districts in NYS, and the lack of funding for these schools has resulted in the majority of the districts being unable to operate pre-K programs. These schools also ended up having to apply and compete for the SUFDPK funds, and the majority do not receive funding. The inequity between schools in New York City and districts outside of the city needs to be remedied.

NYS' "UPK" Funding Program

Districts outside of New York City, can also receive funding from the state for universal pre-K, from a pool that is simply called state "UPK" funding. Prior to 2021, out of the total of $515 million in UPK funds, approximately $250 million was allocated to districts outside of New York City. Although $90M was added in last year's budget, the amount needed for districts outside of New York City is still wholly insufficient. The formula for receiving these funds is based on property values, which for Westchester and Rockland only generates $2700/child for a ½ day program and $5400/child for a full day program. $5400/child is not enough for Westchester, Rockland, Long Island, and most counties in New York State, to provide full-day pre-K services.

Benefits of Pre-K

High-quality pre-K has significant benefits for children as it provides them with valuable skills to succeed in school and beyond. Studies show that children who arrive at kindergarten prepared to learn perform better throughout school and complete more years of education.

Research shows that brain development in the years prior to kindergarten builds "school readiness" which is the foundation for success in school, at work, and throughout life. Pre-K aids in giving children the four key dimensions of school readiness -- language and literacy, thinking skills, self-control and self-confidence. When these four foundations are strong, a child is ready to thrive in kindergarten and beyond.
Public pre-K also enables parents of young children to return to the workforce. A study of Washington DC's universal pre-K program shows that it has resulted in more mothers in the workforce, helping women, families, and the economy.
"School superintendents and children's advocates from across the state have made it clear they are willing to create new Pre-K programs or expand their existing half-day Pre-K programs, but simply lack the funding. The time has come for the state to deliver on the promise of truly universal Pre-K by providing adequate state funding for all of New York's children," said Assembly Member Amy Paulin.

"The benefits of universal full-day pre-K are well documented, and it is critical that the state fully funds these programs across the state. Last year's additional funding was a step forward, however far too many children were still unable to access full-day programs. We urge Gov. Hochul and the legislative leaders to make this funding a priority and include it in this year's budget," said Assembly Member Ken Zebrowski.

"The Statewide Universal Full-Day Pre-K (SUFDPK) program is not just an issue of education and childcare, but an issue of equity as well. The families in all regions of this state should have the same opportunity to enroll their children in the SUFDPK program. Children who attend pre-K are better prepared for kindergarten and have improved academic outcomes. This funding is essential for the future of our children," said Assemblymember Harry Bronson.


"Pre-K provides our kids with a nurturing environment to build a meaningful foundation for their future K-12 education. We must secure this funding so that all students, regardless of where they live, have equal access to this program," said Assemblymember Fred W. Thiele, Jr.

School officials and advocates joined the rally in support.

"Assemblywoman Paulin continues to be a champion for all of New York's children, including our youngest New Yorkers. While we lead the effort to provide Pre-K opportunities to our children throughout the state in 2014, the time has come to reinvest in our commitment and increase the resources available to ensure that every Pre-K aged child, no matter their zip code, has access to high quality Pre-K opportunities. By investing in our youngest, we know that we will continue to create a solid educational foundation that will support the future of our great state. Let's appropriately increase the funding allotment now, so that all PreK aged children can start PreK in September on the right foot," said Joseph L. Ricca, Ed.D., Superintendent of Schools, White Plains Public Schools.

"We know that universal pre-kindergarten is one of the best ways to provide a firm educational foundation for our children. Having additional resources to continue to provide a quality program to our district's youngest scholars will go a long way to assure their success as they develop into life-long learners," said Raymond Sanchez, Superintendent, Ossining Union Free School District.

"We all know the facts: preschool attendance has been shown to improve children's academic and socio-emotional skills, preparing them for kindergarten and beyond. We also know that quality preschool programs benefit children from disadvantaged families the most, providing those children with a safe and nurturing environment for healthy development. Greater funding for additional UPK slots would only build on New York's progress and its important place in leading the nation on the equitable delivery of high-quality Universal Pre-K programs," said Kris Felicello, Ed.D., Superintendent of Schools, North Rockland Central School District.

"By providing a UPK program, we not only support the child, we support the family. Every day we see incredible growth in these children as they develop skills in the classroom. Their ability to communicate and work with others is remarkable. Full funding for UPK must be supported; there is no better investment in the future of education," said Cynthia Delfino, President/CEO · YMCA of Central & Northern Westchester.
Parents Plead with Board of Education to Let Childrens' Lives Return to Normal
Details

Written by

Joanne Wallenstein

Category: Health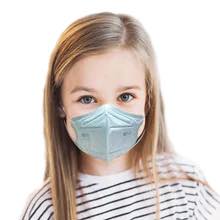 With COVID rates falling steeply and the New York State mask mandate for schools set to expire on February 21, 2022, some parents are urging the Scarsdale Schools to relax COVID restrictions. Currently Scarsdale's rules exceed state requirements, and some parents want the district to allow children to eat lunch and converse with friends, sip water when they want it and permit parents to come inside the school to see their children's classrooms.
At the Scarsdale Board of Education meeting on February 14, 2022, Tali Newman and Kim Liebowitz both gave impassioned comments asking the Board to act.
Here is what they said:
Tali Newman

I respectfully ask that the Board answer in specific terms what it is doing to help reclaim normal life for our children.
I want to make sure that all listening to this meeting are aware of the things that were once taken for granted which have been taken away from our children. The children wear masks all day.
They are not allowed to take them off except for one or two mask breaks and a short lunch. If they are lucky, they get outdoor recess. They are not allowed to speak during lunch or snack. They are permitted to drink water only twice a day during mask breaks. They watch movies during indoor recess. Group projects are replaced with ipad time. They are not allowed to have family members visit school. I have never seen the inside of my son's school. All of this is causing a profound negative impact on their mental health. None of this is mandated by the state. This is a choice that you – the BOE and our administration – are making.
I recently sent the Board via email the Urgency of Normal Toolkit. The Toolkit — Children, COVID, and the urgency of normal. The Toolkit was written by 15 nonpartisan doctors and his since been signed by over 1000 healthcare providers.
As mentioned in the toolkit, CDC data shows that COVID poses very little threats of serious disease for students, and yet they are subject to disproportionate restrictions. Teachers, staff and family members are well protected by vaccination.
Two years in, protecting the mental, social and emotional health of students should be our priority at this point.
Indicators of student mental health and distress are alarming.
Policies to improve and protect student mental health are urgently needed.
Depressive and anxiety symptoms doubled during the pandemic, with 25% of youth experiencing depressive symptoms and 20% experiencing anxiety symptoms.
A study of eating disorder hospitalizations found a 120% increase.
According to national CDC surveillance data, ER visits for suspected suicide attempts in adolescent girls increased 51% in 2021.
Health is about more than the mere absence of COVID-19. Reclaiming normal life for our children is the best way to support and protect them. In lieu of simply allocating resources to our children's mental health, let's correct one of the causes of their distress.
In that regard, I wanted to point you to one of the Scarsdale Board's stated goals for this year:
Participate in legislative advocacy impacting public education via efforts suggested by our Administration or coordinated by the New York School Boards Association (NYSSBA) and Westchester Putnam School Boards Association (WPSBA).
On Wednesday evening, February 9th, the Eastchester Board of Education adopted the following resolutions: (read those in bold)
WHEREAS, due to recent changes, the District is no longer legally obligated to conduct contact tracing of close contacts; and
WHEREAS, the Board deems it to be in the best interests of the District's students to relax certain social distancing, outdoor masking and other Covid-19 protocols to the extent such protocols adversely affect student education, mental health or physical, social or emotional wellness as soon as practicable, consistent with legally enforceable laws.
RESOLVED, that the District's Reopening Plan and social distancing and other Covid-19 protocols be promptly reviewed and modified or eliminated, to the extent necessary or appropriate, to eliminate any adverse impact thereof on student education, mental health or physical, social or emotional wellness, including as necessary or appropriate to (1) relax restrictions on District visitors and events, (2) eliminate all outdoor masking requirements and (3) relax lunch restrictions and allow all students to eat lunch under normal conditions comfortably in each building; and be it further
BOARDS CAN ACT. In light of the Board's stated goal of advocacy, I respectfully request that the Board let the community know what IT is doing to advocate for and prepare for the removal of the state's mask mandate and to return normalcy to our children's school experiences (i.e., no more silent lunch, no more social distancing, no more drinking water only 2x a day, parents IN the building).
Thank you
Dr. Kimberly Greene-Liebowitz
I want to speak to you tonight about COVID mitigation measures in our schools. Thank you for the announcement that masks will become optional upon termination of the mask mandate.
OUR CHILDREN NEED NORMAL
Our understanding of COVID has evolved over the past two years as has the virus, which is now more contagious but less pathogenic. A zero-COVID strategy is not achievable for four key reasons:
1. Frequent mutations
2. Nonhuman hosts
3. Asymptomatic spread
4. Waning immunity
With that in mind, we need to focus on vulnerable populations and treatment rather than elimination of infections. I know you are all aware of this.
Children, even unvaccinated ones, are at extremely low risk of adverse events or death due to COVID. One study of 199 hospitals showed zero pediatric COVID deaths Dec 26-Jan 15, 2022 vs 495 deaths in persons over 50. In New York, the difference is stark: 56 deaths in children 0 to 19 since the pandemic began vs 28,391 over 70 years. Children make up 0.1% of the fatalities.
With this in mind, it is past time that we end the majority of the mitigation measures in place in the schools. These measures have a small effect on reducing disease spread, but given the airborne nature of Omicron – and likely of future variants, given that evolution has been trending towards airborne – their benefit has significantly declined over the past two years. Children and adults in this community go to restaurants, theater, museums. They fly on planes and stand in line in stores. In all these situations they are closer to strangers than our children would be with their friends at lunch. These children are together all day, every day, and there is little utility to separating them at lunch or in the classroom.
Costs exceed benefits.
Limiting spectators is illogical. If people can go to Madison Square Garden with thousands of people who don't live in this community, they can surely sit next to their neighbors for a school play or a sporting event. Both parents. And grandparents. And siblings.
Childhood is time limited and can never be recaptured. These years that have been stolen from our children are gone forever, never to return. I realize some may find these words inflammatory, but they are the truth. 85% of the brain's development occurs by the time children are five years old. Social-emotional development occurs in grade school and beyond, and kids cement their knowledge during these formative years. We can't lose any more of that time to mitigation measures. These kids will never be able to make up for the loss.
Our children need normal lunch. Normal snack. Normal breaks. Normal water consumption. Normal room temperatures. Normal celebrations. Normal events. NORMAL CHILDHOOD.
Please tell the community tonight that you will eliminate all mitigation measures now.
Let our children grow up normally.