Gardening is a Safe, Healthy Way to Beautify Your Yard and Add Veggies to Your Table
Details

Written by

Joanne Wallenstein

Category: Health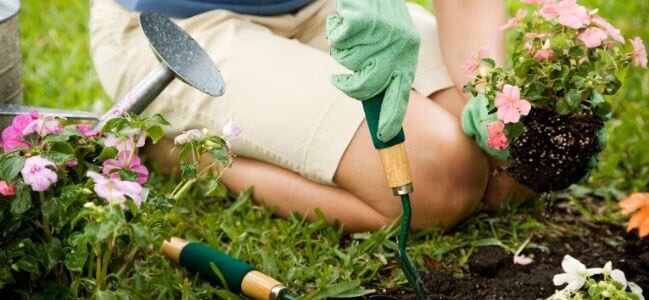 The coronavirus pandemic has paused life as we know it and left families battling cabin fever while wishing for spring fever. With health clubs, schools and softball fields waiting to reopen, gardening's popularity has sprouted as a safe, healthy and productive way to pass the time.
Growing fruits and vegetables to supplement our diets in times of crisis is a tried and true American tradition. Victory Gardens started in World War I, when Americans were asked to plant vegetable gardens to prevent food shortages. By the end of WWII, 40% of the country's produce came from backyard gardens. Victory Gardens offered something tangible to work at and help the country at a time when many people felt helpless. Sound familiar? We may be fighting an invisible enemy right now, but it's no coincidence that the spread of coronavirus has sparked a Victory Garden comeback.
Dig it! Gardening is good for the body…
The results of a multitude of research is now showing what gardeners have known for generations – that gardening is good for your health. According to the Environmental Protection Agency, the average American spends 93% of their life indoors – 87% in buildings and another 6% in automobiles – and that figure may rise even further thanks to COVID-19.
The benefits of being active outside are plentiful:

A Surprisingly Good Workout - A simple hour of gardening could help you to burn up to 330 calories. Pulling weeds and planting flowers can burn 200-400 calories per hour and mowing the lawn expends between 250-350 calories per hour.

Heart Healthy - According to studies, gardening can help reduce the risk of a heart attack or stroke. It has been found to be particularly beneficial for people 60-years-old and over, prolonging life by as much as 30%.

Reduces Stress - Gardening can also be a great stress reliever. Passing time caring for the flowers or vegetables you've grown releases endorphins, the hormone that helps to make people feel satisfied and relaxed.

Good for Your Mind, Too - In addition to the physical benefits, there has also been research that suggests engaging in a physical activity such as gardening can help lower the risk of developing dementia. Two separate studies that followed people in their 60s and 70s for up to 16 years found that those who gardened regularly had a 36% and 47% lower risk of dementia than non-gardeners.

During this time of limited movement, a garden is a place to keep our minds and bodies in shape. It's a spot of land where you can show off our green thumb, or grow some great things to eat. And it gives you a chance to play in the dirt, no matter how old you are.
Run to Support COVID Research
Details

Written by

Joanne Wallenstein

Category: Health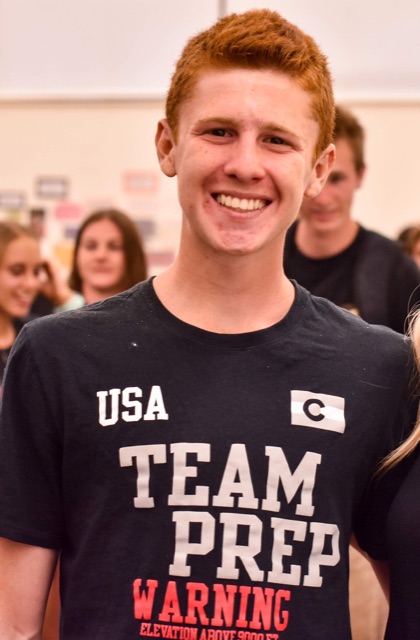 SHS Junior Alex Friedman has been running track and cross country since seventh grade and was looking forward to competing in the annual Scarsdale Road Race with his friends that was cancelled due to the pandemic. He hasn't stopped running around Scarsdale and noticed an increase in the number of runners due to the closure of gyms.
What to do? To make up for the cancelled event he decided to host a virtual race on May 31 called Run Together Stay Apart.This race will give participants a chance to run the designated distance wherever and whenever they want, as long as it is within the given timeframe. It's essentially a normal race, but participants will run alone.
All Run Together Stay Apart participants will receive a virtual bib before the race and a medal afterwards, and all net proceeds will be donated to support research at the Hospital for Special Surgery to prevent COVID-19 transmission in healthcare workers.
In order to register, Venmo $25 to Run Together Stay Apart, and email runtogetherstayapart@gmail.com the following: name, address, phone number, email, and the distance you would like to run (either 1 or 5 miles) After the race, email the same address your time for your result to be posted. Alex urges you to share this event with your friends and family and to email runtogetherstayapart@gmail.com if you have any questions.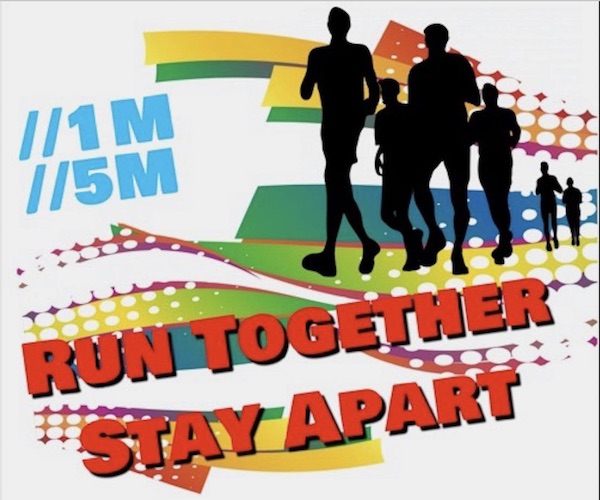 Buy A Sign to Show Your Support for Healthcare Heroes
Details

Written by

Joanne Wallenstein

Category: Health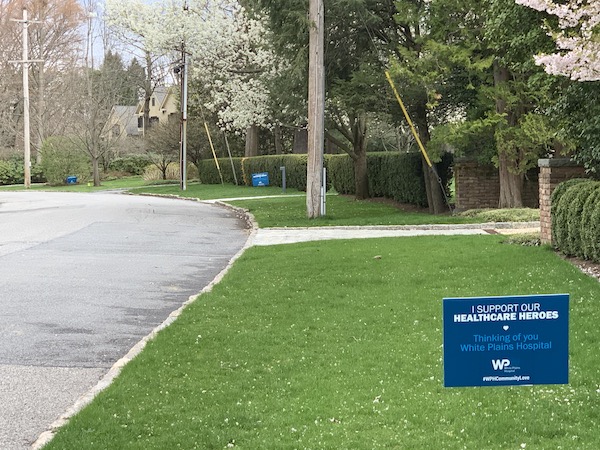 The Friends of White Plains Hospital applaud the tireless efforts of healthcare heroes. The nurses, doctors, and countless other essential workers all fighting on the front line to keep our community safe. They ask you to show your support today by purchasing a lawn sign in support of our healthcare heroes.
Click here to get yours today and support local healthcare:
JLCW Contributes to the White Plains Hospital COVID-19 Relief Fund
Details

Written by

Joanne Wallenstein

Category: Health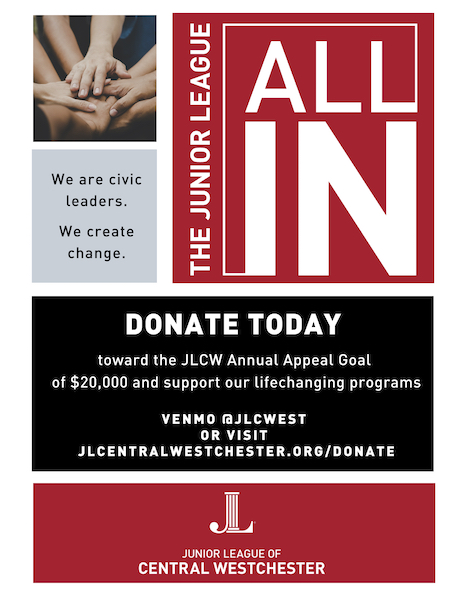 For 73 years the women of the Junior League of Central Westchester (JLCW) have worked to positively impact the lives of women and children within our community. The current COVID-19 crisis has impacted our community in a more devastating way than anything we've ever seen as well as challenged every response and support system geared towards aiding those impacted.
The JLCW has made a $2,500 donation to White Plains Hospital COVID-19 Relief Fund, which is the equivalent to a day's worth of surgical masks for first responders. White Plains Hospital has been a longtime partner and sponsor of the JLCW, having collaborated together on several community projects over the years. White Plains Hospital has been there for the JLCW, and we are there for them now.
The White Plains Hospital COVID-19 Relief Fund is being used to purchase Personal Protective Equipment (PPE) and supplies, to build additional critical care units, and to provide meals to front line staff. The fund will also be used for advanced technology to care for COVID patients such as additional monitors and iPads for patients to use in communicating with family members.
"Members of The Junior League of Central Westchester have come together to make a donation equivalent to the funds required for a day's worth of surgical masks," said JLCW President Valerie Phillips. "Our League has partnered with White Plains Hospital for many years and we are grateful to be able to support their critical efforts in our community during this extraordinary time."
128 Test Positive in Scarsdale; Latimer Gives Westchester County Update
Details

Written by

Joanne Wallenstein

Category: Health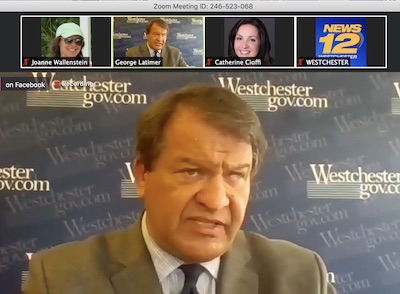 Westchester County Executive George Latimer Provides Daily Press Briefings on Zoom
We listened in on a press conference with Westchester County Executive George Latimer on Tuesday April 7.
At the time, he believed that the contagion and death seemed to be slowing though it is too early to tell.
As of Tuesday April 7, 14,804 had tested positive for Covid 19 in Westchester County – out of 46,701 tested. He called these numbers "comparable to other suburban counties."
Also as of Tuesday, 283 Westchester residents had died, a fatality rate of 1.9%. According to Latimer, 80% of those diagnosed are able to overcome the virus.
About hospital beds, Latimer said that there were currently 1,056 people in the hospital, which the county could manage. If this rate climbs, more beds will be needed. The Westchester County Center will be online one week from Friday and will have another 100 beds. Volunteers to staff that facility. The county has already heard from 126 nurses and 17 doctors who volunteered to help.
Flags at Half Mast:
Latimer reported that flags throughout the County have been lowered to half mast and will remain at half-mast for the length of the crisis.
Small Business Applications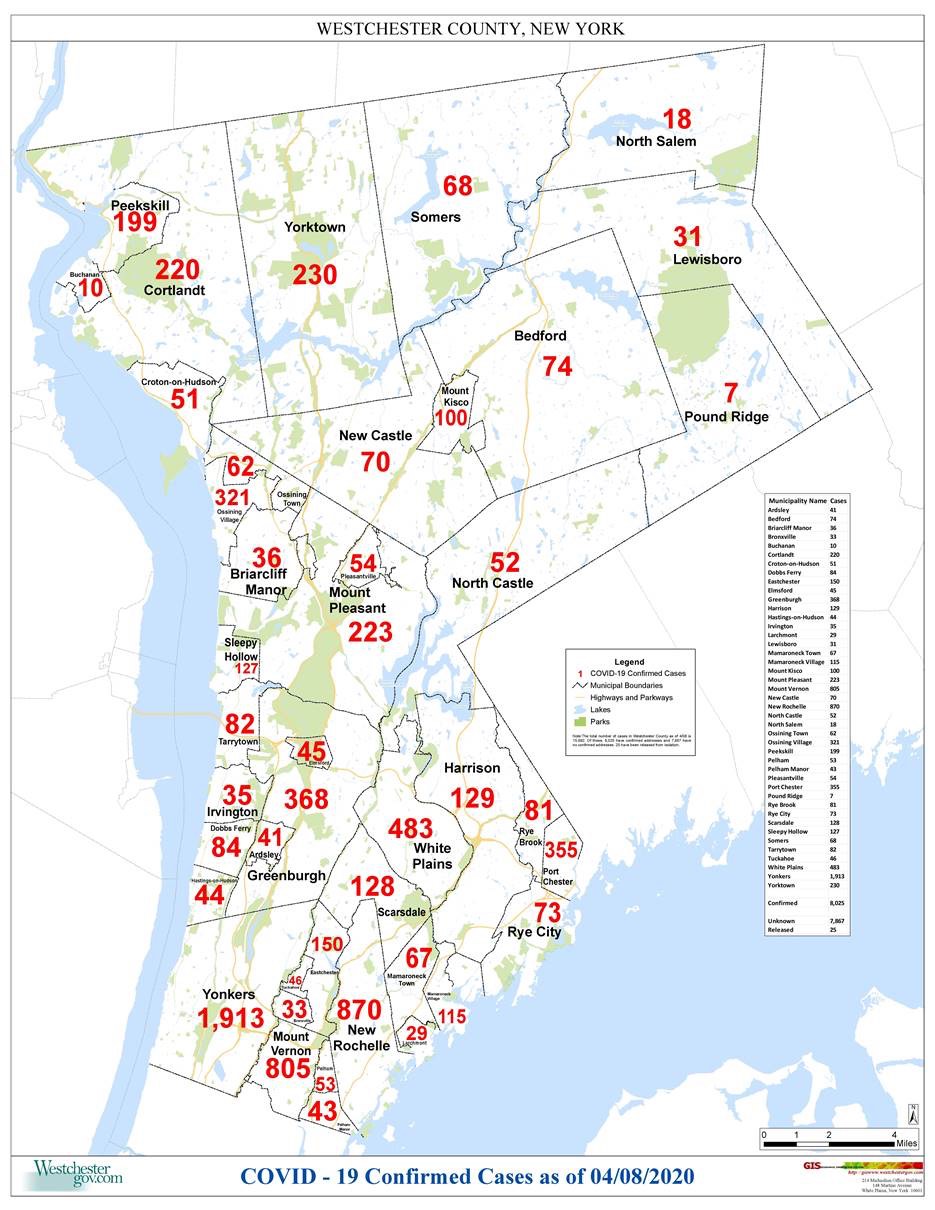 As of April 8, 128 Tested Positive in Scarsdale.
The county is also looking for volunteers to help small businesses apply for the federal loan funds that are available. Latimer said, it is "not easy to file the paperwork and that may be an obstacle to getting the money. Trained volunteers could help.
Parks
Westchester County Parks are open for the remaining winter season, including the golf courses. He believes these are safe because people practice social distancing however, Rockland County has closed their parks. Latimer said of now, the county was not planning to open Rye Playland, the county beaches or pools as these would have "active uses" and not be safe. He also said that the ethnic festivals at the Kensico Dam would not be scheduled as they would be "unmanageable."
He ended by saying, "We will never forget the spring of 2020 – let's hope we're all here in the spring of 2021 to enjoy it."