Mindful Eating for the Holiday Season
Details

Written by

Wendy MacMillan

Category: Health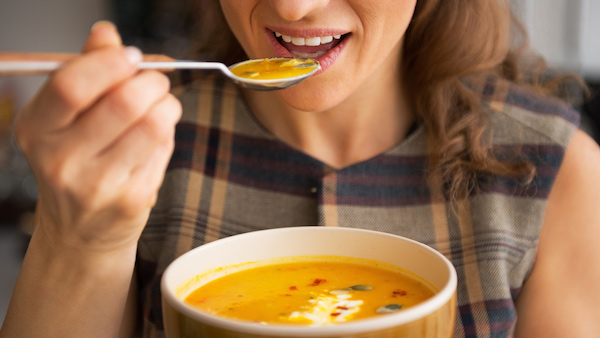 It was like a Halloween miracle...the clouds parted and the rain stayed at bay, but now all that trick or treating has left us with bags of tempting candy right before Thanksgiving and a season of feasting. What better time than now, to talk about mindful eating?! No, mindful eating isn't a new diet fad, but if you practice it regularly you might just feel the effects in both your body and mind.

As Jon Kabat-Zinn defines it, mindfulness is "paying attention in a particular way: on purpose, in the present moment, and nonjudgmentally." So simply put, mindful eating is the act of slowing down and drawing our attention to the physical and emotional sensations that we may feel while we eat. The premise of mindful eating is to try to clear your dining space of other distractions so that you can really focus on how the food you are consuming smells, how it tastes, and how it feels as you chew it. We're all guilty of chowing down while we distractedly look at our phones or watch T.V. or of shoveling in a granola bar while running from one place to the next, but if we practice mindfulness while eating, we can also begin to create an awareness of how our bodies feel when we are hungry and start to recognize the physical cues of when we are full.
Benefits of mindful eating:
The benefits of mindful eating are plentiful. Practicing mindfulness in general has been scientifically proven to not only strengthen executive functioning skills such as impulse control and decision making, but it has also been shown to reduce stress and anxiety. What's more, when practiced while eating, mindfulness can also help aid digestion, establish a healthy relationship with food, contribute to weight loss, and so much more!
Ready to give mindful eating a try?
First and foremost, it's important to remember that practicing mindfulness takes, well...practice! It might not feel natural at first, but with a bit of effort and time, it can become second nature and before you know it you have created a new, healthy habit for yourself! Here are a few tips to help get anyone started:
-Try to avoid eating food right out of a package or while standing at the counter. Instead, plate your food and sit down to eat it at a table.
-Try to eliminate distractions such as cellphones and T.V. so that you can give all of your attention to your meal.
-Spend a moment feeling grateful for your food and how it was provided for you.
-When you start to eat, use all of your senses to enjoy the food. How does the food smell, taste, feel?
-Take small bites and really try to savor each one.
-Chew slowly.
-Try to take notice of how you the food makes you feel while eating it and how you feel once you've finished.
-Tune into your body's signals and try to recognize when you are full.
Please remember, while it is important to try to focus your attention on the present moment and the food that you are eating, it is perfectly natural for your mind to start to wander. If this should happen just gently bring your focus and awareness back to the sensations of eating and savoring your meal.
Bon Appetit!
For more information about mindful eating and for guided mindful eating mediations check this out.