Shoes Giving Your Feet Fits? It May Be a Morton's Neuroma
Details

Written by

Dr. Michelle Castiello

Category: Health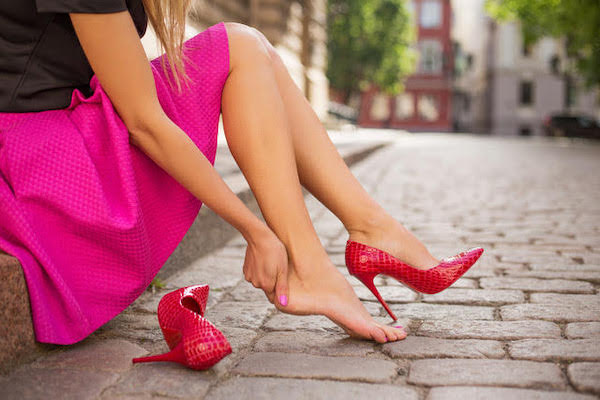 Ever wonder why your feet hurt every time you put on your shoes or exercise? It may be a Morton's neuroma.
What Is a Neuroma?
A neuroma is a thickening of nerve tissue due to compression and irritation of the nerve, which can occur anywhere in the body. The most common neuroma in the foot is a Morton's neuroma, which occurs between the third and fourth toes. It is sometimes referred to as an intermetatarsal neuroma, referring to its location in the ball of the foot between the metatarsal bones.
The incidence of Morton's neuroma is 8 to 10 times greater in women than in men.
Causes
One of the most common causes of a neuroma is improper shoes. Tight, narrow shoes cause the toes to be forced into the toe box (the section of footwear that surrounds the toes on closed-toe shoes), which can lead to compression of the bones and pinching on the nerve. In addition, high-heeled shoes put a lot of pressure on the ball of the foot, which also can irritate the nerve.

Certain foot deformities such as bunions, hammertoes or flat feet also put you at higher risk for developing a neuroma, as can activities that involve repetitive irritation to the ball of the foot, such as running or tennis.
In addition, an injury to the foot may lead to a neuroma.
Symptoms
A Morton's neuroma may cause one or more of these symptoms:
- Tingling, burning, numbness to, or pain in, the toes or the ball of the foot.
- A feeling that something is inside the ball of the foot, or the ball of the foot is swollen.
- A feeling that there is something in the shoe like a pebble, or that your sock is bunched up.
Symptoms begin gradually, initially only occurring when you wear narrow-toed shoes or perform certain aggravating activities. They symptoms may go away temporarily by removing the shoe, massaging the foot or avoiding aggravating activities. However, in some cases the symptoms progressively worsen and may persist for days or weeks.
Treatment
Initial treatment is nonsurgical:
- Proper footwear: Avoid high heels or tight shoes. Wear wider shoes with lower heels and a soft sole. This enables the bones to spread out and may reduce pressure on the nerve, giving it time to heal.
- Orthotics: Custom shoe inserts and pads help relieve irritation by lifting and separating the bones, reducing the pressure on the nerve.
- Cortisone injection: One or more injections can reduce the swelling and inflammation of the nerve.
- Nonsteroidal anti-inflammatory medication: Products like ibuprofen can also decrease the swelling of the nerve.
Studies have shown that a combination of wider, more comfortable shoes, nonsteroidal anti-inflammatory medication, custom foot orthoses and cortisone injections provide relief in over 80% of people with Morton's neuroma.
If conservative treatment does not relieve your symptoms, you may discuss surgical treatment options with your podiatrist.
Remember, foot pain is not normal and you should never ignore it. If you are experiencing foot pain, visit your podiatrist.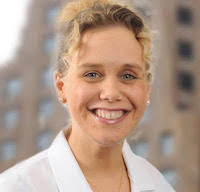 Dr. Michelle Castiello is a podiatrist at White Plains Hospital Physician Associates, seeing patients at 600 Mamaroneck Avenue, Suite 102 in Harrison. To make an appointment, call 914-723-8100.
Paulin Issues Statement on Roe v. Wade Draft Ruling
Details

Written by

Joanne Wallenstein

Category: Health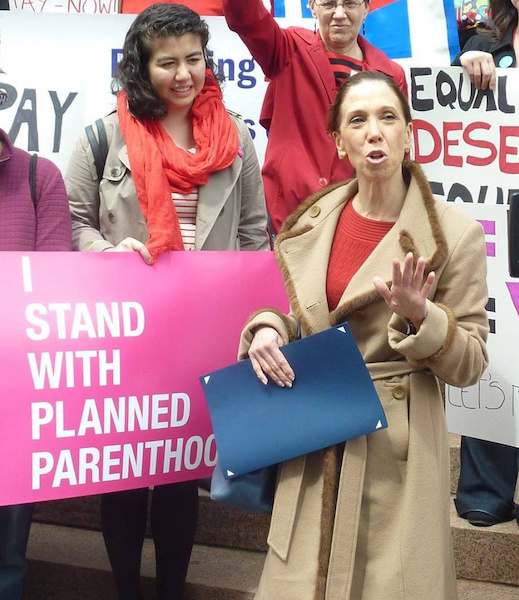 Through a leaked Supreme Court draft ruling, we have learned that the court plans to overturn Roe v. Wade, which guarantees federal protections of abortion rights for women.

New York State passed The Reproductive Health Act in 2019, which guaranteed that abortion would remain legal in New York even if the court were to overturn Roe v. Wade. At the time, myself and other lawmakers in Albany who worked on and argued for this legislation cited that possibility as a motivation for the law. In an extremely dark time for America, our New York State law has proven to be 100% necessary.

The SCOTUS ruling is appalling for many reasons. It is devastating for the reputation and future of the Supreme Court, which is supposed to be non-political. It is devastating for our democracy, as we have a decision that is against the beliefs of the majority of Americans. Most acutely though, it is devastating for women.

This ruling won't curb the need for abortion care. It will, however, make it much more difficult, costly, and dangerous to obtain one. Sadly, people who will bear the brunt of the horrific effects of this decision are communities of color, low-income communities, and youth. There is no other way to say it – women across the country will now die because of this unconscionable ruling.

For years anti-abortion states and anti-choice politicians have tried to chip away at Roe v. Wade and abortion rights for women. For years they have sought to shut clinic doors and make it difficult, if not impossible, for women to access the reproductive health care they seek. Now we are seeing what an anti-choice majority on the Supreme Court will do.

It is not "pro-life" (as anti-choice advocates like to call themselves) to strip reproductive healthcare away from millions of women. What is pro-life is supporting women in making decisions about their own bodies and helping them have access to the health care they need.

I have witnessed firsthand the damage that overturning Roe v. Wade would do. When I was a teenager in Brooklyn, I had friends and classmates whose lives were changed forever due to lack of abortion access. Since that time, practically my entire teenage and adult lifetime, I have fought to protect women, their right to privacy, and their right to control their bodies and lives.

I plan on doing everything I can, both in Albany and personally, to protect women's right to choose in New York and ensure that all women have the right to safe and legal abortion.
Below is a list of just a few of the achievements and bills of Assemblymember Amy Paulin with respect to women's right to choose and related issues.
Westchester County
Expanding the County LWV's platform to include Abortion Rights. As President of the LWV, she created the League of Women Voters Platform on Abortion Rights in Westchester County. This was at a time when the League was not active in the choice movement.
Abortion Clinic Access bill. She gained the LWV's support of the Clinic Access bill – which makes it illegal to block access to abortion clinics. She also strongly lobbied for this bill in Albany.
Succeeded in Having the County Include Birth Control in their Employee Health Insurance Coverage. As chair of the Westchester Women's Agenda she uncovered that Westchester County's employee health insurance was covering Viagra for Westchester County workers but was not covering contraception for women. She challenged the administration on this and won – helping all women county employees gain insurance coverage for contraception.
Westchester Coalition for Legal Abortion (WCLA) Board Member. She served on the WCLA Board for 10 years until she became an elected official and therefore was no longer able to.
Former Executive Director of My Sisters Place, a women's shelter in Westchester. She has also passed a myriad of bills seeking to stem domestic violence, stalking and female genital mutilation, and to protect and aid the victims of these crimes.
Led and Participated in Many Women's Marches in Washington DC – often hiring buses to take women from Westchester down and ensure that as many voices are heard as possible. If there is a march on choice, she marches.
Albany
Gained Yearly Funding for Planned Parenthood from the Assembly. She drafted and circulated a letter each year for many years to her Assembly colleagues to both fund and increase funding yearly for Planned Parenthood. She achieved this funding out of Assembly funds because the Republican Senate and governor in place during those years wouldn't fund it.
Authored and Passed NY's Emergency Contraception Bill. She authored and passed the Emergency Contraception bill in the Legislature, which allows women to get Emergency Contraception from pharmacists. This was the first of any state to pass such a bill. This bill was controversial and the win was hard fought over many years.
Authored and Passed Bill Eliminating the Statute of Limitations on Rape. She authored and passed the bill Eliminating the Statute of Limitations on Rape in NYS. This was passed in 2006 and was landmark legislation!
Passage of the Women's Reproductive Health Act. She co-sponsored, helped negotiate, and strongly advocated for the Women's Reproductive Health Act, which passed in 2019. This act expanded abortion rights, decriminalized abortion, and eliminated several restrictions on abortion in the state. It also acknowledged the importance of comprehensive reproductive health care.
Authored and Passed the Trafficking Victim Protection and Justice Act. She sponsored the landmark trafficking victim protection and justice act to toughen penalties for traffickers while providing support to the victims of human trafficking to help them rebuild their lives.
Authored Legislation to Allow Over-The-Counter Birth Control. She is the author and sponsor of a current bill that would allow pharmacists to prescribe and dispense birth control. This would greatly expand access to birth control throughout the State. Other states have since passed this bill but she was the first in the country to introduce it.
Her current bills also include a Fertility Fraud bill which would penalize fraudulent insemination with unapproved sperm, and a Stealthing bill which makes it a crime for a man to remove his contraception (condom) during intercourse without consent. She has also authored and has several current bills related to women's reproductive health, including bills which Support Midwifery, and a bill Addressing the Epidemic of C-Sections in our state.
Fight Against the Texas and Mississippi Anti-Abortion Laws
Amicus Brief Against the MS Abortion Laws. She signed and filed an Amicus Brief with legislators from 45 other states which opposes the constitutionality of the new Mississippi abortion law (banning abortion after 15 weeks). This case will likely be taken up by the Supreme Court this fall.
NYS Bill Taking on the TX abortion bill. She has just authored and filed a new bill which directly opposes and would undercut the TX abortion bill in NYS. This bill, if passed, would not allow a claim on property in NYS from an aiding and abetting of abortion verdict under the Texas abortion law. We are the first state in the country to have such a bill proposal.
Wear Jeans with a Purpose on Denim Day
Details

Written by

Joanne Wallenstein

Category: Health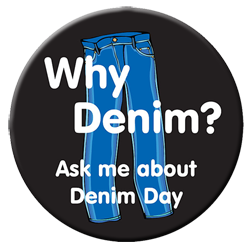 (This was submitted by Jay Genova of Scarsdale Family Counseling Service.) The Scarsdale Safe Coalition: Children, Teens and Families is again encouraging community members, elected officials, businesses and students to make an annual social statement with their fashion by wearing denim on April 27th. Denim Day is a as a visible means of raising awareness about the prevalence of sexual assault and protesting the misconceptions that surround sexual violence. Scarsdale Edgemont Family Counseling Service has already signed on to the campaign and encourages others to do the same.
Denim Day has become a symbol of protest against erroneous and destructive attitudes about sexual assault and stems from an infamous ruling by the Italian Supreme Court where a rape conviction was overturned because the justices felt that since the victim in the case was wearing tight jeans, she must have helped her rapist remove her jeans, thereby implying consent. The organization Peace Over Violence developed the Denim Day campaign in response to this case.
Everyone has a role in preventing sexual violence in our community. Changing beliefs which contribute to sexual assault begins first with believing survivors of sexual violence when they share their stories, but also by challenging cultural misconceptions and stereotypes. Sexual assault is never the victim's fault. Our actions, big and small, have a ripple effect on those we teach, guide, and influence.
Please consider "Wearing Jeans with a Purpose" on April 27th and encourage others to do the same. To learn more about Denim Day or other Safe Coalition initiatives, please contact Jay Genova, LCSW at Jgenova@sfcsinc.org.
Take a Hike! Westchester is a Hiker's Haven
Details

Written by

Joanne Wallenstein

Category: Health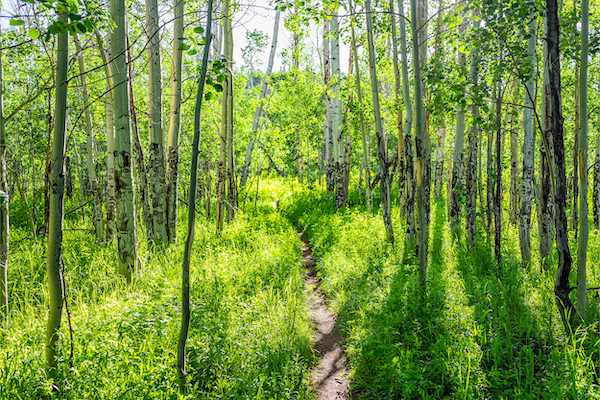 It seems like now more than ever everyone is getting outdoors. If you're looking for a new route, Westchester County has over 600 miles of trails with awe-inspiring views, family friendly features and historical highlights. With so many choices, here are a few hidden gems that are off the beaten trail:
Cranberry Lake Preserve
1609 Old Orchard Street, North White Plains, NY 10604
A 190-acre nature preserve with three miles of trails, Cranberry Lake Preserve's diverse landscape includes a lily-pad-laden lake, cliffs and a man-made cave. The History Trail has a 19th century farmhouse and an early 20th century mining operation that supplied the stone to build the Kensico Dam. The preserve is also a safe haven for migratory birds, turtles, and dragonflies.
Kitchawan Preserve
712 Kitchawan Rd, Ossining, NY 10562
A leisurely 2.4 mile walk, the Kitchawan Preserve has 208 acres and includes open fields and woodlands that attract birds and butterflies in late spring. Hikers will find remnants of old stone walls that were built to separate crop fields from private properties a century ago. As a bonus, you can take a 6.5 mile trail from the Kitchawan Preserve that will bring you to the nearby Teatown Lake Reservation.

Granite Knolls Park


Stony Street, Mohegan Lake, NY 10547
Granite Knolls Park's 3.5-mile circuit loop is an easy stroll and is dog-friendly. The trail boasts a large glacier rock the size of a house known as the Giant Boulder. The area is the site for small-scale quarry operations, so there are plenty of interesting rock formations scattered throughout the trail.

Mianus River Gorge Preserve
167 Mianus River Rd., Bedford, NY
The 800-acre preserve features 5 miles of trails that are well-marked that parallel the Mianus River Gorge, and will take you through open woods with 350-year-old hemlocks that stand 100 feet tall. There's an abundance of old stone walls, an abandoned 19th century quarry, and the impressive, rushing Havemeyer Falls.
A few for more adventurous hikers…
Ward Pound Ridge Reservation
Reservation Rd, Pound Ridge, NY 10576
Once home to the legendary hermit "the Leatherman," with 35 miles of trails and 4,315-acres, Ward Pound Ridge Reservation is the county's largest park. There are numerous carriage road trails, hilly terrains and rustic woodlands dating back to an era when there were more than thirty farms within the park.

Westmoreland Sanctuary and Arthur W. Butler Memorial Sanctuary
260 Chestnut Ridge Rd, Mt Kisco, NY 10549
With eight miles on 640 acres, Westmoreland Sanctuary contains ponds, surging streams, cliffs, stone walls, and Cole's Kettle, a natural pond and wetland area formed by glaciers. Bechtel Lake is a highlight of the walk, where turtles and aquatic birds can be observed in their natural surroundings. The trails can be used to connect over the highway to the nearby Arthur W. Butler Memorial Sanctuary, a 363-acre park that offers 3.5 miles of challenging, well-maintained trails and a Hawk Watch viewing strand.

Whether you find yourself walking down a winding woodsy path with finding a quiet place to sit and reflect, hiking offers the perfect opportunity to get outside and get a workout – while still allowing you to adhere to social distancing. So dust off your hiking boots, grab a few bottles of water and go where the trails lead you.
Need a physician? Call 914-849-MyMD to find the right provider for your needs or visit our online physician directory.
Want to stay connected? Sign up for our e-newsletter.
Avoiding the Common Cold – And What to Do If You Catch It
Details

Written by

Dr. Paula Amendola-Sekinski

Category: Health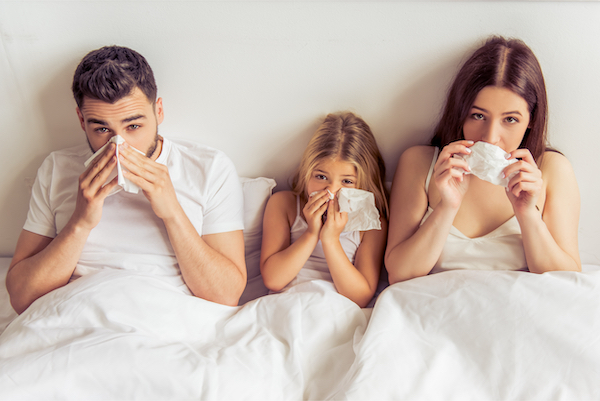 A cure for the common cold is possibly – finally! – on the horizon. Here's what you can do to fight it in the meantime.

We've all heard the age-old complaint: "If they can put a man on the moon, why can't they find a cure for the common cold?"
The answer is: They just might.
Researchers today are working to develop a "pan-coronavirus" vaccine, which would offer protection against the various strains of not only the coronavirus that causes COVID-19, but also against some versions of the common cold. There have been over 200 virus strains found to play a role in causing the cold, with coronaviruses, rhinoviruses, adenoviruses and enteroviruses among the most common.
This is certainly good news, though your family doctor won't be getting doses of such a vaccine soon.

"I don't want anyone to think that pan-coronavirus vaccines are literally around the corner in a month or two," Dr. Anthony Fauci, director of the National Institute of Allergy and Infectious Diseases, said during a January 26 briefing at the White House. "It's going to take years to develop in an incremental fashion." He added, however, that "Some of these are already in Phase 1 clinical trials."

In the meantime, people will keep getting colds. So what can you do to avoid being one of them? Basically everything you're doing to avoid COVID!

Those measures include staying home if you're sick; getting plenty of rest; staying hydrated; washing your hands frequently; keeping your hands away from your mouth; and maintaining a healthy diet.

I'm often asked if taking dose after dose of vitamins is a good idea. With the exception of Vitamin D, which can boost your immune system, the answer is, "No." There is no research that shows taking extra vitamins will prevent catching colds.

But low levels of Vitamin D can make your symptoms worse. If you are not getting enough Vitamin D, I recommend taking upwards of 1,000 mg a day.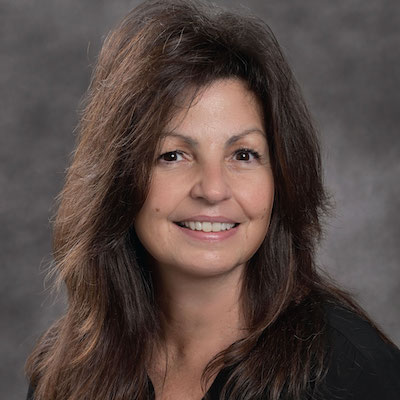 Dr. Paula Amendola Sekinski Sometimes, even by following the above steps, a cold can linger. If you are still running a fever after 72 to 96 hours, or if you feel anything unusual in your chest, you should immediately seek help from your physician. And while a cold-related cough can last for up to six weeks, if it persists beyond two weeks, I also recommend seeing your doctor.

Meanwhile, let's all keep hoping for that pan-coronavirus vaccine – something that would prove to be a real game-changer in more ways than one.

Dr. Paula Amendola-Sekinski specializes in family medicine and primary care, including routine examinations, immunizations and management of chronic diseases. To make an appointment, call 914-849-7180.