A Pain in the Neck (and Back)
Details

Written by

Joanne Wallenstein

Category: Health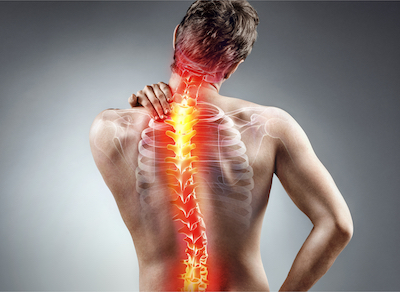 The numbers of Americans suffering from neck and/or back pain are truly staggering. According to the National Health Institute (NHI) at Georgetown University, nearly 65 million people report a recent episode of back pain, with 16 million of adults – 8% – experiencing persistent or chronic back pain.

In addition, as many as 70% of adults will experience a degree of neck pain that prevents them from engaging in their daily activities during their lifetime.

As might be expected, the average occurrence of such conditions increases with age; the National Center for Health Statistics (NCHS), part of the CDC, reports that the percentage of adults with back pain rises from nearly 28% for those aged 18–29 and 35% for those aged 30–44 to nearly 44% for those aged 45–64 and 46% for those aged 65 and over.

This is a natural part of the aging process. As we get older, the standard wear and tear on our spines can result in the discs between our vertebrae to dry out and shrink. In turn, that can lead to osteoarthritis in the spine, which can cause even greater pain – including pinched nerves in the back and legs, leading to sciatica.

But not all pains are alike. Sleeping in an awkward position, lifting something unusually heavy – or, sometimes, for no reason at all – can result in back and neck pain. Common solutions are:

• Applying heat to the affected area.
• Taking an anti-inflammatory medication – as long as the individual is not already taking a blood thinner, is a significant factor to keep in mind for older people.
• Engaging in low-impact exercise like walking, sessions on an elliptical machine or exercise bike or, best of all, swimming.

MORE SERIOUS PAIN

If, however, the pain continues to linger after a few weeks, it is probably time to see a physician. As is the case with most conditions, it is important to remember that not all back- and neck-pain patients will require the same type of care. Unless the pain has become truly unbearable and is preventing one from enjoying their usual routines, oftentimes physical therapy or a tailored exercise program can be the solution.

Ultimately, however, surgery may be necessary. Three of the most typical back surgeries are:

• Discectomy, where a herniated or "slipped" disc is partially or completely removed.
• Laminectomy, where the surgeon eases pressure on the spinal cord or nerve roots by removing part or all of the vertebral bone (lamina).
• Spinal fusion. The most common, involving fusing the vertebrae together to stop the problematic motion.

MY ADVICE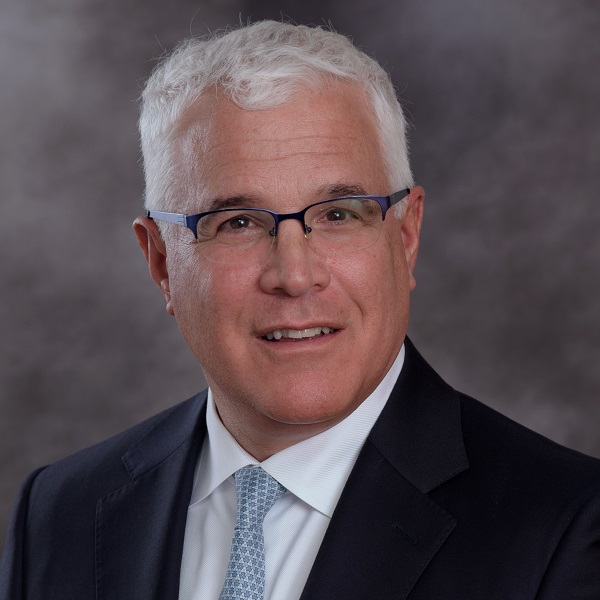 In addition to the above preventive measures, staying well-hydrated is also important, as is trying to maintain a supportive posture. The latter can be a challenge as we age, and bad postural habits formed earlier in life – from bending over a desk, piece of machinery, or nowadays our phones – certainly will not have helped. But making a concerted effort to walk as erectly (yet comfortably) as possible can have a number of positive effects.

And if these measures prove to be insufficient, by all means visit a physician or orthopedic specialist to discuss a comprehensive treatment plan. There is no reason to put up with such a debilitating condition when there are so many options available.
Dr. Andrew Casden is Chief of Orthopedic Surgery and Spine Surgery at White Plains Hospital. To make an appointment, please call 914-849-7897.
Westchester Cardiology Group Now Practicing Out of the New Center for Advanced Medicine and Surgery
Details

Written by

Joanne Wallenstein

Category: Health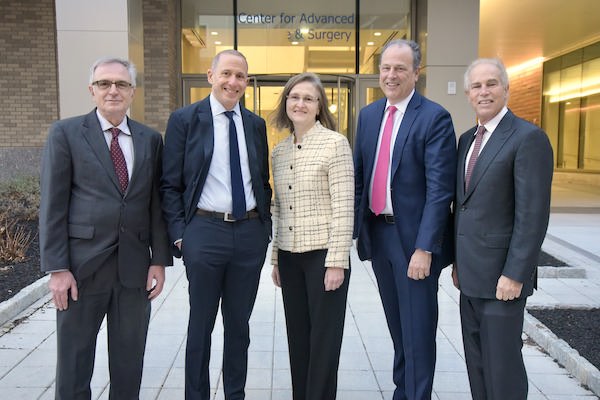 White Plains Hospital Physician Associates welcomes Drs. Gary Gabelman, Douglas Hart, Gabriela Grasa, Anthony Mercando, and Mitchell Fishbach, formerly associated with NewYork-Presbyterian Medical Group Westchester. This new cardiology group expands the number of impressive physicians in White Plains Hospital's Division of Cardiology. White Plains Hospital continues to bolster its comprehensive cardiology services through the addition of top physicians, geographic expansion, and programmatic growth, including two cardiac catherization labs, specialists in heart failure and electrophysiology and most recently, the launch of its cardiac surgery program in November of 2021 in partnership with Montefiore.

Specializing in preventative and non-invasive cardiology, nuclear cardiology, and echocardiography, Drs. Gabelman, Hart, Grasa, Mercando and Fishbach are now seeing patients at White Plains Hospital's Center for Advanced Medicine & Surgery, located at 122 Maple Avenue in White Plains.

Dr. Gary Gabelman oversees the practice and specializes in heart disease, echocardiography and nuclear cardiology. He graduated from Mount Sinai School of Medicine and completed his internship, residency, and fellowship at Montefiore Medical Center. Among his honors, Dr. Gabelman has been a named a Top Doctor by Castle Connolly annually since 1993 and was also named a Top Doctor multiple times by New York magazine and Westchester Magazine. He has served as principal investigator or co-investigator for over 30 clinical trials and his work has appeared in such peer-reviewed publications as The Journal of the American College of Cardiology, The American Journal of Cardiology, and Postgraduate Medicine.

Dr. Douglas Hart helps lead echocardiography services for the practice and also specializes in cardiovascular disease and nuclear cardiology. After graduating from the University of Michigan School of Medicine, Dr. Douglas Hart completed a fellowship in circulatory physiology at Columbia-Presbyterian Medical Center and then completed a full cardiology fellowship at Georgetown University Medical Center with special concentration on echocardiography and nuclear cardiology. Dr. Hart has been frequently named a Top Doctor by Castle Connolly and was also named a Top Doctor multiple times by New York magazine and Westchester Magazine. Dr. Hart has been published in several peer-reviewed medical journals, including Circulation and The Journal of the American College of Cardiology.

Dr. Gabriela Grasa specializes in cardiology, nuclear cardiology and echocardiography and is responsible for developing relationships for the group with community members and providers throughout the region. She graduated from the Carol Davila Medical School and completed her internship at St. Andrew Hospital, both in Romania. She completed her residency in internal medicine at Washington Hospital Center and her fellowship in cardiology at Mount Sinai Medical Center. Dr. Grasa has been frequently named a Top Doctor by New York magazine, Westchester Magazine, Castle Connolly, and was also included in Castle Connolly's "Exceptional Women in Medicine" in both 2020 and 2021. She has been published in several medical journals and has presented her work at annual medical meetings of the American College of Physicians.

Dr. Anthony Mercando specializes in preventive cardiology, pacing and implantable cardioverter defibrillator (ICD) therapy, and medical informatics. He holds a Bachelor's degree in Electrical Engineering from Manhattan College and a medical degree from Harvard Medical School and the Harvard‐MIT Division of Health Sciences and Technology. Dr. Mercando completed his internal medicine internship, residency, and a fellowship in clinical cardiology at Montefiore Medical Center. He has frequently been named a Top Doctor by Castle Connolly and has had authored or co-authored over 50 articles published in peer-reviewed publications, with topics ranging from angiographic coronary artery disease and heart failure, to ventricular tachycardia and complex ventricular arrhythmias.
Dr. Mitchell Fishbach is board-certified in internal medicine and cardiovascular diseases. He graduated from Albert Einstein College of Medicine, and completed his internship, residency, and fellowship at Montefiore Medical Center. From 2004-2015, Dr. Fishbach was Chief of Cardiology at Lawrence Hospital. He has been named a Top Doctor by Castle Connolly annually since 1997 and his research in cardiology has been widely published.

To schedule an appointment with these physicians, call (914) 849-4800.
White Plains Hospital Recognized for Excellence in Nursing Care
Details

Written by

Joanne Wallenstein

Category: Health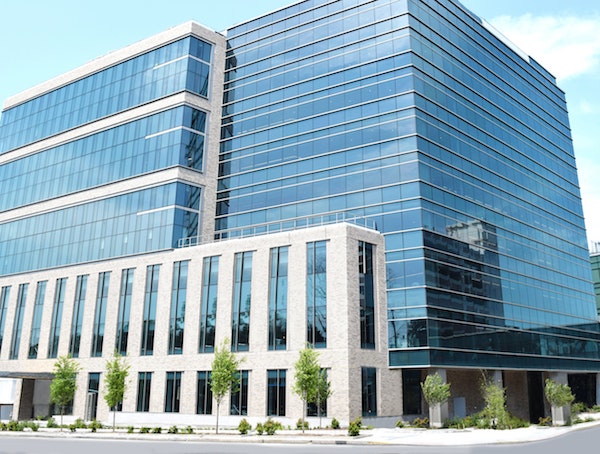 White Plains Hospital has been re-designated as a Magnet organization for the third time by the American Nurses Credentialing Center (ANCC), a subsidiary of the American Nurses Association. Magnet designation is the highest and most prestigious international distinction a healthcare organization can receive for nursing excellence. Only about nine percent of hospitals in the United States are currently Magnet designated and just two percent have received this designation three times.

"We are so proud to receive the honor of Magnet designation once again," said Susan Fox, President and CEO of White Plains Hospital. "While Magnet is the ultimate credential for high-quality nursing, this is a tremendous achievement that recognizes the work of everyone in our organization for working as a team to support our patients."
To be recognized as a Magnet hospital, healthcare organizations must pass a rigorous and lengthy review process demanding widespread participation from leadership and staff. The path to Magnet status requires extensive written documentation to demonstrate qualitative and quantitative evidence related to patient care and outcomes as well as completion of a multi-day comprehensive on-site visit by Magnet appraisers. The ANCC Magnet survey team conducted a three-day site survey with White Plains Hospital in September 2021, interviewing more than 300 people from the Hospital and community.

"This Magnet designation is a direct reflection of the high caliber of our nursing professionals. The culture of nursing at White Plains Hospital is one in which our staff is encouraged and supported to begin and end their careers here. We provide them with countless opportunities for growth, education and professional development," said Leigh Anne McMahon, DNP, MHA, RN, NEA-BC, Executive Vice President of Patient Care Services and Chief Nursing Officer at White Plains Hospital. "I am constantly impressed by the talent, leadership, support and unstoppable work ethic that our nursing staff demonstrates every day for their patients and each other."

The Magnet program was created by the American Nurses Association in December 1990, and the first hospital in the US to be named Magnet was in 1994. The Magnet model is designed to provide a framework for nursing practice, research, and measurement of outcomes. The foundation of this model is composed of various elements deemed essential to delivering superior patient care. These include the quality of nursing leadership and coordination and collaboration across specialties, as well as processes for measuring and improving the quality and delivery of care.

Magnet recognition has been shown to provide specific benefits to hospitals and their communities, such as:
-Higher patient satisfaction with nurse communication, availability of help, and receipt of discharge information
-Lower risk of 30-day mortality and lower failure to rescue
-Higher job satisfaction among nurses
-Lower reported intentions among nurses to leave current position

White Plains Hospital initially achieved Magnet recognition in 2012 and 2016. Evaluation for re-accreditation occurs every four years.
Introducing Kids to Allergenic Foods: What You Need to Know
Details

Written by

Joanne Wallenstein

Category: Health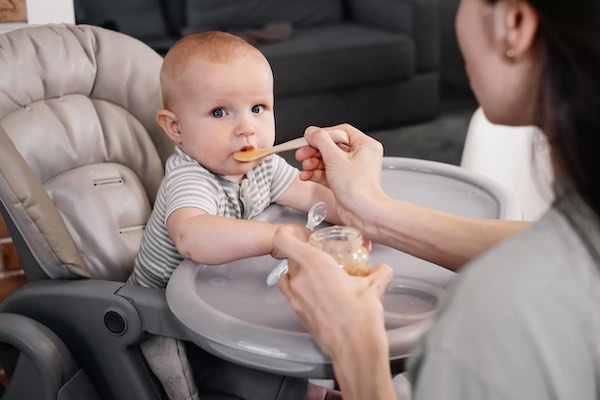 Figuring out when to introduce babies and children to foods that have a high potential of causing an allergic reaction can be one of the trickiest questions to consider as a parent. To help soothe parents' anxiety and ensure they are giving their children the proper introduction to these foods, I work closely with families to update them on the latest food-allergy guidelines. Here are some tips that will help you confidently introduce these foods to your kids.
What foods are the most likely to cause potential allergies?

The major food allergens include milk, egg, wheat, soy, peanut, tree nuts, fish, shellfish, and sesame. The most common food allergens for children are peanut and milk, with cow's milk the most common food allergen in early life.
What is the right approach for early introduction of these potential food allergens?

Fearing adverse reactions, many parents historically preferred to wait before introducing these potential food allergens to their kids. But that's no longer the prevailing wisdom among experts. Doctors no longer believe that waiting until baby is older prevents food allergy. In fact, there is evidence that introduction to peanut in the first year of life can prevent the development of peanut allergy. Especially in infants who are at high risk of developing food allergy, the emphasis is now on early introduction of peanut and egg, rather than avoidance.
Typically, in babies without eczema or any food allergy, I recommend introducing age-appropriate allergenic foods in the first year of life in accordance with family preferences and cultural practices. I suggest prioritizing the introduction of peanut and egg, which has demonstrated evidence of benefit. There are currently no specific guidelines on order of egg and peanut introduction but it should be a shared decision made between parents and the baby's doctor.
For babies with mild to moderate eczema, we recommend introducing peanut-containing foods at around 6 months of age. If your baby has severe eczema, you are concerned that he/she has an egg allergy and you have not yet introduced peanut, I recommend seeing an allergist as early as 4 to 6 months of age to determine if peanut should be introduced and, if so, the preferred method of introduction. If your baby has severe eczema and/or egg allergy, and you had already introduced peanut which he/she tolerates without any problem, please continue feeding your baby peanut to reduce the risk of peanut allergy once you start avoidance.

What is the best way to introduce these foods?

Once your baby has successfully eaten other solid foods (like single-grain cereals, followed by fruits, vegetables), you can begin to introduce allergenic foods in age-appropriate forms. That doesn't mean Eggs Benedict or a PBJ sandwich, of course! Follow these tips for easy introduction of these tricky foods:

• Start with a small amount: just a spoonful or two of any allergenic food is enough to give baby a taste of the flavor and watch for potential allergic reaction.

• For peanut, the National Institute of Allergy and Infectious Diseases (NIAID) recommends infant-safe forms in the amount of 2 teaspoons, 3 times per week (for a total of 6 grams of peanut protein).

• To prevent choking in infants, try thinning peanut butter with water, milk, or pureed fruit. This dilution may be necessary until children are able to safely eat foods with the consistency of peanut butter spread thin—that can be after 12 months of age or based on individual developmental abilities.

• During the initial feeding period, serving single-ingredient foods, one at a time, is recommended to observe for symptoms of allergy. Once foods are tolerated, they can be combined.

• There is no evidence guiding how long a given food must be fed before moving on to the next new food. However, generally, when offering a potential food allergen, I advise parents to give baby an age-appropriate serving size at least 3 times over 3-5 days to confirm tolerance.

What are the different types of allergic reactions in infants and toddlers—and how serious are they?

Recognizing allergic reactions in infants and toddlers can be challenging for not only parents and caregivers, but also providers, as your baby is unable to verbalize what they are feeling/experiencing when they are having an adverse food reaction. Behavior changes that may be noted during a reaction can include clinginess, fussiness, or inconsolability, but it is important to note that these behaviors alone may also be present in healthy infants not experiencing an allergic reaction.
Skin, gastrointestinal, and respiratory symptoms were most frequently reported in infants and toddlers, although symptoms involving other organ systems can also occur.

• The type of skin reaction may be "itching, rash, hives or swelling." Please note the location of the skin reaction with respect to where the skin had contact with the allergen so we can determine if the reaction was the result of a topical contact reaction or a systemic reaction, the latter of which is more concerning. Please take pictures as they are worth a thousand words when you seek consultation with an allergist.

• The most common gastrointestinal symptom is vomiting, although diarrhea can also be considered a potential allergic symptom.

• Belly breathing, fast breathing, nasal flaring, chest or neck "tugging," wheezing, hoarse voice, hoarse cry, and repetitive cough are all examples of respiratory symptoms.
Timing of the adverse reaction relative to when your baby consumed a potential culprit food is extremely essential, as there are different types of food-induced reactions including scenarios where administration of epinephrine, the first-line treatment of anaphylaxis (a severe life-threatening allergic reaction) is indicated. Diagnostic testing and management can be very different for each type of food-induced reactions; for example, skin testing and an epinephrine auto-injector prescription likely are not appropriate for food intolerances,and concerns that certain foods may exacerbate underlying eczema would warrant a separate discussion. I recommend keeping a food diary when you start to notice these reactions in your baby, particularly if they become recurrent so that you and your allergist can have a full conversation about how to proceed.

While introducing baby to allergenic foods can be a stressful experience, it is so important for their growth and development! The goals of early infant feeding are to introduce foods of varying flavors and textures to encourage future food preference, and to provide nutrition in a balanced and proportional manner for growth and development. Increasing the diversity of both food and food allergen intake in the first year of life is associated with a lower prevalence of food allergy—something all parents are hoping for.
Dr. Angela Chan is a board-certified pediatrician and allergist-immunologist at the Scarsdale Medical Group in Harrison. For an appointment, please call 914-723-8100.
Why Exercise Is Great Medicine for Chronic Joint Pain
Details

Written by

Dr. Michael Schwartz

Category: Health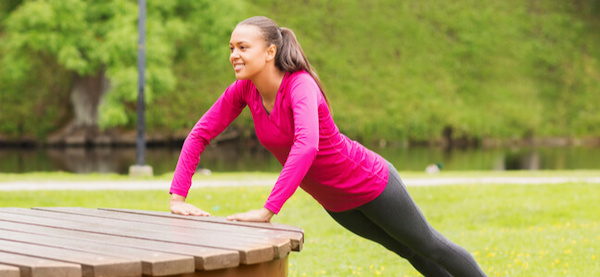 Once you find the motivation, movement can actually decrease your pain.
The CDC reports that some 15 million Americans suffer from severe joint pain related to osteoarthritis – and half of them report that this pain occurs almost every day. That's a staggering number of people who may be putting off activities and sports they enjoy either due to feeling drained by the symptoms of their condition, or because they fear exercise might actually make their sore shoulder, elbow, back or knee worse.

Many people suffer chronic joint pain without having a specific structural problem or injury. Oftentimes, this pain happens because the muscles around the joints are too weak and aren't able to adequately absorb physical stress during activity. The result is extra pressure and strain on the joints, which may be already experiencing a wearing of cartilage or "cushioning" between the moving parts of the joint.



Don't be afraid to move! Exercising improves muscle strength and shock absorption, as well as the functioning of the fast twitch muscles (for sudden, powerful movements) and slow twitch muscles (for sustained energy to last a long time) needed for anaerobic strength and aerobic muscle endurance, respectively. Plenty of research supports moderate physical function as a prescription for pain from osteoarthritis without making the condition worse – provided you have had no new injuries like a fall.

In addition to muscle conditioning, moderate exercise helps to stimulate the flow of fluid that provides nutrients and proteins that keep the remaining cartilage healthy. Exercise can also strengthen the tendons, which help support the muscles, as long as cross training is done to not overwork or overstrain one muscle or tendon grouping.
My advice? Get moving as often as you can. It may be tough to start out, especially if your pain is wearing you down mentally as well as physically but let the high likelihood that you will feel better motivate you. Start slow and look for a balance of strength and endurance exercises, while mixing in your favorite aerobic activity – even if that means briskly walking around the block. Bring a resistance band along and stop at your local park or ballfield for some planks and monster walks.

You may be surprised to discover that your pain lessens or seems not as distracting as you get stronger and more fit. But if the pain persists, don't hesitate to make an appointment with an orthopedic surgeon who can perform an in-depth assessment of your condition and even order some imaging to get to the bottom of the pain. They will be able to work with you to develop a comprehensive treatment plan to get through the rough spots as you embark on your new active and healthier life.

Dr. Michael Schwartz is an orthopedic surgeon specializing in treatment of the shoulder, elbow and knee. He sees patients in White Plains and New Rochelle. Please call 914-849-7897 to make an appointment.

Jakub Tatka, MD, Joins White Plains Hospital Physician Associates

White Plains Hospital is pleased to welcome orthopedic surgeon Dr. Jakub Tatka to its Physician Associates Division. Dr. Tatka comes to White Plains Hospital from Columbia University's Lawrence Hospital in Bronxville, NY. He is currently accepting appointments for both adults and children, for hip and knee conditions due to sports, arthritis, injuries and developmental disorders.

Some of Dr. Tatka's specialized procedures include periacetabular osteotomy for treatment of hip dysplasia, and surgical hip dislocation to address complex labral and femoroacetabular injuries and deformities. Dr. Tatka has extensive expertise in the Depuy Anterior Approach to total hip replacement, a highly specialized surgery involving fewer cuts to the surrounding muscle tissue, leading to less pain and a quicker recovery. He has traveled the world teaching surgeons this technique and has discussed his work at numerous professional meetings.
Dr. Tatka earned his medical degree at Stony Brook University, where he also completed his internship and residency in orthopedic surgery – serving as Administrative Chief Resident. He completed two fellowships at renown orthopedic institutions – one in Pelvis, Hip and Knee Reconstruction and Preservation at the Steadman Clinic, training under Dr. Joel Matta, pioneer of anterior hip replacement; and the other a Bernese Hip Preservation Fellowship at The Inselspital (University Hospital of Bern, Switzerland).

A certified Professional Ski Instructor, he is a traveling physician for the US Ski Team and has provided medical coverage for the ski and snowboard teams at various training events, races and trials all over the world. Dr. Tatka is the author of over 20 clinical abstracts, presentations, publications and manuscripts.

Dr. Tatka will see patients at the White Plains Hospital Physician Associates offices at 688 White Plains Road, Suite 225, Scarsdale and at the Center for Advanced Medicine & Surgery, 122 Maple Ave., Floor 8, White Plains. For appointments and more information, call (914) 849-7897.