Greenacres Community Members Visit Elementary School
Details

Written by

Joanne Wallenstein

Hits: 1262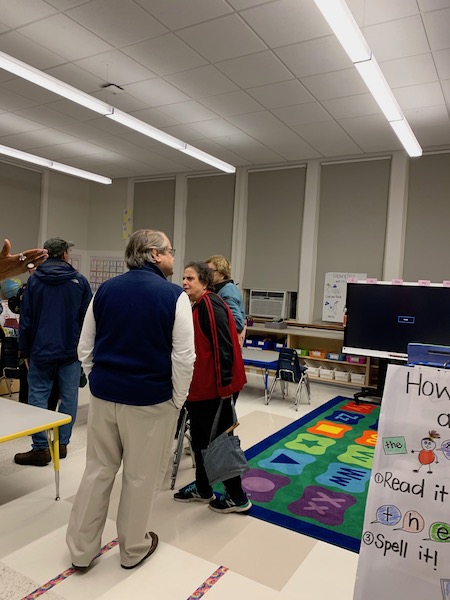 Renovated classroom at Greenacres.Members of the Greenacres community were invited to tour the elementary school and receive an update on the ongoing construction on 10/30. Representatives from Park East, the construction managers, said that though it looks like the workers are just "playing in the dirt," 60% of the footings and foundation are in and steel supports will soon be going up for the addition to the school.
Principal Sharon Hill reported that the construction has not been disruptive to the kids inside the school, and credited Park East with being very communicative about any potential issues. She said, "Inside the school we are pretty much unaware of the construction." She reported that arrival and dismissal at the two school entrances on Sage Terrace and Putnam Road has been smooth.
The district is performing daily air and noise monitoring and the results of these tests are posted on the district website. The daily reports can be found here: They are also changing the filters on the air conditioners as needed.
Asked whether more of the field will be used for staging, residents were told, "there will be an increase in the size of the staging area next summer when some of the basketball court will be used for furniture storage until the old furnishings can be put out to bid."
Asked whether there were any surprises during construction, the construction managers revealed that they had to reroute the sanitary sewer line and that ground water was found underneath the old parking lot next to the art room. According to Matty, "The water table was a little bit higher than anticipated underneath the parking lot. This was quickly resolved with pumps and then retention basins which were installed in that location." Moisture in the basement had been reported prior to the renovation. These two changes will not increase the budget as a 5% contingency fund was built into the $34 million budget.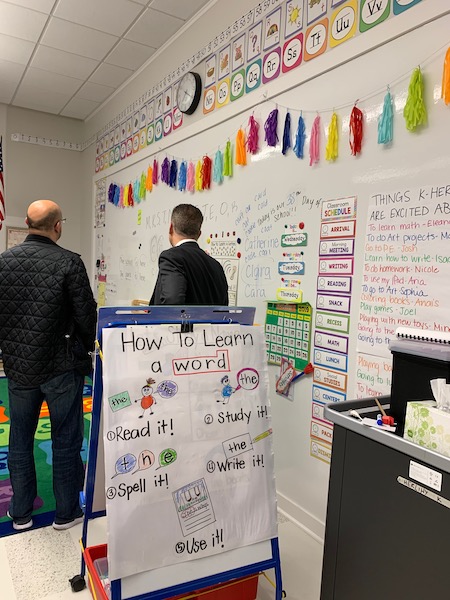 Walltalkers are featured in each classroom instead of blackboards or bulletin boards.
This past summer some of the existing classrooms were renovated. The rooms received new flooring, paint and ceilings and the casework was removed. These renovated rooms now have large white boards, called wall talkers, on the walls and dimmable lights. Window air conditioning units have been installed in all rooms.
The visitors were taken to tour one of these renovated classrooms.
Next summer all remaining spaces and the hallways will be renovated and twelve skylights will be installed in the gym where the large windows have been covered up due to the addition. The new air ventilation equipment will also be installed in the classrooms next summer.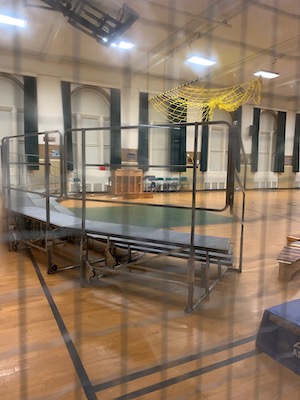 The windows of the gym have been covered up due to the addition.
Getting a Good Night's Sleep - Without Medication
Details

Written by

Wendy MacMillan

Hits: 1768

While most of us are aware of the importance of the recommended 7-9 hours of sleep each night, there are many reasons we Scarsdalians have struggled, at one time or another, to meet that quota. Maybe your daily worries have you tossing and turning all night, or perhaps you are so tightly wound from all of life's stresses that you find it hard to relax and fall asleep, or possibly you just find it difficult to unplug and go to bed at an hour that will provide you with adequate rest. Whatever has prevented you from getting a good night's sleep, Dr. Shelby PsyD, CBSM just might be able to help. Dr. Shelby is a licensed psychologist with a practice in White Plains as well as a Behavioral Sleep Medicine Clinical Associate Professor at Albert Einstein College of Medicine. What's more, Dr. Shelby recently published a book titled, "The Women's Guide to Overcoming Insomnia: Get a Good Night's Sleep without Relying on Medication" (July 2019, Norton Books).
Last week, C.H.I.L.D. (a committee of the Scarsdale PT Council), treated Scarsdale parents to a program featuring Dr. Shelby as the keynote speaker. For those not able to attend the informative event, I had the pleasure of following up with Dr. Shelby whom graciously shared some important highlights about sleep.
W.M: What are a few key reasons why a healthy sleep routine is so important?
Dr. Shelby: Keeping a healthy sleep routine helps to signal to your body and brain that sleep is coming. Sleep isn't an on/off switch, and we need to wind down gradually to put an end to the day without use of electronics and stress. Following the same routine nightly helps your body know when sleep is about to come and helps keep your body's circadian time clock in check.
WM: How does lack of sleep impact the body? Mind?
Dr. Shelby: Lack of sleep has been associated with so many things… some include: poorer attention, concentration, memory, slowed reaction time and motor functioning, increased depression, reduced quality of life, more school and work absences, higher engagement in risky behaviors (drugs, sex, alcohol, tobacco) in teens, weight gain, heart disease, stroke, diabetes.
WM: Do you think later school start times make sense for adolescents?
Dr. Shelby: I'm a huge fan of later start times for adolescents. Research suggests that a minimum start time of 8:30am shows benefit for adolescents, and ideally even a tad later would be great though I know it isn't usually feasible. We are asking so much of our teens in the early morning hours when their natural biological rhythms want them to still be asleep. We're frequently testing children who are half asleep!
WM: How do sleep patterns change as we age?
Dr. Shelby: As we get older our sleep becomes more broken and more shallow overall, but it is a misnomer that we get significantly less sleep as we age. Instead, we get around the same amount of sleep - it is just lighter and broken, but also supplemented with naps during the day in older adults to account for somewhat less sleep at night for some.

WM: How does Day Light Savings Time affect sleep?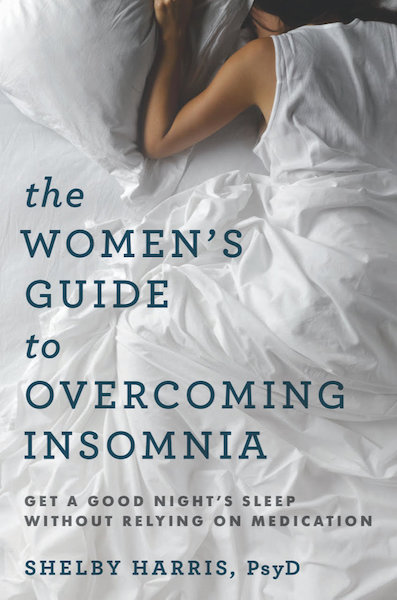 Dr. Shelby: I think the change in the spring is more of an adjustment for adults given the sleep loss that happens (there's documented negative health outcomes in the first few days after the spring ahead!). In the fall, adults usually love the extra sleep, but the ones who dread it the most are adults with little children at home. It is best to try and adjust kids to the change gradually and know that it takes time to adjust. Our body clocks aren't meant to abruptly change like this and I'm really not a fan of changing the clocks from a biological sleep-doc perspective.
WM: Can you recommend a few techniques to establish a healthy sleep routine?
Dr. Shelby: First and foremost - get the electronics out of the bedroom. Parents need to establish this as a family rule and set an example for their children. Put a family charging station for all electronics in an area of the house such as the kitchen. Make sure to find at least 30 minutes, ideally 60 minutes to wind down before bed. We need to wind down, slow our bodies and brains down without electronics. We are overscheduling ourselves and our children to the point of missing out on precious sleep time and wind down time - in the hopes that we can fake biology. The reality is that children need sleep to grow, learn, and develop cognitively and emotionally. Without sufficient sleep, we're doing them a disservice. Keep a consistent bed and wake time as often as possible, 7 days a week - with sufficient sleep every night whenever possible.

WM: When should someone seek more help?
Dr. Shelby: If following basic sleep hygiene hasn't helped, or you find you (or your child) is snoring or excessively sleepy and/or struggling to awaken during the day, consider getting help from a sleep doctor. A sleep study isn't always indicated, and if you are asked to get a sleep study, it doesn't always mean that you'll have to sleep in the sleep lab - there's many in-home sleep tests that are really easy to take that you bring home and return the next day.
Dr. Shelby is a wealth of knowledge and as someone who has spent too many sleepless nights counting sheep, I wish we could dive even deeper into this topic. For more information on sleep, or if you or someone you know could use Dr Shelby's help, please check out her website here.
New Program Will Help Elementary School Children Develop Social Skills
Details

Written by

Joanne Wallenstein

Hits: 1721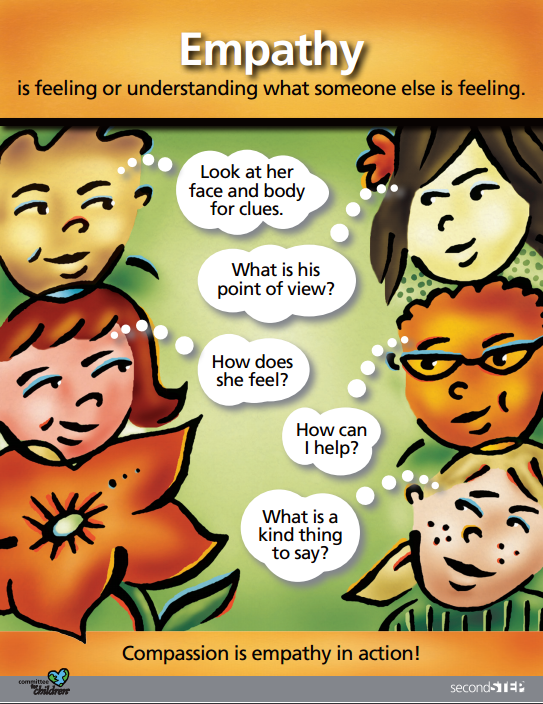 When you think about Scarsdale Edgemont Family Counseling Service what comes to mind? Parent support groups? Youth outreach at the Middle School? Peer leadership groups at the high school? Now SFCS is offering a program targeted to the younger members of the family – to help elementary school students develop their social skills.
The new program is called S-O-C-I-A-L and will use an evidence-based curriculum called Second Step to help younger children navigate successful relationships. Using a variety of games, videos and interactive lessons children will learn to:
-Make friends
-Regulate difficult emotions
-Be empathetic
-Resolve conflict
Why is this program needed? According to SFCS Executive Director James Genova, "Young children don't have the language capabilities to put into words what they're feeling -- and because of their development their ability to self-regulate emotions is limited. When you see children acting out – some might call it misbehaving. We don't see it this way. We interpret it as a child expressing his or her distress. Behavior becomes a language. They are trying to communicate with adults is that something is not working."
Who would benefit from the program? Genova says, "All children --will experience normal social conflict and most will resolve it on their own. But if kids are consistently having social conflicts and as a result are more isolated or not able to make friends, that might be an indicator that the child is struggling with their social skills."
We asked Genova for an example of a group activity that might be utilized. He said, "The lessons are diverse. Kids will learn through games and videos that make learning fun. We might show a video of a vignette of a situation -- perhaps a conflict in the lunchroom -- followed by a discussion of the incident. Kids will be asked, "What might that person be feeling? Do they look sad? What cues are there?" In this way they will learn how to recognize the cues and associated words that go with emotional expression and help children understand how their behaviors might impact someone else."
The groups will be organized by grade with groups for K-1, 2-3 and 4-5. While the same lessons will be taught in each of these groups, the deliver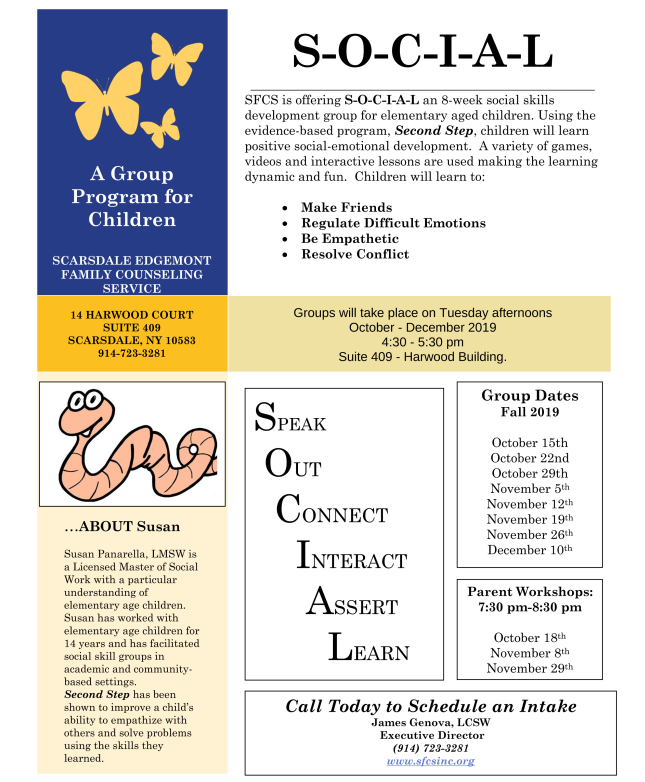 y may be different depending on the age of the children.
Genova explained that the philosophy of the agency is rooted in family systems. He said, "We are always dealing with how the individual affects the family and the family affects the individual. This defines what we do. It doesn't mean that every family member comes to every session. But all of our programs have a family component."
As a result, this program will include three parent workshops to help the parents of the kids enrolled to understand what they are working on in the groups so they can reinforce it at home. These workshops will give parents a place to express challenges and frustrations and will also help parents to develop a nice network with each other. Genova noted that sometimes parents of children with difficulties feel isolated. These groups will give them an opportunity to interact with other parents.
The groups will be facilitated by Susan Panarella who is a licensed master of social work and has 14 years of experience working with elementary-aged children in both schools and outpatient settings. She is also a mindfulness educator.
The weekly sessions will be held in the SFCS offices in the Harwood Building from 4:30 – 5:30 from October 15 to December 10. Interested? Call Executive Director James Genova to enroll at 914-723-3281.
Rice, Soy, Oat, Almond, Coconut, Hemp, Kefir and Good Ol' Cow's Milk: Which Milk is Best?
Details

Written by

Stacie M. Waldman

Hits: 2574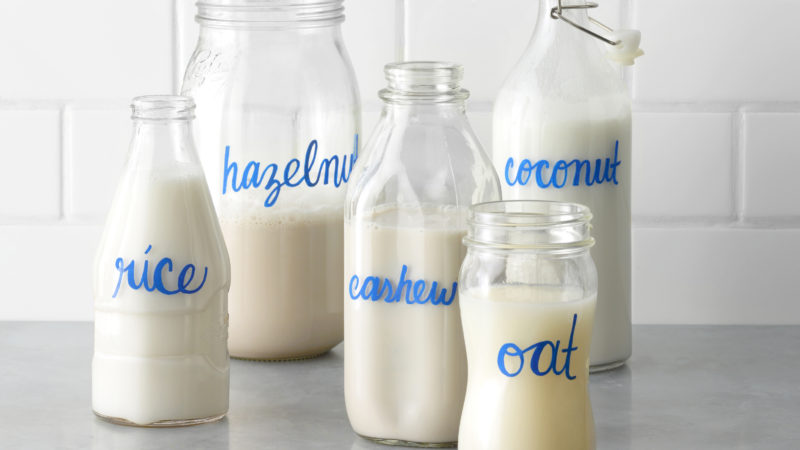 It's a conundrum – on the one hand children need to drink milk – but on the other, what kind of milk should they be drinking? The questioning begins at birth. Pediatricians warn new mothers to be sure babies get enough milk after they're weaned from breast milk or formula. Yet too much milk could interfere with the absorption of other minerals. If the baby is cranky, is lactose the problem? If you substitute soy milk will the estrogens in the milk harm baby girls? How about coconut milk? Everyone seems to be drinking that but what about the saturated fat? And almond milk is also popular with kids but does it contain Vitamin D? What about oat milk or even hemp milk? And should we heed the advice of the FDA commissioner who said these "milks" shouldn't even be called milk because the nutritional makeup is different and "an almond doesn't lactate."

The sale of non-dairy milk increased 61% between 2012 and 2017 while dairy milk sales have been steadily decreasing. The information overload can be overwhelming, so here is what our research showed on the data about dairy alternatives. Is there any reason to even look beyond milk from cows for ourselves and our children?

Soy milk was one of the first non-dairy milk alternatives to become commercially available. Soy milk is shelf-stable until it's opened and contains about the same amount of complex proteins as milk but with less carbohydrates and saturated fats as compared to whole milk. Soy milk has fiber and has a better overall nutritional make up than almond, rice or coconut milk. It is higher in fat than low-fat milk options and also lower in calcium as compared to dairy milk. Soy milk contains phytoestrogens which research shows may be a hormone disrupter. For a person who can't consume dairy for health reasons, from a nutritional standpoint Soy milk has the most similar make up to cow's milk
Almond milk comes in sweetened and unsweetened flavors, like vanilla. Almond milk is very low in calories, has 0 grams of carbohydrates and sugars and provides even more calcium per serving than cow's milk. Almond milk has no cholesterol or lactose, so this is a good milk alternative for people who are lactose intolerant. It is low in sodium and has magnesium, selenium and vitamin E, all which benefit the body. On the other hand, almond milk is very low in protein compared to soy milk or cow's milk. It is readily available at most markets and coffee shops, usually for an upcharge.

Oat milk originated in Sweden and is quickly gaining in popularity at coffee shops across the U.S. It can be made at home easily with oats and water but will not be fortified with vitamins A, D, B12 and calcium like manufactured oat milk. Oat milk comes flavored or unflavored. It is high in fiber and beta-glucans which can help boost the immune system but is low in protein and minerals. Oat milk is a good option for people with dairy, nut or soy allergies but is relatively very expensive.

Coconut milk is not actually sold as the milk inside of the coconut. The meat of a coconut is shredded and simmered in water. The fat-rich cream layer is then combined with coconut water to make creamy tasting coconut milk. Although coconut milk is low in calories, it is high in saturated fat and has no protein. Taste-wise, coconut milk easily replaces cow's milk in recipes.

Rice milk is the most hypoallergenic of the milk options but is also the sweetest and therefore higher in carbohydrates and calories. It is low in fat and contains high levels of magnesium but doesn't contain as much calcium or protein as dairy. Rice milk is readily available at most markets and coffee shops as a dairy alternative at a higher cost.

Hemp milk is a creamier tasting milk alternative. Made from hemp seeds, hemp milk is filled with omega-3 fatty acids which benefits people who have cholesterol or high blood pressure concerns. Hemp milk has a higher fat content than other milk alternatives. Hemp anything is a very trendy nutritional additive right now.

Cow's milk is high in protein and complete proteins which means it has all the essential amino acids the body needs to synthesize protein. It is loaded with calcium (so is good for the bones) as well as vitamin B12 and is fortified with Vitamin D. Dairy has been shown to help prevent tooth decay, particularly in children. Whole milk has saturated fat, but lower fat milks are readily available. Milk is relatively inexpensive and even organic milk tends to be priced lower than milk alternatives. The American Academy of Pediatrics still recommends cow's milk for growing children.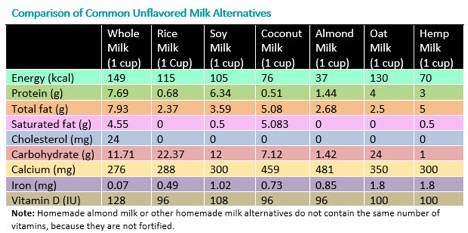 There is a lot of misinformation about milk online and as the non-dairy milk industry grows, so does the marketing against the dairy industry. So, is drinking and eating dairy contributing to better health or is it putting our health at risk? Vasanti Malik, a nutrition research scientist with the Harvard T. H. Chan School of Public Health says, "Dairy isn't necessary in the diet for optimal health, but for many people, it is the easiest way to get the calcium, vitamin D, and protein they need to keep their heart, muscles, and bones healthy and functioning properly."
There is a lot of information out there on the health risks of dairy from websites or groups that do not base their findings on published, peer-reviewed research. Research shows that unless a person has a sensitivity to cow's milk, the proven health benefits outweigh the risks that have yet to be proven.
Reduce Back-to-School Stress by Practicing Mindfulness
Details

Written by

Wendy MacMillan

Hits: 1799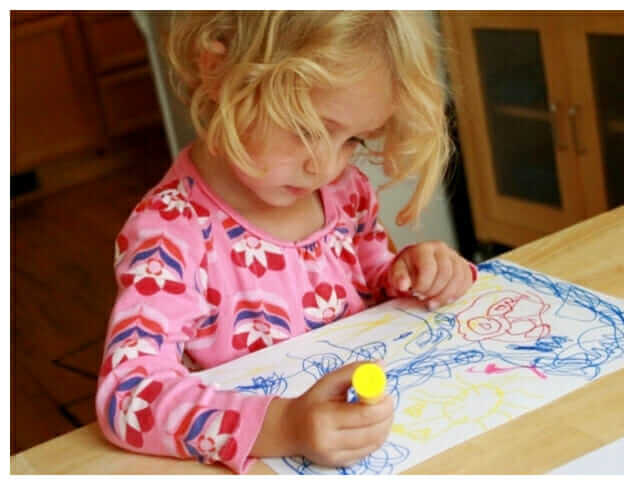 Though the warm weather here in Scarsdale might fool you, the long, lazy days of summer are officially over and to some of us, "Back to School Night" already feels like months ago. Hopefully our kids have all easily settled into their school routines but as the excitement of the new year starts to dissipate and the weight of schoolwork, friendships, homework, and extracurricular activities starts to be felt, it's important for us to remember to take time to care for ourselves.
One way to keep the stress of school at bay is to practice mindfulness. More and more research proves that practicing mindfulness not only helps to calm and focus the mind and to strengthen our executive functioning skills, but the routine practice of mindfulness can also increase test scores, reduce absences and of topic, help children more easily transition back to school.
Jon Kabat-Zinn, founder of Mindfulness Based Stress Reduction, defines Mindfulness as "paying attention in a particular way, on purpose, in the present moment, and nonjudgmentally," and fortunately, there are a plethora of simple ways school-aged children and teens can practice mindfulness on a daily basis.

One of the easiest practices is Mindful Breathing. First, get your kiddos into a comfy position and ask them to close their eyes. Next, ask how their breath feels as they draw it into themselves, and then as it leaves. If they put a hand on their belly, they'll be able to feel the rise and fall of their breath. Do this about five times – five inhales, five exhales. After five breaths, guide them to any thoughts and feelings they might be aware of, then invite them to let go of those thoughts and feelings. Ask them to imagine that the thoughts and feelings are bubbles, floating away, as they return to their breathing. Repeat the five breaths – five in, five out – and do this as many times as feels right.
The great thing about mindful breathing is that it can be practiced just about anywhere...waiting for the bus, idling in the drop-off line, sitting in your desk before a test, the possibilities are endless.
Another effortless way to practice mindfulness with children is through craft activities. Drawing, painting, cutting, and coloring are all easy avenues to invite children to pay attention to what is happening in the present moment. For instance, while coloring you might ask your child to focus on how the crayon feels in their hand, how it feels as they press the crayon down on the paper, does the crayon make any sound as you drag it across the paper, ask your child to notice the hues and shades of the colors the crayon creates, and so on and so forth.
So whether your school-aged child is experiencing a little separation anxiety or your high school senior is stressing about college essays, try helping them with a mindful exercise...you might just help yourself right along with them.
Wendy MacMillan is a former teacher and a proud mom of two children. While her background is in psychology and education, Wendy was recently trained in mindfulness at Mindfulschools.org. She has long been passionate about wellness, and as an active member of the Scarsdale PTA, Wendy helped to bring mindfulness to her children's elementary school. In addition, Wendy helped establish and is an acting member of the school's Wellness Committee. For more information about mindfulness check out this site: mindfulschools.org or Watch the video of Jon Kabat-Zinn explaining what mindfulness is ... or contact Wendy MacMillan at wendymacmillan@gmail.com.