Lemonaid Time
Details

Hits: 2513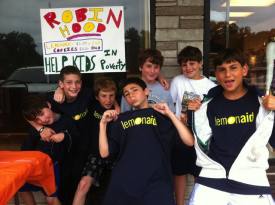 On Saturday, June 11, Scarsdale's kids sold lemonade around town to benefit the thousands of families who are living in poverty in New York City. The kids sported Lemonaid t-shirts and raised funds for the Robin Hood Foundation.
The Robin Hood Foundation partners with more than 240 of the best poverty-fighting nonprofit organizations in New York City. They initiate and run projects where they see unmet community needs. And they created and operate a 9/11 Relief Fund. While there is great diversity among these programs, they all have one thing in common: They work. Learn more here: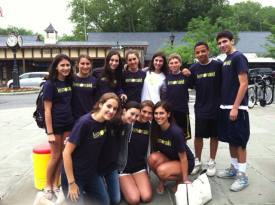 Runway to Remember
Details

Hits: 2899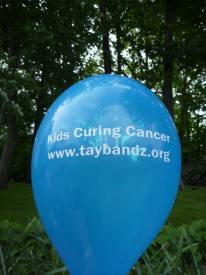 On June 4th, LF stores sponsored a "Runway to Remember" to fund pediatric cancer research at Chase Park in Scarsdale. Runway models from Scarsdale and Edgemont high school sported outfits from LF stores and Rothman's. The event was a "kids helping kids" effort and primarily organized by the girls working at LF stores. A t-shirt was designed by Olivia Gold with the words "Find a Cure." This was a huge effort to bring the community together for a cause. Thank you to the 26 stores who participated in the event, listed below. LF stores, Gregory Gillin, La Dentelliere and La Dentelliere at Home donated a very generous 10% of sales for the day and the other stores participated by flat donations or donations of goods. All funds were donated to tay-bandz/kids curing cancer. Tay-bandz/kids curing cancer is a 501 C 3 non-profit organization dedicated to raising awareness and funding pediatric cancer research.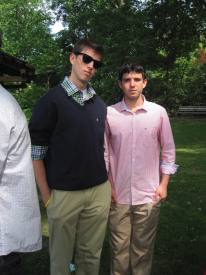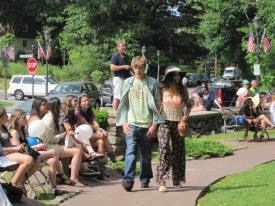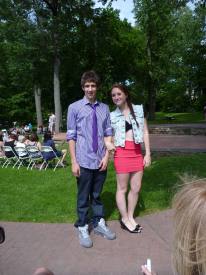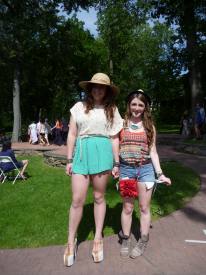 Thanks to the following retailers for your support:
Courage b

Dunkin Donuts

Giannoini's

Gregory Gilin

Haagan Dazs

Holsten Jewelers

Houlihan Lawrence Realty

Julius Michael Scarsdale Hair Salon

La Dentelliere, Inc.

La Dentelliere At Home

Langes

Learning Express

LF Stores

Petticoat Lane

Pro Sports Physical Therapy

Scarsdale Candy & Cards

Scarsdale Spencer Pharmacy

Sotheby's International Reality

Space.NK

The Scarsdale Flower Shop

Rothman's

Tsevis Furs of Scarsdale

Villa Roma

Verizon

Wilson & Son Jewelers

Zachy's Wine & Liquor, Inc.
Coalition for Scarsdale Schools Lobbies Against Tax Cap
Details

Hits: 3929

Arthur Rublin, Chair of the Coalition for Scarsdale Schools and a Donellan Road resident has been active in fighting a potential NYS tax cap. The Coalition believes that the tax cap would cause radical changes to Scarsdale's educational program and has been instrumental in working with other communities to get the message to Albany.
The Coalition for Scarsdale Schools was originally formed to protest a potential increase in class size caps for the 2011-12 school year. They gathered over 700 signatures on a petition to maintain small class sizes and the Scarsdale School Board ultimately agreed. Now they have turned their efforts toward the tax cap issue.

In their view, "The proposed tax cap legislation has the potential to devastate education. The costs of unfunded mandates are rising at rates well above inflation, and local Boards of Education cannot reduce them. As a result, the proposed tax cap legislation would force localities to cut in the limited areas where they do have control.
Three broad areas are subject to control by local Boards of Education:
- Salaries and benefits other than retirement. A Board of Education can exert long-term control over salary trends but may not have the power to affect salaries in any one year if contracts are already in place.
- Educational Program. Course and program offerings in academic subjects and the arts, class size, athletics, and other extra-curricular activities. Meaningful cost reductions in these areas hurt students.
- Building Maintenance. Building and grounds upkeep and maintenance. Meaningful cost reductions in these areas lead to safety and maintenance problems and ultimately to bond issues.
In sum, the proposed tax cap legislation would impose artificial limits on decisions that require and deserve a community's deliberation and considered judgment."
At the May 23 Scarsdale Board of Education Meeting, Rublin read the following statement to the Board and the community:
I wanted to update the Board on the efforts of the Coalition for Scarsdale Schools to act in support of the position paper the Board adopted on January 24th of this year on the idea of a state-imposed cap on school district tax levies, and in response to President Spieler's welcome call for community members to make their voices heard on the issue.
The Coalition for Scarsdale Schools has developed a close partnership with a counterparty grassroots organization in Chappaqua with an initial focus on the tax cap legislation passed by the New York State Senate and advocated for by Governor Cuomo.
Our Chappaqua counterparty, which has changed its name to the Coalition for Chappaqua Schools, signed on last night to a statement that the Coalition for Scarsdale Schools proposed which tracks virtually verbatim the Position Paper that you as a Board issued in late January, save for technical revisions, for example clarifying that our opposition is to the Governor's hard tax cap legislation, not necessarily to any and all tax cap proposals.
The Coalitions for Scarsdale Schools and Chappaqua Schools are now very hard at work reaching out to School Districts, School Boards, PT Councils, PTAs, and other community groups throughout Westchester and Putnam to obtain support for our statement, that is essentially the Scarsdale School Board's January Position Paper.
We have also organized a lobby day in Albany for next Wednesday, June 1st, to meet with Assemblywoman Paulin, with whom we had a very good meeting with in the District a couple weeks ago, Senator Oppenheimer, and other Westchester-Putnam Assemblypeople and Senators. We encourage community members to contact us at coalitionforscarsdaleschools@gmail.com if they are interested.
The responses we have received in just our first day of outreach are very encouraging. The Superintendent in Chappaqua, John Chambers, indicated that he likes the proposed joint statement and is happy to ask Chappaqua's Board of Education to consider it. The President of the Chappaqua Board, Janet Benton, indicated she is nervous about the tax cap legislation's status and plans to raise the statement with her Board tomorrow night for discussion, and may bring it to a vote as early as tomorrow night.
The District Offices in Byram Hills and Yorktown have also signaled support for our statement and our efforts.
As I believe you know, our work complements the efforts of the New York State League of Women Voters, the New York State PTA, the New York School Boards Association, NYSUT, county officials like Rob Astorino, and Mayors like Noam Bramson of New Rochelle, with whom we had a very good conversation today.
We welcome any support that the Board and Administration determine they can provide to further the Board's January 24th position paper and President Spieler's and Vice President Guggenheimer's welcome advocacy efforts in Albany and in the District on the tax cap legislation. Specifically, we would welcome support by the Board for the statement tracking the Board's tax cap position paper, which we expect other Districts to sign onto as soon as tomorrow night. It appears that collective effort on the critical tax cap issue may be pivotal as we enter the final four weeks before the legislative session in Albany adjourns.
Thank you.
End of Year Events in Edgemont
Details

Hits: 2782
June has finally arrived bringing the end of classes and many exciting events at all three Edgemont schools. In addition to finals exams, projects and mandatory New York States Regent exams there are also art exhibits, trips, parties, and even a day when the kids travel 200 years back in time.
The month kicked off on June 1st, with the AP Art exhibit and the high school senior awards ceremony, where dozens of awards are handed out to students in all four grades. It is a wonderful evening where families, students and faculty come together to celebrate the academic, athletic and community achievements of students. On June 2nd, the Spring Sports Awards were handed out to all the students who participated in modified, junior varsity and varsity spring sports. Then on Monday, June 6th, the EHS Filmmaker's Club will present their first film, Budget Cuts, at 6:30 and 7:30 pm, in the school's auditorium. On Tuesday, June 7th, the high school will host Open Mic Night. Performances will starts at 6:30 pm. Finally on June 8th, classes will officially end at the junior /senior high school and final exams start on the following day.
Over at the elementary schools, the 6th graders will take off for a week's adventure at the annual outdoor camp. Sixth graders at both Seely and Greenville attend a weeklong camp that is all about making friends with kids from the other elementary school before both grades combine at the junior high in September. It's a great week full of outdoor fun; everything from hiking to nature scavenger hunts to orienteering to outdoor cooking. Custom offerings this year will be nature sketching and yoga. This is the 57th year that the 6th graders will attend 6th grade camp.
In the lower grades, the kindergarteners at Greenville celebrate their end of year by having a family picnic on June 17th where kids and the families gather on picnic blankets outside to enjoy a beautiful lunch together. On the same day, the first graders host their annual "Donuts with Dads" where everyone brings in their fathers and grandfathers to enjoy breakfast together. The kids all take turns reciting special poems written about their fathers. The first grade also hosted "Muffins With Mom" in May where mothers and grandmothers enjoyed their breakfast with the kids. The second graders celebrate their end of year with a trip to the Bronx Zoo. And one of the most exciting June events is the annual Colonial Fair celebration for the fourth graders at the Greenville School, when the grade travels back in time and spends an amazing day living in the colonial times.
The junior high kids will celebrate their end of year on June 8th when the whole junior high heads for the school fields for their annual field day event. The two grades are broken up into teams identified by matching color t-shirts and have a fun-filled afternoon playing crazy sports games against each other. Earlier that day, students will be recognized for special achievements at the junior high awards ceremony. The seniors at the high school celebrate their upcoming graduation at the Senior Prom, which this year will be held at the Surf Club in New Rochelle on Friday, June 10th. Another annual June tradition is senior video night on Wednesday, June 15th where seniors gather with faculty to enjoy dinner and view a dvd of special moments of the past year. Each senior goes home with a copy of the dvd.
The weeks leading up to graduation are marked with special yearbook distribution times at all three schools when everyone who ordered a yearbook gets their yearbooks and spends time looking through their memento-filled books and kids and teachers sign everyone's yearbooks. It is customary at all three schools to include pictures of every child in every grade in each school's yearbook so many families start their yearbook collections when their kids are in kindergarten and purchase the keepsake every year.
Finally, no month of June would be complete without the graduations and moving up ceremonies. All three schools will have their ceremonies on Thursday, June 23rd. Grenville will kick off the day at 9 am, followed by Seely Place at 11 am, ending with the senior high school commencement at 6:30 pm. Everyone is hoping for a sunny June 23rd this year. Congratulations to all the graduates.
Pictured at top: Fourth Graders at the Colonial Fair
Whole Foods, Lord and Taylor and More Opening in Yonkers
Details

Hits: 7429

If you have wondered what's going up off the Major Deegan at Stew Leonards Drive, here is your answer. Westchester will soon be home to another huge shopping center – this one located off Route 87 across from Stew Leonards, Home Depot and Costco in Yonkers.  The new project, named Ridge Hill will include 12 blocks of shopping and dining, 500 residential units and 160,000 square feet of office space.
Many large retailers have already committed to open on the site – including Whole Foods, Dick's Sporting Goods, an 80,000 square foot Lord and Taylor store and Showcase Cinema De Lux – all who already have locations in White Plains and Scarsdale.
Also slated to open are the GAP, Delia's, Desigual, H&M, LL Bean, Old Navy, Republic of Couture and Sur La Table. Dining options will include Barbes, Brio Tuscan Grille, Elevation Burger, the Cheesecake Factory and Texas De Brazil.
From the site map the size of this new venture looks mind-boggling. The property is being developed by Forest City Enterprises who owns, develops and manages commercial and residential real estate throughout the U.S.
According to the Ridge Hill website, the site is slated to open in 2011 – but the question is when.