Scholarships Available for Scarsdale College Students
Details

Hits: 2862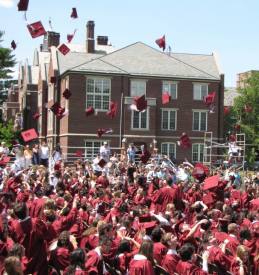 Students who graduated from Scarsdale High School and/or live in Scarsdale and who have completed their first, second, or third years of college are invited to apply to the Scarsdale Foundation for tuition assistance.
Applications should be submitted online on the Scarsdale Foundation's website, scarsdalefoundation.org (click on the College Scholarships link). Completed applications must be submitted by Friday, June 3, 2011. Late applications will not be accepted. Inquiries regarding scholarship applications should be directed to Susie Rush, srush76@gmail.com or 472-7797.
For the 2010-2011 academic year, $76,000 was awarded to 24 students attending private and state-supported colleges in their second, third, and fourth years.
The Scarsdale Foundation is the presenter of the Scarsdale Bowl award, given annually to a citizen(s) who has contributed outstanding voluntary service. Emily Sherwood, former president of the Board of Education and exemplary community volunteer, received this year's award.
The Foundation welcomes contributions from the community to augment the funds available for distribution each year. Contributions may also be donated to a specially earmarked scholarship fund of the Scarsdale Foundation, with monies to be used for 2011-2012 recipients. Donations may be made online by visiting the Foundation's website, scarsdalefoundation.org , or mailed to the Foundation at P.O. Box 542, Scarsdale, NY 10583.
For students entering their freshman year, one-year grants for graduating SHS seniors are available from the SHS PTA Scholarship Fund.  The application form and the dean's evaluation form may be downloaded from the Scarsdale High School PTA website, http://www.scarsdaleschools.org/shspta or may be obtained from the deans' offices at the High School. Completed applications must be submitted by May 8.
For additional information regarding the Scholarship Fund, or to make a donation in honor of a teacher or a graduate, visit the PTA website or contact Sarah Wolf at sarah@hallac.com .
Slashed Tires, Missing Bread and Brass Knuckles from the Greenburgh Police
Details

Hits: 3528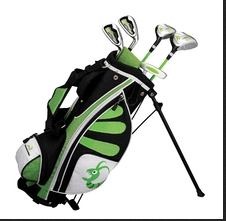 Where's the Bread? The owner of the Dairy Dell at 1 South Central Avenue in Hartsdale arrived at the store at 5:20 am on 4/18 and found that some of the bagels, rolls, croissants and heroes from his bread delivery were missing. The delivery man reported bringing the full order so the store owner checked the security camera and saw a woman driving a dark colored car drive up and take the bags of bread and a box of croissants. The woman was described as white and had a blond pony tail.
Tires Slashed at Scarsdale Golf Club: The chef at the Scarsdale Golf Club on Clubway in Hartsdale, reported that the tires of his 1999 Infiniti were slashed when it was parked in the club parking lot on Sunday April 10th. It appeared that there were knife holes in the tires. The chef suspects that a member of the serving staff may be responsible.
Cocaine: On the night of April 14, police stopped Howard Gordon, age 59 of Edgewood Road, Hartsdale for driving erratically in the parking lot of Planet Fitness at 1001 South Central Avenue. They found that Gordon possessed cocaine. He was taken to police headquarters, given a court appearance date and released.
Theft: A 20 year-old Tarrytown woman was arrested for stealing DVD's from Best Buy on 4/14. A Best Buy employee saw her take five DVD's into the bathroom and then leave the store. He found the DVD's in her book bag. She was arrested and given a court date.
On the night of 4/15 an unlocked car parked at 355 North Central was entered and the owner's purse was taken. The Louis Vuitton purse contained a camera, an iPod, make up bag and keys, together valued at more than $1,000. The victim was a 25 year-old woman from Old Tappan, N.J.
Vandals: At 5 Woods Place in Hartsdale, the resident found a broken rear window on the house and a broken window on the back door on the afternoon of 4/12. As the door had a dead bolt, no one had entered the house.
A woman who lives on Castle Walk in Scarsdale called police on the afternoon of 4/13 when she saw a man run through her backyard at the same time the burglar alarm went off at 6 Penny Lane. She said the man was wearing a white track suit with black pants. Police checked the house on Penny Lane and it was secure.
Harassed: A 19 year-old woman from Theresa Lane in Scarsdale reported that she received four phone calls from someone who has been ordered not to contact her. She has an order of protection against the 20 year-old Tuckahoe man. Since he violated the order of protection he was arrested for Criminal Contempt on 4/14.
A 66 year-old East Hartsdale Avenue man threw a chair when he didn't like the dinner prepared by his 75 year-old wife on the evening of April 17th. He left the apartment and returned five or six hours later and threatened to move out. The wife complained of verbal abuse but she was not injured.
Traffic Violations: At 1:25 am on 4/11, Anthony Altieri, age 37 of Livingston Road, Scarsdale was stopped for a traffic violation on South Central Avenue. He was found to be driving with a suspended license, due to his failure to answer a summons from New Rochelle.
Annemarie Atkinson, age 42 of the Bronx was stopped by police for speeding while driving on Central Avenue on the afternoon of 4/12. She was found to have a suspended driver's license due to her failure pay for parking violations.
Willie Boyd, age 58 of White Plains was stopped on Central Avenue at 4:18 am on 4/14 for making an illegal u-turn. Police found that the man's license had been suspended twice, once for a DWI. He was arrested and taken to police headquarters.
At 1:15 am on 4/16, Kevin Sutton, Jr., age 23 of Tarrytown was stopped when he was driving on South Central Avenue. He was found to have a suspended license and an expired registration.
Jospeh Ditroia age 32 of Yonkers was stopped by police at 3:20 am on 4/16 for failing to stay within his lane. He was found to have a suspended license and also had brass knuckles in his glove compartment. He was issued a traffic violation and also charged with criminal possession of a weapon.
A Successful Spring Carnival
Details

Hits: 3732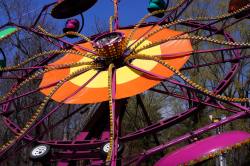 The 2011 SHS Carnival was held on Friday April 8th and Saturday April 9th – and a beautiful warm day on Saturday – one of the first of the season – helped to make the event a big success. Rides, games, food and fundraising for international causes brought out a wide swath of the community. Thanks to SHS School Government advisor Neil Ginsberg who runs the show each year, as well as all the students who pitched in to make it happen. Check out our photos:
Looking for Part Time Help?
Details

Hits: 5843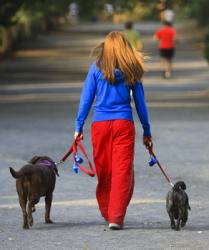 If you're looking for part-time help at home or for your business, Y.E.S. is a community resource for you. Y.E.S. is a nonprofit organization staffed by volunteers to bring together bright, responsible Scarsdale students, 14 years and older, with employers in homes and businesses in Scarsdale.
Some of the most popular jobs are for tutor, baby-sitter, front desk receptionist, data entry, computer help, dance instructor, dog walker, snow shoveler, and yardworker. In addition, students are hired by the Scarsdale Recreation Department to staff the community's annual 15K/4M race. Each year hundreds of jobs are listed and FILLED!
Students can register and search for jobs online, and employers can register and list jobs online as well. For more information, visit our website. Y.E.S. also maintains an office at Scarsdale High School. During the school year, the office is open to students Monday through Friday from 11:30am to 1:30pm, and during the summer, with more limited hours.
The services of Y.E.S., now in its 40th year, are provided to students and employers at no charge.
Youth Employment Service of Scarsdale
Call 723-7343 (accepts messages 24/7) or
E-Mail: office@scarsdale.ny.hs-ses.com
Take the Plunge
Details

Hits: 3098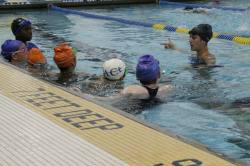 If your kids want to concentrate on swimming this summer, Westchester and Fairfield Swimming and Lifeguarding is the place to be. Kids from kindergarten through age 14 can attend the program by the week. The summer begins the week of June 27, and the first five weeks will be held at the Pace University Goldstein Recreation Center in Pleasantville. For weeks six and seven the program moves to the campus of Sarah Lawrence College in Bronxville. Camp meets from 9 am to 3 pm and extended care is available. Though the focus is on the water, other activities are also included in the daily schedule.
The camp is run by Kate Palladino, who is the Pace University Aquatics Director, an American Red Cross Water Safety Instructor Trainer, a Lifeguard Instructor Trainer and a United States Safety Diving Coach.
According to Ms. Palladino, the camp provides individual swim development and water safety for all levels and ages. Swimmers will be instructed in small groups of similar age, skill and experience. Lesson plans and progressions are formatted for optimum learning through the six American Red Cross Levels.
For the highest-level swimmers, they offer stroke clinic options, plus instruction in starts, turns and techniques to increase efficiency and speed. The goal is to refine the competitive strokes and improve cardiovascular endurance. The camp provides comprehensive preparation for summer swimming and is a great supplement for those who participate on summer swim teams.

The staff includes seasoned American Red Cross Water Safety Instructors and Lifeguards selected not only for their aquatic skills, but also their ability to be exceptional role models for campers. Safety is their first priority.
One camper who started coming when she was nineyears-old still talks about treading water for 20 minutes with her counselor to break the camp record. She is now a junior in high schools and swims competitively on her high school team!
The camp costs $395 per week and kids can sign up for as many weeks as they like. There is a discount for early sign-ups and the fee includes a free t-shirt. To learn more about the program, visit www.westfairswim.com.