$1.7 Million Raised at White Plains Hospital 125th Anniversary Gala
Details

Written by

Joanne Wallenstein

Hits: 4966
Geralyn Della Cava, Kathy Winterroll ,Anna Cappucci, Wendy BerkThe Friends of White Plains Hospital hosted the 125th Anniversary Gala of White Plains Hospital on Saturday, September 29th. The sold-out evening at the Sleepy Hollow Country Club, the site of the Hospital's first gala in 1956, raised $1.7 million for hospital programs and services. The gala was co-chaired by Wendy Berk, of Scarsdale; Anna Cappucci, of Harrison; and Geralyn Della Cava and Kathleen Winterroll, both of Scarsdale. 800 guests enjoyed a historical video tribute showcasing the hospital's remarkable longevity in the community, followed by dinner, dancing, a silent auction, and fireworks display.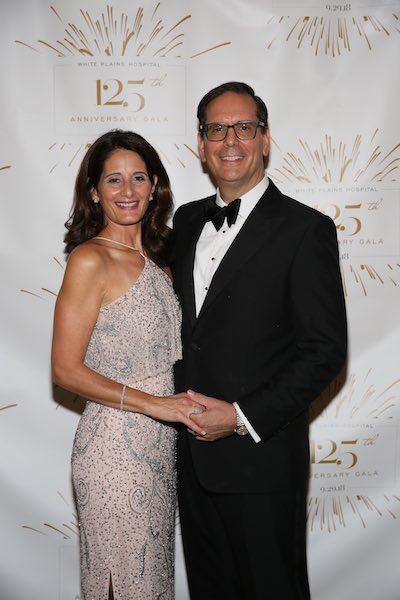 Annette Cappucci and Dr. Roger Cappucci
Lindsay Zaken Karen Tolchi Andrea Tucker Allyson Simon Lisa Gans and Kate Eichel
Amanda Zaitchik, Jill Spielberg, Dara Gruenberg, Randi Culang, Allison Arest
Casual Dining Roman Style At TVB : By Pax Romana
Details

Written by

Judie Dweck

Hits: 4198
The initials TVB roughly translate to I love you and I wish you the best. Ti Voglio Bene. Judging from the delightful tasting I recently enjoyed here, the food and the service clearly reflected the name TVB.

About a year ago, Pax Romana made its entrance in White Plains. The large space was bustling and as I reported then, was a welcome addition to the Westchester dining scene. Due to unforeseen circumstances, they vacated the space and left many diners disappointed. Perhaps it was a blessing in disguise. The young talented owners picked themselves up, brushed themselves off and started all over again. The result is the charming, welcoming contemporary TVB: by Pax Romana. The owners, Paul Russo and brothers Alfredo and Christian Runco are a constant presence at their new spot on East Post Road. Chef Cristian Petitta heads the open kitchen and much of the original staff joined them, as well. After just three months, the place is thriving. They have their talented family as part of the team. Giovanna Runco, mother of the Rusco brothers prepares the fresh pasta and sausage every day. And Graziella Fante, grandmother of Paul Russo prepares the pizzelle and tiramisu.

The team worked together to create an eclectic, contemporary welcoming space, in which to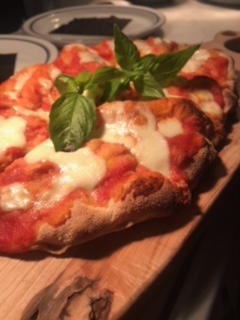 enjoy their delightful food. Seated about 75 guests, the bar area in in the front. Along one wall is a pasta preparation area and a complete open kitchen. Tables and banquettes adorned with vases filled with fresh seasonal herbs fill the remaining space. Russo called the space, "industrial redesigned." Interesting lighting catches your eye. Brick and wood are enhanced by black and white patterned tiles and some blue painted walls. These pops of color make an interesting setting. The restaurant is sparkling. Russo said," We believe in transparency with everything here. Cleanliness and organization are important and we work hard to offer authentic homestyle dining in which we have great respect for each other, our guests and our cuisine. "I chatted with Paul Russo who indicated that the best part of restaurant ownership, is that every day is different and you never know what the next day has in store for you. '' We are starting to offer cooking classes in the near future including pasta making, pizza making and desserts. If I were a guest here at our own restaurant, I might order burrata or suppli to start or perhaps an arugula salad. This might be followed by a bowl of spaghetti carbonara or spaghetti chitarra with clams. Our food is simple with the use of fine ingredients. We honor our Italian roots and consider ourselves humble and in support of others."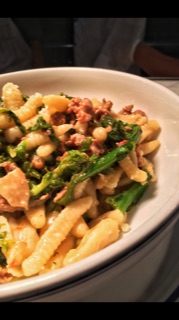 Starters here range from the familiar calamari fritti or burrata with heirloom tomatoes and balsamic glaze to several innovative presentations that I enjoyed. Olive ascolane arrived as a mini deep frying basket filled with meat stuffed green olives that were breaded and fried to a golden brown….. Just like potato chips, you can't eat just one. We also loved the suppli al telefono. These tomato flavored risotto fritters were stuffed with mozzarella cheese. Upon frying them, on biting into them you understand the name, as the cheese melts into strings like telephone wires. A classic of polpette were tasty meatballs combining beef, pork and veal and presented with tomato sauce and crusty bread for dipping. The sprinkling of parmigiana completed this dish. I look forward to sampling an appetizer of grilled octopus with a cannellini bean puree. Salads here include classic Caesar as well as quinoa with vegetables and goat cheese, arugula with nectarines or other seasonal fruit with toasted almonds and stracchino cheese and a nectarine vinaigrette. Add chicken, salmon or shrimp to your salad and it becomes a main dish. I enjoyed the nectarine salad with shrimp for lunch and it was delicious. The housemade sun dried tomato dip with country bread was an excellent addition to our lunch salads.

Most Italian restaurants offer pasta dishes, but not many offer them in the manner of Pax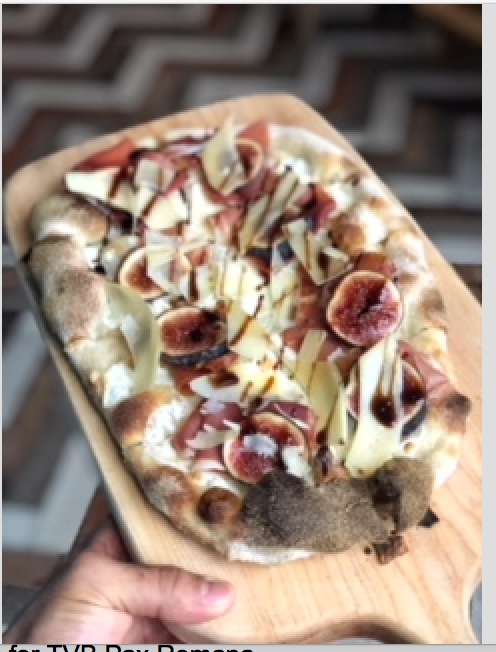 Romana where you can actually watch Giovanna Runco, the talented mother of the Runco brothers, as she prepares the dough and rolls and cuts it into various shapes. The pasta here is prepared daily and is never frozen or dried. Spaghetti Chitarra alle vongole was a light and delicious bowlful. The pasta was cut into strands on the guitar like implement called a chitarra. These long delicate strands were mingled with baby clams. Cooked al dente, the dish was delicious in taste and texture. I especially loved the cavatelli con broccoli rape e salsiccia. The sausage and the pasta are housemade by Giovanna Runco. Every forkful had an abundant amount of crumbled sausage and broccoli rape. Pappardelle here had a unique combination of ingredients. The pasta was infused with unsweetened cocoa for an interesting taste. The wild boar ragu that enveloped it was rich with flavor. The wide pasta was substantial enough to pair with the hearty ragu, a nice cold weather dish. As time goes on, I hope to try spaghetti carbonara, taglioline cacao e pepe, cheese ravioli, gnocchi sorrentina and other homemade pasta selections. Gluten free selections are available upon request.

Very popular in Rome is a classic dish of melanzane parmigiana. Here, as an entrée, the slices of eggplant are layered with mozzarella and tomato sauce. The chefs seem to have the secret of choosing sweet rather than bitter eggplants. Nicely seasoned with basil it is served with salad and a choice of pasta. This is a very classic dish. An American variation is chicken parmigiana, which is very popular here, as well. Branzino, that flavorful Mediterranean Sea bass is served with seasonal vegetables and salmoriglio sauce, a combination of lemon, garlic, olive oil and oregano. For the beef lover, try the tagliata, grilled sliced sirloin steak with arugula, cherry tomatoes and shaved parmesan.
A discussion of Roman cuisine would not be complete without a section on Pinsa Romana. At Pax Romana, the pinsa are very special. The flour is imported from Italy and the dough ferments for 72 hours. TVB Pax Romana is distinguished by being certified and first on the east coast to be the official restaurant using pinsa flour. Served on a wood cutting board made to fit the oval shaped pies, I'm working my way through the 6 varieties, with specials offered daily. We enjoyed chicken scarpariello with chicken, sausage, potato cubes, mozzarella and vinegar peppers. The potatoes and peppers added an interesting touch. My favorite was the funghi pizza with mushrooms, truffle oil, porcini cream and mozzarella. Each topping is enhanced by the wonderful crust.

Complete your meal with tiramisu prepared by Russo's grandmother, cheesecake or bomboloni. I ended my meal with a crisp pizzelle. A carefully selected variety of cocktails, beer and wine are offered, as well. Another note of interest... selections are color coded on the menu to indicate gluten free, vegetarian and vegan. Take out is an option for dishes that travel well.

Enjoy the generous and rich flavors that infuse the Roman cuisine at TVB Pax Romana. You will leave with the words Ti Voglio Bene.

TVB Pax Romana
171 East Post Road
White Plains
914 831 3303

(Recipe) Spaghetti Carbonara (Serves 4)

17 ounces pasta
5 ounces guanciale or pancetta
3 ½ ounces grated pecorino Romano cheese
4 egg yolks
1 whole egg
1 pinch ground black pepper or to taste
1 Tbsp. olive oil

Directions:
Bring a large pot of salted water over high heat to a boil. In a mixing bowl, whisk together the egg, egg yolks and pecorino cheese with a generous pinch of black pepper. Set aside. In a large skillet heat oil. Add pancetta or guanciale and sauté until the fat is rendered and the edge is crisp but not hard. Remove from heat and set aside. Add pasta to the water and boil until it is a little firmer than al dente. Just before the pasta is ready, reheat the pancetta if needed. Reserve 1 cup of the pasta water .Drain the pasta and add it to the skillet over low heat. Stir for a minute or two. Fill serving bowl with hot water to keep it warm. Empty the water and dry the bowl. Add the hot pasta mixture and stir in the cheese and egg mixture. Add some reserved pasta water if needed for creaminess. SERVE IMMEDIATELY, dressed with additional grated cheese and pepper.
Le Provencal Bistro: New Management ... Same Great Food
Details

Written by

Judie Dweck

Hits: 3769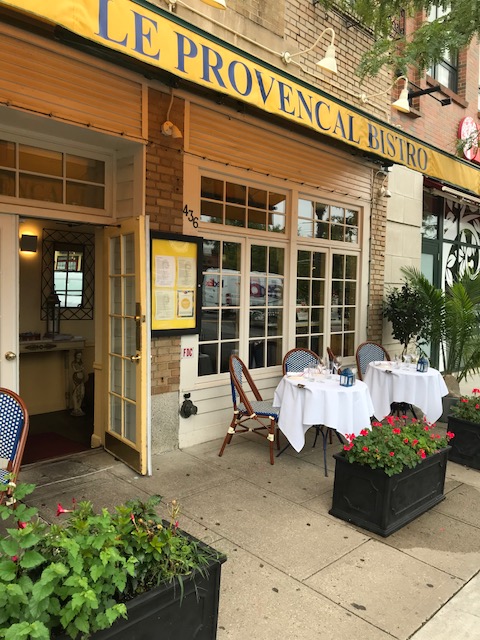 A breath of fresh air has blown into Mamaroneck. For many Westchester residents Le Provencal Bistro has been a staple in the county. After over 20 years, the original owners have returned to their European roots. A young, energetic and enthusiastic team of owners are making Le Provencal Bistro their own.
On busy Mamaroneck Avenue, this charming spot welcomes you with several bistro tables and seasonal potted plants at its entrance. The bar area is at the front, overlooking the street and the bi level dining room is cheerful with many French scenes lining the walls. My visit was within a few weeks of the new ownership and it was with great enthusiasm, that they indicated that they look forward to encouraging a friendly vibe at the bar and dining rooms and adding some new cosmetic changes in the dining rooms. "Our work is all about service and fine food. Our menu focuses on the food of Provence and our daily specials are seasonal and international in flavor. We believe there is always room for improvement. Service is very important, and we offer curbside pickup. Simply call in your order and we will bring it to your car." This is a nice perk, if you wish to savor the dishes in the comfort of your own home without the concern of parking on the bustling street.
Le Provencal seats about 85 guests at their white linen clad tables with bistro style napkins and they have added additional artwork to the existing collection. The new owners love interacting with their guests and the wait staff was most accommodating.
The kitchen is headed by Chef Faustino Juarez, a master at his craft who ran the kitchen at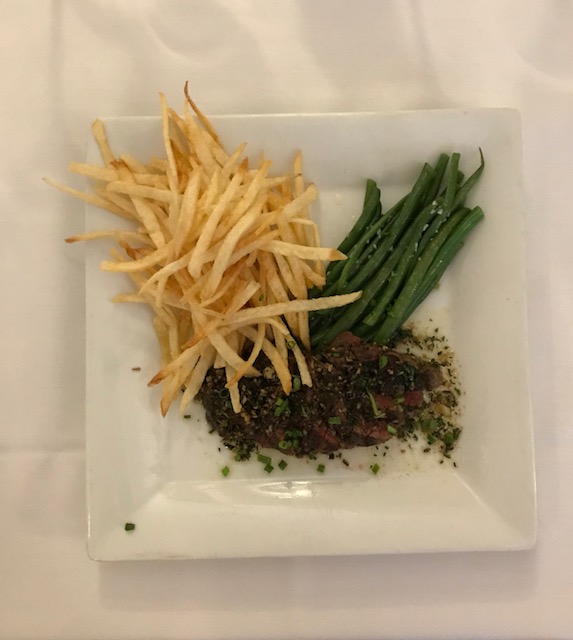 Steak FritesLe Provencal for many years. More than a dozen appetizers are available ranging from the classics to more trendy preparations. As the weather cools off you may wish to start with a bowl of homemade soup, perhaps wild mushroom soup or as I did, with lobster bisque. It was presented in a white porcelain footed bowl. The broth was rich, but not overpowering and morsels of fresh lobster studded this flavorful potage. Housemade foie gras was an elegant classic starter. Resting on toasted brioche with a tangle of caramelized onions and marmalade on the side, it was rich and delicious, a treat that I do not indulge in on a regular basis. A jumbo lump crab cake was mostly crabmeat enhanced with red bell pepper and just enough bread crumbs to hold it together. A nicely dressed mesclun salad with cranberries and walnuts balanced this dish.
A popular trend on many current menus are variations of avocado toast. At Le Provencal, one of the dinner appetizers is a super variation on the theme. Here, the base is grilled bread, nice and crisp, topped with carefully slice half moons of ripe avocado, a generous portion of smoked salmon and a sprinkling of toasted pistachio nuts. The result was divine. Yet to be sampled are escargots bourguignonne, Provençal onion tart and jumbo lump crabmeat salad with cucumbers and sauce Louis.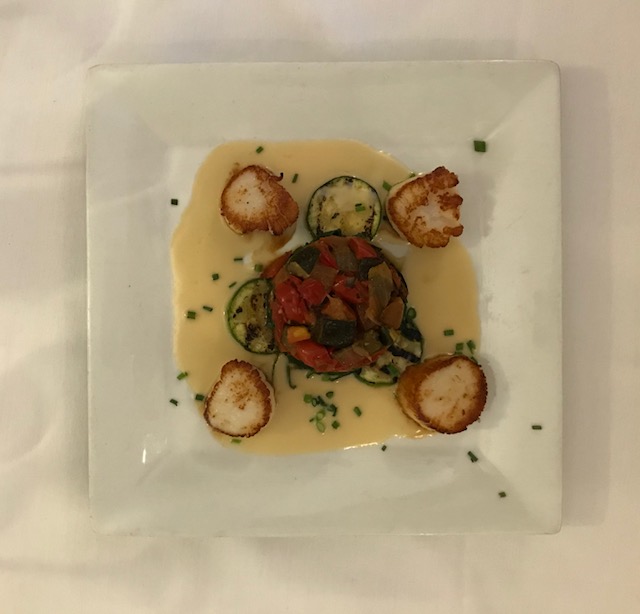 Scallops in beurre blanc sauceMain courses are both traditional and creative. A bowl of moules poulette arrived in their plump glory piled high and steamed with herbs in a white wine sauce. Shoestring pommes frites were crisp and the mussels were steamed just to the right point so they remained cooked but tender. We couldn't resist the hanger steak with those wonderful pommes frites. The steak was marinated with garlic rosemary and thyme and served just as I desired, black and blue. The classic combination of steak, pommes frites and fresh haricots vertes was a favorite. Other possibilities are coq au vin, beef bourguignonne, sautéed salmon with mushrooms, lentils and leeks in a chardonnay beurre blanc, shrimp Provençal, lobster linguine and steak au poivre. Quite good was a daily special of sea scallops in a beurre blanc sauce. They shared the plate with sautéed spinach, ratatouille and grilled zucchini slices. This delicate dish was both delicious and colorful.

Among the homemade desserts prepared by the pastry chef are classics of crème brulee, chocolate pot de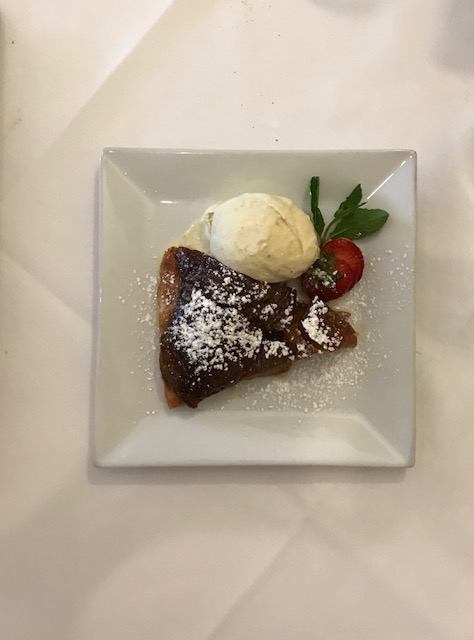 Tarte Tatincrème, profiteroles, Sergio's banana cake lemon tart or as I devoured, a warm , melt in your mouth tarte tatin. The crust was the base for the wedges of caramelized apples. It was sooo good and shared the plate with vanilla ice cream. A special of the day was a classic chocolate opera cake with its many layers. An international wine list is offered with some exciting new selections to come.

A lovely brunch menu is available on Saturdays and Sundays. The choices include eggs benedict with smoked salmon or black forest ham, and omelettes to name but a few of the many options. A nice addition to the brunch menu are both sweet and savory crepes where you can choose your own combination of ingredients.

If lunch is your meal of choice, on Monday through Friday, you can enjoy a 2 course prix fixe lunch or a la carte appetizers, salads, entrees and desserts. Sautéed John Dory tartines and a Provencal palette of quinoa, mushrooms, Beets, lentils, ratattouille and burrata are nice choices.

We loved the original Le Provencal for many years and look forward to many fine meals at the newly envisioned Le Provencal Bistro of the present time and for many years to come, as the new owners make it their own.

Le Provencal Bistro
436 Mamaroneck Avenue
Mamaroneck, NY
914-777-2324
Recipe: Mussels Poulette (Serves 4)
3 Pounds Mussels, Scrubbed
1 Tsp. Chopped Garlic
1 Tsp. Chopped Shallots
2 Tsps. Chopped Fresh Herbs (Chives, Parsley, Tarragon)
1 Cup White Wine
1 Cup Clam Juice
1 Cup Heavy Cream, Or To Taste
Place mussels in a large pot on high heat Add shallots and herbs and garlic Add cream, clam broth and white wine at the same time. Boil for 5 minutes. Discard any shells that do not open. Serve and enjoy.
SAS to Host Renowned Author Anna Quindlen
Details

Written by

Joanne Wallenstein

Hits: 2513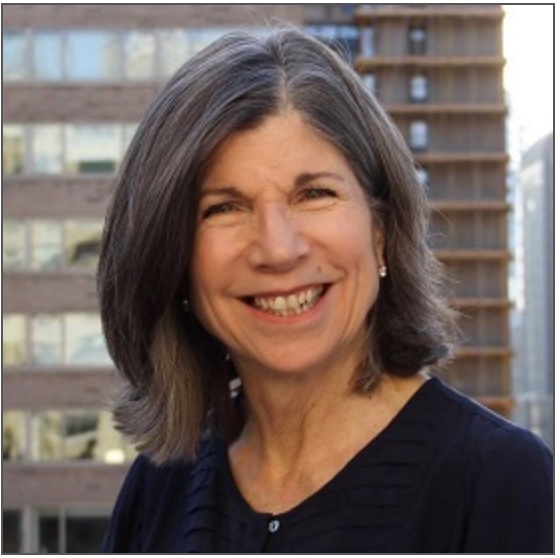 On Wednesday, October 24, 2018, Scarsdale Adult School presents An Evening with Anna Quindlen in conversation with cultural historian Lori Rotskoff from 7:30 to 9 pm at Scarsdale Middle School.
Among other things, Quindlen, a celebrated writer and former columnist for The New York Times will discuss her most recent work, Alternate Side, her ninth book of fiction in her highly successful career. This novel of "first-world problems" tells the story of the tensions of a tight-knit neighborhood on a rare dead-end block in New York City, from the perspective of Nora, an empty-nester in a seemingly happy marriage. With humor, understanding, an acute eye, and a warm heart, Quindlen explores what it means to be a mother, a wife, and a woman at a moment of reckoning.
Born in Pennsylvania, Quindlen grew up in New Jersey, attended Barnard College, and now resides in Manhattan. While a columnist at The New York Times, she won the Pulitzer Prize and published two collections, Living Out Loud and Thinking Out Loud. Two of her novels, One True Thing and Black and Blue, have been adapted into movies. Her memoir, Lots of Candles, Plenty of Cake, published in 2012, was a #1 New York Times bestseller. Her non-fiction book, A Short Guide to a Happy Life, has sold more than a million copies.
Rotskoff, who will be conducting the interview and moderating the Q&A, specializes in women's and gender studies, memoirs and narrative nonfiction. After majoring in history at Northwestern University and working for a year at the National Endowment for the Humanities in Washington, DC, she earned a PhD in American Studies at Yale. She has taught undergraduates at Yale and Sarah Lawrence College, and designed and taught a seminar class for adults at the Barnard Center for Research on Women from 2005 to 2015. She leads independent book groups and classes in literature and cultural history in New York City and Westchester. Her contemporary memoirs book discussion course at SAS is perennially full. Her other upcoming SAS classes this semester include Family Mysteries and Family Histories in Personal Documentary Films, One Day Only Book Discussion of There There by Tommy Orange, and One Day Only Book Discussion of Educated by Tara Westover.
Registration in advance is highly recommended; tuition is $25. Seating cannot be guaranteed for walk-ins. Reserve your spot at www.ScarsdaleAdultSchool.org.
This Sunday in Scarsdale Village: The 16th Annual Concours D'Elegance
Details

Written by

Sydney Albert

Hits: 2342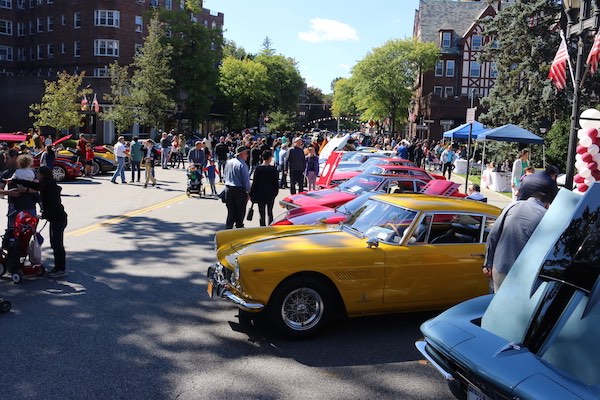 Scarsdale Concours D'Elegance of 2017. Photo by Andi SchreiberThe 16th annual Scarsdale Concours D'Elegance returns to Scarsdale on Sunday October 7th. It will take place in the Scarsdale Village. Each year, over 100 different vintage or exotic cars are showcased around the village of Scarsdale. Currently, the oldest car registered is from 80 years ago, an unrestored 1938 Buick Century Model 61.

The Scarsdale Concours D'Elegance was founded upon three ideas:

A passion for great cars both new and vintage
A desire to showcase Scarsdale students as part of a constructive and giving community
The opportunity to raise significant funds for area charities.

The show has evolved greatly over the past 15 years. Evan M. Cygler and Dennis O'Leary III founded the show as high school sophomores, creating a solid foundation for a show that has become an enjoyable community event. Students are still large contributors to the success of the car show. There are currently six students on the official board, all passionate about their work as board members. "I enjoy being on the board of the car show because it brings the community together. It combines charity with our love for cars," says Jonah Schneider, who has been a board member since his freshman year of high school.

The admission and car registration fees, combined with community sponsors, advertisements, and donations, raise the significant amount of money that is donated to various charities after the show each year. The show's 16 board members choose multiple charities each year to which they plan to donate. The show has raised over $400,000 total for different charities across Westchester County.

With just a few days until the show, board members are finishing up their preparations for the event. Members are extremely excited for the show and anticipate a great turnout. Andy Albert, who has been a dedicated board member for five years, has enjoyed his time spent working on the show. Albert said, "It is a great way to give back to the community and enjoy a top shelf car show."

If you are interested in registering your vehicle for this year's show, you can learn more here.