Yalin Chi Piano Recital at St. James the Less Episcopal Church on November 14
Details

Written by

Joanne Wallenstein

Hits: 739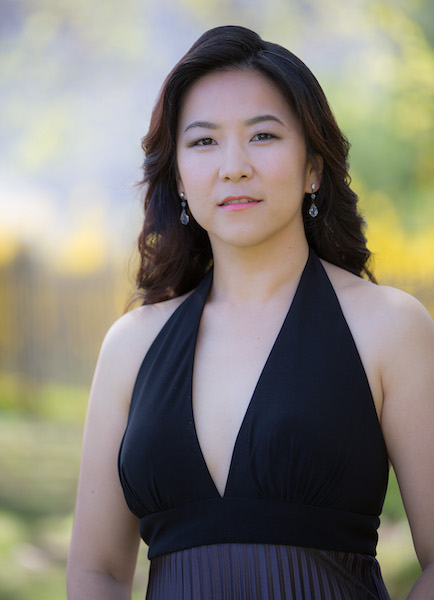 Juilliard and Yale graduate Yalin Chi presents works by Beethoven, Brahms, Rachmaninoff and Prokofiev, along with a solo piano version of Gershwin's Rhapsody in Blue.
Originally from Beijing, China, Yalin Chi made her début with the Central Opera Orchestra before moving to the United States to study at Interlochen Arts Academy. Yalin has performed at venues including Alice Tully Hall, Weill Recital Hall at Carnegie Hall, Kumho Art Hall in Seoul, Korea, and ZhongShan Music Hall in Beijing China. Her solo recital last year was selected by the Poughkeepsie Journal as one of the weekend top picks, and Leslie Gerber of the Woodstock Times described her recent recital in the Saugerties Pro Musica concert series as "flowing and masterful," with "gorgeous tonal coloring."
Yalin has worked with musicians around the world, including principal trombonist of the New York Philharmonic Joseph Alessi, principal trumpet of the London Symphony Orchestra Philip Cobb, clarinetist Alexander Fiterstein, and concertmaster of the Seoul Symphony Orchestra Wayne Lin. As an orchestral musician, she regularly performs with Albany Symphony, New Jersey Festival Orchestra, and has held the principal keyboard position at the Hudson Valley Philharmonic since 2014.
Yalin studied with Seymour Lipkin and Jerome Lowenthal at the Juilliard School where she earned both undergraduate and Master of Music degrees, and continued studies with Peter Frankl at Yale School of Music before joining the West Point Band in 2008.
The Church of St. James the Less offers concerts to the greater Westchester area. To make them accessible to everyone, a simple donation of $20 is requested. This is the first event of the season – a great way to celebrate a return to live performances.
For more information, please contact Barbara Palmer, a member of the Music Guild, at BKPalmer58@gmail.com.
Sunday, November 14 at 3:00 PM
$20 donation per person at door
The Church of St. James the Less
10 Church Lane, Scarsdale, NY 10583
914 723-6100
stjamesscarsdale.org
Halloween Painters Create Stunning Artwork on Scarsdale Storefronts
Details

Written by

Joanne Wallenstein

Hits: 1659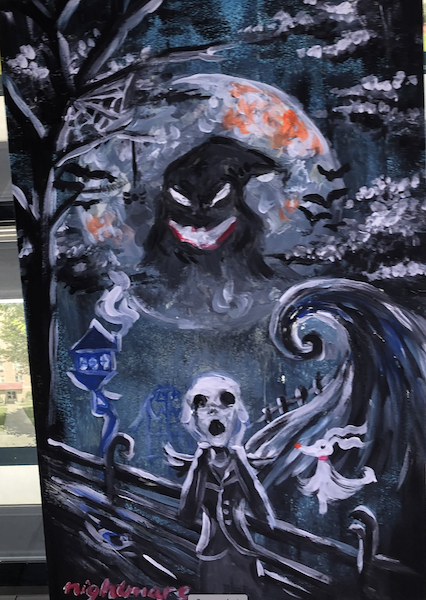 Grand Prize by Isabell ZhuA nightmarish Halloween scene painted by Isabelle Zhu took the Grand Prize of the 2021 Halloween Window Painting contest. Zhu's work was among the work of 146 individuals and teams who entered into the window painting contest portion along with the paintings of another 151 families who participated for fun. You can see it on the window of the office of Douglas Elliman at the corner of Scarsdale Avenue and Popham Road.
Halloween Painting took place a bit early this year, and the weather cooperated. According to Jene Davis of the Scarsdale Recreation Department, the number of entrants is comparable to previous years.
To avoid crowding around the windows, painters were assigned either a morning or afternoon time so there was not the usual throng of artists and parents around the windows. But their colorful and amusing work will entertain shoppers in the week to come.
An award ceremony will take place virtually via Zoom in November. Date TBD.
See below for a list of winners by category and photos of their colorful work.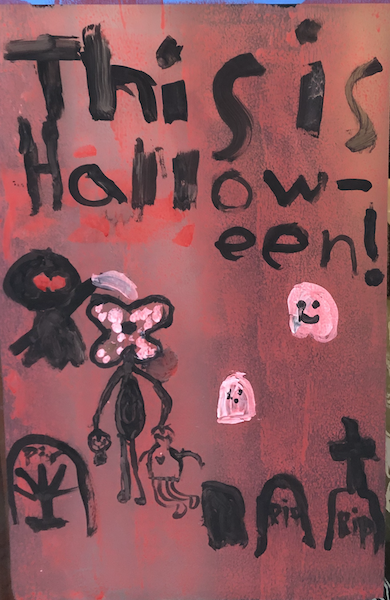 Max Handwerker and Dylan Krisbergh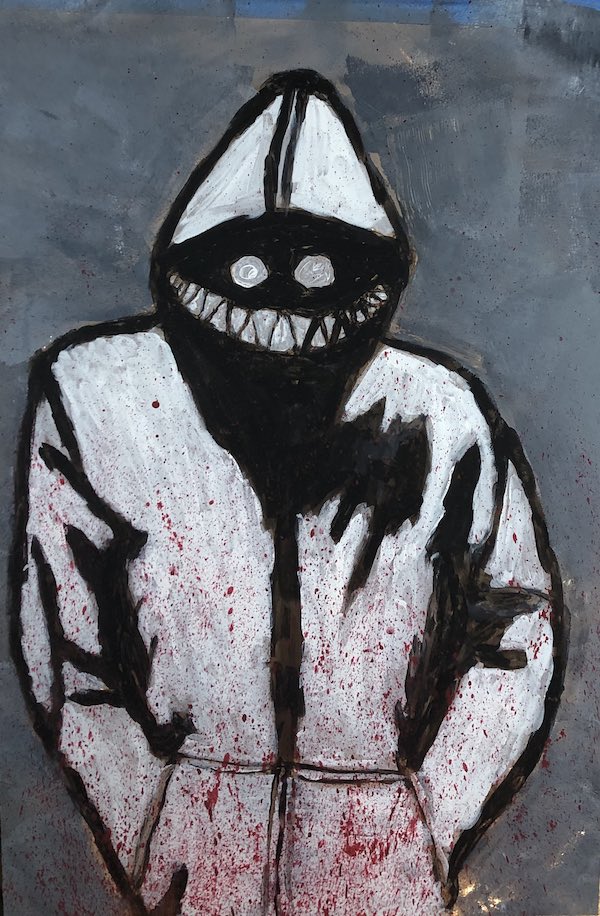 Isabelle Xie and Carrie Ho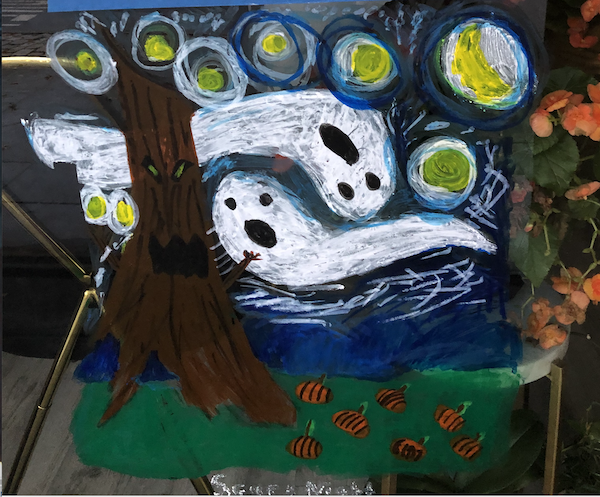 Gia Szuba and Emma McDermott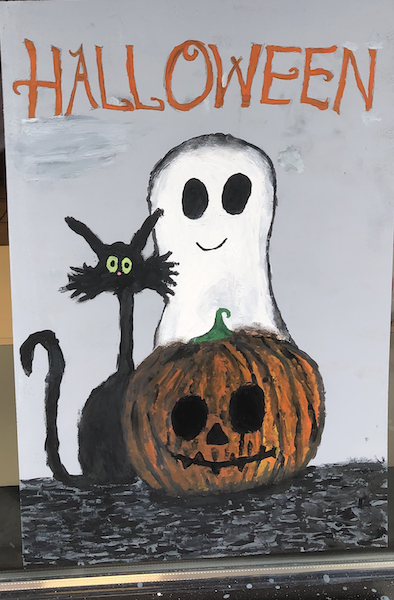 Sydney Geringer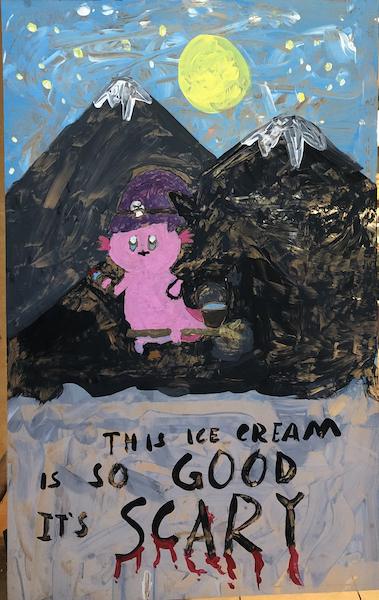 Jabez Keh and Jaden Galante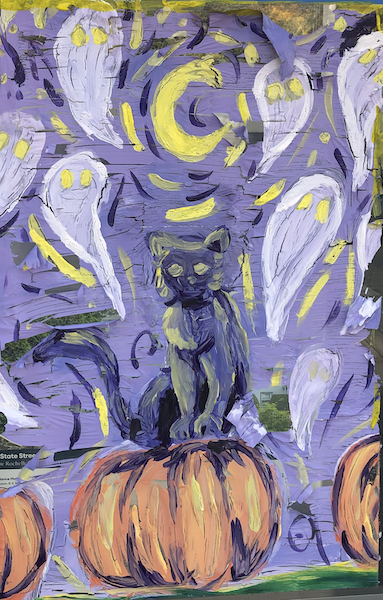 Zoe Pollack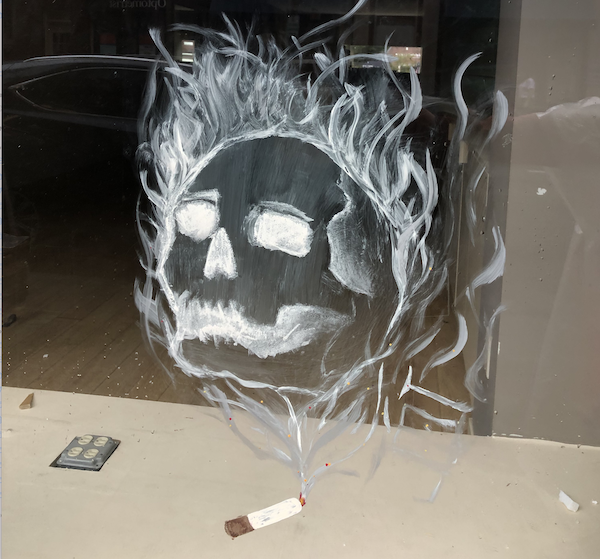 Sarah Luo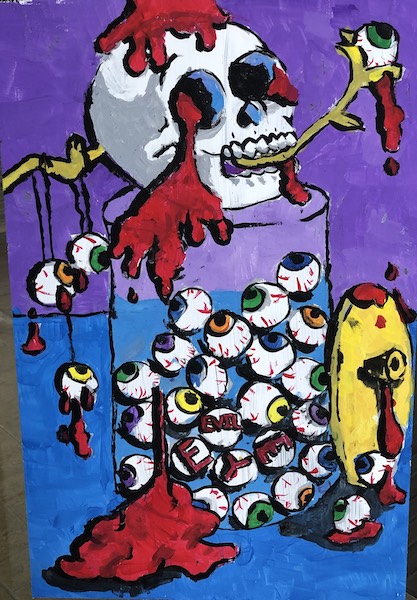 Yunong Lin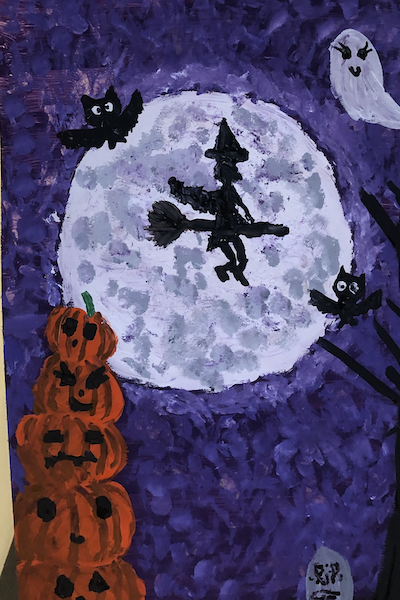 Maia Papale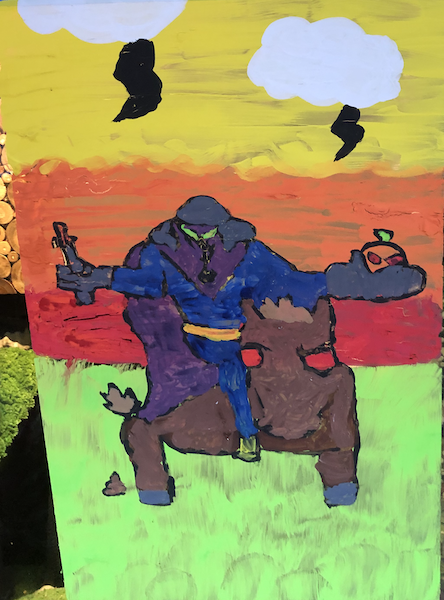 Evelyn Goldberg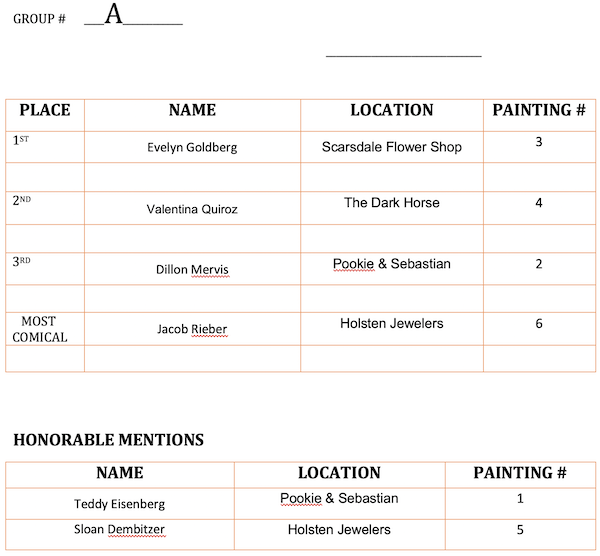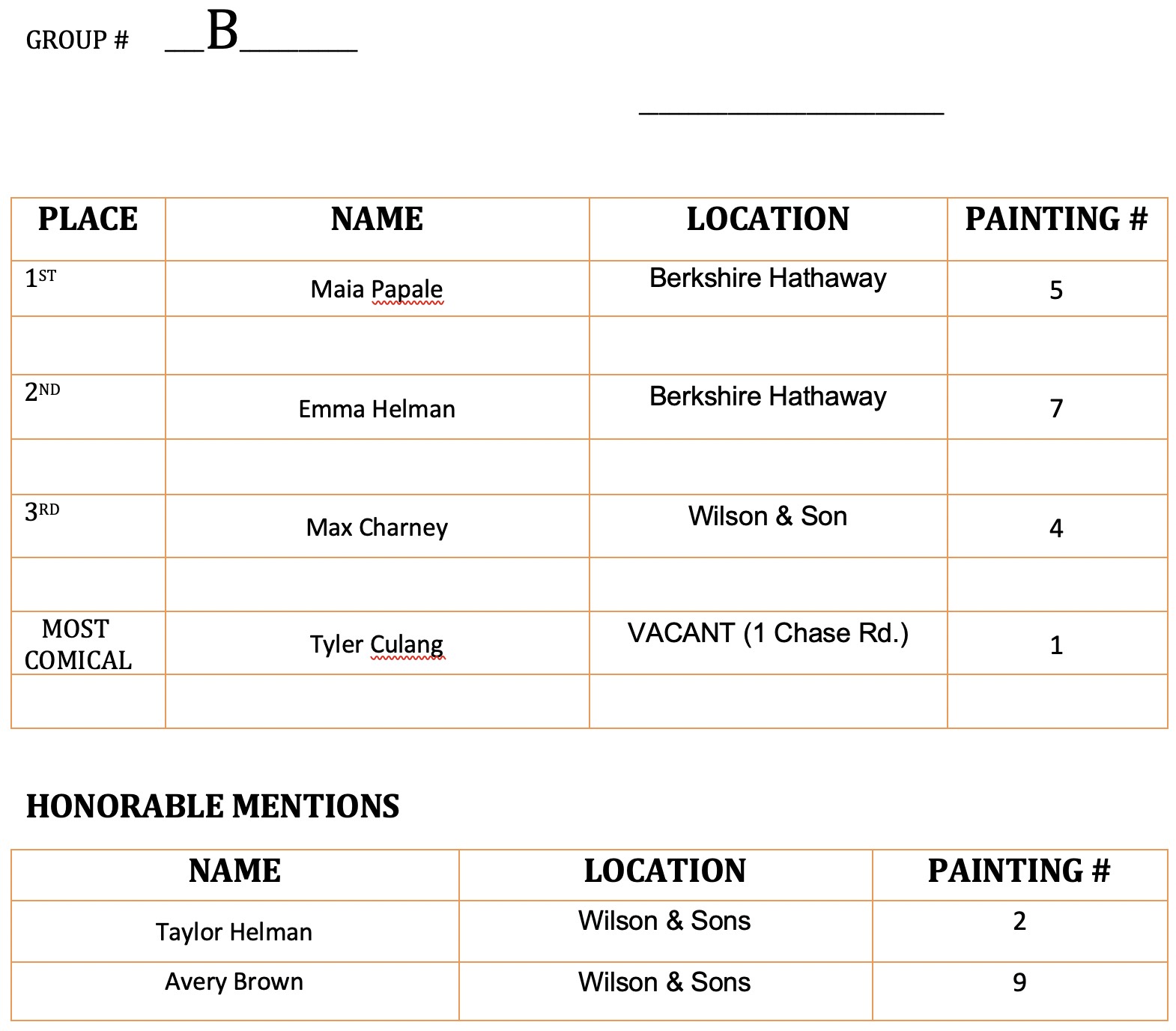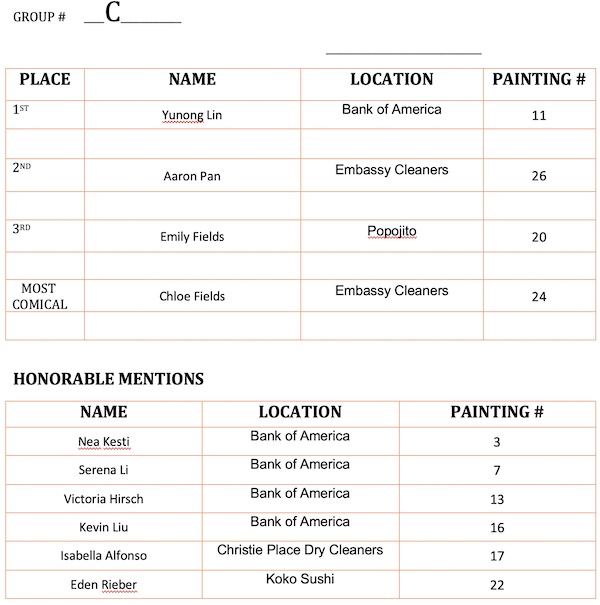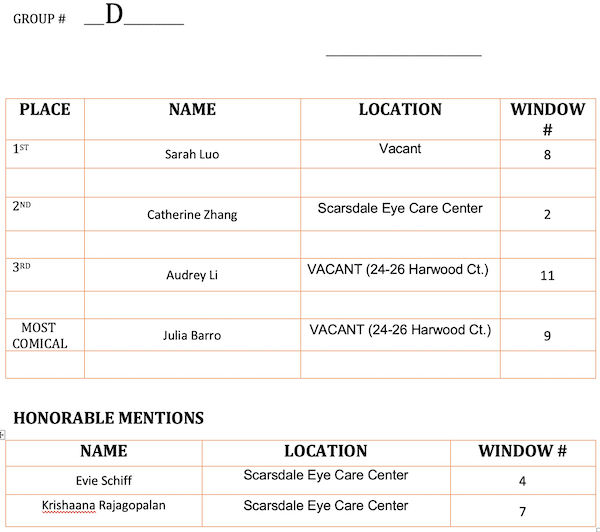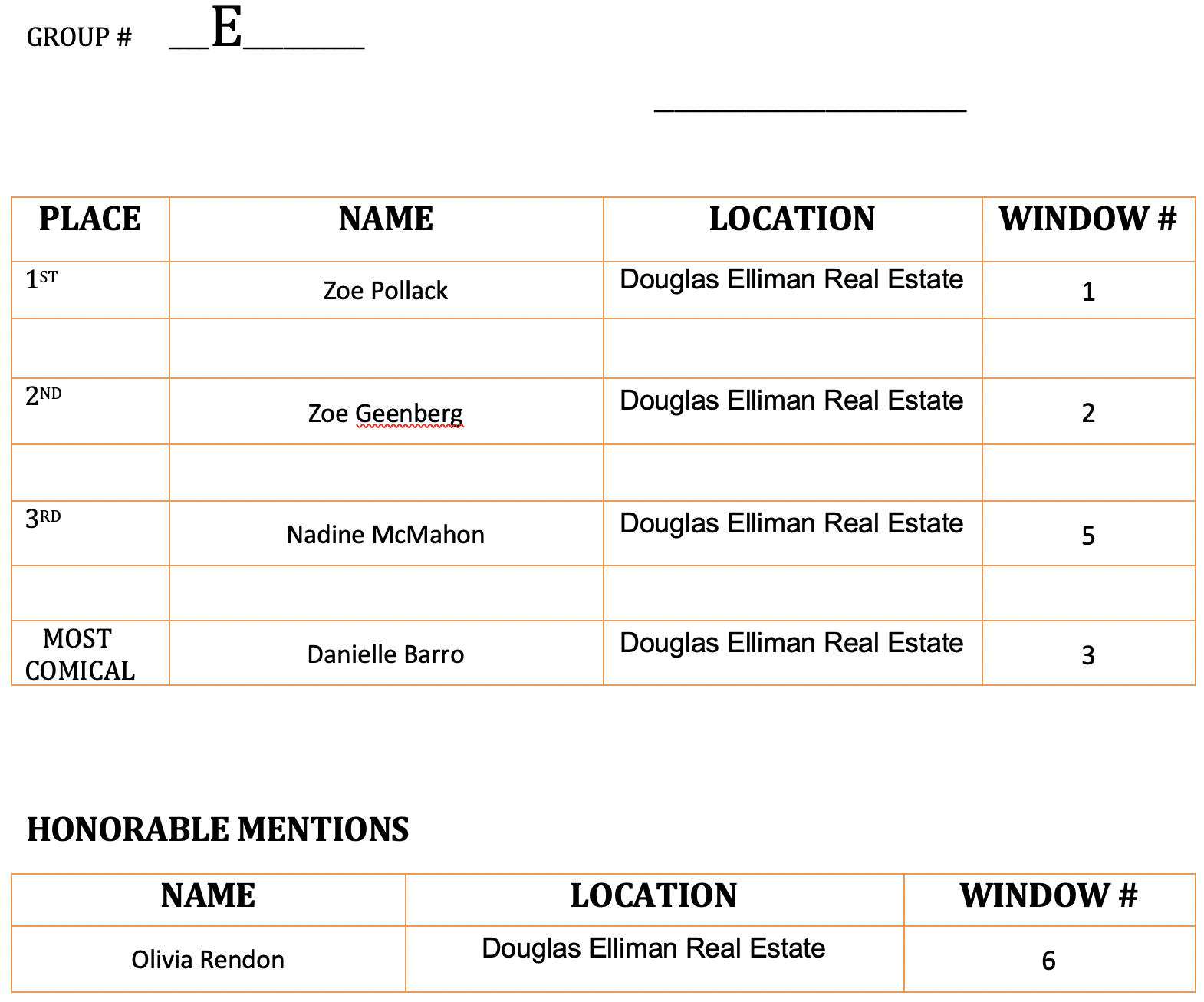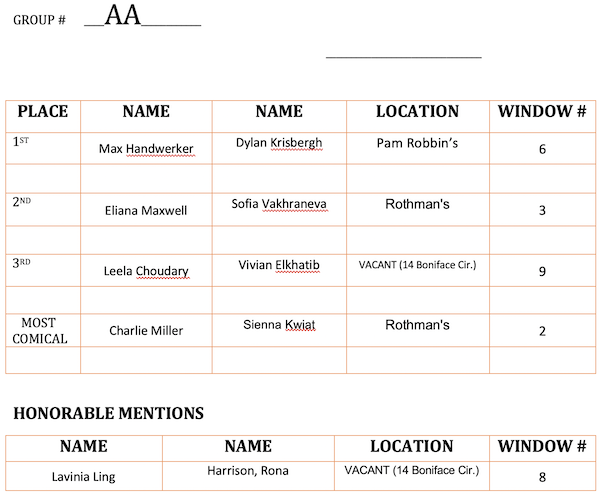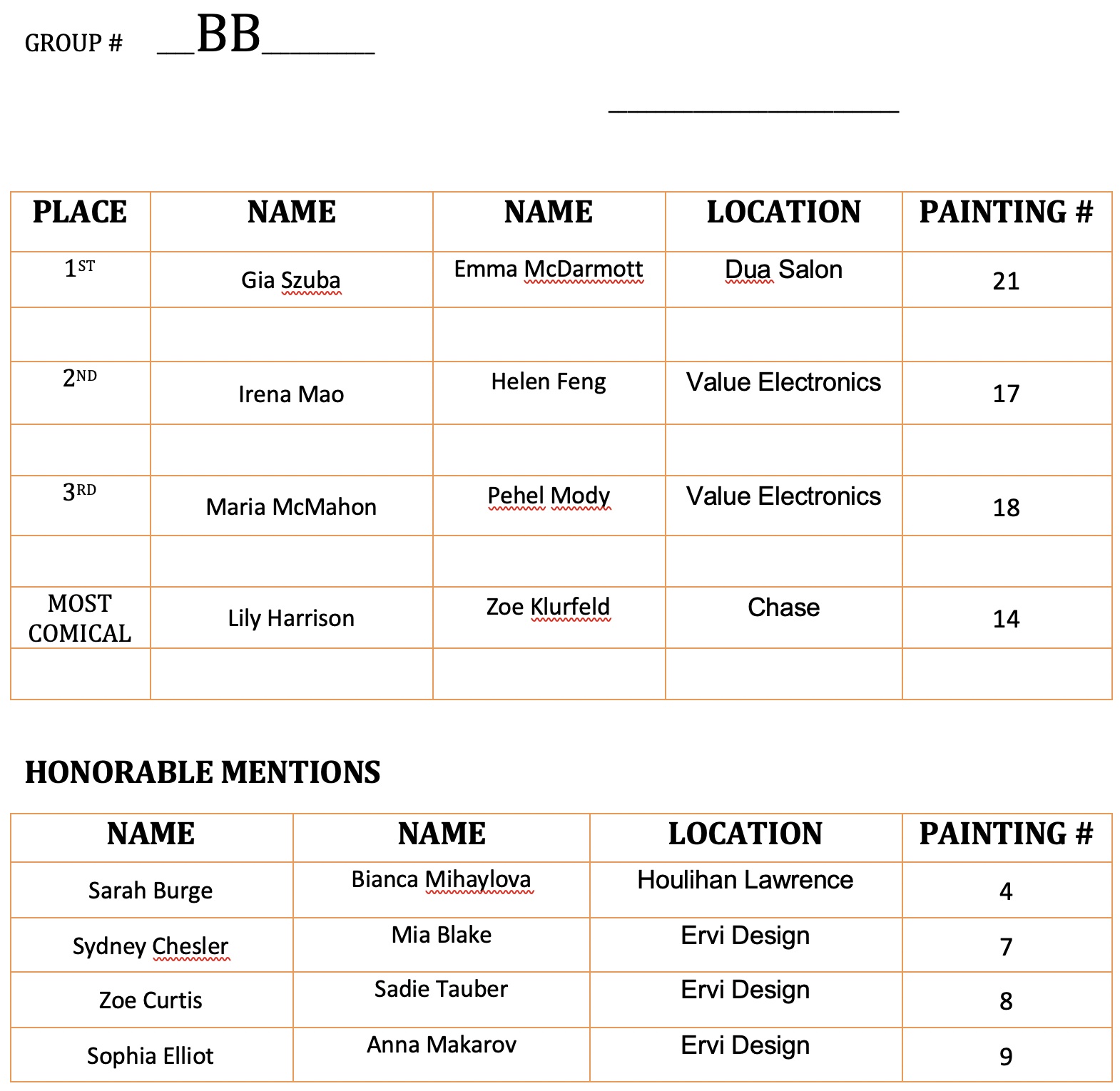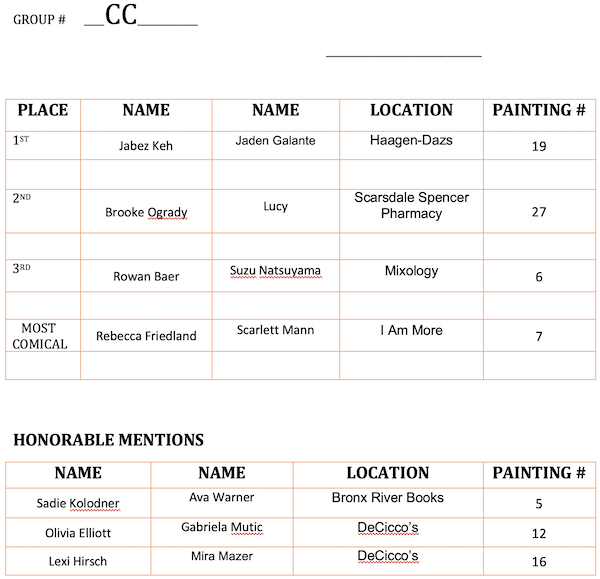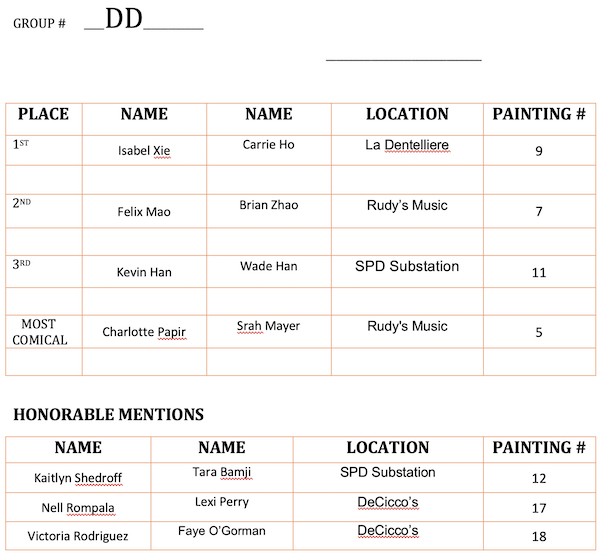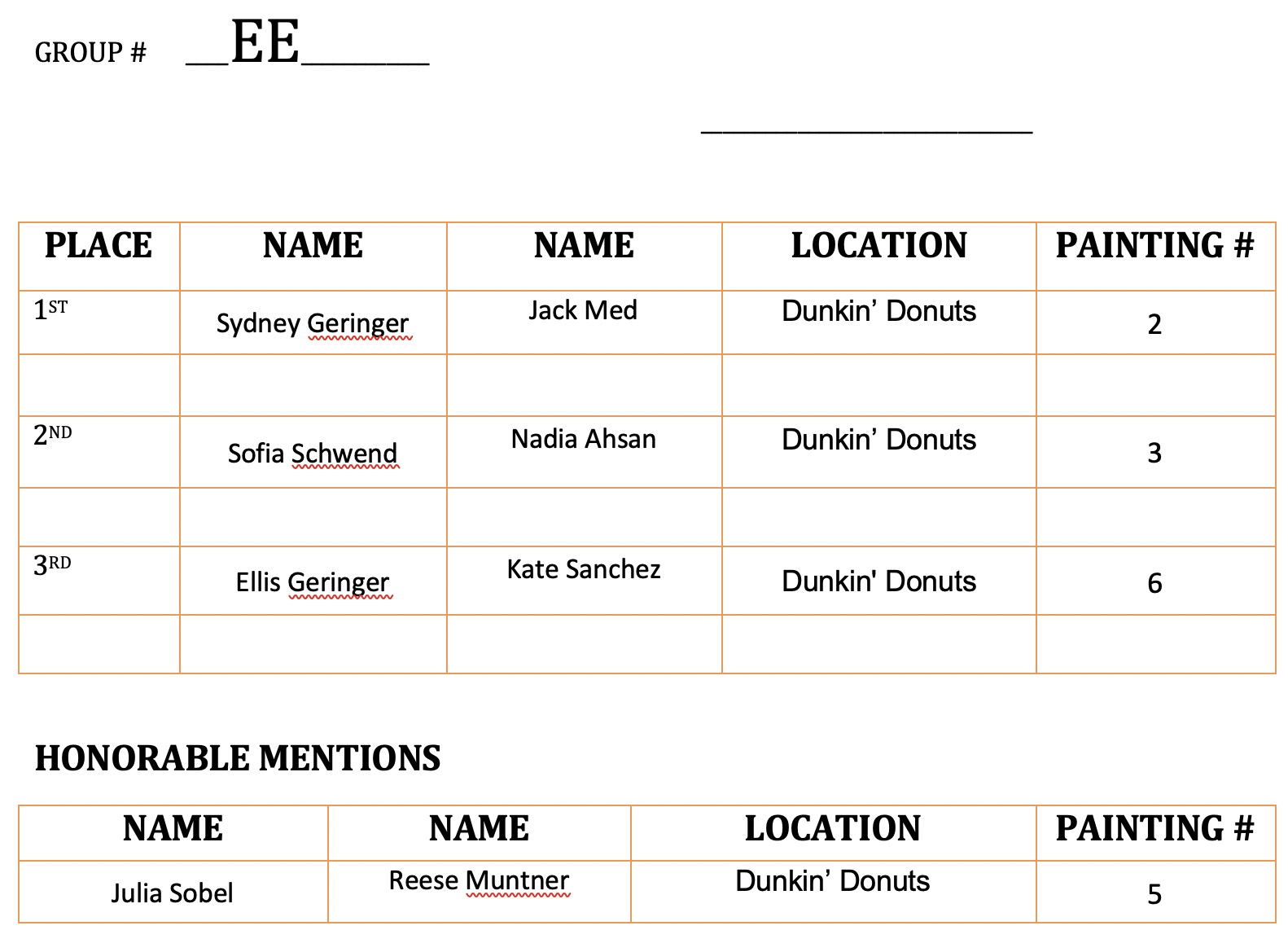 From a School to an Inn to a School Again
Details

Written by

Joanne Wallenstein

Hits: 1547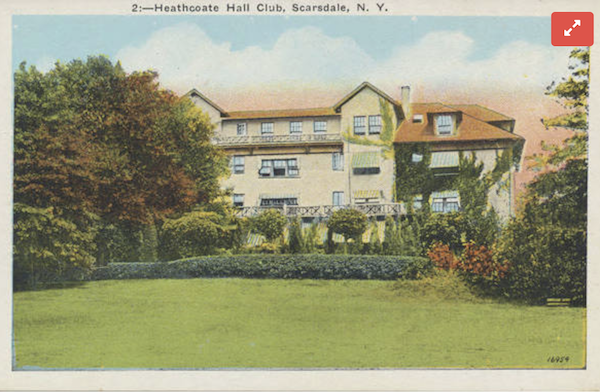 The School Lane building that is now the home of the Hoff Barthelson Music School, has a storied history, beginning as a school for girls in 1905, transitioning to a lodge or boarding house in 1917, becoming the Scarsdale Inn in 1965 and ultimately renovated to become the current Hoff Barthelson Music School in 1970.
The original Lockwood Collegiate School for Girls opened in Mt. Vernon in 1906 and was run by Leila and Carrie Lockwood. When they outgrew that space, they moved the school to 50 Popham Road, now the site of the Heathcote Apartments. The school was a success and the sisters decided to build a new school, purchasing 6.92 acres that extended from Popham to Lockwood Road from Colonel Alexander E. Crane for $20,976 or $3,000 per acre.
The only structure on the original site was a water tower, and the sisters planned for a school, tennis courts, a hockey field, lawn and gardens.

They called the new building Heathcote Hall: Here is a description of the building:
"The largest room on the ground floor was the gymnasium, and assembly hall. Above the gymnasium, at the north end, was the library, well stacked with good books, a fine place to read or study. The remainder of the second floor was used for classrooms and the two upper floors contained living quarters for the staff and the boarding pupils. The dining room was - as it still is -south of the lobby, a pleasant room, looking out on the School Lane on the east and the gardens on the west."
Most of the pupils were day students who lived in Scarsdale though there were groups of as many as twenty five girls, escorted by several teachers who commuted daily from Bronxville and Mt Vernon to attend the school.
An article from the Scarsdale Inquirer dated September 1914 announces the new school year. It says, "The Misses Lockwood gladly avail themselves of the Inquirer's courtesy to remind their pupils and new patrons that Heathcote Hall re-opens on next Thursday morning, October 1, for the session of 1914-1915. New pupils are being registered daily and nearly all of last year's students will resume their work together. There have been few changes in the faculty. Madame Vincent has returned safely from France and will conduct the French classes as usual. Miss Klizalu-th Nitchie (Barnard A. B ) will continue in charge of advanced mathematics and Latin, and Miss L. Marion Lockhart (Vassar A. B.) will preside over the primary department. Mr. Hobart 'Nichols, Bronxville's busy artist is so interested in his promising young pupils, who have made such remarkable progress under his instruction during the past two years, that he has consented still to supervise their work."
There are historical accounts of graduations at the school when "the girls made the room beautiful with daisies, which grew on the grounds in profusion and with additional decoration in white and gold, the School colors. They also sang the School song about "Royal Summer, " singing "Fields white with daisies and with the clover red.''
Dances at the school were very popular with the young men of the Village and there were "social events and regular dancing classes." Over the years the building was used for wedding receptions and meetings of the Chamber of Commerce, the Kiwanis, the Rotary, and the Lions' Clubs.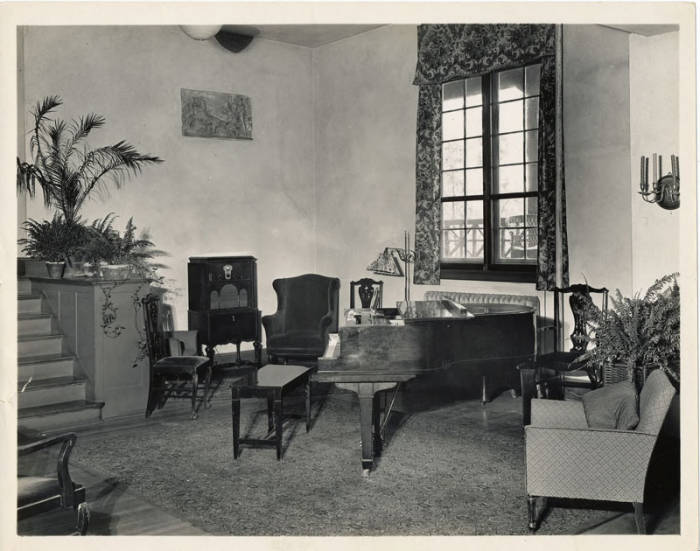 The Scarsdale LodgeHowever the school only survived for eleven years and was forced to close due to decreasing enrollment. In June 1915 they held their last graduation and in January 1916 they were in deep debt. After consulting with their financial advisers the sisters decided to turn the building into a hotel or boarding house called "The Scarsdale Lodge." But before they could re-open as a hotel, Leila Lockwood died at the age of 65 after "an illness of three weeks." Carrie ran the Lodge without her sister, until 1924 when the Lodge met the same fate as the school and also went into debt and was foreclosed.
Carrie Lockwood and Mrs. Frederick Kimball, a widow, were guaranteed an annual income of $1,250 and the Lockwood property was subdivided into lots for houses. Under the terms of the new zoning, the Lodge could continue as a business, but it could not be enlarged or replaced. It became home to some older people who had sold their Scarsdale homes.
In 1925 the building was remodeled with new ceiling beams in the gymnasium and additional bathrooms on the upper floors. During the 1920's the Lodge was managed by Mrs. and Mrs. Henry I. Tanner from Pelham who took in both "transient and permanent guests," and in 1944 the property again went into foreclosure. It was sold to a Mr. Rogers in 1945, to a Mr. Parker who ran it until 1958 and then transferred the property to his daughter Mrs. Bruce Stein who changed the name to "The Scarsdale Inn."
In 1965 it was taken over by Sam Harris who painted it and made changes to the décor of the main floor.
In February 1971 it was announced that the building would be purchased by the Hoff Barthelson School of Music. The deal was negotiated by Adonizio Realty Corp. and an estimated $250,000 was paid to Bruce Stein, the former owner who held the mortgage. The purchase was made possible by a gift to the school and extensive renovations were made to both the inside and outside of the Inn to convert it back to the school that remains today.
Author Jacqueline Friedland to Debut "He Gets That From Me" at Bronx River Books
Details

Written by

Joanne Wallenstein

Hits: 1072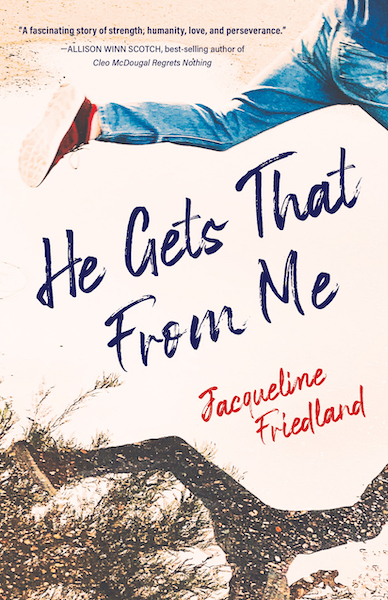 Author, attorney and Scarsdale resident Jackie Friedland will read from her new book, "He Gets That From Me," on Wednesday October 13, 2021 at Bronx River Books at 7 pm.
This is Friedland's third book and follows the publication of That's Not a Thing and Trouble the Water.
He Gets That From Me is the story of a young mother with a toddler and a live-in boyfriend, working at a checkout counter in downtown Phoenix. The job doesn't afford her much financial flexibility. She dreams of going to college and becoming a teacher, options she squandered when she fled her family home as a teenager. When Maggie stumbles onto an ad offering thousands of dollars to women who are willing to gestate other people's babies, she at first finds the concept laughable. Before long, however, she's been seduced by all the ways the extra money could improve her life. Once she decides to go for it, it's only a matter of months before she's chosen as a gestational carrier by Chip and Donovan Rigsdale, a married couple from New York.
After delivering twin babies and proudly handing them off to the Rigsdales, Maggie finally gets her life on a positive trajectory: she earns her degree, lands a great job, and builds a family of her own. She can't fathom why, ten years after the fact, the fertility clinic is calling to ask for a follow-up DNA test.
Author Jacqueline Friedland is a graduate of the University of Pennsylvania and NYU Law School, she practiced as a commercial litigator at the New York law firms of Debevoise & Plimpton, LLP and Boies, Schiller & Flexner, LLP. After determining that office life did not suit her, Jacqueline began teaching Legal Writing and Lawyering Skills at the Benjamin Cardozo School of Law in Manhattan and working on her first book in her limited spare time. Finally deciding to embrace her passion and pursue writing full time, Jacqueline returned to school to earn her Masters of Fine Arts from Sarah Lawrence College, graduating from the program in 2016. He Gets That From Me is her third novel.
When not writing, Jacqueline is an avid reader of all things fiction. She loves to exercise, watch movies with her family, listen to music, make lists, and dream about exotic vacations. She lives in Scarsdale with her husband, four children and two very bossy canines.
Meet her on Wednesday October 13 at 7 pm at Bronx River Books on Spencer Place in Scarsdale.
Synagogues Offer a Mix of High Holiday Offerings
Details

Written by

Joanne Wallenstein

Hits: 2177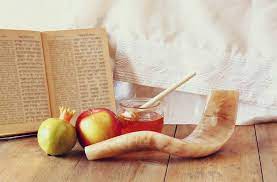 This year, the High Holidays are early, beginning directly after Labor Day Weekend. Erev Rosh Hashanah is on Monday evening September 6, with the holiday extending from Tuesday September 7 to Wednesday September 8, 2021. The Scarsdale Schools will be open on Wednesday September 1- Friday September 3, but will be closed on September 6, 7 and 8.
Yom Kippur starts with Kol Nidre on Wednesday September 15, followed by Yom Kippur on Thursday September 16. School will be closed on the 16th.
What are our local synagogues planning? Will services be in person or virtual. Masked? And will vaccinations be required? Will non-members have an opportunity to participate?
Here is what we learned:
Bet Am Shalom's "open tent" policy, welcoming all for the High Holy Days, is strongly connected to the values of our community. This year, however, we are anticipating safety-related capacity restrictions and are planning a mix of in-person and live streaming services. Check here in mid-August for registration information or call our office at 914-946-8851.

Bet Am Shalom
295 Soundview Avenue
White Plains, NY 10606
914-946-8851
www.betamshalom.org
Congregation Kol Ami on Soundview Avenue in White Plains is taking a hybrid approach to the holidays this year. They are inviting our members to sign up to attend one Rosh Hashanah and one Yom Kippur service in person. They will be holding an early and late service on both Rosh Hashanah Day 1 and on Yom Kippur Day, to ensure that all their members will be able to be accommodated in-person should they so desire. The K-6 youth services will run concurrently with the adult services and will be held outdoors on the Kol Ami front lawn. Additional services offered to members include Erev Rosh Hashanah, Rosh Hashanah Day 2, Family Services on both Rosh Hashanah and Yom Kippur, an outdoor Yom Kippur afternoon program as well as a Yizkor/Ne'ilah service.
The family service taking place at 3PM on both Rosh Hashanah Day 1 and on Yom Kippur Day will not be open to the public this year.
All services will also be livestreamed and available to members who prefer to watch from home.
Congregation Kol Ami
252 Soundview Avenue
White Plains, New York 10606
Tel: 914-949-4717
Scarsdale Synagogue on Ogden Road in Scarsdale will hold in person services and asks members to register to attend in person. For indoor services masks will be required by everyone ages 2 and up. Those 12 and up must submit proof of vaccination. Unvaccinated members ages 12 and up can attend services in the outside tent only. See all details here:
Scarsdale Synagogue will allow non-members to attend via Zoom but there is a fee. If you would like to attend via Zoom, register here. Their High Holiday schedule can be found here.
Scarsdale Synagogue
2 Ogden Road
Scarsdale, NY 10583
914-725-5175
www.sstte.org
This year Westchester Reform Temple will offer in-person services, with a number of options for their members. Congregants may choose between indoor services in their sanctuary where everyone must wear a mask - whether vaccinated or not - or outdoor services under a tent, where only unvaccinated people are required to wear a mask. They will offer a variety of services designed for adults, services designed for families with school-age children, and services designed for families with preschoolers. As in pre-Covid years, they will offer some services that are only available to members, and other services which are available to members and non-members. They will be live-streaming their services from the sanctuary on their website as well. Details about our offerings can be found on their website.
Westchester Reform Temple
255 Mamaroneck Road
Scarsdale, NY 10583
wrtemple.org
Chabad of Scarsdale's High Holiday Services 2021/5782 will take place at Lake Isle Country Club. All are welcome, no membership necessary. RSVP appreciated, walk-ins welcome. Services are free of charge.
Rosh Hashanah:
Monday, September 6
Evening Services: 7:00 pm
(Light Candles at 7:01 pm)
Tuesday, September 7
Morning Services: 9:30 am
Children's Program 10:30 am
Shofar sounding 11:30 am
Wednesday, September 8
Morning Services: 9:30 am
Children's Program 10:30 am
Shofar Sounding 11:30 am
Yom Kippur:
Wednesday, September 15
Kol Nidrei: 6:45 pm
Light Candles/Fast Begins 6:46 pm
Thursday, September 16
Morning Services: 9:30 am
Children's Program: 10:30 am
Yizkor: 11:30 am
Afternoon Service: 6:15 pm
Fast Ends: 7:43 pm
The services will be held in a safe and healthy environment. CDC, state and county guidelines will be followed.
For more information or to RSVP contact Chabad of Scarsdale at 914.365.8785, or email info@chabadofscarsdale.com.