What to Watch: The Best of Fall TV
Details

Written by

Stacie M. Waldman

Hits: 2546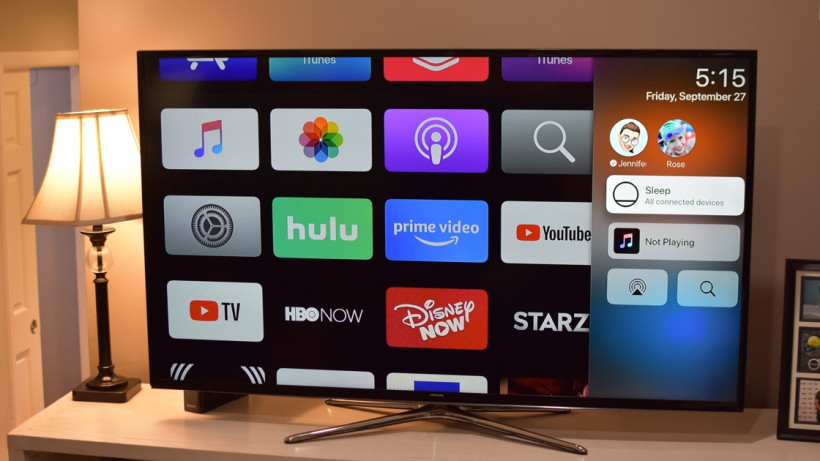 With the proliferation of television channels, the advent of Apple TV and so much streaming content, there seems to be no end of all the good shows and series to watch. If you're a bit overwhelmed, here is our list of some great shows to watch this fall that will make it worth it to stay up late. We also had the chance to chat with a couple of stars in the shows, so we will let them convince you to watch in their own words.
PRODIGAL SON: FOX Mondays @ 9:00 PM
This show is a psychological thriller that will keep you on your toes. Malcolm Bright (Tom Payne) is a criminal psychologist who uses his gift of solving crimes to help the NYPD while dealing with his own extremely interesting life, like his serial killer dad. Is Bright a psychopath himself? Does it take a criminal to solve a crime? The twists and turns will keep you watching.
UNBELIEVABLE: Netflix (Streaming)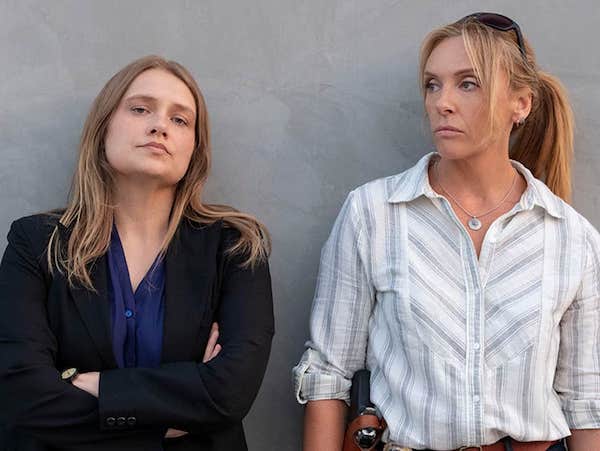 Based on a true story, this Netflix hit is about a teenager, Marie Adler (Kaitlyn Dever), who reports being raped and then has to deal with the consequences of not being believed by those close to her or the law. The acting is real and believable and the story is truly unbelievable. The female investigators played by Toni Collette and Merritt Wever are phenomenal. I binge watched this one. There's nothing else like it on TV.
EVIL: CBS Thursdays @ 10:00 PM
This creepy drama-with-some-comedy is already picked up for season 2 and follows female forensic psychologist Kristen Bouchard (Katja Herbers), priest-in-training David Acosta (Mike Colter) and contractor Ben Shakir (Aasif Mandvi) as they work to examine the origins of evil as it relates to science and religion; or science versus religion? Kristen Bouchard's four daughters also star in the show and I had the chance to speak to Dalya Knapp, age 8, who plays Laura Bouchard.
What's her favorite scene: "Definitely it's in episode 4 when I fall down the stairs. Want to hear a secret? They removed part of the floor and put a little foam mattress on it, and they put knee pads under my tights so I wouldn't get hurt. When you see the scary virtual reality creature trying to get me, it's actually my photo double! I loved rehearsing it."
Interesting things about being an actor on EVIL: "Well, in real life our mom is Dutch and our dad is Australian and off set he'd teach us to speak in his Australian accent! Also, we have different directors for each episode and in episode 5, the director was British and she called the elevator 'the lift' (giggles)."
Why should people watch EVIL? "Well it's not really for kids but it's funny at some moments and I think everyone can enjoy it. People can connect to it because of religion and the writers are so good."
THE GOOD PLACE: NBC Thursdays @ 9:00 PM (and streaming on Netflix)
Kristen Bell is a master of comedy and nails it again, this time with her character Eleanor Shellstrop as she realizes that she died a rather embarrassing death and is now in the afterlife. Eleanor made it to "the good place" (versus the bad place) but quickly realizes her good luck was a complete mistake. Ted Danson is back on primetime as Michael, the Godly creator of The Good Place, and the role is written perfectly for him. It's witty and creative with poignant moments to boot.
SINGLE PARENTS: ABC Wednesdays @ 9:30 PM
Hilarious and fun to watch, this current comedy follows a bunch of single parents as they work to raise their kids and maintain their personal lives. Angie (Leighton Meester) is single mom to Graham (Tyler Wladis) and they are a great comedic pair. We spoke toTyler about his time on the show.
What's your favorite episode so far? "Definitely the time I got to roller skate in an episode…it was super fun! It will air in early December"
What has been your favorite scene? "Really any scene when all of the kids in the show are there because then we get to hang out off camera."
This is comedy. Have you ever had the urge to laugh while on camera? "Yes, sometimes during the end of a scene if I try to hold it in, I just can't. I try to bite my tongue as hard as I can so I don't laugh!"
MODERN LOVE: Amazon Prime mini-series (on demand)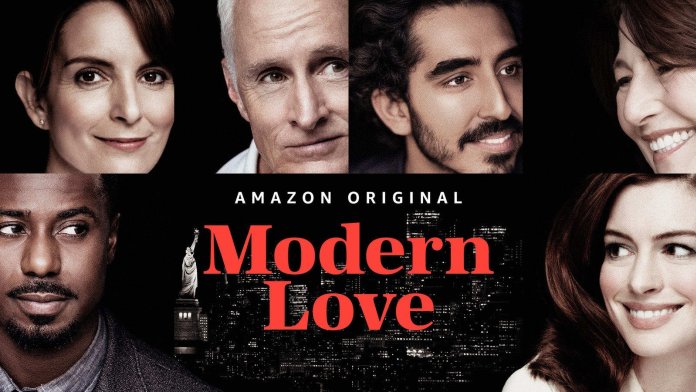 This show brings the New York Times column of the same name to life in a series of stories about relationships. With a stellar cast including Tina Fey, Dev Patel, Anne Hathaway and more, each story feels like a movie in itself. The episodes are 30 minutes, but the characters are so well developed in that short period of time that I never want the credits to roll. Some are likeable while others are not. And sometimes this changes half-way through. In the episode with Anne Hathaway (episode 3), I felt sorry for the nice guy she met because she kept spoiling the dates. It turns out that her character is bipolar and her life is uncontrollable in many ways. As a viewer, when she's "up" I felt happy and optimistic for her;" but when she can't get out of bed, her apartment is a mess and her date is left standing by himself on the street, I truly felt "down." The ending made me tear up.
CHERNOBYL: HBO mini-series (on-demand)
Based on the nuclear power plant disaster of April 1986 in a Ukrainian section of the Soviet Union, this mini-series follows those who risked their lives to save lives during the event and it follows the tragic stories of some of the victims of the catastrophe. The gripping series includes the stories of the firefighters and volunteers who were the first on-scene as well as the story of the miners who had to dig a critical tunnel under one of the reactors.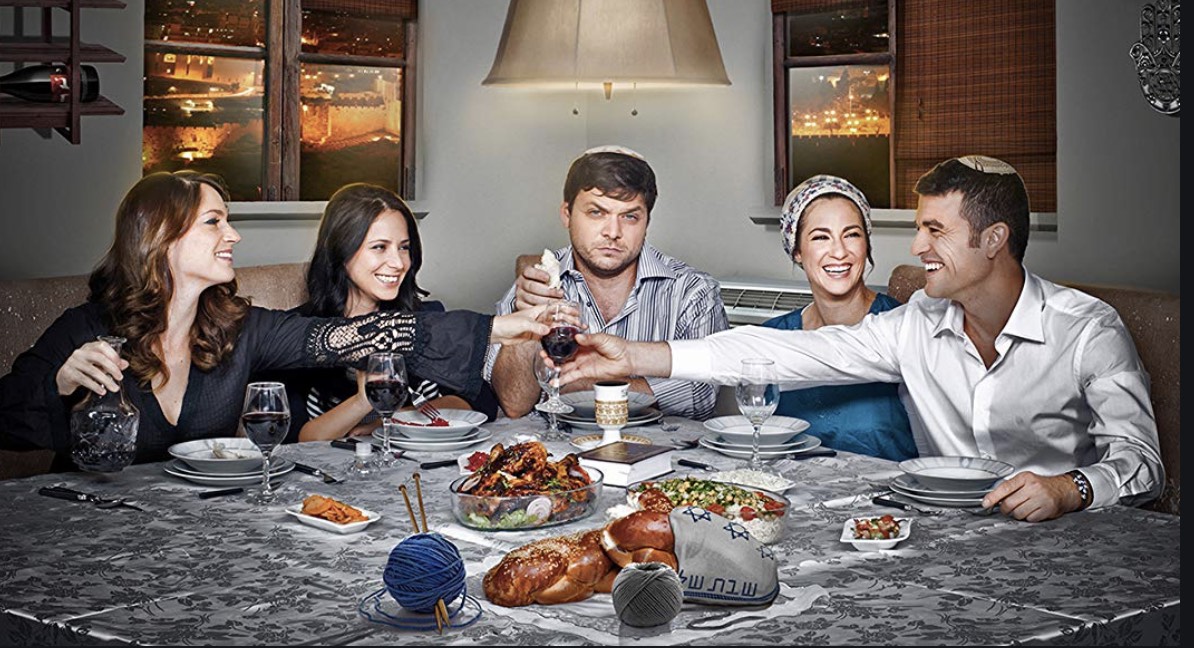 SRUGIM: Amazon Prime (on demand)
Srugim is an Israeli drama that follows the lives of a bunch of religious single modern orthodox Jews from Jerusalem. The show deals with the struggles of these highly educated, religious Jews as they struggle to find their place in a society that tends to value family and religion over everything else. It was not without criticism for the portrayal of the Orthodox community both in Israel and America, but it has mostly lauded by Israelis and Americans alike.
THE AFFAIR: Showtime (on demand)
This isn't a new show, but Season 5 is the final season and the last episode has been called "the best season finale of all time" by many entertainment news outlets. The season finale wraps everything up, answering all the unanswered questions which feels satisfying for fans who have watched the show since Season 1. Personally, I felt like some episodes moved slowly and some seasons were better than others, but this is a solid choice for a drama that you can watch at your convenience.
WATCHMEN: HBO Sundays (premiered Oct. 20th)
This show is getting a lot of attention. Based on the popular graphic novel, it's set in an alternate history where superheroes are treated as outlaw criminals. The show deals with racism in the past and racism today, and if you're a fan of anything superhero, this is the one show to put on your list.
THE POLITICIAN: Netflix (streaming)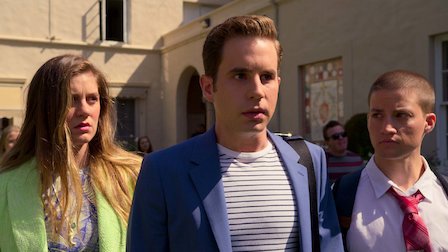 Ben Platt plays rich kid Payton who wants to be president of the United States, but first he has to win the election for President of his Santa Barbara high school. This is TV-14 and would be a fun show to watch with your tween or teen who swear there's nothing you can agree to watch together. Gwyneth Paltrow and Jessica Lange round out the fabulous cast.
THE UNICORN: CBS Thursdays @ 8:30 PM
Walton Goggins plays Wade, a newly widowed dad of two teenage girls who is ready to start dating again. Wade's friends convince him that he's the ultimate single guy to be back on the market because he has a job, is good looking, and has the sad story of the loss of his wife. His daughters cheer him on even as he fumbles through being a single dad. The show is funny and entertaining and tells a slightly new story.
What are your top picks for the tube? Please share in the comments below!
Westchester Chefs Prepare a Delectable Meal to Benefit the WCC Foundation
Details

Written by

Joanne Wallenstein

Hits: 1672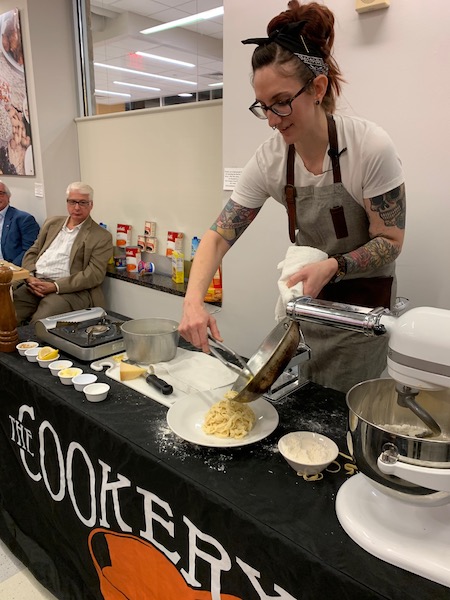 Sajin Renae prepares fresh "Pasta al Limone."We had the pleasure of watching some of Westchester's best chefs prepare a sumptuous meal – and ate it too – at the Great Chefs Culinary and Wine Event Series hosted by the Westchester Community College Foundation.
On Monday night October 28, David Di Bari, who owns The Cookery and The Parlor in Dobbs Ferry, and Eugene's Diner and Bar in Port Chester, brought two chefs from his group, "Eat Serious Have Fun Restaurants," to show their stuff.
Sajin Renae prepared and rolled fresh pasta dough. Once it was flattened and cut she created "Pasta al Limone," by sauteeing the cooked pasta in butter, lemon zest, cracked pepper and garlic. She then mixed in grated parmigiano, a bit of the water from the boiled pasta and lemon juice. Before serving, the dish was topped with toasted pine nuts, basil and more cheese. It was a delicious pasta and a meal in itself.
Also on the menu was a delectable stew of pole beans, potatoes and garlic called "Beans Moushade white," prepared by Chef Iulia Mahu from Eugen's Diner. It was rich and satisfying and tasted a bit like a Bolognese sauce – minus the meat. The two dishes made a hearty meal, minus any meat, chicken or fish and proved you could savor a vegetarian meal without feeling deprived.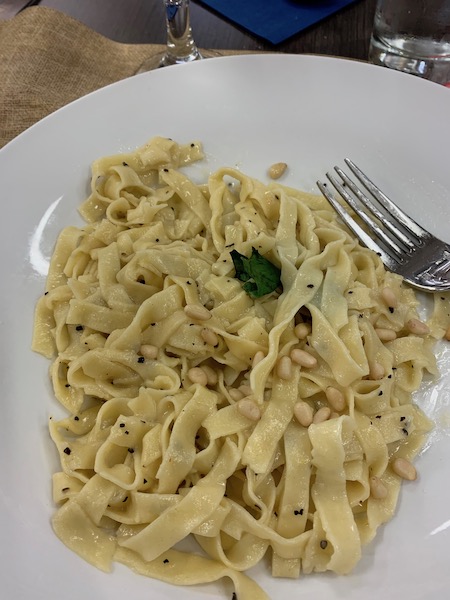 Pasta al Limone
This was one night of a four-night series that also included chefs from Sonora, Farmer and the Fish and X2O. The evenings were sponsored by DeCicco and Sone which will soon open a new store in Eastchester, and the Wine Enthusiast who distributed generous gift bags.
The events are held to benefit the WCC Foundation who provides critical resources to students and the college. They grant scholarships, fund innovative programs and run an on campus food pantry that provides meals and non-perishable food items for over 1,000 students and their families.
The Culinary Program is led by Chef Phil McGrath, formerly of the Iron Horse Grill in Pleasantville, and trains hundreds of students for careers in the hospitality industry.
Learn more about the Westchester Community College Foundation here: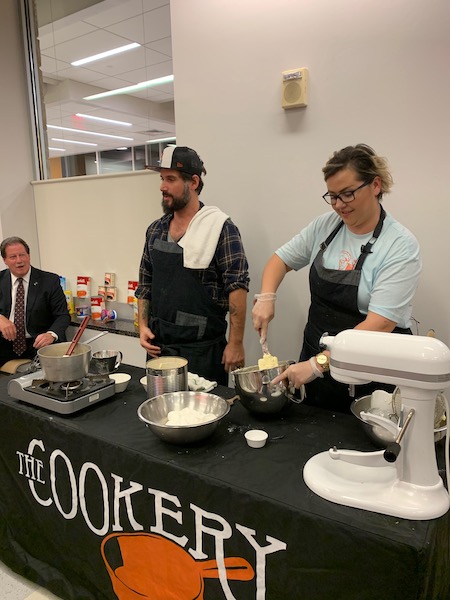 David DiBari and Iulia Mahu cooking Pudding Chomeur.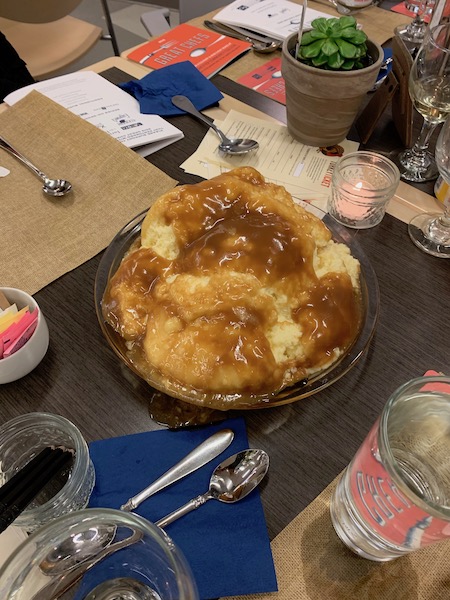 Pudding Chomeur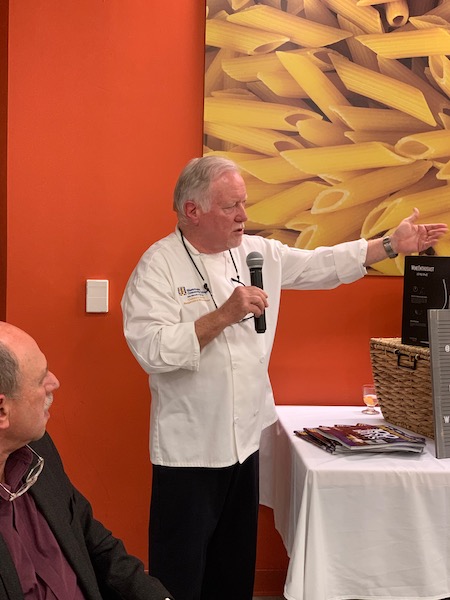 Chef Phil McGrath, Chair, Culinary Arts Program
Vintage and Rare Cars Wow Visitors to the 17th Annual Scarsdale Concours
Details

Written by

Joanne Wallenstein

Hits: 2493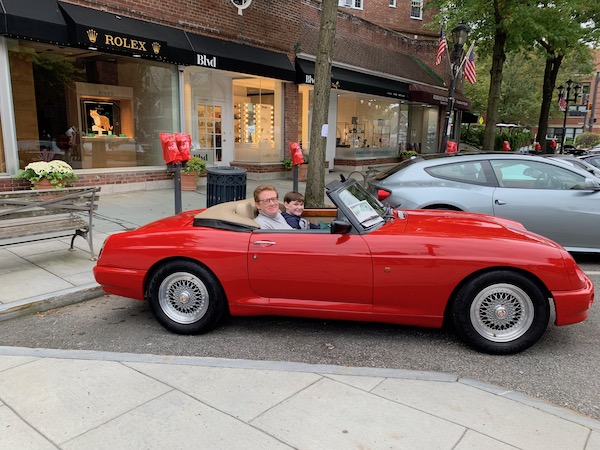 Jay and Barney Read in their 1994MG RV8Organizers estimate that as many as 1,000 people visited the 17th annual Scarsdale Concours in Scarsdale Village on Sunday October 6. The event attracted even more entrants than last year, with 150 cars on display. The cars, some of them true antiques, were driven to town by local owners, from Long Island, Brooklyn and Connecticut and as far away as Maryland and Pennsylvania.
The oldest car on display was a 1910 Model O Steam Car, owned by Scarsdale residents Mitchell and Wendy Gross. We spotted a Packard, Porsche, Fererari, Chevrolet, Coup de Ville and many car brands we no longer know.
Each car had a story behind it. Father and son team Jay and Barney Read explained that their red 1994 MG RV8 had belonged to Jay's dad who lived in England. The family moved to Connecticut a month ago and couldn't bear to leave the coveted car behind. So here it was, in Scarsdale.
This year's event raised over $40,000, which will be shared among three charities:
The Scarsdale Police Benevolent Association
The Scarsdale Volunteer Ambulance Corps
Scarsdale & Edgemont Family Counseling Service
The event is a big logistical job – and here is a list of the board members who made it happen:
Andy Albert
Alex Forschner
Kevin Higgins
Richard Hubell
Sanford Miller
Kevin and Will Reed
Mark and Ben Rossano
David Rossett
Lawrence Sachs
Ken and Zachary Schneider
Leif Waller
Commenting on the show, Board Member Andy Albert said, "The car show was a great success this year! We put in a lot of hard work through out the year in preparation for the show – I am happy that the weather once again cooperated, and we were all able to enjoy the many cars on display. It is particularly rewarding to participate in a car show like this, and be able to give back to the community and it's charitable organizations. I hope everyone enjoyed the show."
The Scarsdale Concours Board wishes to thank their sponsors:
Advocate Insurance/Chubb
Pepe Auto Group
Miller Motor Cars
Jaguar and Land Rover of Larchmont
Photos by Sophia Albert and Joanne Wallenstein
Youth Art Show to Benefit the Scarsdale Public Library this Weekend
Details

Written by

Joanne Wallenstein

Hits: 2348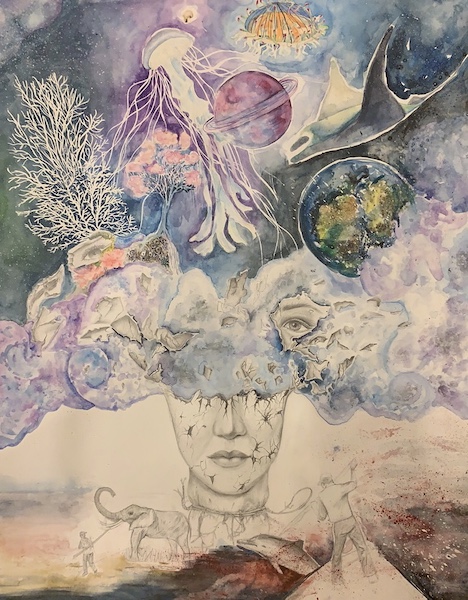 This weekend the Westchester Association of Chinese Americans will hold its third annual Youth Art Show at the Scarsdale Woman's Club at 37 Drake Road from 11:30am to 3:30pm Saturday 10/26 and Sunday 10/27, with an awards ceremony at 1pm on Sunday.
The first show two years ago was conceived and organized as a Library fundraiser by Lucy Yihan Du, now a Scarsdale High School senior, and a group of friends. The organizers were looking for various ways to support the expansion and renovation of the library. For students passionate about art, the idea came up naturally to organize an art show and raise money from both art auctions and donations.
Since it's inaugural year, the show has grown in popularity and scale. A main theme for this year is environmental awareness. Crystal Feng is a SHS sophomore and the creative force behind "Recreation", a fantastical mixed-media piece depicting the damages people inflicted on the environment while also imagining a hopeful future if we take the right actions now. "Climate change and conservation are major topics of our times," says Feng. "Using art to express these ideas and connect with the community has been a very rewarding experience."
The show is free and open to the public. Some of the pieces have been donated by the artists for auction, with all proceeds going to the library. Donations are also much appreciated.

Moscato Ristorante – A Dining Gem in Scarsdale
Details

Written by

Judie Dweck

Hits: 3712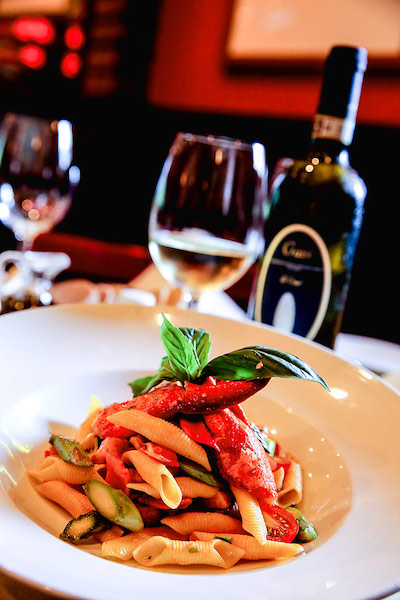 Italian restaurants seem to be the most popular genre in our lower Westchester area. With so many choices, Moscato in Scarsdale is on the top of my list of favorites for traditional fine quality Italian and Mediterranean dishes. Mario Fava heads a restaurant dynasty consisting of Lusardi's and Chat 19 in Larchmont and Chat American Grill and Moscato in Scarsdale. He visits each location daily to see that the kitchens and dining rooms are running at the highest level. Fava said," It is very beneficial to learn all aspects of the restaurant business." He came up through the ranks as dishwasher, busboy, and now, as owner of four successful restaurants." I am a glorified manager. It is of utmost importance to have respect for the freshest of ingredients, as well as for your staff and your guests." When asked how he felt about the many Italian and Mediterranean restaurants opening in the area he said, "Competition makes you better and keeps you on your toes. We are now seeing a new generation of the families that were here in our early days, which is very gratifying. Many members of our staff have been here since our opening and we are like family. I love meeting people and watching them enjoy their dining experience. Fava's dad instilled Mario's excellent work ethic and Mario would have loved to have his dad enjoy seeing the success he has achieved. When asked how he manages four restaurants, he said, "It's one big party. He clearly enjoys his work. For those who prefer to dine at home, Moscato delivers meals through Uber Eats and GrubHub, or you can pick up a fine meal when you get off the train.


The charming Moscato is conveniently located close to the train station as offers a parking lot as well as metered parking. Seating about 80 guests inside and 40 outside where tables are set up in the front and side of the restaurant. Colorful flower boxes are well cared for and separate the diners from the street. I describe Moscato as both sophisticated yet very comfortable… upscale without being pretentious. As you enter, you are greeted warmly by one of the managers. A small bar is near the entrance and you will be escorted to you white linen clad table. Dark wood, beamed ceilings, classic chandeliers, beautiful fresh flower arrangements, mustard colored walls and delightful black and white restaurant related artwork grace the walls.

To set the mood, the menu items are listed in Italian, but described in English. All of your senses are awakened as you savor the carefully prepared dishes at Moscato. Wonderful crusty bread, baked in the kitchen here each morning, will arrive at your table as you check out the menu of traditional exquisitely prepared dishes. The antipasti here are varied and it was difficult to make a choice. We chose polpo alla griglia. The tender-as-could-be octopus was grilled and presented with sliced fingerling potatoes, sliced Kalamata olives and oven roasted tomatoes. Enhanced with a touch of lemon and garlic oil, it was outstanding. Next, a covered cast iron pot arrived. The top was removed and an aroma of zuppa di cozze filled the air. These pristine Edward Island Mussels were swimming in an excellent spicy tomato broth. The crushed tomatoes added a zesty flavor to the just opened mussels, just spicy enough to tease the palate. Future appetizers may include salsiccia tartufata, grilled sausage over arugula and endive, eggplant rollatini, fantasia di mare, a mixed seafood salad or crisp artichokes in a mildly spiced tomato sauce. On previous visits I have especially enjoyed fegatini di pollo al balsamico. Here, the chicken livers are sautéed with balsamic vinegar, onions and mushrooms and served in a parmagiana basket with field greens. I remember being a meal in itself. If you enjoy starting your meal with a salad, there are classic and innovative choices. We loved the blood orange salad with baby arugula, strips of fennel, cubes of fresh red beets all tossed with toasted almonds in a wonderful dressing flavored with ginger and honey. A watermelon and arugula salad was a good choice, as well.

Among the dozen pasta selections, the gnocchi alla trentina could not be matched. The delicate handmade potato morsels were tossed with a ragu of braised
shredded shortrib. The result was rich and delicious. Homemade fettuccine al funghi with mixed mushrooms, parsley, garlic and oil, agnolotti alla Moscato filled with cheese in a pink sauce with crisp bacon on top and paglia e fieno, the green and white housemade pasta await my tasting. Note that, upon request, gluten free and whole wheat pastas are offered.

Entrees include preparations of chicken, beef, veal, calves liver, pork and fish. During my recent visit, I sampled branzino alle mandorle. A totally boneless filet of Mediterranean sea bass arrived coated with sliced almonds toasted to a golden hue. This elegant entrée was set atop sautéed green beans that tasted as though they were just plucked from the garden. Lemony sauce and a wedge of lemon completed this light and elegant dish. The simplicity of this dish makes the diner aware of the freshness and quality of the ingredients. At Moscato, there is no reason to cover up the dishes with overpowering sauces. Here, the gift of dinner is to marvel at the freshness of each ingredient without the use of heavy sauces to mask the ingredients. When commenting on a restaurant, ordering a veal scallop dish is a good test of the restaurant. One forkful of the vitello martini and you know you are dining at a quality restaurant. Here, the delicate veal scallopine is encrusted with parmagiano and simply served with a lemon and white wine sauce. Imagine eating veal with only a fork. No knife was need for this tasty dish. Fresh green beans, cooked until just crisp shared the plate. In the past, I have love the salmone al frutti di Cremona where the fish is brushed with Italian mustard fruits. Other nice entrees are flatiron steak, pollo scarpariello, grilled pork chop with hot and sweet peppers, onions and mushrooms and chicken breast saltimbocca. The wine list here is 95 % Italian.

If you have left room for dessert, they are all housemade. We loved the spolverato di choccolata. This individual chocolate mousse cake with a touch of coffee flavor was enrobed in a dark chocolate glaze and sat beside a scoop of housemade ice cream. A sprig of mint finished this lovely dessert. It was a dessert that a chocolate lovers dreams are made of. The traditional ricotta cheesecake with the chocolate drizzle on top was a nice ending, as well. Other housemade endings of tirami su, crema catalina, apple tart and baked Alaska are waiting to be sampled. If you can't decide a tasting dessert plate of three is offered. Just request "un momento dolce" as the conclusion of a superb meal at the warm and friendly Moscato, right here in Scarsdale.

How fortunate we are to have Moscato, a gem of the dining spot in our community, where fine dining and professional caring service combine to make it my "go to" spot for an elegant yet comfortable dining experience at lunch or dinner.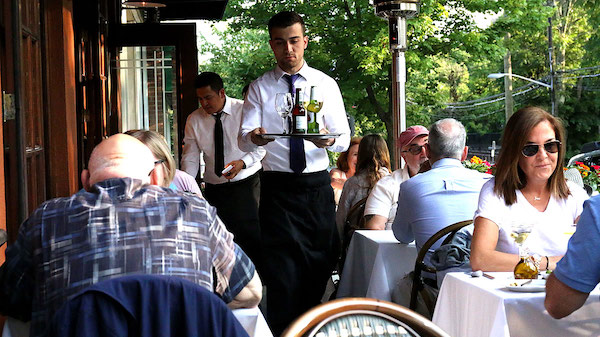 Moscato Ristorante
874 Scarsdale Avenue
Scarsdale, NY
914 723 5700