Business News: Restaurants and Bars Must Close at 10:00 p.m., Support Local Business by Purchasing Raffle Tickets
Details

Written by

Joanne Wallenstein

Hits: 1612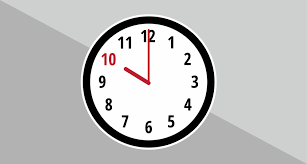 Bars, restaurants and gyms or fitness centers, as well as any State Liquor Authority-licensed establishment, are now required to close from 10:00 p.m. to 5:00 a.m. daily. Restaurants will still be allowed to provide curbside, food-only pick-up or delivery after 10:00 p.m., but will not be permitted to serve alcohol to go. The State Liquor Authority will issue further guidance for licensees as to what sales are continued to be permitted.
The Governor also announced that indoor and outdoor gatherings at private residences will be limited to no more than 10 people. The limit will be implemented due to the recent prevalence of COVID spread resulting from small indoor gatherings including Halloween parties. These gatherings have become a major cause of cluster activity across the state. Further, this public health measure brings New York State in line with neighboring states including Connecticut, Massachusetts and Rhode Island. This new rule is also effective Friday November 13, 2020 at 10:00 p.m.
Scarsdale Business Alliance announces its Holiday Shop & Dine the 'Dale Raffle line-up from over 50 Scarsdale merchants.
The Scarsdale Business Alliance (SBA) Holiday Shop & Dine the 'Dale initiative is currently running now through December 31st. During this time, Village businesses are each running their own promotions, offering a variety of sales and special holiday items. By choosing to shop and dine locally, you are investing in our neighborhood and strengthening our community.
A central part of this campaign is the SBA Holiday Raffle, where over 50 local businesses have donated gift cards and items to be raffled off throughout the holiday season. Raffle drawings will begin on Friday, December 4th at this year's Scarsdale Village "Virtual Light the 'Dale Event," and will continue throughout the month. These raffle items are a fabulous way for the merchants to say thank you to our community for their support throughout the pandemic, and also a way to encourage people to continue to shop local.
Raffle tickets are available for purchase for $10 each on the SBA's website with a package of 6 for $50. Additionally, people can purchase raffle tickets by accessing the scan code located on posters throughout each of Scarsdale's retail hubs.
This year more than ever, Scarsdale brick and mortar businesses need your support. Due to the global pandemic, certain safety measures will be followed, such as social distancing, mask requirements, and density restrictions. Just like the rest of the country, Scarsdale is expanding the concept of Black Friday to cover the entire period between Thanksgiving and Christmas, as sales will occur over a longer period of time in order to reduce overcrowding. Scarsdale merchants used a similar approach when they expanded the normal 3-day sidewalk sale to a weeklong event.
The SBA has also been shepherding the Mask the 'Dale Campaign. You can see the signs in each of its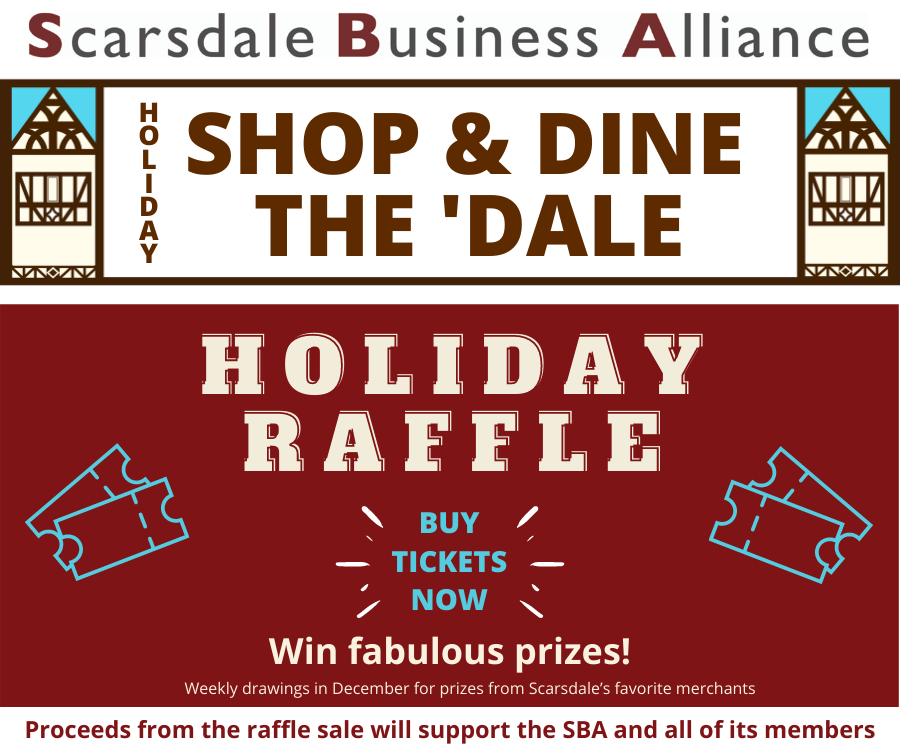 storefronts throughout the Village, promoting mask-wearing while shopping.
The SBA is grateful for the partnership they have with Scarsdale Village officials to help its businesses follow Covid restrictions. They continue to work diligently to reimagine outdoor usage of space and have amended town codes to allow display of wares and safe outdoor dining.
The SBA is a non-profit organization dedicated to supporting the Village of Scarsdale and its local businesses. Like all other businesses, the SBA suffered financially this year as well. Many merchant members were unable to pay their annual dues, and free provisional memberships were given to all 10583 businesses in order for the SBA to offer its assistance and services to its local businesses. In addition, the Scarsdale Music Festival, the SBA's largest fundraising event, was cancelled.
Please consider supporting the SBA with your purchase of raffle tickets. Proceeds from the raffle sale will support the Scarsdale Business Alliance and all of its members.
Raffle Item Donors: Akai Lounge, BLVD, Bronx River Books, Cheryl's closet, Club Pilates Scarsdale, Current Home, Equinox, Eye Gallery, Eye Q Optometrist, Flourish Baking Company, Great Stuff, Greenwich Medical Spa, Haagen-Dazs, Holsten Jewelers, I Am More Scarsdale, Jewels by Joanne, Julius Michael Scarsdale Hair Salon, La Dentelliere, La Renaissance Bakery, Learning Express Toys, Lulu Cake Boutique, Madelyn Jordon Fine Art, Mariachi Loco ll, Meritage, Mixology, Orangetheory Fitness Scarsdale, Pamela Robbins, Pampered Chef, Parkway Cafe, PixieLane Elanit, PLUSHBLOW, Popojito, Rothmans, Repertoire Dance Shop, Rudy's Music, Sapori, Scarsdale Acupuncture, Scarsdale Flower Boutique, Scarsdale Integrative Medicine, Scarsdale Pilates, Scarsdale Prep, Scarsdale Woman's Exchange, Scent Fluence, Stretchlab Scarsdale, The 808 Bistro, The Dark Horse, The Shade Store, Village Computer Shop, Wilson & Son Jewelers, Yeomiji, Zachys.
Send Your Letters to Santa
Details

Written by

Joanne Wallenstein

Hits: 797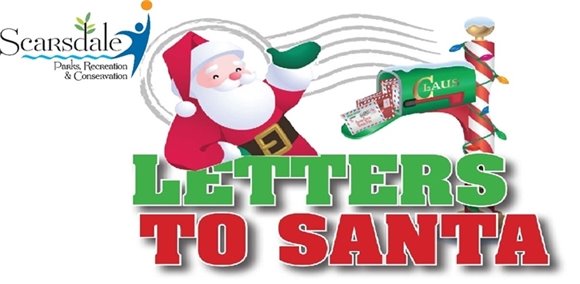 Santa will be making his way through Scarsdale to pick up letters from Scarsdale children. Beginning Monday, November 23rd, Santa's mailboxes will be located by the Chase Bank on East Parkway, the Post Office on Chase Road, in front of Metro Deli on Palmer Avenue and in front of the Scarsdale Village Hall! Santa is looking forward to receiving your letters!

The deadline for submitting letters is Sunday, December 13, 2020.
Announcing the Winners of the 2020 Halloween Window Painting Contest
Details

Written by

Joanne Wallenstein

Hits: 2613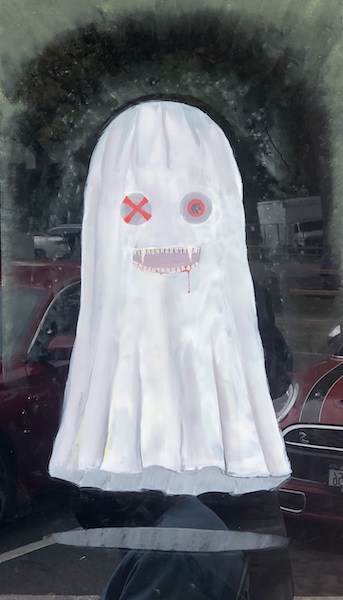 The Grand Prize went to Alexandra and Leo SimonYoung painters continued a Scarsdale tradition on Sunday October 18, painting the town orange in the annual Halloween Window Painting Contest. Painters from elementary to high school created colorful, comic and intriguing work on the windows of Scarsdale retailers. If you haven't done so already, get out and take a walk to see their work before the rain takes it down. The contest was orchestrated by Dan Walczewski at the Scarsdale Recreation Department. Congratulations to all the participants on a wonderful gallery of work.
According to Walczewki, about 330 windows were painted. With teams and family entries he estimates that just over 900 people participated in the event. There were more entries this year that last, especially in the Family category. The judges are a group of seven volunteers who all are either current or former Scarsdale residents or village employees.
Below find the complete list of winners and honorable mentions by all age groups from the Recreation Department.
First place in Group A went to Tyler Culang for work at Pookie and Sebastian
Group B First Place winner Emily Fields at Wilson and Sons
Group C First Place Sophie Luo
Group D First Place Grace Henry at Scarsdale Eye Center
Group E First Place Olivia Liu at Douglas Elliman
Group AA First Place Winners Maia Etkes and Emma Earthy at 15 Boniface Circle
Group BB First Place Winners Alice Hoffman and Maya Zaitchick at Merle Norman Cosmetics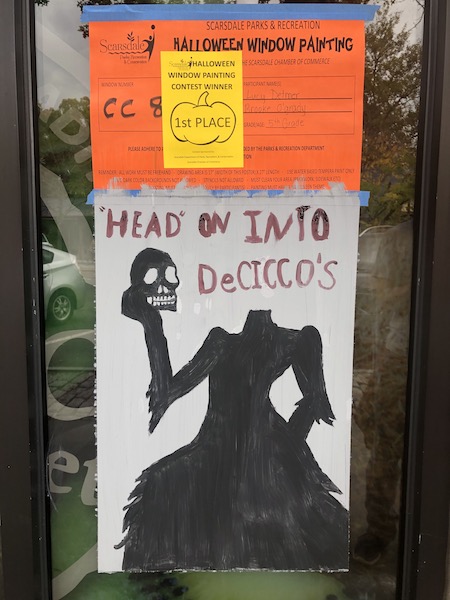 Group CC First Place went to Lucy Detmer and Brooke O'Grady for their work at DeCicco's
Group DD First Place - Zoe Greenberg and Edie Chow's "Unmasked" at Chase Bank
First Place for Group EE went to Alicia Xin and Olivia Sun at Pizzarelli's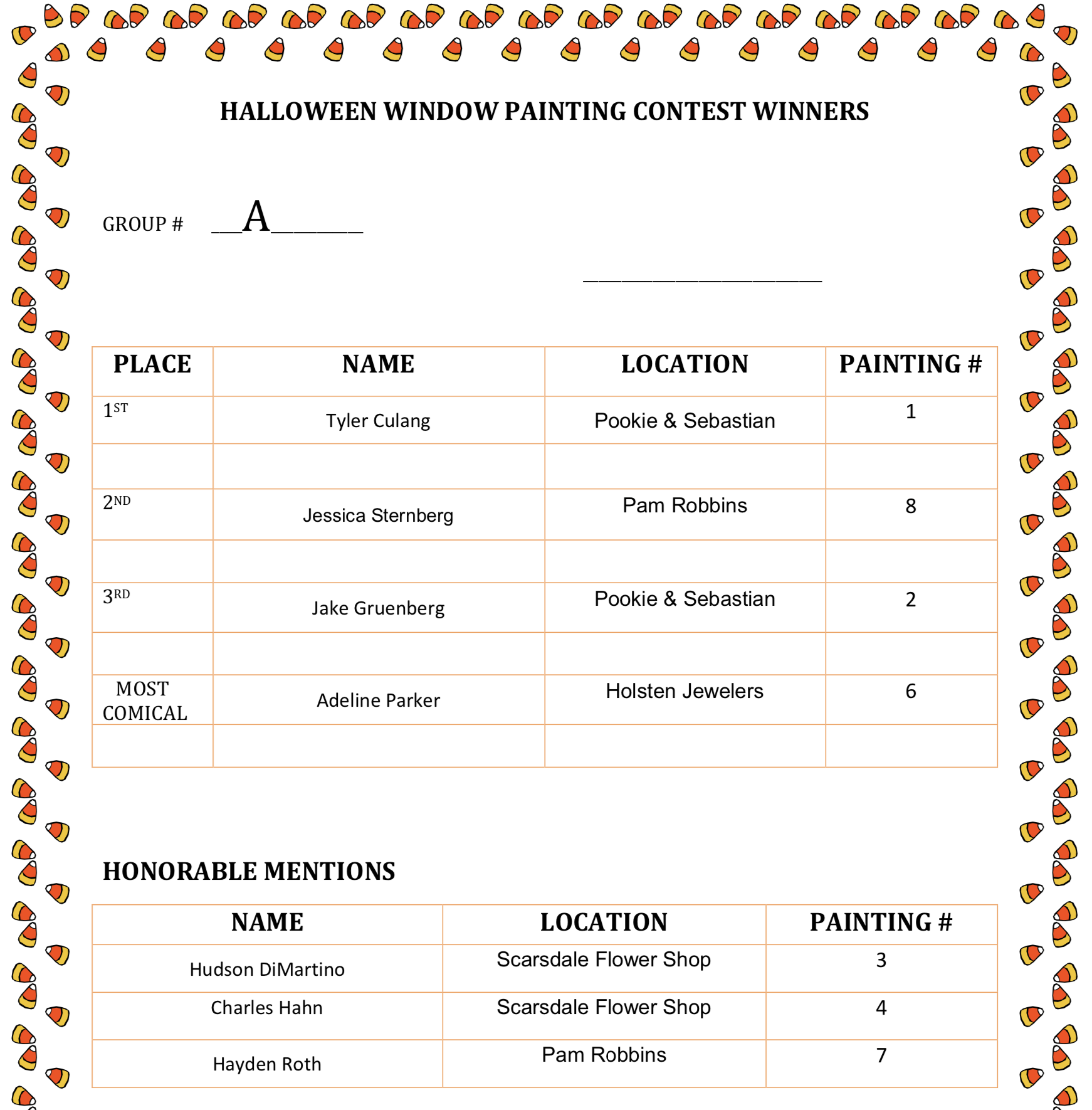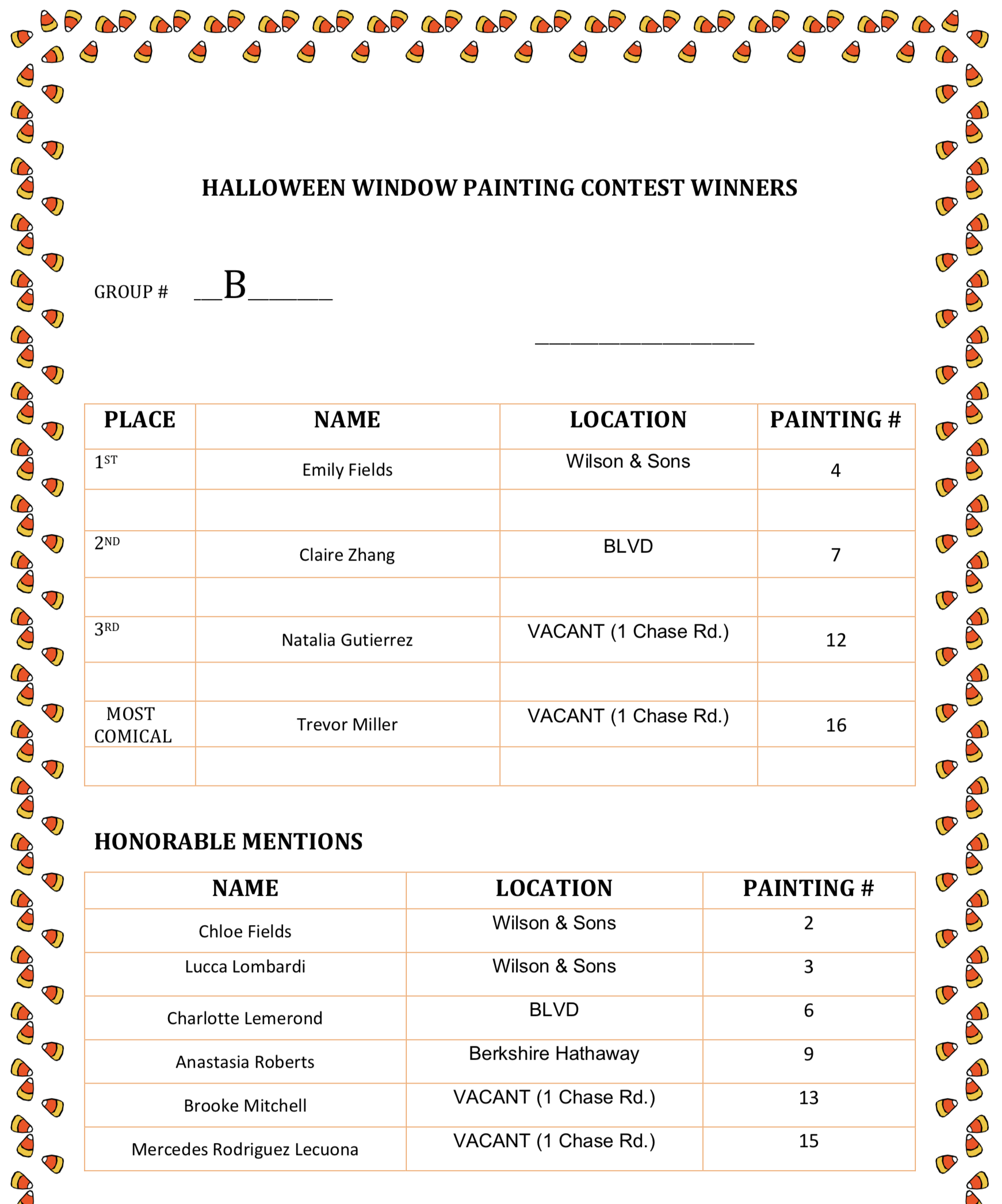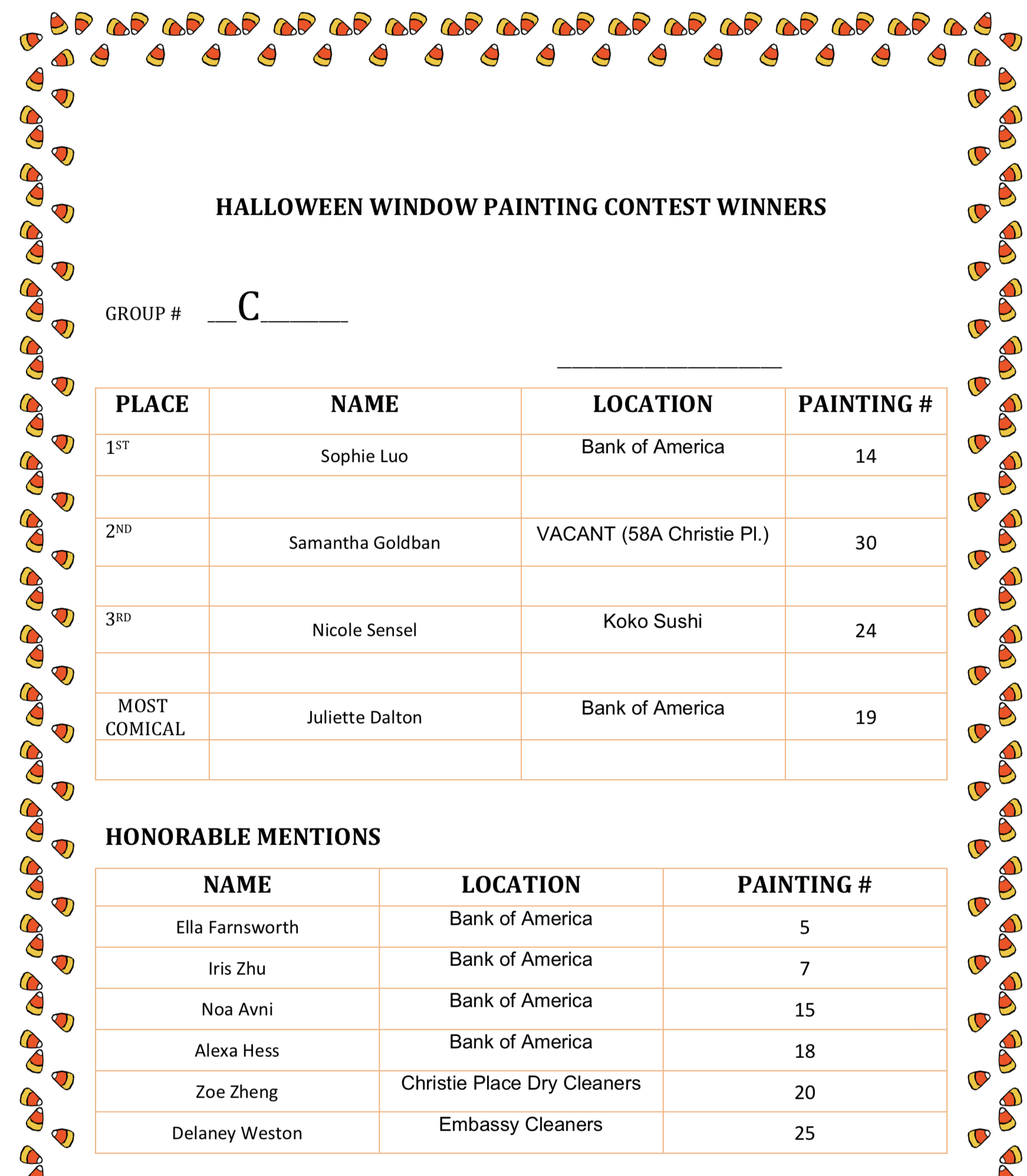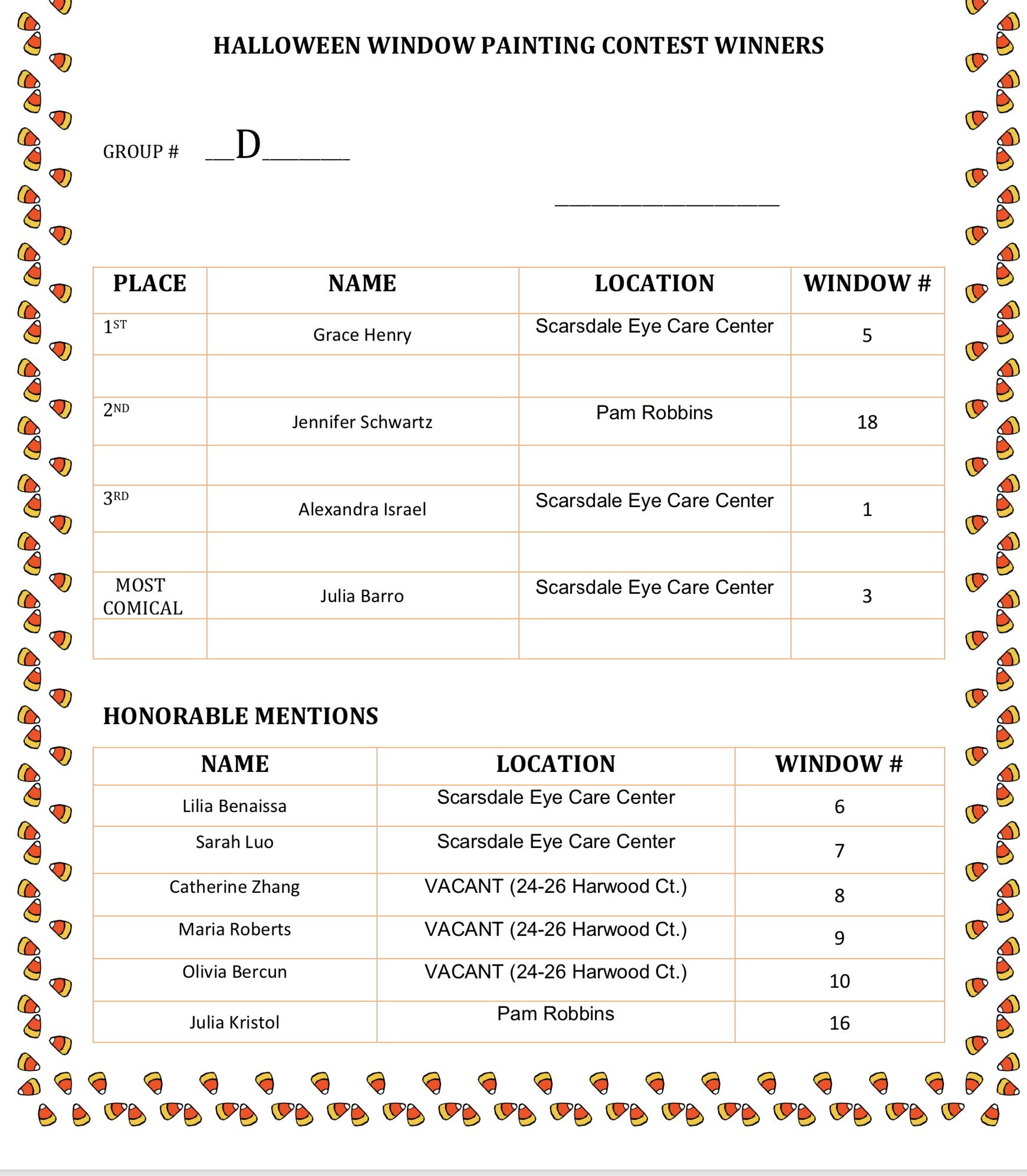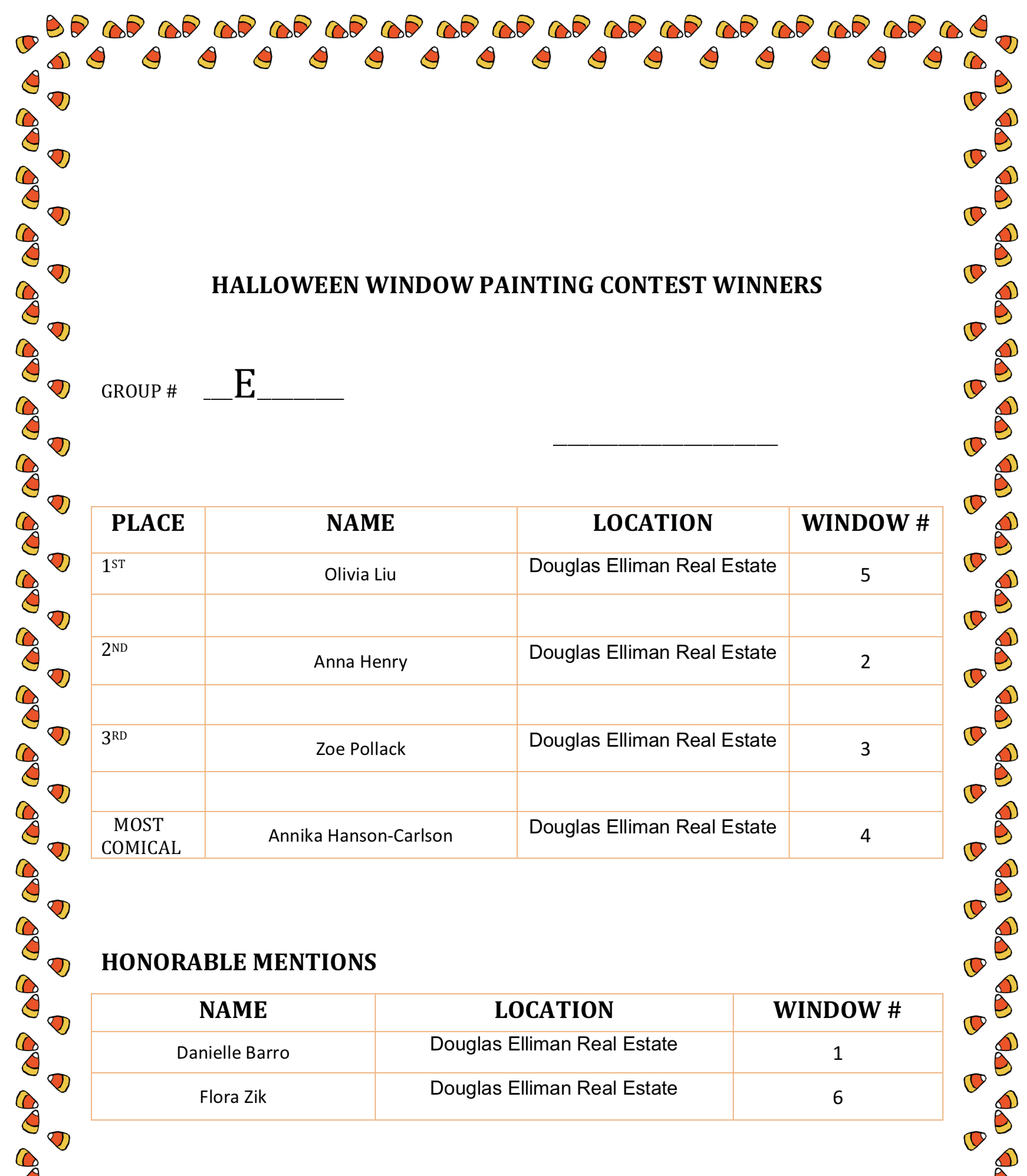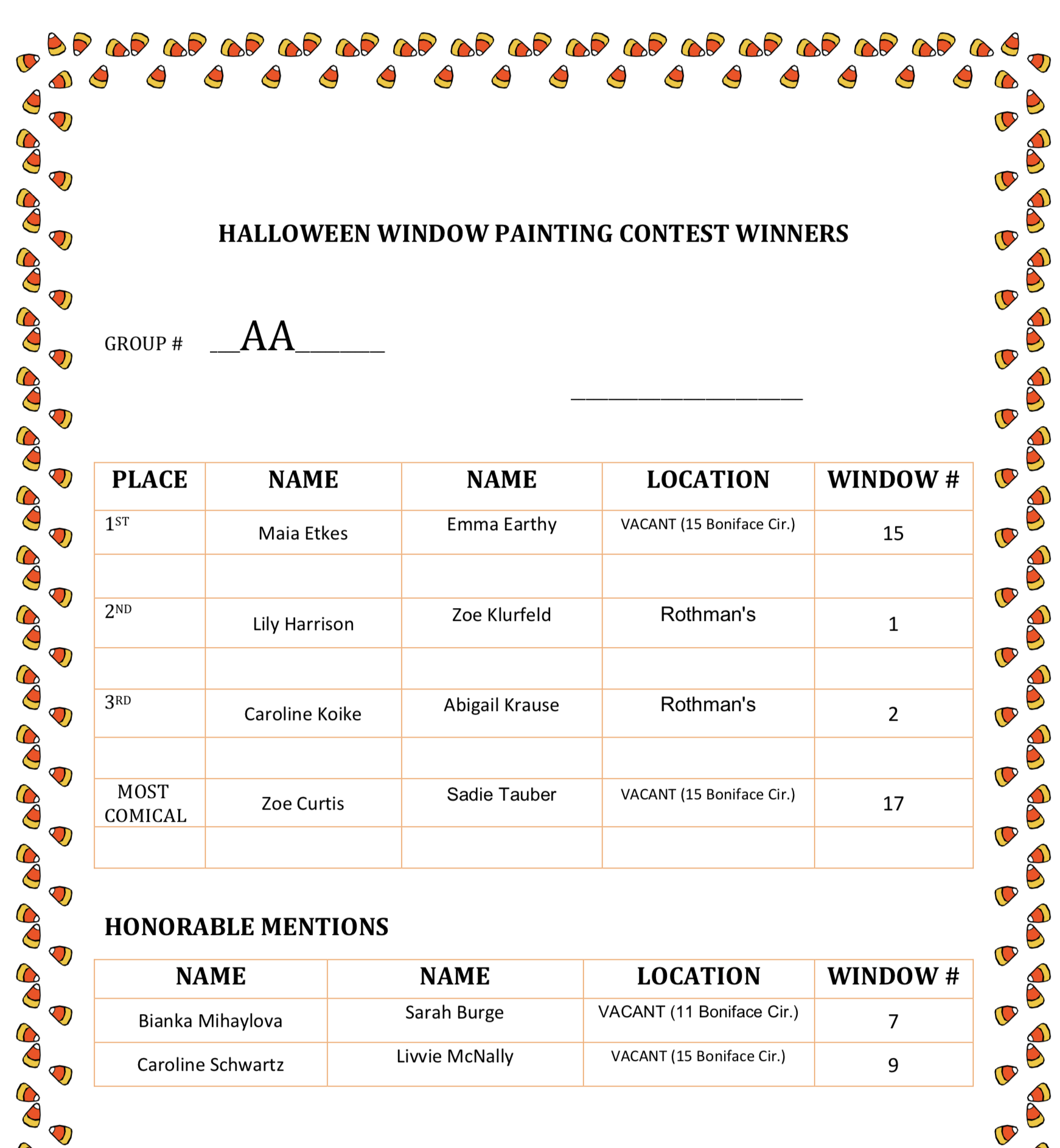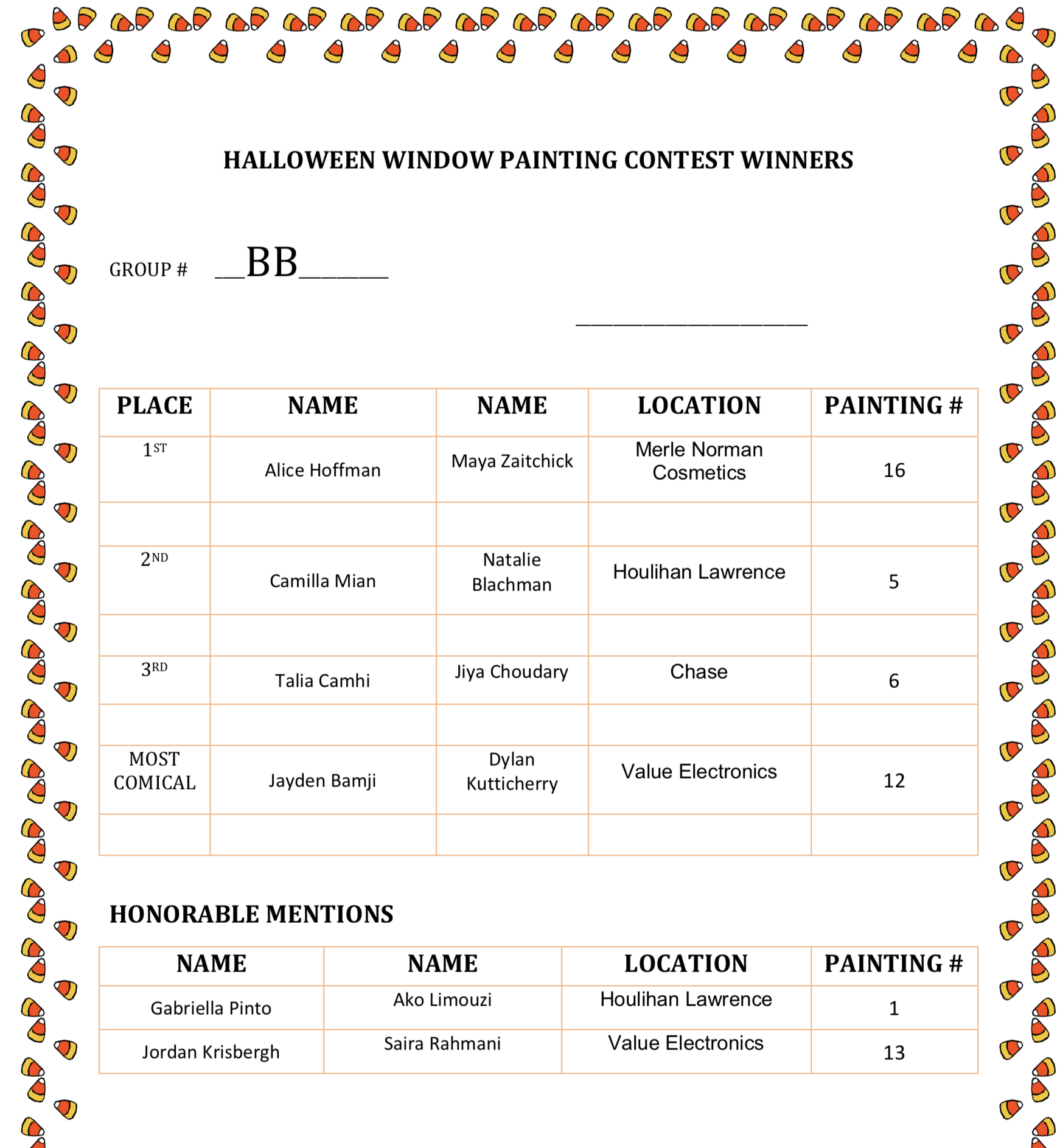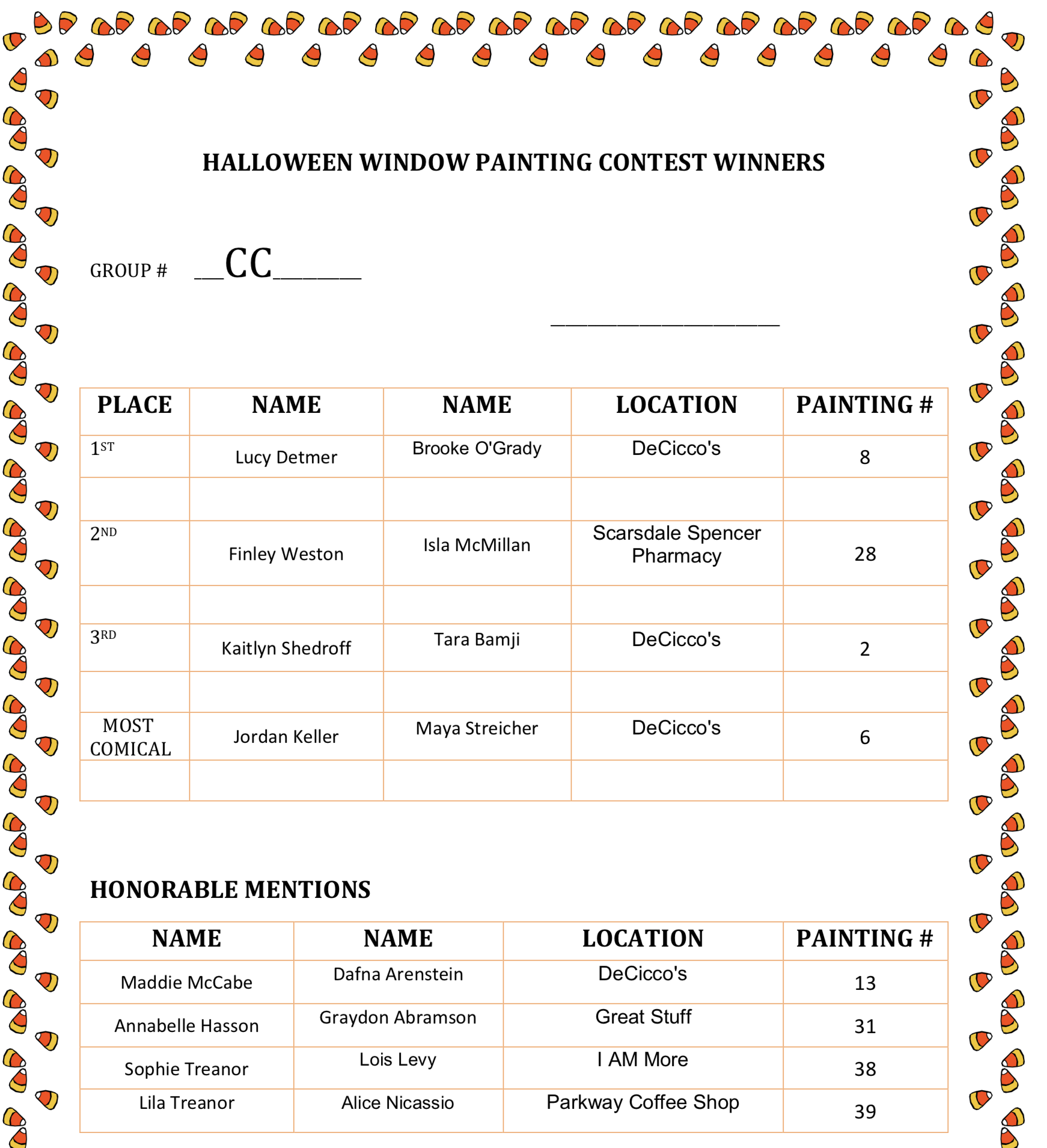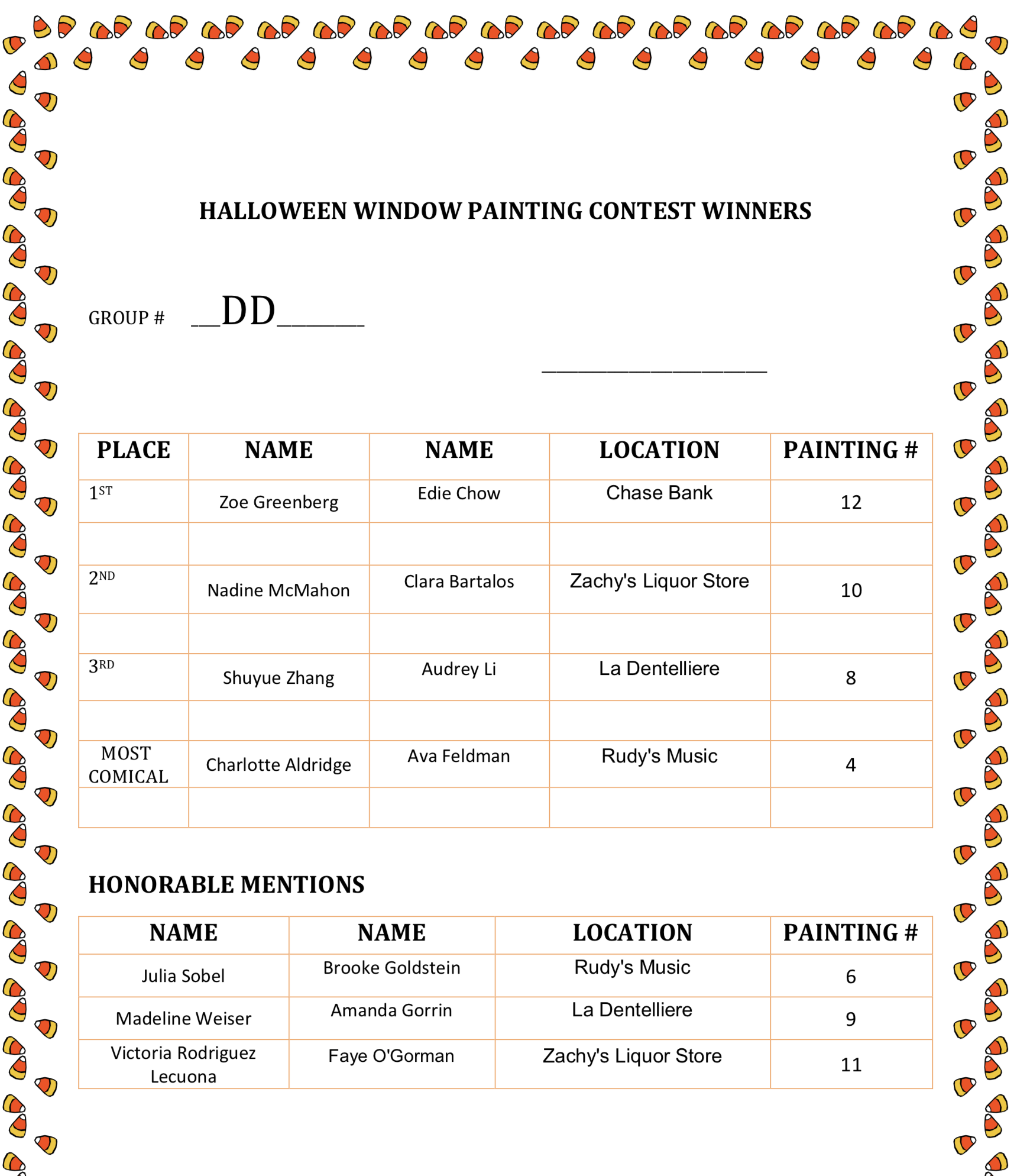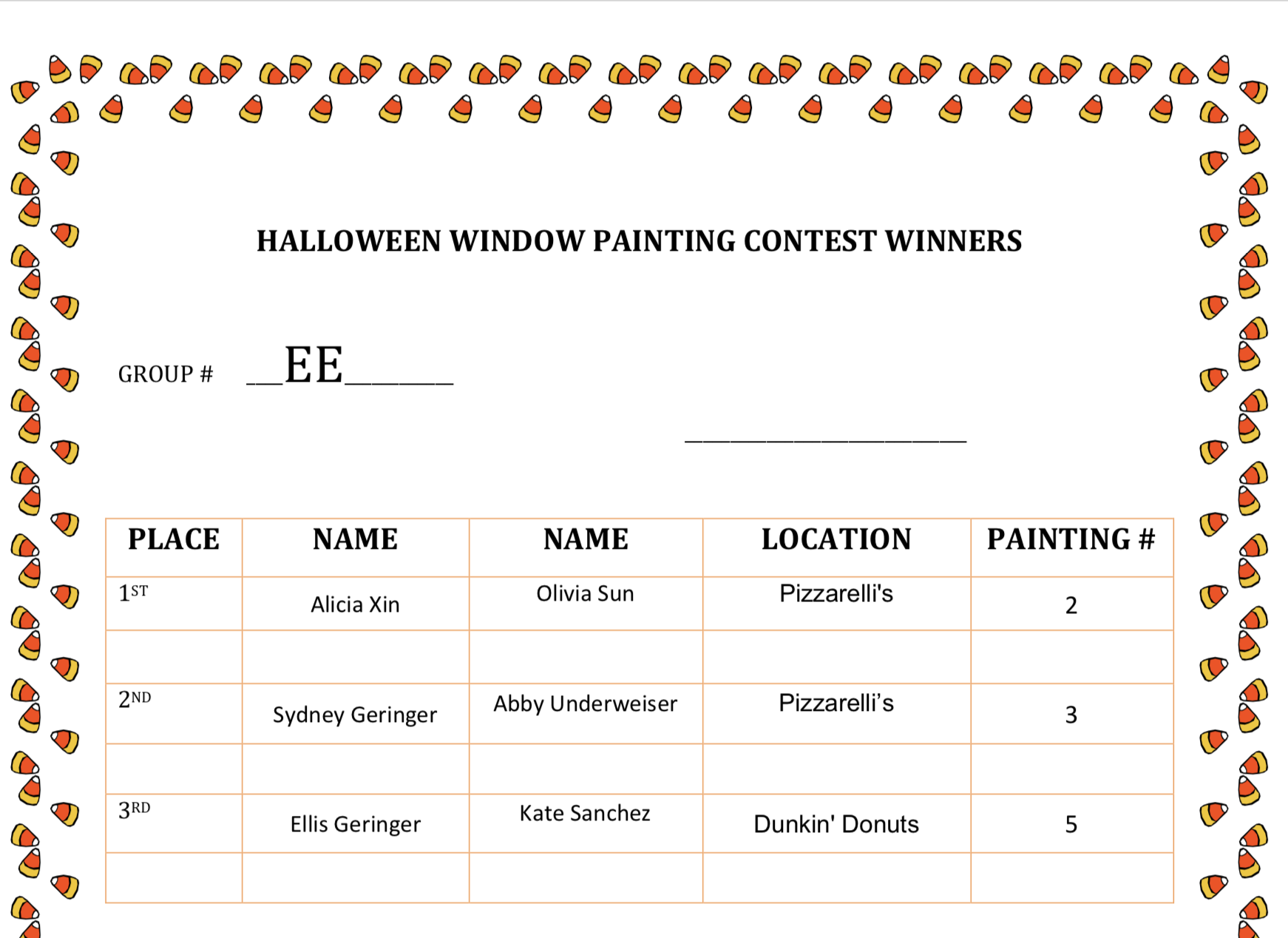 Post Peak (Foliage and Election) Glories
Details

Written by

Joanne Wallenstein

Hits: 1167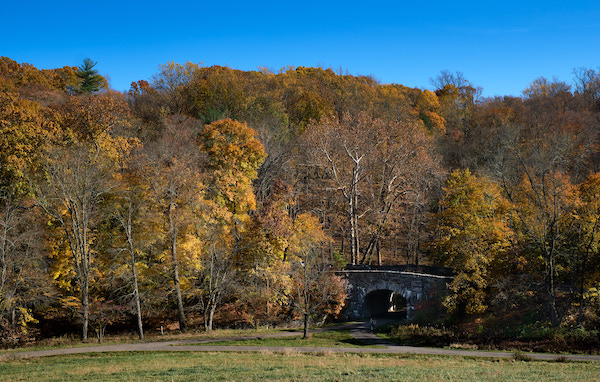 Where were you when they called the election on Saturday November 9? Scarsdale photographer extraordinaire Michael Chayes was hiking around Rockefeller Preserve in Pleasantville enjoying summer temperatures, dramatic vistas and the end of fall foliage. He forwarded these stunning photos. If you have some pictures of your weekend happenings to share , email them to scarsdalecomments@gmail.com.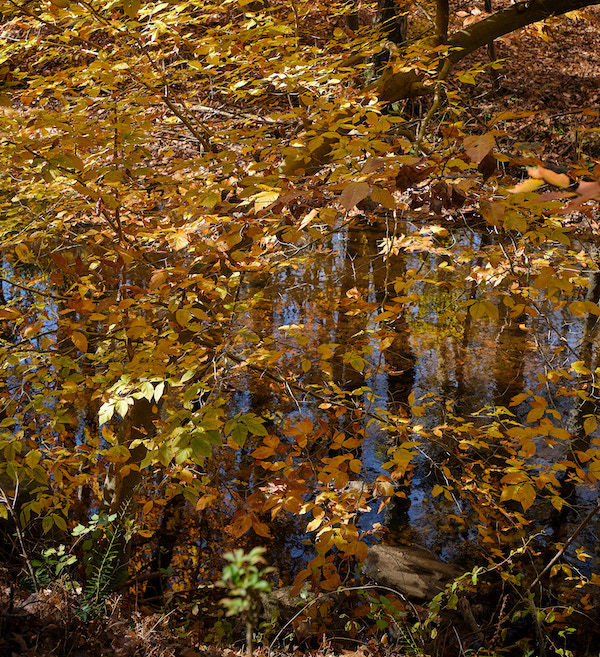 Yellow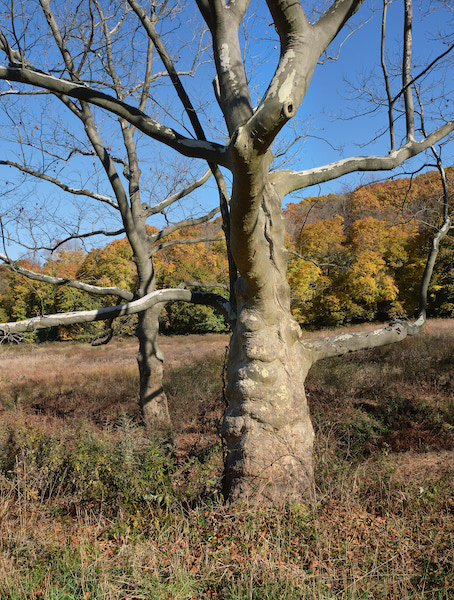 Tree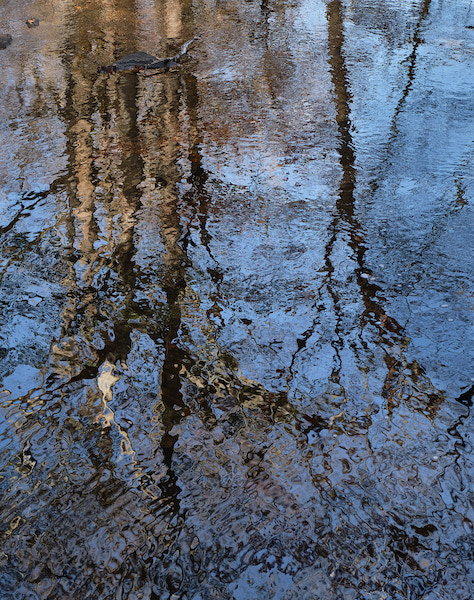 Reflections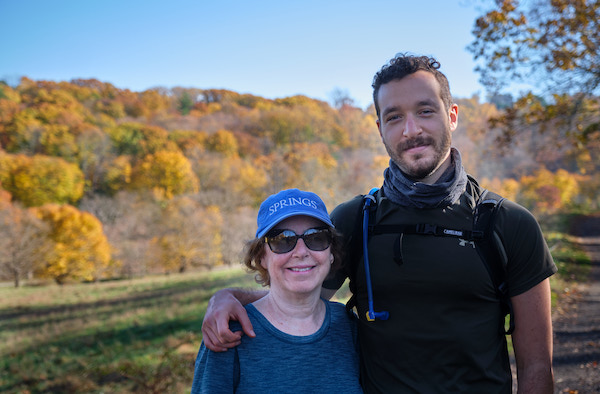 Linda Hillman Chayes and Dan ChayesPhotos: Michael Chayes: Follow Chayes on Instagram at michaelchayesphoto.
Headline: Linda Hillman Chayes
Healthy Fall Family Recipes
Details

Written by

Jodi Greebel

Hits: 2565
If you are adjusting to another new norm, with back to school, zooms, working or just trying to take care of your family, cooking can just seem like another daunting task for which we have no time. Here are two easy, healthy recipes that your whole family will love.
These breakfast muffins are loaded with fiber, beta carotene, antioxidants and omega3 fats as well as protein and Vitamin D. These are a great make ahead food, can be eaten on the go and freeze well. And, if you don't know what to do with all of your apples from apple picking, they will work well in these!
Apple Carrot Cake Breakfast Muffins
(dairy free, peanut-free, tree-nut free (except coconut))
Makes 12 - 14 muffins

1 c all-purpose flour
3/4 c whole wheat flour
2 tsp baking soda
2 tsp cinnamon
1 tsp ground flaxseed
1/2 tsp salt
2 c shredded carrots
1 large green apple, grated (leave skin on for extra fiber)
1/4 c shredded coconut
1/8 - 1/4 c raisins
3 large eggs
1/2 c coconut oil, melted and cooled
2/3 c honey
2 tsp vanilla
Preheat oven to 350 degrees. Line muffin tin with liners.

Mix together dry ingredients (flour through salt) in medium bowl.

Add carrots, apple, shredded coconut and raisins.

In separate bowl, beat eggs with coconut oil.

Add honey, then vanilla and blend. Make well in dry ingredients.

Pour wet ingredients into dry.

Mix until just combined.

Divide evenly amongst muffin tins. Bake about 17-20 minutes until toothpick comes out clean.
Healthy Chicken Parmesan Bites

(peanut-free, tree-nut free, sesame free, gluten free if gluten free breadcrumbs)
Makes 3 - 4 servings
4 skinless boneless thin cut chicken breasts or about 1 pound chicken strips olive oil spray
1 egg
1 tbsp low-fat milk
3/4 c seasoned breadcrumbs (you can also use whole wheat breadcrumbs or gluten free)
2 tbsp grated parmesan cheese
3/4 c tomato sauce
1/2 - 3/4 c shredded mozzarella
Preheat oven to 375 degrees.

Cut chicken in strips (if not already in strips) and then cut each in half. (Each bite should be about the size of a chicken nugget.)

Spray glass baking dish with olive oil spray. Whisk egg and
milk in medium bowl.

In separate bowl, mix breadcrumbs and parmesan cheese. (If breadcrumbs are not seasoned, add kosher salt and pepper.)

Dip each chicken piece in egg mixture. Transfer chicken to bread crumb mixture and coat well. Shake off excess breadcrumbs.

Place chicken breasts in glass baking dish so they are close, but not on top of one another.

Bake about 20 minutes. (For browner color, broil about 2 - 3 minutes on high before adding sauce and mozzarella).

Remove from oven and divide tomato sauce evenly over each piece.

Layer mozzarella on top of sauce and bake about 5 more minutes until chicken is cooked through and mozzarella is melted.

Serve with pasta or zoodles if desired.
Need an even quicker way to make these healthy chicken parm bites? Use store bought chicken nuggets!
Jodi Greebel, MS, RDN is a Pediatric Registered Dietitian and the founder of Citrition (www.citrition.com). Jodi consults with children as well as for schools, camps and food companies. Follow her on instagram @greengrownmeals for healthy meal ideas, cooking tips and more on how to feed your family.