New Mural Unveiled at DeCicco's
Details

Written by

Margot Diamond

Hits: 1367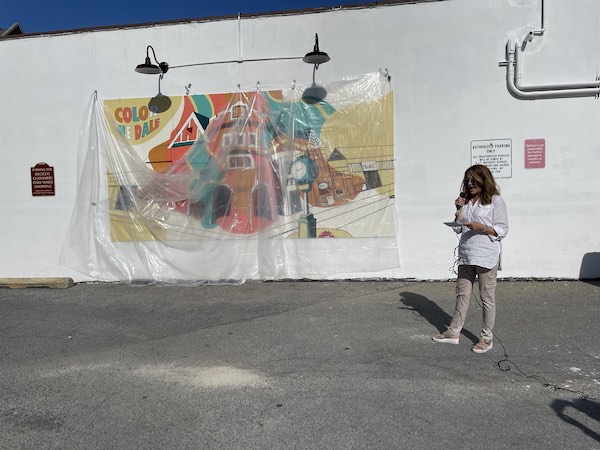 Amy Nadasdi gave opening remarks.On May 25th, 30 eager students from the National Art Honors Society club gathered in Scarsdale Village to unveil their vibrant new mural. The large, four-panel mural was designed and painted by Scarsdale High School's chapter of the club and was sponsored by Frank DeCicco and DeCicco Family.
The "Wing The Dale" mural, which was mounted on East Parkway in 2019 brought color to Scarsdale Villageand showed off the work of SHS students. The initiative was delayed by the pandemic and 13 months later the work was unveiled. The mural takes the form of a coloring book, with bright blues and alluring orange color spilling into a black and white outline of the village. The mural lights up the simple white wall in the DeCicco's parking lot, and beautifully reflects not only the vibrancy of Scarsdale but the effort of the students.
Village Mayor Jane Veron expressed her enthusiasm and gratitude for the Scarsdale students at the mural unveiling. "We want to bring vitality and life to Scarsdale Village" she said, giving credit to Amy Nadasdi, a member of the Scarsdale Village Arts Advisory Council, for her hard work in leading multiple art projects and installations in Scarsdale. Nadasdi said "Collaborative public art is the best kind of art," and she is hopeful that many more group projects will be realized.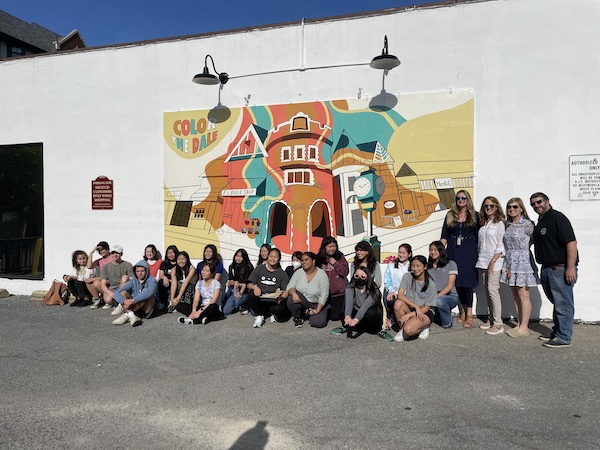 NAHS students, SHS teacher Janna Johnsen, Mayor Jane Veron, and Frank DeCicco in front of the mural.
Also at the ceremony was Frank DeCiccio, who has been enthusiastic and passionate about the addition of a second mural. "After we did the Wing the Dale project three years ago, not only did I think it made the Village more appealing, I felt that having the students of the community involved gave it such a personal touch," he said at the ceremony. He also remarked, "It is taking a vision of many students and capturing that moment in time".
Leader of the SAHS club is SHS teacher Janna Johnsen, who praised the students for their dedication and persistent work on the mural. She said it was a "collective vision", and that throughout the whole process they worked together to create "Color The Dale."
Additionally, five new painted planters are displayed under the dining tent, joining six that were already revealed last year. The planters were made by students in the Advanced Topics 2D class and were sponsored by the Scarsdale Business Alliance.
Now multiple student driven art pieces in the village, have added color to the "Dale.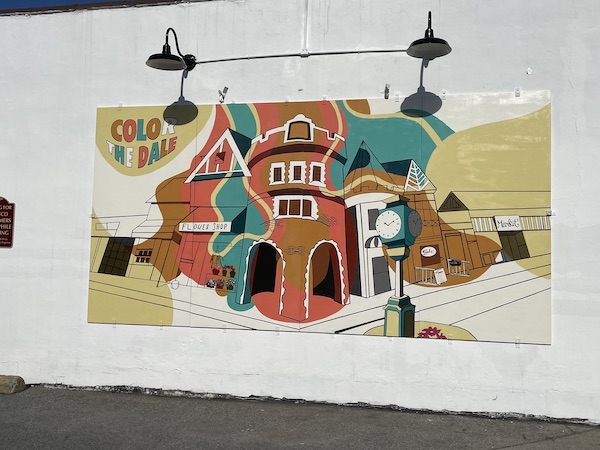 The new "Color The Dale" mural.

SFCS Celebrates Centennial and Honoree Marcy Berman-Goldstein
Details

Written by

Joanne Wallenstein

Hits: 1496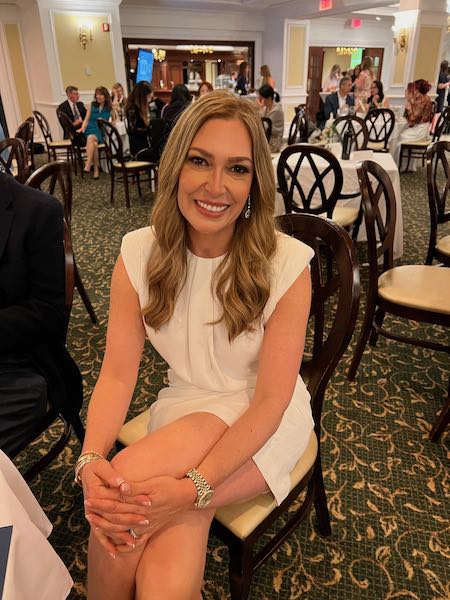 After a two year delay, Scarsdale Edgemont Family Counseling Service celebrated their 102nd anniversary, or Centennial +2 and honoree Marcy Berman-Goldstein at Scarsdale Golf Club on Thursday night, May 12, at Scarsdale Golf Club. The mood was upbeat and a wide swath of the community turned out to toast the work of the agency and support it, through contributions and purchases of silent auction items. The evening was emceed by Brooklyn based comedian Carmen Lynch whose no hold barred performance had everyone in stitches.
Gala Co-Chairs Laura Daniels and Wendy Gendel presented an evening that was joyful and light-hearted, while at the same time recognizing the serious work SFCS has done during the pandemic to provide families with mental health resources to navigate difficult times.
Executive Director Jay Genova thanked everyone in the community and the agency for their work on the event and noted SFCS's collaboration with the Village Government and School Board. He noted the attendance of Mayor Jane Veron, Village Trustee Randy Whitestone, School Board members Carl Finger and Ron Schulhof, State Senator Shelley Mayor, Assemblymember Amy Paulin and others. He saluted the work of honoree Marcy Berman-Goldstein, who is the founder of local boutique, "I Am More Scarsdale," and challenged the audience to be more for their neighbors and get involved in local initiatives.
SFCS President David Lee stressed the importance of the agency to the community and highlighted the need for them to raise 17% of their budget on their own. He said, "Many have not heard about us or don't know what we do. We fly under the radar. We have to do a better job of spreading the word. The more residents know, the more they will help us." He continued, "Mental help issues are affecting many and there is an increasing need for services."
Chairs Laura Daniel and Wendy Gendel said, "This remarkable agency has been in the community for 100 plus 2 years. It will always be there for us."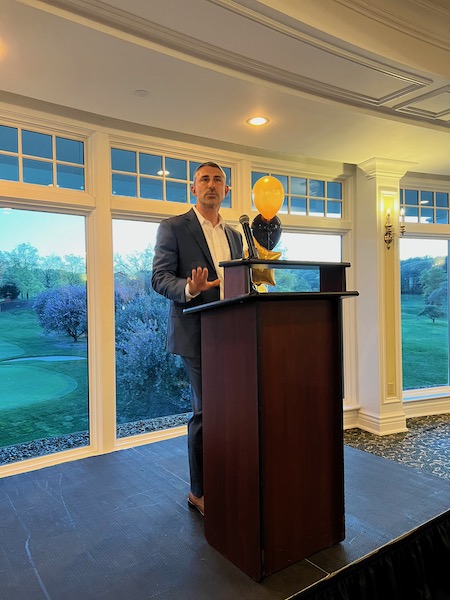 Mayor Jane Veron gave a well deserved tribute to Berman-Goldstein, saying:
It is truly my honor to introduce SFCS' Rising Star, Marcy Berman-Goldstein, who accelerated so fast that she has already reached sun status. Marcy is there at the top, bringing energy, vitality, and warmth to our community. We are the lucky beneficiaries, basking in Marcy's light…(OK – that's probably enough of my astronomy analogies - let's talk Marcy)
Marcy is a force for good who pours every ounce of herself into making Scarsdale a better place. I'd like to take you back several years pre-COVID, when our beautiful Village Center looked bleak. We had far too many empty storefronts, a defunct Chamber of Commerce, and a feeling of gloom, bordering on despair. This was not what we wanted for Scarsdale.
A group of us had gotten together, and we knew we had to act. But wanting something and doing something are very different. Action requires leadership, and that's where Marcy came in. Marcy had just pivoted from radiologist to entrepreneur and set up shop in the Village Center. She heard the conversation, rolled up her sleeves, and got started - she became all things Scarsdale Business Alliance. The early days were exceedingly hard and not very glamorous. There were pressures to keep businesses afloat, to combat negativity and hopelessness. We can all see it - Marcy going door to door, imploring merchants to take the leap of faith - sending emails at all hours, calling meetings with sparse attendance. But despite the obstacles and doubts, Marcy persevered. And just as she was building momentum, launching one of the SBA's crowning achievements, the Scarsdale Music Festival (which she pulled off by sheer will and no sleep for a full month), COVID pummeled us. But nothing keeps Marcy down. She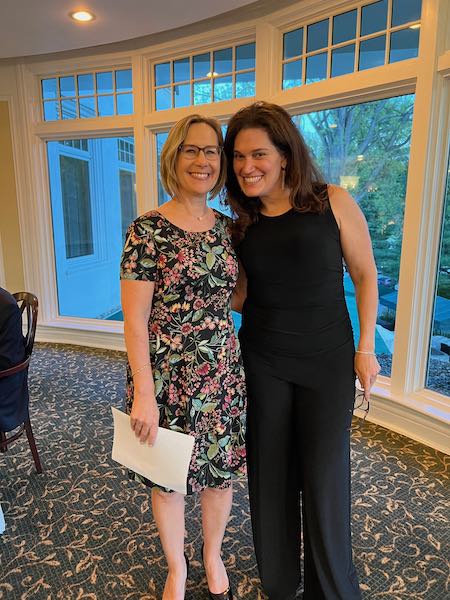 joined the Village task force to reopen shuttered businesses, and from those dark days emerged great inspiration. We piloted sidewalk shopping and outdoor cafes, a pedestrian friendly Sidewalk Sale, and of course, our pride and joy, the Dine the 'Dale tent. It might look easy, but I assure you it was not. Marcy brokered the deal and then attended to every detail from fundraising, to design, to seating, to security, to clean up. And now there's programming, music, community meetings, and beautification. The tent is where people want to go. Marcy gave us a place to belong.
And that's just one slice of Marcy's life. Marcy is a proud business owner who adds vitality to our Village. With her partner Abbey, Marcy built I AM MORE into a destination boutique focused on lifting up spirits and giving back. Westchester Magazine recognized I AM MORE as a Best of Westchester "Best Women's Empowerment Shopping," and Marcy and Abbey were named Westchester's Most Powerful Women for three years running by the Westchester County Business Journal.
Marcy's commitment to philanthropy defines her. I first met Marcy when our children were in elementary school, and what became immediately apparent was her passion for impactful service. She was known as the go to person at the Junior League and was the dynamo behind their successful fundraising events. She's a sought-after panelist. speaking at County events on inspired leadership and revitalization.
Marcy is really just that good. Amidst it all, she finds time to be a wonderful mother, caring wife, and loyal friend. I couldn't be happier to be standing by her side this evening as we all celebrate the extraordinary and inspiring woman that she is. Let's Show our Appreciation for Marcy Berman-Goldstein.
2019 Rising Stars Michelle Sterling and Ron Schulhof thanked Marcy for everything she has done and presented her with the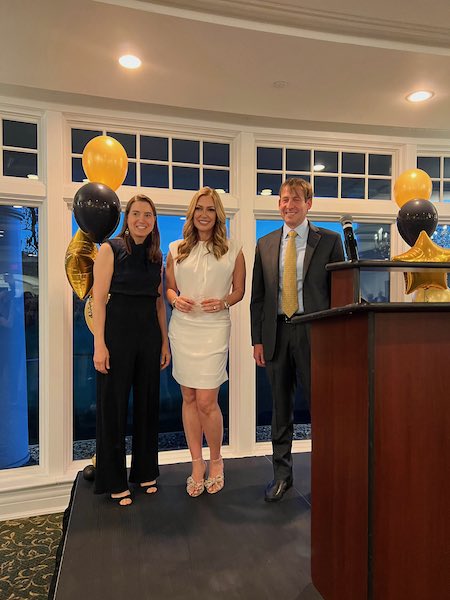 Rising Star award. Schulhoff said, "When we see an email from you, we know something great is going to happen."
Looking dazzling, Marcy Berman-Goldstein accepted the award charting her personal journey in Scarsdale where she went from working as a radiologist to opening a store in the Village. She remembered her first volunteer efforts in the Junior League that set the stage for a new path. She said, "as a radiologist, I spent my days alone reading charts," and discussed the birth of an idea to start and entrepreneurial venture that would also be philanthropic. With her partner Abby Solomon, she opened the boutique which contributes their profits to other non-profits.
From there, she became president of the Scarsdale Business Alliance and worked with Mayor Veron, Amy Nadasdi and Dalia Kahn to revitalize the Scarsdale business district. Among many successful efforts include the first Scarsdale Music Festival and another planned for June 4, 2022 and the placement of the dining tent which is used as an outdoor gathering and meeting place in the Village.
She thanked her husband Barry and all of the volunteers, About SFCS, she said, "You hold our community together."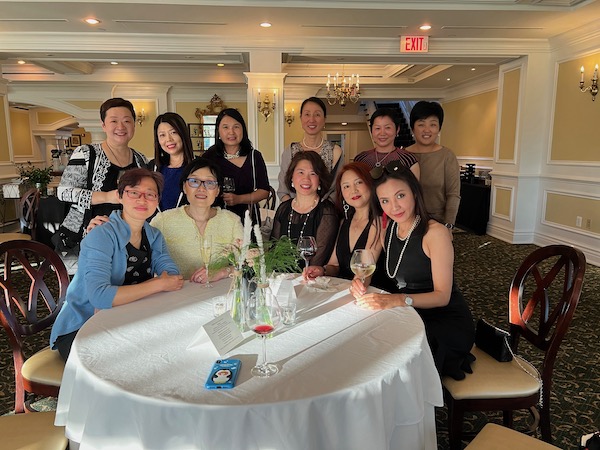 Commenting on the event, SFCS Board Member Jing Lu said, "SFCS is an organization that has done great and important work to the community and that I have had the honor to serve as the board member for the past three years, during which I introduced a Mandarin-speaking social worker Ms. Jie Wu to be on staff and was instrumental in getting two PPP loans for the SFCS." She shared photos of herself, Lynn Lin and other members of the Chinese community who attended the event, adding, "We have been working hard to get Chinese people immersed into local affairs, of which SFCS Gala is a big integral component."
Carnival Returns After a Three Year Hiatus
Details

Written by

Adam Katcher

Hits: 1757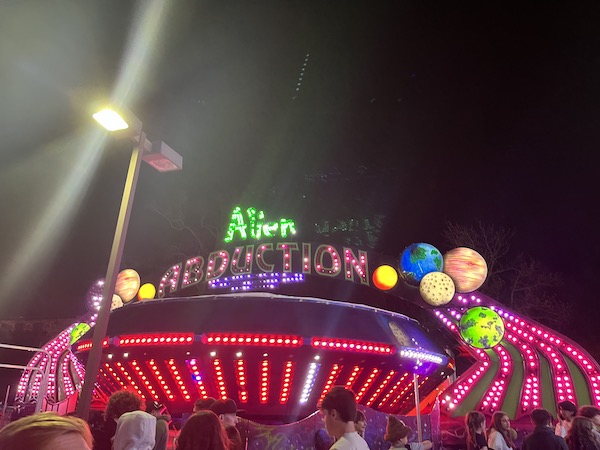 For the first time since April 2019, the Scarsdale High School Carnival made its much-anticipated return. The town tradition is always a hit, as the two-day event sees thousands of Scarsdalians flooding the Brewster Road parking lots to eat carnival food, make purchases from Scarsdale High School Clubs' fundraising stands, test their fears on high-thrill rides and try their luck in games to win prizes.
It was hard to fathom that three years had gone by since the 2019 carnival as the scene on Brewster Road felt very familiar.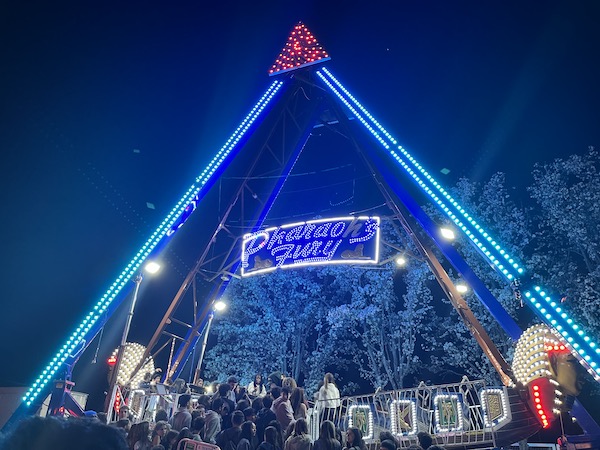 The carnival functioned as per usual: pre-paid wristbands could be purchased for unlimited rides prior to the carnival's commencement, or tickets could be bought at a booth on the day of (as well as the wristbands but for a higher price). All of the typical games were on show: giant basketball, whack-a-mole and shooting games. Many hit rides were in attendance, though there were three notable omittances: the Ferris wheel, the drop tower, and the "Zipper."
The Ferris wheel was always an enjoyable ride for anyone, whether it be two high school sweethearts sharing a gondola, first graders trying to conquer their fear of heights, or even parents who have been dragged to the high school by their children. The drop tower was a hub for brief gut-wrenching excitement, though its absence was not detrimental. The "Zipper" not being on offer was noticed by the majority: there was a common consensus among all Scarsdale students, from Kindergarten to 12th grade, that the "Zipper" was the scariest ride of all. The ride, which has cages loosely hung on a rotating central ovular axis, sends riders flipping in all sorts of directions from multiple different focus points. The "Zipper" was truly the cream of the crop of carnival rides when it came to the fear factor.
Nonetheless, the carnival did not lose any potential visitors: if anything, it was busier than ever. Lines for every ride, whether it be the wild rocking boat ride or zero-gravity-simulating Alien Abduction or even tea-cups, were long. There was a novelty about the carnival, even though there were not necessarily new attractions. Everyone simply just wanted to have fun and feel the rush of adrenaline that was missed due to COVID-19 restrictions.
Of course, not everything ran smoothly. Lines were often cacophonous clusters, so people waiting the longest did not always get priority. Perhaps the large turnout, compounded with the absence of three-hit rides, did not help.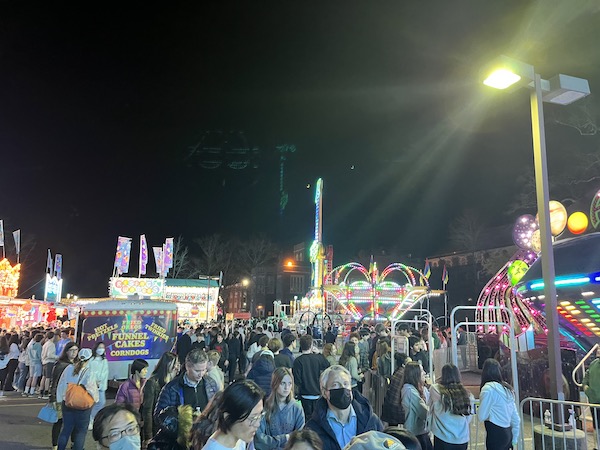 Still, people were just glad the carnival could make its long-awaited return, an attraction that signals the beginning of the end of the school year for all.
The Scarsdale High School Carnival had some charitable profits which helped the Trevor Project, the student government, high school clubs, and much more.
Recreation Department Proposes to Build Eight Pickleball Courts
Details

Written by

Joanne Wallenstein

Hits: 1810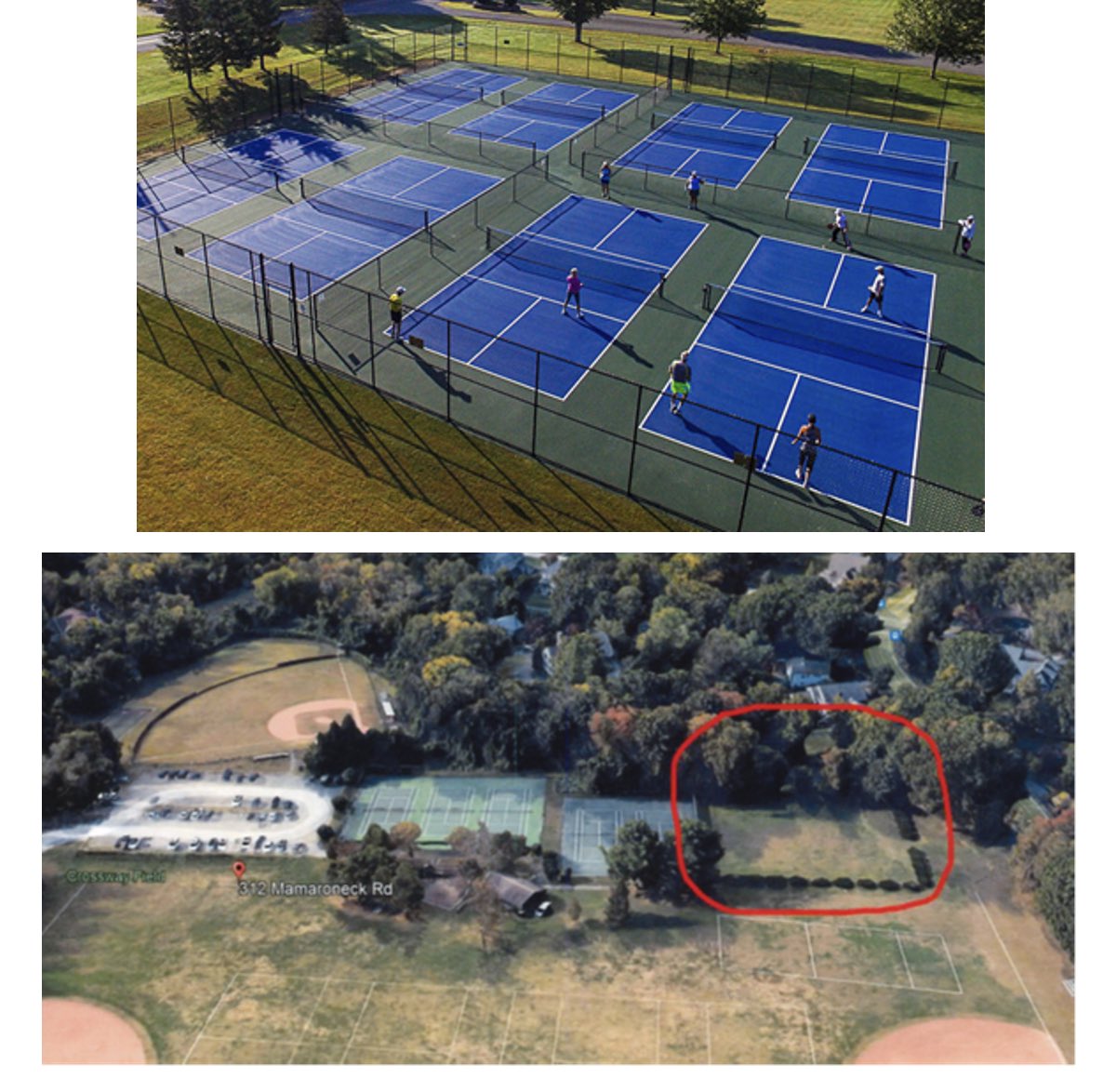 Pickleball is the fastest growing sport in the U.S. and with so many racquet enthusiasts in Scarsdale, the Recreation Department would like to give residents a place to play.
At an April 26 work session of the Scarsdale Board of Trustees, Recreation Department Superintendent Brian Gray and Assistant Superintendent Bob Kaczmarek presented a proposal to build eight pickleball courts at Crossway Field. They explained that during Covid, permits for tennis, platform tennis and pickleball had skyrocketed and they recognized the need to build more courts to accommodate players.
In order to offer pickleball clinics on the platform courts, the Rec Department considered two temporary solutions to convert the platform courts to pickleball courts. One is to purchase interlocking tile systems to adhere to the platform courts at a cost of $10,000 per surface and another is to use chalk and painter's tape to draw lines onto the platform courts. Both methods have disadvantages and are time consuming to set up.
Another method is to paint pickleball lines onto tennis courts. Four pickleball courts can be placed on one tennis court. However, that takes a tennis court out of service and the lines can be confusing.
Instead, the Rec Department priced out the construction of eight pickleball courts, about the size of two tennis courts, to be built at Crossway field where a tennis attendant is already in place. The capital request was for $410,000 and it was approved with the 2022-23 Village budget in April.
After receiving some objections from neighbors about the noise of the pickleball, Gray looked into options to quiet the bounce. He suggested purchasing acoustic barriers to be installed on three sides of the courts. Though they would not eliminate the sound of the ball, they would greatly reduce it. He showed a video of the acoustifence sound reduction at the meeting. Watch the video here:
Commenting on the proposal, trustees asked why Gray was proposing to build eight courts rather than four. He said, "We think that if you build it they will come! This is another opportunity for recreation in the Village. If we only put in four we are going to need to put in another four shortly thereafter."
Trustee Ahuja applauded the proposal. He said, "Pickleball is the fastest growing sport in the US. Racquet sports are part of the Scarsdale culture and I support this. You addressed the objections. Job well done."
Trustee Brew echoed the compliments and added, "This would be good for empty nesters and older residents who we don't always address."
Trustee Gans agreed, saying "We should build them the way they should be done. The acoustic fence demonstration was great."
Documentary On the History of Quaker Ridge to be Shown on April 19
Details

Written by

Joanne Wallenstein

Hits: 1251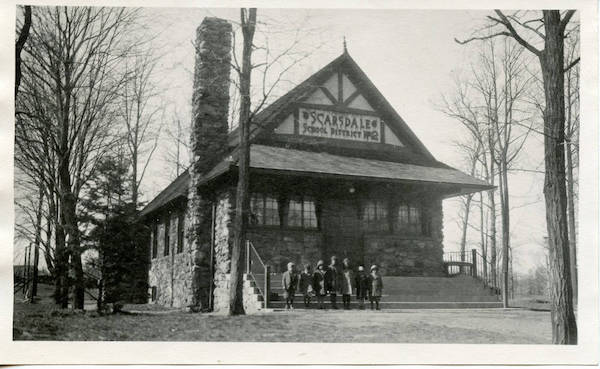 The one room school house on Griffin Avenue is where children from Quaker Ridge went until the Quaker Ridge Elementary School was built and expanded in the fifties. It is now the caddy headquarters at Quaker Ridge Golf Course. Credit: Scarsdale Public Library Collection.The Scarsdale Historical Society is pleased to announce its newest documentary titled, 'Scarsdale's Quaker Ridge: Its Heritage and History.' The film traces the untapped history of Quaker Ridge's Quaker legacy, leading abolitionists, hidden stories and transformation to a modern community. The screening will be at the Quaker Ridge Elementary School Auditorium on Tuesday, April 19th at 7:00 PM.
The 35-minute film explores this section of Scarsdale through archival photography, documents and present-day footage. There is also expert commentary from Westchester historians Barbara Shay MacDonald, Jordan Copeland, Barbara Davis and Patrick Raftery. The film is directed by Lesley Topping, an award-winning editor and filmmaker who grew up in Scarsdale.
"In this documentary, we are pleased to feature the unique history of Quaker Ridge and shine a light on its important past," said Randy Guggenheimer, President of the Scarsdale Historical Society. "This is the latest in a series of films about Scarsdale's neighborhoods, and we hope the community will join us to discover the rich history that led to the establishment of Quaker Ridge."
Following the 35-minute film, there will be a Q&A session with Topping and special guests. Admission is free. The event is co-sponsored by the Scarsdale Historical Society and the Scarsdale Public Library.
Register for the premiere here: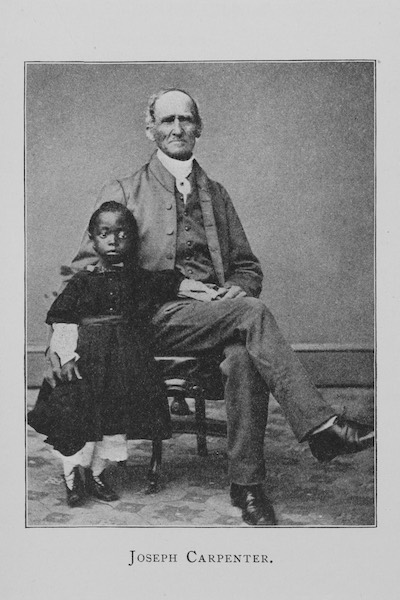 Joseph Carpenter with an orphaned child. He was an influential abolitionist originally from Scarsale who advocated an end to slavery and sheltered fugitives and runaways prior to the Civil War.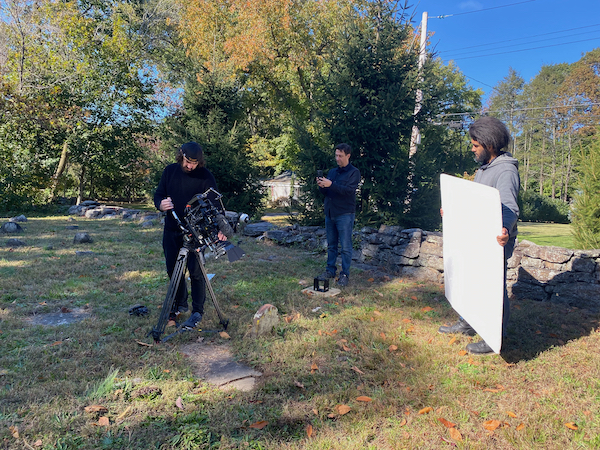 The crew filmed at the historic Colonial Acres Cemetery -- John Sears camera, Jordan Copeland with Iphone. Nicolai Gorden holding screen is the Narrator of some of our films and helped on the crew that day.