Sidewalk Sale Draws Shoppers and Diners to the Village
Details

Written by

Joanne Wallenstein

Hits: 1600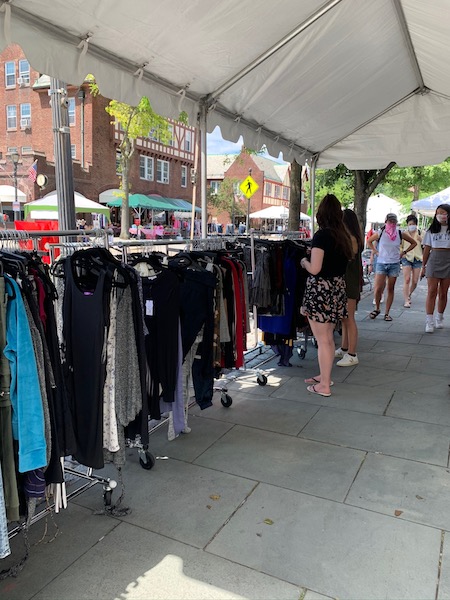 The Village was lively last week as the seven day Sidewalk Sale drew many to shop and eat, even with temperatures soaring above 95 degrees.
Many retailers had tables outside with great bargains on summer merchandise and more. Men's store Rothman's spilled out into Boniface Circle and onto the sidewalk with bathing suits, shirts, shorts, pants and more. Petticoat Lane, who announced that they will close their Scarsdale location had deep discounts on bags, accessories, nightgowns and intimate apparel. Perennial favorite Great Stuff showed their stuff from all seasons and I Am More Scarsdale was doing a brisk business in t-shirts, jeans and fun accessories like their necklaces that also clip on to a mask.
We found Michelle Anderson of La Dentelliere on the sidewalk with this jewelry box and home goods. Bronx River Books was offering New York Times bestsellers at a discount and Learning Express had a table full of toys to lure young buyers.
Vitale's Pizza and Westchester Burger Food trucks were available on Spencer Place which was closed to traffic.
Even though everyone was wearing masks, the atmosphere was relaxed and the vibe was good.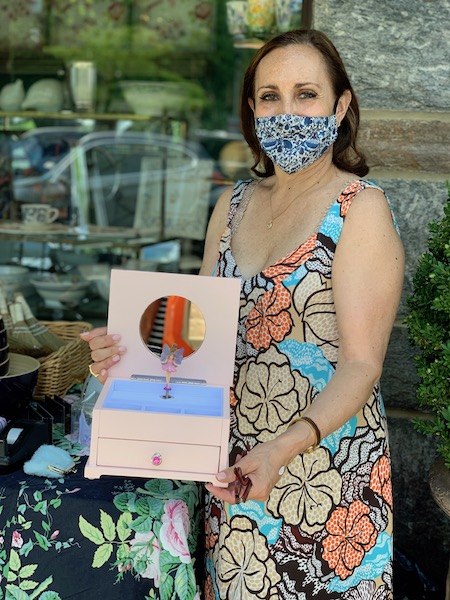 Michelle Anderson of La Dentelliere
Commenting on the sale, Marcy Berman Goldstein who heads the Scarsdale Business Alliance said, "The 2020 Scarsdale Sidewalk Sale was a success for the community and merchants. Instead of a three-day event as in past years, we elected to hold a weeklong event this year, and closed Spencer Place, Boniface Circle and Harwood Court. Rather than hordes of shoppers as in past years, we had a constant flow of consumers throughout the week, all wearing face coverings and practicing social distancing, while shopping and supporting our local merchants. By closing the roads, people were able to move throughout the village center without feeling like they were putting themselves at risk by being there."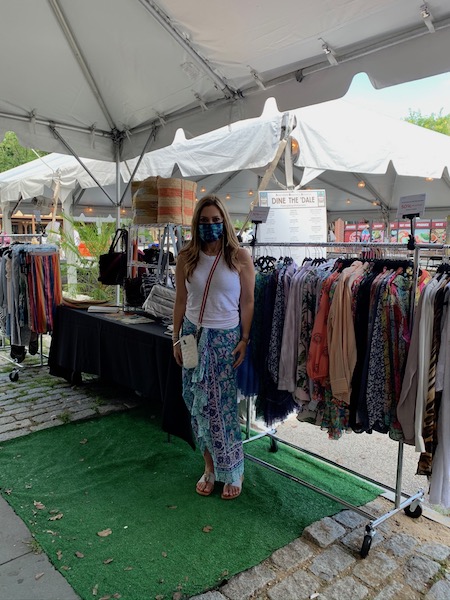 Marcy Berman-Goldstein at I Am More Scarsdale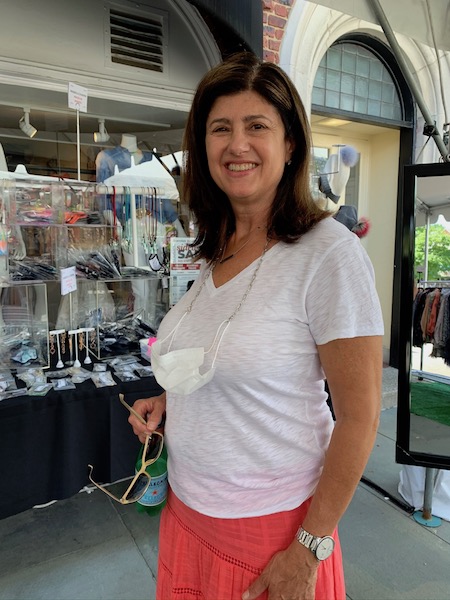 A new way to wear your mask.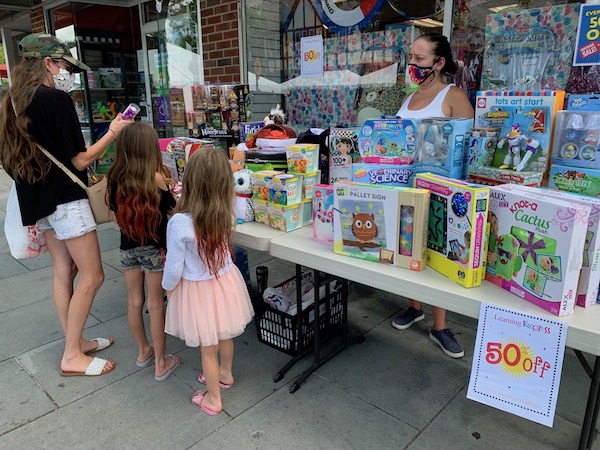 Toys, toys, toys at Learning Express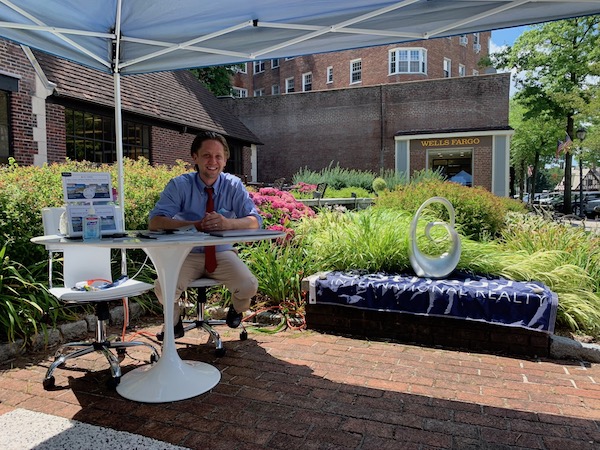 Brian Murray of Julia B.Fee does business from his outside office.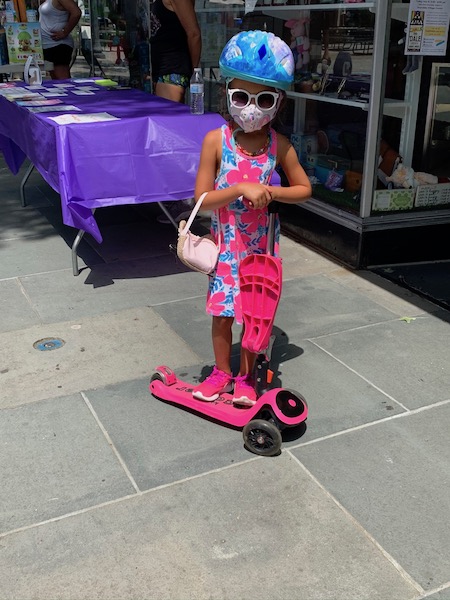 A great way to get around town.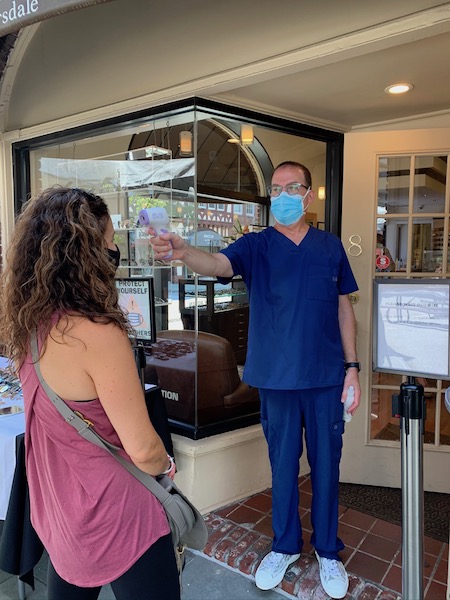 Jay Rosen does a temperature check before an eye exam.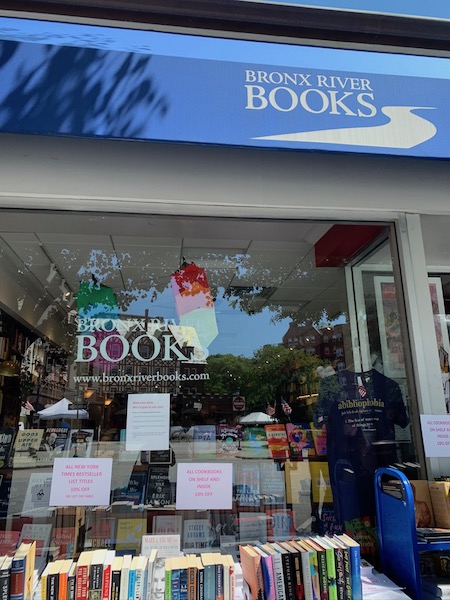 Reading for all at Bronx River Books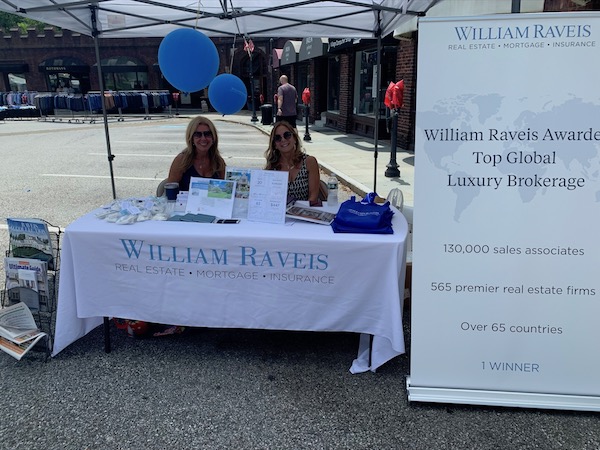 Realtors from William Raveis greeted shoppers
Sidewalk Sale in Town: Monday July 27 to Sunday August 2
Details

Written by

Joanne Wallenstein

Hits: 1136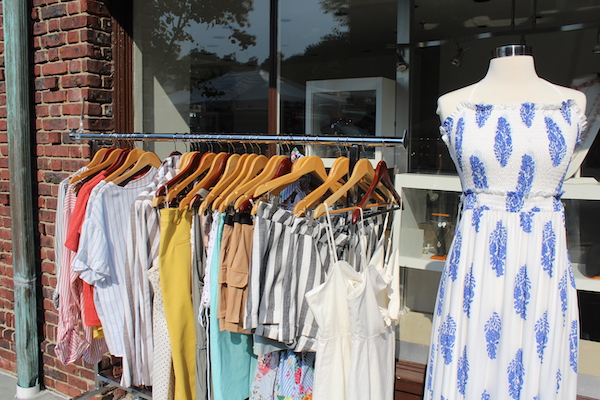 The Scarsdale Business Alliance (SBA) is thrilled to announce that the 2020 Summer Sidewalk Sale will take place Monday, July 27th through Sunday, August 2nd. This year, merchants in the Village center, Golden Horseshoe and Five Corners will be hosting the one-week event simultaneously.
Visit the retail hubs often throughout the week to take advantage of fabulous sales and discounted deals. In addition, health and wellness and service providers will be on hand to educate you about the resources they offer, which are available right here in our town.
In between all the shopping, be sure to stop by the Dine the 'Dale tent in the Village center to enjoy table service, delivery and carry-out from over two dozen Scarsdale restaurants.
The SBA looks forward to providing the community with safe outdoor spaces to shop and support their local retail merchants. In order for the Village to ensure proper social distancing, Spencer Place, Boniface Circle and Harwood Court will be closed to vehicular traffic for the week.
Three hour pay-as-you-go Pango parking (Zone 10599) is available in the Christie Place commuter garage (64 East Parkway) for Village center consumers.
Village center employees should NOT park in the Christie Place Garage or any of the meters in the downtown center. Employees should park in the Freightway Garage on level 5B for the week. This will be strictly enforced.
Masks are required.
Greenacres Glows on Graduation Day
Details

Written by

Sydney Albert

Hits: 1495
The Greenacres Elementary School made history with their first graduation car parade on Friday June 19, 2020, The parade was held to honor the fifth grade class of 2020. Since they were not able to attend the traditional moving-up ceremony, these students and their families drove around in cars covered in balloons, streamers, and other decorations. They cheered and honked as they drove through the Greenacres school area, making sure to maintain the celebratory manner of a traditional graduation.
The parade began on Montrose Road, where cars lined up next to a beautiful balloon display on the Greenacres field. The Greenacres faculty lined the sidewalks, clapping and waving pom poms to show their pride for their students. The cars moved in an orderly fashion around the school and throughout the neighborhood, and students maintained their excitement and positive energy throughout the entire twenty minute route. When the cars reached the end of the parade, they were met once again by their overjoyed teachers.
Although it was certainly not the graduation ceremony Greenacres students were expecting, the parade definitely gave them an opportunity to celebrate their accomplishments. Having all of the students in separate cars allowed them to be honored individually, making the ceremony special and personal. Congratulations to graduates of Greenacres Elementary School and best of luck at Scarsdale Middle School.

Also sending congratulations to the graduates of Heatcote, Quaker Ridge, Edgewood, and Fox Meadow Elementary Schools. Wishing you all the best!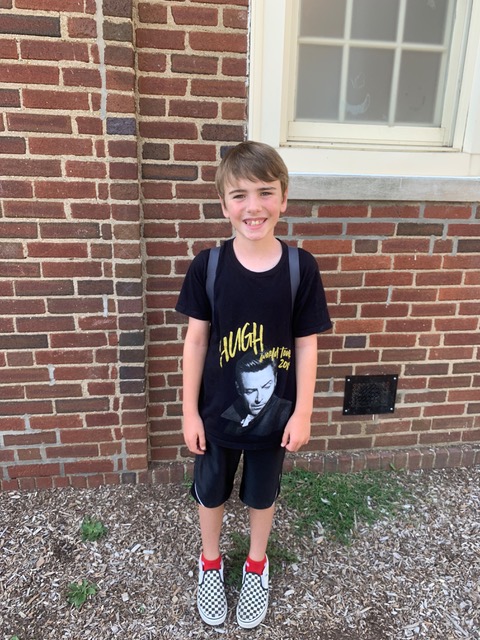 Ryan Smith, Edgewood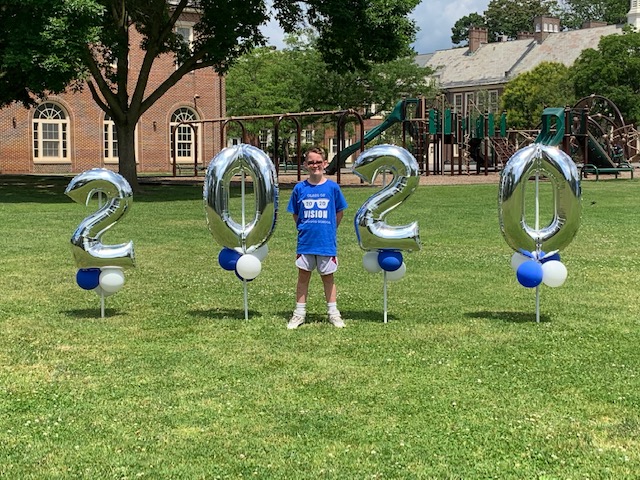 Luke Knopp, Edgewood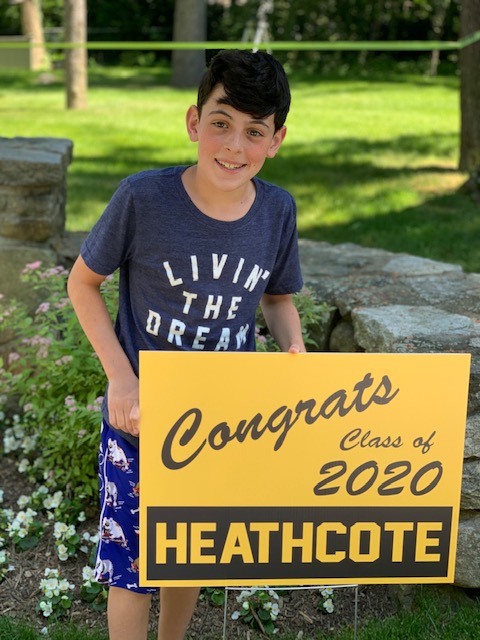 Aaron Lichtenstein, Heathcote


Fig and Olive Files for Bankruptcy
Details

Written by

Joanne Wallenstein

Hits: 8823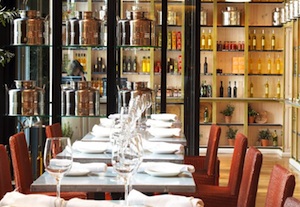 The COVID crisis is predicted to be the end for many restaurants and now Scarsdale is seeing one of its first casualties Fig and Olive, with nine restaurants in Scarsdale, New York City, Washington DC and Los Angeles has filed for bankruptcy.
According to Bloomberg News, the reasons for the failure included the pandemic and employee lawsuit related to a Salmonella outbreak in the Washington and Melrose Place restaurants. In 2015, 39 people who ate at the Los Angeles restaurants were sickened with Salmonella which was blamed on the restaurant's Truffle Mushroom Croquettes. Additional cases were reported at their Washington DC site. The company settled cases with many of the diners for an undisclosed amount.
The restaurants are owned by Luxury Dining Group who filed for bankruptcy protection, blaming employee lawsuits and the pandemic. The Scarsdale Restaurant is located in the Vernon Hills Shopping Center and is spacious and sleekly designed with indoor and outdoor seating. The restaurant opened in 2010 and features a long wine bar and Mediterranean fare as well as their own brand of olive oil.
Some of the companies nine restaurants could reopen depending on their potential. According to the article, 700 people were laid off and only 34 remain on staff.
SHS Students Produce "Scenes from a New Normal" Documenting the Effect of the Virus on Scarsdale
Details

Written by

Joanne Wallenstein

Hits: 3093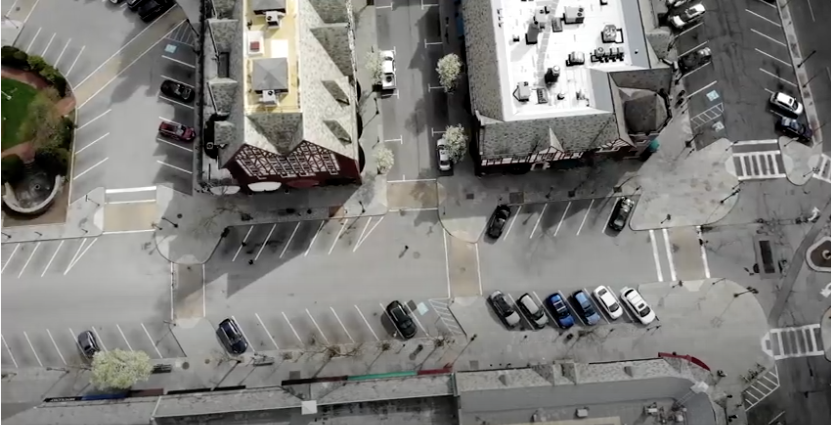 Three SHS sophomores have created a 23-minute documentary that chronicles the Corona outbreak and its effects on our hometown. The short film, titled, "Scenes from a New New Normal," is insightful, poignant and timely and has already received over 4,000 views on YouTube where it is posted online.
In order to create the film, William Reed, Jordan Cascade and Jake Lubin filmed over 36 hours of footage and conducted 26 interviews to show a wide variety of perspectives on how the virus hit the community. They were also able to include stunning aerial photographer of Scarsdale and the area made possible by use of a drone.
They spoke to students, teachers, business owners, SHS Principal Kenneth Bonamo, Scarsdale Mayor Marc Samwick, a CEO, a Rabbi, a physician and a resident who fell ill. All of the interviews and production were done entirely over Zoom, making this one of the first films to be produced totally online.
We spoke to Will Reed about the film and he explained, "As schools closed, the three of us decided that a productive use of our time would be to utilize our common interest in filmmaking and journalism to inspire people and bring insight to our community. Jordan Cascade used his drone to capture aerial shots of a variety of locations around the town and surrounding areas. We used these shots to manifest the desolate nature of the town during this period of isolation. In addition to the drone shots, we compiled clips and footage from students and friends. We used these to reminisce on days at school before the closures. We then asked our peers to send us footage that captured how they were spending their excess of time in creative ways."
Reed continued, "While conducting interviews over Zoom, we found it best to engage in a casual conversation, rather than a formal interview. Although we did prepare questions, we would let the conversation flow naturally and refrained from sticking to a rigid script, as we felt this allowed our interviewees' most raw feelings and thoughts to surface. One of the most difficult aspects of this collaborative process was that we never actually worked together in person. We collaborated entirely over Zoom and we made suggestions to Jordan as he edited during these calls."
And what has happened since the film's release? Reed said, "Since our release, the reaction to the documentary has been incredible and has exceeded our expectations by miles. In less than 8 hours, we received over 2,000 views, and that number is still climbing. We have received so many kind messages with people voicing their support and their feelings about the film. This reaction has been more than what we could have ever asked for, and we feel that we have achieved exactly what we set out to do: uplift our community."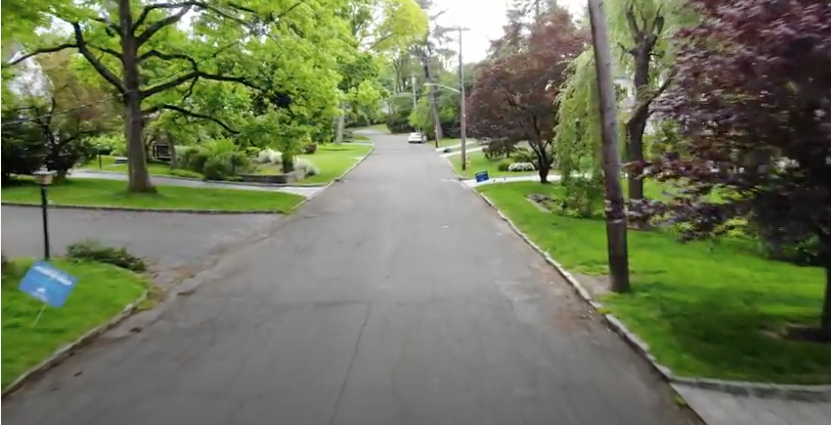 We asked for some information about the three young filmmakers and here is what they shared: Jake Lubin has been interested in filmmaking and journalism for a number of years. Creating a documentary was the perfect way to combine these passions.
Will Reed has an immense passion for creativity and artistry. The creation of this documentary highlighted his interviewing and collaborative skills.
Jordan Cascade has always been making films, even as a third grader, making a movie about Hurricane Sandy. After the closure of his school, he knew this would be another life-shifting moment and joined Jake Lubin and Will Reed in creating Scenes from a New Normal.