A Thoroughly Modern Menu in A Victorian Setting at Lilly's in White Plains
Details

Written by

Judie Dweck

Hits: 3106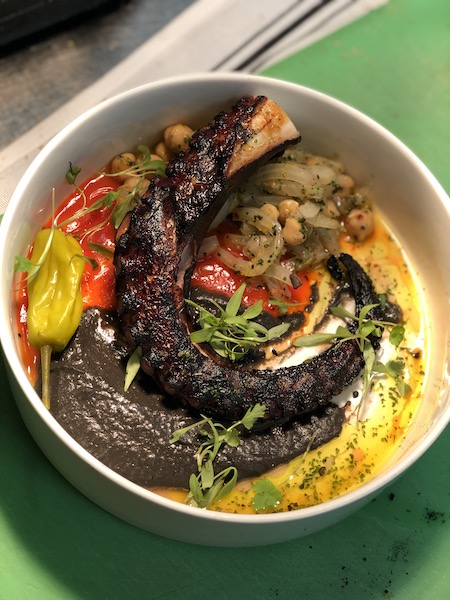 n busy Mamaroneck Avenue, with its many pubs and bars, Lilly's stands out with its Victorian décor and thoroughly modern menu, a most unusual and pleasing combination. A tin beamed ceiling, dark wood floors, brick and dark wood paneled walls, deep red tufted leather banquettes, wine colored fringed draperies, crystal chandeliers and gilt mirrors set the mood. You can choose to dine at the 25 plus seats at the marble topped bar, adorned with marble statuary, at a high top table or at a cast iron pedestal table, as we did. In warm weather an outdoor patio in the rear of the restaurant awaits.

I arrived at Lilly's on a weekday at noon. Within a short time, the restaurant was filled with guests. There were business groups, ladies who lunch, and shoppers among them. Each table was presented with a large extensive menu. It was fun observing the various groups choose from the innovative and varied choices available.

My host was one of the managers, Manny Campos. His favorite part of working here is communicating with his guests and staff. "Lilly's is a feel at home restaurant serving modern tapas and much more. Our goal for the future is to get better and better in food and service." Owner Brian Mahon who also owns Hudson Grill, next door, is a seasoned restauranteur who sets a cheerful mood at his establishments.

Chef Tyler Jacobs has headed the kitchen at Lilly's since its inception and his creativity is still operating at full speed. Everything is prepared from scratch with top notch ingredients. Culinary school and the kitchens of BLT and Picholine in Manhattan, led him to heading the kitchen here in Westchester where he has utmost respect for the ingredients and combines them in creative wonderful ways. I remember him saying, shortly after they opened, that he expected to train to be an architect. Well, here he is, a culinary architect building unusual and tasty dishes here in Westchester.

Chef Jacobs has created about two dozen "small plates "for his dinner menu. During my recent visit, I tried the seared scallops. The very fresh scallops were seared to a golden brown and arranged atop a tabbouleh salad, a puree of sweet potatoes and a touch of pomegranate vinaigrette. It was a sophisticated and fine combination of flavors. Sliced and grilled hanger steak was simple and delicious with herbed citrus aioli. The very popular tuna tartare was unique with its grapefruit vinaigrette enveloping the cubes of freshly cut tuna. Guacamole, cilantro and sliced red radishes added interest and crisp chips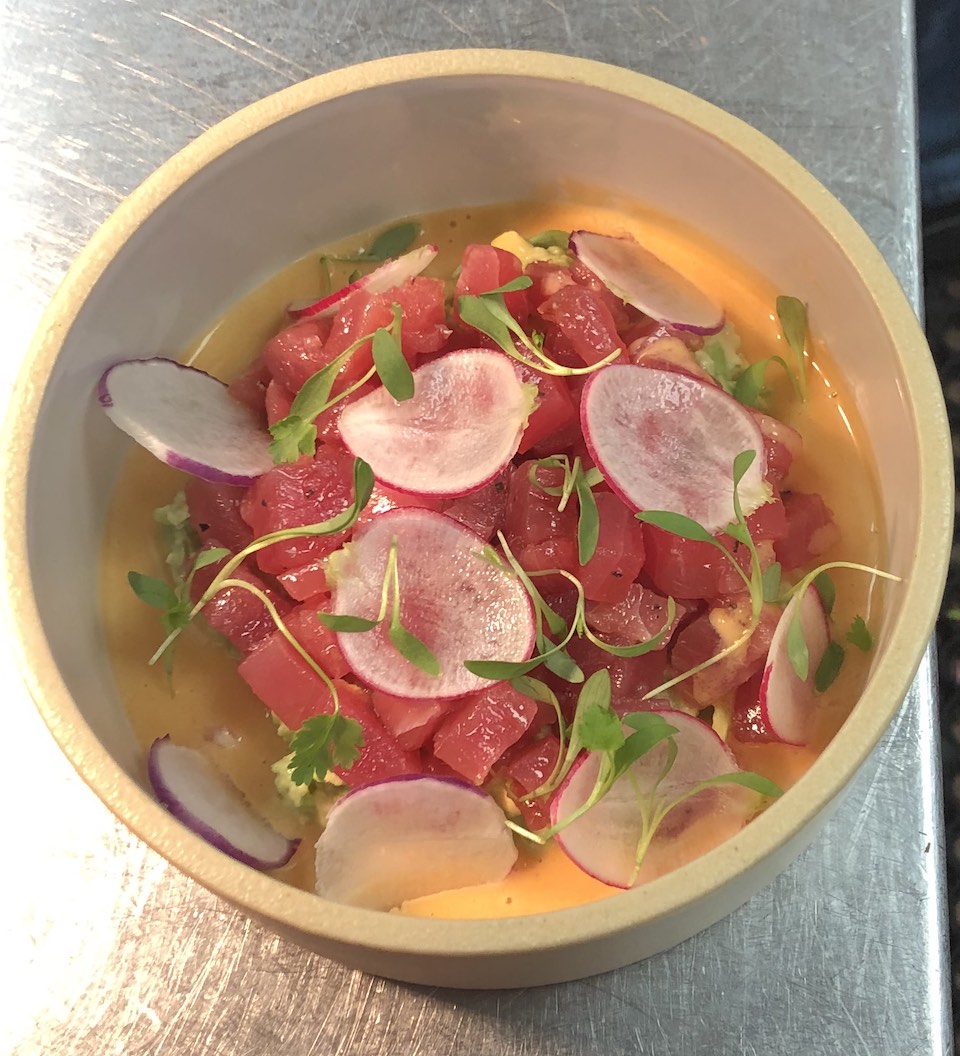 accompanied this classic with "the Tyler Touch." Not to be missed are the ricotta croquettes. Six of these fried balls of ricotta dough were flavored with rosemary infused honey. It would be difficult to eat just one. Although they are listed among the small plates, I think they would be a fabulous dessert, as well. Return visits might include small plates of fish tacos, lobster skewers, grilled octopus, steamed mussels, meatballs, or the outstanding roasted cauliflower, brussels sprouts with Caesar dressing and parmesan, burrata or gnocchi with sage, shitake mushrooms and apples. All of the above are presented as small plates. They certainly are large enough for sharing, which allows you to sample a large variety of these gems at one meal.

If fresh seafood is your passion, indulge in a selection from the raw bar. Oysters and clams, as well as seafood platters with lobster tail and shrimp await your tasting.

Pizza here is a popular option. Choose from their innovative toppings. Atop a nicely charred crust was a topping of crumbled short rib, cheddar, caramelized onions and red wine. It was quite delicious. Another favorite was the clam pizza with freshly chopped clams, parmesan, parsley and chili flakes. A squeeze of fresh lemon juice added to the flavor. I was delighted to find the chopped clams tender and not tough in this oven baked pie. Very popular is the bee sting pie with sliced soppressata, honey, mozzarella, oregano, parmesan and a generous sprinkling of chili oil. Other tempting choices are truffle pizza, Peking duck pizza, Kalamata pie, feta and spinach pie fig and arugula and Lilly's meatball pie. For the traditionalist a classic Margherita pie is offered. Upon request, a handmade gluten free dough is available.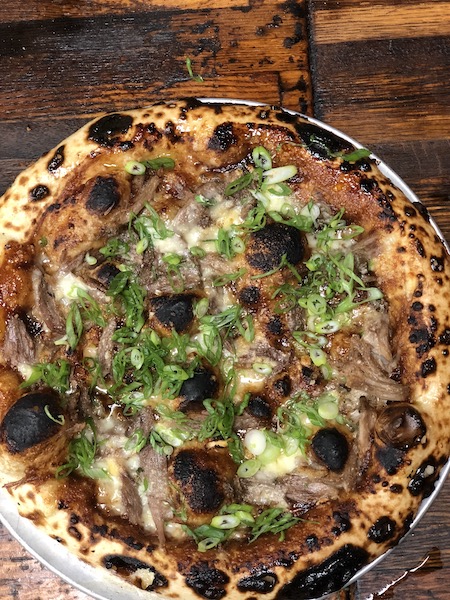 If you haven't sated your appetite with small plates and pizza, try one of the large plates, as we did. Upon Manny's suggestion, we ordered the pan roasted branzino. The whole fish appeared on the plate, which concerned me, since deboning a fish is not one of my favorite activities. A sigh of relief upon opening the fish (like turning a page in a book), I found it was completely filleted, delicate and divine. It rested on a nest of quinoa, chunks of roasted beets, fennel and orange segments with an orange vinaigrette. This original combination of ingredients was lovely since the grain, vegetable and fruit complimented the delicate fish instead of overpowering it. I anticipate trying other large plates of seared salmon with celery root puree and figs, brick pressed chicken and wild mushroom risotto in the future. A Tuscan kale salad with buttermilk ranch dressing is one of the pleasant salad choices offered.

I couldn't manage dessert, but butternut squash cake with port roasted figs, brulee pumpkin cheesecake and apple cobbler with streusel topping are among the choices to complete a beautifully prepared unique meal.

The lunch menu is extensive, as well, with many of the dinner dishes as well as interesting sandwich choices such as grilled vegetable panini, sliced steak sandwich with fontina, horseradish aioli and red wine onions, and prosciutto grilled cheese. Brunch is served with complimentary bloody mary or mimosas. Choose from cinnamon raisin French toast, loaded bagel, chicken and waffles, banana flambé pancakes, smoked salmon pizza and much more.

There is a happy hour from 4-7 Monday through Friday at their roomy bar.

Yes, Lilly's is a fine spot to enjoy lunch, brunch or dinner with a large creative menu offered at each meal. There are seasonal changes on the menu and weekend specials, as well. With Chef Tyler Jacobs at the stove you can always expect a creative and delicious meal. Try Lilly's soon.

Lilly's
169 Mamaroneck Avenue
White Plains
914 997 5600
Website


The Rail House Restaurant 10803….New and Delightful in Pelham
Details

Written by

Judie Dweck

Hits: 3958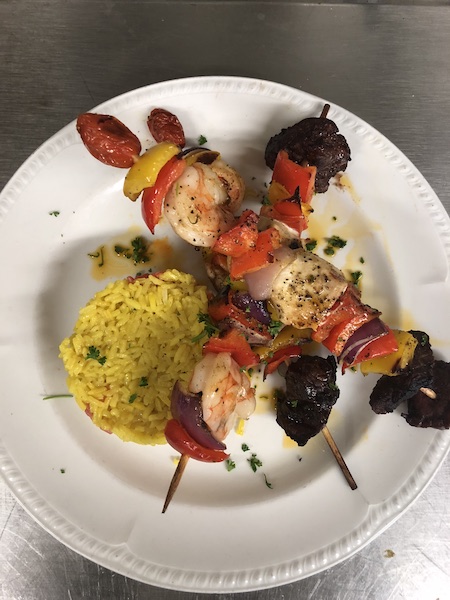 A quote from Luciano Pavarotti appears on the menu at The Rail House; "One of the very best things about life is the way we must regularly stop whatever it is that we are doing and devote our attention to eating. '' And so I did.

Upon checking out the address of The Rail House, it seemed familiar. It has been home to Bacci, Villa Nova and Casa Amore. Its newest occupant is the charming, rustic Rail House Restaurant. It is managed by Florio Rugova, a familiar face in the Westchester world for over 30 years. I remember his professional presence at La Fontanella and Jordan Hall in Pelham. Rugova believes that a restauranteur needs to be "a people person", gracious, understanding and with a good knowledge of the business." He certainly fits the bill. For Rugova, the best part of the work is to see his guests leave happy. Rugova indicated that among the many restaurants in Pelham, "The Rail House is unique because of its diverse menu, its ambiance and its railroad theme. We are very proud of our product and our Italian American menu offers a little bit of everything to suit every taste. If Rugova was a guest at The Rail House, his meal might start with chicken dumplings, tuna tartar or ceviche. This would be followed by short rib, branzino or pappardelle with short rib stroganoff and his meal might end with a flute of hazelnut chocolate, mango guava or lemoncello gelato.

A black awning greets you as you enter this cozy restaurant. It has been completely redecorated in black and white tones. The main dining room, with its beamed ceiling, seats about 70 guests. Black and white railroad related photos and signs adorn the walls. The adjoining bar is roomy, as well. Upstairs, there are two party rooms for private events. They are open seven days a week. On Monday through Friday you can enjoy a happy hour from 4 to 7 PM.
We were seated at a cast iron pedestal table with the sun shining in from the window as we awaited the treasures being prepared by Chef Rolando Cordado, who has honed his skills in several high end New York City restaurants.

As we checked out the menu, warm bread and a dish of fresh ricotta, olive oil and a dip of eggplant, sun dried tomatoes and roasted peppers was presented for us to nibble on. As our dishes arrived one by one, we noted that the simple white dishes displayed each course beautifully. We started our meal with plump Maine mussels. The creamy Dijon mustard sauce enhanced the flavor of the mild tasting mussels. Thinly sliced grilled toast absorbed the flavor of the rich sauce. Chicken dumplings were pan fried and generously filled with a mild chicken filling. The won ton wrappers remained crisp. A tangy sweet chili sauce sat beside the dumplings for dipping. They were delicious and can also be prepared steamed instead of fried. I look forward to enjoying the steamed clams, with white wine and chorizo, potato gnocchi with grapes and goat cheese, and other interesting appetizers. The raw bar included clams, oysters, seafood towers, shrimp cocktail, ceviche and smoked salmon. We couldn't resist the tuna tartar. Here, pristinely fresh ahi tuna was coarsely chopped and formed into a disc. It was topped with avocado and set on a bed of seaweed and sprinkled with black and white sesame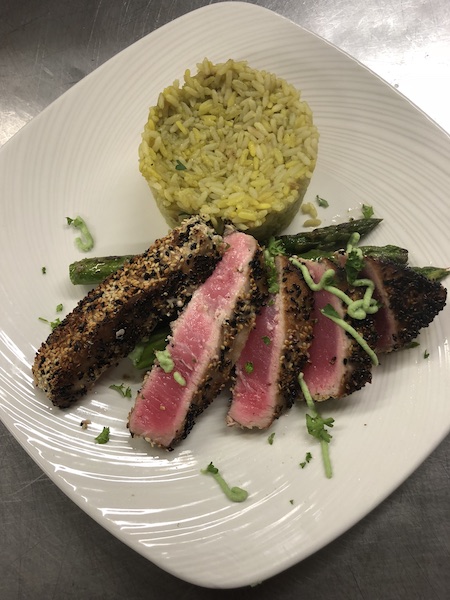 seeds. Chili sauce completed this light and excellent starter.

With winter weather outdoors, a good entrée choice is the braised short rib. The slow low braising process produced a very tender and flavor filled dish. I never used the knife at my place setting since the meat fell apart at the mere touch of my fork. This tender cut of meat rested in a nest of mashed potatoes, surrounded by roasted Brussels sprouts. Branzino was nicely fileted and blackened for a full bodied taste. It was served atop the currently popular, healthy and tasty Brussels sprouts. This time the sprouts were shaved and tossed with mushrooms. Barolo wine and a bit of sweet mango salsa complimented the spicy blackened spices on the coating of the fish. Other creative entrees include wasabi tuna, the railroad tracks, (skewers of filet mignon, shrimp and chicken) and classics of New York strip steak, chicken scarpariello, chicken martini, paella, as well as lighter fare such as a signature burger, a salmon burger and fish tacos.

Of the pasta selections The Station, pappardelle with short rib stroganoff, and the sea linguini marinara or fra diavolo are waiting to be devoured. A massive brick pizza oven glows in the back of the dining room offering a variety of pies such as buffalo chicken, vegetable, sausage and broccoli rabe and of course Margherita. Salads here include a classic Caesar and some inventive combinations such as a Thai salad with cabbage, pine nuts and romaine dressed with a sesame ginger dressing, beet and kale with quinoa and almonds and a chopped Greek salad. Add a protein for a light but hearty meal. One of the daily specials of the day was indeed special. Our parmesan encrusted cod was divine in its simplicity. The delicate filets were lightly crusted with crumbs and parmesan. The filets surrounded a mound of freshly sautéed spinach. This combination of ingredients sat on a pool of beurre blanc studded with a small dice of tomatoes. It is clear that fish cookery is one of Chef Cordado's many gifts.

Complete your meal with a sweet bite. A slice of cappuccino cake was rich but not too sweet and a lovely ending to our meal. Espresso infused chocolate cake layers were alternated with coffee cream and topped with a sprinkling of cocoa powder. Freshly whipped cream shared the plate. A flute of hazelnut chocolate gelato was a light conclusion, as well.

Lunch specials are offered seven days a week from 12-3 o clock with a choice of appetizer, entrée and coffee or tea.
A leisurely lunch or dinner at The Rail House offers friendly, professional service and a beautifully prepared variety of dishes. It is a fine addition to the growing restaurant scene in Pelham. The manager and host Florio Rugova makes you feel welcome at this new and charming dining venue.

The Rail House Restaurant 10803

65 First Street
Pelham, New York
https://www.therailhouse10803.com
914 365-1044
America's Favorite Food At Westchester Burger Co. In Scarsdale
Details

Written by

Judie Dwck

Hits: 4083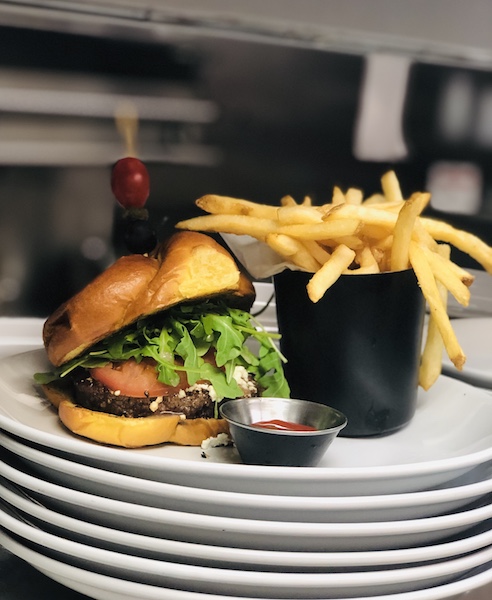 Garth Road is quickly becoming the place to visit for a large variety of restaurants. Most recently, I stopped at the new Westchester Burger Co. Managing partner Vincent Corso explained that Angelo DiFeo, owner, chose the Scarsdale location since Scarsdale is a community generated area with strong family values. "We want our presence to be felt in Scarsdale and the surrounding communities. We try to accommodate current trends such as vegan, vegetarian and gluten free diets, as we bring you America's favorite food and much more. Our house made quality dishes set us apart from many other burger spots."

Seating about 85 guests, the casual space has a bar and high tables towards the back and many tables and banquettes fill the dining room. Corso described the room as quaint and comfortable. The kitchen team was entirely trained by Angelo DiFeo. His mother is a chef and he learned his craft at the family restaurant, Grazziela, in White Plains. Plants in the wall niches, movie posters and a wall sized black and white wall hanging, the work of Sabrina's murals, catches your eye. The spot has a simple contemporary feel. I was happy to note the cloth napkins at each setting in this casual restaurant.

To start your meal, try an everything Bavarian pretzel, Reuben or chicken spring rolls, crispy mac n cheese or stix and bisque, grilled cheese and tomato bisque, or as I did, Brussels sprouts. With the mention of Brussels sprouts, many people will turn up their nose and say no thank you. Clearly, they haven't tasted the dish, as served at WBC. Here, the sprouts are cut in half and roasted with the addition of chopped cashew nuts, mint, sweet Thai chili and a drizzle of spicy sriracha aioli. For " fine dining between the buns" they offer 21 combinations to suit every taste. If you wish you can also build your own burger with choices of protein, toppings and breads. The WBC Burger with its all natural blend of beef, is enhanced with smoked mozzarella, lettuce, tomato, pickle and a mayo based WBC sauce, on a brioche. The Balboa Burger is a beef burger topped with Swiss cheese, bacon, and frizzled onions on a garlic toasted bun. The grass fed lamb burger is rich in flavor with a julienne of zucchini, caramelized onions and rosemary flavored aioli on focaccia. Those are the ones I sampled. It will take 18 more visits for me to try them all. The greenhouse burger is a double stacked veggie burger with guacamole and a balsamic vinaigrette. There is a plant based burger, a sesame seared tuna burger, A Reuben burger with pastrami and a bada bing burger with a hot Italian sausage blend, broccoli rabe and provolone and a bison burger, and the list goes on. There is even a sophisticated kobe burger. They are served with either a salad or fries. The sweet potato fries were crisp and tasty. In the event that you have not had your fill of turkey, there is a Thanksgiving burger with ground turkey, corn bread stuffing, cranberries and gravy.

In addition to their varied burgers, there are sliders and tacos, as well. I was very impressed with the blackened tuna taco. The rare tuna was combined with avocado and poblano cream with an amazing blood orange power blend which gave the fish a truly delicious flavor. I look forward to trying the beer battered cod taco, the wild mushroom flatbread and the zesty arugula flatbread, as well. Wings are a popular choice here. " It's all about the sauce". Try old bay, spicy sriracha, Thai peanut, or chipotle citrus bbq to name but a few sauce choices. Among the entrees, fish and chips, grilled Atlantic salmon, roasted or fried chicken, and blackened ahi tuna are offered. I couldn't resist the bbq baby back ribs. They were fall off the bone tender and the slow, low cooking intensified the bbq flavor.

If you wish a lighter choice, the harvest salad with arugula, beets, apples, dried cranberries, walnuts and goat cheese with a shallot vinaigrette or the farmhouse salad with avocado, red onions, and croutons with that amazing blood orange dressing with or without a protein are fine possibilities.

The list of homemade finales are varied and rich. Brownie sundae, tiramisu, fried oreos, very berry napoleon and bago dough are some choices. There is even a gluten free chocolate cake and a bread pudding of the day. Creative cocktails perhaps a Manhattan in Westchester, Pear Collins, or Concord Grape Mojito can accompany your meal.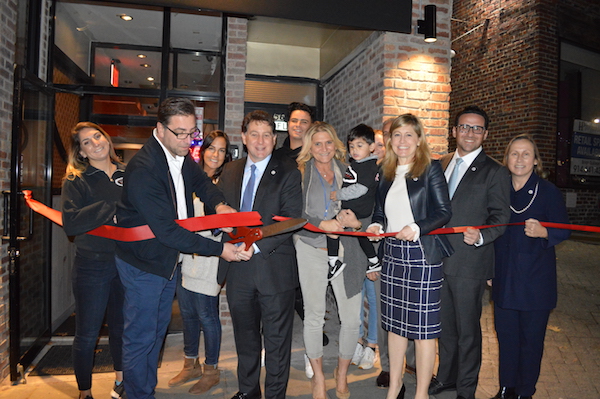 Scarsdale Mayor Marc Samwick and Village Trustees Jane Veron, Justin Arest and Lena Crandall celebrated the opening of the restaurant with a ribbon cutting on Tuesday November, 26.

At lunch, in addition to the regular menu, there is a $12 lunch special. Stop in for happy hour weekdays from 4-7 PM. If Sunday brunch is your meal of choice, from 11-3 WBC offers, "The ultimate brunch experience. " Whet your appetite with smoked salmon flatbread, apple cinnamon French toast, vegetable frittata, chicken and waffles or a protein bowl. WBC seems to be the LEGO of the food world, with offers to build your own omelette or build your own burger, with many options for added ingredients.

WBC also offers private parties, catering and food trucks. You can order from Grubhub. Enjoy the WBC experience. With the large variety of dishes offered I probably would add "and more "to their name.
Westchester Burger Company
56 Garth Road
Scarsdale
914 205 5900
Tree Lighting and Breakfast with Santa Bring Joy to the Dale
Details

Written by

Oliva Halligan

Hits: 2511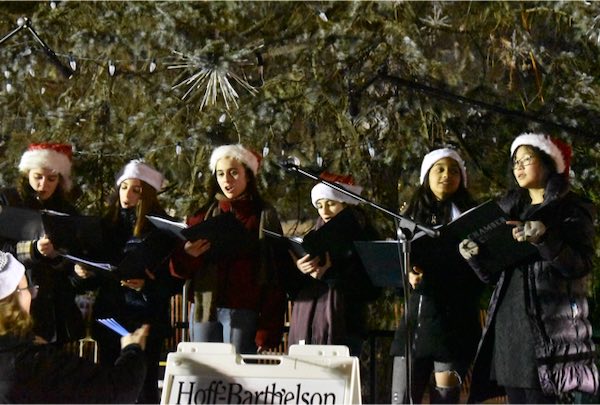 Hoff Barthelson SingersOn Friday December 6, Scarsdale rang in the holiday season with the annual tree and menorah lighting in Boniface Circle. Residents were treated to music, courtesy of carolers from Hoff Barthelson Music School and For Good Measure, the high school a cappela group, as well as hot chocolate served by the Scarsdale Police Department. Santa was on hand to preside over the festivities, and his elves entertained the little ones with cookie decorating and face painting, and planting seeds in ecofriendly planters to take home. The crowd also was able to enjoy dinner on the go from Walter's and Westchester Burger Company food trucks. A great time was had by all.
The festivities continued on Saturday morning, with a special breakfast with Santa that was prepared by the Scarsdale Fire Department. Local families were treated to pancakes and all the fixings, as well as arts and crafts for the kids. The little ones also got to spend some quality time with Santa and tell him what they're hoping to receive this holiday season, and he sent each child home with a goodie bag. Both events were sponsored by the Scarsdale Village Parks, Recreation and Conservation Department as part of their annual programming for Scarsdale residents.
Photos: Olivia Halligan
Granita Cucina and Bar in Hartsdale: Molto Bene
Details

Written by

Joanne Wallenstein

Hits: 3273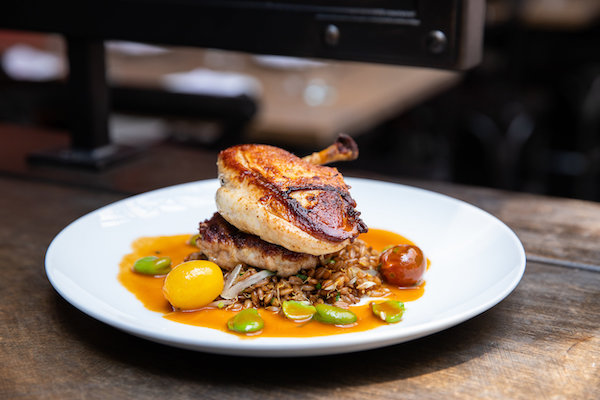 Pan seared chicken with fava beans.When Frankie and Fanucci's closed its doors in Hartsdale a few months ago, many sighed and bemoaned the loss of yet another favorite eatery. It had been a casual spot for pizza and salads, reasonably priced, willing to deliver and reliable. But then we learned that the same management planned to reinvent the restaurant-both the menu and the décor- and open it as Granita Cucina & Bar serving "modern Italian food" and featuring a welcoming bar.
Granita, which refers to a frozen limoncello drink that is served at the end of every meal, opened two weeks ago and is already hopping. We visited on a Tuesday night and found locals socializing at the bar and sampling offerings from the menu. The restaurant has been thoroughly redone in black, white and green and features a long marble bar, a wall of inviting banquettes and bistro style lighting, tables and chairs. Much to our surprise we found that even with a tile floor, the busy restaurant had good acoustics and we could easily converse across the tabletop.
The menu includes many small plates for sharing, along with salads, pizzas, pastas, and entrees (secondi) and vegetables (contori). The large selection ensures that everyone at the table will find something they enjoy.
For starters we tried the arancini, which were fried rice balls with a dollop of smoked mozzarella in the middle. These were delectable. Also from the antipasti menu we ordered the wood fired meatballs which arrived atop creamy polenta in a sauce of tomatoes (pomadoro) and basil oil. Other options included octopus, roasted beets, burrata, yellow fin tuna tartare, and fried calamari.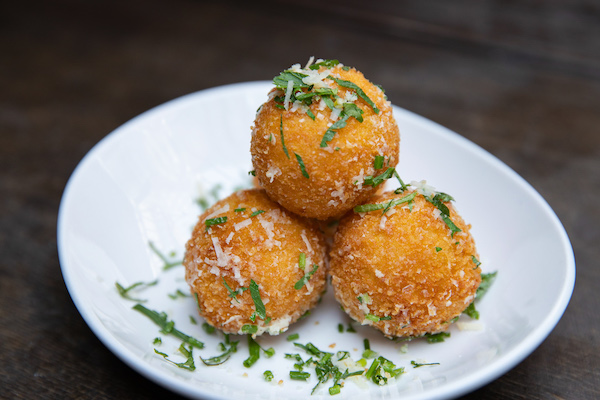 Arancini filled with smoked mozzarella.
Next up was the mixed green salad with squash and goat cheese, topped with candied pecans and dressed in maple vinaigrette. Other salads included the arugula, fennel, radish and orange salad and a Caesar salad with gem lettuce, baby kale, and watercress. Any of these salads can be turned into a meal with a topping of salmon, shrimp, steak or chicken.
For those missing Frankie and Fanucci's, the menu includes nine choices of wood fired pizza – including a gluten free version. There's everything from the traditional margherita to krispy kale with kale pesto, mozzarella, parmigiano and lemon zest to prosciutto with tomato sauce, arugula and parmigiano-reggiano.
For our pasta course we went for the fusilli with wild mushrooms, market greens, truffle oil and sundried tomatoes – all good! But again, if you prefer gnocchi with short rib ragu, linguine with shrimp, or a hearty carbonara, they are all available.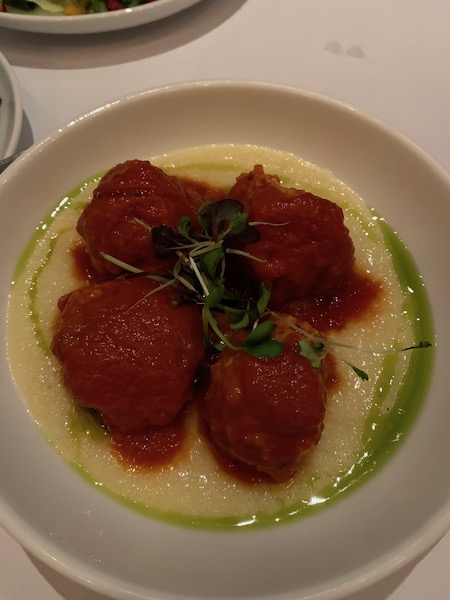 Wood fired meatballs over polenta.And as if this was not enough, you'll find a full range of main courses to complement the small plates. I would highly recommend the pan seared chicken, served atop sprouted rye berry with shallots, fava beans and tomato confit. The chicken was pan roasted to perfection, crisply on the outside, moist on the inside and sure to please all. We also had the branzino, grilled with lemon and fresh herbs, served with a side of broccollini.
We finished our meal with two desserts: Bread pudding with crème anglaise and an almond chocolate tart topped with vanilla ice cream. Though we didn't need more, I must say both were molto bene!
The service was leisurely and gracious -- permitting us time to enjoy the qualith meal, the neighborhood vibe and the happy feeling that we would be back often to savor expertly cooked food in a relaxed atmosphere.
The icing on the cake was the refreshing iced limoncello, or granita, that's served at the end of every meal.
Granita Cucina & Bar is open for lunch and dinner seven days a week and offers cocktails for 2/$13 and wine for 2/$10 at happy hours.
That said, if you miss Frankie and Fanucci's, their Mamaroneck location will deliver to your home in Scarsdale, so give them a call.
Granita Cucina and Bar
202 East Hartsdale Avenue
Hartsdale, NY
914.725.8420
https://www.granitany.com
Hours: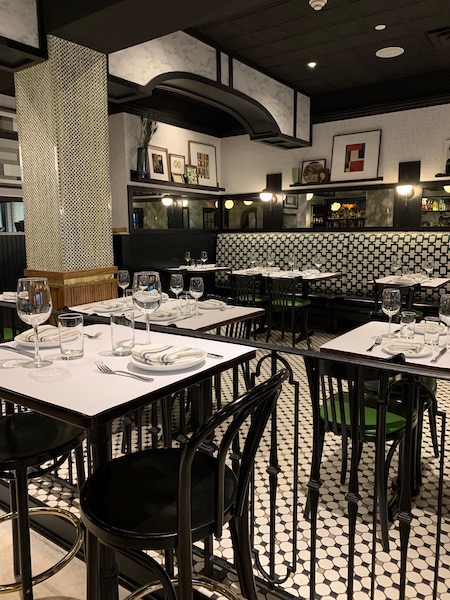 The restaurant has been totally redone.
Sun - Thurs: 11:30 am - 10 pm
Fri & Sat: 11:30 am - 11 pm
The bar is open till it's closed.