Hoff Barthelson Faculty Concert Friday February 18 at 7:30 pm
Details

Written by

Joanne Wallenstein

Hits: 984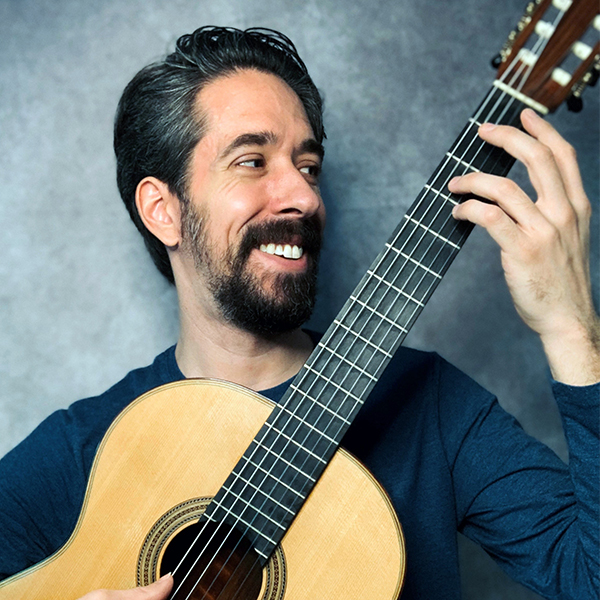 The 2021-2022 Hoff-Barthelson Music School HB Artist Faculty Performance Series continues Friday, February 18, 2022, at 7:30 pm in the School's Joan Behrens Bergman Auditorium, 25 School Lane, Scarsdale, New York.
The concert will feature performances of Manuel Infante's exciting Danses Andalouses and Moisés Simons' El Manisero for two pianos; solo works for guitar by Dušan Bogdanović, Fernando Sor and Carlos Rivera, and will conclude with Samuel Barber's delightful Souvenirs Suite for Two Pianos.
Faculty performers are pianists Eleonora Rotshteyn and Vered Reznik, and guitarist Andrew Marino. Joining the faculty is guest artist Elke Velazquez, piano.
Admission
Admission to the concert is $20 general admission and is free of charge to students under 18 and adult HBMS students. Tickets may be purchased in advance at Eventbrite at https://bit.ly/3r4rSFL, by visiting the School's website (www.hbms.org), bcalling 914-723-1169, or e-mailing hb@hbms.org.
Important Notice regarding COVID-19
Seating is limited to 60 individuals. Please note the following health and safety requirements: Masks are always required in HBMS facilities. All guests must provide proof of vaccination. Students between the ages of 5 and 11 must have received at least one dose of their vaccination in order to attend. No one under age 5 admitted.
About the HB Artist Faculty Concert Series
Hoff-Barthelson faculty comprises some of the nation's most distinguished performers and educators. Many hold chairs in prominent New York orchestras, are members of world-class chamber ensembles, perform in major Broadway productions, and are in international demand as solo artists. Others teach at leading conservatories including The Juilliard School, Manhattan School of Music, and Mannes College of Music. "Hoff-Barthelson prides itself on providing access to these outstanding artist-educators in the heart of Westchester," says HBMS Executive Director Ken Cole. "Our superb faculty has contributed to the Music School's national recognition for unsurpassed leadership in music education, performance and community service. Hoff-Barthelson is proud to present these distinguished performers on our annual Faculty Concert Series." Held in Scarsdale, these concerts guarantee riveting music making of the highest caliber, in an intimate setting, at prices far below those in New York's major concert halls.
About the Faculty Artists
Pianist Vered Reznik has performed throughout Europe, Israel and the U.S. in solo and chamber music recitals. She was a founding member of the Amber Trio which debuted at Vienna's Konzerthaus and took the first prize at the 1994 Jeunesses Musicale international competition. Her festival appearances have included Bayreuth, Janacek, Abu Ghosh, and the Israel Festival. In 2012, she gave a debut performance at the Weill Recital Hall at Carnegie Hall.
Ms. Reznik is a graduate of the New England Conservatory and the Rubin Academy of Music in Jerusalem. She has studied chamber music at the Musikhochschule in Vienna with the Alban Berg Quartet and currently studies with Sophia Rosoff in New York City.
Pianist and composer Eleonora Rotshteyn is a winner of the National Young Pianist Competition, the World Piano Competition, and Leschetizky Society competition. She has made piano appearances in Russia and the US in various venues, some of which include Weill Recital Hall at Carnegie Hall and New York's and New Jersey's Steinway Halls. Ms. Rotshteyn's works have been commissioned and performed by the Mannes Orchestra and numerous other chamber ensembles. Ms. Rotshteyn holds two degrees in both Piano Performance and Composition from Mannes College of Music, as well as a degree in Music Education from Queens College, CUNY.
Guitarist Andrew Marino holds the degree of Doctor of Musical Arts in Guitar Performance from the Peabody Institute of the Johns Hopkins University where he studied with renowned guitarist and pedagogue Julian Gray and taught the Guitar Methods course. Andrew has performed extensively throughout the East Coast and beyond and won prizes in State University's GuitarFest Competition, SUNY Potsdam's Chamber Music Competition, and the Philadelphia Classical Guitar Competition. Chamber music performances include the Sowebo Music and Arts Festival and the H.L. Mencken House in Baltimore, the International Day of Latin and Iberian Art Song, and the Classical Guitar Society of Upstate New York.
For complete faculty artist biographies visit https://hbms.org/faculty/
About Hoff-Barthelson Music School
Hoff-Barthelson Music School has achieved national recognition as a premier community music school for its unsurpassed leadership in education, performance, and community service. With a faculty drawn from the region's most talented teachers and performers, Hoff-Barthelson has long been one of Westchester County's most cherished cultural resources. At Hoff-Barthelson, students find a warm, friendly music school dedicated to the highest standards of education, performance, and community service. Students of all ages, aptitudes, and levels of interest enjoy a supportive, joyful learning environment; a focus on the whole person; exceptional teaching; and a multifaceted curriculum.
Hoff-Barthelson Music School is proud to be a grantee of ArtsWestchester with funding made possible by Westchester County government with the support of County Executive George Latimer. Programs are made possible, in part, with support from the New York State Council on the Arts with the support of Governor Kathy Hochul and the New York State Legislature.
Photo credits: HBMS Faculty members guitarist Andrew Marino. Photos provided by the artist
Orchestra Online: The Challenge of Teaching Music Virtually at SHS
Details

Written by

Adam Katcher

Hits: 821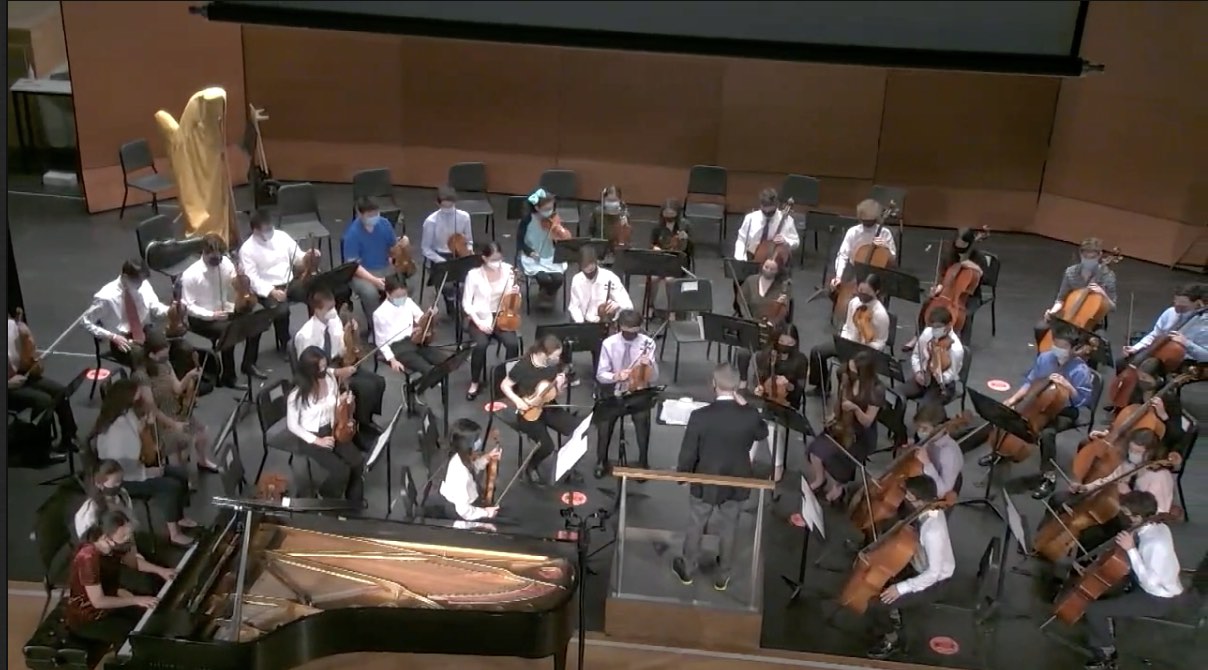 Though it's nearly two years since Scarsdale High School was initial closed down due to COVID-19, the ramifications of the virus are still shaking the school. With a recent spike of the Omicron variant in New York, many students have had to quarantine or isolate and miss valuable days of school. Students are now able to Zoom into class like they were able to last school year.
Nonetheless, learning online, whether it be for one student or the entire school system, has its drawbacks. Most teachers developed effective virtual learning techniques through 2020 and the first half of 2021. Math teachers displayed cameras on whiteboards or pieces of paper and taught similarly to how they would if the students were in class. English teachers photocopied documents and allowed more time for online submissions for writing assignments to stay on pace with the curriculum. Spanish, history, and science teachers (like most teachers) used Google Classroom to send work and keep students up to speed. However, one class is nearly impossible to replicate virtually.
"The challenges are innumerous," explained Amedee Williams, the orchestra director/teacher at Scarsdale High School when describing the learning-via-Zoom experience, "because we can't play together."
Of course, having orchestra classes via Zoom is better than having to cancel orchestra altogether. The orchestra indeed met virtually while all other classes were also virtual, and the Zoom option was still available during the 2020/21 school year for kids who did not return to in-person learning. In some scenarios, Zoom can be a positive for the orchestra, but for the most part, it is a drawback. "Zoom works one on one quite well," Williams claimed, "but when you get to be 30, 40, or 50, it's bad news."
Williams continued, "Being able to hear each other well is also a challenge. Even when someone is playing by themselves, it gets cut off and you can't really hear. And for an orchestra class, there are so many students that managing everybody in a group is a challenge."
When asked about whether there are effective adjustments that could be made if an all-virtual schedule had to be returned to, Williams admitted, "There's not much we can do in terms of change. Cornell and Yale, for their orchestra classes, they changed from playing music to music history when virtual. But, for a class of our size and what our class is meant to be, that is far from optimal."
For now, the hope is that school will remain open and that orchestra class can carry on as usual. The first-semester concert was a success, and the hope is the second-semester concert will build on that progress. The planned orchestra February trip had to be postponed for a second consecutive year, though 2023 will ideally be the year to put the orchestra's traveling plans back on track.
Some music is better than no music at all, but there is no question that virtual learning for an orchestra class can be detrimental to an individual – and group's – progression as musicians. Individual talent can be improved upon, though improving as a cohesive musical unit is impossible when one violinist is three miles away from their stand partner.
Designing Your Holiday Table
Details

Written by

David Cipperman

Hits: 1197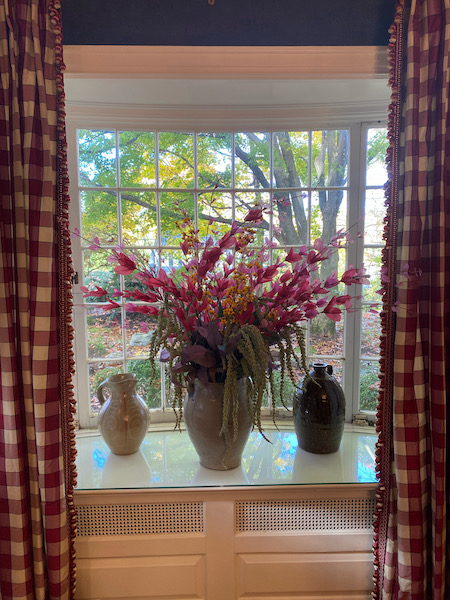 There's more to Thanksgiving than the turkey. Don't forget to plan ahead for a festive table. Architect and designer David Cipperman has some wonderful tips about how you can set a beautiful table by combining many items you may already have with seasonal fruit, gourds, foliage and candles for a colorful tableau. Now's the time to pull out the family heirlooms and mix and match them to create a unique look.
You can do the work in advance so that you can concentrate on the food before the big day.
Here are some tips on assembling your holiday table:
1) Take stock of what you have. Take out colorful tablecloths, napkings and pull from different collections of silverware, plates and glasses. Incorporate family heirlooms or items that trigger treasured memories. This will add to the uniqueness of your table and will start a conversation that shares the love and joy these memories recall.
2) Take the holiday decor beyond the tabletop and add a dramatic arrangement of seasonal branches and foliage in front of a primary window or on a sideboard. This will go a long way to extend a warm festive atmosphere. Build your arrangement with cuttings from your own yard and find dried flowers and at Michaels. Buy gourds, pumpkins and pomegranates to decorate the table.
3) Approach the setting of your table as a fun design challenge. Gradually create your table setting by layering each component; from the table linens to the last seasonal leaf or gourd. This will give you a chance to evaluate the progress and effect of your choices.
4) Mix and match plates from different sets.
5) Top each setting with a colorful cloth napkin and a napkin ring.
6) Pull out your candles: tapes, votives and scented for a holiday glow.

Need help with your interior design and home decor? Feel free to visit David Cipperman's website: www.cippermandesign.com or reach out to him at david@cippermandesign.com.
Have fun and send photos of your holiday table to scarsdalecomments@gmail.com.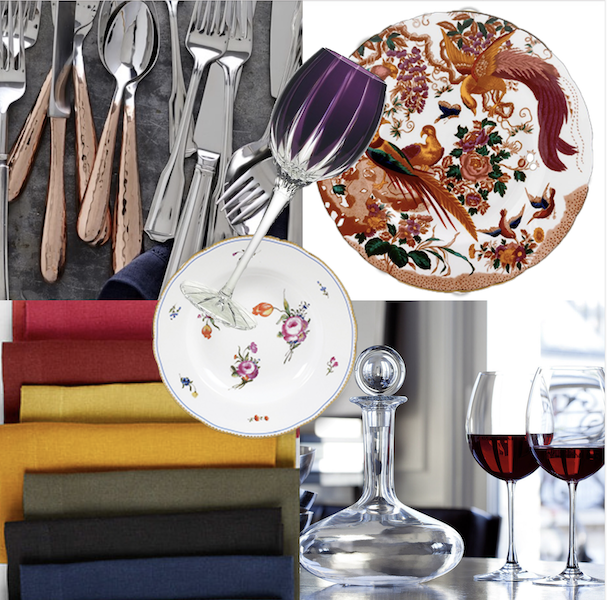 Take stock of what you already have.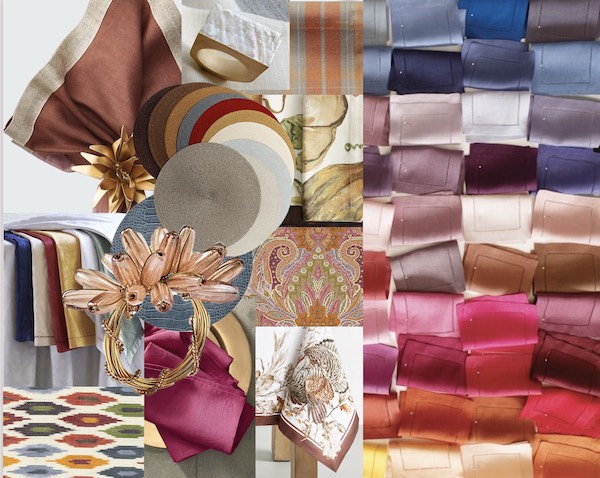 Use a coloful tablecloth, placemats and napkin rings.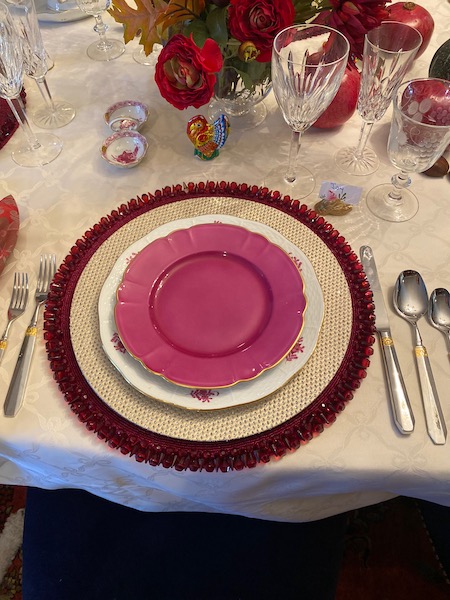 Mix and match plates from different sets.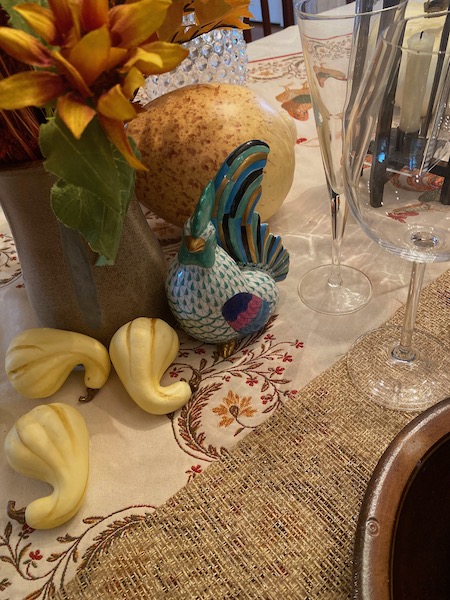 Scatter the table with pottery, pumpkins, gourds and fruit.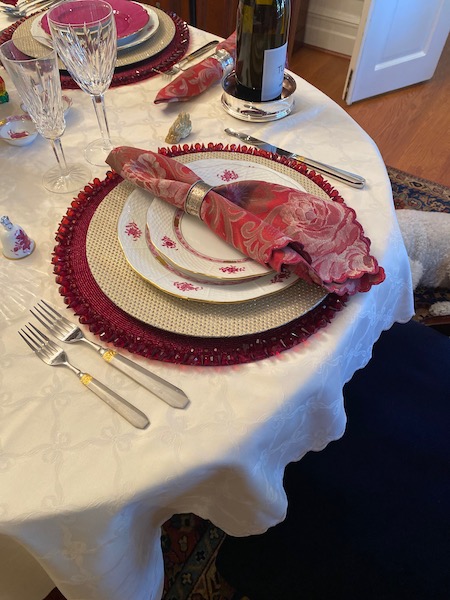 Top each setting with a napkin wrapped in a ring.
Shop the 'Dale for Holiday Gifts, Eats and Experiences
Details

Written by

Joanne Wallenstein

Hits: 2572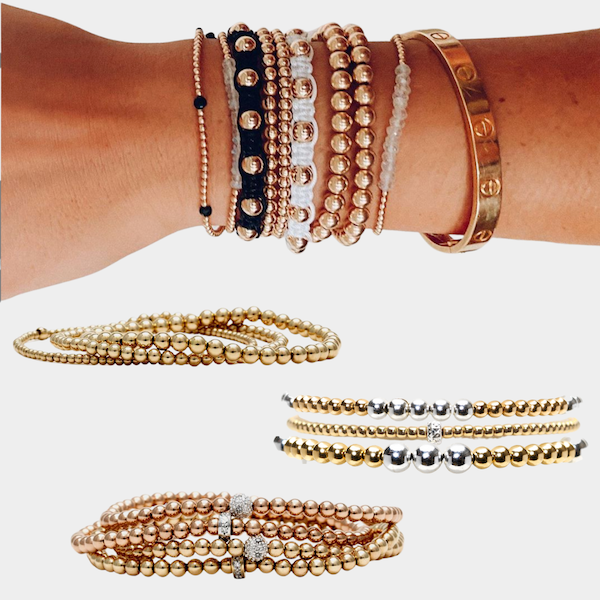 The holidays are here and Christmas just a few weeks away. Local retailers, restaurants and spas are ready to help you enjoy the season with great gifts, aromatic scents and festive eats for holiday celebrations. Not sure what to buy? Consider a gift card for books, crafts, dinner, music lessons, a spa treatment or a Dale Dollars gift card, to be used at local businesses.
Here's what's in store in Scarsdale: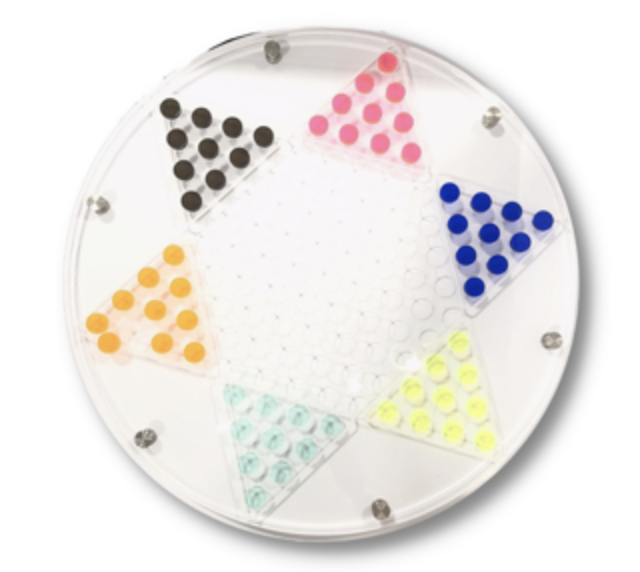 Current Home: Home is where the love is this holiday and Current Home has exactly what everyone needs to make time at home special. Current Home is the go-to destination for a large selection of games the whole family can enjoy.
Family fun always makes a great gift. This new neon acrylic Chinese Checkers is a great twist on an old favorite: $320
This rainbow bookset is a current home exclusive. Each book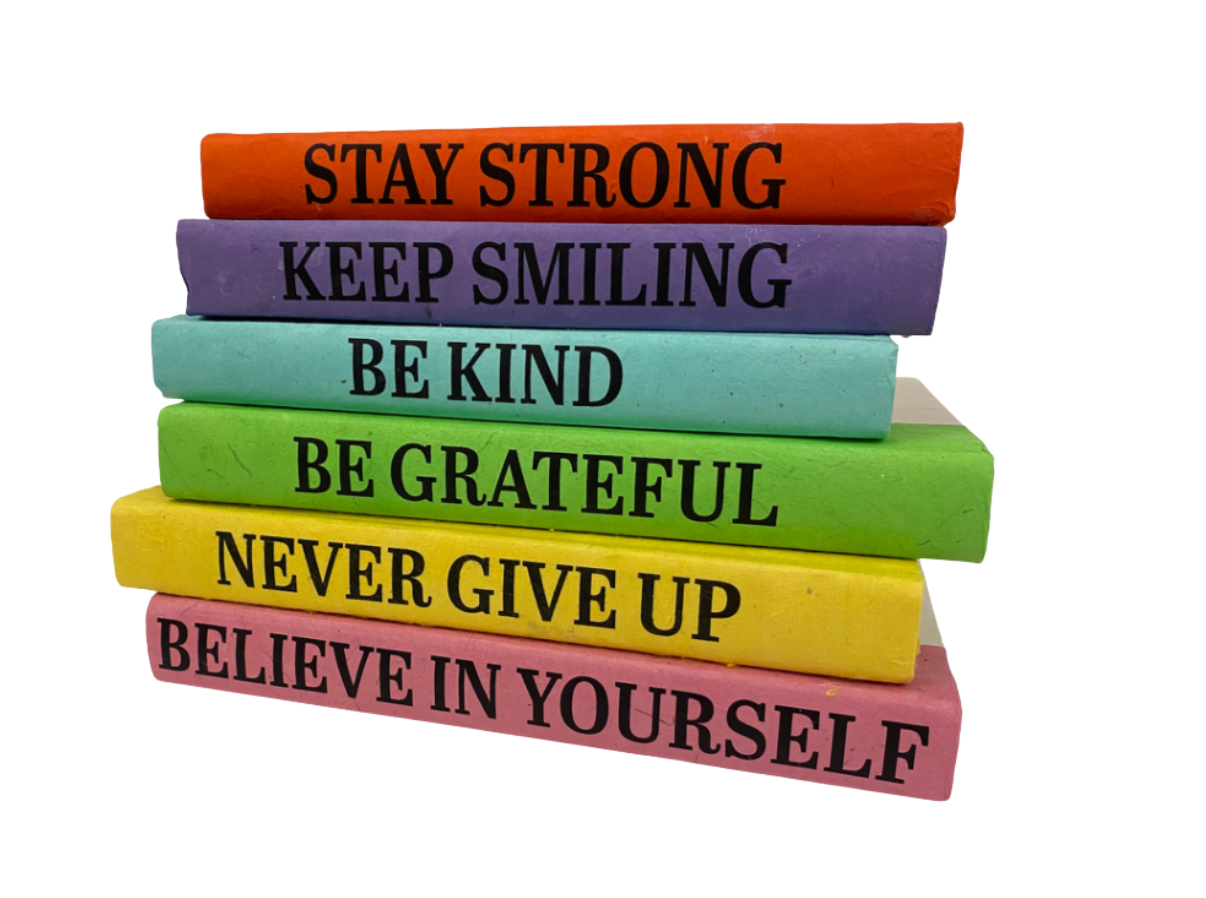 has uplifting words that will keep everyone inspired. Bookset $250. Current Home, 1096 Wilmot Road, Scarsdale, NYC: 1189 Lexington Avenue, New York, NY


Greenwich Medical Spa: This season, let our nationally recognized team provide you with award-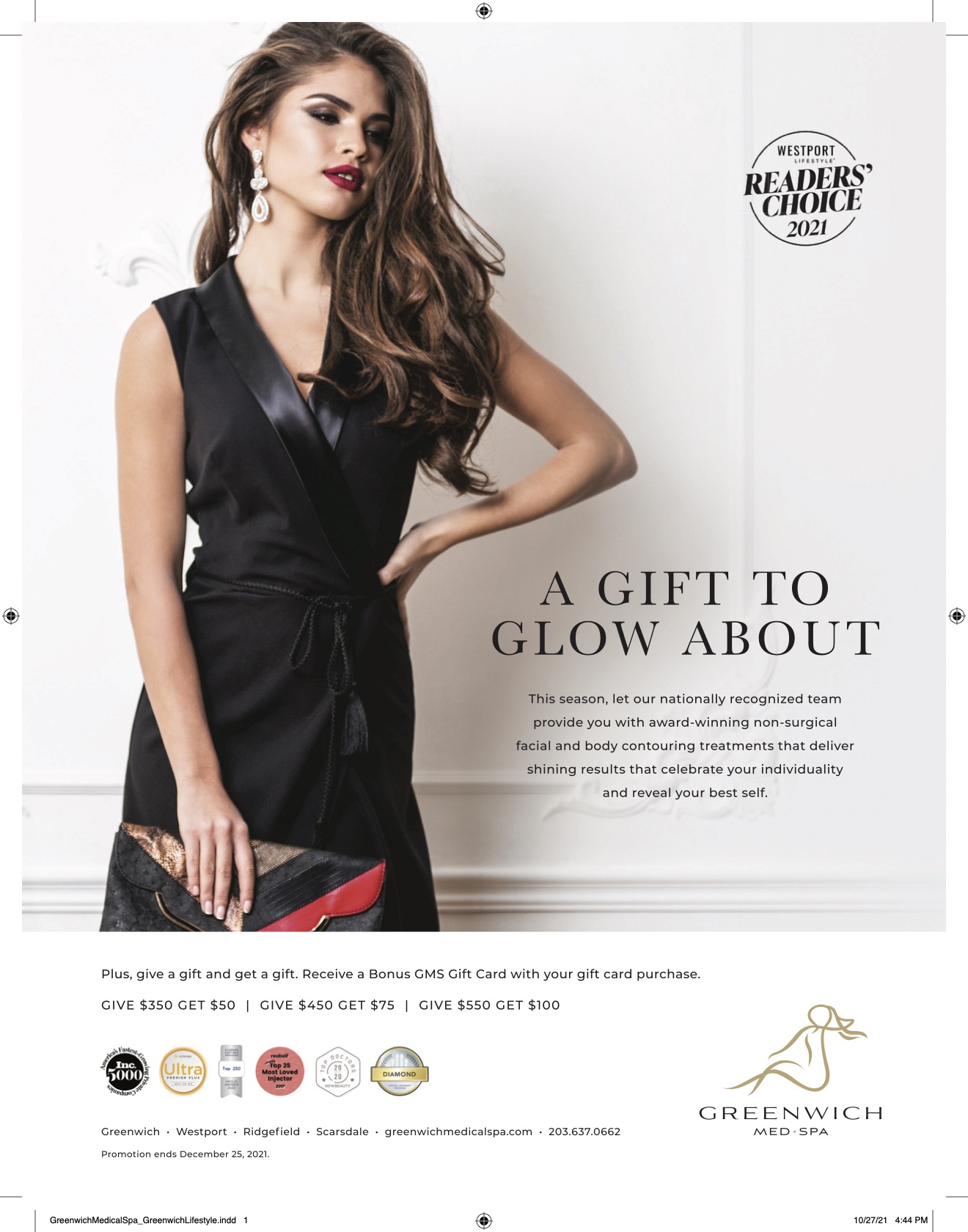 winning non-surgical facial and body contouring treatments that deliver shining results that celebrate your individuality and reveal your best self. Greenwich Medical Spa, 1132 Wilmot Road, Scarsdale, 914-722-6869, www.greenwichmedicalspa.com
Holsten Jewelers knows the purchase of fine jewelry begins with trust. For 109 years, the Holsten name has been synonymous with elegant design, fine craftsmanship, integrity and impeccable service. Holsten Jewelers prides itself on its service department, an in-store jewelry and watch repair center, appraisals and ear piercing.
We offer an array of high-end bridal vendors for engagement rings and wedding bands. Our fashion jewelry lines range from everyday looks to show stopping designs. We are a gift destination for glassware, frames, religious and home décor. Hours: Tuesday through Saturday, from 10 a.m.to 5 p.m., Thursday to 6 p.m. Holsten Jewelers, 5 Harwood Court, Scarsdale, (914) 472-4554, www.holstenjewelers.com.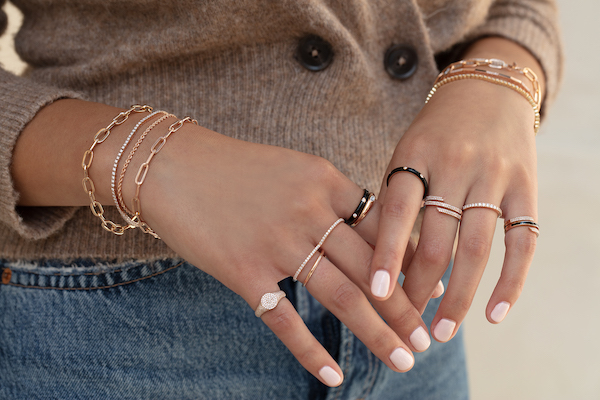 Eastchester Fish Gourmet: This holiday season, let Eastchester Fish Gourmet cater your holiday celebrations. Our holiday menu includes many of the favorites from our restaurant and more... shrimp cocktail platters, parmesan encrusted cod, lobster, poached salmon platters, mini crab cakes, baked clams, paella, clam sauce and more. See the holiday menu here.


Looking for the perfect gift? Click here to order a Gift Card online - they never expire! Eastchester Fish Gourmet, 837 White Plains Road, Scarsdale, (914) 725-3450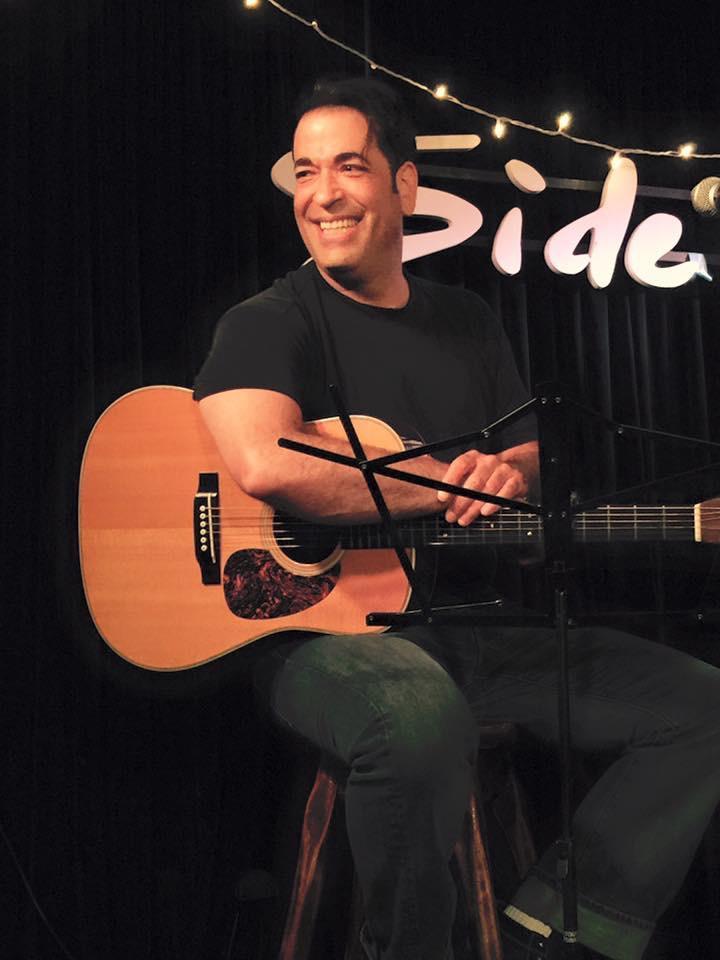 The Rock Academy: This season give the gift of music with a gift certificate for private music lessons that are both virtual and socially distanced on guitar, bass, drums, keyboard and vocals. The Rock Academy, led by Chris Mongiello, encourages students to love music by teaching each and every student the songs they want to learn. We've been teaching in students homes from the children to the parents. Sometimes even grandparents! Do you want to write a song for someone? We can help! Contact us at (914) 560-4172 or (877) 791-1979 and visit us on the web at TheRockAcademy1.com.
The Eye Gallery of Scarsdale invites you to check out the latest sunglasses and eyewear for this holiday season! With new styles from Chanel, Chrome Hearts, Jacques Marie Mage, and Barton Perriera you will never run out of options for holiday gifts this year! And while you're in town make sure to make an appointment for your annual eye check-up. Eye Gallery of Scarsdale, 8 Spencer Place, Scarsdale, (914) 472-2020.
ScentFluence Aroma Design Studio: Whether you're looking for a night By the Fire, a walk through the Winter Pine, or the spa-like calm of a soothing Green Tea, ScentFluence has an aromatic scent to enhance and bring a sense of joy and well-being.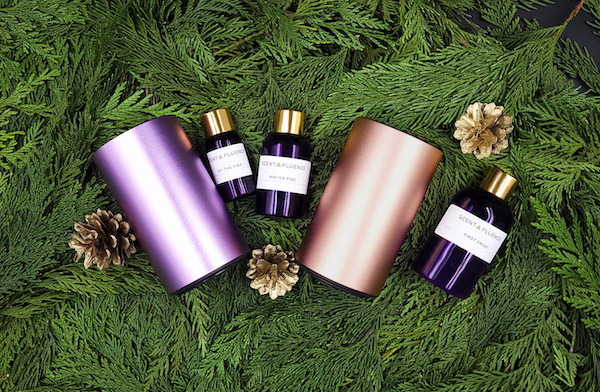 ScentFluence has a scented sensory something for everyone; diffuser gift-sets, 65+ unique diffusible scent oils, candles, soaps, lotions, room sprays, and more. Great teacher gifts, host gifts, and corporate gift options that inspire conversation.
For a unique gathering spot for friends or colleagues this holiday season, host a private in-studio Scent-Event. Learn about the power of scent, play games, reconnect, and more. Contact caroline@scentmarketing.org or 914-338-5070. December Hours: Tues-Fri 11am-5pm, Sat 10-5, Sun 12-5. ScentFluence, 22 Harwood Court, Scarsdale.
I Am More Scarsdale is a unique women's retail boutique in Scarsdale Village, featuring the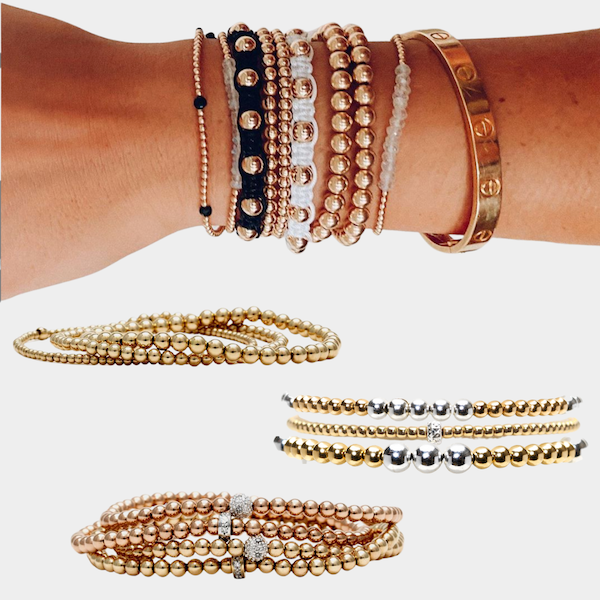 hottest new trends in fashion, accessories and jewelry.
Karen Lazar Bracelets: Karen Lazar's 14k gold-filled bracelets are versatile and can be dressed-up or dressed-down. They look amazing with a watch, bracelet, or in a stack, and they can feel both bohemian and classic. The bracelets also give women that opportunity for a quick fix—something new and shiny that you can add to your existing collection. Prices range from $48-$95. (Diamond collection $$). 10% discount offered on stacks of 5 or more bracelets.
Evolg Gloves: No More Cold Fingers While Texting! Voted as Oprah's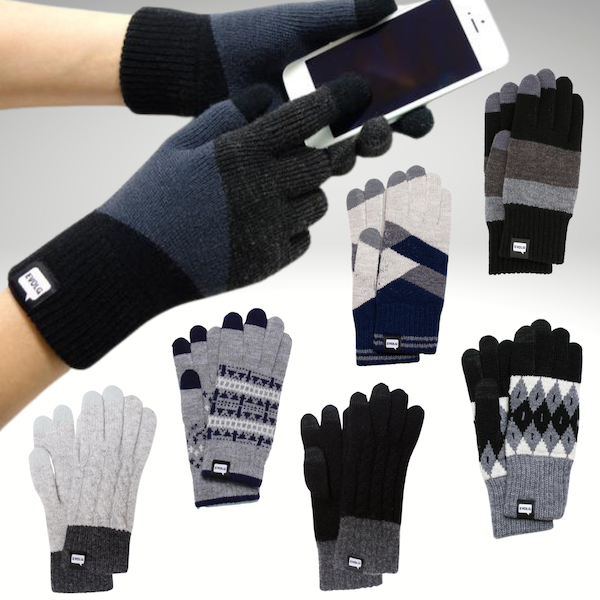 Favorite Things for 2021 our EVOLG Glove collection, all touch screen capable, is the perfect gift this holiday season. $35-$150. I Am More Scarsdale, 6 Spencer Place, Scarsdale, 914-723-6673 (MORE).
Bronx River Books: Get your Season's Readings at the neighborhood bookshop. Over 15,000 different titles currently in store. Hundreds of thousands more available within three days by special order. Plus jigsaw puzzles (168 designs), bookish gift items, and gift certificates. In-store and website shopping. See their list of holiday book recommendations here. Bronx River Books, 37 Spencer Place, Scarsdale, 914-420-6396.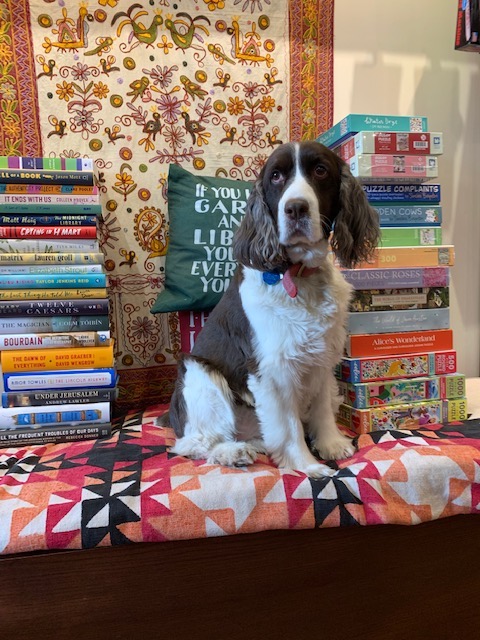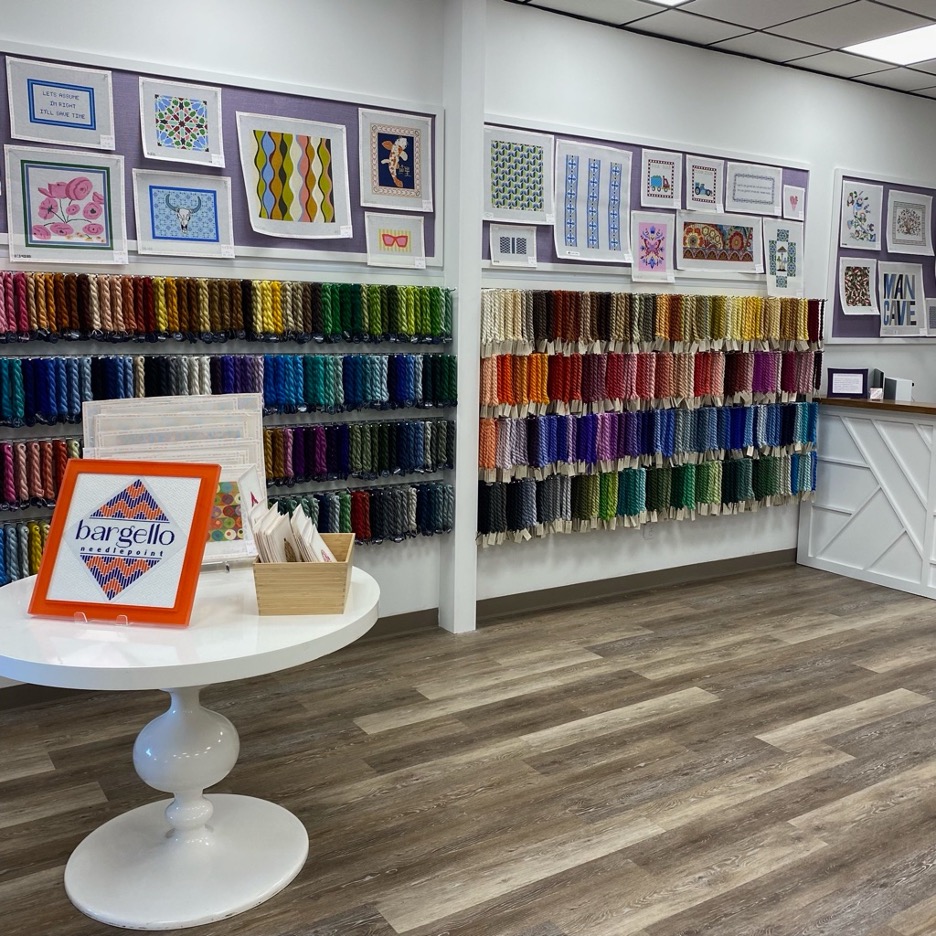 Bargello is a new needlepoint shop in Tuckahoe featuring a selection of chic, curated canvases for stitchers of all levels. We carry a wide selection of gorgeous fibers and all of the necessary accessories. Beautiful gift certificates available. Bargello Needlepoint, 24 Columbus Avenue, Tuckahoe, 914-361-1014, @bargelloneedlepointny
Private Chef: Rajni Menon-an electrical engineer turned chef specializes in private chef services for your special occasions. She is a Scarsdale resident and she caters to small dinner parties(max-10) where she provides a 3 course plated meal in the comfort of your home. You can spoil your loved one with a nice Romantic Dinner for 2, have a Couple's Date Night for 4, or a larger dinner party up to 10 guests. Gift cards for a private chef experience is available for purchase. Visit www.creativerajni.com for menu and other details or email her at creativerajni2019@gmail.com.
Hair Saloon and Cafe: Treat yourself and a friend to lunch, a cocktail and a hair appointment or spa treatment at the Hair Saloon and Café on Scarsdale Avenue. Danielle Settembre, with 10 years of experience at Elizabeth Arden's Red Door and the daughter of restauranteurs, combined her passions to create a new experience for salon goers.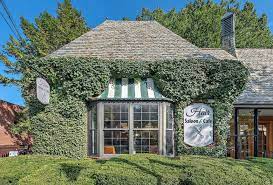 Make an appointment for a haircut, hair dye, make-up, facial, wax or brow treatment and enjoy a wrap or panini with a drink too. A great way to destress during the holidays. Mention Scarsdale10583 and get a free cocktail at your first appointment.
Hours: Tuesday through Thursday from 8:30 to 7 pm, Friday to 8 pm, Saturday to 6 pm, Sunday from 9 am to 4 pm. Stop by for a drink from Thursday through Saturday until 9 pm. Covid safe … and a winner of the Best of Westchester 2021. Hair Saloon and Café, 862 Scarsdale Avenue, Scarsdale, 914-881-1233. www.hairsaloonandcafe.com.
SBA Dale Dollars: Not sure what to buy? Then give them a 'Dale Dollars eGift Card, a community-based digital gift card that makes it fun and easy to keep spending local.
Purchase a 'Dale Dollars eGift Card here to use at any of the participating shops in the neighborhood. With this card, you can write a personal message and send it to family, friends and colleagues via email, text, or physical copy. Recipients can choose to spend it at one of many participating merchants in Scarsdale —or mix it up and spend flexibly at multiple locations.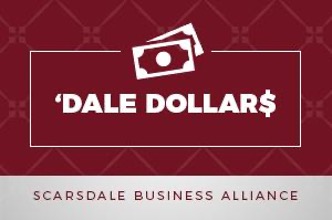 All-digital and always available on your phone, the 'Dale Dollars eGift Card is great for the holidays, birthdays, teacher appreciation, coach gifts, or just to show your appreciation to a friend. Now you can give back to the community while you celebrate the holidays and special occasions!
The Scarsdale Public Library Goes Fine Free
Details

Written by

Joanne Wallenstein

Hits: 1241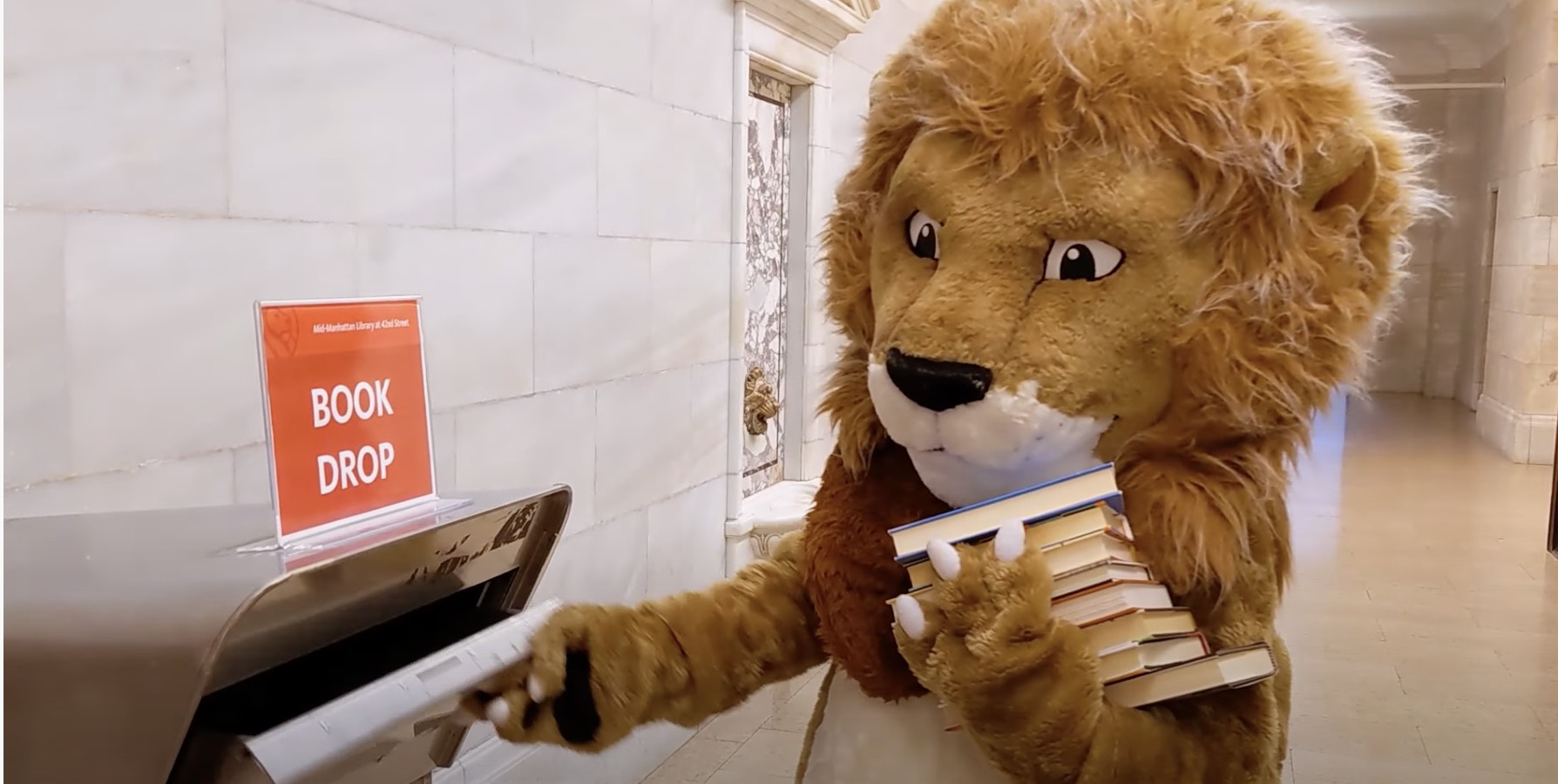 The Scarsdale Public Library is eliminating and forgiving all existing overdue fines, effective immediately. During the November meeting, the Scarsdale Public Library Board unanimously approved the new policy because fines can be a barrier to those seeking literary and community resources. By eliminating fines, the Board aims to further encourage the Scarsdale community to enjoy the library's extensive collections and visit its recently renovated building.

The American Library Association recommends the elimination of overdue fines to reduce economic barriers to borrowing library materials and increase library usage. Libraries across the country have already gone fine free, including the nation's largest library system, the New York Public Library, as well several neighboring libraries in the Westchester Library System, including the White Plains Public Library, Greenburgh Public Library, and Eastchester Public Library.

"The collection of fines makes up less than 1% of the library's budget but can have a hugely negative impact on the use of the library's resources by all," stated Felicia Block, President of the Library Board of Trustees. "The library can offset the loss of this income through other revenue streams, such as space rentals, allowing us to focus on our primary mission, to encourage and foster the lifelong joy of reading in Scarsdale. It is the right time to eliminate existing and future fines to best support that goal."

"The recent renovation of the Scarsdale Library was not just about a new building. It was about creating a welcoming modern community institution that adapts with the times." Library Director Elizabeth Bermel stated. "That includes eliminating outdated practices that can discourage access to the library for those who can't afford fines or are embarrassed to be deemed delinquent. All are welcome to enjoy the library!"
The new policy will be in effect immediately and follows the practice established by Scarsdale and many community libraries during the pandemic, as many libraries were closed to the public and/or had limited hours from March 2020 through mid-2021. Patrons will continue to be responsible for lost or damaged materials.