Restaurants: CPK and Cooked and Co. Close, Cafe Alaia to Move to Larger Location
Details

Written by

Joanne Wallenstein

Hits: 5744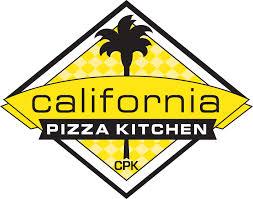 This week readers were sorry to see that longtime favorite restaurant, California Pizza Kitchen has closed its doors in the Archway Shopping Center at 365 Central Avenue in Scarsdale. It was puzzling because the restaurant has always been a favorite and was usually bustling. With moderate prices in fresh ingredients it was fast food that was nutritious and tasty too.
The leasing agent for the property says that the entire California Pizza Kitchen chain filed for bankruptcy on Thursday July 30, however the note says that they were planning to keep locations open during their reorganization. Why not Scarsdale? An employee told a customer last week that "the corporate office couldn't come to an agreement over the proposed rent increase." We tried to reach the landlord, Merolda Properties, but got no reply. About the closing, their website says, "Due to the ongoing COVID-19 pandemic and related lease challenges with our landlords, we regret to inform you that we have closed this CPK restaurant."
Meanwhile, the 4,500 square foot space is vacant and seeking another tenant. It's a highly visible location, with ample parking, good visibility and ideal for a restaurant.
The leasing agent also noted that Long Island Bagel Café has opened in the Archway Shopping Center and is serving great bagels, appetizers, salads and more. According to their website, "Long Island Bagel Café uses time tested recipes for authentic, rolled, old-fashioned New York bagels. Our bagels are boiled and baked to perfection every day."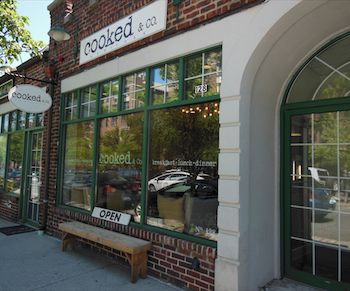 In other news, we spoke to Herb Lindstrom, the owner of popular eatery Cooked and Co. that has also closed after an eight year run on Garth Road. We wondered if there was anything his landlord or the Village might have done to save the restaurant. Lindstrom said, "My landlord was actually very helpful. He really wanted me to make it. And the town was actually very good too. I think my problem was my space was too big to support the current work model that I set up. Payroll was my biggest problem."
On the finances he explained, "When my PPP loan ran out I estimated I would lose about $5,000 a week so that's why I decided to close. Plus it was hard for me to work in the current environment. It was not fun anymore."
What about the future? Lindstrom said, "I'm not planning on opening a space until this situation is back to normal but I'm not opposed to going back to how I started --with a limited menu cooked out of a space that I would share with someone else. I'm not doing anything for at least 6 months. I need to just take a break."
We asked about his outlook on the future of the restaurant industry and he said, "I believe that when others run out of their loans it will be hard to survive. If I never expanded I would have been fine. I think with the cold weather and no outside seating it will be hard to survive with 50 percent capacity. So I'm hoping that something positive happens soon or we will lose more of our favorite spots."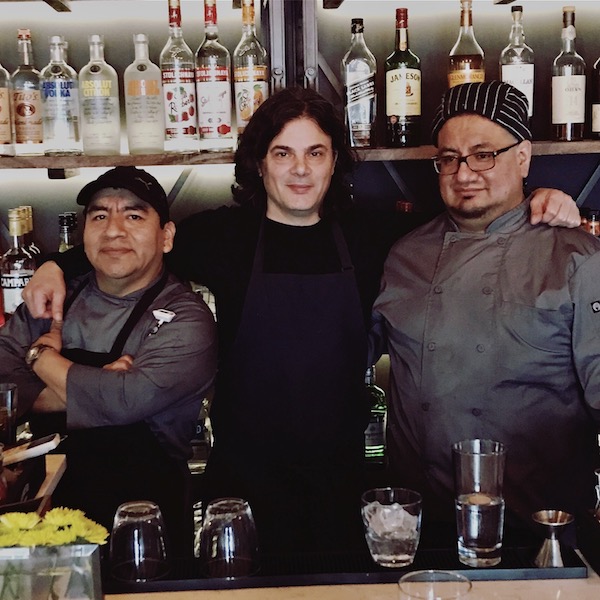 Vicenzo Alaia flanked by his chefs.The good news is that the ever-popular Italian restaurant Cafe Alaia will take over the site vacated by Cooked and Co. We heard a rumor they were moving up the street and received confirmation. They plan to open in larger quarters in mid-November.
Here is what we learned from Nancy Rosner and Vincenzo Alaia: "Yes, the rumors are true! We are very excited to be expanding into the Cooked & Co location. We will open our restaurant, Cafe Alaia there with the same menu that we have now. We needed the space more than ever now with the social distancing requirements and capacity restrictions still at 50%. We have been doing very well with our outdoor dining on Garth Road and will remain at our current location and continue to serve outdoors there for as long as weather permits. We also currently open at 50% seating indoors with wide open floor to ceiling windows open to the front."

"Our plan for the new larger space is to complete some minor cosmetic fixes to suit our style and open early to mid November. We will be able to serve about 50 people for now and up to about 100 there once things return to normal.
We will keep our current location under a new name and use that space as a wine bar with more casual small plates type menu."
Residents Lament the Loss of Lord and Taylor
Details

Written by

Joanne Wallenstein

Hits: 2815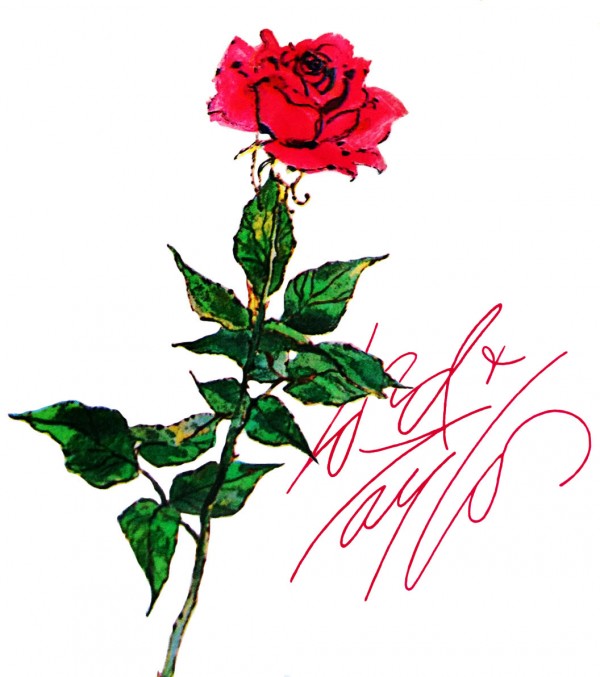 Ending months of speculation, Lord and Taylor announced that they will close all of their 38 stores. The announcement came as a surprise. Even last week, employees in the store told shoppers that the Eastchester store, which was said to be on of the chain's most successful, would remain open.
However, when we stopped by last week it did not look hopeful. The cosmetic counters were enclosed in saran wrap and there was little in store for the fall. It appeared that they were trying to sell off several seasons of tired merchandise.
Since the sale of the chain for $75 million to Le Tote in 2019 the store seemed to be in limbo. No one could quite figure out what Le Tote, a fashion rental subscription service, planned to do with the vast retail spaces. The brands troubles preceded the COVID epidemic but appeared to be further impacted by the forced closing due to the quarantine.
The Eastchester store was a favorite for Scarsdale families who found reasonably priced fashion for the entire family. The store was always well stocked with dresses for prom, weddings and special occasions, had a vast shoe department with a wide range of brands and a large menswear department with suits, coats, accessories and weekend wear, also at great prices. It was a great source for holiday gifts, including their own line of cashmere sweaters in every color and cut, scarves, gloves, hats, jewelry, purses and more. In addition to the competitive prices, it seemed that everything was always on sale. Shoppers arrived armed with multiple coupons that afforded even deeper discounts on the merchandise.
I remember taking my husband into the store to get him a badly needed winter coat. He found a long navy blue cashmere coat, originally priced at almost $1,000, marked down to $500 and then discounted further with special deals to bring it to somewhere around $250. Watching the proceedings at the register, he turned to me and said, "Are they going to pay me to take this coat out of here?"
Unfortunately, the discount strategy must not have yielded enough sales volume to keep the 200 year-old brand afloat.
Commenting on social media, many posted happy memories of special purchases at the store, dining at the restaurant and working there for summer jobs. One woman said, "It's truly a loss to the community and all the employees. "
The store was an anchor for the Vernon Hills Shopping Center. The shopping center, not including Lord and Taylor, was purchased by the Ashkenazy Acquisition Corp. for $125 million in November 2019.
Meet Aidan Pierce Brennan, Star of "The Secret: Dare to Dream"
Details

Written by

Joanne Wallenstein

Hits: 3564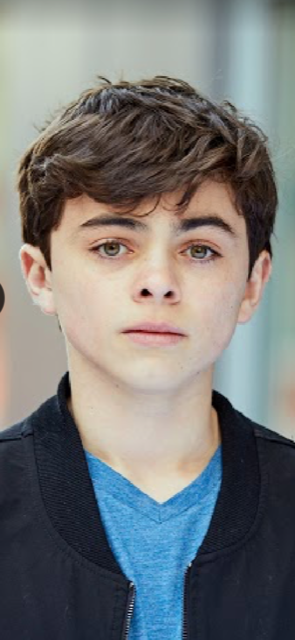 Aidan Pierce Brennan, a rising ninth grader who lives in Greenacres recently starred in a new movie, The Secret: Dare to Dream, which was released on Friday July 31. The movie stars Katie Holmes, Josh Lucas and Jerry O'Connell and is streaming online.
Meet Aidan and find out how he broke into the silver screen.
How did you get into acting?
I was 8 years old. I believe when I first got started. I was in the 2nd grade. I showed interest in acting and started talking to my Mom about outlets or ways I could maybe get into the business. Though, it was far-fetched and half jokingly my Mom got into touch with a place called Random Farms for an audition to showcase in front of managers and agents. I showed up completely unprepared in every way, expect for the fact that I enjoyed performing and speaking in public. Lucky for me, they handed me some lines and to my genuine surprise I would be asked to showcase, from there I met my manager, Lauren Singer.
When did you or your mom first realize that you were interested in acting? And why?
I realized on my own that acting is something I was really interested in and I know the exact moment I realized it. I was watching Stand by Me with my Dad and I can remember seeing these performances from these young actors and feeling really inspired that they could pull off such profound performance at these ages not too far from mine. Then on the set of The Secret it all came full circle. I got to work with Jerry O'Connell, who of course played Vern in Stand by Me. The first thing I said to him was that Stand by Me is what made me want to act.
Have you attended acting classes? Where? And did you have roles in other productions?
I have never taken formal acting classes. But I've gone to coaches a bunch of times with scripts that I have wanted to work on. Recently, I've been a guest star on Ray Donovan on Showtime playing the young Ray Donavan (Liev Shrieber) and the young Charlie Manx (Zachary Quinto) on the shoe NOS4A2 on AMC. I also have a movie called Extra Innings that will be appearing on Amazon, Google play, and iTunes on September 20!
How did you get the part in The Secret?
I had previously read to Kathleen Chopin , the casting direction for various other roles. When I read for The Secret: Dare to Dream, not soon after I was pinned for the role and then I got home from school two days later and my Mom broke the news. It was pretty exciting.
Briefly — what is the story of the film? And what role do you play?
It's about a family who is in a rough patch. The father is no longer around and the three kids are very dependent on Miranda, their Mom. When they get into a car wreck and then a hurricane hits that destroys their home, they need positivity and hope. I play the son, Greg.
Where was the movie filmed - how long were you on location?
The movie was filmed in New Orleans. So my Mom and I had to move down there for about 3 months.
Did you miss a lot of school - and if so, how did you keep up?
I did, it was tough in that way. It was hard to keep up because of course my teachers' priority wasn't always sending me work. So when I got back some teachers were really tolerant and helpful and others weren't and I had to work really hard to get back on track.
How can people watch it?
It's currently on on demand, anywhere you rent movies and on Apple TV.
Did you enjoy being involved and what do you hope to do next?
It was one of the best experiences of my life. The people I met and the things that I learned on that set I will never forget. As of right now I have nothing on tap, obviously Covid slowed things down but productions are starting to reopen and I'm hoping I will get another opportunity soon!
Sunrise Swim for Cancer Research
Details

Written by

Michael Zeller

Hits: 1187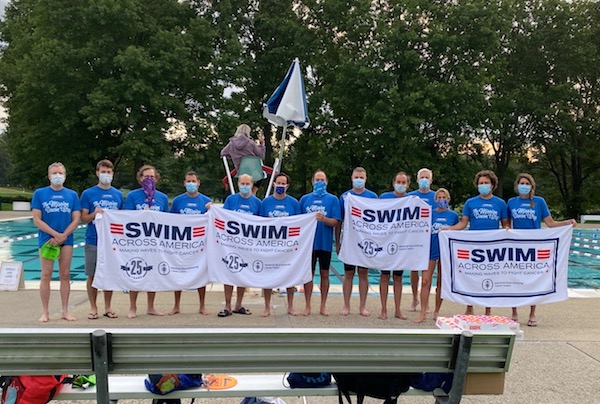 On August 14th, 13 early morning swimmers met at the Scarsdale pool, for a Swim Across America fund raising event.
Swim Across America has grown in the past 34 years to organizing swims nationwide. Over that time, they've raised 85 million dollars which has provided a number of top cancer research facilities, including locally, Memorial Sloan Kettering Cancer Center with needed funds.
Though such organized events have been limited this year due to the COVID virus, Scarsdale swimmers, some who annually participate in a 3 or 6 mile SAA swim in the Long Island Sound, on their own arranged a "relay" swim at the pool. The total distance by these 13 was an impressive 25 miles, while to this point raising over $22,000! In just the past 15 years swimming as a group, these Scarsdale swimmers have raised more than $750,000 overall for cancer research!!!
Such a success was deserving of a post-swim celebration. What better way at 7:30, then with coffee, donuts, and for those daring souls, a plastic cup of champagne. It worked for us!
Sidewalk Sale Draws Shoppers and Diners to the Village
Details

Written by

Joanne Wallenstein

Hits: 1495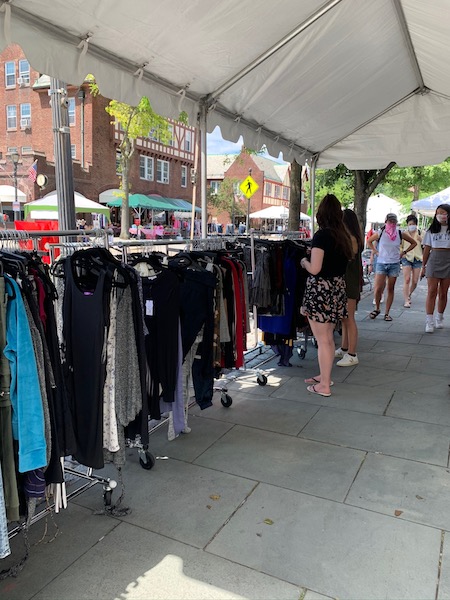 The Village was lively last week as the seven day Sidewalk Sale drew many to shop and eat, even with temperatures soaring above 95 degrees.
Many retailers had tables outside with great bargains on summer merchandise and more. Men's store Rothman's spilled out into Boniface Circle and onto the sidewalk with bathing suits, shirts, shorts, pants and more. Petticoat Lane, who announced that they will close their Scarsdale location had deep discounts on bags, accessories, nightgowns and intimate apparel. Perennial favorite Great Stuff showed their stuff from all seasons and I Am More Scarsdale was doing a brisk business in t-shirts, jeans and fun accessories like their necklaces that also clip on to a mask.
We found Michelle Anderson of La Dentelliere on the sidewalk with this jewelry box and home goods. Bronx River Books was offering New York Times bestsellers at a discount and Learning Express had a table full of toys to lure young buyers.
Vitale's Pizza and Westchester Burger Food trucks were available on Spencer Place which was closed to traffic.
Even though everyone was wearing masks, the atmosphere was relaxed and the vibe was good.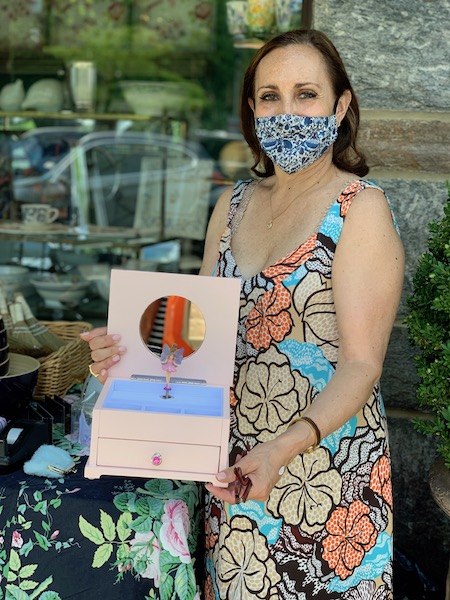 Michelle Anderson of La Dentelliere
Commenting on the sale, Marcy Berman Goldstein who heads the Scarsdale Business Alliance said, "The 2020 Scarsdale Sidewalk Sale was a success for the community and merchants. Instead of a three-day event as in past years, we elected to hold a weeklong event this year, and closed Spencer Place, Boniface Circle and Harwood Court. Rather than hordes of shoppers as in past years, we had a constant flow of consumers throughout the week, all wearing face coverings and practicing social distancing, while shopping and supporting our local merchants. By closing the roads, people were able to move throughout the village center without feeling like they were putting themselves at risk by being there."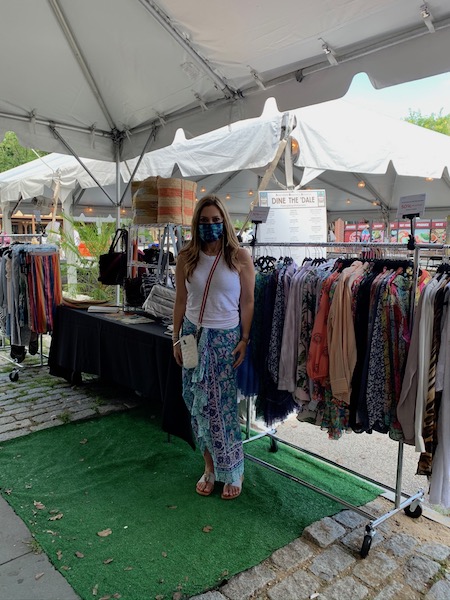 Marcy Berman-Goldstein at I Am More Scarsdale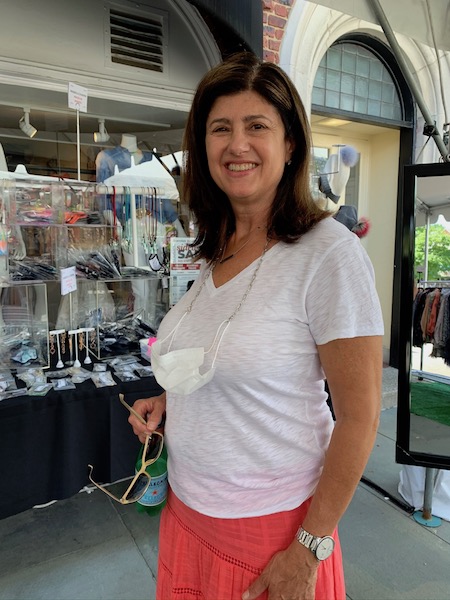 A new way to wear your mask.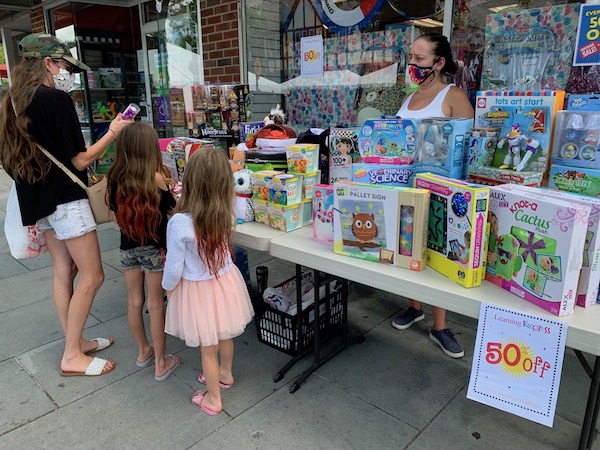 Toys, toys, toys at Learning Express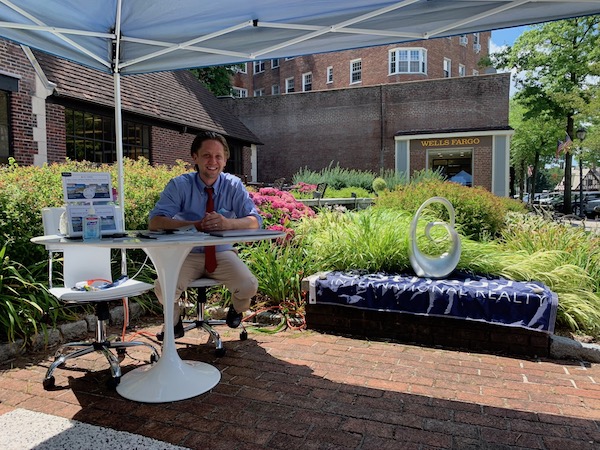 Brian Murray of Julia B.Fee does business from his outside office.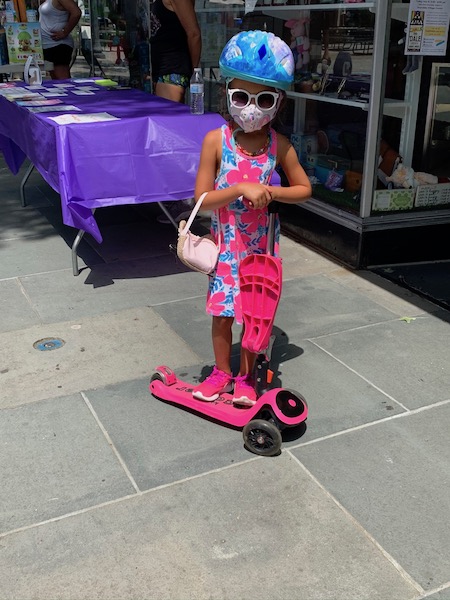 A great way to get around town.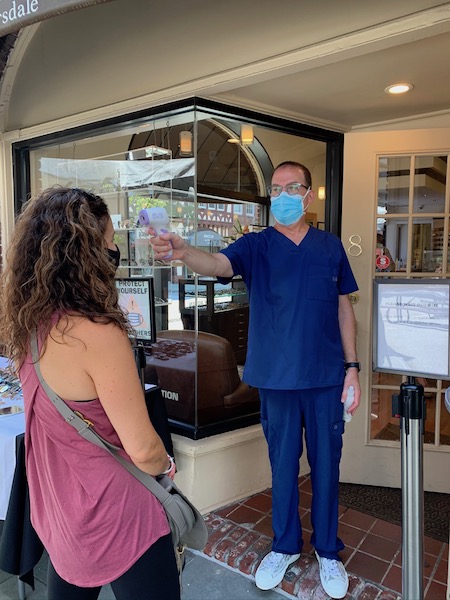 Jay Rosen does a temperature check before an eye exam.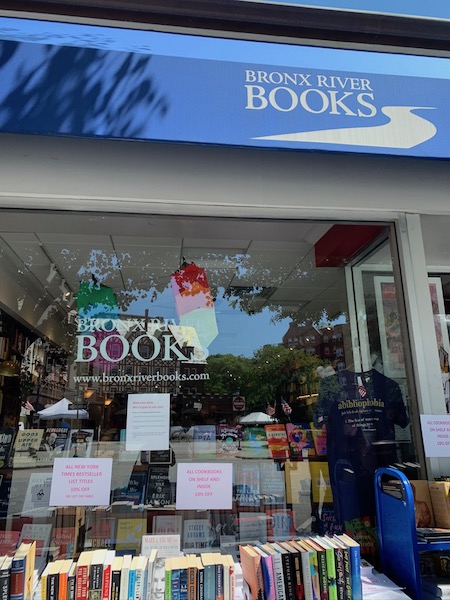 Reading for all at Bronx River Books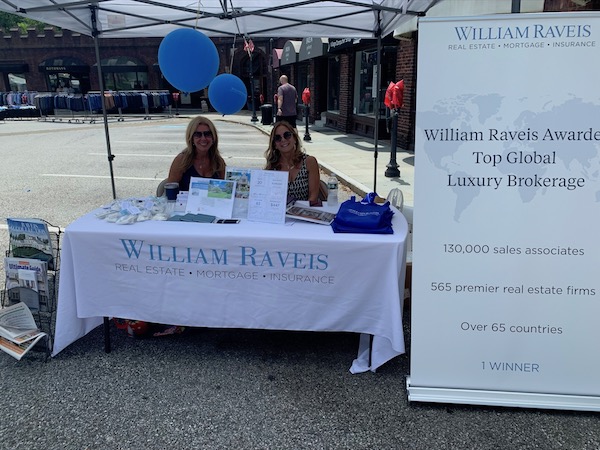 Realtors from William Raveis greeted shoppers