Post Peak (Foliage and Election) Glories
Details

Written by

Joanne Wallenstein

Hits: 1021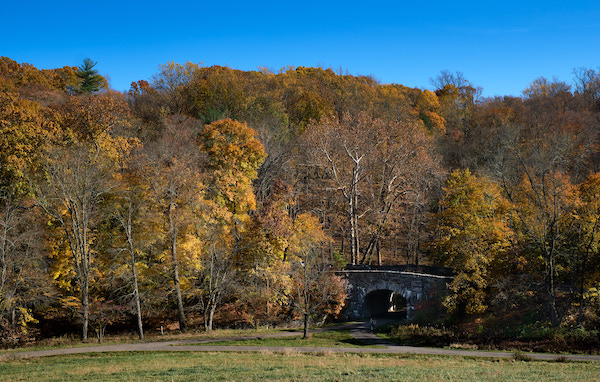 Where were you when they called the election on Saturday November 9? Scarsdale photographer extraordinaire Michael Chayes was hiking around Rockefeller Preserve in Pleasantville enjoying summer temperatures, dramatic vistas and the end of fall foliage. He forwarded these stunning photos. If you have some pictures of your weekend happenings to share , email them to scarsdalecomments@gmail.com.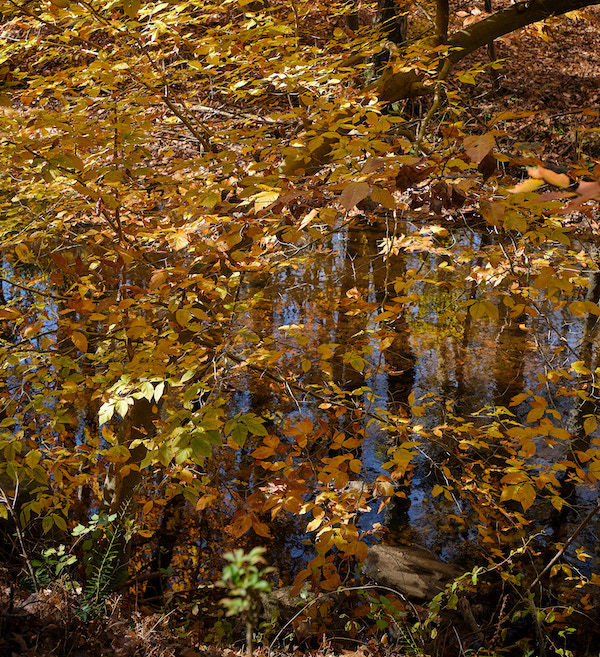 Yellow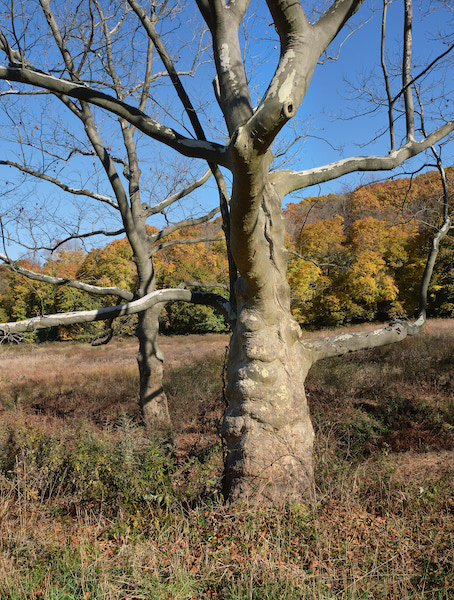 Tree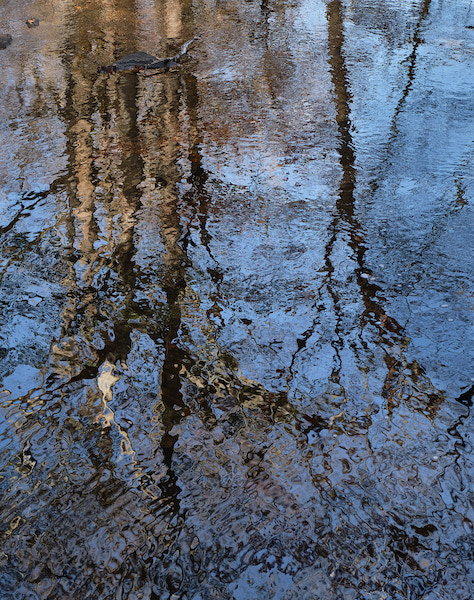 Reflections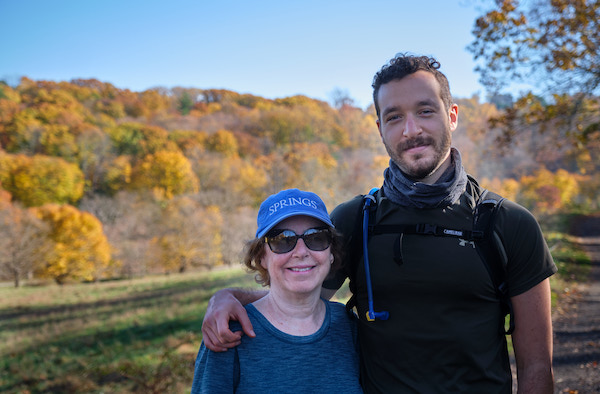 Linda Hillman Chayes and Dan ChayesPhotos: Michael Chayes: Follow Chayes on Instagram at michaelchayesphoto.
Headline: Linda Hillman Chayes
Announcing the Winners of the 2020 Halloween Window Painting Contest
Details

Written by

Joanne Wallenstein

Hits: 2448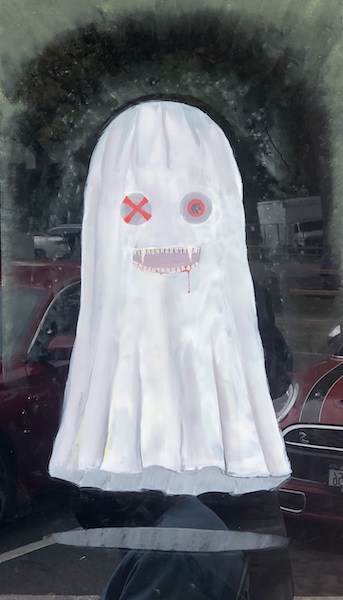 The Grand Prize went to Alexandra and Leo SimonYoung painters continued a Scarsdale tradition on Sunday October 18, painting the town orange in the annual Halloween Window Painting Contest. Painters from elementary to high school created colorful, comic and intriguing work on the windows of Scarsdale retailers. If you haven't done so already, get out and take a walk to see their work before the rain takes it down. The contest was orchestrated by Dan Walczewski at the Scarsdale Recreation Department. Congratulations to all the participants on a wonderful gallery of work.
According to Walczewki, about 330 windows were painted. With teams and family entries he estimates that just over 900 people participated in the event. There were more entries this year that last, especially in the Family category. The judges are a group of seven volunteers who all are either current or former Scarsdale residents or village employees.
Below find the complete list of winners and honorable mentions by all age groups from the Recreation Department.
First place in Group A went to Tyler Culang for work at Pookie and Sebastian
Group B First Place winner Emily Fields at Wilson and Sons
Group C First Place Sophie Luo
Group D First Place Grace Henry at Scarsdale Eye Center
Group E First Place Olivia Liu at Douglas Elliman
Group AA First Place Winners Maia Etkes and Emma Earthy at 15 Boniface Circle
Group BB First Place Winners Alice Hoffman and Maya Zaitchick at Merle Norman Cosmetics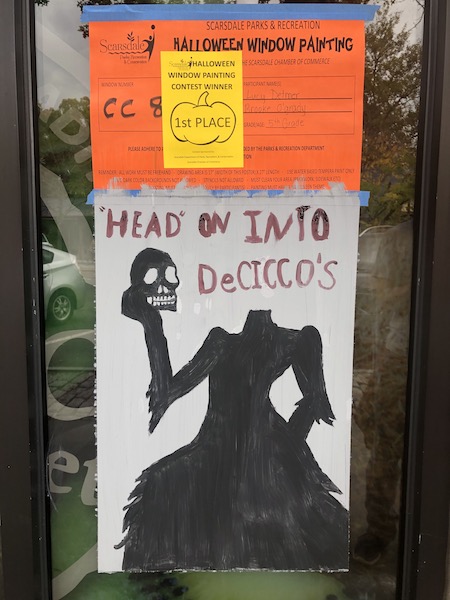 Group CC First Place went to Lucy Detmer and Brooke O'Grady for their work at DeCicco's
Group DD First Place - Zoe Greenberg and Edie Chow's "Unmasked" at Chase Bank
First Place for Group EE went to Alicia Xin and Olivia Sun at Pizzarelli's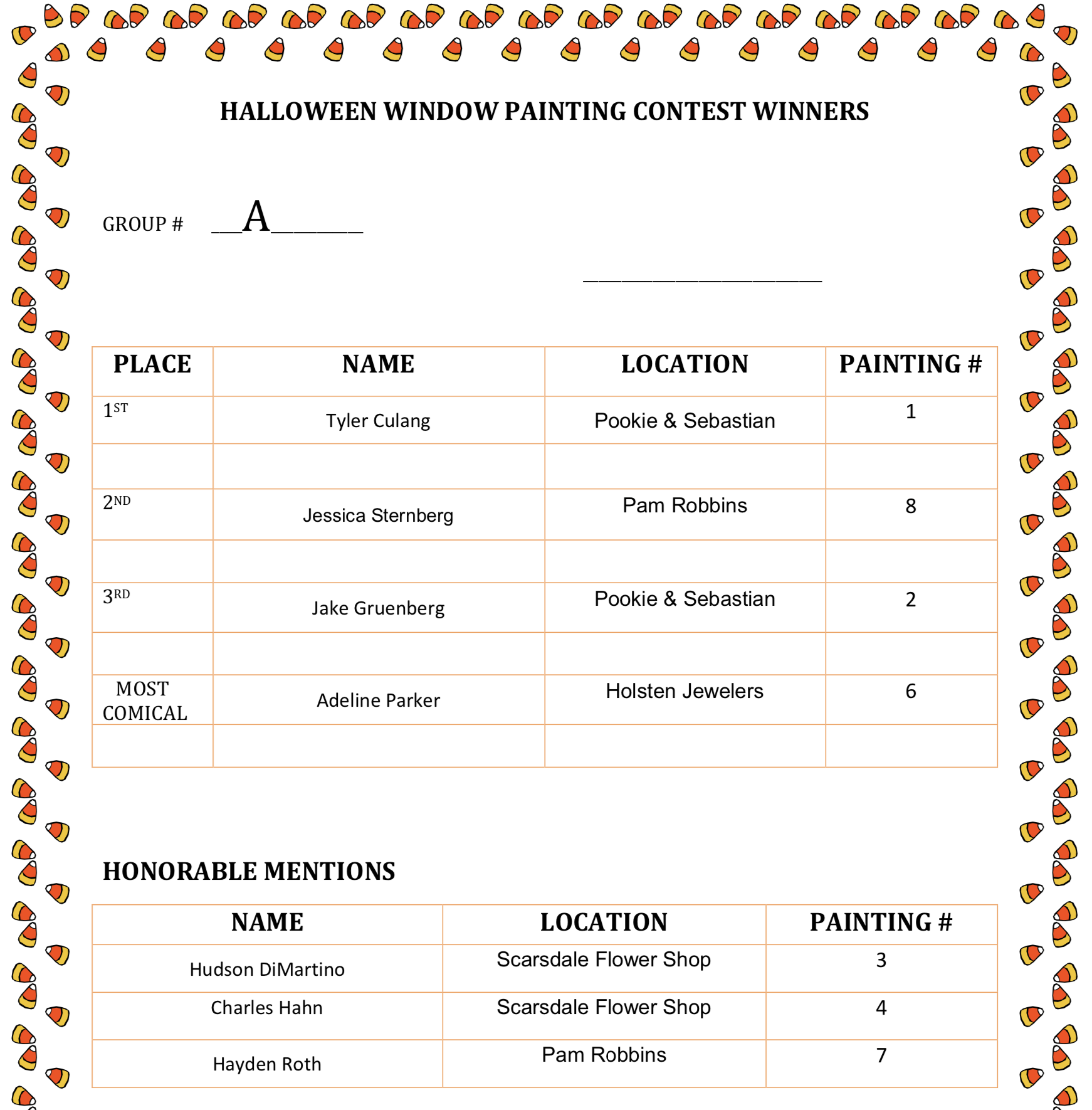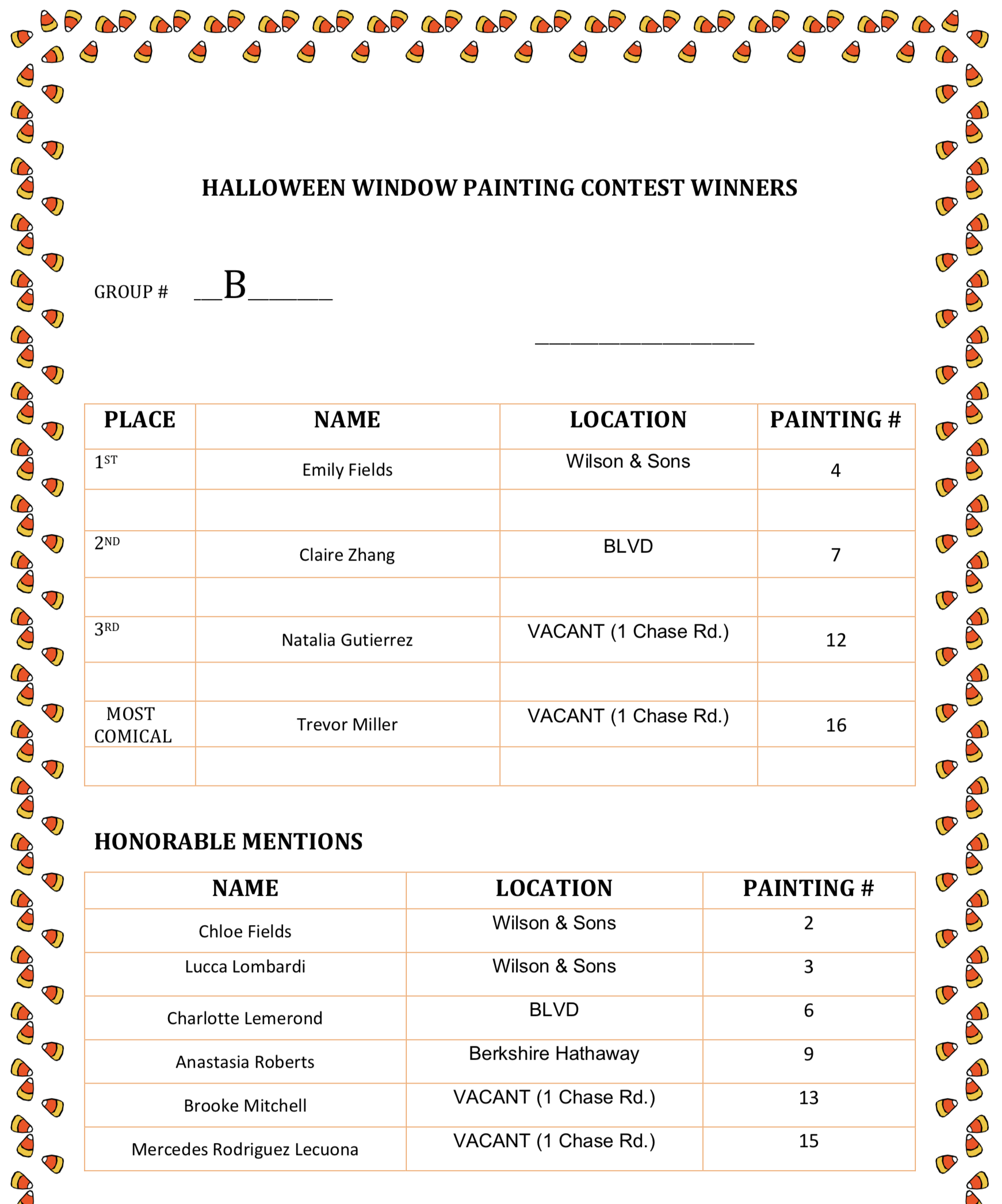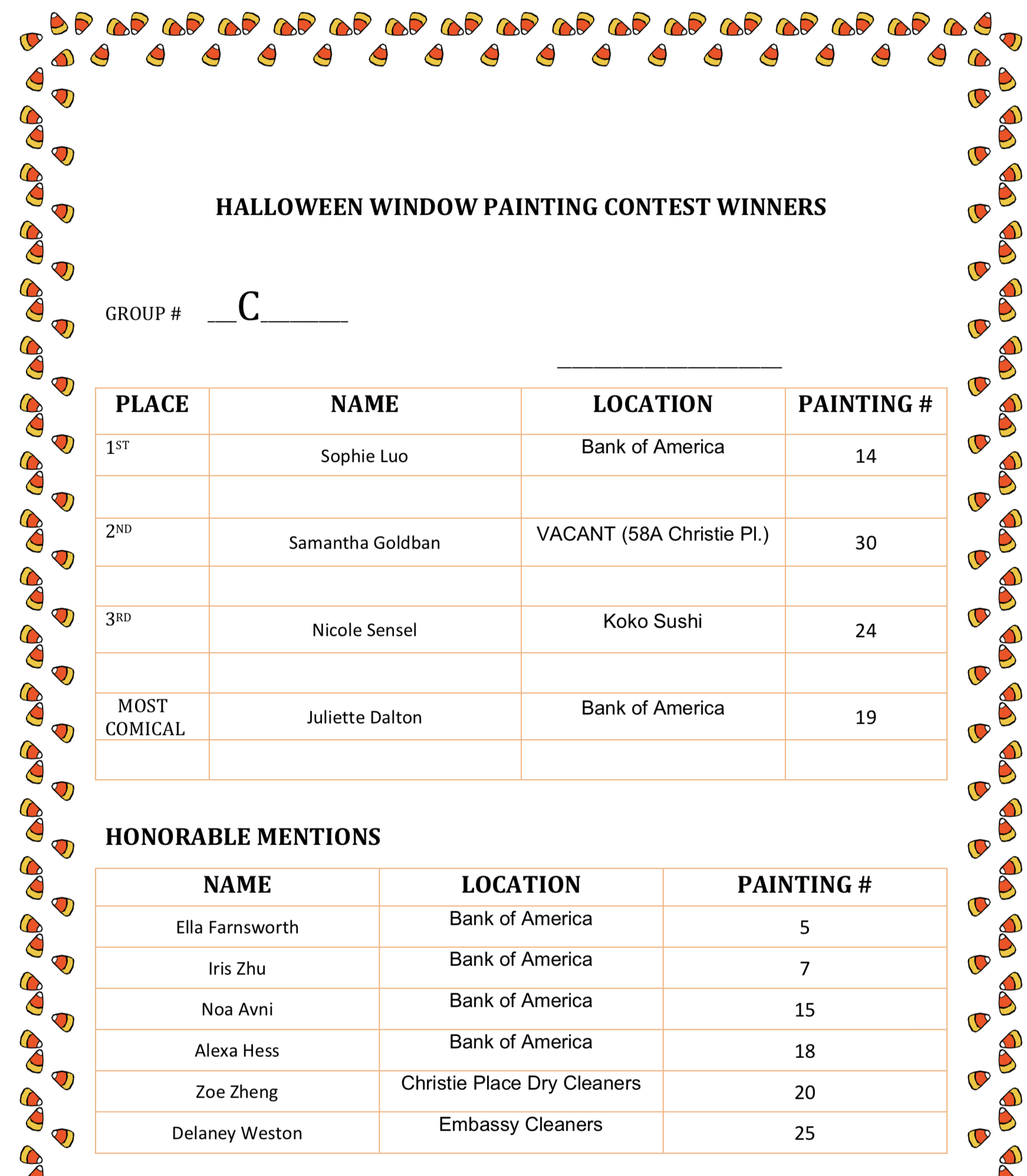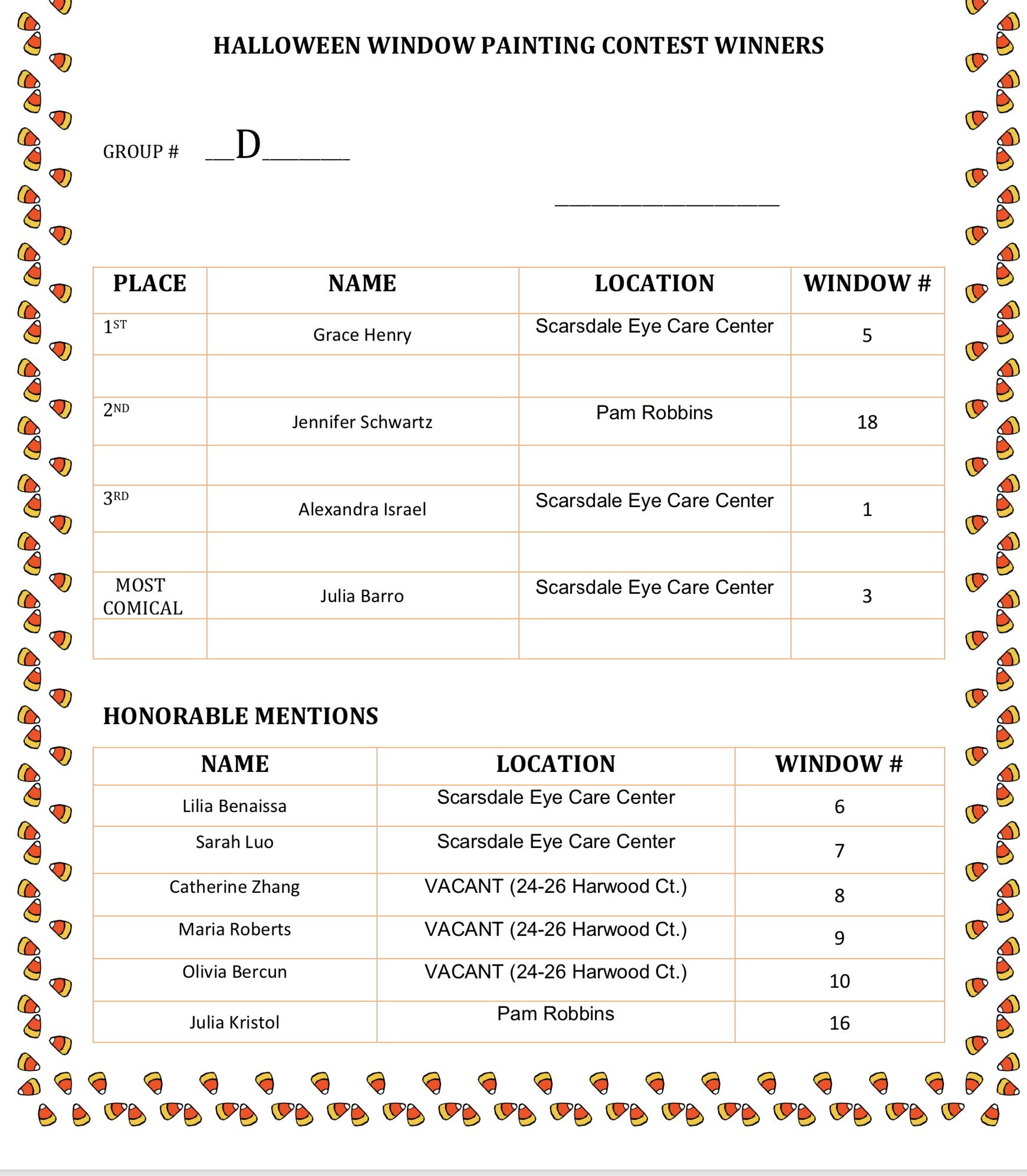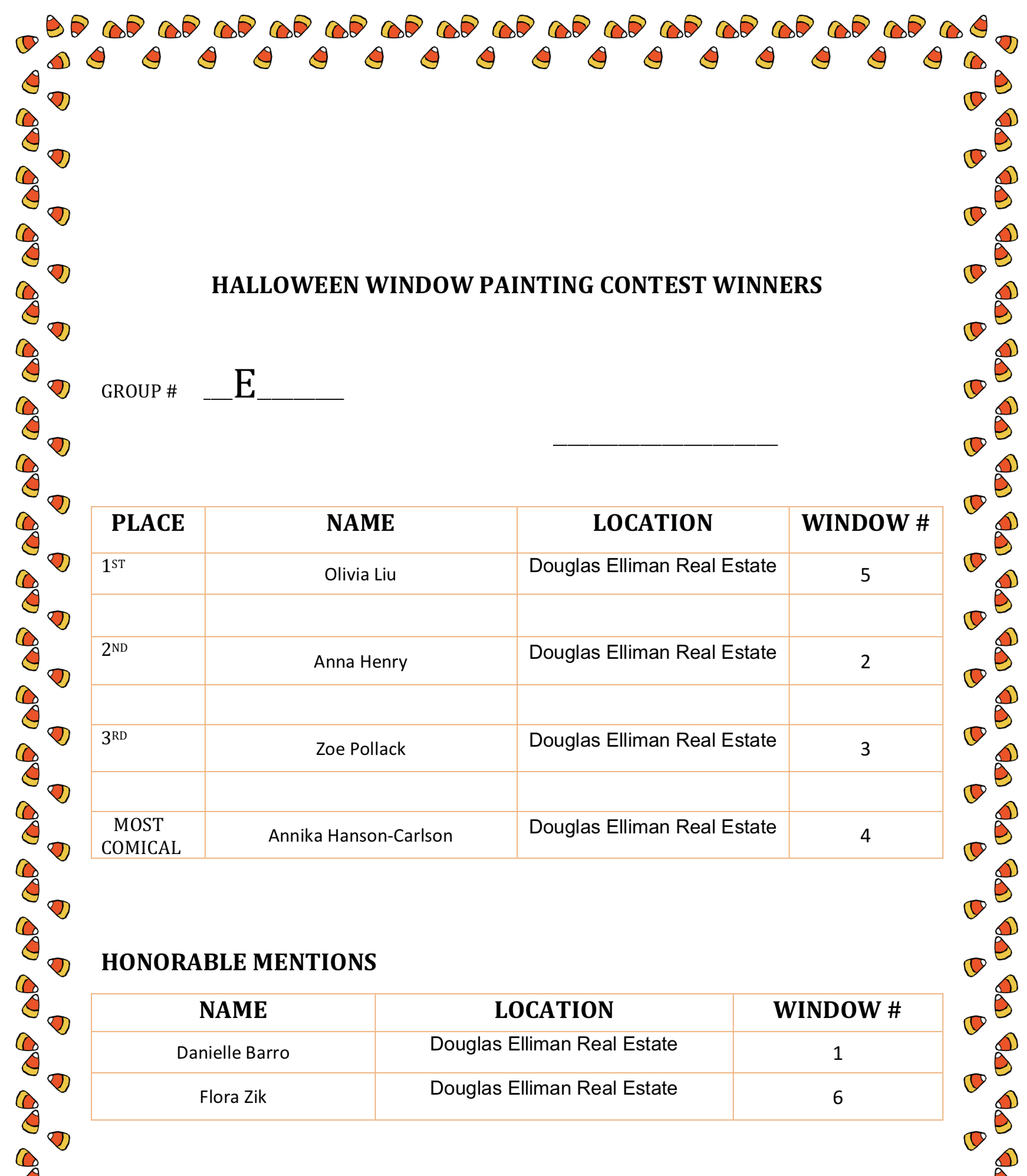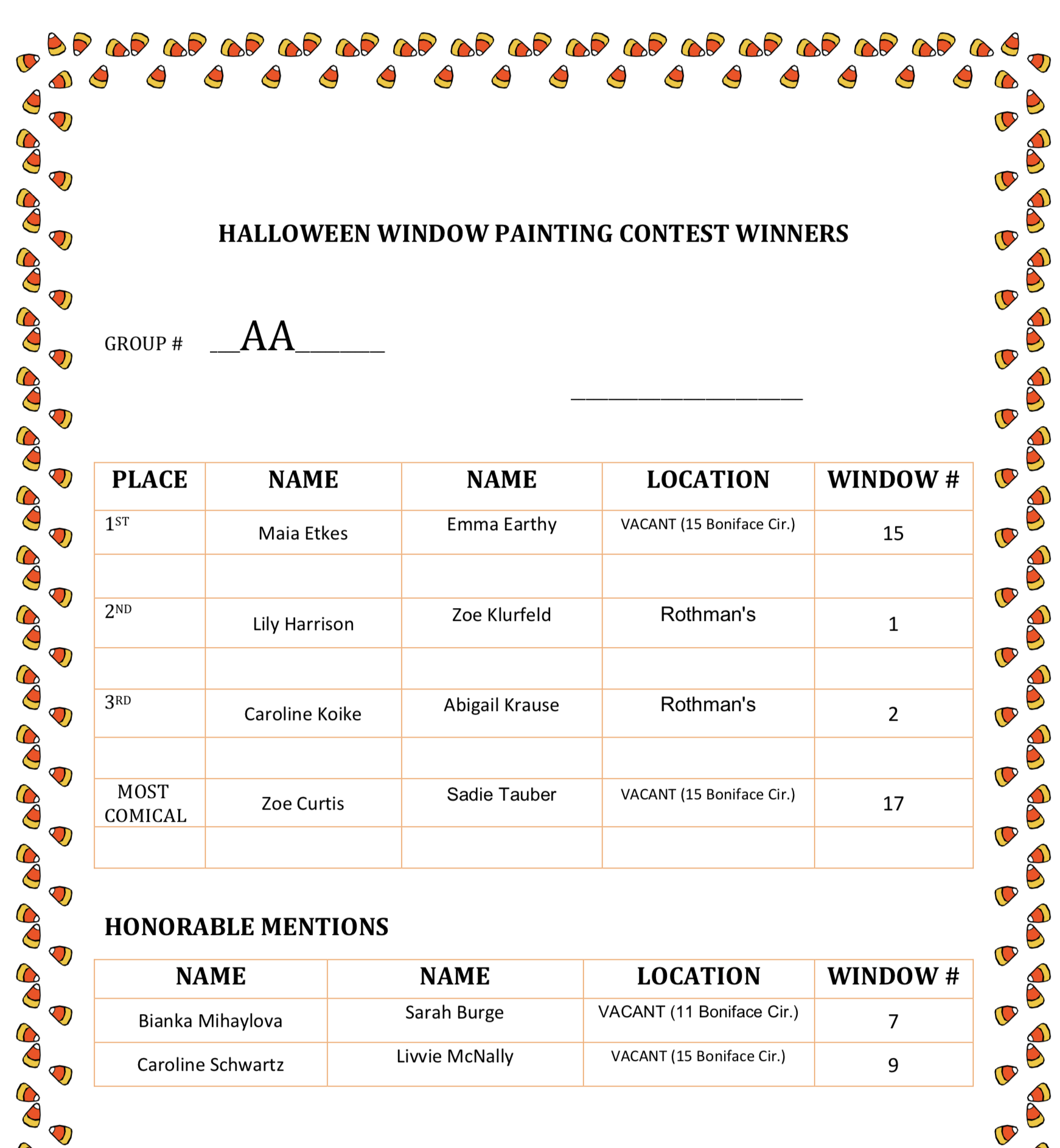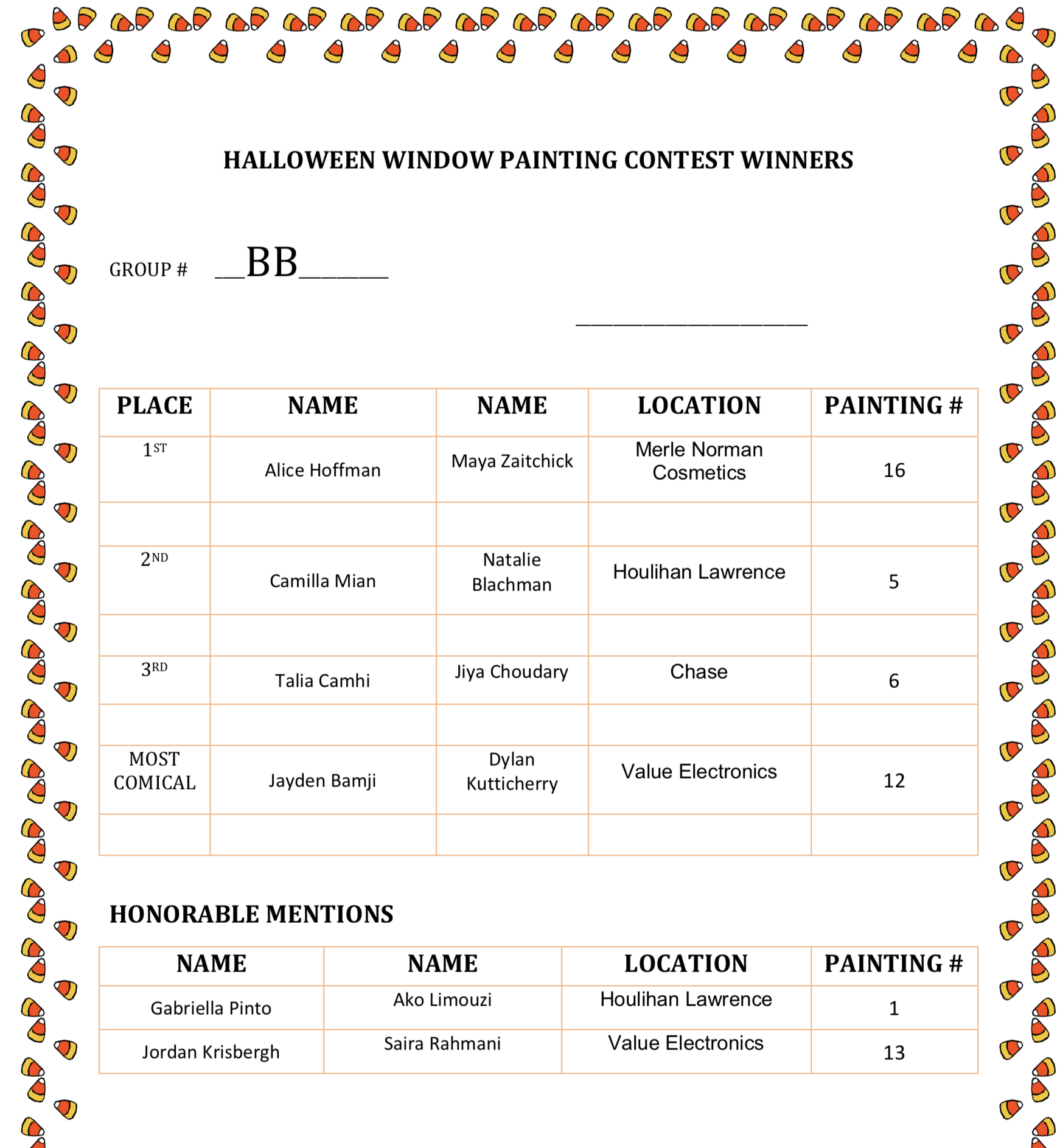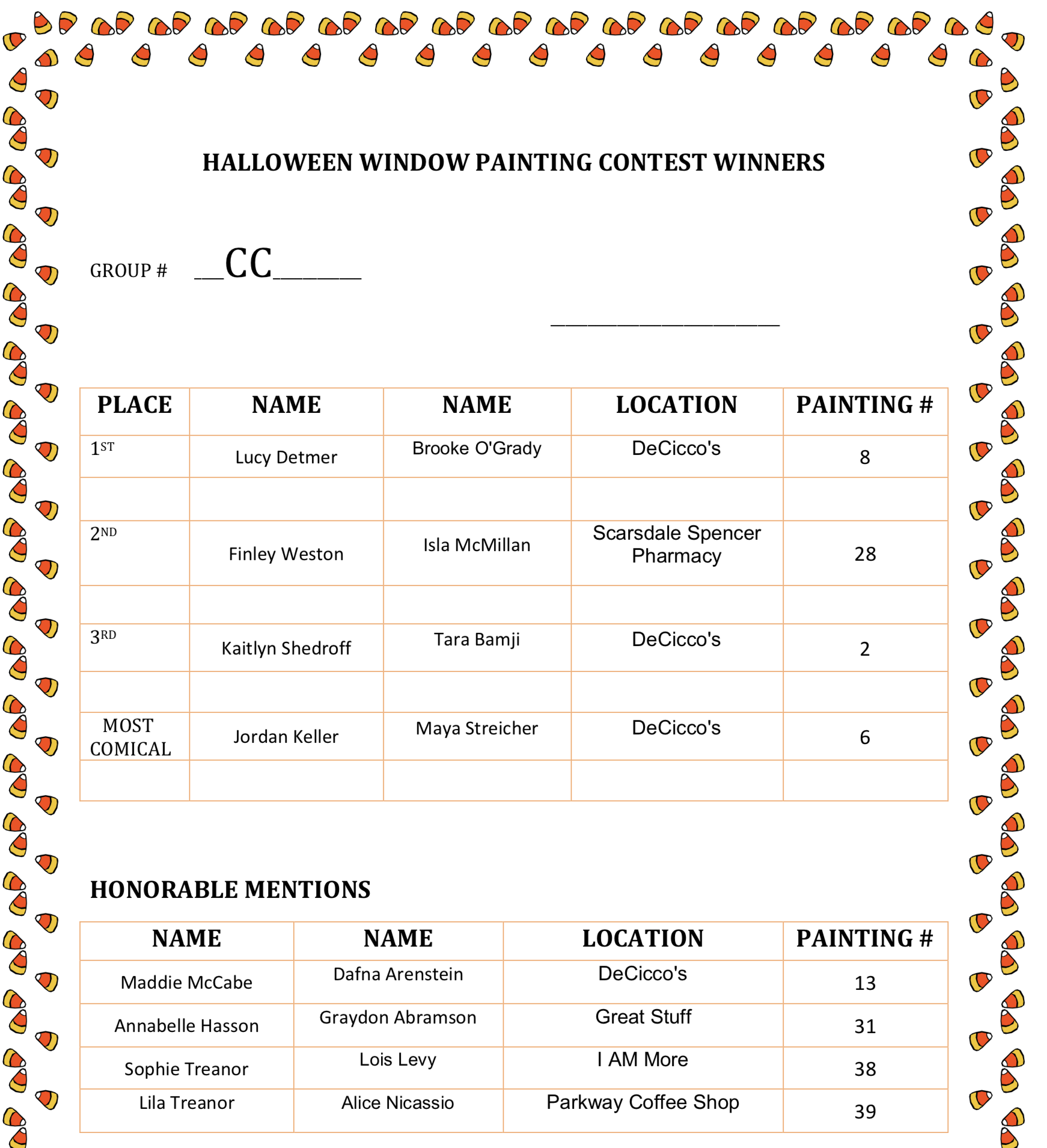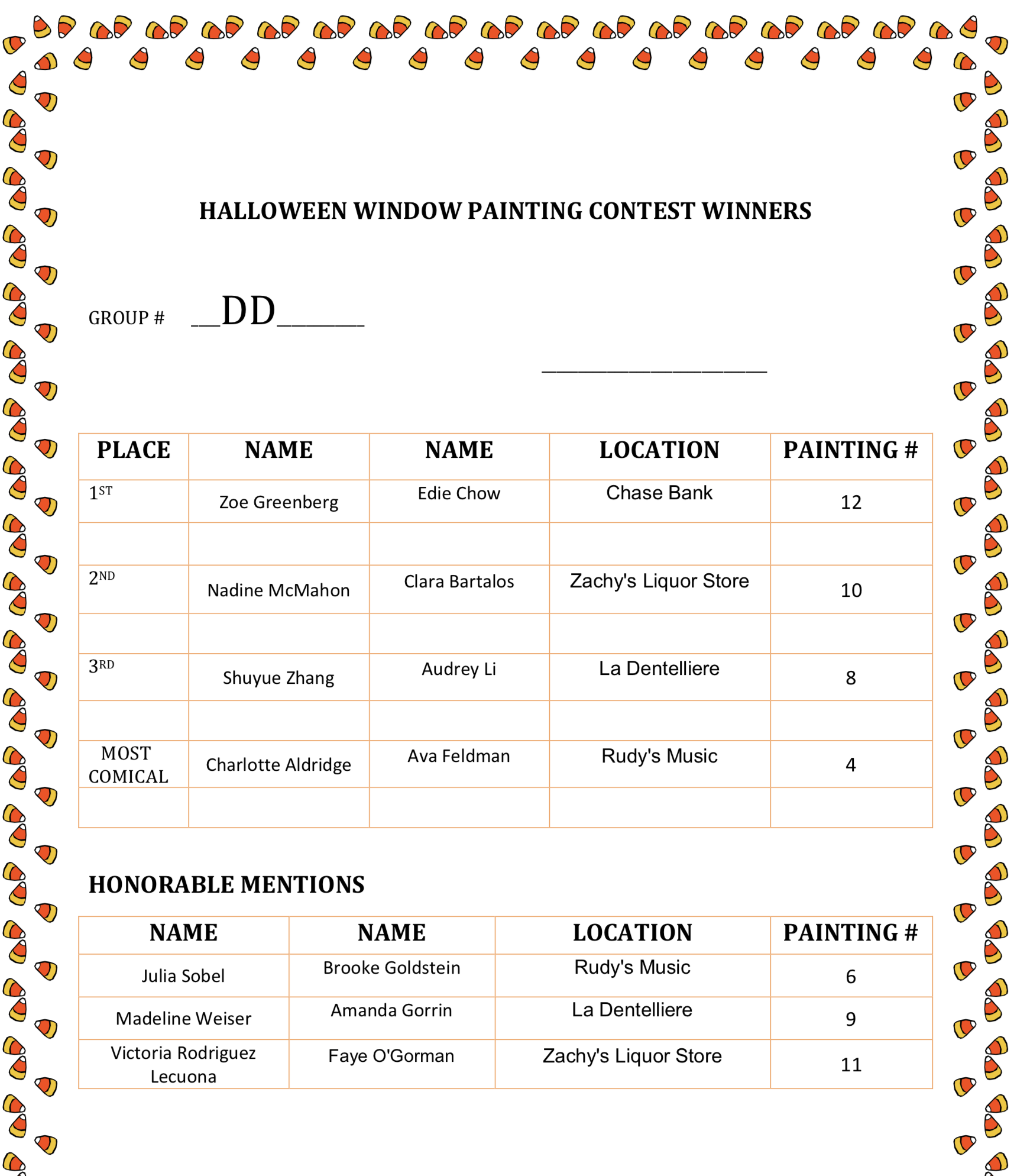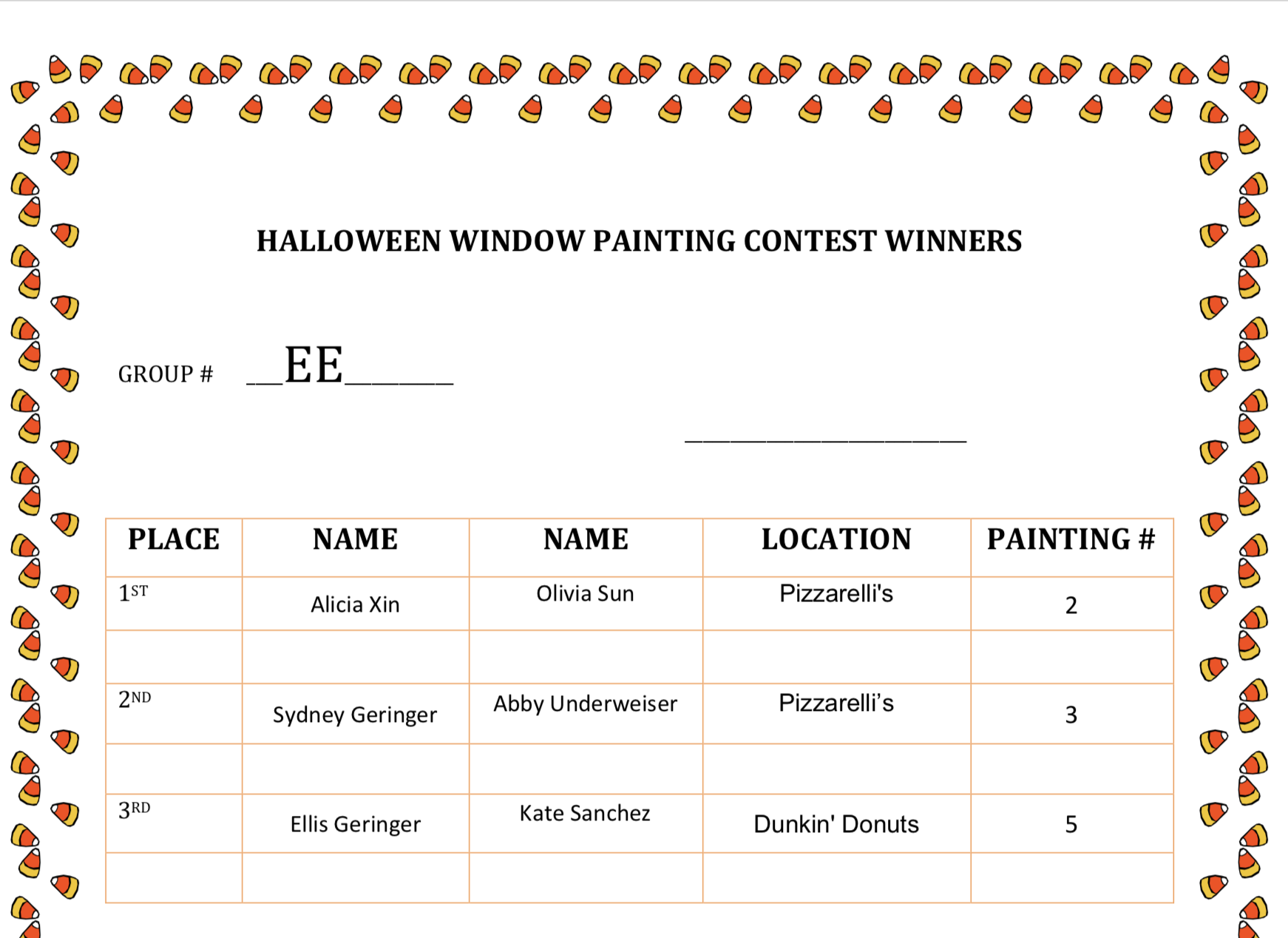 Scarsdale Library Hoping to Re-Open in November
Details

Written by

Joanne Wallenstein

Hits: 2300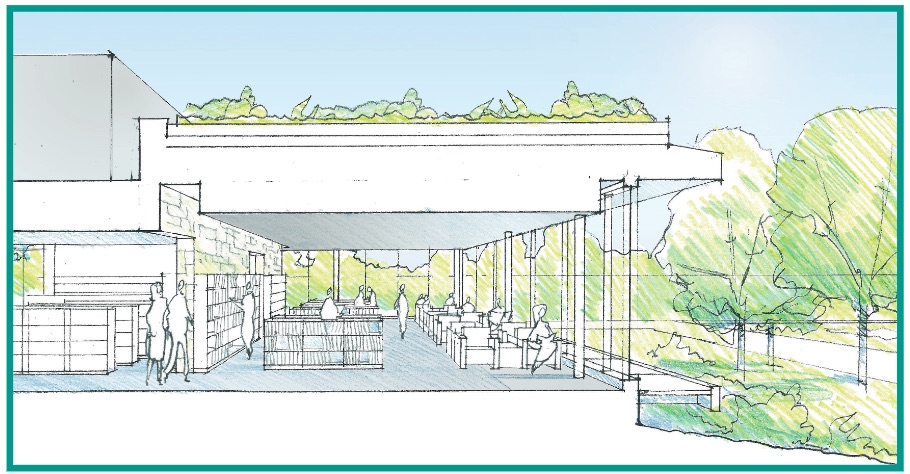 The Scarsdale Public Library (SPL) is proudly preparing to open its doors and warmly welcome residents to the newly renovated 54 Olmsted Road in a highly anticipated reopening tentatively set for November. The reimagined and modernized space was made possible by the hard work and commitment of the SPL professional and volunteer teams, essential workers, SPL Board of Trustees, Friends of the Scarsdale Library (FOSL) and, ultimately, the tremendous support of the Scarsdale community.

For the past two years, Scarsdale residents have eagerly awaited the completion of the state-of-the-art facility. Based on feedback from over 800 residents and key community stakeholders during an extensive planning process, new amenities patrons will be able to enjoy include: expanded teen and children's areas to encourage a lifelong joy of reading, relaxing and expansive glass-enclosed reading gallery, modernized small and large meeting rooms, infrastructure improvements especially updated wiring and technology support, Americans with Disabilities Act compliant restrooms and facilities, robust business center, and Cafe area for visitors to grab a bite to eat before or after browsing the shelves.
On the newly reimagined space, Library Board President, Margot Milberg says: "With its thoughtful redesign, the Scarsdale Public Library promises to be an inviting place for everyone in our community to come together to learn, connect, create, exchange ideas, and pursue lifelong learning for generations to come."
The renovated SPL is the result of a successful public-private partnership where fiscal responsibility and planning was top of mind. In 2016, the Scarsdale Village Board of Trustees approved a $9.9 million bond offering to help offset the public portion of the proposed $17.9 million renovation, with the balance of the funds raised by the Library Capital Campaign Committee in partnership with the FOSL. The renovation was further made possible by Assemblywoman Amy Paulin who secured a state grant funding the project.
Scarsdale Mayor, Marc Samwick, recognizes the exemplary oversight exhibited in this complex, multi-faceted project: "Partnerships were successfully cultivated among the various parties including the library staff and board members, village professionals, consultants and volunteer experts. This facilitated productive collaboration and maximized value at every turn throughout this process. We are very excited about the opening of the reimagined SPL as a critical community hub - particularly during this challenging time in which we can certainly use things to celebrate."

On the support for the renovation, Dara Gruenberg, President of FOSL and Campaign Committee Co-Chair recognizes the key role the community played in this successful renovation: "This would not have been possible without the support and extraordinary generosity of our residents and the foresight and vision of library and village leadership. The new library truly has something for everyone in our community and gives Scarsdale the library it deserves now and into the future. I could never have imagined how incredible the finished result would be when I became involved over seven years ago."

Reopening information will be announced in October as the SPL continues to work with state and local officials on safety procedures and COVID protocols. Library staff eagerly anticipate the community's arrival as they set up the collection and prepare for opening. Executive Director of the SPL, Beth Bermel, recognizes both the excitement and hard work of her sta in making the renovation a success: "I want to thank my staff for their flexibility and hard work during this period, and I know how excited they feel about getting back into 54 Olmsted. We can't wait to welcome the community back to enjoy our new and beautiful space together. It's going to be amazing."
Healthy Fall Family Recipes
Details

Written by

Jodi Greebel

Hits: 2391
If you are adjusting to another new norm, with back to school, zooms, working or just trying to take care of your family, cooking can just seem like another daunting task for which we have no time. Here are two easy, healthy recipes that your whole family will love.
These breakfast muffins are loaded with fiber, beta carotene, antioxidants and omega3 fats as well as protein and Vitamin D. These are a great make ahead food, can be eaten on the go and freeze well. And, if you don't know what to do with all of your apples from apple picking, they will work well in these!
Apple Carrot Cake Breakfast Muffins
(dairy free, peanut-free, tree-nut free (except coconut))
Makes 12 - 14 muffins

1 c all-purpose flour
3/4 c whole wheat flour
2 tsp baking soda
2 tsp cinnamon
1 tsp ground flaxseed
1/2 tsp salt
2 c shredded carrots
1 large green apple, grated (leave skin on for extra fiber)
1/4 c shredded coconut
1/8 - 1/4 c raisins
3 large eggs
1/2 c coconut oil, melted and cooled
2/3 c honey
2 tsp vanilla
Preheat oven to 350 degrees. Line muffin tin with liners.

Mix together dry ingredients (flour through salt) in medium bowl.

Add carrots, apple, shredded coconut and raisins.

In separate bowl, beat eggs with coconut oil.

Add honey, then vanilla and blend. Make well in dry ingredients.

Pour wet ingredients into dry.

Mix until just combined.

Divide evenly amongst muffin tins. Bake about 17-20 minutes until toothpick comes out clean.
Healthy Chicken Parmesan Bites

(peanut-free, tree-nut free, sesame free, gluten free if gluten free breadcrumbs)
Makes 3 - 4 servings
4 skinless boneless thin cut chicken breasts or about 1 pound chicken strips olive oil spray
1 egg
1 tbsp low-fat milk
3/4 c seasoned breadcrumbs (you can also use whole wheat breadcrumbs or gluten free)
2 tbsp grated parmesan cheese
3/4 c tomato sauce
1/2 - 3/4 c shredded mozzarella
Preheat oven to 375 degrees.

Cut chicken in strips (if not already in strips) and then cut each in half. (Each bite should be about the size of a chicken nugget.)

Spray glass baking dish with olive oil spray. Whisk egg and
milk in medium bowl.

In separate bowl, mix breadcrumbs and parmesan cheese. (If breadcrumbs are not seasoned, add kosher salt and pepper.)

Dip each chicken piece in egg mixture. Transfer chicken to bread crumb mixture and coat well. Shake off excess breadcrumbs.

Place chicken breasts in glass baking dish so they are close, but not on top of one another.

Bake about 20 minutes. (For browner color, broil about 2 - 3 minutes on high before adding sauce and mozzarella).

Remove from oven and divide tomato sauce evenly over each piece.

Layer mozzarella on top of sauce and bake about 5 more minutes until chicken is cooked through and mozzarella is melted.

Serve with pasta or zoodles if desired.
Need an even quicker way to make these healthy chicken parm bites? Use store bought chicken nuggets!
Jodi Greebel, MS, RDN is a Pediatric Registered Dietitian and the founder of Citrition (www.citrition.com). Jodi consults with children as well as for schools, camps and food companies. Follow her on instagram @greengrownmeals for healthy meal ideas, cooking tips and more on how to feed your family.
Young Filmmakers Take Home Prestigious Award
Details

Written by

Joanne Wallenstein

Hits: 2090
Jordan Cascade, Noah Kaller, Stephen Greenberg, Ethan Lubin, Jeremy Suzman. The cast and crew getting set to shoot the car scene. Young filmmakers in Scarsdale are back at work, this time winning the Award of Merit from The Best Short Films competition for their ten-minute short, "Boy on the Moon." The movie was filmed in just three nights in July from 9 pm to 3 am, on the grounds of Scarsdale High School. All the action takes place at night.
The film was written by Jake Lubin, who earlier this year produced "Scenes from a New Normal," about the COVID epidemic in Scarsdale, with Jordan Cascade. For this film, they are joined by Sam Friedman who directed the film, his biggest narrative short film collaboration to date and Jeremy Suzman.
Actors and Assistant Director preparing to roll on the first shot of the final scene of the film." (left to right) Ethan Lowey, Jake Lubin, Stephen Greenberg, Jeremy Suzman.
Actors in the film are Stephen Greenberg (Ollie), Jake Lubin (Demsky), Ethan Lowey (Alex), and Ethan Lubin, (the Drug Dealer.)
The film, which runs for just 10 minutes, depicts the story of three teenage boys, a failed drug purchase and their reckoning with a painful loss in the past. It has already accumulated over 17,000 views on YouTube from over 60 countries.
Jake Lubin and Stephen Greenberg posing for a picture before starting scene 4.
The boys met in an online storytelling course that Jake, Sam and Jordan took in the spring of 2020. According to Friedman, "After immediately clicking in that class, Jake sent me a few scripts and we talked about producing one of them. Boy on the Moon won out as the clear favorite, and we immediately sprang into action getting it made. Pre-production took the four producers (Lubin, Friedman, Cascade and Suzman) about a month. This included location scouting, casting, shot-listing, scheduling, and other logistical and creative tasks to get ready for the shoot. I had the most experience directing narrative films, so I took the lead in directing, while Jake took one of the star roles and played Demsky. Jordan was the cinematographer, meaning he was behind the camera setting up the lighting and hitting record. The rest of the crew had various other on-set roles."
A group shot of the cast and crew at around 3:00am after wrapping the first day of shooting. Jordan Cascade, Ethan Lowey, Jake Lubin, Stephen Greenberg, Sam Friedman, Jeremy Suzman, Ethan Weismer
Asked if they had direction from an adult or mentor, Friedman said, "Jake got feedback from some writing mentors about the script during pre-production, but besides that it was entirely produced by students."
Friedman edited the film directly after they wrapped shooting. The first draft took him only six days. Once that was done, the four producers had a screening over Zoom when they talked about some edits, and then had the final version finished by the following day. Freidman used Adobe Premiere Pro on his Macbook Pro.
The film was very low budget, and the boys improvised by using props and equipment they already had. They spent a total of $106 for lighting and sound equipment.
After a week of promotion on social media, Boy on the Moon was released internationally on YouTube. You can watch it here:
The Best Shorts Competition recognizes film, television, videography and new media professionals who demonstrate exceptional achievement in craft and creativity, and those who produce standout entertainment or contribute to profound social change. Entries are judged by highly qualified professionals in the film and television industry. Information about Best Shorts and a list of recent winners can be found at www.BestShorts.net.
Crew

Directed by Sam Friedman
Written by Jake Lubin
Produced by Sam Friedman, Jake Lubin, Jordan Cascade, and Jeremy Suzman
Director of Photography - Jordan Cascade
Edited by Sam Friedman
Assistant Director & Script Supervisor - Jeremy Suzman
Production Assistants & Sound - Tal Blaustein, Noah Kaller, Ethan Weismer