Horace Mann Freshman Plays Violin at Carnegie Hall
Details

Written by

Joanne Wallenstein

Hits: 1387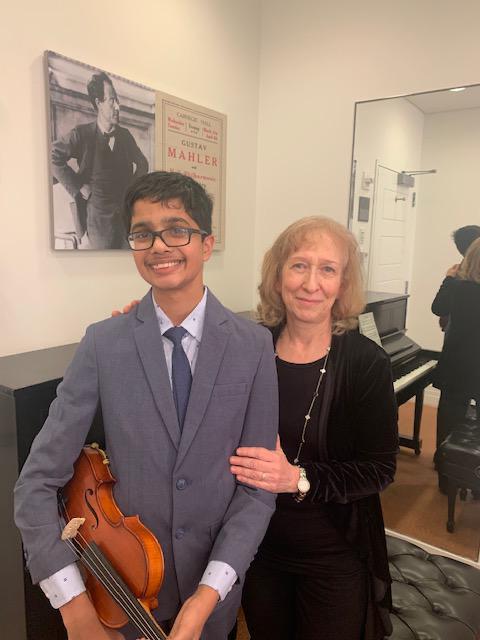 Ram Narayanan with Alla SherbakovHorace Mann School freshman and Scarsdale resident Ram Narayanan was recently selected to perform at the Crescendo Competition in Carnegie Hall. He received first prize in the competition and performed at the recital on January 19th, 2020. He performed Charles Dancla's 2nd Air Varie. This was Ram's second time performing in Carnegie Hall, as he had previously performed after getting third prize in the American Protégé Competition in 2016.
Ram is a student who lives in Scarsdale but goes to Horace Mann School in the Bronx. He has always been passionate about music, playing the violin since the age of 6, and singing Indian cultural music in the Carnatic style since the age of 4. He plays in the Horace Mann school orchestra and enjoys the music he plays there. Currently, he is learning under Mrs. Alla Sherbakov.
Aside from music, Ram also loves math and science. He received first in his chapter at the MATHCOUNTS competition.
Scarsdale Forum Celebrates Winterfest
Details

Written by

Joanne Wallenstein

Hits: 1458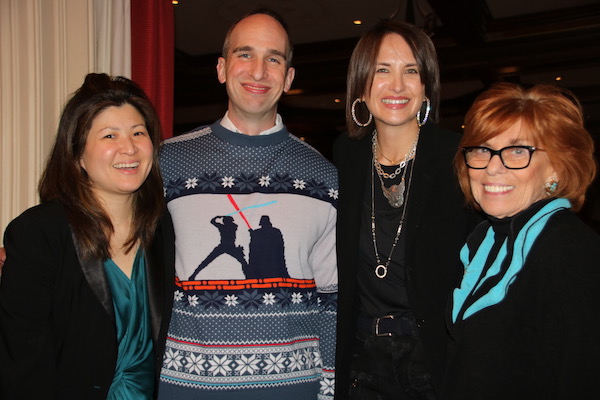 Susan Lee Foley, Tim Foley, ML Perlman, Linda BlairThis note was sent to us by the Scarsdale Forum Winterfest 2020 Committee.

The Scarsdale Forum welcomed over 100 members and guests to Winterfest 2020, its twelfth annual membership party at the Scarsdale Woman's Club on Saturday, February 1. Party goers were greeted at the door by Forum President Tim Foley and Vice President Madelaine Eppenstein as Spotify set the mood for the evening in the festive music room decorated by Winterfest 2020 Chair Linda Blair. Bruce Wells held court at the popular beer tasting station featuring his home brewed beers and hot dogs steamed in dark beer for the adventurous. Plates catered a delicious buffet dinner while Forum members Merrell Clark, Eli Mattioli, Jim Pullman and Sue Wolin took to the keys to entertain guests during the dinner hour. The evening ended sweetly in the dessert room where guests enjoyed the home baked goodies of several Forum members and friends and a fruit platter donated by Standing Room Only.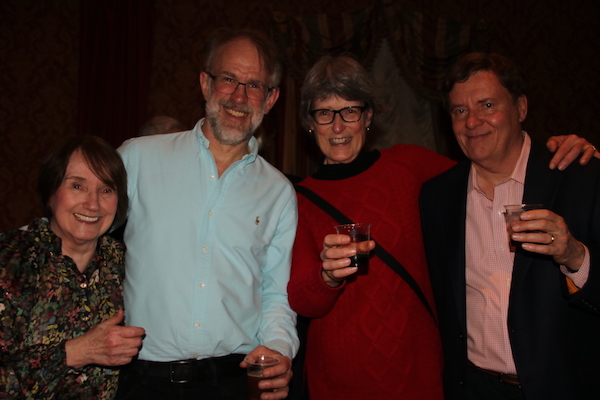 Deidre Pullman, Bruce Wells, Anne Hintermeister, Jeff Crandall

We thank local vendors Bronx River Books, La Dentelliere, Ellen Cohen of Pampered Chef, Parkway Café, Pizzarelli's, Scarsdale Frame Shop, Scarsdale Pastry Center, Scarsdale Woman's Exchange, Serenity and Setsuko at Jean Claude for generously donating door prizes for the event.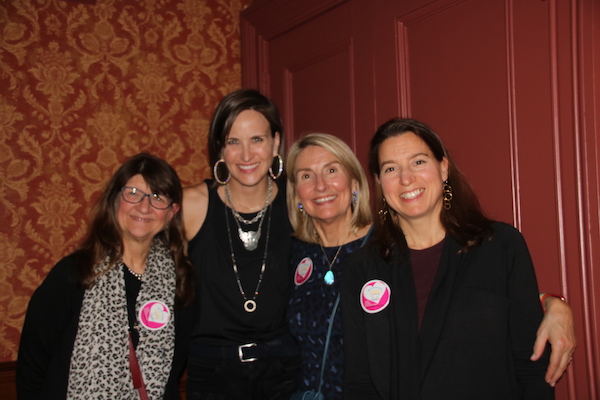 Deb Pekarek, ML Perlman, Michelle Lichtenberg, Michelle Sterling
A special thank you to Scarsdale 10583 for publicizing our event.
Photo Credit: Liza VanGundy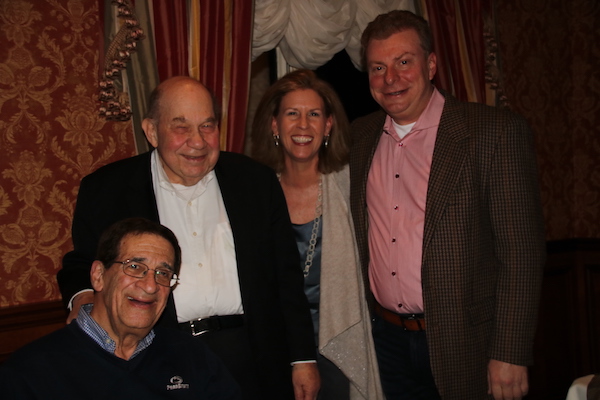 Bob Harrison, Bill Stern, Avital & Greg Soldatenko
Winter 2020 Committee
Scarsdale Forum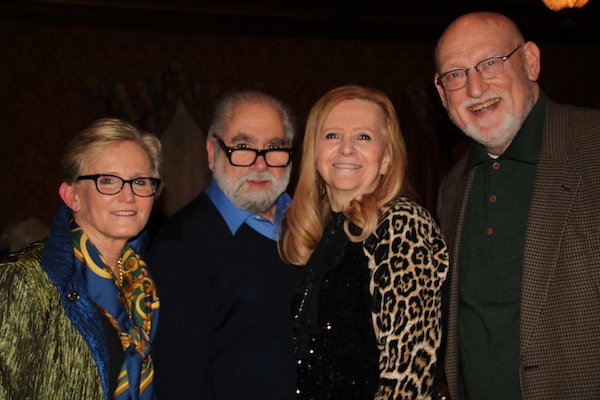 Marjorie Meiman, Harvey & Miriam Flisser, Joe Robinowitz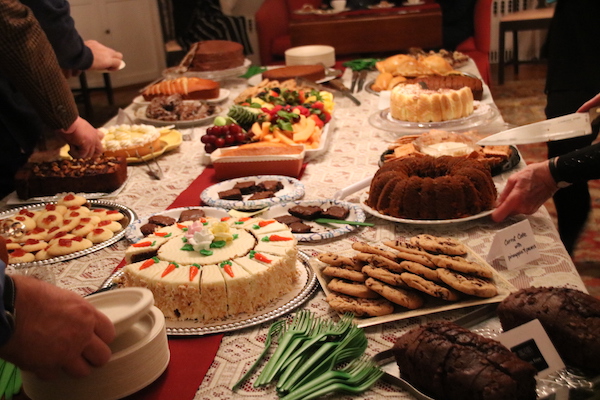 A Short Trip To Italy at La Bocca Ristorante
Details

Written by

Judie Dweck

Hits: 2869
On a rather cold and windy day in early January, I visited La Bocca in White Plains. A warm and friendly environment enveloped me as I shed my hat, gloves and scarf. This cozy spot, serving delicious regional Italian food is owned by the gracious and talented Tony Spiritoso who hails from Calabria. When asked to describe La Bocca in a few words, he simply said, "La Bocca is a short trip to Italy." His pastas, cheeses, oils and many other ingredients are imported from Italy. Spiritoso has years of personal experience from a country with centuries of culinary history. Alessandro Crocco oversees the dining room and is a most capable director who assures that everything runs smoothly and that the waitstaff is working efficiently.

La Bocca seats about 14 at the friendly well stocked bar and about 60 in the dining room. A private party room accommodates about 80 guests. The dining room has a homelike cozy feeling. Brick archways are the background for the colorful Italian pottery and plates. Italian related artwork, posters and photos line the walls. Photos and memorabilia of well-known Italian actors add to the ambiance. Hand painted portraits of Marcello Mastrioanni and Roberto Benigni hang beside a portrait of Tony Spiritoso. On the back wall is a mural depicting La Bocca Della Verita," the mouth of truth sculpture", which is in Italy. It is said that if you lie and put your hand in its mouth, your hand will be bitten off. True or just a myth, you can be sure that when dining at La Bocca, you will enjoy a delightful meal in a warm and friendly setting where the attentive service matches the carefully prepared food.

A basket of country bread and a bottle of organic Italian olive oil arrive, as you check out the menu. You can start your meal with classic salads or innovative ones such as beets with walnuts, arugula and robiola cheese, insalata alla Bocca with spinach, and a mixed fruit dressing or Contadina with arugula, pears, walnuts and gorgonzola. A hot antipasto, baked clams, fegatino di pollo with mushrooms and balsamic sauce are nice starters. I enjoyed a fresh seafood salad with shrimp, polpo and calamari. Fresh lemon juice and celery added flavor to this combination of ingredients resting on two cups of red lettuce. Very popular here is the sapori d'Italia a nice selection of Italian meats.

What would an Italian meal be without a pasta dish? With a homemade sauce, nothing could be better. One of my favorite sauces is a Bolognese sauce, At La Bocca ribbons of homemade pappardelle were bathed in Chef Spiritoso's rendition of Bolognese with beef, veal and pork in just the right proportions. A sprinkling of grated cheese was offered to complete this course. Among the pasta and rice dishes, many of the pastas are dried and imported from Italy. Spiritoso indicated that you can cook them al dente for good results. Gluten free and whole wheat noodles are available upon request. I look forward to sampling cavatelli Marietta with pancetta, potatoes and tomato, linguine alla vongole with Manilla clams, garlic and oil, rigatoni alla nonna with meatballs and sausage and vegetarian lasagna. Risotto Tirolese with Arborio rice, sausage, peas and pesto is another appealing choice.


Veal dishes, for me, are often a means of assessing the quality of the meat. At La Bocca, they were most accommodating in preparing veal martini for me in place of the chicken martini that appears on the menu. The scallops of veal were tender enough to cut with a fork and were encrusted with parmesan cheese and finished with butter and white wine. The generous portion shared the plate with fresh asparagus, roasted potatoes and crowns of broccoli, resulting in a lovely entrée. Many classic chicken dishes are prepared in traditional ways such as chicken valdostano with Italian ham and provolone in a brandy mushroom sauce and pollo scarpariello with garlic, sausage, peppers and potatoes. Rack of lamb, sliced sirloin with a balsamic reduction, and a Berkshire pork chop with hot or sweet peppers, onion, cherry tomatoes and potatoes are some of the meat and poultry choices.

A special attraction that makes La Bocca stand out among the many Italian restaurants in the area, is the wide selection of wild meats, such as rabbit, quail, venison and boar. Just inquire to find out what is available on the day of your visit.

The fish choices are very fresh. Try the zuppa di pesce where shrimp, calamari, clams, lobster tail, mussels and squid swim in a tomato and garlic sauce over linguini. If lobster tail is your desire, try it fra diavolo or with mussels and shrimp marinara. Very popular is branzino grilled whole or filleted. I thoroughly enjoyed gamberoni gratinati. Here jumbo, tail on shrimp were crusted with nicely seasoned breadcrumbs and baked with a touch of white wine. A citrus scented lemon sat beside the shrimp and the combination was light and delicious. The shrimp were properly cooked without becoming rubbery in texture.

Desserts, if you have room, include a selection of Bindi creations such as, spumoni bomba, espresso panna cotta, and chocolate salted caramel souffle. For me a perfect finale would be fruit and imported Italian cheeses and espresso over gelato.

As noted on my recent mid-day visit, La Bocca is a popular lunch destination. An a la carte as well as a lunch special menu are offered.
If classic Italian dishes are your wish, without getting on a plane, just take a short ride to White Plains and enjoy the friendly ambiance and traditional Italian fare at La Bocca Ristorante. Instead of a passport, bring a hearty appetite.
Meter parking as well as municipal parking is available for your convenience.

La Bocca Ristorante

8 Church Street
White Plains
914 948 3281
https://www.laboccaristorante.com/Gallery.asp
Minis Latin Fusion for the Colorful Vibrant Tastes of Latin America
Details

Written by

Judie Dweck

Hits: 2723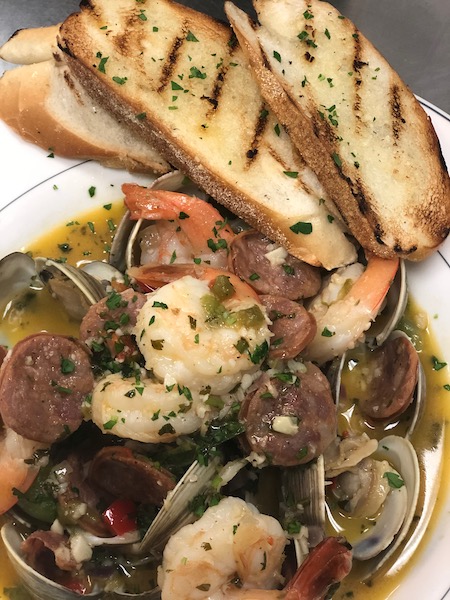 Steamed clams and chorizo.The flavors of Latin American cuisine are adding a vibrant taste to the New Rochelle culinary scene with the recent opening of Minis Latin Fusion Restaurant. It is owned by Nicole Pirraglia Piparo and Michael Piparo. Upon chatting with Nicole, she indicated that she worked in several restaurants on City Island as manager and in the front of the house. Driving to New Rochelle to pick up her children from school, she noticed the empty storefront that previously housed Fratelli for many years. The rest is history. She decided the area needed a change of pace from the many Italian eateries in the area. Thus, Minis Latin Fusion was born. "Our food is Spanish with influences from many Latin cultures. We offer something for everyone. The person who I would have loved to experience Minis, is my grandmother, a great cook. My goal for the future is to expand to many locations. For me, the best part of the business is the social interaction. The hardest part, is being away from my young family."

The space has been redesigned. Seating about 50 guests, the bar is to the right and the dining room to the left. To give the space a south of the border ambiance, the many works of Mexican artist Leonid Afremov adorn the white stucco walls. They depict many areas of the arts. The dance and music themes compliment the Latin food.

We enjoyed several appetizers. One of my favorites was a bowl of steamed clams paired with chorizo. The fragrant cilantro flavored sauce was perfect with the delicate clams and nicely spiced chorizo. Toasted slices of bread were just right for dipping. I requested a spoon to lap up every bit of the sauce, and I was told that another guest indicated that if he had a glass, he would just drink the beautifully flavored sauce. Empanadas con Picadillo with creole sauce were quite good, as well. These "meat pastries", were filled to the brim with a well seasoned meat mixture and were fried to a golden brown. I had been instructed on how to navigate the empanada and followed the rule…. I bit off the corner of the pastry and the tantalizing aroma of the beef mixture with its combination of herbs and spices filled the air. Quesadillas are popular in many restaurants. At Minis, the filling is chicken that is roasted and tossed in a mole sauce. It was a very pleasant variation with that great chocolate enhanced sauce of Mexican origin. Chicharron de pollo arrived as fried to a crisp nuggets of chicken. They were as crunchy as could be and pleasant when dipped in some creole sauce. --- One caveat----- They are not boneless, so be careful when biting into these delicious morsels. Creamy garlic shrimp were another tasty appetizer. The diced shrimp tossed with a creamy white garlic sauce were serve atop freshly fried tostones. Yet to be tried among the appetizers are shrimp soup with Juarez Sherry, black bean soup and sancocho, a soupy dish with chicken or fish, popular in the Caribbean. For a lighter beginning try the Arcadian green salad with sherry guava vinaigrette or tomato avocado salad with chipotle orange vinaigrette and tostones.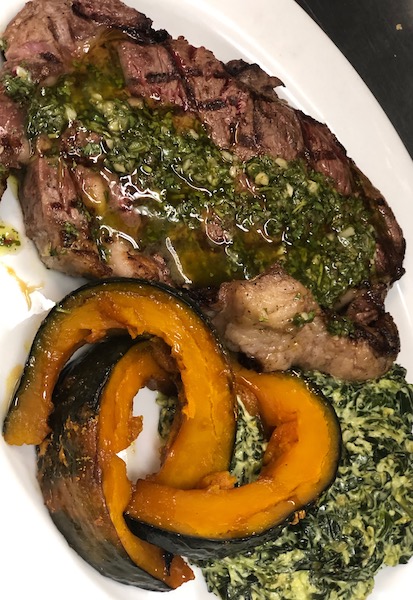 Steak with Argentinean Chimichurri Sauce

Many dishes are creatively presented at Minis. Ropa Vieja is a dish I have enjoyed through the years. Translated as "old clothes", this dish of shredded beef is a Cuban specialty. Here the shredded beef is served in a Peruvian presentation. The meat mixture is layered with rice and white beans. This mountain of flavors was enhanced with aji Amarillo, a Peruvian yellow chili, avocado and a few slices of tostones, those fresh , fried green plantains, on a plantain leaf. The origin of the dish is Cuban and the " tacu tacu" presentation is Peruvian.

Other entrees are varied with dishes popular in Puerto Rico, Peru, Cuba and the Caribbean, to name but a few. There is the popular arroz con pollo and seafood paella. Grilled NY Steak has a Latin touch when served with Argentinean chimichurri sauce. Pernil, pork shoulder , from Puerto Rico, plantain crumb crusted chicken breast, pork chops with moduros, sweet plantains and mofongo , a popular mashed plantain dish , with meat, vegetables or seafood. There is even mac and cheese with chorizo and chicharon crumbs.

Desserts include carrot cake bread pudding, cheesecake brulee as well as a Latin inspired tres leche Maduro sundae with those terrific sweet plantains, nuts and syrup.

Minis serve lunch Tuesday through Friday with Latin touches joining popular favorites such as fish and chip sandwiches with spicy Caribbean tartar sauce, carne hero with chimichurri sauce, and tamarind bbq pernil. Enjoy happy hour Tuesday through Friday from 4-7 pm. Sunday brunch is offered from 11.30-4 with selections including Venezuelan frittata, chorizo mac and cheese, and chimichurri steak and eggs.

Park your car in the parking area of the strip mall or on the street and enjoy the ray of Latin sunshine at the new Minis Latin Fusion Restaurant soon.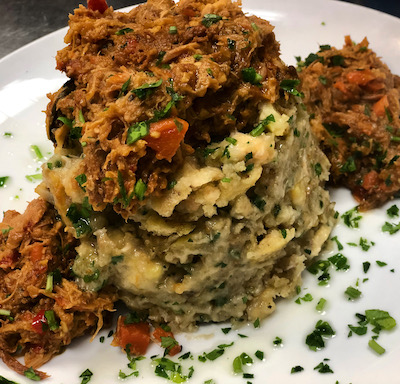 Ropa Viega

Minis Latin Fusion
237 East Main Street
New Rochelle
(914) 355- 5609

Recipe: Beef Empanadas (10 empanadas)

2 pounds ground beef
1 large onion, finely diced
3 Tbsps chopped garlic
½ red bell pepper finely diced
½ green bell pepper, finely diced
4 Tbsps. tomato paste
2 Tbsps. capers
1 tsp. chili powder
1/2 tsp cumin
½ bunch chopped cilantro
½ tsp. adobo
½ tsp. salt
10 Goya empanada shells, 5 inch rounds
2 Tbsps. olive oil

Olive oil for frying empanadas

In a large pot mix together all filling ingredients. Saute stirring, in 2 Tbsps. oil until meat is browned and cooked through. Chill the mixture. Divide it among the 10 shells. Fold each in half and crimp the edges tightly. Fry in olive oil on both sides until golden. Drain and serve.
Appealing Farce Beats the January Frost: Lend Me a Tenor at Westchester Broadway Theater
Details

Written by

Barbara Solomon Josselsohn

Hits: 1901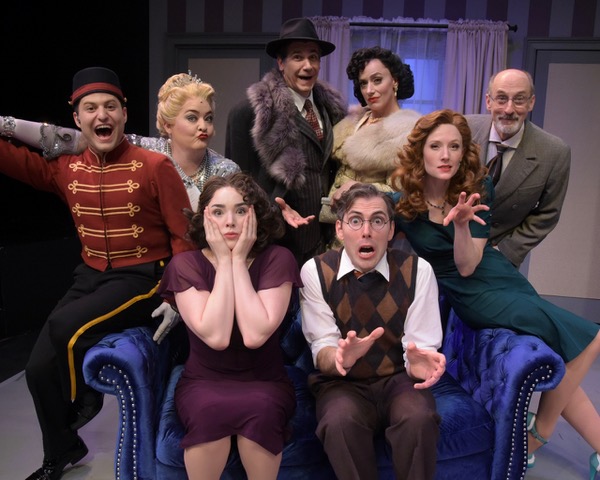 Mistaken identities, sexual innuendos, risky encounters and plenty of slamming doors – they all come together on one fateful evening in Cleveland in "Lend Me a Tenor," the fast-paced and utterly charming comedy now playing at Westchester Broadway Theatre in Elmsford.

The action takes place entirely in a Cleveland hotel suite in 1934, as the Cleveland Grand Opera Company prepares for the widely anticipated performance of the world-famous tenor Tito Merelli. Tito is late to arrive, which becomes a huge problem for Max, the assistant to the general manager of the Opera, who also happens to be his girlfriend Maggie's father. And when Merelli finally shows up, it isn't long before he becomes…well, indisposed. How will Max save the Opera from disaster and preserve his relationship with his boss? There seems to be only one way out for Max – who, as luck would have it, fancies himself a tenor worthy of the stage.

The consequences for Max, Maggie, and the entire gang of colorful characters are surprising and funny in this modern version of a traditional English farce.
Of course, for a comedy of this nature – with a relatively thin plot and a relatively heavy dose of pratfalls – to succeed, the cast has to be on its game. And happily, the actors on stage are nimble, energetic, and eager. In particular, J.D. Daw, as Max, serves as a capable centerpiece to the show, and also has an undeniably wonderful operatic voice. What's more, some of the minor characters do some delightful scene-stealing – such as Sam Seferian, who plays the bellhop, and Tregoney Sheperd, who's irresistible as Julia, the chairman of the Opera Guild.

"Lend Me a Tenor" has an impressive past, having opened on Broadway in 1989 under the direction of Jerry Zaks and with a cast that included Philip Bosco, Victor Garber and Tovah Feldshuh. It won three Tony awards back then, and was revived in 2010, earning the Tony for best revival of a play.
To be sure, the play isn't brilliant or thought-provoking, and it won't make you ponder any of the deep mysteries of life. But it's a wonderful antidote for the winter blues, and will certainly make for a fun local theatrical experience.

"Lend Me a Tenor" runs through January 26th. WBT is located at One Broadway Plaza in Elmsford. For ticket information, call 914-592-2222 or visit www.BroadwayTheatre.com.
Pictured at top: The Cast of Lend Me A Tenor (front: Molly McCaskill (as Maggie), J.D. Daw (as Max) Back l to r: Sam Seferian (as the Bellhop), Tregoney Shepherd (as Julia), Joey Sorge (as Tito), Kathy Voytko (as Maria), Hannah Jane McMurray (as Diana) and Philip Hoffman (as Saunders).