Mary Calvi to Discuss George Washington's First Love and her Book "Dear George, Dear Mary"
Details

Written by

Joanne Wallenstein

Hits: 3955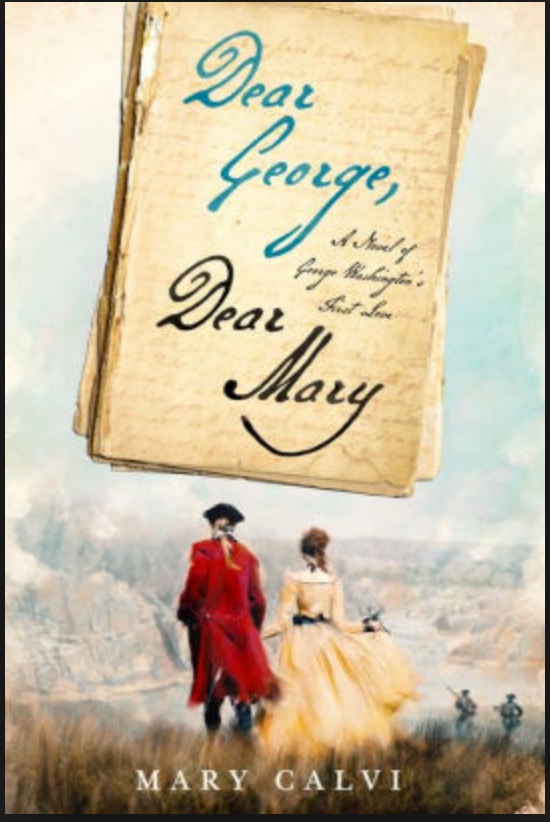 Join author Mary Calvi and the White Plains Historical Society's History Lovers' Book Club on Thursday, August 1st at 6:30 p.m. as they discuss Mary Calvi's Dear George, Dear Mary: A Novel of George Washington's First Love. Calvi, an Emmy-Award winning journalist at WCBS-TV and First Lady of Yonkers, will sign copies of her book, answer questions about writing it, and distribute gift items courtesy of her publisher.
In Dear George, Dear Mary, Calvi reimagines the story between the young Washington and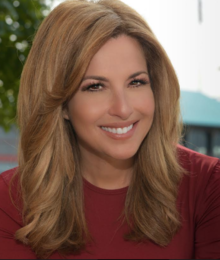 Mary Philipse, an heiress from Yonkers who was the richest woman in Colonial America.
Registration is required; to register, visit the White Plains Library online calendar here.
Earl Groner Passes Away at 83
Details

Written by

Joanne Wallenstein

Hits: 7360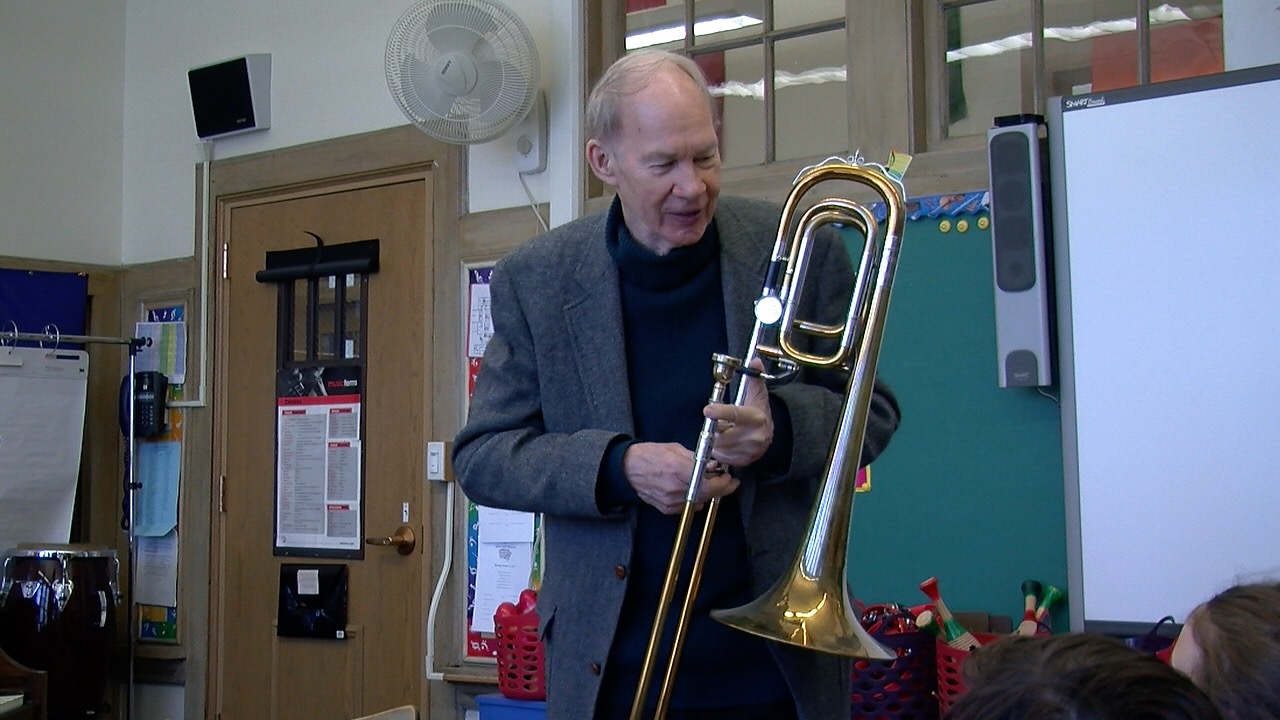 Longtime Scarsdale music teacher Earl Groner has passed away at the age of 83. Here is his obituary from the William H. Clark funeral home website:
Earl F. ("Pete") Groner, Jr., 83, of Scarsdale, NY, died peacefully on Saturday evening, July 6, 2019, while under hospice care at Calvary Hospital in Bronx, NY.
Born on October 23, 1935 in East Stroudsburg, he was a son of the late Earl F. and Alice (Chase) Groner.
Dr. Earl Groner was a member of the music department faculty of the Scarsdale (NY) Public Schools where for thirty-five years he taught strings and orchestra. This completed a forty-five year career as an active music educator. He is a past president of the New York State School Music Association (NYSSMA), a past president of the Westchester County (NY) School Music Association (WCSMA), and a past president of the Eastern Division of MENC: The National Association for Music Education (now NAfME). For two years, he served as chair of the University of Michigan School of Music Alumni Board of Governors and he is a past president of the University of Michigan Club of Westchester.  
After receiving his Bachelor's degree in Music from the University of Michigan, he received his Master's of Music degree from the New England Conservatory of Music and his Doctorate in Education from Drew University. His doctoral dissertation focused on conductor Charles Munch. For two summers, he was a Tanglewood Fellow performing in the Tanglewood Music Center Orchestra, often conducted by Charles Munch, then Music Director and Conductor of the Boston Symphony Orchestra. Dr. Groner was elected to both Phi Mu Alpha Sinfonia and Pi Kappa Lambda honorary music fraternities. At his death, he was working on a manuscript about the history of the Tanglewood Music Center. 
Dr. Groner played bass trombone in the Seventh US Army Symphony Orchestra based in Stuttgart, Germany, and for two seasons he performed in Carnegie Hall with the National Orchestral Association. He served as music director of Empire State Concert Productions, and for five years he was appointed the Educational Outreach Specialist and Consultant to "Live from Lincoln Center based in New York City's Lincoln Center for the Performing Arts. He was a member of Asbury-Crestwood Methodist Church in Scarsdale, NY, and was the Chairman of their Music and Worship Committee. 
Surviving are a brother, James B. Groner of Norwood, PA; a niece, Dr. Rachael Groner of Glenside, PA; and a nephew,Andrew J. Groner of Trumansburg, NY. 
The memorial service will be held at 1:00PM Friday, July 12, from the William H. Clark Funeral Home, 1003 Main Street, Stroudsburg with Pastor Margie Good officiating, Burial will follow at Laurelwood Cemetery in Stroudsburg. 
In lieu of flowers, the family requests that donations be made in his name to Music at Asbury, 167 Scarsdale Road, Tuckahoe, NY 10707 (www.musicatasbury.com), where Groner served as a Committee Member.
Josh Ringel Leaving Scarsdale for Tarrytown
Details

Written by

Joanne Wallenstein

Hits: 3387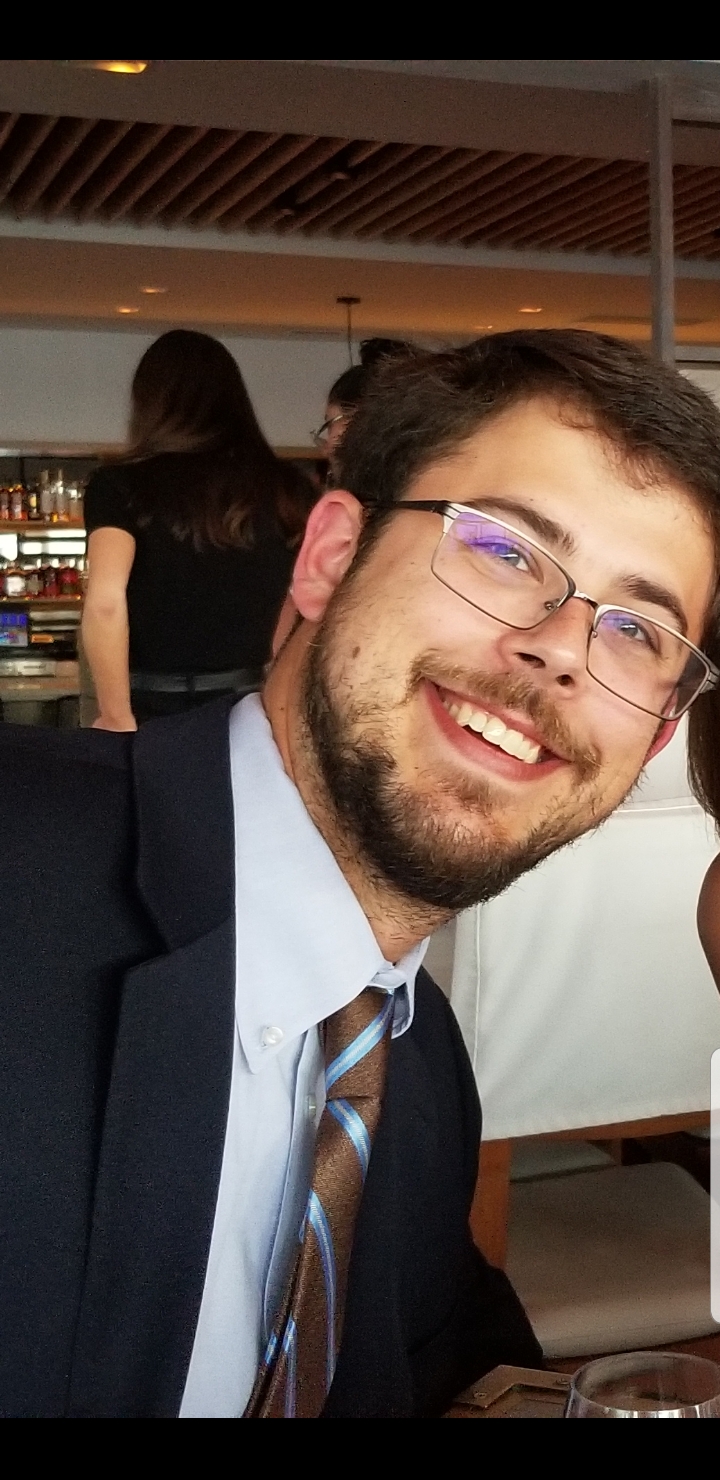 Josh Ringel, Assistant to the Scarsdale Village Manager, is moving on and up. Ringel has served Scarsdale since 2015 and announced this week that he has accepted a position as Assistant Village Administrator in Tarrytown, starting in late July.
Ringel is a well-liked and respected member of the Village team. He recently worked on improved parking for residents and merchants in the Village and the implementation of new LPR technology for parking enforcement.
Good luck to Josh in his new role – he will be missed at Scarsdale Village Hall.
Here is the announcement of his move from the Village of Tarrytown:
The Village of Tarrytown announced that Joshua Ringel has been selected and appointed as the new Assistant Village Administrator.
The Village reviewed applications from 20 candidates and interviewed 6 highly qualified professionals, who had direct experience in local municipal government administration.
Mr. Ringel will assist the Village Administrator's Office in overseeing the daily operations of the Village and Village Departments, and will help with a myriad of grants and improvement projects being addressed and coordinated by the Village.
Josh Ringel is a life-long resident of Westchester County, spending the formative years of his life in Hastings-on-Hudson. He is a graduate of the University of Albany, where he earned his B.A. in Public Policy and his Master's in Public Administration at the Rockefeller School of Government. Previously, he was the Assistant to the Village Manager for the Village of Scarsdale for four years. As Assistant to the Village Manager, he played a key role in village operations including grant administration, traffic safety, improving parking management, planning and managing special events, and much more.
The Village is looking forward to working with Mr. Ringel on many projects and initiatives. He will be starting work in the Village in late July 2019.
Middle Schoolers Craft Shelters for Homeless Cats
Details

Written by

Joanne Wallenstein

Hits: 2193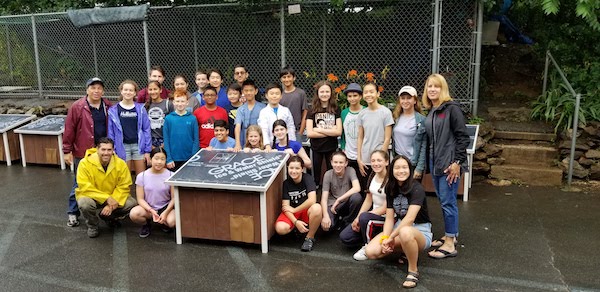 Seventh and eighth grade CHOICE students lead by Cindy Parrott teamed up with art teacher, Denise Cassano and technology teachers Steve Rambone and Andy Verboys to make feral cat homes for homeless cats.
Students learned about animal shelters and the need of homeless animals in the community. Middle School students designed and constructed the boxes using quality outdoor materials, while learning construction skills and how to use power tools.
They were delivered on June 25th to Dana Rocco, the director of the shelter. Some will stay on site, and others will be given out to the community. Students took a tour of the shelter and were even able to meet some cats and dogs available for adoption. This is an example of SMS students helping their community while participating in STEAM/project based learning.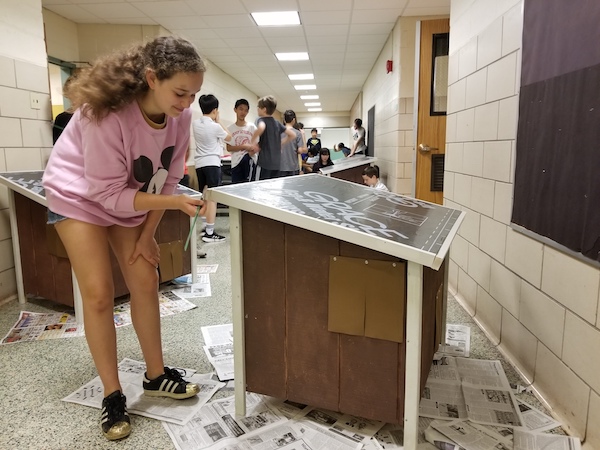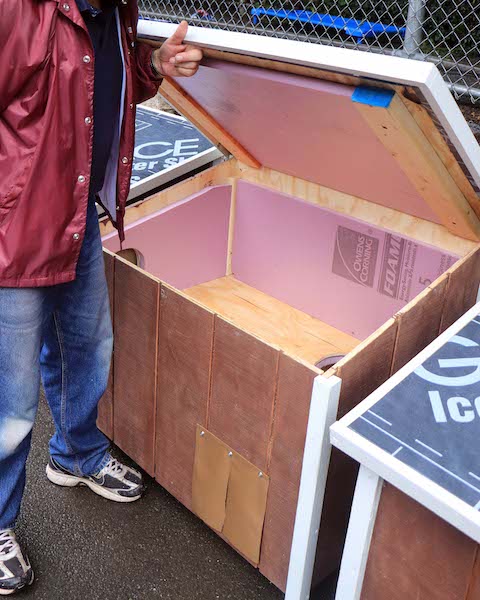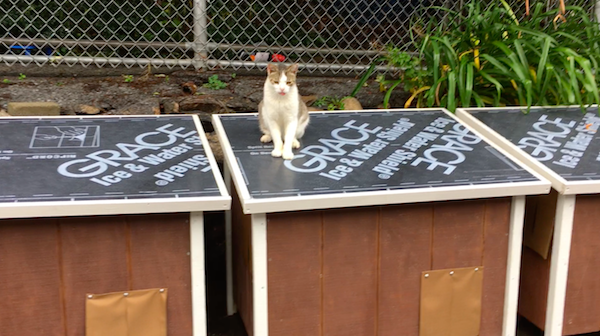 Next Generation Chefs Display Creativity in Iron Chef Competition
Details

Written by

Jamie Robelen

Hits: 2819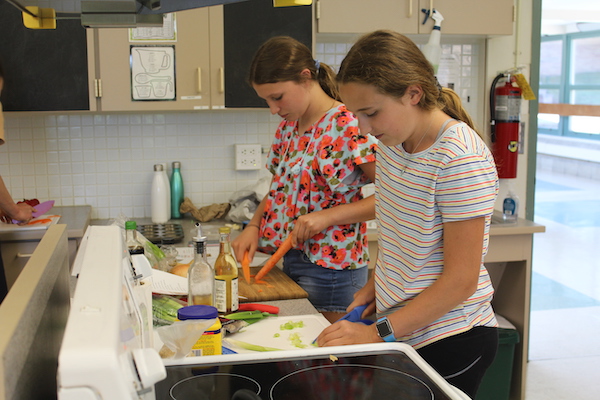 Scarsdale Middle School's next generation of great chefs came together to battle it out at the annual Iron Chef competition on Tuesday, June 11. Six teams participated, mostly working in teams of two but with a few groups of three. The theme ingredient this year was minute instant brown rice, so all of the teams had to incorporate the grain into their dish. Students were given a kitchen space, pots and pans, knives, tools to cook with, oil, and the rice, but had to provide everything else on their own. The students had 45 minutes to cook, 5 minutes for presentation, and then the judges tasted. The judges included S.O. student members, S.O. head Mr. Rambone, and SMS teachers Mrs. Tenzer and Mr. Boniello.
After cooking, each team presented their original dish. For the most part, each plating was beautiful. Team 6 cooked up a tri-color rice, with layers of red, yellow, and green, all dyed naturally with vegetables. They cited Pride Month as being part of their inspiration for the bright hues. Team 5 came into the competition with a different philosophy than the other competitors; instead of bringing in a recipe or practicing at home beforehand, they asked for "donations" from the other teams and ended up making rice with some egg in it. Team 4 prepared fried rice with a pineapple garnish, combining sweet and savory flavors. Team 3 was the only group to incorporate meat into their dish. They served fried rice cups filled with chicken. Team 2 brought in a wooden bowl to present their dish, which was a rice bowl, a very trendy meal right now. They topped the brown rice with many different fresh vegetables.
The winner of the competition was Team 1, consisting of Eleanor Gutstadt, and twin sisters Sarah and Ava Gorelick. The girls prepared arancini, a fried risotto ball with mozzarella cheese inside. They served it with a side of marinara sauce. This wasn't the girls' first cooking endeavor; they won first place in this year's cupcake decorating contest and second place in last year's cupcake contest.
As a prize, the girls were all awarded trophies and an Amazon gift card. All in all, each team showed off that there is some real culinary talent in SMS. The six teams also raised $120 for the Westchester Food Pantry.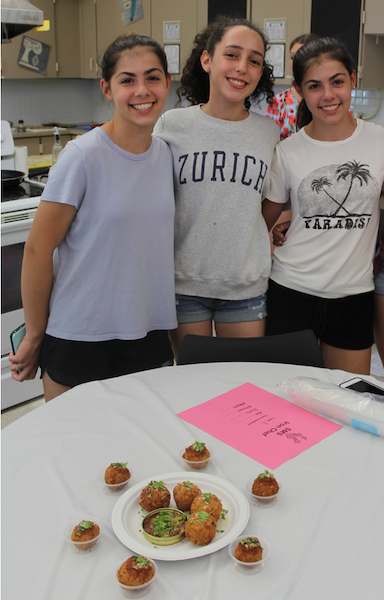 Team 1 poses with their winning dish, arancini.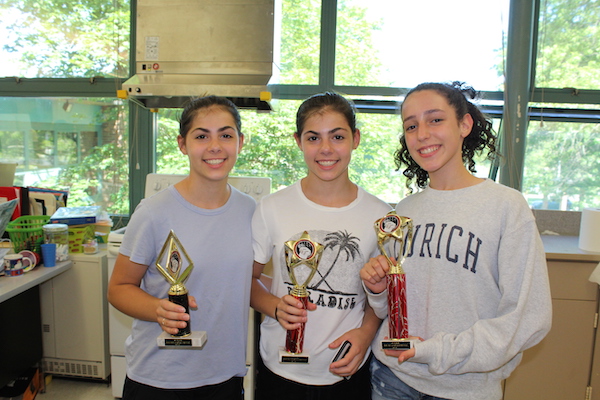 Eleanor, Sarah, and Ava hold their new trophies.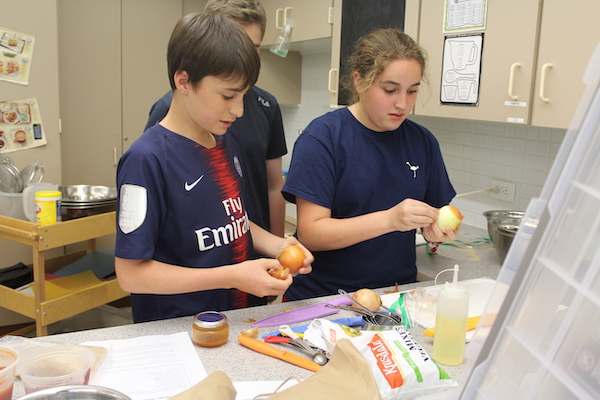 Teams are hard at work during their 45 minutes of cooking time.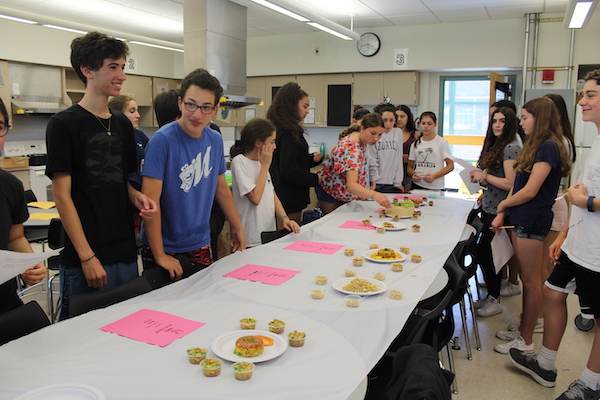 The judges and chefs admire everyone's presentation.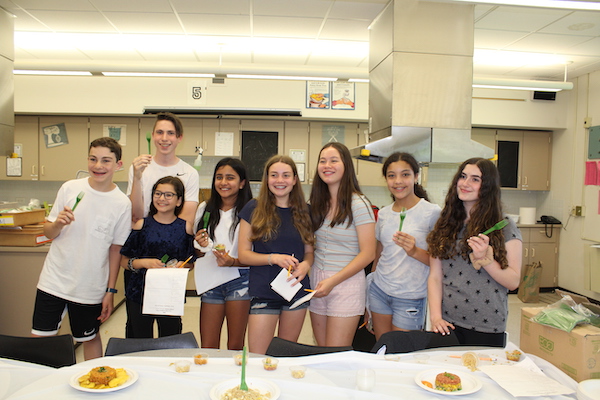 Student S.O. members help judge.