Greenburgh Police Ask For Your Help to Find a Hit and Run Driver
Details

Written by

Joanne Wallenstein

Hits: 2005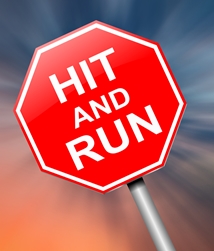 This in from the Greenburgh Police:
On Sunday September 15, 2019 at 11:07 P.M. Officers on patrol came upon a pedestrian who had just been struck by a motor vehicle on Old Kensico Road where it intersects with Randolph Road. The victim a 23 year-old male resident of Old Kensico Road had been dropped off by a friend and was crossing Old Kensico Road behind the friends vehicle when a dark colored vehicle traveling southbound on Old Kensico Road struck the victim propelling him into an adjacent driveway. The vehicle that struck him stopped momentarily and then fled the accident scene southbound on Old Kensico Road. The victim sustained head injuries and was transported by Greenburgh EMS to the Westchester County Medical Center where he was admitted.

Greenburgh Detectives are currently conducting the investigation into the Leaving the Scene of a Personal Injury Auto Accident and are asking anyone with information to contact them at 914-989-1721.


Jerusalem Visits Scarsdale: Cast of Shtisel Comes to Westchester Reform Temple
Details

Written by

Joanne Wallenstein

Hits: 3632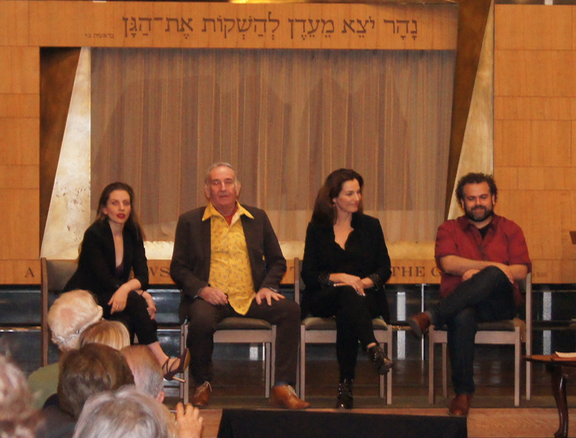 Neta Riskin, Doval'e Glickman, Ayelet Zurer and Ori ElonUntil Monday September 10, only the high holidays could draw an audience of almost 900 to Westchester Reform Temple. Tickets, wristbands and tight security at the door all served to highlight the special nature of the event. With the temple parking lot full, people had to park and shuttle from the Scarsdale Pool. What brought out such a crowd?
The draw was a panel discussion with several members of the cast of the Israeli hit series Shtisel, sponsored by the UJA. Shulem Shtisel, Giti Weiss, the widow Elisheva Rotstein and the show's creator, Ori Elon were live on the bima in a discussion hosted by WRT Rabbi Jonathan Blake.
Free of their head coverings, beard and peyot, the cast was transformed from the shtetl to Hollywood and looked surprisingly attractive. Both Neta Riskin (Giti) and Ayelet Zurer (Elisheva) are great beauties and it was easy to see Doval'e Glickman's (Shulem) star qualities.
The characters and the show's creator touched on the many themes of this family drama that chronicles the lives of the Haredim – an ultra orthodox sect – living in Jerusalem. They struggle to balance their traditions with the realities of modern society. Though they look markedly different from those surrounding them, their quest to find love, reconcile family relationships and to accept life and death are universal.
Neta Riskin reflected on the silent strength of her character Giti, a young mother of five who does not work or even drive at the beginning of the series. When her husband Lippe strays from the marriage while working in Argentina, she is left to fend for her family and shield them from shame by hiding his transgression. When he returns, rather than permitting him to apologize and offering him forgiveness, she refuses to acknowledge what he did and forces him to live with his guilt.
According to Neta Riskin (Giti), the cast of the show was shocked to see how successful the show became. During the filming of Season1 they often said, "no one is going to watch this anyway." They thought no one would be interested in a show about this population – but later attributed its success to the humanity of its themes and it's pull on the audience's heartstrings.
The event was not without controversy. One man in the audience asked about the Haredim – what would they say about hosting a large event at Westchester Reform Temple? The response from the show's writer was "No, No." The questioner asked if the show romanticized a population that holds the reform Jew movement in contempt. He said, "I don't want to support a community that negates my way of life." However, the program made clear that the UJA does support the Haredi community with funds for educational enrichment, employment services and skills training.
Though at times the audience struggled to understand the cast through their heavy Israeli accents, the actor's warmth and humor filled the room. Everyone left with a smile, anticipating more Shtisel in Season 3.
Police Arrest Plastic Surgeon with Large Cache of Weapons and Ammunition
Details

Written by

Joanne Wallenstein

Hits: 6450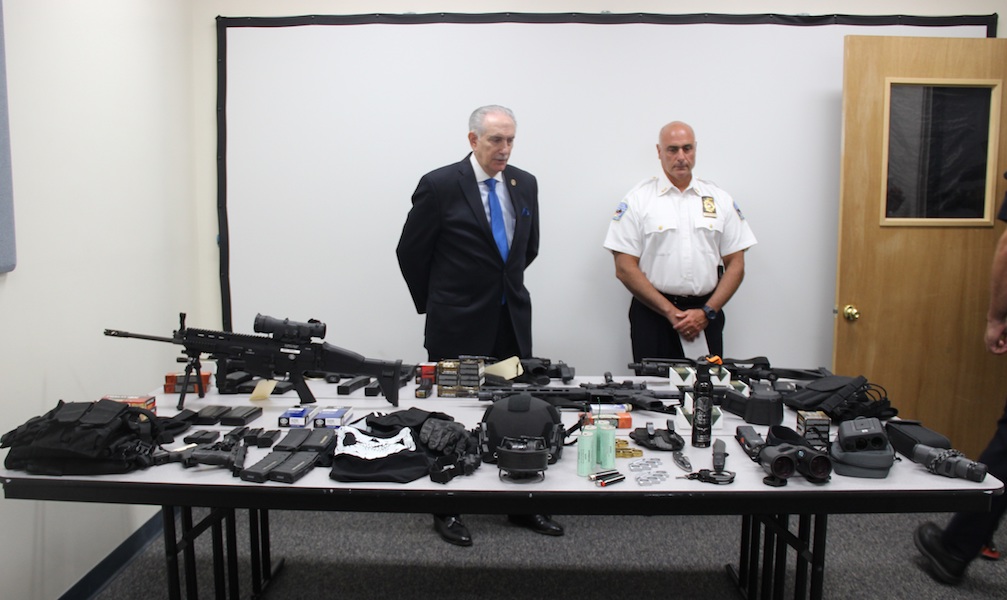 Westchester County District Attorney and Police Chief with Bonnano's weaponsA 47 year-old plastic surgeon was arrested at Growler's Beer Bistro in Tuckahoe on Monday August 12 after police received a report that he was threatening his ex-wife and her family. Police received information from someone who heard the threats and believed that the man was armed. Police confronted the suspect in the bar and found that he was illegally in possession of a loaded Glock semi-automatic handgun. He was taken into custody.
Police then searched the man's car and found the following: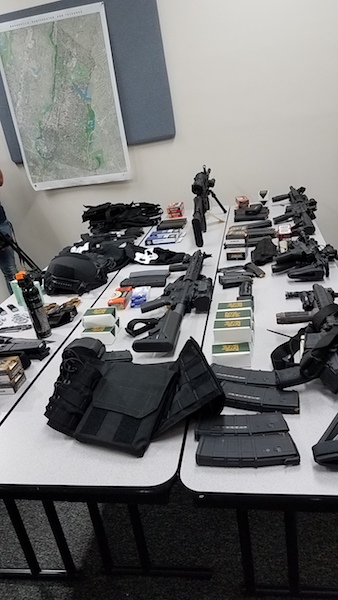 · 5 - assault rifles, fully loaded with high capacity magazines
· 3 - handguns
· 29- high capacity loaded magazines
· Over 1600 rounds of ammunition
· stun gun
· heavy ballistic body armor
· ballistic helmet
· handcuffs
· full head cover face masks
· multiple military style knives
· 4- brass knuckles
· pepper spray fogger
· scopes, binoculars and other paraphernalia
The defendant was identified as Matthew J. Bonanno (DOB 3/27/1972) of 240 East Shore Road, Apt. 239, Great Neck, NY 11023.
The Tuckahoe Police Department, working closely with the Westchester County District Attorney's Office, subsequently obtained search warrants for Bonanno's homes, one in the Town of Mount Pleasant and one in Great Neck. In Mount Pleasant they found three additional unlicensed handguns . However in Great Neck, they uncovered a large cache of assault rifles, shotgun, handguns, high capacity magazines, body armor, hundreds of rounds ammunition, smoke grenades and other weapons. Those weapons were turned over to the Nassau County Police Department.

Bonnano was arraigned by Tuckahoe Village Justice David O. Fuller on August 13, and remanded without bail to the Westchester County Jail to await his next court appearance Tuesday, August 20 in Tuckahoe Village Court.

The Tuckahoe Police Department was assisted by the Westchester County District Attorney's Office prosecutors and the Westchester Intelligence Center, the Mount Pleasant Police Department, the Westchester County Department of Public Safety's Real Time Crime Center and the Nassau County Police Department.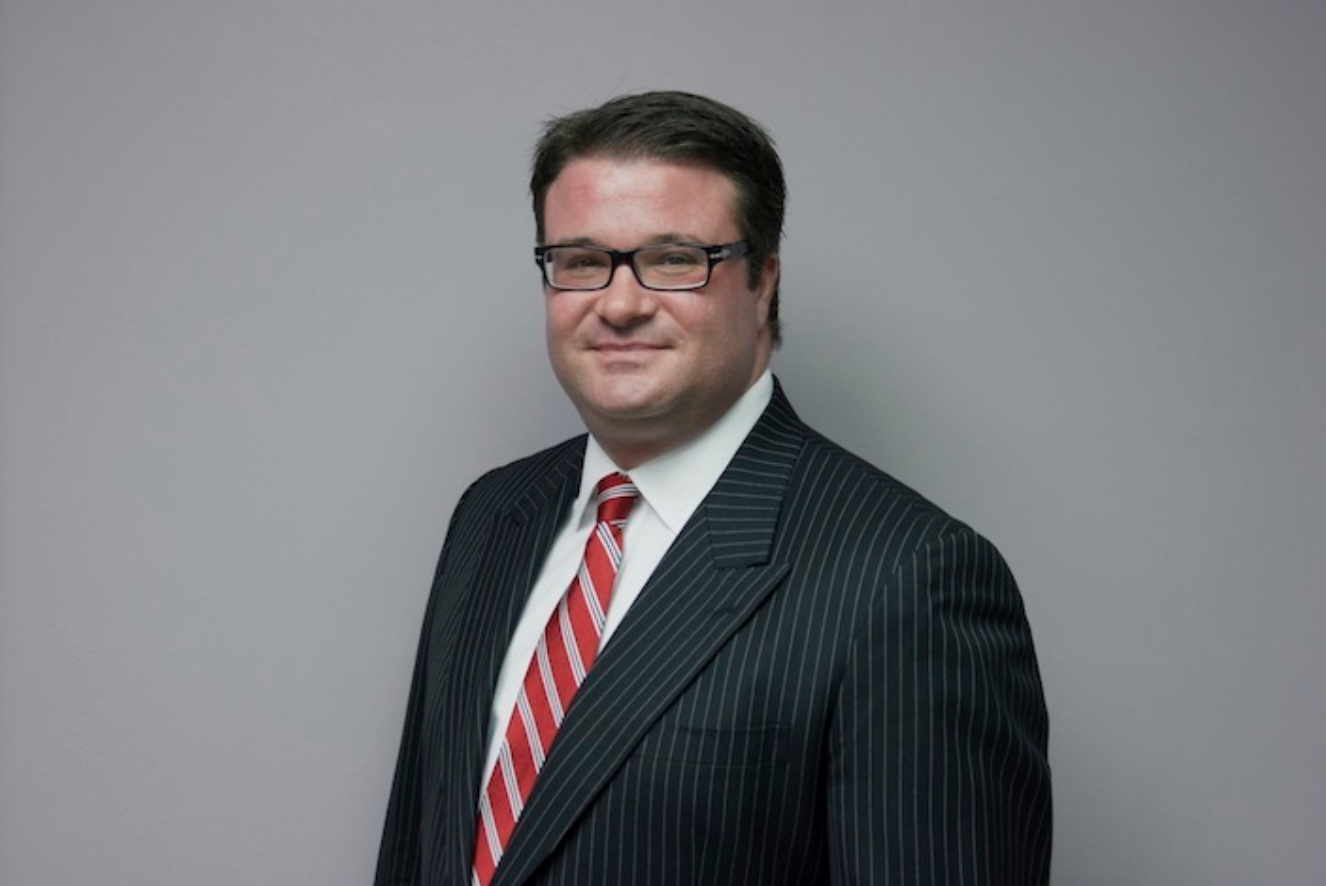 Matthew J. Bonanno
Opening Remarks From SHS Principal Kenneth Bonamo
Details

Written by

Joanne Wallenstein

Hits: 4256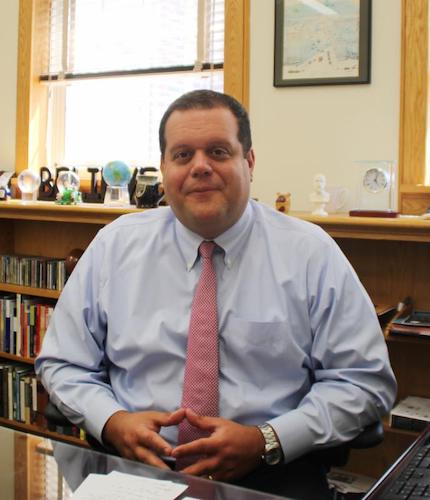 SHS Principal Kenneth BonamoIn his opening message to Scarsdale High School Students and faculty, Principal Kenneth Bonamo introduced new staff members and highlighted the school's work on inclusion and belonging and the healthy use of technology.
See below for Bonamo's remarks:
Dear Members of the SHS Community:
I am delighted to report that our first day of school went smoothly today. It was a pleasure to welcome our students this morning. Their positive energy makes the first day of school so exciting. After a summer of recreation and relaxation, we are energized to begin a new journey together this year.
Below, you will find a copy of my remarks at the opening assemblies this morning. You will also find brief biographical sketches of the staff members who have joined our faculty this year. Our new hires underwent a rigorous selection process that included committee interviews, demonstration lessons, and reference checks. These teachers were introduced to our students this morning at our opening assemblies.
Please accept my best wishes to you and your families for an enriching, productive, and healthy school year.
Sincerely,
Kenneth Bonamo
Principal
Scarsdale High School
Good morning. It's my pleasure to welcome you to the 2019-20 school year. I trust that you've each had a great summer with time for relaxation and for opportunities outside of school and outside of Scarsdale.
As we come together to begin a new year, it's important to reflect on our common values and the sense of purpose we bring to our work. We on the faculty want to prepare you to be productive members of society, to compete and succeed in college, in the workplace, and in life. We also want you to be active, informed, and engaged citizens committed to the improvement of our society and our country. Those are two simply stated goals, but their realization takes a lot of hard work, on your part and on our part, and the outcome will-and should-look different for each of you. For while we wish to teach you how to think, we don't teach you what to think; you must draw conclusions that make sense to you and make decisions that are genuine reflections of your thinking and your own values.
In this work, we are guided by a sense of values. We approach our work as a faculty by carrying on the tradition of progressive education, which has at its core an emphasis on critical and creative thinking, collaboration and experiential learning, and developing a lifelong love of learning in each of you.
We bring adults together to be guided by these values and work with you. Your teachers have worked during the summer to prepare for the year and are focused on your growth and development and your success. They have a love of their subjects, a love of working with students, and a commitment to this place and our ideals and mission. Therefore, look at your classes as opportunities for intellectual growth, and look at your teachers and deans as people who can guide you and support you all the way through.
One of the major themes we will be talking about this year is inclusion and belonging. What does it mean to have a genuine sense of belonging, and does every member of our community feel like he or she really belongs here? In a community like Scarsdale, where the focus is on achievement and advancement, sometimes we don't focus so much on our own identities as long as we feel we are giving our best effort at school, at work, and at sports. And sometimes the pressure to conform and give a good impression can drive us to sublimate expressions of our identity to achieve that conformity and make those impressions. In other cases, our casual use of certain language or decisions about whom to include in our friend group or group chat or at our lunch table or in our study group can communicate a lot about who's included and who's excluded without having to say a word.
Last year, we worked with a committee of teachers and students to study this issue, and this year we will be coming to you with a survey to ask about the extent to which each of you feels a sense of belonging and some programming to help us become an even more inclusive community. When we as individuals feel that we truly belong, we can be our authentic selves, which provides a feeling of safety that allows full us expression and engagement and enriches the interactions we have with each other and thus the entire atmosphere of the school. This requires some work for each of us, to reach out to those who might feel excluded and to welcome expressions of different backgrounds and identities. This is not an easy thing to do, but both in our school and in the world beyond interpersonal communication and inclusion are now prerequisites for successful integration into new academic and workplace communities and for understanding the interconnectedness of the modern world. So this work is important not only for a strong school environment and for healthy students but also for giving you the mindsets and tools to navigate the world beyond Scarsdale.
We will also be continuing our work on student wellness this year with a focus on the healthy use of technology, especially the devices that we all carry around to communicate with one another and access information on the internet. Smartphones and social media have benefits in the classroom and in life, but we are learning more that the overuse of these tools can lead to feelings of isolation and can inhibit the formation of real connections and relationships with the people around us. When I see students and sometimes adults, even myself from time to time, walking through the hallway looking at their phones, I think of the missed opportunities for real conversations, for eye contact, for authentic human interaction that is much richer than that mediated by technology. So I encourage you to think about what a healthy amount of technology use means for you and how you can make more time for real human interaction, and I look forward to having more conversations about this as the year unfolds.
What makes this high school amazing is the people we bring together-you, our students whom we want to see learn and grow and flourish, and the faculty and staff here to support you in this enterprise. You can see this belief in the themes of belonging and wellness that I just discussed. Together, we exchange ideas, debate controversial issues, think up new solutions, and complement one another's strengths and areas for growth. Your teachers encourage you and challenge you to new and deeper levels of understanding. The heart of this school is what happens between students and teachers in classrooms and offices every day. So I would like to challenge you to do your best in your academics, in your extracurriculars, in including others, and in using technology to enhance your life and those around you.
We on the faculty are excited to be with you to continue working with you on your educational journey. As your principal, I am amazed at the talents of our faculty members and know how eager they are to guide you along on your journey of learning and self-discovery. We are fortunate to have such dedicated and knowledgeable teachers and deans leading the way. I am pleased to introduce to you this morning new members of our staff who join us in our mission to help you succeed here at the high school and in the world beyond.
Jeffrey Beals, a proud SHS alumnus, joins the social studies department this year. Before coming to Scarsdale, Jeff taught at the Woodstock Day School Saugerties, New York. Jeff has an array of experience including a distinguished career in government serving as an analyst for the Central Intelligence Agency and served in the U.S. State Department stationed in Jerusalem and Baghdad. Jeff holds both a bachelor's and a master's degree from Harvard University.
Meredith Dutra is very excited to join the technology department this year as Head Computer Teacher. She holds an undergraduate degree in History and Secondary Education from Ramapo College of New Jersey. During Meredith's first teaching position at Clarkstown High School North, she discovered her passion for technology in the classroom and earned a Masters in Education from Pace University as an Instructional Technology Specialist. Meredith continued teaching Social Studies at Somers High School and become the Technology Leader while pursuing her leadership certifications with the Future School Leaders Academy at Bank Street College. She comes to us from Carmel CSD where she was the K-12 STEM Coordinator.
Lisa Forte, a veteran faculty member of Scarsdale, is very excited to join our SHS music department after twenty years as Edgewood's General/Choral Music Specialist. She will serve in a dual role as both HS Performing Arts instructor and chair as well as K-12 District Coordinator of Music & Performing Arts. Lisa was awarded National Board Certification in Music Education, and she has served on the adjunct faculty of the Aaron Copland School of Music, Queens College (her alma mater). A classically trained pianist, Lisa is also a passionate organist, composer, arranger, and producer; and she is eager to use her skills in new learning adventures with our SHS students.
Elizabeth Harris joins the social studies department after teaching at Blind Brook High School. A native of Rockland County, Elizabeth holds a bachelor's degree from SUNY New Paltz and a master's degree from Teachers College, Columbia University. Prior to her education career, Elizabeth did extensive work in the nonprofit world, working for several years with the Food Bank of the Hudson Valley.
Chris Hughes joins the social studies department after teaching for more than ten years at the Stanwich School in Greenwich, CT. Chris holds a bachelor's degree in political science from the College of the Holy Cross and master's degrees from Columbia University and Manhattanville College. Chris has a strong commitment to professional development and has participated in a number of programs with the USS Midway Institute for Teachers in San Diego, California.
Michael Kumaresan joins the Mathematics department as an alumnus of SHS. He holds a bachelor's degree in electrical engineering from The Cooper Union, a master's degree in Physics from the Imperial College of London and a Ph.D. in mathematics from the Graduate School of CUNY. He has taught mathematics at The Cooper Union and The City College of New York. His most recent work has been in support of the U.S. Army, where he helped develop mathematical models and electrical-engineering solutions in the area of radio and communication systems. Michael credits the wonderful math teachers he had at SHS for encouraging him to make a career change and pursue teaching. In addition to supporting the work of the math department, Michael will also teach courses in the STEAM program.
Teresa Lepetit joins the Art Department this year. She grew up in White Plains and holds undergraduate degrees from the Fashion Institute of Technology in Fashion Design and Production Management. She worked in the Fashion industry before returning to study at the School of Visual Arts obtaining a Masters in Art Education. She also holds certification in Students with Disabilities. Teresa comes to us from the Bronx High School for Visual Arts where she has taught art for eight years. In addition, she has curated student art exhibitions at the Lehman College Art Gallery and the Bronx Museum. Teresa has participated in educational inquiry studies on how to integrate the arts in other academic subjects and has presented at the AREA conference in Philadelphia.
Donna McGrail joins the mathematics department of Scarsdale High School with 16 years teaching experience - 10 years at private schools and 6 years at Pawling High School. Donna earned a bachelor's degree in chemical engineering from Manhattan College and a master's degree in education from Pace University. After working in engineering for several years, Donna found her true passion in teaching.
Chris Menick joins the SHS faculty as a member of the mathematics department. He holds a bachelor's degree in psychology from Harvard University and master's degrees in mathematics from St. John's University and in education from Iona College. He has also completed work toward a doctorate in mathematics at New York University. Chris comes to SHS from Iona Preparatory School in New Rochelle, having taught math there for 14 years, and he has been an adjunct math instructor at Fordham University for 7 years. While an undergraduate at Harvard, he became the school's all-time leading rusher as a running back for the football program and in 2015 was inducted into the Harvard Varsity Club Hall of Fame.
Haley Rauch joins the math department as an alumna of SHS. After graduating from Scarsdale, she continued her studies at Wesleyan University, earning a bachelor's degree in the Science in Society Program, concentrating in mathematics, psychology, theater, and ethical philosophy. She went on to join the New York City Teaching Fellows and received her master's degree from the Relay Graduate School of Education. She spent the last four years teaching math at the Urban Assembly School for the Performing Arts in Harlem and is excited to call Scarsdale home again.
Keith Spengler joins the faculty as a member of the Science Department. Keith completed both his bachelor's and master's degrees in Applied Physics from the New Jersey Institute of Technology. He is excited to bring his strong knowledge of content and applications to our introductory physics classes this year. While completing his degrees, Keith also worked as a research assistant in the Biophysical Laboratory. Keith had the opportunity to collaborate on projects investigating apoptosis in yeast cells, in an effort to better understand glaucoma. Prior to Scarsdale, Keith taught physics and chemistry at the Riverdale Kingsbridge Academy. In addition to teaching, he served as the coach for their Science Olympiad team. We look forward to involving Keith in our research program, STEAM initiatives, and science clubs.
Maryse Vérot-Santini joins the World Languages Department for the fall term, and will be teaching French. Madame Santini is a native of Paris, France. She completed her studies both in France, at the Faculte de Lettres, in Nancy, and in the United States, at CUNY and NYU. She holds master's degrees in French and Spanish . She previously taught at Admiral Farragut Naval Academy, the Dalton School in Manhattan and Horace Greeley High School in Chappaqua. A passionate traveler, she has lived in Australia and Spain, has visited 24 states of the United States and lived in three of them. She presently lives in Westchester with her husband.
Wynter Williams is excited to join the faculty as a member of the Special Education Department. Wynter comes to us from Darien High School where she participated in the roll-out of a new program purposely designed to meet the needs of students who learn best within smaller classes. She holds a Bachelor of Arts degree in Secondary Education and History from the University of Rhode Island and she obtained an MPS in Special Education from Manhattanville College. Wynter is a member of the Kappa Delta Pi International Honor Society in Education and has earned two Americorps Education Awards. While working for Americorps in Providence, she had the opportunity to work and mentor young children. Wynter's role at the high school will include working in our Academic Support Center as well as in our Learning Resource Center.
Hamptons Shoppers Turn Out to Support the UJA
Details

Written by

Joanne Wallenstein

Hits: 3511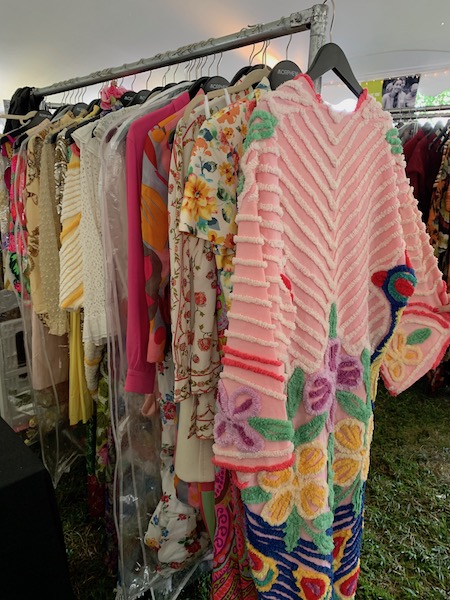 Record breaking crowds of shoppers turned out in Bridgehampton on Thursday August 1 for the UJA-Federation of New York's Hamptons Trunk Show.
The trunk show featured 60 vendors selling designer clothing, jewelry, accessories, and home décor, as well as music and refreshments, all in an elegantly tented outdoor space. We spotted beachwear, bling, children's clothing, candles, fragrances, custom shoes, housewares and more temptations for buyers.
We picked up free samples of Hint pineapple sunscreen, Hint flavored water, cauliflower chips and "weighless" cookies that were available for hungry shoppers.

Twenty percent of the proceeds of all sales benefit UJA-Federation and UJA is also sponsoring a backpack drive for kids in need called "Supplied for Success."
Among the many booths, we spotted three from Scarsdale – Pixie Lane, Robin Gibson Jewelers and the Suburban Stylist.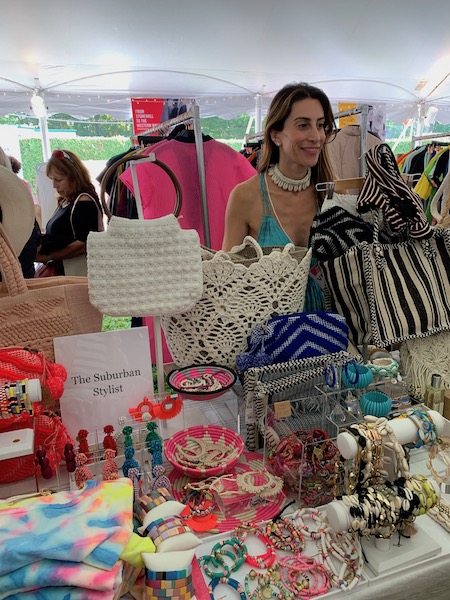 Everything for summer from the Suburban Stylist.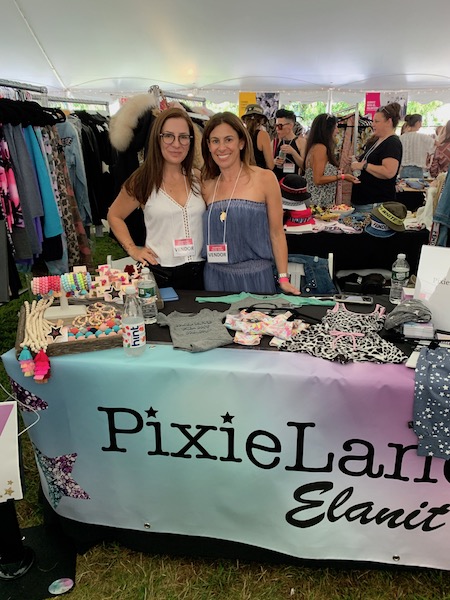 Glam for the younger set from Pixie Lane.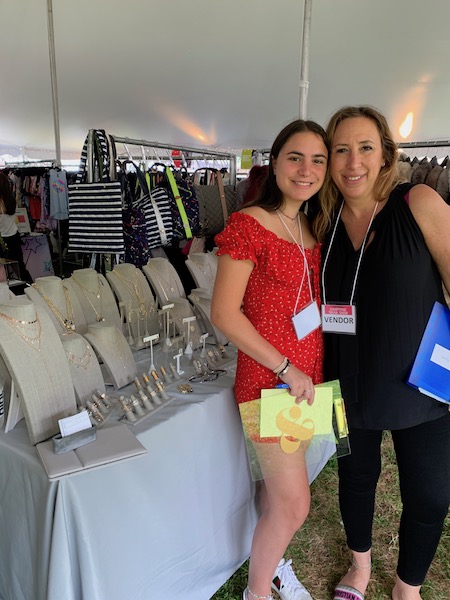 Robin Gibson and her daughter with their jewels.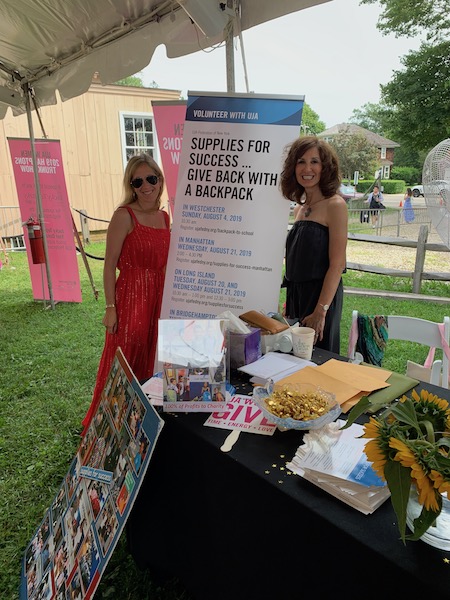 UJA Supplies for Success campaign will supply backpacks and school supplies to kids in need.