Student Who Travelled to Florida Spreads COVID At Horace Greeley Graduation
Details

Written by

Joanne Wallenstein

Hits: 3156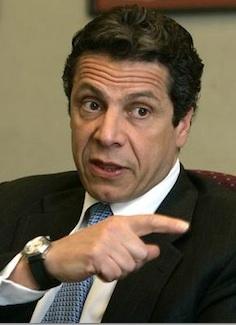 Governor Andrew Cuomo directed the NYS Department of Health to investigate the potential of COVID-19 exposure associated with a Horace Greeley High School drive-in graduation ceremony held on June 20 at Chappaqua Train Station. A student who had recently traveled to Florida and attended the ceremony subsequently began showing symptoms and tested positive for COVID-19. Since then, four more individuals who attended the ceremony and had contact with the first positive case have also tested positive. All individuals who have tested positive are currently self-isolating.
In addition to the graduation ceremony, the student participated in a non-school related "Field Night" event on June 20, which was also attended by juniors and seniors and students from surrounding school districts. Individuals who attended the graduation ceremony, Field Night event, or events associated with graduation, which continued into June 21, should extend their quarantine period until July 5th.
The New York State Department of Health and the Westchester County Health Department are working with officials from Horace Greeley to identify all individuals who attended the graduation ceremony and any subsequent gatherings where they may have been exposed. The New York State Contact Tracing Program will be reaching out to identified individuals and anyone who attended the ceremony or subsequent gatherings should get tested.
On June 14, New York State DOH issued guidance to ensure any district that decides to host a graduation ceremony adheres to appropriate protective measures including social distancing, limitations on number of attendees, wearing face coverings, and other precautions. Part of the comprehensive public health response will be to determine whether the guidance had been followed.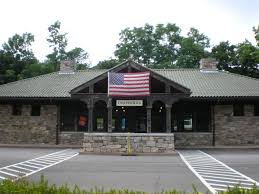 As part of our public health outreach, the State and County DOH encourage testing for anybody who attended the graduation ceremony or the Field Night event and may have come in contact with an infected individual. For information about testing, please contact your local healthcare provider, or visit https://coronavirus.health.ny.gov/covid-19-testing.
"New Yorkers have controlled the spread of this unprecedented virus by being smart and disciplined, and our progress to date is illustrated by the current low numbers of new cases and hospitalizations," Governor Cuomo said. "But as we are seeing in other states who reopened quickly, the pandemic is far from over and we need stay vigilant. We're prepared to do the aggressive testing and contact tracing required to slow and ultimately control any potential clusters of new cases like the one in Westchester County. If we are going to maintain the progress we've seen, we need everyone to take personal responsibility — that's why I'm issuing an executive order that says any New York employee who voluntarily travels to a high-risk state will not be eligible for the COVID protections we created under paid sick leave."
SHS PTA Calls on Community to Offer Engaging Summer Opportunities for Teens
Details

Written by

Joanne Wallenstein

Hits: 935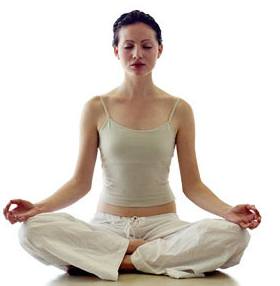 Calling all local community organizations, parents and educators! Please join the effort to engage our high school students with interesting ways to spend their summer days!

With many traditional summer programming, jobs and internships canceled due to COVID-19, many of our high school students are now asking, "What will I do for the next two months?" In an effort to help our teens answer this question, the Scarsdale High School PTA is turning to the local community for help and is launching a database to connect students with a mix of in person and remote opportunities.

All local organizations and businesses, parents, teachers, and fellow students are invited to submit opportunities which will engage high schoolers in a variety of experiences this summer.

Are you an instructor of yoga, art, computer coding or sports and willing to offer a summer workshop?

Do you have a business and could you engage a savvy teen to help you remotely?

Are you aware of summer volunteering or internship opportunities which call for hard working and creative high school students?

Have you discovered an interesting online enrichment program geared to high school students?

To submit ideas, please visit the Scarsdale High School PTA Wellness homepage and click on the student opportunities provider form:
The database will launch Monday, June 22nd on the high school PTA wellness home page and will be updated regularly with new submissions throughout the summer.

There are many wonderful resources available in our community. Despite the challenging times, the SHS PTA hopes that this database will connect interested teenagers with interesting opportunities for the summer.

For more information, contact SHS PTA Wellness representatives:

Alice Gorelick alicegorelick@yahoo.com
Jennifer Rossano jennifer@jenniferrossano.com
Letter from Robert Berg: Our Voters Deserve a Choice
Details

Written by

Joanne Wallenstein

Hits: 2523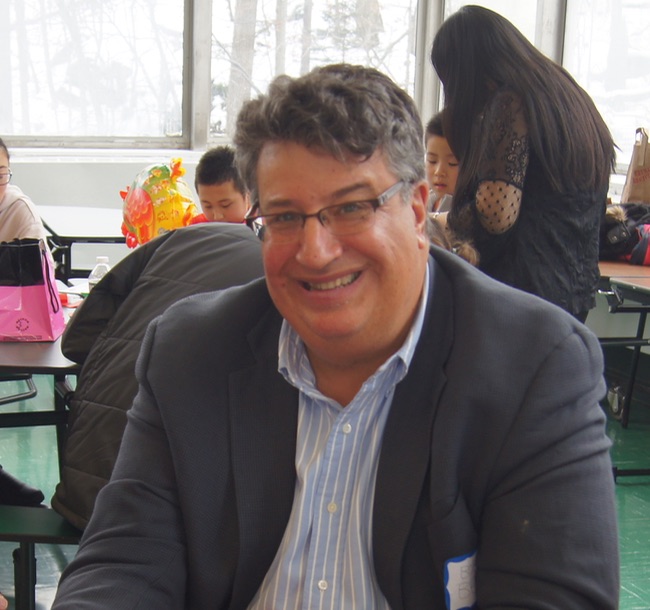 Joanne, I respectfully disagree with everything in your editorial. You rue the fact that contested elections have come to Scarsdale Village and the Scarsdale School Board in recent years. I, on the other hand, rejoice. This is America, where our democracy is rooted in open, contested elections, free speech, and the public exchange of ideas.
I know that doesn't go down easily with the Scarsdale Establishment that loves to control all of Scarsdale's elected offices. But our increasingly diverse residents speak not with one voice. We don't need a Central Committee reminiscent of the Politburo in the former Soviet Union choosing our elected representatives either for School Board or Village Trustee or Mayor. We are intelligent, independent thinkers. Moreover, (1) none of the new crop of SBNC members this year ran in a contested election; and (2) hardly anyone voted for them - just 137 voters total out of 12,400 or so registered Scarsdale voters. This disturbing fact captures the fundamental weakness of the non-representative, "non-partisan" system – a system that does not necessarily reflect the needs and wants of the greater community. I know from unfortunate personal experience that's the case with respect to the Citizens Nominating Committee which picks its partisan political party's nominees for Village office.
You claim that Scarsdale's supposed "unique non-partisan system" was "formerly the envy of many communities." Do you have any data to support this assertion? I believe that's only true in the minds of the system's supporters.
One of the biggest fallacies of the ironically-named "non-partisan system" is that its generally self-selected members have no agenda. Just look at the school board election two years ago. That was the election where the SBNC decided not to re-nominate incumbent Board member Pam Fuehrer for re-election at the end of her first three-year term. Having been rejected by the SBNC – a highly unusual, if not unique occurrence, Pam ran independently, and she won her seat easily.
How did this sui generis scenario arise? Well, remember the bruising controversy over the Greenacres Elementary School? After years of discussion and analysis, in 2017, the Administration and the School Board finally decided to renovate and expand the Greenacres School over the vehement opposition of a small group of residents who demanded that the District instead build a brand new school at double the cost of the renovation/expansion. Joanne, you were a leading proponent of the "build a brand new school" faction, and your website featured many articles and editorials favoring that position. But in February 2018, the voters overwhelmingly agreed with the Administration and the School Board. By a 2:1 margin, voters approved the bond for the renovation/expansion, and that project is well underway.
Some of the dissidents were members of the SBNC, which in March 2018 denied Pam Fuehrer the SBNC's re-nomination of her to the Board, and instead selected another candidate. Pam decided to run as an independent candidate, just as Mayra is now doing. Pam won re-election easily, with even ardent long-term supporters of the "non-partisan" system publicly endorsing Pam's independent run. As we all know, Pam continues to do a splendid job as a Board member and now, as President, during exceptionally difficult circumstances. The District and our residents are being well-served under Pam's experienced, even-handed, and thoughtful leadership.
Joanne, you seemed puzzled that any candidate would choose to run outside the SBNC banner? You wonder whether something is wrong with the District or the School Board or the candidates selected by the SBNC, and you have come up blank. So you pose the rhetorical question of why anyone else would jump in to upset the SBNC cart, causing what you suggest is a highly active, divisive, "tiresome" political campaign? Where is your proof that that Mayra is running a "divisive" campaign? In fact, many residents are publishing letters supporting her candidacy and thanking her for running. No one is "attacking" the SBNC candidates. Mayra is just reaching out to the public, presenting her qualifications, and asking for the public's support. (Unfortunately, I can't say the same about certain members of the Campaign Committee for the SBNC candidates who are, in fact, misbehaving.)
You say the volunteers supporting the SBNC candidates are now being forced to spend time defending their candidates and raising money to campaign "simply to defend Scarsdale's unique brand of governance" when they otherwise could be helping imperiled residents. I guess that's the price of democracy, free speech, and open elections. I hope we still have this on a national level in November of this year too.
The SBNC candidates have delegated leadership of their campaign to the Coalition for Scarsdale Schools, a political organization headed by former School Board member Art Rublin. Their 28-member campaign committee is running a well-funded, coordinated effort to promote its candidates and to "save" the SBNC system. Mayra, on the other hand, is running her campaign by herself, while trying to ensure that her two elementary school-age kids stay on top of their schoolwork and her consulting business stays afloat.
Many, if not most Scarsdale residents, especially newcomers, are mystified by the "unique" "non-partisan system" that supposedly underlies Scarsdale's electoral system for both Village and School District government. What Scarsdale voters need to understand is that the so-called Scarsdale "non-partisan system" is not an official governmental electoral system at all. Instead, it is a partisan political party system invented by its adherents which simply calls itself "non-partisan." By dint of its accumulated power over many decades, most residents have been intimidated from running against the "machine" in a contested election, even though that's the norm everywhere in the United States and under New York State's election laws.
In Scarsdale, the system began in 1911 in connection with the Village election as a result of a convenient power-sharing deal between the Republicans and the Democrats that resolved a nasty spat from the previous election. The "new deal" allowed the wealthy, white Protestant men of Scarsdale – the power elite – to determine for everyone who the elected officials of the Village would be for decades into the future. Remember, at the time, women didn't even have the legal right to vote!
Paradoxically, today's strongest supporters of this inherently undemocratic and flawed system are precisely the type of people its "founders" intended to keep out of Scarsdale's public offices (and were successful in doing so for decades). Although times, the law, and the rules of both the SBNC and CNC have changed over the decades to become more open and welcoming, the Village Board still has never had a person of color as a Trustee or Mayor and the School Board has had only one. Neither Board reflects the wonderful diversity of Scarsdale's residents.
With respect to School Board elections, New York State law nowhere contemplates "selection committees" like the SBNC for candidates for School Board. School Board elections are governed by New York Education Law Section 2018, which provides that persons seeking to run for School Board simply need to file a petition signed by a small number of qualified voters of the District. Once they obtain the requisite number of signatures, they get on the ballot. This year, because of the COVID-19 pandemic, Governor Cuomo issued an Executive Order dispensing with the requirement to obtain signatures, and all any candidate had to do is file a nominating petition he/she signed, attesting that he/she qualified to run and intends to run. New York law encourages all qualified and interested residents to run for School Board, and it's up to the voters in the District to decide who they want to be their representatives by voting.
The SBNC-chosen candidates are not the only ones in town who could do a great job on the School Board. Our community is incredibly fortunate that during this terrible pandemic – which has caused a recession far worse than the financial crisis in 2008-2009 – Mayra Kirkendall-Rodríguez has decided to step up and run for School Board. I've lived in Scarsdale for 18 years, and she is among the very best candidates for School Board I've seen during my tenure here.
Her life story is inspiring. She is one of 15 siblings, the daughter of a migrant farmworker from South Texas. Mayra, with parental support, her own drive, and the transformative power of public school education, graduated near the top of her high school class. Mayra went on to Harvard University, where she received her BA degree, and then on to the University of Pennsylvania, obtaining an M.B.A. degree from The Wharton School and a M.A. degree from the Lauder Institute. Mayra speaks 6 languages and has worked in or visited 73 countries. Besides her linguistic skills, Mayra is an expert in financial risk management and modeling.
I have worked extensively with Mayra for four years on a variety of civic projects, especially at the Scarsdale Forum where I am a former President. Mayra is incredibly bright, passionate, analytical, and thoughtful. She is able to work well with people who have disparate views. Mayra is a true leader. Her financial acumen, analytical abilities, risk management expertise, and her global background will make her a superb addition to the School Board, especially during these trying times. While I do not know the other two candidates, I thank them for being willing to run for public office. This is why I'm a fan of "contested" elections. Our voters deserve a choice. We are smart enough to make up our own minds as to which candidates we want to select to represent us on the School Board.
And this from Bobby Ben-Simon
Joanne,

I must say I'm disturbed by your opinion letter on Scarsdale's unique non-partisan system of government. While I didn't form an opinion on this issue yet, your letter does elude the obvious issue... Democracy. Scarsdale is not unique with this type of system. In fact, you can see it implemented for many decades in Russia, China, Venezuela, North Korea, and most Middle East countries. For you to say, " I don't need divisive politics in the place of refuge I am fortunate to call home; Scarsdale" is troubling. Would you accept the same system if it were a group of people that don't share your views?
Regards,
Bobby Ben-Simon, President.
KOSL BUILDING GROUP LLC.
Scarsdale Hometown Heroes
Details

Written by

Sydney Albert

Hits: 3039
A new Facebook group, Scarsdale Hometown Heroes, has been created to help elevate and celebrate essential workers who are going above and beyond to support the Scarsdale community during the COVID-19 pandemic. Scarsdale resident and group founder Renee Levine explains, "The group was created to help bring the community closer together by getting to know the essential workers, as well as to provide some much needed hope and a venue for giving thanks to our local heroes." The group continues to profile all types of essential workers, from volunteer paramedics and firefighters, to grocery workers, local business owners, doctors, nurses, delivery workers, and more.

To join the group and view the profiles, go to https://www.facebook.com/groups/254861538996820/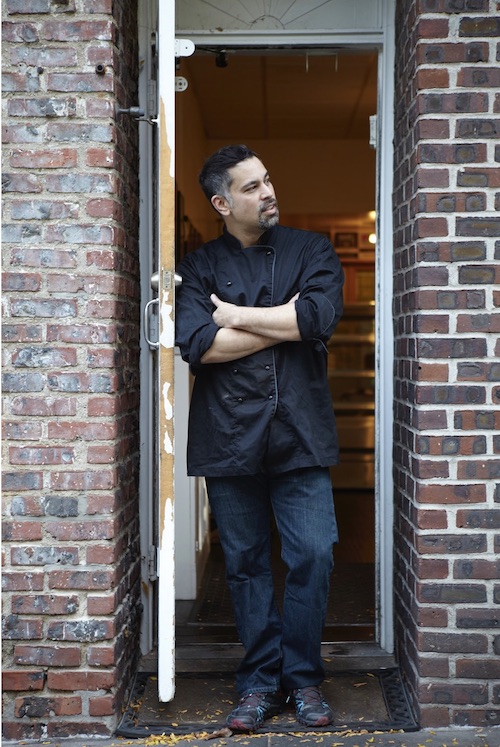 JAY MUSE
If you've ever passed by Lulu Cake Boutique on Garth Road, you've no doubt been tempted by their stunning confectionary creations. Owned by Jay Muse and partner Victor Gonzalez, Lulu has been an institution in Scarsdale since the year 2000.
Over the years, they've been through it all with the community—from 9/11, blackouts and the last recession, to hurricanes. But they've also lived the full circle of life with their customers, baking cakes for weddings, baby namings, showers, bar and bat mitzvahs, and are now even baking for the weddings of those baby shower babies from 20 years ago.
When the virus started to spread and the community locked down, they delivered a birthday cake to Victor's elderly mom who was alone in the Bronx. It made her day, and it was then they decided they needed to deliver a free cake to every older person celebrating a birthday by themselves in Westchester and the surrounding area.
"We see how overwhelmed they are with joy to have a beautiful birthday cake to celebrate, and it makes our day", says Jay. "It's been very empowering and humbling." Using the ingredients left over at the end of each week, they have also delivered close to 3,000 cupcakes to the fire and police departments and healthcare workers. Their goal is to deliver 25,000 by the end of the year. They will also match any cake their customers purchase for a "local hero" or a senior center with a second cake.
It takes a small army to deliver these amazing cakes and cupcakes. If you are interested in helping with deliveries, you can email them at shannon@everythinglulu.com.
Originally from Hawaii, Jay's upbringing taught him you should "give until it hurts". In helping people, he finds that it keeps his mind busy and he dwells less on what is going on. Jay and Victor moved to Scarsdale from the Upper West Side five years ago to raise their family. He can't wait until this is all over so that he can "hug everybody that I know and that I don't know".
Jay, thank you for selflessly sharing your sweet creations with those who need it most during this time! #hometownhero #scarsdale #covid19 #sweets #letthemeatcake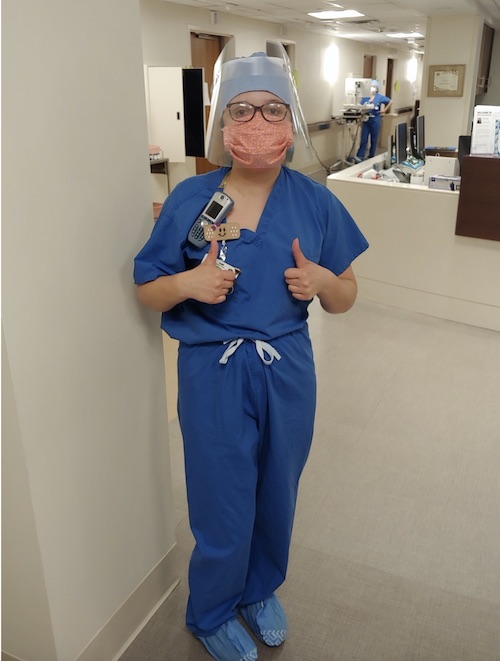 DIANA PERNICANO
Meet Diana Pernicano, a Nurse at White Plains Hospital. Suddenly thrust into the COVID-19 outbreak her second year into nursing, Diana is keenly aware of what it's like to not be able to see family and friends in the hospital. She is a six-year cancer survivor, and approaches nursing from a very personal perspective, oftentimes befriending her patients and supporting them in their most critical times of need.
Initially, the hospital wasn't sure how many COVID patients they would receive. This became evident quickly, as more and more patients arrived, and became sicker and sicker. Her non-acute medical surgical floor—and every other part of the hospital—was turned into a COVID ward. She decided to stick with it, sharing the viewpoint of everyone on the team: "We're going to do this together."
So much of the days were spent dealing with and adapting to the unknown. Patients were asking them difficult questions ("Am I going to die?") that they didn't have answers to. "I would reassure them that we're trying our best to take care of you. We'll be here for you."
The hospital eventually opened up a unit for non-COVID patients and given her medical history and added risk, she was transferred to that unit. But it was too late; she tested positive for the virus the next day.
Diana feels this experience has taught hospital staff to be more flexible with their jobs, more willing to be part of different teams and more compassionate. "It has been difficult, but it has made everyone a better employee."
She has taken comfort in the support that has been received from the community, from the donated food to the letters, videos, lawn signs, social media comments, and cards from children with words of thanks. "We can do this because we have the support of our community."
Diana lives in Danbury with her fiancé Cody. She is busy preparing for her wedding next May, and enjoys crafting, cooking and being outdoors. They can't wait to hug their families when it is safe to do so.
Diana, thank you for selfless, unending dedication to every one of your patients. #hometownhero #essential #nurse #covid19 #treatment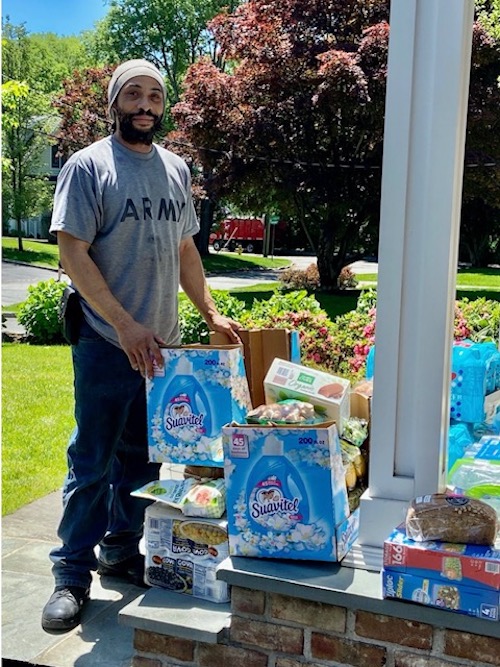 JULIAN VANN
Meet Julian Vann, a UPS driver for 15 years for the Metro NY area. To make some extra money to put towards his house, he started delivering for Instacart when the pandemic hit. On this particular day, Julian hadn't slept; he went directly from his UPS job overnight to his Instacart job in the morning. Even still, he was friendly and gregarious.
He describes working for UPS like working for the military—"It builds character. And if you stay, it affords so many possibilities." When the virus started to spread, Julian, who also sews clothes, parlayed his skills into making masks. Knowing how much he doesn't like to sit still, his family suggested he start working for Instacart.
Julian has gotten so much enjoyment out of delivering food for people in the community, especially for those who are not able to leave their homes. "They are so grateful when you leave the food at their door." He used to be the President of his tenant association and so he is no stranger to working for and within the community. "It's what I do all the time; it's nothing new."
Originally from Canada, Julian lives in the Bronx with his wife, who is a teacher.
Julian, your energy is inspiring. Thank you for your continued service during this difficult time! #hometownhero #essential #delivery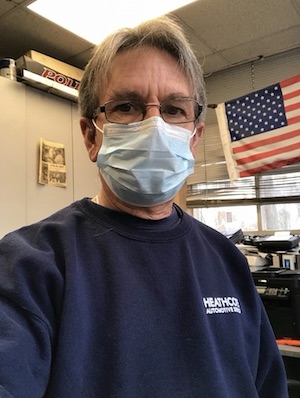 AL PORPORA
Meet Al Porpora, Owner/Manager of the Heathcote Gulf Station on Weaver Street. Al started working at his father's gas station in 1973 at the age of 16. The station is now run by Al, his brother Frank and his son Alex.
Al grew up in Eastchester, moved to Scarsdale in the 80's, and raised five kids in the Scarsdale community. In the beginning of the pandemic, Al made the very difficult decision to close for two weeks for the safety of his customers. Unlike during 9/11 and Hurricane Sandy—when Al felt empowered help—this situation has been more frustrating. He knew his customers needed gas and so he opened as soon as he could. Al also realized that a lot of his customers needed to travel long distances by car to pick up their kids from college since they could not fly home, and so it was important to be able to offer oil changes and inspections.
They are now open seven days a week with a modified schedule. His wife Jane, who works at the Heathcote Elementary School, jokes, "My husband is really married to his business and I am his girlfriend".
When not working, Al enjoys spending time with Jane, their kids and their five grandkids (two of which live in Quaker Ridge). Al loves the community and he loves his customers. "My business is what it is because of my customers." Thank you for always being there for your customers, Al! #hometownhero#scarsdale #essential #heathcotegulf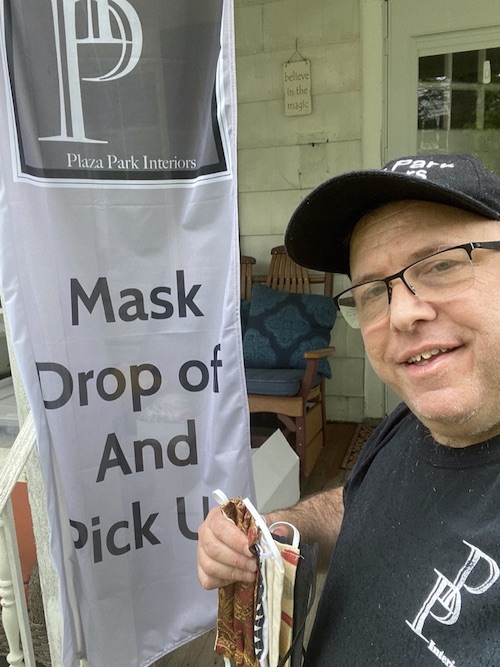 MORRIS MAYER
Meet Morris Mayer, Owner of Plaza Park Interiors and Plaza Park Cleaning Services since 2013. When the NY State Pause went into effect on March 23rd, Morris quickly transformed his drapery and upholstery part of the business into "mask making central". The cleaning and sanitizing part of the business, deemed essential, was able to remain open.
With the talent of seamstresses and upholsterers and the infrastructure to organize mask requests from multiple sources, Morris and his team jumped into action. They closed that following Monday, sanitized their workspace on Tuesday, and by the end of the day had made a prototype for their masks. To date, they have helped make and deliver over 10,000 masks to healthcare and essential workers in our surrounding area.
The effort has taken a village. Mask requests from various groups and individuals from around the area are consolidated into a spreadsheet, fabrics and elastic are sourced and shared, and masks are produced and delivered by a number of volunteers including his family, friends, local moms, retired doctors, other local mask-making groups and college students, all coordinated through Morris and Plaza Park Interiors. "My house became the main distribution point." Even Morris's special needs daughter noticed masks coming in and out of their home, saw the need, and rose to the occasion, figuring out a pattern and then cutting, pinning and preparing over 100 masks on her own.
What he loves most about his business is the creativity behind it. "It's very exciting to start with an empty house and raw fabric and to see the vision come to fruition", he says. Morris grew up in Brooklyn, moved to Westchester in 1994, and then to the Edgewood section of Scarsdale 11 years ago. He enjoys spending time with family, especially game night where he plays cards with his wife and daughters Diana and Stefanie.
They are now selling masks to non-essential workers, corporations and individuals to help offset the cost of making the free ones and are always in need of volunteers to deliver masks. To order masks or volunteer to deliver them, you can call or text Morris at 917-414-9244. Thank you, Morris, for transforming your business in order to provide much needed masks to our healthcare workers! #hometownhero #scarsdale #masks #PPE #covid19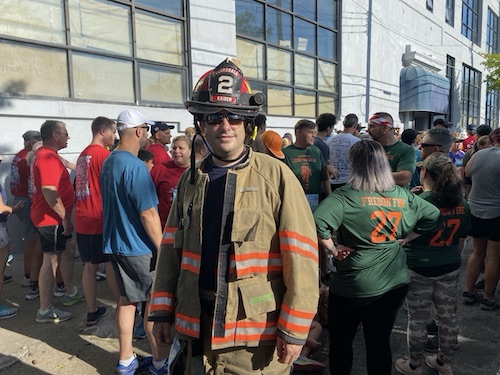 STEVE KAIDEN
Meet Steve Kaiden, Scarsdale native and Scarsdale Volunteer Firefighter for Company 2. Wanting to give back to his community in some capacity, Steve trained for six months to earn his interior certification and became a volunteer in 2015.
When the pandemic hit, Steve floated the idea of birthday drive-bys to the Chief, and soon after, the Scarsdale Fire Department Birthday Drive-By Program was launched. The program has been a hit and ran for the last five weeks, bringing smiles to over 200 kids ages 4-12 and their families.
"What little kid doesn't like a fire truck, especially one that is coming to celebrate them? It's not a party, but it will be a different kind of memory for them." The firefighters seem to enjoy seeing the kids—dressed up in their own firemen and policemen costumes—as much as the kids enjoy seeing them. "It's nice to see the community come together—of course from a distance—and create some camaraderie", says Steve.
With fond memories of his childhood, Steve moved back to his hometown with his wife Julie in order to pass the experience he had in Scarsdale on to his kids Oliver (12) and Avery (9). Steve owns several wine and liquor stores in NYC—considered an essential business—and has seen a shift online during this time.
Steve skied on the Scarsdale High School and Boston University ski teams and hasn't stopped since then. He passed his love for skiing onto his kids, who ski for the Mount Peter ski team. What's the first thing Steve going to do when this is all over? "Give some people some hugs."
Thank you, Steve, for giving our kids something to smile about during this difficult time! #hometownhero #scarsdale #essential #volunteerfirefighter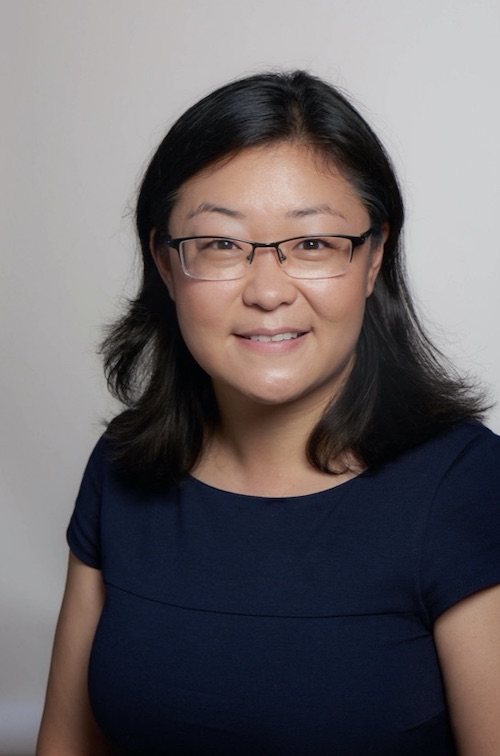 MENG ZHANG
Meet Dr. Meng Zhang, an Internal Medicine Physician with a specialty in Palliative and Hospice Medicine for a prominent hospital in NYC.
Dr. Zhang has been working as an attending physician since 2008. "I have a pretty cool job", she says, of her work for a unique visiting doctors program. Along with an interdisciplinary team, she makes home visits for elderly homebound patients where the average patient is in their 80's. Seeing patients in their own environment provides a completely different perspective and allows for more patient-centered care. Many are underserved and most have complicated medical conditions or are too frail to leave the home.
When the pandemic hit and hospitals began to quickly overcrowd, many of the sickest patients opted to return home to die, and Dr. Zhang was deployed to lead a new program to provide services over the phone and by video so that they could safely support COVID-19 patients and their families and caregivers.
Initially concerned about what sort of impact they could make through such non-traditional channels, they were able to successfully manage symptoms, and provide guidance, reassurance, comfort and support to the caregivers. "The front-line workers are so stressed, it's hard for them to get to know the family. My team got to bear witness to the human story behind the crisis; to see the anxiety and fears, but also the goodness, love and humanity behind each patient and caregiver."
The team supported about 50 patients during the last two months, many of whom passed away shortly thereafter. A sign the spread is slowing, the referrals have substantially dropped in the last few weeks.
Dr. Zhang grew up in Shanghai, China, and came to the states when she was 16. She lives in the Edgewood section of Scarsdale with her husband
Jonathan, their two kids, Ellen (7) and Elliot (9), and their 13-year-old miniature pinscher Frodo. Being able to be with her kids really helped sustain her between difficult patient calls. When time allows, she enjoys the simple pleasures, such as cooking, going on hikes and hanging out in the backyard.
This situation has made her realize how isolated her patients and family members feel. She encourages others to figure out ways stay connected with family and friends. Indeed, she misses the physical connection and is looking forward to the day she can hug her parents and the nurses.
Thank you, Dr. Zhang, for your compassion and care for the most vulnerable patients during this time! #hometownhero #scarsdale #covid19 #essential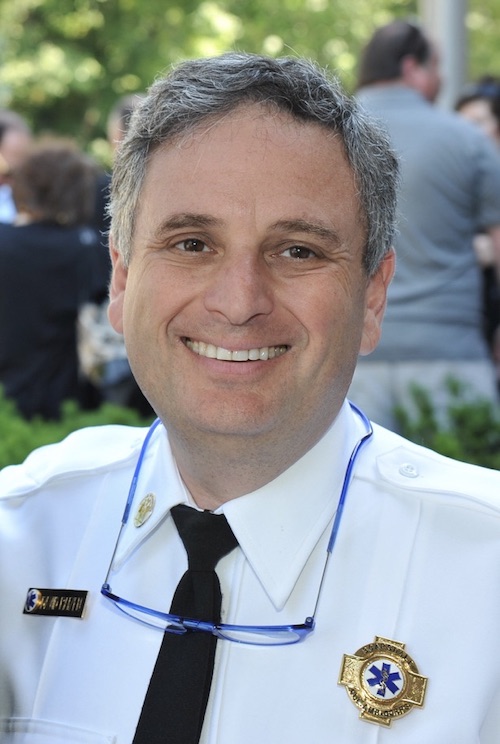 DAVID RAIZEN
Meet David Raizen, owner of Scarsdale Security Systems, Inc. and President of the Scarsdale Volunteer Ambulance Corps (SVAC) for 26 years. David grew up in Scarsdale, attended Quaker Ridge Elementary School and graduated from Scarsdale High School. He still lives in town with his daughter and foster son.
David has been riding in the ambulance since high school as an EMT and now as a paramedic, and firmly believes in neighbor helping neighbor. He enjoys the medicine part of it, and being a positive influence when people are at their lowest point.
Asked about the pandemic, David says, "It has been scary. It is a hidden enemy that was aerosolized, and you never knew where and when you were breathing it in. SVAC was well prepared because we planned ahead after the EBOLA scare years ago. We had the proper equipment and training which allowed us to concentrate on medical care."
When not working, David enjoys spending time with his children, sailing, kayaking and walking his dog. People always ask David why he is a paramedic, to which he replies, "Where else in the world can you go 90 miles an hour down the wrong side of the street chasing the cops?"
Thank you for all you do, David! #hometownhero #scarsdale #volunteer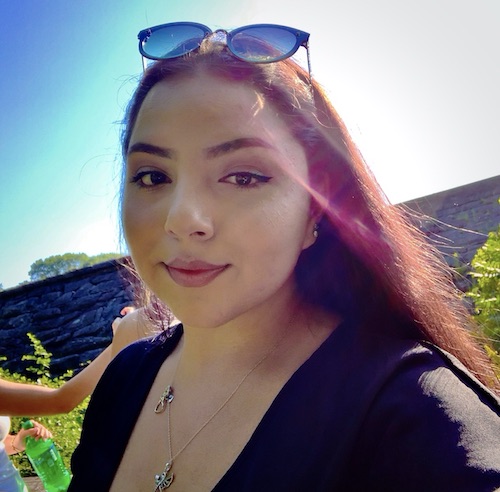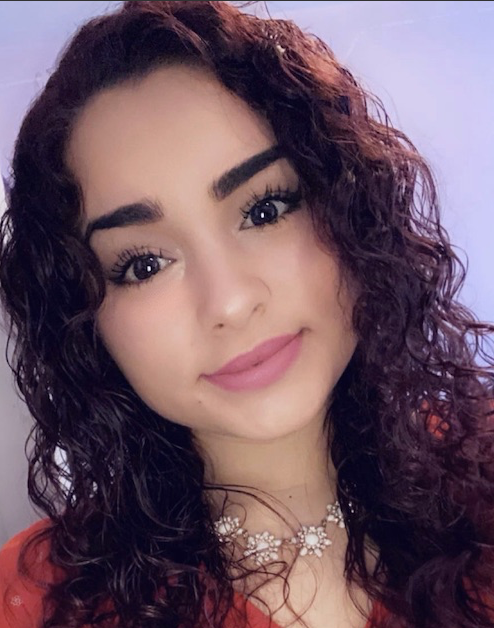 JENNIFER LOPEZ & YESSENIA CORONA
Meet Jennifer Lopez and Yessenia Corona, Cashiers/Shoppers at Seasons in the Golden Horseshoe.
A first-generation American with roots in Mexico, Jennifer grew up the youngest of four in New Rochelle, where she still lives with her family.
Little did she know when she started working at Seasons this past October the hazards that everyday grocery shopping would pose. At the start of the outbreak, people were afraid to come in. But the regulars quickly heard about the pick-up and delivery service, word spread, and orders took off.

Jennifer works hard—six days a week, up to 14 hours a day on the busiest days. Her coworkers and the camaraderie they share make it all worth it. Her customers also express appreciation, which is satisfying. "They thank us for working during this time and taking all of our safety precautions. It makes us feel good." Her biggest challenge is trying to keep everyone, including herself, safe. "I want to make sure we're wearing masks and gloves and being cautious. I have to go home to my family after work."
Jennifer can't wait for this all to be over so that she can sit in Bayberry Park near her house without a mask and enjoy the fresh air.
Yessenia graduated from Hunter College and began working at Seasons in September. She is the oldest of three and also resides in New Rochelle. She admits it was a little scary when COVID-19 first hit, but "we are taking a lot of precautions, so I feel a lot more calm." Precautions they take seriously, such as no more than 15-20 people in the store at once, keeping distance between shoppers and ensuring everyone is following the rules.
As a shopper, her focus is getting a customer's order right the first time, so that they don't need to worry or come back into the store. It was a challenge to learn about all of the different kosher foods, which she wasn't familiar with, but it's gotten easier and easier.
She wants her customers to know the team is working hard to cater to them. "We're a little nervous too, but we try to do everything we can to make our customers feel comfortable." She loves seeing all of the notes of thanks their customers have left for them in the store.
Yessenia is saving up to go back to school; her dream is to become a childhood educator. She's also looking forward to once again enjoying the movies and parks and being with her family who she hasn't seen in a while…but for now, she's thankful to be with Sparky (her Maltese/Yorkie mix).
Thank you, Jennifer and Yessenia, for your commitment, hard work and care for your customers on a daily basis! #hometownheros #scarsdale #covid19 #wegottaeat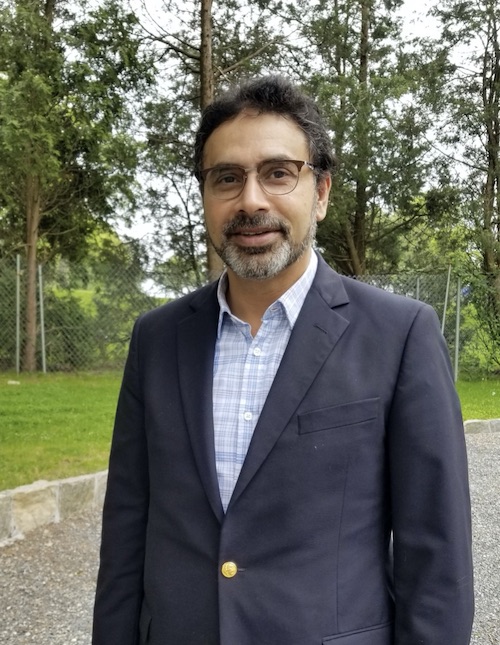 MUHAMMAD IRFAN QADIR
Meet Dr. Muhammad Irfan Qadir, a Consultant Nephrologist for two hospitals in Bronxville and Mount Vernon for the last 25 years. When COVID-19 began to spread, "it was like a tornado hit us." Kidney failure has been an unexpected consequence of those most hard hit by the virus, primarily in older patients with no prior kidney issues.
New protocols and an unknown enemy caused the physicians to struggle to find the right approach for treatment. While there are still big challenges, there is some reason to be optimistic. "We entered a machine gun fight with little ammunition. Now at least we have a sword to fight with", he says. While most people had a milder disease, Dr. Qadir's patients were the sickest of the sick. "The virus overwhelmed their bodies and shut down their kidneys. There were too many people, too many complications."
At its peak, his 20-bed ICU expanded to 60 beds, an increase the likes of which they had never experienced before. Even with all of the pressure inherent in their jobs, "this situation really brought out the best of the healthcare community. After tiring 12-hour shifts, staff still had smiles on their faces, and everybody was so pleasant and helpful. We were all in it together."
In a distant part of his mind, he was worried about contracting the virus, but "when you see patients in front of you gasping for air, the thought of getting it takes a back seat". Throughout it all, Dr. Qadir's Muslim faith kept him going.
Dr. Qadir grew up in Pakistan and came from a family of doctors. He moved to the States when he was 22, and to the Heathcote section of Scarsdale in 2007, where he resides with his wife Munazza and his three kids Uzair (21), Nabiha (20) and Rehma (13). He enjoys hiking, biking, squash, golf and practices calligraphy as a hobby. But what he's really looking forward to is spending time in the mountains, away from it all.
Thank you Dr. Qadir for your dedication and selflessness during this difficult time! #hometownhero #scarsdale #frontlines #COVID19 #essential
Commenting on the heroes, reader Janet Levy said, ""These heroes are so inspiring, and speak to the wonderful fabric of a multicultural society that enriches our lives. Thank you for sharing these portraits, we need to hear such positive narratives now more than ever!"
Jill Spielberg to Serve as Scarsdale Forum Vice President
Details

Written by

Joanne Wallenstein

Hits: 2541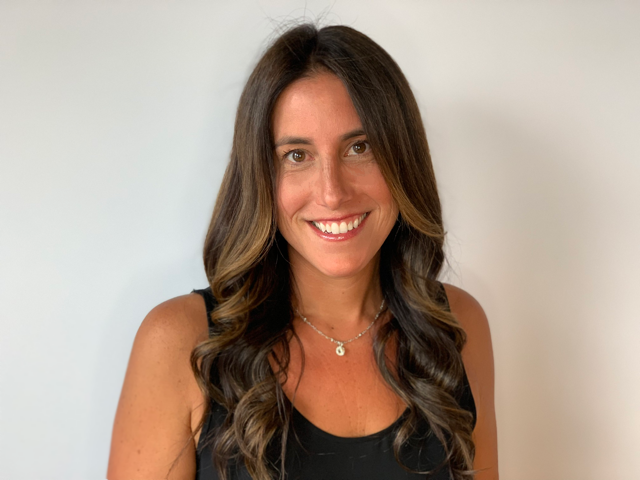 Jill Spielberg will serve as Vice President of the Scardale ForumThe Scarsdale Forum announced that members voted to elect Jill Spielberg as its Vice President at its Annual Membership Meeting. Spielberg will serve alongside Madelaine Eppenstein, Scarsdale Forum's new President. Forum members also elected Matthew Martin as Treasurer, Alexandra Tagami Vargo as Secretary, and Sarah Bell, Marcy Berman-Goldstein, and Christian Callaghan as Directors-at-Large.
According to Spielberg: "I am honored to take on this leadership role for an organization that is so important to the vitality and success of our village. I am excited to work with Madelaine Eppenstein as President, who is inspirational in her dedication to the Forum and to our community. We hope that this will be the beginning of a period of rapid growth for the Forum, furthering our efforts to engage a larger cross-section of Scarsdale in the important discussions and studies of the preferences and challenges of our town."
According to Eppenstein: "It is a profound honor for me to be entrusted with the stewardship of this historically significant organization in the civic life of the Village. I am especially privileged to do so side-by-side with VP Jill Spielberg, who brings the energy, acumen and passion that will contribute so much to the achievements of the Forum. I look forward with equal enthusiasm to working with Jill, Matt, Alex, our new and returning Directors and Directors-at-Large, and all our members during the coming year."
Jill Spielberg was born and raised in Scarsdale, and returned back in 2010 with her husband to raise her two children. She has served on the Forum Board of Directors, as Co-Chair of the Membership Committee, and as Co-Chair of the Scarsdale Electoral Policy Committee. Outside of the Forum, she has served on the Procedure Committee and as a member of the Citizens Nominating Committee. When not actively participating in civic life in Scarsdale, Jill is a lawyer with her own Matrimonial and Family Law practice in Westchester and New York City.
Madelaine Eppenstein and her husband are 27-year residents of the Fox Meadow neighborhood of Scarsdale and have two adult children. She currently serves on the Forum Board of Directors and Executive Committee and is chair of the Municipal Services Committee. She also serves on the board of the Friends of the Scarsdale Parks, Inc., an environmental nonprofit dedicated to the conservation of village parks and greenspaces. She served as the 2018-2019 Chair of the Procedure Committee that administers the nonpartisan election system in Scarsdale. For 37 years, she was managing partner of a New York City civil litigation and arbitration law firm with her husband. During that period she appeared before several Congressional committees on subjects relating to the federal securities laws, and participated in appeals for clients in federal and state courts, including the U.S. Supreme Court. She also completed a year of service as Vice President for the Scarsdale Forum.
Added Eppenstein, "I am delighted to collaborate with so many dedicated Forum members who are committed to its mission of providing 'a platform for meaningful community dialogue about municipal, school and related civic affairs.' More than ever in these challenging times, I encourage residents to join the Forum, and take part in the activities that afford members a variety of opportunities to be informed, to express personal views and to become involved in addressing the issues, choices and solutions that directly impact our community."