Cherry Tree and Plaque Dedicated to the Steinberg Family
Details

Written by

Joanne Wallenstein

Hits: 3121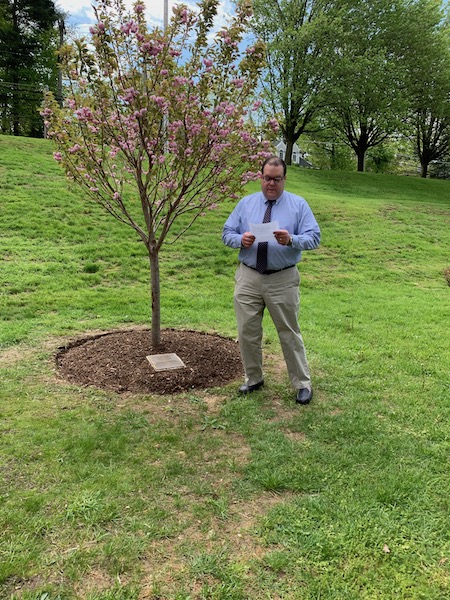 SHS Principal Ken Bonamo at dedication to the Steinberg FamilyFriends of the Steinberg family gathered outside Scarsdale High School on the morning of Wednesday May 8 to memorialize the family, who died on December 31, 2017. Bruce and Irene Steinberg and their three sons Matthew, William and Zach were all killed when the small plane they were on crashed in Costa Rica.
The Kwanzan flowering cherry tree and a plaque were gifts from the Scarsdale High School to the district. Both were formally dedicated on Wednesday morning with a group of friends, Scarsdale moms, representatives from the PTA and a few SHS students in attendance. Principal Ken Bonamo addressed the crowd and explained the significance of the tree and honored the family. He reminded everyone that the tree represents the beauty and fragility of life.
The Steinbergs were an integral and important part of the Scarsdale community, and this tree is just one way that they will continue to be remembered and honored by all.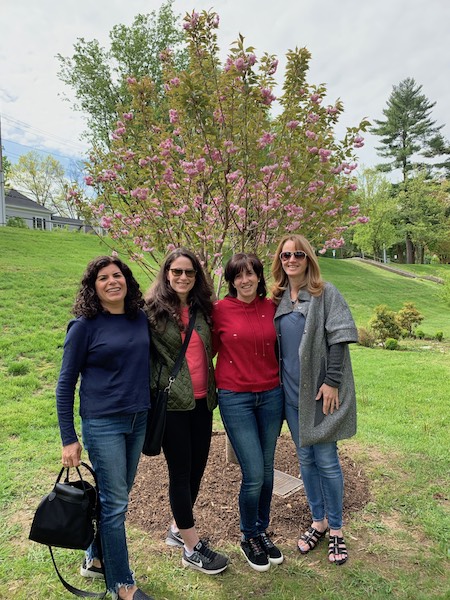 Friends of Irene Steinberg: Sara Minster, Erika Radin, Valerie Malsch and Vanessa Brosgol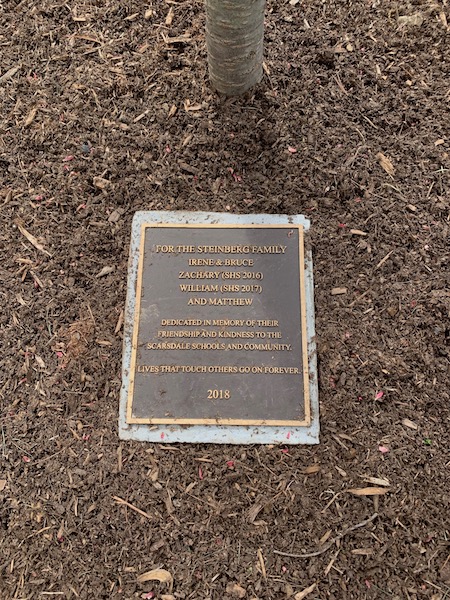 Melissa Feinberg Named Principal of Fox Meadow School
Details

Written by

Joanne Wallenstein

Hits: 2752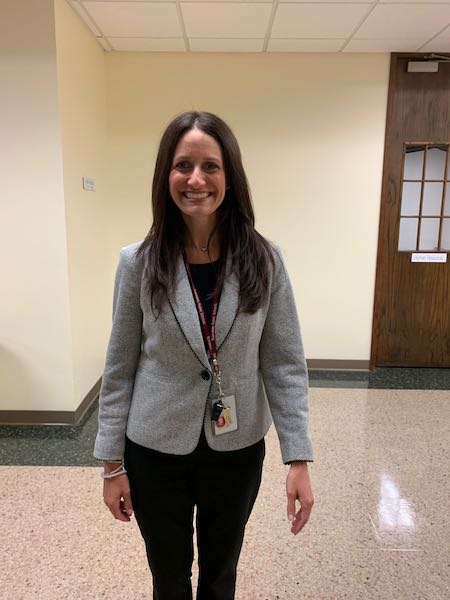 The search is over at Fox Meadow, where interim Assistant Principal Melissa Feinberg has been named principal of the school. Feinberg will succeed interim principal Karen Eldon who was hired to lead the school for a year after long-time principal Duncan Wilson resigned in June 2018.

At the April 29 meeting of the Board of Education, Dr. Hagerman reviewed the search process and announced the decision to select Feinberg from a field of 103 appplicants which included "sitting principals and assistant principals."

In reviewing the responses to surveys of the faculty Hagerman said "faculty and staff care passionately about students and have ambition goals ….. they enjoy working with each other and believe learning should be fun."

Among the challenges of the position, parents said "communication is important," "safety and security should be weighed against a warm and welcoming feeling," and value "new curricular experiences," "knowledge, skills, experience stature commensurate with Fox Meadow," and a candidate who is approachable, deliberate and thoughtful.

Dr. Hagerman said that Ms. Feinberg has embedded herself into the life of the school and that her background as a teacher and educational leader have "enriched our practice." When she was hired last year, Dr. Hagerman wrote, "Melissa will be joining us from Great Neck, where she served as a classroom teacher, staff developer, and enrichment teacher for the past 20 years. Melissa impressed us with her knowledge; experience as a teacher, staff developer, and teacher-leader; and enthusiasm for the work of leadership."

Accepting her new position at the Board meeting Feinberg said, "I am truly honored to take on this new role and grow the work that we are doing at Fox Meadow."

Dr. Hagerman also noted that a new search would begin for an Assistant Principal for the school.
Little League Opening Day
Details

Written by

Anna Cho

Hits: 2856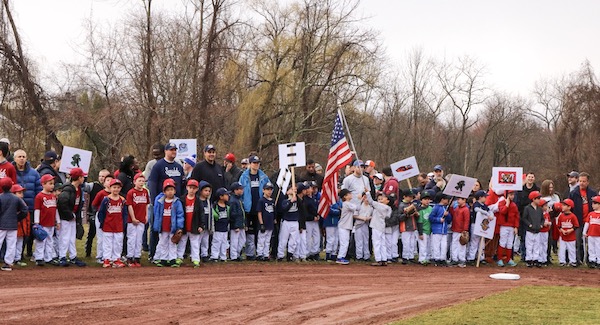 On Saturday April 6, friends and family gathered to celebrate Scarsdale Little League Opening Day. Parents and children enjoyed delicious Belgian waffles and slurped steamy hot chocolate. As bellies grew full and laughter filled the air, kindergarten through second grade teams were prepared for their parade. The young baseball players walked out with smiles across their face, eager to meet all of their supporters. Waiting for them in the crowd was the entire Varsity Baseball team, Boy Scout Troop 4, and Cub Pack 440. Gathering around the baseball field, the players waited to hear speeches from baseball legend, Edgardo Alfonzo, and Scarsdale Mayor Marc Samwick.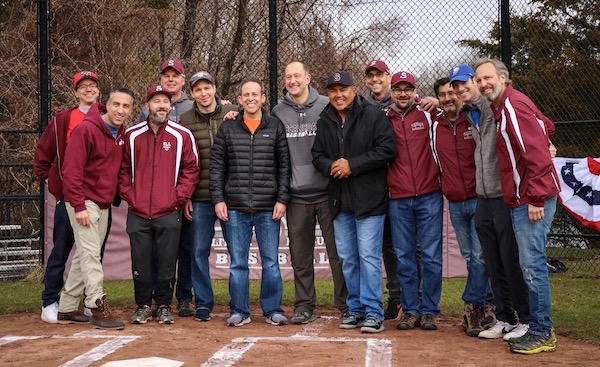 Volunteers of the Little League organization pose with Met great Edgardo Alfonzo.


After the words of encouragement from the Mayor varsity baseball player, Michael DiSanto, was granted the Hometown Hero Award. This new award is granted to an alum of the Little League currently playing baseball, who has put a significant amount of time and effort into helping the community. In addition to Michael DiSanto, retired Mets player, Edgardo Alfonzo, shared his motivational words with the crowd. Edgardo Alfonzo, or Fonsi, has devoted numerous hours to volunteer and philanthropic work throughout Queens and Tri-state Area. Fonsi discussed the importance of his own fans who helped him improve during his career, and said that he wants to be that source of support for young athletes. Members of the Little League were able to hear the motivating and inspiring words of their supporters that will help them on and off the field.
Senior Michael DiSanto receives the Hometown Hero Award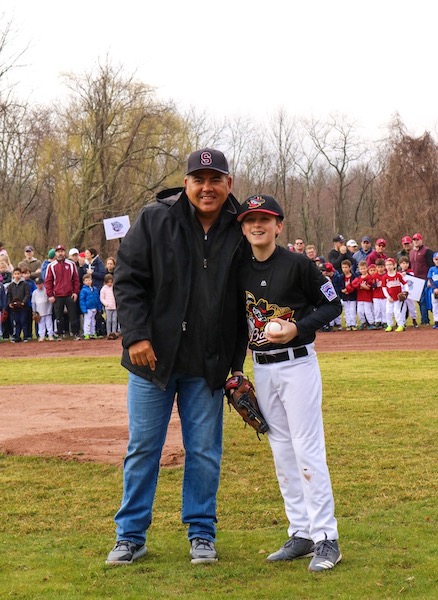 Ludwig Award winner, Eli Miller, poses for a photo with Edgardo Alfonzo after catching Alfonzo's starting pitch
The Scarsdale Varsity Baseball team stands for a photo
The Coddling of the American Mind: How Good Intentions and Bad Ideas Are Setting Up a Generation for Failure
Details

Written by

Joanne Wallenstein

Hits: 2175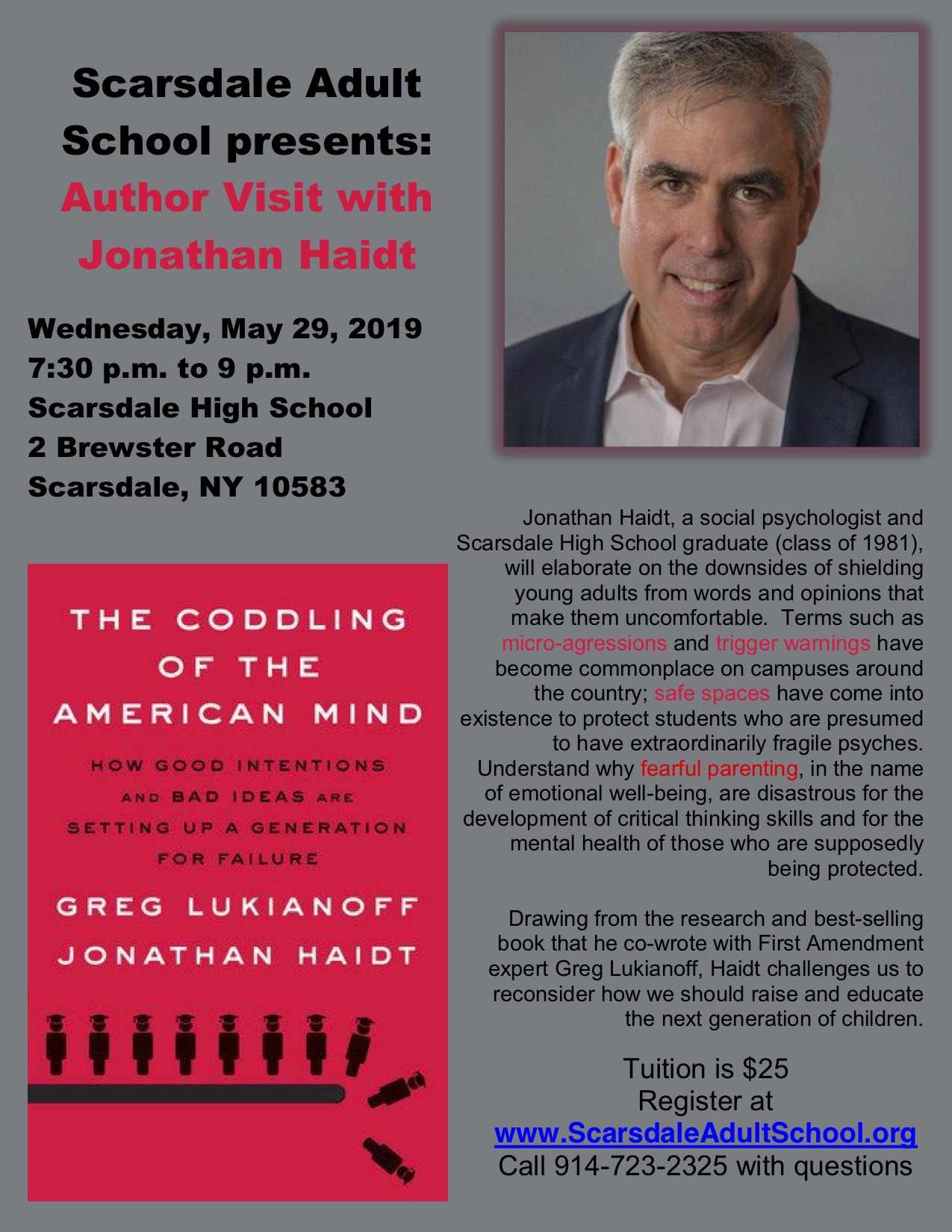 "Rising intolerance for opposing viewpoints is a challenge not only on college campuses but also in our national political discourse. The future of our democracy requires us to understand what's happening and why—so that we can find solutions and take action. Reading The Coddling of the American Mind is a great place to start." —Michael Bloomberg, 108th Mayor of New York City
Jonathan Haidt, co-author of "The Coddling of the American Mind: How Good Intentions and Bad Ideas Are Setting Up a Generation for Failure," will speak in Scarsdale on May 29 at an event sponsored by The Scarsdale Adult School. Haidt is a 1981 graduate of Scarsdale High School and will challenge parents to reconsider how they should raise and educate their children.
In his best-selling book, Haidt argues that today's generation needs to learn to tolerate all viewpoints ... and that universities should allow an active exchange of ideas, even when some of these ideas are uncomfortable to hear. He says, "The consequences of a generation unable or disinclined to engage with ideas that make them uncomfortable are dire for society, and open the door – accessible from both the left and the right – to various forms of authoritarianism."
According to Haidt, "Something has been going wrong on many college campuses in the last few years. Speakers are shouted down. Students and professors say they are walking on eggshells and are afraid to speak honestly. Rates of anxiety, depression, and suicide are rising. How did this happen?"
Jonathan Haidt (pronounced "height") is a social psychologist at New York University's Stern School of Business. He received his Ph.D. from the University of Pennsylvania in 1992, and taught for 16 years in the department of psychology at the University of Virginia.

Haidt's research examines the intuitive foundations of morality, and how morality varies across cultures––including the cultures of progressive, conservatives, and libertarians. His goal is to help people understand each other, live and work near each other, and even learn from each other despite their moral differences. Haidt has co-founded a variety of organizations and collaborations that apply moral and social psychology toward that end, including HeterodoxAcademy.org, OpenMindPlatform.org, and CivilPolitics.org.

See Haidt in person at Scarsdale High School at 7:30 pm on Wendesday May 29. Tuition is $25. Register at www.ScarsdaleAdultSchool.org.
Author Visit with Jill Schlesinger: "The Dumb Things Smart People Do With Their Money"
Details

Written by

Joanne Wallenstein

Hits: 3552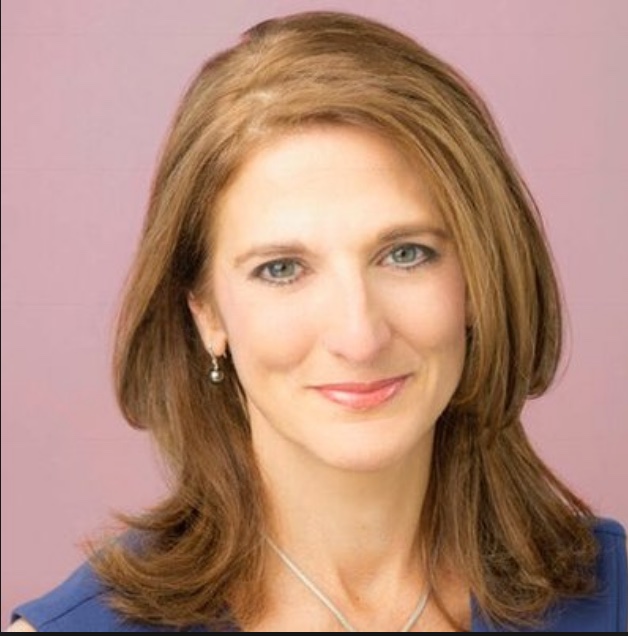 CBS News analyst, financial planner, author and SHS Alumni Jill Schlesinger will visit Scarsdale on Tuesday April 9, to share insights from her new book, "The Dumb Things Smart People Do With Their Money: Thirteen Ways to Right Your Financial Wrongs" in an evening hosted by the Scarsdale Adult School.
After decades working as a Wall Street trader, investment adviser, and money expert for CBS, Jill Schlesinger reveals thirteen costly mistakes you're probably making right now with your money without even knowing it. Drawing on heartfelt personal stories (yes, money experts screw up, too), Schlesinger argues that it's not lack of smarts that causes even the brightest, most accomplished people among us to behave like financial dumb-asses, but simple emotional blind spots. So if you've made well-intentioned mistakes like saving for college for your kids before you've saved for your own retirement, or taken on too much risk when you invest, you've come to the right place.
Schlesinger will explain how to pinpoint your monetary blind spots and take control of your finances responsibly. Among other common mistakes, blowing thousands of dollars on overpriced financial products or failing to draft a will are just a few of the costly errors Schlesinger will address. By breaking bad habits and following Schlesinger's pragmatic and accessible rules for managing your money, you can learn to save tens, even hundreds, of thousands of dollars, not to mention avoid countless sleepless nights.
Sign up on the Scarsdale Adult School website to see Schlesinger in person on Tuesday night April 9 at 7 pm at Scarsdale High School.
We asked Schlesinger a few questions about herself and her observations of investment decision-making and here is what she shared:
How did growing up in Scarsdale and receiving a Scarsdale education impact your views on money and your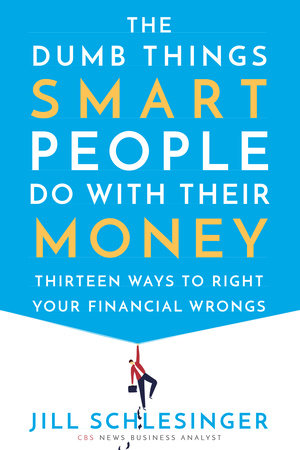 choice of a career?
My career choice had to do with my father, who was a trader on the floor of the American Stock Exchange...when I was growing up in Scarsdale, most parents were doctors, lawyers and investment bankers...very few worked as traders and far fewer were on trading floors. My Scarsdale education taught me how to think critically and more importantly, was a great preparation for my college years at Brown.

In your new book, "The Dumb Things Smart People Do With Their Money" you list some common mistakes people make - can you share one of these with our readers - and tell us why their choice is dumb and what they should do instead?
Dumb thing #3 is "You make money more important than it is" and it is one of my favorites because it gets to the essence of the book: we often do these dumb things because of our emotions. While I want people to pay attention to their money and to respect, I don't want it to control your decision-making. Some of the warning signs of this dumb thing include: keeping secrets from your spouse; losing sleep; comparing yourself to others; ruminating and moving financial goal posts.
Are women prone to making more missteps with their personal finances than men?
If so, what do they commonly do wrong and why? A number of surveys have shown that women tend to be better at managing money than men, so it is curious that some women take themselves out of the financial management process.

How has the current political climate impacted personal investing and financial planning?
The new tax law greatly impacted the current state of planning.
Sign up on the Scarsdale Adult School website to see Schlesinger live on Tuesday April 9, 2019