Scarsdale Alum Publishes Children's Book
Details

Written by

Joanne Wallenstein

Hits: 3281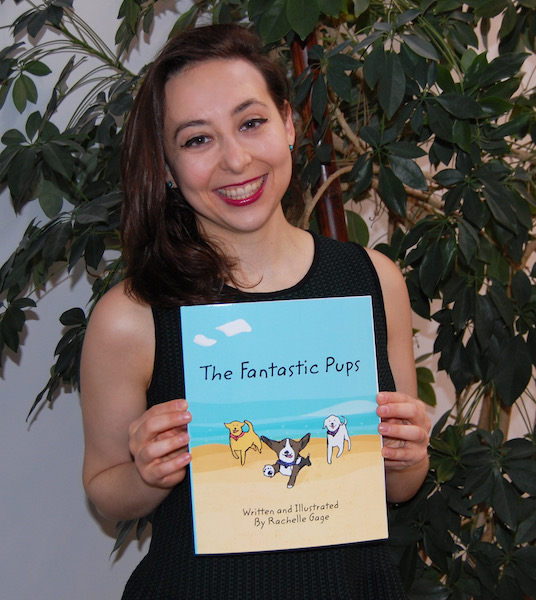 Rachelle Gage, SHS'12 has just published her first book. She both wrote and illustrated "The Fantastic Pups," a children's book about three adorable pups each with their own unique traits, who ultimately work together to save the day. The charming story is paired with hand drawn characters and a dreamy pastel palette.

Rachelle graduated from Skidmore College with a Bachelor of Science degree in Communication Design and has experience in drawing, photography, and graphic design.

According to Gage, "The book was sparked by a love for book design, from writing and illustrating numerous stories to redrawing book covers throughout childhood. I've always been passionate about art, which led to my design-oriented career."

Asked about her experience at SHS, Gage said, "At Scarsdale High School I developed a love for printmaking and continued into the AP art class at Scarsdale High School. I was so happy to have more art incorporated into my school schedule and would even eat lunch in the art room to continue my projects. I am very grateful for the art department at Scarsdale, and that I was able to create a schedule catered to my passions."

She continued, "I have worked in the graphic design department of a fashion company for a little over three years. On the side, I attend figure drawing sessions and photograph nature, two of my other passions. I've had the idea for my book for many years, and after a book project back in college, decided to revisit my Fantastic Pups idea. When my 3 dogs, who were the inspiration for the book, passed away after 14 years I pulled out my book and began to focus on it. The initial story began to evolve as I created the illustrations. I wanted to combine my fine arts and design backgrounds. My hand drawing style is more about the marks and sketchiness, while my graphic design is more pop art and about color. I used a hand drawn outline look for the characters, applied over a cleaner graphic background. I tested printing the final draft with various self publishing companies, and eventually moved forward with IngramSpark."

The book can be purchased through various retailers, including Amazon, Barnes and Nobles, and Walmart. Purchase your own copy of "The Fantastic Pups" on Amazon here:
Greenwald Honored For Contributions to Civic Life by Eleanor's Legacy
Details

Written by

Joanne Wallenstein

Hits: 2251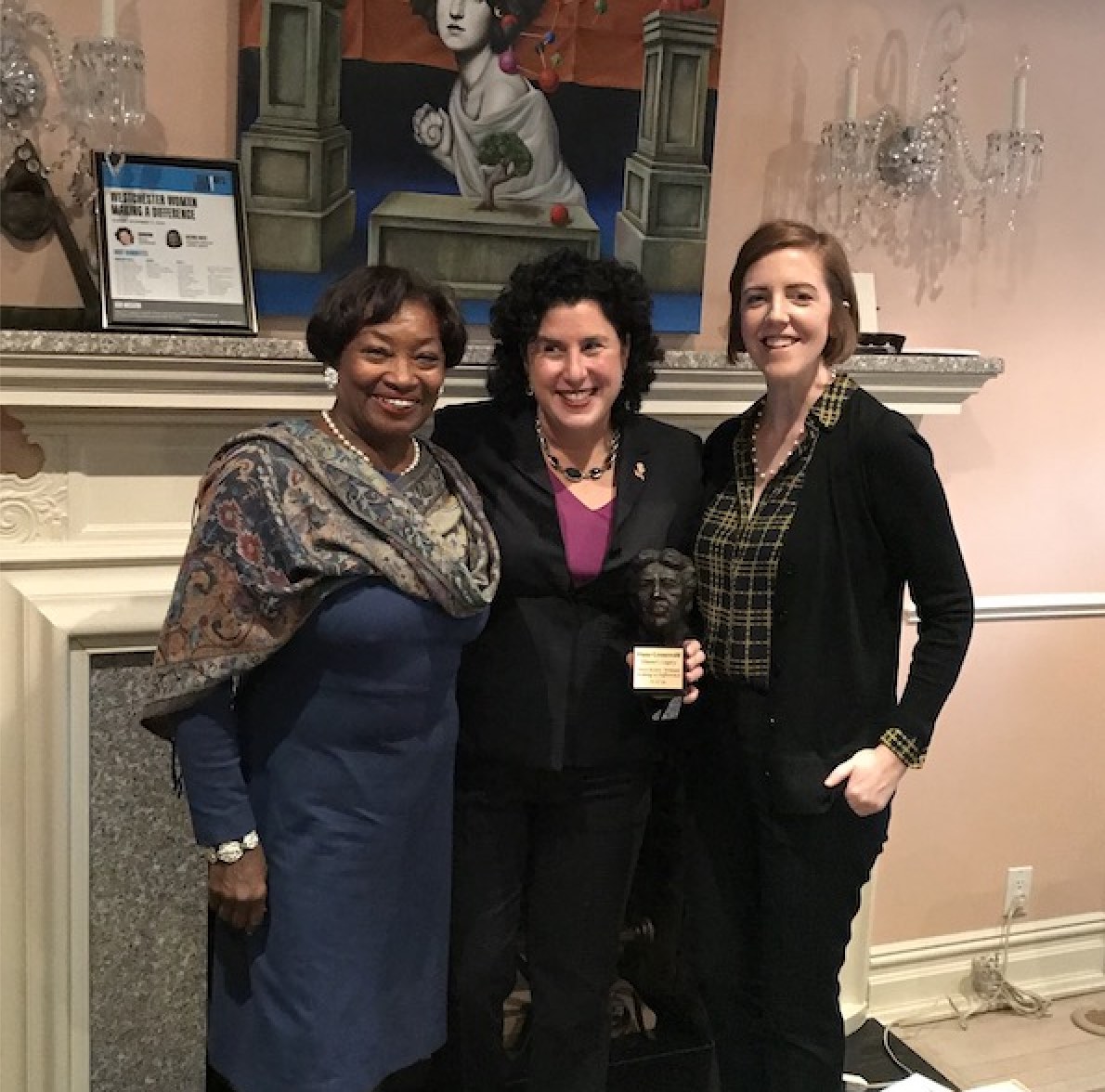 Andrea Stewart-Cousins, Diane Greenwald and Brette McSweeneyWestchester Democrats have been known to show up to march, volunteer, vote, and run, and on Sunday, November 17, over 100 gathered in Scarsdale to celebrate one Westchester woman who has made a difference, Diane Greenwald of Scarsdale. Presented by Eleanor's Legacy, the pro-choice Democratic women's organization, the Westchester Women Making a Difference reception honored Diane Greenwald for her contributions to Scarsdale's vibrant civic life.
Special guest speakers included Attorney General Tish James, Congressman Eliot Engel and Senate Majority Leader Andrea Stewart-Cousins. Assemblywoman Amy Paulin hosted the reception at her home. Also in attendance were State Senators Alessandra Biaggi and Shelley Mayer, Assemblyman David Buchwald, and Westchester County District Attorney Tony Scarpino.
"Around the state and around the country for the past three years, women have been turning out in historic numbers to volunteer, march, vote, and run for office," said Eleanor's Legacy President Brette McSweeney. "But Westchester has always been defined by passionate civic engagement. Westchester is home to the first chapter of the League of Women Voters and the first woman to lead the New York State Senate, Andrea Stewart-Cousins. Diane Greenwald's contributions to Scarsdale's schools, library, and vibrant civic life continue this legacy of active participation and leadership of Westchester women. We are thrilled Diane accepted our invitation to honor her and we thank her."
Past recipients of the Westchester Women Making a Difference Award include Geri Shapiro, longtime aide to then-Senator Hillary Clinton and Senator Kirsten Gillibrand, and Cheryl Brannan, founder of Sister to Sister International, Inc. and Brannan Solutions Group, a consulting firm specializing in eliminating health disparities in communities of color.

Founded in 2001 by Judith Hope, the first woman to chair the New York State Democratic Committee and the first woman elected a town supervisor on Long Island, Eleanor's Legacy recruits, trains, and fund pro-choice Democratic women for state and local office. In the 2019 local election cycle Eleanor's Legacy endorsed and provided campaign grants to 191 women candidates in 29 counties across the state. Of the 25 candidates Eleanor's Legacy endorsed in Westchester, 21 won.
In her acceptance speech, Greenwald expressed her gratitude for being acknowledged for supporting women who achieve their goals for political leadership, and explained, "12 years ago, I met Kirsten Gillibrand and have been her supporter ever since. In 2009 she became my senator, a woman who is about my age, with two growing sons, who often talked about issues that mattered to me. It made me consider what it means to be represented. I am lucky to be represented by two more women in this district – my Assemblywoman Amy Paulin and my State Senator Andrea Stewart-Cousins, Senate Majority Leader, who all lead with compassion and integrity and pass legislation on topics that impact families, children, safety and equality. They are known as collaborative, cooperative, tenacious, brave and smart. In other words," Greenwald joked, "they lead like women!"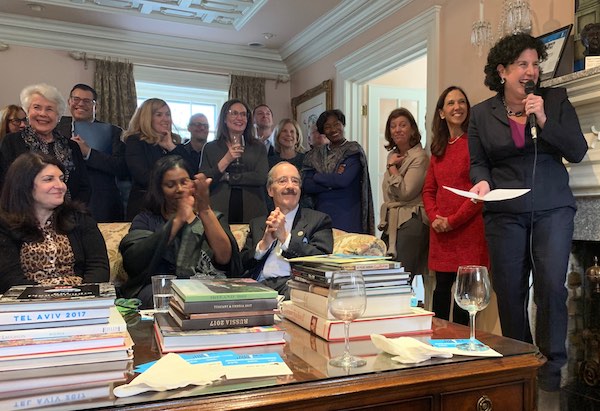 Broadway Actress Weds Naval Officer
Details

Written by

Joanne Wallenstein

Hits: 3560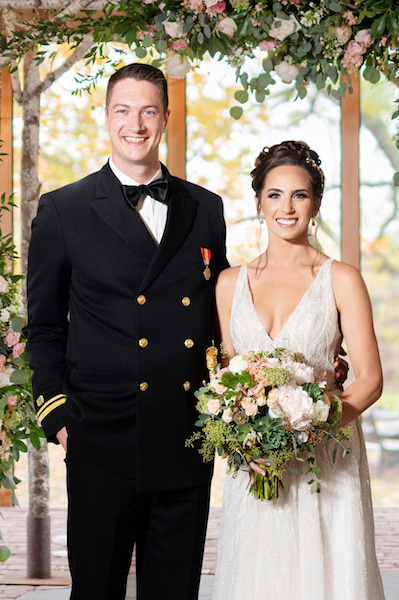 Dani Spieler, the daughter of Jill and Gary Spieler of Scarsdale, and Cory Pihl, son of Marilee Fraizer Pihl and Gary Pihl of Acton, MA, were officially married at the New York City Clerk's Office on July 23rd, 2019 in front of their parents. Recently, the couple celebrated with family and friends on October 20th, at Red Maple Vineyard in West Park, NY with a ceremony led by Curtis Holbrook, a friend of the couple.
The bride, Scarsdale High School Class of 2003, and groom met through the online dating app, OKCupid. Since graduating with honors from The University of Michigan with a BFA in Musical Theatre in 2007, Dani has been living in New York City and performing on Broadway in such shows as CATS, CHICAGO, A BRONX TALE and LEGALLY BLONDE. The groom graduated from Acton-Boxborough Regional High School in 2003, and then from Penn State University with a BS in Criminal Justice in 2008. After college, he worked as a Special Investigator at the New York City Department of Investigation for 8 years. He recently was admitted to the New York State Bar, after getting his JD from New York Law School in 2018. Cory began work as an attorney as a Lieutenant Junior Grade in the US Navy Judge Advocate General Corps immediately following the wedding, and is stationed at Joint Base Pearl Harbor-Hickam.
The bride's parents, who have lived in Scarsdale for 43 years, are both retired. The bride's mother, the 2019 recipient of the Scarsdale Bowl, is a former president of the Scarsdale School Board, and had a career in graphic design for many years. Her father spent 45 years working in mainframe computer software technology and sales. The father of the groom has been the guitarist for the band Boston since 1985. His mother worked as a teacher in the Community Education Extended Day Program before retiring in 2015.
The couple plans to honeymoon in Australia and New Zealand. They will reside in both Honolulu, HI and New York, NY.
Sarah Novatt Weds Mark Schulz
Details

Written by

Joanne Wallenstein

Hits: 2930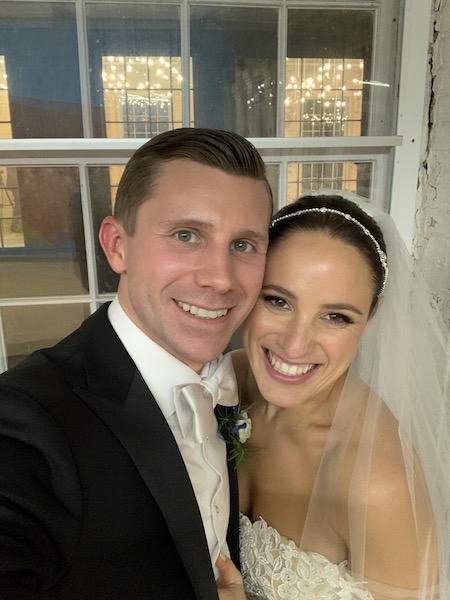 Sarah Novatt and Mark Schulz were married on Saturday, November 9th at the contemporary art museum, MASS MoCA, in North Adams, MA. Mara Natkins, an aunt of the bride, will officiated in a Jewish ceremony. Ms. Novatt, 32, is the Communications Director of North America for KAYAK. Previously, she spent over seven years at the NYC based PR firm, Sunshine Sachs. She graduated Scarsdale High School in 2005 and received a bachelor's degree from the University of Rochester in psychology. The bride is the daughter of Priscilla Natkins and Seth Novatt of Sleepy Hollow, NY and Crested Butte, CO. Ms. Novatt's father currently works at Salchow and Sons, Bowmakers, where he focuses on the restoration of rare violin, viola and cello bows. Previously, he worked on Wall Street for over 30 years as an Executive VP at Oppenheimer and Company and Managing Director at Alliance Bernstein. The bride's mother runs Reservoir Communications, a marketing consultancy working with non-profit organizations and corporate CSR programs. Prior to that, for nearly two decades she was an Executive Vice President at the Ad Council, where she oversaw campaign development, research and corporate partnerships.
Mr. Schulz, 31, is CFO Team Lead at Geller & Company where he focuses on the venture capital business of a global technology and media firm. Previously, the groom was Vice President of Finance at Fortress Equity Partners and Manager of Corporate Finance at Moody's. He received a Bachelor of Business Administration in Finance from the University of Wisconsin School of Business in 2010 and earned a Post Graduate Certificate in International Business from St. Mary's University while working abroad in London in 2011. Mr. Schulz is the son of Barb and Ron Schulz of Long Valley, NJ. The groom's father is the Senior Vice President and Treasurer for the professional baseball team Somerset Patriots in Bridgewater, NJ. His mother is Vice President for Douglas Kelly Associates, a commercial mortgage banking firm located in Cedar Knolls, NJ.
Sarah and Mark, met on Bumble in 2017 and had their first date at L& W Oyster Bar in NYC. Sarah may have been only half joking on that first date when she suggested tagging along on Mark's upcoming trip to Colombia. Ten weeks later they tested their new relationship with a week long trip to Cartagena and Medellin. Sarah and Mark moved in together in August 2018, and Mark officially became a dog dad to Theo, Sarah's rescue Schnauzer-Terrier. Mark proposed at Sarah's family home in Crested Butte in March 2019. After a 3:30am wake up and a near-miss text message to ruin the surprise, he managed to convince her to take a snowshoe hike before all their friends arrived. They trekked up to the top of a snow covered field (with their dog!) and he completely caught her off guard and proposed.
NYS Regent Judith Johnson Passes Away
Details

Written by

Joanne Wallenstein

Hits: 1965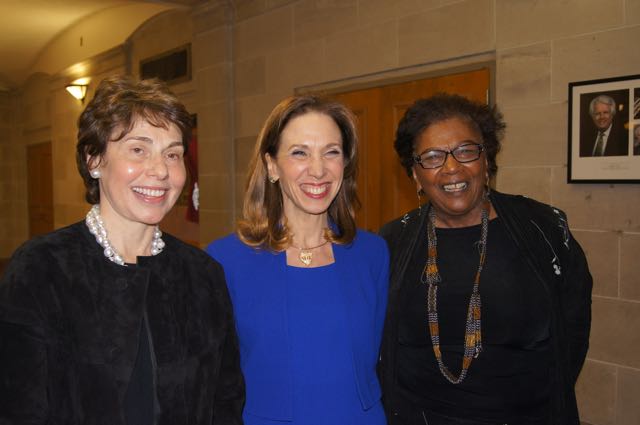 Merryl Tisch, Amy Paulin and Judith Johnson at Scarsdale High School in April 2015This week we learned the NYS Regent Judith Johnson passed away at the age of 80. She died at Memorial Sloan Kettering Cancer Center due to complications from surgery. In 2015 she was appointed to serve a five-year term on the Board of Regents and was a champion for education of all children, especially the underserved.
She began her career as a teacher in the NYC schools and then worked as a school administrator in Westchester and Rockland. During the Clinton presidency she worked in the Department of Education and later became the first African American and the first woman to serve as Superintendent of the Peekskill Schools. As as Regent, she represented Dutchess, Orange, Putnam, Rockland and Westchester counties.She paid several visits to Scarsdale, most recently in February 2019 when she participated in a panel discussion organized by the PT Council. Here are her comments:
About Scarsdale she said, "You are the model of what all schools should look like…. We shouldn't take dollars from you to help schools in need." Providing some information on the work of the regents she discussed funding for the arts, saying, "Every child in NYS should have the opportunity to learn music or pick up a paint brush." She also said, "We are changing the graduation standards and what it means to have a high school diploma. We are rethinking the five regents exam to earn a high school diploma…. We are working with the Yale Center for Emotional Intelligence to bring joy back to the classroom."
State Assemblywoman Amy Paulin issued this statement on the death of NYS Regent Judith Johnson.
"Judith Johnson devoted her entirely life to the notion that every child deserves a quality education. She was an award-winning teacher, a supportive mentor, a passionate advocate, a thoughtful administrator, a visionary Superintendent and finally, a knowledgeable and incredibly candid member of the Board of Regents. She was trusted and respected by parents, teachers, administrators, and legislators alike, and her contributions toward improving public education for the students of Westchester County and New York State will last a lifetime."