A Celebration of Life in Honor of Jedd Sereysky
Details

Written by

Joanne Wallenstein

Hits: 14095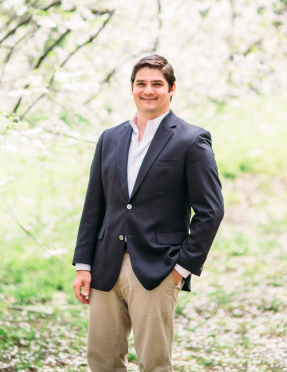 Jedd Benjamin Sereysky MD, PhD, 34, passed away on October 29th, 2018. Jedd was the son of Andrew and Joan Sereysky, brother of Brett Sereysky and husband of Jessica Nikitczuk Sereysky.

Jedd was born on July 18, 1984 in New York City and raised in Scarsdale. He graduated from Scarsdale High School in 2002 and then from the University of Rochester in 2006 with a BS and MS in Biomedical Engineering, with a focus on Biomechanics. He went on to earn his MD and PhD at the Icahn School of Medicine at Mount Sinai in New York. He completed a General Surgery Residency at Montefiore Medical Center in the Bronx, and had just begun training in the Harvard Combined Plastic Surgery Residency Program.

A Celebration of Life will be held at Goldwurm Auditorium of the Ichan Medical Institute, located at 1425 Madison Avenue, on Saturday, November 10th at 1:00PM. Jedd's family and friends will be wearing bright colors and pastels to honor Jedd.

Jedd and Jessica's first child, Benjamin, is due in January 2019. In lieu of flowers, the family has asked those who knew and loved Jedd to come together to support Benjamin's education. For that reason, the JBS Memorial Scholarship has been created to ensure that Benjamin has every opportunity to pursue higher education in honor of his dad. Donations can be made here.
Emily Hirsch, Owner of Candy and Cards. Passes Away at 101
Details

Written by

Joanne Wallenstein

Hits: 4209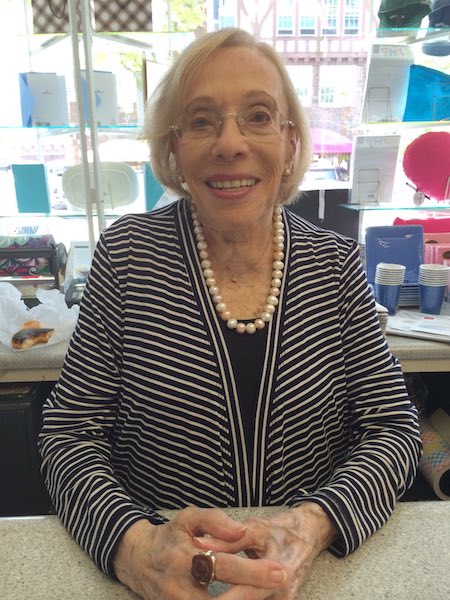 Emily (Ethel) S. Hirsch, a longtime resident of Scarsdale, NY, passed away on October 25, 2018. Emily was born in Brooklyn on June 16, 1917 and was the daughter of Fanny (Saks) and Charles Shartless. She was 101 years old.
Emily was the owner of Scarsdale Candy 'n Cards for 51 years, until her retirement in 2017.
Emily is survived by her two children, Jeffrey (Susan) Brown and JoAnn (Jay) Donzella; four grandchildren, Lisa (Scott) Kirshenbaum, Jill Lefkowitz, Amy (John Vignola) Brown, and Jason (Lisa) Brown; and six great-grandchildren.
The family will receive friends and relatives at Dorsey Funeral Home at 14 Emwilton Place, Ossining, NY on Monday, October 29, 2018 at 9:30 a.m., followed by a service at 10:00 a.m.
Interment will follow at Mount Carmel Cemetery in Glendale, NY.
Donations can be made online in her name to the American Heart Association.
Rabbi Lester B. Bronstein Named President of the New York Board of Rabbis
Details

Written by

Joanne Wallenstein

Hits: 4245
Bet Am Shalom synagogue announced that its spiritual leader, Rabbi Lester B. Bronstein, has been named the new president of the New York Board of Rabbis, the largest interdenominational rabbinic body in the world. Bronstein will be formally installed as president on the evening of October 25, 2018, at Bet Am Shalom, 295 Soundview Avenue, White Plains, NY.

The evening will include special guest speaker Rabbi Lawrence Hoffman,Ph.D., professor at Hebrew Union College - Jewish Institute of Religion (HUC-JIR), and eminent author, scholar and teacher. A festive dessert reception will follow the installation. The installation is open to the public but advanced registration is requested: NYBR RSVP

The New York Board of Rabbis has more than 750 rabbis from all denominations of Judaism as members, including many hundreds of rabbis from far beyond the New York area. The New York Board of Rabbis is the largest interdenominational rabbinic body in the world where unity of spirit and diversity of thought support one another. The group helps create the possibility of Jewish unity beyond differences of practice, philosophy, and belief.

"Rabbi Bronstein's selection is a high honor, both for him and for us, said Ilene Semiatin, president, Bet Am Shalom synagogue. "We are extremely proud that our community's spiritual leader has been chosen for this
prestigious post."

Bet Am Shalom, a Reconstructionist synagogue, is a vibrant, egalitarian congregation of families and individuals from diverse backgrounds, bound together by a shared belief in a thoughtful and progressive approach to Judaism.

For more information, go to https://betamshalom.org/.
Raiders Fall Season Wrap Up
Details

Written by

Jordy Love

Hits: 2588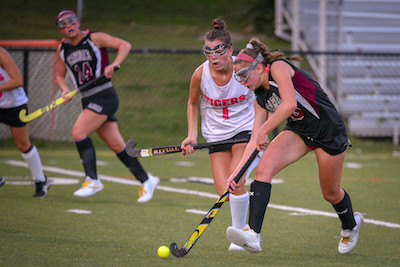 As the fall season comes to a close, here's a wrap-up of the Raider's Varsity teams records:
The Raiders Girls Swim team completed their most successful season ever. Captains Mia Dell'Orto, Maggie Brew, Emma Cahaly and Mia Carrol led their team to an undefeated 9-0 record in their league, winning their conference. The team will compete next on Oct. 30th at Felix Festa Middle School. Additionally, for the second straight year SHS will be sending three divers to the NYS high school diving championships.
The number four ranked Raiders Field Hockey team continues to extend their post season with a semi final game against their rivals this Thursday at Mamaroneck who are ranked first. Scarsdale defeated White Plains and Clarkstown South in the first two playoff rounds. During the regular season, their record was 12-4, led by senior captains Julia Jamesley, Lizey Melhman, and Emma Schwartz. According to Sophia Franco, a junior and three year member of the team, "the entire team works really well together and we all support each other. It's what helped us have such a successful season. Our new coaches, Coach Barton and Coach Marty, are amazing. They fit right in and are such positive influences on us".
The Raiders Football team had a more difficult season. Despite being competitive in most games through the first half, the Raiders only managed to capture one win. Chris Saenger, a junior says, " our record is 1-7, but we are much more than what our record shows. We've faced a lot of injuries which have slowed us down week to week, but we've still managed to play well against some of the better teams in the section. Unfortunately we did not make the playoffs, but we have a consolation game at Mahopac on Thursday".
The Boys Soccer team finished the season with a record of 6 wins, 7 losses, and 1 tie. They defeated Fox Lane 2-1 during the first round of playoffs, but were eliminated by Ossining with a loss of 1-0 in the quarter finals. Dylan Cohn, Joao Pedro Demello, and Nicolas (Nico) Bernard were the captains. Captain Dylan Cohn said, "Although we fell short, it was overall a great year. Many kids grew on and off the field and the whole experience was worthwhile and enjoyable. I'm proud of the team and the run we made, and I thank all who made the season as worthwhile as it was."
The Girls' Volleyball team had a very strong season with a record of 12 wins and 4 losses finishing second place in their league. This record, is the same as the 2015 team who won the section. Senior captains, Mary Langford and Rena Li were both part of the 2015 team and are excited to see where the rest of the season takes them. Langford says, "I'm really excited moving into post season, I think we've been putting the work in and we're really determined this year. Im also really proud of how much we've grown as individuals and as one unit since the beginning of the season. We're not the same team we were 2 months ago and I think it's really going to show once we get out there". Girls begin playoffs at home on Friday at 4:30 pm as the number 3 seed against Ketcham, the number 14 seed.
Girls Soccer team Concludes Season with an Overtime Loss to Top Ranked Arlington
At the beginning of the 2018 high school soccer season in August, SHS Girls Varsity A soccer coach Mindy Genovese spoke with the team's players about her expectations for the season. Coming off a successful 2017 with most of the veteran starters returning and three talented players from Development Academy joining the roster, the consensus was that the team had the potential to go far in the Section 1 playoffs in October. Coach Mindy avoided any predictions, however, and said that her expectations were for the players to have fun and grow together into a cohesive group that got the most out of their ability.

Fast forward two months and it's clear that Coach Genovese's expectations were met. After a slow start, the Raiders found their mojo and were undefeated in their last eight regular season games, winning their League championship. The team began its 2018 playoff run as underdogs against John Jay East Fishkill on Sunday, October 21. Playing in cold and blustery conditions with 30 mph winds, the game was tied 0-0 after the first half. But in one sense the Raiders won the half, as they were playing against the wind and managed to maintain possession consistently and keep the game scoreless. The second half was a different story, with Scarsdale taking advantage of the wind at their back and overwhelming John Jay with offensive rush after offensive rush. Ten minutes into the second half, senior forward Nayumi Parente-Ribeiro broke through with a touch down the left sideline and a cut to avoid a John Jay defender, placing the low shot just inside the right post for a 1-0 Scarsdale lead. From there, it was a dominant performance by Scarsdale, with junior forward Olivia Bryant receiving a long, wind-aided punt from goalie Christina Coco that led to a breakaway and a 2-0 Raiders lead. In the waning minutes, sophomore Anastasia Stefanou connected on a shot from 20 yards out, perfectly placing it in the top right corner of the goal beyond the reach of John Jay's goalie for the final score in Scarsdale's 3-0 victory. The win put the Raiders on a collision course in the quarterfinals on Tuesday with the top-ranked team in their Section, Arlington.

Coming into the quarterfinals game, the Admirals had a record of 14-0-1, with a number of lopsided wins against good teams. The 9-6-1 Raiders knew they were facing an undefeated opponent that had beaten them 3-1 early in the season. Nobody, except perhaps the Raiders' players, parents and coaches, gave them a chance. During the first few minutes of the game, Arlington dominated possession in the Raiders' half, but thereafter Scarsdale began to take control, with multiple rushes down the sideline by Parente-Ribeiro, Bryant, Elizabeth Elcik and Kelly Rutherford, resulting in crosses and good scoring opportunities. But the Raiders could not convert and after the first half, the game was deadlocked 0-0, with one excellent Admirals scoring chance having been thwarted on a diving save by senior goalie Christina Coco. As the second half began, there was concern that Arlington's deep bench and frequent substitutions would enable its players to be more fresh than the Raiders, which had a smaller player rotation. As the half wore on, Arlington was successful in keeping most of the play in Scarsdale's half. Senior mid-fielder Allison Stafford ran her usual in-game track meet, alternating between offensive rushes and defensive positioning up and down the field, winning 50-50 balls and marking the Admirals' leading scorer. While the Admirals had the majority of the second half scoring opportunities, in each case Scarsdale's defense, led by sophomore Tory Von Redden, was up to the task. Coco played throughout with confidence, frequently coming out of the goal mouth to cover the ball and thwarting the Admirals' rushes. Scarsdale had minimal scoring opportunities in the second half, failing to convert on a couple of corner kicks late in the game. Regulation play ended with the score 0-0 and the teams headed to overtime. Under NYSPHSAA rules, after a tie in regulation the teams play two ten minute overtime periods. Five minutes into the first overtime period, the Admirals scored off a header in front of the Raiders' goal. Undaunted, the Raiders immediately went on the attack, and when senior outside back Paige Barlow gathered the ball on the run in Arlington's half past midfield and hit senior forward Riley Edlitz with a perfect pass in the middle of the box, Edlitz turned and was one-on-one with the Admirals' goalie. She got off a hard shot but the goalie was up to the task and made a diving save to her right, deflecting the ball just outside the goal. From there, the Raiders stayed on the attack but were unable to muster any more serious scoring chances and, with the conclusion of the second ten minute overtime period, the horn sounded and the Admirals and their fans enthusiastically celebrated their narrow, hard fought victory.

Tuesday's Arlington game, even though it ended in defeat, was one of the best SHS Girls Varsity A soccer performances in memory. Credit goes to Coach Genovese and her assistant coach, Kiera Fox, for the team's improved play throughout the season and the closeness and purposefulness of the entire roster, from starters to reserves. While the Raiders did not achieve their ultimate goal of winning their first Section 1 championship since 2000, it was by most accounts a highly successful season for the team and one that the returning players can be expected to use as a springboard to 2019.
Photo Opps from Fountain Six, LWVS, a Congressional Candidate and a Bake Sale
Details

Written by

Joanne Wallenstein

Hits: 1940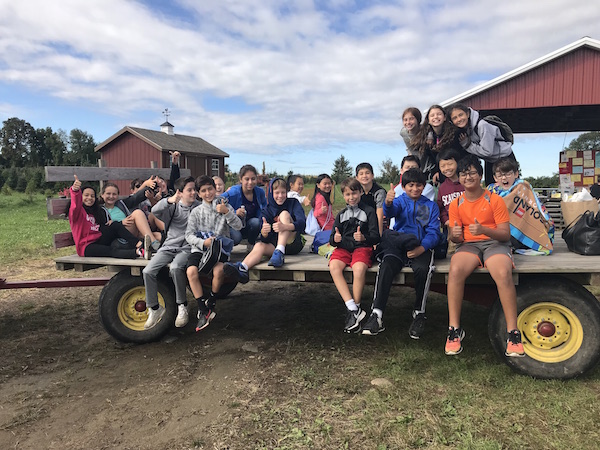 Fountain Six kids at Wilkens OrchardThe students of Fountain Six at Scarsdale Middle School took a trip to Wilkens Orchard in Yorktown on Friday October 5 for a day of team building to launch the house's new core advisory initiative. Kids picked apples, decorated pumpkins, got lost in the corn maze, and were treated to apple cider and donuts. Lots of fun!
Photo from Lisa Bryan and the Fountain team.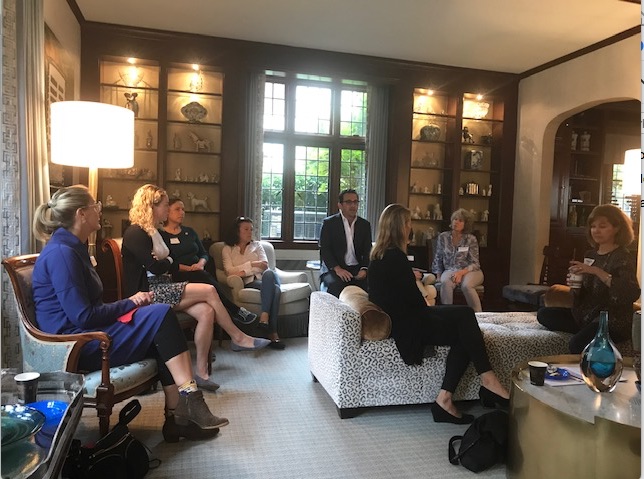 Village Trustee Justin Arest at the LWVS Membership CoffeeThe League of Women Voters of Scarsdale held their annual membership coffee at the home of Janice Starr on Tuesday October 9. Members of the league and prospective members shared information on the work of the league and heard comments from Village Trustee Justin Arest. The League will welcome Pulitzer Prize winning journalist Linda Greenhouse to their food for thought Luncheon on Thursday November 1 at Scarsdale Golf Club. Greenhouse will speak about the Supreme Court and the recent nomination of Brett Kavanaugh. The public is invited. Click here for tickets: www.lwvs.org/Events.html.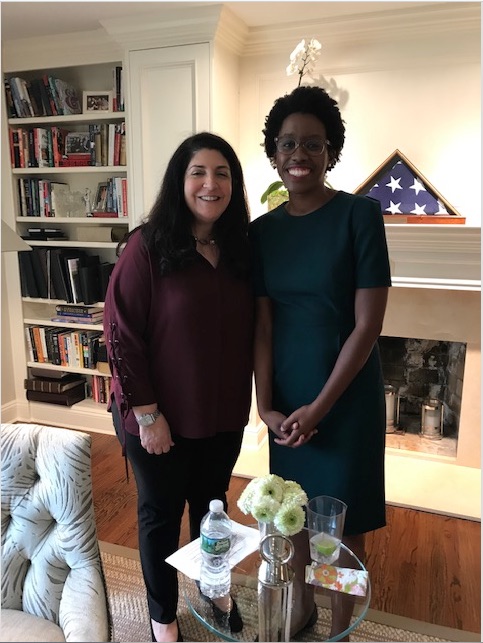 Suzanne Seiden and Lauren UnderwoodCongressional Candidate for the 14th district in eastern Illinois Lauren Underwood greeted supporters at the home of Suzanne Seiden on Wednesday October 10. Underwood, a 32 year-old nurse from Naperville, IL won the 2018 Democratic primary with 57% of the vote, earning more votes than all six f her primary opponents combined. She served as a senior advisor in the US Department of Health and Human Services under President Obama and was inspired to run to help her constituents get the healthcare they need. Her opponent, Randy Hultgren is self-proclaimed Tea Party Conservative who voted with President Trump 95% of the time.
Pro-active, optimistic and smart, Underwood raised $2 million in the third quarter and is still fundraising to pay for her media campaign. Learn more and contribute at UnderwoodforCongress.com.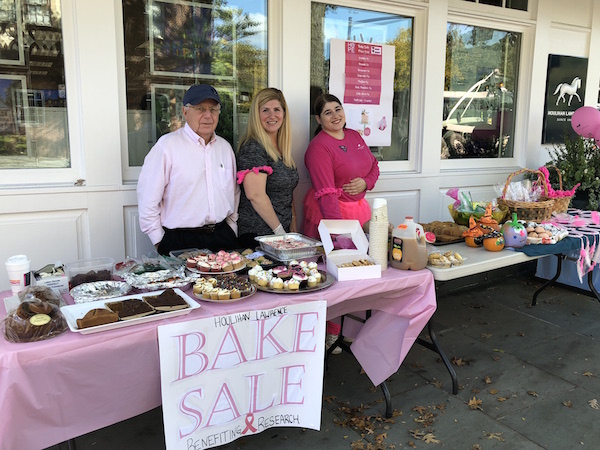 The office of Houlihan Lawrence in Scarsdale held a bake on Wednesday October 10 to benefit the American Breast Cancer Society.