Praise for Retiring Mayor Dan Hochvert and Village Trustees Matt Callaghan and Carl Finger
Details

Written by

Joanne Wallenstein

Hits: 3272
Mayor Dan Hochvert and Village Manager Steve PappalardiMarch 26 marked the final meeting of the Scarsdale Board of Trustees before the new Mayor and newly elected trustees are sworn into office on Monday April 1. Mayor Dan Hochvert presided as trustees toasted him and Trustees Carl Finger and Matt Callaghan who have completed four years of service on the Board, as well as the Village staff with whom they have worked closely.
Matt Callaghan was given the mic first and chose to address his fellow trustees and the staff from the floor of Village Hall. He thanked "the ladies who run Village Hall" along with Dara Gruenberg and ML Perlman for "saving the non-partisan system." He seemed to regret his decision to vote against the funding for the new library saying, "I made a misstep a few years ago – I made the wrong move," and advised the incoming board to "listen to your hearts." Callaghan waxed poetic, quoting Thoreau and remembering his friend Howie Nadel who passed away in December and also recalled the 125th anniversary of Fire Company Number 1. He offered a prayer to the next Village Board, saying, "God grant them the grace to fulfill their responsibilities as a steward of the public good."
Turning to Callaghan, Trustee Jane Veron thanked him for his service, great stories, quick wit and decisive votes. She said, "There has never been a fire commissioner like you," and continued, "You comport yourself with grace and gentility, no matter what the circumstance."
Trustee Justin Arest called Callaghan "dapper," and said the County was lucky that Callaghan would now serve on their advisory board on seniors. Lena Crandall said Callaghan was, "An independent voice on the Board of Trustees," and Trustee Seth Ross said Callaghan was, "Vigorous with an independent approach to deliberation," saying, "Even when I don't agree, I have a more comprehensive understanding after you speak."
Turning to Carl Finger, Veron said, you have an "unassuming earnestness … and a fundamental desire to do what is right…. We will miss your good counsel on our board." Arest added, "Carl, being new can prove frustrating. I appreciate your efforts to make sure I was heard. You agreed to help me with the bills the first time. I always appreciated our conversations." Noting Finger's nomination to service on the School Board, Arest said, "The schools will be lucky to have you." Crandall told Finger, "You protected our trees and protected our streets from e-cigarettes and guns. From you, I learned about how to get things done." Ross added,
"You have a lot to contribute. You have lived here your whole life. I look forward to you continuing to be an active and involved member of the community."
Addressing Mayor Dan Hochvert, Veron said, "Two years have flown by and I am proud with what we have accomplished under your leadership. You roll up your sleeves and get things done ….. No fuss no muss – impact without fanfare… You have been a great partner to me – on communications, roads, food scraps, cable, the list goes on… You welcomed new ideas. I admire your countenance. You govern with an even keel. When asked ,you are always splendid. You will be sorely missed."
Justin Arest said, "Don't underestimate Dan Hochvert…. He is in better shape than I am.
Matt Callaghan receives a plaque from Village Manager Steve Pappalardi We became a very good team." Lena Crandall thanked the Mayor for helping her to "make the transition from volunteer to board member." She said, he has "shown me how to work as a member of a team." Ross said, "Mayor – you take an expansive view of the job… You know and speak to everyone…you remember to meet the needs of those you serve. It is a great comfort to know you will still be here."
Trustee Carl Finger saved the best for last. He said, "Most people don't understand the bond we share – having spent so much time together. I have great affection for all of you and the past board members with whom I served."
With that he read the following poem:
Citizens of Scarsdale, our Village in the Park
My last board meeting, so please do hark
I invite you to hear about your trustees
As well as the staff that always aims to please
Here is the tale of a government so fine
The last four years have been a fabulous time
This year we were joined by Arest and Crandall
Ready they were to take the mantle
From Pekarek and Samwick they sat in stead
Working hard, learning the ropes, and getting ahead
Justin quickly brought to the board his own view
Adding process to our decision making stew
He studied and learned of the village code
Justin keeps us all on a very straight road (without potholes)
Lena started off with verve and with ease
Always of course preserving our trees
She asks important questions and views
And keeps us up on the sustainability news
Continuing on were Callaghan, Veron and Ross
Carl Finger receives thanks from Village Manager Steve Pappalardi
Never a word from them would be cross
Matt has been the fire commissioner
Always the anti vote positioner
His independence was most respected
And was most certainly why he was re-elected
More can be said of our trustee Seth
His comments often a fresh air breath
Seth's quite reserved its fair to say
But when he speaks, better listen or be prepared to pay
His analysis and comments always quite wise
Logic prevails, he finds no need to dramatize
Jane is third in the line of succession
She works hard and speaks clearly without digression
Jane wanted a board that would communicate
She suggested a committee to set us straight
Websites, newsletters, instructional videos to exhort
Every meeting Jane offered a comprehensive report
Of her comings and goings we heard great detail
A report so lengthy it could not fit in the mail
That brings me now to the current Mayor you see
Who led us all with humor splendidly
He took the reins of the board as our newest steward
He stood firm and didn't allow us be skewered
He carefully quietly listened and always heard
Dan could change minds and hearts with one word
He let us all stretch out and explore
Our interests and goals he would never ignore
I can't say enough about his first rate function
Suffice to say I have no compunction
Mayor Dan has my greatest appreciation
For service well done and much approbation
That takes me now to those who make our work possible
Though they often labor without name, they are cognoscible
It's hard to know quite where to start
To remember them all I'd have to be really smart
Safety in Scarsdale is number one
Chiefs Matturo and Seymour cannot be outdone
No longer a long term renowned employee
I'd be remiss not mention Salanitro Benny
His knowledge of all matters snow, trash, and compostable
Made most first rate because he was always approachable
Paul Zaichek is a wiz with buildings and plans
In planning buildings not a thing is missed, not even the fans
Liz Marrinan our planner knows the village codes and lots
Her advice on point and correct and quite often sought
Frank Diodioti has taken over the building department with zeal
The information he provides is always even keel
Our Court Clerk April is always so kind
Ever present a smile that will help you unwind
Donna Conkling our Village Clerk is as organized as one could hope
She manages personnel, committees, councils as well as the pope
Mary Lou McLure manages our money with care and finesse and details aplenty
She always has the numbers at hand and if you ask nicely she'll lend you a twenty
Assistant to the Village Manager is Josh Ringel
His expertise on parking, traffic and safety, permit fees and the like explain why he's no longer single
Assistant Manager Ingrid Richards appeared on the scene
Just in time for meter, trees, and other legislation she presented with sheen
Robert Cole also arrived with a great flair
He's done amazing work despite not having hair
Rob's work I must say is always first rate
Newsletters, spreadsheets, analysis, and never ever late
Our Village Attorney Angela Martin a fine legal mind
Supported my efforts and wrote legislation really quite fine
That brings me to Steve, Pappalardo I mean,
Who runs a Village with much great esteem
From our friend Winston who closes up Village Hall each night
To the many employees who toil out of sight
It's hard to imagine a business run so well by so few
But I am here to tell you it is definitely true
Steve takes copious notes at every committee, council, or board meeting
He records all the words and ideas without eating
But that's not all that Steve does every day
He reviews those notes while hidden away
Then returns to us with a memo and plan to weigh
It's truly apparent to those close enough to hear
That Steve is force of excellence for the Village year after year
So as I bring my comments to a close
I realize that names I've omitted nobody knows
But at least for me I'd like staff to hear
They keep our village running and that much is clear
I will never forget the contributions you make
And will tout your accomplishments for Scarsdale's sake
Police, Fire, Public Works, Buildings, Courts, Planning, Treasurers, Assessors, and so many more
All I can say is thank you so much, as I head for the door.
For his final words, Mayor Dan Hochvert said, "It's been a great reward to work with this board, the Village staff and all the Village volunteers who work together to make this a fine place to live. Without all that work Scarsdale would not be as fine a place to live."
Many from the community also came out to thank the departing trustees and Mayor.
Andrew Sereysky delivered proclamation for distinguished service to Mayor Hochvert and Carl Finger and declared them honorary members of the Greenacres community.'
Former Mayor Jon Mark thanked Mayor Hochvert, Matt Callaghan and Carl Finger for their volunteer service. He said, "Your time and effort are an essential component to village affairs… Each of you has contributed greatly."
Lynne Clark addressed Dan Hochvert, saying, "I am here to thank a man who has given his heart and soul full time to make Scarsdale a better place. She said, Hochvert was "Present at every Scarsdale event," and said, "If something needed to be done and he could do it – he did it!"
Diane Greenwald tested our Latin when speaking on behalf of the Library Board of Trustees. She thanked all three for remarkable service to Scarsdale," and said they acted "with decorum and integrity." For their support for the library, she said, "We are forever grateful, "Semper gratiam habere," and advised them to "Carpe librium" (seize the book.)
Addressing the Mayor, Co-President of the League of Women Voters Janice Starr said, "Your passion comes through in so many ways. You reached out to many segments of the population. Your commitment to sustainability and historic preservation showcases your love of all things Scarsdale."
To Matt Callaghan she, said, "You are the man in uniform. You are the liaison with seniors. You represent those who are not always heard. You are funny and kind."
Starr called Carl Finger, "An intelligent skilled trustee" who "made our work easier."
And finally, Carl Finger's two daughters, who had sat patiently in the audience, came to the podium to thank their dad, "Trustee Finger."
Watch the meeting online here.
The new Mayor Marc Samwick along with trustees Jonathan Lewis, Seth Ross and Rochelle Waldman will be sworn in at 12 noon at Village Hall on Monday April 1, 2019.
Maroon and White Celebrates Winter Athletes
Details

Written by

Emmeline Berridge

Hits: 3769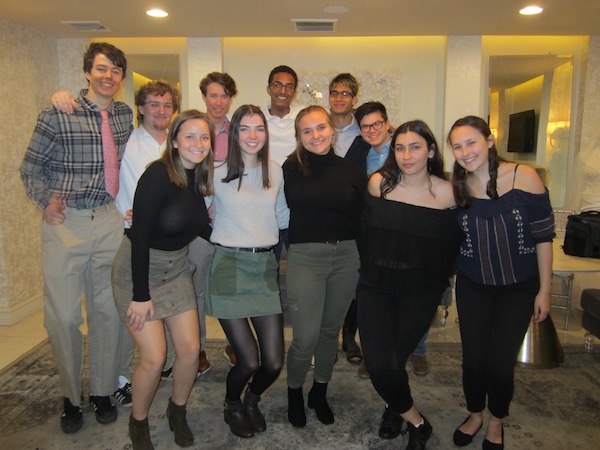 Skiers: (left to right): top, John Lloyd, Frederick Lowey, Jared Blinken, Derek Von Redden, Spencer Mann, Harry Liu bottom, Jaeda Dean, Connie Ferragu, Josephine Lacoudre, Sofia Vittori, Jackie NewmanThe annual Maroon and White sports awards winter dinner, which celebrates Scarsdale High School's winter sports athletes, was held last week at Lake Isle country club. The dinner is an incredible opportunity to honor Scarsdale's dedicated athletes and promote raider pride. 193 of the winter athletes were New York State Scholar Athletes, and there were a multitude of All-Section and All-League selections.
Ski: The ski team had a successful 2018-19 season, with 3 state qualifiers in seniors Jared Blinken, John Lloyd, and Connie Ferragu. All 3 also made it to the Eastern championships. Harry Liu was alternate. The team will surely miss this strong group of seniors, who represented the Scarsdale ski program well on the Section 1 and New York State slopes.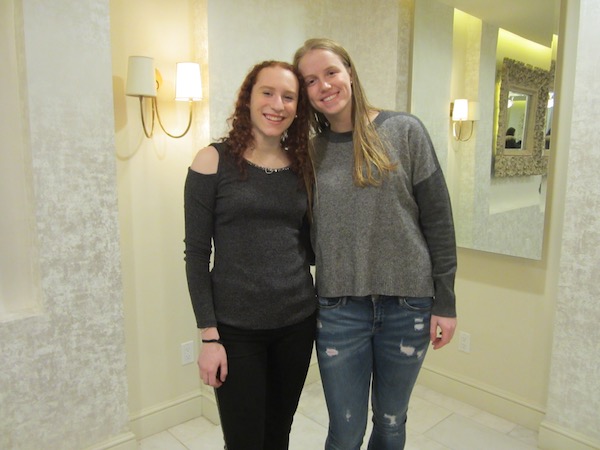 Girls Basketball (left to right) Nina Metviner, Emmeline BerridgeGirls Basketball: The girl's basketball team had a notable season, with a 10-10 record, including tough last second losses against league rivals Mt. Vernon and White Plains. Senior Nina Metviner noted that the highlight of the team's season was their scavenger hunt around Scarsdale during December break. Metviner also mentioned "what was so special about this team was the incredible deep friendships formed among our teammates, from trampoline parks to scavenger hunts around scarsdale to creepy trips to buckout road." Only graduating two seniors, and returning 7 underclassmen, raiders girls basketball will build off of the bonds formed this year to propel them to a successful 2019-2020 season.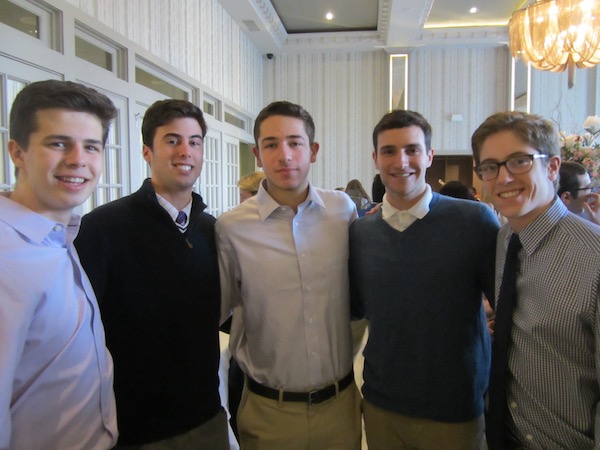 Boys Basketball (left to right) Connor McCarthy, Samuel Thompson, Cole Kattan, Eitan Altman, Joey Lane (not pictured: Evan Huo) Boys Basketball: Coming into the season with a new coach, the boys basketball team relied on their seniors to assume a crucial leadership role. The group didn't just accept this position-- they thrived in it. Going 8-0 to start the season, with an ultimate 14-8 record, the team showed that they were a force to be reckoned with in Section 1. Boys basketball galvanized support from a large fan base this season, an occurrence rare for the usually limited Scarsdale crowd. The team will miss the leadership and skill that came from their senior class, including All-Section and All-Conference player Cole Kattan.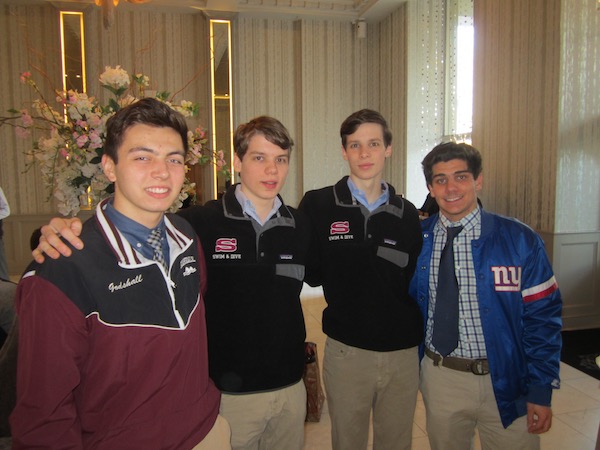 Boys Swimming (left to right), Peter Godshall, Riley Haffner, Jackson Haffner, Alex Eforo (not pictured: Alec Greenwald, Michael Disanto)
Boys Swimming: With a significant number of seniors to encourage team unity and morale, the boys swim team had a successful season. Senior Michael Disanto noted that "although our record may not show it we had a lot of strong swims, which can be credited to hard work and strong team morale." This morale can be seen in Disanto's highlight of the season, which was when an Eastchester swimmer was struggling with the 500 free--- an extremely arduous event-- and the entire Scarsdale team rallied behind him to cheer him on. This sense of spirit and camaraderie established by the seniors will carry on for years to come.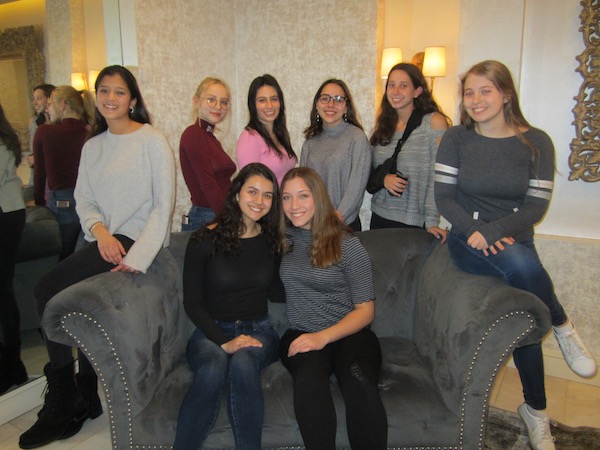 Girls Gymnastics (Clockwise from top) , Anaya Barmecha, Zarina Karimova, Aubrey Weinstein, Mariana Viera, Kylie Shelon, Lily Batt, Sylvia Bayrakdarian, Sara Frankenthaler
Girls Gymnastics: With the largest Senior class in the history of the gymnastics program, the gymnastics program capitalized on their growing team. The team sent multiple gymnasts to divisionals and sectionals. Senior Aubrey Weinstein said her favorite memories from the season were the karaoke sessions on bus rides to and from the gym, displaying the close knit nature of the team. She also noted that although gymnastics is a conventionally individual sport, she was impressed by the camaraderie shown in the sportsmanship between her teammates.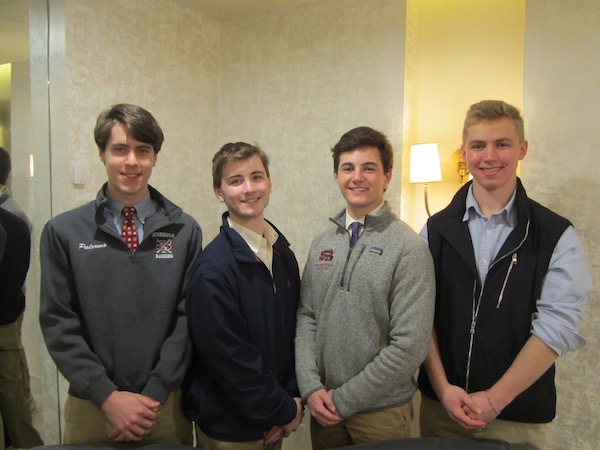 Boys Hockey (left to right), Michael Palermo, Ryan Collins, Ben Schwartz, Jack Brosgol Boys Ice Hockey: Although the boys ice hockey team was made up of a large number of sophomores, the Senior class shined in their leadership on and off the ice. Captains Jack Brosgol and Ben Schwartz, both impact players on the team, lead the raiders to a #3 seed into the section going into the playoffs. While the team had to overcome adversity with many injuries throughout the season, including multiple injuries for Senior standout Ryan Collins, they were able to come together and compete with the best teams in the section.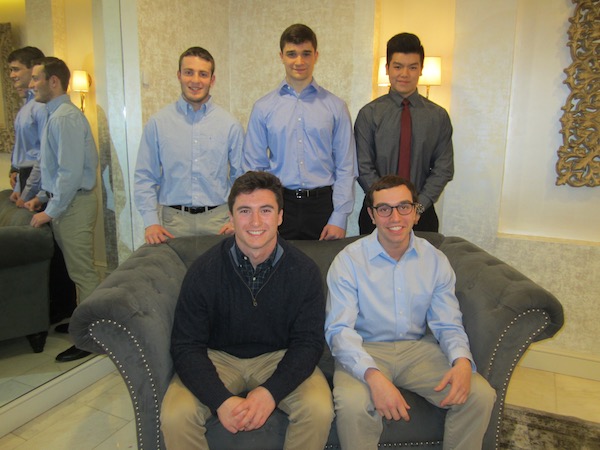 Wrestling (clockwise from top), George Koevary, John Ceske, Alex Kwok, Josh Porter, Michael Marom
Boys Wrestling: In Coach Jeremy Szerlip's first year as head coach for the wrestling team, the raiders had a successful season. Not only did they have two wrestlers win All-Section honors, but the team was able to develop an increased appreciation for the dedication and hardwork that comes with the sport. Senior Josh Porter noted that Coach Szerlip's "amazing approach to the sport and unparalleled wisdom and experience" allowed the team to reach their full potentials. The highlight of Porter's season was the team's trip to Garden City for the second tournament of the year, as the team "had to learn to lean on each other because [they] were facing some of the best teams in Long Island." The senior class' dedication to the various aspects of the sport, including making certain weight classes, will surely translate into a strong wrestling program for years to come.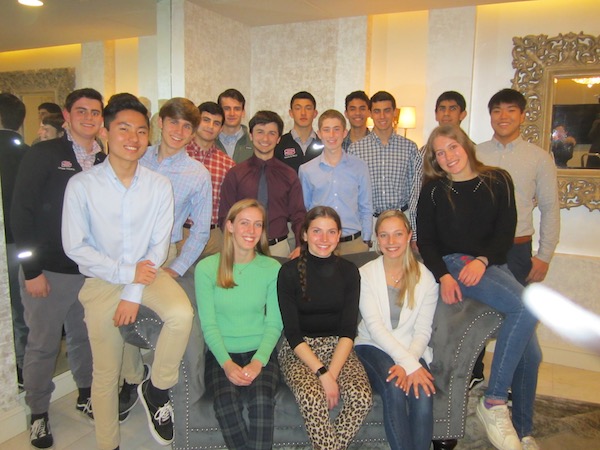 Track (clockwise from top), Alex Mayer, Bruno Tassari, Jonah Oxman, Eric Jacobson, Nico Cavaluzzi, Nick Bernard, Zach Hoexter, Omar Van Eer, Andrew Levy, Harris Jamil, Kodai Morikuni, Alex Wilson, Sierra Donovan, Aliza Mehlman, Brooke Bensche, Kazuki KatohTrack: The winter track team is filled with talented athletes. The senior class includes Amherst bound track star Sierra Donovan, Stanford Lacrosse bound Aliza Mehlman, MIT Track and Field bound Brooke Bensche, whose championship seasons were all cut short with various injuries. On the boys side, the team notched several milestones, including the 4X800 relay of Eric Jacobson, Ward Bandsma, Nick Bernard, and DJ Matusz, who broke a 41 year old Scarsdale record and placed 7th at Nationals, and a 12th place nationals finish in the 400 meter for Nick Bernard.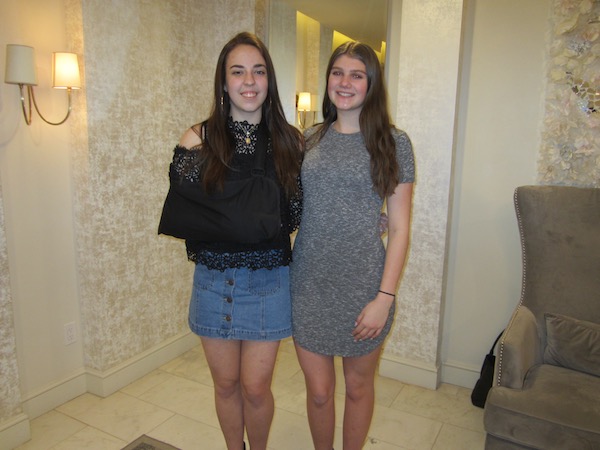 Cheerleaders, Casidy Donahue, Renata Pratt Cheerleading: The cheerleading team will lose two vocal leaders of the team in Casidy Donahue and Renata Pratt. The seniors noted that the highlight of their season was the team's trip to Disney for Nationals, where the team made it to semi finals for the second year in a row.
Candidate for Trustee Rochelle Waldman Brings a Fresh Perspective and an Open Mind to Village Hall
Details

Written by

Joanne Wallenstein

Hits: 3345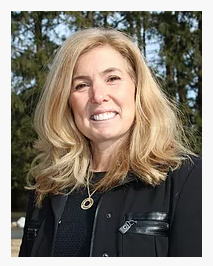 Dr. Rochelle Waldman has been nominated to serve as a Scarsdale Village Trustee by the Citizens' Nominating Committee. The Village Election will take place Tuesday, March 19, 2019 at Village Hall, 1001 Post Road, from 6:00 am to 9:00 pm. In order to learn more about her, we posed some questions and here is what she shared:
How long have you lived in Scarsdale and what do you like about living here?
I have lived in Scarsdale for 20 years with my husband Josh and our three children, Sydney, Jessica and Corey. Throughout our years here, we have benefitted so much from what this special community has to offer. When our children were younger, we spent countless summer days at the Scarsdale Pool where our children learned to swim. Youth sports were a tremendous part of our family including softball, soccer, basketball, volleyball, and hockey. For many years my husband played in the men's softball league, and I was a member of and captain of the Scarsdale women's tennis team.
In addition to the outstanding and diverse activities of the village, we found the school system to be truly beyond compare. Our children went to Quaker Ridge Elementary School, Scarsdale Middle School, and graduated from Scarsdale High School.
Perhaps what I most like about living in Scarsdale is the overwhelming sense of community. I have seen time and again our neighbors come together for someone in need without a moment's hesitation and with no questions asked. The proverb that "it takes a village to raise a child" is certainly true – I feel that my own children have been lucky to grow up in such a place. I am so grateful for the support and opportunity my family has received throughout the years that I have always felt inspired and driven to give back, both in the various volunteer roles I've held throughout the years and now in putting myself forward as a candidate for public service.
Tell us about your professional and volunteer experience and why it led you to apply to serve as Village Trustee?
Professionally, I am a physician and currently work part-time in the field of Sleep Medicine at White Plains Hospital and New York Eye and Ear Infirmary. But even with the demands of my professional career, I have always found the time to volunteer for my community and the causes I believe in.
I served on the Scarsdale Village Advisory Council on Parks and Recreation for 8 years. As a board, we always strove to listen to community members while balancing competing views to enable maximum participation and inclusion for all Scarsdale youths wishing to participate in team sports. It was a tremendous opportunity for me to learn firsthand the diverse perspectives in our community, and to do my best to bring people together around a common purpose.
I served as Treasurer for the Scarsdale Drug and Alcohol Task Force—a community action group dedicated to reducing the underage use of alcohol and illegal drugs in our community. We worked alongside and sought opinions and expertise from parents, teachers, school administrators, mental health professionals, village officials, and community clergy.
Throughout the years my kids were in the school system, I participated in and chaired many PTA activities. I also served on the Quaker Ridge PTA and PT Council Nominating Committees.
In addition to my involvement in Scarsdale, I am also committed and dedicated to a cause very close to my heart - JDRF (Juvenile Diabetes Research Foundation). I serve as a board member for the Westchester/Fairfield/ Hudson Valley Chapter. I have been the Advocacy Team Chair for 3 years and was privileged to travel to Washington DC to meet with members of Congress to raise awareness for Type 1 Diabetes and to advocate for more federal support. Additionally, I have envisioned, created, implemented and participated in numerous fundraising events on behalf of JDRF.
Finally, so many in Scarsdale have a strong and vibrant interest in UJA (United Jewish Appeal), and I count myself among them. I have served the Scarsdale UJA community as an Area Chair and Divisional Chair, and currently sit on the Scarsdale UJA Board where I co-chair the "Freebird" initiative.
For over 15 years through my participation with UJA, I grew as a person and volunteer by rolling up my sleeves and getting my hands dirty. I am confident that my hands-on approach would be beneficial to collaborating with other members of the Village Board of Trustees, Village staff, Boards and Councils, community organizations, and with all residents.
What do you hope to accomplish as Village Trustee?
If I should be fortunate enough to serve as a Village Trustee, I will be entering Rutherford Hall with an open mind and a fresh perspective. As a result, I look forward to directly speaking with members of the community who I may not already know, relying on their concerns and their ideas to guide me, and to be both a sounding board for any residents who wishes to address any issues, as well as an advocate for their perspectives. I have always been impressed with the intelligence, expertise, and original ideas of our residents, as well as their generous spirit, and I would hope to encourage more direct civic engagement and volunteerism the way that I have always been encouraged by others. We live in a fantastic community and I am grateful for having been able to raise our family here. I hope my time as a Trustee will set Scarsdale on a path to ensure that our village will continue to be the best community it can be, and that current and future families will be able to experience all that Scarsdale has to offer.
What is your view on the proposed amendments to our tree laws?
The current Village Board has spent a long time trying to strike a balance between the need to protect the environment and the rich tree canopy that gives Scarsdale its unique character, and the prerogatives of residents to control the number and size of trees on their property. There's more than altruism in the environmental imperative for the recent changes to the tree code. Trees lower ambient temperatures by providing shade and mediate flooding from stormwater runoff. Given the increase in average temperatures in our summers over the past two decades and the increased incidents of severe storms hitting us, especially the uptick in so-called "50-year floods," it's in our self-interest to support trees for their natural defenses.
As I understand it, an estimate based on data collected is that the new tree replacement rules would affect only a small percentage of homeowners, and the real curb will be on some developers who have been responsible for removing a large number of trees, including large mature trees, through clear-cutting.

If I'm fortunate enough to serve as a Trustee, I plan to look very closely at the effectiveness, practical application, and fairness of the code revisions as it gets implemented. As I know from my time on the PRC, even the best of intentions do not always end in perfect results for our residents. There's always the possibility of unintended consequences or uneven application, which obligates us to perform strong oversight. Doing that oversight in a public way will also be an opportunity to share what we will learn with the whole community.
What are your views on the Con Edison moratorium? How do you think it will affect development in Scarsdale? Does the Village have any power to negotiate?
The natural gas moratorium proposed by Con Edison for Westchester County was a surprise and a shock for both residents and developers. It's important for existing gas customers to know that Con Ed has reassured state and local officials that existing customers will not see any changes to their service, and that the moratorium only applies to requests for new service after March 15. It remains to be seen what, if anything, the NY Public Service Commission, which regulates Con Ed, is willing to do to postpone or mitigate the effects of the moratorium.
The Village may not have a lot of power to challenge the decisions of the state or of Con Ed, and even less influence on the underlying math of supply and demand for gas, for heating and cooking, that prompted this moratorium. I think we should all recognize this news as a wake-up call. Given the lack of desire at the state and federal level for building new pipelines, this moratorium looks more like the beginning of a trend than a one-off. We should plan accordingly.
Although the New York State Energy Research and Development Authority (NYSERDA) has a number of different incentives and programs to increase the use of other sources of heating like geothermal and electric, many developers or homeowners looking to renovate or rebuild their homes may not be aware of them. We should look at all the ways that the Village and its departments can promote the adoption of these newer technologies as appropriate (and renewable sources of electricity while we're at it). Finally, we should factor in these questions about reliable sources of energy when we look at the potential redevelopment of the Freightway site.
Remember to vote in the Village Election The Village Election on Tuesday, March 19, 2019 at Village Hall, 1001 Post Road, from 6:00 am to 9:00 pm.
I Want to Give Back to This Wonderful Community
Details

Written by

Joanne Wallenstein

Hits: 2775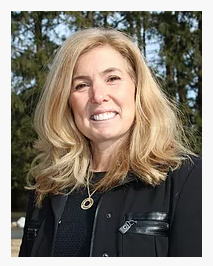 This letter was sent to Scarsdale10583 by Rochelle Waldman, candidate for Village Trustee.
My husband Josh and I have lived in Scarsdale for almost 20 years. We have raised our three children here and have participated in so many of the activities that Scarsdale offers. My entire family has been very active in all aspects of Scarsdale life – from endless summer days at the Scarsdale Pool, to sports (including the women's tennis team and men's softball league), to the Quaker Ridge PTA, to being involved in our synagogue, to the special events that bring our community together.

We know firsthand what a dynamic and unique place Scarsdale is to live and raise a family. At this point in my life, I want to devote my time to giving back what Scarsdale has given to us. In that spirit, I put myself forward as a candidate for the Village Board of Trustees, and I hope to earn your vote on Tuesday, March 19.

My career was in academic medicine at Mt. Sinai Medical Center in New York City, where I was an Associate Professor of Medicine after completing my residency in Internal Medicine and fellowship in Pulmonary, Critical Care and Sleep Medicine.

I have served Scarsdale as a volunteer in a number of roles throughout the years.

I served on the Scarsdale Village Advisory Council on Parks and Recreation for 8 years, and that helped me learn firsthand the diverse perspectives of our community. As a board we strived to listen to community members while balancing competing views to enable maximum participation and inclusion for all Scarsdale youths wishing to participate in team sports.

I served as Treasurer for the Scarsdale Drug and Alcohol Task Force – a community action group dedicated to reducing the underage use of alcohol and illegal drugs in our community. We worked alongside and sought opinions and expertise from parents, teachers, school administrators, mental health professionals, village officials and community clergy.

Like so many others, I was heavily involved in the PTA while my children attended Quaker Ridge Elementary School, Scarsdale Middle School and Scarsdale High School. I kept active by serving pizza, shelving books, working on "Learning to Look," staffing SMS clothing sales, and many other PTA activities. I also served on the Quaker Ridge PTA and PT Council Nominating committees.
In addition to my involvement in our community, I am also very committed and dedicated to a cause very close to my heart - JDRF (Juvenile Diabetes Research Foundation).
I serve as a board member for the Westchester/Fairfield/ Hudson Valley Chapter. I have been the Advocacy Team Chair for 3 years. In that capacity, I was privileged to travel to Washington DC to meet with Senators and members of Congress to raise awareness for Type 1 Diabetes and advocate for federal support. This unique experience has given me an insight to the complexities of government, and the importance of policy making. Locally, on behalf of JDRF I have coordinated and participated in numerous fundraising events. And I must say, my proudest accomplishment was completing two, 100-mile bike rides while raising over $60,000.
I have a strong and vibrant interest in UJA (United Jewish Appeal), where I have represented and led as a Scarsdale area chair and divisional chair. Throughout my 15 years of participation with UJA, I've grown as a person and volunteer by rolling up my sleeves and getting involved. Just recently, the same week I presented before the Citizens Nominating Committee, I had also been busy painting and updating a boys' residential treatment facility under the auspices of the UJA.
I am so grateful for the support and opportunity my family has received throughout the years that I've been inspired to give back, both in the various volunteer roles I've held and now in putting myself forward as a candidate for public service. I've seen time and again how this wonderful community comes together in good times and bad, and I know I can help us work through the challenges to come.
SHS Senior Teckhua Chiang Selected as Candidate for the US Presidential Scholars Program
Details

Written by

Joanne Wallenstein

Hits: 7825
SHS Senior Teckhua ChiangSHS senior Teckhua Chiang has been named one of 4,500 candidates in the 2019 US Presidential Scholars Program. His name was selected from nearly 3.6 million students expected to graduate in 2019. Scholars are selected on the basis of academic and artistic achievements, leadership qualities, character and involvement in community and school activities.
Each year over 4,500 candidates are identified for the component of the program that focuses on academic achievement and based on having scored exceptionally well on the SAT or the ACT. From this group of 4,500, 161 students will be named US Presidential Scholars and invited to Washington DC to receive their medallions during a White House sponsored ceremony.
We asked Teckhua Chiang a few questions and here is what he shared:
How did you apply for this award? What was involved?
I did not have to apply to become a candidate for the U.S. Presidential Scholars Program. I was selected based on my high SAT score and other factors by the U.S. Department of Education. The full list of criteria can be found on this webpage. I am currently in the process of applying to become a semifinalist, and eventually, a U.S. Presidential Scholar.
What do you enjoy most at Scarsdale High School?
My favorite part of Scarsdale High School is being a part of Scarsdale Robotics, my high school's robotics team. Over the last four years, I have developed Scarsdale Robotics from a forgotten club into a dynamic team of engineers, designers, and programmers. When I first rebuilt Scarsdale Robotics, many of my teammates didn't have much experience with robotics. However, with our continued passion and dedication, we gradually developed into incredible roboticists. I will never forget their ear-shattering cheers when we learned that Scarsdale Robotics had successfully qualified for the Hudson Valley Regional Championship. As the captain, I am proud to help inspire my peers with the wonders of robotics. I also direct Scarsdale Robotics to participate in community service outreach events such as HEXPO, STEAM Day, and the Spring Carnival, as well as raise funds through business sponsorships. Scarsdale Robotics is incredibly meaningful to me because I am able to develop my leadership skills, build a diverse team, and help others unlock their love for robotics.
What are your plans for next year?
I plan to study computer science in college. I hope to continue involving myself in a competitive robotics team. I also wish to continue my passion for researching autonomous vehicles, machine learning, and artificial intelligence.