Author Brian Brown to Read, "Someone is Out to Get Us: A Not So Brief History of Cold War Paranoia and Madness"
Details

Written by

Joanne Wallenstein

Hits: 2337
Scarsdale resident, journalist, writer and director Brian T. Brown has just published a new book about the Cold War, Soviet espionage and covert mischief, and how these helped shape the course of American pop culture. The 512-page book, "Someone is Out to Get Us: A Not So Brief History of Cold War Paranoia and Madness" is published by Twelve Books and also available on Hachette Audio. Brown wrote and produced twelve Olympic broadcasts and has worked on some of America's most-watched television shows. We last checked in with Brown when his documentary The Last Gold came out in 2016.
This week we caught up with him to discuss life in Scarsdale, the publication of his new book and a reading scheduled at Bronx River Books in Scarsdale on Wednesday November 6 from 6:30- 8 pm, and here is what he shared:
I assume you still live in Scarsdale. How long have you lived here? Tell us what you like about living here.
Yes, still live in Scarsdale … Moved here in 1999, with my wife, Maryellen, and then toddlers Marisa and Luke. In their early education, both kids benefited from wonderful teachers at Hitchcock Nursery School and Greenacres Elementary … Coming back from trips, I almost always notice – and appreciate – the multitude of magnificent trees in Scarsdale and the care and understated elegance so many homeowners devote to their gardening and landscaping. We are very lucky to have a world class botanist on our block, Phyllis Finkelstein, who is a genius of all things flora. I also enjoy taking long walks on the Bronx River Pathway while listening to my favorite "deep house" artist, Nora En Pure.
What inspired this book about the Cold War and paranoia?
In the spring of 2016, my book agent, Bob Mecoy, sent me an e-mail asking if I wanted to tackle the subject of Cold War paranoia. As Bob explained, the publisher of Twelve Books, Sean Desmond, was interested in having someone dive into the topic. In retrospect, Mr. Desmond was clearly clairvoyant. A return to the Cold War was about to become additionally resonant, though in the spring of 2016, the writing wasn't yet on the wall for most of us. The dark anxiety of Cold War 2.0 had yet to descend. Hillary Clinton was the presumptive next president and Donald Trump was unapologetically using his short-staffed campaign to get the most amount of attention for the least amount of his own money. Only months later, and subsequent to Trump's shocking victory, did our national security establishment seriously wonder if the forty-fifth president of the United States was a wholly owned subsidiary of the Kremlin, and, in particular, beholden to the ex‑communist spy who judges the collapse of the USSR as the greatest tragedy of the twentieth
century.
What parallels do you see today?
Here are a few:
The Red Scare and McCarthyism was a case of Cold War GOP gaslighting to put Democrats on the defensive as soft on communism. Republicans knew they were overhyping the Soviet threat and also knew that scaring people can often be an effective political tool. McCarthy aide Roy Cohn was a key player in this "fake news" propaganda campaign and later became Donald Trump's chief educator in how to gaslight the public. Today's GOP also know they are selling a fiction when they minimize Russian meddling in the 2016 election and, more recently, "All The President's Men" (Pence, Pompeo, Barr) are attempting to get our allies to help them concoct an alternative history of 2016, a counternarrative contending it was actually Ukraine that did the meddling and Hillary Clinton was the beneficiary. But, in a larger sense, Mr. Trump attempts to sell all kinds of fictions every time he speaks, or tweets.
The NBA came under fire from the People's Republic of China when the Houston Rockets general manager supported Hong Kong protestors. There has also been a good bit of discussion asking if we are about to enter into a Cold War with China. Here's one lesson I learned from research for the book: the greatest weapons the United States had in the fight with the Soviets came under heading of "soft power." Pumping jazz into the Iron Curtain was a powerful and bloodless weapon. Pushing the Soviets on human rights highlighted the illegitimacy of Soviet governance. As the U.S.-China rivalry inevitably intensifies, the greatest weapon the U.S. has is continuing to cultivate free expression and demanding universal human rights. The Chinese are more afraid of these intangibles than our military. Like the Soviets, the Chinese Communist Party governs by fear because they are scared that what is happening in Hong Kong will soon be happening in Beijing.
You could also say that Vladimir Putin is trying to get his revenge on the West. Putin hasn't gotten over losing the Cold War. The fall of the Berlin Wall was particularly traumatic for him because he was stationed in East Germany when it happened and he had been a very happy camper while a KGB Colonel in East Germany – enjoying the beer, reliable German appliances, cleanly German neighbors. As a spy, Putin was also part of the privileged elite class in the USSR who effectively lived apart from a vast working class that was often on the verge of starvation. When Putin was told the tanks were not coming to save him (or communist East Germany), the moment was shocking and humiliating. Furthermore, the last days of the Soviet Union were a terrible clown show – with the Chernobyl nuclear accident and West German teenager Mathias Rust flying his Cessna from Finland to Red Square. Via Putin's possible "puppet" in the White House, we appear to be witnessing his successful revenge, along with a return to the imperial ambitions of the deceased USSR.
During the Cold War, we also became more of a "first person singular" nation, as opposed to the "first person plural" of our founders, who started the Constitution with the words: We the People. We are still living with the lone cowboy, libertarian ethos that bloomed during the Cold War. The downside of this worldview prevented or delayed logical government-sponsored improvements in the safety net, in particular universal health care. But it also led to a demonization of non-military government activity as a whole and made a virtue of starving public works by drastically cutting taxes. Low taxes and lax regulations were somehow viewed as essential American "freedoms" as public education, food stamps and government health care were being slimed as socialism, if not communism. But, in truth, there was one bucket of U.S. government spending that did resemble the practices of the socialist Soviet Union. The creation of the trillion-dollar military industrial complex could reasonably be called the most expensive social welfare program of all time: jet and bombs and missiles with astonishing price tags were paid for by the state, developed in secret, with no requirement of profit, or any other market mandates.
Two more thoughts:
Scarsdale is also a town that loves books. One reflection of the scope and size of the town's taste is in evidence every year at the Scarsdale Library Book Sale. I brought home 30 or so books from one of the recent sales that proved to be incredibly valuable sources in understanding the Cold War and the paranoia it fomented. For example, I came across the terrific memoir by Max Frankel, a Pulitzer Prize winner who began at the New York Times as a foreign correspondent behind the Iron Curtain and ended up as the paper's Executive Editor. I also found a magnificent and massively researched overview of the United States by Harold Evans called "The American Century." I would recommend it to everyone who has kids about to enter high school.
Finally …
… I want to invite everyone to a attend a reading and signing the new book "Someone Is Out To Get Us: A Not So Brief History of Cold Paranoia and Madness" on Wednesday November 6, at Bronx River Books (37 Spencer Place), from 6:30 to 8 p.m. The event is co-sponsored by the Scarsdale Library.
A Candid and Informative Conversation with Mimi Rocah
Details

Written by

Amy Cooper

Hits: 3133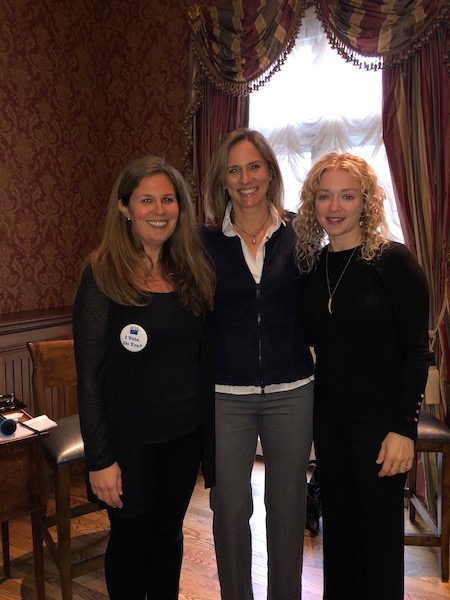 Leah Dembitzer, Mimi Rocah and Dara Gruenberg.On a rainy Sunday afternoon, legal analyst and Scarsdale resident Mimi Rocah spoke to a crowd of over 100 residents and dignitaries who filled the Scarsdale Woman's Club to capacity. Ms. Rocah is a legal analyst for MSNBC and NBC News, the current Distinguished Fellow of Criminal Justice at Pace University Law School, and a former Assistant U.S. Attorney for the Southern District of New York. The event, held on October 20, was jointly sponsored by the League of Women Voters of Scarsdale, the Scarsdale Forum and the Scarsdale Public Library.
Rocah provided an honest and in-depth conversation about many of the political and legal topics that dominate today's news headlines. Leah Dembitzer, President of the LWVS, and Dara Gruenberg, President of the Friends of the Scarsdale Library and Co-Chair of the Scarsdale Forum's Program Committee moderated the informative discussion.
Rocah briefed the audience on her background. She spent a number of years as an Assistant U.S. Attorney in the Southern District of New York. As she described: "My experience at the Department of Justice became a part of who I am as a person…The SDNY taught me from day one to do the right thing." Of particular influence on Ms. Rocah was her time at the U.S. Attorney's office in NYC on 9/11. It was a "horrible but transformative" experience. She left the SDNY in 2017, "spurred on by Trump's election." Initially, as a woman, she felt that it was not right to leave her post at the U.S. Attorney's office as it was important to stay on to mentor the younger women whom she oversaw. Eventually, after seeing what was happening in the media, particularly President Trump "slandering our institutions," Rocah thought it was important to join the media to help "push back" given her unique knowledge of the Department of Justice.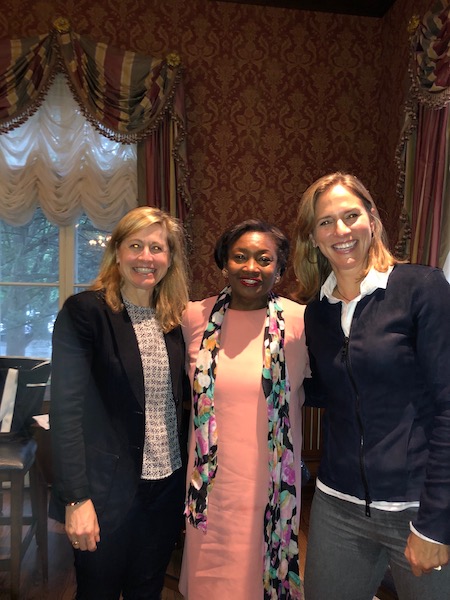 Jane Veron, Andrea Stewart-Cousins and Mimi Rocah.When asked about the influence of social media in today's political climate, she noted that she had not been on social media prior to the 2016 Election. Social media today informs people, but may also mislead. Rocah finds President Trump's use of twitter as an attempt "to normalize behavior that is really outrageous." His tweets about Russia, for example, are "not normal" of the presidency. Rocah now follows many on twitter and looks to certain people for her information. She follows Professor Ryan Goodman on twitter and views him as "reliable and smart." As a side note, Professor Goodman will be the featured speaker at the LWVS food for thought luncheon on November 8th. Click here for more details.
Rocah is particularly appreciative these days of her brother's work at the ACLU. There is a new sense of importance of the work the ACLU does to protect First Amendment rights, among another things. Donations to the ACLU have "skyrocketed" since 2016. Ms. Rocah believes that people no longer take for granted rights about which they may not have previously thought.
The very topical subject of President Trump's involvement with Ukraine was of particular interest to the crowd. Rocah thought that Bill Barr acted more like President Trump's personal attorney than the head of the Department of Justice. However, she is hopeful that state prosecutors will step in, especially in New York, to fill the void where the Department of Justice has not acted. With respect to pardons, Rocah noted that there are "very few limits." The President can pardon himself, and his family. However, members of President Trump's family could be subject to state prosecution even if they receive a federal pardon under a new law approved in New York. Double Jeopardy would not attach in these cases. Forward thinking, Rocah observed that we need more "rules" and "guardrails" on the use of "presidential power."
With respect to the current impeachment inquiry that is dominating the news, when asked "why now?" Rocah said: "This feels different. There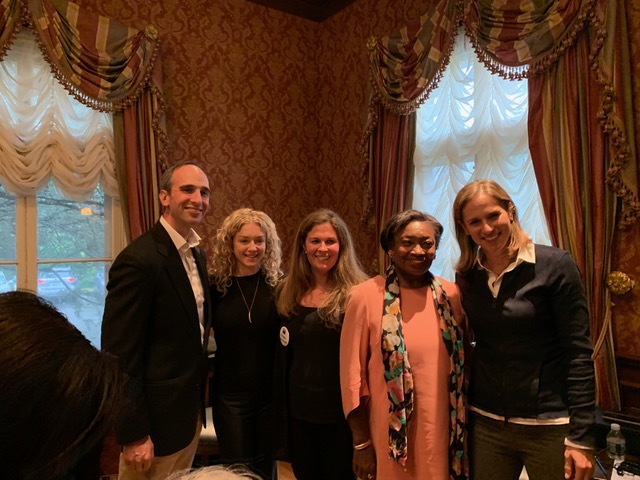 Tim Foley, Dara Gruenberg, Leah Dembitzer, Andrea Stewart-Cousins and Mimi Rocah is momentum that hasn't been there before." With the Mueller Report, "Trump controlled the narrative before it was released." However, with the issues involving President Trump and Ukraine, the information is happening "in real time." Real time information "is more persuasive." Ms. Rocah thought Nancy Pelosi waited for the right moment to start the impeachment inquiry and "putting it with Adam Schiff's committee is perfect" as he is a "former prosecutor and follows the facts."
Rocah answered questions from the audience with candor and a broad knowledge base. Her prosecutorial background has informed her well. She ended by noting the importance of pushing back on social media - "Don't give up on correcting the factual record."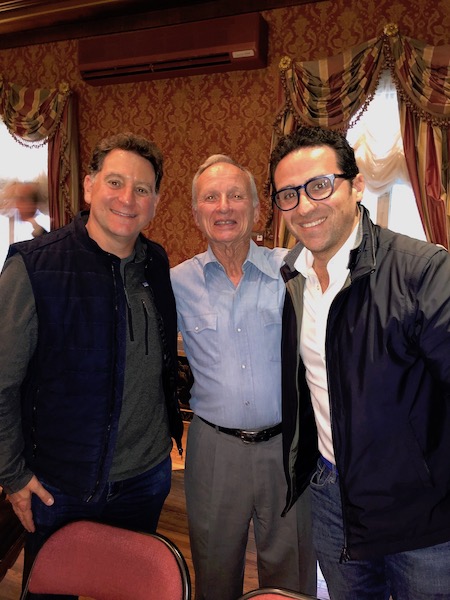 Marc Samwick, Dan Hochvert and Justin Arest.In addition to the many Scarsdale residents who attended Sunday's event, NY Senate Majority Leader Andrea Stewart-Cousins, NY Assemblywoman Amy Paulin, Scarsdale Mayor Marc Samwick, Deputy Mayor Jane Veron, and Trustees Justin Arest and Lena Crandall joined the event. Mayor Marc Samwick noted: "This was an excellent event and it was great to see collaboration with the League, the Forum and the Library. I look forward to more events like this that inform and educate us."
Drew Morrison and Lauren Romo Married on a Ranch in New Mexico
Details

Written by

Joanne Wallenstein

Hits: 3460
Lauren Elyse Romo and Andrew Flanders Morrison were married Saturday, September 28, 2019 at La Mesita Ranch Estate, an equestrian ranch and event space in Santa Fe, New Mexico. Reverend Pete Jones, of Hitchcock Presbyterian Church in Scarsdale, officiated.

The bride, 33, is a marketing manager at Lovely Bride in New York. She graduated with a degree in Journalism from Southern Methodist University in Dallas, TX.

She is the daughter of Lisa E. Romo of Albuquerque, NM, and the late Richard R. Romo. The bride's mother is a procurement specialist at CES, a purchasing cooperative aiding Public Schools in New Mexico. Her father was an attorney and proprietor of Romo Law Firm in Albuquerque, NM.

The groom, 34, is a Senior Consultant in the Anti-Money Laundering group at Deloitte. He graduated from Scarsdale High School in 2003 and from Colgate University with a major in Political Science, a minor in Middle Eastern and Islamic Studies. He later went on to obtain his Juris Doctorate from George Washington University and his Masters' degree in the Science of Teaching from Pace University while teaching second grade as a Teach for America Corps member in New York City.

The groom's mother, Martha J. Flanders, is a resident of Cortlandt Manor, NY and a partner at Dorf & Nelson, a law firm in Rye, N.Y. The groom's father is a resident of Princeton, NJ and is a Senior Manager at EY where he consults to help corporate legal departments.

About the Couple
Drew and Lauren met on the dating app, Bumble. Initial conversations quickly uncovered that Lauren was a fan of the Dallas Cowboys while Drew was a fan of the Cowboys' notorious rivals, the New York Giants. They were able to overcome this news and decided to meet for a drink.

The day of the date rolled around and Drew texted Lauren around lunchtime to check if they were still on for that night. Lauren excitedly replied that yes, she was still in. Another text from Drew followed, letting Lauren know that he could not stay out late that night as he had to do laundry. (Laundry??) Having heard it all at this point, Lauren assumed Drew either did not actually want to go on the date or even worse he had another date after theirs. She immediately texted this update to every girlfriend in her phone. Later that day, Lauren nervously walked to the meeting spot. She walked in to find Drew anxiously waiting for her in the nearly empty bar. They were both wearing Barbour jackets. She made a joke about it. Things were off to a good start. Over drinks they talked about their love of college football, their fantasy football teams, and Lauren's position as commissioner of her all lady league and Drew's recent trip to Lauren's hometown of Albuquerque, NM. They had easy conversation and a lot in common. Drew was known as "Laundry Guy" for many months into their relationship.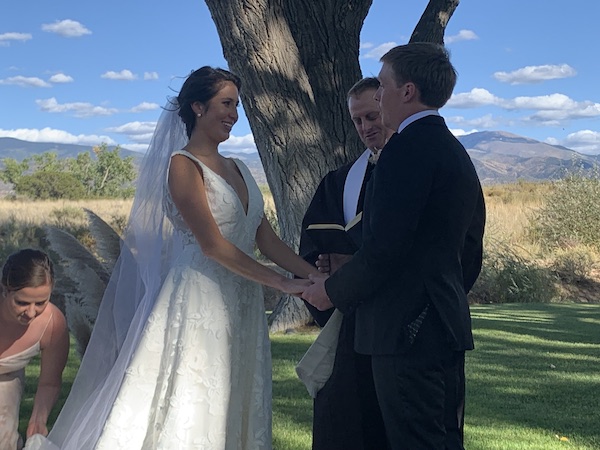 After almost three years of dating and a few hiccups in the lead-up, Drew finally proposed to Lauren in Paris at the Luxembourg Gardens and then they spent a week at Drew's mother's family home in the South of France.

Once engaged, Lauren knew they had to be married in Santa Fe. She was born and raised in Albuquerque, NM and spent a considerable amount of time as a young girl in Santa Fe with her parents and brother RJ. The rehearsal dinner was held at Cowgirl Santa Fe, (a restaurant that has ties to New York's Cowgirl and Cowgirl Seahorse) that Lauren has been going to with her family since she was young. The wedding attire was Cowboy Black Tie, a fashion challenge for their East and West Coast guests.

The couple loves to travel, play golf, watch college (and professional) sports and can also be found every Saturday mornings composting and buying fresh, local, eggs and produce at their local Greenmarket on East 82nd Street.
Letter to the Editor: Sustain our Outstanding Schools by Running for the School Board Nominating Committee
Details

Written by

Joanne Wallenstein

Hits: 2301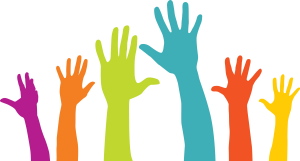 This letter was sent to Scarsdale10583 by Terri Simon:
Now that the school year is in full swing, it is time once again for the annual rejuvenation of our community's important and valuable non-partisan nominating system for members of the Board of Education. I encourage residents who care about sustaining our outstanding school system to step up and run for a seat on the School Board Nominating Committee.

Our district's exemplary track record arises in no small part from our non-partisan system of selecting thoughtful, intelligent, fair-minded candidates for our Board of Education. This system, however, simply cannot be sustained unless we all stretch ourselves a little bit and step up to play a part in making it work. The SBNC is a finite commitment of time during a short stretch of each term year. This is not a burdensome commitment, but it does make a genuine contribution to our community.

I've served twice on the SBNC (in the late 90's and again during the past few years) and also on the Board of Education (2001-2007). I have been consistently impressed with the caliber and dedication of those who participate in this important process. When looking for candidates to put their names in the hat for SBNC seats, however, it's been frustrating to hear so many prospects respond with "this is just not my thing," I can't help wondering if it's their "thing" to have outstanding schools.

Everyone has busy lives and, of course, particular personal challenges may make serving difficult – I do get it – but this nominating system cannot remain robust without broad participation including, at the very least, a competitive slate of at least four candidates in each neighborhood.

If you have kids at home, they will be proud of your service (and of your co-parent for holding the fort during those Sunday afternoon meetings). If your kids have already graduated from the system and embarked upon their next life chapters, how better to "give back" than to contribute your experience in the community toward sustaining the system that launched them?

It's easy to run. You need only collect ten voter petition signatures from your neighborhood and submit a brief bio by November 18. Forms and detailed information are available at www.scarsdalesbnc.com. The election is in mid-January and SBNC meetings are concluded by mid-March. To participate in selecting prospective trustees for the Board of Education, those charged with oversight and policy for the entire school system, is immensely gratifying. After all, by playing a role in this process you will help maintain precisely the wonderful schools that we all moved here for.

Terri Simon
Nancy Michaels to Chair 2020 Scarsdale Bowl Committee
Details

Written by

Joanne Wallenstein

Hits: 2344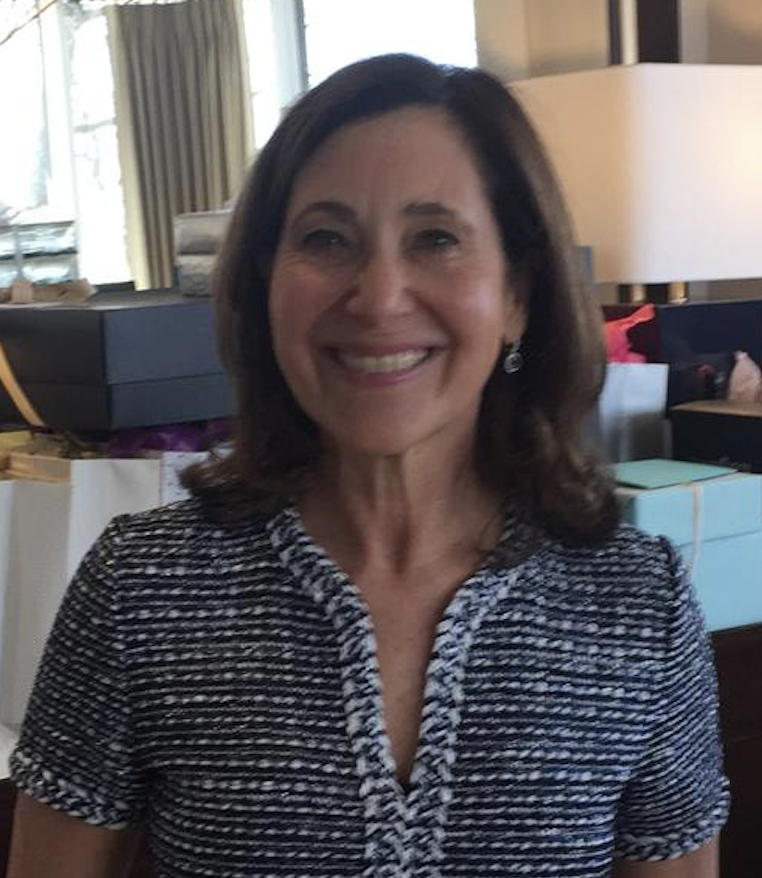 Nancy Michaels has been named Chair of the 2020 Scarsdale Bowl Committee. Randy Guggenheimer, President of the Scarsdale Foundation, announced her appointment and also announced that Abby Sroka will continue as the Secretary/Treasurer of the Committee.
The Scarsdale Bowl is awarded annually to a Scarsdale resident in recognition of outstanding volunteer service to the community. As Bowl Committee Chair, Ms. Michaels will head the Scarsdale Bowl nominating committee and the community celebration dinner to be held on Wednesday, April 22nd, at Brae Burn Country Club.
Nancy Michaels has been an active volunteer in many Scarsdale organizations. She has served on the Board of the League of Women Voters of Scarsdale, on the Executive Committee of Maroon and White, and as Secretary/Treasurer of the Scarsdale Bowl Committee. While raising her children in Scarsdale, she was indefatigably involved in activities related to education, serving as Heathcote PTA President, PT Council Vice-President, Chairperson of the Scarsdale Task Force on Drugs and Alcohol, and Co-founder of STOP (State Testing Opposed by Parents). She has also been a member of the Scarsdale High School Compact Committee, the School Board Nominating Committee, SHS College Information Task Force, and the Health Advisory Council. The recipient of the 2011 Brotherhood Award at Westchester Reform Temple, Ms. Michaels served as a Vice President and Secretary of her synagogue and co-chairs many committees including the Refugee Initiative Committee. She is also a dedicated member of the Giving Circle of Lower Westchester and the Scarsdale Student Transfer Education (STEP) Board.
Ms. Michaels graduated from the University of Michigan with a degree in Human Nutrition and received her Masters of Medical Science from Emory University. She was a Clinical Registered Dietitian/Nutritionist at a New York City hospital for several years before moving to Scarsdale and is currently a partner at Collegistics, a college application advisory firm. She and her husband David are 30-year residents of Heathcote, where they raised their three children, Debra, B.J., and Emily, who all graduated from Scarsdale High School.
The Scarsdale Bowl is administered by the Scarsdale Foundation, a not-for-profit community foundation that works to promote civic welfare. The Foundation provides need-based financial aid to SHS graduates entering their sophomore, junior, and senior years in college and to children attending the Recreation Department summer day camp. It also administers a number of special purpose funds and makes grants for various community needs, which have included the Scarsdale Volunteer Ambulance Corps, Scarsdale Edgemont Family Counseling Service, and the Scarsdale Public Library.
More info on the Scarsdale Bowl Award can be found at scarsdalefoundation.org.