Scarsdale Foundation Grant Aids Hoff-Barthelson with Pandemic Precautions to Restore In-Person Music Lessons
Details

Written by

Joanne Wallenstein

Hits: 908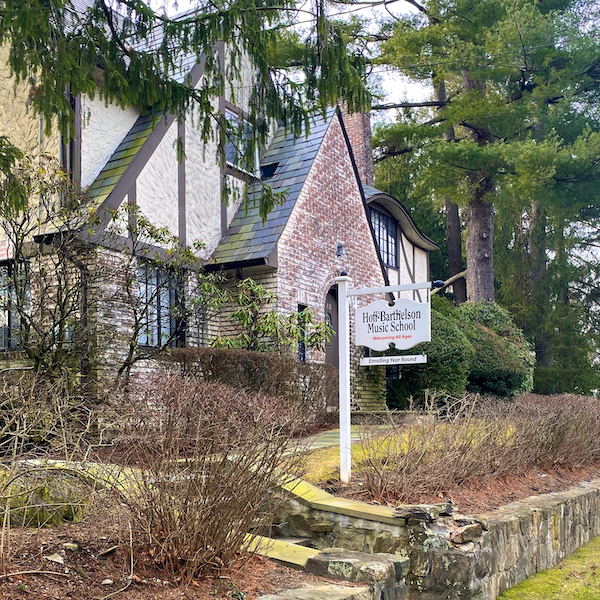 Hoff-Barthelson Music School has received a grant from the Scarsdale Foundation to complete facility upgrades and install safety equipment that enable the School to meet the growing demand for safe in-person music lessons even as the COVID-19 pandemic continues.
The $10,835 grant underwrites the costs of upgrading HVAC filtration systems and installing protective barriers and sanitation stations for the school's second building, Helton House. Helton House, located next to Hoff-Barthelson's main building on School Lane, is home to eight private music learning rooms. Due to the COVID-19 pandemic, Hoff-Barthelson has been running a large slate of online offerings, but has had to sharply limit the number of in-person lessons and classes. The upgrades facilitate the use of those rooms for safe, in-person music lessons as the School launches its spring semester later this month.
"This generous grant from the Scarsdale Foundation has enabled us to complete important safety upgrades to the smaller of our two buildings, bringing additional studios back into service," said HBMS Executive Director Ken Cole. "While we have been providing a limited number of in-person lessons since the start of the 2020-21 school year, hundreds of our students have been pursuing their music studies entirely online since March, 2020, when the pandemic forced us to drastically reduce the number of people allowed on site. Online lessons and classes work well for many students; however, others require in-person instruction in order to thrive. We are delighted to now be able to safely accommodate greater numbers of students in person, even before the pandemic is fully tamed."
"The Scarsdale Foundation is pleased to provide a grant to assist Hoff-Barthelson in expanding the number of students who will be able to receive in-person lessons despite the ongoing COVID-19 pandemic," said Scarsdale Foundation President Randy Guggenheimer.
Families interested in enrolling in music instruction, online or in-person, for the spring semester, are invited to call Hoff-Barthelson Music School at 914-723-1169, email at hb@hbms.org, or to visit our website at www.hbms.org.
About Hoff-Barthelson Music School
Hoff-Barthelson Music School has achieved national recognition as a premier community music school for its unsurpassed leadership in education, performance and community service. With a faculty drawn from the region's most talented teachers and performers, the School has long been one of Westchester County's most cherished cultural resources. At Hoff-Barthelson, students find a warm, friendly music school dedicated to the highest standards of education, performance, and community service. Students of all ages, aptitudes, and levels of interest enjoy a supportive, joyful learning environment; a focus on the whole person; exceptional teaching; and a multifaceted curriculum.
Westchester Residents 65 and Over Scramble to Find Vaccines
Details

Written by

Joanne Wallenstein

Hits: 3242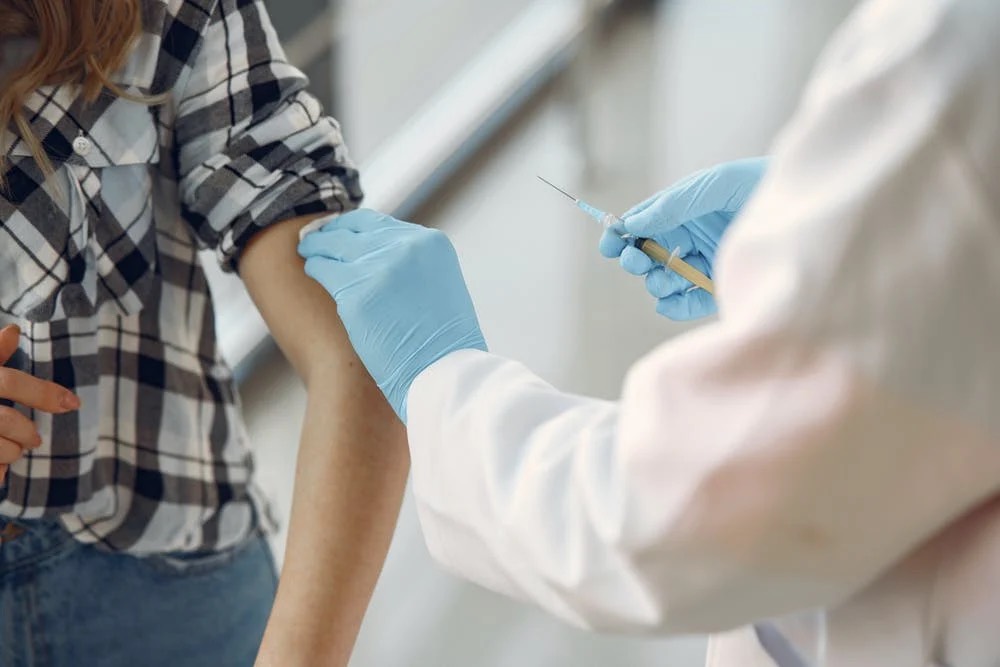 After much criticism about the slow rollout of the COVID-19 vaccine, on Monday January 11, 2021, New York State cleared people aged 75 years and older to receive it. On Tuesday January 12, he changed that to 65 and over, and now thousands are scrambling to find out where and how to get the shot. According to the Governor, NYS now has 7 million people eligible for the vaccine, with only 300,000 vaccines available.
In Manhattan, some of have been successful at scheduling appointments at NYC Department of Health Facilities and at several hospitals.
In Westchester, it's taking a few more days to make a plan.
At his weekly briefing on Monday January 11, 2021, Westchester County Executive George Latimer announced that the county is working to deliver the vaccine according to New York State guidelines.
The state's expanded list of who is eligible for the vaccine is as follows:
• People 75 and older (Since changed to 65 and older)
• Teachers and education workers
• First responders
• Public safety workers
• Public transit workers
• High-risk hospital workers (emergency room workers, ICU staff and Pulmonary
Department staff)
• Residents and staff at nursing homes and other congregate care facilities
• Federally Qualified Health Center employees
• EMS workers
• Coroners, medical examiners and certain funeral workers
• Staff and residents at OPWDD, OMH and OASAS facilities
• Urgent Care providers
• Individuals administering COVID-19 vaccines, including local health department staff
• All Outpatient/Ambulatory front-line, high-risk health care workers of any age who
provide direct in-person patient care
• All staff who are in direct contact with patients (i.e., intake staff)
• All front-line, high-risk public health workers who have direct contact with patients,
including those conducting COVID-19 tests, handling COVID-19 specimens and
COVID-19 vaccinations
• Doctors who work in private medical practices and their staff
• Doctors who work in hospital-affiliated medical practices and their staff
• Doctors who work in public health clinics and their staff
• Registered Nurses
• Specialty medical practices of all types
• Dentists and Orthodontists and their staff
• Psychiatrists and Psychologists and their staff
• Physical Therapists and their staff
• Optometrists and their staff
• Pharmacists and Pharmacy Aides
• Home care workers
• Hospice workers
• Staff of nursing homes/skilled nursing facilities who did not receive COVID vaccination
through the Pharmacy Partnership for Long-Term Care Program
Latimer provided the following resources to help residents find out if they are eligible for a vaccine, and if so, where to get one.
First, to determine your eligibility and to receive an email and a text message when you qualify, go to this site and answer the questions and register:
Latimer asked that younger relatives or friends help older people to sign up if they are having trouble with the website.
For those who prefer to schedule an appointment on the phone, a vaccination hotline will open at 4 PM today, Monday January 11, 2021. The NY State COVID-19 Vaccination Hotline to schedule vaccination appointments for eligible New Yorkers is: 1-833-NYS-4-VAX (1-833-697-4829).
For eligible people to get an appointment for a future date, at the Westchester County Center, click here:
Latimer said that the Westchester County Center will open this Wednesday or Thursday as a facility to dispense vaccinations. It will NOT BE A WALK-IN facility. You will need an appointment to receive one at the County Center.
Help Available: If you're having trouble navigating the websites, Scarsdale students will be happy to help you to get an appointment. A group called VAX HELPERS has been formed. Call the at (914) 574-7863. If they don't pick up, leave a message. You will need to supply them with the following:
Your Name
Allergy History
Address
Phone Number/Email Address
Date of Birth
The state has also issued this list of locations that will be administering vaccines, but we do not know if they have supplies now: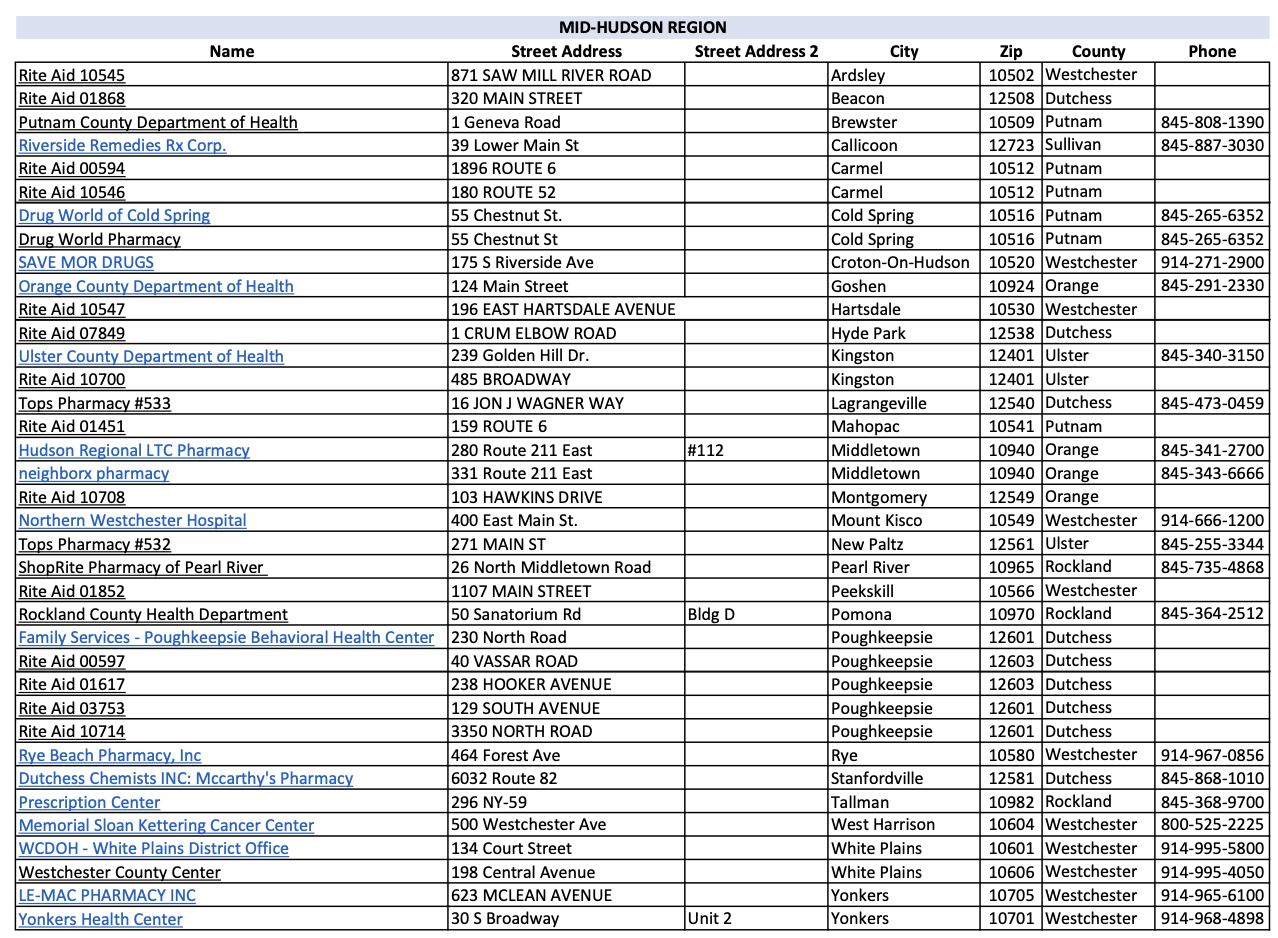 Volunteers Needed
The Hudson Valley Regional HUB, WMCHealth is seeking volunteers to support the administration of the COVID-19 vaccine.

Volunteers are needed to assist with operations and activities at vaccination sites, such as registration and check-in, data entry, greeting and routing participants, traffic flow, and other administrative tasks. Volunteers with specific clinical credentials to administer the vaccine are also needed.
Volunteers must be 18 years of age in good health and proficient in English, with bi-lingual skills also being important. Those working at the vaccination site will be provided with training, PPE and will be able to receive the vaccine, if they wish.

Site locations will be announced in the coming days and will operate 7 days a week. Multiple shifts are available. Volunteers are asked to commit to three shifts a week during a 30-day commitment.
To register to be a part of this historic vaccine program, please click here.

COVID Spread
Turning from the vaccines to the current infection counts, Latimer reported that the COVID spread is increasing. He said, "We have grim numbers."
As of January 11, 2021 there were 11,265 active cases in Westchester County, higher than the number as we had on April 10, 2020. This is up from 9,278 last week and 8,000 two weeks ago.
As of Saturday January 9, 2021, 504 people were hospitalized but the County's bed count is higher, with about 2,500 beds so we have not reached a crisis situation. This is a 10% increase over last week and on Halloween night, October 31, 202, there were only 51 in the hospital, one tenth of today's count.
As of Monday January 11th the county dashboard showed 83 active cases in Scarsdale and a 5.1% positive rate for the county overall.
Check the county dashboard for the latest numbers here:
Latimer to Seek Second Term
In other news, Latimer announced that he will run for a second two-year term as Westchester County Executive.
An email from his campaign says, "It has been my honor to serve you and all of Westchester's residents in navigating an irresponsible fiscal situation passed on by the last administration, a national political environment that warrants local focus on long overdue social justice reforms and an uncharted pandemic that has created further economic struggle for many along with a health care challenge that we must resolve so that more Westchester residents and New Yorkers do not suffer.

I am proud of my first term record with two consecutive years of zero property tax increases, timely budgets with no lay-offs or service cuts and swift action on so many social issues like justice reform, LGBT equality and women's rights.
Update from SNAP on Holiday Giving: Neighborly' Doesn't Just Mean Scarsdale.
Details

Written by

Joanne Wallenstein

Hits: 1182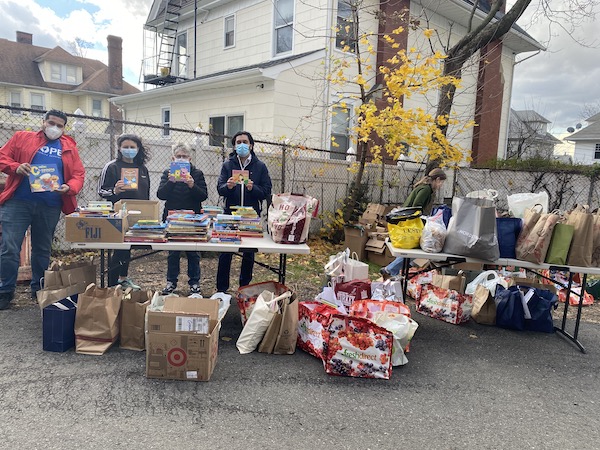 Rokaya Hassaballa with HOPE Executive Director Walt Ritz, Director of Operations Benito Ceja and Pantry Director Sister Mary Alice Hannan and SNAP for HOPE's Week 1 donations (both tables!).This letter was writing by Scarsdale Neighborhood Association President Sarah Bell
Dear Scarsdale: We officially kicked-off SNAP for HOPE this week and all I can say is wow!

This week we delivered a total of 1,950 baked items, several hundred books and a few toys to HOPE. The items we delivered went directly from our cars to tables for HOPE clients. Thank you, Scarsdale! Let's keep up the great work!
Scarsdale Neighborhood Association Presidents and all of the Scarsdale Neighborhood Associations invite you to participate in SNAP for HOPE, a six week of Village-wide holiday season service to provide baked goods, books and toys to HOPE Community Services in New Rochelle.
All Scarsdale residents can assist HOPE (Help Our People Eat) Community Services, the largest emergency Food Pantry and Soup Kitchen in our region. They need 1,600 baked items every week to provide to their client population, especially families and the elderly, as well as used books and new toys. SNAP's goal is for Scarsdale to meet HOPE's full 1,600 item need every week for the six consecutive weeks from Thanksgiving to the New Year plus donate much needed books and toys.
If you would like to participate, please email: SnapPres10583@gmail.com.
Looking ahead:
HOPE let us know that they are short on new toys for the families that signed up for holiday toys. If anyone can sign up to donate new toys, please consider doing so.
We could use some baskets/trays for our baked goods and a folding or similar bookshelf for all of the books. If anyone has any baskets or similar to donate, or a bookshelf that will fit in a trunk that they are willing to donate, please email snappres10583@gmail.com.
If you would like to bake and haven't signed up, please consider signing up for Weeks 4, 5 or 6, which are short(er) on volunteers.
Emails with information and reminders will go out twice during the week before each Monday delivery.

All baked goods, books and toys should be in paper shopping bags with handles and clearly labelled with the type of item and number of items in the bag (i.e. 65 cookies, 10 books, 3 toys, etc).
Toys should NOT be wrapped.
Non-perishable" means – does not need to be refrigerated (any 'traditional' baked item is fine!).
To participate, please email: SnapPres10583@gmail.com.
Feeding Westchester: A Lifeline for Thousands of Hungry Residents
Details

Written by

Joanne Wallenstein

Hits: 1345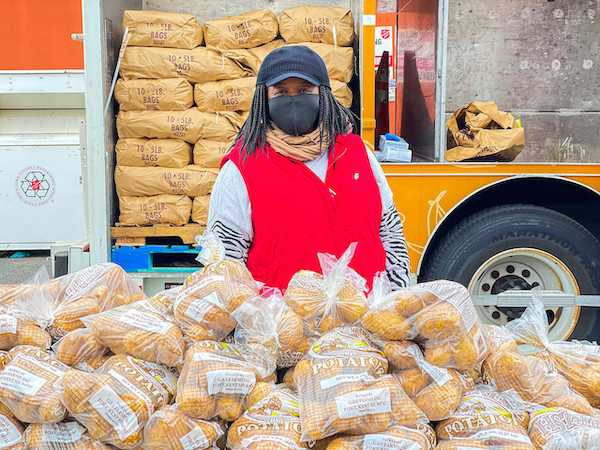 Perhaps you've noticed people clutching empty bags in a long lines just over the border in White Plains. Many from Scarsdale drive by and wonder what these folks are waiting for. Sadly the answer is food. That's right. Even in a wealthy county like Westchester the pandemic has hit hard and thousands have lost their jobs and are experiencing food insecurity, some for the first time. Feeding Westchester, an agency that distributes food to those in need, reports that they are serving 260,000- 300,000 residents per month, twice the number of people they helped before the COVID-19 outbreak.
How do they do it and how can you help? Read below for the story of an organization that is providing a lifeline to those most in need.
Tell us what Feeding Westchester is doing to feed those in need in Southern Westchester.
Feeding Westchester works with a network of nearly 300 partners and programs that distribute food throughout all of Westchester County, including pantries, soup kitchens, schools, and our mobile food pantry. We have also partnered with additional emergency "pop-up" pantries to meet the increased need due to COVID-19.
How do you secure the food? Is it all donated or do you need to purchase some of it?
Food comes to us in three ways. Some is purchased or provided by government programs, while other food is sourced through donation (such as food drives or retail recovery). Our Retail Recovery program allows local grocers and suppliers to contribute, rather than waste, food that is still usable. Those in the food service business may also donate food or household products for local people in need.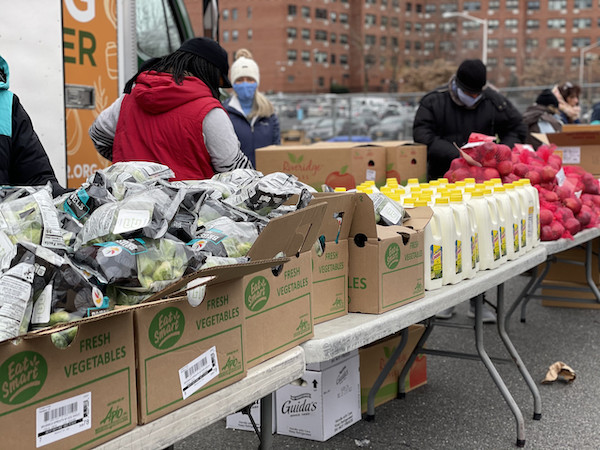 What is typically given to a family when they come to collect food – what are the contents of the bag?

Deliveries of fresh produce and dry goods are made to our programs and agencies each week. Specific items vary based on availability. Produce is sourced at least once a week and people receive all types of food at distributions. Agencies can also select the quantity and type of meat and dairy they wish to receive.
Tell us where and how the food is stored and distributed in this area.
The Feeding Westchester warehouse is located in Elmsford and delivers throughout Westchester. We have been distributing roughly 100,000 pounds of food per day (2 million pounds per month) since March through our partners and programs—twice the volume as compared to pre-COVID. Our partners include schools, pantries, soup kitchens, mobile food pantries, United Way of Westchester and Putnam Counties, Boys and Girls Club Mount Vernon, DoorDash, and our senior grocery program.
In terms of numbers, how have you seen the demand for food grow since the beginning of the pandemic? Do you ever run out of food and have to turn people away?
Feeding Westchester's programs and partner agencies are serving between 260,000 – 300,000 residents who are hungry each month — more than twice as many as pre-COVID-19. This includes a number of individuals and families who are experiencing food insecurity for the first time as a result of the pandemic. We have distributed nearly 20 million pounds of food, or 17.4 million meals, in the last year compared to 10.2 million pounds in 2019.
Thankfully, Feeding Westchester has never run out of food. We have also created "pop-up" distribution sites when needed, to ensure that every person in need has access to fresh, nutritious food.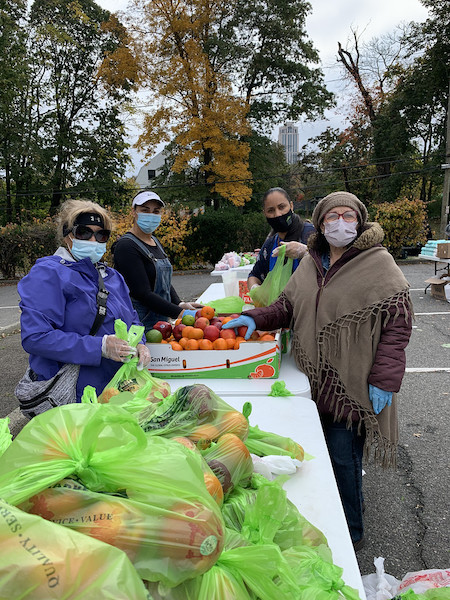 Do you receive any government funding?
Yes, Feeding Westchester receives funding from the county, state and federal government in addition to support from individuals, corporations, and organizations throughout our community.
Tell us briefly about the history of Feeding Westchester. When and how did it start and how has it evolved?
The mission of Feeding Westchester is to end hunger in Westchester County. As the heart of a large network, we source and distribute food, and other resources, to towns across Westchester helping to ensure that none of our neighbors are hungry.
We were incorporated in 1988 as the "Food-PATCH" (People Allied to Combat Hunger) to fight the growing problem of hunger in Westchester County. At that time, operations consisted of one man, one van, and one small room at the Sharing Community Center in Yonkers, NY.
In 1990, we moved to a distribution facility in Hawthorne and distributed over one million pounds of food. We also became affiliated with America's Second Harvest (now Feeding America).
We changed our name in 2007 to Food Bank For Westchester, distributing over 5 million pounds of food through 167 local programs. Five years later, we moved into our current distribution center in Elmsford, which houses the largest walk-in freezer in Westchester County.
In 2017, we launched our first Fresh Market programs. With the celebration of our 30th anniversary in 2018, we rebranded as Feeding Westchester to better reflect our mission and the scope of our work.
As mentioned above, Feeding Westchester is a member of Feeding America, the nationwide network of more than 200 food banks serving every state in the United States. Our membership gives us access to millions of pounds of donated food products from national companies and also provides access to trainings and resources that help us maximize efficiency. We are proud to be part of the top ten percent of Feeding America's member food banks for distributing nutritious food to local people.
Today, Feeding Westchester supplies the region's food pantries, soup kitchens, shelters, and daycare and residential programs. Our collaboration with major retailers and corporations, and our expertise in food procurement, storage, and distribution, turns every monetary donation into fresh food for our community.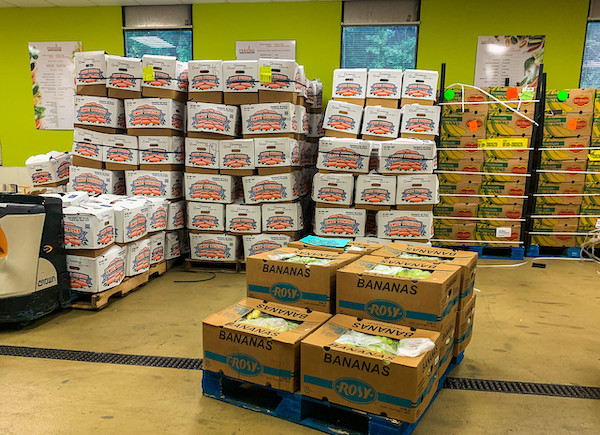 Do you envision any long-term solutions to the problem of hunger in Westchester?
Hunger is here — right where we live. Although many in Westchester are wealthy, the cost of living is high. With fixed expenses like rent and childcare on the rise, groceries are often the first line slashed in a household's budget.
Feeding Westchester is at the heart of a network that expertly sources and distributes food and resources to feed people who are hungry in every town in Westchester, nourishing all who are in need. Our mission is to end hunger in Westchester County.
How can readers help – do you need food donations, monetary donations or volunteers? Please provide details on how readers can get involved.
As Westchester continues to navigate COVID-19, our neighbors are relying on Feeding Westchester more than ever. Readers can get involved by making a donation, hosting a food drive or by participating in a virtual volunteer opportunity.
Karen C. Erren, President & CEO of Feeding Westchester explained, "This holiday season presents an unprecedented set of challenges for many families and individuals right here in Westchester County. From those who are struggling to make the holidays special for their children, to seniors who are spending the holidays alone, the impact of hunger is pervasive in our community. Feeding Westchester is here to support our neighbors who are struggling with hunger and make their holiday season a little bit brighter."
Every $1 donated to Feeding Westchester provides three meals for children, seniors, and working families struggling with hunger over the holida¬¬y season. To find help, or to help, go to feedingwestchester.org.
To All Whom Much Has Been Given, Much Is Required. Participate in SNAP for HOPE
Details

Written by

Joanne Wallenstein

Hits: 1013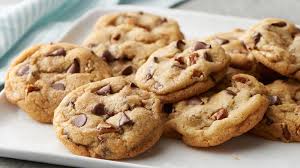 Scarsdale Neighborhood Association Presidents and all of the Scarsdale Neighborhood Associations invite you to participate in SNAP for HOPE, a six week of Village-wide holiday season service to provide baked goods, books and toys to HOPE Community Services in New Rochelle.
All Scarsdale residents are invited to assist HOPE (Help Our People Eat) Community Services. HOPE is the largest emergency Food Pantry and Soup Kitchen in our region. They need 1,600 baked items every week to provide to their client population, especially families and the elderly, as well as used books and new toys. SNAP's goal is for Scarsdale to meet HOPE's full 1,600 item need every week for the six consecutive weeks from Thanksgiving to the New Year plus donate much needed books and toys.
Scarsdale residents can sign up for as many slots as they are able to bake, collect used books and/or collect and new toys every week, from November 23 to December 28, with a minimum of 25 baking volunteers/families per week (no max!). Delivery of items will be to volunteer leads in Scarsdale each week, any day and any time up until Mondays at 2pm. All deliveries to HOPE will be Mondays from 3:30-4pm, by leads or volunteer families may also deliver their items personally to HOPE.
There are options for EVERYONE in Scarsdale to contribute - young, old and in between. Sign up to participate on Google Sheets here: (Note there are three tabs for pages at the bottom of the doc.)
There are three ways to participate:
-Bake
-Collect Used Books
-Collect New Toys
Sign up for slot(s) to bake and individually wrap 65 baked items during one week.

They need a minimum of 25 volunteers per week. Great for folks who like to bake!

Have fun, be festive! Sign up for slot(s) to collect (and deliver) used or new books over the course of one week.

Call friends, family members, local libraries, etc.

Sign up for slot(s) to collect and deliver new toys over the course of one week.
Special thanks to the corporate volunteers who will be baking for HOPE:

Questions? Email SnapPres10583@gmail.com

Frequently Asked Questions: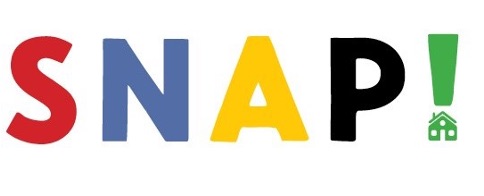 1. How many baked items should I bake?

Each "baker" – individual, family, group, etc, that commits to a baking slot commits to baking 65 individually wrapped and non-perishable baked items. You can sign up for as many slots as you would like!
2. What safety measures should we follow when baking?

Bakers should take the routine COVID safety precautions of wearing masks and gloves.
3. How does the weekly schedule work?

Bakers and collectors do their baking/collecting Tuesday-Sunday of any given week. Monday is "delivery day" – on Mondays, bakers and collectors can choose to deliver their items to HOPE directly or to one of the "Week Leads" who will then deliver to HOPE. If you cannot drive, please contact SNAPPres10583@gmail.com to arrange a pick up.
*All items must be delivered to a Week Lead before 2pm on Mondays.
*Deliveries to HOPE directly are 3:30-4pm on Mondays.
4. How do my baked items, books and/or toys get from me to HOPE?

There are two options: You can deliver them yourself or deliver to one of our Scarsdale Week Leads – who will then deliver all of the items. You must elect one of the options on the Google Sign Up Sheets.
5. What types of books does HOPE need?

Mostly books for children – preschool age through Middle/High School. Workbooks, school books, board books, story books, whatever you have!
6. I have gently used toys – can I donate those?

No, sorry, only new toys.
7. I have a question – who do I contact?

Email SNAPPres10583@gmail.com