Families Learn the Sounds of Fire Safety at Fire Fair
Details

Written by

Stephen Mulcahey

Hits: 943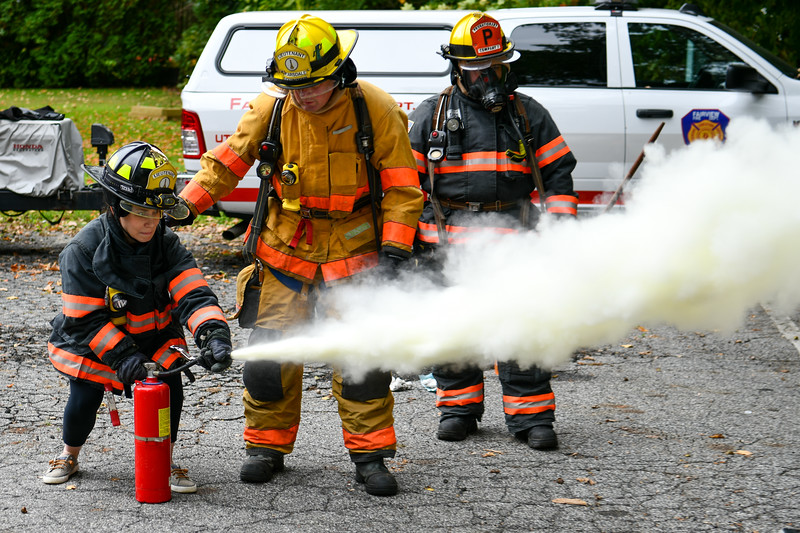 A local resident, under the watchful eye of a firefighter, demonstrates the use of a fire extinguisher.Every October, the Scarsdale Fire Department participates in Fire Prevention Month in an effort to educate the public about fire safety. This year's theme is "Learn the Sounds of Fire Safety" which is intended to help people better understand the reasons smoke alarms sound. This education provides the know-how to effectively address smoke alarm activations.

On Friday October 15, 2021, members of the Scarsdale Fire Department visited every first grade class in all of the public elementary schools in the village, to talk to students about fire safety. First graders were taught what to do if their fire alarm goes off at their house and were treated to a tour of the fire engine.

On Saturday October 16, 2021, the Scarsdale Fire Department hosted a "Fire Fair' at the Crossway firehouse. While there was fun stuff for the children to do, like a bounce house and sitting in the fire engine, the children also learned to "STOP, DROP and ROLL" if their clothes catch fire. Also on hand, was a "smoke trailer" - a simulated house with a smoke machine for kids to crawl through. For the parents the was the kitchen prop, where they learned how not attempt to put out a grease fire with water. Parents also learned about the different types of fire extinquishers and how to properly use them. PASS – Pull, Aim, Squeeze and Sweep. The children left with some toys, stickers and plastic helmets and the parents with fire prevention literature for home.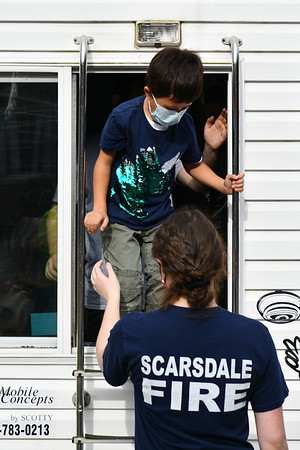 Fire Explorer Teagan Oakes assists children out of the "smoke trailer"

The Scarsdale Fire Department would like to thank Steve Rossi of AAA Emergency Supply for attending and providing the extinguishers for the demostration. A big thanks to the residents of the Village of Scarsdale for your continous support.
Submitted by Scarsdale Fire Captain Stephen Mulcahy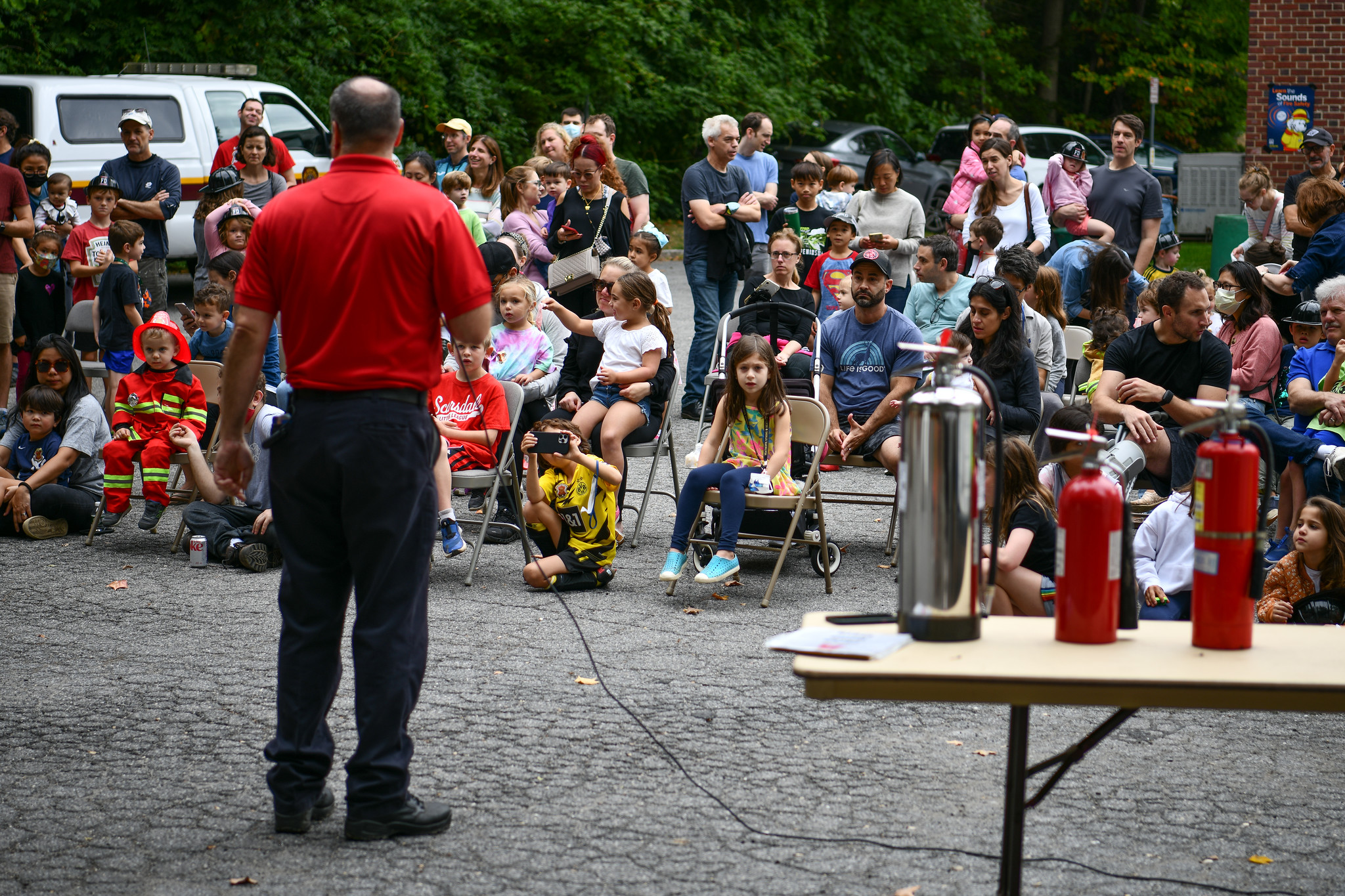 Career Captain Stephen Mulcahy talks to the crowd about fire extinguishers.Photos by Jon Thaler, see more here.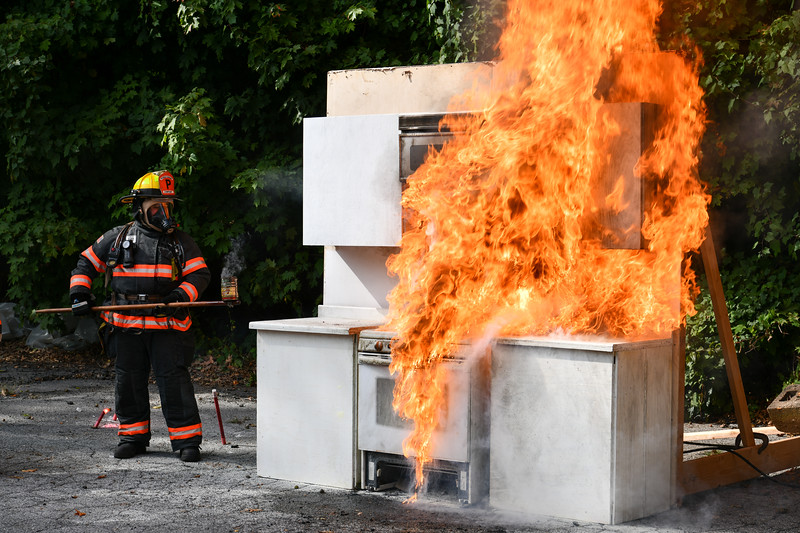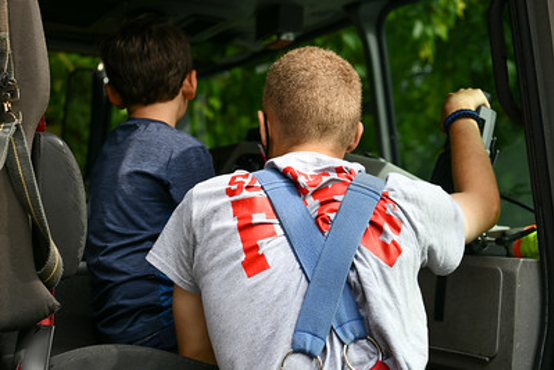 Volunteer Firefighter Alex Bases shows off the fire engine.
Village Board Reviews Telecommunications Code, Tax Exemptions for Veterans and Police Recruitment
Details

Written by

Joanne Wallenstein

Hits: 3568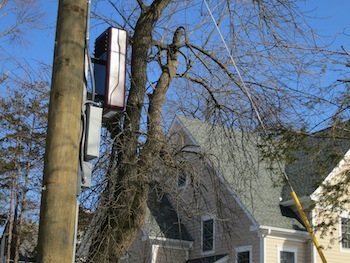 The Village Board focused on changes to the Village code for telecommunications, tax exemptions for veterans and police residency requirements on October 12, 2021. They also granted licenses for taxicabs and reviewed the upcoming budget process.
Prior to the board meeting, the board held a work session to review recommended changes to village code to strengthen regulations for placement and design of wireless facilities both inside and outside of the Public Right of Way. You can review the recommendations from the attorney here.
However, those who commented at the meeting expressed reservations about the recommendations.
During public comments, the Board heard input from several residents and non-residents.
Robert Berg, who is an attorney with expertise in this field, said he was disappointed in the recommendations from the attorneys and asked them to revise their memo with stronger protections for the Village against the construction and placement of 5G antennas.
Jess Lerner who grew up in Scarsdale recommended the Village require the following:
-500 foot setbacks from residences and schools
-Independent testing of wireless facilities
-Notification by first class mail for applications for construction of wireless facilities
-The placement of post it notices at the precise locations of the antennas within 2 days of application
-Proof of insurance from carriers
Lerner suggested that Scarsdale review telecommunications code from the Town of North Hempstead and Fairfax California who have strengthened their codes She suggested that Scarsdale model their codes after those municipalities.
Zoe Berg, currently a law student at Tulane, recommended moving quickly. Her greatest concern is to reserve local control over the siting of the equipment in the public right of way. She said, "This code still allows the placement of a 5G facility within 30 feet of a resident's bedroom." She recommended that Scarsdale look at other Village ordinances to use as models moving forward."
Dana Stags from Heathcote Road said, "I have reservations that code changes could be so prohibitive as to prevent the installation of 5G in Scarsdale…. If there is an insurance requirement, no insurance carriers will underwrite that risk. This would effectively prevent the deployment of any wireless antennas. In a year 3G will be decommissioned. At some point, if we don't have a reasonable policy for placement of antennas in our Village we may find ourselves in a position where there is no replacement for the existing technology. About the requirement for annual testing … is this reasonable?"
Bob Harrison endorsed Bob and Zoe Berg's comments.
At the conclusion of the meeting, the attorney responded to these concerns but asked that the Board consider the current recommendation while continuing to work on incorporating further protections. Due to the fact that the Village is currently receiving applications to install antennas, the mayor asked the attorney to present a revised recommendation within two weeks.
At the subsequent Village Board, here is what was addressed:
Budget Process
Village Manager Rob Cole highlighted the schedule for the development of the 2022-23 Village Budget. He said that the themes of the process were collaboration, outcome orientation and transparency and that budget discussions have already begun. Cole said, "We will have more deliberation, education of everyone involved and will be sure that the resources allocated can meet our objectives. We will provide many opportunities for public involvement and produce a document that is more reader-friendly for the public to review."
The current budget schedule calls for the following:
November 9, 2021: Auditor presentation of May 2021 financial results
December: Public discussions of priorities
January: Discussion of individual departmental budgets
February: Development of detailed budgets to review along with financial planning
March 20: Tentative budget submitted to the Board of Trustees
April: Formal adoption of the budget.
Licensing of Taxicabs
The Board held a public hearing and vote on the number of taxicabs to license. There were no comments at the public hearing, however a memo on the subject from Village Manager Robert Cole explains, "The Village has issued an average of 22 taxicab licenses over the past decade. Due to the COVID-19 Pandemic, only 10 taxicab licenses were issued in 2021, correlated with the considerable decrease in train ridership. …. Considering the current circumstances, including the slow return of commuters to New York City, the maximum number of 25 taxicab licenses customarily approved by the Board of Trustees for the past decade is adequate should there be a full return of pre-Pandemic activities."

For these reasons, I recommend that the maximum number of 25 taxicab licenses be made available for the 2021-2022 year.
The Board approved the recommendation for a maximum of 25 taxis. Find the memo here.
Public Comments
Joshua Mitts, a new resident to Scarsdale who is building a house on Sprague Road spoke about the traffic RFP approved by the Village Board. He called Scarsdale "a little slice of heaven," but noted that traffic conditions on Sprague Road are dangerous and asked that measures be taken to slow cars, even before the results of the RFP are considered.
Tax Exemptions for Veterans
The Board held a public hearing on proposed changes to tax code to increase the maximum tax exemptions for veterans. Currently, the law provides for real property exemptions for veterans equal to fifteen percent of the assessed value of property, subject to a cap of $54,000, multiplied by the latest state equalization rate for the assessing unit. Veterans who served in a combat theater or combat zone of operations can receive an additional exemption of ten percent, subject to a cap of $36,000 multiplied by the latest state equalization rate for the assessing unit. Service-disabled veterans can receive an additional exemption equal to half of the veteran's disability rating, subject to a cap of $180,000 multiplied by the latest state equalization rate of the assessing unit.
Under the new code, these tax exemption caps for qualifying military veterans will be increased to a maximum of $75,000, $50,000 and $250,000.
What effect would this have on the balance of Scarsdale taxpayers? Town wide it would increase the taxes on the average parcel by $3.62 a year, for a total impact of $21,402. It would impact 163 veterans.
Police Department Recruiting
The Board set a hearing date for October 26, 2021 on a policy change regarding the recruitment of police officers. Currently, only candidates from Westchester and adjoining counties are eligible. The new policy would allow the department to recruit from anywhere in New York State, which would increase the potential candidate pool. Trustee Lewis said, "This will enhance public safety by being fully staffed as a force and give us a better ability to recruit and hire across the state."
There are currently five unfilled positions at the Police Department. As a result, they are paying more overtime, which is not cost efficient.
Parking Permits

Trustee Arest announced a change in the procedure for the sale of parking permits. Here's the news:

Any Scarsdale Village Resident who purchases a Christie Place permit or a Station Premium permit prior to 5PM on Monday, November 1st, will have a priority opportunity to renew their permit for the 2022-2023 period. All purchases to-date for 2021-2022 which qualify will also receive this benefit.

This opportunity is available only to Station Premium permits sold to Residents, and to Christie Place Annual Resident permits. Permit holders must have purchased the permit by Monday, November 1st, and maintained their 2021-2022 permit without it being returned or revoked at any time during the entire 2021-2022 permit year.

Applications must be received by the deadline in order to qualify.

This opportunity is only available for 2021-2022 permit holders for the upcoming 2022-2023 permit year.

There are a limited number of permits remaining in these lots. Permits are sold as first-come-first serve.

Qualifying permit holders will be alerted in Spring 2022 as to when and how they will have their priority opportunity for renewal.
Comments from Mayor Jane Veron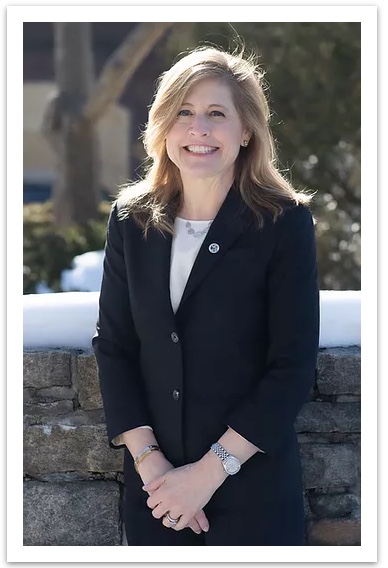 Mayor Jane Veron

Here are comments from Village Mayor Jane Veron given at the opening of the meeting:
Good evening and welcome to our October 12 Village Board meeting.
Tonight we are focusing on revisions to code. Making legislative changes are essential so that we institutionalize new thinking to guide our Village forward. This Board and new staff leadership are hyper-focused on the future, and we have begun a comprehensive look at opportunities for improved service and governance. Our new strategic framework affords focus on the behind the scenes engines that operationalize government, our Enablers: Law, Technology, Communications, and Personnel.
Over the past several months, there has been extensive discussion and deliberation on several matters of law, but until codified, we continue to live with the status quo. Given our desire to turn important conversation into reality, and this evening we are tackling a few this evening:

-Telecom Code
-Veteran Property Tax Exemption
-Police Residency Requirements
Two weeks from today, on October 26, we will address another, Marijuana Dispensary and On-site Consumption legislation.
Earlier tonight in our work session, we reviewed draft legislation to update and strengthen our telecom code. The goal is to provide the maximum amount of local regulatory control afforded to us under the law. It is particularly important to address code changes as we work with carriers to close coverage gaps in Scarsdale, which are both inconvenient and troublesome from a public safety perspective. After we finalize our draft, the next step will be a Planning Board referral as well as a subsequent public hearing prior to considering the proposed changes for adoption. We encourage public discussion as the process continues to advance.
There are two resolutions on our agenda that propose modifications to code. The first recommends adopting the County's increase to property tax exemption caps for veterans. The cost to tax payers is minimal, approximately $3.60 per average parcel, yet the amendment will demonstrate to our veterans our highest appreciation for their service to our country. The second change to local law would expand residency requirements for police officers. By broadening our geographic area, Scarsdale will join the vast majority of police departments in Westchester who recruit officers from multiple New York State counties in addition to Westchester. The proposed change will enable Scarsdale to expedite the filling of vacancies, easing the burden on current staff and reducing the overtime budget.
There are two more items to report before I close. For those of you who didn't join last week's work session, the board reviewed the draft RFP for our Complete Streets/Village Center Mobility and Traffic Calming study. Our goal is twofold: 1. to take a comprehensive look at the Village Center and surrounding streets with an eye toward mobility, safety, and placemaking. 2. To seek innovative strategies to allow for the peaceful coexistence of pedestrians, bikers and drivers as well as to calm streets throughout our beautiful Village. We seek to hire a firm who can take a holistic view of our challenges and propose creative solutions to test, adapt and then roll out across Scarsdale.
My final news tonight has been in the works since we started our term: a redesigned budget process. Led by our new Village Treasurer Scaglione and our new Village Manager Cole, we will be instituting an approach to budgeting that puts into action our desire to integrate strategic and financial planning. We have a lot of work ahead as we systematize, digitize and synchronize our efforts, but you will start to see the inner workings unfold as we get deeper into the fall. I will leave the rest to our Village Manager to report.
Before I turn over the mic, a quick reminder to join us for Coffee with the Mayor, Deputy Mayor and most importantly our new Village Manager on Wednesday, October 20, from 5:30-7 pm in the Dine the 'Dale tent.
Why Doesn't Your Home Insurance Cover Your Storm Losses? An Expert Explains
Details

Written by

Joanne Wallenstein

Hits: 2135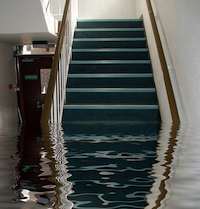 We don't know how many basements flooded in Scarsdale after Ida dumped eight inches of water on us, but we do know that residents suffered significant losses. All you needed to do was driving around town to see piles of wet basement contents waiting for pick-up by Scarsdale sanitation.
Sadly, several people told me that their insurance policies did not cover the damage they suffered. Even though they carry premium policies, the damage was excluded from reimbursement?
We asked local insurance expert Denise Koslowsky of Advocate Insurance to shed some light on the coverage, and advise readers of what insurance they might purchase now to protect them against future losses.
Though Advocate was literally flooded with claims, she took some time to share information about home insurance and flooding.
Here is what she said:
With the weather becoming more severe, and climatologists predicting worsening storms, we have found ourselves at a property insurance crossroads where the coverage that is selected can make all the difference at the time of a loss. The Covid pandemic brought throngs of new homebuyers to Westchester and Scarsdale, and the ease of doing business on-line offered an inexpensive and quick option to purchase insurance for many. However, this also meant that without the guidance of a trusted insurance advisor, coverage such as water back-up and flood were almost certainly excluded.
The so-called 100 year storms are coming fast and furiously, and they are not coming 100 years apart. Climatologists avoid this description, so better to think of these as simply catastrophic weather events. We know Ida transformed New York into a danger zone, taking lives, homes, businesses and cars with her. We previously experienced this with both Hurricane Irene, and Superstorm Sandy. And we know that the storms are getting worse and worse. Nonetheless, when buying a new home so many skip purchasing flood insurance and don't know to purchase water back-up coverage (which is automatically provided on most premier home insurance policies). Homeowners Insurance policies always exclude flood, yet 90% of all natural disasters in the United States involve flooding, and often this occurs in low risk areas.
There is a misperception that if you don't live in a flood zone you don't need or are not eligible for flood insurance. To clarify this, everyone in Scarsdale and Westchester County lives in a flood zone. Usually it is an X zone, which is a low risk area that is often referred to as "not a flood zone". The pricing is determined by the flood zone, so the less severe the flood zone, the less costly the policy. The most common flood insurance available is through National Flood Insurance Plan (NFIP) and is available to everyone. However, it does not provide any coverage for finishings in a below grade basement. It does provide coverage for utilities and clean-up costs, as well as structural damage to the dwelling.
The "elite" insurance carriers offer their own private flood solutions which provides limited coverage for a finished basement, includes replacement cost protection, and pays at a much better pay scale. NFIP is a government sponsored plan and does not provide replacement cost protection. So if your air condenser was destroyed by flood, and you have a second one in your attic, and you can no longer purchase a replacement because the old freon units have been phased out, NFIP will not pay for the unit in the attic that now needs to be replaced because they do not provide replacement cost protection.
Often severe weather causes sewage back-up and power outages. This is why it is so important to have high limits for water back-up coverage. Both sump pump failure and sewage back-up fall under this category but can also be considered flood. The coverage varies from company to company. We have observed companies like Chubb insurance will provide coverage whenever it is not clearly "flood", whereas others will deny. The damage is considered flood when a weather related scenario produces ground water that enters the home through the walls, doors, or windows after first hitting the ground. If a drain is clogged and that causes the water to enter the house, the drain must be located inside and enclosed structure.
It is very important to be aware that base flood policies, such as the ones offered through NFIP, only provide $250,000 of dwelling coverage and $100,000 of contents coverage. Private flood solutions are available for Excess Flood, which is an additional layer of coverage. With so many expensively finished basements in Scarsdale and Westchester, this additional layer of coverage is strongly recommended. It is commonly sold to coastal homeowners who are susceptible to storm surge, but if Ida has taught us anything, it is that all below grade basement are susceptible to flood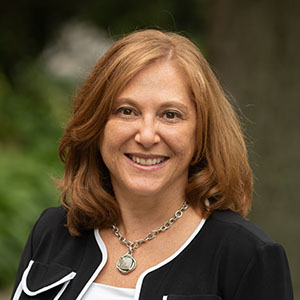 .
Denise Koslowsky has dedicated her entire life to insurance. A thirty year veteran at Advocate Brokerage, she represents the new generation of this fifty-two-year old family-owned-and-operated business. As a Principal at Advocate Brokerage, Denise specializes in High-Net-Worth Insurance. An expert in Personal Lines, Denise is highly focused on getting her clients exactly what they need. As a top agent with several of Advocate's world-class carriers, Denise provides Advocate the ability to offer an unparalleled level of service to their clients. Denise graduated from Barnard College with a B.A. in Art History and began her career as an Assistant in the Rare Photography Department at Swann Galleries, an auction house in Manhattan. She is a Certified Advisor of Personal Insurance through The Wharton School at University of Pennsylvania. She is a proud board member of the Scarsdale Business Alliance; has been on the Board of Scarsdale-Edgemont Family Counseling; and a huge supporter of The Greyston Foundation and Steve's Camp at Horizon Farms.
Raiders Rally in the Fourth Quarter But Fall to Mamaroneck at Homecoming Game
Details

Written by

Jack Margolin

Hits: 1011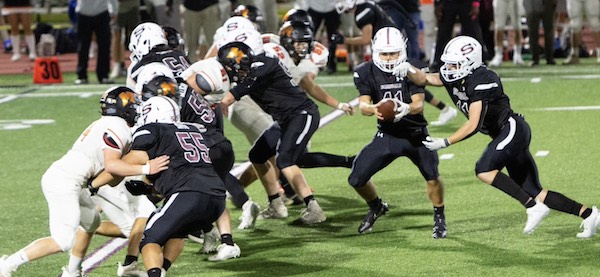 Photo Credit: Brendan DuvalScarsdale High School held its annual homecoming game Friday October 1, but unfortunately, some late-game heroics weren't enough to pull out a victory against Mamaroneck, leaving the Raiders 1-3 for the season.
The Scarsdale crowd was back in action. With no homecoming game last season, the fans were out in full force this year supporting the Raiders. For seniors, this is their last chance to support their teams which gives them extra incentive to attend games. The cheerleading squad and band made the event even more entertaining. Overall, the energy in the stands was electric and it certainly heightened the mood.
The game started off slowly, with neither team scoring in the first quarter. Mamaroneck started to build momentum in the second quarter, though, and put pressure on Scarsdale. The first scoring of the game came on a field goal by Mamaroneck kicker Seth Julie, and that led the way for them to continue piling on. They went on to score two touchdowns within two minutes and six seconds of game time, and Scarsdale trailed 17-0 into the half.
At halftime, as Scarsdale Youth Football players ran on the field, the crowd saw animated Scarsdale coaches trying to fire up the team to come back. The team knew they were better than how they were playing. It was up to them to prove it.
After an injury to starting QB Brian Nicholas, backup Adrian Duval came in to try and lead the comeback. However, the third quarter was scoreless. Scarsdale got on the board with 11:03 left in the fourth on a Duval sneak to make it 17-7. The game was now officially within reach.
After a quick three and out by Mamaroneck, Scarsdale took possession with just over nine minutes to go in the game. WR Reese Shelon drew a pass interference call to get Scarsdale near the red zone, and Duval ran it into the endzone to put the Raiders within 3. The student section was going wild and all the momentum was on Scarsdale's side.
And then it got crazier. The ensuing kickoff was fumbled by Mamaroneck and Scarsdale recovered. One touchdown and the Raiders would take the lead. With 6:16 remaining, Duval did just that on a 28-yard run. Scarsdale now had a 21-17 lead, and as you could probably guess, everyone in the stands lost their minds.
Photo Gallery Brendan Duval
Mamaroneck still had a chance to respond. With 4:40 remaining, QB Jason Cox delivered a beautiful ball on third down to keep Mamaroneck's hopes alive and bring them into a first and goal situation. They'd go onto score and take a 24-21 lead.
The Raiders were unable to score on their final drive and that was the game.
They have nothing to be ashamed of, however. They proved they can handle adversity and will not give up on a game regardless of the score. That bodes well for the rest of the season.
Scarsdale will look to bounce back next week against Yonkers Force.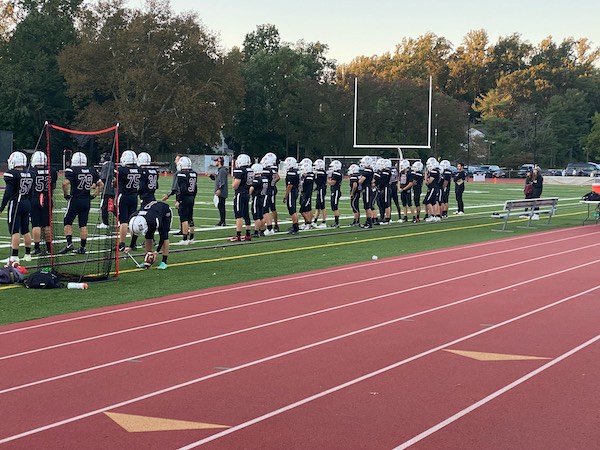 Photo Credit: Jack Margolin
FEMA Relief To Be Available for Uninsured Storm Losses
Details

Written by

Joanne Wallenstein

Hits: 1500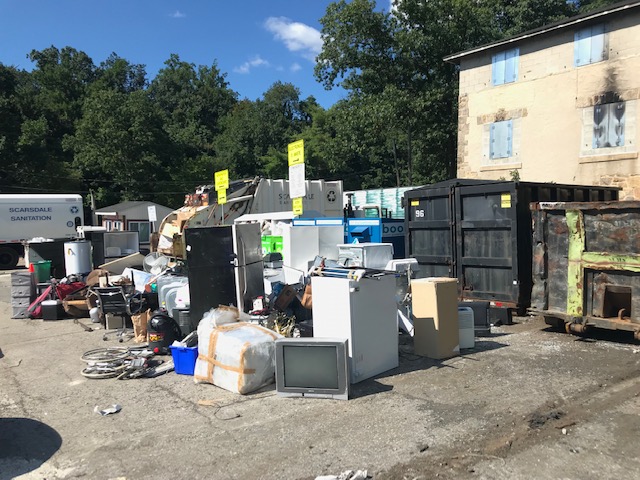 Recycling center Saturday afternoon post-Ida. As one resident observed as he recounted his losses — it's just stuff. However, there was a lot of it. Photo by Jon MarkAs residents clean up flooded basements and towed deluged cars, County Executive George Latimer announced that FEMA relief would be available to both individuals and municipalities who suffered uninsured losses from Hurricane Ida. On Monday September 6, Latimer announced that Governor Kathy Hochul had expedited the Major Disaster Declaration for New York and FEMA will provide economic relief for Westchester.
At a press conference Latimer said he had personally toured areas devastated by flooding in Yonkers, Mamaroneck, Rye, downtown Chappaqua, Mt. Kisco and Port Chester. He said businesses and individuals had disastrous economic losses and the flooding had caused dangerous health conditions from water and mold. He reported 200 cars lost to flooding in the Village of Mamaroneck, abandoned cars along the Hutchinson River Parkway and flooded businesses and restaurants in Port Chester.
Sadly, five Westchester residents died as a result of Hurricane Ida.
In order to assist residents with disposal of wet debris, the County opened their transfer stations for additional hours and ramped up garbage pick up. He also said that there has been an increase in demand at the county's food pantries.
In order to get assistance for uninsured losses, Latimer encouraged residents to take pictures and make lists of lost items and their cost. He said that a mobile disaster recovery center will be made available and residents will also be able to apply online for reimbursement for losses. Find resources and links on the Scarsdale Village website here: Relief application forms and information will also be available at https://www.westchestergov.com.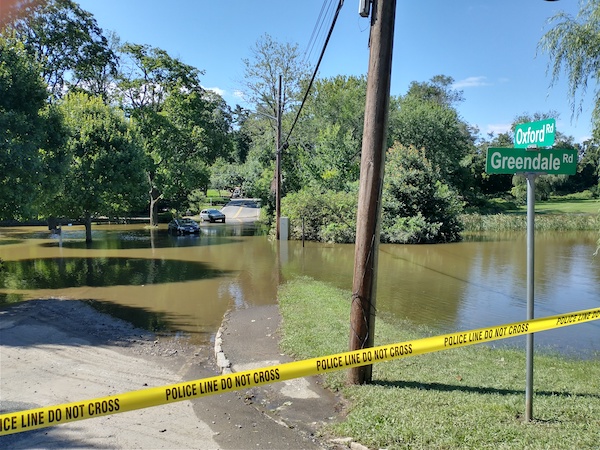 Flooding at George Field the day after Ida. Photo by David Krembs