Halloween Window Painting Contest Winners 2022
Details

Written by

Joanne Wallenstein

Hits: 1949
Young artists produced beautiful window paintings for the 71st year of the annual Scarsdale Halloween Window Painting event. The store windows of Scarsdale Village, Depot Place and the Golden Horseshoe were painted by individuals and pairs and the top prize winner in each category are pictured below.
The Grand Prize went to Isabelle Zhu for her skeleton painted at left.
In total, 204 entered the contest with an additional 158 painters in the family category that was not judged.
Beautiful fall weather made the day a big success.
Here is the complete winner's list along with their work.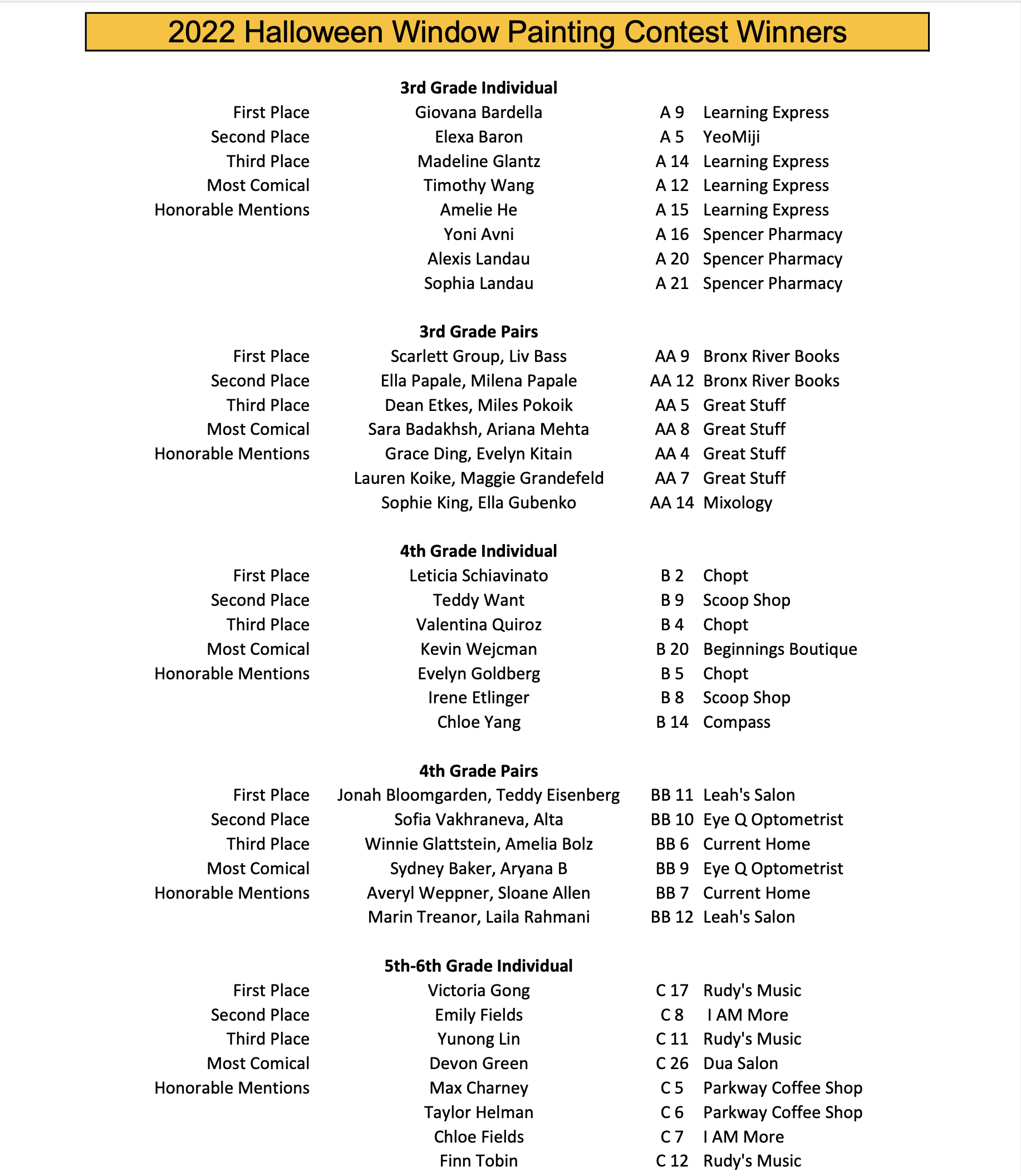 First Place 9th Grade Individual - Alexandra Israel
1st Place Ninth Grade Pair - Olivia Bercun and Dia Mody
First Place Seventh and Eight Grade Individual - Alexandra Thela
First Place Seventh and Eighth Grade Pair - Sophie Luo and Michelle Peng
First Place Fifth and Sixth Grade Individual - Victoria Gong
First Place Fifth and Sixth Grade Pair - Irena Mao and Helen Feng
First Place Fourth Grade Individual - Leticia Schiavinato
First Place Fourth Grade Pair - Jonah Bloomgarden and Teddy Eisenberg
First Place Third Grade Individual - Giovana Bardella
First Place 3rd Grade Pair- Scarlett Group and Liv Bass

Neighbors Dig in at Greenacres Neighborhood Association Pancake Breakfast
Details

Written by

Joanne Wallenstein

Hits: 737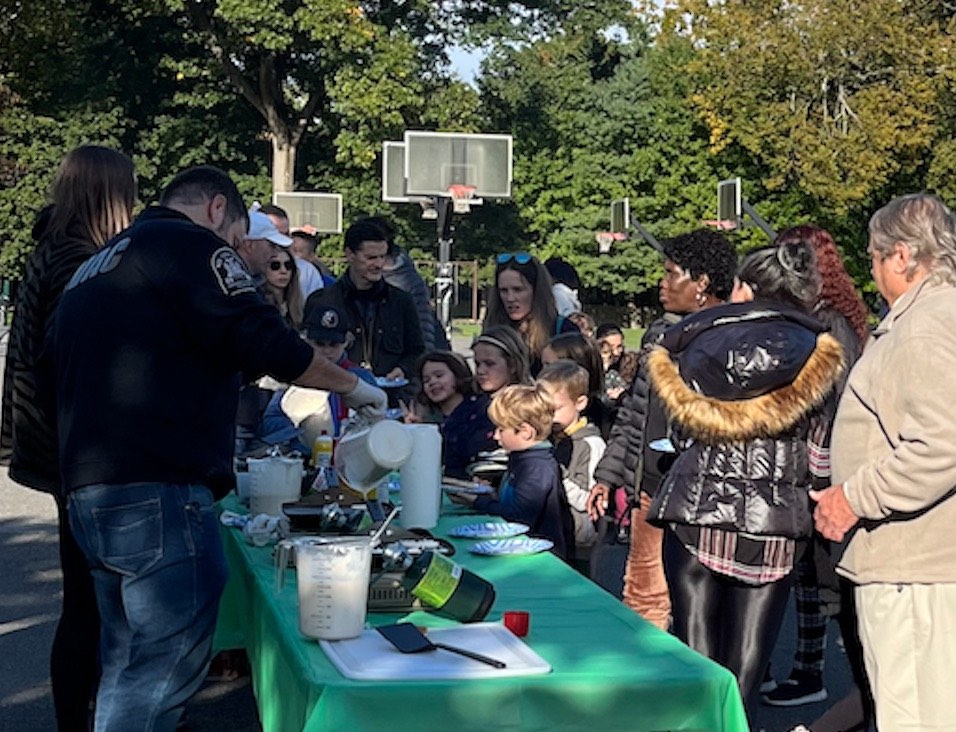 The Greenacres Neighborhood Association served over 150 people at its seventh annual Pancake Breakfast on Monday, Oct. 10.
The hungry residents arrived at Greenacres field by the dozen to enjoy camaraderie and fresh-made pancakes, coffee, cider and hot chocolate.
"Everyone - from babies to grandparents - reveled in the gorgeous weather, delicious food, and neighborly conversation. As we always say, Greenacres is the place to be, and this morning truly demonstrated that sentiment," said Kristen Zakierski, Greenacres Neighborhood Association President.
Members of the neighborhood association's board along with community volunteers helped to make the morning a success.
After a pandemic-inflicted hiatus, the GNA resumed its flagship community events over the summer with its July 4th Celebration and outdoor movie night last month.
For more information, visit greenacres10583.com.
An Apartment That Feels Like a Home
Details

Written by

Joanne Wallenstein

Hits: 1005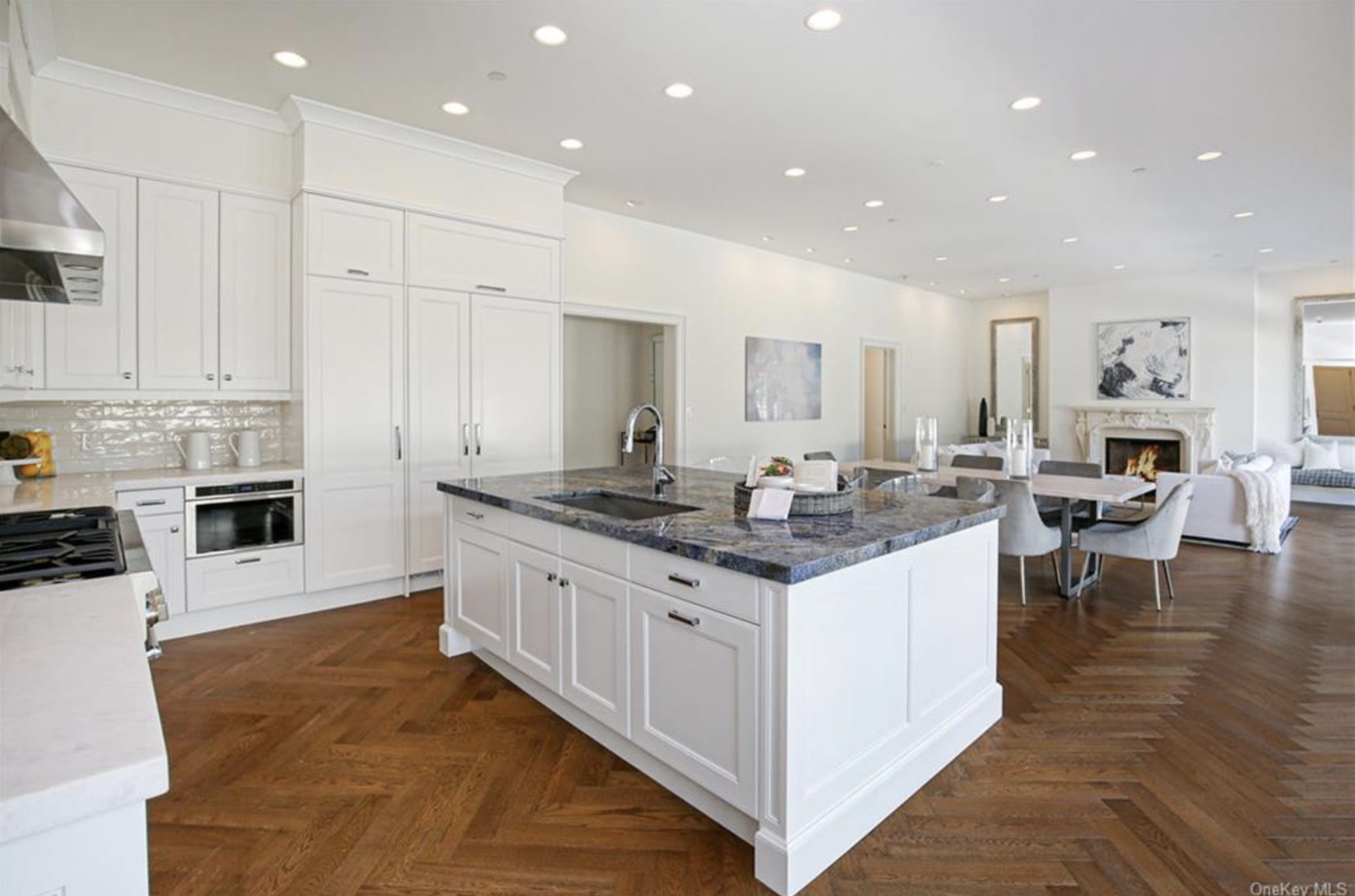 Locals and realtors were treated to a preview of one of the penthouse apartments of The Heathcote on Thursday September 15. The spacious and luxurious three bedroom apartment has an outdoor terrace overlooking Weaver Street and beyond, that was almost half the size of the indoor space.
Who says you have to give up the outdoors if you move to a condo!
The penthouse included a state of the art kitchen with top of the line appliances that opened onto a 30 foot dining room and living room with a fireplace. It was easy to imagine hosting holidays and parties at the lengthy dining table.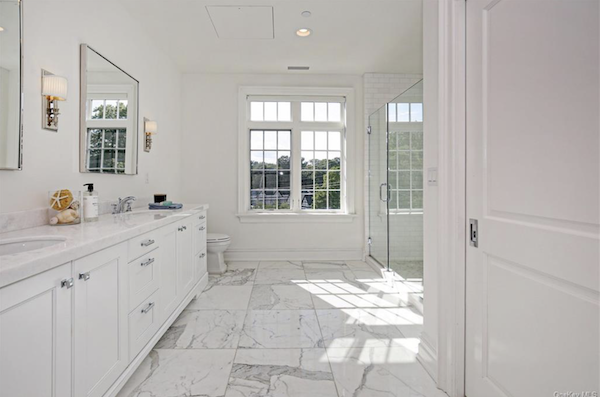 Other jaw dropping features included a 17' by 7' bathroom in the primary suite with separate soaking tub, shower and double sink and another terrace off the bedroom. A 14' X 9' walk in closet had been outfitted by California Closets and there was even a separate laundry room with oversized washer and dryer.
Two additional bedrooms with adjoining bath along with a half guest bath and gracious foyer make this a home to rival any single family house in town.
And if that's not enough, you also get a doorman, a garage with charging stations, a fitness center and an invitation to bring your dog.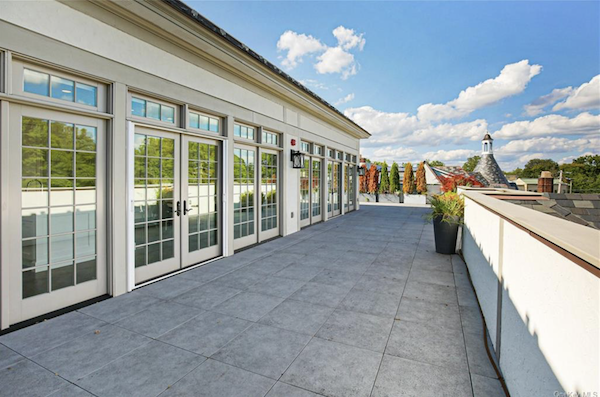 The building converted to a condominium on August 1, 2022 and five apartments are now sold or under contract. There are two, three and four bedrooms coming to market soon.
This and several other units are available and ready to view. Learn more here: https://www.theheathcote.net
Library Board Issues Response to Complaints from Former Part Time Employee
Details

Written by

Joanne Wallenstein

Hits: 3633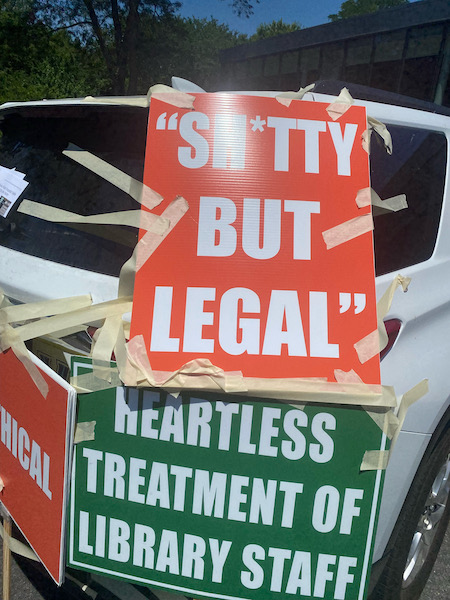 Perhaps you have noticed an unusual site around Scarsdale – a protestor who pickets at many local events and frequents the Village and the library. She has made her presence known at Library and Village Board meetings and we spotted her this month at concerts in the Village, and even at a meeting of the League of Women Voters of Scarsdale. In addition to picketing, Stettnisch has emailed Village Trustees, the Library Board, the Mayor and local officials.
For those who have not engaged with her, Robin Stettnisch is a former part-time employee of Scarsdale Library whose job was eliminated when the library closed for renovation in 2018.
As a part time employee her job was not protected by the union and according to a 9/26 statement from the Library Board, "The decision to reduce the part-time workforce was made after considering the financial consequences on impacted employees as well as the Library's fiduciary obligations. The Library's workforce reductions were made in close consultation with the Library staff's union, the Civil Service Employee Association, and conformed to all Westchester County Civil Service rules."
And even Stettnisch seems to recognize that she has no legal claim against the library. The signs on her car say, "Shitty But Legal," indicating that she finds her treatment "shitty" but that the Library followed the law in eliminating her job.
But here's where to the two stories diverge:
Stettnisch says that Library Director Elizabeth Bermel "gave me her word that I would get my job and salary back when the newly renovated library reopened."
The Library Board statement says, "No part-time employee, including Ms. Stettnisch, was promised to be rehired at their previous salary after the completion of the renovations. Despite Ms. Stettnisch's repeated public assertions of a verbal promise from Ms. Bermel, this simply did not happen."
How many hours did she work for the library? The Board's statement says, "While she had been employed at the Library in various positions since 1988, she was a part-time employee on and off from 2001-2018 working an average of 3.5 hours per week."
However Stettnisch reviews only her hours from the last two years of her employment and says, "In 2017, before the library closed, I earned $21,156 which averages 9.27 hours per week. In 2018 the library was open for 6 months and I earned $13,431 which averages 11.77 hours per week."
What is she asking for?
The Library Board statement says, "Ms. Stettnisch has demanded from the Library that she will stop picketing in exchange for $1.8 million (source: Stettnisch email 3/14/22). She has also written that she will not stop picketing unless she is rehired at her previous salary plus a raise, paid retroactively for all of the years that she did not work for the Library, given gas money for her travel to and from picketing, and compensated for the cost of her picket signs (source: Stettnisch email 6/29/22)."
But Stettnisch now says the $1.8 mm statement was a "tongue in cheek" comment. She explains, "Scarsdale Public Library Board met on 3-14-22 (after 7 months of them still completely ignoring me) and I attended on Zoom. The Library announced they had a $1.8 million dollar surplus and the Board was absolutely ecstatic! They were falling all over themselves congratulating SPL Director Beth Bermel on her wonderful achievement! They were joyously brainstorming ideas about what could be done with all that extra money that Beth saved....
And so, I reminded them that part of the $1.8 million dollar surplus was there because of what was so unethically, immorally and heartlessly done to the staff... I pointed out that what they saw as "fiscally responsible" was indeed "morally reprehensible". I pointed out they shouldn't be rejoicing over money saved if it was saved by intentionally hurting long term employees and their families.
That is where the $1.8 million dollar "tongue in cheek" statement came from. And the Board knows that. Just another failed attempt to purposely, deceitfully, mislead the residents of Scarsdale."
What does she really want? Stettnisch says, "I started out over 1 year ago in August 2021 asking the Library Board, the Mayor, and the Village Board, simply for my job and salary back as promised by Beth. I simply asked them to stand up and do the right thing. And they all chose, and still do, to completely ignore me. Heartless."
We asked Stettnisch if she plans to continue her campaign but she did not reply to our question.
See statements from the Library Board and Stettnisch here.
A Brewery Opens and a French Bistro is on the Way
Details

Written by

Joanne Wallenstein

Hits: 3919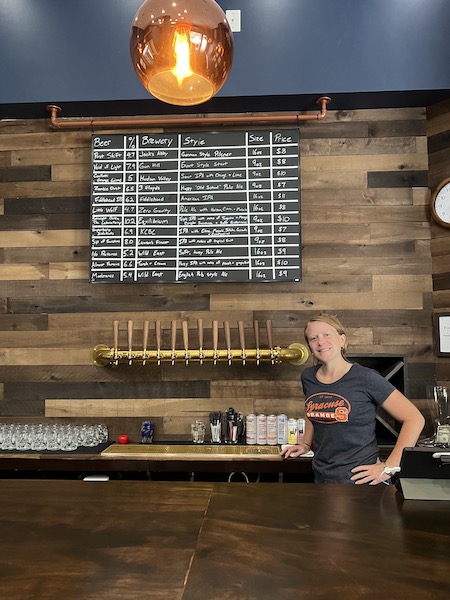 Here's some news about the ever changing restaurant scene in Scarsdale Village.
Beer anyone? Scarsdale now has its own craft beer bar, with 12 beers on tap and another 60 brands of brew available in bottles and cans. There's a flavor for everyone with clever names like Little Wolf, Zombie Dust, No Pretense and Almost Famous, priced from $7 - $10 a glass. Some brews are local and others hail from breweries as far away as Massachusetts and Vermont.
The inviting space on Boniface Circle include tables and bar stools where you can hang out, meet friends and even enjoy a takeout meal of pizza, a sandwich or sushi along with your drinks. It's a great place to meet someone getting off the train or to gather for a drink before or after dinner in the Village.
Sim Coe Beer Bar is owned by Jeff Spychala, formerly of the Gun Hill Brewery in the Bronx. He named the bar for simcoe hops, a popular hops used to brew beer.
Sim Coe Beer Bar is open from 12 pm – 10 pm every day and invites you to stop by and taste one of their many appealing brews.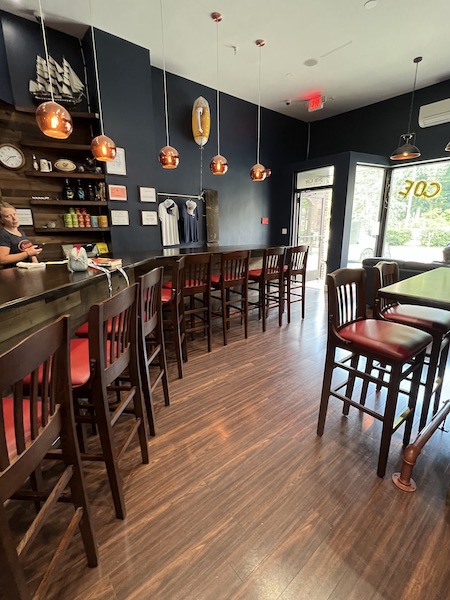 Sim Coe Beer Bar
11 Boniface Circle
Scarsdale, NY
(914) 215-5399
French Bistro Coming to Scarsdale Avenue
Scarsdale Improvement Corporation, the owner of the property at 878 Scarsdale Avenue previously occupied by Metro Diner, offered a few more details on the future of the site.
According to DJ Petta from Scarsdale Improvement, a French Bistro will be opened by a Scarsdale native who spent many years living in Paris and also operated some of the finest restaurants in NYC. The new owner plans to open a restaurant that "channels the warmth, charm, and energy of Parisian dining."
The deal was brokered by Ashley Badger of Julia B. Fee Sotheby's Scarsdale along with partners Bob Virgulak and Michael Spremulli, who represented the new restauranteur and worked with Petta to secure the new business.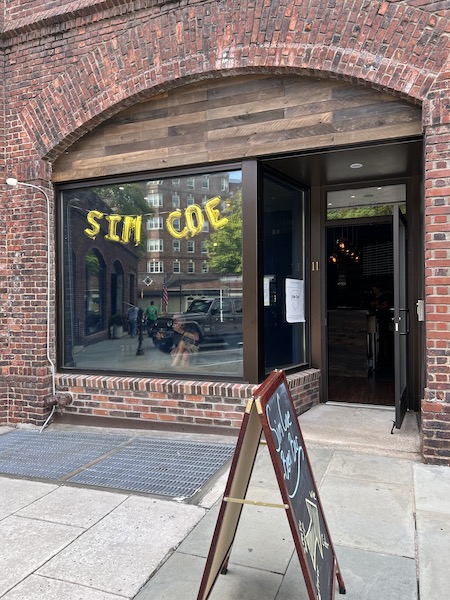 Petta said, "All of us at Scarsdale Improvement are excited to welcome another restaurant tenant to the Village. This deal moved so smoothly thanks to everyone involved, especially Ashley and her team. We think the French Bistro will be a great fit and are looking forward to all our new restaurants and retail tenants opening for business."
No details have been provided as yet about the new owner, the menu or the schedule for the opening.