Walk of Lights Installed at Butler Field
Details

Written by

Joanne Wallenstein

Hits: 1002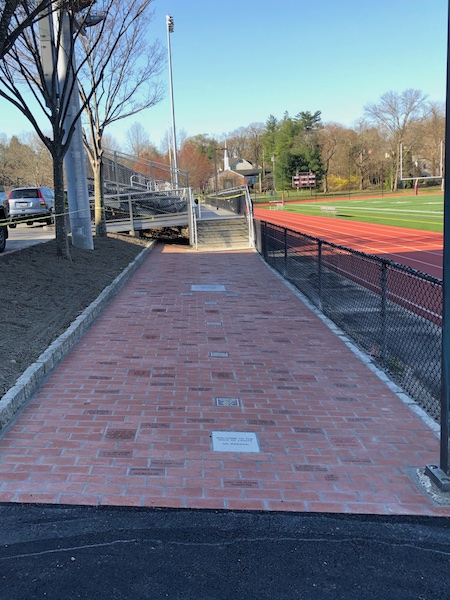 A new brick walkway, celebrating the donors who contributed to bring lights to Butler Field, is now complete at Scarsdale High School.
The 10' by 50" walkway, called the Walk of Lights at Butler Field, leads to the stands at the track and football field. It is constructed of engraved pavers recognizing the names of those who gave $1,000 or more to the $850,000 campaign. All 438 donors were publicly acknowledged in a page in the newspaper.
Scarsdale High School Booster Organization Maroon and White led the Light the Future campaign to replace the portable diesel powered lights with clean, highly focused LED permanent lights. The lights will facilitate home night games, playoff games, pre-season games, youth recreation games and more, and offer additional playing time on the turf in dark and wet weather.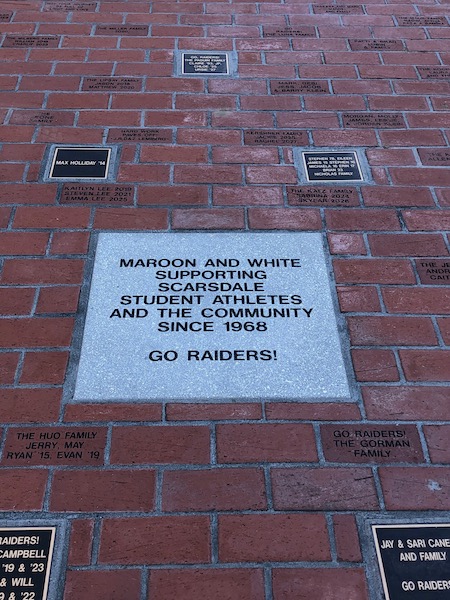 Scarsdale Leaders Asks For Your Input on Qualifications for New Village Manager
Details

Written by

Joanne Wallenstein

Hits: 990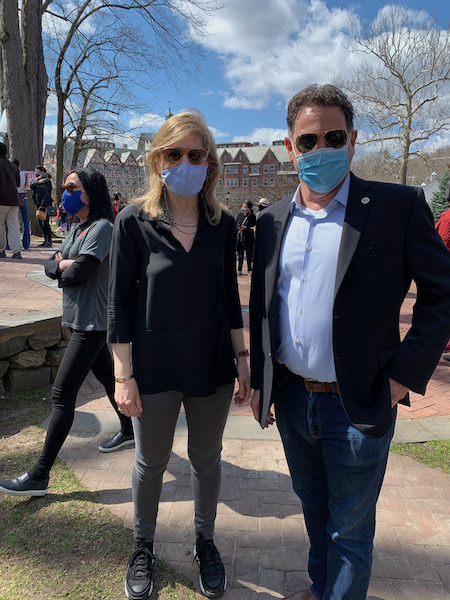 Jane Veron and Marc SamwickThis letter was written by Scarsdale Mayor Marc Samwick and Mayor-Elect Jane Veron

Dear Scarsdale Community,

Our Village is embarking on one of the most important efforts that will shape the future of Scarsdale, and we invite and encourage your input.

Our wonderful Village Manager Stephen M. Pappalardo recently announced plans to retire this summer after a distinguished 33-year career with the Village, the last six years as manager. Steve served our community with extraordinary commitment and unwavering dedication, never more so than during the past year of COVID, storms, and strained budgets. Replacing him will be a critically important task that will have a material impact on the Village's future.

We have just initiated the search for our next Village Manager and want to hear from you! We would greatly appreciate your views on the qualities and skills you prioritize in someone hired to manage Scarsdale's municipal operations. Please take a few minutes to fill out our short survey by April 12; your response will help shape the job description designed to attract the best and most suitable candidates in our search.

The Board of Trustees has hired GovHR to assist in the search, the first such formal search for this role since 1995. GovHR, led by Joellen Cardematori, is a nationally recognized firm that has placed more than 450 senior local government officials in key positions throughout the country. GovHR has a strong track record in recruiting successful leaders and a depth of experience that suits our objectives well.

Our goal is to have an inclusive and transparent process that reflects and incorporates your views. We are guided by a desire to find a professional leader to take the Village well into the 21st Century – one who can embody our aspirations to be a national leader in municipal government, capable of delivering best-in-class government services, and fully aligned with the needs of our increasingly evolving and diverse community. This leader must also have a commitment to retaining what makes our "Village in a park" so special.

Thank you for taking the time to give us your thoughts. We greatly appreciate your participation. If you have any additional comments, please feel free to email scarsdale@govhrusa.com.

Again, thank you so much for your assistance in this important moment in Scarsdale's history.

Sincerely,

Mayor Marc Samwick
Mayor-elect Jane Veron
Neighbors React to Nadler's Treatment by the Board of Architectural Review
Details

Written by

Joanne Wallenstein

Hits: 1781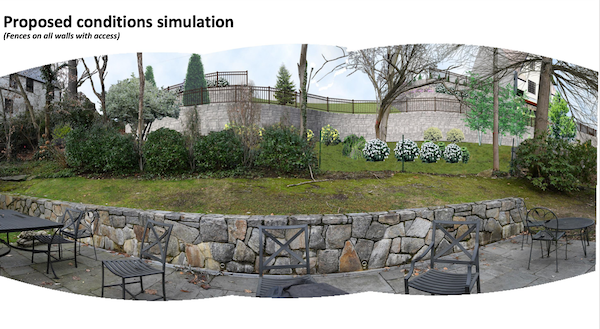 Last week's article detailing a resident's unsuccessful fight to stop a developer from building tall retaining walls above his patio elicited several letters. The Board of Architectural Review granted approval to a developer to build a series of towering retaining walls topped by fences on Kingston Road to accommodate a larger yard and a pool. The work will adversely impact the neighbor whose property sits at the bottom of the steep incline.
See below for a letter from a local resident who was adversely affected by the construction of a new house next door and another who followed Nadler's case and recognized flaws in the system that approved the developer's plans.
To the Scarsdale Board of Trustees, Village Attorney and BAR:
Based on similar experience to that of Mark Nadler's disappointing quest for a just BAR and Building Department ruling, I advocate for impartial and fair oversight of real property development balanced with the interests and rights of existing Scarsdale residents. I have lived in the Village for many years and experienced and repeatedly witnessed the economic motivation of the Building Department in support of developers superseding the interests and rightful treatment of Village residents. The scales are definitively tipped by this financial motivation providing hugely increased real estate taxes and other payments.
My experience with the teardown of a beautiful home next door in favor of redevelopment coupled with my unsavory interaction with the developer, BAR and Building Department was untenable and in many respects illegal. I FOIL'ed, I reviewed plans, I reviewed inspections, I reviewed reports, I photographed, I attended meetings, I requested meetings; however, all of my efforts resulted in denial of mistakes identified in writing in building applications/third party reports/inspections. Previously approved construction plans were changed by the developer without my knowledge or consent but with the knowledge and consent of the Building Department. The new dwelling was constructed and has resulted in my having to spend in the five figure range to repair damage to my property sourced to erroneous yet approved reports and amended construction plans. Additional issues created by the new home next door are irreparable. And as will likely happen to Mark Nadler's home, my home is currently less enjoyable and will be less marketable thus rendering lower proceeds resultant from construction endorsed and approved by the BAR and Scarsdale Building Department.
The response to Mr. Nadler's letter from Mr. Cutler, the Scarsdale Village Planner, fails to address any of Mr. Nadler's concrete questions. Further, according to Mr. Cutler's response, if "…it would be inappropriate for the Mayor…to comment…", why then did the Mayor comment prior by assuring Mr. Nadler that he would receive fairness in presenting his case to the BAR? Fairness includes presentation of ALL information from Mr. Nadler and all associated experts. Mr. Nadler and his team were denied this opportunity at the BAR meeting. The Mayor must be accountable for his words and lack of actions. Mr. Cutler, the Mayor and the BAR owe Mr. Nadler the opportunity to present his entire case resulting in a fair and unbiased ruling with supporting opinion detail rendered by the BAR.
The system is broken. The response to Mr. Nadler's letter to the Mayor by the Scarsdale Village Planner is a non-answer, shameful and unacceptable by lack of explanation and assumption of responsibility. This appears to be precedent. I implore the BAR, Board of Trustees, Scarsdale Attorney, and other responsible parties to rectify and render fair the real property redevelopment process in Scarsdale balanced with equal consideration of Scarsdale residents' rights.
Respectfully,
Name Withheld
Scarsdale's Land Use Process Needs Help
Lot by lot Scarsdale's bucolic character is changing.
Quintessential Scarsdale homes are torn down and replaced by the proverbial McMansion or massive additions are built which materially alter a home's original character. And, oftentimes every square inch of buildable land is used, taking away our trees and green space.
Granted, weighing the rights of the property owner against the environmental and aesthetic impact that these material changes produce is an ongoing discussion. Just as its name reflects, Scarsdale's Board of Architectural Review (BAR) is responsible for the review of architectural plans, and that review could use several improvements to help preserve the aesthetic and environmental health of our village. The following are recommendations regarding how BAR, as well as the Zoning Board of Appeals and Planning Board, review can be improved:
(1) Neighbor notification should be expanded beyond the 200 foot requirement. Currently, with respect to residential uses, applicants must give written notice to the owners of every property within 200 feet of the boundary of the property involved in the application. (For commercial uses or other public uses, the requirement is 500 feet.) However, quite often, neighbors beyond the 200 foot limit are impacted by the project and should be given notice.
(2) Notification should be received by neighbors at least 2 weeks prior to a land use hearing. Currently, written notice must be served either by certified mail not less than 10 days prior to the hearing or personally not less than 7 days prior to the hearing. The current requirements simply do not provide enough time for neighbors to prepare for the hearing, especially if they need to consult with a professional.

(3) In the event an application is held over to a subsequent hearing, neighbor notification of the next meeting date should be required. There is currently no such requirement; it is simply within the board's discretion to direct that notice of the next hearing date be given to neighbors.
(4) An appeals process should be granted to a neighbor who is materially affected by the BAR's determination. Currently, only the applicant can appeal a BAR decision.
(5) Review of landscape plans must be emphasized as a critical part in the BAR review process. Currently, it is unclear who, if anyone, reviews landscape plans submitted to the BAR.
(6) A consistent policy and guidelines as to what is considered aesthetically acceptable should be established. For example,
there appears to be an inconsistent policy as to whether a circular driveway on a small front yard is acceptable. At one BAR meeting, a small front yard parking area that would allow a car to be parked parallel to the street was rejected as being unsightly while at another BAR meeting a month later a circular driveway on a small front lawn was approved.
In addition to improving land use review, two important changes to our Village Code should be made. First, Scarsdale's floor area ratio (FAR)-- which is the maximum floor space that can be constructed on a piece of land-- limits should be lowered. Article XVI of the Village Code, which establishes the maximum FAR allowed, sets forth, in part, that:
The recent trend of tearing down existing houses and replacing them with larger houses or building large additions to existing houses threatens the appearance and impacts upon the health, safety, welfare, and quality of life of Scarsdale.
The existing FAR code provisions do not adequately address these pressing issues.
Likewise, Scarsdale's lot coverage provisions should be revised. Article IV of the Village Code sets forth lot coverage restrictions, and like the Village's current FAR maximums, must be reduced. As the Code specifically acknowledges:
Excessive coverage of lots with structures and impervious surfaces can limit adequate light and air; cause overcrowding of land; lead to drainage and flooding problems as a result of reduction in the land's water absorption ability; affect the character of the community; and have an adverse impact on neighborhood aesthetics.
Last year the Village drafted amendments to the Village Code regarding bulk and FAR. Though the amendments are not strong enough, they are a step in the right direction. The Planning Board, on March 24th, will hear public comments on these amendments. Click here for more information.
Scarsdale must continue to refine both its code and its rules and regulations in order to address the pressing health, safety, welfare, and quality of life issues presented by land development in our village.
Joan Weissman
Kingston Road
Vigil on Saturday in Chase Park
Details

Written by

Joanne Wallenstein

Hits: 1164
In response to the shootings in Atlanta, a vigil will be held in Chase Park from 1-3 pm on Saturday March 27, 2021. The vigil will be led by Scarsdale High School students and will focus on the experience of Asian American teens. The community is invited to attend and masks are required.
The Vigil came about as members of SCA felt the need to do something to mourn the senseless loss of the victims, beyond the public statement, and mobilize the neighborhood to unite together to show love and respect for human lives.The vigil is organized by the SHS Conscientization and Empowerment Club and the Scarsdale Chinese Association, and sponsored by OCA Asian Pacific Advocates, Westchester Association of Chinese Americans, the Scarsdale Ad Hoc Council to Combat Racism and Bias, and Scarsdale Insight.

During the Vigil the following roads will be closed: Chase Road from Popham to Christie Place, as well as Boniface Circle, Harwood Court, and Spencer Place. Parking meters will be bagged on these streets at 2AM Saturday morning, and the roads are scheduled to be closed at 11AM on Saturday. Popham Road, Christie Place, and East Parkway will remain open.
The barricades and bagged meters will be removed upon completion of the event and the safe dispersal of all participants.
The crowd size is expected to be in the hundreds.
A public restroom at the Christie Place Garage is available for public use.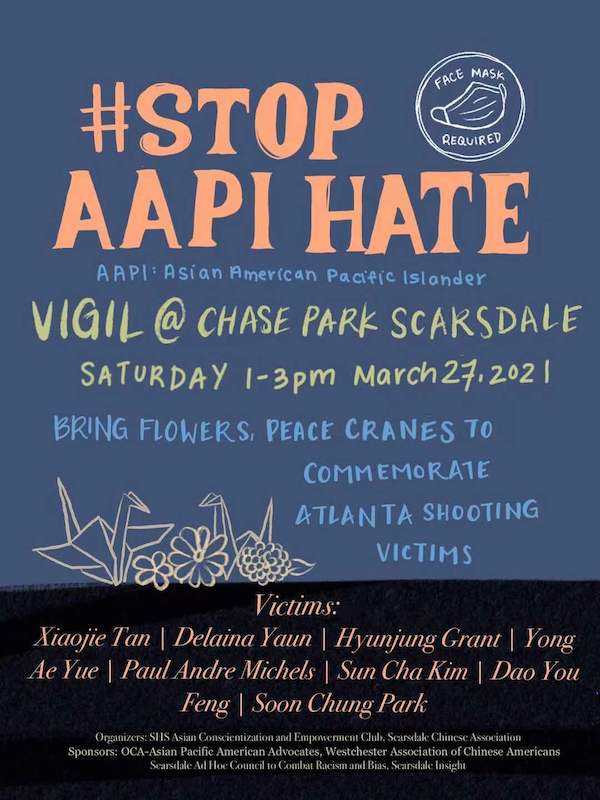 SHS Girls Basketball Team Goes 58-34 Against Edgemont
Details

Written by

Joanne Wallenstein

Hits: 909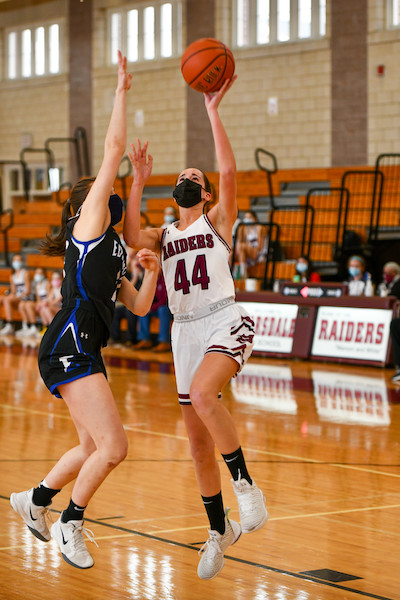 Senior Captain Abigail Talish scored her personal high of 22 points against Edgemont.Scarsdale's Girls' Varsity Basketball posted a strong victory against Edgemont, 58-34 on Saturday March 6, 2021. The Raiders were led with 22 points from Senior Captain Abigail Tallish and 19 points from Freshman Zephyr Connolly.
Photos by Jonathan Thaler.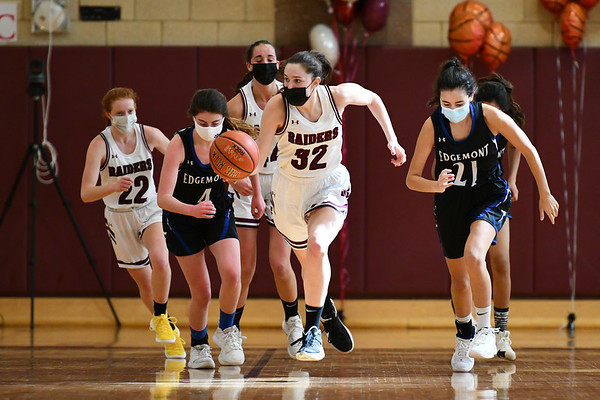 Junior forward Moira Conlan running a fast break.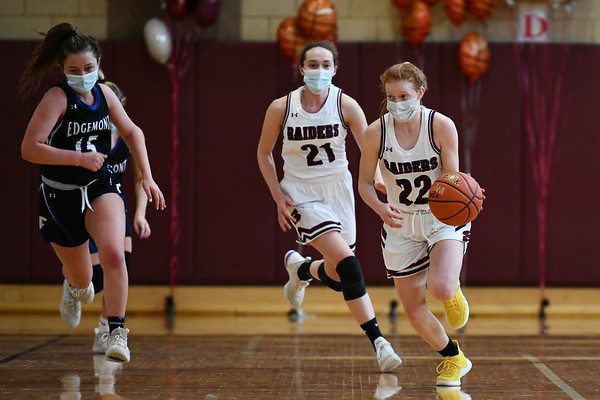 Freshman guard Zephyr Connolly brings the ball down the court.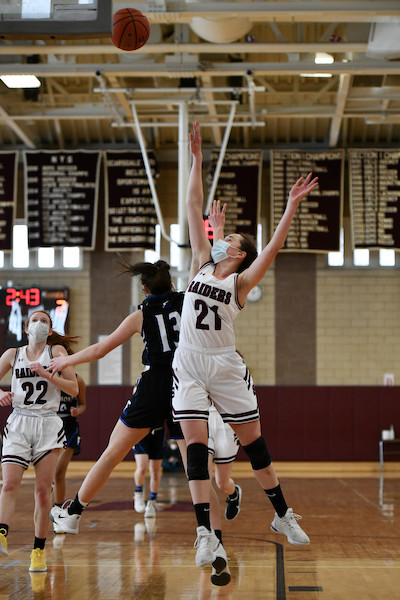 Sophomore Isabelle Goldban goes up for the shot.