Little Progress Made Overnight Restoring Power: 1,891 Customers Still Out in Scarsdale
Details

Written by

Joanne Wallenstein

Hits: 2652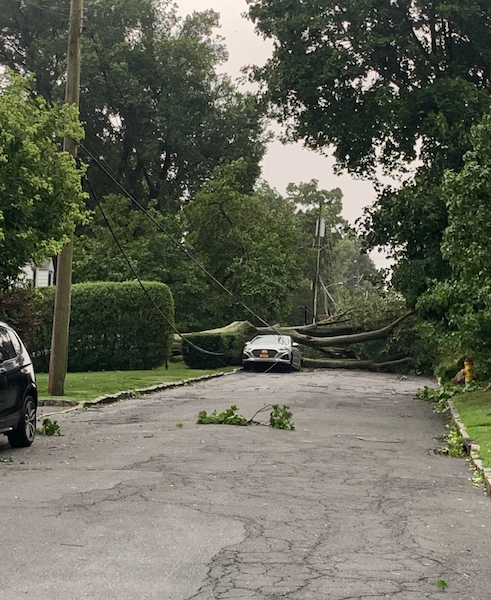 (Updated August 5) Little progress was made overnight in restoring power in Scarsdale where 1,891 customers are still out following Tropical Storm Isaias. There are 94,550 outages in Westchester.

Scarsdale Village reports that the following roads remain closed:

-Boulevard at Bradley
-Fox Meadow from Ogden to Wayside
-Heathcote from Palmer to Brookby
-Heathcote from Morris to Sherbrooke
-Kelwynne at Birchall
-Mamaroneck at Griffen (partial blockage) –Mamaroneck is otherwise open.
-Murray Hill from Post to Cooper
-Weaver from Stratton to Crossway
As previously reported, hundred of trees and wires are down in the village after Tropical Storm Isaias whipped through Scarsdale on the afternoon of Tuesday August 4 with howling winds and driving rain. Trees swayed and fell so hard they made the ground shake. Even after the rain stopped around 3 pm, severe winds continued to rock trees back and forth until early evening.
According to the Con Edison outage map, 2,188 village homes are without power as of 6 pm on Tuesday night, about one third of homes. Emergency workers are responding to residents with fallen trees, wires and emergencies.
Here is the Con Ed Outage report as of the morning of August 5: You can see the outage here.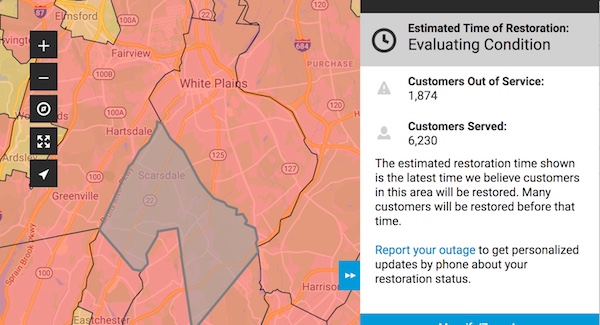 Traffic lights are out and drivers are weaving around town to avoid the fallen trees that have blocked many roadways. Some trees even fell onto houses, creating devastating damage. People are struggling to navigate roadways due to closures on Post Road, Palmer Avenue, and other main thoroughfares.
Do you have storm damage? Please email your photos and details to scarsdalecomments@gmail.com and we'll post them throughout the night.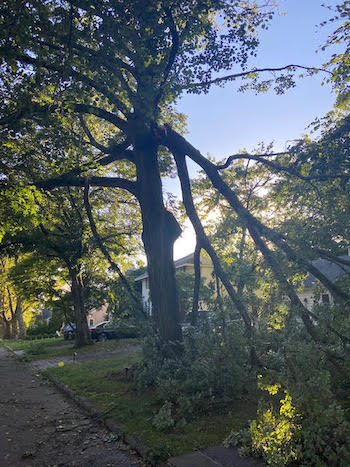 Wynmor Road photo by Todd Finger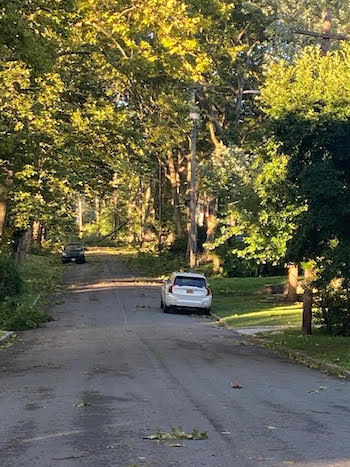 Wynmor Road photo by Todd Finger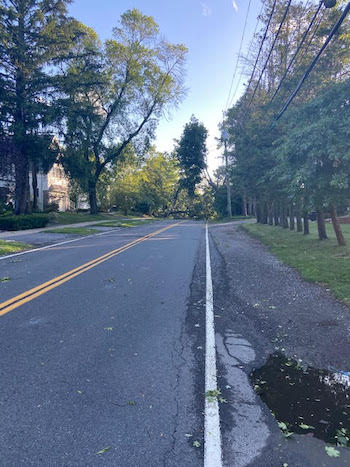 Palmer Road photo by Todd Finger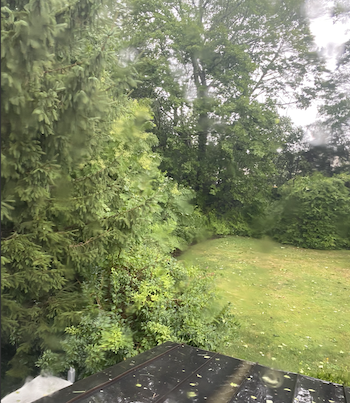 Fallen tree in Garden Road backyard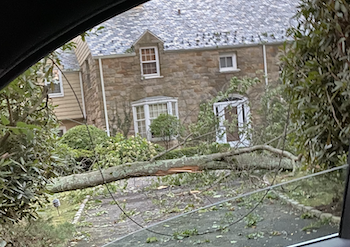 Tree down on Birchall Road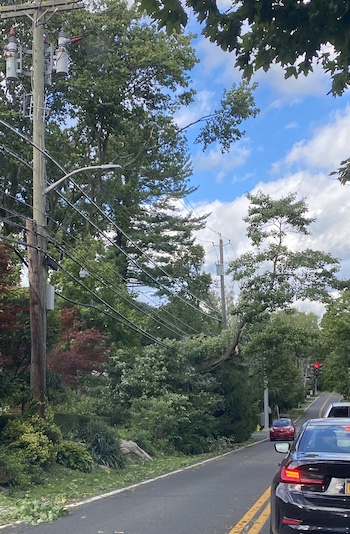 Branch leaning on wire on Palmer Avenue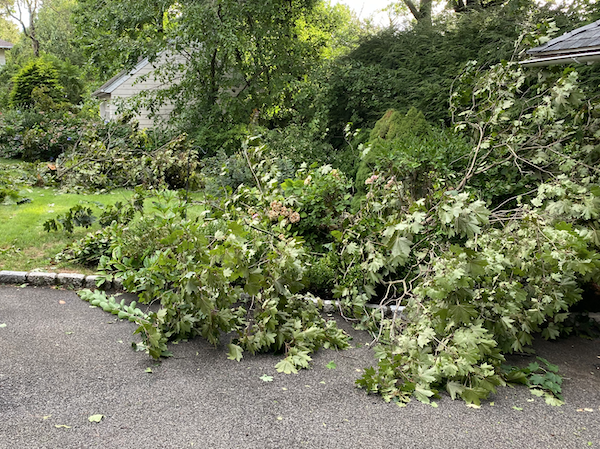 Fallen branch on Colvin Road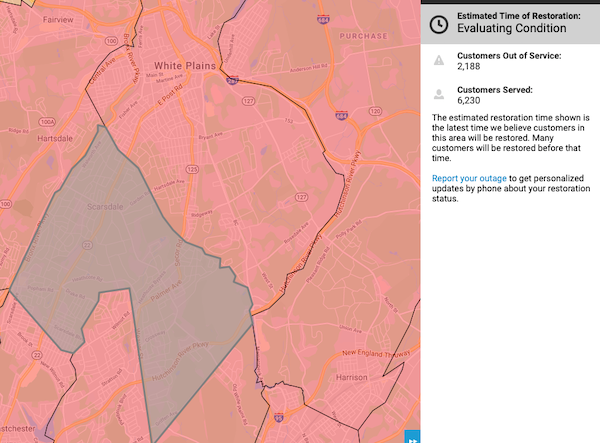 2,057 customers in Scarsdale were without power as of 7 pm on August 4.
Rotary Offers Face Masks and TV Raffle at Sidewalk Sale - Stop By
Details

Written by

Joanne Wallenstein

Hits: 1220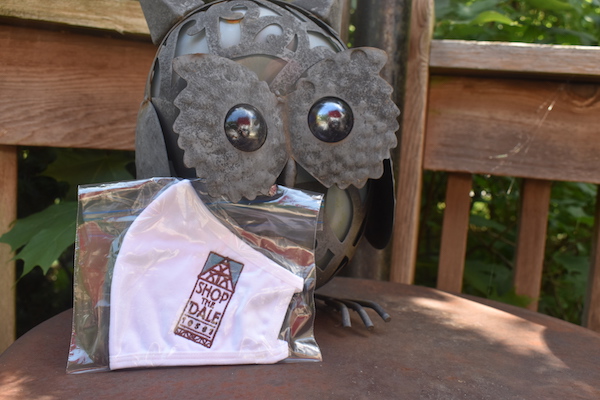 The Scarsdale Rotary Club announces the raffle of a 49" SONY SMART TV to benefit the Club's Foundation at Scarsdale's Sidewalk Sale on Thursday July 30 through Saturday, August 1. In addition, "Shop the Dale" facemasks will be sold at the event. The Rotary Club's station will be on Spencer Place.
You may enter the raffle and/or purchase masks online --or stop by and see us Thursday through Saturday! The raffle winner will be announced on Saturday at 3PM at the Rotary's Spencer Place booth.
One lucky raffle ticketholder will win a beautiful new Sony 49" 4K HDR Smart TV, including professional in-home setup (appx value $1,000) which was donated to the Rotary Foundation by Value Electronics on Popham Road. Specifications for the SONY TV are posted online. In addition, the raffle winner will receive one "Shop the Dale" fashion facemask.
Raffle Tickets for the 50" SONY TV are priced at:
• $20 for one ticket;
• $50 for three tickets;
• $100 for six tickets - purchasers at this level receive one free cotton "Shop the Dale" face mask.
The 100% "Shop the Dale" cotton face masks, made by recent Scarsdale High School graduate Victoria Capobianco, are priced at $15/per mask. Proceeds of all sales will also go to the Rotary Foundation
A winner will be drawn & announced at the Sidewalk Sale at 3PM on Saturday August 1. You do not have to be present to win.

The Rotary Foundation is a 501(c)(3) nonprofit corporation; it funds local and international charitable projects and entities.
Scarsdale's Neighborhood Associations Host a Summer of Fun
Details

Written by

Joanne Wallenstein

Hits: 1152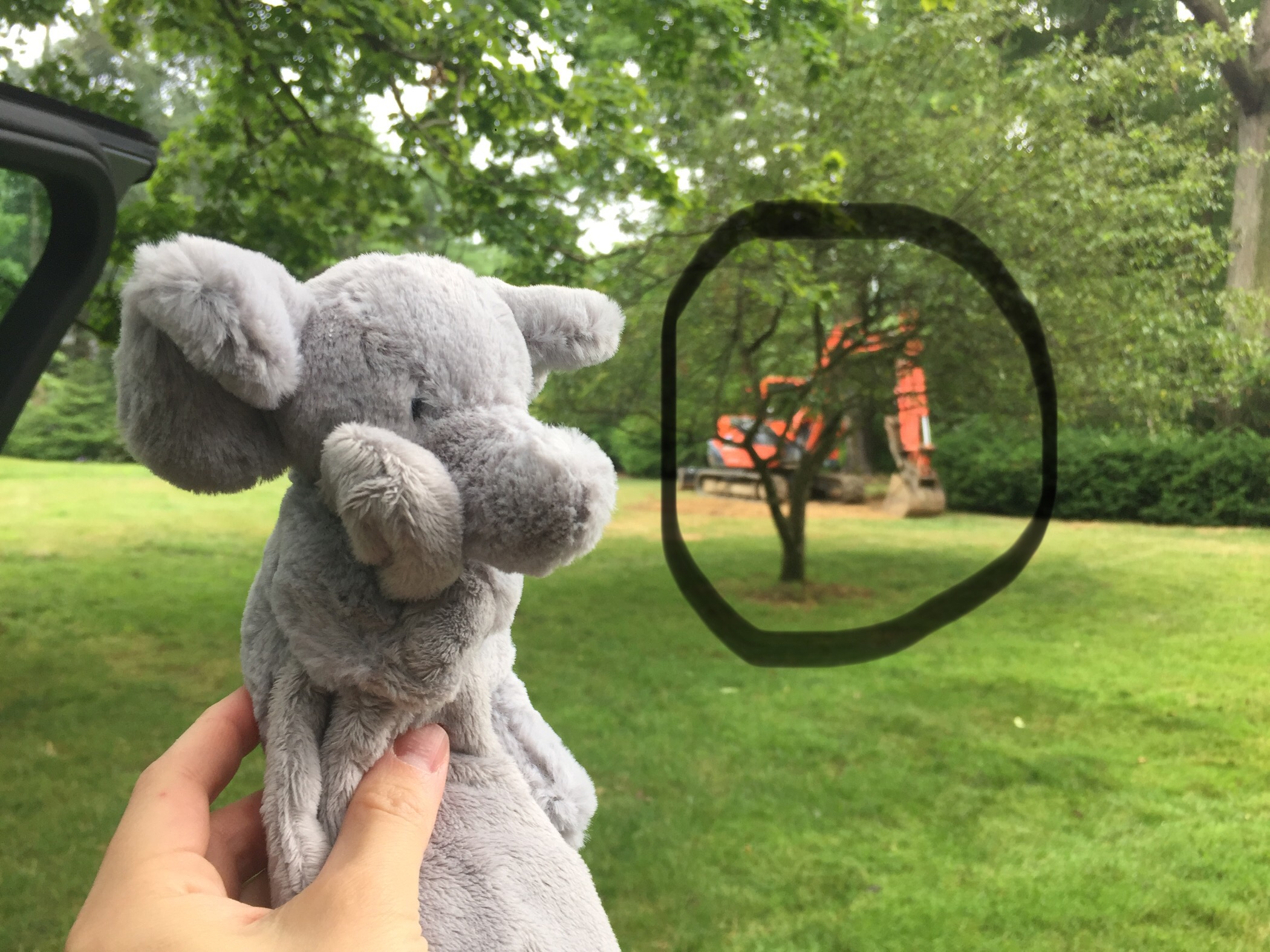 Though so many summer activities have been cancelled, Scarsdale's Neighborhood Associations have been active in coming up with some nice opportunities for family fun. Via Sarah Bell, who heads the Scarsdale Neighborhood Assocations we've received reports of July 4th celebrations, food trucks and a wonderful scavenger hunt now taking place in Fox Meadow.
Food
Four Quaker Ridge Neighborhood Associations collaborated on a Last Day of School Party on June 18. The event celebrated all students on the completion of an unprecedented year of school. Food trucks and vendors from the Cupcake Car, Scoop Shop, Penny Lick Ice Cream and Westchester Burger served the community. Organizers included Jennifer Fischman from Secor Farms, Sean Gilbride from Colonial Acres, Melanie Spivack from Scarsdale Meadows and Quaker Ridge and Sarah Bell Wechsler from West Quaker Ridge.
The neighborhood associations continued to arrange for food truck deliveries on subsequent nights – and all have been sending out information to residents on a regular basis.
Fox Meadow Neighborhood Association President Janice Starr reports that residents also enjoyed deliveries from food trucks. Fox Meadow residents were treated to visits from Westchester Burger, Graziella's, Purdy's, Eddie's Pizza, and Gyro Uno with Crazy Taco Mex scheduled for July 22.
Edgewood residents were also able to receive food truck deliveries during the quarantine. resident from Drake Edgewood began the drive which allowed people to sign up for meals on Edgewod Dines on Face Book. The food trucks park in the neighborhood and members can sign up for a time slot or the food is delivered and left at the door at a specific time.
According to Camille Roche, "The rationale for the start-up was two-fold. Since many parents are participating in the education of their children and working at the same time cooking for the family became an issue. Two or three trucks came every week with varying menus from burgers to desserts to ice cream to various ethnic specialties for those in the Edgewood school district. The second reason for the drive was to use local businesses. All of the trucks were from local companies and it was quite successful."
What else?
The Drake Edgewood neighborhood association has been sending weekly emails to all the residents with press release updates, updates from the mayor the school board and the school district to keep everyone abreast of changes.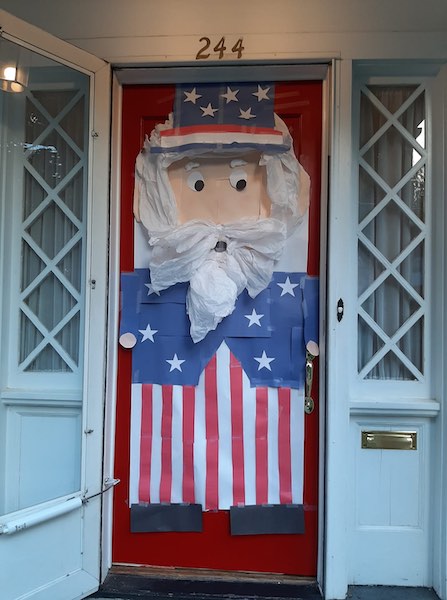 The Arthur Manor Neighborhood Association sponsored a virtual July 4th celebration with prizes for best costumes, floats, bicycles and more. Since they could not hold their usual parade, entries were submitted and judged via Facebook Live who carried the limited ceremony on July 4th. Prizes in the form of gift certificates from local vendors were delivered by Michael Keating in and old red Scarsdale fire truck. See more here:
The Fox Meadow Neighborhood Association got really creative and is now sponsoring a Scavenger Hunt organized by Laura Sinberg. Here's how it works:
Participants need to find 20 out-of-the-ordinary objects in the neighborhood. All are "easily" seen from the streets, but only if you're paying attention! Your job: Stroll, bike or drive along the route and take a picture of each image found--include a member of your crew or a personally made family name sign in the pic.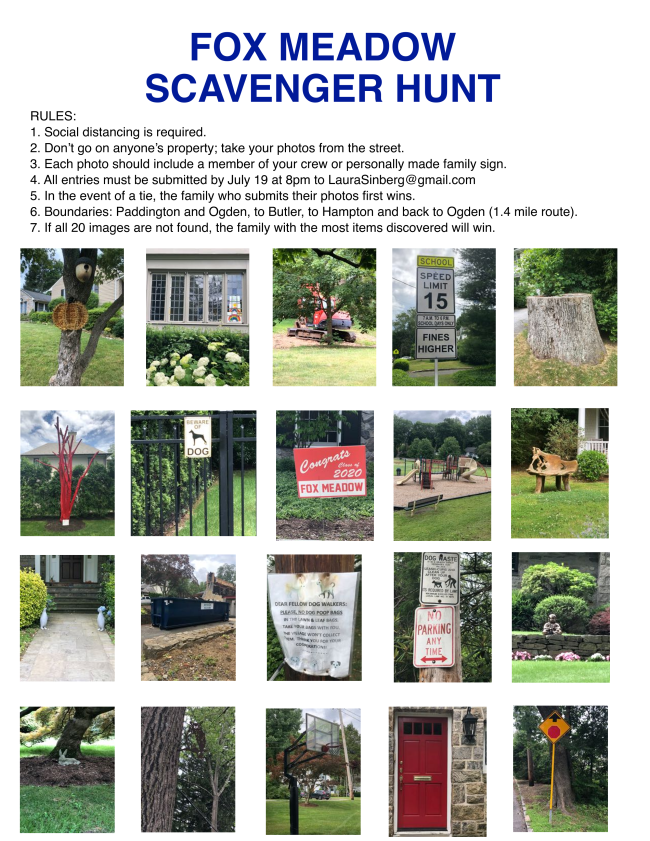 The route is a 1.4 mile rectangle circling the neighborhood. There are prizes including gift certificates and give cards for local businesses. All entries must be submitted by Sunday, July 19th at 8pm.
Greenacres traded their traditional July 4th celebration of field games and fun for a socially distanced car parade. You can see the photos here.
Do you have more neighborhood activities to report? Email us at scarsdalecomments@gmail.com.
Outdoor Sculpture Stolen on Hampton Road
Details

Written by

Joanne Wallenstein

Hits: 2702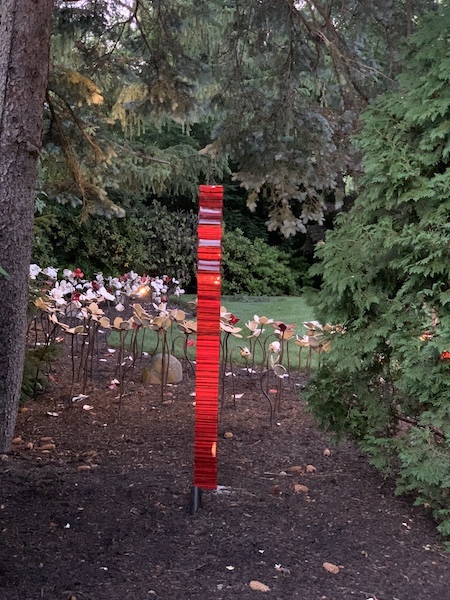 Glass warrior Hilda before the vandalism.A Hampton Road resident and artist called police on Monday evening July 13 to report that a sculpture that she made and had placed in her front yard was stolen. She had last seen the sculpture intact on July 11.
The sculpture was caled "Glass Warrior Hilda" and the artist, Simone Kestelman created it as part of the #Resiliart project that she created to bring art and love to Scarsdale.
Valued at $16,000 the sculpture was made of red glass and was 4 inches wide and 67 inches tall. It was glued into a stone base that was buried in the front yard. Several pieces of the broken sculpture were left on the ground.
Other sculptures on the grounds including glass balls and a tree were not damaged. The artist could not think of anyone who would have a reason to damage it.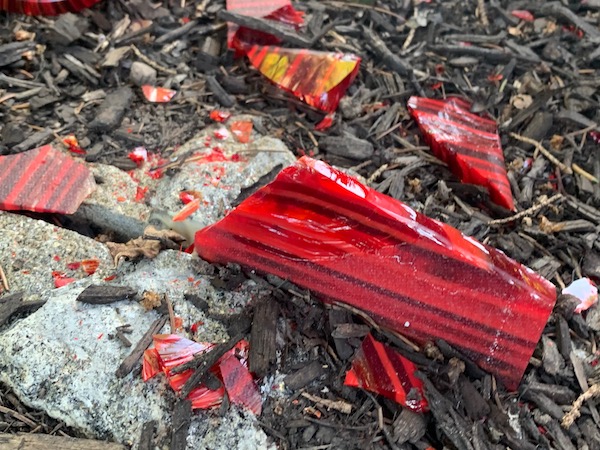 Glass shards that remained after the theft.
How Should Schools Reopen in the Fall? What Do You Think? Take Our Survey
Details

Written by

Joanne Wallenstein

Hits: 1572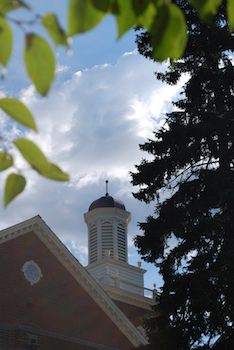 In what manner should the Scarsdale Schools reopen in September? We know many of you have opinions on this important issue and we would like to know what you think.
Please click on this link to answer a few questions in our short survey. We'll tally the results and share them with you as soon as the responses are in.