Mark Your Calendars for Upcoming Holiday Boutiques
Details

Written by

Joanne Wallenstein

Hits: 2621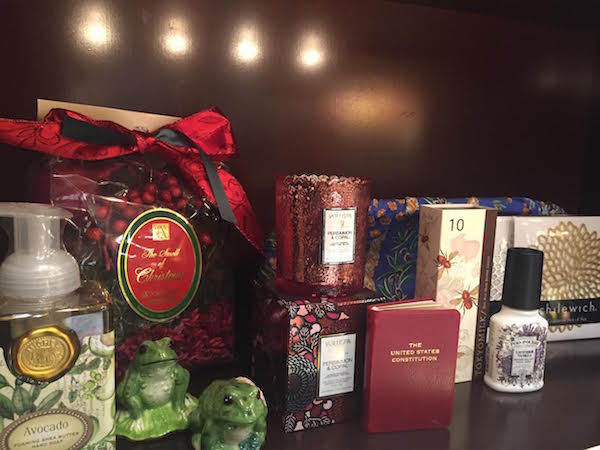 Halloween is over, Thanksgiving is just weeks away -- can Hanukkah and Christmas be far behind? You'll soon be thinking about your holiday shopping, and here are four holiday boutiques to make gift--getting easy and fun. Mark your calendar for these upcoming holiday gift fairs:

The Junior League of Central Westchester (JLCW) invites holiday gift givers to do their shopping at the JLCW's 33rd Annual Holiday Boutique! This year's event will be held on Thursday, November 21, 2019 from 10 a.m. – 8 p.m. at a new location - C.V. Rich Mansion, 305 Ridgeway, White Plains, NY.
The JLCW Holiday Boutique will feature an impressive roster of vendors, with many participating for the first time, and serves as an opportunity for the Westchester community to support small and local businesses. Nearly 40 vendors will offer a wide variety of merchandise, including jewelry, home goods, clothing, hostess gifts, items for children, men and more.
In addition to checking off items from holiday gift lists, Holiday Boutique shoppers contribute to the greater good: 20 percent of all vendor proceeds will be generously donated to the JLCW. Funds raised will enable the JLCW to support programs that promote health and literacy, provide food and necessities to the underprivileged, empower low-income families, help preserve community history, and train effective community volunteers.
Suggested donation for admission is $10. Raffle tickets will be available for purchase for a chance to win one of several fabulous prizes. For more information click here or contact JLCWHB@gmail.com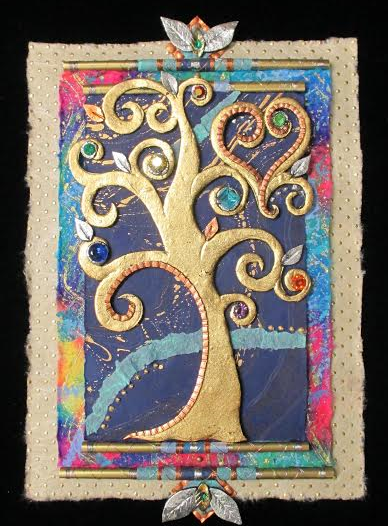 Bet Am Shalom Synagogue will host their 25th Annual Judaica Craft Show on Saturday December 7 from 8-11 pm and Sunday December 8 from 10 am – 5 pm. The show displays the finest Judaica craft and jewelry by selected artists from Israel and the U.S. Attend a festive opening night to celebrate their 25th year with entertainment provided by Proof (a/k/a the Moody Jews) and free refreshments. On Sunday, enjoy a kosher meal or snack at Cafe Shalom.
Admission per person: $12 Saturday, $8 Sunday. Learn more and receive a discount on the ticket price here:
The Kol Ami Holiday Boutique to support the Women of Reform Judaism Kol Ami Sisterhood will take place on Sunday December 8 from 9 am – 3 pm at Kol Ami, 252 Soundview Avenue in White Plains. The boutique will feature over 40 vendors with jewelry, clothing, handbags, Judaica, candles, skincare, kitchenware and more. New this year will be a B'nai Mitzvah/Special Occasion vendor showcase.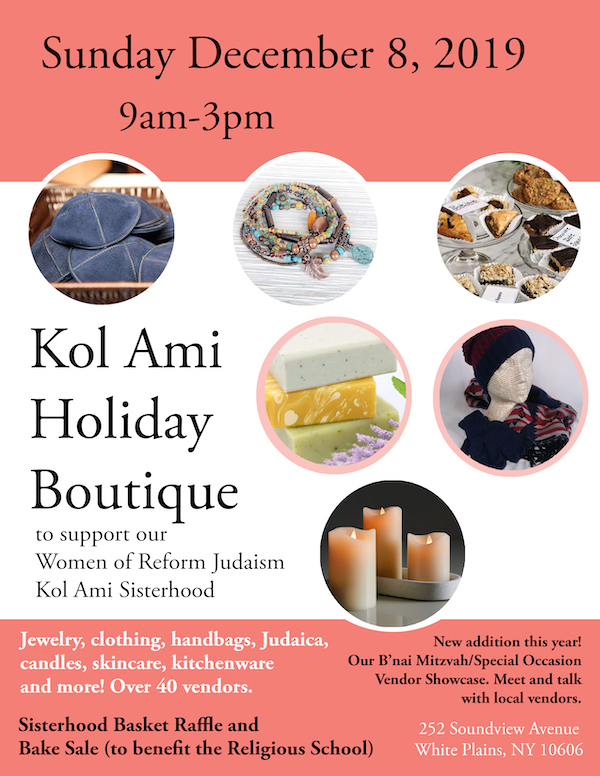 Westchester Reform Temple will hold their holiday boutique on Monday, December 9, from 10 am - 5 pm. Make shopping for the holidays easy. The boutique will feature dozens of specialty vendors selling one-of-a-kind items at all price points. Free admission and free parking.
Credit cards, cash and checks are accepted. Westchester Reform Temple, 255 Mamaroneck Avenue, Scarsdale, NY.
Halloween Window Painting Contest Results 2019
Details

Written by

Joanne Wallenstein

Hits: 5094
It's an annual rite …. the Scarsdale Halloween Window Painting Contest. This year it was held on Sunday October 20 and kids were busy from Scarsdale Village to the Five Corners and Colonial Village decorating merchant's windows with clever Halloween-themed paintings.

According to Recreation Supervisor Dan Walczewski there were about 300 windows painted this year, up from about 260 last year. Counting team and family entries, about 700 people participated.
Anticipating rain, the Recreation Department sent out an email the night before encouraging people to paint early and for the most part they heeded the advice. They did have a few "no-shows" which may have had something to do with the weather, but it was a very small percentage of the overall number.

We asked if vacant storefronts were a problem and Dan said, "We usually request (and are granted) permission by the landlords to use the vacant storefronts, but we only use them if we need to. This year we used very few as we were able to fit the vast majority of paintings on occupied stores."
Below find a list of the winners and photos of the young artists at work. For the second year in a row, Olivia Liu took home the Grand Prize. See her painting at left.
While touring the artwork on Monday, we met Debi Kops, Anne Kaplan and her son Damian who have been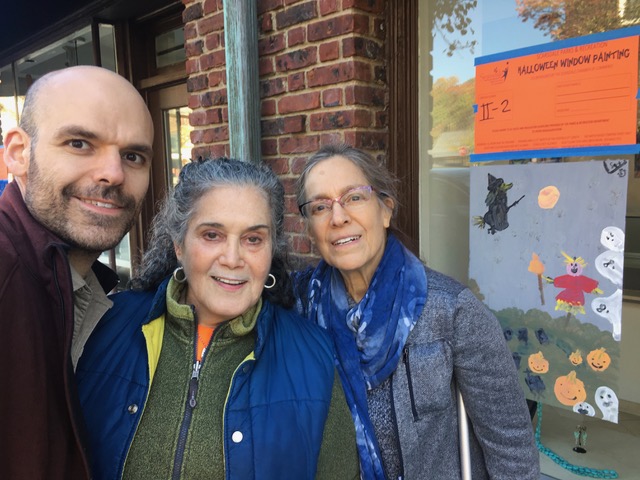 Judges Damian Kaplan, Debi Kops and Anne Kaplan. a team of judges for about 8 years. Kops explained, "Anne and I met at sleep-away camp before we were teenagers. The Scarsdale Window Painting Contest has been going on since 1952. I entered the contest 8 years in a row, when my family lived in Scarsdale. Each year I was honored and received an award for my painting, with a partner or solo. This was an important incentive for me as a young artist. After I left Scarsdale, I wanted to give back; And I do. For close to 35 years I have proudly been a Scarsdale Halloween Window Painting Judge for close to 35 years. Kudos to Dan Walczewski and the staff of The Scarsdale Recreation Department who organizes this fabulous and fun event. Celebrating Halloween has become my High Holiday."
Despite the fact that it's called a contest, the entire Village wins as we all benefit from the artwork. Congratulations to all the artists and their parents for continuing this wonderful tradition.
Photos courtesy of the Recreation Department and Charles Im.
Group 1
1 Charlotte Lemerond- Chase Bank
2 Emily Fields -Jean Claude Hair Design
3 Natalia Gutierrez -Heathcote Barber Shop

Most Comical

Trevor Miller- Heathcote Hand Laundry
Honorable Mentions

Chloe Fields -Chase Bank
Madeline Arest- Metro Deli
Eliza Pickelle- Metro Deli
Group 2
1 Whitney Rudsenske- Sam Lehr
2 Talia Koenig- Scarsdale Eye Care Center
3 Ellis Israel -Vacant
Most Comical

Ivy Fischer Scarsdale Flower Shop

Honorable Mentions
Rebecca Friedland- Scarsdale Eye Care Center
James McNally- Bango Bowls
Sophie Luo -Sam Lehr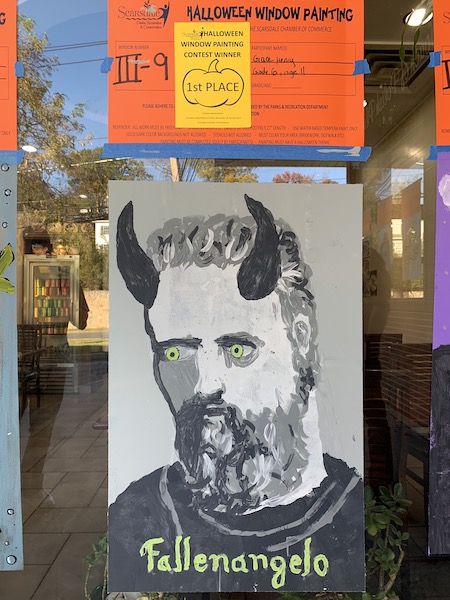 Group 3
1 Grace Henry -Jade Spoon
2 Lilah Lenskis-Kristian- A Touch of Polish
3 Alexandra Israel -Jade Spoon
Most Comical

Julia Barro- Big Top
Honorable Mentions

Blair Rudsenske- Big Top
Sarah Luo- Big Top
Daisy Bennett- Jade Spoon
Juliette Dalton -Jade Spoon
Chenyu Li -A Touch of Polish
Audrey Li -Amore Pizza
Evie Schiff -Amore Pizza
Group 4
Joshua Dong -Scarsdale Spencer Pharmacy
Isabelle Zhu -Great Stuff
Eloise Schiamberg -Parkway Coffee Shop

Most Comical

Danielle Barro- Parkway Coffee Shop
Honorable Mentions

Claire Matula-Osterman- DeCicco's
Jianna Shao -YeoMiji
Isabella Lu -Mixology
Group 5
1 Xinyi Zhao -Village Computer Shop
2 Annika Hanson-Carlson- Rothman's
3 Henry Nova -Rothman's

Most Comical

Flora Zik -Danielle Trissi
Group 6
1 Vivienne Dalton/Devon Simon- SPD Substation
2 Talia Camhi/Jiya Choudary -Nordic Edge
3 Matthew Im/Emery Farnsworth -Bank of America
Most Comical

Maya Zaitchik/Avery Altschuler -Embassy Cleaners

Honorable Mention

Mira Mazer/Clara Dichter -Embassy Cleaners






Group 7
1 Zoe Lemberg/Nicole Sensel -Dunkin' Donuts
2 Lian Guo/Iris Zhu -Dunkin' Donuts
3 Emma Daniel/Annabelle Hasson -Dunkin' Donuts
Most Comical

Molly Singer/Sofia Polak -Pizzarelli's

Honorable Mentions

Natalie Goldstein/Lindsay Goldstein -Dunkin' Donuts
Pietro Lombardi/Charlie Im -Pizzarelli's
Group 8
1 Blakely Sapirstein/Talia Arovas -Value Electronics
2 Rachel Goldberg/Sasha Lubin -La Dentelliere
3 Kaitlyn Shedroff/Tara Bamji -Rudy's Music
Most Comical

Nell Rompala/Lexi Perry -Value Electronics

Honorable Mentions

Lilliana DeRobertis/Ava Rapaport -Zachy's Liquor Store
Eleanor Orad/Delaney Weston -Zachy's Liquor Store
Morgan Greco/Mia Forray -Chase
Julia Kristol/Kate Simpson -Houlihan Lawrence
Gil Reindel/Coby Cukierman -Douglas Elliman Real Estate
Group 9
1 Julia Sobel/Reese Muntner -Wilson & Sons
2 Ava Feldman/Charlotte Aldridge -Pam Robbins
3 Nadine McMahon/Clara Bartalos -BLVD
Most comical

Sarina Mehta/Maya Dhiman -BLVD
Honorable Mentions
Annalise Corey Felicity Bennett -Wilson & Sons
Madeline Cha/Samantha Cha -Wilson & Sons
Jessica Greco/Gabrielle Smajlaj -Wilson & Sons
Group 10
1 Alexandra Simon/Olivia Liu -William Raveis Real Estate
2 Annika Johnson/Gabriella Johnson -William Raveis Real Estate
3 Celia Dibenedetto/Leo Dibenedetto -William Raveis Real Estate


Coverage of the Halloween Window Painting Contest is sponsored by the Randi Culang Team at Compass Realty.


Ambitious Development Proposals for Popham Road and Christie Place Promise to Breathe New Life into Village Center
Details

Written by

Laura Halligan

Hits: 4908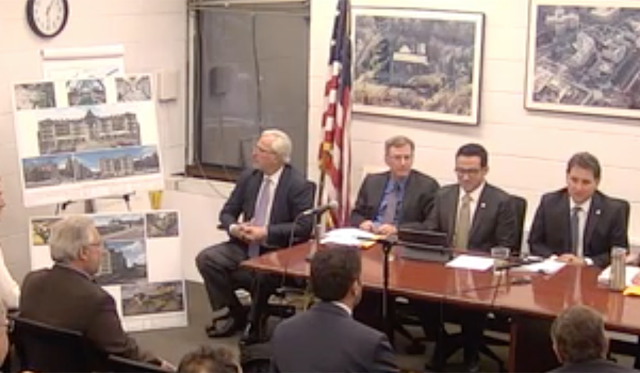 Hmmm. New retail space, additional residential units, increased foot traffic, and more parking in the village center? Sounds great… When?
On Monday, Rush Wilson and Tony Berreira from the Scarsdale Improvement Corporation, along with representatives from their legal and architectural firms, presented new development proposals for the corporation's properties, 30 Popham Road and 1 Spencer Place.
Both projects involve adding residential units above expanded retail space, along with additional parking, but would require zoning changes. Wilson, president of Scarsdale Improvement Corp, a major landholder in Scarsdale, began the session by acknowledging one of the most significant challenges faced in revitalizing the village center: "We look forward to enhancing the commercial district, beginning right now with an opportunity to address the parking, which as we all know has been a major problem since the automobile was invented."
Wilson's lawyers and architects then began the presentation by offering an overview of the Popham Road plan, which, if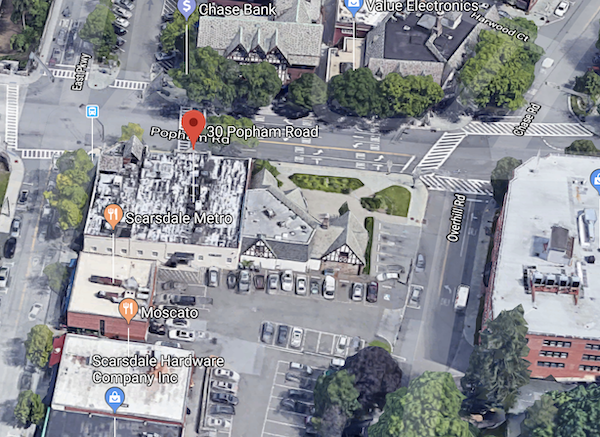 Popham Roadapproved, would be executed first. In short, the group plans to:
• Add parking over the existing parking lot without expanding the lot's current footprint. The new space would feature three levels – one underground, one at ground level and one above – and will be self-loaded, as opposed to valet, which currently is utilized.
• Add an elevator bank that would connect the parking levels to entrances/exits at Popham Road, Overhill Road, and Scarsdale Avenue.

• Add 15 condominium units over the existing building located at the corner of Popham and Scarsdale Avenues, which will feature about 8,000 square feet of retail space. The structure will rise to a height similar to the building on the other side of Popham Road.

• Include a rooftop entertainment space for residents' use, as well as a basement health club for use by the general public.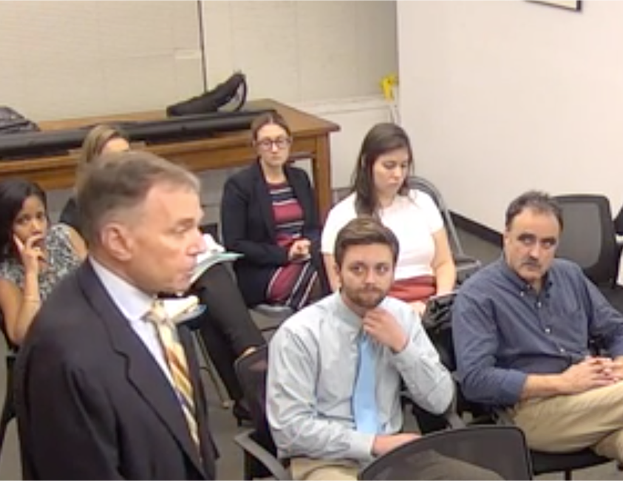 Rush Wilson of Scarsdale Improvement Corp.
In addition, the existing floor level of the building will remain largely the same, save for the new elevator bank. And, to minimize disruption, the developers expect to build a truss system to support construction so that existing businesses can remain in operation.
The new parking facility is expected to offer 135 parking spaces, an increase from the current 60. It will not be open to the public; instead, access will be limited to local patrons who rent parking space from Scarsdale Improvement Corp. (e.g., village business owners and their employees). In turn, the larger facility will move current and new tenants out of street spaces, freeing them for use by visitors to downtown.
The Spencer Place proposal, perhaps, will provide more obvious benefits for the public, and include:
• A walk-through, open air mall running from Spencer to Christie Place, which will feature retail and restaurant space, and room for seating., and allow for easy pedestrian travel between the two streets. (Currently, to avoid walking around the block, many people cut through the post office alley, which is private property).
• A new one-way loading area for trucks in the space previously occupied by Lange's, that would divert oversized vehicles from Scarsdale Avenue and improve traffic flow in the village center.
• 48 condominium units, featuring balcony spaces, over approximately 33,000 square feet of retail space.
• Solar panels on the rooftop, along with a health club, pool, and entertainment area for building residents.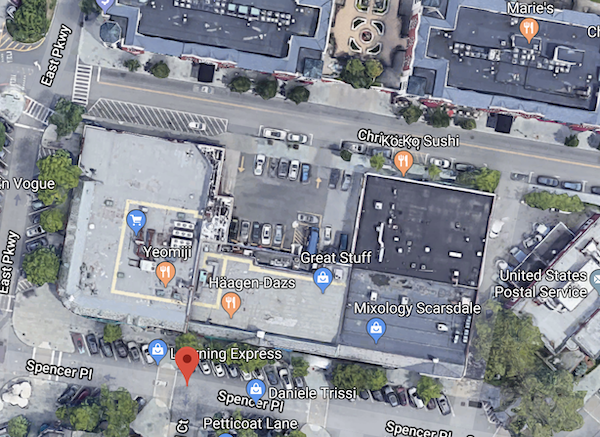 Spencer PlaceThe plan also includes eventually moving DeCicco Food Market out of its current and newly renovated space down near the new loading area, to allow for renovation/expansion of the space at the corner of East Parkway and Christie Place. The owners of DeCicco are aware of the concept and are pleased, and entertaining the idea of renting additional space in the expanded building to house a restaurant.
Now, Here's the Catch…
The Popham Road property currently lies within a zone that limits buildings to two stories and a smaller floor area ratio (FAR) than the proposed development (VCO 0.8). However, the new construction would easily fit into the requirements of a neighboring village center zone (VCO 2.0) near Harcourt. Because of this, the developers are hopeful the existing VCO 2.0 can be extended to accommodate the current proposal with regard to building height and FAR.
In contrast, the Spencer Place plan requires a greater ask. The property is located in the VCR 0.8 Zone, which does not allow for either the height or bulk of the new construction. In fact, the development does not fit into any of Scarsdale's current zoning districts. As a result, Scarsdale Improvement Corp. is asking for the creation of a new district – VCR 3.0 -- to allow for a higher FAR and taller building height of four stories (VCR 0.8 allows for just one story).
While the change will be significant for that particular location, it is important to note that the proposed building height is comparable to the heights of buildings constructed to the northeast and southwest of the property location, although the this proposed building would be slightly higher. Further, with regard to density, the architect noted that some neighboring buildings have similar or larger FARs than what is planned for Spencer Place, albeit they were constructed long ago, and are "nonconforming and grandfathered." The next step is for the trustees to continue their review of the proposals and advise on next steps.

Rendering of proposed development on Spencer Place from architect Leonard Brandes
What About Now?
After the presentation, Trustee Lena Crandall asked Wilson about existing retail vacancies in his buildings and what could he offer to help alleviate residents' concerns about the vitality of the village center. He said, "We are working on that to ensure that we get something that the village wants. rather than something that wants to be there. For instance, the former Lange's is in demand by everybody, (but) we want food back in there; we want a restaurant back in there. We are on the verge of signing as lease, as we speak. It's taken a long time, but it is not unusual at all (to) look for the proper tenant."
Mayor Marc Samwick then asked Wilson if he could share any specific steps his group is taking to find tenants/fill vacancies. He responded, "What we're doing is the likes of what we've never done before. We're abating a lot of rent -- a lot more than we've ever did before -- and we're picking up a lot more of the tax bill than we ever did. That's the retail business at this stage, as you're well aware." He continued, "We've been accused from day one and continue to be accused of 'It's too expensive; the rent's too high. ' That is not the case when you compare us to other, like communities."
It then was noted that the proposed new residential units would bring more people downtown and greater support for surrounding retailers. As one of Wilson's architects stated, "We want this town to be alive. I don't want it to close up at 6:00 anymore; I'd like to see things stay open until 10:00 or 11:00. I don't think there's a reason we can't do that."
Radiologists Share Life-Saving Information at I Am More Scarsdale
Details

Written by

Joanne Wallenstein

Hits: 2863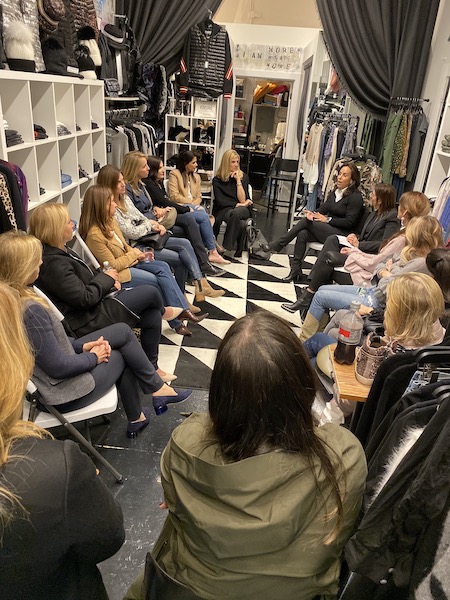 Drs. Pam Weber and Stephanie Sims share lifesaving information at I Am More ScarsdaleHow does a board-certified radiologist who is also a Scarsdale business leader integrate her two professions? Dr. Marcy Berman-Goldstein, co-owner of trend-setting retail store I Am More Scarsdale was a radiologist with a specialization in breast imaging before she left the medical world for retailing. In addition to opening the store, she leads the Scarsdale Business Alliance, a group of Scarsdale business owners.
On Tuesday night October 15, Goldstein along with I Am More co-owner Abbey Solomon invited two of her medical colleagues to the store, to answer questions about women's health, mammography, screening and breast cancer. Drs. Pam Weber and Stephanie Sims, Breast Radiologists from the WPH Imaging Center at New Rochelle, led a discussion on risks for breast cancer, screening and diagnostic imaging and the importance of early diagnosis and treatment.
They answered questions and shared good news about recent developments in the treatment of breast cancer. They emphasized that early detection and treatment saves lives and that women should not skip their annual mammogram appointments. They reassured participants that "generally speaking patients do well if they catch it early."
Berman-Goldstein underwent a double mastectomy and reconstructive surgery in the summer and fall of 2018, due to suspicious pathology. "Given my medical background, personal experience and strong family history, I feel knowledge is the most important power we can all have to help ourselves and others. I trained with Drs. Weber and Sims at Mt. Sinai Hospital almost 20 years ago and I am so excited they joined us."
Proceeds from the event will be donated to the Breast Cancer Research Fund, a nonprofit organization committed to achieving prevention and a cure for breast cancer. BCRF is the highest rated breast cancer organization in the US, providing critical funding for cancer research worldwide to fuel advances in tumor biology, genetics, prevention, treatment, metastasis and survivorship.
SHS Sweethearts Lucie Fink and Michael Morris Married in Water Mill
Details

Written by

Joanne Wallenstein

Hits: 8703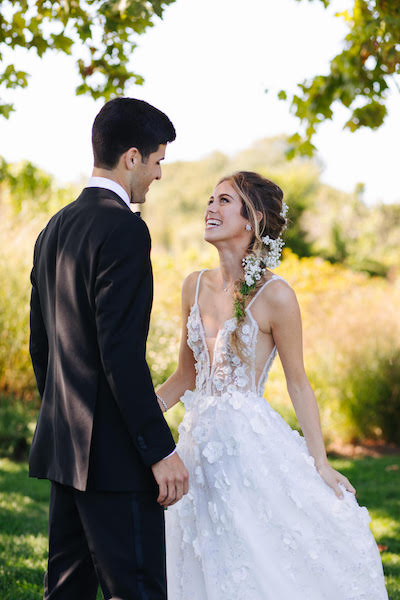 Lucie Fink and Michael Morris, both formerly of Scarsdale, were married on Saturday, the 21st night of September at the Parrish Art Museum in Water Mill, New York. The bride is the daughter of Jimmy and Debbie Fink of Scarsdale and is a graduate of Scarsdale High School and Johns Hopkins University in Baltimore, Maryland. Lucie is currently an independent video producer, content creator and lifestyle host for her own media company, Lucie Fink Media, Inc. The groom is the son of Sharon and Colin Morris formerly from Scarsdale, now living in New York City. Michael is also a graduate of Scarsdale High School, attended Middlebury College in Middlebury, Vermont and is currently an MBA candidate at Columbia University. Lucie and Michael have been together for over 10 years. They currently live in New York City.