County Executive George Latimer Broaches Plans to Re-Open
Details

Written by

Joanne Wallenstein

Hits: 2113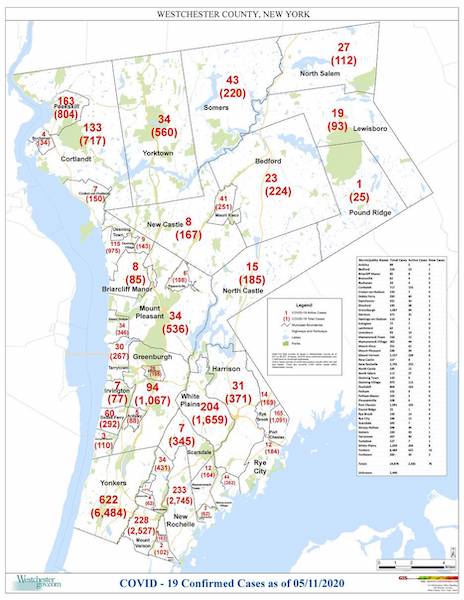 There are a total of 345 cases in Scarsdale with 7 active cases.With the number of active cases and hospitalizations dramatically lower than they were a month ago, County Executive George Latimer gave a brief outline of how Westchester County could meet thresholds to begin the process of re-opening in the coming weeks.-
In a press conference on Monday May 11, Latimer provided the following statistics on the state of the outbreak in the county:
-There are 31,384 total cases which is up 90 cases from yesterday.
-The number of active cases has dropped to 3,377, down dramatically from the peak of 11,000 cases from about a month ago
-Hospitalizations are below 500, down from the peak of 1,100
-There have been a total of 1,227 deaths, and nine people died on Sunday night. There is a continuous drop in daily fatalities.
-The county has tested over 112,000 people, which is 11% of the population. 72% of those tested are negative.
-The county has begun antibody testing of first responders and has test 2,000 people to date. -They are up to 450 tests per day. More antibody testing centers will open in Northern Westchester.
Latimer explained how Westchester County could comply with the Governor's opening plan to re-open in phases. Westchester is a part of the Mid-Hudson Valley region that includes Orange, Ulster, Dutchess, Putnam and Sullivan counties that are required to meet certain thresholds to begin the re-opening process. All the counties in the region must meet these requirements to be in compliance.
Here are the requirements to re-open:
-The region must show a 14-day decline in hospitalizations in a rolling 3-day average to avoid any spikes.
-New hospitalizations must be under 2 for every 100,000 residents – or 20 in Westchester County
-30% of all hospital beds must be available for patient occupancy
-The share of ICU beds should be 30%
-Testing thresholds are 30 people per 1,000 residents
-The county needs to hire 30 contact tracers per 1,000 residents and they are working on that now.
The opening plan is as follows:
Phase 1 includes construction, manufacturing, and select retail with curb-side pick-up.
Phase 2 is retail, real estate, and finance.
Phase 3 will allow restaurants and hotels to reopen.
Phase 4 includes entertainment venues and schools.
According to Latimer, the region needs to continue to meet the thresholds to remain open and move to the next phase.
Her reassured residents that "We are going to get there" saying "We need to get back to sanity and normalcy." He said, "We're close, but we're not there yet."
Quaker Ridge Kids Express Appreciation of their Teachers
Details

Written by

Joanne Wallenstein

Hits: 1418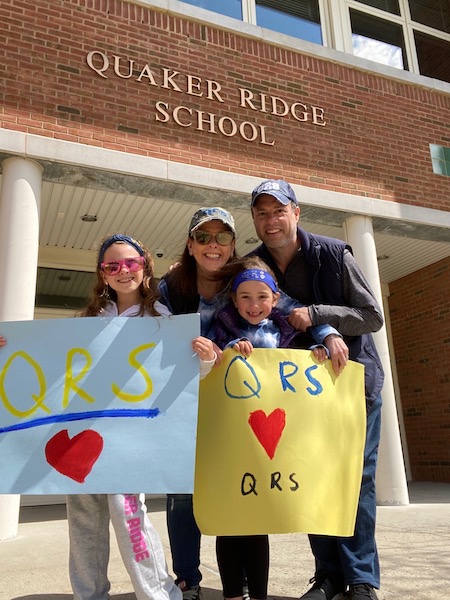 On Monday afternoon Quaker Ridge families came out to celebrate teacher appreciation week! Quaker Ridge School was filled with emotion and love for the community. Students decorated their cars, made signs and drove around the bus circle honking their horns to celebrate their teachers. It was an amazing turnout with over 140 cars in attendance most with multiple students from each family. A good time was had by all.
Photos courtesy of Quaker Ridge PTA President Beth Lazarus.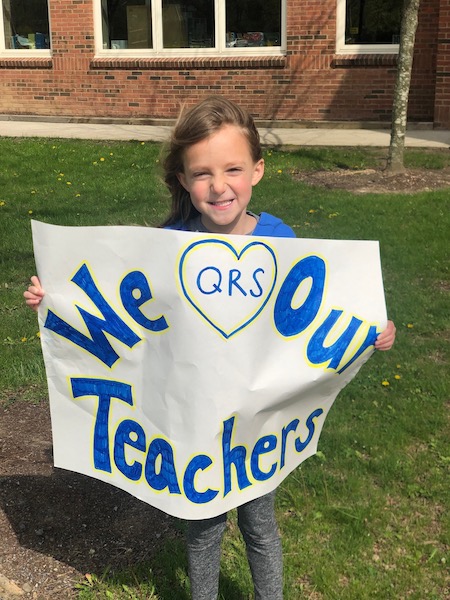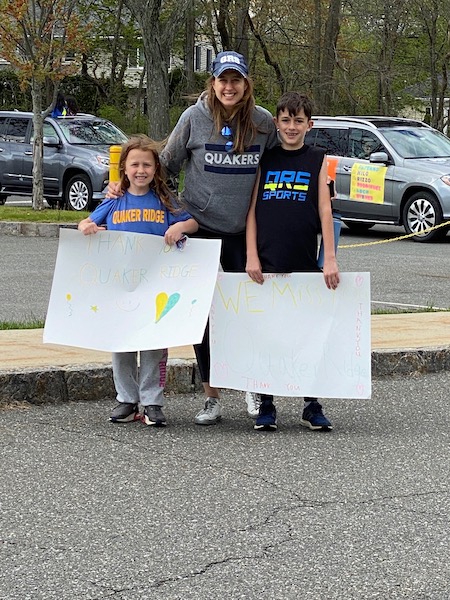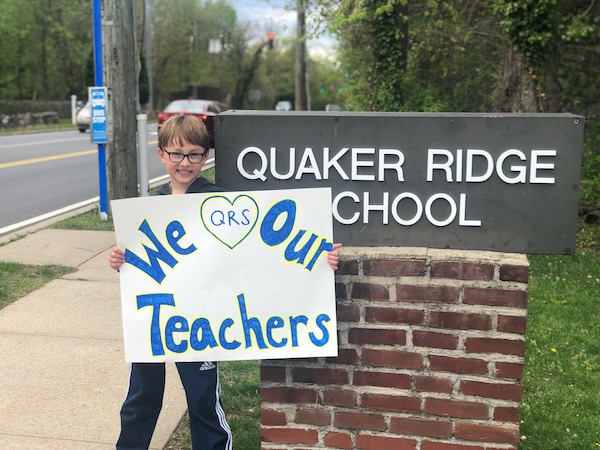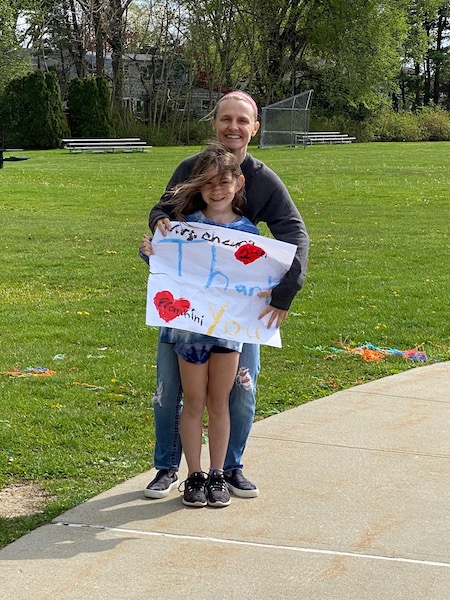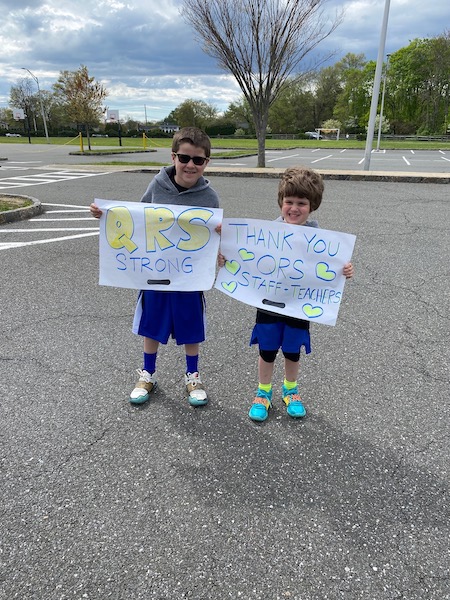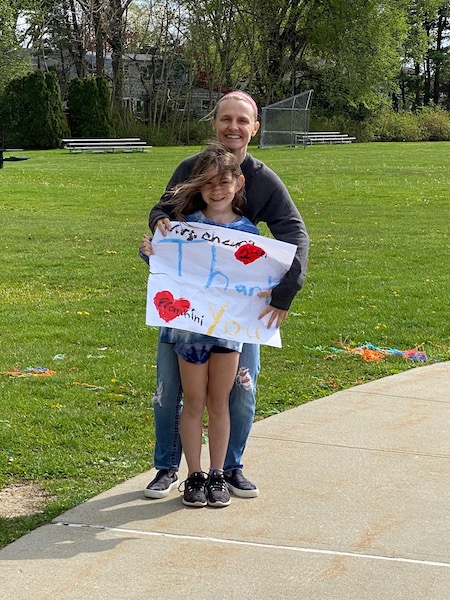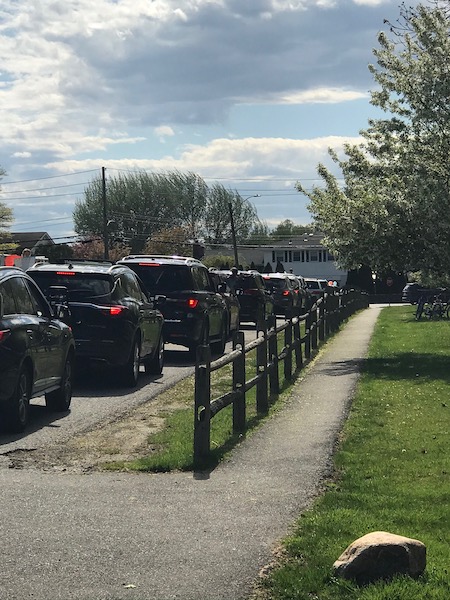 Two County Golf Courses to Open, Plus County Corona Update from George Latimer
Details

Written by

Joanne Wallenstein

Hits: 2580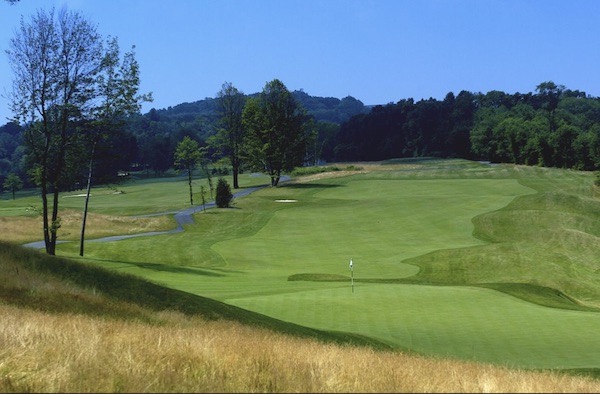 The news is not all doom and gloom. At a press conference on April 20 Westchester County Executive George Latimer announced that two county golf courses will open for play this weekend. Mohansic in Yorktown Heights and Hudson Hills in Ossining will open for play on Saturday, April 25. Reservations can be made at golf.westchestergov.com.

County Executive George Latimer said: "We have been able to keep our County parks open because we understand that everyone needs to get out and enjoy some fresh air during these times when we are all advised to stay home. We are balancing the desire of those who want to enjoy the outdoors along with the priority of stopping the spread of the virus. These two courses will serve as a test case of our ability to balance both priorities. We believe we will successfully accomplish both goals."

The courses will be operated under the following guidelines:
-Golfers are asked to check in early for tee times. A minimal number of guests are allowed in the pro shop at one time.
-Tee times have longer intervals between them and reduction of operating hours is being implemented.
-Flagsticks are to be left in the holes untouched and bunkers are not to be raked by golfers.
-Rakes, ball washers and coolers have been removed from the courses.
-Golfers are instructed to not gather in groups or clusters while on or off the golf course.
-Restaurants at both courses are closed for both seated and takeout service.
Latimer announced that Bicycle Sundays on the Bronx River Parkway will begin in May as planned, however riders will be required to wear masks.
Latimer also shared the most recent numbers on the COVID crisis.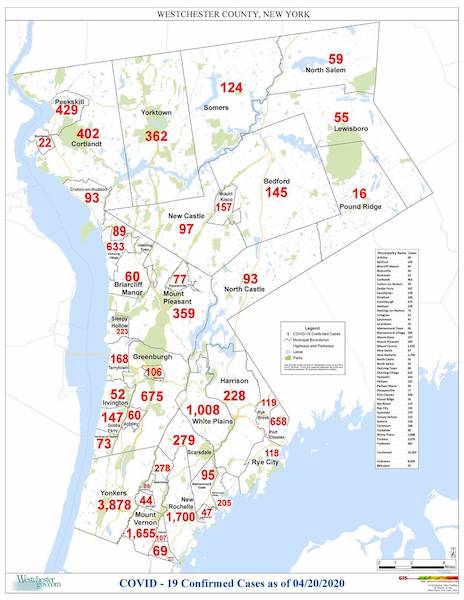 As of April 20, 2020
Over 70,000 have been tested and over 23,803 have been identified as positive
There are currently 10,080 active cases which is down by 1,000 cases from 10 days ago
As of Sunday 4-19, 1,089 were hospitalized, a 10.8% hospitalization rate
743 people have died from the virus withing the past 7 weeks.
There is a 3% fatality rate among those who contract it
Latimer commented that Westchester County trails New York City, Nassau and Suffolk in the number of cases and said, "The disease is tracking where there are the most people – more people, more cases. Congested villages like Port Chester and Ossining have a higher incidence while the numbers are smaller in places like Pound Ridge, Buchanan, Bronxville and Larchmont. He said, "84% who died are 60 and over and there have been very few deaths of people under the age of 50. It works in concert with age and general health and adversely affects the poor and people of color, but age is the most important factor.
Responding to a question about the Westchester County Center that has been constructed to house the sick, Latimer said, "There are no patients there today and I don't know the plans of the State Department of Health. It will be done through the state."
Undeterred by Police, Grand Park Avenue Residents Hold a Wedding
Details

Written by

Joanne Wallenstein

Hits: 8968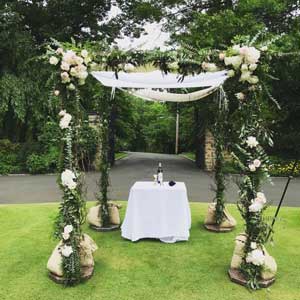 Grand Park Avenue residents were busted for holding a wedding in their yard on Thursday night April 23 in spite of the Governor's orders mandating social distancing. Undaunted by police the family proceeded with the wedding. When confronted by Scarsdale Police Officers, the father of the bride was adamant that the ceremony would go on and refused to acknowledge that it was illegal to hold a gathering in his yard.
Scarsdale Police were tipped off to the celebration at 7:45 pm on Thursday night April 23. When they arrived, they saw an "unusually large number of vehicles parked on Cornell Street and Grand Park Avenue." Police entered through an open gate to find the homeowner.
They found an elaborate set up for a wedding, including a four-piece band, musicians, photographers, a large commercial tent with a clear plastic roof and a chuppah all in place. The 8-10 foot chuppah was covered in flowers and underneath was a table with a wine bottle and glasses surrounded by twelve chairs.
Police located the 65 year-old homeowner who was not wearing a mask. He claimed that he was holding a small wedding for his daughter and that only ten people would attend. Police asked everyone on the scene to put on a mask. The homeowner insisted that the wedding would proceed quickly. Police informed him that "all social gathering and all non-essential gathering were not permitted due to the current pandemic under Governor's Executive Order 202 which prohibits worship services, parties, celebration or other social events of any size for any reason."
The father of the bride said he thought he could hold a gathering of ten people and claimed they were just taking photos and the photographers were leaving. While police were speaking to the man, several cars pulled into the driveway and the drivers were told to turn around and park on the street. Police also observed two men who later said they were security guards. Inside the house, police saw another 15-20 people all wearing suits and attire for a formal gathering.
Outside the gate, police found more people in their cars dressed in evening attire. Some said they were family members who wished to congratulate the family and said they would exit immediately. The number of people at the event grew and police could hear loud music coming from the house. Police rang the front gate buzzer to speak to the homeowner "to no avail." They spoke to the rabbi who said, "a gathering of 10 people is fine" and refused to provide any additional information as he exited the premises.
According to the report, after the music stopped, several of the guests, the mother and the father of the bride, the bride and groom, the videographer and the photographer exited the property and handed out gift bags to the people in parked cars and those driving on Grand Park Avenue.
Police gave a summons to the homeowner for willful violation of health laws per the Governor's Order which is a misdemeanor.
Update on the COVID Crisis from County Executive George Latimer
Details

Written by

Joanne Wallenstein

Hits: 2053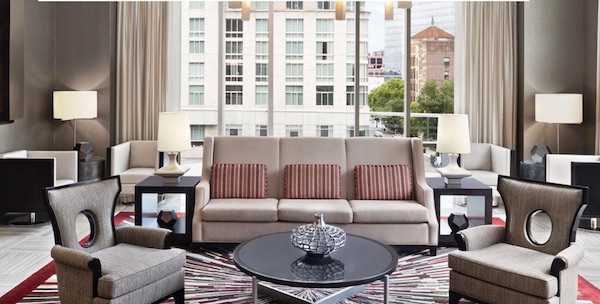 There are few bright spots in the news today – but Westchester County Executive George Latimer did offer one hopeful note in his press briefing on Monday April 13. It appears that the demand for hospital beds in Westchester is keeping pace with the supply – so fears that Westchester's health system would be overwhelmed have not come to pass.
Latimer opened the briefing by remembering those the county has lost to the virus, now numbering 557, almost double the count of 283 on April 7. County flags will fly at half-staff to remember them – and Latimer said, "I hope we'll never forget them."
Latimer reported that Westchester County has tested almost 60,000 people, which is "more per capita than any other jurisdictions in the state." Of those, 19,876 have tested positive and 1,194 are in the hospital, an 11.5% hospitalization rate. With 3,000 available beds in the County, Latimer said "We are in a good place" in terms of availability. If other regions become overloaded, Latimer pledged to use any available in beds in Westchester to help people from outside the County.
Discussing the statistics, Latimer reported that the African Americans and Latino populations are suffering from the virus in higher proportions than the general population. Those with underlying conditions and poor people who live in denser communities have also been more negatively affected. However, Latimer said that, "Age is the biggest determinant. More than half of the people who died are 70 years and older and when you add in those between 60 and 70 years old, this accounts for 2/3 of all deaths.
He concluded by saying, "We think the numbers show a flattening of the curve."
Due to the storm on Monday, the testing centers at Glen Island and Westchester Medical Center were closed.
Latimer reiterated the CDC recommendation to wear masks and gloves in public, whether going to an ATM, pumping gas or going shopping to protect those around us.
Though Latimer believes that golfing "does not lend itself to inappropriate conduct," he made the decision to close the County golf courses in conjunction with the state and Rockland County. Golf courses can no longer be used. However the County Parks, nature center and hiking trails remain open. Moving forward, Latimer will "act regionally."
Discussing the debate about re-opening the schools, Latimer said "the power belongs to the Governor of New York." Latimer was asked to confer with County superintendents to get their views on remaining closed through the end of June and said this input would be forwarded to the Governor.
Last, Latimer announced a new program whereby hotels will house Westchester healthcare workers.
The Westchester Hotel Association and Westchester County Tourism & Film teamed up to match guest room donations to local hospitals, for use by critical staff they designate. That can allow those workers to lessen their commutes between long shifts and to reduce possible exposure for their families.

So far, over 400 free room-nights have been committed for local healthcare workers' use by:
· Cambria Hotel White Plains Downtown, to Westchester Medical Center
· Comfort Inn & Suites, Hawthorne, to Westchester Medical Center
· DoubleTree by Hilton Hotel Tarrytown, to Phelps Memorial Hospital
· Holiday Inn Mount Kisco, to Northern Westchester Hospital

Those properties – and 22 more Westchester hotels and motels – have also agreed to offer additional rooms for healthcare providers and emergency responders at deeply discounted rates. These rates and booking information for eligible workers are listed online at www.visitwestchesterny.com/hotels/covid-19-response/.
Sean Meade, general manager of the Cambria Hotel and president of the Westchester Hotel Association said: "Our hotels are normally competitors, but the pandemic is prompting us to come together as one team to defeat a common enemy, COVID-19. With this program, we serve our community together and help each other through this tough time."

Westchester County municipalities are also part of the effort, such as White Plains' donation of free parking at City Hall, just across the street from the Cambria Hotel, for the healthcare workers temporarily lodging there.
For healthcare and emergency responder special rates or for workers who need an alternative place to stay during the pandemic check out https://www.visitwestchesterny.com/hotels/covid-19-response/ for more information.