Outdoor Sculpture Stolen on Hampton Road
Details

Written by

Joanne Wallenstein

Hits: 2722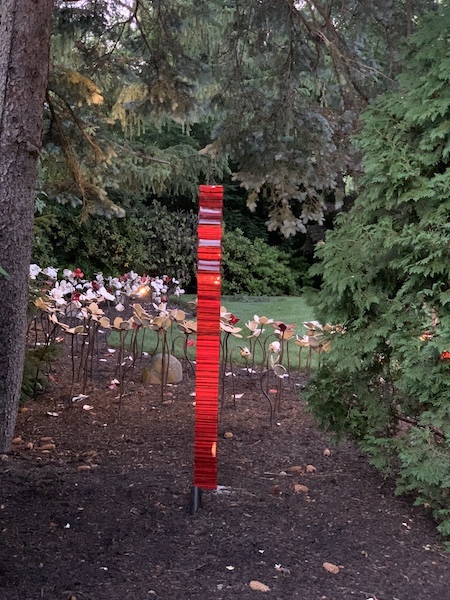 Glass warrior Hilda before the vandalism.A Hampton Road resident and artist called police on Monday evening July 13 to report that a sculpture that she made and had placed in her front yard was stolen. She had last seen the sculpture intact on July 11.
The sculpture was caled "Glass Warrior Hilda" and the artist, Simone Kestelman created it as part of the #Resiliart project that she created to bring art and love to Scarsdale.
Valued at $16,000 the sculpture was made of red glass and was 4 inches wide and 67 inches tall. It was glued into a stone base that was buried in the front yard. Several pieces of the broken sculpture were left on the ground.
Other sculptures on the grounds including glass balls and a tree were not damaged. The artist could not think of anyone who would have a reason to damage it.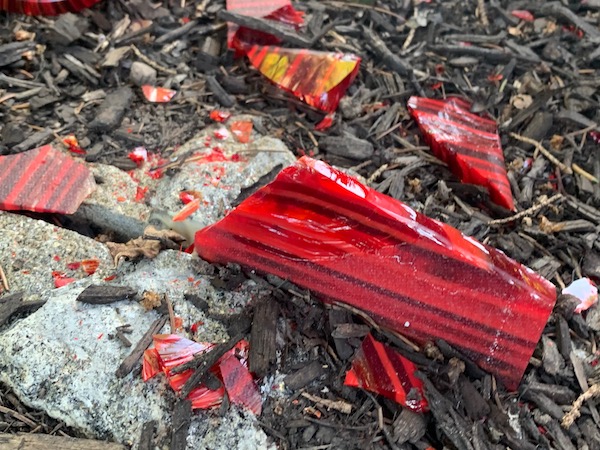 Glass shards that remained after the theft.
Scarsdale's Neighborhood Associations Host a Summer of Fun
Details

Written by

Joanne Wallenstein

Hits: 1185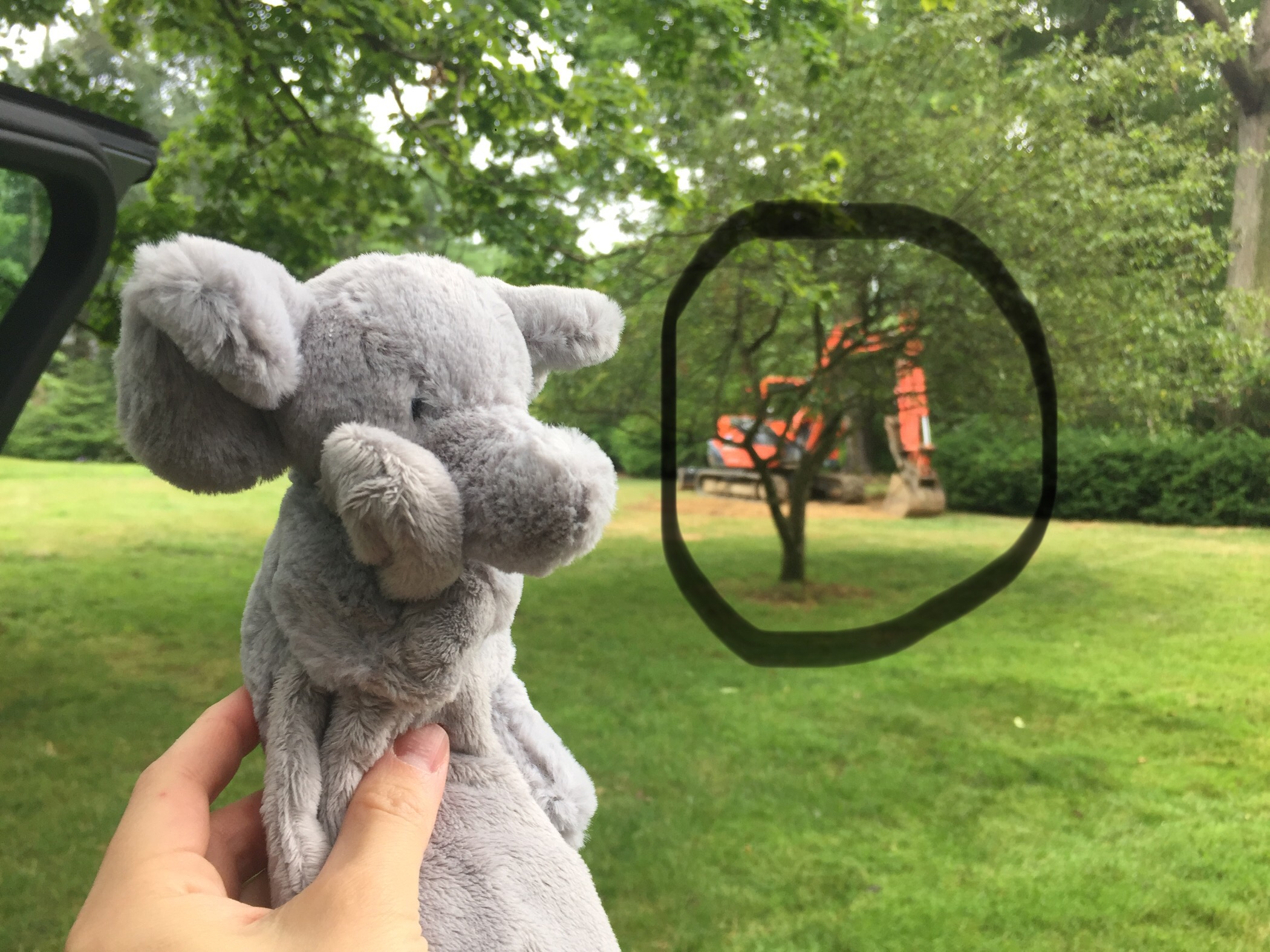 Though so many summer activities have been cancelled, Scarsdale's Neighborhood Associations have been active in coming up with some nice opportunities for family fun. Via Sarah Bell, who heads the Scarsdale Neighborhood Assocations we've received reports of July 4th celebrations, food trucks and a wonderful scavenger hunt now taking place in Fox Meadow.
Food
Four Quaker Ridge Neighborhood Associations collaborated on a Last Day of School Party on June 18. The event celebrated all students on the completion of an unprecedented year of school. Food trucks and vendors from the Cupcake Car, Scoop Shop, Penny Lick Ice Cream and Westchester Burger served the community. Organizers included Jennifer Fischman from Secor Farms, Sean Gilbride from Colonial Acres, Melanie Spivack from Scarsdale Meadows and Quaker Ridge and Sarah Bell Wechsler from West Quaker Ridge.
The neighborhood associations continued to arrange for food truck deliveries on subsequent nights – and all have been sending out information to residents on a regular basis.
Fox Meadow Neighborhood Association President Janice Starr reports that residents also enjoyed deliveries from food trucks. Fox Meadow residents were treated to visits from Westchester Burger, Graziella's, Purdy's, Eddie's Pizza, and Gyro Uno with Crazy Taco Mex scheduled for July 22.
Edgewood residents were also able to receive food truck deliveries during the quarantine. resident from Drake Edgewood began the drive which allowed people to sign up for meals on Edgewod Dines on Face Book. The food trucks park in the neighborhood and members can sign up for a time slot or the food is delivered and left at the door at a specific time.
According to Camille Roche, "The rationale for the start-up was two-fold. Since many parents are participating in the education of their children and working at the same time cooking for the family became an issue. Two or three trucks came every week with varying menus from burgers to desserts to ice cream to various ethnic specialties for those in the Edgewood school district. The second reason for the drive was to use local businesses. All of the trucks were from local companies and it was quite successful."
What else?
The Drake Edgewood neighborhood association has been sending weekly emails to all the residents with press release updates, updates from the mayor the school board and the school district to keep everyone abreast of changes.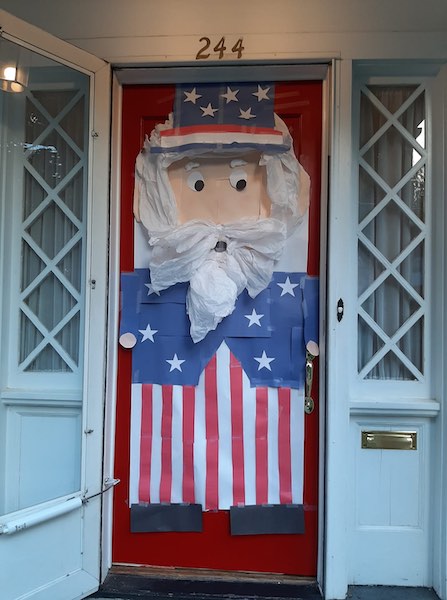 The Arthur Manor Neighborhood Association sponsored a virtual July 4th celebration with prizes for best costumes, floats, bicycles and more. Since they could not hold their usual parade, entries were submitted and judged via Facebook Live who carried the limited ceremony on July 4th. Prizes in the form of gift certificates from local vendors were delivered by Michael Keating in and old red Scarsdale fire truck. See more here:
The Fox Meadow Neighborhood Association got really creative and is now sponsoring a Scavenger Hunt organized by Laura Sinberg. Here's how it works:
Participants need to find 20 out-of-the-ordinary objects in the neighborhood. All are "easily" seen from the streets, but only if you're paying attention! Your job: Stroll, bike or drive along the route and take a picture of each image found--include a member of your crew or a personally made family name sign in the pic.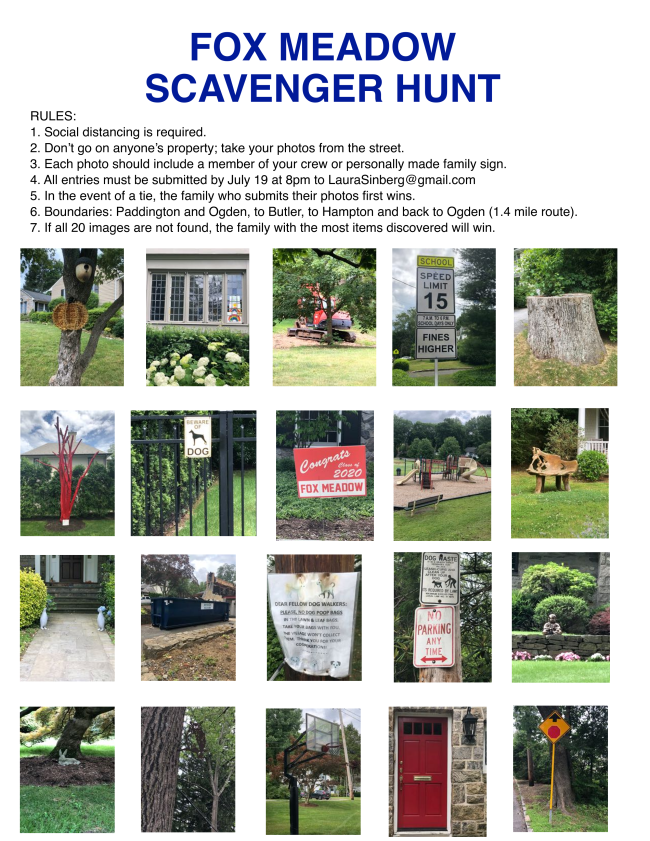 The route is a 1.4 mile rectangle circling the neighborhood. There are prizes including gift certificates and give cards for local businesses. All entries must be submitted by Sunday, July 19th at 8pm.
Greenacres traded their traditional July 4th celebration of field games and fun for a socially distanced car parade. You can see the photos here.
Do you have more neighborhood activities to report? Email us at scarsdalecomments@gmail.com.
Edgewood Eagles Soar at an Unforgettable Moving-Up Ceremony
Details

Written by

Sydney Albert

Hits: 1477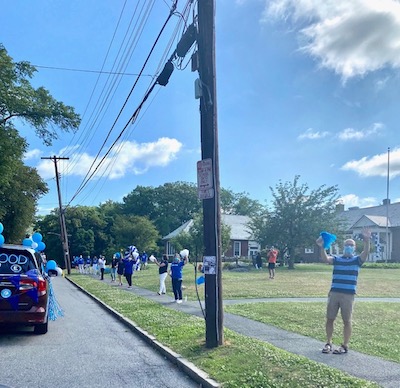 Teachers and Administrators Lined the Streets of the Edgewood NeighborhoodAnother amazing and memorable car parade took place in honor of the Edgewood elementary school class of 2020 on June 19, 2020. On a sunny and warm morning, the cheers of students and their families could be heard throughout the Edgewood neighborhood. Cars honked and students waved as they drove around in cars decked out in blue and white balloons, paint, and other eye-catching decorations. The entire Edgewood community came together for the event in order to give the fifth graders the recognition they deserve. Many neighbors watched the parade, held signs, and dressed in the school's colors. There was even a dog dressed in an Edgewood shirt!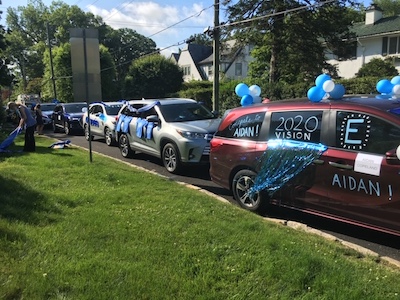 Fifth Grade Families Covered their Cars in Fun-Filled DecorationsThe celebration began at Edgewood school on the corner of Edgewood Road and Nelson Road. The cars looped twice around the school, then continued the motorcade throughout the neighborhood. Teachers and administrators lined the streets in a socially distant manner, making sure to capture this opportunity to honor their students' hard work and accomplishments. As cars drove by, they waved pompoms, enthusiastically cheered, and danced to upbeat music. In true Edgewood spirit, they were dressed head to toe in blue and white.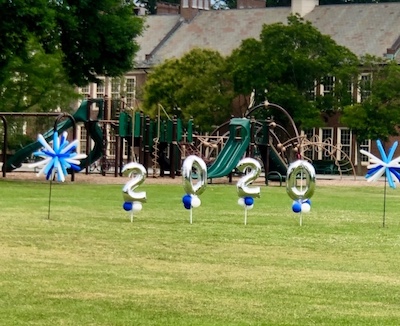 Balloons on John Coulter Memorial FieldDespite being unable to attend a traditional moving-up ceremony, the Edgewood students were overjoyed by the parade, greeting the sidewalk cheers with smiles and waves. Principal Tashia Brown made sure that each student was still individually congratulated by announcing the names of the fifth grade students as they passed. Many students even said the socially distant parade was much more fun than the typical moving-up ceremony.
Following the student parade, the teachers did their own parade up and down the Edgewood streets. Students and their families stood outside on their front lawns to cheer the teachers on and thank them for a great year. Congratulations to the graduates Edgewood Elementary School and best of luck at Scarsdale Middle School.

Click here to see a video recap of the celebration.
How Should Schools Reopen in the Fall? What Do You Think? Take Our Survey
Details

Written by

Joanne Wallenstein

Hits: 1588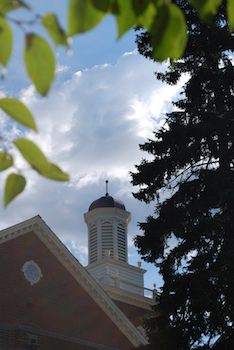 In what manner should the Scarsdale Schools reopen in September? We know many of you have opinions on this important issue and we would like to know what you think.
Please click on this link to answer a few questions in our short survey. We'll tally the results and share them with you as soon as the responses are in.
Letter to the Editor: Resident Receives an Anonymous Letter About Lawn Sign
Details

Written by

Joanne Wallenstein

Hits: 5195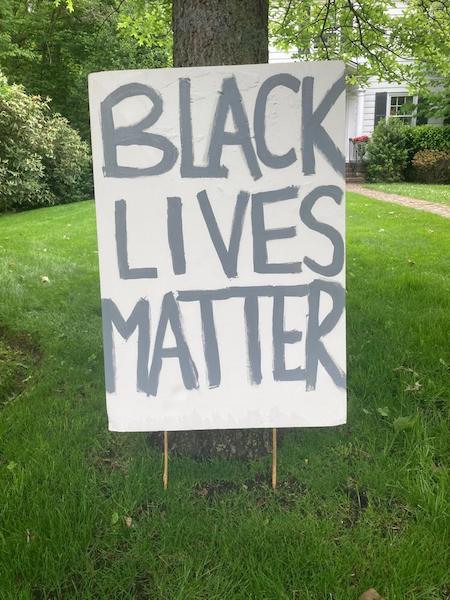 This Black Lives Matter sign is posted on the writer's front lawn.Dear Scarsdale Community: My name is Erica Schneider, a graduate from the class of '05. My wife and I have been staying with my parents since the start of COVID-19 and will be here until it's safe to travel again.
This is an open letter to the person who sent us an anonymous letter in the mail regarding our Black Lives Matter sign on our front yard.
The letter said:
"Dear Neighbor,
Google David J Harris Jr. from June 8 at 7:45am. This African-American man makes a good point.
Your fellow neighbor."
Here are my feelings on your message.
1. The video you direct me to is about how there are several Black people buying guns to protect themselves from protestors. The man states that Black Lives Matter is largely made up of ANTIFA members, that the movement is anti-government, anti-community safety and anti-America.
You assume that defunding the police means no more police officers. That is not the case. Defunding the police means reallocating funds to build up more social programs. In my opinion, we don't need an armed officer responding to somebody who is sleeping in their car at a Wendy's drive-through. The movement is calling for an open-minded approach to restructuring a broken system.
2. The video makes sweeping generalizations about a massive international movement. Black Lives Matter, at its core, is about achieving racial equity. Whether that is through defunding the police, restructuring how we fund educational institutions, building more affordable housing in towns like Scarsdale, or a myriad of other efforts.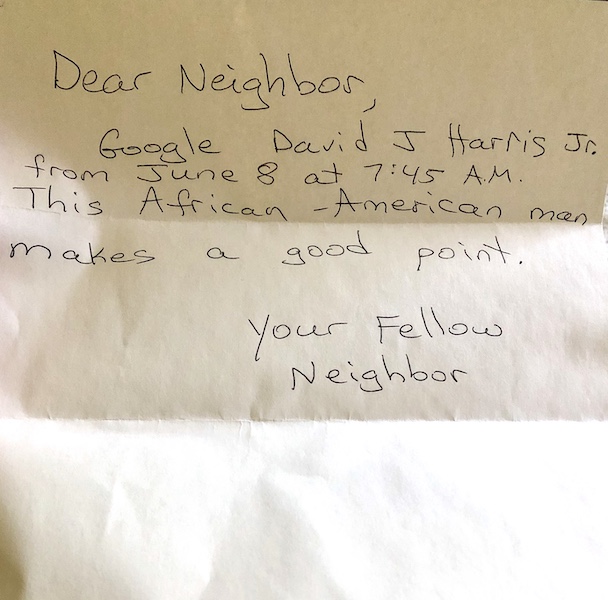 The anonymous letter received in her mailbox.
I believe the system is broken, racism is ripe (whether conscious or subconscious) and we as a country have never gotten it right. I am hopeful this movement will continue to inspire monumental and sweeping change. I decry your suggestion that the movement is not justified.
3. You, the anonymous letter sender, make sure to point out that the man in the video is a Black person. May I note that simply because one (or several) Black people say that they don't believe systemic racism exists, I prefer to listen to the millions of Black people pleading for help. I also listen to my friends and their personal experiences. Your one Black person's opinion is not going to change that.
4. You assume I am open to listening to a conspiracy theorist. Regardless of party alignment, I prefer to get my information from news sources.
5. The person in the video is angry. His rhetoric is defensive and aggressive. His posts are divisive, promote fear and revel at the misfortune of others. It's quite sad to skim his page, actually. This is the exact opposite of what our country needs right now. We need to come together and listen to those who are begging for help, not dismiss their cries as irritating misgivings.
We wholeheartedly support the Black Lives Matter movement, hence the sign. I am a privileged white person who grew up in one of the wealthiest towns in this country. I disproportionately benefitted from this upbringing. Systemic racism is real; just look around.
We will not be taking the sign down. In fact, in telling this story to our nearby friends, we've inspired them to put up signs too.
This movement is a wakeup call for everybody who lives in communities like ours. The wealth and power here must be used to drive actual change. It is my hope that the leaders and residents in this community use their privilege to help further, not dismiss, this movement.
To the greater Scarsdale community, I hope this inspires you to put up your own Black Lives Matter sign. It is not enough to assume that your neighbors believe that a) racism exists and b) Black Lives Matter. Racists live among us and feel emboldened to send anonymous letters urging us to back down. We must do the opposite.
Please join me in publicly displaying a Black Lives Matter sign.
I know that the majority of people that live here are good, hard-working people with big hearts. Ask yourself: does the outside world know this? Do the Black people that live in this community truly know that their neighbors support the movement? Do the people that drive through our community who don't live here know how we feel?
It would bring me great joy to drive through our community and see Black Lives Matter signs on more lawns. We spoke to the police regarding your letter and they understand that the sign is not an attack against the police and are in no way adverse to us displaying it.
Let's send a unified message that we stand with the Black community and we stand with Black Lives Matter.
Thank you,
Erica Schneider