Express Your Gratitude for Scarsdale's Volunteers
Details

Written by

Joanne Wallenstein

Hits: 1041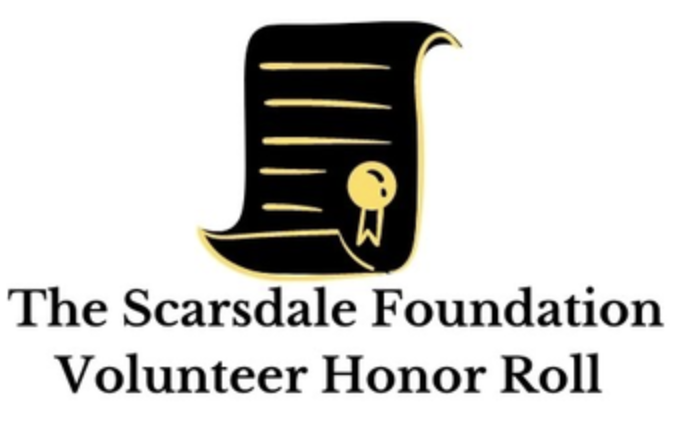 The Scarsdale Foundation Honor Roll list is now live on the Foundation's newly relaunched website.
Scarsdale is a community full of volunteers whose dedication shines in every area of civic life. You can thank community volunteers by naming them to the Scarsdale Foundation Volunteer Honor Roll.
The Honor Roll will support The Scarsdale Foundation, which provides need-based scholarships for college sophomores, juniors, and seniors, reach a critical fundraising goal of $150,000. As a community that values education, we should give every Scarsdale student a chance to succeed beyond their time in Scarsdale schools.
All Scarsdale volunteers are eligible to be part of the Honor Roll, including former residents. For $25 per volunteer, you can honor as many volunteers as you choose, such as neighbors and friends who coach sports, help at our schools, cook for the homeless, serve on local boards, committees, and more! It is a way to acknowledge those who serve in the more prominent ways and the quieter ways as well.
All members of the Honor Roll will be contacted and recognized in print, online, and at the Scarsdale Foundation Bowl Dinner at Brae Burn Country Club on April 28, 2022. Save the date!
Three SHS Female Athletes Sign Letters of Intent to Play College Sports
Details

Written by

Joanne Wallenstein

Hits: 1390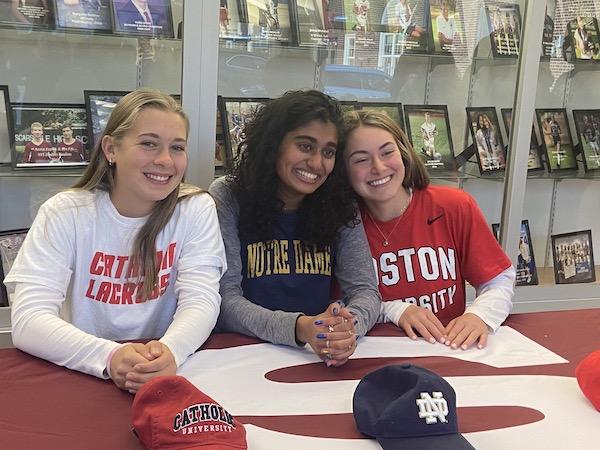 Three Scarsdale High School senior female were celebrated at "Signing Day" on Monday November 15, when they signed letters of intent to play college sports. The event was held at the Scarsdale Athletic Department.
Pictured above are Olivia Franco, Sedna Gandhi and Haley Matusz.
Olivia Franco began lacrosse in second grade! She joined a travel lacrosse team in 7th grade. Olivia began the rigorous recruiting process in high school . But, due to COVID restrictions the recruiting process became very hard because there were no tournaments to play. Therefore, she had to adjust and attended many lacrosse showcases and used film to send to coaches to get recruited. She is going to her top choice for lacrosse at Catholic University of America, ranked 6th in the country for D3 lacrosse .
Sedna Gandhi has been fencing for seven years, has won multiple national and international medals, trained with the Olympic epee fencing team, and won gold at the national championship and Junior Olympics this past summer. Additionally, she will be traveling to Estonia later this week and Spain next month representing Team USA . Sedna signed her NLI for Notre Dame to attend in the fall of 2022.
Haley Matusz has played lacrosse for nine years and on several travel teams throughout her career completing her travel season with Sound Lacrosse. Haley is so grateful for all the bonds and memories made through her recruiting and lacrosse journey. Haley signed her NLI to play D1 lacrosse for Boston University next Fall. She's so excited to join warm and welcoming community at BU!! So blessed!
LWVS Event: How the 2020 Census and Redistricting Will Shape Political Representation, Featuring Professor Thomas Wolf
Details

Written by

Joanne Wallenstein

Hits: 1380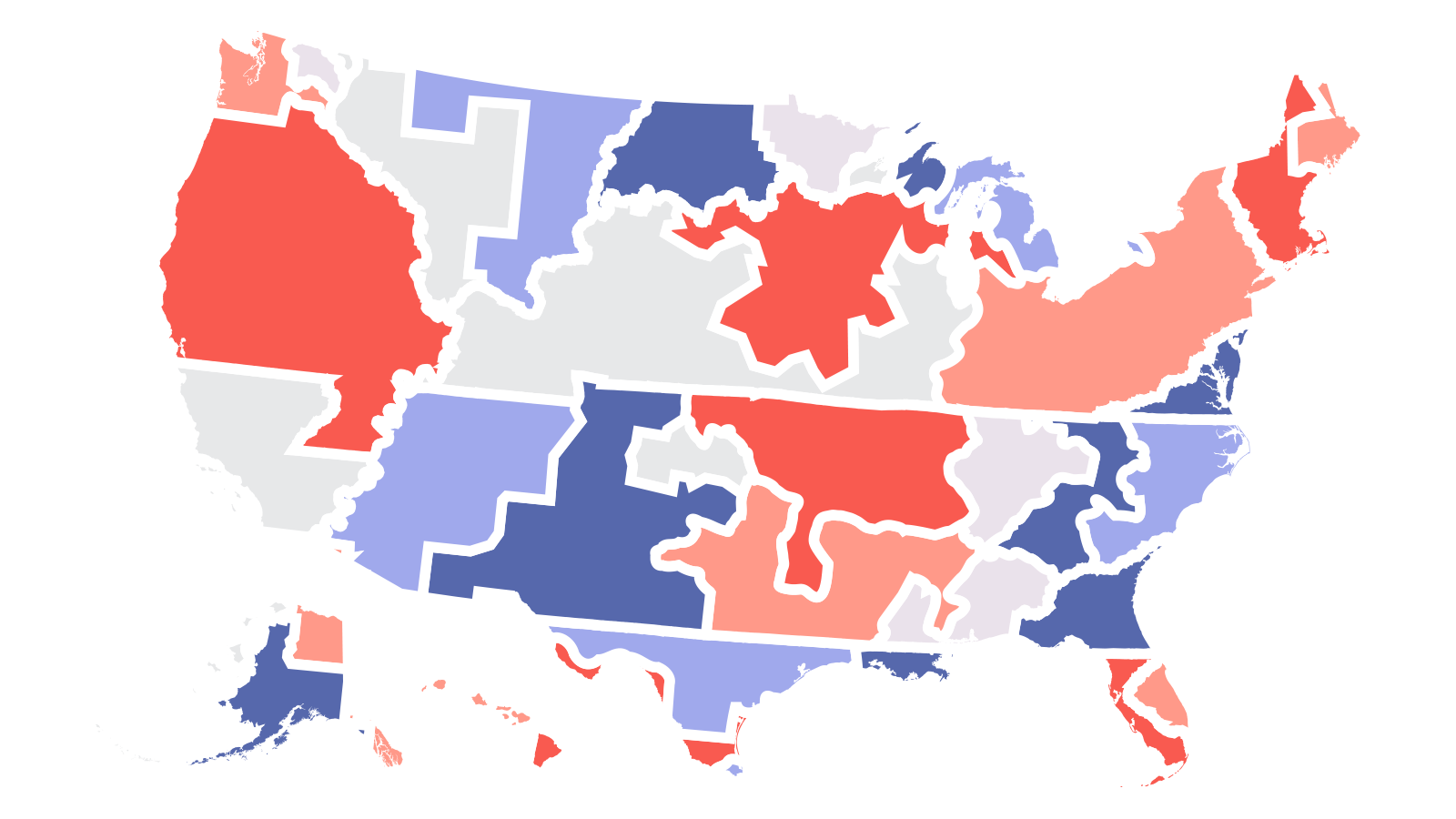 Thomas (Tom) Wolf, Senior Counsel and Spitzer Fellow with the Brennan Center's Democracy Program, will be the featured speaker at the LWVS luncheon on Friday November 5 at 11:45 at Scarsdale Golf Club.

An experienced constitutional litigator and strategist, Wolf advises civil rights groups, state and local governments, and others on legal strategy and policy relating to the census, redistricting, and other issues. During his time at the Center, he has organized the amicus briefing for several of the U.S. Supreme Court's most significant democracy cases of the past decade and co-led the lawsuit that thwarted the Trump administration's attempts to rush the 2020 Census.

Wolf's articles, op-eds, and commentary on the law and democracy issues have appeared in major media outlets nationwide and globally. He routinely speaks and lectures on law and policy at leading universities, law schools, and public policy schools.

Prior to joining the Brennan Center, Wolf was a member of the Supreme Court and Appellate Group at Mayer Brown LLP. He began his legal career as a clerk for Senior Judge Guido Calabresi of the United States Court of Appeals for the Second Circuit.

Wolf received his JD from Yale Law School. He also holds advanced degrees in political thought and intellectual history from the University of Cambridge and urban development planning from the Bartlett Faculty of University College London, which he attended as a Marshall Scholar. He graduated summa cum laude with an AB in history from Harvard College.
You may purchase your ticket(s) for the LWVS Fall Food for Thought Luncheon via check or PayPal by visiting LWVS.org. Tickets are $50 if ordered by October 30th, $55 after October 30th and $30 for students. All attendees must have proof of vaccination to attend. This event will be held on the upper outside tented terrace with heaters.
Friday, November 5 at 11:45 a.m.
Scarsdale Golf Club (Upper Terrace, Outdoors, Tented with Heaters)
Hartsdale, New York 10530
The Scarsdale Foundation and Bowl Committee Seek Recommendations for 2022 Honoree
Details

Written by

Joanne Wallenstein

Hits: 842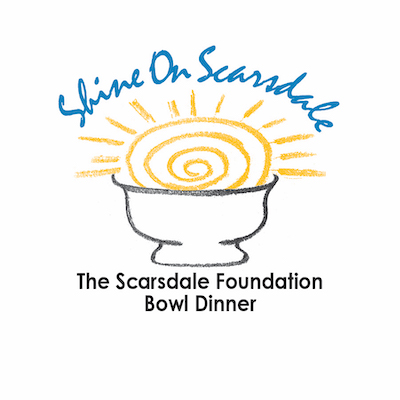 Despite the pandemic, The Scarsdale Foundation and Scarsdale Bowl Committee have been active during the past year, and the community has been extremely supportive and generous.
The 2021 Scarsdale Bowl Committee will begin working to select the 2022 recipient of the Scarsdale Bowl award at its initial meeting on December 12th and is seeking recommendations from the community for next year's honoree by November 25 but nominations will be accepted up until December 12. Nominees must be Scarsdale residents who do not currently hold an elective office. Click here to access the nominee recommendation form.
Any member of the Bowl Committee will gladly answer questions. Contact Chair Nancy Michaels at 914-725-8310 or at NancyMichaels311@gmail.com.
Guidelines for Nominations
The Scarsdale Bowl, under the sponsorship of the Scarsdale Foundation, has been awarded annually since 1943 to an individual (or in exceptional cases, to a married couple) who has given "unselfishly of their time, energy, and effort to the civic welfare of the community." The founding donors of the Bowl believed that "many who serve generously and voluntarily, without office, honor, or publicity, are those deserving of having their names permanently inscribed on the Scarsdale Bowl."
Annual Bowl Dinner – SAVE THE DATE!
The community celebration dinner is currently scheduled to be held in-person on Thursday, April 28, 2022 at Brae Burn Country Club in Purchase.
The Scarsdale Bowl Dinner 2022, themed "Shine on Scarsdale," will pay tribute to the newest Bowl honoree, as well as recognize 2020 winners BK Munguia and Jonathan Mark, and 2021 recipient Michelle Lichtenberg since we were unable to gather in person during Covid. The Committee is grateful that despite the dinner's cancellation, the Scarsdale community has been generous, making donations toward the Foundation's college scholarships, which are more crucial than ever. The hope is that next year the community will be able to properly celebrate the spirit of volunteerism, central to the civic life of Scarsdale, and that another group of deserving students will benefit from the evening's proceeds. In addition, the Honor Roll will again allow everyone to recognize the day-to-day volunteerism of friends and neighbors while generating more support for the Foundation's projects.
2022 Bowl Committee
Michelle Lichtenberg, President of the Scarsdale Foundation, announced that Nancy Michaels will once again serve as chair of this year's Scarsdale Bowl Committee, and Abby Sroka will continue as the Secretary/Treasurer. Members of the Bowl Committee serve a staggered two-year term. The members of the newly-appointed class of 2023 are Becky Bach, Sara Farnsworth, Adam Hellegers, Eric Lichtenstein, Margot Milberg, Erika Rublin, and Beverly Thornhill. The continuing class of 2022 is comprised of Sergi Flaster, Michael Rosen, Svati Shashank, Scott Silberfein, Loretta Vickers, and Han Zou. Jennifer Love, a Scarsdale Foundation trustee, will serve on the Committee as the liaison for the second year.
The Scarsdale Foundation Honor Roll Update
In 2021, nearly a thousand individuals were named to The Scarsdale Foundation Honor Roll by their friends, neighbors, and family for volunteerism, raising close to $30,000. The Honor Roll was a wonderful way to celebrate all the volunteers in our village who make a difference. Thanks to the Scarsdale community's generosity and partnership, these funds can now be distributed as college scholarships for deserving Scarsdale students in need.
Additional information about The Scarsdale Foundation and the Scarsdale Bowl may be found at www.scarsdalefoundation.org. We are looking forward to being together next year!
Families Learn the Sounds of Fire Safety at Fire Fair
Details

Written by

Stephen Mulcahey

Hits: 779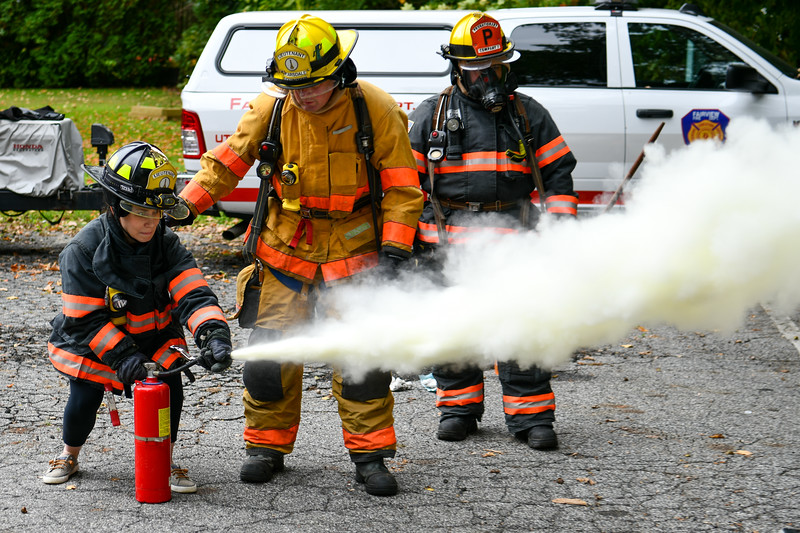 A local resident, under the watchful eye of a firefighter, demonstrates the use of a fire extinguisher.Every October, the Scarsdale Fire Department participates in Fire Prevention Month in an effort to educate the public about fire safety. This year's theme is "Learn the Sounds of Fire Safety" which is intended to help people better understand the reasons smoke alarms sound. This education provides the know-how to effectively address smoke alarm activations.

On Friday October 15, 2021, members of the Scarsdale Fire Department visited every first grade class in all of the public elementary schools in the village, to talk to students about fire safety. First graders were taught what to do if their fire alarm goes off at their house and were treated to a tour of the fire engine.

On Saturday October 16, 2021, the Scarsdale Fire Department hosted a "Fire Fair' at the Crossway firehouse. While there was fun stuff for the children to do, like a bounce house and sitting in the fire engine, the children also learned to "STOP, DROP and ROLL" if their clothes catch fire. Also on hand, was a "smoke trailer" - a simulated house with a smoke machine for kids to crawl through. For the parents the was the kitchen prop, where they learned how not attempt to put out a grease fire with water. Parents also learned about the different types of fire extinquishers and how to properly use them. PASS – Pull, Aim, Squeeze and Sweep. The children left with some toys, stickers and plastic helmets and the parents with fire prevention literature for home.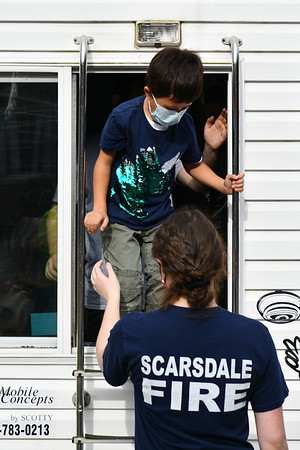 Fire Explorer Teagan Oakes assists children out of the "smoke trailer"

The Scarsdale Fire Department would like to thank Steve Rossi of AAA Emergency Supply for attending and providing the extinguishers for the demostration. A big thanks to the residents of the Village of Scarsdale for your continous support.
Submitted by Scarsdale Fire Captain Stephen Mulcahy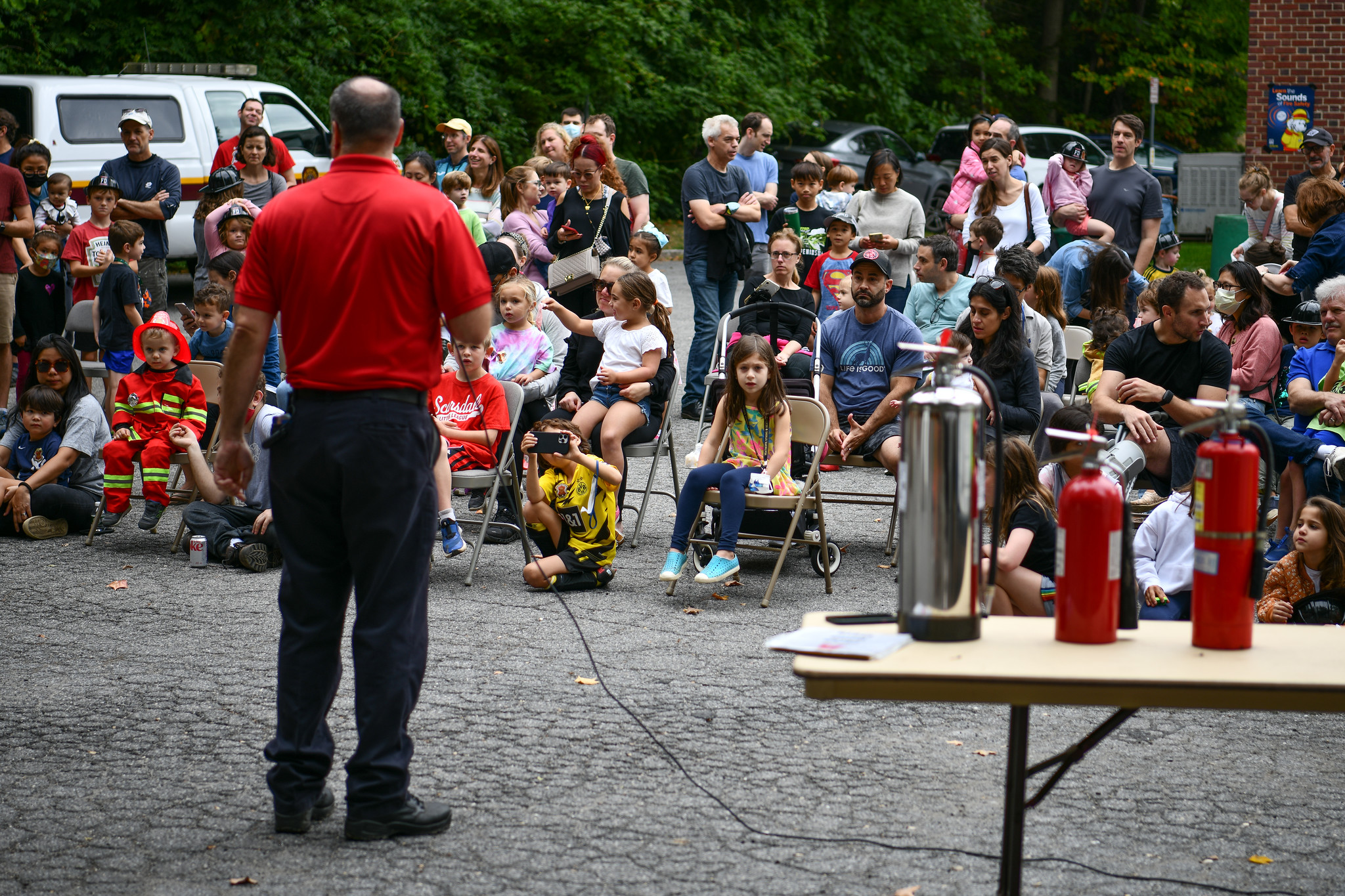 Career Captain Stephen Mulcahy talks to the crowd about fire extinguishers.Photos by Jon Thaler, see more here.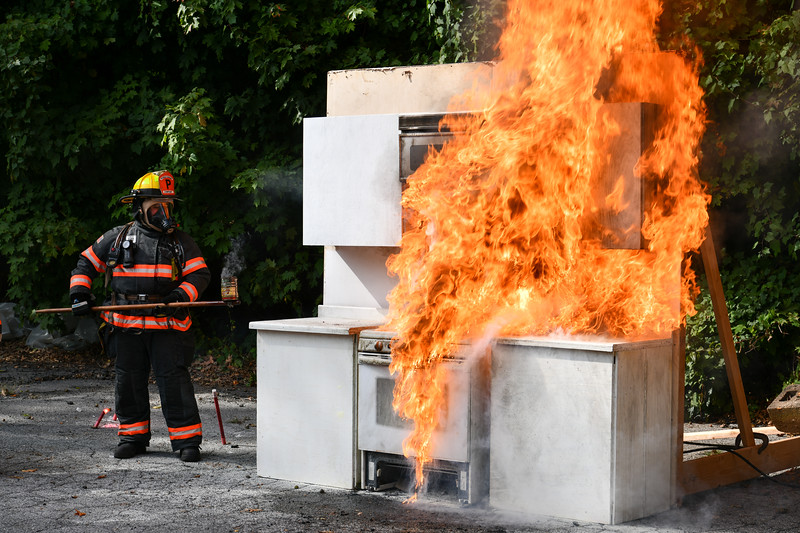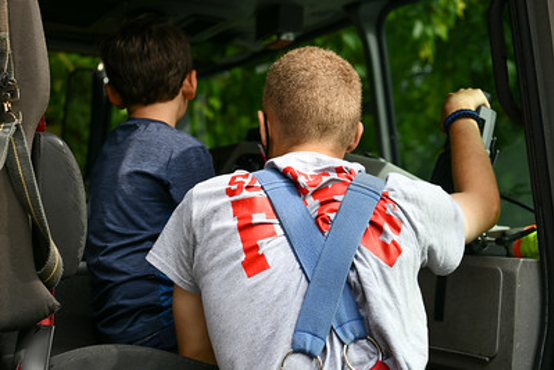 Volunteer Firefighter Alex Bases shows off the fire engine.