DeCicco & Sons to Replace Acme Supermarket in Eastchester
Details

Written by

Joanne Wallenstein

Hits: 7064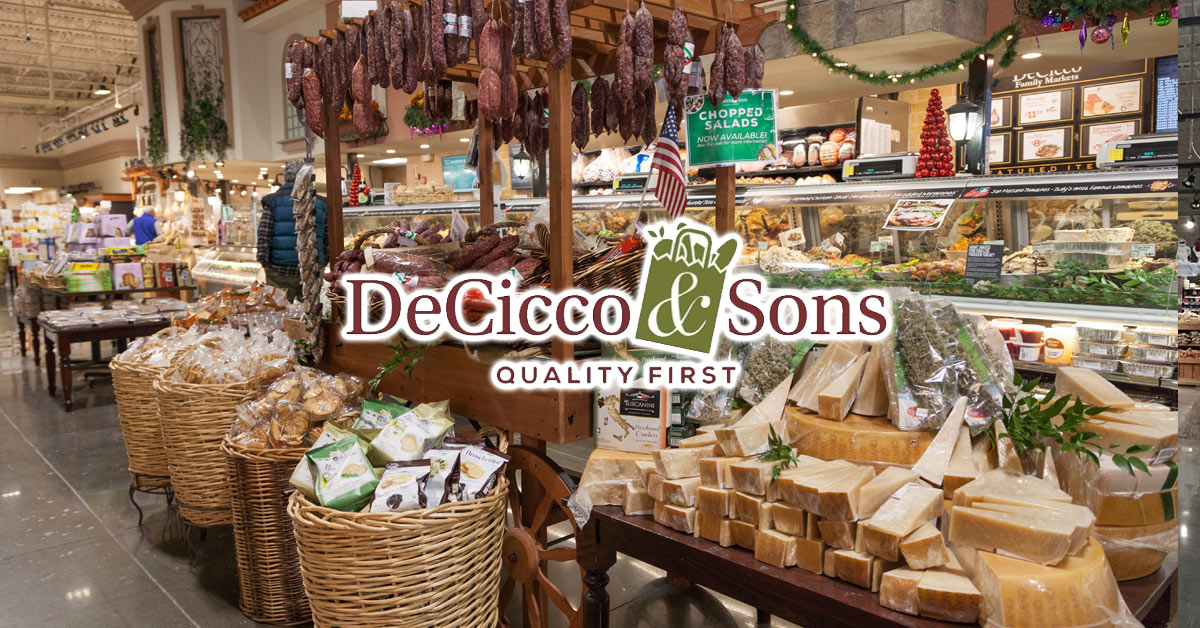 The competition is heating up for supermarket shoppers in our area. Just as the DeCicco's in Scarsdale Village is undergoing a much-needed renovation and expansion, the other branch of the family, DeCicco & Sons, has announced that it will open at 777 White Plains Road in Eastchester, replacing the Acme Supermarket that has recently announced its impending closure this fall. "We believe that our focus on quality and exceptional service will resonate strongly with the Eastchester community. We look forward to meeting our neighbors and friends in our new location," shared John DeCicco Jr., CEO of DeCicco & Sons.

The new store will offer prepared foods and baked items made daily, on-premise, by their chefs and bakers. "As a family, we have always focused on quality above everything else. The quality of our meats, poultry, seafood, and produce is a big part of what we are known for," says Joe DeCicco Jr., the store's Chief Purchasing Officer. The store will highlight DeCicco & Sons' charcuterie and cheese, freshly rolled sushi, in-house bakery, as well as fresh produce and prepared meals. The team also plans to build an extensive beer retail and in-store pub, where educational events and tastings will take place. DeCicco & Sons exclusively carries antibiotic and hormone-free, humanely raised meat from family farms. Other notable items include store-made mozzarella, fresh guacamole, and a full-service bakery.
"We are planning an extensive renovation prior to the opening in Summer 2020," explained Mike Puma, DeCicco & Sons Director of Operations. "We will be renovating the store from the floor to ceiling to bring the location up to our DeCicco & Sons environmental standards. This includes highly efficient heating, ventilation, cooling, and refrigeration systems. Nearly all of our mechanical systems will be 'smart-enabled' to ensure the smallest carbon footprint," continued Puma.

The Eastchester, New York store will bring approximately 150 jobs to the area. "Our employees have a big impact on the experience in our store, as well as the product we put-out to our customers. We know that taking very good care of our employees, translates into our employees taking exceptional care of our patrons," explains Luisa DeCicco, Director of Human Resources for the family-owned chain. "These positions offer a 401k retirement plan, affordable quality health coverage, company-paid maternity and paternity leave, college scholarships, excellent opportunities for career advancement within the company, and a pay-rate that is well above our industry average." DeCicco & Sons encourages anyone interested in applying to click here, including Acme Supermarket employees recently impacted by the store closing.

DeCicco & Sons was founded in 2006 by John Jr, Joseph Jr, and Christopher DeCicco with the opening of the DeCicco & Sons Ardsley store. The three sons grew up in the grocery industry with their fathers, who opened their first store in the Bronx in 1973, only fourteen years after arriving from Italy.

The family-owned business presently operates premium markets in Ardsley, Armonk, Brewster, Harrison, Larchmont, Millwood, Pelham, and Somers, New York. The store in Scarsdale is not owned by the same branch of the family.
Drunk Driver Kills Pedestrian and Topples Clock at the County Center
Details

Written by

Joanne Wallenstein

Hits: 4996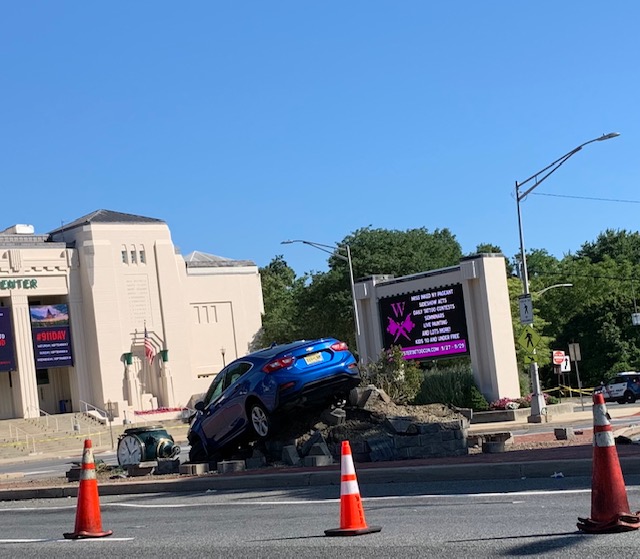 Photo by Emily Attar(Updated August 27) Police have identified a Bronx woman who was killed at the County Center on Saturday August 24, and charged the driver who hit her with DWI.
According to police, Susan Benjamin-Bailey, 57, of East 230th Street in the Bronx died after she was hit by a Chevrolet Cruz driven by Glen Robinson of Elmsford at 6:40 am in front of the Westchester County Center. Robinson was taken to Westchester County Medical Center in Valhalla, where he was treated for minor injuries, and then taken to police headquarters where he was charged with DWI. In addition to hitting Benjamin-Bailey, he plowed into the millenium clock in front of the County Center and toppled it.
Scarsdale10583 reader Emily Attar forwarded us this photo taken Saturday morning following the accident. The car is suspended on the traffic island and the clock is on the ground.
Three Days of Fun at the Scarsdale Sidewalk Sale
Details

Written by

Jamie Robelen

Hits: 2961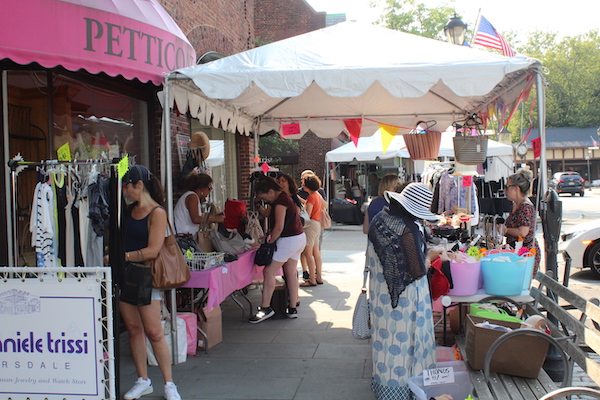 Scarsdale Village was bustling with shoppers during the Scarsdale Business Alliance's Annual Summer Sidewalk Sale. The sale was a 3-day affair, held from Thursday, July 25, through Saturday, July 27, from 10am to 6pm each day. Almost every store in the village participated, with some sort of display outside of the storefront; one exception to this, however, was Learning Express, who participated in the sale but kept everything inside to beat the heat. This year, for the first time, the SBA allowed vendors to participate who didn't have brick-and-mortar stores in the village. There were food trucks in front of Boniface Circle to keep everyone full, and Stretchlab Scarsdale had a tent offering free 15-minute stretches. Scarsdale's newest bookstore, Bronx River Books, had tables full of novels outside their storefront. At LF, teens were digging through bins of shirts and shorts, some looking for new college clothing. On Saturday, families flocked to Chase Park at 11am for a kiddie concert. Songs for Seeds played tunes like "Wheels on the Bus" and "Can't Stop the Feeling" for kids and their parents. Only one year left until next year's sidewalk sale- mark your calendars!
This event was sponsored by the Scarsdale Business Alliance (learn more here).
Marcy Berman-Goldstein, Vice-President of the SBA, offered this comment:
"By including home based businesses, businesses outside of Scarsdale, and inviting people to run activities for grown ups and kids on the streets, we increased participation and engagement. I think it was very successful, I think our goal of inclusivity and action on the street was met. I think overall we achieved what we set out to do and we'll only be be able to achieve more with the platform we've created."
Scarsdale Swimmers Make Waves at the Counties
Details

Written by

Joanne Wallenstein

Hits: 2902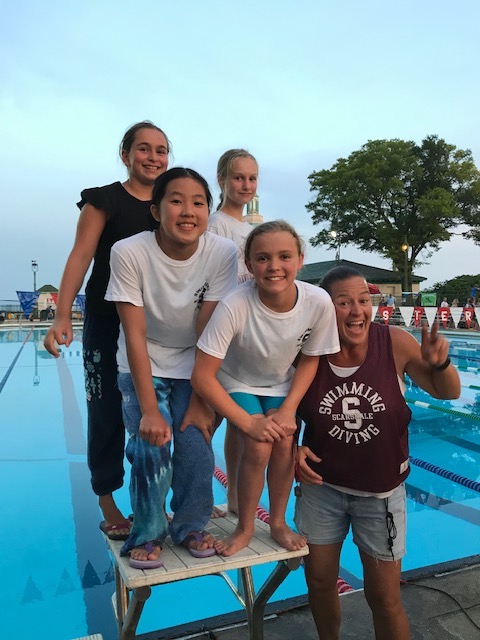 13 and Under Girls Relay Team: (From left) Devin Topkara, Sophie Schwend (Front) Serena Wu and Caroline Largen.Scarsdale swimmers were among the hundreds of competitors at the 94th Westchester County Swimming Association meet held from July 29 – August 1, 2019 at Rye Playland. Over 30 clubs competed and overall, the swimmers from the Scarsdale Town Pool placed third in the county.
At the Conferences on August 8, Justin DiSanto received first place high point in the 15-17 boys, Aidan DiSanto received 2nd place high point in the 13-14 boys and Megan Lee received 1st place high point in the 15 -17 girls category. Megan is a rising junior at SHS. Justin and Megan swim on the SHS Swim and Dive teams and Aidan will be joining the team this year.
Serena Wu came in 5th for the 12 & under 50-yard butterfly, swimming a 29.13. This was her first year on the team and she loved it! Below is a picture of Serena and Coach Inga.
The 13&U girls (pictured at top) came in 8th for their medley relay:
Charles Lemerond, age 9, a fifth grader at Heathcote School who swims for the Wykagyl Country Club medaled in 10U freestyle, back and fly.
Caroline Largen of Scarsdale, age 12, placed 4th overall at Counties in the 11-12 year old 50 yard breaststroke with a time of 34.38. This was her third summer swimming for the STP swim team.
Here are a few photos of Scarsdale swimmers. You have more photos and results from the meet, please email them to scarsdalecomments@gmail.com.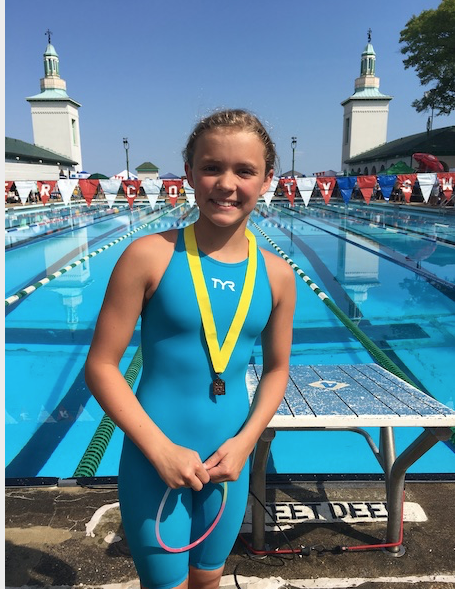 Caroline Largen
Charles Lemerond medaled in 10U freestyle, back and fly.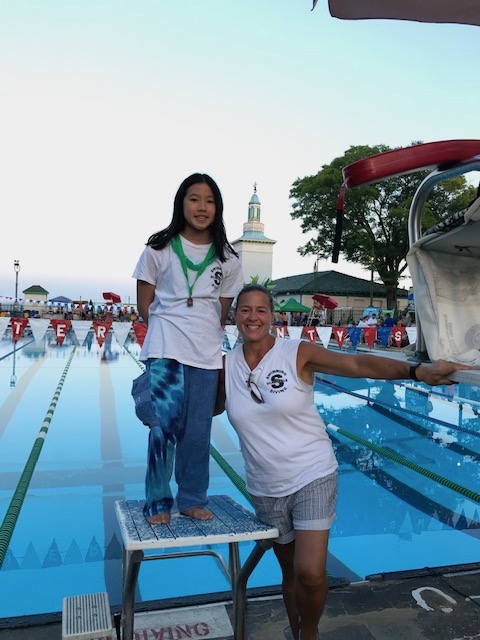 Serena Wu with her coach, Inga.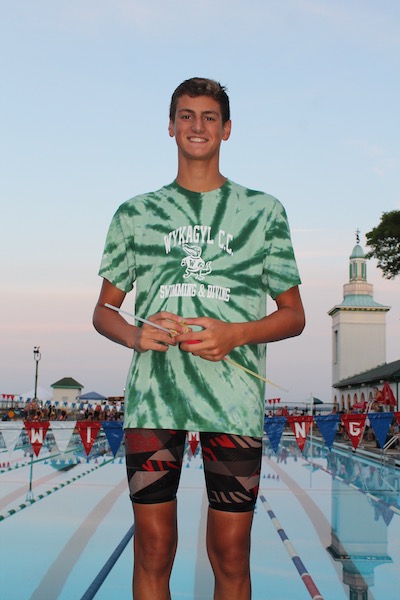 At Counties, Justin DiSanto (SHS rising Junior) received first place high point in the 15-17 boys category.
Aidan again received 2ns place high point in the 13-14 boys
Fun, Food and Great Shopping at the Sidewalk Sale, Thursday through Saturday
Details

Written by

Joanne Wallenstein

Hits: 2681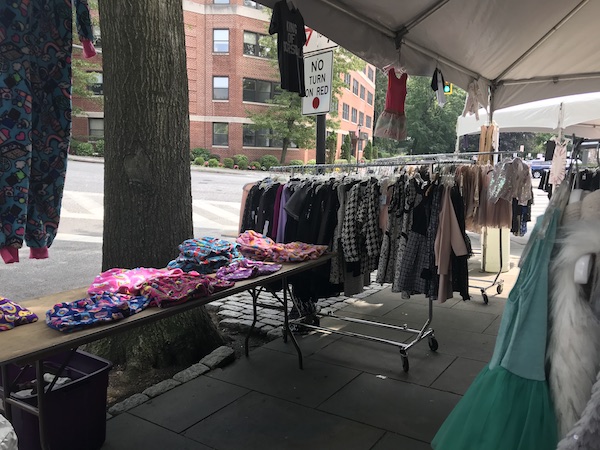 The 2019 Scarsdale Business Alliance (SBA) Annual Summer Sidewalk Sale will take place Thursday, Friday, and Saturday, July 25-27th in Scarsdale Village, from 10am – 6pm. In addition to blowout savings from local retail establishments, there will be several outside vendors as well as food trucks.

On Saturday, there will be a live concert from Songs for Seeds in Chase Park at 11am, and William Raveis will be sponsoring face painting, glitter tattoos and balloons from 11am-2pm. The William Raveis Charitable Fund is a huge supporter of the Damon Runyon Cancer Foundation. Some of their agent's kids will be collecting donations through a bake sale/lemonade stand on the corner of Chase Road and Spencer Place.

Westchester Burger Company, Graziella and Crazy Taco – Mex Food Trucks will be providing food and beverages on Chase Road and Boniface Circle.

Village Trustee Jane Verson said, "The Sidewalk Sale is an eagerly awaited local event that caters to Scarsdale consumers as well as to consumers throughout the area. Everyone loves coming to our charming Village and appreciates the incredible values offered. Our merchants offer high quality products at very desirable prices. The SBA is dedicated to fostering a positive environment that appeals to all segments of the population. I'm impressed by their creativity and drive to identify new, appealing ways to deliver value to our town."