Remembering Bev Sved
Details

Written by

Joanne Wallenstein

Hits: 2565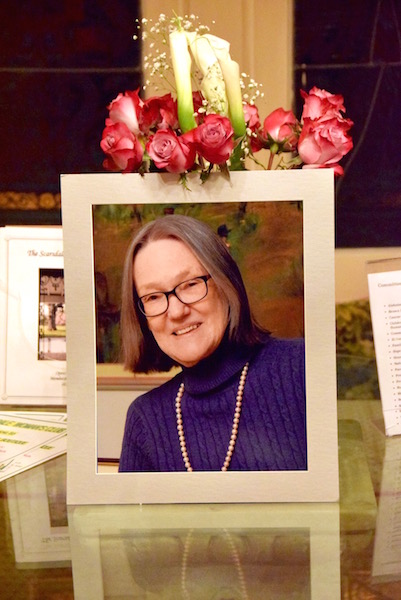 (This letter was sent to Scarsdale10583 by Arnaud Bezard-Falgas)
Searching the web on people who counted in my career, I feel so sorry to come across this announcement.

I got to know Bev back in 1985 in Paris. Finishing my business school, I worked as a trainee in the Market Intelligence department (of the IBM European headquarters), she was leading. Thus, I spent 6 months benefiting from her bright intelligence, business acumen and sharp and open mind.

At the end, she strongly supported my application to a permanent job within IBM and the beginning of an 18-year career path that headed to a sales and marketing manager role through enjoyable intermediate positions. I measure to what extent I owe this to her and am still feel so grateful. I will not forget.

If you could pass on to her relatives my warm thoughts, I would really appreciate.

Many thanks in advance.
Arnaud Bezard-Falgas
Former Deputy Mayor Beatrice Underweiser Passes Away
Details

Written by

Joanne Wallenstein

Hits: 3094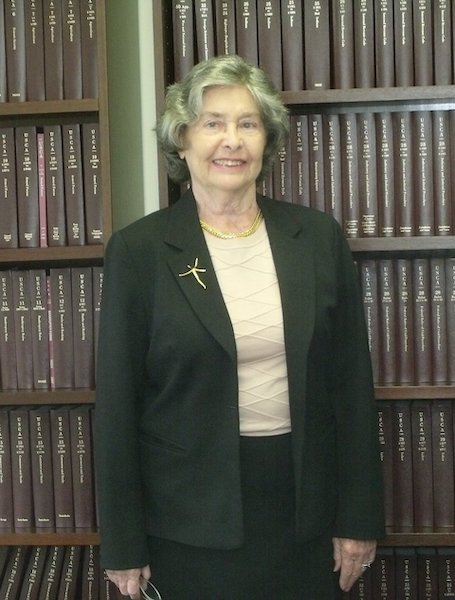 Dan Hochvert remembered Former Deputy Mayor Beatrice Underweiser at the Scarsdale Forum meeting on Thursday December 12. Underwesier passed away last week at the age of 85. Hochvert noted Underweiser's long and distinguished career of volunteerism on behalf of the Scarsdale community, serving on many village boards and councils. She served on the Scarsdale Village Board of Trustees from 1980- 84 and was the Police Commissioner and the Village's Deputy Mayor.
Underweiser had a long and successful career as an attorney for Underweiser & Underweiser LLP, specializing in trusts and estates law, planning and administration, tax, and general business law. She graduated from Vassar College and the Columbia University School of Law. She was also a Trustee of the City University Construction Fund from 1978-80. She was a member of the Beach Point Club.
According to Hochvert, Underweiser was one of the first woman in the Village Club, which merged with the Town Club to become the TVCC and ultimately the Scarsdale Forum. Her son and daughter also served on the TVCC and the Forum
Her funeral was held on Friday, December 13 at 11:30 am at Westchester Reform Temple, 255 Mamaroneck Road, with an internment at Sharon Gardens.
You're Invited: Scarsdale's Annual Holiday and Tree Lighting Ceremony-Friday, December 6 from 5 -7pm
Details

Written by

Joanne Wallenstein

Hits: 1849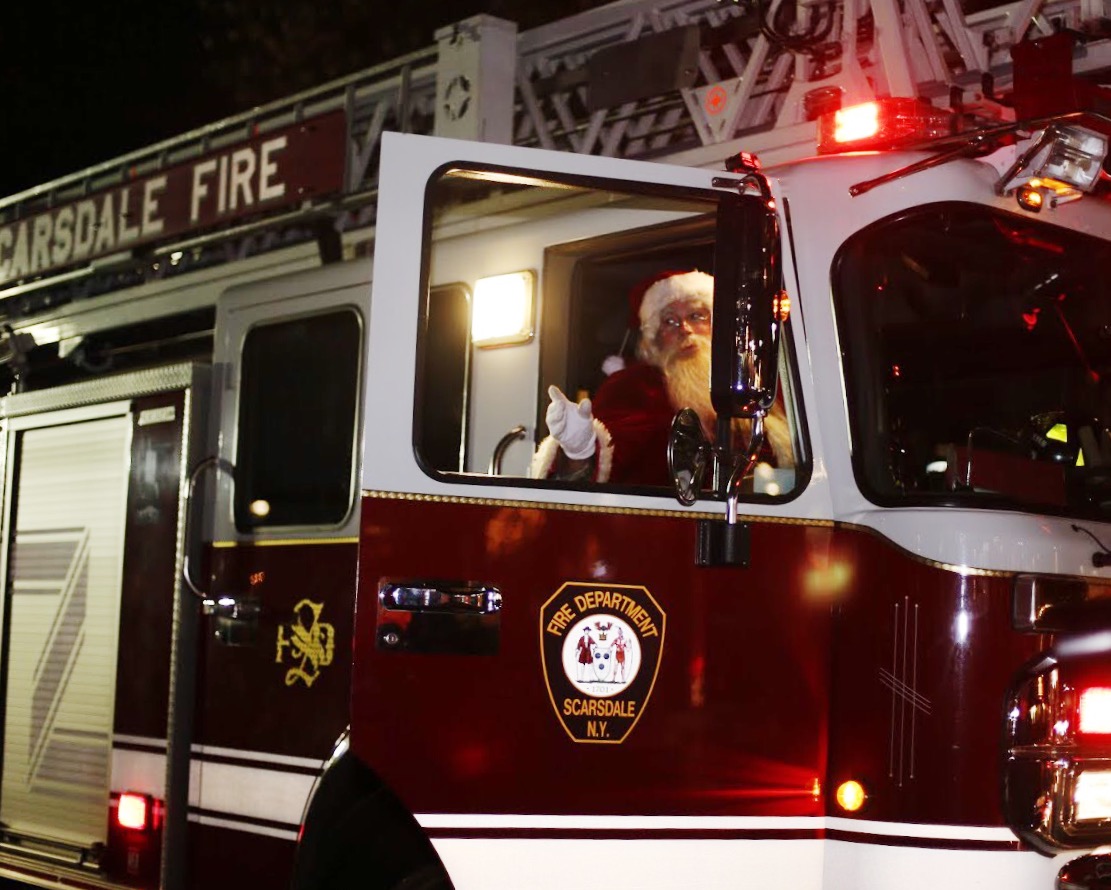 Come 'Light the 'Dale' in Scarsdale Village to welcome in the 2019 holiday season with your neighbors and friends on Friday, December 6 from 5 pm to 7 pm! Join the fun at this annual event full of good cheer, beautiful music, and great food. And don't miss out on the time-honored holiday tradition of seeing Santa arrive in style on a fire truck and complimentary hot chocolate courtesy of the Scarsdale's Police and Fire Departments!
There is fun for all ages! Come listen to and sing along with the Hoff Barthelson Holiday Carolers and SHS a cappella group For Good Measure, as they perform your holiday favorites. Santa will be visiting until 7:00 pm, so children will have plenty of time to share their gift list.
Children can enter their names for a chance to "Light the Dale" with Mayor Samwick. Scarsdale Parks, Recreation and Conservation Department will collect names at the beginning of the event, so come early to enter to win an opportunity for your child to create a magical, unforgettable memory. At 5:30 pm, the Mayor will pick one lucky winner to flip the switch to light our beautiful tree and magnificent menorah, courtesy of Westchester Reform Temple.
Children can partake in planting native pine tree seeds, decorating cookies and making beaded bracelets for the holidays! And don't forget the face painting!
And what's a party without some delicious food? Food Trucks! Food Trucks! Food Trucks! Walter's Hot Dog and Westchester Burger will be on site serving tasty bites while you and your family enjoy the festive activities.
Be sure to bring your neighbors and friends to this festive kick-off to the holidays. Mayor Marc Samwick commented, "We are so fortunate to have such a wonderful community that comes together each year to usher in the holiday season and celebrate together."
Light the 'Dale is sponsored by Scarsdale Village specifically the Village Parks, Recreation and Conservation Department, the Village Manager's Office, Scarsdale Police and Fire Departments. Special thanks to the Scarsdale Fire Department for use of the Fire Truck for Santa.
Letter to the Editor: Freightway Development will Affect the Living Standards and Taxes of Every Scarsdale Homeowner
Details

Written by

Joanne Wallenstein

Hits: 4262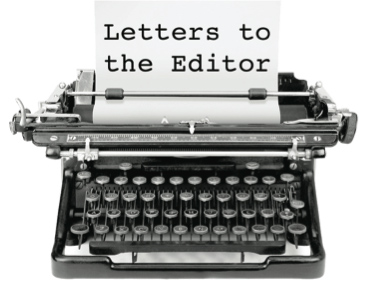 This letter to the editor was sent to Scarsdale10583 by Bob Selvaggio of Rochambeau Road:
To the Editor: Echoing Mayor Samwick's invitation in his letter to Scarsdale10583, I urge my fellow Scarsdale friends and residents to attend the public meeting about the Freightway Garage Development this Wednesday, December 11 at 7:00pm. This type of large-scale proposed project comes up only once every several decades, and how it is developed and financed will affect the living standards and taxes of every Scarsdale homeowner. All of us should work to ensure that the Scarsdale village board fulfills its fiduciary responsibilities to maximize the value of this important Village-owned asset by providing property tax relief for our single-family homeowners, enhancing the aesthetic appeal of the site, and improving the delivery of commercial, professional and recreational services to Scarsdale residents. Village Hall already has one set of useful data about our priorities for retail and recreational facilities -- the Douglass and Kirkendall-Rodríguez families performed extensive research and designed a comprehensive survey that can be found here.

Any proposal from the bidders that does not result in the near certainty of reducing the property tax burden on our single family homeowners, who have suffered a massive increase in effective property tax rates as a result of federal tax reform, or at a very minimum guarantees absolutely no increase in tax rates for years to come will be a non-starter to most Scarsdale residents. Unfortunately, the efforts of our residents with expertise in financial economics to model the impact of the Freightway development proposal and provide an economic assessment of the project to date have been thwarted by a shroud of secrecy covering the various proposals. The Scarsdale Mayor and Board of Trustees have rebuffed the efforts of residents to uncover details about the project, the financial condition of the bidders, and the financial projections for Freightway. All we know is that among the several development plans, two survived and some details about the designs of each will be revealed at a meeting open to the public in Village Hall this Wednesday. Unfortunately, the Mayor has indicated to some residents his strong preference that they not ask important questions about the financial condition of the bidders or about the economics of the project.

Among the many questions that should be raised in that meeting, especially for those looking to model and assess independently the economic impact of each proposal would be:

• What are the Village Board's current models and model outputs for the short-term and long-term economic impacts on our homeowners of each of the two proposals? Who built these models and who validated them? (Of course, these models and model outputs will hopefully be published online before the meeting so that we may ask intelligent questions about them).
• If new residential units are being contemplated, how many units and how many bedrooms? (This will allow independent analysis of impact on our school taxes)
• If new residential units are being contemplated, will these be rental units, coops, or condominiums? If the latter, is there an intention to pass the Homestead option? (This will allow independent analysis of potential tax subsidies from single-family homeowners to apartment dwellers such as those provided to Christie Place residents, for example).
• What commercial and professional office development is planned? How many units of each type? (This will allow independent modelling of net property tax receipts)
• Where can we read the audited financials of the two surviving bidders?
• Have any among the Mayor and Board of Trustees ever had personal or professional dealings with any of the bidders? Are there any actual or potential conflicts of interest that should be disclosed to Scarsdale taxpayers?
• Are any of the executives, owners or partners of the bidding firms Scarsdale residents? If so, who, and how will conflicts of interest and patronage be avoided?

Unless we citizens are satisfied with the results of short-term and long-term financial modeling of the project, we will have no way of knowing whether it will be value-adding or value-destroying (i.e., whether it should be accepted or rejected). And unless we pay attention and make our voices heard, we may well be saddled with a value-destroying (property tax-increasing) Freightway development.


Bob Selvaggio
Rochambeau Road

CNC Seeks Candidates for Village Justice and Trustee
Details

Written by

Joanne Wallenstein

Hits: 1692

Following its public organizational meeting, the Citizens Nominating Committee seeks Scarsdale residents for the offices of Village Justice and Village Trustee. In a change from past practice, candidates for Village Justice will provide their resumes to the CNC, which shall refer the candidates to the Judicial Qualification Advisory Committee. The Advisory Committee intends to meet in December, so candidates need to submit their resumes soon. The Advisory Committee has the responsibility to review the judicial qualifications of the candidates and will provide confidential recommendations to the CNC, which will then hear presentations from selected candidates.
All Village residents are invited to seek nomination for Village Justice and Trustee. Contact any elected member of the CNC, or inform the CNC Chair, Marc Greenwald, at 646-345-2122 or marcgreenwald@quinnemanuel.com, or CNC Vice Chair, Ryan Spicer at 401-225-9102 or ryan.spicer@turner.com.