My Search for Dim Sum is Over
Details

Written by

Vivian Zweig

Category: The Goods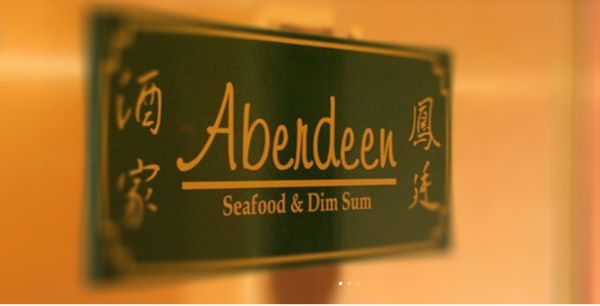 A delicious aroma wafted through the lobby of the White Plains Marriot Hotel. The scent seemed to emanate from a gold-accented door adorned with the letters "Aberdeen Seafood & Dim Sum," which contrasted sharply with the minimalist tones of the room. Filled with anticipation, I stepped through the door and was greeted with a view of the restaurant, where the waitstaff was delivering a steady stream of food from the kitchen to the tables. Although it was a lazy Monday afternoon, I was pleasantly surprised to see that the restaurant had drawn a respectable crowd—no doubt a testament to the quality of the food.
Aberdeen Seafood & Dim Sum Restaurant specializes in both traditional Cantonese cuisine and authentic Dim Sum. Cantonese cuisine refers to food from the Canton area of Southern China, which includes major cities such as Guangzhou and Hong Kong. This cuisine differs from others enjoyed throughout China in spice, the increased use of rice and rice flour rather than wheat, and steaming techniques. The restaurant is named after Aberdeen Harbor in Hong Kong, a fishing port that is renowned for having some of the finest quality and variety of seafood. The establishment strives to live up to its namesake by providing diners with one of the finest selections of fresh seafood and authentic Cantonese cuisine in Westchester.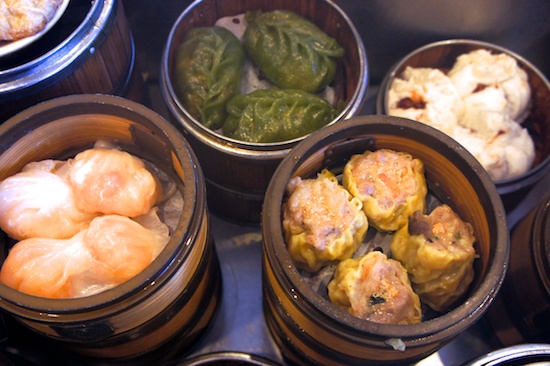 Shrimp Dumplings (bottom left), Pork Shu Mai (bottom right), Vegetable Dumplings (top left), Steamed Roast Pork Buns (top right)
A waiter swiftly seated me, and as I perused the menu, I was immediately drawn to their Dim Sum dishes. I was quick to order their Shrimp Dumplings, Steamed Roast Pork Buns, and Turnip Cake. And after an intense debate with a friend, we decided to finish our order with Pork Shui Mai and Sesame Balls. After just a few short minutes of waiting, the food was whisked out in waves with steam still wafting from the dishes. Frankly, I was astounded. My years-long mission to find Dim Sum that I love was over. Each dish was fresh, flavorful, and high quality, but my personal favorite was the Turnip Cake. I can't claim to be a Dim Sum connoisseur, but I was blown away by the aromatic, savory taste of this unassuming dish.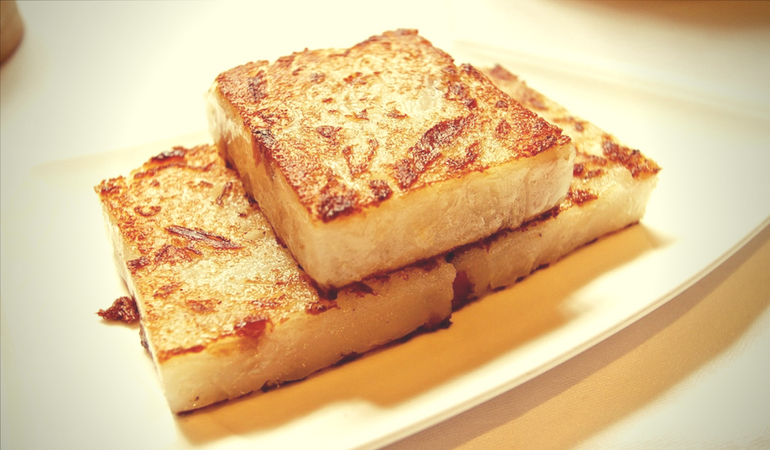 Turnip CakeLocated on 3 Barker Avenue and adjacent to the White Plains Marriot lobby, Aberdeen Seafood & Dim Sum is truly a hidden gem of Westchester! The restaurant is open Wednesday-Monday from 12:00 PM to 3:00 PM for lunch and 5:00 PM to 9:00 PM for dinner. Check out their website here to see their menu and for more information on hours, location, and parking.
Speaker Outlines the Long Road to Recovery from Drug Addiction
Details

Written by

Wendy MacMillan

Category: The Goods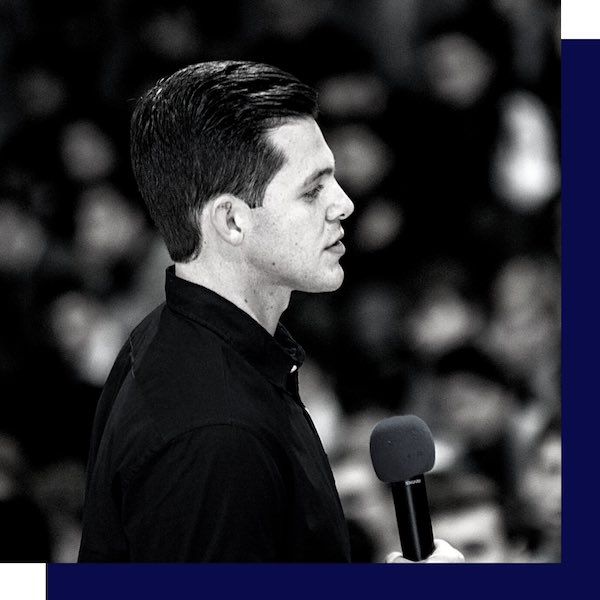 When you think of a teen who becomes a drug addict, what sort of person do you picture? Someone who lives in poverty or who is wealthy? Male or female? An athlete or musician? Someone who is outgoing and gregarious or someone who is shy? Presenter Stephen Hill spoke with an audience of parents and teens at the Scarsdale Library on Monday May 15th and made clear that addiction to drugs or alcohol can happen to ANYONE despite their background. Hill, an author, sought after speaker, advocate, and now an attorney, is also a recovering addict. The charismatic and engaging speaker related the story of how his drug addiction progressed from his first beer as a fourteen year old star athlete, to being arrested for drugs in front of his grandmother. He shared his personal struggles in hopes of educating and helping families prevent and protect their own children from stumbling down a similar path.
The program, sponsored by Scarsdale Advocates for Youth (SAY), began with an introduction from SAY co-chair Wendy Gendel. Before introducing Stephen Hill, Ms. Gendel started by reminding the packed room that, "Drug overdose is now the leading cause of accidental death in the United States. The CDC estimated over 108,000 drug overdose deaths in the United States during the 12 month period ending in November 2022—one of the highest numbers ever recorded. It is essential that we educate ourselves and learn from one another to fight the American drug epidemic from beginning to end. This includes substance use disorder prevention, early intervention, treatment and recovery, starting right here in our schools and community."
In addition to providing a brief background of Mr. Hill and his family, Ms. Gendel also advised the audience, "As you hear Stephen's story, there are a few key topics to keep in mind: middle school students playing high school sports, early warning signs of substance use, the growing fentanyl crisis, peer leadership and negative influence, protective factors, punitive measures such as out-of-school suspension, expulsions, removal from sports teams and school-related activities, the teenage brain, changing consequences for student misconduct, length of stay in treatment, and giving people a second chance."
Before Hill took the stage, he shared a short video which featured commentary from his parents and each of his three brothers exemplifying the love and support that Mr. Hill is surrounded by. Knowing that he grew up with a stable and supportive family-life where three out of four children never struggled with addiction and instead went on to pursue business and law degrees, left some in the audience asking, "How did this happen to Stephen then?".
Stephen Hill, founder of Speak Sobriety, used anecdotes from his personal struggle with substance abuse to highlight the factors that contributed to his progressive illness. He described how as a star lacrosse player in eighth grade, he was asked to play for the J.V. team and was bussed to the high school. While the family viewed it as an amazing opportunity for their athletically gifted child, Stephen found himself the lone youngster among much older students. These older students, whom Stephen looked up to, would occasionally smoke, drink alcohol, or use marijuana, thus normalizing recreational use in Stephen's mind. As a freshman and on the varsity hockey team, Stephen was invited to a party where an older teammate offered him his first beer, which he readily accepted. He noted that because he tended to struggle academically, playing with older students was a source of confidence for him and he now recognizes that he wanted to feel accepted and was chasing validation.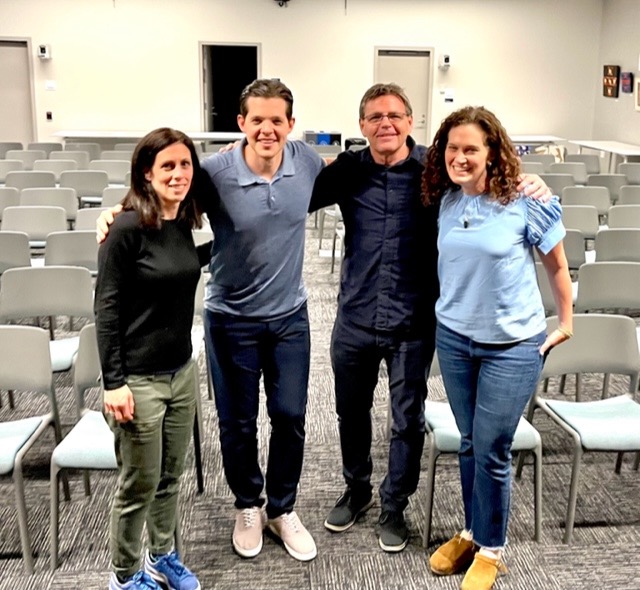 Amy Rompala, Stephen Hill, Kevin Hill, Say co-chair Wendy Gendel
Mr. Hill used this part of his story to remind his listeners that users of drugs and alcohol often believe that their choices don't have an impact on anyone but themselves and aren't aware of how their actions can hurt other people. Even the act of drinking, when you are an older role model, can influence others who may look up to you. He encourages everyone to consider how their use of drugs or alcohol may impact the world around them and to recognize that your actions really do matter.
He also used this narrative to illustrate the importance of protective factors such as teens having positive peer influences to ensure a sense of "safety in numbers" (it is easier to refuse alcohol or drugs if others are refusing it too), and owning key refusal techniques. He explained that being able to say no in a confident manner that is portrayed not only in your words and tone of voice, but also in your body language is instrumental in avoiding negative peer pressure.
Mr. Hill went on to describe how at first there seemed to be no real consequences of his recreational substance use. He was well-liked, kept his grades up, and continued to excel athletically. But as he continued to use more often and experiment with "harder drugs", it started to affect his mood and attitude and he ended up getting suspended from his hockey team. This suspension turned into an expulsion for the entire season after Stephen had a heated confrontation with his coach. The confrontation also resulted in a ten day suspension from school which Stephen welcomed as an opportunity to avoid school and smoke pot all day.
It was around this time that Hill's parents had him taken away to a "wilderness program" which was really more of a therapeutic bootcamp. Here, he took the summer to work hard towards his sobriety and came home a seemingly changed person ready for a second chance at school. Unfortunately, the school wanted to make an example out of Stephen yelling and cursing at his hockey coach and extended his athletic suspension into the Lacrosse season. As he related, this experience took away Stephen's sense of identity and confidence and was incredibly demoralizing for him. Despite accepting the initial consequence and despite all of his hard work, he felt like he was never going to be able to shake the reputation of being a bad kid and started to believe he was the failure that everyone seemed to think he was.
Though he takes full responsibility for his choices and actions, Hill describes the pain and stigma of this experience as a contributing factor into a bigger downward spiral. No longer a member of his lacrosse team, Stephen had nothing to do after school and started spending time with older friends and getting high again. At first he thought he would be able to control his use, but he found himself progressively using more drugs to attain the pleasurable feeling until he no longer found pleasure in the world around him without getting high.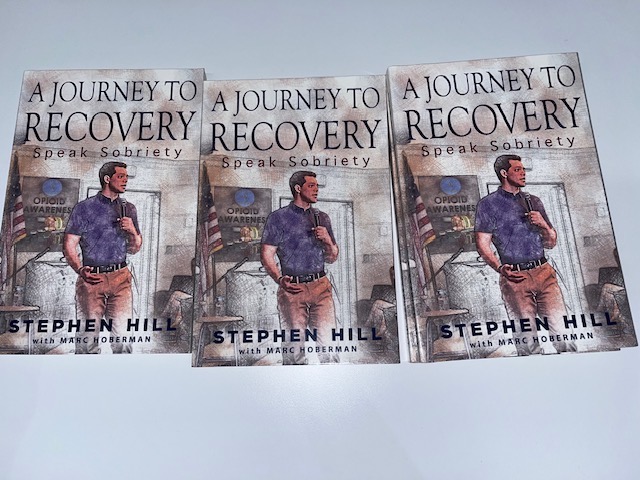 Stephen tried Oxycodone for the first time and though the friends he tried it with had very different reactions, Stephen loved the way it made him feel. He began taking oxycontin more regularly and quickly became addicted. To support his addiction, Stephen began selling drugs and continued to spiral more and more out of control. He was arrested and in and out of multiple rehab programs. It was during this time that Stephen felt like he repeatedly heard three common phrases: Why are you doing this? What were you thinking? And what is wrong with you? But very few people asked, "How can we help?". The feelings of stigmatization and failure only intensified until Stephen seemed to just stop caring at all.
Thankfully this isn't where Hill's story ended. After a more tumultuous period and a more serious arrest, Stephen was able to find his way into a year-long rehabilitation program which he credits with turning his life around. He noted that it wasn't until around five or six months into the program, that drugs weren't the first thing he thought of when he woke up in the morning demonstrating one reason the shorter rehab programs were unsuccessful for him. The year-long program was also structured in phases that allowed Stephen to slowly add responsibilities and afforded him a sense of accomplishment and confidence. Of course Stephen recognizes that his family's consistent love and support was, and continues to be vital to his recovery. As he declared, "Other people believed in me so I can believe in myself."
While this is an condensed version of Hill's powerful story, during his presentation he made several other noteworthy remarks:
-Everyone's bodies and brains react differently to substance use. Some people can seemingly handle occasional drinking or recreational drug use, while others can be more vulnerable or predisposed to addiction.
-Alcohol and pot were absolutely gateway drugs for him. As he puts it, when he used "harder" drugs for the first time he was under the influence of pot and alcohol. When he was arrested for the first time, he was under the influence of pot and alcohol. His marijuana and alcohol use impaired his judgment, gave him a false sense of confidence, and encouraged him to make poor choices.
-Just because something is legal, doesn't mean it is good for you. The brain isn't finished developing until at least 25 years old and all drugs (including alcohol) negatively impact the developing brain.
-There is a strong correlation between mental health (depression/anxiety/neurodivergence like ADHD) and drug and alcohol addiction. People use drugs like pot to relieve stress and anxiety but the relief is only temporary. When you self-medicate you are also not giving yourself the chance to learn the strategies and techniques that will help you to work through tougher emotions.
-Drug addiction can happen to anyone. Drug addicts are not bad people…they might be our neighbor, a friend, a relative, or teammate…they don't need condemnation, they need help.
At the conclusion of the presentation, Hill was joined by his father Kevin to answer questions from the audience.
For more information about Stephen Hill and Speak Sobriety, please see his website. And for local support and resources, please check out Scarsdale Advocates for Youth.
Submerged in the Deluge
Details

Written by

Joanne Wallenstein

Category: The Goods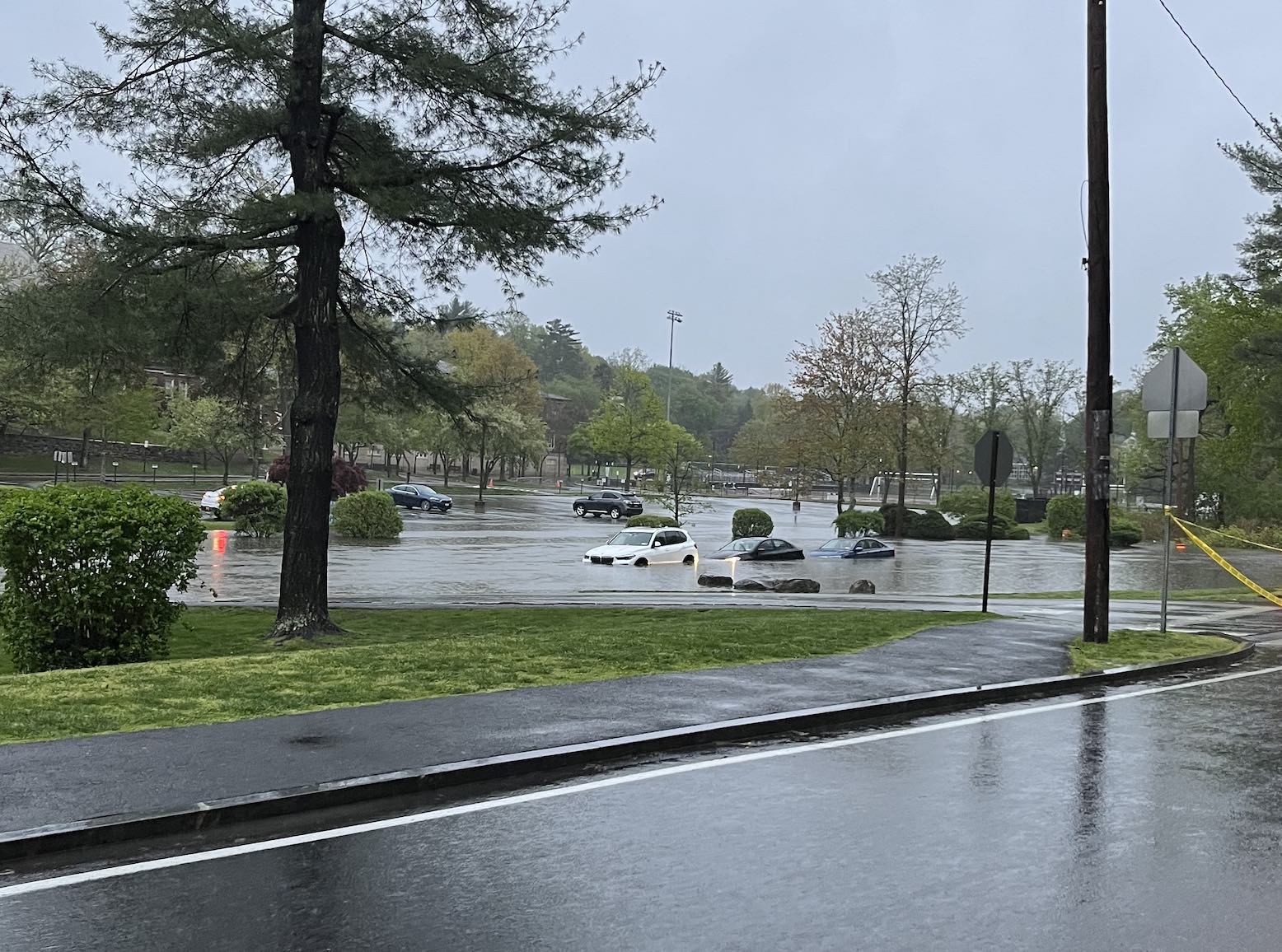 Cars submerged in the drinking lot on Brewster Road April 30: Photo Credit Emily GilmanSevere rainstorms deluged Scarsdale on Saturday and Sunday April 29 and 20, closing roads and submerging cars.
At Scarsdale High School, the school was hosting in the NYS Speech and Debate Tournament on Sunday April 30 and three cars parked in what is known as "the drinking lot" were engulfed in deep water when the parking lot flooded. See below for photos of the cars on the night of April 30 and on the morning of May 1 when two of the cars were still drying out.
The Bronx River Parkway flooded under the bridge at Fenimore Road and was closed and remained under water on Monday May 1, 2023.
George Field Park, a seven acre retention basin that is designed to catch and release flood water, did its job. See below for photos of the park filled with water on the night of April 30 – and back to normal on May 1, 2023. But even Westchester's largest retention pond did not help to prevent flooding on the adjacent street, Greendale Road, that was closed after it was submerged as well.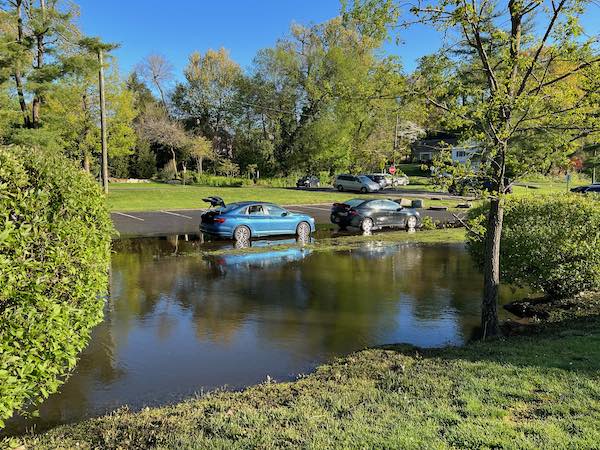 Cars drying out on May 1.
Stormwater management continues to be an issue in parts of the Village that are in the flood plain.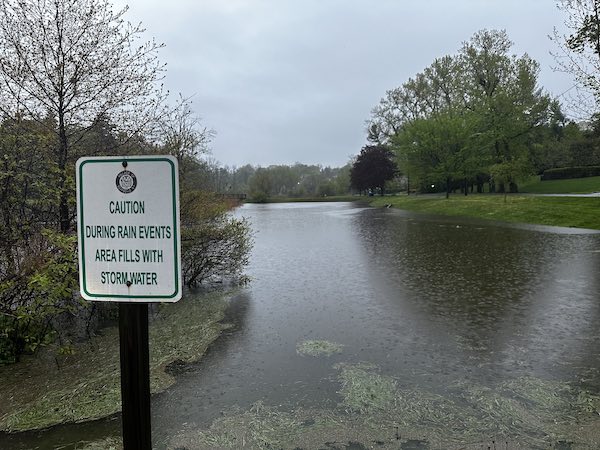 The retention pond at George Field Park on Sunday April 30. Photo: Michelle Lichtenberg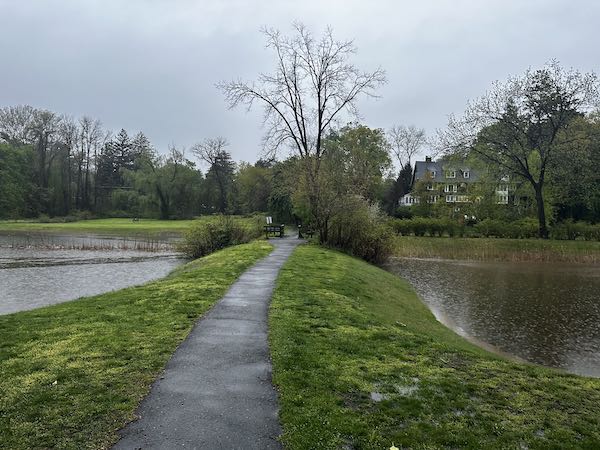 The seven acre field did what it was supposed to do: Photo Michelle Lichtenberg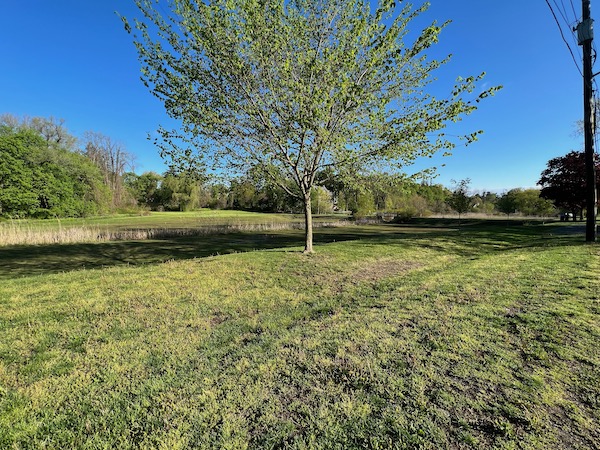 By the next morning, the water drained away, leaving the park back to normal.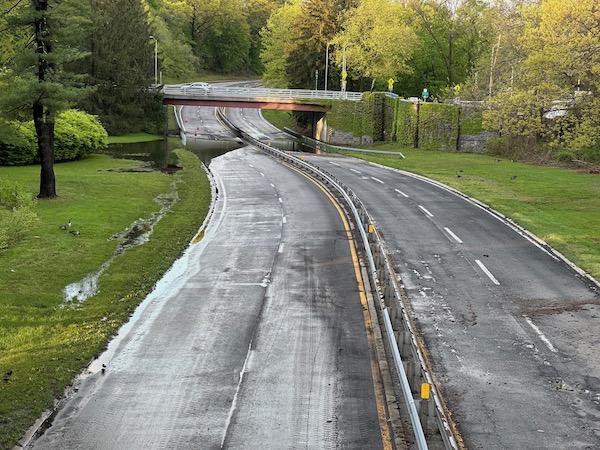 The Bronx River Parkway flooded on April 30 and remained closed on May 1.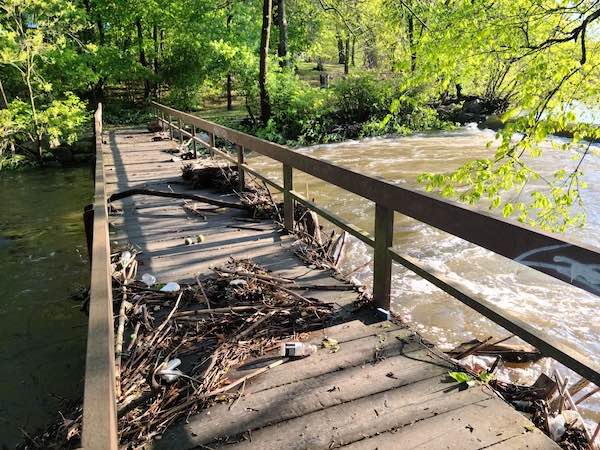 The storm left debris along the Bronx River Parkway pedestrian path: Photo Frank Lichtenberg

Scarsdale Police Alert Residents About An Increase in Burglaries
Details

Written by

Joanne Wallenstein

Category: The Goods

Scarsdale Police are seeing in uptick in burglaries this year. They report that year to date there have been 14 burglaries, as compared to four at this time last year.
They are offering residents the following tips to avoid becoming a victim:
Automobile Theft Prevention

1. Lock your vehicle doors and remove your keys and key fobs from inside your vehicle.
2. Secure your garage door opener in a locked glovebox, as thieves may use it to enter your home to retrieve your vehicle key or steal other valuables.
3. Never leave valuables inside your vehicle, particularly if visible.
Burglary Prevention

1. Keep all exterior doors at your residence locked, using deadbolt locks. Also, keep your garage door closed and locked, including your interior access door, and lock all widows, including second floor.
2. Always turn your alarm system on when you are away. It is also recommended to have your alarm system in the "stay" or "home" mode when you are home, especially while you are sleeping.
3. Use motion sensing exterior lighting and keep the perimeter of your home well lit.
4. Never leave your house key under doormats or in "hiding" places outside of your home.
5. Make your home appear occupied. Leave lights or televisions on timers when you are out for the evening.
6. Consider the use of a video surveillance system to protect your property.
7. If your residence will be vacant for an extended period, consider signing up for the Scarsdale Police Department's "Dark House Program" by calling 914.722.1200. The program is free, and officers will make periodic checks of the house, depending on call volume and officer availability, until the homeowner returns.
How We Can Help Abusers and Victims of Domestic Violence
Details

Written by

Wendy MacMillan

Category: The Goods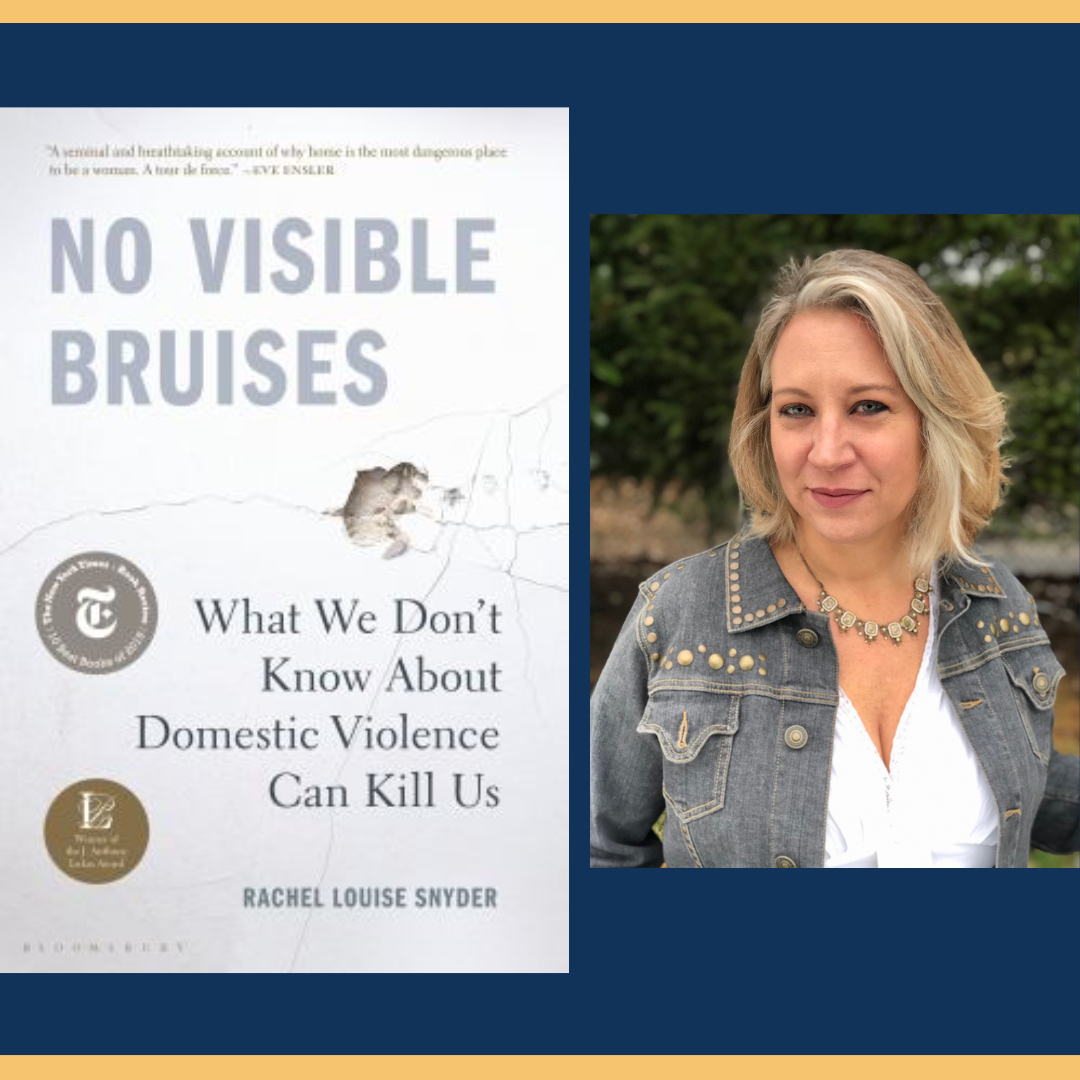 When we hear about a person who is stuck in an abusive relationship, we often wonder, "Why does the victim stay with the abuser?" But Rachel Louise Snyder, author of No Visible Bruises: What We Don't Know About Domestic Violence Can Kill Us, challenges her readers to ask instead, "Why do abusers abuse?" This is only one of the poignant questions that Louise Snyder poses in her book, in which she thoughtfully explores the often taboo subject of domestic violence. By highlighting the perspectives and stories of both the victims and the perpetrators of domestic violence, the author brings the subject out of the shadows and lays a foundation for communities to move towards successful solutions for what the World Health Organization describes as "a global health problem of epidemic proportions."
On Tuesday April 17th, the Scarsdale Public Library and Scarsdale Edgemont Family Counseling's Safe Coalition hosted a virtual author talk with Ms. Louise Snyder to learn more about her book and its important message. New York State Assemblymember Amy Paulin opened the program by introducing both the author, Rachel Louise Snyder and the moderator of the discussion Darlene Reda, the deputy director for the Westchester County Office for Women.
Throughout the hour-long discussion, Reda and Snyder touched on many of the significant points that the author elucidates in No Visible Bruises. A natural storyteller, Snyder first recalled how she was inspired to write her latest book after a chance meeting with a domestic violence worker left her feeling compelled to help spread awareness. She bemoaned that so little attention is given to an issue that endangers an estimated 10 million people every year and almost one in four women. Snyder argues that because women make up the large majority of domestic abuse victims, the issue does not get the attention it deserves.
The author also made clear that victims stay with their abusers for a variety of reasons, but chief among them is our broken system of support for the victims. As she explains, we often put the impetus to change onto the victims of domestic violence telling them to move out, go to a shelter, or get counseling. But we don't do this with other crimes. For instance, we don't suggest that a homeowner move out of their home after a burglar breaks in, we don't tell a victim of a robbery to stop carrying a purse, or a victim of a hit and run to stop driving a car. Snyder wonders why then, do we put the catalyst for change primarily on the shoulders of the victims of domestic violence?
She described reasons that it can be difficult for victims to move out and go to a shelter.
Primarily, moving is just plain difficult but moving to a shelter where there is little privacy and lots of other traumatized victims can seem even less appealing. Victims with children also have to consider that they can't register children in another school district without the consent of both parents and that pulling children away from their sports and activities creates more chaos and trauma.
Louise Snyder further described how the victims in her book, also experienced coercive and financial control by their abusers and were isolated from their friends and family and left without access to any money, making moving away a near impossibility. The author made clear that most victims of domestic violence experience this kind of coercive control, an invisible form of emotional abuse that results in psychological trauma. She also noted that in many of these relationships, the victims truly love and care for their abuser and don't want anything bad to happen to them; they just want the trauma to stop.
On the topic of how to help victims of abuse, Reda and Snyder agreed that a victim will not leave an abuser until THEY are ready to leave and described how ending an abusive relationship is not an event, it's a process. Snyder recounted the story of a victim who made seven or eight attempts to leave. The day she finally tiptoed her way to freedom, was years in the making.
Since leaving an abuser is a long process, the author stresses the importance of maintaining an open and nonjudgmental line of communication with victims and letting them know you are always there for them. Rather than getting frustrated with a victim for not leaving, she suggests we should instead help the victim plan for the day they do decide to end their abusive relationship. As supporters we can encourage victims to have things like a "safety plan", a "go bag", and a list of important contact numbers. Because victims are often isolated from friends and family, Louise Snyder believes that we should also enlist the help of local clergy, human resource personnel from businesses, and social workers at schools and suggests we train these resources to better support victims of domestic abuse.
Another important aspect of the book is her inclusion of the abusers' stories and their perspectives. She reminds her readers that perpetrators of violence are not always monsters but rather complicated humans: people we might know in our ordinary lives who struggle with feelings of rage and anger but are not the sum total of their abuse. She went on to discuss various ways we can better support abusers in their quests for rehabilitation and help to prevent acts of violence before they happen. One program the author described is an anonymous hotline for abusers to call if they feel like they might get violent. The hotline disrupts a moment of violence and allows callers to take a time out, calm down, maybe get their medication and formulate a plan before ending the phone call. Another program lauded by the author is a shelter for the abuser and not the victim. Instead of removing the victim from the home, or sending the abuser to jail, Louise Snyder described a program that provides temporary shelter for abusers, where they receive intense counseling and support while still being allowed to go to work and have supervised visits with their families.
While these are only some of the highlights of the discussion, in her book No Visible Bruises: What We Don't Know About Domestic Violence Can Kill Us, Rachel Louise Snyder provides her readers with an eye-opening and thought-provoking narrative of what domestic violence looks like and how communities can better effect change.
Copies of the book are available at the Scarsdale Public Library. For more information about domestic violence or if you are someone you know is in need of support please see the Safe Coalition's website for a list of resources.