Scarsdale Boys Golf Team Wins Section Championship
Details

Written by

Jack Margolin

Category: The Goods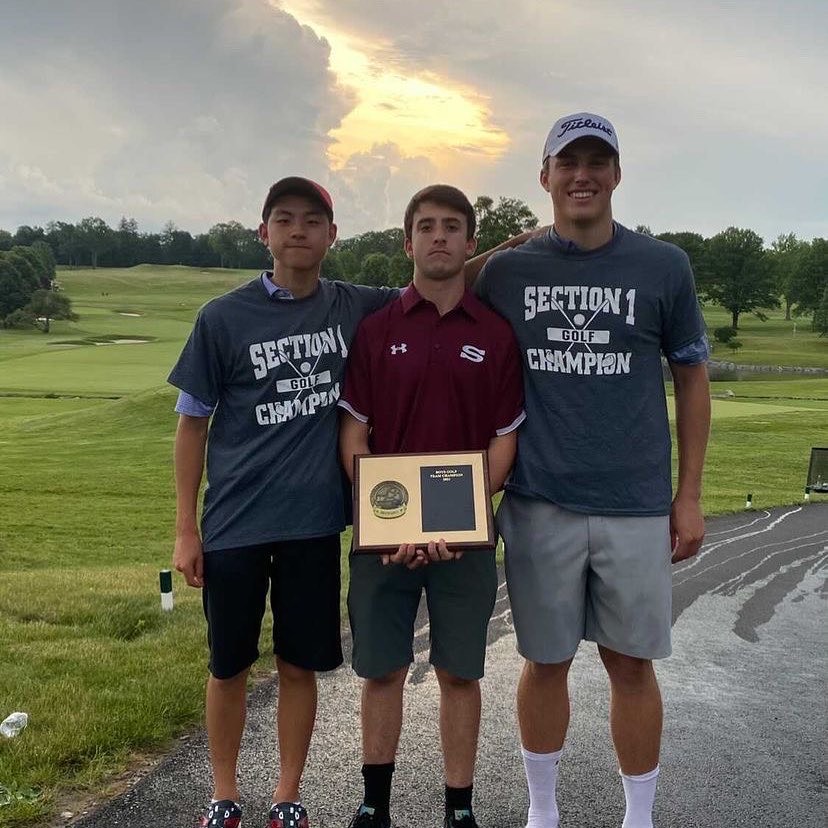 Team celebrates Section 1 Championship: From left to right: Steven Lee, Aaron Zoland and Charlie Berridge. For the sixth time in the past seven years, Scarsdale has won the Section 1 team golf championship at Fenway Golf Club.
Scarsdale now finishes the season not only with a section championship, but also an undefeated record of 16-0, including 6-0 in league matches. The team had plenty of tough matches this season, including a tie-breaker win vs. Bronxville.
Scarsdale finished the day with a score of 190, beating John Jay, who finished 10 shots behind with 200.
Seniors Charlie Berridge and Steven Lee, who have committed to play golf at the University of California, Berkley and University of Pennsylvania, respectively, led the way for Scarsdale's victory. Berridge shot a team best 32; Lee was just behind him with a score of 36.
"Despite the unfortunate circumstances with Covid, we still pulled together a great season," stated Lee.
"It was a fun season and I'm looking forward to running it back next year," said first time varsity athlete Jack Spitalny.
"It was a great season," added Matt Silver, also a first time varsity athlete. "We went undefeated en route to a section title. There's not much more you could ask for."
Scarsdale enjoyed a dominant 2021 season and looks to continue its success in 2022 and beyond.

2021Team Members:

Charlie Berridge
Steven Lee
Archie Fanning
Brian Nicholas
Justin Liu
Sajiv Mehta
Matthew Steuerman
Charlie Schulhof
Leo Rosenstadt
Ethan Hersch
Jack Spitalny
Matt Silver
Ryan Gerson
COVID on the Decline But Masks Still Required Indoors
Details

Written by

Joanne Wallenstein

Category: The Goods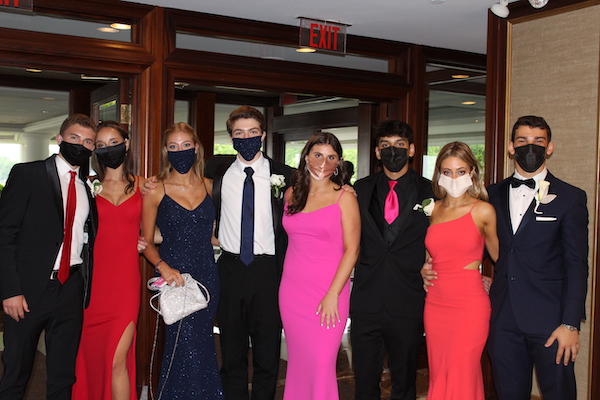 Prom goers were required to wear masks.County Executive George Latimer continued to track the virus and vaccination statistics at his briefing on Monday June 9, where he reported only 328 active cases in Westchester, down from 11,500 in January. 30 remain hospitalized and there were two COVID deaths in the past week. Of the 3,000 COVID tests administered this week, only 19 were positive, which is less than half of one percent.
On the vaccine front, 421,000 vaccines have been administered in the county. 53% of all Westchester residents are fully vaccinated and 61% of residents have received at least one dose. Teens ages 12-16 who are eligible are getting the vaccines.
Appointments are no longer required to get vaccinated at the County Center. If you want to walk-in to the county center, those without an appointment will get the one dose Johnson and Johnson vaccine and those with an appointment will get the Pfizer vaccine.
As the COVID crisis is on the decline, Latimer changed his briefing schedule to once, rather than twice per week.
Masks
Latimer emphasized that the county government does not make the school mask policy. These decisions are made by the state of New York. However the county does implements state policy and local recreation programs follow the school policies.
Currently, for village and municipal recreation programs, you can be unmasked when playing the sport. When you are not playing or watching from the sidelines, vaccinated people do not need a mask, while those who are not vaccinated are required to wear a mask.
Also this week, Scarsdale Schools Superintendent Thomas Hagerman announced that masks no longer need to be worn outside on school property but do need to be worn inside. On Monday June 7 he wrote, "Starting tomorrow, students will no longer be required to wear masks outside. Students who would like to continue to use masks while outdoors are encouraged to do so. In the coming days, we will clarify our requirements for mask-wearing at sporting events and end-of-year ceremonies after consultation with our District Physician and the Department of Health. Masks must continue to be worn on busses."
Ready, Set, Go for Prom 2021: Promposals
Details

Written by

Jordi Wiener

Category: The Goods
Brendan Schildkraut set up a tent in Kayla Singer's backyard and made a sign that said, "Will you join me under the tent?" Friends were invited to celebrate.After much discussion, the Scarsdale High School prom is on. The original plan was to hold it in a tent on the grounds of Scarsdale High School. But to everyone's delight, the event was moved to Glen Island Harbour Club on Thursday night June 3, 2021 from 6 pm to 9 pm. Edgemont High School will also hold their prom at Glen Island, a few weeks later.
New this year, the prom is for seniors only. No underclassmen, no students from other schools or college students will be allowed to attend. This will limit the number of attendees to comply with COVID rules. As a result, many students paired up with friends from the class rather than dates who were younger, older or lived outside Scarsdale. Also this year there will be no red carpet event at the high school. This is usually held before prom goers board the buses for the big night. However, some will attend pre-prom events at Scarsdale homes where photos will be taken.
This year, instead of a bus, parents or guardians have been asked to drive students to and from New Rochelle and only one students is permitted per car.

And what about masks and vaccinations? All prom goers will need to be masked and provide either proof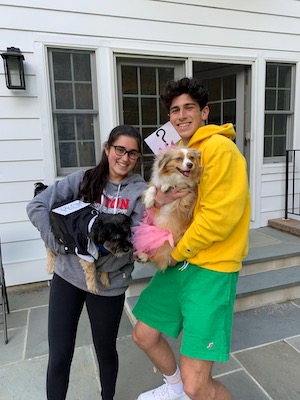 Ethan Abraham asked Jordana Wiener to prom by dressing up his two dogs. A visit from the dogs is a common occurrence, but she was very surprised when they arrived wearing a suit and tutu. of a vaccination or a recent COVID-19 PCR test. Fashionable attendees will have masks that match their outfits, some crafted from their tailored dresses. Some even plan to wear masks that match their dates.
What's in this year? Shoppers found that stores were low on inventory and many purchased their prom wear online. This year the fashion for girls is solid color dresses with lots of sequins in teal, royal blue, white, silver, gold and black, so attendees will sparkle as they dance the night away. For hair, the style is loose and wavy. Wrist corsages for girls and boutonnieres for boys remain the tradition.

All of these twists and turns did not stop students from making their promposals.
See a few creative asks here: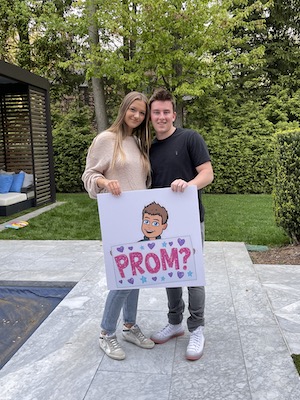 Signs have remained popular this year as displayed by Max Kushnick's promposal to Sabrina Siegel.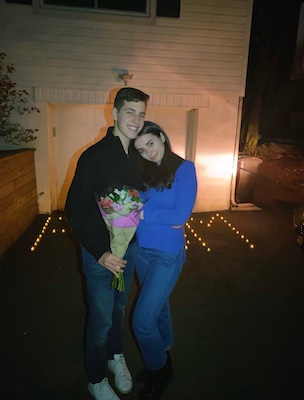 Ella Blank promposed to Zac Schneider by spelling out prom in his driveway with candles. Zac loved the surprise and felt that his promposal was perfect.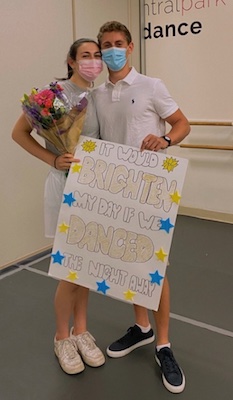 Emmett Goldstein's promposal to girlfriend Molly Bochner used a cute sign and a quick drive to her dance studio, Central Park Dance. He surprised her in the middle of her class and the other dancers watched in awe.
Scarsdale Foundation Awards Volunteers Honor Roll
Details

Written by

Jordi Wiener

Category: The Goods
In the absence of the annual Scarsdale Bowl dinner for the last two years due to the pandemic, Scarsdale Foundation has had to pivot in their fundraising efforts to raise money for scholarships. Without their biggest fundraising event and to recognize those who went above and beyond in the community, the foundation created the Volunteer Honor Roll.

The Scarsdale Foundation's 2021 Volunteer Honor Roll is raising money for college scholarships for Scarsdale students that are in financial need for their sophomore, junior and senior years. So far, they have honored over 726 volunteers in our community and raised over $22,000. They hope to achieve their goal of $50,000 and 2021 honorees by the deadline on June 20th.

To honor someone who has made difference use this link and for $25/Honoree, you can make someone's day. Your donation is tax deductible.

Some of the volunteers that the Scarsdale Foundation has honored so far this year include: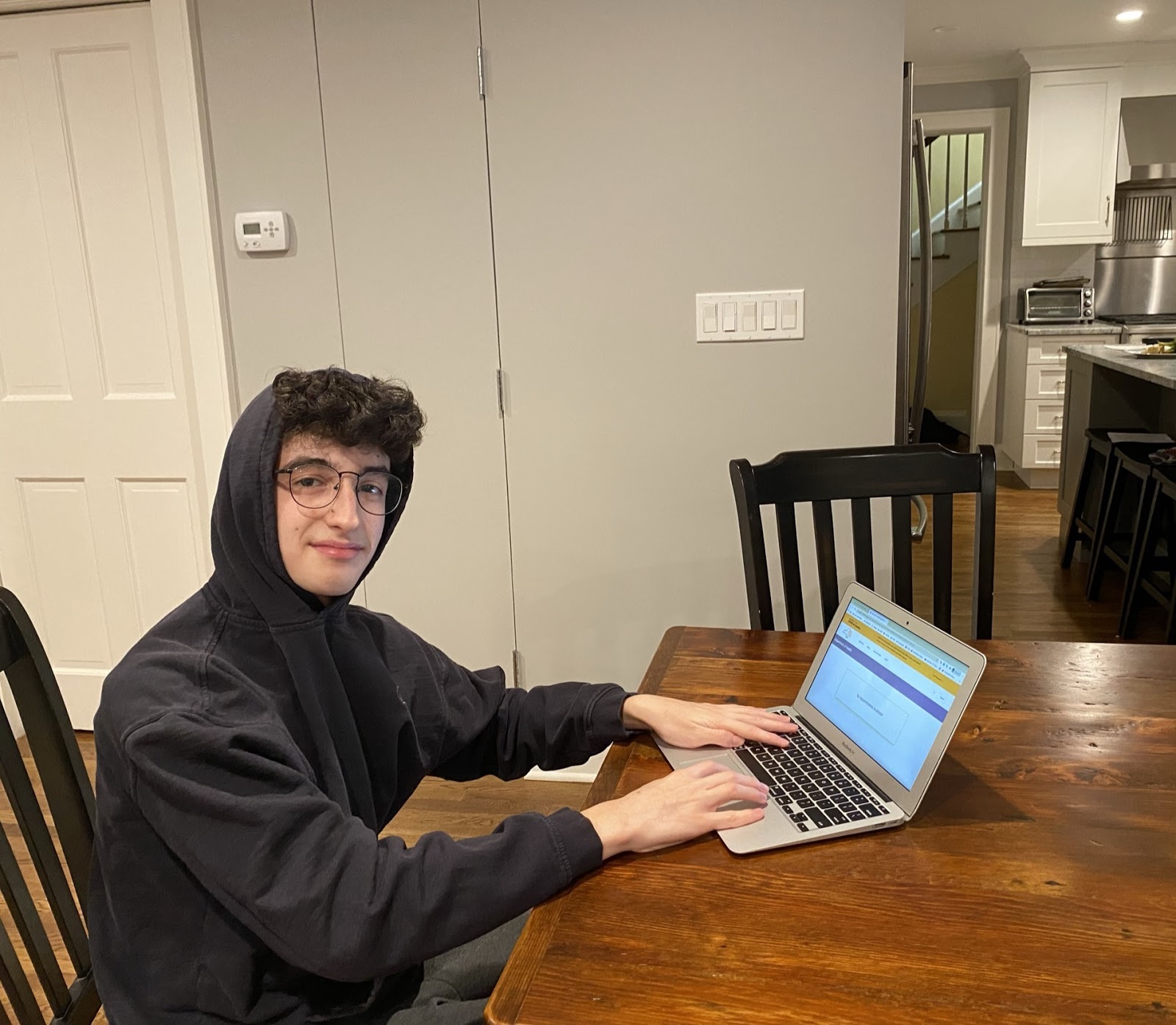 Daniel Rublin, a sophomore at Scarsdale High School, booked over 150 vaccine appointments for people all over New York State. He also created a Google Form for people who wanted to request assistance with booking an appointment.


Natalie Hu & Alexandra Simon, both sophomores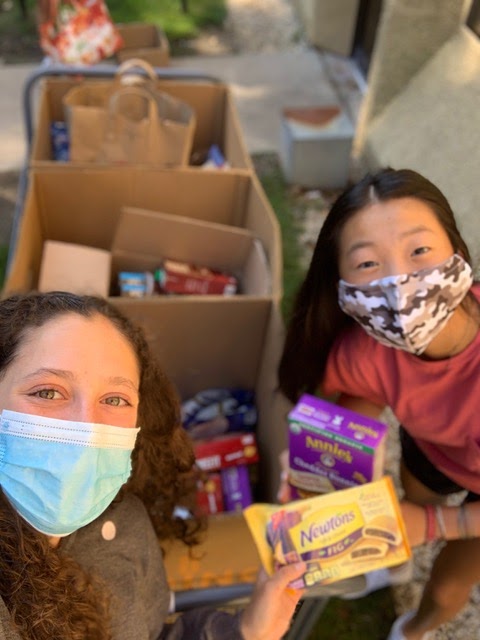 at Scarsdale High School, collected over 250 canned foods from all over Westchester and delivered them to Feeding Westchester. "It was a great experience as we were able to help people in our own community while spreading awareness about Operation Smile."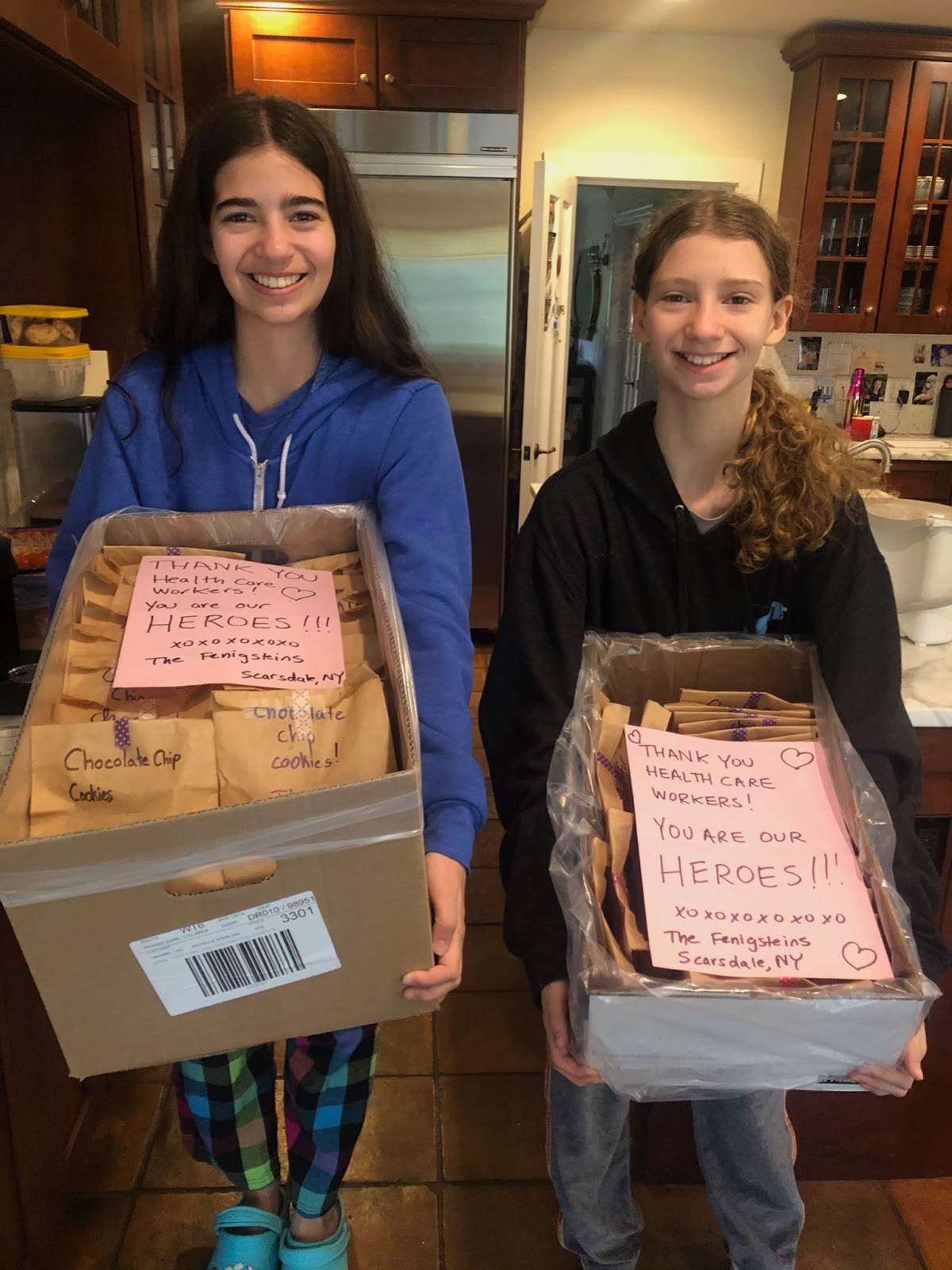 Sammy and Julia Fenigstein, a 9th & 8th grader at Scarsdale High and Middle Schools, baked over 1,000 cookies for the Columbia Presbyterian Hospital Emergency Room Staff.


Matthew Barotz, a sophomore at Scarsdale High School,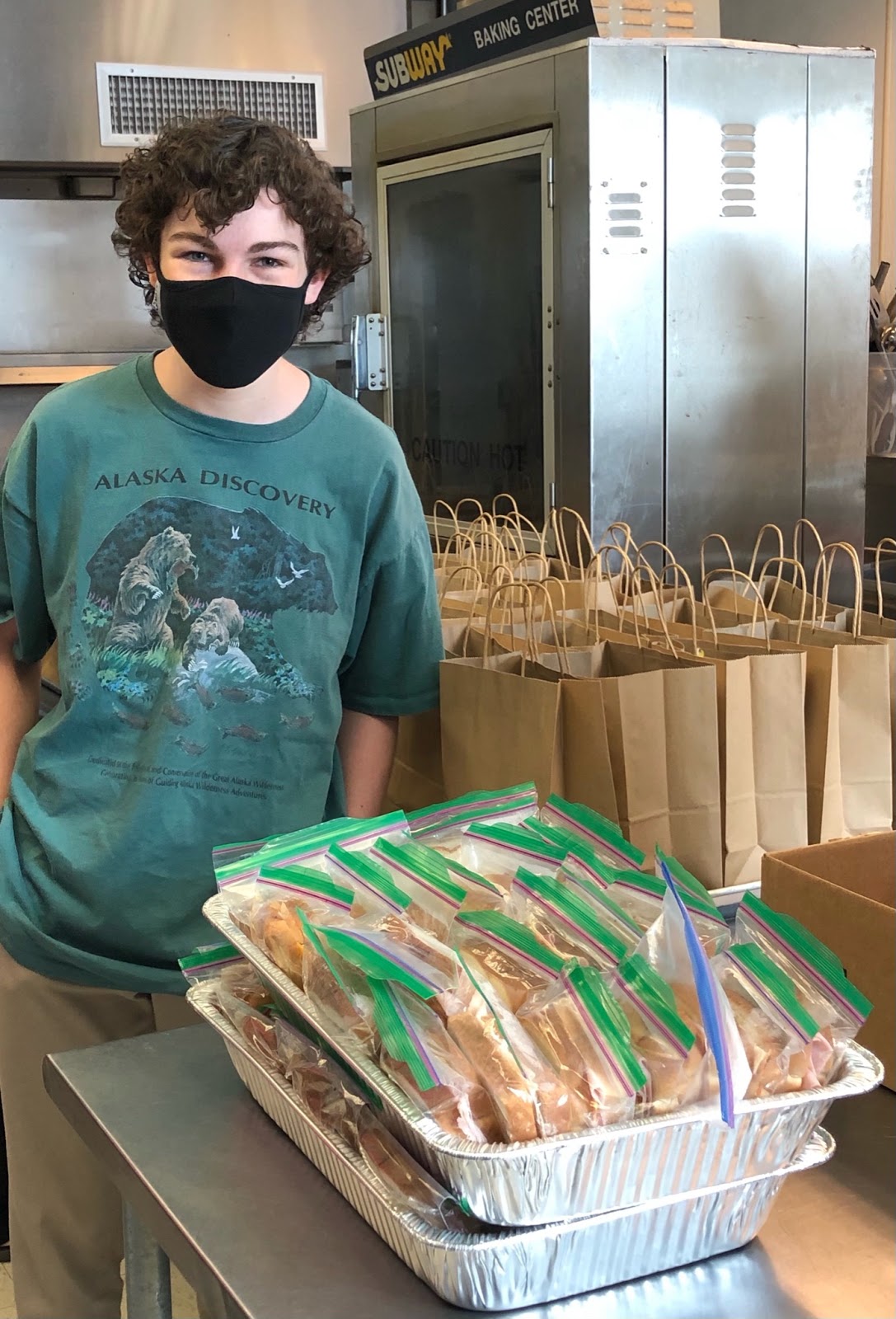 prepares food at the soup kitchen at St Bartholomew's Church, which he started as his mitzvah project in 7th grade.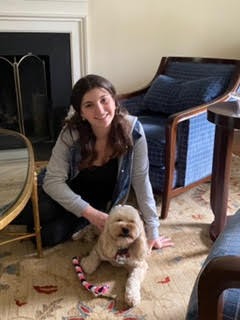 Samantha Medvinsky, a 10th grader at Scarsdale High School, has been making and selling braided dog toys to raise money for Pediatric Cancer Foundation (PCF).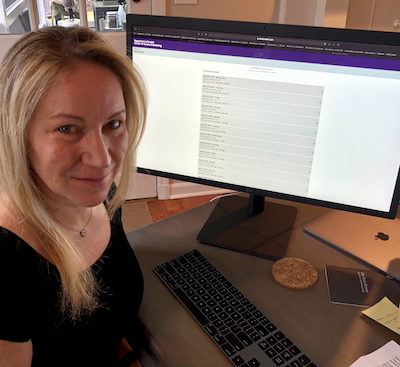 Dr. Carrie Lederman Barotz, a pediatric ophthalmologist, has been helping others make appointments for Covid vaccines since January 2021. "I recognized the stress related to making an appointment and all the unknowns early on, so I learned as much as possible about the process and have made over 100 appointments so far."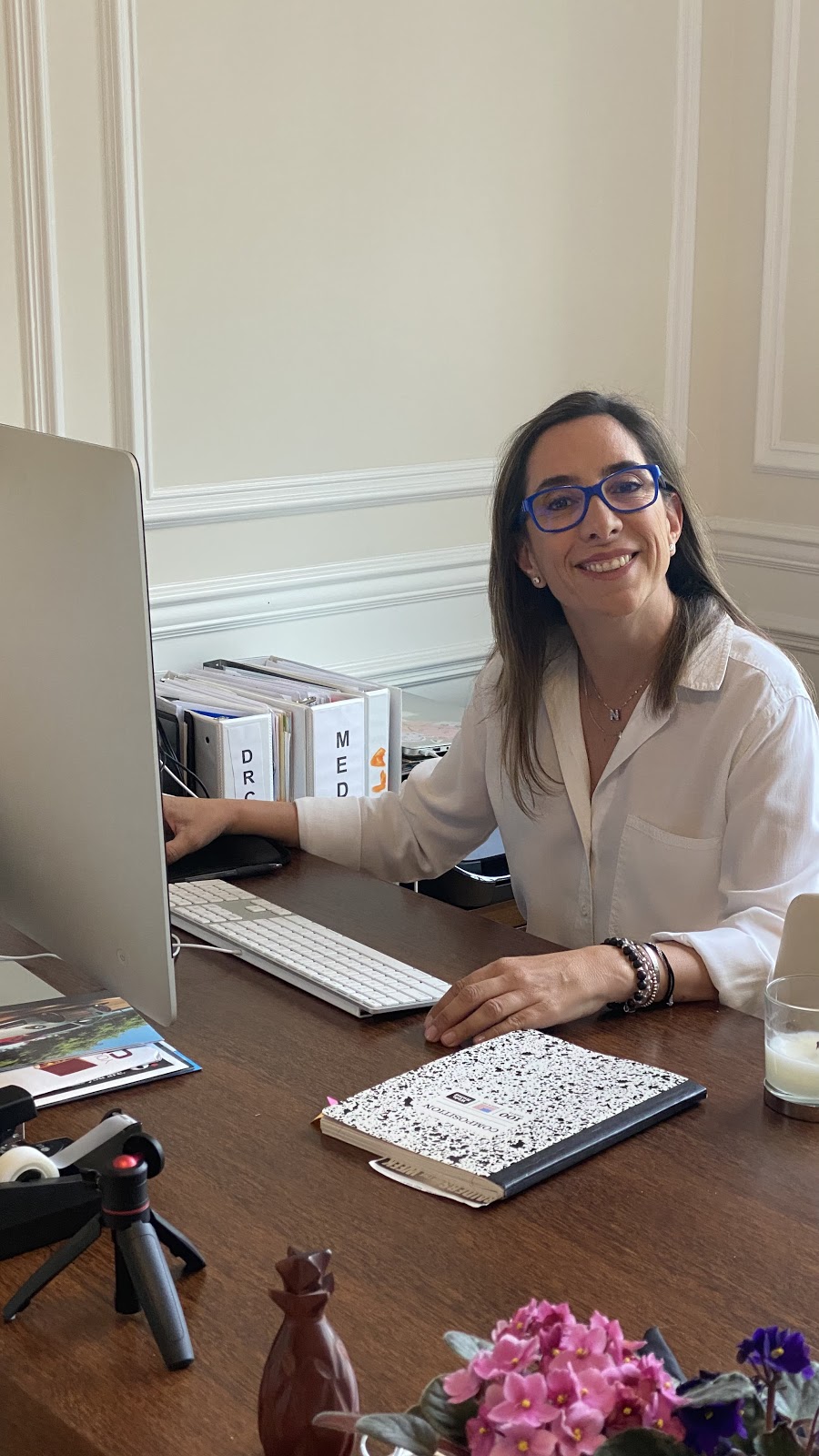 Natalia Alarcon has volunteered as a bilingual consultant for The Acceleration Project since 2019, supporting small business owners who face different challenges and preparing them for recovery and growth. She has created trusted and lasting relationships with them in a wide variety of sectors, from security and construction to child care and hair salons. Natalia also volunteers for K.I.C.K, a non profit organization that spreads awareness about immigrant children and fundraises for the Young Center for Immigrant Children's Rights. She is also currently helping Nanuu Initiative, an organization in its conception phase, that will support underprivileged immigrant Latina women in the Bronx.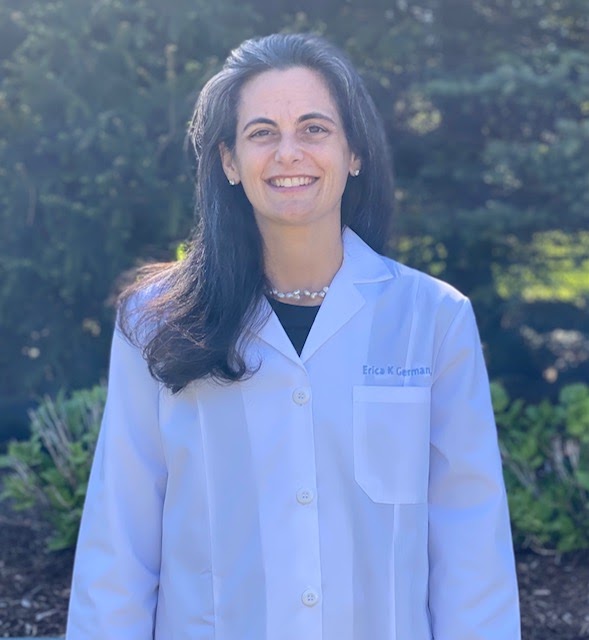 Dr. Erica German "I am a Scarsdale psychiatrist and I have spent 125 hours so far as a volunteer vaccinator at County Center, administering nearly 900 shots. I have also worked with other volunteers to help secure approximately 250 COVID vaccine appointments for Scarsdale schools faculty and staff, Department of Public Works, and town hall staff. At present, I am organizing an outreach initiative to help those who may have language or other barriers make vaccine appointments. As a physician, it's been an honor to vaccinate people directly and also to be able to motivate others to get Westchester vaccinated!"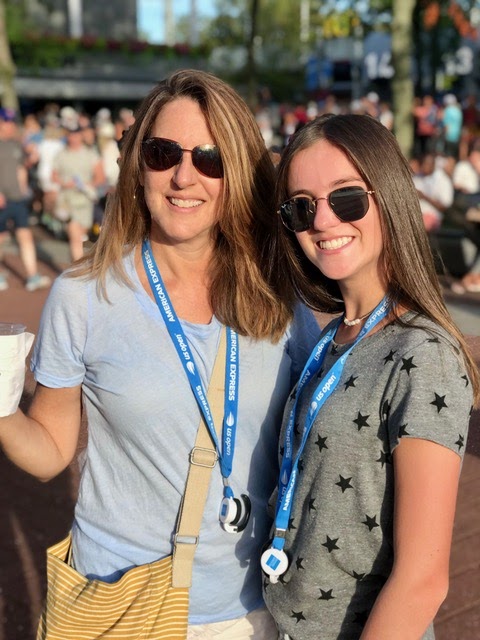 Amy Nadasdi & her daughter, Lydia Doherty, passed in front of the Salvation Army during quarantine in 2020 and saw a line of over 100 people waiting for food that snaked all the way down Post Road towards Scarsdale. They reached out to the Salvation Army to understand the situation and vowed to help. They organized a food drive and Scarsdale responded in a huge way. They brought carloads of food over to the Salvation Army almost daily and helped out on "distribution day" sorting food into boxes, helping to distribute and carry boxes for families, and generally lending a hand where we could. "People chose to help, the kindness and generosity of this community overwhelmed us. We are so proud to live in Scarsdale and call the people of this community our neighbors and friends."

Kiki Hong and Angelene Huang are very active in volunteering and community service,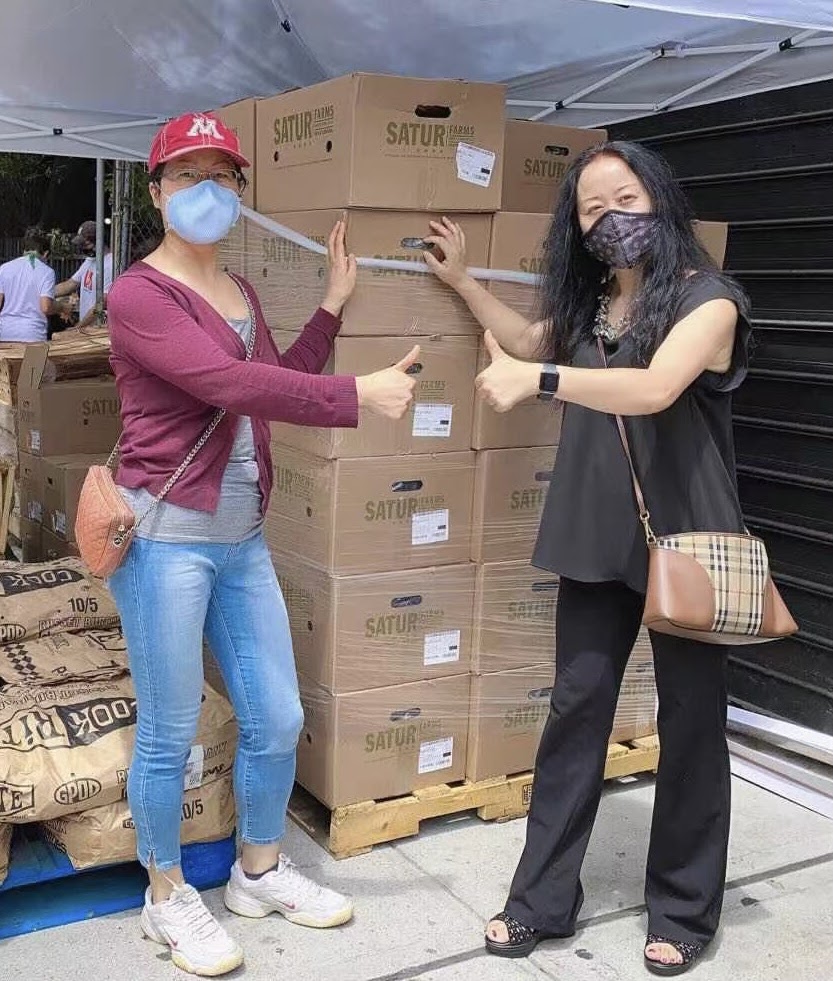 especially during lockdown last year. Kiki donated a large amount of PPE and funds to the Scarsdale Village and local hospitals as well as other communities in need. Angelene was the organizer of the American Chinese United Association ACUA event. She is part of the Chinese American community that donated PPE and funds to Westchester County and NY state. This event was awarded by the NY State Assembly as one of the biggest donors in the state.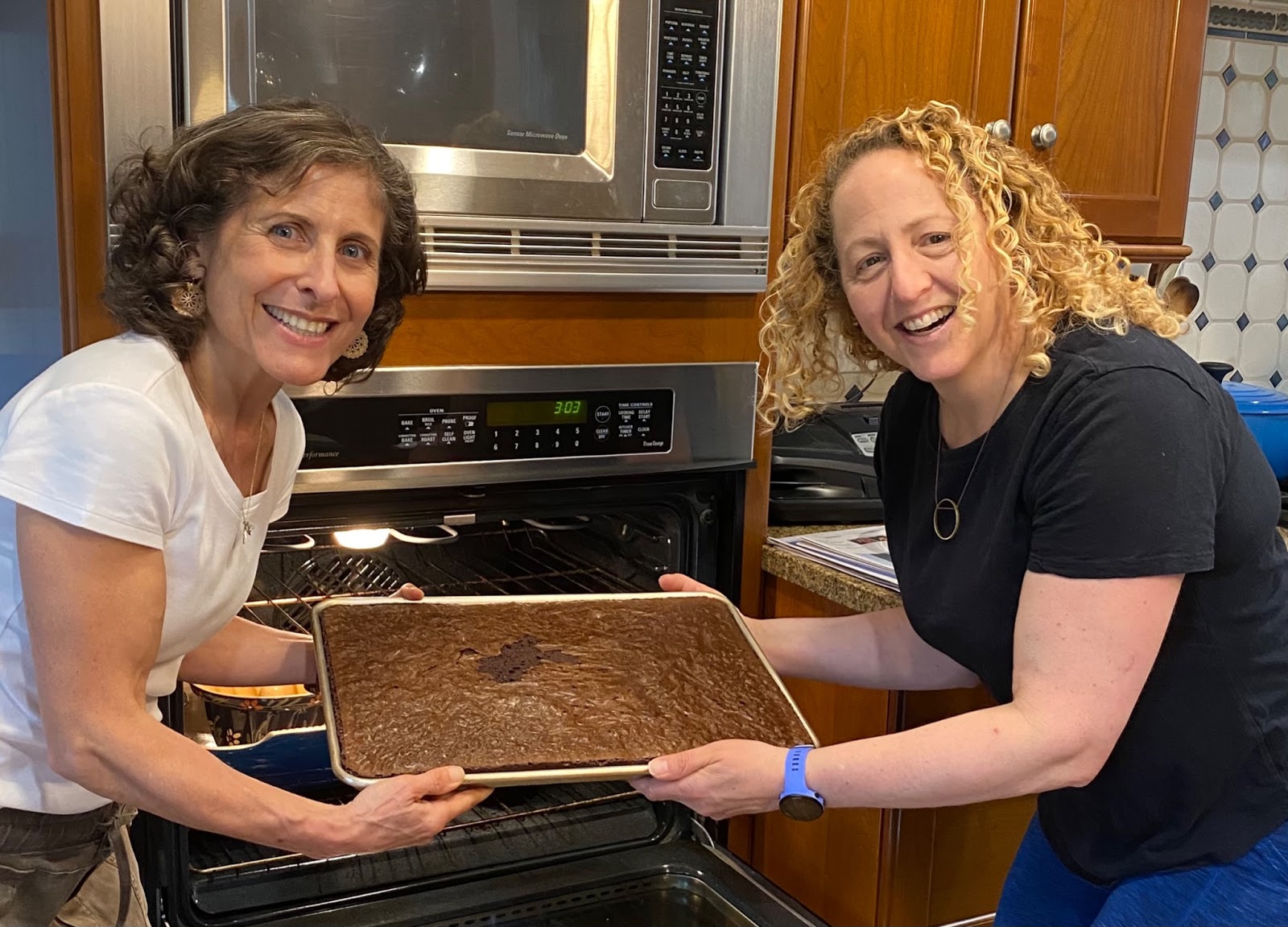 Pam Frankel-Stein & Joan Taback Frankle are members of a team of bakers with Westchester Reform Temple's weekly Cooking4Hope initiative, and they are also friends to homebound seniors. Since the pandemic raised awareness of, and increased, food insecurity in Westchester County, Pam and Joan, who are good pals themselves, have baked well over 4,000 treats. These sweets accompany the weekly bagged meals donated to neighboring communities and organizations in Westchester, including Hope Community Services in New Rochelle. Pam and Joan also volunteer for @DOROT Westchester, a nonprofit organization whose mission is to address the challenges of an aging population. So many Westchester seniors were isolating to stay healthy as the pandemic changed our world. Pam and Joan made, and continue to make, outreach calls to seniors both through DOROT and through the Caring Volunteer Community of Westchester Reform Temple. "Once we were social distancing at home, we had a lot of time on our hands and it felt so good to put this time to good use, connecting with others over the phone and providing home-baked treats to those who have struggled with food insecurity."
Bake Back America to Partner with DeCicco Family Market
Details

Written by

Jordi Wiener

Category: The Goods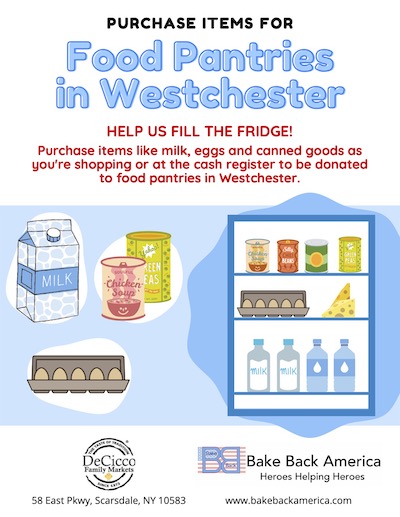 Bake Back America and DeCicco Family Markets in the Village are partnering in an exciting initiative to allow shoppers to support local businesses and families in need simultaneously, beginning this weekend.

The program will allow shoppers to add items to their cart or make a donation that will go directly to local food pantries. There will be a small refrigerator in the store that participants can help fill!

Bake Back America is a Scarsdale-based charity dedicated to spreading kindness and building bridges between communities. The organization has previously demonstrated the success of partnerships between local businesses and local non-profits. Earlier initiatives included Standing Room Only's preparation of 100 box lunches for the Mother's Day Celebration at Hope Family Services in New Rochelle.

The new partnership with Deciccos will serve as a model to other grocery store partnerships with food pantries, such as one in Los Angeles.

The kickoff event for the program is this weekend, and will include a bakesale in the DeCicco's parking lot. Any volunteers wishing to get involved in this or other Bake Back America efforts should email here.