Saving Our Democracy, One Vote at a Time
Details

Written by

Joanne Wallenstein

Category: The Goods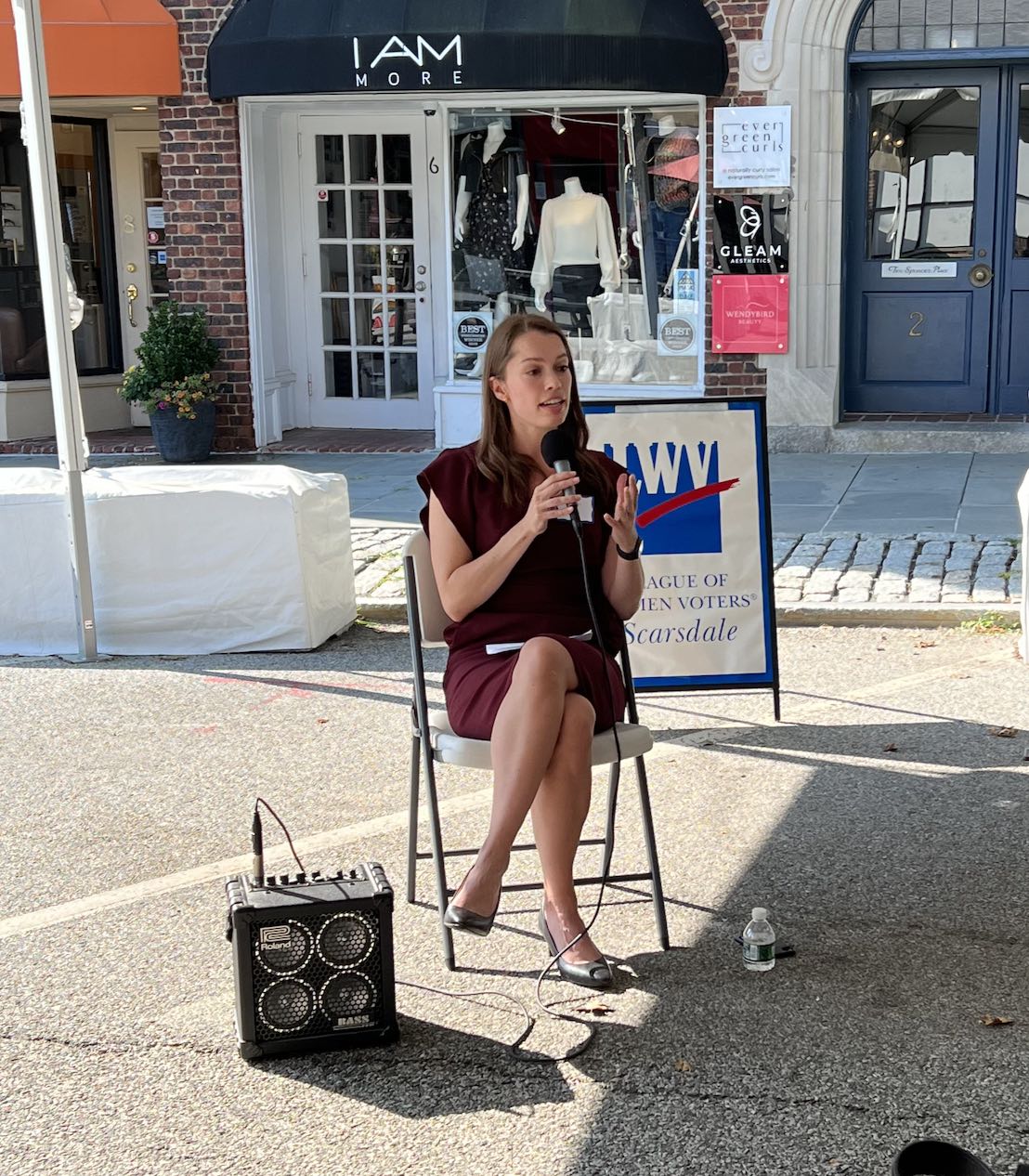 The right to vote in free and fair elections is now in jeopardy, putting our democracy at risk. That's what Lauren Miller , Counsel, Brennan Center's Democracy Program documented at a meeting of the League of Women Voters of Scarsdale in the dining tent in Scarsdale Village on Monday September 19, 2022.
Sadly, a legacy of the Trump administration, are challenges to local and state election laws and threats to election workers that resulted in disenfranchised voters, limits on voting rights, restrictive voter legislation and shortages of election workers who are fearful of reprisal.
In her talk, "The January 6 Hearings and the Big Lie's Ongoing Threats to our Democracy," Miller showed how false claims about the 2020 election have prompted the passage of anti-voter laws and mistrust in the electoral process.
According to Miller, ""The Big Lie" is the simple idea that the 2021 election was taken from President Trump by President Biden. That relies on hundreds of false claims of voter fraud…. all of those claims were proven to be false. …There were over 60 lawsuits. But it was in fact one of the most secure elections I American history."
Miller continued, "The country has a decentralized system for administering elections. Each county makes their own rules. Each state has their own policy for counting votes. Therefore there are many, many opportunities to make claims. If we had one unified system there would not be a basis for these claims."
Taking advantage of the decentralized process, in 2021 18 states passed 34 restrictive voter laws, the most ever in history and this movement continues in 2022 when 142 bills have already been introduced. She said there has been a "Rise in election interference or sabotage legislation… The laws make it easier to replace local election officials if they don't like how it's going."
The Brennan Center has documented the link between the restrictive voting bills and those who promulgated the Big Lie. The Brennan Center has analyzed every single lawsuit and found that corresponding laws were introduced. She said, "We are facing a serious problem. These are not coincidental…. There are even bills to eliminate mail in ballots. … Most troubling is that these laws are disenfranchising voters of color."
She also discussed the threats to local voting officials, saying, "We are seeing that vigilantes are attacking elected officials for doing their jobs and giving death threats to families, spouses and children."
She reported: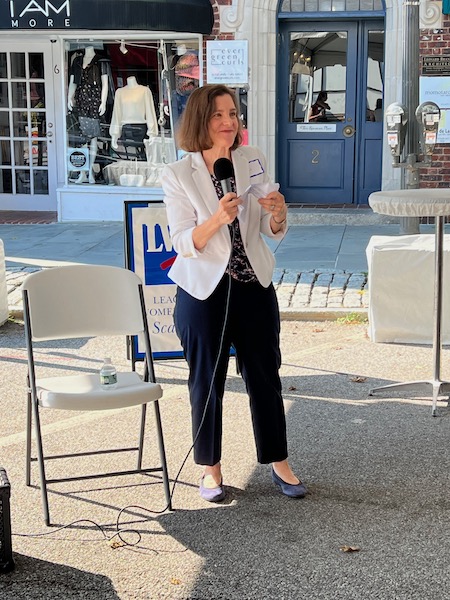 Alissa Baum, President of the LWVS
-One in six election officials have experienced these threats – and they are in association with the big lie.
-One in five election officials are preparing to resign before the 2024 election.
-One in three election officials knows someone who has left already.
What can we do? Miller advised the group to:
-Continue to mobilize
-Organize in your community
-Counter disinformation
-Becoming a poll worker
In addition, the Brennan Center is asking Congress to strengthen our democratic guard rules. Miller was heartened by the fact that the John Lewis Voting Rights Act almost passed Congress this year. The act would have strengthened voting laws, offered protection for voting officials and protect the right to vote. About the bill she said, "It is not a matter of if – it is a matter of when."
The bill would restore the law to full strength, in part by once again requiring states with histories of voter discrimination to receive approval from the Department of Justice or a federal court before enacting voting changes.
Furthermore, Miller said, " The January 6 hearings are doing so much to bring these issues to light and organizations like the LWVS allows us to get the message out."
The event was sponsored by the League of Women Voters of Scarsdale, a volunteer nonpartisan political organization which promotes political responsibility through informed and active participation of citizens in government. The League is nonpartisan in that it does not support or oppose any candidate for public office; it is political in that it takes positions on selected governmental issues after serious member study and consensus. Learn more here.
(Pictured at top: Lauren Miller of the Brennan Center addressed the League of Women Voters of Scarsdale.)
Plan Ahead for Winter Travel
Details

Written by

Joanne Wallenstein

Category: The Goods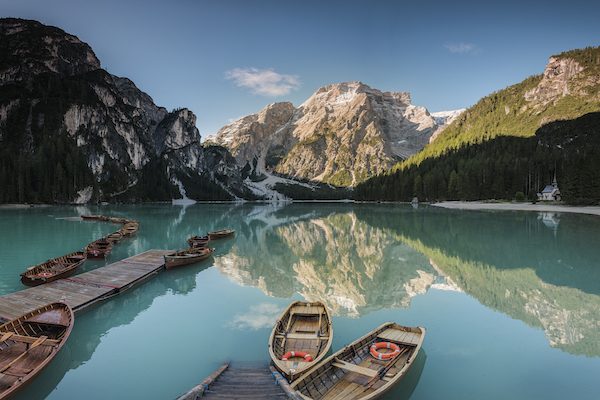 This article was submitted by Grace Shpiz from The Devoted Traveler in Larchmont.

The start of the school year is the time to think ahead to family travel and start planning.

This summer as the world eased Covid-19 entry requirements, travel returned in full force and the demand was overwhelming. Too many travelers waited to make summer plans to popular places. By the time they fully committed, people found that destinations such as Italy's Amalfi Coast were completely sold out. Our advice is to plan now for the usual "favorites" as well as places that will be most popular like those that have been hard to access due to Covid until recently. Some ideas are Japan, Patagonia, Australia/New Zealand, and Southeast Asia.

For those of you who have not planned your December Break trip and want a beach vacation, there is already limited availability. Rates are high and most beach resorts also have minimum night stay requirements. If you have some flexibility, earlier is better, as travel starting December 26 is the busiest and most expensive.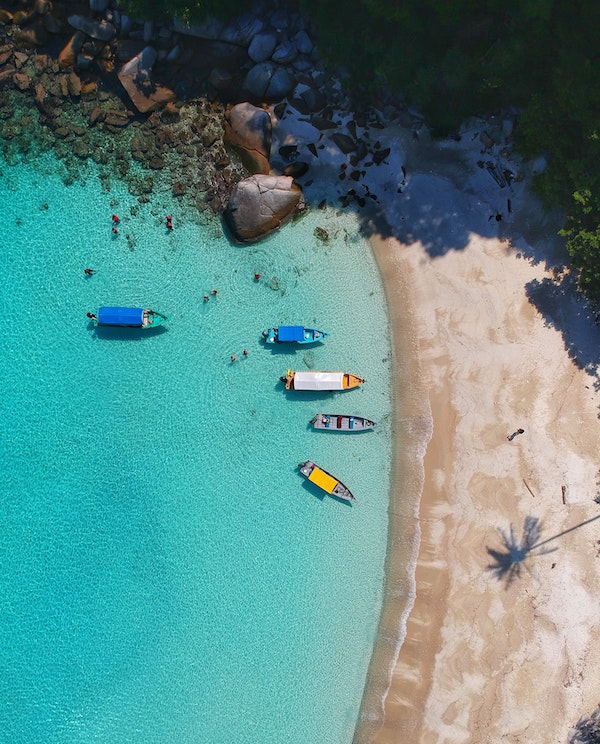 For skiers this winter, many mountains are limiting lift ticket sales so book now to avoid disappointment. You may also consider skiing in Europe this season - lift tickets are a fraction of the cost, and you can combine adventure, culture, and great food in one trip!
If you can, travel during "off peak" months such as May and November. Destinations are less crowded, and you will save. During these times rates are reasonable and there is usually good availability, not to mention a better chance of hotel upgrades.

Planning ahead is key, it allows you to have choices. Our goal is to provide clients with a seamless planning process and a stress-free travel experience. Our definition of "luxury" is a worry-free trip where you show up, and everything else is taken care of for you.

Happy travels!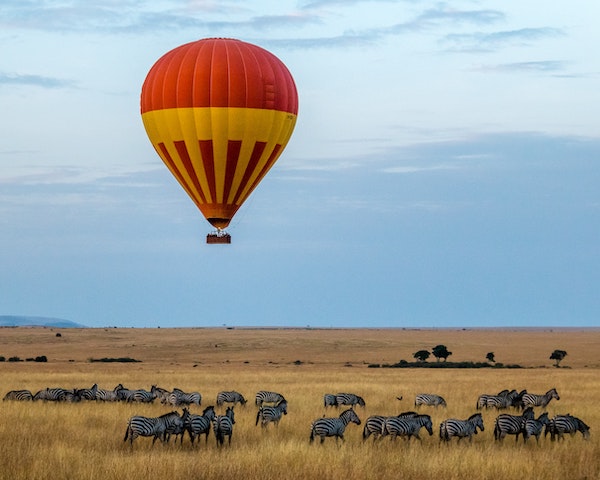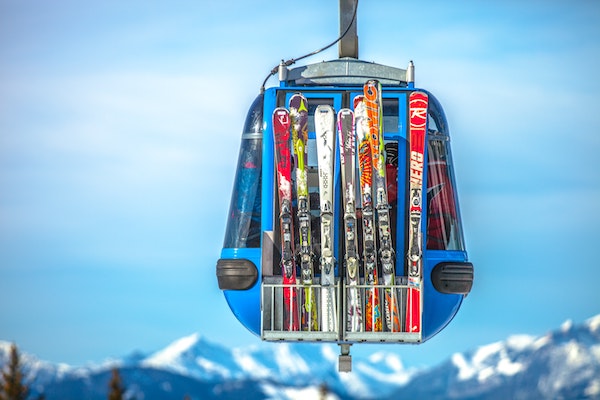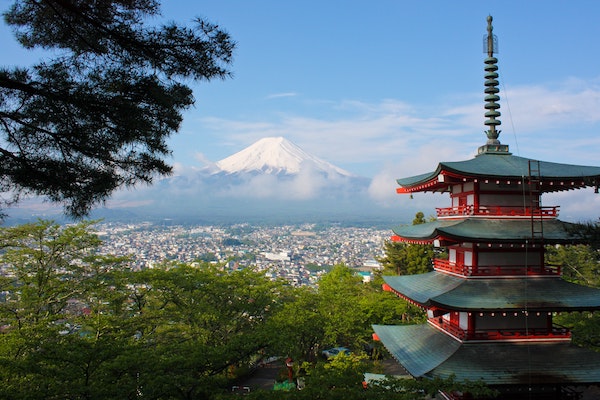 Grace Shpiz
Co-founder/Luxury Travel Advisor
The Devoted Traveler, a Travel Consultancy based in Larchmont, NY
Put on Your Walking Shoes for these September Tours
Details

Written by

Joanne Wallenstein

Category: The Goods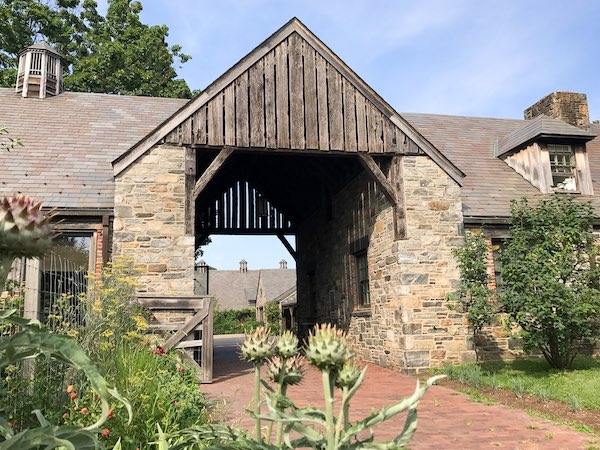 It's back to school time for everyone and that means you too. Check out these September walking tours from the Scarsdale Adult School who offers plenty of reasons to lace up your walking shoes, with ten distinct adventures in New York City, Ossining, Pocantico Hills, and Ridgefield, CT in September alone. Class sizes are limited and tours fill quickly on a first-come/first-served basis.
Special events include a Walking Tour and Farm-to-Table Cooking Demonstration at Fable Farm on Thursday, September 8, 2022 (Course 11523) and a Walking Tour and Taste of Stone Barns on Wednesday, September 21, 2022 (Course 11528). Both events will showcase fall's bountiful harvest for all senses.
Architectural history is the centerpiece of Francis Morrone's upcoming visits to Manhattan's Fabled Squares. The first stop is Union Square on Wednesday, September 7, 2022 (Course 11292) and then, the following week, on Wednesday, September 14, 2022, he shifts the focus to Madison Square (Course 11293).
On Thursday, September 15, 2022, Ginny Poleman strolls through the 34th Street District, past Macy's, the Empire State Building, and Penn Station (Course 11340). A week later, Poleman ventures along Fifth Avenue to highlight its Hotels, Churches, and Mansions (Course 11341) on Thursday, September 22, 2022.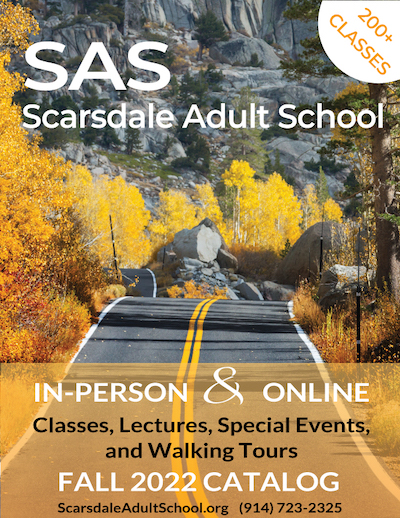 Art aficionados may choose from two different trips to view the latest on display in the Galleries of Tribeca. Ronnit Vasserman leads the first tour on Friday, September 16, 2022 (Course 11337). Riva Blumenfeld heads out later, on Tuesday, September 27, 2022 (Course 11404). Vasserman returns on Thursday, September 29, 2022, for a midday double feature in Connecticut, to explore Keeler Tavern Museum, stop for lunch at Bailey's Backyard, and then visit the Aldrich Contemporary Art Museum (Course 11338).
One of three companion classes to Page Knox's Masterpieces of Western Art series is also slated for September. Paired with the online lectures about the Parthenon (Courses 11326 and 11327), Walking Tour: Greek and Roman Galleries at the Met (Course 11334) is scheduled for Friday, September 23, 2022.
Many more tours are in store for October and beyond. Register early here to ensure your spot!
An Evening of Jazz in the Dining Tent
Details

Written by

Joanne Wallenstein

Category: The Goods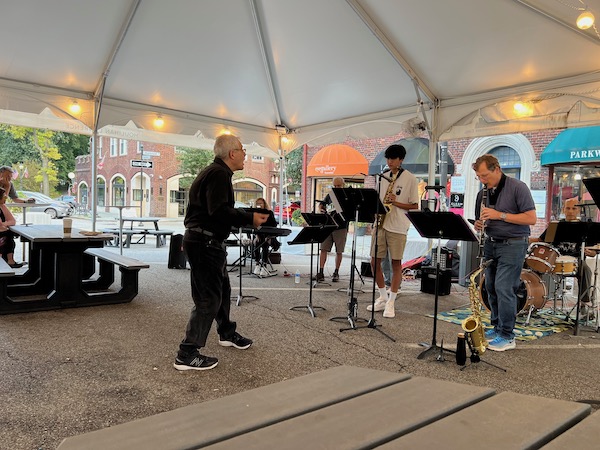 Commuters were greeted with the music of Harold Arlen, Herbie Hancock and Traffic on Wednesday evening September 7, when the Hoff Barthelson Jazz Ensemble, directed by Ed Palermo, gave a free concert in the dining tent.
A small crowd was gathered inside the tent and, as the evening wore on, more assembled on the streets, swaying to the music and enjoying dinner and ice cream as they hummed along to familiar tunes. Pleasant weather brought out kids in strollers, barking dogs and seniors, all thrilled to experience a free night of top entertainment in the Village.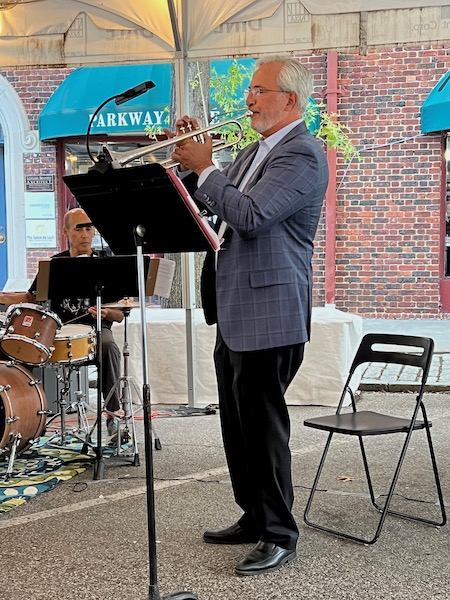 The concert included melodic tunes such as Let's Fall in Love, Paper Moon, Almost Like Being in Love, Autumn Leaves, Canteloupe Island, How High the Moon and more.
The band included talented local musicians, including Village Trustee Jonathan Lewis on the trumpet.
Here's the lineup:
Ed Palermo, Director
Beddy LoBalbo - Keyboard & Vocals
Jonathan Siegel - Drums
Roger Miller - Electric Guitar
Jason Kofman - Bass Guitar
Corey Booth - Saxophone & Clarinet
Andrew Chun - Saxophone
Jonathan Lewis – Trumpet
A second concert will be held at 6 pm on Friday September 8 in the Dining Tent. The HB Brass Quintet featuring faculty members Terry Szor, trumpet; Steve Sherts, horn; and Jonathan Greenberg, bass trombone, will perform hits from the Great American Songbook and beyond with guest artists Charlie Porter, trumpet and Matt Melore, trombone.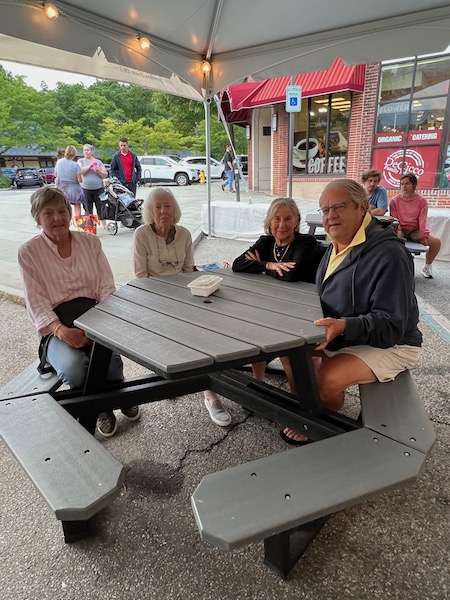 Paulin Supports Gashi For Congress
Details

Written by

Joanne Wallenstein

Category: The Goods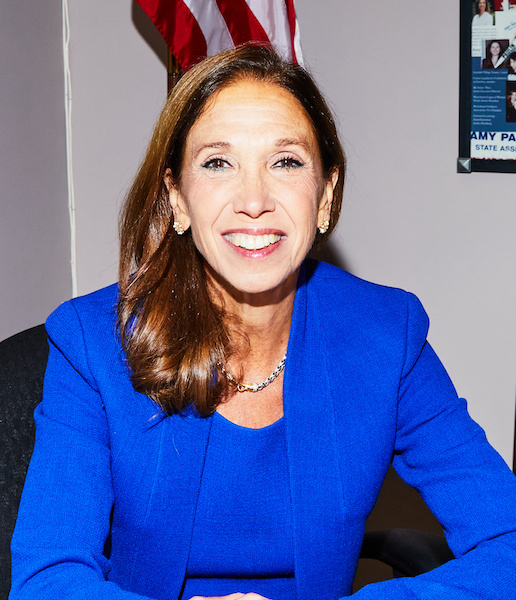 Amy Paulin(This letter to the editor was written by NYS Assemblymember Amy Paulin)

To the Editor:
I am writing to endorse Vedat Gashi in the Democratic primary race for Congress in the 16th Congressional District. Mr. Gashi is challenging Jamaal Bowman who, in his first term in Congress, has failed to adequately represent his constituents and does not deserve to be re- elected.
I have worked with Vedat in his role as Chair of the Budget and Appropriations Committee of the Westchester County Legislature. I have been impressed by his intelligence, work ethic and devotion to the Westchester residents he serves so well. I know he stands with me on issues which are so important to all of us, including building and upgrading infrastructure projects in Westchester. Mr. Bowman, on the other hand, voted against the infrastructure bill in Congress.
Most importantly, he will stand with me to protect reproductive rights and has earned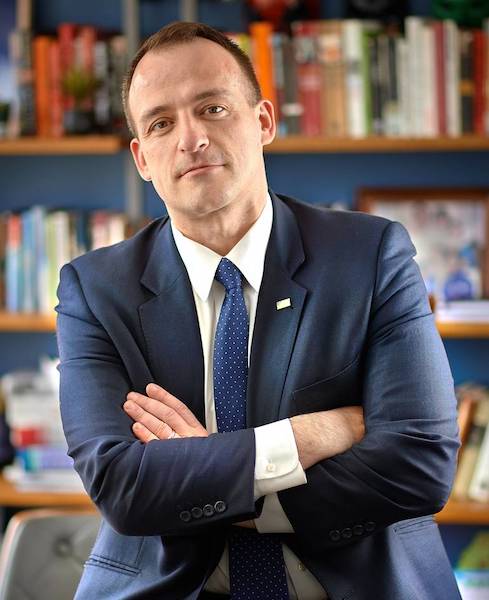 Vedat Gashi the endorsement of Choice Matters. He will also stand with me on domestic violence and human trafficking and be a great partner.
Vedat has received the enthusiastic endorsement of Nita Lowey, our former member of Congress, who represented many of the areas of the 16th CD in her three decades in Congress. Like me, she has never endorsed a candidate against a democratic incumbent before.
I am confident Vedat Gashi will be an outstanding Representative in Congress and I urge you to vote for him in the Democratic primary on August 23, 2022.
Go Gashi!
Amy Paulin
Member of the Assembly