Use Your Vote to Send a Message to the Scarsdale School Board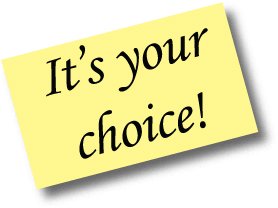 This is the opinion of Scarsdale10583 site founder Joanne Wallenstein
I have always been a big supporter of the non-partisan system and served on the School Board Nominating Committee for five years, two as the Vice Chair, the last to replace someone who was unable to serve. It was an honor and an eye opener into the diversity of viewpoints that the committee brought to the table. Due to their own upbringings, their professional lives and experience as parents and volunteers in the community, the 30 representatives had unique perspectives on what the school board needed and who would make the best candidate.
From what I can surmise, this year was no different. The deliberations from the SBNC yielded some surprising results, in both who they chose to nominate and who they passed over. Similar to circumstances three years ago, the SBNC did not re-nominate the standing School Board Vice President who was poised to become President of the School Board in July. Instead they chose two relative newcomers to the process. Jessica Resnick-Ault, a journalist, who has lived in Scarsdale for only six years and Jim Dugan, an attorney who has lived here for 15 years and done extensive volunteer work for his church and served on the CNC but was relatively unknown in school circles.
Given the most unusual circumstances this year, it makes sense that the SBNC would not just do the usual. For the first time in Scarsdale's history, school buildings were closed for months and students struggled to learn remotely. When the district deemed it safe for some to come back to school the return to school was very cautious and too slow for many who felt that all options were not explored. Parents were frustrated by a lack of transparency and understanding about district decision making. Experts from the community who raised their hands to help interpret COVID guidelines and propose solutions were often turned away.
Of course since the SBNC deliberations are confidential, the public will never know what was discussed and the reasons for their decisions. However, from my experience I am certain that they did their due diligence. Their process includes vetting the candidates by speaking to others in the community who know and work with them and can vouch for their fitness to serve. With 30 voting members, the SBNC represented a range of views and had the chance to thoroughly discuss the merits of each candidate. The community should have confidence that the two candidates they selected will make good listeners, responsible stewards and represent your views.
As a reporter and union leader Resnick-Ault makes her living asking hard questions and says her experience with the union will help her build relationships with the teachers. Dugan is an experienced litigator and counselor and has pledged to bring his decision-making and consensus building skills to the table.
With the district at a crossroads it also makes sense that some independent candidates would choose to run. Following current Board President Pam Fuehrer, who was also not re-nominated by the SBNC for a second term after a divisive battle about the Greenacres School, current Board Vice President Alison Singer has decided to run independently for a second term. Singer has garnered the support of many past and current Board of Education members. At the LWVS Candidates Forum on May 2, 2021 she acknowledged that the Board might have better communicated but defended their actions this year. She argues that her experience, knowledge of Board regulations and the relationships she has built make her invaluable to the Board. Responding to claims that the Board failed to exercise oversight, she said, "We set policy and charge the superintendent with carrying it out…. We have to trust in the district's educational expertise."
Irin Israel, a parent who was outspoken at Board of Education meetings this past year, has also thrown in his hat. He made his mark by demonstrating that school facilities could accommodate students at a distance of six feet apart, FOILED school documents and asked why the district was not forthcoming with the reasons students could not attend school. If Singer represents the existing order, Israel is clearly a disrupter and an advocate for amending board protocols and permitting free discussion among board members and interchanges with the community.
Though the non-partisan process has served the Village well for decades, there are times, like these, when the community can benefit from giving the voters a choice. During this past school year, frustrated parents said over and over again, "the Board and the Administration are not listening to us." So now, each individual voter will have the opportunity to make their voice heard. The outcome of the election should give the school administration and the board insight into the community's psyche and how to navigate the future.
Fortunately an arcane voting provision was recently amended and now the top two candidates will win the seats on the board. In order to decide how you should cast your vote, watch the candidate's forum run by the League of Women Voters on May 2, 2021. They asked probing questions and got revealing answers that will inform your decision on how to vote on May 18, 2021.
Remember to vote on Tuesday May 18 at Scarsdale Congregational Church, 1 Heathcote Road from 7 am to 9 pm.
Letter: Covid Did Not Create the District's Problems; It Illuminated and Amplified Fissures That Already Existed
This letter was submiteed by Roger Neustadt:
There is a critical school board election next month. The traditional process in Scarsdale includes a thorough vetting process by elected members of our community (the SBNC). This committee met with many candidates, and actively decided not to slate current board Vice President Alison Singer. I agree with this outcome and encourage residents to similarly reject the status quo.
The global pandemic was nobody's fault, and no one could have navigated this unprecedented year without challenges. But I will argue that Covid did not create the problems our district faced this year; rather, the crisis illuminated and amplified fissures in the district that already existed.
Communications and process transparency have been consistent issues for this administration long before the pandemic. And the Board, bound by a reactionary and closed off culture of their own making, has not sufficiently or compassionately exercised their oversight role. Generally, Board leadership runs interference for the administration instead of proactively representing the best interests of the students, parents and community. Supporting healthy parent and family engagement, bolstering faculty morale, and prioritizing fiscal planning that aligns to community values have all been neglected for years. We could have and should have done better. Service records should be scrutinized. Alison Singer may well be a good person doing admirable professional work, but her leadership on the board this year, and service over the last 3 years, are what matters for this election. And it has not been an impressive term.
Several current Board members are publicly supporting the re-election of Ms. Singer. For a board that has been roundly criticized for its silence concerning critical educational decisions, it's a strange time to speak up, and publicly reject the very process that got them elected. Hypocrisy, perhaps. Maybe it is directly related to the scrutiny that faces all current board members? Claiming to weigh in as private citizens, both Bob Klein and Carl Finger directly reference their board experience with Singer, not their knowledge of her in other areas. Boards of Education traditionally refrain from making campaign endorsements. While their disclaimers may offer veiled cover, these endorsements remain ethically questionable at best, and just more of the same nonsense the village has accepted for too long.
There are three strong candidates to consider for Board of Education that represent the promise of change. The two candidates who were slated by the nominating committee, Jim Dugan and Jessica Resnick-Ault, and an additional challenging candidate Irin Israel, who did everything he could to effect change this year. It is imperative on May 18th that we move the Board forward. I encourage everyone to use both of their votes for these candidates. We cannot have another Board year like the one through which we all just suffered.
Roger Neustadt
28 Franklin Road
A Tree Grows in Scarsdale
Details

Category: On Our Minds
Published:

03 May 2021

Written by

Joanne Wallenstein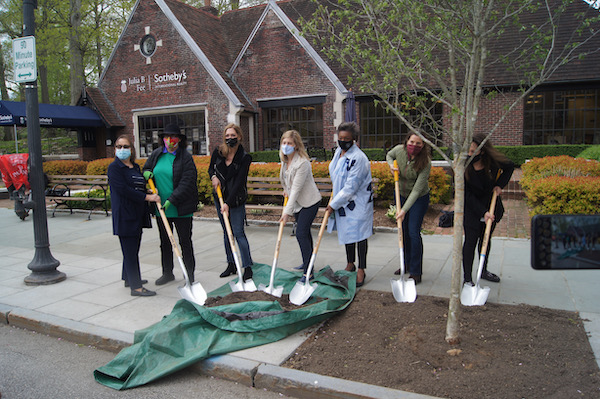 Scarsdale Village volunteers, trustees, staff and county and state officials gathered on Chase Road in Scarsdale on Friday afternoon April 30 to celebrate Arbor Day and to recognize Scarsdale's designation as a Tree City for its 38th year.
To mark the day, the Friends of the Scarsdale Parks selected a Winter King Hawthorne tree, to replace a tree that had been removed in front of Julia B. Fee three years ago. The tree was donated by Julia B. Fee.
In attendance were Madelaine Eppenstein from the Friends of the Scarsdale Parks, Michelle Sterling from the Conservation Advisory Council, Marcy Berman Goldstein and Ken Giddon from the Scarsdale Business Allliance, Village Trustees Karen Brew and Lena Crandall, Scarsdale Mayor Jane Veron, Peter McCartt from the Westchester County Sustainability Committee and State Senator Andrea Stewart Cousins.
Newly elected Mayor Jane Veron thanked everyone for their collaboration and said the planting of this tree was a sign of "rebirth and regrowth" in the Village which is so appropriate at this time. She thanked Julia B. Fee for donating the tree and all the volunteers and Village staff responsible for keeping Scarsdale a Tree City.
Conservation Advisory Council Chair Michelle Sterling said, "I feel privileged to live in a community that cares so much about trees and the earth."
NYS Senate Majority Leader Andrea Stewart Cousins remarked on the spirit of volunteerism in Scarsdale, saying, "Everyone does something in Scarsdale. It's an incredible community. She presented the Village with a NYS Senate proclamation for its designation as a Tree City USA, due to its strong commitment to policies to protect trees.
With that, everyone was invited to shovel some soil at the base of the tree to give it a strong start in its new home.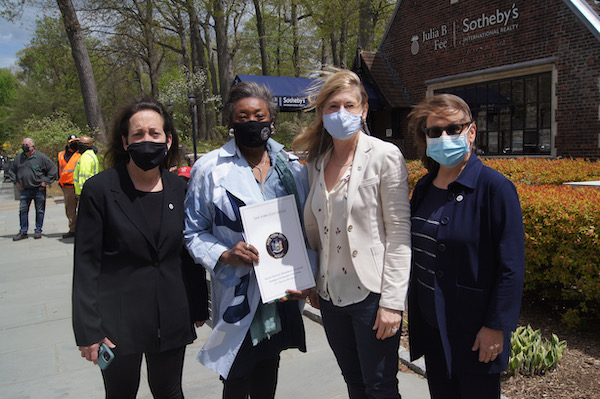 Village Trustee Karen Brew, Majority Leader Andrea Stewart-Cousins, Mayor Jane Veron and Village Trustee Lena Crandall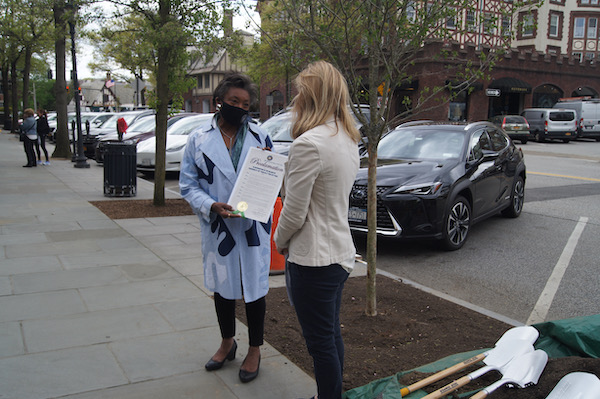 Stewart-Cousins presents the NYS proclamation to Veron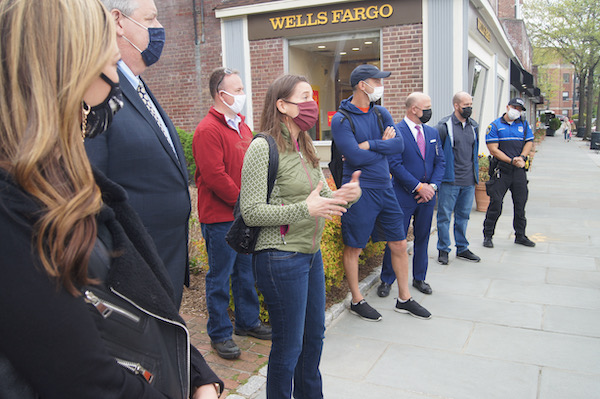 Michelle Sterling Chair of the Scarsdale Conservation Advisory Council
All Restrictions on Restaurant Dining to be Lifted May 19, COVID Counts Going in the Right Direction
Details

Category: Around Town
Published:

05 May 2021

Written by

Joanne Wallenstein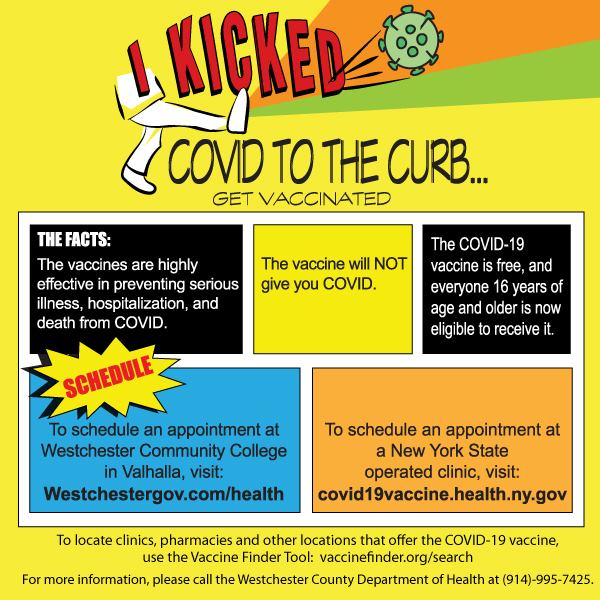 Though only 40% of Westchester's 967,000 residents have been fully vaccinated, it's not an issue of availability. At his weekly briefing on Monday May 3, 2021, County Executive George Latimer reported that between the Westchester County Center, the Yonkers Armory and two county clinics, 338,000 people have been vaccinated. And when you add in other locations, the total is 380,217 vaccinated people in Westchester. In fact, he projects that the county's supply of the vaccine will soon outstrip demand.
In order to vaccinate more residents, the county is opening pop-up or satellite locations so that they can bring the vaccine to neighborhoods where people will have an easier time accessing them. The county has collaborated with the NY Knicks to launch a campaign to encourage younger adults to get vaccinated. The campaign targets younger adults and their parents with posters, a video and a social media campaign in English and Spanish that says, "I Kicked COVID to the Curb." Watch the video here.
In the meantime, all COVID statistics for the county are moving in the right direction. As of Sunday May 2, there were 2,187 active COVID cases in Westchester, a decline of more than 1,000 cases from 3,208 the prior week.
In Scarsdale there are only 14 active cases.
As of Sunday Saturday May 2, 116 people were hospitalized due to COVID, down from 131 the prior week and weekly deaths have fallen into the single digits.
Another positive sign is the news that all capacity limits on restaurants are expected to be eliminated on May 19, though tables will still be required to be six feet apart.
Bicycle Sundays on the Bronx River Parkway kicked off on Sunday May 3 and will continue throughout the summer until the end of October. This is a change from prior years when Bicycle Sundays were suspended during the summer months.
In other news, the MTA reports that subways will resume 24 hour service on May 17, 2021, ending months of nighttime closures.
Mother's Day the Olfactory Way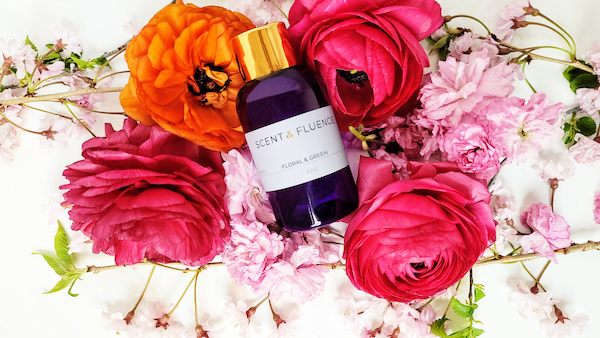 ScentFluence Aroma Design Studio celebrates Mother's Day with a tribute to every mom with the power scent! Our sense of smell and olfactory nerve have a strong connection to the mind and memory. As Helen Keller said; "Smell is a potent wizard that transports you across thousands of miles and all the years you have lived."
Here are some suggestions for scents for all the Moms in your life:
The Mindful Matriarch who loves a Zen yoga session or savors stealing a moment of meditation. Perhaps, she unwinds by drawing a hot bath, with a glass of Cabernet to decompress after a long day. The perfect scents for mom would be Child's Pose®, Yoga Nidra®, or Lavender Leaves. Your mother will namaste you for it.
The Wanderlust Woman, who dreams of aromatic holidays on the Amalfi Coast; transport mom back to Capri with the scents indigenous to the Islands with Verbena, Bergamot Orange or Vetiver Bergamot. If the Eastern Shore is where mom finds solace in sea, then to savor those sacred memories with the scent of Surf & Sun.
The Trail Blazer or Mountain Maven, who spends time between the Pines. Pine Trees are known to reduce the levels of anxiety and tension and increase euphoria. Tree Pose®, Deep Cedar and Winter Pine scents help to recreate the feeling of a walk in the woods. If a chalet in Chamonix brings back fireside après ski memories, give her By The Fire or Cognac to warm her heart.
The Green Goddess: Research shows that freshly cut grass, releases a chemical blend that increases joy and relaxation and gratitude. A walk in the park or a picnic in your backyard give field of dreams a who new meaning! To inspire this mood, try the scents of Green Tea, Rosemary or Mint Focus.

The Culinary Queen: Mom who relishes her time in the kitchen preparing family favorites and entertaining loved ones. "Whenever I smell a roast chicken or fresh bread baking or my neighbor's gingersnaps in the oven, it connects me to my childhood. I feel like I'm passing that on, and that comfort and coziness, as much as I can to my kids, as well as am expectation that they will grow up and they know what health food is" -Jennifer Garner www.goodmorningamerica.com.
Experience Pumpkins Spice, the ultimate blend of sweet Autumn Pumpkin and spirited spicy or Cinnamon Waffles which combines the warmth of waffle batter with a dash of cinnamon.
Caroline Fabrigas from Scentfluence says, "I am so grateful that I get to experience and live vicariously through my clients most precious memories though my business. As Rita Moreno aptly said, "Smell the roses. Smell the Coffee. Whatever it is that makes you happy." Let ScentFluence be your nose and guide to discover the scent that's just right for your mom!
I created ScentFluence's extensive library of curated aromas where a world of sensory experiences awaits. With an array of scents as well we create custom scents for some of the most exclusive resorts and successful businesses in the world."
ScentFluence is located in the heart of Scarsdale Village and brings the influencing power of scent to home, business and life! Now, at the ScentFluence Aroma Design Studio you can experience the art of fragrance and the science of scent in your home or business as they create custom, signature scents just for you!
Scent Marketing Inc., ScentFluence is a full-service Scent and Sensory Marketing company that has become the trusted resource for Fortune 500 global brands such as Baccarat Hotel & Residences, 1 Hotel, Auberge Resorts Collection, Hyatt, Neiman Marcus, The North Face, Campari Brands and Citizen watches to name a few.
ScentFluence also offers a full line of innovative, free-standing or HVAC ready Cold Mist Scent Diffusers to serve a variety of space sizes and dimensions.
Stop by ScentFluence - aroma design studio for scents, diffusers, candles, soaps and other fragrance gifts from $18.00-$80.00. We provide beautiful, complimentary gift wrapping.
22 Harwood Court
Scarsdale, NY, 10583
www.scentfluence.com
Curbside pick-up available.
Private scent library tours and social distanced events available by appointment - call ScentFluence owner -Caroline Fabrigas at: 914 338 5070
Hindsight is 2020: A Visual Story of the Community's Creative Response to the Pandemic- Tuesday at 7:30 pm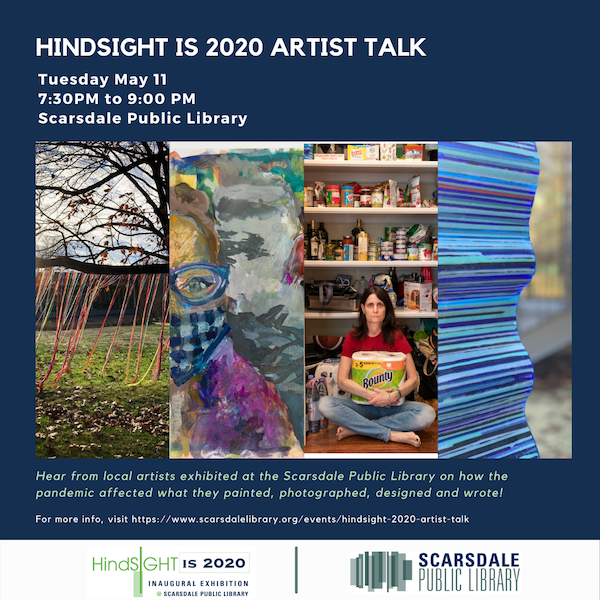 HINDSIGHT is 20/20 is an art exhibition intended to present a visual story of our community's creative response to the pandemic and how Scarsdalians have come together to support those within and outside our village during these extraordinary times. Curated by Lauren Bender, Andi Schreiber and Marnie Gelfman, this multidisciplinary exhibition features artists and contributors working in a range of media, including painting, sculpture, works on paper, photography, fiber and the written word.
We will celebrate this opening of the Library's first post-renovation art exhibit with a 90-minute artist talk via Zoom on Tuesday, May 11 at 7:30 PM Eastern. Local artists and writers whose work is featured in the show will discuss creating art during Covid, and how the pandemic affected what they painted, photographed, designed and wrote.
A joint program between the Friends of the Scarsdale Library (FOSL) and the Scarsdale Library Board of Trustees, HINDSIGHT is 20/20 celebrates an all-female artist lineup. The brightly colored yarn artwork in front of the SPL, called Knit Together, by Tanya Singer and Sarah Divi and Simone Kestelman's sculptures called The Keepers as well as her bed of ceramic Poppies have been enlivening the Library campus since this winter. The rest of the show features work by Sharon Draghi, Bonnie Jill Emanuel, Marnie Gelfman, Doreen Hendley, Renee Levine, Tracy McCarthy, Robyn Miller and Andi Schreiber.
Candidates for Scarsdale School Board Discuss Transparency, Listening and Communication at LWVS Forum
Details

Category: School News
Published:

03 May 2021

Written by

Sammy Silberberg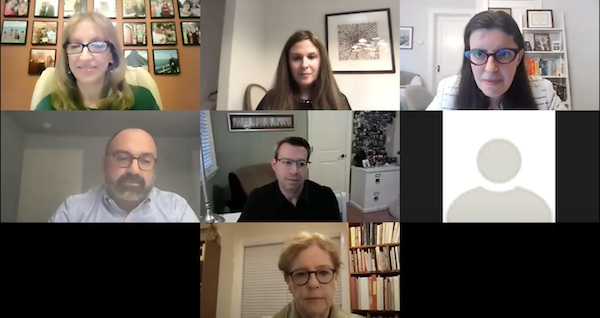 What's your view of the role of the Board of Education in setting and implementing district policy? How much oversight should they exercise and should individual board members be permitted to speak their minds? Do you want to maintain the status quo or are you itching for a change in school board leadership?
Choosing the most qualified and passionate candidates to serve in local government is one of the most powerful tools citizens can use to see changes implemented in their community. In the upcoming election for the school board and budget on May 18, 2021, the Scarsdale community will choose between four candidates to fill two open positions on the Scarsdale School Board of Education (BOE). The candidates running are Jim Dugan, Irin Israel, Jessica Resnick-Ault, and incumbent School Board Vice President Alison Tepper Singer. Resnick-Ault and Dugan were endorsed by the non-partisan Scarsdale School Board Nominating Committee (SBNC). Many other community members, as well as past and current BOE members, have spoken out in support of Singer, whose impressive credentials and volunteer experience won her a seat in her last election.
On Sunday, May 2, the Scarsdale League of Women Voters hosted a Candidate Forum so that voters could hear directly from each candidate. Candidates had one minute and 30 seconds to respond to each question posed by moderator Sheila Miller Berson. You can view the entire forum HERE.
Beginning with opening statements, Resnick-Ault introduced herself as a journalist, union leader, parent, and volunteer. Dugan introduced himself as a lawyer and advocate, the founder of the Coalition for Scarsdale Schools, a volunteer with the Citizen's Nominating Committee, and the President of the Fox Meadow Overhill Association. In his opening statement, Israel focused on the current Board's lack of transparency and his qualifications to change Board culture. Finally, Singer highlighted how her experience as BOE Vice President, as a community volunteer, and as an advocate for children with special needs qualify her for reelection.
Ms. Berson began by asking each candidate what they thought Scarsdale's most pressing issues are. Dugan answered that recovering from COVID and gaining back parent and community trust are the most critical concerns. Israel added that the Board must do more for the youngest and most vulnerable learners and mentioned that while the Board's new Diversity and Equity Initiative (DEI) is a great step forward, he wants to see a specific action plan put in place. He also highlighted the need to improve Board culture and work on transparency, oversight, and communication. Singer wants to prioritize student and faculty mental health and wellness, distill the positives from the COVID crisis that the district should keep, and refocus on critical board work that was put on the back burner during the pandemic. Resnick-Ault stated that as a reporter, she has spent two decades covering major disasters and her focus would be on conducting a postmortem. She wants to ask questions and learn what Scarsdale did well and poorly during the pandemic. Resnick-Ault also spoke about implementing the DEI policy and unifying the Board and the Administration.
Next, the moderator asked Singer and Dugan how they would allocate a hypothetical $5 million windfall for the school district. Singer advocated for increasing mental health and wellness resources and managing the school's unassigned fund balance. Because of unanticipated COVID expenditures, the unassigned balance is currently at 3% instead of the ideal 4%, and Singer would use these funds to replenish the fund balance so that the district can access the market with an improved credit rating. Dugan said that he would invest this money to foster educational excellence and focus on our youngest children.
When Dugan was asked what methods he would implement to ensure that he heard from, and engaged with, a wide swath of the community, he answered with a call to reevaluate the Board's "Speak With One Voice" policy. He stated that the Board needs to do a better job listening to the community and he doesn't want to refer the community to outside sources or make them wait to speak directly with the Board. Answering the same question, Israel stressed that the current Board does not address concerns from community engagement. While the BOE replies to every email, he claims that these responses are vague and formulaic. Additionally, he complained about the Board's vote to curtail public comment and called out Singer as the member who put forward this motion and wanted even more stringent reductions to public comment. Singer later responded by claiming that the time restriction was implemented so that the Board would have time to hear from more community members during meetings.
Another question, directed to Singer and Resnick-Ault, asked how the candidates would meaningfully implement the BOE's new DEI policy. Singer stated that the goal of the policy is "to build and protect an educational ecosystem where all students feel welcomed and accepted… it's not about censoring any points of view." She went on to say that it's about celebrating differences and not tolerating bigotry or hate of any kind. Singer is confident that the school faculty will lead these important conversations. Resnick-Ault said that she has the experience to implement the policy at a curricular and hiring level. She spoke of her hiring practices as a reporter where she looked outside of traditional journalism schools. Resnick-Ault declared that "it wasn't surprising that we found great candidates in overlooked places… if you want a diverse pool of candidates you need to actively search for it." She went on to voice her concern that Edgewood School, which has almost 50% Asian students, does not have a single Asian classroom teacher.
Later, the moderator asked candidates what they thought the BOE's role is in a hypothetical situation where a group of parents is lobbying for a policy change to allow middle schoolers to leave the campus for lunch. Israel answered that communication and safety are the most important things. He asserted that his primary concern is to make sure the parents' request is "legitimately and openly discussed so they understand the reasoning in the final decision." Resnick-Ault took a slightly different approach and stated that while the Board represents parents, they must listen to the educators and the safety experts. She highlighted the need to distinguish between what is in the best interest of education and the community versus what a niche group of parents is asking for. The Board must ask the right questions and determine how many people would be impacted by the policy change and evaluate what the negative ramifications might be.
During closing statements, Singer reiterated the idea that BOE members must come in with an "open mind and not an agenda… Board members need to be trusted to carefully and objectively weigh all opinions and facts." Israel highlighted that he has spoken up throughout the pandemic and then questioned if Singer did enough during her term to improve things for vulnerable children. Dugan emphasized that, along with Resnick-Ault, he was endorsed by the SBNC and that he has spent his life as an advocate and is ready to bring his skills and passion to the Board. Resnick-Ault underscored the need to be prepared for the changing needs of students this upcoming school year and that her credentials as a journalist have prepared her to ask the necessary questions.
Each candidate was fully prepared for the forum and spoke passionately about the issues. Israel was the most outspoken in terms of criticizing the current Board and reiterated that he would be an advocate for parents. Singer did an effective job of explaining the Board's rationale for certain decisions, and she showcased herself to be a dedicated public servant and advocate of students with special needs. Dugan stressed that his skills as an attorney and volunteer have prepared him to be a Board member who listens to the needs of the community and responds directly. Finally, Resnick-Ault positioned herself as a journalist and investigator who will root out issues and come to common-sense solutions. Each candidate presented his or her strengths during the forum, and it will be up to the Scarsdale Voters on May 18th to select two candidates to serve on the School Board.