Edgemont and Scarsdale Schools Make Changes to Learning Plans for K-2 Students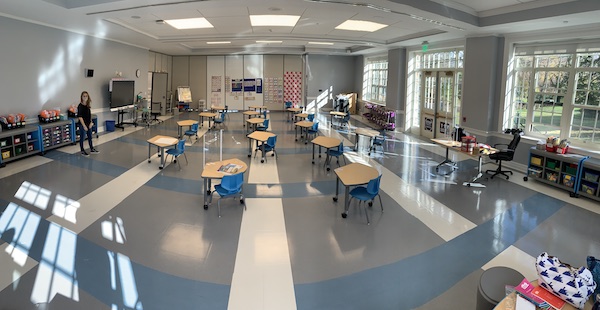 The Learning Commons at Greenacres Elementary School has been reconfigured to accommodate kindergarten students attending school full time. Photo Credit: Sharon HillAs the COVID pandemic continues to sweep over our communities, ongoing steps are being taken to adjust to the difficult environment. In recent weeks, both the Edgemont and Scarsdale school districts have come out with slightly different approaches to creating the best learning environments possible for its kindergarten through second grade students.
Edgemont makes changes to provide more support for K-2 students

Based on the results of focus groups with elementary parents and teachers and on surveys from parents about Edgemont's elementary program, the District has announced a new plan for the Community's youngest learners starting November 23.
Currently Edgemont teachers teach in-person, hybrid, and fully remote students from their classrooms. Students are split into AM/PM groups that attend school every day for half the day, while spending the rest of the day in a remote learning setup. It's been determined, however, that Edgemont's youngest learners need more support with remote learning, and that they would greatly benefit from having a teacher dedicated to them instead of one who is also trying to balance in-person and hybrid students.
Moving forward, the District will reallocate some members of the existing teaching staff so that remote-only students in grades K - 2 will have teachers dedicated solely to them. This will require a transition for remote-only students in particular, but the District believes the benefits of this change will far outweigh the challenges. Starting November 23rd, remote-only students will have a new classroom teacher. Special-area teachers will remain the same. These reallocated teachers are appropriately certified and are currently in other roles in Edgemont.
How does this affect in-person and hybrid students?
Hybrid teacher placements will remain the same, and these teachers will have more time to dedicate solely to the students who attend their physical classrooms in the AM/PM cohorts.
In the event that a "hybrid" student must quarantine, they will continue to receive remote instruction from their assigned homeroom teacher.
Edgemont is not able to offer an opportunity for all K - 2 students to return due to space constraints and health/safety concerns, but they are still working out the details of plans to safely bring additional K - 2 students to a brick-and-mortar setting. According to one Edgemont parent of a second grader, "We are very happy that Edgemont has decided to provide additional support for on-line learning. We realize there will be a transition period, but we're confident that this change will work out really well for our kids...and for us parents too!"

Scarsdale takes different approach, returning Kindergarten-Second Grade to full time in person learning starting November 30th
Whereas Edgemont has space limitations that keeps it from bringing back all K-2 students, the Scarsdale School District will offer all kindergarten through second grade currently in the hybrid program a return to full days of instruction in school. On Monday November 30, K-2 students at Edgewood, Fox Meadow, Greenacres and Quaker Ridge will begin full time instruction, creating more opportunities for student to teacher connections and student to student connections.
However, the plan has been delayed a week at Heathcote where an exposure to COVID caused 35 staff members to be quarantined. In a November 24 email from Superintendent Thomas Hagerman he explains, "Heathcote was required to quarantine 35 staff members, representing nearly 40% of all faculty and staff. This included the full custodial team, a number of cleaners, some teachers, and many teaching aides. While we have been able to run school this week, it has been extremely challenging, and only possible through the hard work and flexibility of our staff and the fact that K-2 students were remote to allow for the transition to full-day instruction after the Thanksgiving holiday. The majority of the quarantines necessitated by recent cases will end on December 3rd, reducing the staffing challenges (assuming there are no additional quarantines). As such, we will need to delay the start of K-2 full-day school at Heathcote only until Thursday, December 3rd. From November 30th through December 2nd, K-2 at Heathcote will move to remote learning. All other elementary buildings are expected to start K-2 full-day on November 30th as previously planned."
Despite another exposure at Greenacres that was reported on Wednesday November 25, the district will move ahead with the plan.
To accomplish this while maintaining social distancing, the district has reconfigured large group spaces to create more classroom space. See photos above and below of the Learning Commons at Greenacres reconfigured for kindergartners, courtesy of Greenacres Principal Sharon Hill who said, "The teachers have done an amazing job transforming these large spaces into inviting learning environments for the children."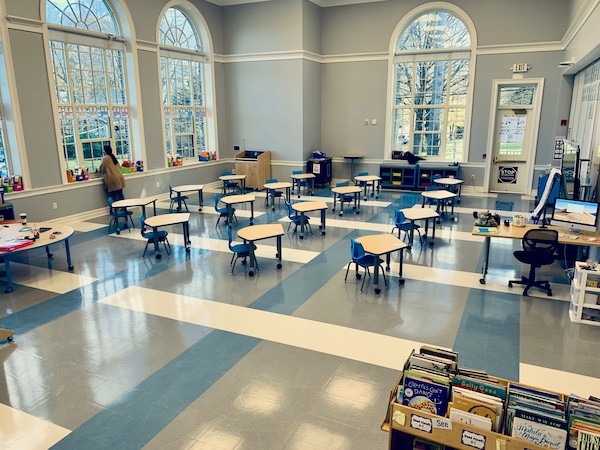 Greenacres Learning Commons with socially distanced desks
Working From Home? Here's A Way to Have a Virtual Office and a Business Address Without Signing a Lease
Details

Category: Shout it Out
Published:

23 November 2020

Written by

Joanne Wallenstein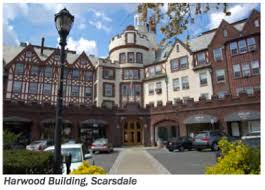 Some businesses are born out of necessity. As a lawyer in New York, Dan Shaked found that he needed an office in Wilmington, Delaware for marketing purposes. Not wanting to spend big bucks on a lease and furniture, he signed up for a virtual office in downtown Wilmington at a fraction of what a full-time office would cost. In addition, his New York law office was located in a shared office space. As he became more familiar with the workspace industry, he realized that this was the future. But it needed some tweaking.
He considered his options. At the time, there were many co-working and executive office suites. Shaked explained, "You could rent a 20,000 square foot office space, partition it into 50 individual offices and rent them out for a profit. But this concept has a very high startup cost, is subject to market conditions, and would have required competition with the likes of WeWork." Virtual Offices, on the other hand, were underserved. Shaked saw an opportunity to combine the best of both – to provide virtual offices with a few meeting rooms that could be rented by the hour or by the day.
That led to the formation of the first 4Corners Business Center in downtown Brooklyn, opened in September 2014. Today, downtown Brooklyn 4Corners provides virtual offices to over 120 companies including lawyers and many small companies in the technology, construction, cleaning, real estate, finance, and advertising industries. Most of their clients work from home but prefer to have a prestigious business address and to avoid letting their clients know where they live. Brooklyn 4Corners also has three meeting rooms that they rent by the hour/day that customers use for client meetings, job interviews, depositions and even on-location movie shootings. In fact, word had gotten out at the NYU Graduate Film School that the premises were perfect for shooting that "office scene." Shaked also got a call from a large movie studio to shoot a scene, but could not accommodate the 170 people on set.
In the winter of 2019 Shaked decided it was time to open a second location in his own hometown, Scarsdale, where he lives with his wife and two children. He hired Richard, an old law client, to manage the Brooklyn location and leased space at 14 Harwood Court in Scarsdale, a prestigious old building across the street from the train station with ample parking. Now local business owners can enjoy the prestige of a prime Scarsdale business address at a fraction of the cost of a full-time office.
Here's what 4Corners can do you for:
-Provide a downtown business address
-Collect your mail and special packages which you can stop by to pick up or have forwarded to you
-Provide a local phone number
-Offer privacy
Shaked says, "We used to market our services as an alternative to a full-time office. However, now that everyone is working from home, we focus on the advantages of privacy and anonymity. After all, do you really want your clients to know where you live? We heard many stories about disgruntled clients showing up at a business owner's home harassing family members. By simply setting up a virtual office, no one will know where you live; and if clients or potential clients Google your business address, they will assume that you work from a prestigious office complex."
So if you're a one man office working from home and would like some additional services, privacy and a Scarsdale business address, click here to find out what 4Corners Business can do for you.
Bee-Line Bus Crash at Scarsdale Train Station
Details

Category: Neighborhood News
Published:

23 November 2020

Written by

Joanne Wallenstein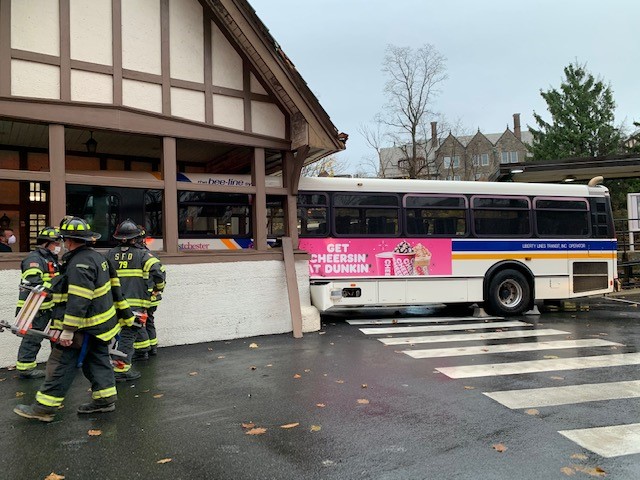 (Updated) MTA spokesman Aaron Donovan reported that the MTA is investigating a bus crash at 8:26 am on Monday November 23 at Scarsdale Train Station. A Westchester County Bee-Line bus carrying no passengers struck and became wedged in the weather-protection overhang in the passenger drop-off area at the Scarsdale Metro-North station. The MTA Police are investigating the cause of the collision.

Metro-North Railroad personnel inspected the station and found it was undamaged. They reported no impact to train service. The bus driver sustained only minor injuries.

Later in the afternoon, Scarsdale Fire Chief Jim Seymour reported that the Scarsdale Fire Department was dispatched to 1 Depot Place just after 8:30 am. They found a Bee-Line bus that struck the Scarsdale Training Station building. The bus was unoccupied at the time other than the driver/operator. Crews were able to remove the driver/operator through an emergency window and she was evaluated by Scarsdale Ambulance Corps at the scene. Scarsdale Fire, assisted by the Fairview, Greenville and Hartsdale Fire Departments, installed temporary shoring to ensure structural stability in order for the bus to be removed. Also on location were units from the Scarsdale Police Department, the MTA Police and Fire Departments and members of the MTA Building Structures Division. The bus was removed without further incident or injury following an approximate two-hour operation.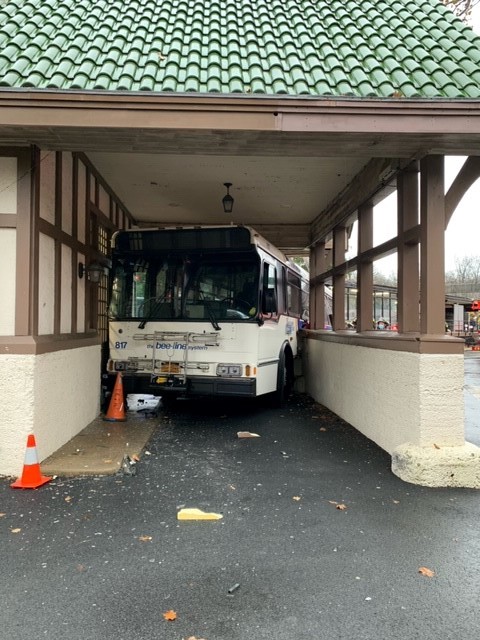 Photo Credit: MTA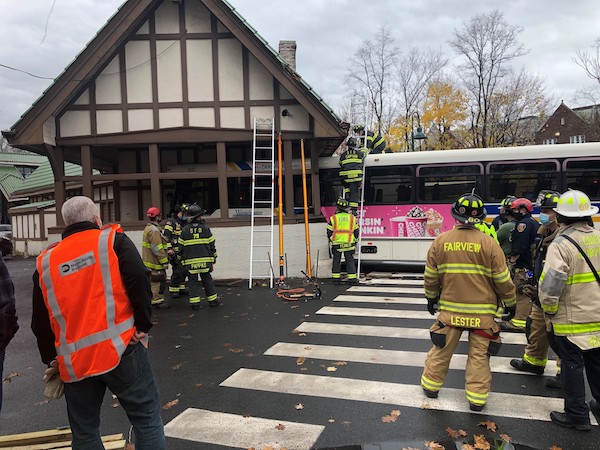 Photo Credit: Scarsdale Fire Department
One Down, Two To Go: Girls Varsity A Soccer Moves On To The Next Round Of Playoffs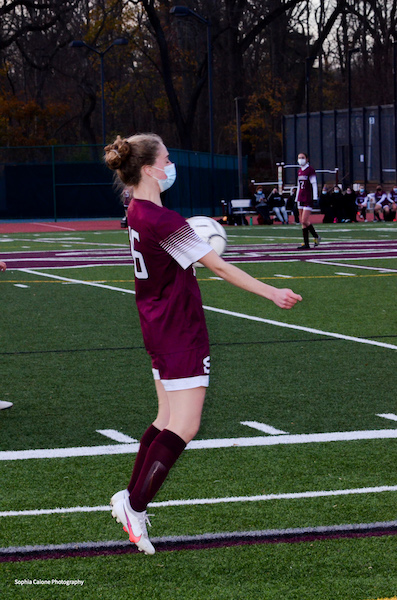 Jojo Denion, #16, chest trapping a ball in the air. On Thursday, November 19th, the Girls Varsity A Soccer team was triumphant- once again- claiming victory against Ardsley in round one of the playoffs. The victory was captured through stylistic goals and a strong team presence on the field. Intense pressure was put on Ardsley from the start, as the Raiders presented an urge to win, but beyond winning, to conquer the field a by an overwhelming margin.
The final score was 6-2; The first 4 goals were scored in the first half of the game, leaving Ardsley with a large gap to fill. Ardsley had a difficult time catching up as their play was mostly "kick and chase". The Raiders defensive line, lead by Captains Victoria Von Redden, #17, and Emily Yacob, #19, proved to be fierce as they stopped breakaways, captured long balls, and maneuvered through Ardsley's attacking players. Additionally, senior goalkeeper Dylan Gross, #35, was a powerful and leading communicator on the field, commanding the defense and encouraging her teammates.
Season leading scorers, Alessia Schettino, #20, and Riena Parente Ribeiro, #7, were two leading performers during the first playoff game. Both players scored two goals each, in addition to one goal scored by Jojo Denion, #16, and one goal scored by Lizzie Wachs, #23. Lola Tirabassi, #13, showed her skills by providing 4 assists, and Victoria Von Redden demonstrated that a defensive player could do it all by assisting a goal.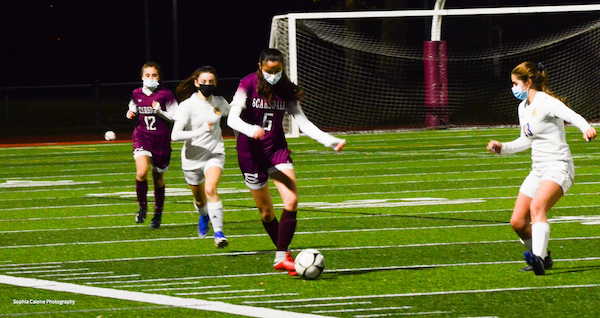 Kate Braverman, #6, maneuvers around an Ardsley player.
Schettino put constant pressure on Ardsely's defense and was highly aggressive in the final third of the field, especially when it came time to shoot and score. Riena Parente Ribeiro, nicknamed "RPR" by her coaches and teammates has been an essential part of the midfield. Parente Riberio acknowledges that "after a strong start, our team started to struggle to connect simple passes and there were a few miscommunications. [However,] we were able to overcome these difficulties and dominated the end of the second half. We ended the game with a confident mindset to lead us to the semifinals."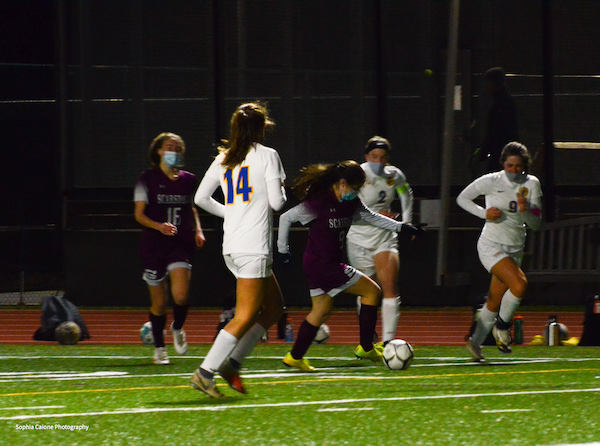 Audrey Gendel, #9, dribbles around Ardsley.
The second playoff game against rivals New Rochelle-on Saturday, November 21st-will be packed with action, competition, and heart. Schettino says, in the next playoff game "We need to capitalize on our opportunities... If we see the net, we have to score." Parente Riberio comments that "New Rochelle is a tough opponent and we always look forward to playing them because they are our rivals and a competitive team. The stakes are going to be higher than during our previous games and both teams will bring 100%. I'm excited for the energy and the competition." Girls Varsity A Soccer will put their all into every second of the game, until the desired outcome.

Photos and text by Sophia Caione.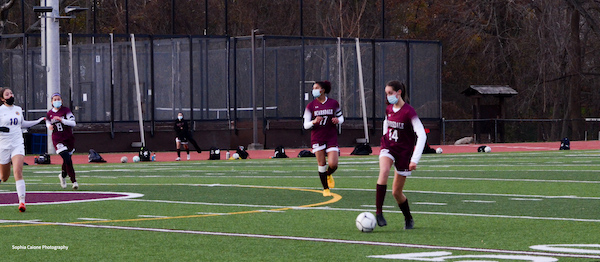 Abigail Talish, #14.
COVID Update: Positive Rate Continues to Rise in Westchester
Details

Category: School News
Published:

23 November 2020

Written by

Joanne Wallenstein

Chart courtesy of the Scarsdale SchoolsIt's getting more difficult each day to track what's open, what's closed and how you should adapt. As the number of cases rises, new restrictions have been put in place in an effort to reverse these disturbing trends.

Here's an update from Monday November 23, 2020 of local information to keep in mind.

Infection Rate

County Executive George Latimer said we are seeing "a continuing and serious rise in infections." As of Monday 11-23 there were 4,808 active cases in the county in comparison to 3,515 last week. On Sunday November 22, the infection rate rose to 5% for the county with 421 positive cases. Last week the positive rate fluctuated between 3.8% and 4.2%. 168 are in the hospital with COVID as compared to 138 last week and the number of deaths from COVID in Westchester has reached 1,500.
As of November 23, the county map showed 36 active cases in Scarsdale, an all time high.
Yellow and Orange Zones
As a consequence of these rising rates of infection, the state has designated five communities in Westchester as "yellow zones," and one as "orange."
These zones include part or all of:

-New Rochelle
-Ossining
-Peekskill
-Tarrytown-Sleepy Hollow
-Yonkers
-Port Chester and part of Rye Brook was designated an orange zone.
County Executive George Latimer assured the public that these communities have not been shut down and there are no travel restrictions. Latimer said, "it is not like going from East Berlin to West Berlin."
Instead restrictions have been implemented to curb the spread of the virus. The county is conducting calls with officials and business leaders in each of those zones to discuss testing, the distribution of PPE, messaging and communications. The county has already delivered some PPE to these zones and will continue to assist.
Take a look at the chart at top to see what restrictions apply in yellow, orange and red zones.
National Guard at Area Airports
In other news, Governor Cuomo has called on the National Guard to appear at New York airports to help collect forms from inbound passengers. These forms indicate that passengers have recently tested negative for COVID before entering the state. See the County Executive's daily report here: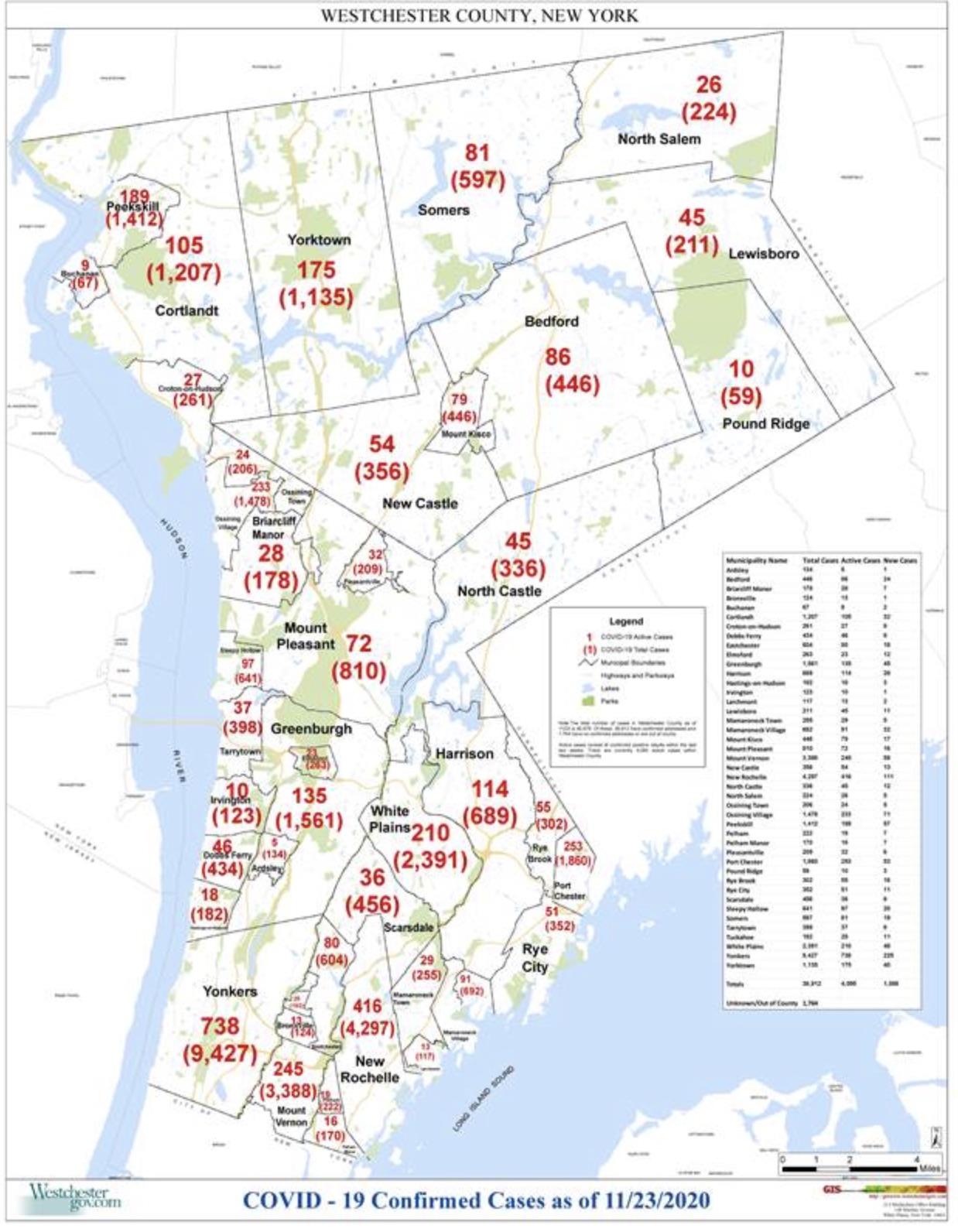 SHS Girls Soccer Final on Vimeo
The Scarsdale Girls Varsity A Soccer Team will play in the regional final today and you can watch online. Scarsdale will host the Section 1 Regional Championship Final Girls' Soccer Game, featuring the Scarsdale Raiders vs. Rye High School. The game will be broadcast at 4:30 PM at the following link: https://vimeo.com/event/464943/embed

In compliance with NYS Department of Health, and Section One Rules, only two spectators per home athlete are allowed. All others will be turned away.
Scarsdale Village Hall is Closed
Village Hall will be closed until December 1 due to a positive diagnosis and contact tracing. Staff members are maintaining precautionary self-quarantines at home while continuing to provide needed services remotely by phone and email. In-person services are not available from the Water Billing Department, Village Clerk's Office, or Village Treasurer's Office until the end of November. Business in these departments is being conducted remotely by phone and email, as listed below, until the offices are reopened:
• Water Department: 914.722.1138, water@scarsdale.com
• Village Clerk's Office: 914.722.1175, clerk@scarsdale.com
• Village Treasurer's Office: 914.722.1170, treasurer@scarsdale.com
Schools: Positive cases at Edgewood, Greenacres and Heathcote Elementary Schools
The district advised of two positive cases among staff members at Heathcote School on Thursday November 19 and another case of a staff member at Greenacres School on Sunday November 22. Heathcote School went all virtual on Friday November 20 but was able to reopen on Monday November 23. Greenacres didn't miss a beat and was open for hybrid learning on Monday November 23 after the district followed their Confirmed Case Protocol. On Monday November 23, another positive staffer was identified at Edgewood Elementary School, however in person learning will continue on Tuesday November 24.
Survey Results: Scarsdale Residents Will Comply with the Governor's Directives on Thanksgiving
Details

Category: On Our Radar
Published:

22 November 2020

Written by

Joanne Wallenstein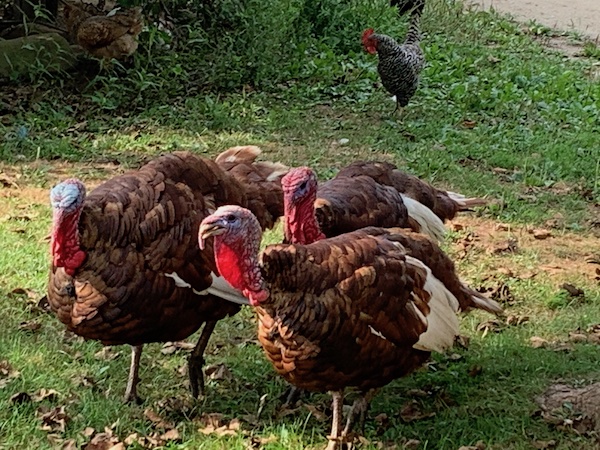 It will definitely be a different kind of Thanksgiving this year. That's what the respondents to our Thanksgiving survey revealed. The vast majority of those who replied to the survey indicated that they are complying with the Governor's orders, they will have few if any visitors, will celebrate at home with their immediate families and will not invite grandparents, aunts, uncles and cousins to join them.
Here are the results of the survey, to which we received 92 responses:
92.3% of respondents said they would comply with NYS Governor Andrew Cuomo's order to limit indoor gatherings to 10 people.
Asked if they agreed with that order, 85.8% said yes though some commented about the Governor dictating how the holiday could be celebrated. One respondent said, "I don't believe the government should dictate what happens in a household. Common sense does suggest this is not the time to have a large gathering, I'm bright enough to figure that out on my own," and another said, "I do not agree with the order (which limits outdoor gatherings to 10 as well). It does not into consideration an individual's ability to distance in their home, or a person's ability to make the judgment or risk/reward. Especially when governments (local and state) have been so selective when it comes to enforcement of public safety rules (allowing those that match their politics), they have lost moral authority to command people to restrict private gatherings." Another commented, "10 is an arbitrary number. An order to limit gatherings is ok, but if you have two families with 4 kids each - nope!"
Asked how many people would be at their table, 66.3% said there would be one to five people and another 27.1% reported there would be six to ten. Just 5% said they would have 11 to 15 people and 1 person reported that they would disregard the order and have more than 26 people at their Thanksgiving. On a usual year 32.6% report hosting 11-15 people and 33.6% have 16-25 at their table, so this year will be a dramatic change.
Commenting on their decision, readers said, "We usually have 25-30 relatives. But this year it will be just me, my husband and only one adult child. My other adult child has opted to stay up at college for the holiday so he can complete the rest of the semester in person there," and another said, "No Thanksgiving this year. A solo "event". Another said they would "join 8 close friends on Zoom" for their Thanksgiving.
Will guests be asked to get a COVID test before coming to dinner? Just 17% said yes and many noted that they are dining only with their immediate families so it won't be necessary.
And where will they be having their Thanksgiving dinner? 90% will be right where they are now – at home.