Proposed 2021-22 Budget Assumes A Full Return to School But Provides for COVID Related Expenses, Just In Case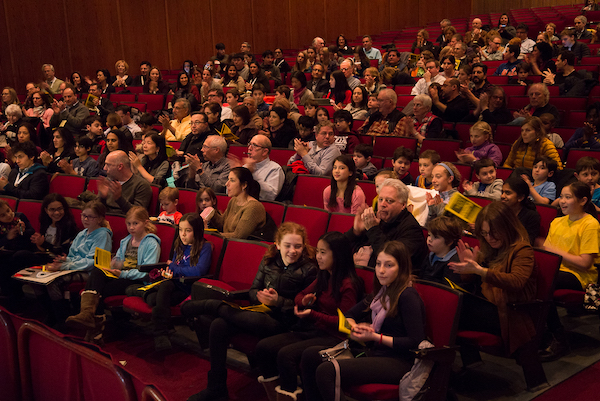 Though most in the Scarsdale School community are focused on the current year, the Board of Education held a budget study session on Monday March 1 to consider finances for the next school year. With so many questions about what April 2021 will bring, it's even harder to plan for September 2021.
But the administration has given it some thought and provided assumptions and estimates in anticipation of adopting the 2021-22 school budget at their April 12, 2021 meeting, for a community wide vote on May 18, 2021.
On everyone's mind is what September will look like at the Scarsdale Schools. Will it be fully in person? Will some students still require remote instruction? According to Scarsdale School Superintendent Thomas Hagerman, this budget was developed with the assumption that school will be fully in-person, but also provides funding for COVID related expenses, just in case it is not.
Specifically it calls for:
-An additional two teachers for remote learning, at cost of $220,000
-Non-recurring costs associated with COVID including instructional or general support: $330,000
-Elementary Summer Enrichment Program: $250,000
A total of $1,200,000 is allocated for a worst case scenario, with funds from reserves, just in case it is another abnormal year.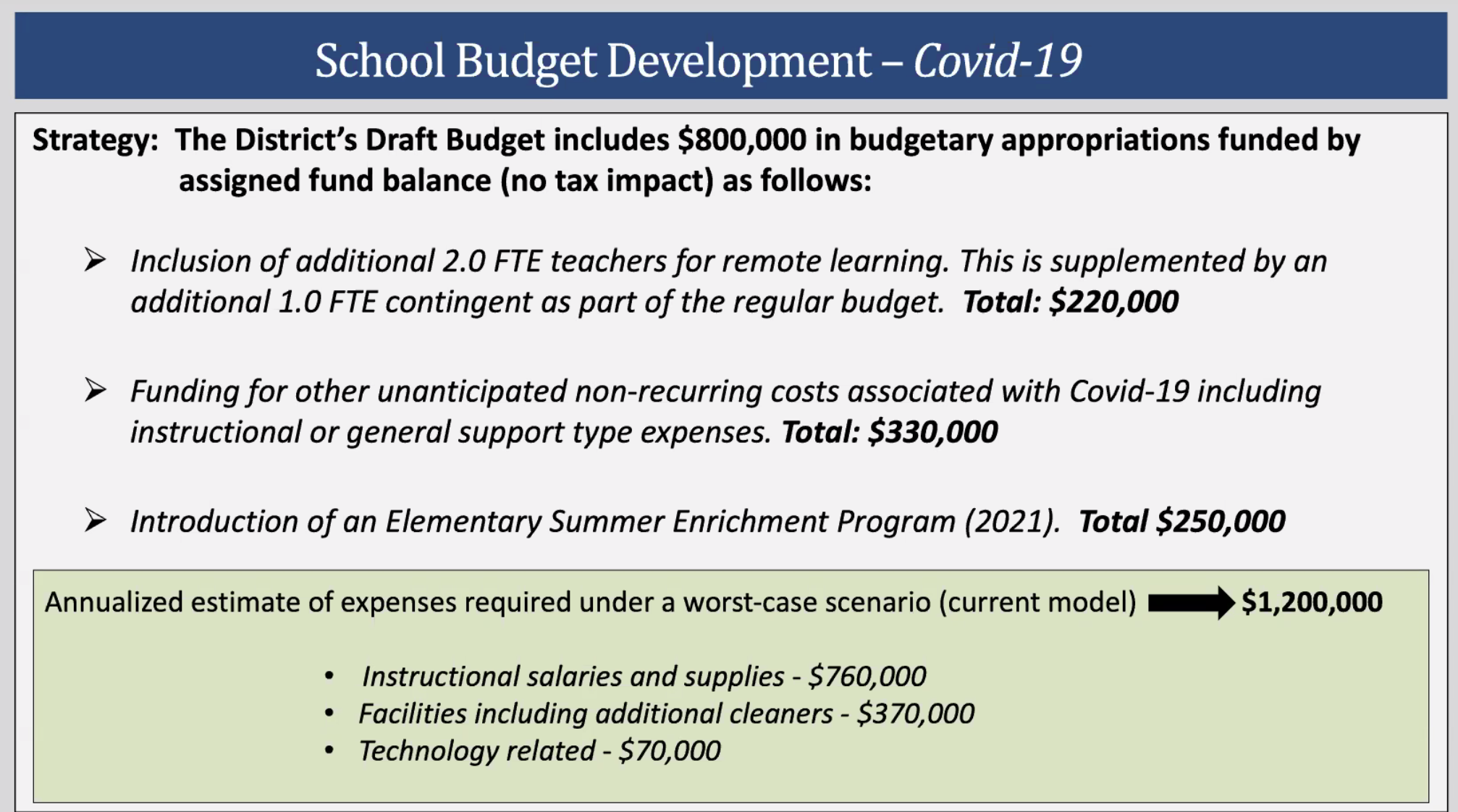 Tax Increase

As of now, the proposed 2020-21 budget is $166,862,755 which is a 2.56% increase over 2019-20 and calls for a total tax levy increase of 2.15%. This translates to a 1.93% tax increase for Scarsdale residents and 6.28% for residents in the Mamaroneck strip.
Curriculum and Instruction
Assistant Superintendent Edgar McIntosh reviewed the budgets for curriculum and instruction. He emphasized that "students are the center" of Scarsdale Schools and outlined where funds go for teaching, curriculum improvement and assessment. This portion of the budget provides for special programs in the arts such as visiting dance performances and artists that will hopefully resume next school year. The Global Learning Alliance supports connections between Scarsdale students and international peers and the Scarsdale Teachers Institute offering staff development to Scarsdale educators. Also funded in this portion of the budget is the Center for Innovation that provides grants for the development of new programming, teacher grants for off-site workshops, meetings and conferences and sustainability initiatives like the school gardens.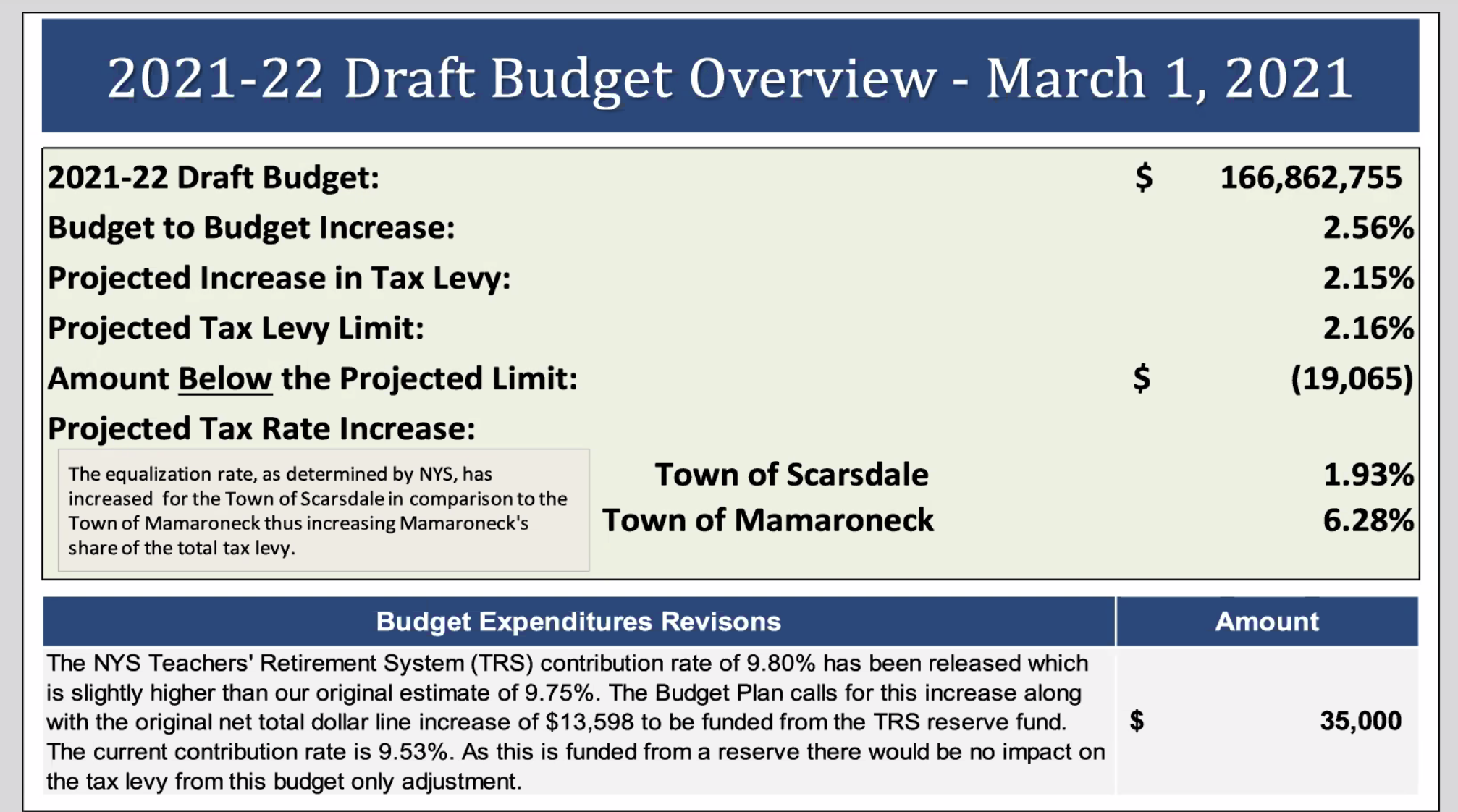 Special Education
Assistant Superintendent Eric Rauschenabach explained that the proposed Special Education budget is $693,030 above this year or a 4.41% increase. The proposed budget for teacher and instructional staff salaries as well as educational materials totals $61,514,511 which is a 1.27% increase over 20-21. Currently 23.5% of the 4,630 students in the Scarsdale Schools have either a CSE Classification of a 504 Identification. These numbers have grown steadily over the past ten years.
The budget increase will fund an additional co-teaching position for an expected section of ICT and an additional special education for the high school.
Technology
Jerry Crisci said that though technology is only 2% of the budget it touches every area of the school community.
The work of the department is to maintain and operate the organization, systems and equipment. He explained that he is dealing with a lot of uncertainty as the technology companies that provide equipment to the school have become more secretive, making it difficult to plan what will be available in the coming year. COVID has caused disruptions in the supply chain and some of the hardware the district needs is delayed up to four months. There are also unexpected price changes that make budgeting a challenge.
Crisci noted that the pandemic has accelerated the use of technology such as video conferencing for elementary school students. He believes online instruction is here to stay and will require ongoing funding.
The good news is that the district will receive a reimbursement of $75,000 from NYS for software and online services.
Facilities
The proposed plant operations budget will go up $123,928 or 1.41% and includes funding for five additional school cleaners, one for each elementary school. This budget supports the daily cleaning of just over one million square feet of building space. Also new this year is $134,000 for safety and security to purchase a district lockdown service. The grounds budget of $3,564,096 provides for the upkeep of 118 acres of grounds. The proposed budget includes $45,000 for the purchase of a truck with a plow to replace a vehicle from 2003. This budget includes funds for water testing, after the district was found to have both lead and legionella in the water supply.
The plant improvement budget of $1,015,000 is just .61% of the total budget and the lowest allocation in ten years. Since the district funded many facilities improvements through two recent bonds, there are fewer projects that require immediate attention.
For the 2021-22 school year, Assistant Superintendent Stuart Mattey plans to install LED lighting in the hallways of Edgewood and Fox Meadow Elementary Schools, do district wide roof repairs, install carbon monoxide detectors and renovated the bus compound. At Heathcote, emergency doors will be replaced, security lighting will be installed, modifications will be made for handicap accessibility to the nurse's office and the building foundation will be repaired.
At the high school, where $700,000 has been spent on upgrading the auditorium, another $485,000 will be used to purchase and install energy efficient LED lighting fixtures. The remaining work in the auditorium will need to be addressed in future budgets.
A full budget meeting presentation is planned for Monday March 8, a budget forum on March 22 and the board is expected to adopt the budget at the April 12, 2021 meeting of the Board of Education.
To Affect the Quality of the Day, that is the Highest of Arts: Interview with Village Trustee Jonathan Lewis
Details

Category: On Our Radar
Published:

03 March 2021

Written by

Joanne Wallenstein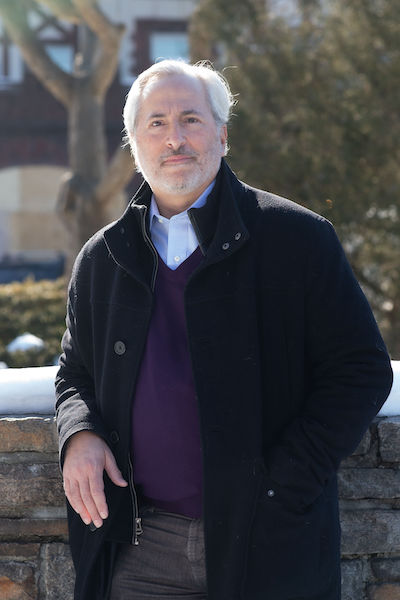 Jonathan Lewis is running for a second term for Scarsdale Village TrusteeFinancier, philanthropist, author, and community volunteer Jonathan Lewis is now running for his second term as Scarsdale Village Trustee. A former member of the Scarsdale School Board, President of the Scarsdale Forum, President of the Juvenile Diabetes Research Foundation of Westchester, and treasurer of the Phi Beta Kappa Society he is well versed in budgeting and leadership. In his interview for his first run for Village Board he said, "My father was a decorated officer in World War Two and he taught me that the most important duty in life, after taking care of your family, is service to your community. When the Citizens Nominating Committee asked me if I would consider serving as a Village Trustee, my answer was yes."
Now, two years later, and contemplating his second term on the Scarsdale Board of Trustees, Lewis shared thoughts on his experience and the state of the Village. Here is what he said:
-What have you enjoyed most about your first term?
Exchanging ideas with my fellow trustees, staff, and neighbors; sharpening policy through debate; and trying to make a difference in my hometown all make it an honor and a great life experience to serve the Village of Scarsdale as a trustee. When I was in high school, and we read Walden, I wrote down a quote that I kept in my wallet for years: "To affect the quality of the day, that is the highest of arts." That year, I asked my father to take me to visit Walden Pond for my 17th birthday, and that value and aspiration from Walden has stayed with me ever since. So, what I enjoyed most about my first term was being given the chance to affect the quality of the day in Scarsdale.
-What are some of the challenges facing the Village today?
The Village of Scarsdale entered the COVID-19 crisis with great strengths: a strong fiscal position, a highly professional staff, great neighbors and volunteers who serve on a wide range of Village committees, boards and councils, and a great brand name as a wonderful community that offers an exceptional lifestyle. During this crisis we have been tested and demonstrated resilience in how we have approached the management of the crisis. Yet, the choices we make during this crisis, and the choices the communities around us make, will likely determine who emerges from this crisis stronger, with a healthier market position, and who emerges weaker. This will impact property values, which in the long term impact our fiscal position. This is a time when we need to pivot and take the long view. Thankfully, Scarsdale is a community that is prepared for challenges and capable of addressing them.
-Do you think residents might be willing to pay a bit more to maintain services at the current level?
I am listening carefully to my neighbors when they speak at public comment. We are fortunate to have a cadre of committed neighbors who show up and share ideas with the Village Board. Yet, the small number of participants at these meetings gives me pause about offering a view on my neighbors' willingness to pay more during a great financial and humanitarian crisis. So, I stay focused on the fairness of our tax burden relative to the broader economic landscape, and the consequences of higher taxes on our relative competitive positioning versus our peer communities. It is natural that my fellow trustees and I will continue to engage in vigorous, but non-partisan debate on these issues as we try to strike the right balance. Given that so many of our neighbors in our community are suffering economically, and have experienced personal loss due to the pandemic, I think we need to try to strike a balance that leads to the lowest possible tax increase consistent with a Scarsdale quality of life.
-Sometimes it feels like a few very vocal residents are the only ones giving input to the Village Board. Do you believe that the Village hears from a representative swath of residents? How can you know if you're voting in the interest of the majority if so many are disengaged?
Our traditional Village Board meetings, and the format of these meetings with public comment periods are wonderful and they remind me of the type of New England Town Meetings that were the bedrock of building a democratic society in our nation. Yet, we only hear from a very small portion of the community at these meetings. We need to find a way to take this 17th century idea of an open town hall meeting and find a way to create a virtual town hall consistent with 21st century lifestyles. We have begun to move in that direction. The pandemic led us to conduct our meetings via Zoom, which certainly has made it easier for people to participate; yet the numbers are still very small. This leads me to conclude that this town hall format, even when it is online, has its limitations as we move deeper into the 21st century. While we will always want to maintain our traditional meeting format, we must offer new ways for neighbors to participate. Is it too futuristic to imagine a Village of Scarsdale app that everyone can download on their cellphones so we can gather information and views more broadly and rapidly to inform our discussions? I think we need to reimagine how a village government should operate in the 21st century, and how we use technology, as we think about how we build a more sustainable business model for village services.
-What do you think can be done about the Scarsdale Pool which is in need of renovations and improvements?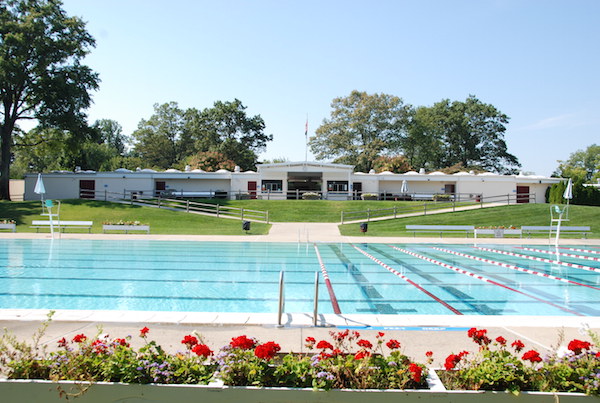 The Scarsdale Pool is a cherished community resource. I applaud the vision of our neighbors who decades ago conceived of a pool complex in harmony with nature and its surroundings, emphasizing lawns and open spaces. Yet, membership is down, the pool is no longer as financially sustainable as it has been in the past, and we need to rethink how to revitalize this great resource so it not only survives, but thrives, and draws home buyers to our community and brings happiness to our neighbors and their children. To that end, we need a strategic planning process centered on the pool, and a true market survey to understand what will make the community usage rate rise. Informed by that data, we can better understand the strategic investments we need to make to increase the competitive positioning of the pool, and as a result, Scarsdale. We likely need to make major capital improvements to achieve these goals, and we will want good data to drive those decisions.
-The Village Board made a few recommendations to reduce home bulk and sent those to the land use boards for review. We haven't heard back. What is your view of these potential changes?
I, like my fellow trustees, value private property rights. I believe it's important that we adopt reasonable measures, collaborating with our land use boards, listening to our neighbors, and staying aware of peer community regulations to ensure that we are effective in our policy objectives, maintaining the character of our community, without being overly restrictive. Finding the delicate balance between private property rights and these community quality of life objectives will always be challenging, and always be of the utmost importance. The way our Village looks, the character of our neighborhoods, is an important contributor to our Scarsdale brand and how we manage these will impact everyone's home values. That is why this issue is such an important policy matter.
-The Village Board just heard an appeal to raze a historic house which challenged the current Village preservation code. In your view can our preservation code hold up? Does it need to be strengthened?
While I cannot comment on any specific case, preservation is an important matter for our Village as are property rights. Years ago, when I was on the board of the Scarsdale Historical Society, I led and organized a Saturday morning series of family programs. These events included educating our families about our community history and our local heroes. We see this history every time we take a walk in our community, appreciate the balance between nature and development, and enjoy our parks and appreciate our historic homes. Preservation laws should evolve, our approach to preserving open spaces should evolve, just as our municipal government should evolve. We should think about more structured conversations on this subject to ensure we are always making progress.
-As a second term trustee, what issues do you hope to work on?
Jane Veron, who is running for mayor on the slate with me, has offered a valuable framework for how we should think about the future. Jane has proposed four pillars to guide our conversations and I believe these are exactly right:
Quality of Life
Infrastructure
Public Safety
Economic Revitalization
In order to execute well within those pillars, Jane has offered that we need consider how to make progress in three key areas:
Communications
Sustainability
Technology
In a second term, I would hope to contribute to how we develop this strategic framework, so we can move our approach to municipal government deep into the 21st century. Our Scarsdale School District is a national model and our Scarsdale Village government can lead as well. If we execute well in communications, we are likely to better engage our neighbors and improve the feedback loop needed to drive the conception and implementation of effective policy. From a sustainability standpoint, if we intelligently integrate sustainability concepts into our four pillars, we will become a leader in sustainability. As our municipal government reduces its carbon footprint, protects our environment, and promotes more sustainable practices in our local economy, we will thrive. This approach can have meaningful financial benefits for the Village. We are likely to make meaningful capital investments in the years ahead, some of which will likely be financed by debt issuance. Municipal investors are searching for bonds issued by municipalities with good governance, social practices, and sustainability policies. If we execute well on these plans, bonds issued by the Village of Scarsdale may not only be AAA rated by credit agencies, they could also be the ESG investment of choice for tax-efficient investors. This could potentially lower our cost of capital and improve our financial profile. From a public safety perspective, I have worked on moving forward our cybersecurity posture as public safety enters the virtual world. Thinking through how a municipality responds to the public safety threats of the 21st century, whether they are weather related, cyber related, or otherwise, is essential. I would hope to continue to contribute to those conversations in a second term as well.
-In the next few years the Village may need to raise taxes or look for other revenue sources. Is there a possibility Scarsdale will be eligible for any COVID relief from the government? Can you envision any other potential sources of revenues?
We are hopeful to receive COVID relief direct aid, yet hope is not a strategy and we cannot budget our dreams. There are a variety of possible outcomes and we may be most likely to benefit from the administration's developing infrastructure plan, which could potentially offset the costs of some of our own urgent infrastructure needs. At this time, for example, we are in the midst of developing our own strategic water infrastructure plan, both to modernize our infrastructure and to enhance its sustainability. We have sought to access state and federal support for infrastructure improvements in the past and would hope to be successful in winning grants in the future for projects like these. It's still early to know what the post-pandemic world looks like, yet we need to move forward optimistically, and that includes rethinking how we finance our municipal government. Studying how to develop Scarsdale's economic base, as more companies move out of the City, is an area we should explore to diversify our revenues. Scarsdale should be the destination of choice of entrepreneurs looking for a home for their start-ups and their small businesses.
Anything else?
Making a difference in my hometown, improving the quality of life, and ensuring the sustainability of our Village, are the reasons that I run for Village Trustee. I am impressed with the quality, experience, and stature of my fellow candidates, and I am optimistic all members of the community agree.
What Metrics Need to Be Met to Reopen Scarsdale Schools?
Details

Category: School News
Published:

02 March 2021

Written by

Joanne Wallenstein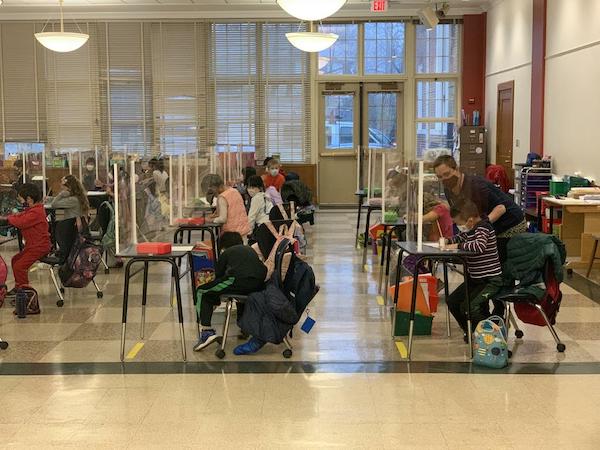 With so many neighboring districts reporting plans to re-open schools full time as well as the availability of vaccines for teachers and indications from the NYS Health Commissioner that the six foot social distancing requirement may be relaxed, many are wondering what's holding Scarsdale back from re-opening the schools?
Ardsley, Bronxville, Briarcliff, Byram Hills, Chappaqua, Dobbs Ferry, Eastchester, Harrison, Hastings on Hudson, Mt. Vernon, New Rochelle and Rye are either in school full time or have announced plans to transition to full time school in the next few weeks. In Scarsdale, elementary school students will return to school, however the Middle School is only moving to 2 days and alternate Wednesdays on March 17 and the High School is going from 2 half days to 2 full days in school on March 8.
Plastic Barriers
We learned that the district has purchased plastic partitions and thought that might be a sign that a fuller return to school was in the offing, however the information we received from Superintendent Thomas Hagerman offers no timeline and makes no guarantees. Here are responses from Hagerman received on March 1, 2021:
(Q) The parents shared the news that the district has purchased 4,200 barriers to be used for grades 3-12. Will these be installed soon or are they intended for the fall?
(A) So far we have spent approximately $180K in total for barriers as follows:
-Mid/Late Summer 2020: $53,000 - 660 barriers primarily for special education settings and one for each classroom for one on one instruction if needed. Also for offices. Prices were extremely high at this point and time was of the essence.
-Late-Fall 2020: $32,000 – 1,200 barriers for k-2 students primarily used at lunch.
-Early-Feb (on order): $93,000 – 4,200 barrier for grades 3-12 primarily to be used at lunch and instructionally as determined by teachers.
-An additional $2,000 for miscellaneous other barriers needed along the way related to all of the above
(Q) Howard Zucker has indicated that the state is re-examining the six-foot rule and says he wants to get kids back in school. Will this change the district's plans?
(A) If the NYSDOH changes the social distancing requirement to say, 3ft., this will not change plans--which has always been to get all kids back in school as soon as it is safe to do so for students and teachers--but it would certainly accelerate our timeline.
(Q) I am sure you are aware that many Westchester districts have now announced plans to fully re-open in March and April. Do you expect Scarsdale to follow suit?
Like other districts, we have been planning for a full return throughout this process. The availability of vaccinations for faculty and staff is new risk mitigation that we will believe will help us lessen six-foot social distancing and get us back into school more quickly.
Metrics
Since the beginning of the crisis, parents requested a list of required metrics that, if reached, would enable full-time school to open. Concise criteria for opening were never presented, but one fact was clear. Both the administration and the Board of Education insisted that the school's physical plant could not accommodate the full school population at six feet apart as required by the NYS Department of Health.
Social Distancing
When parents repeatedly questioned calculations that showed there was insufficient space inside the buildings, the administration invited district architect's BBS to present their plans at an 11/16/20 Board of Education meeting. At the time, Architect Kevin Walsh of BBS shared his schematics for the layout of two sample elementary school classrooms, one at Heathcote and another at Edgewood. Walsh showed desks placed six feet apart with 56 square feet of space per occupant. According to Walsh, the layout must allow for two means of egress from each classroom. For a classroom of 785 square feet, 14 students could be accommodated along with a teacher and an aid. Depending on the number of teachers and aids, an additional student or two could be added.
Relying on these calculations the board and the administration spent months claiming that this was a major hurdle for full time school.
Frustrated with the architect's analysis, Scarsdale resident Irin Israel obtained floor plans of the elementary schools and used a graphic approach to draw in the desks in the rooms. He quickly noted that desks that bordered the walls of the rooms did not need six feet of distance on the side abutting the wall, saving considerable space.
However, when he presented his renderings to the district, they failed to acknowledge his solutions. He wrote to the Board and administrations saying, "Comparing the architect's square footage method (which was used to make all layout determinations and decisions this past summer and fall) to the graphic method (which I presented on 11/9/20), the graphic method allowed for an additional 507 kids to fit in our Scarsdale schools at six-foot distancing (17% more children).
Then suddenly, on February 9, 2021 Superintendent Thomas Hagerman announced that students in grades three through five would return to school in March, following grades K-2 on November 30, 2020. This meant that the elementary schools would be fully populated with students and staff.
Explaining the change in direction, Dr. Hagerman made a distinction between six feet of social distancing and remaining "functionally six feet apart." Here is what his email said.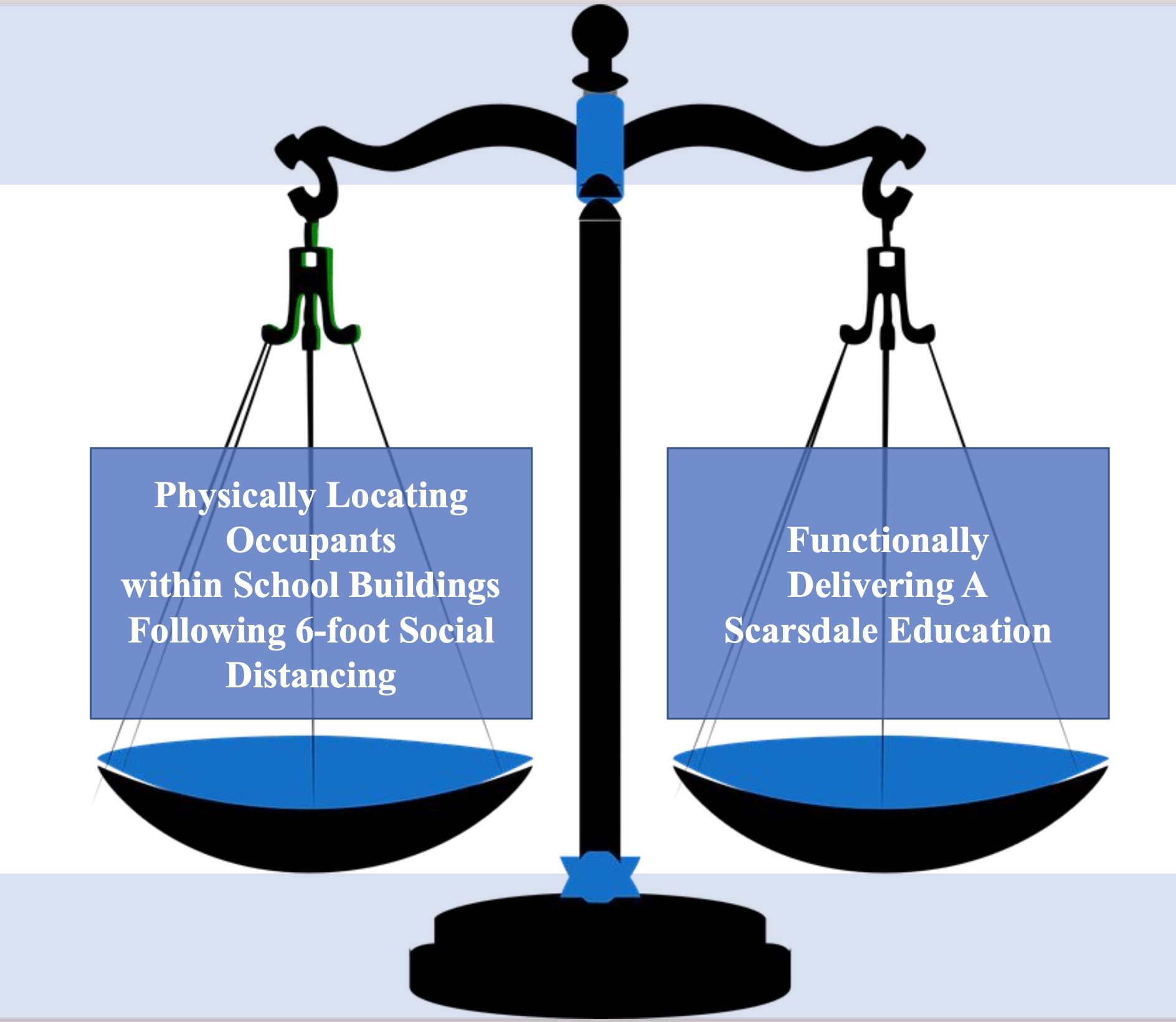 A report from District Architects BBS dated January 8, 2021 showed that the full school populations of each elementary school could safely attend school.
"Specifically, how can students fit back into our buildings when we were told they could not because of the need for six-foot social-distancing? The answer is that students could not have fit all this time and remained functionally six feet apart. The idea of social-distancing focuses on reducing the contact between all individuals in an environment. In our assessment, this concept goes beyond the measurement of six feet between desks to encompass the full range of functions necessary to run a school. The new arrangement moves from a more cautious application to accepting a purely mathematical interpretation of 6 feet of distance. This represents a fundamental change in our application of social-distancing, and, at least partially, weakens one of our core mitigation efforts. We resisted this for some time primarily because of health and safety promises we had made to the staff and community, but also because we did not have confidence in our ability to run "school" safely and effectively, given the complex intricacies of a typical day."
Now a response to a FOIL request from Israel, reveals that the district was aware that there was adequate space in the schools for all elementary school students to be social distanced at six feet. In fact, the administration received a report from district architects BBS dated January 8, 2021, that demonstrated how the rooms could be laid out to give students and teachers ample space. Why the change in the numbers?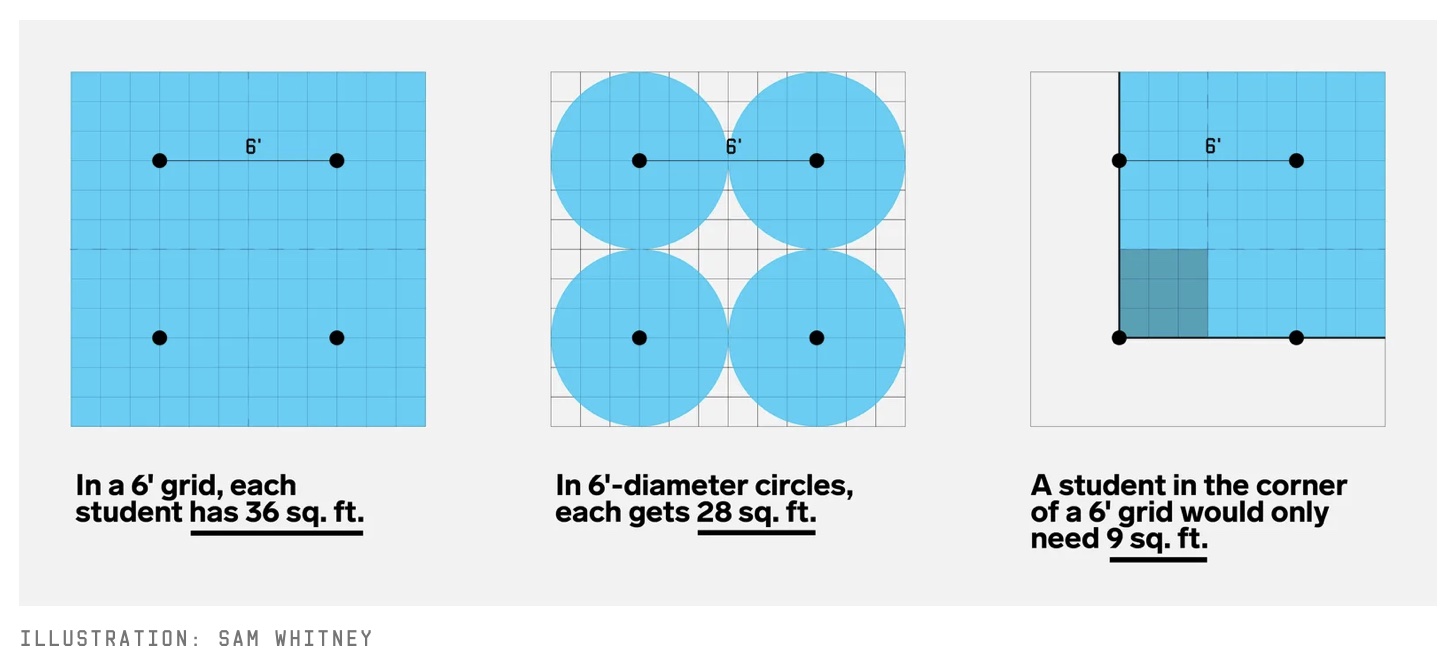 An analysis from Wired Magazine shows that 56 square feet of space per student is far more than is needed to maintain 6 feet of social distancing.It appears that the architects initially used a simple mathematical calculation to determine how many students could safely fit into schools. Architects assumed that each student would need 56 square feet of space, and they took that number, divided it by the total square footage of the school and calculated the number of people that could be safely placed in the building. That figure of 56 square feet was far higher than the 44 square feet used by neighboring districts –and 44 square feet was later determined to also be too high. See the analysis here:
In the report from the architects dated January 8, they compare the square footage method to the graphic method and determine that all students and teachers could safely attend school, and there would still be remaining open spaces. In the most extreme example, only 22 rooms at Greenacres would be needed, leaving 18 rooms including the learning commons, gym and new multipurpose rooms open for use.

January 8, 2021 analysis from BBS Architects
However, as far as we know, the administration did not share this report with the Board of Education and did not make it available to the public.
With this new information in hand, Israel shared it with Board of Education and asked the following:
1) Comparing the architect's square footage method (which was used to make all layout determinations and decisions this past summer and fall) to the graphic method (which I presented on 11/9/20), the graphic method allowed for an additional 507 kids to fit in our Scarsdale schools at six-foot distancing (17% more children).
2) 40 rooms, including some large rooms like gyms, would be unused and not needed for classes (but could be used for other purposes) even with all children fitting at six-foot distancing. 40 empty rooms.
3) Zero rooms need more than capacity (at six feet), only 12 rooms total in the 5 schools would be 100% capacity (at six feet), and 79% of rooms used would be at 80% or less of capacity (at six feet).
Basically, it's not even close.
Before you yell "density!", keep in mind that we have yet to hear any metrics of density and where the line between safe and unsafe lies.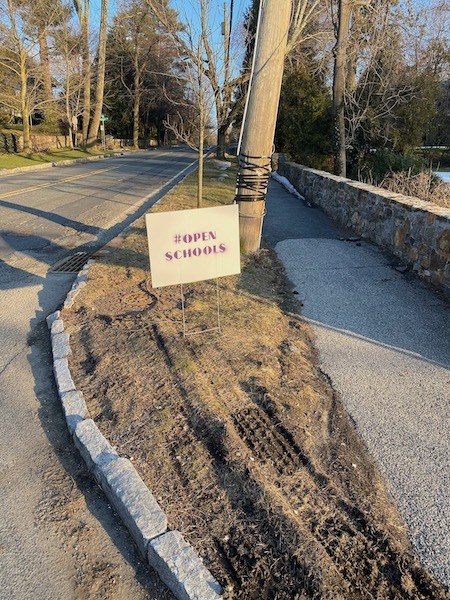 Sign on Fenimore RoadRegardless, with these drawings, while the school density would obviously increase, the density per classroom would not increase at all.
I spent much time this past fall illustrating exactly what these documents show, and here, it is unequivocally proven true: that all current in-person Scarsdale elementary children can fit full-time at six feet and have been able to fit since the beginning of the school year.
1) Is BBS Architects the correct district architect for Scarsdale? This architect has blatantly dropped the ball by using a sub-par mathematical equation to position the children in our schools. This was a simpler and less effective method, rather than doing the full work to assess the maximum capacities within the safety regulations. Their information misled the district and community and affected many critical decisions this year.
2) After denying the truth of this information, the District learned the truth on 1/8/21, yet did not share this pertinent information with the community nor the Board. In fact, I would suggest that the administration would not have revealed this information to the Board had it not been for my request, since they had not revealed it until my request was being filled 7 weeks later. This is further lack of transparency. This is information that must be used to judge the Administration's performance in attempting to follow the Board's policy directive of getting the children back into school full-time safely and according to the regulations this year. It is critical that this information be used when judging the performance of the current Superintendent and Administration this school year.
What's Next?
The district's lack of transparency, even with the Board of Education, is puzzling. Why did they conceal this information? What other factors are preventing the opening of the schools? What is the district's agreement with the teachers' union? With adequate social distancing, a supply of plastic barriers and staff vaccinations in place, what are the reasons for not reopening schools?
As the weeks go by, and many grow increasingly frustrated with ZOOM school, social isolation and fears for their children, many parents are waiting for answers.
How Much Screentime is Too Much? Here's What the Experts Say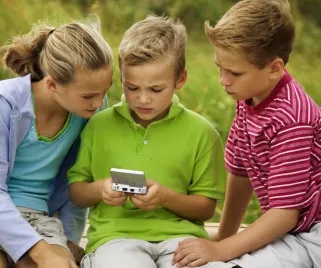 Screen time for kids has increased many-fold since the closing of schools due to COVID-19 in March of 2020. Screens have become necessary for schooling, but one of the biggest discussion points among parents is the additional time their kids are spending online for social interaction or gaming.
News headlines warn that screen time is up 500% among kids and that myopia will be the next public health problem due to screen time. But some have come to the conclusion that it's a throwaway year and have decided to let their kids use their devices at will. Should it be a concern? How much screen time is too much screen time and what techniques can parents effectively use to cut back screen time?
At the beginning of the pandemic, many parents encouraged screen time so kids could keep in touch with friends through gaming and face time. It helped keep kids busy while parents got used to working at home. "Gaming with friends seemed like such a safer option than getting together in person," said a mom of three boys. "But it began as an hour of Fortnight together and evolved into hours a day and wanting to be on with their friends all weekend long." She went on to explain that once the warmer weather hit, she expected her kids to want to see their friends outside instead of gaming with them inside, but it became a constant fight to get them to go outside or do much of anything else.
According to the Child Mind Institute, it's a good idea to ask yourself the following questions, to make a determination based on your family's circumstances of how much screen time is too much.
-Is my child getting enough sleep or is screen time affecting this?
-Is my child still spending quality time with family?
-Is my child getting daily exercise?
-Is my child keeping up with schoolwork and homework?
-Do they interact with friends and/or family while on screens?
If you answered "no" more than "yes," it may be time to place limits on screens.
I know that I have had to repeatedly remove devices from my kids' grips and have found other devices hidden in closets and under beds. Recently I found my son's phone stashed in his room in an alarmed box he wired together at Camp Invention.
Are screens affecting your familial relationships? Does your child get angry when they come off a screen? Do they seem irritable and cranky when they need to stop gaming or their time limit on Tik Tok has come to a close?
Studies have shown that screen time can cause extended release of dopamine in the brain, leading to lack of impulse control. A piece published in Journal of the International Child Neurology Association by Dr. Aric Sigman caught a lot of attention recently.
In it, he writes, "'Addiction' is a term increasingly used to describe the growing number of children engaging in a variety of different screen activities in a dependent, problematic manner." He defines screen addiction the following ways:
• Preoccupation
• Withdrawal symptoms
• Increasing tolerance
• Failure to reduce or stop screen activities
• Loss of outside interests
• Continuation despite negative consequences
• Lying about extent of use
• Use to escape adverse moods
Dr. Pam Hurst-Della Pietra, Founder and President of Children and Screens at the Institute of Digital Media and Child Development linked screen addiction or excessive screen time to lack of sleep, being reclusive and irritability. These are all signs that your child needs an adult to intervene and limit screen time. Some describe it like the "cry it out" technique used on babies to get them to sleep through the night. The first few times you limit the device the kid may freak out, but once you set and solidify boundaries and hold your ground, it will get progressively easier.
A mom from Edgemont said her kids' screen time increased during the pandemic, "…as necessitated by school demands, but the overflow into free-time use has also increased." I asked her if it was for the better (e.g. she could get work done, her kids were happy) or for the worse (e.g. worse overall behavior, lack of interpersonal relationships) and she thinks it is definitely for the worse, including for their postures. She has limits on screen time/gaming during the week and it's been successful as they don't ask for their devices. Her secret? "I confiscate them completely. Out of sight, out of mind." Where she struggles, however, is during the weekends and during breaks. "It's been hard keeping them off their devices and getting them outside for physical activity. Their moods change and they want to stay on way past their limits. They chip away at me and after working all week, I cave. And much more than before COVID. It's quick, built-in entertainment, but I think it provides little value beyond that."
The American Academy of Pediatrics (AAP) and most child health experts agree that it's more important than ever to set limits for time on screens. The AAP recommends no screen time at all for kids under 2 years of age other than face timing family and friends.
Other guidance is as follows:

-Don't make screens totally off limits
-Stay on course- set day and time limits and stick with it
-Model healthy screen use (e.g. no screens while eating)
-Consider bonus time for good behavior
-Brainstorm off-screen activities your child likes and remind child of this when screen time has ended or it's a non-screen time
-Focus on creating a balance between screens and the real world
-No screens one hour before bedtime
-Take breaks every 20 minutes so child can focus on something further away
Speaking of eyesight and focusing, myopia, or near-sightedness, does not have strong data correlating it with screen time even though it has made some headlines. However, some people do experience blurriness, eye fatigue or dry eyes after being on a screen for a long period of time.
What's the bottom line? If you're feeling guilty and think your kids are on screens too much, make an effort to revamp your guidelines. Be clear, concise and consistent with these rules. If you think your child has a true addiction and their screen time affects relationships within the family, speak to your pediatrician for guidance.
The alternative? Try it my way. Just grab the ipads, laptops, phones and chromebooks and lock them in a closet while mumbling something like, "See if you'll EVER get these back!"