Concerned Scarsdale Parents Ask BOE for More Structured Learning, Increased Transparency and Improved Communications

This letter was drafted by a varied group of concerned parents with students in each Scarsdale elementary school, SMS, and SHS who represent a consensus approach to authorship and signed on as early support for the requests in this letter. Together, this group welcomes the community to sign on as equal voices and in a collaborative spirit of support for our students.

Add your name here:

September 21, 2020

Open Letter to the Board of Education and Superintendent Thomas Hagerman:

While we acknowledge the difficulties inherent in educating Scarsdale's children during a pandemic, we respectfully express our urgent concerns about deficits we see in the opening weeks of school that we believe can and should be addressed as soon as possible.

There is insufficient structured learning time planned for Scarsdale students relative to other similarly high performing districts using hybrid plans.

1) Please work to provide more in-person, synchronized or virtual instruction to reduce deficits in covering curriculum. Especially while infection rates are relatively low, in-person schooling must be optimized.

2) All students should return to some form of synchronized instruction on at least a portion of Wednesday.

3) Like other peer districts, live streaming should be an available and broadly used tool in our toolbox. Commitment to care around student screen time should not preclude some live streaming of classrooms (simulcasting) for students at home to facilitate synchronized instruction with a goal to allow more curriculum coverage, especially for older students.

4) Please offer more structure or creative options for each student on the days/times that they are expected to work independently.
There is insufficient process transparency which contributes to mistrust between parents and the district leadership.

1) To ensure a public process for discussion of school schedules and related decisions, we ask that moving forward, the Restart Steering Committee formally report to the entire Board of Education and Superintendent.

2) The Restart Steering Committees and task forces should provide measurable goals with an updated timeline for their ongoing work to ensure broad accountability to all stakeholders.

3) Moving forward, Restart Steering Committees and task forces should publish agendas and meeting minutes, and produce working documentation of decision rationales, benchmarking against other districts in the region and our own district standards, and evaluation metrics.

There has been a lack of clear communication about rationales for restart goals with too few planned opportunities for community input and feedback.

1) As a readily available communications platform, we recommend more frequent special BOE meetings focused solely on these pandemic-related instructional issues to ensure the community can hear updates from the Superintendent. The community benefits from hearing board-level discussions and having the opportunity for public comment.

2) We recommend the District redouble efforts toward improving communications with clearer and more easy-to-navigate updates. We would welcome more frequent District and building-level parent Zoom sessions, including the opportunity for live questions and comments.

3) Peer school districts have pursued a number of different educational plans. We urge canvassing of our peers with respect to their year-opening experiences, in search of best practices.

4) Communicating the adjustments to core curricula impacted by hybrid plans must be a priority so that parents can better gauge what has been proposed and can give feedback.
5) All teachers, including in the upper levels, should communicate directly with parents about their unique approaches and plans for the school year. We understand that, especially in the upper levels, student independence is ideal but in these new circumstances, parents benefit from some inclusion in order to effectively partners from home.
Time is of the essence for our children. While challenges are unprecedented, we are counting on the Scarsdale School District to reduce the deficit as much as possible for Scarsdale students with respect to their education. They don't get this year back.
We ask for these issues to be addressed at the October 5 Board of Education meeting, if not before. We are counting on Superintendent Dr. Hagerman to execute on a vision that supports Scarsdale as a leading school district.
Candidate for Trustee Forces Scarsdale Village to Release 4,318 Resident Email Addresses
Details

Category: Around Town
Published:

12 September 2020

Written by

Joanne Wallenstein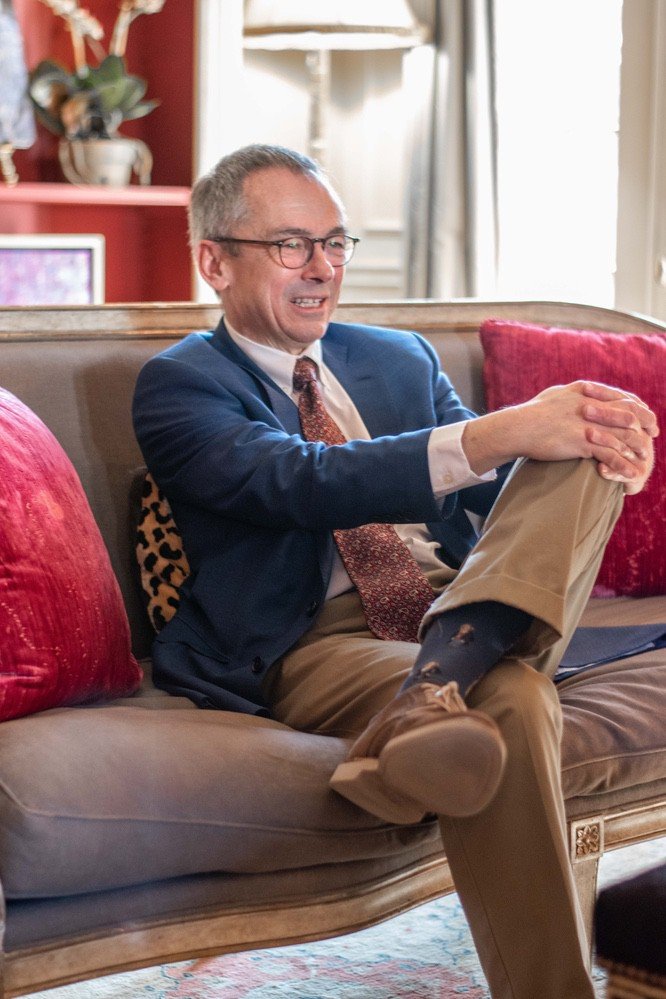 Robert Selvaggio obtained 4,318 resident email addresses after a FOIL request.After exploring all legal avenues not to comply with a FOIL request for 4,318 resident's private email addresses, the Village of Scarsdale turned over the list to resident Robert Selvaggio of Rochambeau Road on September 11, 2020.
Selvaggio, who is running for Village Trustee as a candidate for the Voter's Choice Party, filed a FOIL request in April, 2020 to receive the email addresses of all residents who were signed up on the Village's "Notify Me" communications system. The system is used to disseminate information about emergencies, storms, road closures, sanitation schedules, recreation opportunities and more. The Village built the system as a way to improve communications with residents who opted in to receive Village emails and alerts.
On April 24, Selvaggio sent the following FOIL request to Scarsdale Village Clerk Donna Conkling:
"Under the provisions of the Freedom of Information Law, I am requesting the list of email addresses of subscribers to Scarsdale's "Notify Me" system and the list of email addresses to which the "Mayoral Community Update: April 23, 2020" was addressed."
Scarsdale10583 filed a FOIL request to see Selvaggio's request.
Village managers were highly reluctant to turn over the list for many reasons. They feared that it would betray the public trust in the Village, as many residents assumed their private email addresses could not be shared. Managers feared that if residents started to receive unsolicited communications, they would opt out of the Village's Notify Me list. In addition, if Scarsdale yielded to this request, what would prevent more requests for the list from others seeking to reach Scarsdale homeowners?
According to Village Manager Steve Pappalardo, "The Village was not concerned about the requestor, but rather, on a more comprehensive basis, relative to the potential invasion of privacy and any perceived violation by the Village of the public trust. In our view, Notify Me subscribers should have a reasonable expectation of privacy when providing this contact information to the local government."
Furthermore, Pappalardo said, "We also had concerns about cyber security to the extent that making the public records available to anyone may elevate the risk of a cyber attack. And a third concern was that releasing the emails might stymie our ability to maintain or increase enrollment in Notify Me."
In order to determine if they were legally bound to release the list, the Village reached out to their attorney as well as the NYS Committee on Governance.
Pappalardo said, "Access to public records in New York State is governed by the Freedom of Information Law as adjudicated by the NYS Committee on Open Government (COG). We asked the Village Attorney to review the FOIL request and determine our ability to withhold/deny the request based on the above concerns. Based on his review of the law and pertinent case law on this point, the Attorney determined that the email addresses should be released. Subsequently we wrote to the NYS COG for a formal opinion/response. After reviewing, the COG responded that the emails should be released, citing several previous COG opinions and case law."
There was one caveat. According to Pappalardo, "The New York Public Officers Law (FOIL) Section 89.3(a) specifically provides that an agency may require a person requesting lists of names and addresses to provide a written certification that such person will not use such lists of names and addresses for solicitation or fund-raising purposes and will not sell, give or otherwise make available such lists of names and addresses to any other person for the purpose of allowing that person to use such lists of names and addresses for solicitation or fund-raising purposes. Mr. Selvaggio was asked and complied by executing, having notarized, and submitting a Certification to this effect, as written by the Village Attorney."
Will Selvaggio use the newly released list to send emails asking for votes for the Voters Choice Party candidates on Tuesday September 15? It is not clear whether the provision that bars the use of the list for "solicitations" includes campaign emails. The Oxford Dictionary defines solicitation as "the act of asking for or trying to obtain something from someone," which would seem to prohibit campaign-related emails but we won't know until the election is over on Tuesday night.
There is precedent for the decision. In a similar case about the release of the email addresses of residents in Greenburgh in 2016, an appellate court ruled that "the Town, Town Clerk and Town Board all violated the New York State Freedom of Information Law when they refused (two years ago) to disclose in electronic form, the names and email addresses of subscribers of the Town's email list so that a resident could respond to political arguments made on the Town's "gblist" by Town Supervisor Paul Feiner."
Commenting on the issue, Scarsdale Village Trustee Jane Veron said, "Yes, I am aware that the FOIL request was fulfilled today, and I think it is a regrettable result. While I am a strong proponent of open government, I believe the release of personal email addresses for private use is beyond the bounds of what is necessary to achieve transparency. I have always been determined to make government more accessible to our residents. When I joined the board, I sponsored the communications committee, and together with a diverse team, we built a user-friendly website, launched e-newsletters and implemented the Notify Me system. Every decision we made was guided by a commitment to public trust. I hope that trust endures."
Even if Selvaggio refrains from using the list to garner support in the election, it's hard to understand how forcing the release of private email addresses benefits residents in anyway, or as the Voters Choice Party political signs say makes for a "better Village."
What do you think? Share your comments below.
Parents and Students Confront Challenges of Hybrid Learning
Details

Category: Neighborhood News
Published:

21 September 2020

Written by

Joanne Wallenstein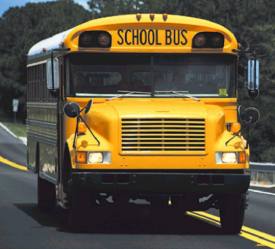 How's the reopening going at the Scarsdale Schools? According to some parents, it's been a frustrating experience. After prolonged negotiations between the district, the teachers and parents this summer, it appeared that a balance had been struck between the parent's wish for some in-person learning and teachers' desire to limit exposure to students and the virus. In order to mitigate risk, it was agreed that high school students would attend school two mornings per week, middle school students two days per week and elementary school students for two hour sessions, either mornings or afternoons, four days a week with alternating Wednesdays. For high school and middle school students, Wednesdays were set aside for professional development, tutorials and special help.
Though the agreement seemed reasonable to many, once implemented, the plan's shortcomings are irking many parents and students.
First we have heard from many that in-person teaching is limited. Even when the high school students are in school for their two mornings, their schedules are peppered with free periods and study halls. Parents are wondering why students can't have a full morning of academics for the limited time they are in class. Who needs to go to school to have a free period?
Another bone of contention is the decision to have no synchronous learning on Wednesdays, which leave students unaccountable on Tuesday nights and Wednesdays. Though there should be asynchronous learning going on, some parents have suggested that their kids can complete their assignments too quickly. They have dubbed Wednesdays, "Netflix Wednesdays" and are asking if Wednesday is the new Sunday. Other parents are asking why teachers are working fewer hours than they would work if students were in school, either in school or virtually.
Compounding the problem is that students are reporting frequent "no-shows" from their high school teachers. Without any prior announcement the teacher failed to appear.
Both parents and students are concerned that at this pace they will not learn the entire curriculum and be ill prepared for regents, SAT's, ACT's and advanced placement tests. Some teachers have set the bar low, telling the students that they plan to cover only 54% of the usual material this year. As one mom said, "When I asked for time in school for my son rather than a full virtual program, I was not told that it would mean a tradeoff of 50% of the curriculum. Had I known, we may have opted for a fully virtual program."
At a recent Board of Education meeting, multiple parents asked why the district could not livestream classes, so that students in one cohort could attend class virtually while the other cohort was in school. This would bar the need for teachers to repeat the same material twice and allow them to cover more ground. Dr. Hagerman responded to the request for livestreaming, saying that "conversations about live streaming are ongoing but that the district is mindful of the student's amount of screen time."
Parents of middle school students are finding it hard to have their children unsupervised three days a week. They say that's a long time for an eleven year-old to engage in asynchronous work and activities. Some are turning to structured programs at the Y or other private schools to keep kids occupied and learning during these long weekdays.
Another mother wondered if the real reason the district wasn't addressing these issues is that they expected a case or two of COVID to break out soon and force the entire district into a virtual program.
Meanwhile parents and students are betwixt and between, trying to find their stride in this new learning environment.
Non-Partisan Party Slate Triumphs in Village Election
Details

Category: On Our Minds
Published:

16 September 2020

Written by

Joanne Wallenstein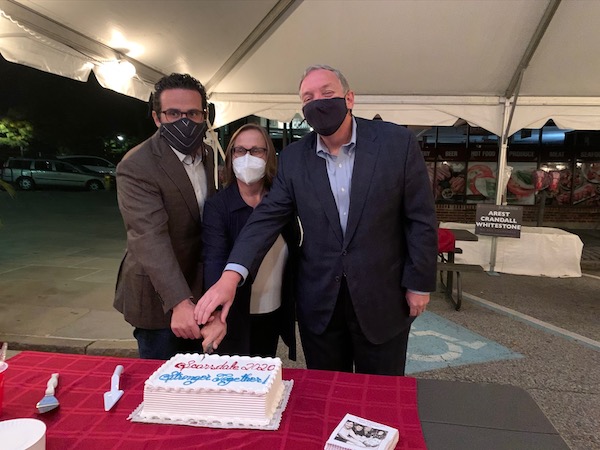 Justin Arest, Lena Crandall and Randy Whitestone were elected on Tuesday September 15After a bitter and divisive election for three seats on the Scarsdale Village Board, Scarsdale's Non-Partisan Party came out on top, defeating the Voter's Choice Party slate 2:1. Current Village Trustees Justin Arest and Lena Crandall, and first time candidate Randall Whitestone were elected to serve. They defeated Robert Berg, Sean Cohen and Robert Selvaggio, who staged an aggressive and lively campaign. Also elected was Village Justice Joaquin Alemany.
The election, originally scheduled for March 15, was delayed due to the pandemic. This delay stretched the political fight from weeks to months. Campaign signs, emails, ads, social media and letters were all employed with expenses underwritten by contributions to the two parties. The Scarsdale Non-Partisan Party campaign was led by co-chairs Dara Gruenberg and former Scarsdale Mayor Jon Mark. Mayra Kirkendall-Rodriguez, who was a founder of the Voter's Choice Party and ran for school board in May, served as the party spokeswoman for this campaign.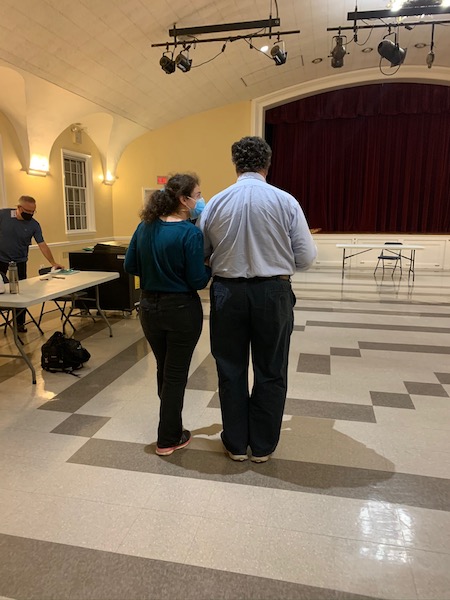 Zoe and Robert Berg awaiting the results.Commenting on the outcome, Jon Mark said, "Our team is delighted that our residents have once again shown support for our non partisan system. It's what makes Scarsdale great. Dara Gruenberg added, "We are thrilled that this community has come together to elect a slate of thoughtful, collaborative, committed candidates who understand the importance of civil dialogue and putting the community before personal interests. Thank you to everyone who helped with the campaign in big ways and in small. It all matters, and it certainly takes a Village! We are grateful for the time, commitment and support you showed. Thank you to all of the voters and to our Village Clerk and her staff, as well as the dedicated people who worked at the polls. It was a long day and a long campaign made even more challenging by COVID. We are so appreciative of everyone who helped."
The charged campaign was highly visible. The Voters Choice Party papered Scarsdale with political signs on Village property. In 2018, candidate Robert Berg sued the Village for the right to place signs in the Village right of way. The judge issued a preliminary injunction and temporary restraining order, preventing police from removing political signs posted in the right of way in front of people's homes. The party fully exploited this ruling and placed signs on public property throughout the Village.
The Voters Choice Party distributed door knockers on residents homes and even issued a FOIL request to secure the Village's file of resident email addresses, so that that could blitz resident's inboxes. Scarsdale Mayor Marc Samwick subsequently wrote letters to state legislators asking them to propose legislation that would exempt the release of personal information from FOIL requests.
Using techniques borrowed from the current national campaign for president, the VCP employed fear tactics to scare people into voting for them. They claimed that tree laws, written to protect Scarsdale's tree canopy, were putting residents at risk of getting hit by falling trees. They took credit for squashing work on a potential development project at the Freightway Garage site by spreading fear that the project would crowd schools, despite the fact that Scarsdale's school population is declining. As a result, the rusting garage remains in need of a major overhaul or replacement and taxpayers will have to foot the bill. They repeatedly claimed that the Non-Partisan party was racist and lacked diversity, though their own slate featured three white men.
It was a highly partisan campaign for a Village that prides itself on its non-partisan system of governance.
For the March 2020 election, residents had the choice of voting via absentee ballot and the Village collected hundred of ballots before the election was postponed. Residents could also vote by absentee ballot in the weeks leading up to the September 15 election, so before polls opened on September 15, the Village Clerk already had hundreds of absentee ballots.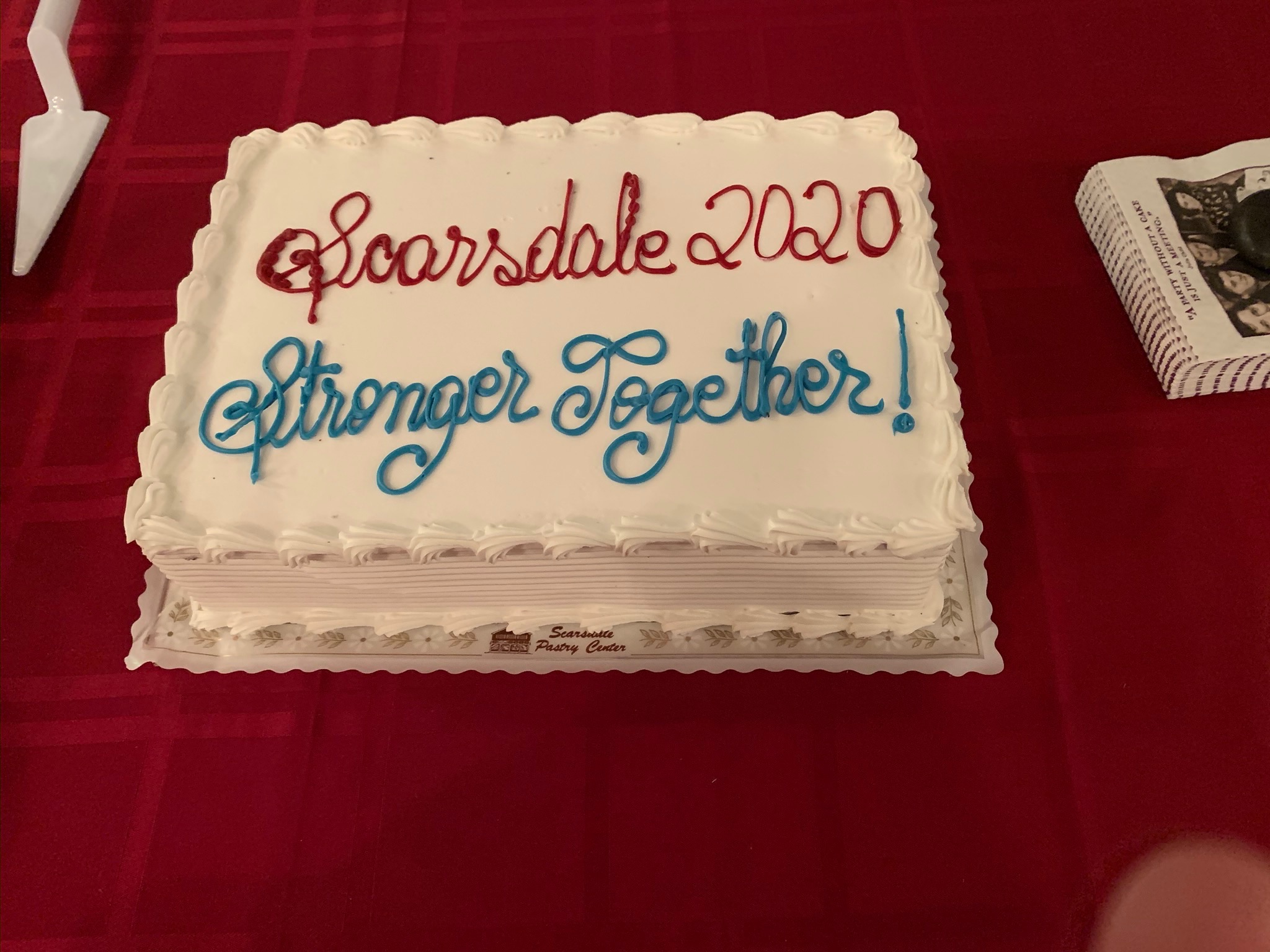 On September 15, voting took place at the Scarsdale Congregational Church and was steady throughout the day. At around 1 pm Berg himself turned up at the polling place and stayed too long. After about 25 minutes a poll worker asked him leave the room but Berg would not cooperate. When another poll watcher approached him he moved to the entryway and ultimately outside, but stayed within 100 feet of the poll, which is prohibited by law.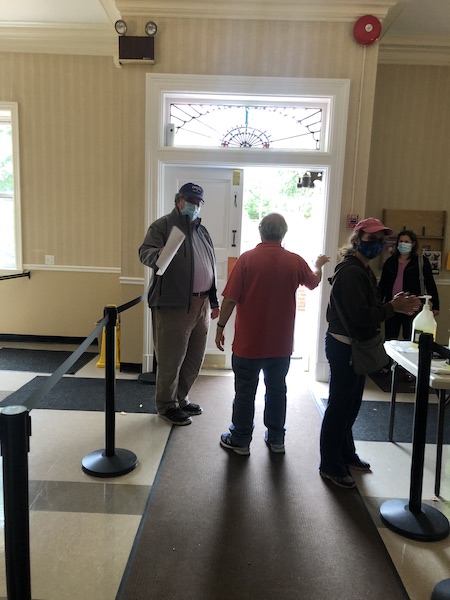 Poll worker asking Berg to leave the polling place.
When the polls closed at 9 pm, the hand counting of over 800 absentee ballots began. It wasn't until 11:30 that the results were announced by Village Clerk Donna Conkling who had been on site since 6 am.
The votes were as follows:
Total machine votes: 1,167
Total absentee ballots: 754
Total votes: 1,921
Voters Choice Party
Robert Berg 635
Sean Cohen 598
Robert Selvaggio 614
Scarsdale Non Partisan Party
Justin Arest 1,294
Lena Crandall 1,310
Randy Whitestone 1,271
Village Justice Alemany 1,468
Village Clerk Donna Conkling announced that they received 807 absentee ballots however 51 were duplicates, from non-registered voters or void and were not counted. She announced that the newly elected trustees could be sworn in as early as Friday September 18, 2020.
After the announcement was made, a quick reception was held in the dining tent in Scarsdale Village, ending past midnight.
At least for this year, Scarsdale's non-partisan system of governance withstood another challenge, primarily due to the efforts of a dedicated team of defenders.

Counting the votes. Photo by Lisa VanGundy.
Voting took place at the Scarsdale Congregational Church. Photo by Lisa VanGundy.
Legionella Bacteria Found in Middle School and Quaker Ridge Water Systems
Details

Category: School News
Published:

21 September 2020

Written by

Joanne Wallenstein

As if COVID did not pose enough of a challenge to the reopening of the Scarsdale Schools, now the district has announced that legionella bacteria, the cause of Legionnaires' disease, has been found in the water at Scarsdale Middle School and the Quaker Ridge School. An email from the district says, "The bacteria can cause a form of pneumonia that can be severe. While found in drinking water, the disease may result by breathing in or aspirating small water droplets containing a pathogenic type of legionella bacteria."
Testing at the school was conducted on September 4, but results were not reported until September 14. You can see the test results here: As a result, the district covered all water fountains and drinking stations with the exception of water stations that include UV filtration, that kills the pathogens. They will supply water bottles for drinking at both schools, and plan to replace all water fountains with UV filtration stations. According to an email from School Superintendent Dr. Thomas Hagerman, "District Food Services in the two affected schools will suspend the use of kitchen sinks at for food preparation until mitigation is complete." It's not clear how they can prepare food without water.
In order to eradicate the bacteria, the district plans to disinfect the system, flush the lines and retest. This work will be done at all seven schools.
According to Scarsdale resident and physician Darlene Lefrancois, "It is unfortunately Legionella pneumophilia, a highly pathologic strain, and per reports it was at two out of four sources at Quaker Ridge and five out of six at the Middle School, representing an extensive degree of small to moderate colonization."
She continued, "I am glad to see they are planning on regular retesting going forward, also addressed in the Sept 17th briefing. I am dismayed they didn't deal with this issue before reopening the schools. Nobody needed this and it was foreseeable. As I had guessed I think the COVID closures of school in March and low flow of the water is a contributor. Given this testing was done as part of the reopening plan it's unfortunate this was not dealt with prior to actual reopening schools for instruction."
Providing some background on the bacteria, LeFrancois said, "We have unfortunately had a number of cluster outbreaks of this disease during my tenure working as a physician in the Bronx. While there are a couple of select classes of antibiotics that can treat the disease (these do not include the B-lactam class e.g. penicillin), they are certainly not 100% effective. Mortality numbers overall are as high or even higher than for COVID-19. Immediate source control is essential to eliminate the risk and until that is achieved anyone in attendance or working at the school may be at risk of acquiring this serious infection from various water sources. Thankfully, as the briefing points out, there is no person to person spread. As an important aside, the clinical presentation can be similar to that of a typical pneumonia but is very often atypical (hence why Legionella pneumonia is considered an "atypical pneumonia"). Specifically, gastrointestinal symptoms (e.g diarrhea, vomiting) are very common and may be the predominant symptom at presentation. The community should be made aware of what to look for."
An August 27, 2020 article in the NY Times alerted the public to the risk of legionella in schools that were shutdown since March. A district in Ohio found the bacteria in five of their schools and it was detected in four schools in a district in Pennsylvania.
In order to reopen and comply with safety procedures to mitigate the risk of COVID, the Scarsdale Schools had to take many measures to alter the configuration of classrooms, install hand sanitizers and signage, purchase PPE and draft rules, regulations and procedures for to govern school attendance. Facilities Director John Trenholm retired in July which may have further stressed the administration. Testing for legionella is not part of the district's usual protocol. In an email to parents dated September 16, 2020 Dr. Hagerman explained, "Testing for legionella is not a requirement for schools and mitigation measures are not regulated. However, we decided to add this testing as part of our broader building restart plan based on the CDC recommendations outlined in the Guidance for Reopening Buildings After Prolonged Shutdown or Reduced Operation. Going forward, we will engage in regular legionella testing as part of our comprehensive environmental testing plan."
The CDC report warns about the risk of both mold and legionella in buildings that have been shutdown. It opens as follows:
"The temporary shutdown or reduced operation of a building and reductions in normal water use can create hazards for returning occupants. Two potential microbial hazards that should be considered prior to reopening after a period of building inactivity are mold and Legionella (the cause of Legionnaires' disease). For mold, a "prolonged period" may be days, weeks, or months depending upon building-specific factors, season, and weather variables. For Legionella, a "prolonged period" may be weeks or months depending on plumbing-specific factors, disinfectant residuals, water heater temperature set points, water usage patterns, and preexisting Legionella colonization."
We're not sure if the district conducted air quality reports to test for the presence of mold before the opening of school. For now, we don't see these results posted on the district website, but do know that the district committed to annual testing of both air and water quality. Here is the link to the facilities page on the district website.
Regarding legionella, in a memo to parents dated September 15, Dr. Hagerman said, "We wish this communication wasn't regarding yet another challenge to overcome, but we would rather know and be able to complete a course of mitigation than the alternative. These are challenging times indeed, and we thank you for your support as we navigate this unusual school year."