A Prom Like No Other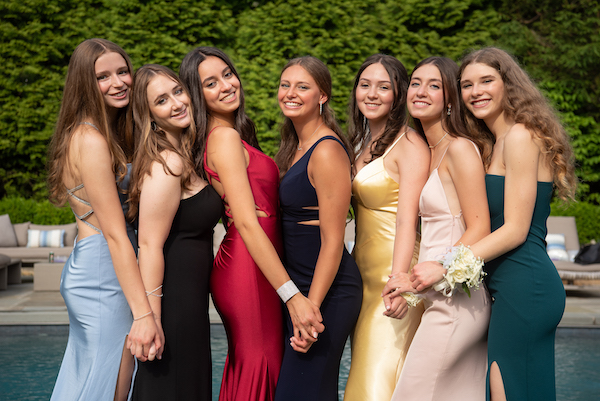 The prom must go on!
Though the circumstances were different this year, the Scarsdale High School Class of 2021 still got all dolled up to dance the night away at the Glen Island Harbor Club on Thursday, June 3.
Despite the stormy skies, the rain held out long enough for prom-goers to enjoy pre-prom celebrations outside with their friends and families. Each senior chose a dress or a suit that they felt expressed themselves, which was reflected in the variety of styles seen. The style this year was silky, bold, primary color dresses, with hair worn long and curled. All of the dresses were floor length, which in Scarsdale is a style traditionally reserved for seniors, as this year only seniors were invited, and there were suits spanning every color of the rainbow.
An added accessory this year was, of course, a mask. Some wore basic surgical masks, while some found masks to match the color of their outfit, and some people even constructed masks out of the same material as their dress.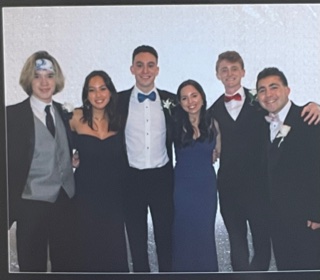 Scarsdale Varsity Skiers
The first two hours of the gala were devoted to dinner and socializing. Tables were pre-assigned, but the seniors were able to hang out with their friends from all tables. In lieu of appetizers and the typical buffet, attendees were served a three-course meal. For the final hour, everyone was invited to the dance floor where a DJ played today's top songs and some throwback hits.
While there may not have been a red carpet, or a prom bus, the pillars of the prom stood strong: seniors looked beautiful and celebrated the end of a year they will never forget.
Commenting on the successful event, SHS Assistant Principal Andrea O'Gorman said, "We were thrilled to see the Class of 2021 come together for their Senior Prom. The event was planned with thoughtfulness and care by the senior class government officers, along with their faculty advisors, Carlos Bedoya and Vinny Licciardello. Our seniors were radiant and happy and the evening was a wonderful celebration after a challenging year."
(Photo at top by Aggie Photography)
See below for pre-prom photos from local photographer Andi Schreiber:
Plus more photos by SHS grad Jamie Robelen
And more from you our readers:


Send your prom photos to scarsdalecomments@gmail.com and we will post them in our gallery.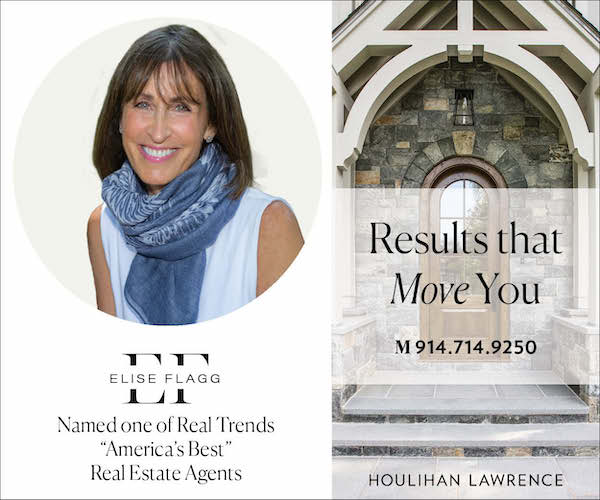 This prom photo gallery is sponsored by Elise Flagg of Houlihan Lawrence in Scarsdale.

Letter to the Editor: Cheerleaders Need Clarification on Competing this Fall
Details

Category: Parenting
Published:

15 June 2021

Written by

Felicia Block and Isabel Finegold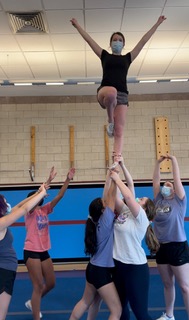 Dear Editor: By now, many in our community are aware of the story of our Scarsdale High School cheerleaders this year, but the summary, for those that do not, is simple:

-The Cheerleading team was the only Scarsdale High School team that was prohibited from competition during the 2020-2021 school year.

-While the athletes were able to fully practice, they were not cleared to compete by the Scarsdale School District due to a sentence in the American Academy of Pediatrics (AAP) guideline that states , "Face masks should not be worn for competitive cheerleading...because of the theoretical risk that the mask may get caught on objects and become a choking hazard or accidently impair vision."

-The theoretical risk was deemed a liability for the District and, therefore, the girls were not allowed to compete.

-30 neighboring schools, including Ardsley, Eastchester, Byram Hills and New Rochelle, competed during the competition season with the approval of their districts.

The result was a group of young women from Scarsdale practicing routines for competitions that they would never see. It was emotionally devastating in a time when they needed emotional support the most.

As guidelines from the Westchester County Department of Health have remained unchanged since the beginning of 2021 and the New York State and AAP guidelines continue to shift and change, the path forward for the Cheerleaders is unclear.

-AAP guidance was updated last week, but not the wording noted above for competitive cheerleading.

-AAP guidance does state that athletes can participate without masks for vaccinated individuals, but at the moment, mask wearing is still required indoors in school settings.

Nothing aligns, therefore, no guarantees are currently in place from the District for the team. The athletes and the families are confused.

In a recent email to Alice Granger, President of New York State Section 1 Cheerleading, the parent of a cheerleader inquired about incidents in New York State related to AAP guidance. In Granger's reply she stated,

"In Section 1, we had at least 30 teams compete at some point during the 2 seasons. All of those teams practiced multiple times a week and I did not hear of any instances of any problems with a mask. [In addition], I am on the state committee and cheer teams competed throughout the state. We have had a meeting since the season ended and I did not hear of any problems with the mask from around the state. The athletes had no issue with practicing, tumbling or stunting with masks."

Similarly, the coaches of the Scarsdale team noted that this year the game day and competition teams practiced after school in the spring without a mask-related incident, providing additional data that the theoretical risk associated with mask use is invalid.

Our cheerleaders, our athletes, are emotionally exhausted from living in a state of continuous uncertainty. While the fall season begins on August 23, 2021, preparations are beginning now. The cheerleaders have continued to pursue in person clinics with the coaches and private tumbling and stunting lessons at off-site locations. The summer will include our athletes perfecting stunting and tumbling skills while the coaching staff will be working with experts to procure music and choreography. The athletes and coaches deserve to know that a clear path to competition exists.

Cheer families are grateful for the support of the Scarsdale community, but need clarity from the Scarsdale School District that the team will be allowed to compete during the fall and winter seasons of 2021-2022. You can share your support for our athletes by adding your name to our list of community members that support the Scarsdale High School Cheerleaders: http://bit.ly/SupportSHScheer

Thank you,

Deirdre Angus
Felicia and Matthew Block
Isabel and Jonathan Finegold
Peter and Jennifer Godshall
Melissa Goldberg
Jaime Goodman
Yuki Hirose and Eric Brenner
Pamela Jakubowicz
Kristy and Greg O'Hare
Natalie and Jeff Reich
Ella Sosner
Batia Wiesenfeld
Debra and Matt Zik
for the parents of Scarsdale High School Cheerleading
Will Marijuana Dispensaries and Smoking Lounges Be Permitted in Scarsdale?
Details

Category: Neighborhood News
Published:

17 June 2021

Written by

Sammy Silberberg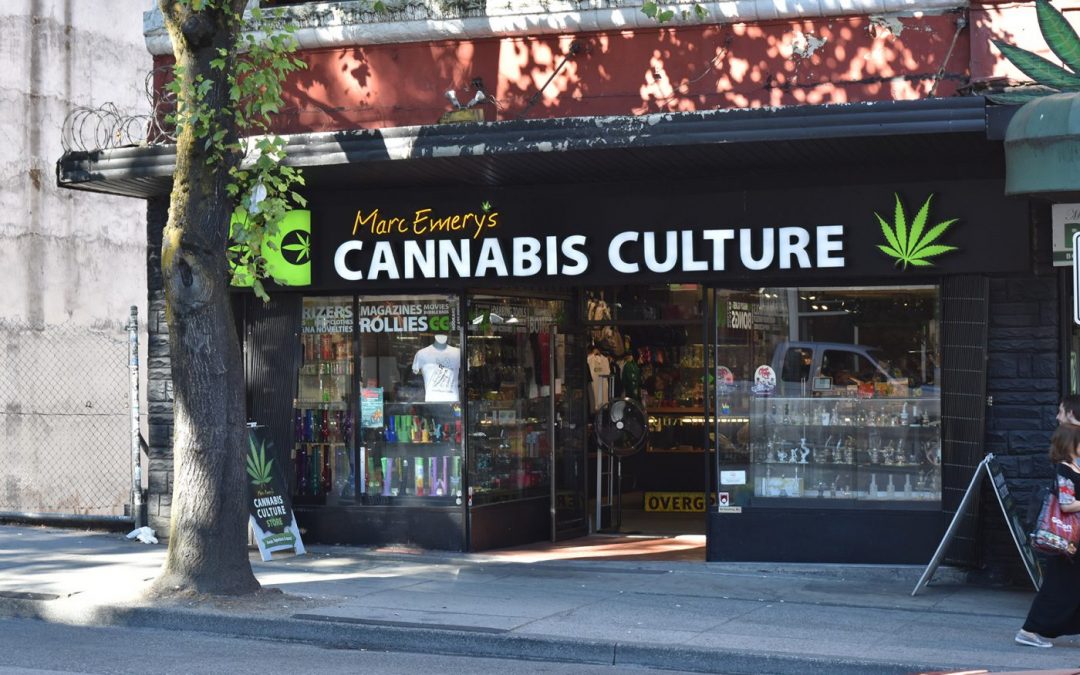 Marijuana, cannabis products, dispensaries and even smoking lounges are legal in New York State, but are they going to be a fixture in Scarsdale's future? That is a question the Board of Trustees tackled during this week's highly anticipated work session on Tuesday, June 15.
The new Marijuana Taxation and Regulation Act (MRTA) was signed into law in March 2021, legalizing the possession and use of marijuana. As of March 31, 2021, anyone over the age of 21 may possess, display, and transport up to 30 oz of cannabis and can transfer up to 3 oz of cannabis without compensation. It is also legal to use, smoke, or inject cannabis products, purchase cannabis paraphernalia, and plant or cultivate cannabis in a personal residence. You can find a complete overview of the law HERE. The framework of MRTA is similar to alcohol regulation and will be managed by the NY State Cannabis Control Board. Similar to liquor stores, sales will take place at retail dispensaries, which are anticipated to open in late 2022 or early 2023.
Public consumption of cannabis products will be treated the same as tobacco and will be banned in areas such as workplaces, food service establishments, public and private educational intuitions, commercial establishments, hospital grounds, public libraries, and indoor areas.
While most of the law's implementation is decided by the state, individual municipalities have some agency over the sale of cannabis within their borders. By December 31, 2021, towns must decide if they want to "opt-out" of the sale of cannabis by passing a local law banning the practice. If no law is adopted by that date, retail cannabis dispensaries and on-site consumption businesses can open. A municipality can also choose to allow dispensaries but not on-site consumption centers, or vice versa, if that is the preference of the community. If a town chooses to opt-out, they may repeal the provision and "opt back in" at any time. If a town opts out, it will forfeit the highly anticipated tax revenue that comes from these sales. By state law, MRTA will add a 4% tax to all retail sales, of which 1% will go to the county and 3% will go directly to the town.
If Scarsdale permits dispensaries and consumption sites, the village can govern the time, place, and manner of operation of these establishments as long as such provisions do not make the functioning of those facilities unreasonably impracticable. Local governments can also implement additional smoking and vaping restrictions on property owned by the municipality, such as parks and playgrounds. In addition, these retail shops and consumption sites cannot be located within 500 feet of school grounds or 200 feet of a house of worship.
Given these restrictions, Village Planner Greg Cutler identified only two possible sites for cannabis retail stores or on-site consumption facilities in Scarsdale. In the maps below, the orange zone represents the 200-foot buffer from houses of worship, and the red zone represents the 500-foot buffer from schools. Within these parameters, only certain areas of the Village Center and the Golden Horseshoe Shopping Center would be potential areas for these businesses to operate.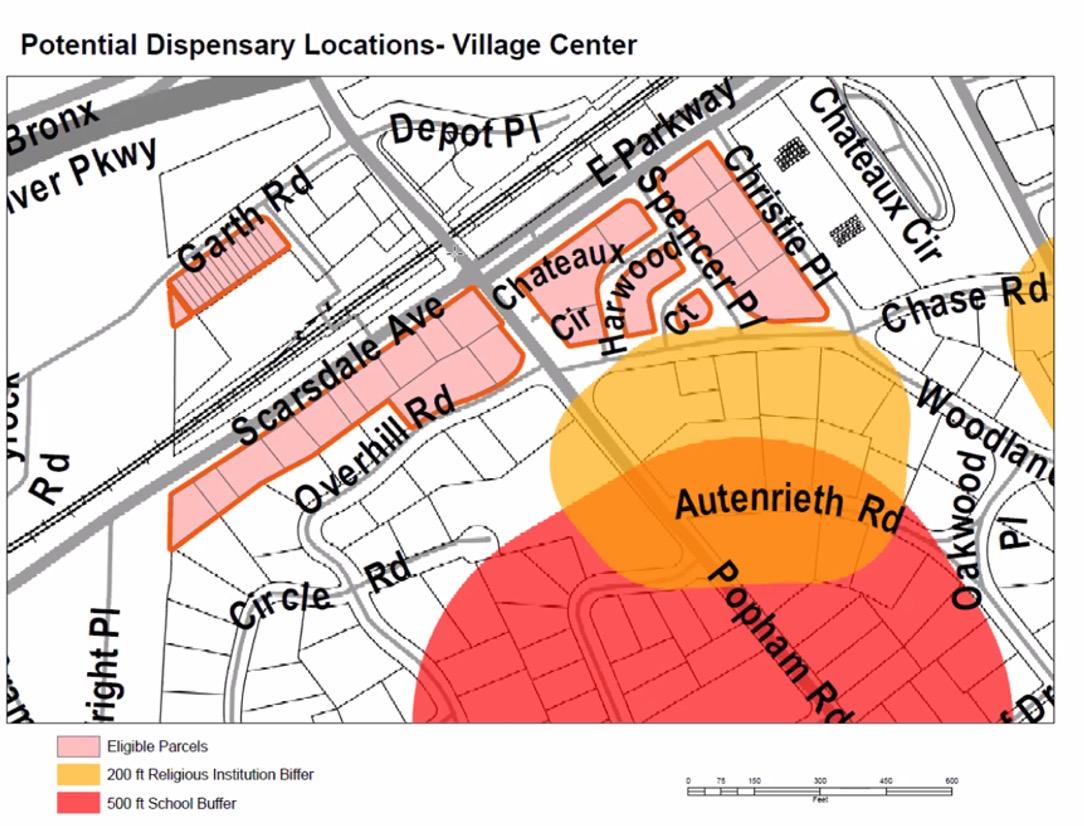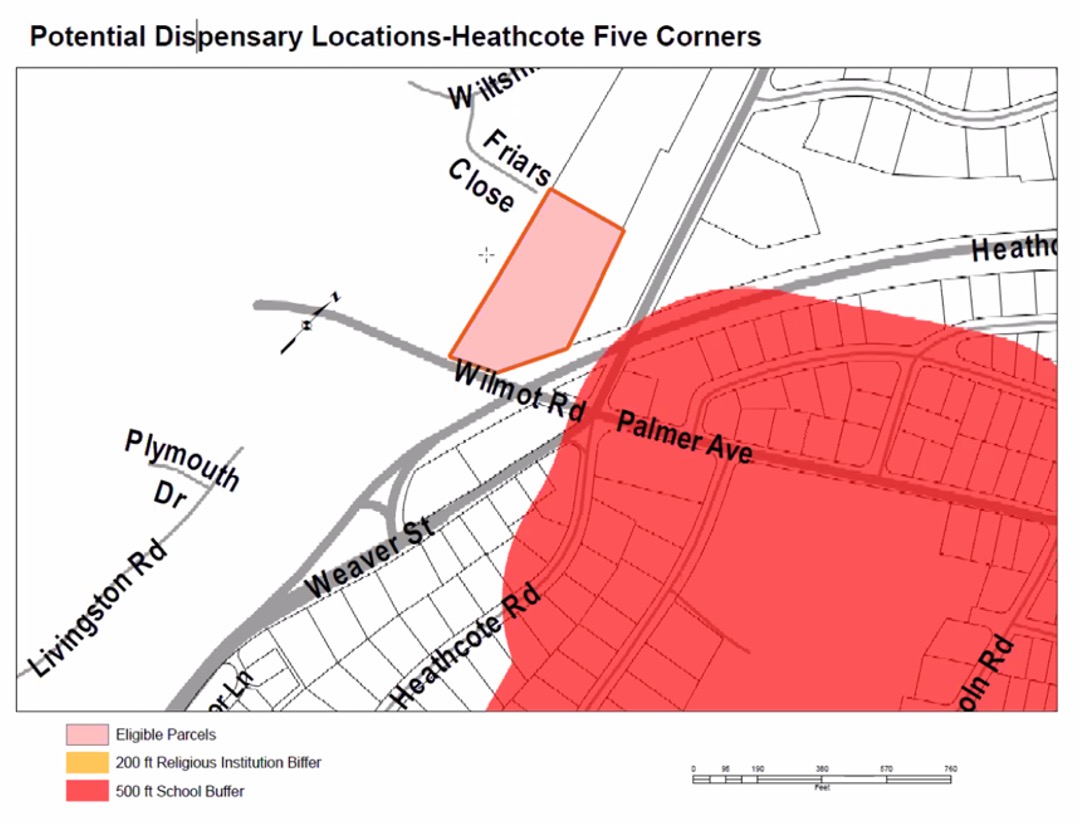 After the presentation by Village Attorney Pozin and Village Planner Cutler, Board members shared their first impressions before opening the discussion to public comment. Trustee Lewis pointed out that the village is currently facing severe fiscal challenges, and that Scarsdale could collect cannabis revenue while further restricting facility locations. He also stressed the need for the Board to consider how this issue will affect the downtown revitalization plan.
Trustee Whitestone raised his concern that substance use is increasing among teenagers. He stated that while social views on marijuana have evolved, revenue cannot be the paramount concern. Wendy Gendel, who later spoke as the Chair of the Drug and Alcohol Task Force, also emphasized the need to educate our students on the dangers of marijuana.
Sharing his thought process, Trustee Arest explained that he was originally against the idea of permitting cannabis sales. While he remains opposed to an on-site consumption facility, he now recognizes the economic value of a dispensary. Because consumption, delivery, and home-grown cannabis are legal, there is little the Board can practically do to limit the drug's use. For this reason, Arest said we must be cognizant of the possibility that other towns, such as Eastchester (on Garth Road) and New Rochelle (in parts of the Golden Horseshoe), might take advantage of this opportunity. For example, if Scarsdale opts out but New Rochelle chooses to permit dispensaries, a store could potentially open on the border of two towns and Scarsdale would not gain any of the tax revenue.
Attorney Pozin shared what he knew so far about the neighboring towns. Mamaroneck, Briar Cliff, Dobbs Ferry, Elmsford, Tuckahoe, and Rye have started scheduling public sessions to get community feedback on the issue. New Rochelle is most likely going to permit the sale of cannabis in retail shops, while Eastchester is leaning towards opting out.
Trustee Brew urged the Board and the public to keep an open mind and evaluate the situation with facts. She said, "my gut reaction was to no, and I am still in my gut thinking no to on-site consumption lounges, but I've really started opening my mind to dispensaries… I hope we can look at this with information, data, and logic rather than emotion." She later added that she would never look at the situation strictly from a financial perspective, but based on her own experience with her two daughters, "marijuana use is thriving" at SHS. She reported that rates were skyrocketing even when cannabis was illegal, so now that it is legal, it would be a safer and more secure to sell it in a licensed location that will be strict on IDs. If Scarsdale outlaws sales but a dispensary opens in a neighboring town, Trustee Brew speculated that this may increase rates of people driving while under the influence of drugs.
Trustee Crandall shared that she lost her 39-year-old brother in a car accident where a driver was under the influence of substances. She is sensitive to possible marijuana addiction and the dangers of driving while impaired, and for this reason, she is "strongly against on-site consumption." That being said, Crandall stated she is open to allowing a high-end dispensary.
Many residents spoke during public comment and voiced a wide array of opinions. Similar to Trustee Crandall, Susan Douglass declared that she is against an on-site lounge, but is open to the idea of an upscale retail establishment. Resident John Schwarz had the opposite perspective and said how dangerous drug use can be. He stressed how impressionable children are, and said that he doesn't want marijuana use to be a habit that kids witness. Mr. Schwarz also said he would rather raise our taxes by whatever it takes than permit the sale of cannabis. This sentiment was echoed by Carol Silverman, who stated that she's against all marijuana sales and that taxes should be raised to whatever extent necessary to prevent the legalization of a retail shop or consumption site.
Resident Anne Hintermeister was concerned that people will be smoking on sidewalks, outside of restaurants, and in their backyards. She worried especially that in the backyard, cannabis smoke will bother neighbors. Attorney Pozin clarified that to a large extent, streets and sidewalks are village property and the Board can regulate that. With regards to neighbors, while it may be unpleasant, legally you must treat cannabis use the same as tobacco products. While smelling a neighbor's cigarette smoke is not ideal, there is nothing the village can do to regulate it.
Resident Kevin Broom took a practical approach, and said that "however you feel about it, the state law is there." He proposed the Scarsdale align to the greatest extent possible with the surrounding communities. If neighboring towns are permitting these sales, he believes it wouldn't be practical or wise to exclude Scarsdale. Resident Andrew Sereysky had a similar thought process. He stated that "the cat is out of the bag. Pot is here. Anyone can walk down the middle of Scarsdale and smoke a joint, it's perfectly legal." He also does not think White Plains or Hartsdale will pass up this revenue opportunity, and while it is important to protect our children, we also must consider what the financial disadvantages will be if Scarsdale is one of a small number of surrounding towns to opt-out. Mayor Veron added as a clarifying point that under MRTA, the municipality would not need to pool revenue with neighboring towns, and therefore a higher portion of the tax revenue generated would go directly to the village as compared to other types of sales.
While the meeting did not end with broad consensus among the trustees or the public, the conversation was the first of many that Scarsdale will have about this topic. Cannabis sales are coming to New York soon, and Scarsdale must decide whether to opt-out of the retail system by the end of this year.
Juneteenth
At the work session, Mayor Veron recognized the significance of Juneteenth, a holiday celebrated on June 19th to mark the freedom and emancipation of African American slaves in the United States. The holiday commemorates the day in 1865 when union troops arrived in Galveston, Texas, two months after the fall of the confederacy, to enforce the emancipation proclamation and ensure that all slaves knew they were free. Mayor Veron emphasized the need to recognize the importance of this moment, honor and celebrate the day, and work towards building a better future for all.
Check Out Your Real Estate Taxes: 2021 Assessment Roll is Online
Details

Category: Around Town
Published:

08 June 2021

Written by

Joanne Wallenstein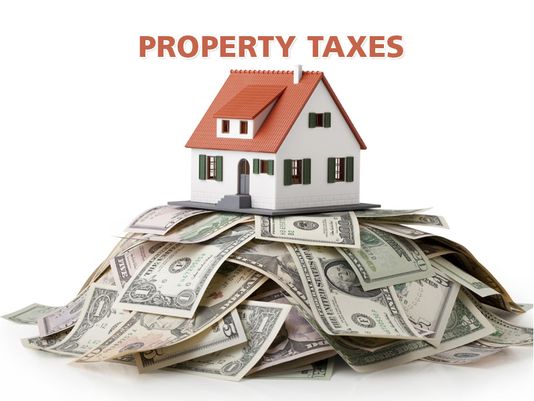 Wondering how much your real estate taxes will be next year? The Village of Scarsdale has posted the 2021 assessment roll and your can look up your home here:
If you did not do any construction on your house this past year, your assessment should remain unchanged. And this year, the equalization rate for Scarsdale is 100%, meaning that the value shown is considered the fair market value and you don't need to do any complicated math to figure out how much you will pay.
However that also means that you might not have much success filing a grievance this year. In recent months homes have been selling at far above their assessed value, so your taxes, for now, may appear reasonable.
If you do want to grieve your taxes, see a link to instructions on how to do so. You only have until June 15, 2021, so act quickly.
Here is an interpretation on the Village's 2021 assessment roll from local expert Robert Berg. He said, "This will be I believe my ninth year serving on the Board of Assessment Review. Because of an odd statistical coincidence, the State's equalization rate for the Village of Scarsdale this year is 100%. This suggests that the assessed value of a property equals its fair market value. But for most properties, that's not true. The last town-wide assessment was the highly criticized Ryan revaluation conducted in 2016 which led to several thousand property tax grievances over the subsequent years. So our current assessment roll is a hodgepodge of grieved, settled, or court-determined assessments, along with residual Ryan-era assessments. Basically, it's a mess. Moreover, because of the rather spectacular rise in market values over the past year, the assessment valuations, on average, substantially understate the fair market valuations of the properties, even using the July 1, 2020 valuation date for this year's property grievance proceedings.
What this all means is that last year was the year to file a property grievance, not this year. For most Scarsdale properties, filing a property grievance this year will be a losing proposition. My advice this year -- check your tentative assessment value. If you think it is significantly above the fair market value of your property as of July 1, 2020, then contact our Assessor, Victoria Sirota, immediately. If she has time to review your assessment, she will be happy to give you her opinion as to its appropriateness. Indeed, if she feels your property is over assessed, she likely will propose lowering your assessment. If you don't agree with her, you can still file a grievance as long as you file it on or before Grievance Day. Victoria and her staff are extremely courteous and professional, and I encourage you to contact them if you have any questions about the grievance process."
If you do want to grieve, click here for instructions and forms:
Death Investigation At Kensico Dam Park In Valhalla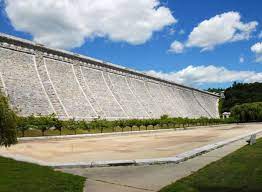 On June 18 Westchester County Police announced that they are investigating the death of a man who jumped from the Kensico Dam in Valhalla.

The deceased, a man in his late 50s, was found in the northeast corner of the plaza at Kensico Dam Park in the morning. The plaza area is adjacent to the base of the dam. EMS responded and pronounced the man dead at the scene.

His identity is being withheld pending notification to his family.

The plaza area remained closed for several hours as the investigation was conducted. Westchester County Police were assisted by the New York City Department of Environmental Protection Police Department. The dam is owned by DEP and the park property is owned by Westchester County.
Head Shop Opens in Hartsdale
Details

Category: On Our Minds
Published:

16 June 2021

Written by

Joanne Wallenstein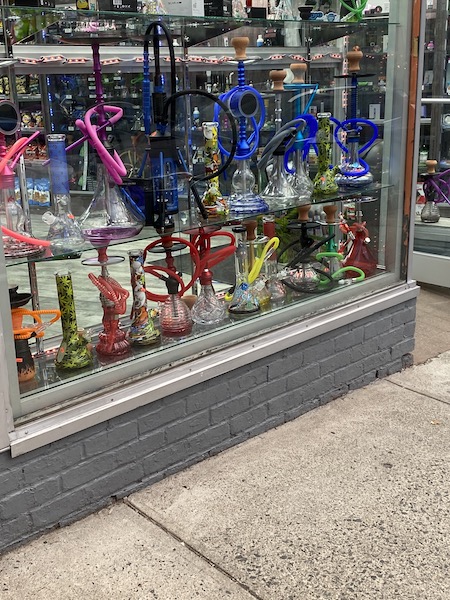 While Trustees ponder how to handle the potential for marijuana sales within the Village of Scarsdale, Hartsdale has recently become home to a new hookah and vape shop, or as we called it in the old days, a head shop.
The new store has opened at 205 East Hartsdale Avenue, smack in the middle of a shopping strip that is frequented by families and children and senior citizens. Along with a refrigerator full of cold drinks and shelves lined with snacks, the store features a large display case of hookah pipes and supplies, cigarettes of every brand, electric cigarettes, vape pens and vape juice. What else? There are CBD gummies, hemp and a full case of cigars. If it is legal to smoke it, you'll find it here.
The front window is lined with bongs and it is called "Hartsdale Tobacco and Candy," sending mixed messages to kids. The store is the owner's second location, with the first located in the Bronx.
In 2019 Scarsdale revised their Village Code to control the location of similar shops. The code prevents the sale of ENDS (e-cigarettes) within 1,000 feet of schools, nursery schools, daycare centers, houses of worship, playgrounds, parks and libraries. However, this code would not prevent the opening of a tobacco, hookah shop or marijuana dispensaries in some retail locations along Scarsdale Avenue, including Garth Road and Wilmot Road.
In the meantime, Fox Meadow and Greenacres residents who frequent Hartsdale reacted to the opening of the new smoke shop. One Greenacres mother pointed out that Hartsdale was the first place she permitted her tweens to walk to alone, and she was concerned that this shop was inappropriate. She worried about the type of clientele it might attract and the fact that it's open late at night. She feared that ultimately a store like this could "destroy the neighborhood."
A long time Greenacres resident was equally as critical of the decision to open the shop. She said, "The opposite of charming and inviting.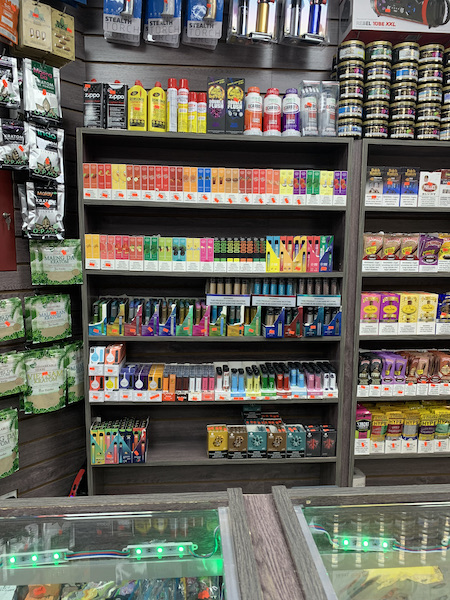 Hartsdale, with its limited and uninteresting range of retail shops, has always had trouble attracting foot traffic. This will help perpetuate that status quo and might serve to repel the suburban family set."
When she saw the shop, Andrea Seiden said "I am shocked. It's so jarring to see alluring hookah pipes next to a pizza shop in a small town that has worked so hard to revitalize itself and offer good restaurant options for families.
Another resident acknowledged the challenges of filling retail sites in our towns. Conincidentally, this week Chase Bank announced that they will close their Hartsdale branch. Pointing at an empty storefront he said, "would you rather have a vacancy or a smoke shop?"
Commenting at a Village Board work session on the sale of cannabis in Scarsdale, Andrew Sereysky said "the cat is out of the bag." Marijuana will be available in White Plains and New Rochelle, a smoke shop has already opened in Hartsdale and this is really a revenue call. We could be looking at $750,000 a year (from sales tax.)" Wendel Gendel from the Scarsdale Drug and Alcohol Task Force also commented at the work session, highlighting the risks these shops pose for local teens.
What do you think about the presence of this new retailer and how would you feel about a similar shop opening in Scarsdale?
Share your thoughts in the comments section below or email us at scarsdalecomments@gmail.com and we will add your thoughts to this article.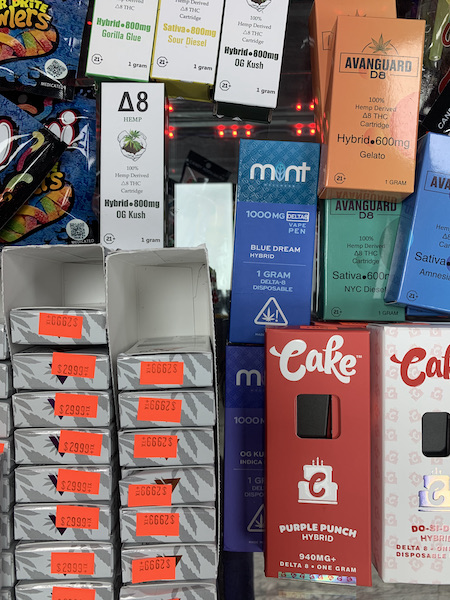 Maroon and White Celebrates Senior Athletes
Details

Category: School News
Published:

16 June 2021

Written by

Joanne Wallenstein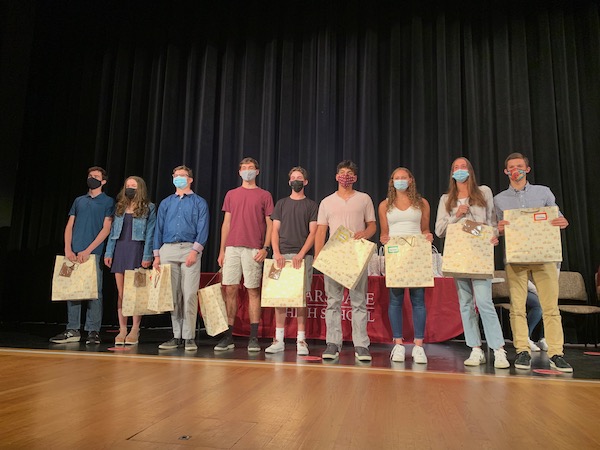 Iron man awards were given to four year, three season athletes.Though there was no barbeque this year, there was a joyous celebration for outstanding athletes and scholars in the Scarsdale High School Class of 2021 on Monday June 14, 2021. At a ceremony in the SHS auditorium, which is still adorned with plexiglass shields, Maroon and White and the high school athletic department recognized the achievements of seniors who had distinguished themselves during their high school careers
Athletic Director Ray Pappalardi and Assistant Athletic Director Joe DeCrescenzo from the high school, along with Kevin Hooey and Joe Feldman, filling in for David Alin, from Maroon and White presented the awards to the students.
Pappalardi acknowledged it was a difficult year, but was pleased that 58% of Scarsdale High School athletes were able to participate in team sports. He said, "Though we knew it would not be perfect, it was far better than the lost spring season of 2020.
Kevin Hooey thanked Maroon and White members and said that the booster organization is now in its 53 year. Their primary objective is to support Scarsdale student-athletes when certain equipment and team needs go beyond the school budget.
The first awards were given to Raider's Iron Men -- student athletes who participated in three seasons of high school sports from grades nine through twelve.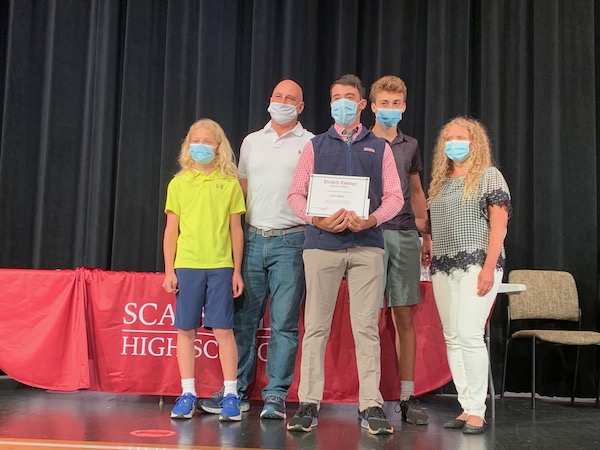 Football team manager Aaron Zoland received the Timberger Award
Receiving the Iron Man awards were:
Walter Jake Coleman
Hudson Crane
Shan Daniel
Alexa Doyle
Edward Eforo (not pictured)
Alex Friedman
Benjamin Hoexter
Bradley Kauffman
Madelyn Seltzer
Abigail Talish
Michael Waxman
Recognizing students who plan to play a sport in college, Maroon and White called out the following athletes: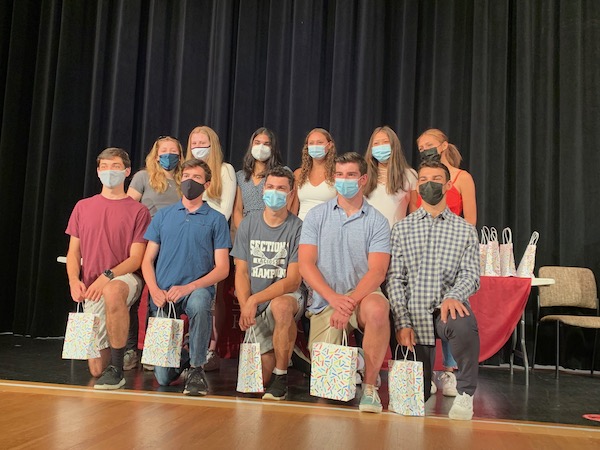 Athletes recruited to play on college teams.Charles Berridge will play golf at Berkeley
Jake Coleman will run track at UC San Diego
Shan Daniel will run track at Case Western
Justin DiSanto will swim for Bucknell
Danielle Eforo will swim at Wesleyan
Julian Higgins will play football at Case Western Reserve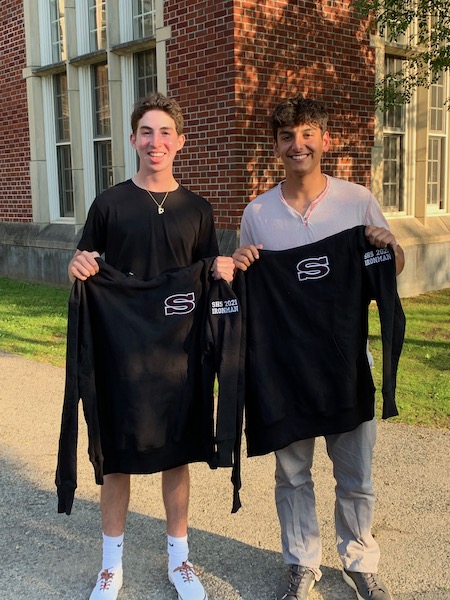 Iron men Ben Hoexter and Bradley Kauffman show off their Raiders sweatshirts.
Joy Jiang will swim at University of Pennsylvania
Brendan Knopp will play football at Franklin and Marshall
Melissa Lass will cheer at Lafayette College
Megan Lee will swim for Amherst
Steven Lee will golf for the University of Pennsylvania
Ben Miller will play football and lacrosse at Bates College
Anya Pabby will swim for NYU
Maddie Seltzer will swim and dive for Princeton
Emily Ann Tsai who will play tennis at Franklin and Marshall
Van Eer Yurami will run track at Union College.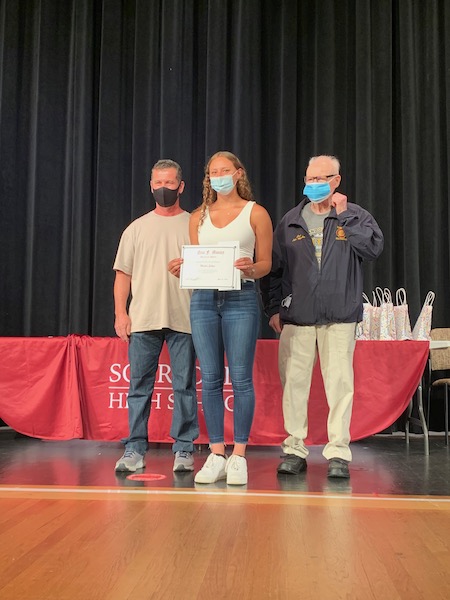 Maddy Seltzer received the Mooney AwardThey moved on to the Timberger Award, named for Elizabeth Timberger who served on the board of Maroon and White and was an enthusiastic rooter on the sideline. She died at young age. This award honors someone who help the team, whether they be a manager or a sports writer. This year, the award was given to Aaron Zoland who managed the Boys Varsity Football Team. Zoland was said to be a person of few words, always calm who was focused on the team's success and would do whatever he could to make things better for the team.
Joe Feldman presented the Nina Mooney award for Mooney who passed away at the age of 54 in 1991. According to Feldman, she lived a "boisterous, happy, existence," and had a "perpetually open house on Bradley Road. She was both "fun and feisty, and loved organizing Maroon and White events. "If you knew her you were part of her family."
The winner of the award, Maddy Seltzer, was called a team player who excelled in her individual role and as a great role model. She was a Civ Ed advisor, won the Con Edison award, and was an all-American swimmer. She graduated with a 3.8 GPA and will attend Princeton.
Kevin Hooey, surrounded by members of the Knopp family, presented the Knopp Award in honor of Mary Knopp who lived in Scarsdale for 20 years. She cheered on four sons from the sidelines and showed unwavering support for athletics as a member of Maroon and White for ten years.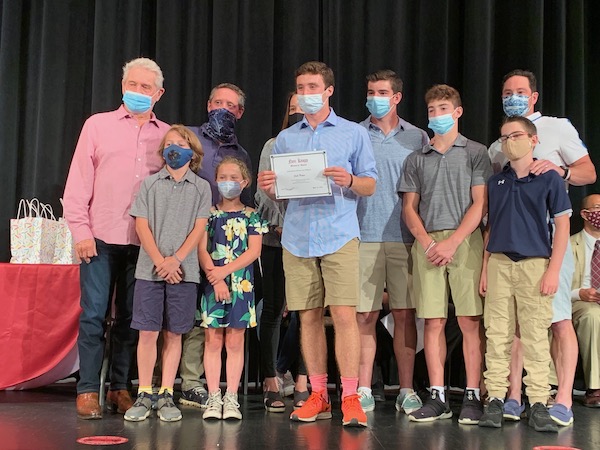 Jack Porter with the Knopp Family
The Knopp award is given to a male senior varsity player for dedication, spirit, enthusiasms, concern for others and a positive work ethic.
As it was daunting to select only one athlete, this year, two Knopp awards were given to track star Jack Porter and to Mary Knopp's grandson and football standout Brendan Knopp.
The Grant Geiger award recognized athletes who are dedicated to their sport and also dedicated to their studies. The award is given to athletes who earned a 3.5 GPA or higher. This year's awardees are Victoria Wilson and Adam Wasserman.
Ray Pappalardi presented the Athletic Director's awards, giving the Raider award to Ben Miller for his work ethic, resilience, leadership and being an athlete "anyone would want on their team." He said that Miller, "refused to lose, never quit and led by example."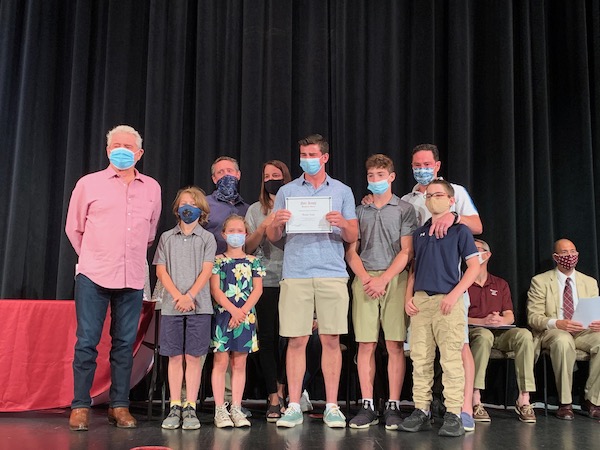 A proud moment for the Knopp family, as Brendan receives the award.Also recognized by the Athletic Department was Scarsdale Tennis Team captain Zoe Tucker, for embracing the role of captain and getting along with everyone.
The Peppers award, named for former SHS Assistant Principal Sue Peppers and her husband Jerry who raised four girls in Scarsdale is given to a male and a female athlete who is a team player with strong academics. This year's winner was Abigail Talish, who graduates with a 4.1 GPA, is a national merit finalist and a three sport team captain. On the basketball team she was a starter for three years and led the team. She will attend Columbia University.
Michael Waxman, a three season athlete and President of the Scarsdale High School student body took home the Peppers Award as well. He was described as "kind, caring, disciplined, polite and a great kid to have on the team." With a 4.1 average he is in the honors society and won the Principal's Award. He will attend Harvard University.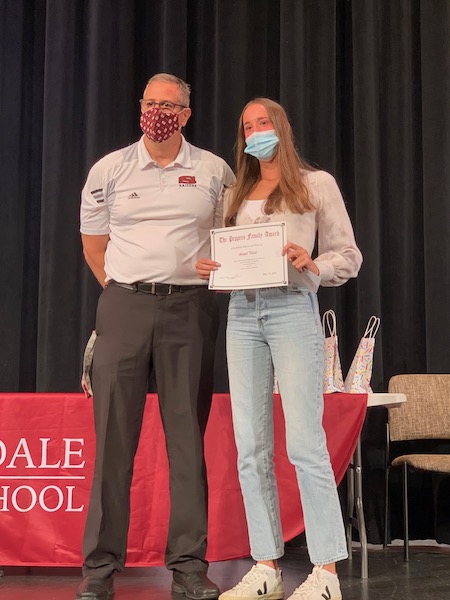 Athlete and honor student Abigail Talish with the Peppers Award
Though Maroon and White did not have the chance to honor all the spring athletes this year, they were pleased to be able to hold the ceremony and carry on this SHS tradition.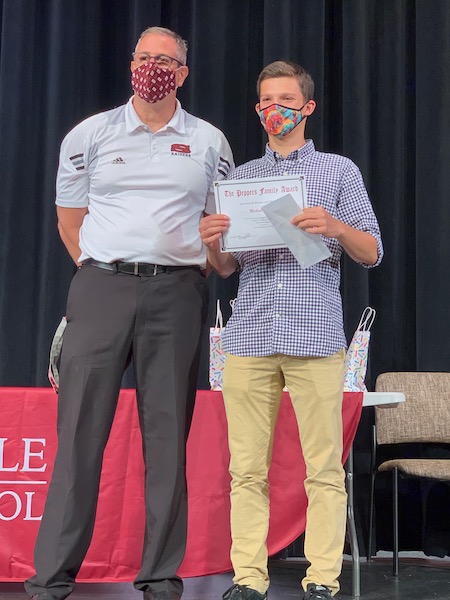 School President, three season athlete and Harvard bound Michael Waxman won the Peppers Award.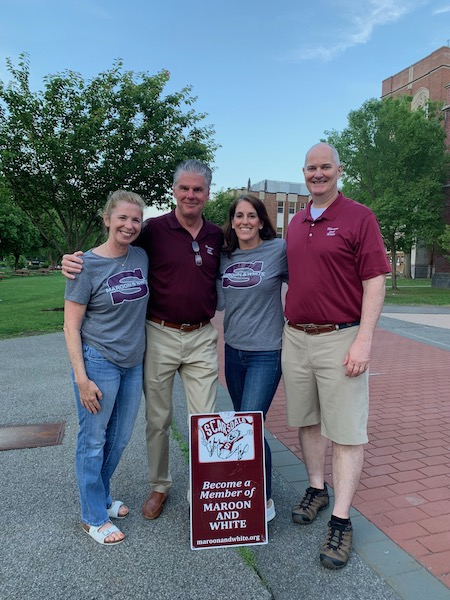 Deb Franco, Kevin Hooey and Kate and Matt Conlan from Maroon and White