Update on Serious Accident on Brewster Road: Occupants Thrown from Car
Details

Category: Today's News
Published:

12 January 2021

Written by

Joanne Wallenstein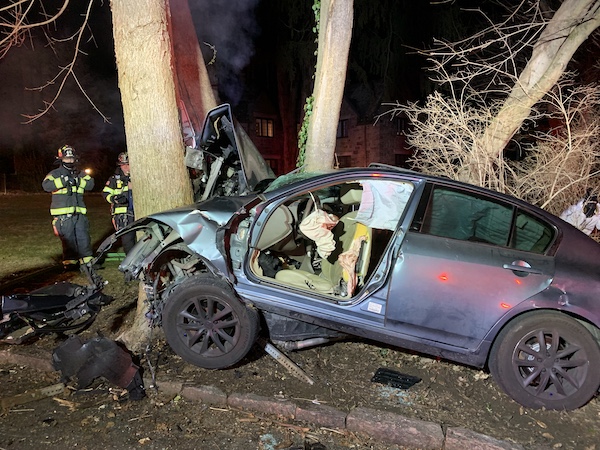 (Updated January 13, 2021)

This in from the Scarsdale Police:
On January 11, 2020 at approximately 6:53 PM, the Scarsdale Police Department responded to a report of a serious automobile accident on Brewster Road just north of Olmsted Road involving a single vehicle that struck a tree. Upon arrival of the police, it appeared that two occupants were ejected. The Scarsdale Fire Department removed the other three occupants from the vehicle--
The five occupants of the vehicle were treated for various injuries at the scene by paramedics from the Scarsdale Volunteer Ambulance Corps with assistance from Eastchester, Harrison, and Larchmont Volunteer Ambulance Corps and were immediately transported to the Westchester Medical Center for treatment. At this time, their conditions are unknown, however, according to police, there were no fatalities.
On January 13, Police reported that the five occupants from the car included the following:
-The driver is a 17 year-old male from Elmsford
-The occupants are an 18 year-old male and a 19 year old male from Elmsford, an 18 year old female from Scarsdale and a 17 year old female from White Plains.

As of January 13, 2021 there was no update on their conditions.
The car was not registered to a Scarsdale address.
The Scarsdale Police Department was assisted at the accident scene by the Westchester County Police Accident Investigation Unit. The accident is currently under investigation. No other details are available at this time. Updated information will be released as the investigation progresses.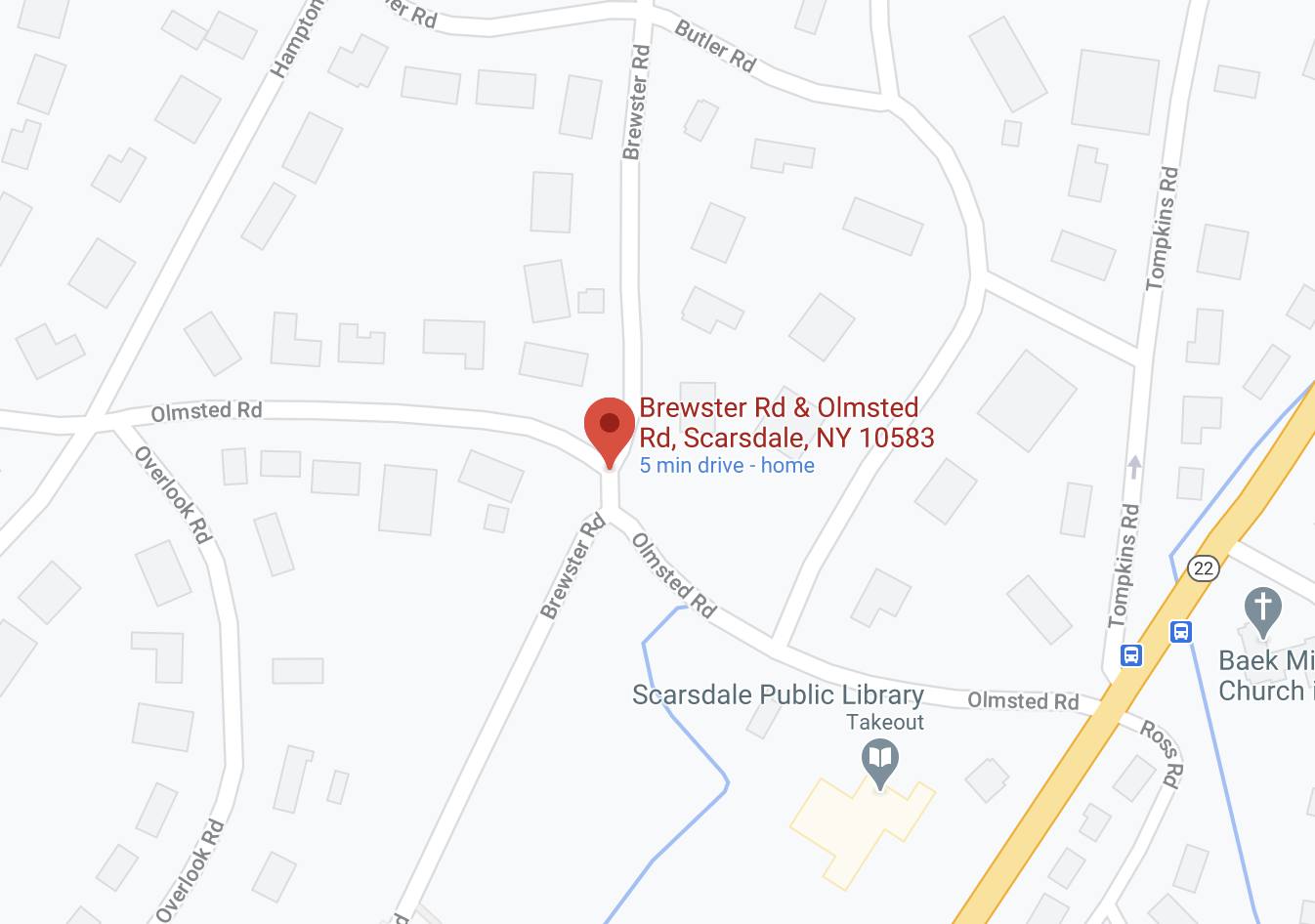 School Board Nominating Committee Announces Election Results
Details

Category: On Our Minds
Published:

13 January 2021

Written by

Joanne Wallenstein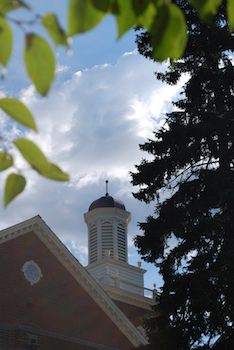 Eleven candidates have been elected to join the Scarsdale School Board Nominating Committee for 2021. The following candidates were elected:
Edgewood – Alan Meizlik and Valerie Phillips
Fox Meadow – Zachary Altschuler and Lauren Kitain
Greenacres – David Fenigstein and Jennifer Teigman
Heathcote – Lauren Breslow Hammer and Jennifer Goldfarb
Quaker Ridge – Stephanie Israel, Stacey Strauss and Mauri Zemachson
A total of 555 votes were cast in the election, all by mail-in ballot.
Vote totals by neighborhood were as follows:
Edgewood – 119
Fox Meadow – 151
Greenacres – 149
Heathcote – 32
Quaker Ridge – 104
This year's new SBNC members will join the continuing members of the committee, each serving a three-year term on the SBNC followed by a 2-year term as part of the SBNC Administrative Committee.
The SBNC will have its first meeting on January 24, 2021, and by the end of March it will nominate two candidates for the Scarsdale Board of Education to fill the seats currently held by Pamela Fuehrer (completing her second term on the Board of Education) and Alison Singer (completing her first term). All Scarsdale residents are welcome to propose Board of Education candidates to the SBNC chair at sbncchair@gmail.com. The SBNC Board of Education candidates, along with any other candidates who may choose to run, will stand for public election May 18, 2021 at the same time as the school budget vote.
Paulin Honors Heathcote as a Blue Ribbon School
Details

Category: School News
Published:

19 January 2021

Written by

Joanne Wallenstein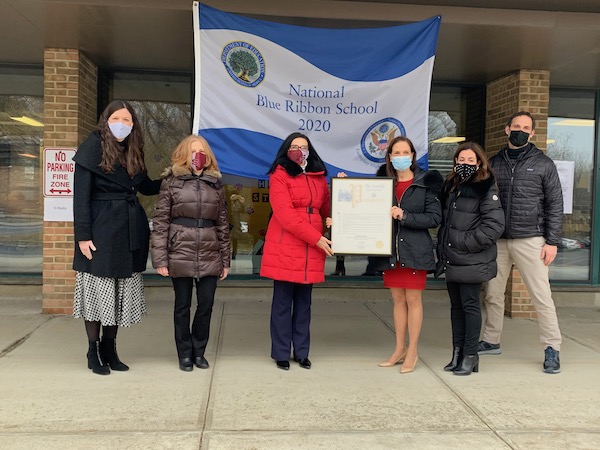 Among news of COVID testing, quarantines and remote learning, comes something to celebrate. Heathcote Elementary School was named a 2020 Blue Ribbon School by the U.S. Department of Education. On Friday January 15, educators and parents gathered outside the school to receive a proclamation noting this achievement from the office of State Assemblywoman Amy Paulin.
Above see a photo of school administrators and PTA leaders celebrating this honor. From left to right, find, PTA President-Elect Carrie Parker, Assistant Principal Katherine de la Garza, Principal Maria Stiles, Assemblywoman Amy Paulin, PTA Prresident Jessice Rosenberg and Assistant Superintendent of Curriculum, Instruction and Assessment Edgar McIntosh.
Heathcote was among four Westchester Schools who were honored in 2020, including Byram Hills High School, Dobbs Ferry High School and Dows Lane Elementary School in Irvington.
The National Blue Ribbon Schools Program recognizes outstanding public and non-public schools, celebrating school excellence, turnaround stories, and closing subgroup achievement gaps. The program recognizes public schools including charter schools, magnet/choice schools, Title I schools, and non-public schools including parochial and independent schools. They are urban, suburban, and rural, large and small, traditional and innovative, and serve students of every social, economic, and ethnic background.
Why Heathcote Elementary School? According to the Blue Ribbon website, "Heathcote School was a model of the modern campus-style that was coming into vogue when McCall's magazine gave it national coverage in 1955. It was built as a translation of educational theory into architecture, based on a humanist approach. Constructed on a rolling hilltop of twenty-two acres, Heathcote dramatizes an indoor/outdoor relationship. Heathcote's unique features begin with a one-level structure that provides grade-specific classroom clusters with a little-schoolhouse atmosphere."
"Programs such as Peer Mediation, STEAM-Maker Space, Circle of Friends, and Citizens of the Week, foster our students' abilities to independently, think, question, and reflect. Heathcote strives to create a nurturing and safe learning environment where all students are free to take risks. We endeavor to promote an understanding and respect for diversity.
Heathcote has a very active parent body that supports such programs as Learning to Look, Artist in Residency, School Play, and After-School Programs. Our students make use of the natural beauty and opportunity offered by our grounds to enrich their academic pursuits. Grades K-5 participates in our gardening program, which enriches our math, science, and social studies curriculum with hands-on garden to table experiences. Love of learning inspires Heathcote's ultimate goal of creating a community of lifelong learners, who are independent, critical thinkers with a social conscience."
Michelle Lichtenberg to Receive the 2021 Scarsdale Bowl
Details

Category: On Our Radar
Published:

12 January 2021

Written by

Joanne Wallenstein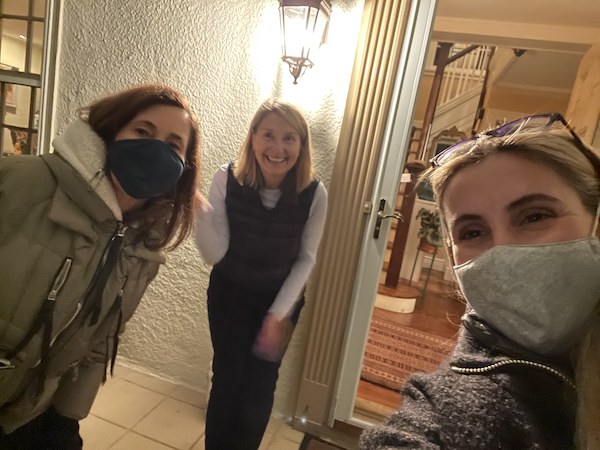 (This note was sent to Scarsdale10583 from the Scarsdale 2021 Bowl Committee)
Michelle Lichtenberg, an extraordinary Scarsdale resident with decades of dedication to Scarsdale volunteerism, will be the 2021 recipient of the community's highest award: the Scarsdale Bowl, which has been awarded annually since 1943 to "one who has given unselfishly of time, energy, and effort to the civic welfare of the community."
The Bowl Committee, a diverse group of 15 community volunteers, selects the recipient after reviewing many worthy candidates who are nominated annually by the community. This past Sunday evening, the 2021 Bowl Committee voted to honor Ms. Lichtenberg. Afterwards, Bowl Committee Chair Nancy Michaels and Secretary/Treasurer Abby Sroka surprised her in person with the news, to which a shocked Ms. Lichtenberg responded with characteristic modesty, "I am honored and overwhelmed." Then she added, demonstrating her reliable sense of humor: "and a little terrified!"
Reflecting on the significance of the Bowl Award, the honoree emphasized her gratitude to the many Scarsdale volunteers she had met and worked with along the way, and who contribute to the dynamic community that is Scarsdale. She expressed her heartfelt thanks, saying that "one of the sweet things about living here is the spirit of volunteerism, and all that can be accomplished together, especially in light of the acts we have witnessed recently," said Ms. Lichtenberg. "We have to hold on to these things, or the world gets too dark."
"I am so proud to chair the Scarsdale Bowl Committee as we select such an outstanding honoree," said Nancy Michaels. "Michelle is devoted to the Scarsdale community, volunteering her time and energy to numerous and varied organizations, always with her wonderful sense of humor, smile, and thoughtfulness. She is eager to bring people in, and to connect them with the issues or people that would strike a chord. Michelle hasn't just served on multiple boards and committees in town--she pushes for change that makes for a better Scarsdale, and she gets results."
Ms. Lichtenberg began her volunteer work in Scarsdale at the schools with a series of PTA leadership roles at Greenacres, the Scarsdale Middle School, and at the High School. Under her leadership in 2003, the High School PTA tamped down pre-prom parties where kids would often get intoxicated, and instead instituted the now-beloved Red Carpet tradition, where students gather at SHS with their families and community members to take photos and board waiting buses.
Since then, Ms. Lichtenberg has led the Scarsdale League of Women Voters, been a member of the Scarsdale School Board Nominating Committee, co-chaired the Scarsdale Task Force on Drugs and Alcohol, and been an active member of the Friends of Scarsdale Parks, Scarsdale-Edgemont Family Counseling, and the Scarsdale Forum. She has also chaired the Scarsdale Procedure Committee, which administers the annual non-partisan elections in town, as well as the Council on Human Relations. Perhaps most significantly, in recent years, Ms. Lichtenberg, a former Scarsdale Public Library Trustee and President, has been a major force in the reimagining of the Library, playing a crucial role in the fundraising effort, serving on the Capital Campaign and Major Gifts committees, while also participating enthusiastically as a member of the Friends of the Scarsdale Library Board. "Michelle's unwavering commitment to seeing the project through to fruition, along with her ability to build teams and provide support, was remarkable and will have a lasting impact on this community for generations," says Dara Gruenberg, who co-chaired the Library's capital campaign.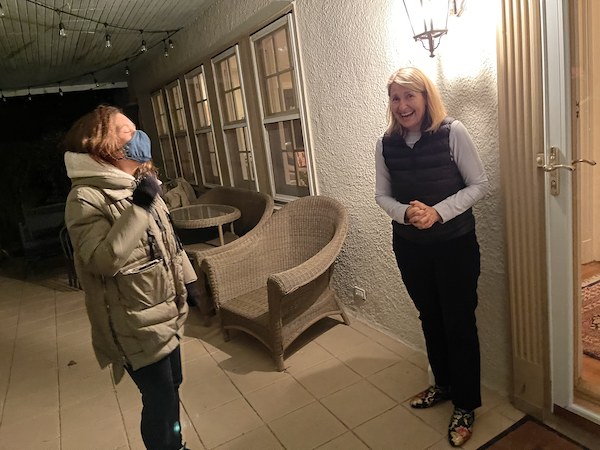 Nancy Michaels and Michelle Lichtenberg
As if that's not enough, Ms. Lichtenberg is a member of the Greenacres Association, has been a Scarsdale Foundation Trustee since 2017, a STEP board member since 2009, and served on the Scarsdale Citizens Nominating Committee, where she is currently on the Procedure Committee. Also a board member of the Scarsdale Adult School since 2015, and an active volunteer at White Plains Hospital, Ms. Lichtenberg normally visits critically ill patients in the hospital's cancer center on a weekly basis, something that is not permitted currently due to Covid, and is working toward her accreditation in Healing Touch therapy.
A new grandmother, Ms. Lichtenberg delights in her family. Her sons Andrew and Alec both graduated from Scarsdale High School. Andrew, an attorney, his wife Michelle, and their baby daughter, Lila, live in Brooklyn, and Alec, a teacher, lives in Queens with his partner Natasha. Michelle relishes weekly trips to Brooklyn to hang out with Lila, loves to travel to far-flung places (during non-Covid times), and enjoys bike rides with her husband Frank, who is a Columbia Business School professor. On any given Sunday, they all might be found on the Lichtenbergs' front porch taking part in a family drum circle.
Since the traditional celebratory dinner is not possible given the pandemic, Ms. Lichtenberg will be honored at a small private outdoor reception this spring. Assuming the current health crisis has passed, the Scarsdale Foundation Bowl Dinner will be back, bigger than ever, in 2022. On April 28, 2022--please save that date!--we hope to gather in force to raise a glass to the spirit of volunteerism in Scarsdale by honoring not only Ms. Lichtenberg, but also 2020 Bowl recipients BK Munguia and Jon Mark, as well as spotlighting the future 2022 Bowl recipient. The entire community will be invited to come out to celebrate on that special evening! Hopefully we will have an unmasked ball!
(Pictured at top) Bowl Committee Chair Nancy Michaels, 2021 Scarsdale Bowl Honoree Michelle Lichtenberg, Bowl Committee Secretary/Treasurer Abby Sroka
Negotiations Between United Healthcare and Montefiore Health System Break Down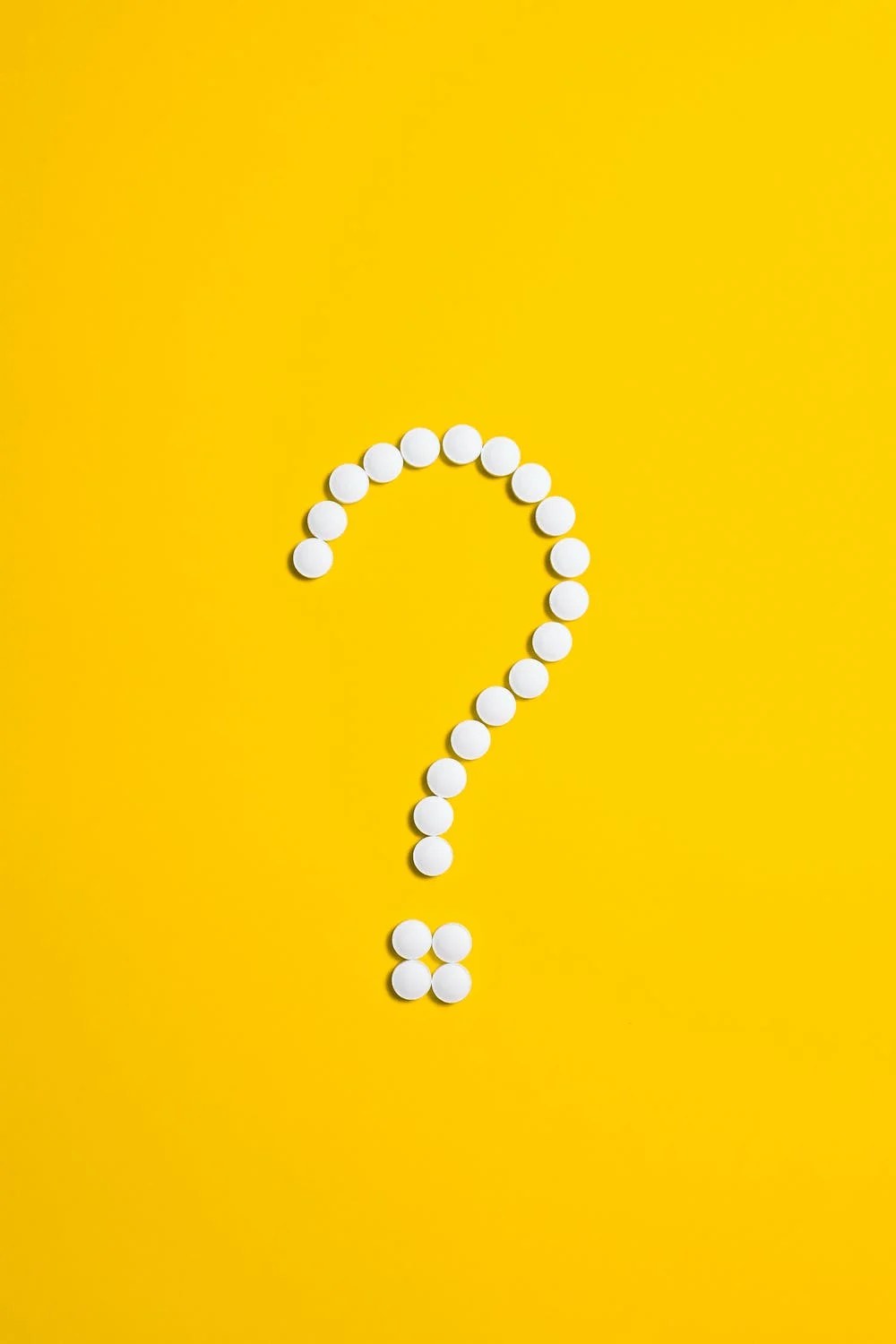 Many patients in our area have received letters from both United Healthcare and the Montefiore Health system (that includes White Plains Hospital) about their failure to reach an agreement for 2021. As a result, all Montefiore hospitals and physicians are out of network as of January 1, 2021 for employer-sponsored and individual plans, including Oxford, as well as their Medicaid plan, effective Jan. 1, 2021. But consistent with state regulations, members enrolled in fully insured commercial plans and United's Medicaid plan will continue to have in-network access to Montefiore's hospitals through Feb. 28, 2021.
Why?
United claims that Montefiore is the city's most expensive health system and they are demanding a 30% price hike over the next three years. In addition hospital reimbursement rates at Moses and Einstein campuses are higher than any other hospitals in the state. The insurer says, "The demand to increase Montefiore's already high rates is unreasonable at a time when so many people and employers are struggling and would lead to higher premiums and out of pocket costs." They say that these rates would require United to pay fees that are five times Medicare reimbursement rates. As Montefiore received more than $1 billion in federal aid during the pandemic United argues these funds should be used to reduce fees for patients.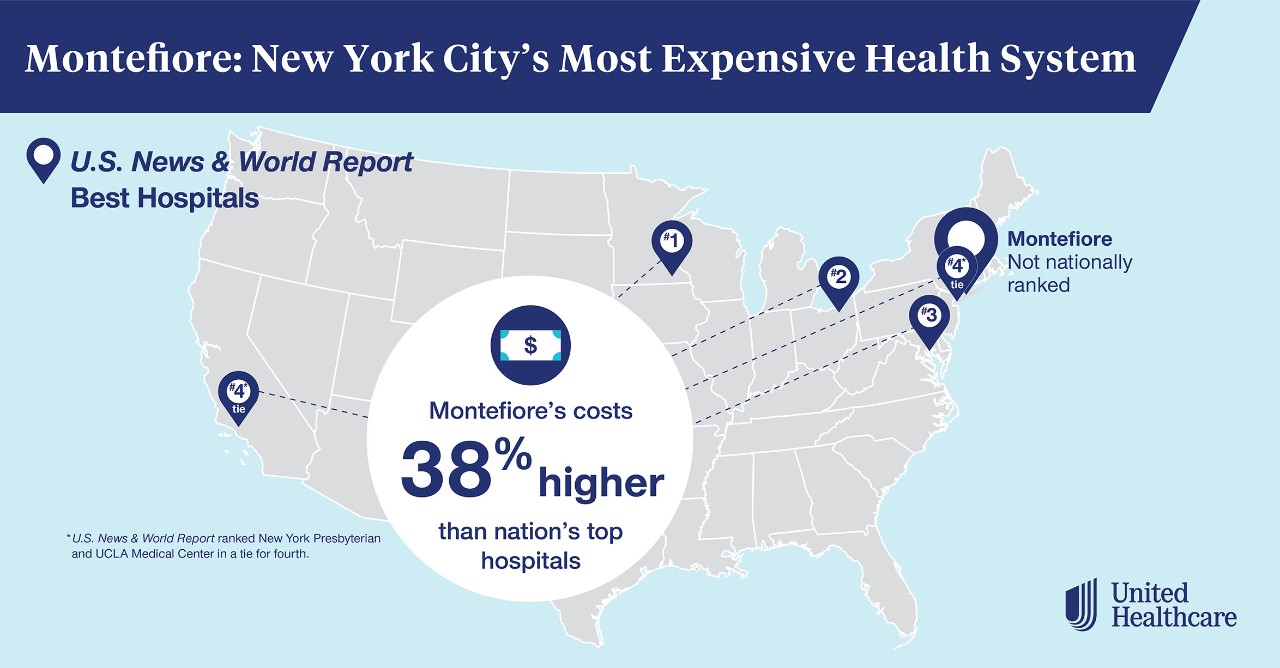 United Healthcare claims that Montefiore rates are too high.
For its part Montefiore claimed they negotiated in good faith and that "data shows that their reimbursement rates are at or slightly below the average for the top 5 hospitals in the country and comparable academic teaching hospitals in New York…. Montefiore is only asking for reasonable single digit annual increases that are consistent with the rates we receive from every other major insurance company."
We reached to Lara Markenson, the Director of Public Relations for Montefiore and here are her responses to our questions:
Do you think that Montefiore and United will ultimately reach an agreement?
Our goal is to reach a fair resolution that restores in-network access and prevents further patient disruption. Montefiore had negotiated in good faith since the beginning of July, though United offered little progress, stalled negotiations since November 19, and has refused to respond in good faith to our latest proposal.
Unfortunately, United continues to misrepresent negotiations. Since the beginning, Montefiore has only asked for reasonable single digit annual increases that are consistent with the rates we receive from every other major insurance company.
For patients that are currently insured by United and Oxford, will you take their insurance until February 28?

All Montefiore Physicians are out of network which means patients will not be covered at in-network rates.
Certain patients, including those who are hospitalized, pregnant or undergoing an active course of treatment prior to the contract end date may qualify for Continuity of Care through United that would extend your in-network benefits. If you think you may qualify, you should call the phone number on the back of your United health insurance card today to request a Continuity of Care form and apply.
Patients with United Medicare DSNP Community Plans will continue to have in-network access to all Montefiore hospitals and doctors until midnight March 31, 2021.
Patients with United Medicaid Community Plans and United/Oxford Fully Insured Commercial Plans will continue to have in-network access to Montefiore hospitals until midnight March 1, 2021.
Patients with Medicaid can call NYS DOH and ask to change plans to ones that have in-network access to Montefiore doctors and hospitals.
Patients always have in-network access to our emergency rooms, regardless of our status with United. If you experience an emergency, you should always visit the nearest emergency room. Patients needing emergency care are entitled to receive in-network treatment until the patient is stable.

Why do you think this has come to an impasse this year?
Montefiore had negotiated in good faith since the beginning of July, though United offered little progress and stalled negotiations since November 19, refusing to respond to our latest proposal in good faith.
In the final hours of our contract on New Year's Eve, without even considering our proposal, United asked for an extension that only would have prolonged uncertainty until a time when our communities' employers and residents would have missed an opportunity to switch to other health plans that would restore in-network access to Montefiore. Once again, Montefiore offered to negotiate in good faith to reach an agreement to prevent disruption of healthcare services, however United declined our offer. We are disappointed by United's decision to block 60,000 patients from seeing their trusted Montefiore doctors and hospitals while the pandemic continues to surge.
How is Montefiore responding to the insurer's charge that the hospitals are billing more than other systems in the area?

Rand Corporation data shows that our reimbursement rates are at or slightly below the average for the top 5 hospitals in the country and comparable academic teaching hospitals in New York. Montefiore is only asking for reasonable single digit annual increases that are consistent with the rates we receive from every other major insurance company. Also, despite United's claim that Montefiore received $1 billion, Montefiore actually received $769 million in cares act grant. This was all used for patient care during the COVID pandemic across our 10 hospitals.

If you are not able to reach an agreement, what will patients in our area do?
Patients should look to change their insurance plan if they can or ask their employer to make a change or offer additional health plan options so they can continue to see the Montefiore doctors and use the Montefiore hospitals they know and trust.
Commenting on the problem, Scarsdale resident Judy Hochberg said, ""This dispute affects me and my husband since we regularly see doctors at Scarsdale Medical Group and White Plains Hospital. We are switching back to another insurance plan that costs more but has all of our physicians. Just a few years ago we had to change doctors within SMG because of a contract disagreement with Empire Blue Cross / Blue Shield. These two events are symptomatic of larger problems in our dysfunctional healthcare system, which fails to provide confidence and continuity of care even to consumers who can afford private insurance."
Westchester Residents 65 and Over Scramble to Find Vaccines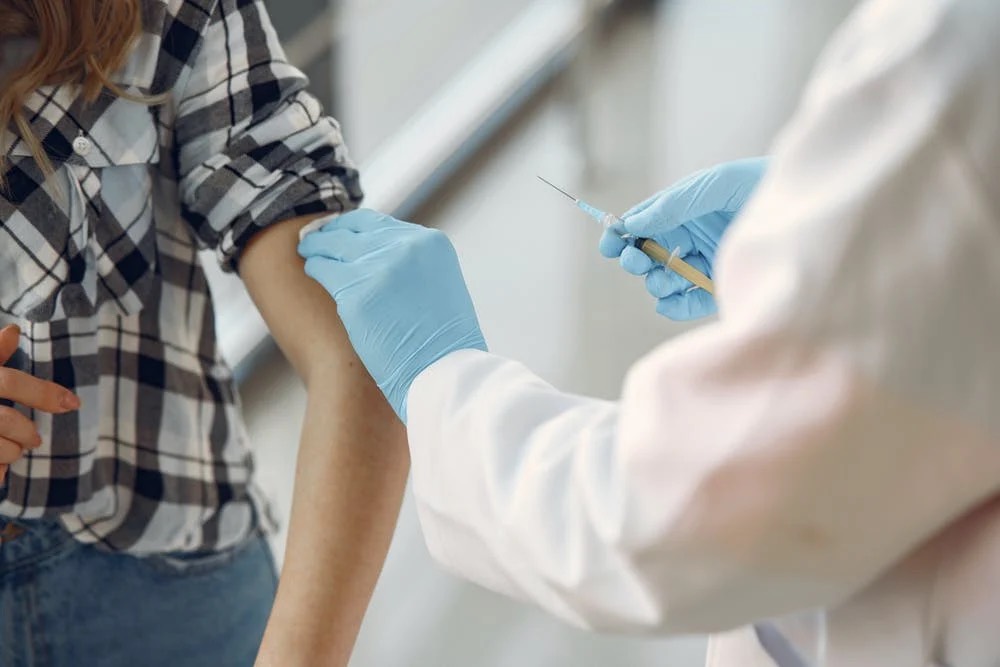 After much criticism about the slow rollout of the COVID-19 vaccine, on Monday January 11, 2021, New York State cleared people aged 75 years and older to receive it. On Tuesday January 12, he changed that to 65 and over, and now thousands are scrambling to find out where and how to get the shot. According to the Governor, NYS now has 7 million people eligible for the vaccine, with only 300,000 vaccines available.
In Manhattan, some of have been successful at scheduling appointments at NYC Department of Health Facilities and at several hospitals.
In Westchester, it's taking a few more days to make a plan.
At his weekly briefing on Monday January 11, 2021, Westchester County Executive George Latimer announced that the county is working to deliver the vaccine according to New York State guidelines.
The state's expanded list of who is eligible for the vaccine is as follows:
• People 75 and older (Since changed to 65 and older)
• Teachers and education workers
• First responders
• Public safety workers
• Public transit workers
• High-risk hospital workers (emergency room workers, ICU staff and Pulmonary
Department staff)
• Residents and staff at nursing homes and other congregate care facilities
• Federally Qualified Health Center employees
• EMS workers
• Coroners, medical examiners and certain funeral workers
• Staff and residents at OPWDD, OMH and OASAS facilities
• Urgent Care providers
• Individuals administering COVID-19 vaccines, including local health department staff
• All Outpatient/Ambulatory front-line, high-risk health care workers of any age who
provide direct in-person patient care
• All staff who are in direct contact with patients (i.e., intake staff)
• All front-line, high-risk public health workers who have direct contact with patients,
including those conducting COVID-19 tests, handling COVID-19 specimens and
COVID-19 vaccinations
• Doctors who work in private medical practices and their staff
• Doctors who work in hospital-affiliated medical practices and their staff
• Doctors who work in public health clinics and their staff
• Registered Nurses
• Specialty medical practices of all types
• Dentists and Orthodontists and their staff
• Psychiatrists and Psychologists and their staff
• Physical Therapists and their staff
• Optometrists and their staff
• Pharmacists and Pharmacy Aides
• Home care workers
• Hospice workers
• Staff of nursing homes/skilled nursing facilities who did not receive COVID vaccination
through the Pharmacy Partnership for Long-Term Care Program
Latimer provided the following resources to help residents find out if they are eligible for a vaccine, and if so, where to get one.
First, to determine your eligibility and to receive an email and a text message when you qualify, go to this site and answer the questions and register:
Latimer asked that younger relatives or friends help older people to sign up if they are having trouble with the website.
For those who prefer to schedule an appointment on the phone, a vaccination hotline will open at 4 PM today, Monday January 11, 2021. The NY State COVID-19 Vaccination Hotline to schedule vaccination appointments for eligible New Yorkers is: 1-833-NYS-4-VAX (1-833-697-4829).
For eligible people to get an appointment for a future date, at the Westchester County Center, click here:
Latimer said that the Westchester County Center will open this Wednesday or Thursday as a facility to dispense vaccinations. It will NOT BE A WALK-IN facility. You will need an appointment to receive one at the County Center.
Help Available: If you're having trouble navigating the websites, Scarsdale students will be happy to help you to get an appointment. A group called VAX HELPERS has been formed. Call the at (914) 574-7863. If they don't pick up, leave a message. You will need to supply them with the following:
Your Name
Allergy History
Address
Phone Number/Email Address
Date of Birth
The state has also issued this list of locations that will be administering vaccines, but we do not know if they have supplies now: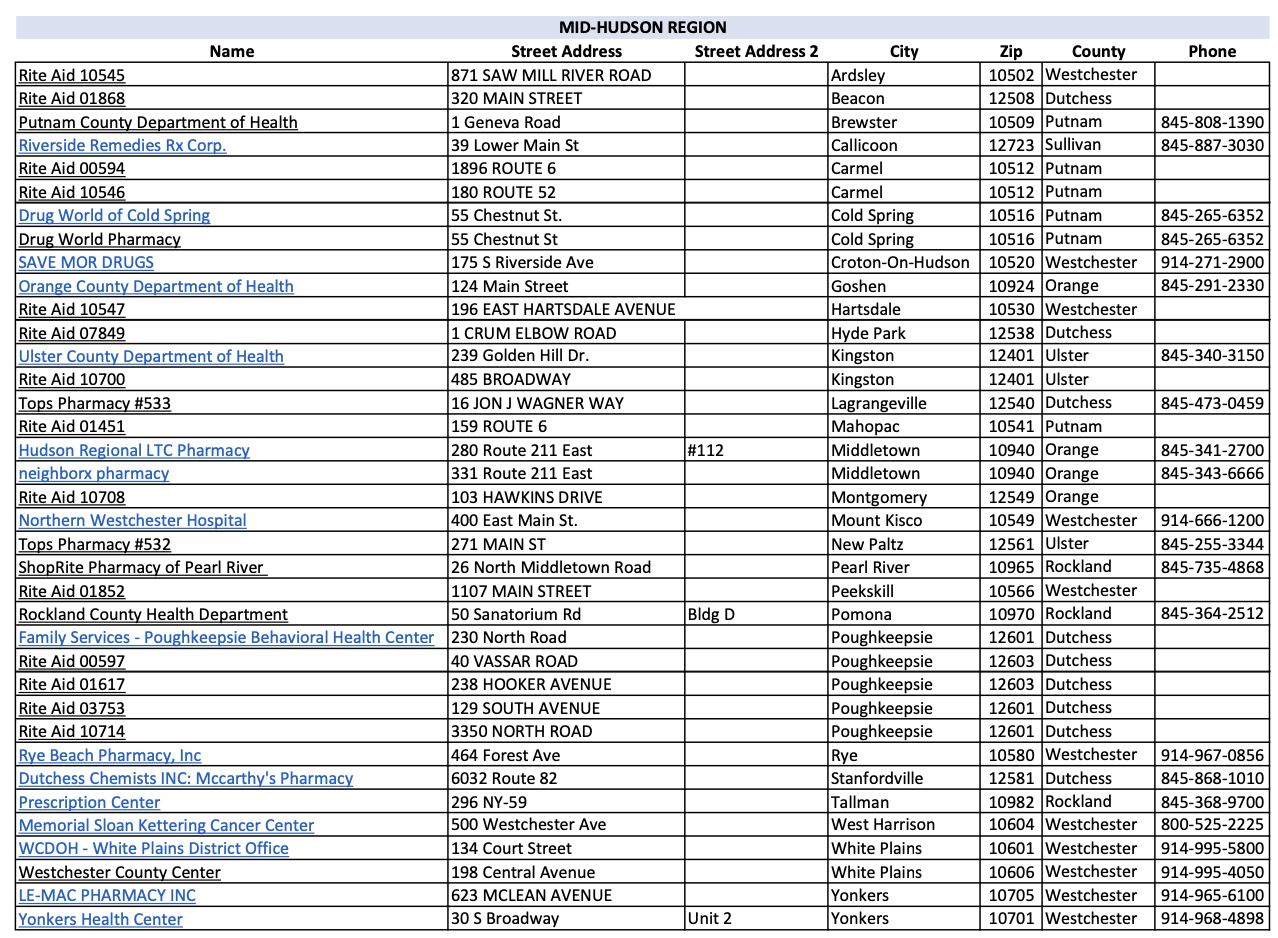 Volunteers Needed
The Hudson Valley Regional HUB, WMCHealth is seeking volunteers to support the administration of the COVID-19 vaccine.

Volunteers are needed to assist with operations and activities at vaccination sites, such as registration and check-in, data entry, greeting and routing participants, traffic flow, and other administrative tasks. Volunteers with specific clinical credentials to administer the vaccine are also needed.
Volunteers must be 18 years of age in good health and proficient in English, with bi-lingual skills also being important. Those working at the vaccination site will be provided with training, PPE and will be able to receive the vaccine, if they wish.

Site locations will be announced in the coming days and will operate 7 days a week. Multiple shifts are available. Volunteers are asked to commit to three shifts a week during a 30-day commitment.
To register to be a part of this historic vaccine program, please click here.

COVID Spread
Turning from the vaccines to the current infection counts, Latimer reported that the COVID spread is increasing. He said, "We have grim numbers."
As of January 11, 2021 there were 11,265 active cases in Westchester County, higher than the number as we had on April 10, 2020. This is up from 9,278 last week and 8,000 two weeks ago.
As of Saturday January 9, 2021, 504 people were hospitalized but the County's bed count is higher, with about 2,500 beds so we have not reached a crisis situation. This is a 10% increase over last week and on Halloween night, October 31, 202, there were only 51 in the hospital, one tenth of today's count.
As of Monday January 11th the county dashboard showed 83 active cases in Scarsdale and a 5.1% positive rate for the county overall.
Check the county dashboard for the latest numbers here:
Latimer to Seek Second Term
In other news, Latimer announced that he will run for a second two-year term as Westchester County Executive.
An email from his campaign says, "It has been my honor to serve you and all of Westchester's residents in navigating an irresponsible fiscal situation passed on by the last administration, a national political environment that warrants local focus on long overdue social justice reforms and an uncharted pandemic that has created further economic struggle for many along with a health care challenge that we must resolve so that more Westchester residents and New Yorkers do not suffer.

I am proud of my first term record with two consecutive years of zero property tax increases, timely budgets with no lay-offs or service cuts and swift action on so many social issues like justice reform, LGBT equality and women's rights.