Indoor Elementary School Carnivals Draw Large Crowds
Details

Written by

Adam Katcher

Hits: 447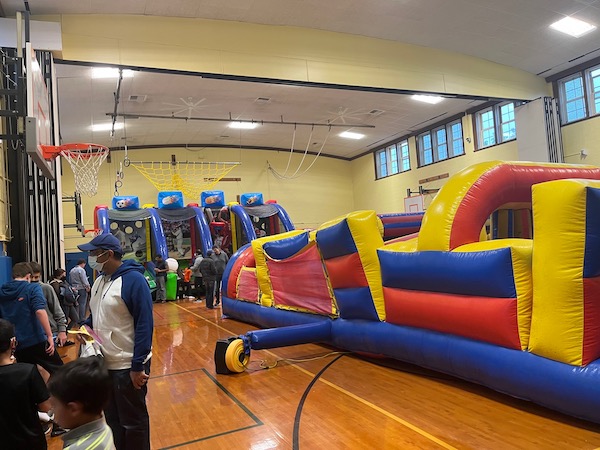 Inflatable attractions in Quaker Ridge gym garnered large crowds Not long after the Scarsdale High School Carnival, when all kids of the town flock together to test their fears on gut-wrenching rides, the elementary schools have their own carnivals on Saturday May 7, one day before Mother's Day. These carnivals are focused on kindergarteners through fifth-graders: even though there were no mechanical rides, unlike at the High School Carnival, there was no shortage of activities and entertainment.
The signature red-and-white carnival colors decorated the booths inside of the schools: whether it be ring tossing challenges or trying to knock over metal cans, there were plenty of games for people to try their luck on. Giant inflatable slides and games were also set up. There was no shortage of food options either, including food trucks parked outside of the schools, which proved to be a huge hit.
Furthermore, some schools held multi-round talent shows – America's Got Talent-esque – for the pupils, showcasing dancing, singing, hula-hoops, ukuleles, and more. There were also sports on offer thanks to Backyard Sports, facilitating challenges such as obstacle courses and large frisbee target games.
The strong sense of community in cramped surroundings is another indicator of a return back to pre-COVID norms. Some wore masks while the majority did not, with no judgment made by anyone in favor of either direction: the community was simply happy to be able to celebrate and gather together. The preference would have been to have held the carnivals outside, but the schools were more than able to make do.
Below are some pictures from Greenacres' and Quaker Ridge's carnivals: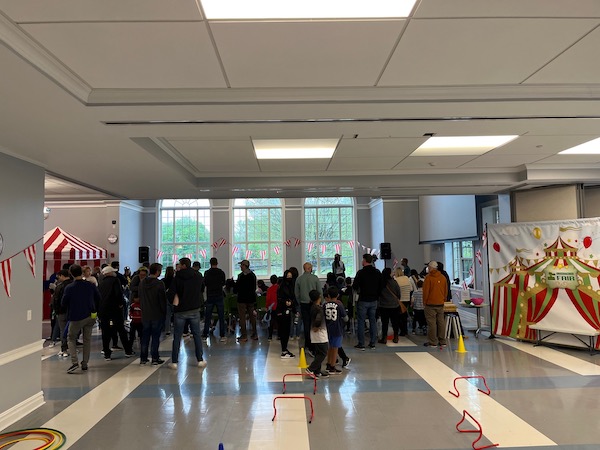 Parents and kids gather to watch the student talent show at Greenacres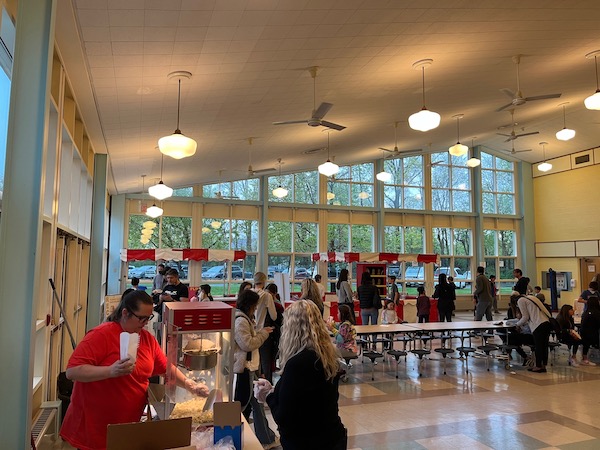 Quaker Ridge cafeteria became a sight for booths with the aroma of mouth-watering popcorn filling the air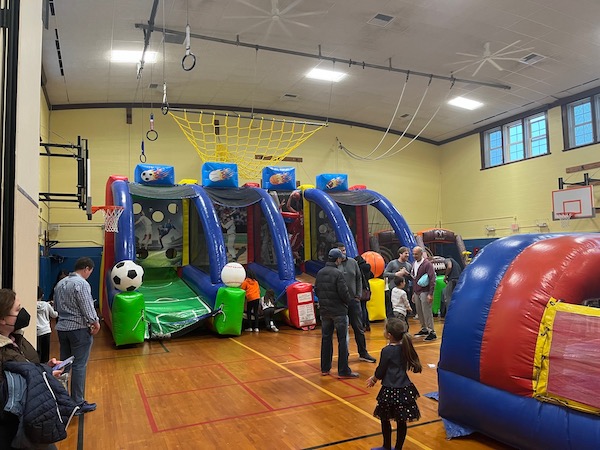 Inflatable sports games, a student favorite for many years, made their highly-anticipated return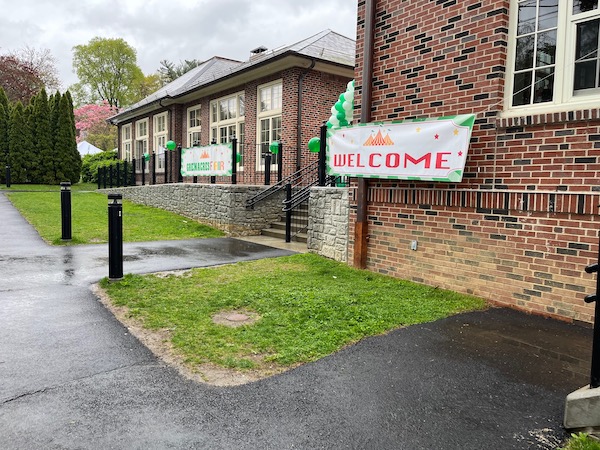 Greenacres set up a festive entrance, foreshadowing the excitement indoors, a stark contrast to the weather of the day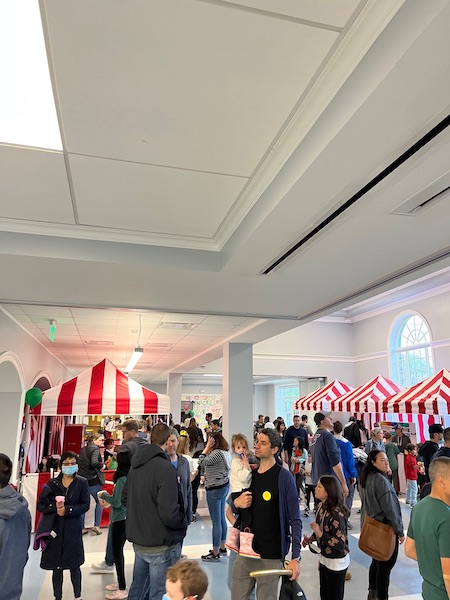 A packed Greenacres saw booths to be a huge hit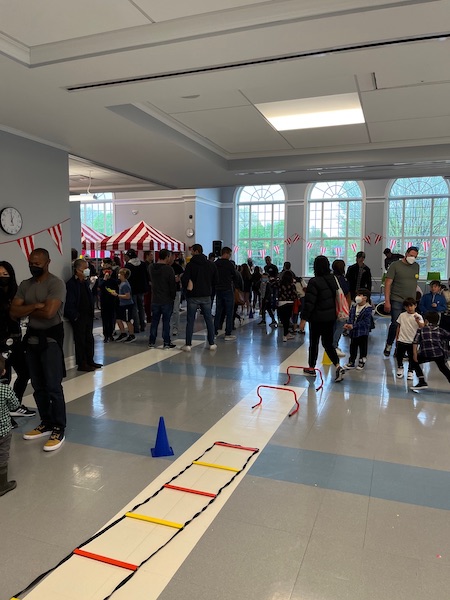 A small obstacle course that kids had plenty of fun running through and racing their friends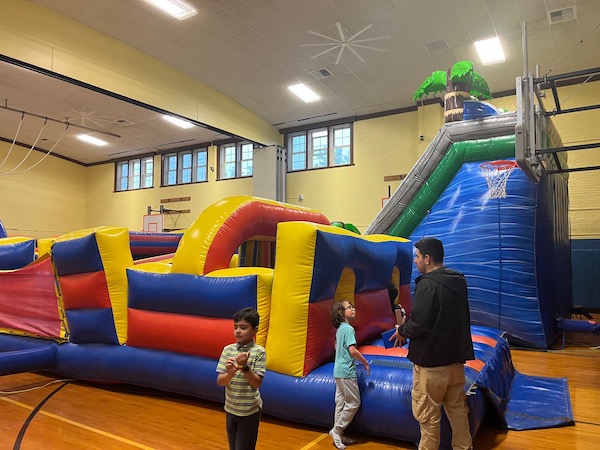 Tropical-themed inflatable slide towers over Quaker Ridge basketball hoop
Letter to the Editor: Colonial Fairs - Present Learning Experiences with Honesty, Sensitivity, and Context
Details

Written by

Frank Murtha

Hits: 1620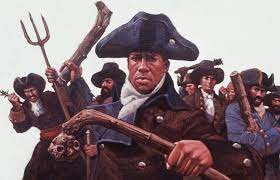 Crispus AttucksThis letter was submitted by Frank Murtha of Jefferson Road:
Instilling a nuanced understanding of our nation's history, the good, the bad and the ugly, is essential for our children. This is why the cancellation of the beloved Colonial Fair at Edgewood is so troubling and counterproductive.

We don't have many visual windows into our nation's pre-history; it predates the camera. We do have paintings, however. Perhaps the most iconic artistic renderings of colonial New England depict a man named Crispus Attucks at the front of a Boston mob taking a fatal musket ball to the chest from a British soldier. He was a brave and impressive person by all accounts of the time. He was also a person of color, African on his father's side, Native American on his mother's. Attucks was the first of four colonials to be killed on March 5th, 1770 in what would be called the Boston Massacre. He is often referred to as America's First Martyr.

His comparatively darker skin makes him stand out in the paintings. His clothing does not.

Before confronting the redcoats, Attucks and his cronies had been imbibing in a pub, drinking ale and eating the food common to Boston public houses at the time.

The most famous person of color from colonial New England dressed, drank and ate in ways consistent with his white compatriots. Yet, ironically, these were the very factors cited for unexpectedly canceling the Colonial Fair, an annual learning experience in which 4th graders dress in period clothing, eat period foods, and engage in period activities such as candle making and tin smithing – though hopefully not insurrection.

Dr. Edgar McIntosh, Assistant Superintendent of Curriculum, Instruction and Assessment for the Scarsdale Schools, explained that "the focus on costumes and food centered on one historical perspective, while excluding the experiences of others".

This undoubtedly came from a place of cultural sensitivity and inclusiveness, which is commendable and represents shared values in the community. The statement is not accurate, however.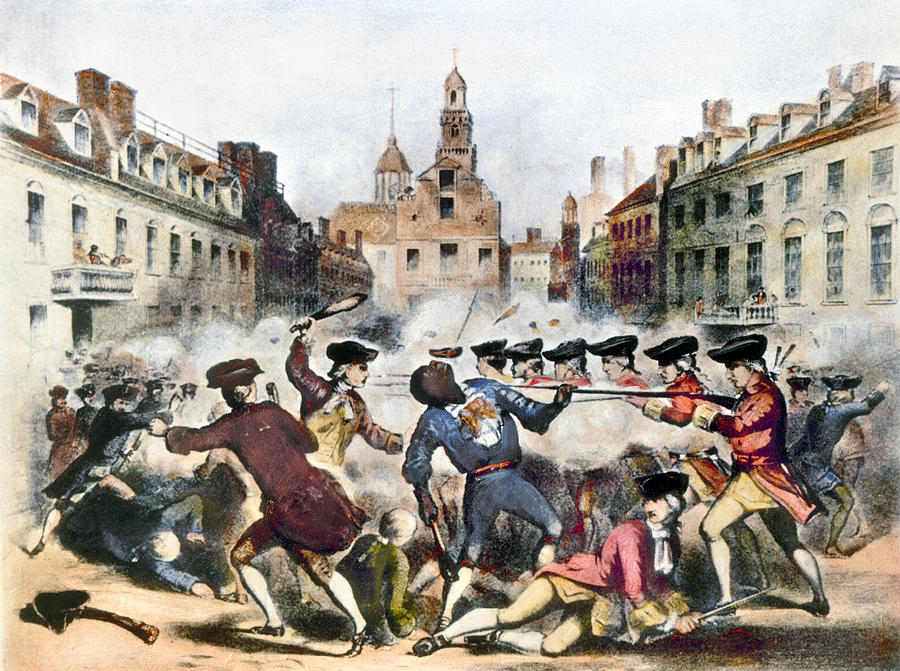 The Boston Massacre

A focus on food is never exclusionary. Literally everyone eats food. Few things bring people together more than sharing food. If the issue is an insufficient representation of colonial food, the answer is simple; include more foods.

Regarding clothing for the Colonial Fair, children were encouraged to "be creative". But for those unsure what to wear, the fair committee provided some basic suggestions; for boys it was pants with a white shirt and shoes; for girls it was dresses, shawls and shoes.

Again, this does not exclude anyone. It is simply what people in 18th century New Englande wore. Whether you were British, non-British, wealthy, poor, slaves or free persons – you wore some version of the following; 18th century pants and shirts/dresses with shoes. There was no need to cancel a fun, interactive learning experience for our children based on these factors, and it runs the risk of sending a message to the children that the founding of our country, flawed though it is, is something not to be celebrated.

Approaching our past with sensitivity is to be applauded. Our country grappled with great moral evils, most notably slavery, which should never be denied or minimized. Our country is also the most prosperous, tolerant, and successful multi-ethnic society the world has ever known. Our nation's history is complex, as is the evolution of its collective morality.

Any society that looks into its past will see the toleration of great evils that are repulsive, even incomprehensible by standards of the day. There is no exception to this truth, and future generations will undoubtedly feel the same about us.

The question becomes, what do we do with that?

The answer is not to reflexively ban all experiential learning from earlier times. The answer is to present learning experiences with honesty, sensitivity, and context.

Speaking of inclusion, part of the issue regarding the cancellation of the Colonial Fair is the way the decision was made. It is unclear whether an individual or a committee decided to cancel this activity. What is clear is that input from children and parents – who were left confused, blindsided, and disappointed - were not part of that decision. It ought to go without saying that as the primary stakeholders and financial supporters of education in Scarsdale, the input of children and parents must be factored into educational decisions. The decision-making process – to borrow a colonial phrase - felt a bit like taxation without representation.

The Colonial Fair is a fun and worthwhile experience which should be revisited for next year.
Frank Murtha
39 Jefferson Road
SHS PTA Hosts Panel on Mental Health and Well Being
Details

Written by

Joanne Wallenstein

Hits: 974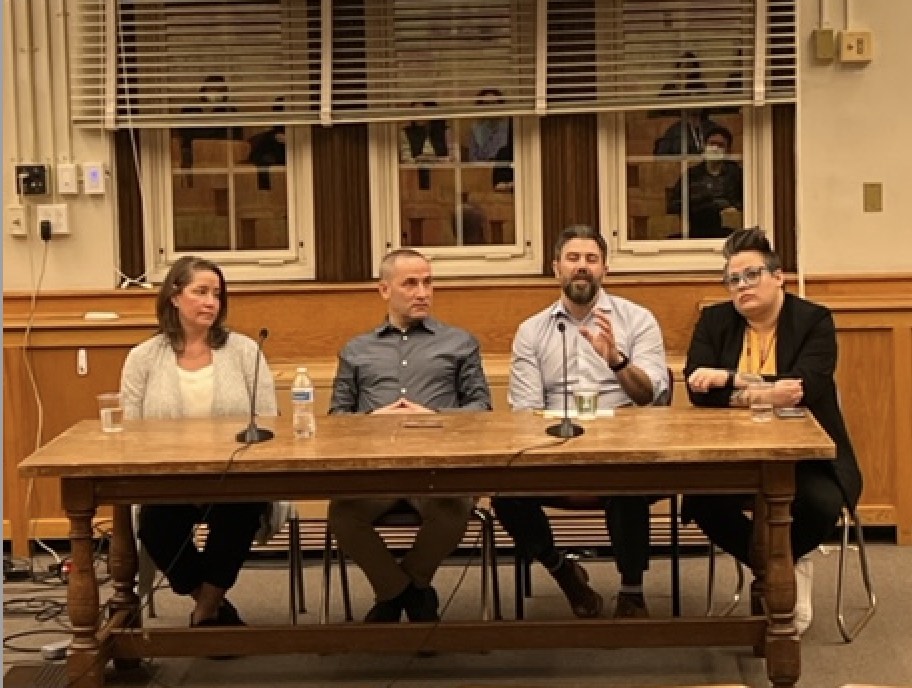 Panelists: Jennifer Rosenzweig, Oren Iosepovici, Peter Faustino and Patti MooreThe SHS PTA held their first in-person meeting since the pandemic, and the topic was timely: student wellbeing and mental health. Experts report that the COVID crisis has taken it's toll on students, increasing depression, anxiety and social isolation and the school assembled their own panel of experts to air the issues and offer strategies and tactics for helping students find their way back to balanced lives.
SHS PTA Vice President of Programming Julie Zhu introduced the event, saying "Tonight we are here specifically to have an open conversation about our high schoolers' social and emotional wellbeing, to take a peek into their school lives through each of our panelist's unique lenses, and to learn and explore together ways that we might support our children at home."
Addressing the group were Oren Iosepovici - Director of Counseling , Peter Faustino - High School Psychologist, Jennifer Rosenzweig - High School English teacher and Patricia Moore - Youth Outreach Worker SFCS.
They each explained what they are noticing in interactions with the students, how they approach students and deal with those that might need additional help. Rosenzweig, who teaches English to freshmen, sophomore and seniors said, "There is a lot of stress in the building. Sometimes students come in and cry…. The ninth graders have been through the wringer."
Asked what is driving these fears, she said, "students feel a tremendous amount of pressure to get into college." However she said, "In English class we can talk about it. We talk through ideas to give students some perspective." What does she tell her students to do to reduce stress? Reduce their screen time and get more sleep.

Iosepovici explained, "Counselors emphasize balance in our lives – we want the students to find out how much they can take on and maintain a balance in their lives. We tell them to "have free periods so you have time to get help. Take classes that are most appropriate for you."
Youth Outreach Worker Patti Moore said, "We stress self-care. Many students are learning how to socialize again and to get back into the groove of school." She also told the group that "in parent support groups I tell the parents what I am seeing in the building. They often note the same things at home."
Faustino commented, "The difference between pre-Covid and now is that more parents and families are asking for help." He advised parents to:
-Observe your children – and look at what they are doing all day long
-Listen to their children
-Remind them s of expectations – get exercise, no phone at the table, socialize – get out of the house.
In his view, as long as things are moving in the right general direction, that's enough.
Parents asked questions about when to call the school if they sensed a problem. Faustino told them to trust their gut reaction to know whether or not to contact the school. Others had questions about screen time, about getting their children out of the house and navigating schoolwork and athletic commitments.
After an hour or so, the parents were shown a portion of a video of teachers talking about the overuse of technology that was spearheaded by the SHS Teacher Wellness Committee. The full video has over thirty teachers, administrators and staff members talking about technology and providing recommendations regarding phone and screen usage for students both in school and at home.
The video discussed the effect of technology use on our ability to concentrate and solve long problems. Some of the stats on phone and social media use and focus and concentration were surprising:
For instance:
The more time you are interrupted in an hour the more time you will interrupt yourself in the next hour.
When you are interrupted you get distracted and fall out your concentration zone. Researchers found that once you are interrupted it takes 23 minutes to get back into a full state of concentration.
Phones and apple watches are addictive.
The video also discussed these mental health trends:
Since 2012, depressive rates among boys have increased 21%
Girls' symptoms have increased by 50%
Twice as many boys 12-14 took their lives in 2015 as compared with 2007
Three times as many girls 12-14 took their lives in 2015 as compared with 2007
Though all mental health issues cannot be ascribed to technology, there certainly is a correlation.
The session raised many interesting questions and also highlighted the depth of resources for students and parents available at the school. Though mental health concerns have risen, the school's faculty, guidance department, psychologist and youth outreach workers are trained and ready to assist.
In Appreciation of SMS Teachers
Details

Written by

Joanne Wallenstein

Hits: 643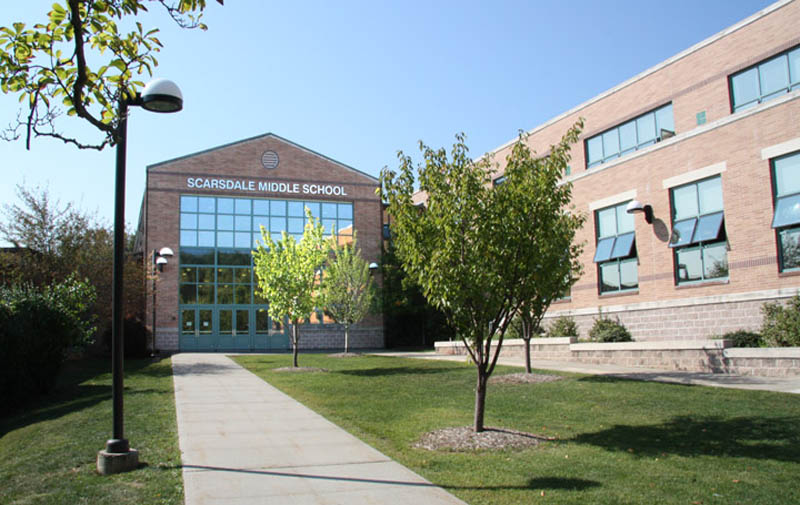 (This letter was submitted by Leah Dembitzer, President of the Scarsdale Middle School PTA)
To the Editor: In honor of Teacher Appreciation Week and on behalf of the Scarsdale Middle School PTA, I would like to extend a huge thank you to Scarsdale Middle School teachers and staff for all of the hard work and dedication that they demonstrate every day. These last few years have put us all through the wringer and many (if not all) of us are still reeling from the effects of living through the pandemic. Through all of the struggles of these past few years, SMS teachers and staff members have been a steadying force -- they uplift our children; they challenge them; they encourage them.
I know that every day brings uncertain situations. However, in my view, middle school teachers, in particular, excel at dealing with the unexpected -- they are relating with our children, the middle learners, supporting them during a profound emotional, physical, social and academic growth period. I feel so lucky to have my children learning and growing at Scarsdale Middle School. May our lives continue to improve and normalize. Wishing all of our Scarsdale Middle School teachers the best as they finish out this school year.
Sincerely,
Leah Dembitzer
SMS PTA President, 2021-22
SMS PTA Announces Informative Programming for Parents
Details

Written by

Joanne Wallenstein

Hits: 1061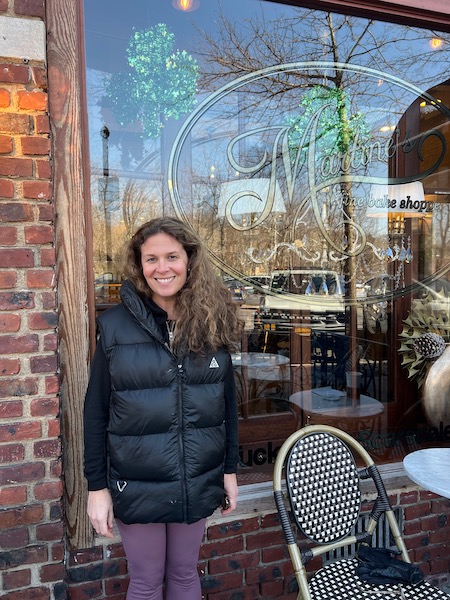 We had a chance to catch up with Leah Dembitzer, President of the Scarsdale Middle School PTA last week. She was happy to report that the PTA has plans for in person programming for parents, as they are finally welcome back to the schools.
Mark your calendar for these upcoming events:
(From Leah)
Spring has sprung and Scarsdale Middle School PTA is moving forward with momentum this season with several interesting programs for our parent community.
Digital Citizenship
On Wednesday, March 23, we have Jennifer Cronk, SMS Computer Technology teacher, joining us to present on Digital Parenting, which is related to the Digital Citizenship work she does with students earlier in the year. In the Digital Parenting presentation, Ms. Cronk will highlight some of the most common social media platforms that our middle schoolers might be using, including TikTok and SnapChat and she will also address issues of digital parenting awareness related to these platforms.
Financial Literacy
Our upcoming Wellness Coffee on April 6 features FACS (Food and Consumer Sciences) Teacher, Elyse Tenzer, who will present on Financial Literacy to our parent community. Previous PTA Wellness Coffees this year have focused on Adolescent Nutrition, Covid-19 Vaccine Questions and Executive Function Skills for Students.
Study Skills
On April 19, the SMS PTA DEI Committee and CHILD Chairs have invited Michael Hirsh, SMS Special Education Department Chair and his team to present on Middle School Study Skills. This event will focus primarily on strategies for improving student outcome and achievement at the Middle School. This event is open to all SMS parents as well as our incoming 6th grade parents!
Gender Spectrum
On May 18, the SMS PTA welcomes Scarsdale parent, Susannah Perlyn, to present in-person at SMS. Ms. Perlyn will speak about the challenging but amazing experience of raising a child moving on the gender spectrum. Susannah speaks candidly about this parenting journey and shares photographs and personal stories. Liz Verrastro, from Center Lane LGBTQ+ Youth Education Center, will also be there to share helpful information and to address how we can talk to our kids about gender differences.
SMS PTA is also engaging in community service this spring with two Saturdays planned at Mott Haven Fridge to sort fresh produce and deliver food to local communities in need.
Another PTA program from earlier this year included a special parent workshop during which parents enjoyed an art historical presentation on diverse artist self portraits and then painted their own self-portraits.
SMS PTA is fortunate to have many thoughtful and engaged parent volunteers and faculty partners and we are excited to have presented such a diverse array of parent programs this year.
In addition to our spring PTA programming, SMS PTA would like to highlight the talented student cast and crew of Aladdin Jr., which is being performed this weekend to a sold-out audience as well as all of the students participating in the Speech Contest next week. Thank you to Chorus Teacher, Dan Boniello, for his work on the play and to 8th Grade Social Studies Teachers, Will Maldarelli and Steven Scharf, for organizing and leading the Speech Contest.