Paulin Lights Lego Menorah
Details

Written by

Joanne Wallenstein

Hits: 543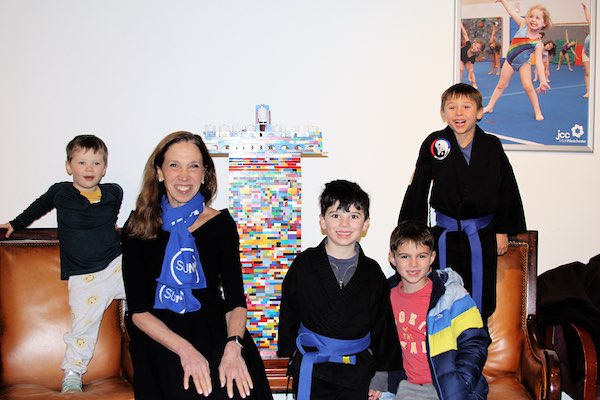 State Assemblywoman Amy Paulin celebrated Hanukkah with children at the JCC of Mid-Westchester and Rabbi Dahlia Bernstein on December 20, 2022. The candle lighting featured a large Lego Menorah, built by the kids. A memorable night for all.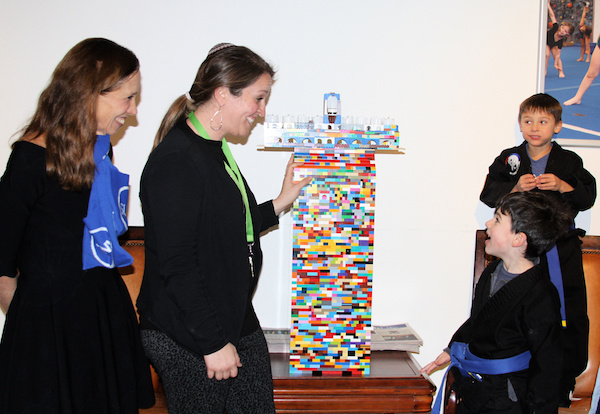 Photos by Michelle Sterling
Christmas Lights Illuminate Scarsdale
Details

Written by

Joe DiMartino

Hits: 940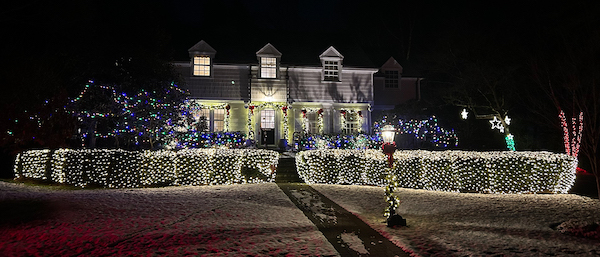 At this time of year, holiday lights and decorations provide cheer on dark nights. Scarsdale High School senior Joe DiMartino shares his photos of our Village. If you have photos to include, please email them to scarsdalecomments@gmail.com.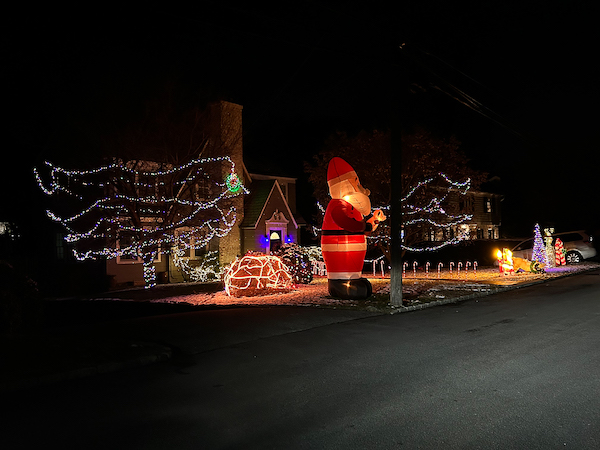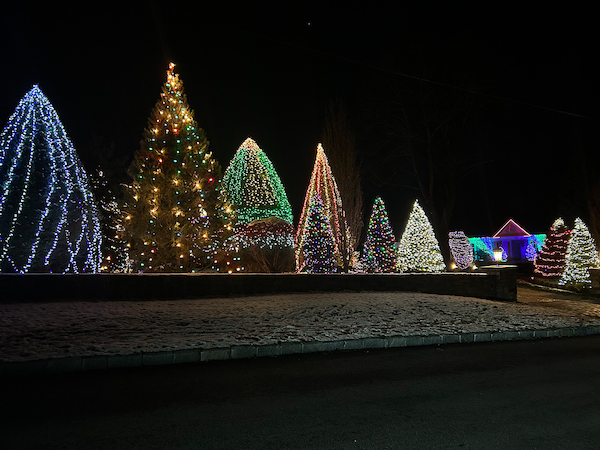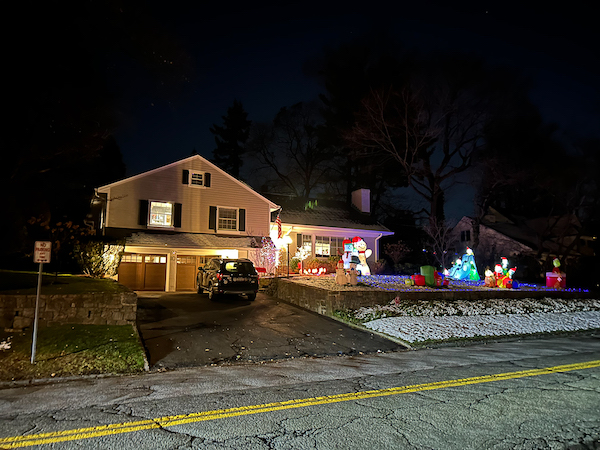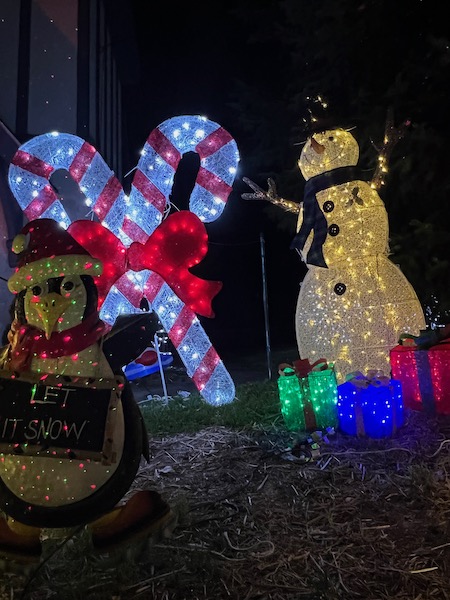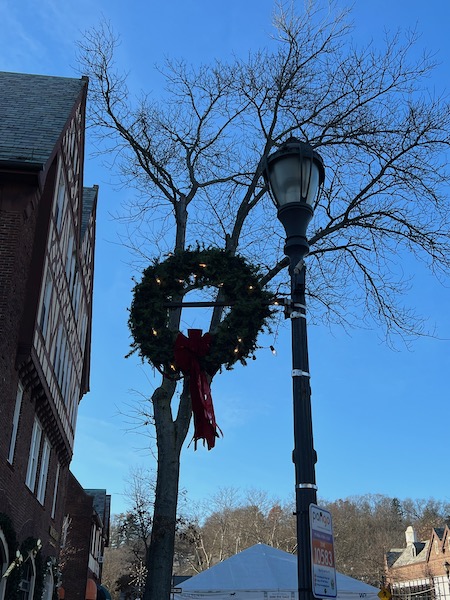 Music Festival Scheduled for June 3, 2023
Details

Written by

Joanne Wallenstein

Hits: 639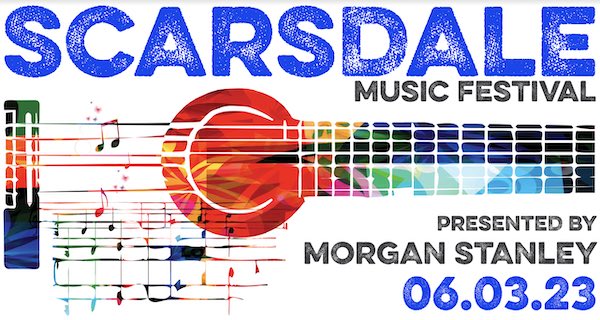 On Saturday, June 3, 2023, the Scarsdale Business Alliance (SBA) will host its 3rd Annual Scarsdale Music Festival, presented by Morgan Stanley. The event will take place rain or shine in Scarsdale Village and is a family-friendly community event that will bring together people of all ages to celebrate their love of music, food and community.

Sponsorship opportunities are now available for the 2023 Scarsdale Music Festival. Please contact info@scarsdalebusinessalliance.com.
Apply to perform or become a food vendor at https://www.scarsdalemusicfestival.com/.

Bands from Scarsdale as well as from the greater Westchester County and New York metropolitan areas will perform throughout the day on one of two main stages. Acknowledging our community's connection to the city and surrounding regions, we've begun an expanded regional talent search to welcome new sounds and new followers to our downtown area.
Restaurants in the downtown area will open their doors, and a variety of food trucks and other food vendors will line the streets. The SBA has once again partnered with the Scarsdale Conservation Advisory Council (CAC) to make the Scarsdale Music Festival a zero-waste event.

The 2023 SMF will feature a ZACHYS wine-tasting experience in addition to craft beer and spirits tastings. Attendees 21+ can also purchase adult beverages by the glass.

An expanded Family Fun Zone will feature balloon artists, face painters, arts and crafts, games, musical demonstrations, family activities and much more!

The 2023 SMF will be donating a portion of proceeds to the Center for Cancer Care at White Plains Hospital. Their donation will help fund their mission to provide third-party transportation for better access to appointments and provide specialized staff as "patient navigators" to assist in understanding the cancer treatment process.
The Scarsdale Music Festival is a not-to-be missed experience! The SBA is a non-profit organization dedicated to supporting the Village of Scarsdale and its local businesses.

For event information and to apply to perform or become a food vendor: visit www.scarsdalemusicfestival.com and follow us on Instagram and Facebook @scarsdalemusicfestival.

For sponsorship opportunities: info@scarsdalebusinessalliance.com.

For more information about the Scarsdale Business Alliance: www.scarsdalebusinessalliance.com and follow us on Instagram and Facebook @scarsdalebusiness.
A Joyous Holiday Celebration in Scarsdale Village
Details

Written by

Joanne Wallenstein

Hits: 950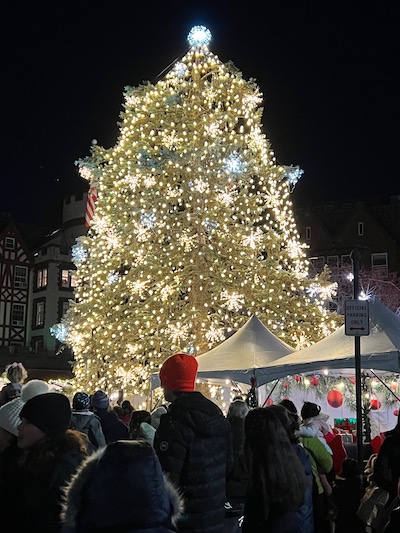 Led by Scarsdale Mayor Jane Veron and the Scarsdale Recreation Department, hundreds of spirited residents enjoyed a re-ignited "Light the Dale" celebration in Scarsdale Village on Friday evening December 1, 2022.
It was a downtown winter wonderland. Boniface Circle was lined with booths sponsored by Village organizations, offering free hot cocoa and pretzels, crafts, potted plants, games and more. On a large stage, carolers serenaded and the Mayor honored outstanding Scarsdale athletes, including the SHS tennis and soccer teams who won the state championship this year.
Santa arrived in a vintage fire truck and installed himself in a newly built sled where he posed for photos with Scarsdale kids.
The group engaged in a loud countdown and voila! The large tree was a lit in a blaze of Christmas lights.
Mayor Veron was joined on the stage by the athletes, Rabbi Jonathan Blake for a menorah lighting, Village Trustees along with three choral groups: Hoff Barthelson carolers, SHS's For Good Measure, and the Westchester Chordsmen.
Kids in strollers, retirees, parents, teens and everyone in between rejoiced as they warmed up a chilly night with a community party in the streets of the Village.
Ho ho ho!
Below find remarks from Mayor Jane Veron:
Hello Scarsdale. I'm Jane Veron, your Mayor. It truly doesn't get better than this! We are thrilled to have such a phenomenal turnout for our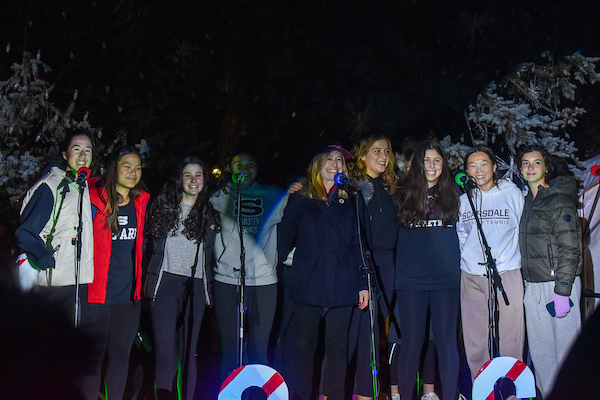 Mayor Veron and the NYS Tennis ChampionsLight the 'Dale event. Before we get started with the holiday festivities, I want to shine the spotlight on our SHS Champs. Our athletes had an incredible season, and we want to recognize them for their hard work, determination, resilience, and grit. We are so proud of our varsity players.
In just a moment, we will call up our state champs, but first I would like to acknowledge the great success of three other fall varsity teams. Field Hockey secured their place as State Semifinalists as well as Regional and Section 1 champs. Let's give a round of applause for Field Hockey. Boys Volleyball finished the season as Section 1 champs and qualified for east regional finals. Another round of applause for Boys Volleyball. Scarsdale Cheerleaders took first for their gameday routine at the UCA Northeast Regional. Applause for them There were also individual wins in Cross Country and Swim. Way to go Raiders!
Now, for our state champs, I'd first like to invite Girls Tennis up to the stage.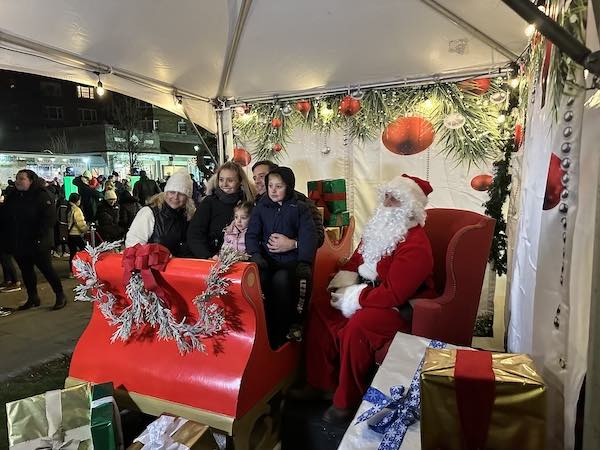 Santa greeted families in a newly built sled.
Here are a few Girls Tennis Highlights:

- The girls varsity tennis team are back-to-back New York State Division 1 champions.
- The team went 20-0 last season and in addition to being State champions, were Sectional champions, Subregional champions, and Regional champions.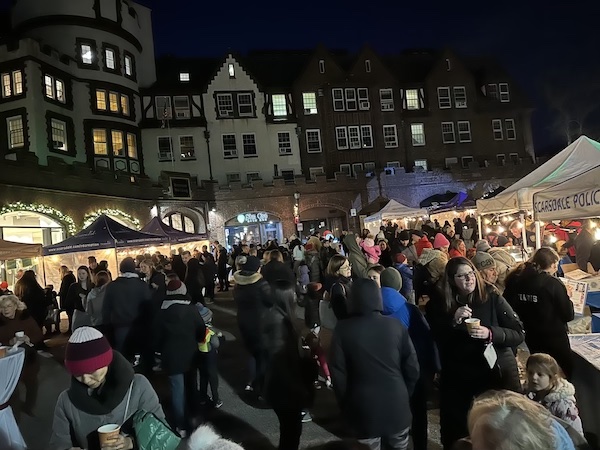 A crowd turned out to celebrate.
- The team had 62 wins in a row, 4 years undefeated, and the last 4 years as Section champs.
- There was an aura about the team wherever they traveled, and they handled the pressure to perform with aplomb.
- All three singles entries and all three doubles entries made the Sectional quarterfinals, which was also unprecedented.
- 9 of the 11 starters garnered all section honors and Patrick McEnroe (who was there watching his daughter) said "what is in the water in Scarsdale"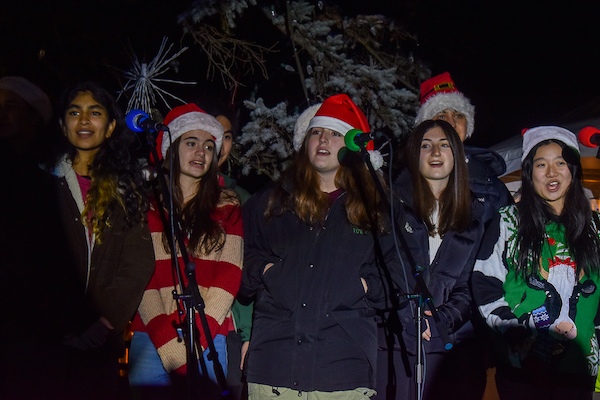 Carolers seranded the crowd.
Let's get a photo opp of these representatives of the Tennis team
Now I'd like to invite our other State Champs. Boys Soccer, will you join me on stage.
- The Boys Varsity Soccer Team went an unprecedented 21-0 and won the first state title, not only in boys' soccer history, but in the history of any Scarsdale boys team sport.
- The team scored a total of 73 goals and only gave up 11 all year!
- They only trailed once all season - a game which they came back to win 2-1 in double overtime.
- Boys Soccer went wire to wire ranked as the #1 team in New York State - The first ranking came out on September 13th and the last one happened on Nov. 14th. The team carried the pressure with poise and confidence. They were unflappable.
- Boys Soccer was ranked top 10 in the country all season long, spending a majority of the year ranked in the top 5 and ultimately ending as the #3 team in all the land!
Let's honor our athletes and show them our hometown love.
Girls Tennis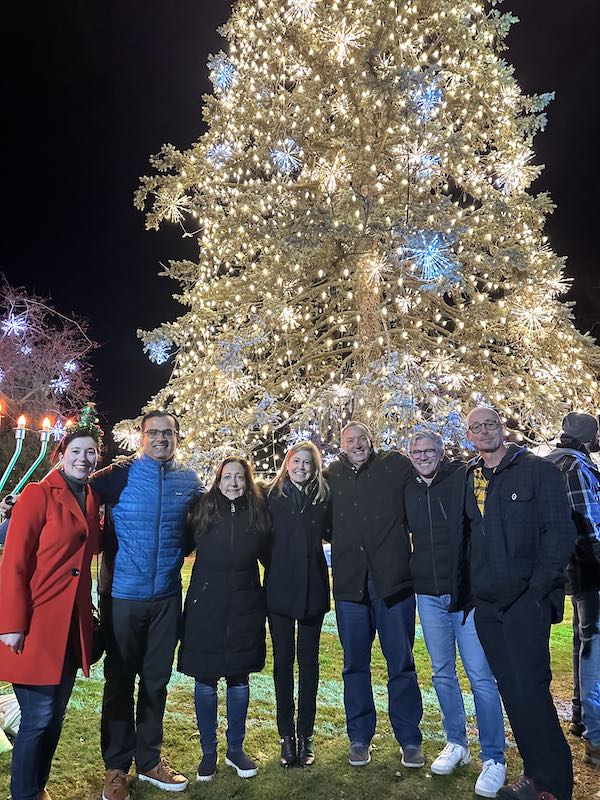 Alex Marshall, Sameer Ahuja, Karen Brew, Jane Veron, Randy Whitestone, Jeremy Gans and Rob Cole
Natasha Pereira
Kay Cottrell
Giana Marks
Emily Hyman
Carly Alin
Campbell Alin
Hyujin Lee
Olivia Sun
Katie Kendall
Boys Soccer
Marcos Monteagudo - Head Coach
Carlos Vazquez - Assistant Coach
Benjamin Yacoub
Toby Khang
Carson Cohen
Oliver De La Fuente-Akersveen
Matthew Choe
Logan Lim
Daniel Enrique Cisnernos
Santiago Rudloff
Nico Galeano
Lorenzo Galeano
Happy Holidays Scarsdale. These are the moments we treasure - it feels magical - pausing our daily routine and coming together as a community to rejoice in the holiday season. There is something so special about the simplicity of holiday music and lights, being with one another, our friends, family, and neighbors.
Light the Dale is a perfect example of "if we build it, they will come". Several years ago, a group of volunteers piloted this event, and now it is a Village institution. We are fans of this approach - that's also how we got other recent favorites - the Dine the Dale tent, outdoor cafes, and the Scarsdale Music Festival. Over the next year, we will keep trying new ways to bring vitality to our Village so please be part of the change as we test out recommendations from our Village Center consultants.
Our Village is filled with extraordinary people who band together to make Scarsdale the very best place to live. It is truly a privilege to be a member of this community. There are so many to thank today. I want to recognize our Village Sponsored Organizations who provide refreshment or activity booths:
PBA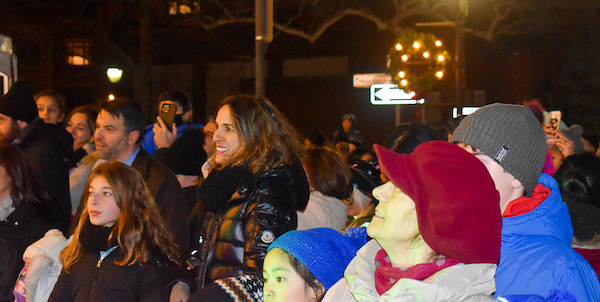 SVAC
Scarsdale/Edgemont Family Counseling
FD Uniform Firefighters
Scarsdale Volunteer Fire Department
Scarsdale Library
CSEA
Weinberg Nature Center
Scarsdale Recreation Department
Light the 'Dale requires a tremendous amount of hard work and coordination across many Village Departments and with our partners. There are so many details to get it just right. We are grateful to the
Village Manager's Office
DPW
The Fire Department
The Police Department
Scarsdale Business Alliance
The Parks, Recreation and Conservation Department, with Superintendent Brian Gray and Deputy Superintendent Bob Kaczmarek at the helm.
I want to give a special shout out to the Parks Department staff members, Rich Strobel and Inga Denunzio, who assisted Santa in building a new sled specifically for our event
We also want to extend thanks to our talented Hoff Barthelson carolers, SHS's For Good Measure, and the Westchester Chordsmen. We also express sincere appreciation to Rabbi Blake from Westchester Reform Temple who will offer a prayer.
Let's welcome in the holidays this evening as Reed Lednak, an Edgewood kindergartner is our lucky raffle winner who will help us light the menorah and tree. Let's all count down.
(Photo credit: Joe DiMartino)
Cellist Peter Stumpf to Perform with Hoff-Barthelson Festival Orchestra
Details

Written by

Joanne Wallenstein

Hits: 307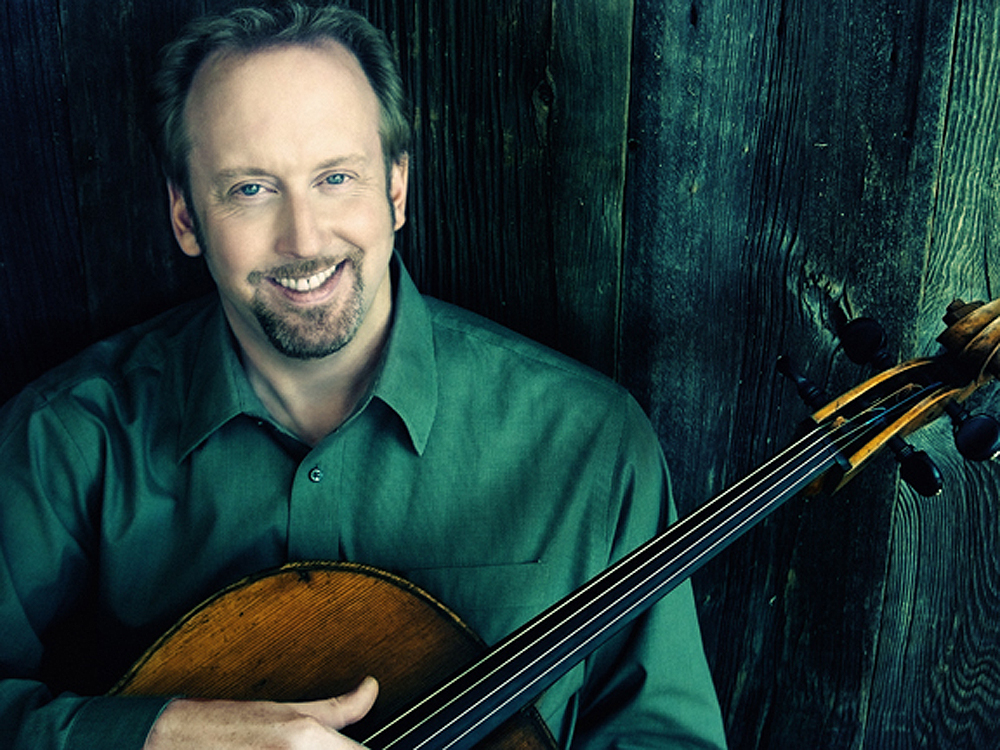 Works by Grieg, Tchaikovsky and Sibelius will be performed at Hoff-Barthelson Music School's Festival Orchestra's 2022-2023 season opening concert on Saturday, December 10, 2022, at 7:00 pm at the Community Unitarian Universalist Congregation at White Plains, 468 Rosedale Avenue, White Plains, NY. Under the direction of Jun Nakabayashi, the orchestra will perform selections from Grieg's familiar and much beloved Peer Gynt, Tchaikovsky's graceful and elegant Variations on a Rococo Theme featuring renowned cellist Peter Stumpf as soloist, and Sibelius' Pelléas et Mélisande.
Admission
General admission is $20; HBMS Students may attend free of charge. Program and artist is subject to change. Tickets may be purchased at the door.
About the Festival Orchestra
Hoff-Barthelson Music School's Festival Orchestra is a full symphonic orchestra for high school students at the highest level of technical ability and musical artistry. Lauded as one of the finest high school orchestras in the United States by the New York State Council on the Arts, the Festival Orchestra performs three concerts annually; two are with guest artists of international stature. Members of the Orchestra also participate in sectional coachings with musicians from the New York Philharmonic.
About Peter Stumpf
Peter Stumpf is professor of cello at the Indiana University Jacobs School of Music. Prior to his appointment, he was principal cellist of the Los Angeles Philharmonic. He received a bachelor's degree from the Curtis Institute of Music and an Artist's Diploma from the New England Conservatory.
A dedicated chamber music musician, he is a member of the Johannes String Quartet and has appeared on the chamber music series at Carnegie Hall, Kennedy Center, the Boston Celebrity Series, the Da Camera Society in Los Angeles, Walt Disney Concert Hall, Concertgebouw in Amsterdam, Casals Hall in Tokyo, and at the concert halls of Cologne.
He has performed with the chamber music societies of Boston and Philadelphia and at the Casals Festival in Puerto Rico as well as the Festivals of Marlboro, Santa Fe, Bridgehampton, Ottawa, Great Lakes, Ojai, Spoleto, and Aspen. He has toured with Music from Marlboro, the Casals Hall Ensemble in Japan, and with pianist Mitsuko Uchida in performances of the complete Mozart Piano Trios.
Concerto appearances have been with the Boston Symphony, the Philadelphia Orchestra, the Los Angeles Philharmonic, the Boston Philharmonic, the Virginia Symphony, the Vermont Symphony, the Connecticut String Orchestra, the Chamber Orchestra of the South Bay, the American Youth Symphony, and at the Aspen Music Festival.
His awards include first prize in the Washington International Competition, the Graham-Stahl Competition, and the Aspen Concerto Competition and second prize in the Evian International String Quartet Competition.
For Additional Information
For additional information: 914-723-1169, hb@hbms.org, www.hbms.org.