Abstract Paintings by Local Artist On Display at the Scarsdale Library
Details

Written by

Joanne Wallenstein

Hits: 2569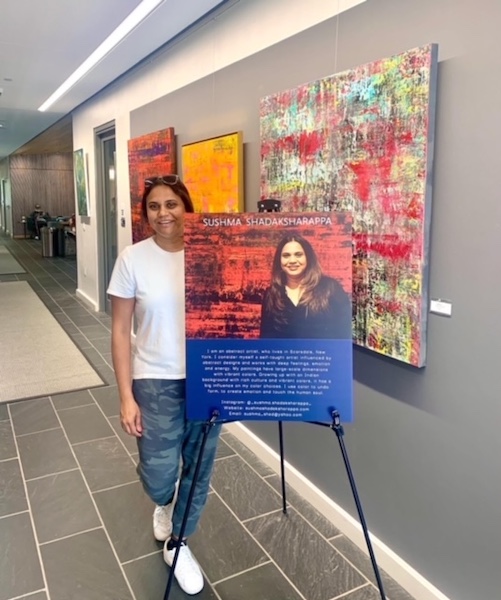 Among the many treats at the Scarsdale Library are regular art exhibits of the work of Scarsdale artists on the walls of the Scott Room.
You can stop by any time to enjoy the excellent work of your talented neighbors.
This week I happened on Sushma Shadaksharappa and her husband who were hanging an exhibition of her vibrant abstract artworks on the walls of the Scott Room.
Sushma explained that she is a "self- taught artist influenced by abstract designs who works with deep feelings and emotions when she paints." She said, "I love to paint on large scale dimensions with vibrant colors. Sort of like an Indian sari (traditional women's colorful dress on a canvas!)
She said, "I started painting at a young age, typically different styles of traditional Indian art. As an adult I evolved more towards the abstract. I grew up with an Indian background which has a rich culture and bright colors. I use color to undo form and create emotions. "
COVID inspired her to return to something she loved. Sushma explained, "When Covid hit and I stayed home I wanted to experiment and learn this technique. I have loved it ever since and made many paintings for friends and donated my art and art auction proceeds to many worthy causes."
Who has influenced her? Sushma said, "About 5 years ago I happen to see Gerhard Richter's art at the Tate museum in London and was absolutely fascinated by his style of painting."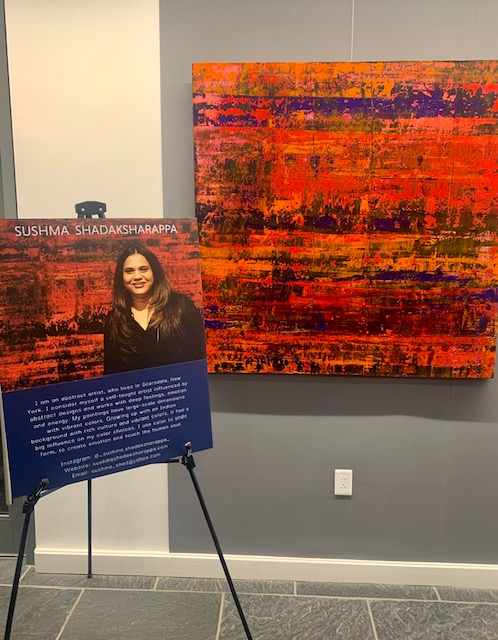 Sushma lives in Scarsdale with her husband and two children, who are all helpful and her "favorite critics." She is very grateful for the support of the community who has encouraged her to keep painting.
Stop by the library to see her work, on view until September 30, 2022.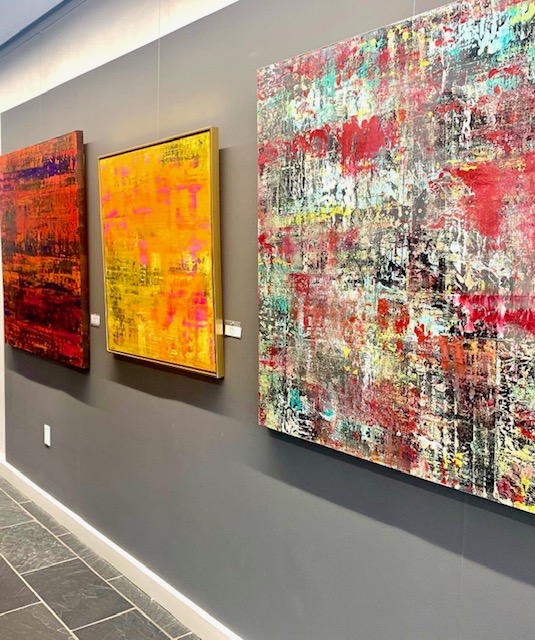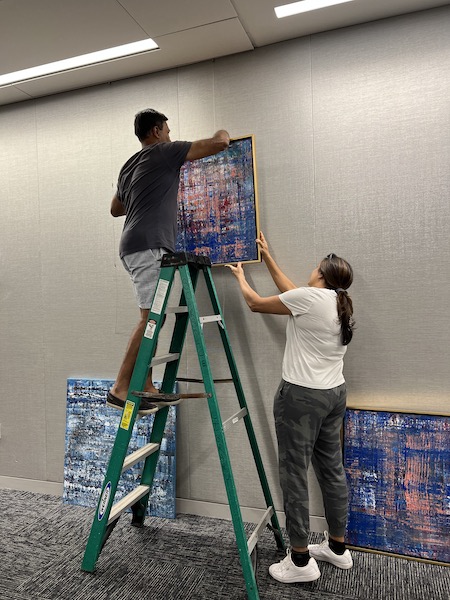 Movie Night: Hosted by the Greenacres Neighborhood Association
Details

Written by

Joanne Wallenstein

Hits: 562
Here's a letter from Kristin Zakierski, the new President of the Greenacres Neighborhood Association:

The Greenacres Neighborhood Association is back and stronger than ever in our 110th year, and I am honored to work alongside my neighbors to build a better tomorrow for our community. Having grown up in Scarsdale (along with my husband) and now raising our children here, there is no time like the present to get involved and make a difference!
Our team of officers for the coming year is composed of new and long-time residents of Greenacres:

Kristin Zakierski, President
Lauren Easton, Vice President
Cynthia Crowe, Secretary
Dan Volpi, Treasurer
Sharon Chesler, Membership
Our first event of the school year is Outdoor Movie Night on Saturday, September 17 at Greenacres Field. SING 2 will start promptly at 7:15pm. The event is free for Greenacres residents, faculty, and students. Thank you to all those who have already joined the GNA for the 2022/2023 school year. Membership dues and generous contributions from our community are our sole sources of funding that help us host fun events like Outdoor Movie Night. We hope to see you there!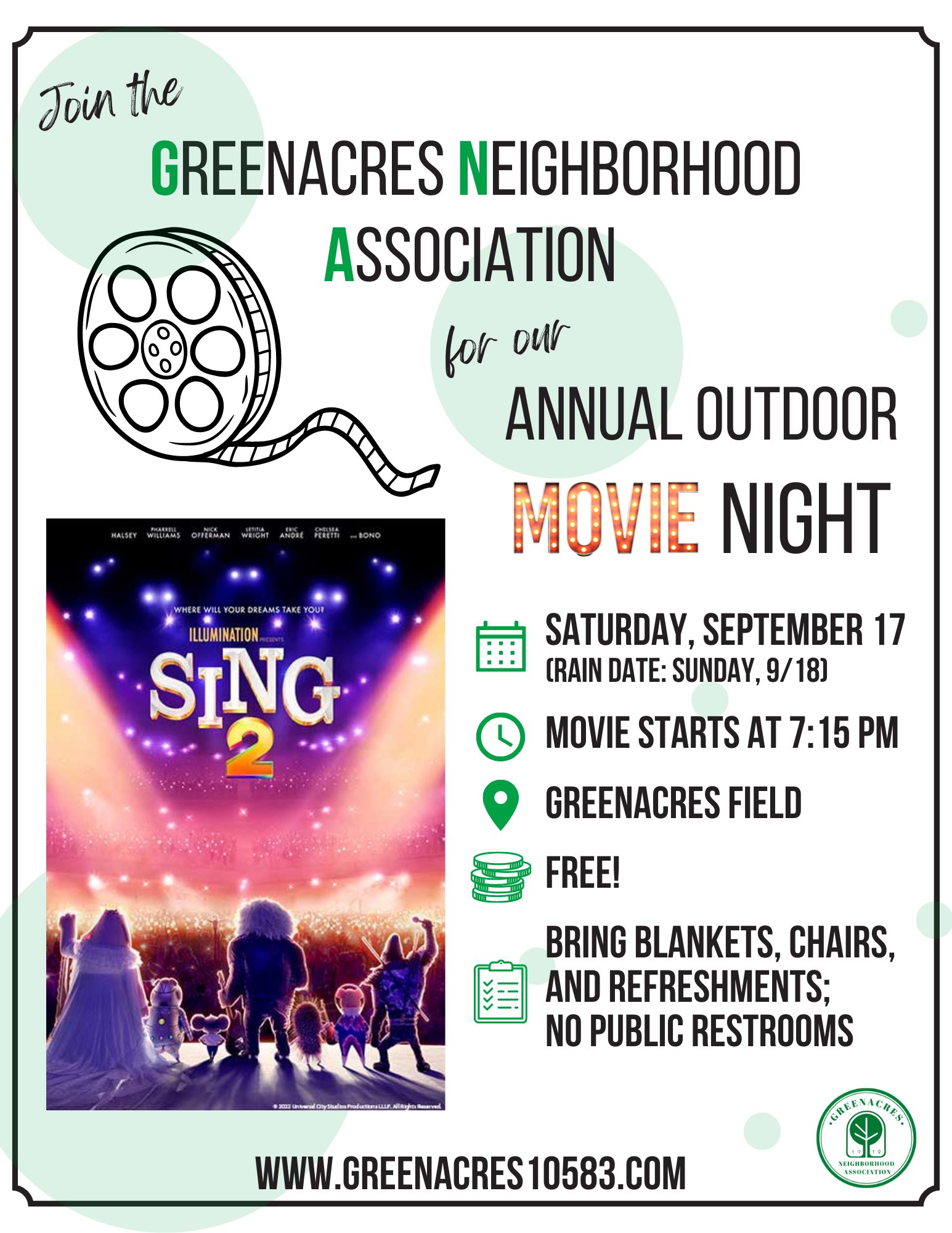 UJA Trunk Show Returns to the Tent in Bridgehampton
Details

Written by

Joanne Wallenstein

Hits: 602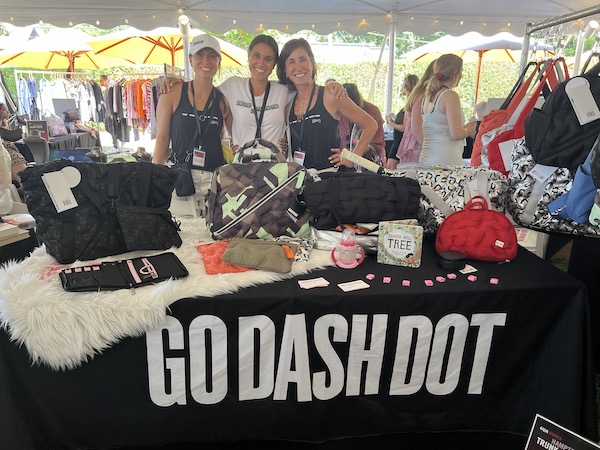 After a three year hiatus, the Annual UJA Hamptons Trunk Show was held in Bridgehampton, NY on August 4, 2022. Though the weather was steamy, high temperatures couldn't dampen the shoppers who crowded under the tent to shop for jewelry, apparel, housewares, art and even furs. Vendors displayed a rich array of merchandise, some custom made, and the reception was enthusiastic.

Adrienne Tanner, Executive Director, UJA Women said, "It was wonderful hosting an in-person Hamptons Trunk Show again - the first in three years - and bringing together more than 500 shoppers and 60 vendors who share our passion for philanthropy under our signature white tent. Beyond the shopping, it was the community spirit throughout the day that helped make the event a great success."

Strolling the tent, we ran into some friendly faces from Westchester and also noted some others that warrant further investigation.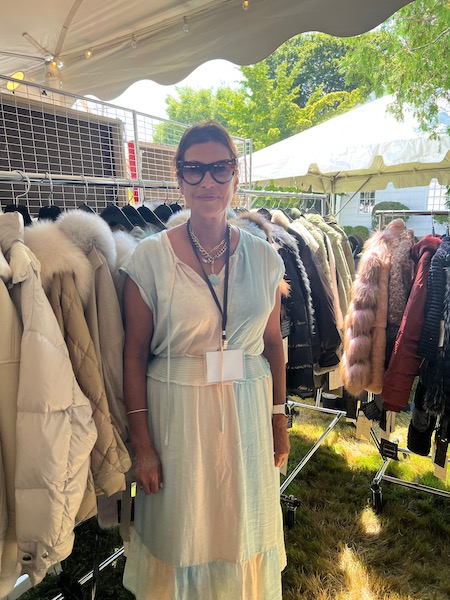 Scarsdale's own Emily, Melissa and Hannah Fastov from Go Dash Dot displayed their colorful and useful line of totes, gym bags, backpacks, beach bags, computer carriers and more! Shop here:

Linda Richards of Port Chester was pleasantly surprised to find that the group was ready to buy winter furs. By noon, she had already sold twelve coats! See them here.

Keri and Farrel Starker and Shari Fruhling from Designs that Donate embraced the spirit of philanthropy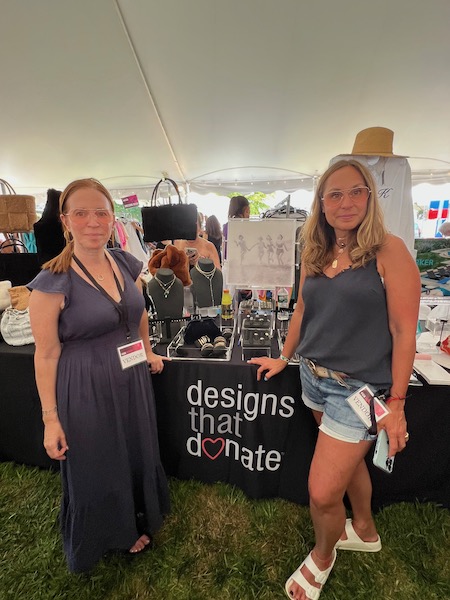 by donating a percentage of every purchase to the charity of the buyer's choice. See more here.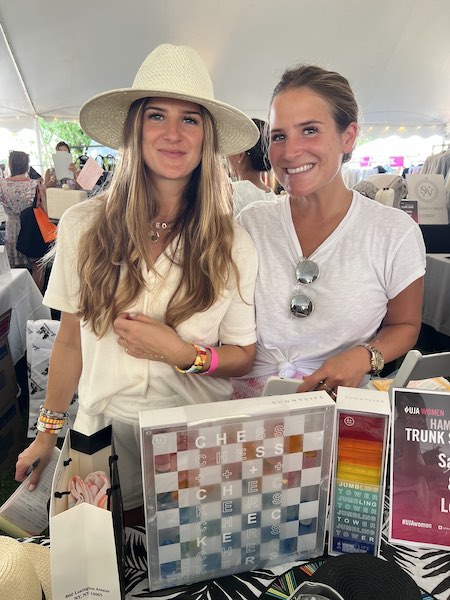 We picked up some nice pajamas from Sam and Lex, who brought a curated collection of clothing, hats, accessories and home goods to the show.

Freida Rothman explained the inspiration behind her original gold and silver jewelry. A Brooklyn resident, Rothman designed stunning necklaces, bracelets, earrings, rings and more, tying in themes from Brooklyn and Woman of Strength including her grandmother and her great aunt who are both holocaust survivors.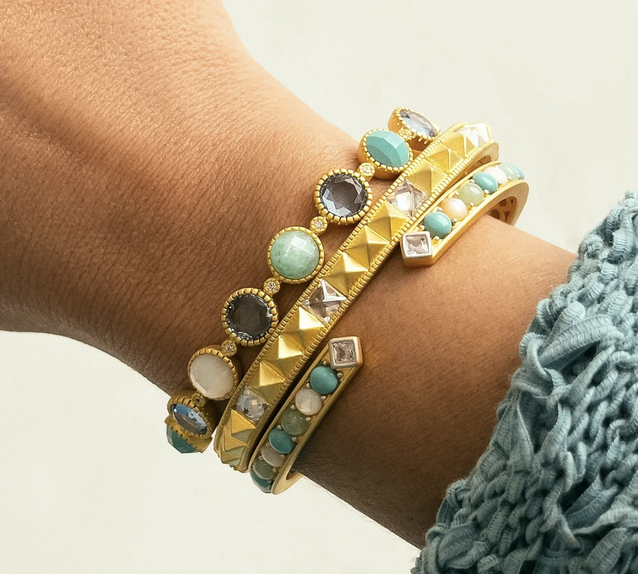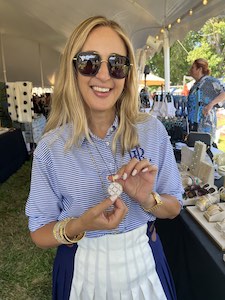 Artist Shari-Beth Susskind brought her large and colorful acrylic and resin pieces – ready to brighten your walls.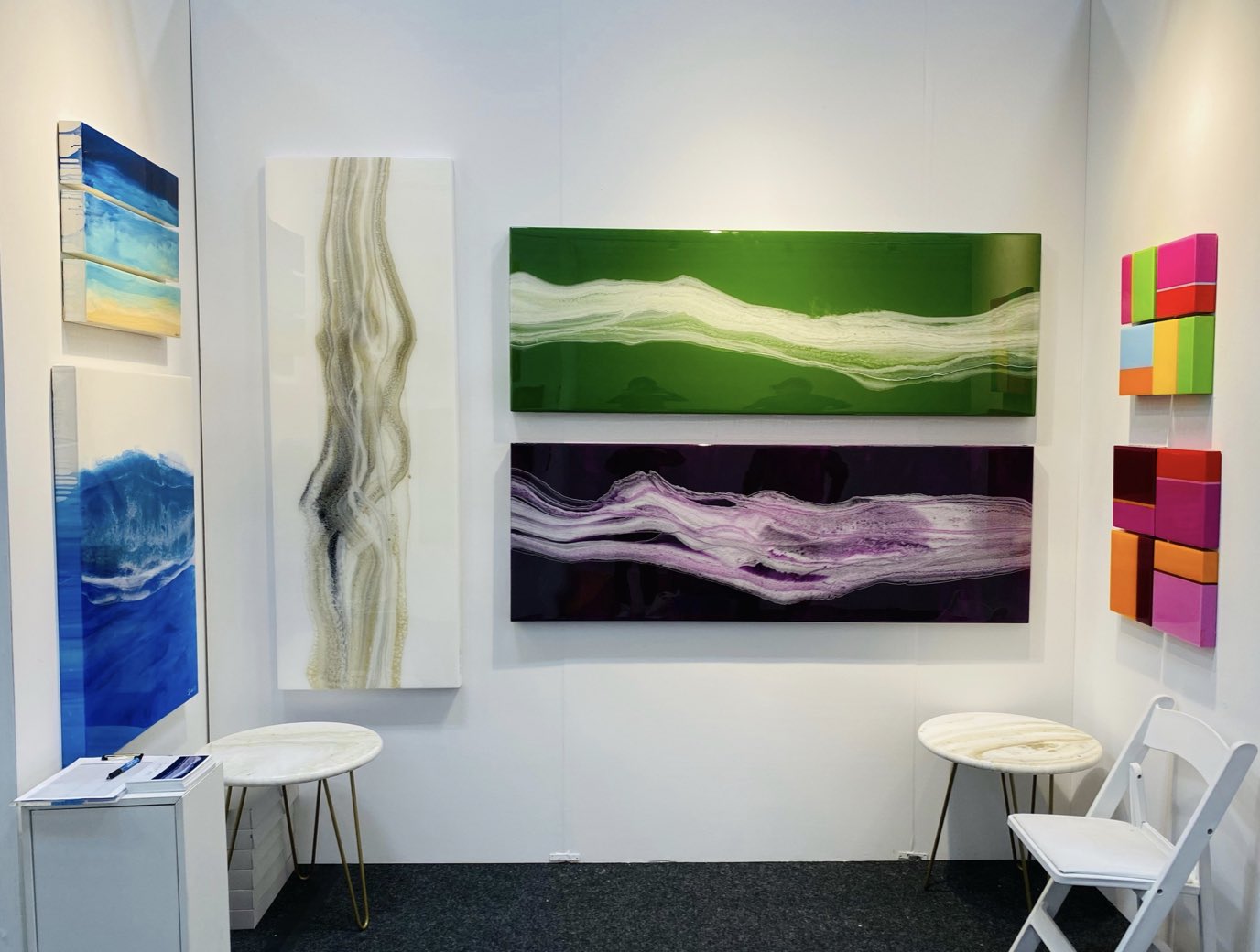 We stopped by a table for T'Shuvah Center and spoke to Viven Hoexter and Benjamin Lichtman. They explained that T'Shuvah Center is a Jewish recovery community for addicts of all kinds. Based in New York City, they integrate Jewish wisdom, text and ritual; the 12 Steps; and spirituality to help those suffering find a path to recovery.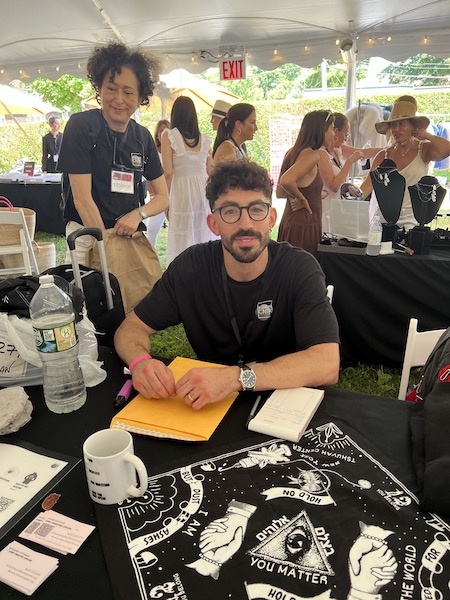 The show was even better than we remembered it – and we look forward to next year under the tent.
Hoff-Barthelson Music School Hosts Early Childhood Open Houses
Details

Written by

Joanne Wallenstein

Hits: 402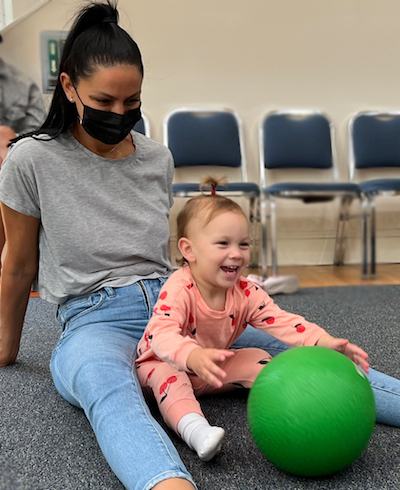 Families eager to enroll their very youngest members, ages 9 months to 5 years, in a high-quality, safely delivered music education program are invited to attend an in-person Open House on Saturday, September 10, or Monday, September 12, 2022, from 10:00 to 11:30 am. Learn more about the School's Dalcroze-based music and movement program and get a taste of program activities children and their adults can look forward to together. Participants will have the opportunity to join in the fun of a music and movement class at 10:30 am, followed by a brief Q & A with faculty.
For additional information and to RSVP:
RSVP required: Visit www.hbms.org, e-mail hb@hbms.org or call 914-723-1169.
About the Early Childhood Program and First Instrument Classes
Hoff-Barthelson's Early Childhood classes encourage and support the development of children's minds and bodies through Dalcroze Eurhythmics, a renowned teaching method that pairs music and movement.
Weekly classes for preschoolers incorporate exercises and games that involve singing, moving, improvising, and using small percussion instruments to promote keen inner hearing and rhythmic sensitivity. Props such as colorful balls, hoops, scarves, and puppets animate musical concepts and engage the senses and imagination. Even the very youngest children develop focus, spatial awareness, fine and gross motor skills, social skills, and the ability to work with others—all while having fun.
Classes are available for parents/caregivers with their children as well as in a "drop-off" format for children who enjoy attending music class independently.
"Weekly early childhood classes at HBMS offer a rich and inviting musical environment where children enjoy singing songs, moving to live music, and playing percussion instruments," said Laura Barnet, Early Childhood Music Specialist at Hoff-Barthelson. "These group experiences are the perfect first step to private instrumental instruction!"
For families interested in taking the first steps in learning to play an instrument, group classes in piano, violin, flute and guitar introduce the joy of making music with others while teaching basic playing technique, and foundational musical concepts.
A complete listing of available classes and their descriptions can be found here.
Photo: A parent and child enjoy an Early Childhood Music Class at Hoff-Barthelson Music School. Photographed by Derek Cooper.
Westchester Reform Temple and Congregation Kol Ami Crank Up the Heat at their Second Annual Summer Stage Concert
Details

Written by

Andrea Seiden

Hits: 914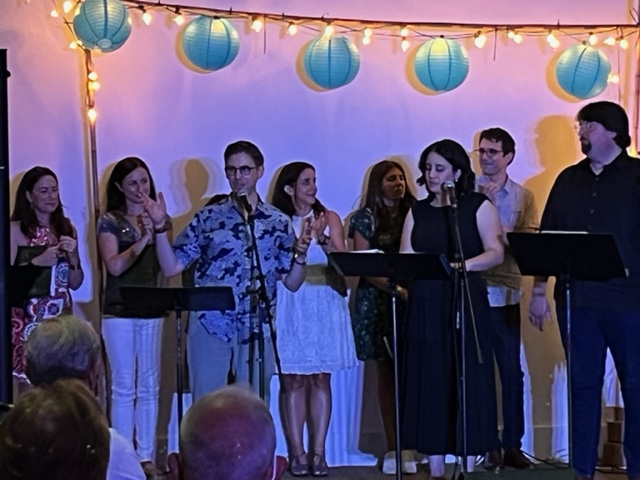 Temperatures were rising on Tuesday night, when Westchester Reform Temple in partnership with Congregation Kol Ami of White Plains, hosted their second annual combined Summer Stage Concert. Talented congregants, Broadway performers, and clergy from both synagogues treated the community to popular music and songs in honor of Tu B'Av, the Jewish holiday of love.

Local superstars took the stage and sang:

Isaac Sonett-Assor - It All Fades Away – the Broadway show, Bridges of Madison County

Erika Radin - I Feel The Earth Move - Carole King

Cantor Amanda Kleinman - What a Wonderful World, Louis Armstrong

Rabbi Jonathan Blake - Knocks Me Off Feet, Stevie Wonder

Randi Culang - Time After Time, Cyndi Lauper

Cantor Danielle Rodnizki - Carried Me With You, Brandi Carlile

Cantor Mia Fram Davidson - Don't Stop Believing, Journey

Cantors Daniel Mendelson & Amanda Kleinman - Wonderful Tonight, Eric Clapton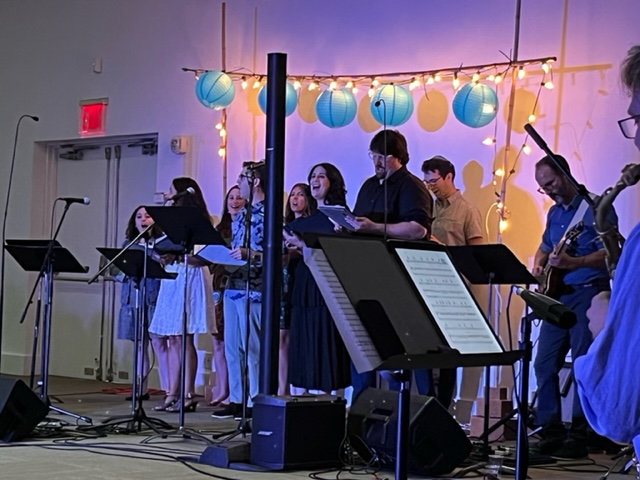 Two of the strongest vocal moments were when Kol Ami Cantor Daniel Mendelson rocked a fiery rendition of the Meat Loaf hit, I Would Do Anything For Love and Kelly McCormick of Broadway fame, rocked Melissa Etheridge's Come To My Window.

Singers were backed by some of Westchester's best band members and included: Alex Hopkins: Piano/Music Director, Marc Phaneuf – Saxophone, Mairi Dorman-Phaneuf – Cello, Oren Neiman – Guitar, Bob Miller – Bass, and Nadav Snir-Zelniker – Percussion.
We caught up with Alex Hopkins who shared, "We purposely selected songs that people know and love in order to create greater relatability, joy, and community cohesiveness." He went on to say, that their aim was to delight attendees and at-home Zoomers -ultimately reminding everyone that, All We Need is Love.
While leaving the show, one attendee, Elizabeth Ward, commented on the incredible talent that was assembled for the concert. "Everyone was amazing and I can't wait for next year's show." It is fair to say that the music lifted everyone's spirits, leaving the attendees completely rejuvenated and ready to take on the summer's record breaking heat.