Greenacres Glows on Graduation Day
Details

Written by

Sydney Albert

Hits: 1164
The Greenacres Elementary School made history with their first graduation car parade on Friday June 19, 2020, The parade was held to honor the fifth grade class of 2020. Since they were not able to attend the traditional moving-up ceremony, these students and their families drove around in cars covered in balloons, streamers, and other decorations. They cheered and honked as they drove through the Greenacres school area, making sure to maintain the celebratory manner of a traditional graduation.
The parade began on Montrose Road, where cars lined up next to a beautiful balloon display on the Greenacres field. The Greenacres faculty lined the sidewalks, clapping and waving pom poms to show their pride for their students. The cars moved in an orderly fashion around the school and throughout the neighborhood, and students maintained their excitement and positive energy throughout the entire twenty minute route. When the cars reached the end of the parade, they were met once again by their overjoyed teachers.
Although it was certainly not the graduation ceremony Greenacres students were expecting, the parade definitely gave them an opportunity to celebrate their accomplishments. Having all of the students in separate cars allowed them to be honored individually, making the ceremony special and personal. Congratulations to graduates of Greenacres Elementary School and best of luck at Scarsdale Middle School.

Also sending congratulations to the graduates of Heatcote, Quaker Ridge, Edgewood, and Fox Meadow Elementary Schools. Wishing you all the best!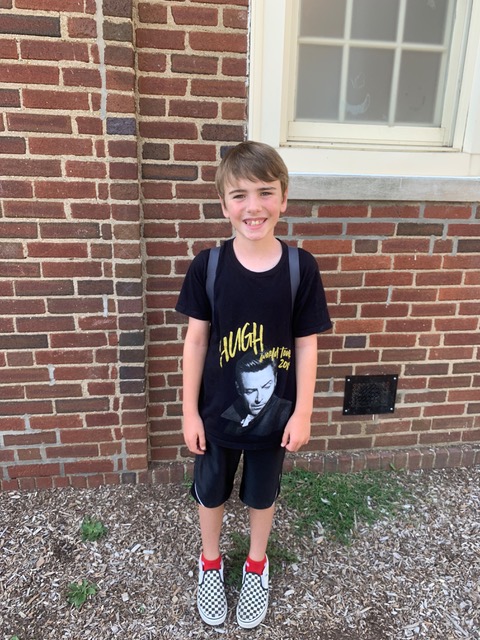 Ryan Smith, Edgewood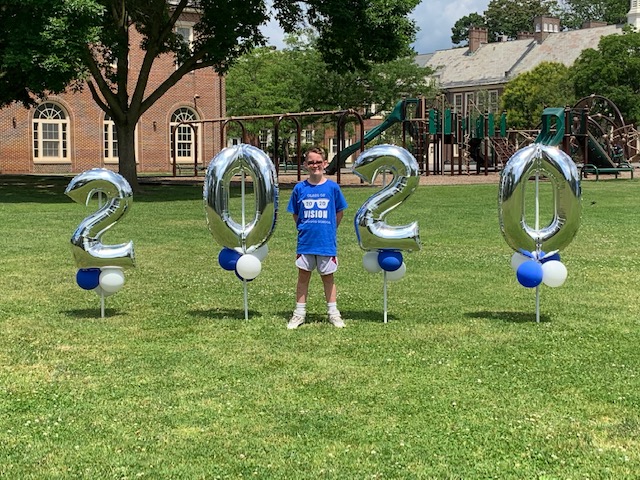 Luke Knopp, Edgewood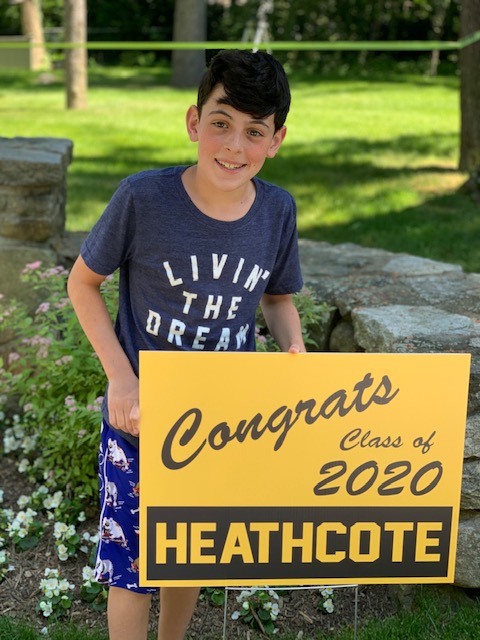 Aaron Lichtenstein, Heathcote


SHS Students Produce "Scenes from a New Normal" Documenting the Effect of the Virus on Scarsdale
Details

Written by

Joanne Wallenstein

Hits: 2574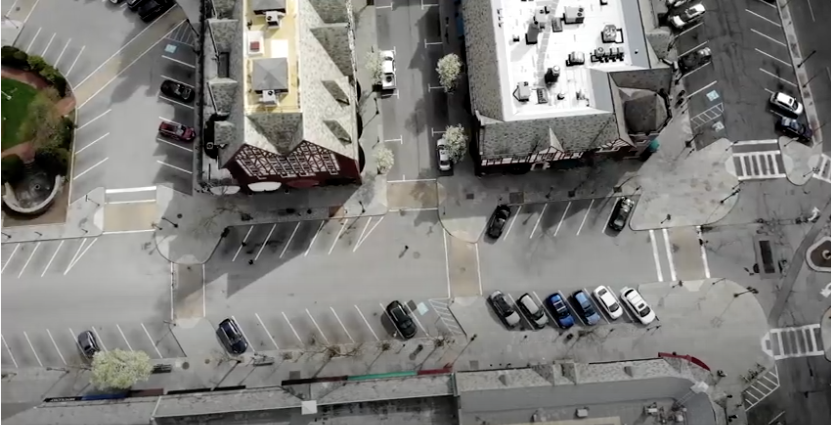 Three SHS sophomores have created a 23-minute documentary that chronicles the Corona outbreak and its effects on our hometown. The short film, titled, "Scenes from a New New Normal," is insightful, poignant and timely and has already received over 4,000 views on YouTube where it is posted online.
In order to create the film, William Reed, Jordan Cascade and Jake Lubin filmed over 36 hours of footage and conducted 26 interviews to show a wide variety of perspectives on how the virus hit the community. They were also able to include stunning aerial photographer of Scarsdale and the area made possible by use of a drone.
They spoke to students, teachers, business owners, SHS Principal Kenneth Bonamo, Scarsdale Mayor Marc Samwick, a CEO, a Rabbi, a physician and a resident who fell ill. All of the interviews and production were done entirely over Zoom, making this one of the first films to be produced totally online.
We spoke to Will Reed about the film and he explained, "As schools closed, the three of us decided that a productive use of our time would be to utilize our common interest in filmmaking and journalism to inspire people and bring insight to our community. Jordan Cascade used his drone to capture aerial shots of a variety of locations around the town and surrounding areas. We used these shots to manifest the desolate nature of the town during this period of isolation. In addition to the drone shots, we compiled clips and footage from students and friends. We used these to reminisce on days at school before the closures. We then asked our peers to send us footage that captured how they were spending their excess of time in creative ways."
Reed continued, "While conducting interviews over Zoom, we found it best to engage in a casual conversation, rather than a formal interview. Although we did prepare questions, we would let the conversation flow naturally and refrained from sticking to a rigid script, as we felt this allowed our interviewees' most raw feelings and thoughts to surface. One of the most difficult aspects of this collaborative process was that we never actually worked together in person. We collaborated entirely over Zoom and we made suggestions to Jordan as he edited during these calls."
And what has happened since the film's release? Reed said, "Since our release, the reaction to the documentary has been incredible and has exceeded our expectations by miles. In less than 8 hours, we received over 2,000 views, and that number is still climbing. We have received so many kind messages with people voicing their support and their feelings about the film. This reaction has been more than what we could have ever asked for, and we feel that we have achieved exactly what we set out to do: uplift our community."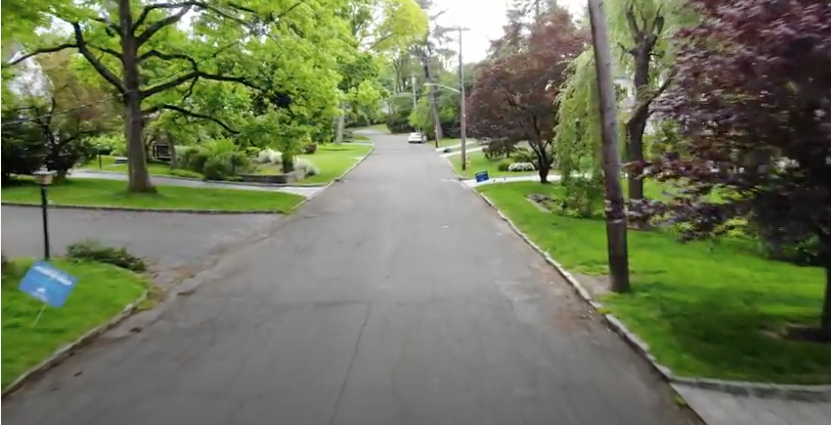 We asked for some information about the three young filmmakers and here is what they shared: Jake Lubin has been interested in filmmaking and journalism for a number of years. Creating a documentary was the perfect way to combine these passions.
Will Reed has an immense passion for creativity and artistry. The creation of this documentary highlighted his interviewing and collaborative skills.
Jordan Cascade has always been making films, even as a third grader, making a movie about Hurricane Sandy. After the closure of his school, he knew this would be another life-shifting moment and joined Jake Lubin and Will Reed in creating Scenes from a New Normal.
Country Club Provides Innovative Service to Members, Despite Strict Regulations
Details

Written by

Joanne Wallenstein

Hits: 1732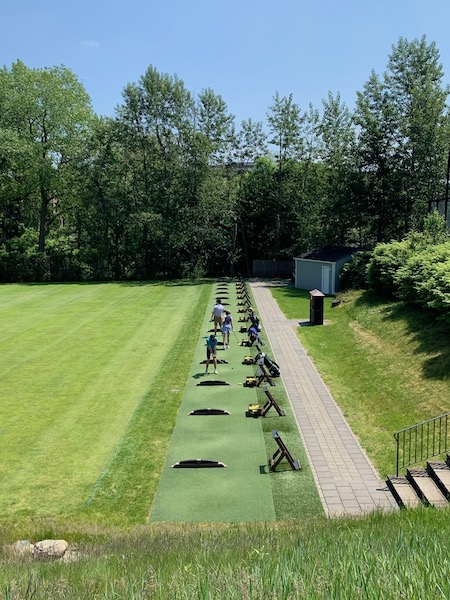 The COVID epidemic presented unique challenges to area country clubs who were poised to open just as the shutdown began. What was most frustrating was that suddenly most of the members found themselves at home with time to use the club's facilities – if only they were allowed.
We wrote to five country clubs in our area to inquire about how they were responding to the crisis and only heard back from Scarsdale Golf Club who had lots to communicate about meeting members' needs while complying with local laws.
Here is what they shared: First they were permitted to open the golf course in March, and though members had to walk rather than drive golf carts, the club reports that usage was unprecedented. In mid-May the driving range opened and members were again permitted to use golf carts, with restrictions. Golfers have been enjoying the course which looks even more beautiful this spring.
The tennis courts were next. The club was able to observe social distancing rules by allowing the use of alternate courts and requiring members to bring their own balls and wear gloves. At the start, players were only permitted to play with other members of their households. Then singles were permitted and this week doubles were given the okay as well. There are still no benches or tables around the courts, which limits socializing, but members are happy to be back on the courts. The regular team seasons were all cancelled as a result.
What about the kids? The club is happy to report that they still plan to hold their popular day camp if they can get the necessary approvals from the Westchester County Department of Health.
Timing for the balance of the re-opening is dependent on the Governor. With Westchester County opening today, the club anticipates that they will open the dining room and snack bar on June 23, but in the interim they came up with a novel and popular program to feed members during the crisis. Since many members were having difficulty food shopping, and also have a required annual food minimum to eat up at the club, Scarsdale Golf Club is offering their own weekly Pop Up Food Market. Each week members can order meat, fish, steak, dairy and produce from the club. The food is procured from the same providers that supply food for its dining room so members are enjoying quality meats and fish at a time when these can be difficult to procure.
Once a week, members can drive up to the club with their car and their order is dropped into their car trunks at curbside pick-up. The club reports that this program is very popular and has received rave reviews.
The club also offered virtual events for their members to enjoy at home including Happy Hour, Trivia Happy Hour, food and beverage recipes, low and high impact fitness work outs and golf and tennis instruction tips. All the virtual activities were created by their management team and sports professionals.
As the weather gets warmer, the club is hopeful that the pool and fitness center will be permitted to open in the beginning of July – but that remains to be seen. In the meantime, the membership is using and enjoying as much of the facility as possible and members are grateful to have this refuge in difficult days.
The club is welcoming new members to their 14-week Summer Guest Program and has many applicants for new members. Learn more at https://www.scarsdalegolfclub.org
Comment from the Village Manager: Police Will Help Promote a Safe Vigil in Scarsdale
Details

Written by

Joanne Wallenstein

Hits: 2004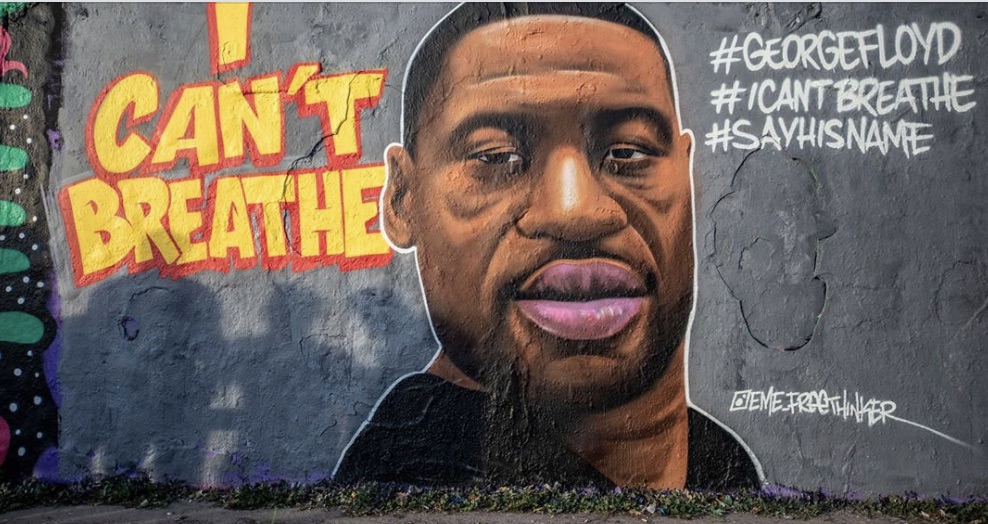 A vigil for George Floyd is planned for Chase Park on Friday night June 5, 2020 at 6 pm. The organizers say, "Let us memorialize George Floyd and countless other victims of police brutality, including those in Westchester County. It is time to come together at a social distance and listen in the spirit of justice and solidarity. We encourage you to wear black and bring a sign. Please wear a face mask and stand six feet apart. The date is Friday June 5 at 6 pm at Chase Park and the rain date is Sunday, June 7, from 6-7:30pm.""
We wondered if the event had been sanctioned by the Village and if the protesters had a permit. Will extra police be in the area?
We asked Deputy Village Manager Rob Cole for a comment, and here is his response:
"For the protection of event participants and in the interest of successful events, all special events require a permit. With respect to any upcoming vigil, we are unable to approve any permit due to public gathering restrictions imposed by the State of New York. However, Governor Cuomo has also acknowledged that vigils have been conducted throughout the state, as well as nationally. In his acknowledgment, he emphasized the needs to maintain social distancing and wear a face covering, as COVID-19 remains a significant public health concern. Peaceful vigils have thus been provided for under the NYS guidance.
In view of the foregoing, we recognize that a local vigil may occur. As organizers of such events contact Village officials, we relate that we are unable to issue a permit, educate them on topics that are typically of concern in the permit review process, and let them know that we intend to provide police presence to help promote a safe and successful event. This approach is consistent with how many other Westchester communities are handling requests for vigils.
We are partners in listening to and supporting peaceful voices in opposing instances of excessive police force and are partners in pursuit of substantive progress in establishing Scarsdale as a Westchester community known for its continuous efforts to support diversity and inclusion. As a local government and caring community, we will work together to reaffirm our commitments in this regard and pursue even higher levels of achievement."
The List: Local Restaurants Who Deliver or Offer Curbside Pick-up
Details

Written by

Joanne Wallenstein

Hits: 10898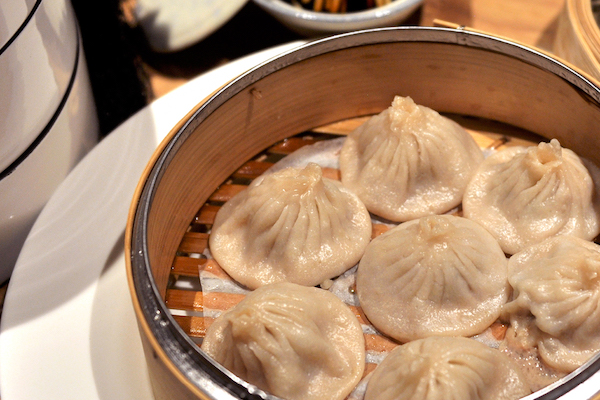 (Updated 4-21) Quarantine is lasting far longer than anyone could have anticipated and everyone is hungry. To that end we have expanded our list of restaurants offering pick-up and deliever and shops offering groceries.
In addition to enjoying local fare, by ordering, you will help to keep these local businesses open and busy during a most difficult time.
So eat in, enjoy and support our local economy by ordering in from these restaurants:

Ths list was updated this week. If you have restaurants or stores to add, please email us at scarsdalecomments@gmail.com.
Amore Pizza offers delivery of their medium, large and extra-large pizzas., salads, pastas and dinners. Click here to see the menu.
Amore Pizza, 1479 Weaver Street, Scarsdale (914) 725-9000
Azuma Sushi offers their Tokyo-style sushi and sashimi for takeout.
Azuma Sushi, 219 E. Hartsdale Ave. Hartsdale, NY (914) 725-0660
Bango Bowls offers pick-up or delivery via door dash. Go to their website here to order: Bango Bowls is also offering catering for front-line healthcare workers; for more information about catering, call (914) 240-2840.
Bango Bowls, 16 Harwood Court, Scarsdale (914) 725-0555
Bistro 808: Enjoy their food at home by ordering on Grub Hub, UberEats and Door Dash. If you prefer curbside pick-up, call them and they will have your order taken to your car.
The 808 Bistro, 808 Scarsdale Avenue Scarsdale 914-722-0808
Bosphorous Turkish and Mediterranean Restaurant is cooking up fresh, healthy and tasty fare. It's easy to order online here: https://bosrest.com/menu/dinner/
Bosphorous, 215 East Hartsdale Avenue, Hartsdale, NY, 914-722-2000
Chat American Grill: It's easy to order your meal for takeout or delivery on the Chat website here: https://chatamericangrill.com
Chat American Grill, 1 Christie Place, Scarsdale, 914-722-4000
City Limits Diner delivers via uber eats and it is simple to order online here https://www.citylimitsdiner.com Enjoy their Greek Lenten menu from now until April 18.
City Limits, 200 Central Avenue, White Plains, NY 914-686-9000
Copper Kettle Cafe: Check out their menu online here: https://www.copperkettlecafe.com and call them to order your meal for pick-up:
Copper Kettle Cafe, 201 E. Hartsdale Avenue, Hartsdale, 914-723-1065
Eastchester Fish Gourmet is offering take out and curbside pick-up. Find their menu here: www.eastchesterfish.com. Their fish market has a full array of fresh fish and prepared foods including fish, vegetables and grain. Go Fish is cooked to order take out and is open MOnday to Saturday from 11am to 6 pm.
Eastchester Fish, 837 White Plains Road, Scarsdale, 914-725-3450
Frank and Joes Deli for deli sandwiches, hot meals and more. Full menu, Daily Specials . Curbside pick up/ delivery
Frank and Joes Deli, 702 Central Avenue, Scarsdale NY, 914-723-5454
Golden Wok Cafe (Rite-Aid shopping Center) in Ardsley is open for call-in takeout orders. Curbside pickup is available. Updated hours are listed on their FB page at www.facebook.com/goldenwokcafe. They also have an extensive dedicated Gluten-Free menu!
Golden Wok Cafe, 875 Saw Mill River Road, Ardsley 914-693-2110
Granita Cucina and Bar is offering a free bottle of wine with pick-up and delivery orders of $50 or more. Try their delicious pastas, entrees and pizzas.
Granita Cucina and Bar, 202 East Hartsdale Avenue, Hartsdale, (914) 725-8420
Haiku Scarsdale/Eastchester offers an Asian fusion limited take out menu for pick-up. Check out the menu here:
Haiku, 717 White Plains Road, Scarsdale, 914-722-4200
Hartsdale House of Pizza - for pizza, paninis, soups and much more. Free delivery on Seamless.
Hartsdale House of Pizza, 203 East Hartsdale Avenue, Hartsdale, NY (914) 491-5710
India Cafe: Delicious Indian take-out available, pick-up or order via GrubHub. Check out their menu and order here.
India Café, 98 East Post Road, (914) 997-6268
Jackie B's is also offering easy ordering and delivery via seamless. Find burgers, sliders, salads, entrees and slikes, all at reasonable prices here.
Jackie B's, 28 Garth Road, Scarsdale (914) 874-5328
Little Thai Kitchen offers online ordering and delivery via GrubHub. When you're looking for something different for dinner, click here:
Little Thai Kitchen, 13 Popham Road, Scarsdale, (914) 472-6600
Lulu Cake Boutique is dropping off complimentary baked goods to those in quarantine, the elderly or immune compromised. Go to their Facebook page at Lulu Cake Boutique to send info on those who can use some good cheer.
Lulu Cake Boutique, 40 Garth Road, Scarsdale (914) 722-8300
Martine's Fine Bake Shoppe is now offering free delivery. Order their delicious pasties, sandwiches, soups and more by called 914-346-8650.
Martine's Fine Bake Shoppe, 48 East Parkway, Scarsdale NY (914) 722-4949
Meritage: Order your dinner to enjoy at home from Meritage. There's a wide array of choices and their famous roast free range chicken that can be ordered through uber eats. See the menu here:
Meritage, 1505 Weaver Street, Scarsdale, NY 914-472-8484
Metro Deli: Order breakfast, lunch and dinner from Scarsdale's Metro Deli on seamless https://www.seamless.com/menu/metro-deli-4-palmer-ave-scarsdale/588934 Open seven days a week.
Metro Deli, 4 Palmer Avenue, Scarsdale (914) 472-4760
Moscato: Now you can have your great meal at home. Order online at https://moscatorestaurant.com or by phone for pick up or complimentary delivery.
Moscato 874 Scarsdale Avenue, Scarsdale NY 914.723.5700
Nikos Taverna: Go Greek! Nikos is offering delivery on UberEats, Grubhub and Seamless. Try gyros, falafel, salads, sandwiches and more.
Nikos, 287 Central Avenue, White Plains, 914-686-6456
O Mandarin Chinese Cuisine has dumplings, soups, cold and hot appetizers, Sichuan entrees, Peking duck, hot pot, rice, noodles and chef's signature meals. Curbside pick-up or delivery within 10 miles. Click here for their dine-in menu:
O Mandarin, 361 North Central Avenue, Hartsdale, NY 914-437-9168
Polpettina in Eastchester and Larchmont are offering thier pizzas, pastas, fries, salads and meatballs for pick-up or delivery.
Polpettina, 102 Fisher Avenue, Eastchester, NY 914-961-0061
Polpettina, 147 Larchmont Avenue, Larchmont, NY 914-341-1460
It's easy to order your Popojito MedMex Kitchen tacos, ceviche, quesadillas, enchiladas and more for pick or delivery. Just click here to get started:
Popojito, 46 Christie Place, Scarsdale, (914) 713-8946
Ruffled Feathers is offering their delicious chicken, duck, soups, entrees and sides. Call to order for curbside pick up and delivery. Ruffled Feathers Gourmet, 75 Garth Rd, Scarsdale, NY (914) 725-6880
http://www.ruffledfeathersgourmet.com/
Sal's Pizza in Mamaroneck is famous for their award-winning pizza. Click here for their menu:
Sal's 316 Mamaroneck Avenue, Mamaroneck NY 10543 (914) 381-2022
Slice of Scarsdale for world renowned pizza. Either pick-up or have it delivered. Order online here:
Slice of Scarsdale, 58 Garth Road, Scarsdale, 914-472-9725
Único: Check out their menu online here: https://www.unicony.com and call them to order your meal for pick-up:
Único, 10 North Central Park Avenue, Hartsdale, 914-607-3363
Vega Mexican in Hartsdale is offering a 15% discount for delivery and curbside pick-up. Visit their website for details.
Vega Mexican Cuisine, 189 East Hartsdale Avenue, Hartsdale. (914) 723-0010
Via Forno is now delivering seven days a week. Just click here https://viafornopizza.com to order your pizza, panini, pasta and more.
Via Forno, 2 Garth Road, Scarsdale (914) 556-6464
Vietnam Central offers traditional Vietnamese cuisine and free delivery within a three mile radius. See their menu here. Call to place an order: (914)-723-7222 . Text to place an order: (917)-318-1262 (include name and any allergies)
Vietnam Central 694 Central Park Ave. Scarsdale, NY
Westchester Burger Co. has a variation on the burger for every night of the week. See their menu here and call for pick-up.
Westchester Burger Co, 56 Garth Road, Scarsdale (914) 205-5900

Wood and Fire Pizza offers pizza and other traditional Neapolitan dishes for takeout and delivery. https://woodandfirepizza.com/
Wood and Fire Pizza, 118 Brook St, Scarsdale, NY (914) 722-4854

Grocery Delivery
Balducci's is happy to deliver your order to your home. Simply go online here, https://www.balduccis.com/delivers, place your order and you can pick it up or have it delivered.
Balducci's, 15 Palmer Avenue, Scarsdale, NY (914) 722-0200
DeCicco Family Market
All DeCicco & Sons locations will allow just senior citizens, ages 65 and older, and families with immunocompromised members to shop between 8 and 8:30 a.m. each day without worry, as there will be limited access to the store.
58 East Parkway, Scarsdale, NY, (914) 725-3807
Fresh Market
Fresh Market has designating special shopping hours for seniors and other individuals most at risk. These hours are between 8 AM and 9 AM, Monday–Friday
723 White Plains Rd, Scarsdale, NY, (914) 723-6600
Stop and Shop
Beginning Thursday, March 19, all Stop & Shop grocery stores will open earlier in order to service only customers who are age 60 and over from 6 a.m. to 7:30 a.m. daily.
420 White Plains Rd, Eastchester, NY, (914) 337-6670
Westchester Greenhouse and Farms on West Hartsdale Avenue is open and well stocked with fresh fruits and vegetables, You can also enjoy their muffins and cakes.
Westchester Greenhouse and Farms, 322 West Hartsdale Avenue, Hartsdale, 914-949-9403, Senior hours: 8 am - 9 pm. Open seven days a week from 8 am to 7 pm.
Whole Foods Market, Amazon Prime members can shop Whole Foods Market on Amazon.com for grocery pickup on https://primenow.amazon.com/. The only store that offers pickup in Westchester is the one in Port Chester at 575 Boston Post Road, Port Chester, NY (914) 708-1985

If you want to add other restaurants or stores to the list above, please email scarsdalecomments@gmail.com.