Scarsdale Moms Rock Rye
Details

Hits: 13436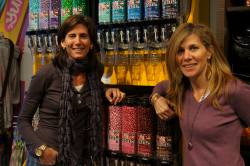 Two Scarsdale moms have opened a dazzling candy store in Rye – packed with goodies of every sort – for you and your kids, as well as great merchandise, gifts and a party facility. The store is beautifully appointed, well stocked and delightful to visit. Trish Frohman of Greenacres and Valerie Stone of Edgemont are the proprietors of Candy Rox and here is the story behind the store:
Trish is the mom of two teenage girls and worked in the city before she embarked on this entrepreneurial venture. For nearly seventeen years, she worked at Turner Broadcasting overseeing the Sports Sales and Marketing Group as well as the Event Marketing and Local Ad Sales Groups. Valerie is the mother of a son in tenth grade and twin girl sixth graders. For the past 15 years she was a stay at home mom, giving her time to the PTA and various charitable causes. Valerie has a background is in merchandising and product development, and worked for ten years Perry Ellis Menswear and in private label product development for retailers such as Neiman Marcus, Ann Taylor and Land's End.
The two met on the train platform when they were commuting back and forth to work and have known each other for over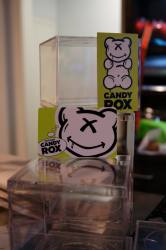 16 years. They started to formulate their concept for Candy Rox when they walked to work together and continued those conversations over many dinners.
The store wasn't born overnight. Trish and Valerie did lots of legwork to determine the viability of their idea, researching local markets to see what kind of competition already existed, and interviewing candy and retail proprietors in New York and outside of this market to better understand the dynamics of the business. They also attended several industry trade shows to meet with suppliers and storeowners, taking notes on everything from product, pricing and display ideas. The internet was also a tremendous tool in helping them research the hippest trends and finding the newest retailers that were making news.
Once they determined that their concept was a go, they looked at which towns in the area would make the most sense for their first store. They chose Rye because it is a destination town, with vibrant retail and restaurant businesses, good parking and most importantly, a number of schools that are within walking distance of the town. Resident of Harrison, Rye Brook, Purchase, Port Chester, and Greenwich also use Rye as "their town."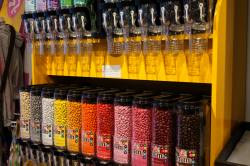 Both women liked the sense of community in Rye and felt that Purchase Street in particular was thriving at a time when many downtowns were having difficulties. Lastly, Rye is busy year-round as much of the community spends their summertime nearby.
Selecting the name Candy Rox was another big decision and once they chose it, they hired a branding expert to help bring the name to life, create a cool recognizable logo, develop store materials and build a website that will be up and running shortly.
In designing the store they sought to create an atmosphere that was a bit edgier than the typical candy store to appeal to both sexes and all age groups. To accomplish this, they pulled together images from a variety of sources that conveyed the kind of atmosphere they wanted and brought this information, along with their branding and mission statements to a series of design experts. They selected David Ashen of D-ash Design to bring it all together. The graffiti-tagged walls, barrel lights, chain link fence ceiling, and skate ramp lounge coupled with some old fashion touches like the glass jars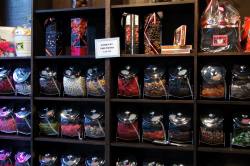 are a few of the design elements that distinguish Candy Rox.
The store is meant to be a destination for kids…. a place they can call their own. Its sensibility is general store meets industrial/X-games sensibility and kids are invited to hang out there as their parents might do in Starbucks. Candy Rox marries candy, cool gift items and music that allow people of all ages to come in and have and immediate association with the product. Everyone can relate to candy and music and everyone has a fond memory of what it means to them. The gift items sold in the store are affordable and reflect those feelings. There is everything from jewelry, framed posters of bands, t-shirts, bags, writing journals and notebooks to retro candy, bulk candy and headphones.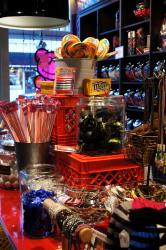 Candy Rox offers birthday parties, and their PJ parties are already a hit. For the holidays, they are already providing beautifully packaged corporate gifts, using three-tier candy towers and their client's favorite candies. For teachers and small holiday gifts there are candy filled boxes and with teddy bears.
On weekends, Candy Rox will host visits from artists and artisans to feature and sell their products. This Saturday, December 18, the artist known as "Reskew" who tagged the store walls with graffiti, will be appearing from 12-5pm to airbrush original t-shirts, creating unique gifts for all.
The store opened just a few weeks ago and so far, Valerie and Trish are extremely happy with the reception from the community, where shoppers are telling them that Candy Rox is "the coolest store ever." Among the most popular candies are the sour gummis for younger kids and teens with older folks gravitating to the retro candy. They've gotten big smiles from the adults when they see the Bonomo Turkish Taffy.
Stop by yourself to see what's so cool about Candy Rox and tell Trish and Valerie you read about them on Scarsdale10583.
Candy Rox
84 Purchase Street
914-844-6750
http://www.candyrox.net
Store Hours:
Weekdays: 11-6pm
Saturdays 12-5pm and Sundays 12 – 5 pm through the holiday season
The Mayor's Chocolate Cookies
Details

Hits: 3467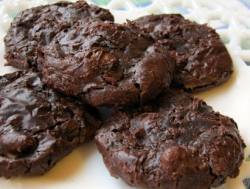 Scarsdale Mayor Carolyn Stevens is an excellent baker who often offers her homemade treats at Village meetings. On Monday night 12-6, she brought in a delectable tray of chocolate cookies to fortify the Trustees and participants during back-to-back meetings on historical preservation and the proposed Scarsdale Community Center. Several people asked her for the recipe and here it is:
Flourless Chocolate-nut Cookies
2 1/2 cup pecan of walnut halves

3 cups of confectioners' sugar

1/2 cup plus 3 tablespoons of unsweetened cocoa powder

1/4-teaspoon salt

4 egg whites (1/2 cup plus 1 tablespoon)

1-tablespoon vanilla extract
Preheat oven to 350 degrees. Roast nuts for 9 minutes...until fragrant. Cool slightly and chop finely.
Mix confectioners' sugar, cocoa and salt a bowl. Add nuts and stir. Add egg whites and vanilla and mix with an electric mixer on medium until batter is just moistened.
Drop batter by teaspoonful on to baking sheets covered with parchment paper in evenly spaced mounds.
Bake cookies until tops are lightly cracked and glossy - about 15 minutes.
Allow to cool for a couple of minutes and remove to a rack to cool.
Can be stored at room temperature in a tin for about 1 week.
Makes about 60 cookies.
Mara Liasson to Address the Scarsdale Forum
Details

Hits: 2657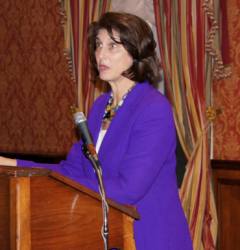 The Scarsdale Forum hosts its second Sunday Speaker Series program on Sunday, December 12th at the Scarsdale Womans Club, 37 Drake Road at 3 pm Mara Liasson a national political correspondent for National Public Radio, can be heard on their award winning news magazines,
All Things Considered and Morning Edition
.
Liasson provides extensive coverage of politics and policy from Washington, DC, focusing on the White House and Congress and also reports on political trends beyond the Beltway.

Years of experience allow her to offer an interesting perspective on the role and responsibilities of the media in today's society. A Scarsdale High School graduate, Liasson returns to Scarsdale to present "A View from Washington." Following Liasson's talk, the audience will have an opportunity to continue the discussion with her over refreshments. The Sunday Speaker Series programs are open to the public, free of charge and are underwritten in part by a generous grant from the Irving J. Sloan Education Fund, made possible by the Liz Claiborne-Arthur Ortenberg Foundation. For more information, visit www.ScarsdaleForum.com , call (914-723-2829) or e-mail: .
office@scarsdaleforum.com
Candlelight Tours Light Up December Nights
Details

Hits: 2749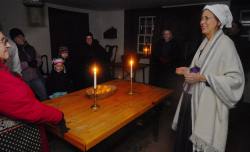 Washington Irving's Sunnyside in Tarrytown and Van Cortlandt Manor in Croton-on-Hudson, are offering candlelight tours on select December evenings. All Sunnyside and Van Cortlandt Manor tours during December are holiday themed and the sites are fully dressed in traditional holiday attire.
At Van Cortlandt Manor, the evening begins with a tour of the decorated Manor House, which features a harpist in the formal parlor. A guide carrying a candlelit lantern then brings visitors to the site's Ferry House, where a first-person account of Twelfth Night takes place, featuring the Lord of Misrule who leads the festivities. Inside the Ferry House, visitors are encouraged to dance to fiddle music. Afterwards, it's time to toast the season with cider and cookies near the warmth of a bonfire.
At Sunnyside, candlelight tours bring an 1850s Christmas to life. Visitors are escorted down a lantern-lit path and the house is decorated with holly, evergreens, and candles. Excerpts from Irving's Christmas tales and family letters are the evening's theme. Visitors can also participate in caroling. Hot cider is served beside a roaring fire.
Both sites, part of the Historic Hudson Valley network, offer evening candlelight tours on Saturdays, Dec. 11 and 18, and Sunday, Dec. 26. These tours begin at 4 each evening and the last tour is 8pm. Reservations are a must. Tickets — $14 for adults, $6 for children 5-17, free for those under 5 — may be purchased online at www.hudsonvalley.org or by calling 914-631-8200.
These Boots Are Made for Walking
Details

Hits: 3260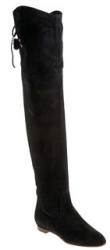 Although not unique to the fashion statement of the season, this year's "in your face" style accessory is a pair, or a few pair, of good-looking boots. Many of us are thrilled that a shopping endeavor can be focused on our pedicured limbs – for most of us, the easiest part of our bodies to dress! Yet, even within this seemingly simple shopping task, the menu is broad and quality and price points abound.
So, after having gazed at the boots through store windows and on your friends' legs, it is time (if you have not already done so) to purchase at least one pair of boots - quickly. Inventory at many stores is already depleted and sales are rampant. I am sure that all of you have boots lined up in your closet – the ones you pull out each year and then, half way through winter, realize it is not worth buying a new pair, thereby delaying the purchase yet another season. This year's rage is the over the knee cuff boot – an attractive quality as it hides many less desirable characteristics of our legs – yet sometimes less comfortable and, often only wearable with jeggings or skin tight pants (a discomfort all on its own.) A dress length can determine whether or not it can handle a cuff at the top of the boot.
For those women whose lower legs will not cooperate with this present style, and who feel that their legs look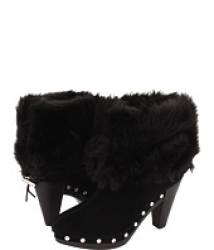 broader rather than leaner in a tall boot, consider wearing shorter booties under straight leg pants, with a 2 – 4 inch heel, or sporting turn of the century retro lace up or cuffed booties with skirts.
Needless to say, since the boots will be worn for many hours of the day, be sure you do not purchase an uncomfortable foot fashion and beware of heels that are too high. A three-inch heel will still supply the long and lean look and a small platform under the toe box will afford appreciated comfort. Beyond your purse (the subject for another day,) your boots will confirm that you have some fashion sense, and, that you have modernized your closet's outfits for the next five months.
Although you may be able to boot shop on your own, personal stylists from Mon Amie are available for helpful advice on how to coordinate boots and shoes into your wardrobe, along with consultations on event styles and ready to wear. Mon Amie exists to be sure that you are not pressured into any purchase by salespeople who, by virtue of their positions, push their store's wares. As Mon Amie is not married to any inventory, the client's best look is our only motivation and, we try to insure that our clients do not spend unwisely. By virtue of its name, Mon Amie allows you to shop with a " girlfriend" – the most loyal kind who has your best presentation as her foremost priority.
Written by Peggy Marx, Mon Amie, Personal Shopper/Stylist, Monamie17@gmail.com