Jill Spielberg to Serve as Scarsdale Forum Vice President
Details

Written by

Joanne Wallenstein

Hits: 2314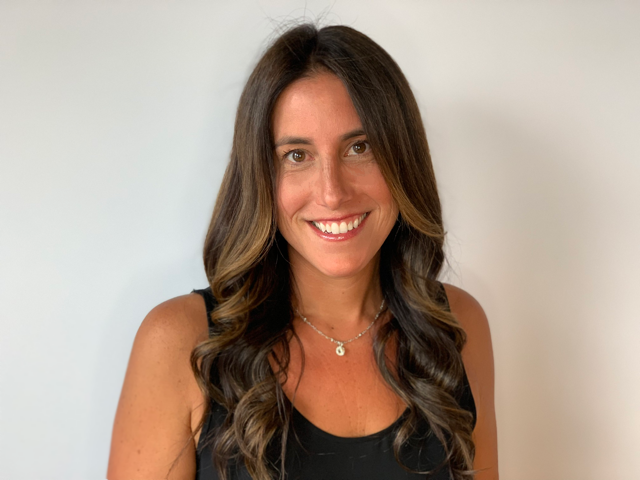 Jill Spielberg will serve as Vice President of the Scardale ForumThe Scarsdale Forum announced that members voted to elect Jill Spielberg as its Vice President at its Annual Membership Meeting. Spielberg will serve alongside Madelaine Eppenstein, Scarsdale Forum's new President. Forum members also elected Matthew Martin as Treasurer, Alexandra Tagami Vargo as Secretary, and Sarah Bell, Marcy Berman-Goldstein, and Christian Callaghan as Directors-at-Large.
According to Spielberg: "I am honored to take on this leadership role for an organization that is so important to the vitality and success of our village. I am excited to work with Madelaine Eppenstein as President, who is inspirational in her dedication to the Forum and to our community. We hope that this will be the beginning of a period of rapid growth for the Forum, furthering our efforts to engage a larger cross-section of Scarsdale in the important discussions and studies of the preferences and challenges of our town."
According to Eppenstein: "It is a profound honor for me to be entrusted with the stewardship of this historically significant organization in the civic life of the Village. I am especially privileged to do so side-by-side with VP Jill Spielberg, who brings the energy, acumen and passion that will contribute so much to the achievements of the Forum. I look forward with equal enthusiasm to working with Jill, Matt, Alex, our new and returning Directors and Directors-at-Large, and all our members during the coming year."
Jill Spielberg was born and raised in Scarsdale, and returned back in 2010 with her husband to raise her two children. She has served on the Forum Board of Directors, as Co-Chair of the Membership Committee, and as Co-Chair of the Scarsdale Electoral Policy Committee. Outside of the Forum, she has served on the Procedure Committee and as a member of the Citizens Nominating Committee. When not actively participating in civic life in Scarsdale, Jill is a lawyer with her own Matrimonial and Family Law practice in Westchester and New York City.
Madelaine Eppenstein and her husband are 27-year residents of the Fox Meadow neighborhood of Scarsdale and have two adult children. She currently serves on the Forum Board of Directors and Executive Committee and is chair of the Municipal Services Committee. She also serves on the board of the Friends of the Scarsdale Parks, Inc., an environmental nonprofit dedicated to the conservation of village parks and greenspaces. She served as the 2018-2019 Chair of the Procedure Committee that administers the nonpartisan election system in Scarsdale. For 37 years, she was managing partner of a New York City civil litigation and arbitration law firm with her husband. During that period she appeared before several Congressional committees on subjects relating to the federal securities laws, and participated in appeals for clients in federal and state courts, including the U.S. Supreme Court. She also completed a year of service as Vice President for the Scarsdale Forum.
Added Eppenstein, "I am delighted to collaborate with so many dedicated Forum members who are committed to its mission of providing 'a platform for meaningful community dialogue about municipal, school and related civic affairs.' More than ever in these challenging times, I encourage residents to join the Forum, and take part in the activities that afford members a variety of opportunities to be informed, to express personal views and to become involved in addressing the issues, choices and solutions that directly impact our community."
Survey Results: Scarsdale and COVID
Details

Written by

Joanne Wallenstein

Hits: 3238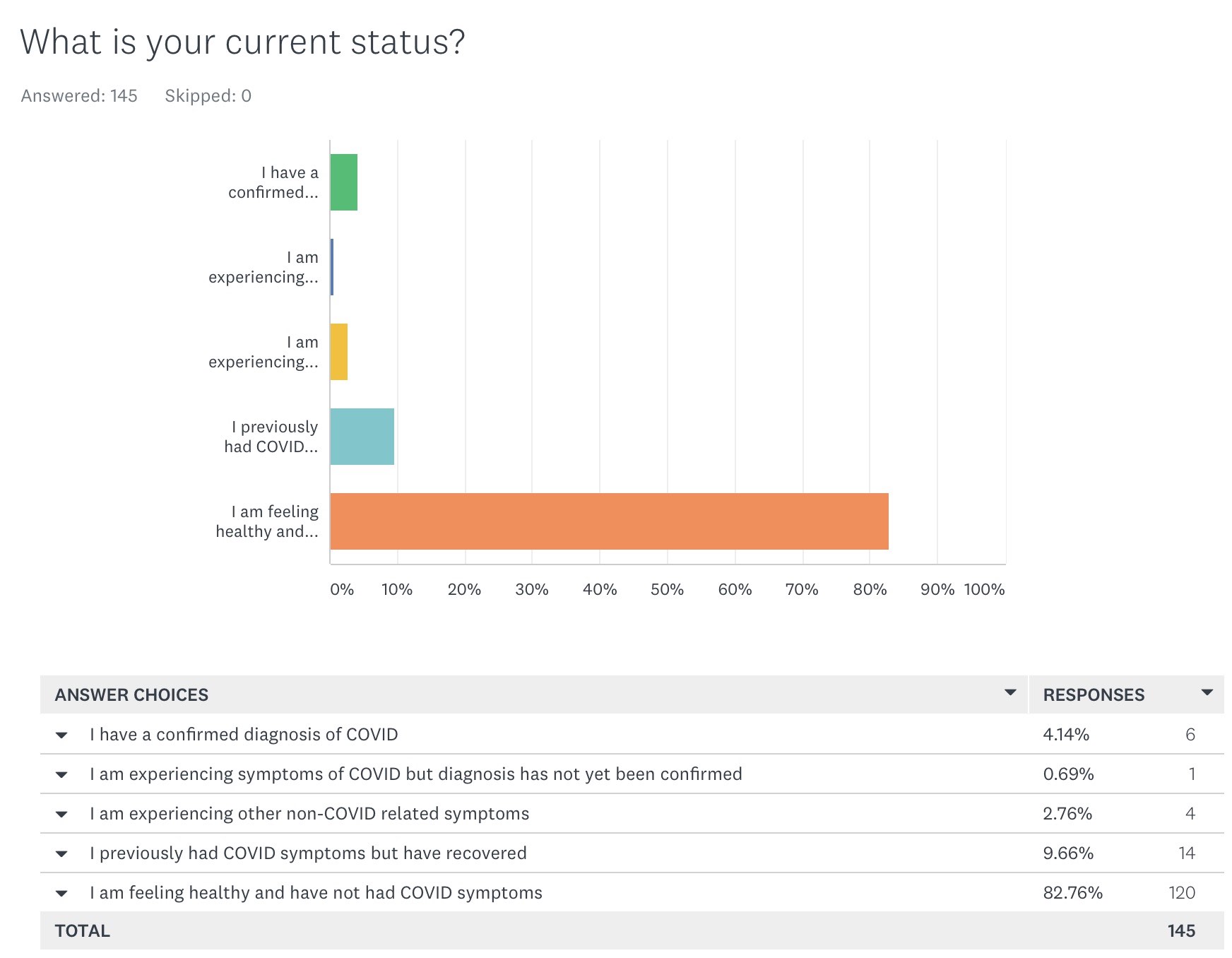 How do Scarsdale COVID cases compare with local averages? We conducted an anonymous survey of residents, and though we did not receive a big response, here is what we learned.
Out of 145 respondents, about 14% reported being diagnosed with the virus, which is lower than the Westchester County statistics which shows about 19% are those tested were positive.
However, many respondents were not able to get tested. When asked, "If you wanted a diagnostic test, were you able to get one?" 54% said YES and 45% said NO. So even though many would have liked to know if the symptoms they were experiencing were indicative of the virus, almost half were unable to receive a test.
What were the most common symptoms experienced by responders? Here is the list:
Cough. 24.3%
Fatigue 23.26%
Headache 21.71%
Fever 16.28%
Chest Tightness 16.28%
Sore Throat 15.5%
Muscle Aches 15.5%
Loss of Smell
or Taste 7.75%
Nausea 7.75%
Shortness of
Breath 6.98%
Foot Sores 2.3%
Most interesting were the comments we received from our readers.
Here are a few:
-We only had one positive test because the doctor's office would only test one of us. The rest were "presumed positive.
-Once my husband got it (he's a doctor), we all got sick despite trying to isolate the sick one/s. 5 days apart, the children got high fever but it was a much quicker recovery and didn't get any respiratory symptoms. So contagious!
-Feeling anxious in general.
-It was awful!
About social distancing, here are some thoughts from readers:
"Closing the track was foolish, counterproductive and cruel since it deprived people of needed exercise and forced us onto the more dangerous streets with cars, bicycles, strollers and less social distancing. Very foolish indeed."
"Have seen a lot of street parties and "block parties" in Fox Meadow during the evening hours. Disobeying social distancing in groups of 8-10 women."
"There is far too much activity and traffic in Scarsdale, especially in the Village Center. Police are not present enough in this key area. (Are we not being told about any staffing issues, such as sickness or understaffing?) Lack of enforcing necessary rules and regulations, including on non-essential activities is visible for all to see or to read about in the media. Construction in Scarsdale is a particular problem; and lots of speeding traffic, including trucks and heavy vehicles. Racing cars (drag/sports cars) and motorcycles on major Village roads (Scarsdale Ave., Popham, etc.) and on BRP is a real problem for many months, especially at night. This is a real danger and fatal crashes from racing have reported in the Metro area -- pedestrians and bicycle riders being struck too. Having late or all-night businesses is contributing to all the excessive circulation and associated risk of spreading the virus. These are not essential and just increase risks unnecessarily. Bars are closed, so buying beer at all hours is up. And Scarsdale is one of the few places making this available and attracting people from all over. (Also, night-time coffee, junk food and gas, meanwhile closures are generally by 8pm in other towns.) Many people in the community are at higher risks of serious illness or death -- this is not getting enough attention! Not just elderly, but people with underlying conditions. Scarsdale has not been doing all it can do to help protect our residents and our neighbors in Westchester. Instead, knowingly or not, we are actively contributing to the next big spread. Our leadership is not doing nearly enough and clearly does not have the background or level of knowledge to take further measures and have better enforcement. (Just a factual statement.) This terrible crisis requires at least 1 - 2 times per week for our Mayor and/or Manager to be available for live dialogue with residents to ask them direct questions and report the issues/problems not being attended to. Then to provide direct answers with timely follow-up. Lots of people are scared and isolated. Spaces to share and communicate with each other, our elected officials and Village administrators are greatly lacking. The surreal conditions are overwhelming in many ways so most are staying inside, socially isolated and this creates a false sense of things being ok, or at least better than they are. The disconnection between all of this and those that make policies and manage things is a growing gap that should be of great concern to all of us. Actions are required and new ways of doing things are demanded by these historic conditions. More people need to be included in this process. Our leaders must reach out and involve the broader community in this. Scarsdale has a lot of talent and resources that is not being tapped into. This is a shame and if the status quo contributes to any loss of life -- well, that say would say a lot about Scarsdale today."
What was your experience with the virus?
Please share your thoughts in the comments section below.
Parents' Perspectives on the Closing of School
Details

Written by

Joanne Wallenstein

Hits: 2111
Though I feared schools would remain closed through the end of June, I was still surprised when I heard the Governor's orders not to re-open. First I am saddened for all the children who are missing a vital part of their education, cut off from friends, sports and all their activities. I thought of the senior class who will miss important year end rituals like their senior prom and graduation. The end of the school year is usually a time for celebrations of all sorts at the district, and these occasions are permanently lost.
Though only about a half of residents have children in the schools, Scarsdale itself is dominated by the academic calendar. We mark time by the first day of school, Columbus Day weekend, Thanksgiving, the Christmas break, February vacation, time off for Passover and Easter and all the fun that usually comes in June. Without this calendar, it feels a bit like the Village has lost its rhythm. What day is it and what are we supposed to be doing? Without a calendar and with no end date to the pandemic in site, many of us have lost our North Star.
We asked a few parents of school age children what they thought about the closing of the schools and what it meant to their children and families – and here is what they shared. Most noted loneliness, feelings of social isolation, missing friends and the loss of a regular routine. Their answered varied greatly based on the age of their children, but these were some common themes.
First we spoke to the mother of a preschooler and a kindergartner and asked what her kids missed. She said, "They don't seem to be missing anything at all." In terms of the impact on their education, their mother said, "They are 4 and 6... so I don't think there will be any noticeable long-term impact. They may become better learners from having to spend all that time on their own." About the summer she said, "I doubt their summer camps will be in session and we haven't signed up for any as a result. We would be interested in individual / "safe" (whatever that means) small group enrichment programs should those be available."
A Greenacres mom with a son in elementary school noted a few bright spots of adapting to e-Learning. She said, "Some good things have come out of distance learning. My elementary school child has had to be more responsible about managing assignments and using Google Classroom. He should be very ready for middle school in that respect. Normally he is resistant to my helping him with anything academic, but now as I am the only game in town he is less so!"
However, the mother of elementary school children in third and fifth grades reported that kids were feeling the loss of friends, teachers and their routine. She said, "My fifth-grade daughter was so sad and said that even though she know it probably wasn't going to reopen, at least she still had a little bit of hope. It is definitely the right move given the current state of the crisis. I feel so badly for my kids because they miss their friends and their teachers so much. Aside from randomly seeing people when we are on walks or bike rides, we don't really see anyone. My kids have Zoom playdates but nothing in person. We are still waiting to hear about sleep away camp. I hope there is a way that they can go because they are craving social interaction, but things are changing so rapidly that it is anyone's guess if they have camp or not! I think trying to keep a routine for the kids has given us some sense of normalcy during this surreal time. They are doing arts and crafts projects, playing in the backyard, bike riding, baking, playing with Legos, reading and watching movies. The idea of regulating screen time has gone out the window! The same with dessert … it's a staple after every meal (except breakfast!)
A Quaker Ridge mom with a first and fifth grader and a child in the middle school offered perspectives as the mother of children with varying experiences.
She said, "I feel that the closing of school for this year was inevitable considering the magnitude of the COVID-19 crisis in New York. There is a feeling of loss; one of my children is set to graduate from elementary school this year and he often talks about everything that he and his classmates are missing -- the events and activities to celebrate the end of their time at the school. Luckily his teacher has been amazing, staying connected to the students from the outset of school being closed; but it is sad for me, as a parent, to see how this change is affecting my children."
Was this necessary? She answered, "I don't think that the majority of parents/teachers/children would have the confidence and comfort to return to school at this juncture. It is sad but necessary until the pandemic is more under control and a plan has been put into place for a reopening of our area and schools. I think that our schools; the administrators and the teachers have been doing an incredible job of moving forward with innovation, flexibility and creativity."
Asked how this impacts her family, she said, "One of my kids is supposed to have his Bar Mitzvah in June and it will now be a Zoom service, which is a completely different experience of this milestone but he doesn't want to postpone it indefinitely. Another was set to graduate QRS and will not be returning to the school he's known for the past six years; won't really have a chance to say goodbye to his teachers, to the staff. It is an unfinished feeling and there are a lot of complicated emotions experienced and expressed by my children during this time. My youngest is in first grade and her e-Learning is the most complex for us to manage. The kids have a lot of questions about the future. They've asked if they will start school again in September. I think that at this point, they are really kind of in shock that their schools aren't going to open for the rest of the year. The fact that schools aren't opening really demonstrates for the kids, the serious nature of this crisis."
What do the kids miss? She continued, "They say that they miss the feeling of just being at school with friends. They miss being able to spend time with people; play basketball with friends; go to birthday parties. The oldest misses having fun with his friends at school; feels that being at school, in the building, teaches him about life and there is a loss of so much with our new life experience. As much as the teachers are creative and have been evolving with the e-Learning, all of my children have realized how much more they learn in the classroom. My oldest is in a Jazz Band at school and they normally perform at a festival in the spring and go on a field trip to an amusement park; these are experiences he just won't have this year. Two of his best friends had their Bar Mitzvahs in March via Zoom and he was really upset and anxious that he wasn't able to celebrate with them. The kids really miss that feeling of connection with their teachers, friends and extended family."
We wondered if some would now leave town since they don't have to be home to attend school. She said, "Yes, we are going to go to our summer house -- it is in Quogue. We really want to see extended family that live in the city and on Long Island but we haven't done so. I would love to be able to have a cookout with extended family to celebrate my son's Bar Mitzvah this summer, since his regular party plan is indefinitely postponed, but I'm not sure if and how it will be possible."
We also asked her to comment on what the long-term impact on her children's education might be and she said, "It is a completely different experience doing schoolwork solely at home as opposed to having the real school experience. I hope that they are able to generally stay on track; they are learning, moving forward. I've noticed that my middle schooler's classes are covering topics that are related to the current state of the world, including learning about viruses in Science. I've noticed that there is a real wellness aspect to my middle schooler's learning; however, there is also the added stress of working on new material with only two 20-25-minute academic sessions per week (he has his four academic subjects on Monday morning and again on Thursday afternoon). It takes him much longer to work through new material via e-Learning and I know that adds to his general stress level. For my fifth grader, his teacher has Zoom lessons with them every day for an hour and a half. Every day, she outlines what she wants them to work on and reminds them of any specials, like Art or Music, they may have in the afternoon. She also holds individual facetime conferences with the kids to check-in about schoolwork. I'm really happy for him that he's had that support and touchstone for these two months."
In the meantime, how is her family spending their time? She responded, "We go for family walks; the kids play outside drawing with chalk, playing basketball at home; jumping on the trampoline. Luckily the weather has been nice so that they easily go outdoors. They play a lot of video games. We do some baking, have some movie nights. I try to stay positive and calm but days can be an emotional rollercoaster. Both of my boys play guitar, so that is a nice outlet for them. My youngest, my daughter does a lot of artwork, she's been very prolific with play doh sculpture and drawings"
About summer camp she said, "The kids hope to attend camp but we don't know at this point if the camp will be in session. The uncertainty is one of the hardest aspects to deal with for all of us. We just don't know what the immediate future holds. Hopefully, we will all be able to move forward in a positive way. I'm glad that we have each other and I'm really proud of my kids for doing their best amidst the many complicated emotions of this time."
We spoke to the mother of two girls in high school. She said they were disappointed that school will not re-open "because now there is no end to my children's isolation in sight. The hope that schools might reopen was keeping them motivated and now it's gone."
Did she think this step was necessary? She said, "No, because other countries are figuring out how to reopen schools. I would have preferred opening for 1 day a week, or even one class a week, just to allow the kids to feel some kind of physical engagement with the school."
She said her girls miss "Leaving the house, seeing friends, doing activities such as getting lunch, shopping, or manicures, sports, taking tests in person vs. alone in a room with a camera on them." She said they only interact with their friends via text and FaceTime.
Do they have any plans to leave town? She said, "No, we would like to go to England, or on college tours, but we don't know when planes will be safe."
How is e-Learning going at her house? She said, "The amount of material being covered by SHS teachers varies greatly. Some are attempting to cover 60% of the material, some less than that. I am most concerned about math, since each year feeds into the next year. It is also very difficult to learn math just from doing worksheets, so even the concepts that are being taught are not being grasped completely. Science is my next concern. Also, sitting in a room alone doing worksheets for hours on end is making both of my children dislike school, and they used to love it.
The family is keeping busy, doing "tie dye, gardening, walks, working out (Peloton, erg, apps, running), cooking, Netflix, communicating with friends through text or FaceTime. We are also looking at colleges online, since we can't do college tours."
About the summer she said, "One daughter's teen tour (to Greece) was just officially cancelled, the other one's (to Hawaii) will be determined on 5/15. Everything that has been planned has been cancelled, or is in question: job (lifeguard), sports (swimming and crew), vacation (to England or a beach location).
She ended by saying, "It is very daunting to think of a summer with no plans and then the potential of school possibly being online in the fall. The isolation needs to be addressed in some way or we are going to see serious mental health fall-out."
A mother of two high school age students is still hoping there will be some graduation festivities for her son who is a senior.
Her kids miss "the social interaction with their friends in school. Being able to be in class face to face with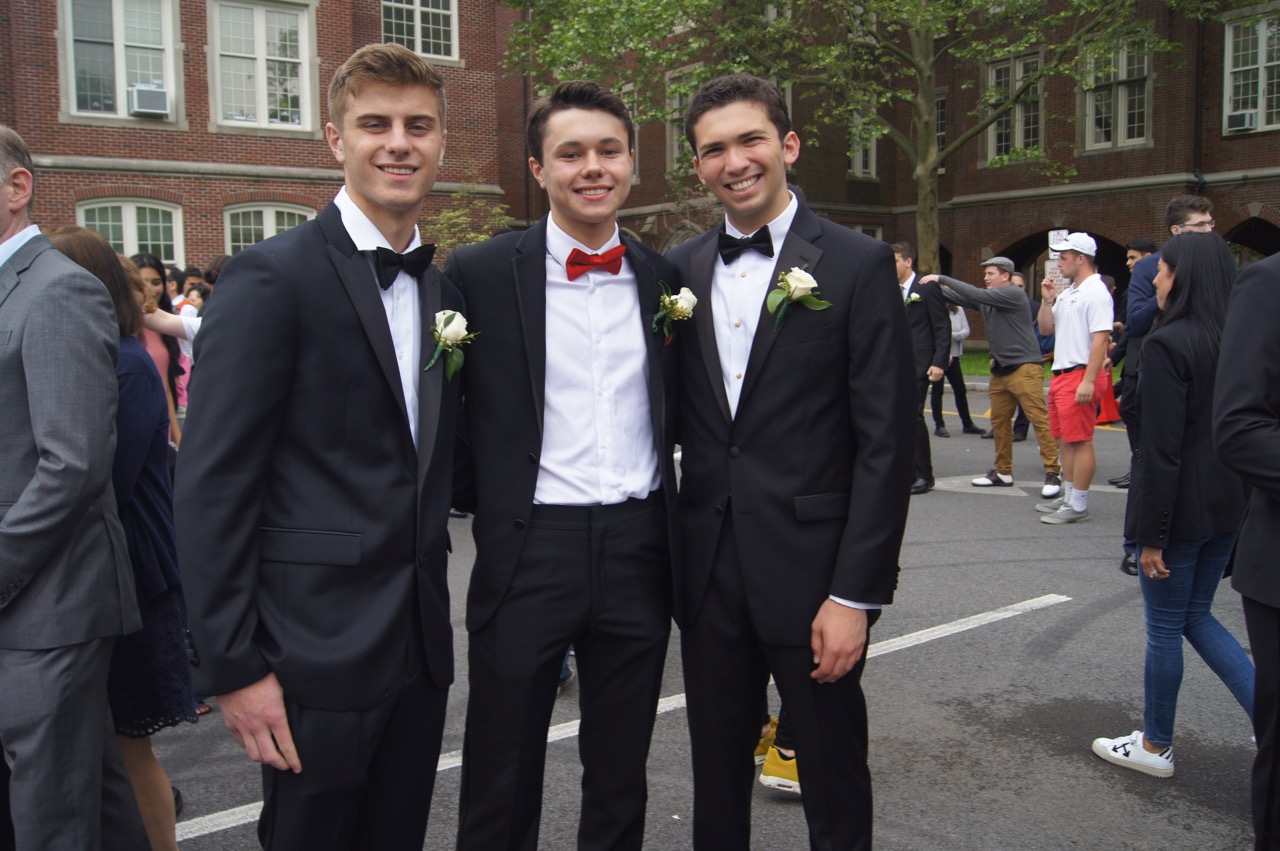 The SHS Class of 2020 will likely miss their senior prom.teachers as its easier in general to ask questions. She says, "My daughter was very disappointed that the lacrosse season was cancelled as she trained all winter and both my kids play spring club soccer so it is sad that there is no season for my son since it would have been his last club soccer season.
Longer term, she is "hopeful that we can return to some more normalcy come September, but she has great concern that things may look different from a physical being in school standpoint. She continued, "I don't know if my son will be able to go to college in the fall. I am especially concerned for lower income and under privileged students who are probably doing much less learning."
He family is keeping busy by playing games and doing puzzles. She reports, "My daughter and I have done 13, 1000+ piece puzzles, we are addicted. We're also cooking, cleaning out some clutter in the house and binge watching some shows and movies.
About the summer she says, "My kids were not planning to attend camp but my son wanted to be a Scarsdale rec camp counselor and I really haven't heard anything regarding that. My daughter's summer plans are on hold right now as she was supposed to go overseas on a teen tour."
She concluded, "Overall, we are generally sad as my son is graduating and waiting for news from the SHS administration on possible plans for a social distancing graduation. I am sad that my son cannot experience the traditional end of senior year and prom. I'm hopeful that he can have a summer prom in some form. I'm also hopeful that things will open up slowly starting end of May and he can start seeing friends a little more and be able to celebrate the end of high school."
What are your thoughts about the closing of schools. Share them in the comments section below or email us at scarsdalecomments@gmail.com.
Kirkendall-Rodríguez Announces Candidacy For The Scarsdale Board of Education
Details

Written by

Joanne Wallenstein

Hits: 3067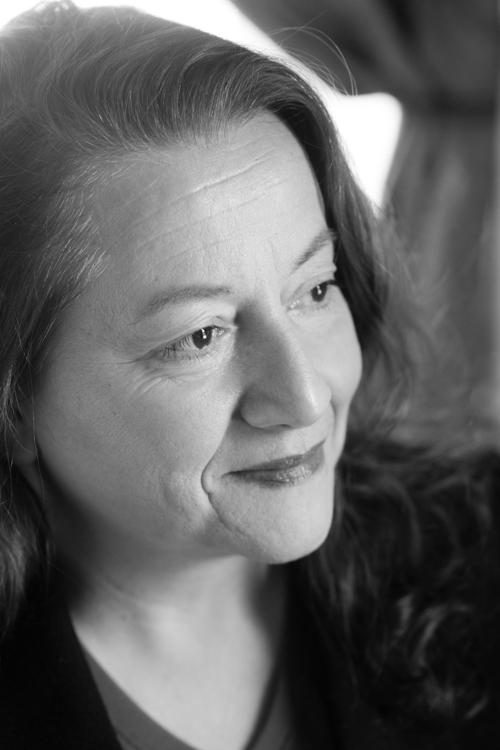 (This press release was sent to Scarsdale10583 by Mayra Kirkendall-Rodriguez)
Mayra Kirkendall-Rodríguez is pleased to announce her candidacy for the Scarsdale Board of Education. Together with her husband, Brice, and two elementary school children, she has lived in Fox Meadow for nine years.
Kirkendall-Rodríguez has been the leading Co-Chair of the Fox Meadow Multicultural Committee for five years where she has helped expand the committee's activities significantly by adding numerous countries to the annual Multicultural Country Fair and to the annual Appreciation Lunch for Teachers. She has also created and led writing workshops for 3rd-5th graders at the annual Young Writers' Workshop held at the Scarsdale Middle School.

Kirkendall-Rodríguez was the Chair and Co-Chair of the Scarsdale Forum's Education Committee for three years. She researched, wrote, and reported upon the Scarsdale school budget, the need for a long-term financial plan for the Scarsdale School District, World Languages in Scarsdale schools, Greenacres School renovation, and metrics to determine what is a global education for Scarsdale students. At the Forum, she was also an active member of the Assessment Revaluation, Communications, Municipal Services, Fiscal Affairs Scarsdale, and Downtown Revitalization Committees, assisting in being the lead writer or contributor to numerous reports on matters relevant to Scarsdale residents. In particular, she was instrumental in designing, distributing and analyzing consumer and merchant surveys to aid in Downtown Revitalization and pedestrian, cycling, and driving surveys to make recommendations to improve safety in Scarsdale. She was on the Executive Committee one year as well as on the Board of Directors for two years.
Kirkendall-Rodríguez is the Secretary and Communications Officer for the Old Scarsdale Neighborhood Association where she regularly creates a newsletter for residents to keep them abreast of important school and Village matters. She also assists her husband Brice, Scarsdale Cub Scout Master, in all communication matters related to the Scarsdale Cub Scout Pack 440; recently, she became a den leader for the first all girls' den.
Mayra is presently a bank and capital markets risk consultant and trainer and has worked in over 30 countries. She has been an Adjunct Professor at New York University and the Fashion Institute of Technology. She has published over 300 articles about a wide range of economics, finance, risk identification, and data analysis topics. Previous to running her own firm, MRV Associates, she held capital markets analyst and energy investment banking roles at the Federal Reserve Bank of New York and in London for JPMorgan and BT.AlexBrown. While at the Federal Reserve, Mayra had the honor of interpreting from Russian to English for Former Federal Reserve Paul Volcker and Secretary of State Henry Kissinger during President Boris Yeltsin's first visit to the United States. She also delivered classes in Spanish to visiting central bankers from Latin America.
She holds an A.B. in Russian and Soviet Studies from Harvard and Radcliffe Colleges. She also holds an MA in Russian and Eurasian Studies from The Lauder Institute and an MBA in Finance and Emerging Markets from The Wharton School of the University of Pennsylvania. She was a Raoul Wallenberg Scholar at the Hebrew University in Jerusalem where took courses in Middle East conflict resolution and Hebrew. While at Hebrew University, she led the first-ever student run human rights conference in Moscow and interpreted from Russian to English for Yelena Bonner. During her undergraduate and graduate studies, she completed several study-abroad programs in Berlin, Jerusalem, Leningrad (now St. Petersburg), and Moscow. Mayra is fluent in English, Spanish, and Russian and is conversational in German, Hebrew, and Italian.
She is an active volunteer in her undergraduate and graduate school alumni associations. Annually, she interviews students from Westchester County, who are applying to Harvard College. Mayra also volunteers with the Yonkers Middle School through the Harvard and Radcliffe Westchester Club. More information about Kirkendall-Rodríguez' professional, academic, and volunteer background may be found at www.MRVAssociates.com.
Mayra is one of 15 children and attended public schools in McAllen, Texas. Her father landed with the Normandy forces at Omaha Beach and served with the Occupation Forces until he was honorably discharged; her mother is a homemaker.
Pursuant to Executive Order 202.26, New York State Governor Andrew Cuomo established June 9, 2020, as the date for the 2020 School Board Election and Budget Vote. Voting will be by absentee ballot only, there will be no in-person voting. Absentee ballots will be sent to all qualified voters in the Scarsdale School District with a postage-paid return envelope. Completed ballots must be received in the Scarsdale Schools Office of the District Clerk by 5:00 p.m. on Tuesday, June 9, 2020. (Not postmarked by June 9th)
Contact:
Mayra For Scarsdale School Board
ScarsdaleMayra@Yahoo.com
Scarsdale's First Official Virtual Wedding
Details

Written by

Joanne Wallenstein

Hits: 5043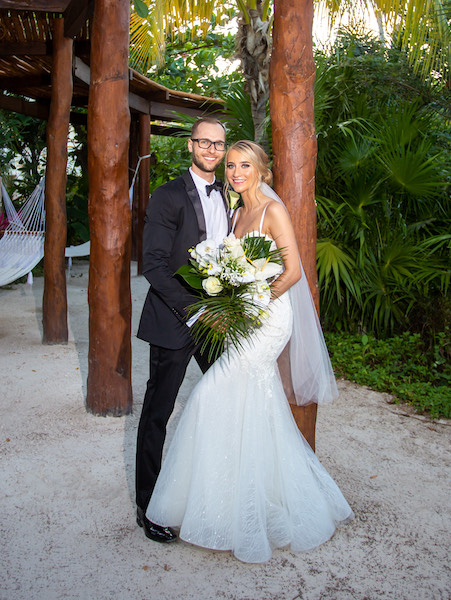 Abbie Genautis and James Singer.Here's a first for Scarsdale: Former Village Trustee Deb Pekarek, in her official capacity as Scarsdale Marriage Officer, performed the Village's first virtual wedding via Zoom on Tuesday April 28 as permitted pursuant to the Governor's Executive Order 202.20 signed on April 20th.
Friends and family signed on to Zoom to watch the wedding of bride Abbie Genautis to groom James Singer. The couple, who are originally from Clawson, Michigan, now live in Elmsford. They celebrated their nuptials in Mexico on March 15, 2020 and followed it with a legal wedding on Zoom on April 28, 2020.
James and Abbie moved from Michigan to Westchester last year for his job is an Oral and Maxillofacial Surgery resident who rotates at both Westchester Medical Center and Metropolitan Hospital. Abbie is a nurse at Westchester Medical Center.
The couple had a symbolic wedding ceremony in Riviera Maya, Mexico in March with close family and friends. While they did have to cut their honeymoon short and return home early, they were happy that they were still able to have their ceremony and reception.
When they returned home, they were unable to have their legal ceremony as New York had shut down due to the pandemic. So when they heard that Governor Cuomo was allowing legal marriages via Zoom they were so excited. Abbie said, "It was important to us as frontline workers that we are legally married, as every day is uncertain during this time."
Abbie continued, "James reached out to the Village of Scarsdale and Village Clerk Donna Conkling and Marriage Officer Deborah Pekarek made setting the ceremony up a breeze. All of our family lives in Michigan, so we were very happy to be able to share our legal ceremony on Zoom with them! Deborah's husband was even kind enough to sign our marriage license as a witness! We can't thank Donna, Deborah, and the Village of Scarsdale enough for making this happen!
See photos here of the Zoom meeting and the Mexico wedding.