Scarsdale Middle School Principal Announces Plans for a Careful Re-Entry to School
Details

Written by

Joanne Wallenstein

Hits: 1750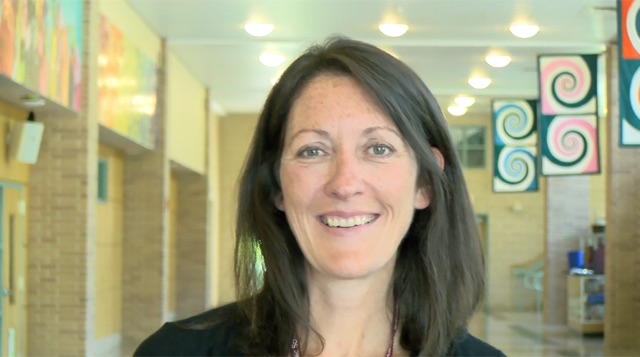 Scarsdale Middle School Principal Meghan Troy is considering safety first.Assuring parents that "We always keep the students at the center of our work," Scarsdale Middle School Principal Meghan Troy, flanked by Assistant Principals Rochelle Hauge and Chris Coughlin, explained plans for a "careful entry" to the school year. She said, "This year we will hit the ground walking, not running." Interest was keen as 1,700 people signed onto the Zoom call on August 18, which was hosted by the district's Technology Director Jerry Crisci.
Troy said that every decision "starts with health and safety," and said that she considers every decision "as a parent of my own children," and has reviewed her thinking with a Scarsdale doctor who specializes in infectious disease.
In order to explain the new safety protocols, the school will share a video with the students and hold a Q and A on September 1 at 6:30 pm. Sixth graders, who will be entering the school for the first time, will attend orientation sessions on September 9 and 10. Families will be required to complete a health screening before students enter the building each day.
Students will attend a full day of school on a hybrid schedule, which calls for cohorts to attend school on either Mondays and Thursdays or Tuesdays and Fridays. Here are some of the new safety measures that will be implemented:
Students will no longer use lockers, and will leave their backpacks in their homerooms. Teachers will try to keep required materials to a minimum to avoid heavy backpacks.
Students will be required to wear masks and classes will be limited to 12-14 students, with desks six feet apart. All desks will face front, rather than be positioned in a circle. During the course of the day, students will remain in their classroom and teachers will rotate rooms. However, seventh and eighth graders who are in leveled language or math classes will switch classrooms during the course of the day. Students will stretch and refocus between classes.
Traffic in hallways will be one way only to minimize face to face contact.
Lunch will be held outside when possible in a garden, courtyard or one of many of the school's designated outdoor spaces. During lunch, students will be supervised by a teacher and two lunch aides. When the weather is not conducive, lunch will be eaten in the school's gyms which have been divided into four sections with desks set six feet apart. At recess, kids will stretch and get fresh air. No games will be played.
On Wednesdays, groups of 12-14 students will be assigned to an advisory class with a faculty member. These groups will meet virtually with the goal of building relationships and community, and making connections in small groups. These advisory groups will mix cohorts so students will have the chance to get to know students outside their assigned class.
According to Troy, webcams will be installed in the classrooms. For students who choose to attend school all virtually, there will be a live feed into the classroom on the days their cohort attends school.
Troy outlined next steps for the weeks before begins as follows:
-Determine student cohorts and include siblings
-Make bus and transportation assignments
-Hold orientations for students and faculty and training for staff.
-Provide parents training on technology platforms.
-Continue to respond to parents, continue to prepare students to walk our halls and be with us in September.
Using the online chat system, parents were able to ask questions to the middle school administration and they had many. They wondered how many teachers had agreed to return to school, how students in the virtual program could participate in the class and interact with their teachers, what metrics might allow students to return to school full time, and how the school would handle the transition if they were forced to move to an all virtual model. How would cohorts be assigned and when will students be advised of their assignment?
Would Scarsdale families need to report any travel outside the area? How will teachers and administrators handle non-compliance with mask wearing and social distancing? Will there be warnings/consequences for recurring non-compliance?
There were questions about the CHOICE program, the Learning Resource Center, technology and more.
Troy said a Q and A with responses to parent questions would be forthcoming.
Scarsdale Democratic Town Committee Zoom Fundraiser Was Abuzz
Details

Written by

Joanne Wallenstein

Hits: 1445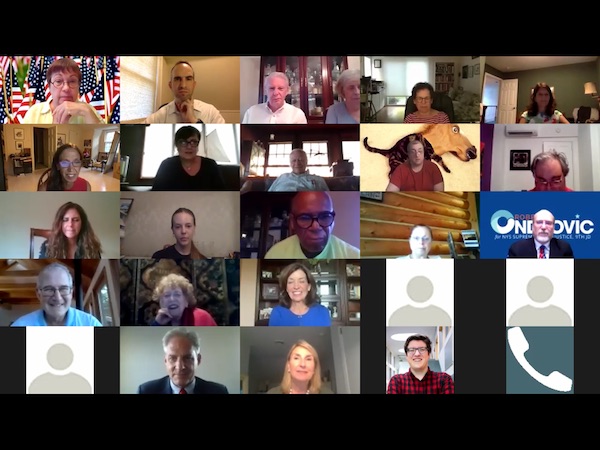 Despite power and internet outages, a Village Board meeting AND a Board of Education meeting, the Scarsdale Democratic Town Committee Zoom Fundraiser was a great success, Tuesday evening, August 11th. The zoom room was buzzing with excitement from Joe Biden's selection of Kamala Harris as his VP running mate, announced earlier in the day.
New York State Lieutenant Governor Kathy Hochul, the highest-ranking female in New York State government was the key note speaker, followed by a surprise visit from United States Senator and Minority Leader Chuck Schumer.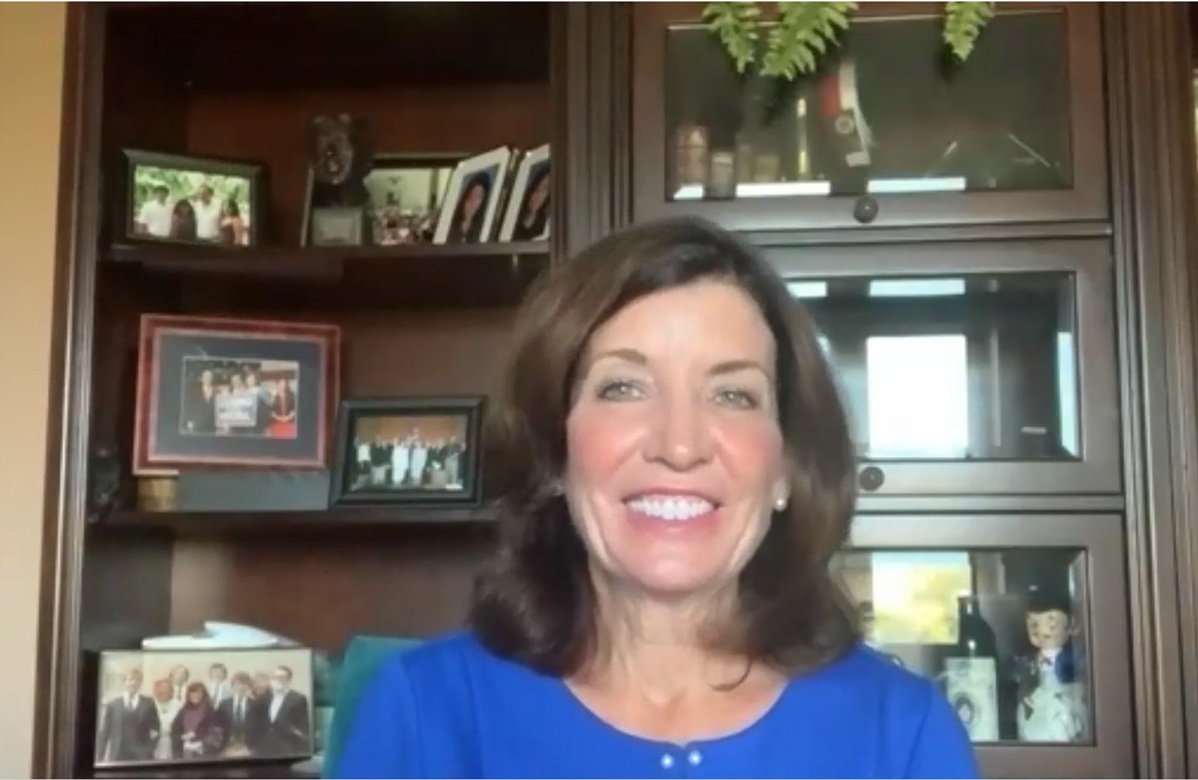 Lieutenant Governor Kathy HochulBoth Hochul and Schumer acknowledged the many extraordinary elected officials from Westchester County, in particular Congressman Eliot Engel and Congresswoman Nita Lowey, State Assemblywoman Amy Paulin and State Senator and Majority Leader Andrea Stewart-Cousins. Both spoke of the importance of Democratic town committees whose members do the footwork for Democratic candidates—getting signatures on petitions, getting the vote out and protecting against voter suppression.

For the transcript of the Lieutenant Governor Hochul's and Senator Schumer's remarks,
visit: www.scarsdaledemocrats.org

Scarsdale Democratic Town Committee Chair Mark Lewis gave heartfelt tributes and thanks to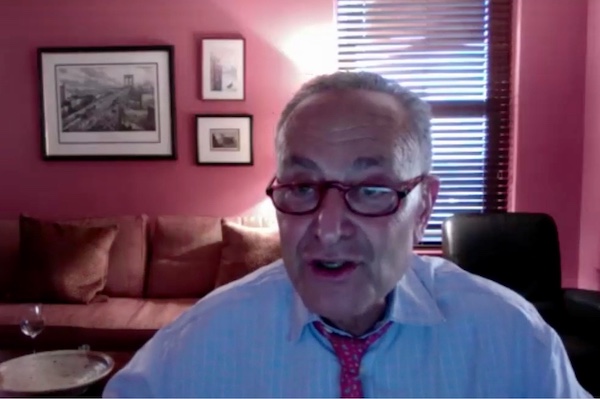 NYS Senator Chuck SchumerWestchester District Anthony Scarpino who has served Westchester in a variety of capacities over the past 30 years and to Congressman Eliot Engel for his 32 years of service to the community.

Remarks from various other officials included NYS Senator Andrea Stewart-Cousins, NYS Assemblywoman Amy Paulin, Westchester County Executive George Latimer and Chairman of the Westchester County Board of Legislators Ben Boykin.
Two Democratic candidates in the upcoming November election were recognized by their fellow Democrats--State Senator Pete Harckham (40th District) and Democratic candidate for Congress (17th District) Mondaire Jones.
Submitted by Michelle Lichtenberg, Chair of the SDTC Fundraising Committee
2020 SDTC Fundraiser - Dignitaries who attended
Federal Level
US Senator Chuck Schumer
US Congressman Eliot Engel
Mondaire Jones, Democratic candidate for Congress, 17th District
State Level
Lt. Governor Kathy Hochul
NYS Senate Majority Leader Andrea Stewart-Cousins
NYS Assemblywoman Amy Paulin
NYS Senator Peter "Pete" Harckham, 40th District
County Level
Westchester District Attorney Anthony Scarpino
Westchester County Executive George Latimer
Chairman of the Westchester County Board of Legislators Ben Boykin
Councilman Justin Brasch, White Plains City Council
Judiciary
Justice Sam Walker, NYS Supreme Court, 9th Judicial District,
Judge E. Loren Williams, candidate for NYS Supreme Court, 9th Judicial District
Robert S. Ondrovic, candidate for NYS Supreme Court, 9th Judicial District
Judge Michelle Schauer, Family Court, Westchester County
Judge Sandra B. Edlitz, Family Court, Westchester County (retired)
2021 candidates for NYS Supreme Court, 9th Judicial District:
Judge Mark Reisman
Amy Puerto
David Squirell
Democratic Party Leaders in Westchester
Bill Serratorre, Executive Director of the Westchester County Committee and Chair of the Mt. Kisco Democratic Town Committee
Christine Robbins, First Vice Chair of the Westchester County Democratic Committee and Chair of the Somers Democratic Town Committee
Tim James, Chair of the White Plains Democratic Party
Bill Alexander, NYS Democratic Committee, 88th Assembly District
Mimi Rocah Declares Victory in June Primary for Westchester County District Attorney
Details

Written by

Joanne Wallenstein

Hits: 2314
With 68% of the in person votes and 76% of the mail-in ballots opened to date, Scarsdale's Mimi Rocah has been declared the victor in the primary election for Westchester County District Attorney. Rocah defeated Anthony Scarpion who served as District Attorney for one term. She will face Republican challenger Bruce Bendish in November.
Rocah said, "I am tremendously honored to be able to declare victory today in the Democratic Primary for Westchester District Attorney after three weeks with more than 50,000 absentee ballots counted. I am grateful to every voter for making their voice heard during this pandemic. This result is a strong mandate from voters - they want change in Westchester's criminal justice system as our nation reckons with police misconduct, demands greater accountability and ethics reform at all levels of government," said Rocah.
Since winning 68% of the in-person votes from Early Voting and Election Day (27,759 votes to Scarpino's 13,082), Rocah has won 76% of the mailed-in absentee ballots opened so far (38,530 vs. 12,279 for Scarpino). With less than 30,000 paper ballots remaining to be counted, Rocah's total 66,289 votes (72%) against Scarpino's 25,361, decisively makes her the Democratic nominee facing the Republican in November's General Election. The Westchester Board of Elections will certify the official results after it concludes the ballot count.
The rest of Rocah's statement is below.
"I appreciate the call from District Attorney Anthony Scarpino and I look forward to working with him to ensure Democrats come together to deliver true reform to the Westchester DA's office and remove Trump from the White House in November.
"The need for accountability and fairness in our criminal justice system has never been clearer, and I am committed to addressing racial inequality and ensuring true justice for all. From conviction integrity to transparency to community partnerships for gun violence prevention and support of sexual assault victims, we can do more on the local level to improve our criminal justice system and keep our communities safe. As Trump continues to wreak havoc on the rule of law, it is imperative that we do everything we can to stand up to his abuses of power.
"We won in every town, city and village of Westchester, and the voters made it clear that they are ready for change. I am honored to have their faith and support, and I am excited to continue onward to the General Election.
"I want to acknowledge and thank all of our staff, volunteers, and interns who gave countless hours to this campaign and helped drive this grassroots operation up until the very last hour on Election Day.
"I also want to thank all of our supporters, especially Hillary Clinton; Preet Bharara; Gloria Steinem; Jeff Deskovic; Congressmember Hakeem Jeffries and Eric Swalwell; Senator Alessandra Biaggi; County Legislators Chris Johnson, Catherine Borgia, Lyndon Williams, Kitley Covill, Alfreda Williams, Damon Maher, MaryJane Shimsky, and Nancy Barr; Mount Vernon Council President Lisa Copeland and Councilmembers Derrick Thompson and Delia Farquharson; Yonkers City Council President Mike Khader and Councilmembers Tasha Diaz and Shanae Williams; New Rochelle City Councilmembers Yadira Ramos-Herbert and Martha Lopez; White Plains Council President Nadine Hunt-Robinson; Peekskill Councilman Ramon Fernandez; Ardsley Mayor Nancy Kaboolian; Ossining Mayor Victoria Gearity; Bedford Town Board Deputy Supervisor MaryAnn Carr and Town Board member Bobbi Bitker; the Working Families Party; 1199SEIU; the Hispanic Democrats of Westchester; Progressive Women of Pelham; Hudson Valley Stonewall Democrats; Black Westchester; Eleanor's Legacy; Vote Mama; National Association of Blacks in Law Enforcement; National Latino Peace Officers Association; all the Democratic Committees who backed us; and so many others."
Robyn Miller Creates Designs for These Times
Details

Written by

Joanne Wallenstein

Hits: 2154
Robyn display her designs for Tiny PrintsI never cease to be amazed by the talent of my neighbors in Scarsdale. No matter what the field of expertise, Scarsdalians are tops. I was recently introduced to artist and graphic designer Robyn Miller and realized that I recognized her work because I have purchased it many times over.
Among many other projects, Miller is a designer for greeting cards for Tiny Prints and Shutterfly and has designed some of their most popular and successful cards. At Scarsdale10583 we have used her designs for our holiday card for many years, not realizing that the artist lived right here!
During the COVID epidemic Miller turned her talents to designing notes and calendars appropriate to this unique time and also volunteered her work for the American Civil Liberties Union.
Meet Robyn and see her beautiful work below:
When did you first develop an interest in graphic design?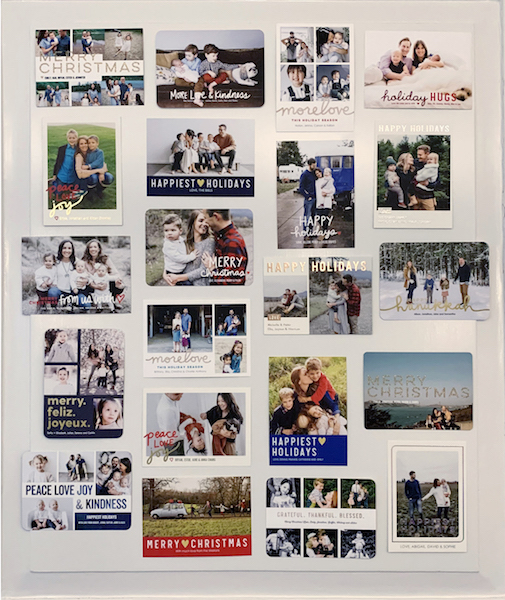 Greeting cards designed by Robyn MillerI was obsessed with colors and drawing at a very young age. I grew up with a stack of coloring books under my bed where I would spend hours upon hours drawing. It was my favorite thing to do. In high school, I had a job where I used paint pens to personalize gifts for birthdays, camp and college. I was also fortunate that my high school offered a graphic design class and found that it really merged all of my interests. I was quickly hooked!
Did you major in art and design in school - tell us about your training.
Yes. I majored in graphic design at the University of Michigan School of Art. During college, I had an internship at the National Gallery of Art in Washington DC where I worked in the education department helping create catalogues for exhibitions and designing direct mail pieces.
Tell us about your career - where did you work and what was your role?
After college, I moved from Michigan to New York and began my career designing Ranger Rick children's science books for schools. In fact, I saw some of them in my son's first grade class in Heathcote! I was always a huge fan of magazines, so after working in publishing for a few years, I made the switch to the magazine world where I worked as a designer in the Condé Nast Group and then in the promotions department of New York Magazine and as an art director at SELF where I did everything form invitations and signage for events, magazine advertorials, photo shoots and corporate presentations.
How did you get involved with Tiny Prints? What have been your most successful designs - and what elements of your work make the card a hit?
While working at SELF Magazine, I began designing birth announcements as gifts for my friends and family. I launched a line of birth announcements and party invitations and exhibited my first Stationery Show at the Javits Center in 2004. It was at the Stationery Show where I met Laura Ching, the CEO of Tiny Prints. I was one of the first designers to work with Tiny Prints and it's now been an amazing fifteen-year partnership that has grown to include Shutterfly, Inc. When I approach holiday designs, I like to think about what I would want in a card. Beyond the basic Happy Holidays and Merry Christmas, I like to think of relevant sentiments that would appeal to families. I think my most successful designs are the ones that are most relatable on topics such as love, hope and family. I like to use a combination of typography and hand-drawn type that accentuates the family photo.
Do you anticipate that the COVID crisis will impact the greeting card business? In what ways?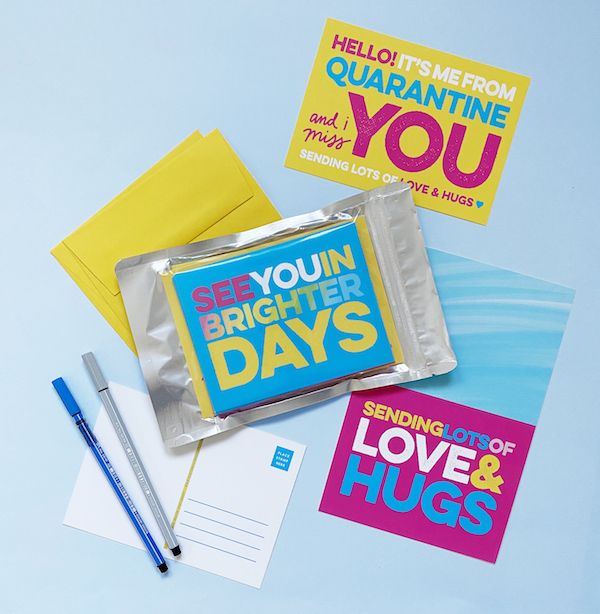 Covid related notecards

I think people want to stay connected, especially in times like these. Back in April when we were all quarantined at home, I designed some Covid-related notecards and postcards. Colorful and hopeful, the notes were designed to brighten the recipient's day. As far as holiday cards, I think people will want to share and connect now more than ever. The sentiments this year are going to be incredibly poignant given what's going on in the world right now.
What other kinds of projects do you do? Tell us about the recent work you did during the quarantine and your effort for the ACLU?
I have felt powerless with this current administration as I see one horrible thing happen after another. I feel very strongly about voting and getting the word out to register to vote. I created a VOTE t-shirt that I am selling with 100% of the profits going to the ACLU. The ACLU aides communities to defend and preserve individual rights including voter suppression, women's rights, same sex marriage and LGBTQ rights to name a few.
Vote shirts with proceeds going to the ACLUTell us about your family and why you like living in Scarsdale.

My husband Todd and I have three boys. A senior and freshman at SHS and a 4th grader at Heathcote. We really love living in Scarsdale. We've met so many nice families and it's a very welcoming community. I'm so grateful for the support, love and encouragement that I've received from this community in general and for my stationery business.
Check Robyn's work out on Instagram @robynmillerdesign or click here to visit her website.
Scarsdale STEP Seeks Host Family for New Student
Details

Written by

Joanne Wallenstein

Hits: 1643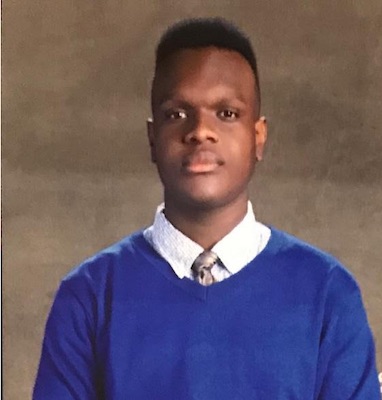 James Kakaire will join the SHS Class of 2022 this fall.The Scarsdale Student Transfer Education Plan (STEP) Board is thrilled to announce that James Kekaire a rising junior from Roanoke Rapids, North Carolina has been selected to join the Scarsdale High School class of 2022 this coming fall.
The STEP board now seeks a Scarsdale District family to host James for the academic year, starting in late August 2020. Interested families should call Tara Irwin at 914-835-5062 or email info@scarsdalestep.org.
For over 50 years, STEP has brought promising students of color from economically disadvantaged households to Scarsdale to attend the High School for their junior and senior years. The program specifically seeks students who have demonstrated leadership qualities and a commitment to applying themselves academically. Despite the potential challenges of bringing a student to Scarsdale in 2020, the STEP Board is more committed than ever to working to solve racial injustice through opportunity.
James is an exceptional student at KIPP Pride High School in Gaston, NC. He is a legal US resident who, despite being just 16, has lived in Uganda, Tanzania, London and North Carolina. James has a passion for music, environmental conservation, psychology and social justice issues. He is a volunteer counselor at 7cups.com, a free online counseling and therapy website. Through this volunteer experience James has learned that "mental health is as vital to living a happy and fulfilling life as physical health."
"James has made it clear that he wishes to be a change-maker in the world", writes his AP Environmental Science Teacher Laura Hebard. Hebard continued, "He puts his all into everything, questions purposefully and seeks to improve not just himself but the world around him as well"
The 30 plus-member STEP Board and 24-member Advisory Board provides a strong network of consistent support to host families, including a generous stipend to cover expenses. The experience can be life changing, not only for the STEP student but also for the host family. Host families gain a wider cultural perspective and often form lifelong relationships with their STEP student.
For more information, go to the Scarsdale STEP website at www.scarsdalestep.org.
Tara Irwin and Elissa Bookner, MD are Co-Chairs of Scarsdale STEP