Girl Scouts Learn Geocaching, Fifth Grader Named Finalist in Virtual Science Fair
Details

Written by

Joanne Wallenstein

Hits: 678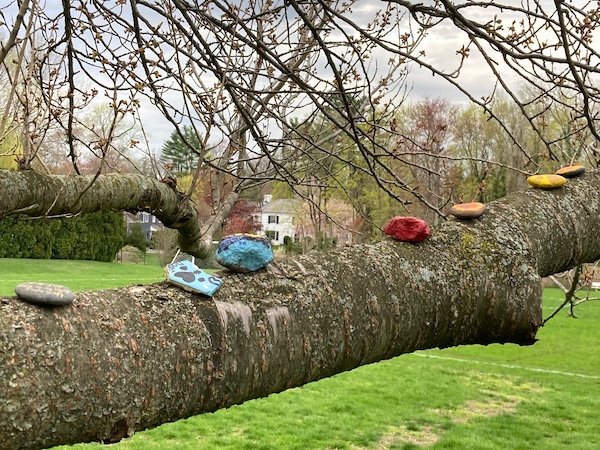 Edgewood's 5th grade Junior Girl Scout Troop and SHS's 11th grade Lion's Heart group worked together to geocache and it was a resounding success! Geocaching is the recreational activity of hunting for and finding a hidden object by means of GPS coordinates.
Seven high school girls from the Lion's Heart Community Service group led the activity.
It began with a Zoom session when the Lion's Heart girls taught the Girl Scouts about geocaching, named their international "bug" and painted their inspirational rocks in breakout rooms as virtual teams.
On Sunday April 18, 2021 they met at Drake Park where all COVID precautions were taken. They hid their international trackable troop geocacher which is called a "bug," and located an international trackable geocacher left by someone else.
Then they walked to the high school and Girl Scout house and hid and found one another's geocachers several times.
Each team was color coded and had corresponding colored candies and rocks hidden in the boxes. As they successfully found a box, they enjoyed a piece of candy.
When they were done, the girls left their inspirational rocks around for others to find. A favorite spot was the tree near the rear of the Girl Scout House.
It was a wonderful day of learning, team building, laughing, physical activity and enjoying the beautiful Scarsdale landscape.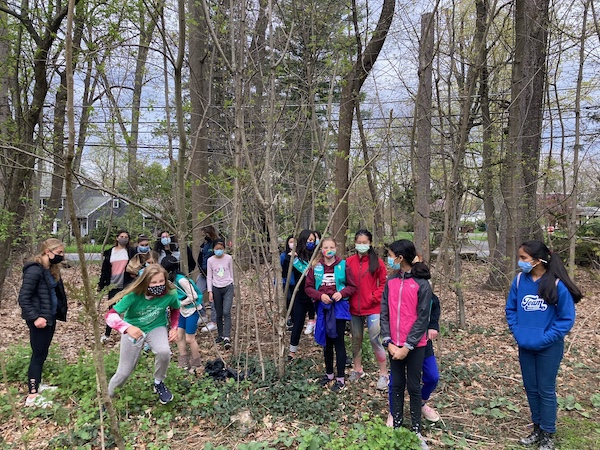 -contributed by Debra Asher
Mia WilsonHeathcote Fifth Grader is a Finalist in the NHL Stem Science Fair
In November, the NHL announced a virtual science fair to allow students in the US and Canada "to show how STEM can enhance the game experience in three categories: virtual fan engagement, sustainability and technology/innovation."
Heathcote fifth grader Mia Wilson chose the technology/innovation category and designed new transparent corner boards for the rink, as well as increasing visibility for spectators by removing some seats in the same areas.
She suggested alternative revenue sources to replace the revenue lost by removing seats and eliminating some advertising space and designed a testing methodology to track changes in fan appreciation of the changes.
According to her mother Moli, Mia worked very hard on thinking through the various implications of her innovative design. She worked remotely on her own without the assistance of teachers or school personnel, though they are very excited about her success.
Three winners in each grade category were selected from the hundreds of entrants and a remote "awards ceremony" was held with a congratulatory video from NHL Commissioner Gary Bettman and a New York Rangers alumnus (Brian Mullen) who appeared via Zoom to congratulate her, as well. She won an iPad, some AirPods, and some NHL themed school supplies.
Commenting on her experience, Mia said, "This project was a fun way to apply new innovation and ideas to something I enjoy. I'm so excited the NHL liked my idea. Hopefully, they'll use it someday!"
Jessica Resnick-Ault is Strategic, Positive and Commited to Education
Details

Written by

Joanne Wallenstein

Hits: 666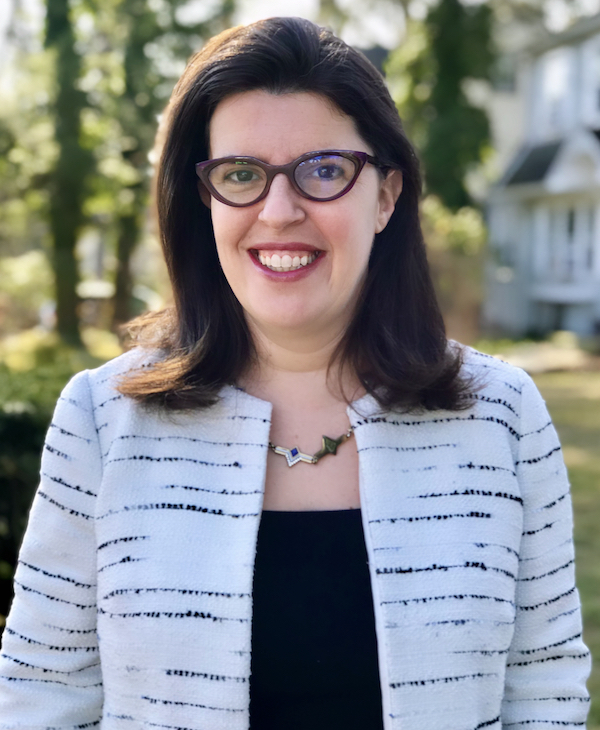 (This letter was submitted by Melissa Brown Subin)
I endorse SBNC nominee Jessica Resnick-Ault for the Board of Education because of her incredible positivity, commitment to education, listening skills, and ability to look at the long-term, even while putting a band-aid on immediate crises. I have seen these qualities first-hand in her volunteer leadership of Bake Back America, and know she is eager to put them to work for the District.

My favorite word to describe Scarsdale is "amazing." Along with my husband Herb, an SHS graduate, I have raised my own two children here. They are now in high school and middle school. I care deeply about our town and schools. As a Scarsdale native and parent, I think Jessica's magic touch would be a great asset for our district.

Jessica stood out to me early in the COVID-19 outbreak, when she volunteered with my family's charity organization, Bake Back America. Overnight, Jessica went from helping her daughter bake cupcakes to helping address profound needs during COVID 19, using the relationships we had with schools, hospitals and food pantries to make sure families had the necessities and educational tools they required. Jessica did big picture strategic planning while also delivering toys to food pantries at 6 a.m., rallying volunteers to replace the quarantined, or even tie-dying t-shirts to make sure there were enough for plus-sized kids at a local shelter.

Jessica's ability to listen to problems and calmly turn them into action items helped the organization grow. Within a month, she became a leader, someone whom I consulted daily on important decisions and who helped shape our vision. That work ethic and broad growth-oriented perspective lends itself to service on the school board.

Jessica recognizes that while being a leader is important, being a partner is more so. Jessica is a team player who brings a dry sense of humor and perspective that make seemingly impossible problems manageable.
Jessica is a key player on a team that has made our organization a national force providing 250 hours a week of tutoring, laptops and extracurricular activities for students in need, necessities for struggling families, and creative volunteer opportunities for kids who want to help out. Jessica is an advocate of diversity and inclusion in our organization and has made sure no population is overlooked either for volunteering or for receiving services.
Jessica has proven that she will carefully research every problem and follow protocol, but the beautiful thing is she will do it quickly and consider others' perspectives. She can build consensus even when it seems impossible. I have seen this first-hand as she has coordinated Bake Back America's work with over 45 non-profit organizations during the pandemic.

A school board member must be trustworthy, and I trust Jessica completely.
I appreciate the SBNC's review process and I urge you to come out to vote on May 18 to support the slate of Jessica Resnick-Ault and Jim Dugan.
Sincerely,
Melissa Brown Subin,
Reimer Road
Latimer Stands By Cuomo For Now And Reports Good News on COVID and Vaccinations
Details

Written by

Joanne Wallenstein

Hits: 593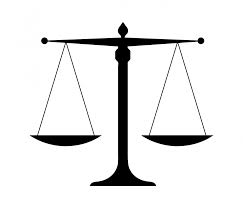 What does County Executive George Latimer think about the Governor's crisis in Albany? On Monday March 15, Latimer made a statement about Cuomo, asking for critics to wait to come to judgement.
Though he said the charges against Cuomo should be "taken seriously," he urged his constituents to put off calls for Cuomo's resignation until Attorney General Letisha James can conduct an investigation and an "objective assessment." He said, "I have faith that she will supervise a "professional review." He recognized that the NYS Assembly Judiciary Committee has been tasked with conducting an impeachment review with a broader scope and he will also await the outcome of that review.
Latimer said, "The results of these two investigations represent the rule of law and protect all of us. If we abandon process how will that affect us when a future matter arises?"
Latimer sought to diffuse talk about a phone call he received from Larry Schwartz, Cuomo's secretary who handles vaccine distribution. Latimer said, "Questions have arisen about outreach from Larry Schwartz to County Executives. I spoke to Larry but that's not unusual…. I have known him for 25 years. He made no effort to influence me or threaten me."
He concluded, "At the end of the day my career in government, or anyone's career in government, is not as important as the system of democracy itself."
COVID Tracking
Also on Monday, Latimer provided an update on COVID cases and vaccinations in Westchester. As of Monday, the county COVID tracker showed 446 new cases and 5,347 active cases in the county. He said that both new cases and active cases are declining, along with hospitalizations which are down to 252 this week. He reported that deaths have fallen to single digits for the last few nights. He said, "The numbers are encouraging but the virus is still out there."
Westchester County is making great progress on administering vaccines. 13% of residents are already fully vaccinated and an additional 11% have had at least one shot. Over 108,000 vaccines, both first and second doses, have already been given at the Westchester County Center, 21,000 in other county facilities and another 9,500 at the newly opened Yonkers Armory.
Traveler's Quarantines
Governor Cuomo has ruled that New Yorkers who travel to other states will no longer have to quarantine after April 1. However, the 14-day quarantine is still in effect for international travel.
Eligibility
Also new, is that front facing public employees, such as building inspectors and those employed in public works are now eligible to receive the vaccine. Public and private employees are entitled to time off to receive their vaccines.
Last, Latimer said he has asked the state for guidance on high school graduations and end of school year activities to allow school districts to plan.
Alison Singer Announces Candidacy for a Second Term on the Scarsdale School Board
Details

Written by

Joanne Wallenstein

Hits: 1064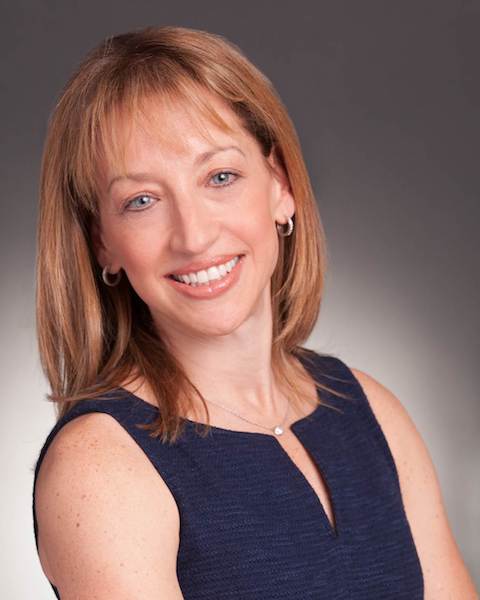 Alison Tepper Singer, who currently serves as the Vice President of the Scarsdale School Board, announced that she plans to run for a second term on the Board of Education. The election will be held on Tuesday May 18, 2021. Here is her statement.
Statement from Alison Tepper Singer, Scarsdale Board of Education Vice President

With the urging and support of many community members, I plan to run for a second term on the Board of Education and look forward to having my experience and qualifications evaluated by the full Village in the May 18th election.
Like so many of the other parents in our community, I am very grateful for the wonderful education both of my daughters received in Scarsdale schools. It was this experience that first prompted me to serve on the Board of Education. For the past three years, I have worked to uphold and expand the very best tenets of a Scarsdale education – academic excellence, Diversity, Equity & Inclusion, student voice, physical & emotional safety, wellness, and personalized learning. It has been a true honor to serve the community in this role, and I hope to have the opportunity to spend the next three years building on Scarsdale's legacy of achievement, benefiting and meeting the needs of all Scarsdale students.
I understand the frustration that has pervaded our community over the past year. We all lost control over our own lives and our children's lives because of COVID-19. As the mom of a special needs child, I understand firsthand how scary it is to feel like you have little control over the decisions affecting your children and the pain that comes when they are suffering. It has been a challenging year on every front, and the decisions we have made to balance the health and safety of our community with students' educational needs have been no exception. While people may disagree with decisions that have been made along the way, our goal was always to protect our students and families, even as we tried to incorporate all the very diverse and divergent perspectives of our school community.
Everyone who lives here knows that Scarsdale is not a typical school district, and that is why we all choose to live here. The relationships and partnerships among teachers, students, and the community were forged over decades by people who hold education as a core value. These are the important principles the board needs to shepherd and these are the values that will propel Scarsdale forward and enhance teaching and learning. I believe my experience and seniority on the Board are critical in moving this mission forward, and I hope the community will support my candidacy to make this happen.
Stewart-Cousins Calls for Cuomo's Resignation: What Do You Think?
Details

Written by

Joanne Wallenstein

Hits: 1161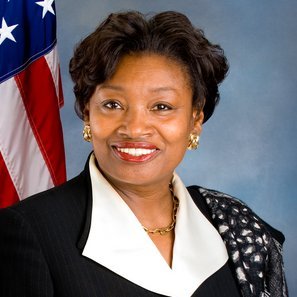 State Senator Andrea Stewart-Cousins has called for Cuomo to step down.NYS Senate Majority Leader and Scarsdale's State Senator Andrea Stewart Cousins called for Governor Andrew Cuomo to resign on Sunday March 7, 2021. Her statement followed multiple accusations of sexual misconduct against the Governor from women he has worked with over the past few years. As of March 10, 20 out of 42 NYS Senators had either called for Cuomo's impeachment or resignation.
The accusations of inappropriate comments, touching and kissing come at a time when there is zero tolerance for this kind of behavior. The #metoo movement encourages women to come forward with reports of sexual misconduct and to call the aggressors to account. Conduct that was excused or ignored just a few years ago is now viewed through a new lens, but the 63 year-old Governor does not appear to have updated his act.
In her statement, Stewart-Cousins notes that the state remains in a crisis and says that the Governor's behavior is a distraction. She said, "Everyday there is another account that is drawing away from the business of government. We have allegations about sexual harassment, a toxic work environment, the loss of credibility surrounding the Covid-19 nursing home data and questions about the construction of a major infrastructure project."
"New York is still in the midst of this pandemic and is still facing the societal, health and economic impacts of it. We need to govern without daily distraction. For the good of the state Governor Cuomo must resign."
Though Stewart Cousins statement signals that the Governor may be losing political support among his own party, he responded by saying he will not step down. He said, "I'm not going to resign because of allegations. The premise of resigning because of allegations is actually anti-democratic." He contends that he was elected by the people and will continue to serve them.
Cuomo has asked Attorney General Letitia James to set up an inquiry into the sexual harassment allegations and apparently plans to stay in office pending the outcome.
At the same time Cuomo is battling these accusations, news has emerged that his office altered reports of deaths at nursing homes to conceal the number of COVID deaths.
It has been a sudden fall from grace for Cuomo whose handling of the pandemic and daily COVID briefings during the height of crisis were highlights for residents quarantined at home. He often spoke of his mother, his daughter, her boyfriend and his own family's struggles to carry on with life restricted by COVID. With hundreds of New Yorker's dying daily, his folksy messages were inspirational and provided reason for hope.
However, according to a March 4 Quinnipiac poll, now, a year after the outbreak in New York, Cuomo's approval has dropped from 72% in May 2020 to 46% in March 2021 though 55% said he should not resign.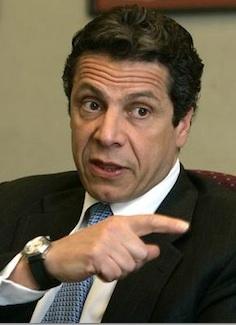 The Governor says he plans to remain in office.
What do locals think? We spoke to a range of Scarsdale residents who offered their opinions on whether or not the Governor should step down. Some spoke of Senator Al Franken, who later regretted his hasty departure from the US Senate, wishing he had waited for an investigation from the Senate Ethics Committee. Others spoke of politicians who remained in office including President Trump, who was accused by many women of more serious offenses and stayed the course, despite allegedly paying to silence accusations.
Supporters contend that even though Cuomo's reputation is tarnished he remains an effective advocate for New York and believe he should stay on the job to complete his term, while others think that between the accusations of a toxic work environment and his attempts to hide the true number of COVID deaths, he can no longer lead effectively and should resign.
What do you think? Post your comments below.