Josh Ringel Leaving Scarsdale for Tarrytown
Details

Written by

Joanne Wallenstein

Hits: 2774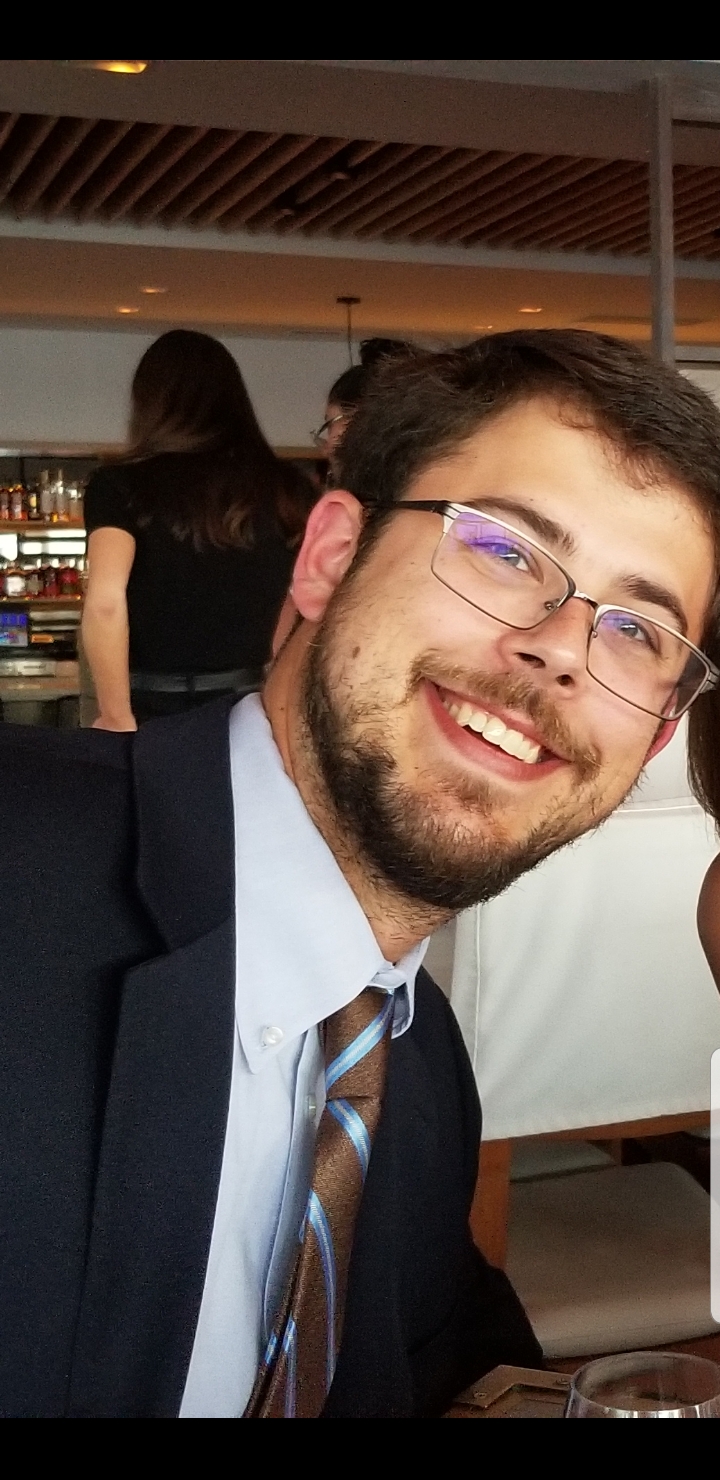 Josh Ringel, Assistant to the Scarsdale Village Manager, is moving on and up. Ringel has served Scarsdale since 2015 and announced this week that he has accepted a position as Assistant Village Administrator in Tarrytown, starting in late July.
Ringel is a well-liked and respected member of the Village team. He recently worked on improved parking for residents and merchants in the Village and the implementation of new LPR technology for parking enforcement.
Good luck to Josh in his new role – he will be missed at Scarsdale Village Hall.
Here is the announcement of his move from the Village of Tarrytown:
The Village of Tarrytown announced that Joshua Ringel has been selected and appointed as the new Assistant Village Administrator.
The Village reviewed applications from 20 candidates and interviewed 6 highly qualified professionals, who had direct experience in local municipal government administration.
Mr. Ringel will assist the Village Administrator's Office in overseeing the daily operations of the Village and Village Departments, and will help with a myriad of grants and improvement projects being addressed and coordinated by the Village.
Josh Ringel is a life-long resident of Westchester County, spending the formative years of his life in Hastings-on-Hudson. He is a graduate of the University of Albany, where he earned his B.A. in Public Policy and his Master's in Public Administration at the Rockefeller School of Government. Previously, he was the Assistant to the Village Manager for the Village of Scarsdale for four years. As Assistant to the Village Manager, he played a key role in village operations including grant administration, traffic safety, improving parking management, planning and managing special events, and much more.
The Village is looking forward to working with Mr. Ringel on many projects and initiatives. He will be starting work in the Village in late July 2019.
Next Generation Chefs Display Creativity in Iron Chef Competition
Details

Written by

Jamie Robelen

Hits: 2391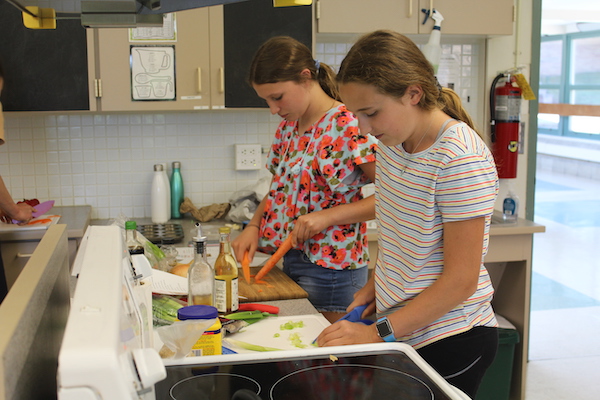 Scarsdale Middle School's next generation of great chefs came together to battle it out at the annual Iron Chef competition on Tuesday, June 11. Six teams participated, mostly working in teams of two but with a few groups of three. The theme ingredient this year was minute instant brown rice, so all of the teams had to incorporate the grain into their dish. Students were given a kitchen space, pots and pans, knives, tools to cook with, oil, and the rice, but had to provide everything else on their own. The students had 45 minutes to cook, 5 minutes for presentation, and then the judges tasted. The judges included S.O. student members, S.O. head Mr. Rambone, and SMS teachers Mrs. Tenzer and Mr. Boniello.
After cooking, each team presented their original dish. For the most part, each plating was beautiful. Team 6 cooked up a tri-color rice, with layers of red, yellow, and green, all dyed naturally with vegetables. They cited Pride Month as being part of their inspiration for the bright hues. Team 5 came into the competition with a different philosophy than the other competitors; instead of bringing in a recipe or practicing at home beforehand, they asked for "donations" from the other teams and ended up making rice with some egg in it. Team 4 prepared fried rice with a pineapple garnish, combining sweet and savory flavors. Team 3 was the only group to incorporate meat into their dish. They served fried rice cups filled with chicken. Team 2 brought in a wooden bowl to present their dish, which was a rice bowl, a very trendy meal right now. They topped the brown rice with many different fresh vegetables.
The winner of the competition was Team 1, consisting of Eleanor Gutstadt, and twin sisters Sarah and Ava Gorelick. The girls prepared arancini, a fried risotto ball with mozzarella cheese inside. They served it with a side of marinara sauce. This wasn't the girls' first cooking endeavor; they won first place in this year's cupcake decorating contest and second place in last year's cupcake contest.
As a prize, the girls were all awarded trophies and an Amazon gift card. All in all, each team showed off that there is some real culinary talent in SMS. The six teams also raised $120 for the Westchester Food Pantry.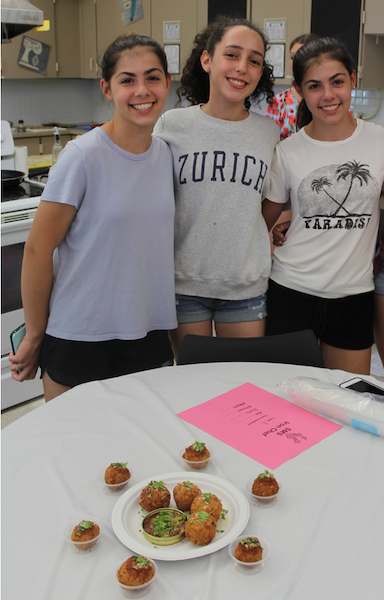 Team 1 poses with their winning dish, arancini.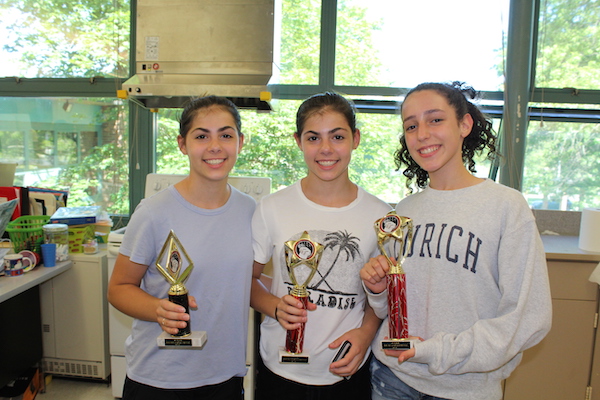 Eleanor, Sarah, and Ava hold their new trophies.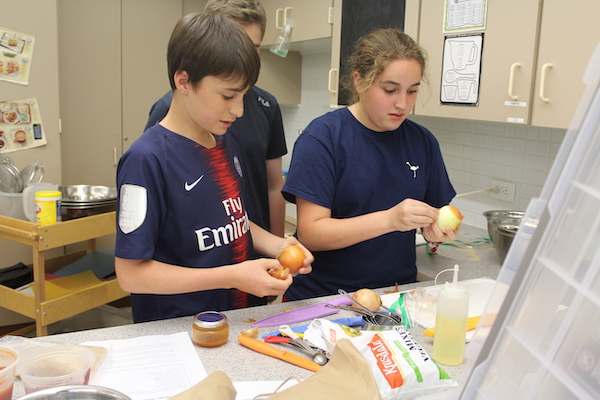 Teams are hard at work during their 45 minutes of cooking time.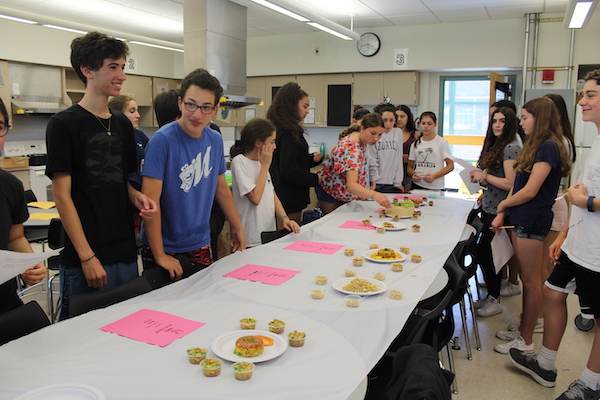 The judges and chefs admire everyone's presentation.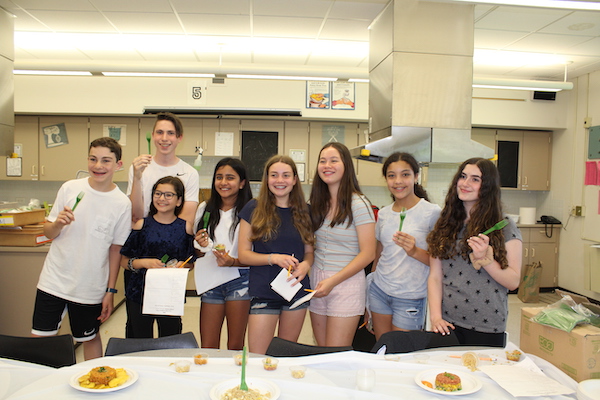 Student S.O. members help judge.
Letter to the Editor: Idling Engines Cause Pollution
Details

Written by

Joanne Wallenstein

Hits: 1603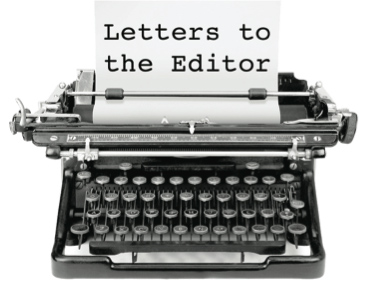 This is a letter to the editor from Susan Levine:
The good weather is here and with it the number of cars idling with their motors and air conditioning running has increased dramatically.
People everywhere in the Village are talking on the phone while sitting in their cars.. AC on, staying cool with the engine running, unconcerned that their engines are polluting our air sometimes for long periods of time.
The U.S. Energy Department just reported that eliminating idling of personal vehicles would be the same as taking five million cars off the road.
If you are in your car and need to stop driving to make a call, turn off the engine and open all your car windows or go into a store that has air conditioning and make your calls. Starbucks or CVS are good choices.
Polluting the air is not a good choice.
Susan Levine
SHS Doubles Team Wins State Championship
Details

Written by

Joanne Wallenstein

Hits: 3747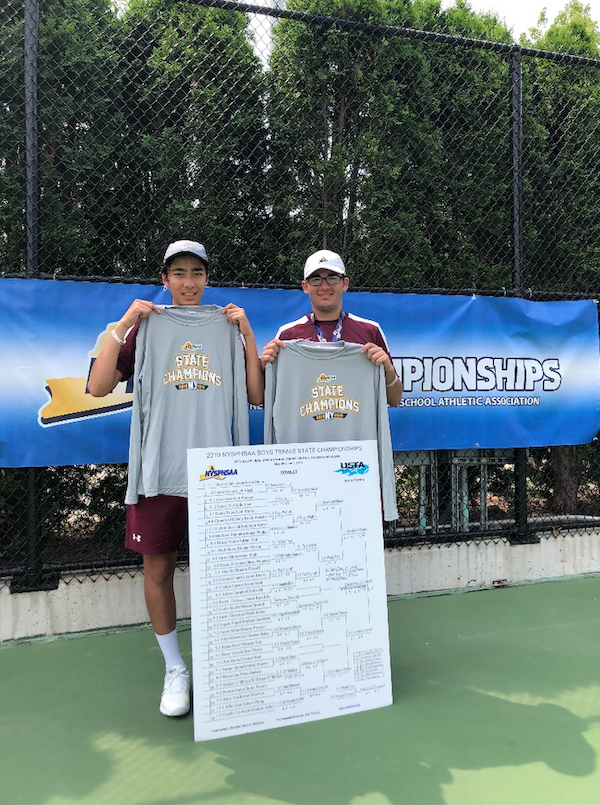 The tennis doubles team of ninth grader Jason Shuler and junior Nikolay Sahakyan made it all the way to Arthur Ashe stadium this year, and won the final match to take the state title. Even more amazing is the fact that the two did not play doubles as a team during the regular season – and only formed a partnership for the playoffs.
We asked the two some questions about playing, winning and studying and here is what they shared:
Q. How old were you when you started playing tennis - who taught you to play?

Nikolay: I started playing tennis in Armenia when I was 5 years old. My coach was one of the top tennis players in Armenia who helped shape my game.
Jason: I started playing when I was around 7 years old by my mom's Japanese coach, Takeshi Baba.
Q. Where do you train in the winter? Do you play tournaments during the year?

Nikolay: In the winter, I play tennis wherever the closest place is that has indoor tennis courts. Throughout the year, I play many tournaments.
Jason: In tennis there is really no offseason or winter break, I continue to play with my coach indoors.
Q. Did you find it hard to join the Varsity team as a freshman? What were the challenges?
Jason: I found it I found it a little hard, as I was one of the youngest on the team, with many seniors.
Q. Did you play in the state tournament last year? Against who ... and how did it go?
Nikolay: Last year I did play in the state tournament with Luke Smith, who is know a freshman in college. We got to the final of states but lost in a close match to the same team from Mamaroneck that Jason and I beat this year in the final.
Q. Tell us about your injury - how did you recover quickly enough to play in the states?
Nikolay: The good thing about my injury was that it wasn't anything major so I was able to recover quickly. I trained a lot every day to get back into tennis shape.
Q. How did you train to play as a doubles team?
Nikolay: When I first started playing doubles with Jason in the postseason, we weren't communicating as well we did towards the end of the season. I think that as time went on, we were able to understand each other's weaknesses and improve on them.
Jason: I knew I had to be good at the net, and set up my partner with good strokes and serves.
Q. What are some of your doubles strategies?
Nikolay: In doubles, Jason and I are both very aggressive at the net so throughout all the matches, we tried to finish points at the net as soon as possible. We both also have good serves which sets us up to finish the points at the net.
Jason: Try to get my opponent on defense, don't give them rhythm, take away their time by taking balls early.
Q. How have you balanced your schoolwork and your tennis schedule?

Nikolay: I try to complete all of my work before I go to tennis so that when I come back, even if I have work to do, it is not as much.
Jason: I could usually do work that is not online during a match on the bus or while I was waiting, and I had plenty of time after practice to do my homework.
Q. Tell us about the season - and the final match.
Jason: - The final was at the Billie Jean King Tennis Center against Connor Aylett and Charlie Levinson from Mamaroneck. We played them in the conference and sectional final, and we won both times, first time 2-6 6-1 10-5, and the second time 6-3 7-6(3)
In the final match the score was 6-3 6-7(7) 6-4. We had 5 match points in the tiebreak, but after we lost that, we recovered and won the third set. They had a point to go to 5-5, but we managed to win that game and the match.
Nikolay: This season has been one of the best seasons that I've experienced. Our team was very strong and we showed that by having a 10-1 season. Jason and I also had a phenomenal postseason, with a record of 13-0. The state finals was one of the toughest matches that I've played. It required a lot of mental focus from the both of us.
Commenting on the victory, SHS Tennis Coach Jennifer Roane said, "It was an exciting tournament. The last time SHS won states for the Boys team was Ben Fife and Austin Kaplan in 2012. I was very proud of what the boys accomplished in a short amount of time. Jason and Nikolay had never played doubles together before the post season. Nikolay had surgery just before the season. He was cleared to play his first regular season match on May 1st. On June 1st he won the doubles State Championship. Both Jason and Nikolay are very talented tennis players. They train every day. As a coach it is rewarding to see student athletes work hard at at sport they love and be rewarded for their efforts."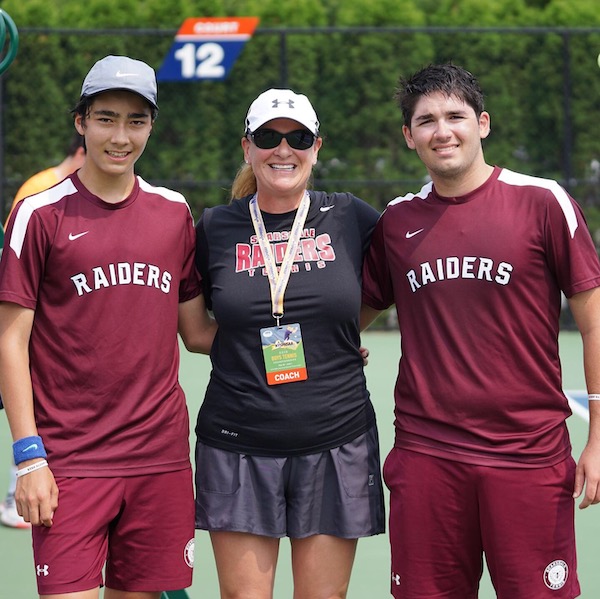 Jason Shuler and Nikolay Sahakyan with SHS Tennis Coach Jennifer Roane

52 SHS Students Receive Academic Awards and 2 Receive National Merit Scholarships
Details

Written by

Joanne Wallenstein

Hits: 3905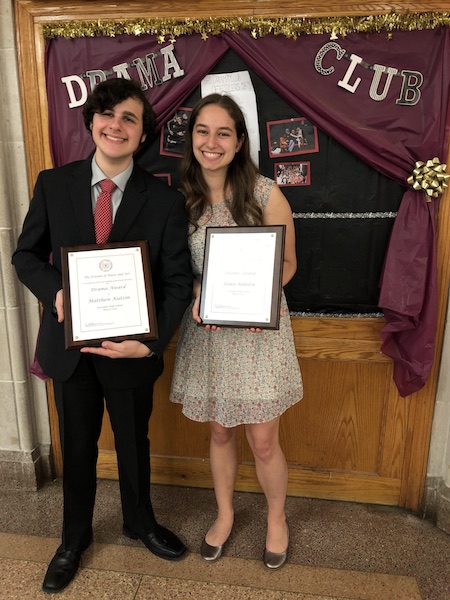 Matthew Kutzin and Jamie Robelen Received the Friends of the Music and Arts Drama AwardAs anyone living here knows, Scarsdale kids are some of the hardest working kids around. Each year a select few SHS juniors and seniors are chosen by the school faculty to receive awards to recognize academic excellence, accomplishments in the arts and service to the community.
On Wednesday night, May 8th, 52 students, gathered with parents and friends in the auditorium where students were presented awards by the heads of each academic department, community members, and even Principal Bonamo himself. The complete list of award winners is as follows:
Junior Scholarship/Service Award: Lily Kronenberg
Junior Academic Excellence Award: Jack Silvers
Wellesley Book Award: Lucy Brenner
SAA Rothschild Award: Teckhua Chiang
Counseling Department Award: David George
Scarsdale Foundation Award: Ross Forman
Dartmouth Award: Jenny Liu
Principal's Award: Amanda Glik
Billy Safian Humanitarian Award: Adina Mistry
Halliday Clark Sr. Memorial Award: Benjamin Klein
Casey Ferrone Memorial Award: Taylor Siegel
Rotary Club Award: Adeye Jean-Baptiste, Anya Raj
Technical Services Award: Ian Lerner
Michael V. McGill Book Award: Alexandra Wilson
Yale University Award: Spencer Sheppe
New York State Comptroller's Achievement Award: Carly Kessler, Henry Kronenberg
The Triple "C" Award: Francesca Greenwald, Aliza Mehlman
David Smith Memorial Award: Luzselena Aguilar
ART AWARDS
Excellence in Visual Art 2D: Lily Foley
Excellence in Visual Art 3D: Manya Kula
Media Award: Vivian Perfetti
Friends Permanent Collection Award: Sara Frankenthaler
Elisa Draper Art History Award: Helen Marino
ENGLISH AWARDS
Brown University Award: Harry Parks
Harvard University Award: Jack Silvers
Princeton University English Excellence Award: Noam Cherki
Audrey McGinn Creative Writing Award: Elizabeth Seider
SPECIAL EDUCATION AWARD
Steve Corbin Academic Success Award: Olivia Higgins
WORLD LANGUAGE AWARDS
Latin Award: Jonathan Fan
Spanish Award: Noah Yusen
Spanish Literature Award: Rena Li
French Award: Emma Townsend
Mandarin Award: Kylie McRobie
Departmental Award: Anika Agarwal
MATHEMATICS AWARDS
Rensselaer Mathematics & Science Award: Alison Chan
Math Faculty Award: Teckhua Chiang
SCIENCE AWARDS
Bausch and Lomb Award: Wolf Cukier
Science Achievement Award: Anika Agarwal
Science Department Award: Kathryn Koo
New York Science Supervisors Association Awards
Biology: Andrew Levy
Chemistry: Renee Dibbini
Physics: Noah Yusen
SOCIAL STUDIES AWARDS
Social Studies Excellence Award: Maya Bharara, Sean Michael
Social Studies Faculty Award: Lily Kronenberg, Andrew Morin
Social Studies Achievement Award: Vivianna Wang
PERFORMING ARTS AWARDS
Band Award: Nico Cavalluzzi
Chorus Award: Elias Hairatidis, Megumi Ozawa
Orchestra Award: Abigail Nishiwaki
Friends of Music and Art Drama Award: Matthew Kutzin, Jamie Robelen
Sidney R. Case Memorial Scholarship: Lindsey Donat
National Merit Scholarship Awards
The National Merit Scholarship Corporation awarded National Merit Scholarship Awards to two Scarsdale Students, Kelly Rutherford and Austin Tang. They are two of about 7,600 recipients of these awards, chosen from 15,000 finalists. The recipients are chosen by college admissions counselors and high school counselors, based on academics, test scores, leadership in school and community, an essay, and a recommendation from the school counselor. Both Rutherford and Tang were recipients of National Merit $2500 Scholarships.