Karen Brew -- On the Ballot for Scarsdale Village Trustee
Details

Written by

Joanne Wallenstein

Hits: 604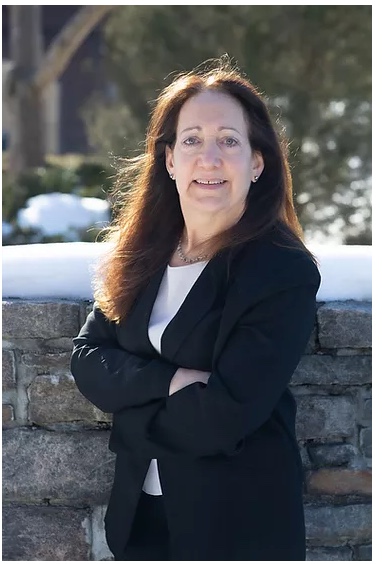 Community volunteer and 16-year Scarsdale resident Karen Brew is running on the Scarsdale Citizen's Non-Partisan Party slate to serve her first term as Scarsdale Village Trustee. Brew worked as an Executive Recruiter and is a graduate of Cornell University and the Kellogg Graduate School of Management at Northwestern University. She raised two daughters in Scarsdale who are now in college. The election will be held on Tuesday March 16, 2021 and all registered Scarsdale voters can cast their ballots at the Scarsdale Congregational Church from 6 am to 9 pm.
We interviewed Brew about her experience and her views and here is what she shared:
Tell us about yourself, your experience in Scarsdale and why you would like to serve on the Village Board of Trustees.
We moved to Scarsdale when my older daughter was about to enter Kindergarten, over 16 years ago. I wanted to meet people and make connections so I immediately got involved, mostly in the schools. I was on numerous committees leading up to being Edgewood Elementary School PTA Treasurer for 2 years and then PTA President. From there I served on the Scarsdale PT Council Executive Committee (4 years), School Board Nominating Committee (5 years), Scarsdale Bowl Committee (2 years), Scarsdale High School Scholarship Fund for College Executive Committee (5 years) and the League of Women Voters of Scarsdale board (6 years). Both professionally and in my volunteer work, I enjoy working in teams and building solutions. I ask a lot of questions and love to problem solve. I believe with my skills and experience I can add value to the Village Board and I am excited to contribute to help keep Scarsdale the fabulous community that it is.

Were you surprised at the quick turn in events that led to your nomination?
I had been contemplating running in January but had decided to wait. When one of the selected nominees withdrew it provided me with an opportunity to reconsider. Then when I was approached, I had the benefit of knowing that Jane Veron was slated to be Mayor. The opportunity to work on the board with her experience, smarts and passion as Mayor was too enticing to turn down and so I stepped up!

What volunteer experiences in your past helped to prepare you for your new responsibilities as Village Trustee?
I think the volunteer experience that best prepares me for my new responsibilities as Trustee has been my past six+ years on the board of the League of Women Voters of Scarsdale. The League studies the Village budget annually. At a community-wide meeting, the Village Treasurer and Village Manager present the coming year's proposed budget. The League members listen, learn and question the presenters in order to gain an understanding of the process and resulting budget appropriations. This is followed by a consensus meeting at which the participants discuss and come to an agreement on a League-issued statement that supports or disagrees with the budget and the process used to get to the draft budget.

What areas of Village governance are of interest to you – what do you hope to pursue?
I will be in a better position to answer this sort of question once I have had an opportunity to view the internal workings of Village operations up close. While I have the familiarity that comes from being a resident recipient of village services, and my LWVS work gave me some insight on the Village budget, I anticipate that having the chance to get into the details of how the Village delivers services will generate my interest in particular governance matters that I consider deserve more attention.

In your view, what are the biggest challenges facing the Village today? How will you approach these issues?

I see some of the biggest challenges as:
Figuring out how to budget in a time of rising costs and decreased revenues.
Determining how to balance meeting the needs and wants of the residents in the short term without mortgaging away the longer term because of fiscal constraints.
Revitalizing the downtown so that we have a vibrant town center for the community.
For all of the issues my approach will be to, collaboratively with the full board, gather data and facts through the functional experts, gain community feedback and then come to consensus on the best go-forward steps.

You have had a lot of experience in leadership positions for the Scarsdale Schools. Do you think the Village and Schools can do more together? If so, share any ideas.
I definitely think that there are many areas for the village and school district to work together. We saw that recently with the Butler Field lights and there are surely more. I believe that with a healthy dialogue between constituencies, areas of cooperation can be explored and worked on to maximize positive outcomes.

What else?
The combination of my work and volunteer experiences will allow me to come up to speed as Village Trustee quite quickly. I have the skills and the passion to contribute to help keep Scarsdale the wonderful community we all moved here to be a part of.
Learn more about the Scarsdale Citizens' Non-Partisan Party here.
Historic Preservation Law is Tested at Hearing of the Scarsdale Board of Trustees
Details

Written by

Joanne Wallenstein

Hits: 1373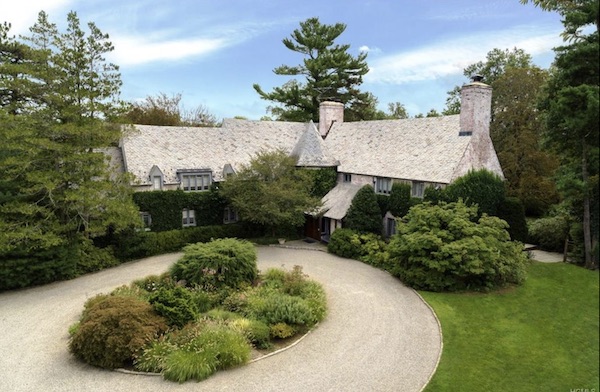 The owners of an iconic home at 11 Dolma Road in Scarsdale made their third attempt to gain approval to knock it down at a hearing before the Scarsdale Board of Trustees on Thursday February 4. The applicants were turned down by the Committee for Historic Preservation (CHP) following a September 29, 2020 hearing and moved to appeal that decision to Scarsdale's Board of Trustees.
Representing the homeowners were attorneys Andrew Schriever and Lawrence Graham from Cuddy and Feder as well as architectural historian Dr. Emily Cooperman. Daniel Pozin of McCarthy Fingar LLP acted as counsel to the Board of Trustees and the Committee for Historic Preservation was represented by James Staudt of McCullough, Goldberger and Staudt as well as Professor Andrew Dolkart, who teaches at Columbia University and was the author of the 2012 Reconnaissance Level Cultural Resource Survey Report of Scarsdale.

The survey recommended homes, landmarks and neighborhoods for historic designation.
Schriever presented the applicants' case and argued that the home did not meet the initial criteria for preservation, which says, "In making a determination whether to grant an application for a certificate or to deny such application and require that the building in question be preserved, the Committee shall consider the level of significance in American history, architecture, archeology, engineering and culture present in the building, as well as the integrity of location, design, setting, materials and workmanship."
He claimed that it had no historical significance as it was not linked to a historic event or site. He argued that the code itself was "vague and overbroad," and possibly unconstitutional. On the matter of whether or not the home was the work of a master, architect Julius Gregory, he said, "if an outhouse is designed by Frank Lloyd Wright, does that mean it's worthy of preservation?"
Dr. Cooperman said that Scarsdale code did not conform to the criteria in the National Register of Historic Places. Turning to the home, she said, since renovations were done to the windows and dormers and a small portion of the roof line, she claimed the home had lost its integrity and authenticity. She said, "The entrances and windows have been changed, the roof form is different and the materiality has been altered."
She sought to demonstrate that Julius Gregory was not a master as he lacked "greatness," was not named a fellow of the AIA and entered competitions but did not win them. Graham added, "he published no monographs," and Cooperman said Gregory was known for his cottages rather than his mansions.
Defending the home and the process, Attorney James Staudt said, "If ever credit should be given to the CHP it is in this case. There are 600 pages of documentation. The record demonstrates that both sides were afforded opportunities to supply evidence…. The decision provides clear articulate reasons and thoughtful discussion of how Julius Gregory advanced architecture into the modern age…. it is difficult to fathom a more thorough process."
He warned the Trustees, "Don't be distracted by the constitutional argument. There is more than enough evidence under any standard of proof. The words are clear and easy to understand. The facts and analysis are clear. They are not vague."
Andrew Dolkhart explained that he is an architect and preservationist and a full tenured professor of historic preservation at Columbia University. He has written several books and won awards. He said, "I feel very strongly that 11 Dolma Road meets the criteria for preservation."
He said, "Historic preservation is no longer about 'George Washington slept here." And while the defendants insisted that the house was not "unique," Dolkart responded the word "unique" is not in Village Code; instead, it speaks to "broad patterns."

Dolkart said, "11 Dolma meets three of the historic preservation criteria. It is part of a broad pattern of village history. Why? The train, the Bronx River Parkway, the decline of single family homes in the city, and the growing appeal of country life for wealthy households; (the original owner) W. Wallace Lyon commissioned the house during a crucial period in the history of the Village."
About Gregory he said, the house is "unquestionably the work of a master of suburban housing. He can't be pigeonholed as a designer of small houses. He created fine Tudors, English Normans and revival homes. Gregory was well respected in the 1920's and was chosen to design homes in Fieldston. His work is a bridge between traditional and modern design and embodies distinctive characteristics, and has high artistic value."
Dolkhart said the house displays a sophisticated use of materials including stone and brickwork, a tower, and half timbering.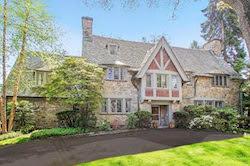 In 2017, the CHP voted to preserve 53 Old Orchard Lane, also designed by Julius Gregory
Responding to Cooperman he said, "The house still has integrity. Buildings can be listed that have changed over time – in fact all the buildings that I have written applications for the national register have changed over time. The alterations on the front are relatively minor and were carefully done to blend in with the rest of the house."
He continued, "Does this building still read as Julius Gregory's English building? The answer would be yes. It has the steep roofs, patterned brickwork, stone and brick it still has the tower and the picturesque composition. These are the features that are important to a French Norman house."
He called 11 Dolma "One of the most outstanding houses in Scarsdale," saying, "It meets multiple criteria for preservation and I hope you will vote to preserve this piece of Scarsdale's heritage."
Staudt added, "The role of this board is to apply the law as written -- not to rule on the law. The historic preservation code has been upheld for half a century."
He ended by saying, "I went to look at the house the other day and saw it and thought – if I were to make a movie about the 20's in Scarsdale I would film it on Dolma Road in this house."
Following the hearing the board adjourned into executive session. The Board of Trustees will vote on the appeal at a future meeting of the Board of Trustees.
Tim Foley Named CEO of the Building Realty Institute
Details

Written by

Joanne Wallenstein

Hits: 1931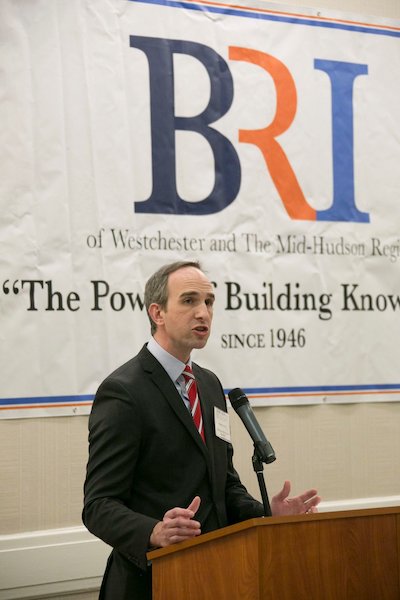 Tim FoleyScarsdale's Timothy Foley has been promoted to CEO of the Building Realty Institute (BRI) after a successful first year at the helm. Foley comes from an accomplished background, having graduated from Harvard University and then working on Former President Barack Obama's presidential campaign as a Media Director in 2008.
This change comes as the BRI steps into a new era of leadership and continues to emerge as one of the thought leaders in the building and realty industries in the Westchester and Mid-Hudson region.
"BRI has grown as an organization while staying true to our mission to advocate for the best interests of the realty industry to government and the community, and to provide knowledge and resources to our members," BRI President Lisa DeRosa said. "The Board of Trustees believes that having our executive officer be recognized as a CEO reflects the proactive, professional, and entrepreneurial organization and culture we're trying to build. We also strongly believe that this title change will enhance the prestige of the organization and bring us into alignment with the titles given to executive officers in the Westchester-based organizations that we regard to be our peers."
In his position as Executive Director, Foley was instrumental in leading the organization through a period of transformation, prompted by the long-term trends for affordable housing in the region, the dizzying changes enacted by the state legislature in the Housing Stability and Tenant Protection Act, and the unprecedented changes from the ongoing COVID-19 pandemic.
The change reflects a renewed and refocused entrepreneurial spirit to the organization during these challenging times, including a renewed focus on building alliances with the community and taking full advantage of technological innovations. During 2020, the BRI was able to hold two successful fundraising campaigns, combining to raise over $40,000 for the charitable nonprofits Feeding Westchester and Lifting Up Westchester. BRI was forced to move the entirety of its robust education, training, and programmatic offerings to an all-virtual format, with every Membership Meeting being held via Zoom.
The BRI was also instrumental in launching the Building and Allied Construction Industries of Westchester (BACI), the local Westchester chapter of the National Association of Home Builders (NAHB) and the New York State Builders Association (NYSBA). Foley was recently appointed to a one-year term on the Land Development Committee for NAHB.
Foley led his team through a year of increased productivity as the BRI continued to conduct monthly meetings and engaged members in numerous advocacy efforts at the state and county level. Paired with the consistent ratings of the organization's two radio shows on WVOX and WOR 710 AM, and the doubling of its social media presence, the BRI continues to re-invent its image all while becoming one of the thought leaders in the building and realty sectors in Westchester County and the Mid-Hudson region.
"George Frank and Albert Annunziata, my predecessors at the BRI, worked tirelessly for years to make the BRI an organization resilient enough to withstand a once-in-a-century pandemic and a furious pace of change at the state and county level," said Foley. "I'm grateful for the trust that President De Rosa, the Trustees, and the hardworking members of the BRI have put in me to continue our path of innovation and progress and look forward to continue to advocate for the best interests of our industry, for smart growth, affordable housing, and commonsense approaches to sustaining our communities, and to experiment with new opportunities for our members to build relationships and improve their businesses."
The Building and Realty Institute of Westchester and the Mid-Hudson Region (BRI), based in Armonk, has more than 1,800 members in 14 counties of New York State, including home builders, commercial builders, renovators, property managing agents, co-op and condo boards, and owners of multifamily apartment buildings in many communities, as well as suppliers and service providers with a special focus on real estate. The BRI's mission is to improve the relationships.
CNC Selects Karen Brew to Run for Scarsdale Village Trustee
Details

Written by

Joanne Wallenstein

Hits: 1168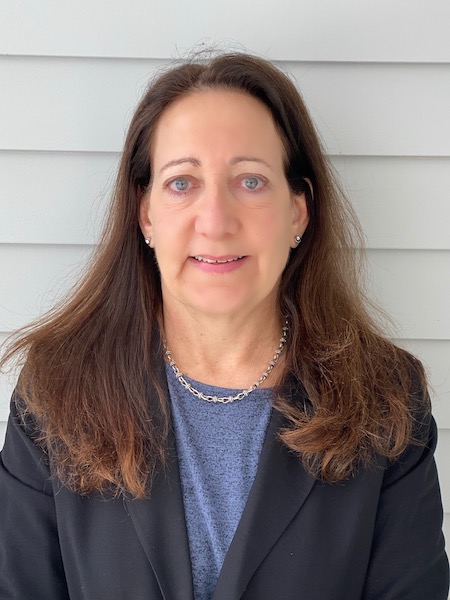 Karen Brew The Citizens Nominating Committee (CNC) announced today that Karen Brew has been selected to replace Ellen Plum, who previously withdrew her nomination, for the Scarsdale Citizens' Non-Partisan Party (SCNPP) slate for Village Trustee. The 2021 SCNPP slate is the following:
Jane Veron of Fox Meadow, a Village Resident for 23 years, Village Mayor;
Sameer Ahuja of Heathcote, a Village Resident for 21 years, Trustee;
Karen Brew of Edgewood, a Village Resident for 16 years, Trustee;
Jonathan Lewis of Edgewood, a Village Resident for 19 years, Trustee
The General Village Election will take place on Tuesday, March 16th at the Scarsdale Congregational Church.
"I am extremely proud of the hard work and effort that the CNC put forth after receiveing Ellen Plum's withdrawal letter. In addition to soliciting candidates from the entire village, the CNC sprung to action and contacted numerous individuals from the Scarsdale community to submit their names for consideration. Despite the tight timeline, the CNC conducted a wide search and performed extensive due diligence," stated Eric Lichtenstein, Chair of the CNC.
Eric Lichtenstein served as Chair and Steve Pass served as Vice Chair of the CNC. In addition to the candidates for Village office, the CNC selected Jill Spielberg as Chair and Jon Krisbergh as Vice Chair for next year's CNC. The CNC also elected Richard Pinto to serve as Vice Chair of the Procedure Committee.
Karen Brew has lived in Scarsdale for 16 years. She has been active in a variety of Village-related civic activities, including serving on the board of the League of Women Voters of Scarsdale for the past six years, and on the Executive Committee of the Scarsdale High School Scholarship Fund for College for five years. Karen also was a member of the School Board Nominating Committee (SBNC) and the SBNC Administrative and Joint Committees. Karen was involved for many years with Scarsdale's schools, serving as the Edgewood PTA President, Treasurer, on various Edgewood, Scarsdale Middle and Scarsdale High School PTA committees, as well as serving on the Parent Teacher Council (PTC). She also served on the Scarsdale Bowl Committee for two years.

Karen most recently worked part-time as an Executive Recruiter with Koren Rogers Executive Search. Before that she had various leadership roles in marketing management, strategy and consulting in the consumer goods and financial services industries. Karen earned a B.A. cum laude from Cornell University and an MBA from the Kellogg Graduate School of Management at Northwestern University.

Together with her husband (Richard) Damian, Karen raised two daughters here who both graduated from Scarsdale High School and are currently in college.
Former Scarsdale Resident Frank Sobel Passes Away at 93
Details

Written by

Joanne Wallenstein

Hits: 1063
Frank (far right) with the Sobel clan.Frank M. Sobel passed away peacefully at the age of 93 on January 11, 2021 in Delray Beach, Florida. He is predeceased by his wife, Toni and his son, Marc. He is survived by his wife Carol; his children Ralph, Nancy, Ricky and John; his daughters-in-law Alice, Debbie, Nanette and Liz; his grandchildren Chris (Ken), Kevin (Amy), David (Jackie), Michael, Steven, Alexis, Jessica and Andrew; and his great-grandchildren Ben, Jack, Lila and Adam. He was President of Canterbury Belts, Ltd. from 1955-1995, when he retired.
The Sobel family included five children, four boys and one girl. They lived on Garden Road in Scarsdale for 22 years, from 1960 to 1982. All the kids were athletes and the four boys were captains of the soccer team. The youngest brother became a professional tennis player.
Frank loved playing tennis, traveling, "Dirty Harry" movies, ice cream, and most of all, his family. He was quick-witted, with a deep moral compass and a strong sense of loyalty. A private service took place on Friday, January 15, 2021 at Mt. Nebo Funeral Home in Kendall, FL. Contributions may be made in Frank's memory to The Michael J. Fox Foundation for Parkinson's Research.