When the Doctor Becomes the Patient
Details

Written by

Joanne Wallenstein

Hits: 4501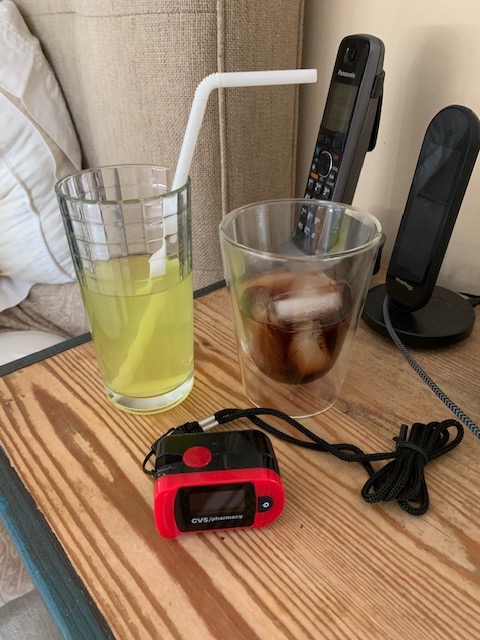 He said it was going to be bad -- really bad.
My husband adores Rachel Maddow – Lawrence O'Donnell and Brian Williams too, but Rachel is his primary gal. He also loves science, molecular biology and medicine and has made his career as a research physician and as the director of a large department at one of the city's major hospitals.
So when Maddow began to shift her focus from politics to early coverage of the coronavirus outbreak in Wuhan in January, it was the perfect storm. A mysterious virus, uncertain news from China, an epidemiologic conundrum, Trump's denials and the potential for a pandemic…. What could be more fascinating?
My husband became even more intently focused on MSNBC's nightly coverage. To me it seemed like fifteen minutes of the news told me all I needed to know but he watched intently as the news was spun and re-spun for the entire evening line-up.
As the story unfolded from Kirkland, Washington to the Diamond Princess Cruise ship my husband kept saying, "it's going to be bad…really bad. We're all going to know people who die." I thought he had watched too many disaster movies and dismissed his concerns as the product of an overactive imagination. After all, Ebola had broken out in remote areas of Africa and somehow been contained. We heard a lot about bird flu, but I never knew anyone to contract it. Though I see horror nightly on television, how often does it come to my door?
My husband is a "glass half empty" kind of guy, who's been known to want to sell our entire stock portfolio at the first sign of bad news. I'm the glass half full type, and usually look at the world through rose colored glasses. But when he suggested I go out and buy two weeks of food I thought, why not? That was in the days before we were told to wear gloves or masks to the store, and you could still buy paper towels and toilet paper. I stocked the freezer and padded the pantry with soups, tuna, and pasta and remained unconvinced that the peril could become personal.
In early March I happened to have two sets of theater tickets and spent considerable time deliberating about whether or not I should go. What if the person sitting next to me should cough? Was this virus really rampant or just a phantom threat? In the end, I decided to attend what turned out to be some of Broadway's final performances.
My husband continued to go to his office and laboratory at the hospital during the first few weeks of March, until the crisis worsened, and the entire hospital became a corona ward. At that point he worked day and night from home, and I had trouble getting him to leave his office to come down for meals. I worried that he was so enmeshed in the crisis that he would contract the virus at home. I knew that virtual transmission was impossible, but I feared it just the same.
The weeks wore on and all of our fears became reality. In the beginning my daughter and I took long walks and continued to acknowledge friends and neighbors from a healthy distance. Next we started to wear gloves and masks outside and keep to ourselves, crossing the street to avoid any contact. The masks initially felt a bit like Halloween, but eventually we lost our sense of humor. The suffocating masks and uncomfortable plastic gloves began to feel like what they really were – armor against germ warfare.
March wasted away into April in a blur of indistinguishable days. My husband seemed to be tied up on a call 24/7 or furiously typing away. I stayed busy updating Scarsdale10583 while doing more vacuuming, laundry, cooking, dusting and mopping than I had ever done in my life. Though I rarely left the house, each night I fell into bed feeling like I had run a marathon.
That all changed a few days before Passover. My husband came down for dinner and announced his temperature was 100. Since we had all been holed up in the house for three weeks, it seemed impossible that he could have contracted COVID-19. I remember thinking to myself…. it's the immaculate infection.
Though I was somewhat skeptical, he wanted to be tested. I had published a story on the site about drive-through testing at a local provider, and since my husband was a physician they agreed to test him. He drove himself there and was back in minutes. However, five days later when he continued to experience fever, fatigue and a cough, the results had still not come back.
So he decided to take a drive down to his hospital where they were offering staff a rapid test. We hopped in the car and drove to the city in no time. There were few cars on the road and almost no one on the streets. Again he was in and out of the testing in minutes. We made a quick stop to pick up some "just in case" meds and sped back to Scarsdale. At that point, he seemed uncomfortable but not too sick to drive and I thought both tests would prove to be negative.
But later that night the phone rang and I eavesdropped on the downstairs phone to hear a colleague tell my husband the test was positive … and to hear my husband say, "I knew it." He knew it, but I did not, and I sure was surprised.
From there the story gets much worse and far more frightening. In the next few days he was thoroughly overtaken by a rattling cough that shook the walls of our house. His fever ebbed and flowed – but never got higher that 101 – but he was achy, short of breath, exhausted and miserable. He turned off his computer and stopped using his phone. He no longer came downstairs to eat and we shuttled food up and down the stairs to his bedside. We woke him up three or four times during the night just take make sure he was breathing, and the nights were endless for him and for us.
He refused to speak to us, to watch television or confer with his physician friends who called often. Perhaps he was corresponding with someone, but to us it seemed like he was directing his own medical care. Since he's the guy that everyone calls when they get sick, we never imagined that a time would come when he would need us to take care of him. We pestered him hourly to take his temperature, measure his oxygen level and to drink – something ---- anything. We kept asking him what to do and for the first time in our lives he looked scared and clueless.
After he received confirmation that he was positive we were cautious about interacting with him – wearing masks and standing outside the door of his room. However, as a physician he assured us that we had been exposed before he had the diagnosis, and that wearing masks was useless. We continued to be hesitant about going near him, but did not follow the strictest quarantine rules, trying instead to minimize our exposure.
And then a few days later the situation got even more dire. He was racked with nausea and refused to drink or eat anything. He started to look like he was out of it and irrational. No matter how many times we begged him to drink – he simply said, "I can't." We called friends who brought smart water, several shades of Gatorade, Ensure, Coke, Ginger Ale and juice. We poured glass after glass, only to go to his side and find the drinks untouched.
This went on for several days until I feared he would get too dehydrated and we would have to call the ambulance. At one point, an ambulance did arrive with an oxygen tank – and that got the only response we had from him in days. Seeing the emergency vehicle out the window, he pushed the house intercom and yelled, "Who called an ambulance?"
During one of the long nights I woke up at 3 am and realized that my life might be forever changed. I confronted the fact that we might lose him –something I had refused to acknowledge through these many long days. I had no idea what my life would be without him. We had never even considered this or discussed it. It seemed unfathomable. Terrorized at the thought, I climbed into bed with my daughter.
We hit day 10, day 11 and finally day 12. We heard this could last two weeks, but we didn't feel that he was going to make it for two weeks in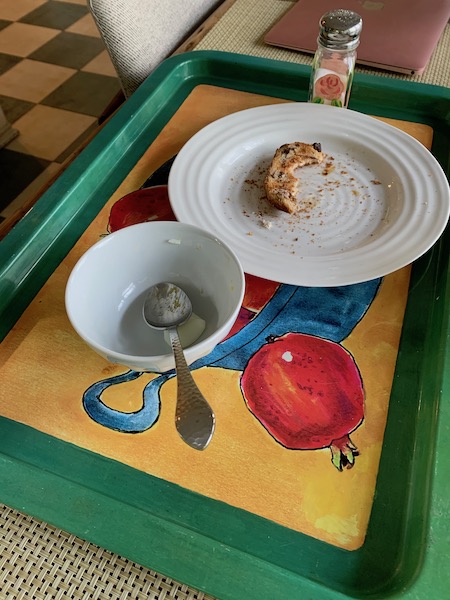 this condition.
Finally, on day 12 he woke up and said, "I think I might feel better." And lo and behold he agreed to have something to eat. I brought up a tray with a boiled egg and a piece of toast – and when my daughter stopped in a little while later, the egg and most of the toast were gone. When she brought the empty tray downstairs we cried.
Its day 13 since the fever struck and he's far from cured -- still napping all day and zapped of energy. But he is eating and he is drinking and I know that one day soon he'll decide to rejoin us downstairs.
Everyone is telling us how fortunate we are that we'll have antibodies to this beastly virus down the road. For now I just feel fortunate that we're all alive. As he predicted, it was going to be bad … really bad. And it was.
Birthday Drive-By Program from the Scarsdale Fire Department
Details

Written by

Joanne Wallenstein

Hits: 2088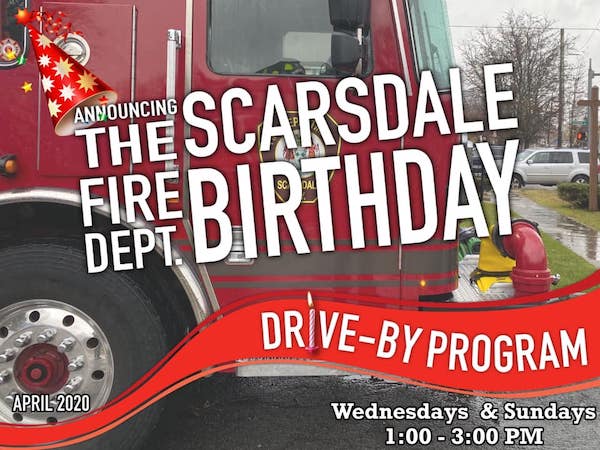 While Scarsdale residents stay home to remain safe from the novel coronavirus (COVID- 19), the Scarsdale Fire Department is announcing the launch of a Drive-By Birthday Program. As kid's birthdays are unable to be celebrated in traditional ways, our department would like to help bring some joy to village children who are unable to gather with others to celebrate their special day.
Scarsdale career and volunteer firefighters are joining together to deliver birthday greetings with lights and sirens blaring.
This program is being offered to any child between the ages of 4 and 12 who resides in the village and who has or is celebrating a birthday in the month of April. The program will be available on Wednesdays and Saturdays from 1:00 – 3:00 pm until the end of April.
The department would like to give Scarsdalians some sense of normalcy during these very uncertain times. It is our time to support our residents much like they support us year after year.
To request a Drive-By Birthday you can call/text SFD 914-645-7728. This program is subject to apparatus availability. No firefighters will leave the rigs and proper social distancing must be observed at all times.
White Plains Hospital Needs Your Help Now More Than Ever
Details

Written by

Joanne Wallenstein

Hits: 2727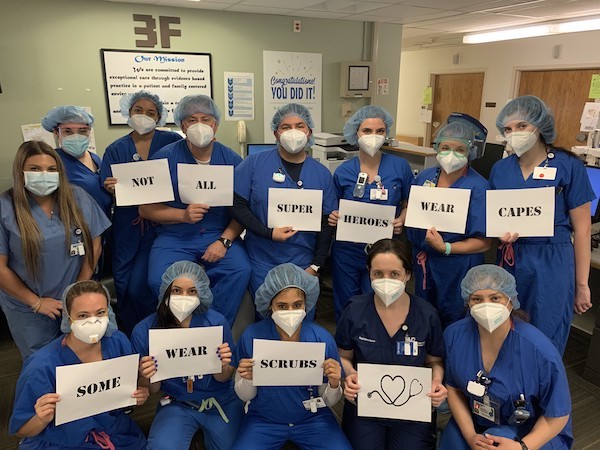 This letter was sent to us by Dara Gruenberg and Scott Kleinman Co-Chairs of the White Plains Hospital COVID-19 Relief Campaign
Dear Scarsdale Friends: A little more than four weeks ago our lives were forever altered by the confirmation of the first case of COVID-19 in Westchester County. Since then, our beloved White Plains Hospital has been transformed, operating at a capacity we never thought imaginable as we do everything possible to fight this invisible enemy.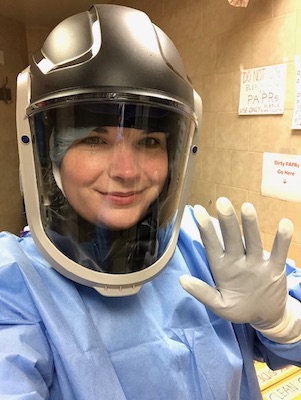 Our doctors, nurses, and staff are on the front lines, risking their lives every day, and exhibiting an unforgettable display of selflessness, dedication, and compassion in response to the COVID-19 pandemic.
We need your help now more than ever as the number of cases continues to climb.
Please consider making a tax deductible contribution to support our efforts. Below are some of our specific needs (of which we need multiples of everything), which your generous gift will help support:
$250,000 – ICU expansion to outfit additional units for critical patients (per ICU unit)
$50,000 – Improvements to Emergency Department Testing and Screening
$25,000 – Mobile Testing Facility
$20,000 – Glidescope (for intubation)
$12,000 – Daily cost for Personal Protective Equipment (PPE)
$10,000 – Disinfectant products
$6,000 – Enovate Workstation on Wheels (WOW)
$3,000 – TytoPro Telehealth Device, enabling remote physician care capabilities
$2,700 – Spot Vital Signs Monitor, measuring pulse oximetry, blood pressure, and temp
$1,000 – ASCOM Phone and Charger for wireless on-site communication
$160 – IV Pole
$50 – No Touch Thermometer
If you have already supported the Hospital's COVID-19 Relief fund, thank you. The impact of your generosity is profound. For those who would like to contribute, you can support the COVID-19 Relief Fund by following this link. If you would like more information or details on how to make a wire transfer, please contact the Foundation Office and Megan McMullen at (914) 681-2261 or mmcmullen@wphospital.org.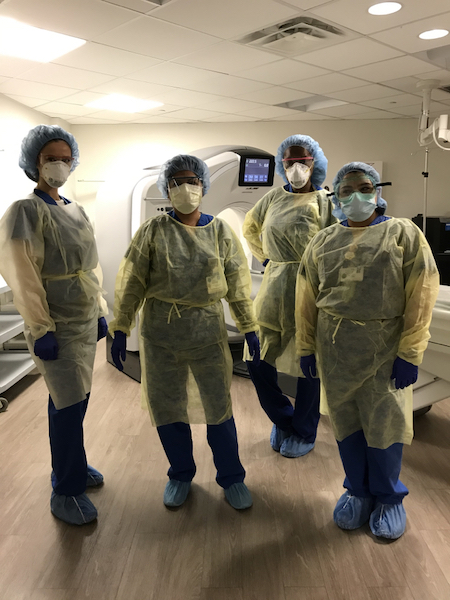 Thank you again for your support of our Hospital. Any amount makes a difference, and is so appreciated.
Sincerely,
Dara Gruenberg & Scott Kleinman
COVID-19 Relief Campaign, Co-Chairs
White Plains Hospital Foundation Board Members
Police and Aviation Unit Hunt Down West Quaker Ridge Trespassers
Details

Written by

Joanne Wallenstein

Hits: 6028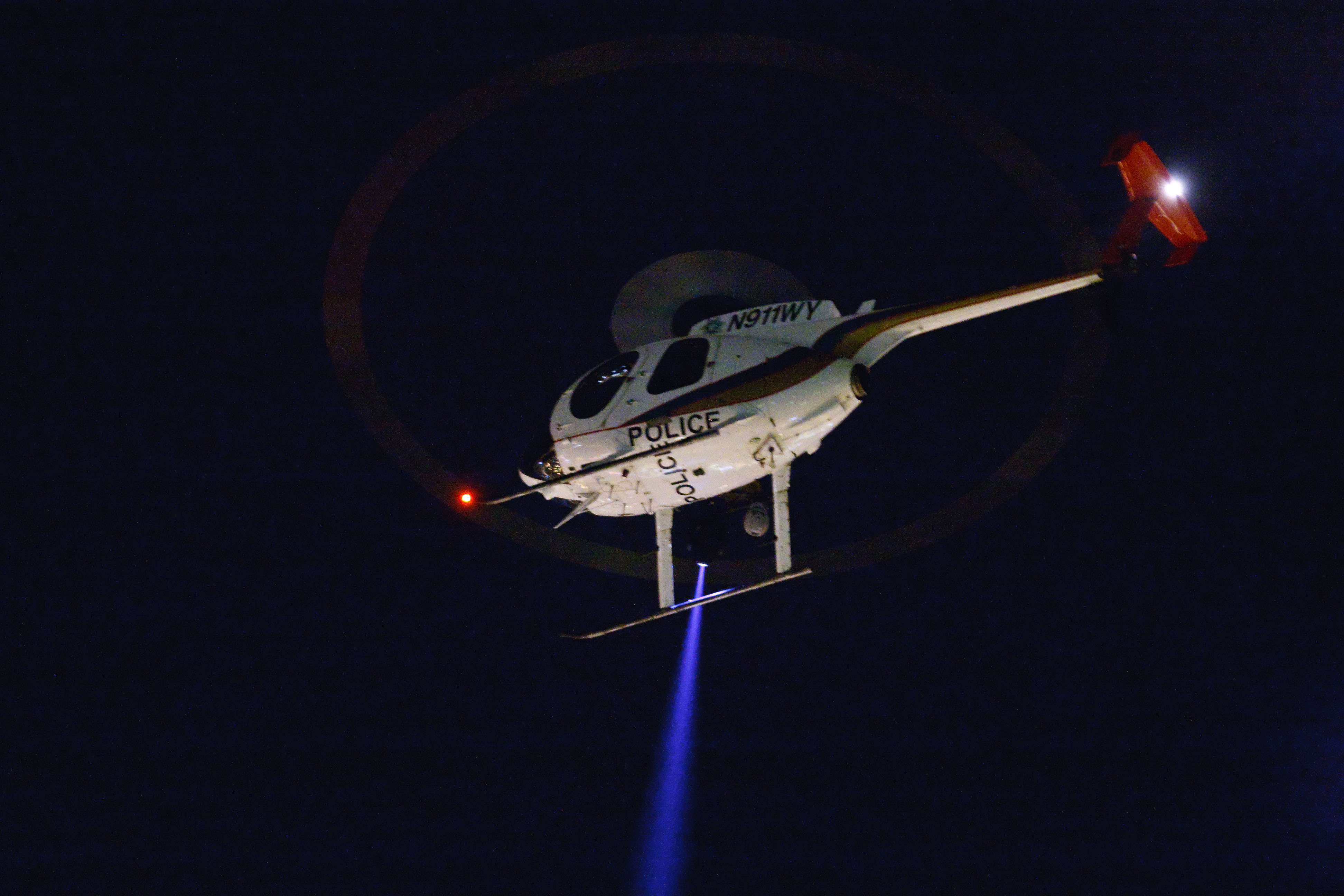 Scarsdale Police, New Rochelle Police and the Westchester County Police's Aviation Unit were all involved in a manhunt on Thursday night April 9. It started when Meadow Road residents reported trespassers on their property. New Rochelle Police were alerted and saw suspects running along Weaver Street, an aviation unit that happened to be in the area at the time helped police to locate the suspects on Gatehouse Road. The suspects were interviewed and identified but no arrests were made. The incident is currently under investigation by Scarsdale Detectives.
While conducting the search, Scarsdale Police found a parked, occupied vehicle nearby. They determined that the car was unregistered. The driver was identified and issued numerous summonses and the car was impounded.
Though residents believed this was an attempted burglary, there appears to be insufficient evidence to press charges. Helicoptors were heard overhead.
Last week there were multiple reports of activity in Scarsdale Meadows and West Quaker Ridge and this incident was similar. Here is what we reported last week:
On April 1, two residents reported unknown individuals holding flashlights on their properties. The reports were made by residents who lived on Meadow Road and Penn Boulevard around 9 p.m. and 9:20 p.m.
On April 2, an Old Lyme Road resident told police someone opened a gate to his property and possibly attempted to gain access to his locked house, triggering an alarm activation April 1. No one was observed on the property.
On April 2, a Herkimer Road resident showed police video surveillance that captured an unknown car stopping on the street near the resident's driveway, followed by an unknown man exiting the car and walking toward the resident's house during the evening of April 1. At that moment the video cut off. There was no damage or signs of force to the house. Patrol forwarded the video to detectives for investigation.
An Old Lyme Road resident reported seeing a "suspicious" white man wearing a black jacket, hat and sunglasses walking around the neighborhood and "looking into windows" April 2. The resident said he sees the man on an almost daily basis. Police will increase monitoring of the area.
Here is the official press release from the Scarsdale Police Department about the April 9th incident:
On Thursday, April 9th 2020 at 9:37 PM, the Scarsdale Police Department received a report of suspicious parties on the property of a home on Meadow Road. This call was similar to incidents that were reported last week.
Upon arrival, Scarsdale Units began canvassing for the parties along with the New Rochelle Police. Scarsdale Police observed a parked, occupied vehicle nearby. An investigation determined that the vehicle was unregistered. The driver was identified and issued numerous summonses. The vehicle was impounded.
A short time later, a New Rochelle Officer observed two parties running along Weaver Street. Westchester County Police's Aviation Unit was in the area and directed ground units to the parties' location on Gatehouse Road. Multiple Scarsdale and New Rochelle Units stopped the parties on Gatehouse Rd. The parties were identified and this incident is currently being investigated by Scarsdale Detectives.
The fact that the Scarsdale Police had officers assigned to the area because of last week's reports and the fact that residents contacted the police so quickly, the parties were able to be stopped and identified.
If anyone has any further information on this incident, please contact the Scarsdale Police Investigation's Section at 914-722-1200.
Letters to the BOE Regarding the School Budget from Mary Beth Evans and Claudine Gecel
Details

Written by

Joanne Wallenstein

Hits: 1082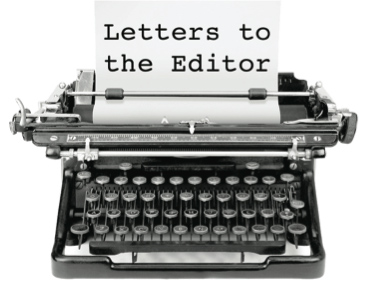 Mary Beth Evans of Edgewood Road read the following on the ZOOM meeeting of the Scarsdale Board of Education on March 30:

Dear Members of the Board of Education: Thank you for this opportunity to comment on the budget and especially for carrying on as a District during this crisis on behalf of the community.
We recognize the need to prepare for a potential loss in State aid and support your prudent approach to the 2020-21 proposed school budget presented last week, which includes postponement of certain expenses that are not core to your mission of maintaining and enhancing the quality of our schools.
We oppose the notion that the School Board should act immediately to, in the words of a few, dig into the "muscle" of the proposed school budget. We are at a loss to see the logic in crippling the very institution that supports our home values during this uncertain time. We further believe that our students and our teachers need the support of the entire community now more than ever, and we especially reject the notion that eliminating teaching positions or cutting teacher salaries is a productive way for us to respond as a community to current uncertainty. With regard to staffing as it relates to enrollment, in particular, we urge the Administration to make sure to clarify for the community that the relationship is not linear but is shaped by various considerations, including mandates.
Cutting the school budget to the level you've recently proposed already does have a long-term consequence. As the Board and the Administration have acknowledged, resident taxpayers generally prefer to avoid sudden spikes in their tax bill. The State imposed tax cap additionally, and more profoundly, affects the Board's ability to restore or add new funding to future budgets. The tax levy law not only sets an arbitrary cap – disconnected from educational costs -- on each district's ability to raise local taxes to fund its schools but also enforces this mandate by replacing democratic majority rule with the requirement of supermajority voter approval should a local district try to exceed the State's cap. Even if a local school board believes it important for the school budget tax levy to exceed the State-determined local levy limit increase, the law empowers a minority of local voters to defeat that effort. Thus, to convey now to the public that the Board can readily convince the voters to exceed the tax cap, as needed, at any time down the road is both unrealistic and disingenuous. We therefore urge the Board and the Administration – along with the PT Council -- to focus on explaining to the public the predicament of the tax cap, which is real.
We are resident taxpayers who no longer have children in the schools, but we continue to subscribe to the unwritten "compact" that has sustained the Scarsdale schools at the current level for what is now coming on some 100 years. Just as the entire community supported school budgets for the duration of our children's attendance, so do we now support the same high level of education for our neighbors' children.
This compact is in large part what makes the geographic place known as Scarsdale a community, especially in difficult times. And proof of that this compact was in force even during the Great Depression can be found in a Scarsdale Inquirer article dated May 8, 1931 ("Scarsdale School Budget is Adopted at Large Meeting"). It describes public support at a meeting that resulted in the school budget's passage. Among those speaking in favor were:
• "Harry E. Lesan who showed that the increase in this year's budget over last year's would amount to about $1.10 per thousand dollars of property valuation and offered to contribute his $1.10 to keep up the high standards of Scarsdale schools;

• "Pliny W. Williamson who declared that the schools would unquestionably suffer if [teacher] salaries were decreased or classes enlarged […and] that property values in Scarsdale were due in large measure to the high standard of the school system;" and

• "Dr. Howard J. Savage, a member of the Board of Education, [who] said that he had been a teacher himself for many years, and that he would like to remind those present that, while business men were having lean years now, they had had fat years [adding], ' There are no fat years in the teaching profession, however,' he said, 'I believe it would be a serious mistake to cut salaries in our schools, and I, as a parent, would like to disagree emphatically with this suggestion, for I do not want second-rate teachers to experiment on my children.'"
Later that same year, in October 1931, the Scarsdale community again voted to invest in education when it approved a $1,150,000 bond to add classrooms to Edgewood School and to build "part of a new High School at a cost of $745,000 and part of a new elementary school on Kelwynn Road at a cost of $350,000." (Scarsdale Inquirer, October 30, 1931)
Sincerely,
Mary Beth Evans & Daniel Moretti
16 Edgewood Road

[Note: The 1931 Scarsdale tax rate of $1.10 per $1,000 of assessed value is the equivalent of $18.72 per $1,000 of assessed value in today's dollars. This amount is $2.11 more than the 2020 proposed Scarsdale tax rate of $16.51 per $1,000 of assessed value in the District's initially proposed school budget, which the Board now proposes to cut by some $3.6 million. The $1,150,000.00 bond that Scarsdale voters approved in 1931 to expand school facilities is the equivalent of $19,571,032.89 in today's dollars.]

Comments from Claudine Gecel
Claudine Gecel, A Chartered Financial Analyst, lives at 10 Kent Road, and spoke at the online BOE Meeting. These are a few of the points she made:
1.) Concerning the potential items for savings, it is probably not a good idea to pre-pay the Computer Lease. In a difficult financial environment, every institution and every household in the US will be conserving cash. Our School District should be doing the same. And while the US Federal Reserve is flooding the system with liquidity, all the large banks are asking their corporate clients not to draw down on their credit lines - unless absolutely necessary. Most of us have seen the classic movie "It's a Wonderful Life". We all can't take out money from the bank at the exact same time, and we should just continue to pay the lease, as usual. That will continue to establish Scarsdale Schools as an excellent credit, who pays bills even during a difficult financial time. And that ability to continually pay bills during all economic cycles is one reason why Scarsdale Schools maintains a Triple A Credit Rating.
2.) Concerning the maintenance of Financial Reserves, it is also probably not a good idea to immediately start dipping into any of the District's Reserves. Financial Reserves are set up specifically for emergency situations. And in highly leveraged institutions, the reserves are set up because the institution is operating at a higher financial risk than comparable peers. Our School District has recovered nicely from the Real Estate and Banking Financial Downturn that we all experienced beginning in 2008. As a District, we have been working very hard to build up the Financial Reserves that we do have. And the reality is that those Reserves could be a bit bigger, and they wouldn't be hurting anybody. Nevertheless, the School District is not presently in a Financial Emergency. Let us all try to remember what it was like in 2008, 2009, 2010, 2011, etc. It was painful to manage the School Budget during those years. There were clearly insufficient Reserves existing at that time. This time we have higher Reserve Levels, and we should keep them that way, until we actually experience a major financial emergency. These Reserve Levels are another reason why we maintain that Triple A Credit Rating.
3.) Concerning the maintenance of the Triple A Credit Rating, it is probably not a good idea for the District to become a slave to that Rating. As anyone who invests knows, there are very few institutions in the ENTIRE WORLD that maintain a Triple A Rating!!!! Yes, the entire world!!! So we all need to give ourselves a pat on the back, shake each other's hands (when the virus is over) and bask in the glory of a Triple A Rating. Once we are done doing that, we need to move on, and manage the School District in a way that is Financially Responsible. What that might mean is that if we are confronted with a Financial Emergency, we can either raise the tax levy or dip into the appropriate Reserve. If we are in a Financial Emergency, it will obviously be very difficult to replenish the reserve for an entire economic cycle. The rating agencies understand this cyclical process. In the meantime, the Ratings Agencies will become very busy downgrading highly leveraged entities of all stripes. If they do end up downgrading Scarsdale School District because we draw down reserves, we will still be rated higher than the MANY institutions on this entire earth.
4.) Concerning each household's payment of a 1Plus Percent increase in the tax levy, it is probably a good idea to make that concept a bit more relatable to each individual homeowner. When we are all feeling financially flush, we don't manage our finances down to the penny. That is natural. When we feel that we might have to tighten our belt, all of a sudden we are scrutinizing each and every request that we receive for our precious funds. (Go back to Point Number 1, concerning the conservation of cash). So if we do need to ask homeowners to increase their school tax payment by 1Plus Percent, maybe it might be MORE HELPFUL to actually explain what that means. I am suggesting a LARGE, ONE PAGE CHART. On that Chart, the District would list several popular House Prices. A Suggestion: is $1 Million, $1.5Million, $2 Million, $2.5 Million and $3 Million. A very quick and dirty estimate is that those theoretical home values would encompass roughly 70-75% of the roughly 5000 Plus single family homes. Each home value could be listed on the one page chart, and right next to it would be a calculation of the exact tax increase the homeowner is expected to pay if the taxes are to be raised by 1Plus percent. If the potential tax increases are listed by home value, residents could see what sort of cash outlay they are being asked to make, and we could all see that the amount requested is in the hundreds of dollars. People who are busy and tired are not going to whip out their calculator and figure out "basis points". And unless you are employed by a Financial Institution in a Financial Role, you will not even know what a Basis Point is!!!
Thanks for taking the time to consider these comments, and thanks for all the hard work which has already gone into revising the District Budget. It seems like we do run a bit of a tight ship, and yet there is always room for improvement!!