Eulogy for John Gimesh
Details

Written by

Andrea Seiden

Hits: 1487
Andrea Seiden and her Father at the Botanical GardenThe following eulogy for John Gimesh, father of Andrea Seiden and Cynthia Samwick, both of Scarsdale, was delivered by Andrea at Congregation Kol Ami on Monday November 1
My father, John Gimesh died on October 29, 2021 at nearly 92. He lived through the Holocaust, boldy immigrated to an unfamiliar country seeking opportunity, watched the twin towers fall, enjoyed economic booms and weathered downturns. He was a survivor. Most recently, he survived the pandemic and years tethered to a dialysis machine. He was a multi-faceted man. He did not have interests or hobbies, he had passions and obsessions. He was a proud Holocaust Jew, renowned medical antique collector, world traveler, doctor, loving father, husband, and grandfather. When writing this eulogy, several stories about his life came to my mind which are a testament to his strength and remarkable life.
Dad the Yid

My dad often said that the Holocaust had given him a unique perspective on life. Allowing him to be positive in the face of adversity and never take anything for granted. However, he had a complicated relationship with his past.
We had flown separately to Hungary; Mark and I from NY and my dad from North Carolina via London. Our plan was to meet in the lobby of the Hilton located in the historic Buda Castle District. The hotel, which was originally a 13th century Dominican cloister and monastery with its gilded furniture, layers of staff, and Gypsy violinists roaming the dining halls and serenading guests. It was formal and intimidating. I worried I would pick up the wrong serving pieces at breakfast or wipe when clearly I should dab.
We waited in the lobby for what seemed like an eternity. Finally, my dad arrived. Rather the gray slacks, vest, blazer and tie he typically wore, he had grown a scraggly gray beard and was wearing small coin silver glasses. A black cap sat on his head. I was horrified. Cringing, I whispered, "Dad, what the hell are you wearing? And why didn't you cut hair before the trip? You look like Tevye the Milk Man."
He looked at us and said, "When I dine in a 5-star restaurant or stay in a first class hotel in Hungary, I want them to know that they are serving a Yid."
Dad the Collector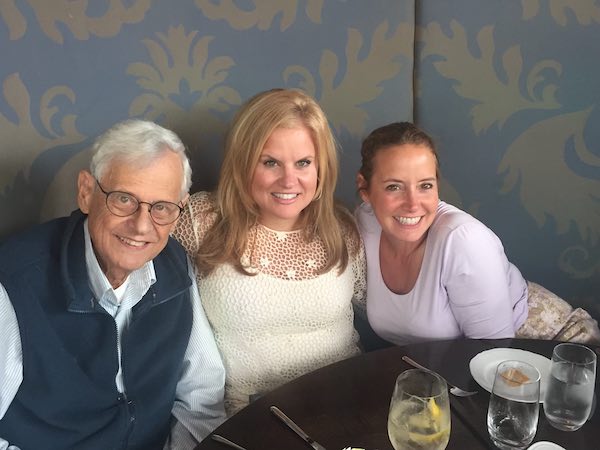 John Gimesh with daughters Cynthia Samwick and Andrea Seiden

My father was an avid antique collector who took his hobby to a clinical extreme. Every square inch of our apartment in Germany or his home in NC served as exhibition space. Walls were reserved for old clocks-- grandfathers, regulators, mantle, black forest, and coo coos. When wound and synchronized, high noon was a deafening experience. Showcases housed everything from porcelain chamber pots to Hummel figurines. There was an eerie nursey of bisque dolls settled into prams, infant cradles and wooden highchairs. The little kitchen space was no exception. Hanging from hooks, were delft baby feeders and OBGYN instruments; on the windowsill were rows of forest green pharmaceutical bottles.
On Saturday mornings the kitchen was a staging area where Dad would clean and catalogue his latest bargains. Cynthia and I would wake up early to the sound of Victorian hand crank music boxes. We wanted nothing more than a bowl of Captain Crunch and to curl up on the cozy horsehair couch and watch American cartoons or HR Puff N' Stuff.
But Dad had other plans for us. We were to help him clean his latest acquisitions. In a ten gallon pot intended for pasta or soup, old pewter dinnerware was boiling in a mixture of water, baking soda and vinegar intended to dissolve the grime that coated the pieces for the last 150 years. Frothy scum rolled over steins, plates and ladles that were hiding below the waterline.
While the pewter was tumbling, Dad would teach us to clean and deworm old chests using a syringe filled with poison that we would inject into the neat, little holes created by the larvae incubating deep in the dark oak.
Dad the Traveler
My dad was a very curious person and loved exploring people and places. During his lifetime, he explored much of the world.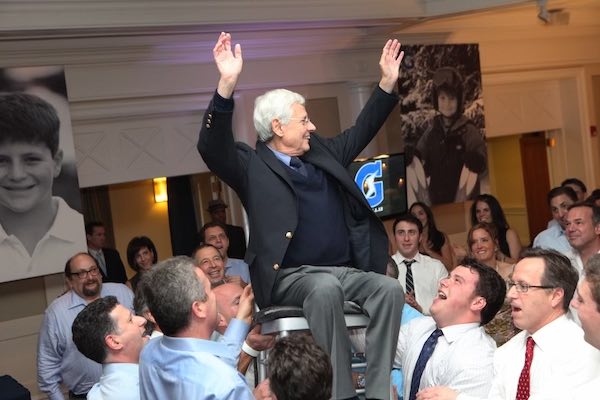 John Gimesh at his grandson's Bar MitzvahHe hiked Machu Picchu, the pyramids of Egypt, bargained in Tunisia, Marrakesh, Jerusalem toured and Istanbul's Grand Bazaar. He loved being an American and made it his business to take us to numerous national parks and cities such as Charleston, Savanah, Santa Fe. He spoke five languages somewhat fluently and was proud that he had working knowledge of profanity in many other dialects. He had a natural way of ingratiated himself to people of different cultures and customs, usually disarming them with a dirty joke. He loved when Mark or the boys would reel off a litany of dirty words when meeting other Hungarians. My dad would proudly instruct them, "Tell them what I taught you boys!"
His favorite means of exploration was from behind the wheel of a car. He loved the freedom of driving. And he drove everywhere. He raced on the autobahns when we were living in Germany, drove the Pacific Coast Highway stopping to take family photos at virtually every point of interest and intimately knew I-95.
But the truth is, even though he liked to drive, he was not the type of driver who concerned himself much with passenger comfort. Like most Europeans, he rode the break, aggressively passed, and leaned on the horn. To stay awake on long trips, he would roll down the window and let the cold air in and slap his face.
As he got older, even the bravest of passengers riding along with my 90-year old father in his Mercedes found themselves bracing at every turn and holding their breath as he dodged in and out of lanes with only sporadic use of a signal. It was easy to imagine swerving into an oncoming car as he motored down a one lane road gripping the steering wheel and simultaneously searching for a classical music radio station. We begged him to stop driving, but he would not even entertain the idea. "How would I get to dialysis", he asked,
Shortly before the onset of the COVID pandemic, my father had a minor auto accident. He hit a tree while driving out of his independent residence. While he did not break any bones or hurt anyone, the air bags banged him up and he was hospitalized for a few days. In a symbolic passing of the torch, he called me from his hospital room with tears in his voice, and said, "I lost control. You can take my keys".
Dad as Dad
The role that meant the most to me was my father as a dad. After my parents divorced, he picked us up every weekend to take us hiking, to lunch, or to go to Cross Creek. Often I wanted to hang with my friends, but he wanted us to be together and resorted to bribing me with a trip to the mall and buying corduroys at the Gap. When I got older and attended college, he hopped in the car and came up to see me – taking me and my friends to dinner or the Raleigh symphony. Once when I accidently ate pot laced brownies and was certain I would die of a heart attack or be carted off Dorothea Dix, the state mental hospital, in an effort to calm me, he immediately raced up to my dorm, armed with the latest medical articles on the hazards of ingesting cannabis. We laughed about that for years. We talked about everything – nothing was off limits and nothing was uncomfortable.
He was a sweet, loving person. Calling me every day to check in to see how I was doing and always asked about Mark, Josh, Greg and Alli. He endlessly thanked me for everything I did and ended every phone call with "I love you".
Even in his hospital room as he faded in an out of consciousness, dad held my hand and told me how much he appreciated everything I did for him since moving to NY. Perhaps the best compliment I can receive is when people say, "I am a chip off the old Hungarian block". Dad you will remain an inspiration to me for the rest of my life and I will miss you dearly.
New to the Dale and Loving It: Meet Your New Neighbors
Details

Written by

Joanne Wallenstein

Hits: 1704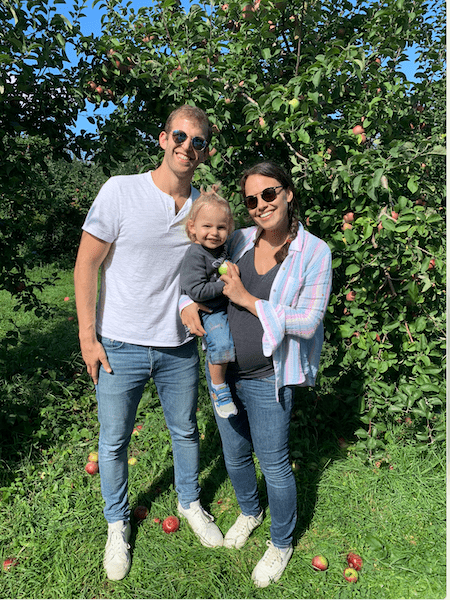 It wasn't easy to get here, but now that they live here they love it. That's what we're hearing from some of the new families that moved to Scarsdale during the pandemic. The COVID crisis caused some to leave the city earlier than they had planned, when they found themselves trapped inside apartments with little room to move. Though they had originally planned to move to the suburbs when their children entered elementary school, they found themselves wanting to get out as soon as possible.
For some, finding and buying a house in Scarsdale was not easy either. There was limited inventory, bidding wars were common and prices increased dramatically, making it a challenge to find a suitable home within their budgets.
Despite the obstacles, with the help of friends and realtors, these young couples found the right houses, made the transition to Scarsdale and are happy they did.
Here are their stories:
Samantha Orringer Kennedy and Jordan Kennedy
When the pandemic hit, Samantha Orringer Kennedy, Jordan Kennedy and their two year-old son August (pictured above) were living in Greenwich Village. Samantha explained their journey to Scarsdale: "With so much sadness, we knew we had to leave, moving back to both of our childhood homes (NJ and CT), bouncing between families until we finally found our Scarsdale house in October 2020."
How was the house hunt and why Scarsdale? Samantha said, "With my family in New Jersey and Jordan's in Connecticut, Scarsdale was the perfect midway point between the two. We fell in love with Westchester and how green and beautiful it is and we both have many friends from Scarsdale so we knew the school systems were great too.
"We began looking for a home in July 2020 and the market was extremely difficult since no one wanted to sell their house during COVID and those who did, did not want you in their home looking. It was a long process but we finally found our beautiful home in October and finally moved in to a house in Edgewood in late January after doing some renovations."
"I work at Snapchat and my husband works at Botify. Both of us have been lucky enough to work mostly from home, which means we get to steal lots of hugs and kisses from August throughout the day. We have another on the way. August is going to have a little brother in February 2022!"
Are they happy in Scarsdale? She said, "We absolutely love it here. Because we are not from the area, everything is a discovery or new to us. I was worried about going from a city where everything is at your fingertips to a suburb, but so far it feels like everything is still at your fingertips in Scarsdale. The people I have met so far (especially most recently through my son's pre-school) are so kind, down to earth and friendly and we love how walkable and friendly our neighborhood is."
Any surprises? She replied, "How big it is! I knew it wasn't small, but I am amazed at the size of it (and of the high school!). And yet ... how small the community feels. I love that the town has offerings like window painting or Halloween parades."
What were the challenges? "COVID still makes things a challenge. Meeting new families when no one is totally comfortable being indoors yet makes it harder to get together (especially if the weather is bad that day). Now that it is starting to get colder, it's getting increasingly difficult to get together."
Would she recommend it to a friend? "Absolutely! Scarsdale has so much to offer and the people here are kind, smart and wonderful. There is so much to do here from restaurants, to parks and things to do!"
Sasha Kelemen and Chris Blankenship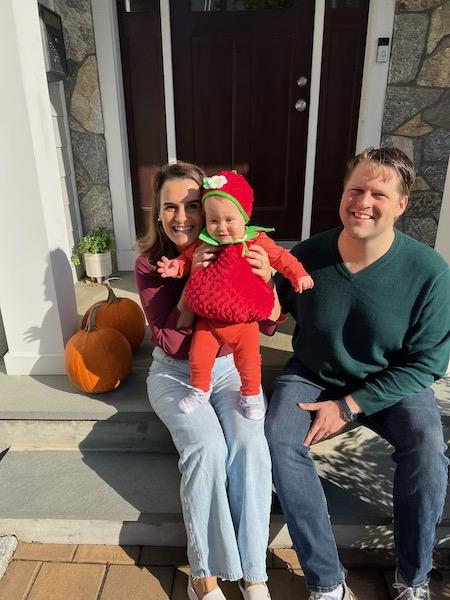 Sasha Kelemen and Chris Blankenship with Olivia
Sasha Kelemen and Chris Blankenship also settled in Edgewood after a thorough search of the NYC suburbs. Sasha said,"Chris and I previously spent the last 4 years living in NYC and moved to Scarsdale at the end of July 2021. We have a 1-year-old daughter, Olivia, and are lucky enough to have grandparents living with us for a few months to help with the transition. We both work in finance in Manhattan but have been working from home for the most part. We went from having most of our meals at the office to sharing dinner together and stealing kisses and hugs from our daughter in between zoom meetings. We have really appreciated the opportunity to spend more time together and see our daughter, Olivia."
And why Scarsdale? "We moved to NYC four years ago after graduating from business school. We tried a few neighborhoods, starting in Chelsea, then Brooklyn, and finally Jersey City. Unfortunately each location was not a perfect fit and we always dreamed of buying a house in the suburbs. The birth of our daughter, Olivia in November 2020 and COVID-19 definitely accelerated our plans to leave the city. We prioritized suburbs with good commutes to Manhattan with excellent public schools: Scarsdale was at the top of our list but housing inventory was limited. We actually originally put an offer in on a house in Summit, NJ but that contract fell through and the same weekend we, by chance, stumbled upon an open house at what would become our dream home in Scarsdale. We saw the house on a sunny Sunday in March, had an offer in by the following morning and signed the contract within four days. It was a competitive process and we had to make a decision fast. We loved this house and knew immediately it was the one for us. However, our closing process was very delayed and we didn't end up moving in until the end of July. We are just two blocks from Edgewood elementary school and absolutely love the neighborhood!"
And how is it going? "We love Scarsdale! The village is so quaint, everyone is friendly and we are so conveniently located. We never thought we'd love a grocery store as much as we love DeCicco's and we have already found our favorite bakery (Martines), wine shop specialist (Javier at Zachy's), and empanadas (Nonno's)."
She continued, "The biggest surprise has been how amazingly warm and welcoming our neighbors have been. On our closing day, our neighbors across the street ran to their front porch and welcomed us with big smiles. After we moved in, neighbors arrived with handwritten cards, pies, cookies, and flowers. It's the kind of experience you see in movies and it actually happened!"
"The neighborhood also really came together during the recent hurricane, which hit exactly one month after we moved in (hello homeownership!). Our neighbors instantly reached out to help as we experienced flooding in our basement. As first-time-homeowners we had zero equipment and were not prepared. Two neighbors lent us their wet vacuums, another lent us his dehumidifier and fan, while others shared helpful tips such as where to get free wifi when AT&T was down."
Daniela Retelny and Andrew Blum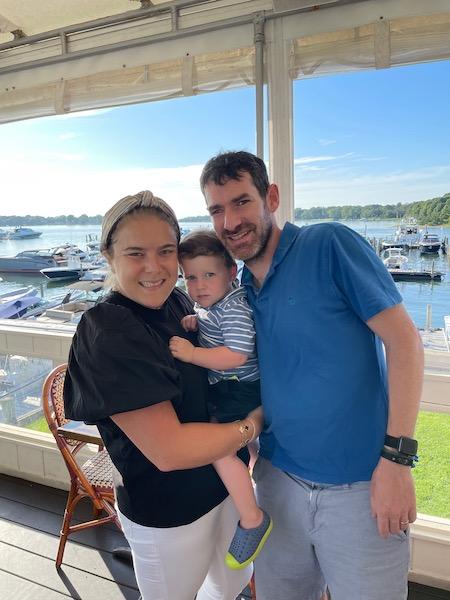 Daniela Retelny and Andrew Blum with HarrisFor those who grew up here, there's no place like home. Daniela Retelny, her husband Andrew Blum and their two year-old son Harris were living in the city prior to moving to Scarsdale. He works at Grubhub and she works at Instagram. They are both currently working from home but will most likely be back in the office in the new year.
Daniela grew up in Scarsdale and loved it. Her parents still live here. They were likely to move back at some point but the pandemic accelerated their plans. After living with the in-laws in the Hamptons for most of the pandemic, they realized how amazing it was to have space. Their son was at the age where he was running around nonstop and "their two bedroom apartment in the city just wasn't cutting it anymore."
Retelny says, "Finding a house was challenging. We were lucky that we weren't in a rush, which allowed us to be patient and find a house that was right for us. We were also lucky that my mom and sister, Angela Retelny and Jessica Shames, are realtors in Scarsdale, which made the whole process a lot easier! They kept an eye out for the right house, which saved us a ton of time. The process took around six months. We moved in at the end of the summer and live in Fox Meadow."
And what do they like about living here? Retelny says, "I am enjoying rediscovering all of my favorite places and sharing those experiences with my husband and son. We are also loving having a spacious home with so much room for our son to play, run around, and have fun. Finally, we have loved meeting so many new friends (and reconnecting with old classmates) and can't wait to watch our kids grow up together. I am surprised by how many young families there are. I was always under the impression that people moved to the suburbs once their kids were a little older but that definitely isn't true!"
What do they miss? "My husband grew up in New York City so it's been a bit of an adjustment for him to get acclimated to suburban life. I'm sure once we start commuting to work, I will miss the 10 minute walk to the office I used to have!"
Erica Moreira and Gregg Brody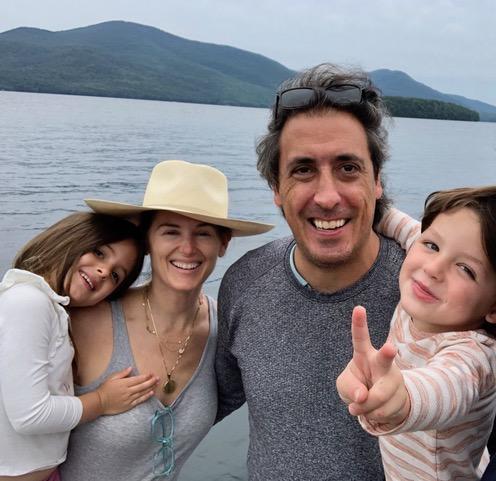 Erica Moreira and Gregg Brody with thier two children.
Erica Moreira who practices entertainment law and her husband, Gregg Brody a research analyst moved to Quaker Ridge from the Meatpacking district on December 31, 2020 with their two children, Emma and Lucas ages five and three. Moreira says, "The movers left at 5 pm on New Year's Eve and we rang in the New Year with a bunch of boxes."
When they were house hunting, realtor Abby Sroka advised them to act fast if they liked what they saw. They began their search in the summer of 2020 and focused on Scarsdale because the schools, proximity to the city and because they have family in town. Moreira said, "I had only seen our house for 30 minutes before we put in an offer."
Moreira was attracted to the house because of the pool, the mature trees and plantings. She said, "For me it was all about getting some green space." She is still enjoying exploring the garden and spotting and identifying the plants that come up on her half acre property.
As they moved into town in the middle of the year, Sroka advised them to put their names on the waitlist for nursery schools while they were looking. Fortunately, the Little School had room for both children when they arrived. They started school just a few days after they moved in and have made many friends at the Little School where they met other recent transplants from the city.
What are they enjoying? Moreira says, "The kids love all the space. We live on a cul de sac so they can ride their bikes in the street. Our neighbors were very welcoming and we all get together with the kids every Thursday."
Inside the house, they have converted their basement into an indoor playground with swings and trapeze bars hanging from the joists of the house.
What do they miss? Moreira laughed and said, "Where is the Super?" She said, "There are so many aspects of managing a house that I never appreciated … so many vendors and things to learn that I never wanted to know. The sprinkler system has to be blown out, the pool needs to be closed for the season and who knows what else."
Now that she's here, would she recommend Scarsdale to others? She said, "If your goal is to go to a nice community with great schools and an easy commute to the city, yes. I am begging my cousin to buy the house next door."
Jury Finds Bronx Woman Guilty Of Burglarizing Homes Targeted Because Families Were At Funerals
Details

Written by

Joanne Wallenstein

Hits: 933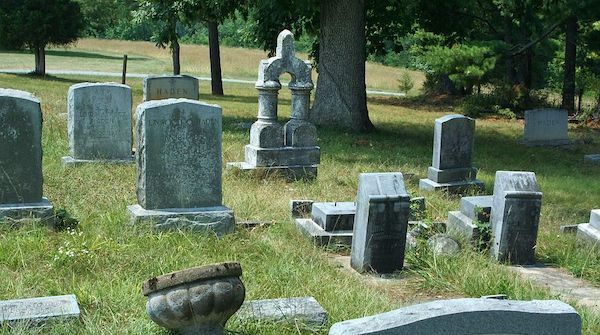 Westchester County District Attorney Miriam E. Rocah announced that after a week-long trial, a jury on Thursday found Bronx resident Latonia Stewart guilty of burglarizing six homes of families she targeted because they were attending funeral services of loved ones between 2017 and 2018.

Stewart, 30, was found guilty on October 14, 2021, of six counts of Burglary in the Second Degree and Criminal Possession of Stolen Property in the Fourth Degree, both felonies. Stewart faces a sentence range from a minimum of 3 1/2 years to a maximum of 15 years in a state prison on each burglary count.

Between December 2017 and May 2018, Stewart burglarized the homes of six Westchester County residents in Cortlandt, Greenburgh, Ossining, Rye Brook, Scarsdale, and Tarrytown who were out of the house attending their spouse's wake or funeral service. Stewart targeted the homes after searching through obituaries online. Jewelry, watches, silverware and other valuables were stolen. Stewart used a sledge hammer to break windows and glass doors to gain entry into certain homes, and caused further damage to the homes once inside.

On May 1, 2018, Greenburgh Police arrested Stewart after observing her driving away from the home of a deceased person with jewelry in the vehicle and the website with an obituary pulled up on her cellphone. Following her arrest, police recovered more stolen items and burglar's tools in her car and at her Bronx residence.

The Greenburgh Police Department and the District Attorney's Office investigated the case, with assistance from the New York State Police, Greenwich Police Department, Ossining Police Department, Rye Brook Police Department, Scarsdale Police Department, and Tarrytown Police Department.

"It is absolutely appalling that people mourning the loss of a loved one were specifically targeted and taken advantage of in such a cruel and heinous manner," DA Rocah said. "I commend the great work of my team, the Greenburgh Police Department, and the other law enforcement partners who handled this case, and I hope that this verdict brings some measure of comfort to the victims."

The case is before Judge David Zuckerman in Westchester County Court and is being prosecuted by Senior Assistant District Attorney Stefanie DeNise and Assistant District Attorney Michelle Calvi. Stewart is scheduled to be sentenced on November 22, 2021.
Local Moves: Josh Ringel Accepts Position in Briarcliff Manor, Greenburgh Police Chief to Take Top Job in Larchmont
Details

Written by

Joanne Wallenstein

Hits: 893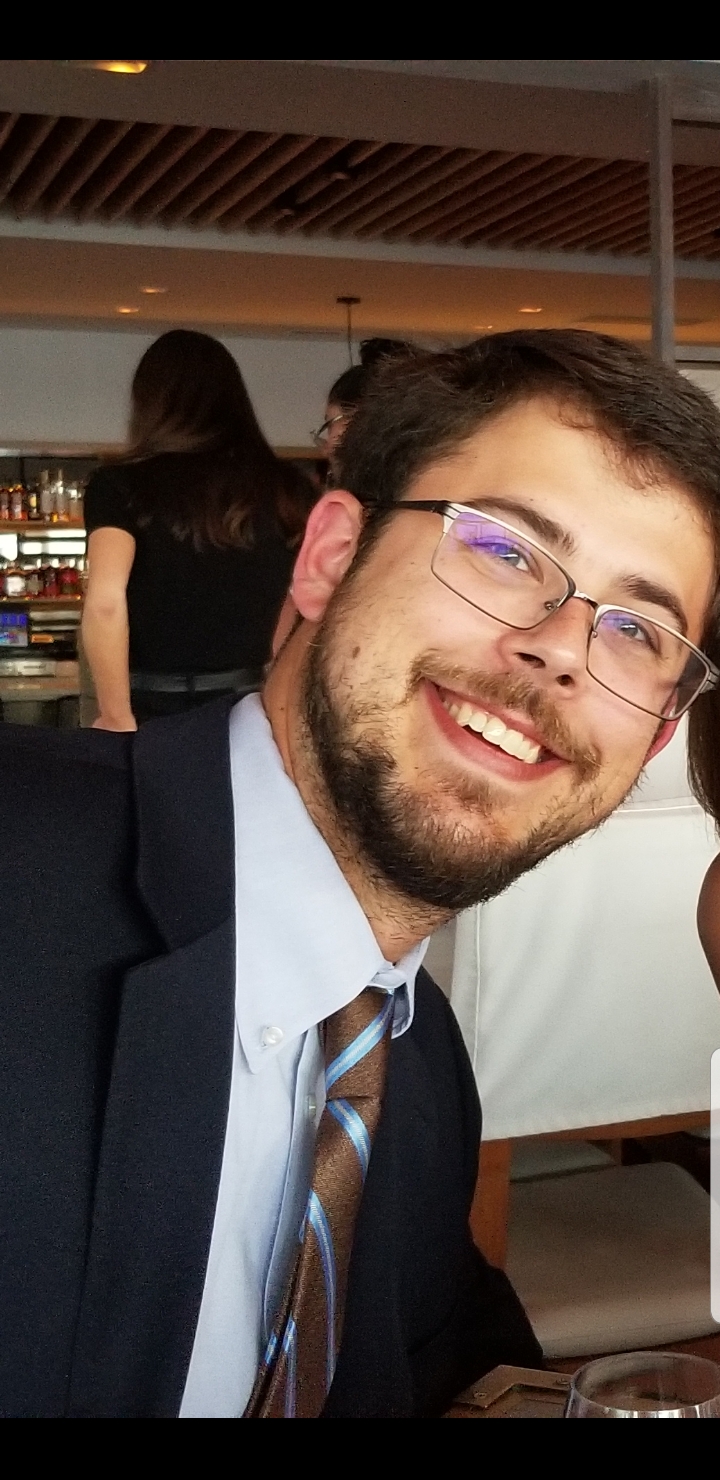 Josh RingelFormer Scarsdale Village employee Josh Ringel has been named the top Village Administrator in Briarcliff Manor. Ringel worked as the Assistant to the Village Manager in Scarsdale from 2015-2019 and left to accept a position as Assistant Village Administrator in Tarrytown in July 2019. Now just a little more than two years later, he will take on the top job in Briarcliff Manor.
Josh Ringel is a life-long resident of Westchester County, and spent his formative years in Hastings-on-Hudson. He is a graduate of the University of Albany, where he earned his B.A. in Public Policy and his Master's in Public Administration at the Rockefeller School of Government. As Assistant to the Village Manager in Scarsdale, he played a key role in village operations including grant administration, traffic safety, improving parking management, planning and managing special events, and much more.
Greenburgh Police Chris McNerney will step down to become the new Chief of Police of the Larchmont Police Department. McNerney has been with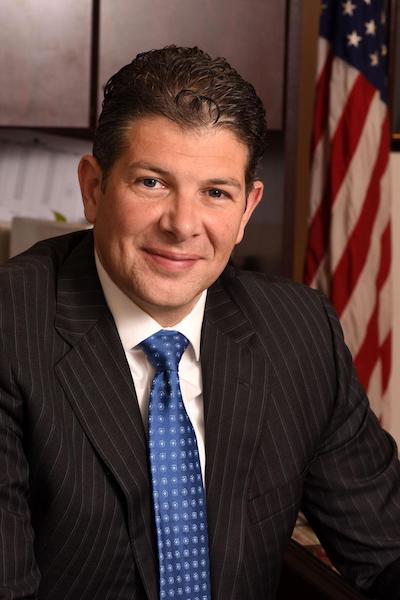 Chris McNerneythe Greenburgh Police Department since 2013 with an intervening stint at the Westchester County DA's office.
McNenery left the department in July 2019 to take a job with the Westchester County District Attorney's Office as their Chief Criminal Investigator. However he returned to Greenburgh in July 2020 when Chief Ryan announced his retirement. In a statement about his decision to leave for Larchmont, McNerney said he never intended to return to Greenburgh for the long term.
What Can You Do To Decrease Your Risk Of Getting Breast Cancer?
Details

Written by

Joanne Wallenstein

Hits: 782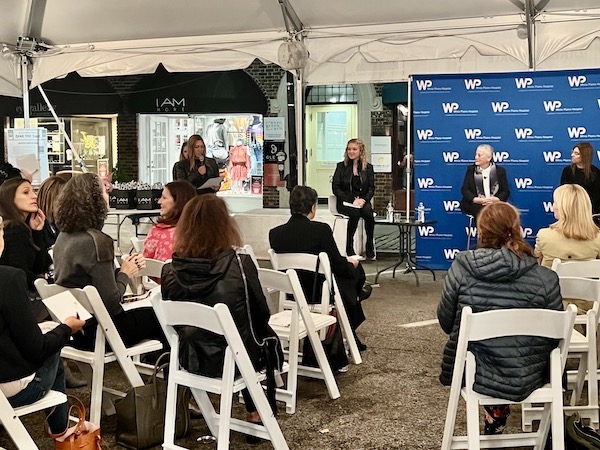 Adding a light touch to a serious topic, Dara Gruenberg, Vice Chair of the White Plains Hospital Foundation Board, invited the community to a panel discussion with breast cancer experts by asking them to "Learn More About Your Boobies and Other Bits." The event was held in the dining tent in Scarsdale Village on Wednesday night October 6 and though temperatures outside had cooled, the atmosphere under the tent was surprisingly warm and lively.
As host of the discussion, Gruenberg continued to use humor to enliven the session with panelists Dr. Preya Ananthakrishnan, Director of Breast Surgery at White Plains Hospital; Dr. Pamela Weber, Director of Imaging at the White Plains Hospital Imaging and Dr. Sara Sadan, Section Chief for the Department of Medical Oncology and the Director for Breast and Women's Cancers at White Plains Hospital.
The event was inspired by Marcy Berman-Goldstein and Abbey Solomon who run the popular Scarsdale boutique I Am More Scarsdale, which operates as a philanthropic business, with ownership foregoing a salary to donate profits to the organizations it supports. Berman-Goldstein is a board certified radiologist so the topic of breast health is near and dear to her heart.
Goldstein explained, "The breast cancer event started out as an intimate gathering of 15 women inside I Am More 4 years ago with the group discussion led by Pam Weber. We are so excited to be here with Dr Weber this evening, along with her colleagues, and appreciate your support in raising funds to provide mammograms for uninsured, underserved women in Westchester County."
The doctors shared their perspectives on screening and treating patients and offered some eye opening information on prevention, though as Dr. Sadan said, "Things just happen – there are things we can affect and things we cannot affect."
Gruenberg noted that the two main risk factors for breast cancer are being born female and getting older. So what to do?
Dr. Preya Ananthakrishnan explained that breast tissue is fatty tissue. She said, "Under the microscope it looks like a bunch of grapes, a system of ducts. Breast cancer is abnormal growth inside the ducts." Though risk does rise with age, so does the capability of imaging to detect more.
Are mammograms necessary? Dr. Weber gave an emphatic yes. She said, " We recommend a baseline mammogram at age 35 and if
that's okay, you do not need to come back until you're 40. After that we recommend annual mammograms. If you have a family history, we start monitoring at 10 years before the age your relative was diagnosed."
Dr. Preya (as she is sometimes called) added, "Family history is just one factor. Sometimes we recommend genetic testing to see if people have an increased risk."
What about dense breasts? Though patients often here that dense breast tissue makes the imaging harder to read, dense breasts are not more prone to cancer than less dense breasts. So don't fret if you hear that.
"What about mammography," Gruenberg asked. "Have there been any new developments to make the process more comfortable for women?"
Dr. Weber responded, "As of now- not yet! Nothing can replace mammography. Other tests like a cat scan will expose you to more radiation." She recommended that patients ask for 3D mammography if your doctor has that equipment.
What else is new? Dr. Preya said that advances in medicine have reduced over-treatment. "We can pick and choose who needs what treatment." In general the trend is toward a "de-escalation" in the use of radiation, chemotherapy and drugs.
What can women do to reduce their risk? As one in eight women will get breast cancer during their lifetime, the doctors recommended doing what you can to beat the odds.
They all agreed that women should avoid processed foods and reduce intake of meats or dairy that contain hormones. Obesity is another risk factor, especially for those with a BMI of 25-30. What else? Birth control pills increase estrogen and increase your risk as does hair dye.
Dr. Sadan recommended exercising 30 minutes per session, five times per week and elicited groans when she said that any alcohol consumption increases cancer risk – even a single glass a night with dinner. How depressing is that?
I was enjoying a glass of rose supplied by Zachys and savored my last sip, thinking I would never enjoy a guilt-free glass again.
It was informative evening—even if it did deal with a topic I try to avoid.