Greenwald Honored For Contributions to Civic Life by Eleanor's Legacy
Details

Written by

Joanne Wallenstein

Hits: 1772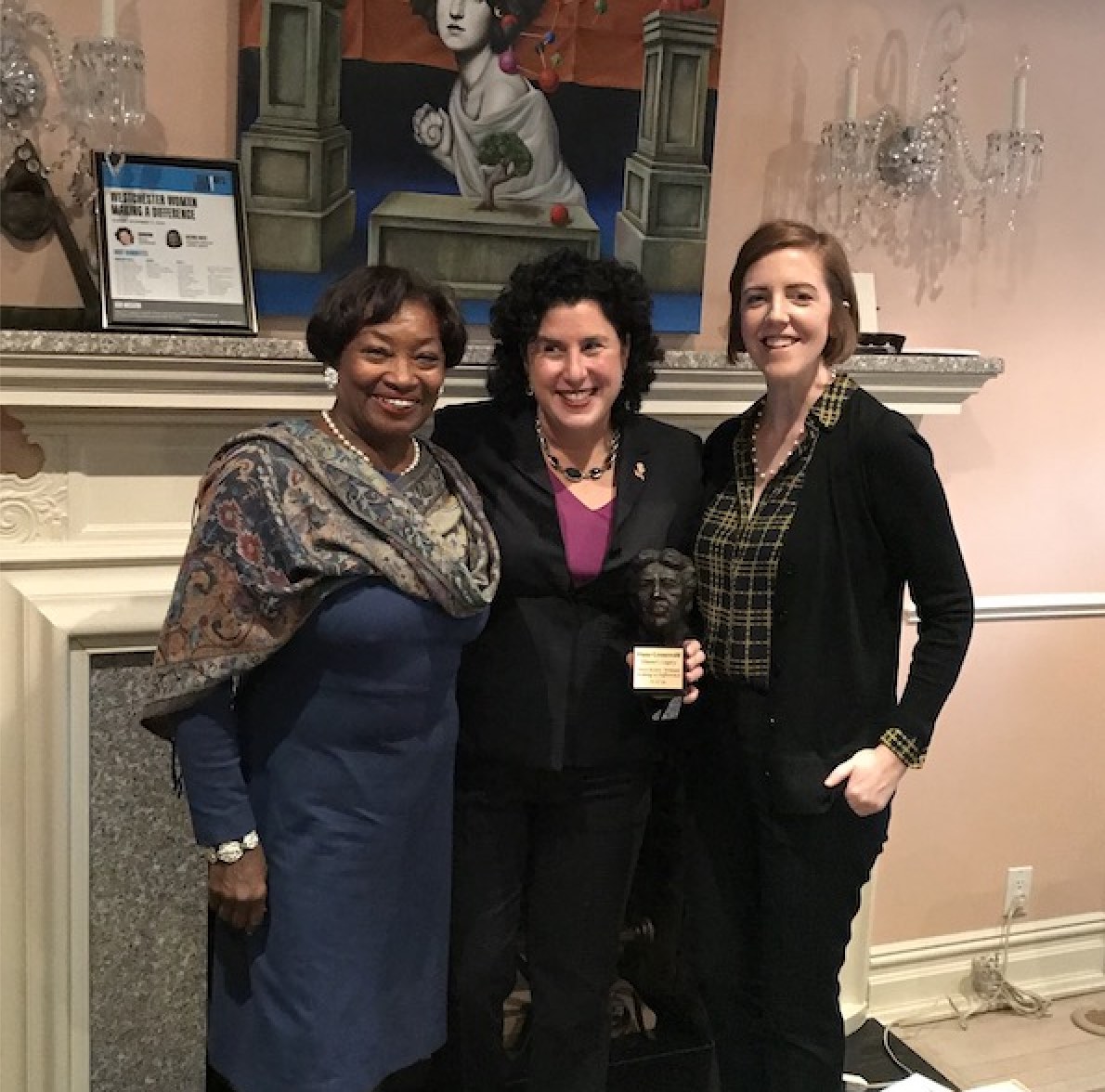 Andrea Stewart-Cousins, Diane Greenwald and Brette McSweeneyWestchester Democrats have been known to show up to march, volunteer, vote, and run, and on Sunday, November 17, over 100 gathered in Scarsdale to celebrate one Westchester woman who has made a difference, Diane Greenwald of Scarsdale. Presented by Eleanor's Legacy, the pro-choice Democratic women's organization, the Westchester Women Making a Difference reception honored Diane Greenwald for her contributions to Scarsdale's vibrant civic life.
Special guest speakers included Attorney General Tish James, Congressman Eliot Engel and Senate Majority Leader Andrea Stewart-Cousins. Assemblywoman Amy Paulin hosted the reception at her home. Also in attendance were State Senators Alessandra Biaggi and Shelley Mayer, Assemblyman David Buchwald, and Westchester County District Attorney Tony Scarpino.
"Around the state and around the country for the past three years, women have been turning out in historic numbers to volunteer, march, vote, and run for office," said Eleanor's Legacy President Brette McSweeney. "But Westchester has always been defined by passionate civic engagement. Westchester is home to the first chapter of the League of Women Voters and the first woman to lead the New York State Senate, Andrea Stewart-Cousins. Diane Greenwald's contributions to Scarsdale's schools, library, and vibrant civic life continue this legacy of active participation and leadership of Westchester women. We are thrilled Diane accepted our invitation to honor her and we thank her."
Past recipients of the Westchester Women Making a Difference Award include Geri Shapiro, longtime aide to then-Senator Hillary Clinton and Senator Kirsten Gillibrand, and Cheryl Brannan, founder of Sister to Sister International, Inc. and Brannan Solutions Group, a consulting firm specializing in eliminating health disparities in communities of color.

Founded in 2001 by Judith Hope, the first woman to chair the New York State Democratic Committee and the first woman elected a town supervisor on Long Island, Eleanor's Legacy recruits, trains, and fund pro-choice Democratic women for state and local office. In the 2019 local election cycle Eleanor's Legacy endorsed and provided campaign grants to 191 women candidates in 29 counties across the state. Of the 25 candidates Eleanor's Legacy endorsed in Westchester, 21 won.
In her acceptance speech, Greenwald expressed her gratitude for being acknowledged for supporting women who achieve their goals for political leadership, and explained, "12 years ago, I met Kirsten Gillibrand and have been her supporter ever since. In 2009 she became my senator, a woman who is about my age, with two growing sons, who often talked about issues that mattered to me. It made me consider what it means to be represented. I am lucky to be represented by two more women in this district – my Assemblywoman Amy Paulin and my State Senator Andrea Stewart-Cousins, Senate Majority Leader, who all lead with compassion and integrity and pass legislation on topics that impact families, children, safety and equality. They are known as collaborative, cooperative, tenacious, brave and smart. In other words," Greenwald joked, "they lead like women!"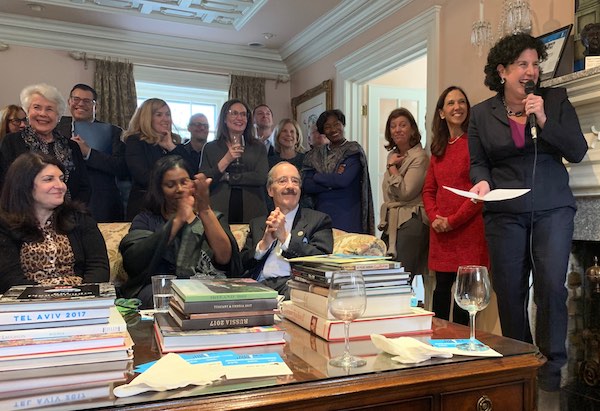 Sarah Novatt Weds Mark Schulz
Details

Written by

Joanne Wallenstein

Hits: 2352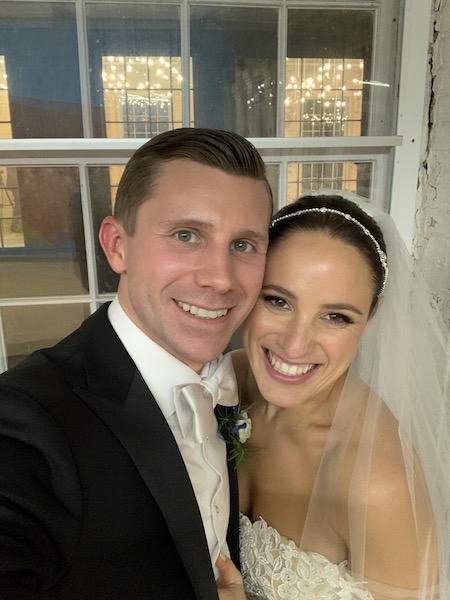 Sarah Novatt and Mark Schulz were married on Saturday, November 9th at the contemporary art museum, MASS MoCA, in North Adams, MA. Mara Natkins, an aunt of the bride, will officiated in a Jewish ceremony. Ms. Novatt, 32, is the Communications Director of North America for KAYAK. Previously, she spent over seven years at the NYC based PR firm, Sunshine Sachs. She graduated Scarsdale High School in 2005 and received a bachelor's degree from the University of Rochester in psychology. The bride is the daughter of Priscilla Natkins and Seth Novatt of Sleepy Hollow, NY and Crested Butte, CO. Ms. Novatt's father currently works at Salchow and Sons, Bowmakers, where he focuses on the restoration of rare violin, viola and cello bows. Previously, he worked on Wall Street for over 30 years as an Executive VP at Oppenheimer and Company and Managing Director at Alliance Bernstein. The bride's mother runs Reservoir Communications, a marketing consultancy working with non-profit organizations and corporate CSR programs. Prior to that, for nearly two decades she was an Executive Vice President at the Ad Council, where she oversaw campaign development, research and corporate partnerships.
Mr. Schulz, 31, is CFO Team Lead at Geller & Company where he focuses on the venture capital business of a global technology and media firm. Previously, the groom was Vice President of Finance at Fortress Equity Partners and Manager of Corporate Finance at Moody's. He received a Bachelor of Business Administration in Finance from the University of Wisconsin School of Business in 2010 and earned a Post Graduate Certificate in International Business from St. Mary's University while working abroad in London in 2011. Mr. Schulz is the son of Barb and Ron Schulz of Long Valley, NJ. The groom's father is the Senior Vice President and Treasurer for the professional baseball team Somerset Patriots in Bridgewater, NJ. His mother is Vice President for Douglas Kelly Associates, a commercial mortgage banking firm located in Cedar Knolls, NJ.
Sarah and Mark, met on Bumble in 2017 and had their first date at L& W Oyster Bar in NYC. Sarah may have been only half joking on that first date when she suggested tagging along on Mark's upcoming trip to Colombia. Ten weeks later they tested their new relationship with a week long trip to Cartagena and Medellin. Sarah and Mark moved in together in August 2018, and Mark officially became a dog dad to Theo, Sarah's rescue Schnauzer-Terrier. Mark proposed at Sarah's family home in Crested Butte in March 2019. After a 3:30am wake up and a near-miss text message to ruin the surprise, he managed to convince her to take a snowshoe hike before all their friends arrived. They trekked up to the top of a snow covered field (with their dog!) and he completely caught her off guard and proposed.
NYS Regent Judith Johnson Passes Away
Details

Written by

Joanne Wallenstein

Hits: 1675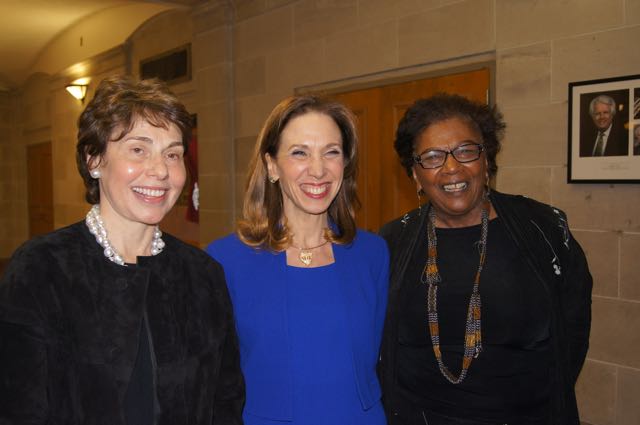 Merryl Tisch, Amy Paulin and Judith Johnson at Scarsdale High School in April 2015This week we learned the NYS Regent Judith Johnson passed away at the age of 80. She died at Memorial Sloan Kettering Cancer Center due to complications from surgery. In 2015 she was appointed to serve a five-year term on the Board of Regents and was a champion for education of all children, especially the underserved.
She began her career as a teacher in the NYC schools and then worked as a school administrator in Westchester and Rockland. During the Clinton presidency she worked in the Department of Education and later became the first African American and the first woman to serve as Superintendent of the Peekskill Schools. As as Regent, she represented Dutchess, Orange, Putnam, Rockland and Westchester counties.She paid several visits to Scarsdale, most recently in February 2019 when she participated in a panel discussion organized by the PT Council. Here are her comments:
About Scarsdale she said, "You are the model of what all schools should look like…. We shouldn't take dollars from you to help schools in need." Providing some information on the work of the regents she discussed funding for the arts, saying, "Every child in NYS should have the opportunity to learn music or pick up a paint brush." She also said, "We are changing the graduation standards and what it means to have a high school diploma. We are rethinking the five regents exam to earn a high school diploma…. We are working with the Yale Center for Emotional Intelligence to bring joy back to the classroom."
State Assemblywoman Amy Paulin issued this statement on the death of NYS Regent Judith Johnson.
"Judith Johnson devoted her entirely life to the notion that every child deserves a quality education. She was an award-winning teacher, a supportive mentor, a passionate advocate, a thoughtful administrator, a visionary Superintendent and finally, a knowledgeable and incredibly candid member of the Board of Regents. She was trusted and respected by parents, teachers, administrators, and legislators alike, and her contributions toward improving public education for the students of Westchester County and New York State will last a lifetime."
Broadway Actress Weds Naval Officer
Details

Written by

Joanne Wallenstein

Hits: 3065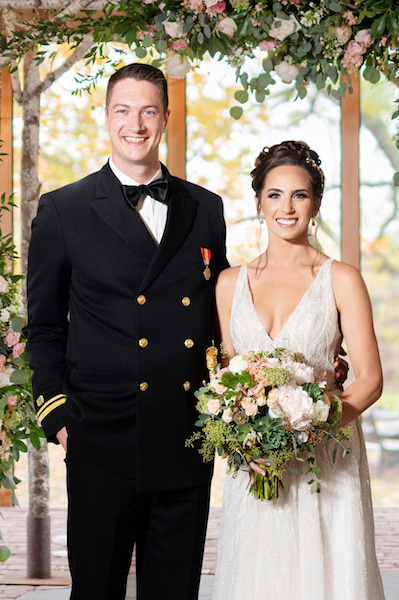 Dani Spieler, the daughter of Jill and Gary Spieler of Scarsdale, and Cory Pihl, son of Marilee Fraizer Pihl and Gary Pihl of Acton, MA, were officially married at the New York City Clerk's Office on July 23rd, 2019 in front of their parents. Recently, the couple celebrated with family and friends on October 20th, at Red Maple Vineyard in West Park, NY with a ceremony led by Curtis Holbrook, a friend of the couple.
The bride, Scarsdale High School Class of 2003, and groom met through the online dating app, OKCupid. Since graduating with honors from The University of Michigan with a BFA in Musical Theatre in 2007, Dani has been living in New York City and performing on Broadway in such shows as CATS, CHICAGO, A BRONX TALE and LEGALLY BLONDE. The groom graduated from Acton-Boxborough Regional High School in 2003, and then from Penn State University with a BS in Criminal Justice in 2008. After college, he worked as a Special Investigator at the New York City Department of Investigation for 8 years. He recently was admitted to the New York State Bar, after getting his JD from New York Law School in 2018. Cory began work as an attorney as a Lieutenant Junior Grade in the US Navy Judge Advocate General Corps immediately following the wedding, and is stationed at Joint Base Pearl Harbor-Hickam.
The bride's parents, who have lived in Scarsdale for 43 years, are both retired. The bride's mother, the 2019 recipient of the Scarsdale Bowl, is a former president of the Scarsdale School Board, and had a career in graphic design for many years. Her father spent 45 years working in mainframe computer software technology and sales. The father of the groom has been the guitarist for the band Boston since 1985. His mother worked as a teacher in the Community Education Extended Day Program before retiring in 2015.
The couple plans to honeymoon in Australia and New Zealand. They will reside in both Honolulu, HI and New York, NY.
Author Brian Brown to Read, "Someone is Out to Get Us: A Not So Brief History of Cold War Paranoia and Madness"
Details

Written by

Joanne Wallenstein

Hits: 1918
Scarsdale resident, journalist, writer and director Brian T. Brown has just published a new book about the Cold War, Soviet espionage and covert mischief, and how these helped shape the course of American pop culture. The 512-page book, "Someone is Out to Get Us: A Not So Brief History of Cold War Paranoia and Madness" is published by Twelve Books and also available on Hachette Audio. Brown wrote and produced twelve Olympic broadcasts and has worked on some of America's most-watched television shows. We last checked in with Brown when his documentary The Last Gold came out in 2016.
This week we caught up with him to discuss life in Scarsdale, the publication of his new book and a reading scheduled at Bronx River Books in Scarsdale on Wednesday November 6 from 6:30- 8 pm, and here is what he shared:
I assume you still live in Scarsdale. How long have you lived here? Tell us what you like about living here.
Yes, still live in Scarsdale … Moved here in 1999, with my wife, Maryellen, and then toddlers Marisa and Luke. In their early education, both kids benefited from wonderful teachers at Hitchcock Nursery School and Greenacres Elementary … Coming back from trips, I almost always notice – and appreciate – the multitude of magnificent trees in Scarsdale and the care and understated elegance so many homeowners devote to their gardening and landscaping. We are very lucky to have a world class botanist on our block, Phyllis Finkelstein, who is a genius of all things flora. I also enjoy taking long walks on the Bronx River Pathway while listening to my favorite "deep house" artist, Nora En Pure.
What inspired this book about the Cold War and paranoia?
In the spring of 2016, my book agent, Bob Mecoy, sent me an e-mail asking if I wanted to tackle the subject of Cold War paranoia. As Bob explained, the publisher of Twelve Books, Sean Desmond, was interested in having someone dive into the topic. In retrospect, Mr. Desmond was clearly clairvoyant. A return to the Cold War was about to become additionally resonant, though in the spring of 2016, the writing wasn't yet on the wall for most of us. The dark anxiety of Cold War 2.0 had yet to descend. Hillary Clinton was the presumptive next president and Donald Trump was unapologetically using his short-staffed campaign to get the most amount of attention for the least amount of his own money. Only months later, and subsequent to Trump's shocking victory, did our national security establishment seriously wonder if the forty-fifth president of the United States was a wholly owned subsidiary of the Kremlin, and, in particular, beholden to the ex‑communist spy who judges the collapse of the USSR as the greatest tragedy of the twentieth
century.
What parallels do you see today?
Here are a few:
The Red Scare and McCarthyism was a case of Cold War GOP gaslighting to put Democrats on the defensive as soft on communism. Republicans knew they were overhyping the Soviet threat and also knew that scaring people can often be an effective political tool. McCarthy aide Roy Cohn was a key player in this "fake news" propaganda campaign and later became Donald Trump's chief educator in how to gaslight the public. Today's GOP also know they are selling a fiction when they minimize Russian meddling in the 2016 election and, more recently, "All The President's Men" (Pence, Pompeo, Barr) are attempting to get our allies to help them concoct an alternative history of 2016, a counternarrative contending it was actually Ukraine that did the meddling and Hillary Clinton was the beneficiary. But, in a larger sense, Mr. Trump attempts to sell all kinds of fictions every time he speaks, or tweets.
The NBA came under fire from the People's Republic of China when the Houston Rockets general manager supported Hong Kong protestors. There has also been a good bit of discussion asking if we are about to enter into a Cold War with China. Here's one lesson I learned from research for the book: the greatest weapons the United States had in the fight with the Soviets came under heading of "soft power." Pumping jazz into the Iron Curtain was a powerful and bloodless weapon. Pushing the Soviets on human rights highlighted the illegitimacy of Soviet governance. As the U.S.-China rivalry inevitably intensifies, the greatest weapon the U.S. has is continuing to cultivate free expression and demanding universal human rights. The Chinese are more afraid of these intangibles than our military. Like the Soviets, the Chinese Communist Party governs by fear because they are scared that what is happening in Hong Kong will soon be happening in Beijing.
You could also say that Vladimir Putin is trying to get his revenge on the West. Putin hasn't gotten over losing the Cold War. The fall of the Berlin Wall was particularly traumatic for him because he was stationed in East Germany when it happened and he had been a very happy camper while a KGB Colonel in East Germany – enjoying the beer, reliable German appliances, cleanly German neighbors. As a spy, Putin was also part of the privileged elite class in the USSR who effectively lived apart from a vast working class that was often on the verge of starvation. When Putin was told the tanks were not coming to save him (or communist East Germany), the moment was shocking and humiliating. Furthermore, the last days of the Soviet Union were a terrible clown show – with the Chernobyl nuclear accident and West German teenager Mathias Rust flying his Cessna from Finland to Red Square. Via Putin's possible "puppet" in the White House, we appear to be witnessing his successful revenge, along with a return to the imperial ambitions of the deceased USSR.
During the Cold War, we also became more of a "first person singular" nation, as opposed to the "first person plural" of our founders, who started the Constitution with the words: We the People. We are still living with the lone cowboy, libertarian ethos that bloomed during the Cold War. The downside of this worldview prevented or delayed logical government-sponsored improvements in the safety net, in particular universal health care. But it also led to a demonization of non-military government activity as a whole and made a virtue of starving public works by drastically cutting taxes. Low taxes and lax regulations were somehow viewed as essential American "freedoms" as public education, food stamps and government health care were being slimed as socialism, if not communism. But, in truth, there was one bucket of U.S. government spending that did resemble the practices of the socialist Soviet Union. The creation of the trillion-dollar military industrial complex could reasonably be called the most expensive social welfare program of all time: jet and bombs and missiles with astonishing price tags were paid for by the state, developed in secret, with no requirement of profit, or any other market mandates.
Two more thoughts:
Scarsdale is also a town that loves books. One reflection of the scope and size of the town's taste is in evidence every year at the Scarsdale Library Book Sale. I brought home 30 or so books from one of the recent sales that proved to be incredibly valuable sources in understanding the Cold War and the paranoia it fomented. For example, I came across the terrific memoir by Max Frankel, a Pulitzer Prize winner who began at the New York Times as a foreign correspondent behind the Iron Curtain and ended up as the paper's Executive Editor. I also found a magnificent and massively researched overview of the United States by Harold Evans called "The American Century." I would recommend it to everyone who has kids about to enter high school.
Finally …
… I want to invite everyone to a attend a reading and signing the new book "Someone Is Out To Get Us: A Not So Brief History of Cold Paranoia and Madness" on Wednesday November 6, at Bronx River Books (37 Spencer Place), from 6:30 to 8 p.m. The event is co-sponsored by the Scarsdale Library.