On Your Walk Today: Reader Photo Gallery
Details

Written by

Joanne Wallenstein

Hits: 608
Now in our second week, "On Your Walk Today" features reader photos taken while you explore your neighborhoods. This week check out a Buddha in the Burbs at the intersection of Colvin Road and Greenacres Avenue as well as a historic cemetary in Sag Harbor. Please send your photos to scarsdalecomments@gmail.com.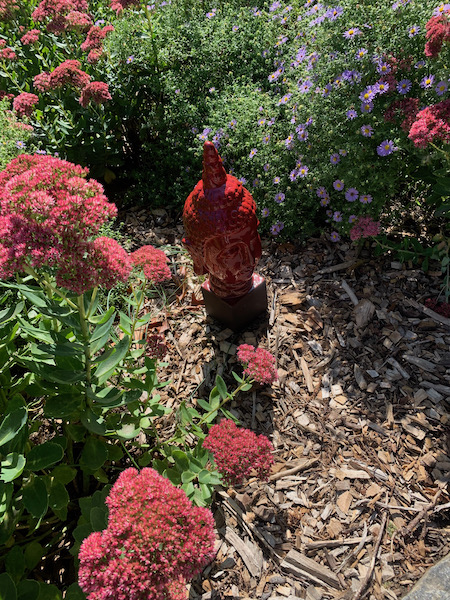 A neighborhood traffic island garden, cultivated by former Village Trustee Deb Pekarek, includes some colorful statuary. Take a walk to the intersection of Greenacres Avenue and Colvin Road to see purple asters, red sedum, a black and white striped zebra and two red Buddhas.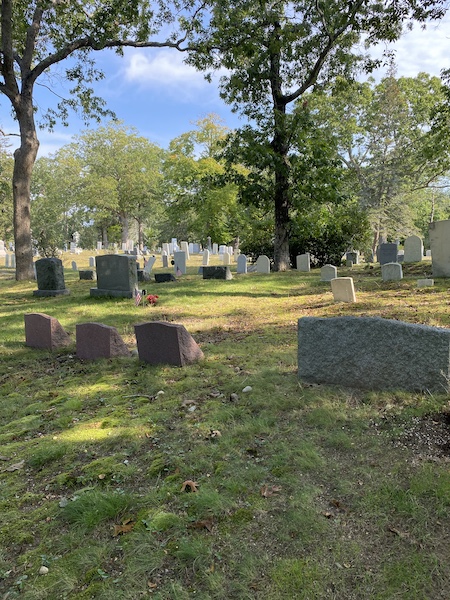 Oakland Cemetery in Sag Harbor, NY was founded in 1840. It is nondenominational and spans more than 35 acres. It is the final resting place of Revolutionary War soldiers as well as many sea captains, sailors, writers and townspeople. George Balanchine is buried here too.
On Your Walk Today: Reader Photo Gallery
Details

Written by

Joanne Wallenstein

Hits: 726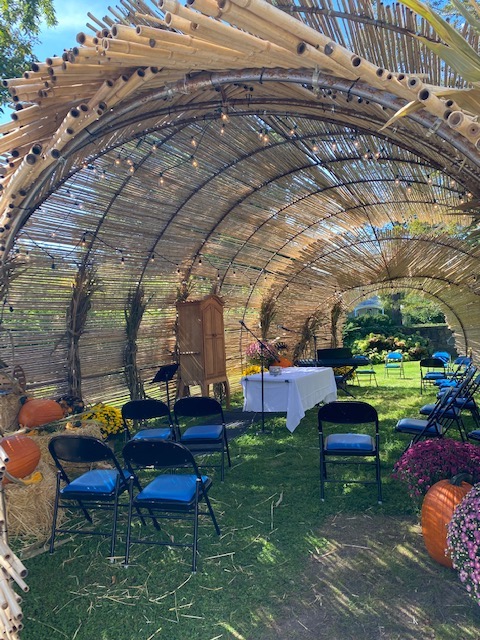 As the seasons change there's always something to see as you navigate Scarsdale. Whether you're walking, biking or even driving in your car, you're bound to notice flora and fauna, animal life, flooding, azure skies or sunsets and man made additions to the landscape.
This week we're launching a new column, "On Your Walk Today," where we will publish user photos. We welcome your contributions. Notice something? Take a photo and email it to scarsdalecomments@gmail.com.
Here are are the first two photos: One of the Sukkah at Westchester Reform Temple and another of a scenic sky over the Heathcote Five Corners.
Send us your photos of local scenery at scarsdalecomments@gmail.com.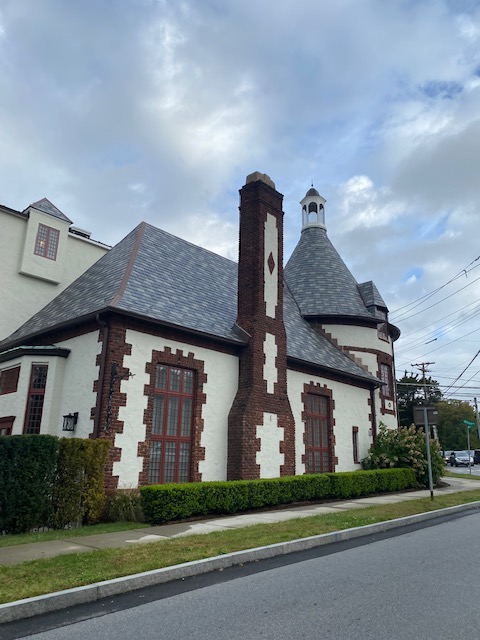 Mt. Vernon Man Jailed After Attempt to Assault Scarsdale Police Officers
Details

Written by

Joanne Wallenstein

Hits: 859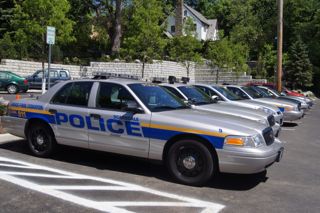 A 34 year-old Mt. Vernon man is now in custody after he attempted to assault Scarsdale Police officers with a 3-4 foot long metal pipe at around 1:30 am on Thursday September 16, 2021.
Police found Raeshone J. Foote in the parking lot of the Scarsdale Pool where he was attempting to change a flat tire on a gray BMW 528. The trunk of the car was open and the passenger side rear tire was flat. Police tried to help Foote to contact a tow company to assist but were unable to get one to come to the scene.
When Foote became "rude and combative," police noticed that he smelled of alcohol and had glassy and bloodshot eyes. They looked up the car and found that it was unregistered and equipped with Connecticut plates which were registered to a 2005 Ford with a different owner. Foote claimed he would register the car the next day.
When police told Foote that the car would be impounded, his mood changed and another officer was called to the scene. Foote attempted to grab a three to four foot long white metal pipe from the trunk. When police told him not to touch the pipe he disregarded them. A sergeant was able to put his foot on the pipe and another officer grabbed it and threw it. The officers then restrained Foote and put him in handcuffs. He continued to actively resist and had to be carried to the police car where he continued to yell and scream and attempted to break the glass in the car by pressing his back up against the door glass and slamming the edges of the handcuffs multiple times.
At the police station, Foot continued to make threats on the lives of the officers and repeatedly kicked the door of the holding cell so hard that he broke the lock and bent the cell wall.
Police had to remove the holding cell lock so that Foote could be moved to a jail cell before being send to Westchester County Jail in lieu of $5000 bail.
He was charged with driving an unregistered vehicle, operating the car with improper plates, disorderly conduct, obstruction, menacing with a weapon, criminal mischief, assault with intention to cause physical injury to an officer, and driving while intoxicated.
Scarsdale Boys' Soccer Snaps Seasonal Curse Posting Wins Against White Plains and Edgemont
Details

Written by

Adam Katcher

Hits: 881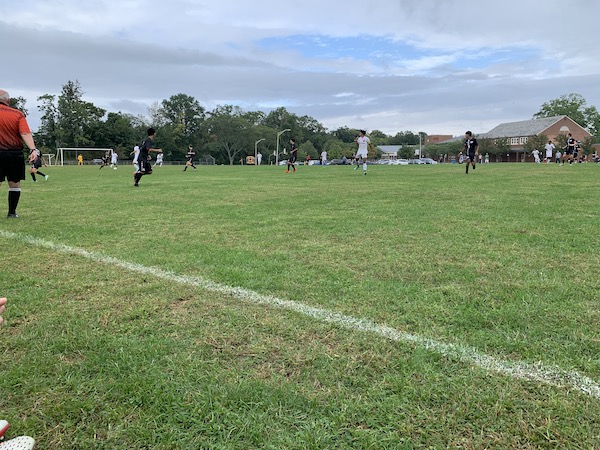 For the past few years – as long as the seniors on the team can remember – there has been a reputation surrounding Scarsdale Soccer built on how "Scarsdale always starts seasons slowly." This year, an early-season skid was not a worry, even with a disappointing 0-0 opening-day draw against Mahopac.
The Raiders had to wait two weeks from their first match, which was an impressive performance only hindered by goal-scoring woes, to rally the troops and try to pick up their first win of the season. After losing access to Butler Field due to a small hazard on the sideline, the Raiders were able to get to winning ways.
Simply stated, the pitch at Quaker Ridge is not as "nice" as the turf, with real grass and mud leading to a less-slick surface. The match itself is pretty similar to how it would be if played at the preferred venue, but the difference is notable nonetheless. However, safety is the priority, and Quaker Ridge does not have an injury-threatening spot as Butler Field currently does.
White Plains showed up to Scarsdale Boys' Soccer's temporary home on 9-17 not knowing exactly what to expect. After all, they only had one Scarsdale game on which to base their scouting. The Tigers soon learned their neighbors are more than just a force to be reckoned with.
The match turned into a Scarsdale scoring and possession clinic. Co-captain Luke Peltz calmly tucked away a penalty in a dominant first half to give the Raiders a 1-0 lead heading into halftime. Even though complacency could have seeped in, an applaudable first-half performance was built upon in the second period of play.
Eli Gelblum slotted away a composed finish to double Scarsdale's lead. The build-up play was phenomenal, with Zach Ruback brushing by a defender on the right-wing with intricate footwork before playing it to Nico Galeano who fed the ball to the well-positioned Gelblum. Co-captain Kian Batliwalla scored soon after from close range to put the game well out of the visitor's reach. After putting extra emphasis in training on finishing for two weeks straight, the rewards for the efforts were there for all to see.
Less than 24 hours after the resounding victory which sent waves throughout the section, on 9-18 the Raiders made the short trip to Edgemont. Once more, Scarsdale dominated possession, though Edgemont defended in a deeper block than White Plains did. At first, Edgemont's deep-lying tactics frustrated the visitors.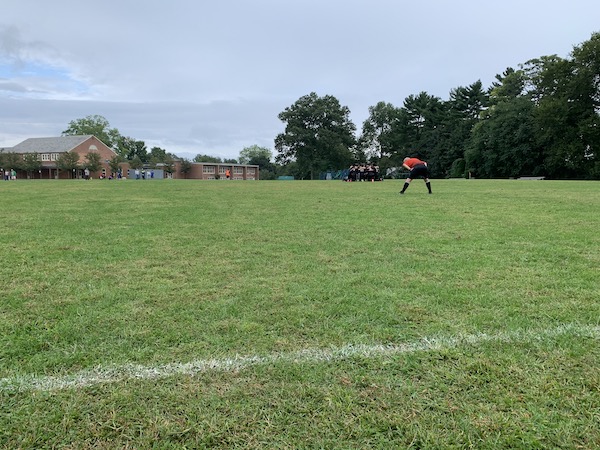 Scarsdale nonetheless controlled the tempo of play in the first half. However, that is not to say Edgemont did not have a fantastic chance to score. From the edge of the 18-yard-box, the Panther's free-kick was driven low and around the wall and was destined for the back of the net. Co-captain Rowan Haffner had other ideas, getting down low to make a fantastic diving save to preserve Scarsdale's perfect defensive start to the season.
At halftime, coach Marcos Monteagudo, alongside assistant coaches Andrew Nagel and Carlos Vazquez, made a tactical adjustment to better break down Edgemont's deep-lying defense unit. Indeed, the subtle tactical tweak was exactly what Scarsdale needed to put enough pressure to lead to a defensive crack. Even though the match's only goal came from a dead-ball play, it was clear the wise tactical change – one of many potential adjustments up Monteagudo and Co's sleeves - was working as hoped for.
A Peltz throw-in led to the moment of magic the Raiders were looking for to pick up their first away win of the season. Peltz's signature long throw found its way through a sea of bodies to Matthew Choe who made no mistake from close range.
After the first three matches of the 2021 campaign, the Scarsdale Raiders Boys' Soccer Team have already built up a tremendous head of steam. Both the team's veterans and the rookies have played a key role in the team's engine. Even if derailed this season, there is no doubting that this team will be able to get themselves back on track as soon as possible.
The strong start to the season cannot be ignored. The Raiders and rivals alike will all have taken note of the breaking of the Scarsdale-slow-start-to-season curse.
Scarsdale Pool Completes Successful 2021 Season
Details

Written by

Joanne Wallenstein

Hits: 943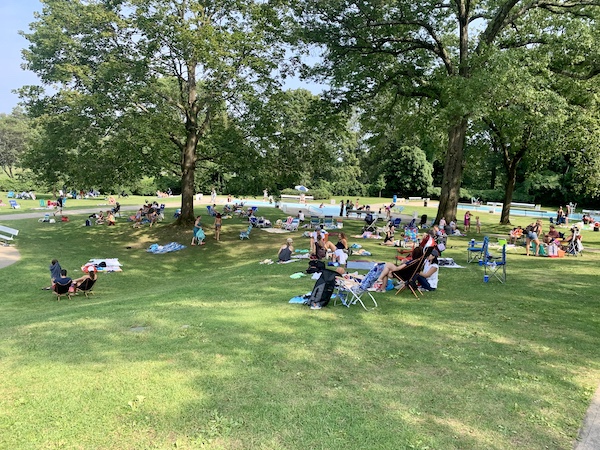 The Scarsdale Pool closed their 2021 season on Sunday September 12. Though the staff had to deal with COVID and the pool's antiquated mechanicals, many residents enjoyed swimming and diving in the facilities four pools.
According to Brian Gray, Superintendent of the Scarsdale Recreation Department, 1,854 permits were sold to residents, and another 128 to non-residents who were invited to enjoy the pool for the first time this year.
About the season, Gray said, "The 2021 Pool Season was challenging with the understanding we continue to operate during the COVID-19 pandemic. I am very proud of facility staff in how they professionally continued to offer the services at the Scarsdale Municipal Pool Complex during these challenging times.
Operating a 50+ year old seasonal aquatic facility brings it challenges. We did not experience any multi-day shutdowns due to major mechanical issues like we have experienced in the past. We did however experience numerous issues throughout the season that created closures until remedied, as expected.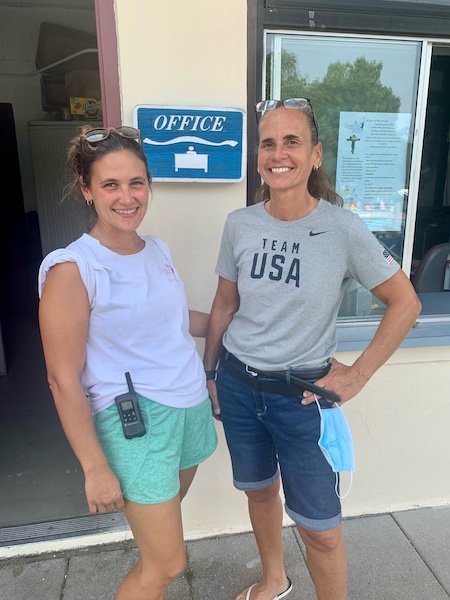 The pool staff worked tirelessly to offer an enjoyable and safe aquatic experience to our guests. The employee shortage many businesses are experiencing throughout our country affected us as well. Additionally, Hurricane Ida created a multi-day outage due to dirt and debris in all 4 pools necessitating days of vacuuming and backwashing until the water was clear and safe for swim patrons."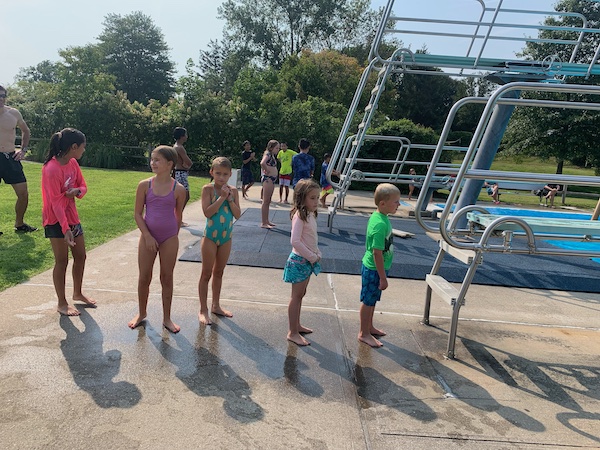 Closing day photos from Michelle Lichtenberg