Remembering Alex Sussman
Details

Written by

Joanne Wallenstein

Hits: 2724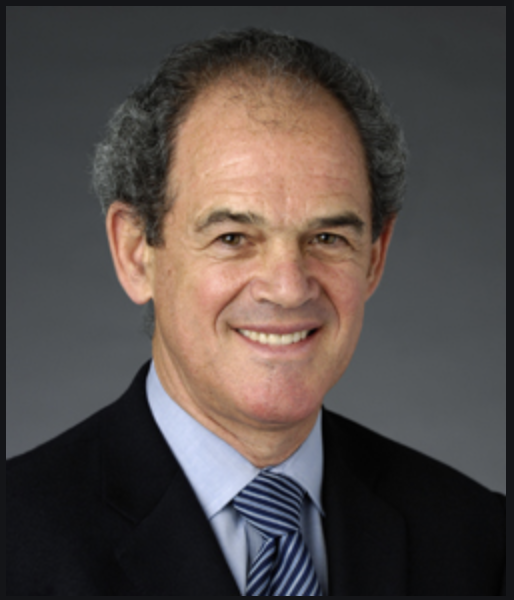 30- year Scarsdale resident Alex Sussman passed away on April 19, 2020 at the age of 73. Alex graduated from Princeton University and Yale Law School, after which he clerked for civil rights activist and jurist the Honorable Constance Baker Motley.

He was a partner from 1979 to 2009, and of counsel from 2009 to the present, at the law firm of Fried, Frank, Harris, Shriver & Jacobson. He was a successful corporate litigator, the co-author of a legal treatise on Takeover Defense, and a lifelong advocate for civil rights. Among his proudest accomplishments were his numerous pro bono representations throughout his career including a Sixth Circuit appeal against the Ku Klux Klan. He was a former board and executive committee member of the Legal Aid Society of New York and board member of New York Lawyers for the Public Interest, among other leadership roles.

He was active in the Association of the Bar of the City of New York, where he was the founder and former chair of the Committee on Mergers, Acquisitions and Corporate Control Contests. He has also served as the chair of the Pro Bono and Legal Services Committee and as a member of the Federal Courts and Judiciary Committees.

He is survived by his wife of 47 years, Edna, children, Jason (Abby), Carl (Nicole), Matthew (Karen) and Eric (Lexi), grandchildren, Henry, Aliza and Galon, and his sister, Barbara (Marc). He will be greatly missed by his family and many friends who loved him.
Long Time Resident Paul Sved Passes Away
Details

Written by

Joanne Wallenstein

Hits: 1514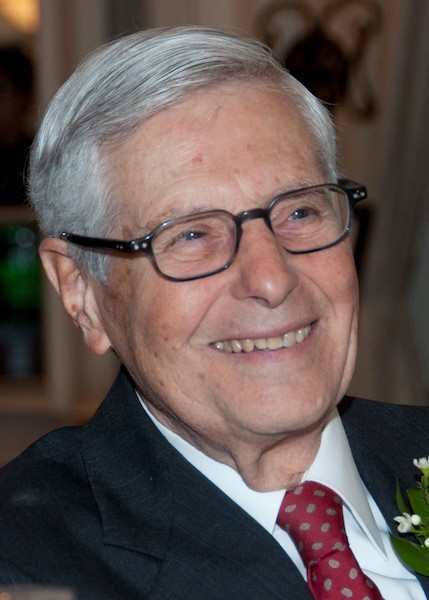 Photo Credit Beverly PickerPaul Sved (1935 - 2020), an Engineering graduate of Rensselaer Polytechnic Institute (RPI) and long-time resident of Scarsdale, passed away from COVID-19 on April 10, 2020. Paul was preceded in death by his wife of 47 years, Beverley (Dahmer) Sved.

Paul was born in Budapest, Hungary on May 21, 1935 to Klari and Andor Sved. As a young boy, Paul survived the war in one of Raoul Wallenberg's Swedish safe houses in Budapest. Tragically, Paul's father and uncle, who had helped feed fellow Jews, were murdered by the Nazis supported by the Arrow Cross, the Hungarian Fascist party. The German officer in charge spared women and children, but had the men shot and tossed into the Danube River. While in the safe house, Paul's knack for engineering was already evident. Out of curiosity he dismantled the military phone connecting the house to Nazi headquarters, a feat that could have resulted in summary execution. Fortunately, the phone was quickly reassembled.

After the war, Paul and his mother went to Switzerland. While waiting for a U.S. visa, Paul was sent to boarding school in England. After being admitted to the U.S., Paul and his mother joined a paternal uncle and his family on Bridge Farm in Avon, NY.

Upon completing his engineering degree at RPI, Paul was a ski instructor in Denver, CO, before taking on a job with the American firm, Gates Rubber, and moving to Brussels, Belgium. Upon his return to the U.S., Paul met his future wife Beverley (also an RPI graduate) while working in the marketing/engineering department of IBM in Cambridge, MA. They were married in 1971. They lived for several years in Montclair, New Jersey, and Paris, France, before moving to Scarsdale, NY, in 1988, shortly before retiring from IBM. Paul was a great supporter of his wife's civic involvement in Scarsdale. Beverley served as Mayor of Scarsdale in the years 2003-2005 and was the recipient of the 2018 Scarsdale Bowl Award.
Paul's understated kindness and readiness to be of help to the less fortunate accompanied him during his whole life. Paul was in exceptional physical shape until his fatal encounter with the corona virus that killed him. He was an avid skier, hiker, and cyclist.

Paul had recently relocated to Kendal on Hudson, a retirement community in Sleepy Hollow, NY, where he was a lively part of the community.

He is survived by his cousins Charles Guttmann, Marietta Pritchard, Doris Ablard, in the U.S., and George Sved in Spain. He will also be missed by many other loving relatives and friends across the world, including Jennifer, Jonathan and Katie Ablard, David, Michael, and Will Pritchard in the U.S., Richard Steiner, Margaret Guy, Mary Steiner, and Anne Streather in England and Scotland, as well as his beloved goddaughter Anne Cnops in Italy, godson Justin Lukach in the U.S., as well as Christina, Tania, and Alex de Auer of Toronto, Canada and Dubai, UE.
Arrangements for a memorial service at a later time have yet to be determined.
Passover in the Time of a Modern Plague: Recipes for 2020
Details

Written by

Judie Dweck

Hits: 1507
Due to the crisis, you probably won't have all the usuals around the table for Passover, which begins on April 8. Passover 2020 may be a virtual celebration with a smaller group but the theme of this holiday could not be more apt. We now have a new plague to add to the list of the ten in the Haggadah, that begins with blood and frogs and ends with darkness and the killing of the first born.
Many traditional dishes that are representative of past events will be served both at the Seders and for the week that follows. The common link that envelops the meals served during Passover are feelings of warmth among family and friends.

Following are some of my holiday favorites. With so many of us confined to our homes and with many markets offering delivery services, we are given the opportunity to spend lots of time in our kitchen preparing our holiday dishes.

We start with some suggestions for your Seder table.

Haroset Sephardic Style (1 quart)

3 pounds pitted dates
6 Tbsps. Passover sweet red wine (Concord Grape)
1 tsp. cinnamon
1 cup chopped walnuts
Place the washed dates in a heavy saucepan and add enough water to cover them. Simmer, stirring until the dates are soft. Drain them and reserve the liquid. Cool. Place the dates in a food processor and process until smooth. Fold in the wine, cinnamon and nuts and mix. If you wish a thinner consistency add a bit of the reserved water. Cool and serve at your Seder. Any leftover is a perfect spread in lieu of jam.

Brisket with Apricots (Serves 6)

1 pound dried California apricots, soaked in 4 cups water for 1 hour
4 onions, chopped
3 pounds of brisket
2 Tbsps. vegetable oil
Salt and pepper, to taste
1 Tbsp. lemon juice
3 Tbsps. dark brown sugar
1 tsp. cinnamon

In a Dutch oven, brown the onions and the meat in the oil. Add the salt and pepper, lemon juice, sugar, cinnamon and apricots in the soaking water and cover and simmer for about 2 ½ hours until the meat is tender. Remove the meat and cool it. Slice it thinly and arrange it in an ovenproof casserole dish. Pour the sauce and the apricots over it. Reheat in a 350 degree oven and serve.

Tzimmes (Serves 6-8)

½ pound pitted prunes
½ pound dried apricots
3 cups boiling water
2 Tbsps. vegetable oil
3 pounds brisket cut into 10 pieces
3 onions, diced
Salt and pepper to taste
3 sweet potatoes peeled and quartered
4 carrots, 2 inch pieces
½ cup honey
1 tsp. cinnamon

Soak the apricots and prunes in boiling water for ½ hour. Heat oil in a Dutch oven and brown the meat and onions in it. Season with salt and pepper and simmer for 1 hour. Add the undrained fruit and vegetables and remaining ingredients. Cover and simmer for 2 hours until the meat is tender and the liquid is absorbed.

Grammy's Passover Stuffing (Serves 12)

1 pound matzos
1 pound ground chuck
2 onions, chopped and sautéed in canola oil
5 eggs, beaten
1 Tbsp. canola oil
Salt and pepper to taste
2 cups boiling chicken broth

Place 1 Tbsp. oil in a 9 by 13 inch oven proof baking pan. Set aside. Break up the sheets of matzos in a bowl. Pour the hot broth over it. Add the beef, onions, eggs and seasonings. Mix it very well. Spoon it evenly into the pan. Bake in a preheated 375 degree oven covered for 30 minutes. Uncover it and bake until crisp on the edges and on top or about 20 minutes more.
For the many Passover meals after your 2 Seders I suggest several dishes for brunches or dinners during the week of Passover.

Individual Matzo Kugel (12)

5 matzos
6 eggs
¼ cup sugar
¼ tsp. cinnamon
¼ cup raisins
¼ cup walnuts
4 Granny Smith apples, chopped
Grated rind of 1 orange
¼ tsp. cinnamon mixed with ½ tsp. sugar
4 Tbsps. butter, melted

Butter 12 muffin tins and set aside. In a large bowl, crumble the matzos. Add a cup of water and squeeze dry. To the dry crumbled matzos add the beaten eggs, sugar, cinnamon, raisins, nuts, apples and orange rind. Mix well. Divide among the muffin tins. Sprinkle each with the cinnamon sugar mixture. Drizzle with melted butter. Bake at 350 degrees about 25 minutes or until browned on top. Serve with sour cream or yogurt.
With asparagus in season try our springtime Asparagus Soup.
Asparagus Soup (Serves 6)
1 medium onion, chopped
2 Tbsps. olive oil
1 pound asparagus, rough ends discarded, in 1 inch pieces
1 potato peeled and diced
4 carrots, peeled and chopped
4 cups vegetable or chicken stock
1 cup dry white wine
2 Tbsps. chopped fresh dill
Salt and pepper, to taste

Saute onions in oil until golden. Add asparagus, potato, carrots and saute lightly. Add stock, wine, dill and salt and pepper. Simmer for about ½ hour or until vegetables are soft. Cool. Blend in a food processor or blender until smooth. Return to pot and heat and serve. You can garnish it with additional dill.
Every meal during the Passover holiday should end with something sweet. Here are 2 suggestions.

Pecan Meringues
3 egg whites
¾ cup granulated sugar
3 Tbsps. unsweetened cocoa powder
1 tsp. vanilla 1 cup coarsely chopped pecans

Beat whites until very stiff. Mix together sugar and cocoa and gently fold it into the whites. Fold in the vanilla and nuts carefully. Drop in small mounds onto an oiled cookie sheet and bake in a preheated 275 degree oven until dry or about 25 minutes. Remove with a spatula carefully while they are still warm. Handle with care since they are fragile.

Passover Brownies
2 sticks butter
¾ cup unsweetened cocoa powder
1 cup sugar
2 eggs, beaten
1/3 cup matzos cake meal
2/3 cup chopped walnuts
2 Tbsps. water
16 walnut halves

Preheat oven to 350 degrees. Butter an 8 inch square baking pan. Melt butter and let it cool. Mix together cocoa powder and sugar. Stir in beaten eggs and melted butter. Stir in matzos meal and chopped nuts until smooth. Stir in water to form a smooth mixture. Spread into prepared pan. Arrange nut halves on top. Bake for 25 minutes. Cool and cut into squares.

With best wishes to my readers for a holiday filled with family and friends beside you --either physically or virtually --all in good health.
Contributions Needed for Bread of Life Food Pantry
Details

Written by

Joanne Wallenstein

Hits: 835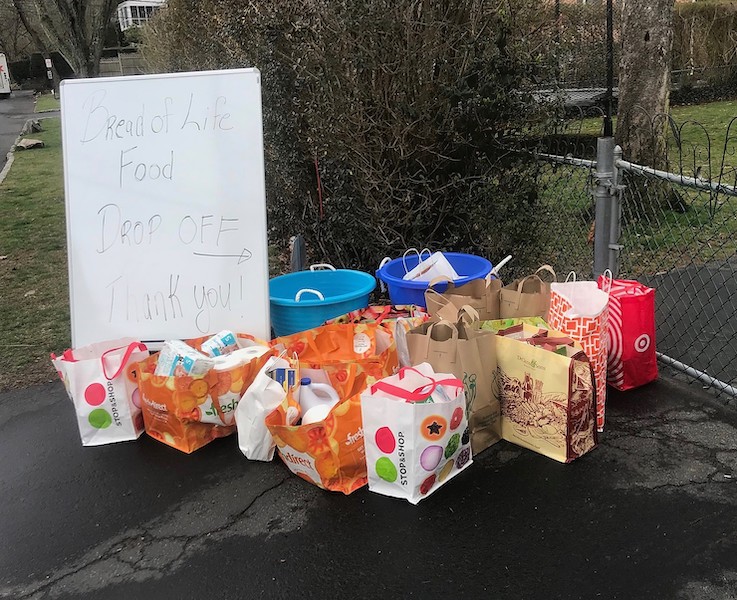 Scarsdale 10583: As you may know, food pantries have been hit especially hard during this pandemic. While they typically depend on restaurants and grocery stores to donate their extra inventory, recent shutdowns and the hoarding of food has significantly cut their supply. Additionally, the demand for food has surged, as an unprecedented number of people face unemployment. The New York Times has a great article that summarizes the dire circumstances.
To help food-insecure people in Westchester, I am collecting food items and delivering them to the Bread of Life Food Pantry, a 501(c)(3) not-for-profit organization which feeds over 10,000 country residents weekly. Everyday between 10am to 6pm, I place a food donation box at the end of my driveway (9 Wayside Lane).
While I initially received many contributions, the number of donations has begun to trickle. I ask for your help publicizing my initiative. Your assistance would benefit many who are struggling to feed themselves and their loved ones.
Best,
Adam Wasserman
Junior at Scarsdale High School
9 Wayside Lane
914-715-4586
Letter to the Editor: Now Is The Time To Be Kind
Details

Written by

Joanne Wallenstein

Hits: 619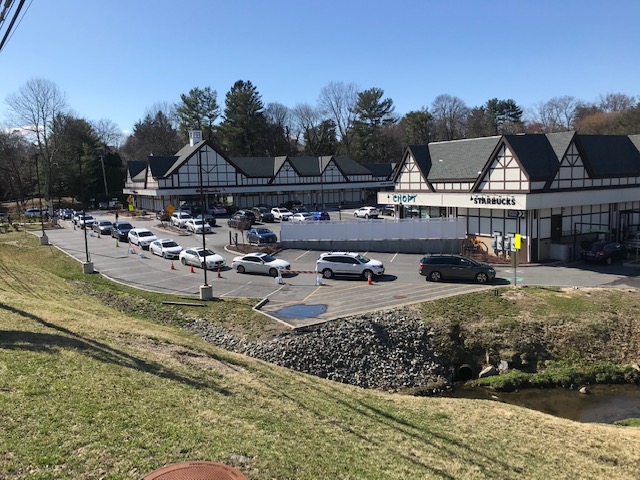 To the Editor,
Hello Joanne. How are you doing in this brave new world? Thank you for continuing to cover our community and keeping us informed as we collectively and independently deal with a pandemic that has come to our doors.

Over this past week, I have observed the installation of a testing site at the Scarsdale Medical Center on Heathcote Road around the block from our home on Brookby Road and the ever longer lines at the drive through at Starbucks in the Golden Horseshoe Mall. Family all over the country are checking in virtually,

I take walks with neighbors at a social distance, check on those who may need an item from the store and cannot get out themselves, remind the young bikers on our streets to wear their helmets and help Girl Scout troops whose cookie booths have been canceled sell their cookies. I know that many others in our community are doing much the same.

It is my hope that over these next few weeks (months?) that everyone will be kind to each other. Be kind to the spouse who may be annoying you, be kind to your children who are annoying you and be kind to those who have not been kind to you. I ask drivers to watch out for the pedestrians and bikers on our streets trying to keep a safe social distance from each other. Please throw the disposable gloves and masks in a trashcan and not on the streets.

This is a wonderful opportunity to come together as a community, fortunate in our resources to help each other through this new reality of isolation from each other. Now more than ever, we need each other.

B. Kathleen Munguia
58 Brookby Road
914-325-2729