Scarsdale Welcomes New Village Assessor Victoria Sirota
Details

Written by

Joanne Wallenstein

Hits: 1058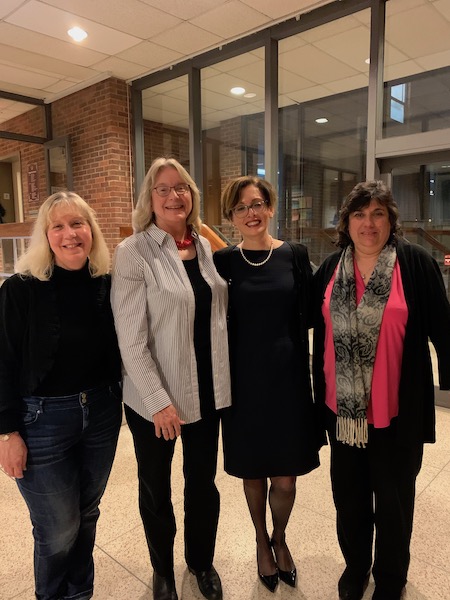 Theresa Diamond, Jane Lawrence, Victoria Sirota and Margaret SmoyverScarsdale has a new Village Assessor. Victoria Sirota, who served as assessor in North Castle has accepted the job and was officially appointed at the February 25 meeting of the Scarsdale Village Board of Trustees. Here are comments from Trustee Justin Arest, welcoming Sirota and thanking those who filled the void while the Village undertook their search.
As many are aware, former Assessor, Nanette Albanese unexpectedly resigned from her position on Friday, March 1, 2019. The Village wasted no time setting up a plan and I am very proud that the hard work of many has led us to the appointment before us tonight, just less than one year later. I would be remiss if I did not make a few comments of appreciation before proceeding. I am a huge advocate of process and ensuring that the proper steps are taken by the right people in order to promote the best decisions and hopefully the best outcomes. But, regardless of how impressive of a plan could be implemented in terms of a search, without stability in our Assessor's office over the past year, none of it would have been possible. We are all very grateful for the hard work and substantial time put in by our Village Manager to ensure our incredible professionals had the resources they needed, including the important addition of Edye McCarthy as a consultant. Thank you to Edye for her assistance. I need to extend a big thanks to Ms. Jane Lawrence who I imagine would never have believed anyone had they told her she would have served as Acting Assessor for a year. She continued to say yes when Scarsdale needed her and for that we should all be grateful. To say that her service was integral would still be an understatement.
Finally, quick thanks in the interest of time, to all of the participants of our search committee, the outside professionals that aided us and at times educated us, former HR Director Adil Tahir and current HR Director Angela Sapienza-Martin who did most of the leg work and helped us stay organized, and former Mayor Dan Hochvert, current Mayor Samwick and Village Manager for their leadership and unwillingness to ever panic.
Over the course of this process we received over 30 resumes from interested applicants. Of those, over a dozen candidates were seriously considered and many of them were interviewed multiple times by the search committee as well as the Board of Trustees. The road to get here might have been a little longer than anticipated but, I could not be more pleased to introduce Scarsdale to Victoria Sirota.
Victoria comes to Scarsdale from the Town of North Castle where she has served as its Assessor for 8 years. She holds a BS in Accounting and a BA in Russian from Rutgers University where she graduated Phi Beta Kappa. Victoria is a CPA and spent fifteen years in the accounting and taxation fields until deciding to take a step back and spend more time with her family.
Victoria's career in municipal assessments began in 2012 when she was appointed to be the sole assessor for the Town of North Castle. Victoria, along with the assistance of her professional staff in North Castle prepares, maintains and defends an assessment roll of approximately 4,800 properties for the purposes of taxation for the Town (that includes the hamlets of North White Plains, Armonk and Bedford-Banksville), five school districts, Westchester County and various special districts. Victoria is a member of the Institute of Assessing Officers. Otherwise known as the IAO, it is chartered by the New York State Board of Regents. An assessor with an "IAO" designation, such as Victoria, is recognized as one who has achieved the highest level of professional competence in his or her field. Additionally, Victoria is a member of the NYS Assessors Association where she plays a valuable role on its Legislative Committee, and, an Executive member and also Past President of the Westchester County Assessor's Association.
Victoria is looking forward to working with our community and encourages residents to call and/or stop by the Assessor's office with any questions related to exemptions, assessments or even just to introduce yourself.
Why Scarsdale's Mimi Rocah is Running for Westchester County District Attorney
Details

Written by

Joanne Wallenstein

Hits: 1740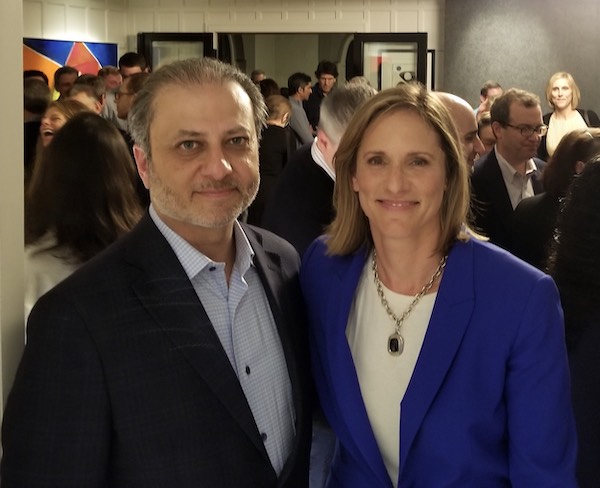 Preet Bharara and Mimi RocahFormer Assistant U.S. Attorney, legal analyst and Scarsdale resident Mimi Rocah is running for Westchester District Attorney. During her 16 years in the U.S. Attorney's office she was involved in the prosecution of organized crime, gun traffickers, corrupt public officials, narcotics dealers and sex traffickers. Before joining the U.S. Attorney's office she clerked for the Honorable John Gleeson in U.S. District Court for the Eastern District and the Honorable Chester Straub in the U.S. Court of Appeals. She has an undergraduate degree from Harvard and a law degree from NYU.
At the Westchester County Convention in January 2020 she came extremely close to winning the delegates' vote taking a 48.4% share. Commenting on her performance she said, "For all of my supporters who are fighting for the kinds of reforms we need, this is a win. For all the women who have had enough of the old boy's network and are demanding an equal seat at the table, this is a win. For everyone who knows that we need a DA office free from politics and conflicts and that prioritizes modern day threats like human trafficking and hate crimes, this is a win… We went from zero to 48% in less than two months, and in five months, we're going to finish what we started by winning the primary in June."
We asked Rocah a few questions and here is what she shared:
Are candidates for District Attorney endorsed by political parties? Are you running on a party line?
I am running in the Democratic primary to earn the Democratic party line for the General Election. Local Democratic organizations can endorse, but it's ultimately up to the voters on June 23rd. I would not accept the endorsement of other parties such as the Conservative Party as my opponent did in 2016.
Now that you are running, will you still appear on MSNBC?
My contract with MSNBC as a legal analyst ended when I announced my campaign. I can still appear on shows to discuss significant issues like impeachment as a Legal Expert when the campaign schedule allows.
If elected, what would you like to see changed in Westchester?
I will be an energetic and proactive District Attorney who will ensure that we are: first, doing all we can to make Westchester safer by getting guns out of the hands of violent people, effectively addressing hate crimes, and the opioid epidemic, and creating a Human Trafficking Unit and, second that we are making our justice system more fair through a Conviction Integrity Unit, greater transparency in the administration of the office and ethical standards that keep politics out of the DA's Office.
Please comment on the recent spate of hate crimes against the Jewish community. How do you think law enforcement should act to deter anti-semitism and hate crimes in general?
The rise in crimes motivated by anti-semitism is deeply personal for me. My father and his family fled the Nazis in 1939 and some in his family did not escape. We cannot look at crimes against the Jewish community in isolation. We must do more at every level to address all bigotry and keep our communities safe for everyone. We need to use every tool of the DA's office at our disposal to combat this hate, and I will use prosecution, community partnerships and outreach, educational campaigns, to work to prevent hate crimes, investigate when one occurs, and hold the perpetrators accountable. As DA, I will:
-Allocate more resources to the Hate Crimes Unit so that they can quickly and thoroughly investigate all hate-motivated incidents and hate groups in the area;
-Direct the Westchester Intel Center to categorize hate crimes as an offense for easier sharing of information, intel, and resources immediately with other law enforcement agencies to give them the attention they deserve;
-And partner with schools across the county to educate our youth to ensure our young people are better informed about this issue and our schools have the resources to combat it.
As you know, NYS just imposed new laws regarding cash bail. What's your view on these reforms and how do you think they might affect Westchester?
These reforms were long overdue and will make our criminal justice system more fair. Bail is not supposed to be punitive or coercive – it is a means of making sure people show up for their court date. And there are much cheaper - and less socially destructive - means of doing this than jailing people. Some have argued that bail is a means of keeping dangerous people off the streets, but if someone is a danger to the community, it shouldn't matter how much money they have.
New York's new system is much closer to the federal system which I worked in for 16 years. The new bail reforms may need adjusting, such as finding alternatives to cash bail as conditions for release and making sure that anyone likely to commit a violent crime is not simply released into the community. Criminal justice reform is not a "one and done" construct. We must always look at what works and what doesn't, and the unintended side effects of these practices. My experience in the federal system will be extremely helpful in evaluating the implementation of the reforms and advising the legislature on how to fine tune the reforms.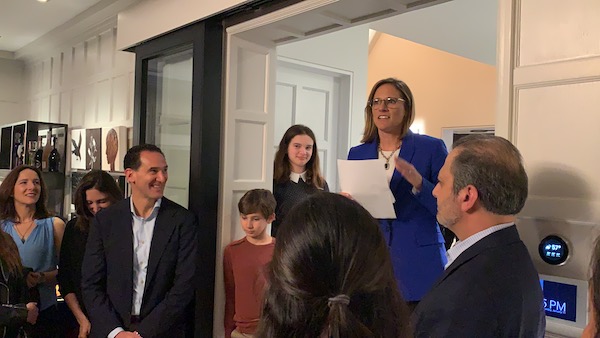 Rocah offers remarks at a recent event.
In your view, how can local policies impact the President's attack on law enforcement on the Federal level? During one of your interviews you said, "the President called our justice system a joke and a laughing stock." I was wondering how actions at the local level could help to restore faith in the system.
Trump and Bill Barr are corrupting our federal government and justice system and using the power of their offices in hurtful ways to some of the most vulnerable people in our communities and governing without any accountability. It is more important than ever that local leaders stand up for and govern with integrity, fight for the rights and protections of all people under the law, and ensure that we administer justice fairly and build trust with the community. Local leaders, including District Attorneys, should use every legal tool possible to hold Trump and others who may be violating the law in his Administration accountable for misconduct and illegal activity that may have occurred in local jurisdictions. New York Attorney Tish James is doing this at the state level. Here in Westchester, for example, there have been allegations surrounding the Trump Golf Course that I believe we should look at.
In an interviews you claimed that there is plenty of organized crime - even in Westchester. A few weeks ago I was surprised to read about the arrest of a member of the Gambino organization who lives in Edgemont. Why is it so difficult to uncover this kind of corruption? How do you propose to be more effective at rooting out organized crime?
I prosecuted members of all of the major organized crime families for many years and was Chief of the Southern District's Organized Crime and Racketeering Unit. In my experience, organized crime is pernicious because it takes over industries like construction or sanitation and makes it difficult for honest people to work without relying on organized crime. We have to partner with other law enforcement agencies that can help us infiltrate these groups and use smart and advanced investigative techniques to root out this kind of corruption.
Rebecca Alexander Shares Inspirational Message About Living with Disabilities
Details

Written by

Wendy MacMillan

Hits: 2520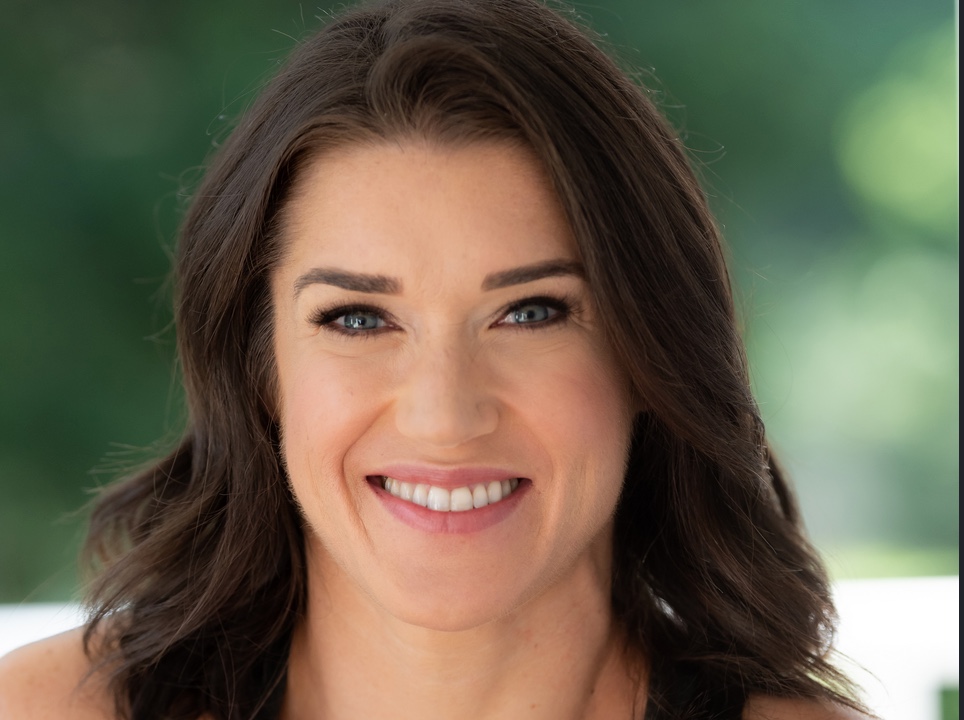 Imagine being 19 years old, away at college, living a healthy, active life-style and waking up one morning with a deafening ringing in your ears that lasted for days. Scared, you make your way to the campus medical center where, after a battery of tests, you are diagnosed with a rare genetic disorder called Usher Syndrome. The doctors explain, at the tender age of 19, as a result of Usher Syndrome, you will have progressive vision and hearing loss and likely be completely deaf and blind by the time you are in your thirties. Terrifying to even think about, right? Well this is exactly what happened to Rebecca Alexander when she was at the University of Michigan some 20 years ago. And while this diagnosis would be enough to make even the strongest of wills want to give up, it instead inspired a sense of determination in Ms. Alexander which helped her accomplish a myriad of incredible goals including earning two master's degrees from Columbia, scaling Mt. Kilimanjaro, and publishing a best-selling book titled, "Not Fade Away".
On the evening of January 14th, Scarsdale PTC/C.H.I.L.D invited Rebecca Alexander to relate her incredible journey and share what helped her to conquer one challenge after the next. When Ms. Alexander first stood at the front of the auditorium with her radiant confidence, sculpted arms, and beautiful smile, it was hard to imagine that this woman had any difference of ability at all. However, Ms. Alexander quickly described that since her diagnosis in college, without her cochlear implants, she is now completely deaf and suffers from severe vision impairment (though at 40, she considers herself lucky to have what she calls "donut" vision instead of the complete blindness doctors said would occur by the time she was 30). Alexander went on to detail how although her diagnosis with Usher Syndrome at 19 was shocking, it wasn't the first time she had struggled with her vision and hearing.
At the age of 12, Ms. Alexander told her parents that she struggled to see the blackboard at school. Subsequently, she was later wrongly diagnosed with Retinitis Pigmentosa, an inherited disorder that also eventually leads to blindness. It was this diagnosis that led Ms. Alexander to learn how to tackle challenges head on. Alexander credits her mother with empowering her by exposing her to as much information about blindness as possible. Alexander described how her mother would take her to conferences about blindness where she learned to interact and feel comfortable in the blind community. And because she still had sight, Alexander was able to help others in the blind community, instilling in her a strong sense of confidence. While everyone is different, Ms. Alexander believes that empowering children whom have "differences" with information about their disability can help them build resiliency.
Also important to note, Ms. Alexander vows that resiliency didn't happen overnight; she didn't suddenly decide to rise to the challenge. In fact it was a long process of overcoming one difficulty at a time. To expound upon this point, Alexander related that while in college, she was so embarrassed by her hearing aids that she tried to go without them during a Homecoming event with friends. As a result she went the entire evening without being able to hear or understand anything that was being said and realized that she was only hurting herself and making things harder for herself in the long run.
In the same vein, Ms. Alexander also said that the first few times she used her cane to help guide her, she was so worried about what other people thought and how they would judge her, that she ended up crying. But after realizing how helpful her cane was and how much confidence it gave her to navigate on her own, she started to work on accepting her circumstances. It was dealing with situations like these, one instance at a time, plus support from her family, that encouraged Ms. Alexander not to let her disabilities define her or decide her trajectory.
While Ms. Alexander expressed her gratitude for her parent's support, she also warned that it is vital for parents (especially parents of children with disabilities) to make sure that they are taking care of themselves. Alexander detailed how difficult it can be for parents to come to terms with a diagnosis of a child and to learn to be a parent to a child with a disability. Parents have a hard time accepting that their expectations for a child with a disability differ from the dreams they had before they realized the child was differently-abled. Additionally, Ms. Alexander reminded us that children are like sponges and will absorb everything. They will easily pick up on your anger, sadness, and anxiety. For these reasons, Alexander encourages parents to get the support they need as well.
After her presentation, Ms. Alexander was joined by representatives (psychologists) from Scarsdale elementary, middle, and high schools and the panel opened up the floor for questions.
One parent asked, "With such potential limitations, how did you get to a place where you can do so much?"
Alexander responded by emphasizing the importance of teaching your child self-advocacy. She believes everyone should be teaching their children and students how to advocate for themselves and their needs. And if you are a differently-abled person, it is important to educate others about your disability so they can better understand the accommodations that would be helpful for you. Alexander also conveyed that being open and honest with people about her needs has been incredibly helpful to her successes. In conjunction, Ms. Alexander stressed the importance of showing gratitude for those who do help. She stated that everyone wants to feel like they matter or they are needed and if you express your gratitude you allow the helper to feel how instrumental they are to you.
Another parent asked, "Where should parents turn for support when their child is newly diagnosed with a disability?"
Kenneth Bonamo, Principal at Scarsdale High School, suggested that a parent's first stop should be at their child's school. Each school is equipped with a team of experts (including psychologists and special education teachers) who are ready and willing to help.
It was also expressed by the panel members that children should be an active part of creating solutions. Children shouldn't just rely on mom and dad to fix everything for them, but rather learn the tools necessary to cope and manage. Also stressed was the idea that parents should lead by example.
Another parent asked, "How can we celebrate kid's differences or help them to feel more "normal"?
Janelle Brown answered that it is often helpful to have children dispute dysfunctional thoughts or as she put it, dispute the "bully in the brain". An easy way to do this with children is by creating a "pro and con" list and to look at the data and to see if what we are telling ourselves is reality or perhaps exaggerated. She also suggested that children can rate problems as a "big deal" or a "little deal". A big deal would indicate someone is hurt or there is a real threat to safety, on the other hand, a small deal would indicate that everyone is safe and the child is bothered by the situation and should therefore react accordingly.
At the high school level, psychologists work to empower their students and remind them that no one is good at everything. Instead they encourage their students to focus on their own strengths. They also teach their students to practice "radical acceptance" where you don't have to like or agree with a situation, but you should try to accept it and figure out ways to deal with it.
Just as important, Ms. Alexander reminded her audience that parents should strive to offer their children love and consistency. She also reiterated that children will take their cues from their parents, so parents need to work on their own reactions and self-awareness. And last, it is important to implement and teach coping skills at home.
To see Rebecca Alexander's full presentation click here where a video of the program will be posted in the next few days. And to learn more about Ms. Alexander's amazing journey, be sure to check out her memoir, "Not Fade Away" or visit her website.
Dermatologist Jennifer Goldwasser Gives The Skinny on Skin
Details

Written by

Joanne Wallenstein

Hits: 2679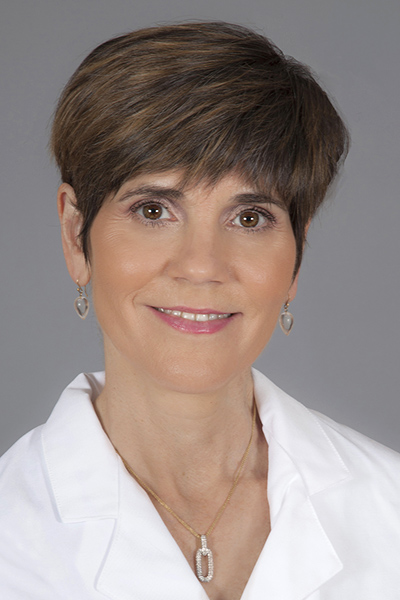 Sought after Dermatologist Dr. Jennifer Goldwasser is back in town. She is now seeing both children and adults at her new offices on Central Park Avenue in Hartsdale. We asked her a few questions about skin, sun exposure, diet, aging and more – and here is what she shared:
Tell us about yourself. where did you train, where do you practice and what are your areas of specialization?
My undergraduate training was in nutrition at Cornell, which is a little unusual for a physician. For medical school I went to Downstate in Brooklyn. I interned at the New York Hospital-Cornell Medical Center and went back to Downstate for my dermatology residency. I have been caring for adults and children with diseases of the skin, hair and nails for the past 25 years in lower Westchester.
What are some of the most common reasons your patients schedule visits?

I commonly treat patients with skin cancer, psoriasis, acne, eczema, rosacea, skin infections, hair loss, and nail disorders.
What skin problems do you see that are preventable if patients are more vigilant?

Skin cancers and pre-cancers are highly preventable since most of them are caused by overexposure to the sun. Smoking also contributes to skin cancer. Lifestyle plays an important role in many skin diseases. Rosacea patients often benefit from alcohol avoidance, and psoriasis patients may see improvements with weight loss, smoking cessation, and alcohol avoidance. Patients with a tendency toward eczema need to be careful to avoid common irritants to the skin, like wool, perfumed and harsh soaps, and excessive sweat.
For teens, are there any new treatments for acne?
There are some new acne treatments! Topical minocycline (Amzeeq) recently became available. some excellent topical retinoids are now available over the counter. Neutrogena is offering a red and blue light acne mask, which can be helpful. More and more information is available about diet and acne--probiotics can even play a role in acne treatment.
On the other end of the spectrum, what can you do to help patients with age spots?
There are many different types of "age spots": Sun spots (lentigines), liver spots (seborrheic keratoses), skin tags and red spots called cherry angiomata are all different forms of age spots. These can generally be destroyed easily by freezing them, burning them, or cutting them off.
What are the most frequent signs of sun damage that you see? Has this gotten more prevalent in the years that you have practiced?
Sun damage manifests in many different ways. Some people develop wrinkles, some people have alterations in skin pigmentation or "mottling", and some people notice that their skin is thinner and more fragile. Suntanning gained in popularity in the 1950's, so many baby boomers are especially likely to have been overexposed to the sun in their youth. Tanning parlors proliferated in the 80's and 90's, and that took a toll, too. By the time i started my dermatology practice in 1994, we were already starting to see the effects of these practices. Fortunately smoking is much less common now, and that has helped somewhat.
What's your view on Botox and other cosmetic skin treatments?
I'm not a cosmetic dermatologist, but injectable anti-aging treatments like Botox and fillers are popular. I tend to encourage a healthy lifestyle over these interventions. Eating a healthful diet, good sleep hygiene, regular exercise, avoiding sun/tobacco/alcohol, and maintaining a healthy body weight are the best bets for maintaining a youthful appearance, and good health, in my book.
How can you help patients who are experiencing hair loss?
Hair loss can occur for many reasons, but the most common type of hair loss that i see is androgenetic alopecia. This is an inherited type of gradual hair thinning. Most people recognize this type of hair loss in men because the pattern is so characteristic, but in women, the process is more subtle, starts a little later in life, and can pick up speed at menopause. Fortunately, there are many approaches to this problem: topical medications, light treatments, camouflage techniques, and hair transplants, to name a few. It's important to take a complete history, do a thorough exam and appropriate lab work, and discuss all the available options, because hair loss is an emotionally fraught diagnosis, especially in women and young men.
How does diet affect your skin?
Since my background and interest are in nutrition, I have so much to say on this topic, I don't think I could begin to address all the answers to that question in a column. Suffice it to say that I advocate a whole foods/plant-based diet. I like the simple way Michael Pollan puts it: "Eat real food (not too much), mostly plants". I spend a great deal of time interviewing acne and rosacea patients about dietary habits. Often these conditions are more of a "subtraction problem" than they are an "addition problem". Sometimes, what we need to address is what to eliminate or reduce, rather than what prescription to write. I counsel my acne patients to avoid cow's milk, whey protein, and foods with a high glycemic index like white starches, sugary drinks, and sweets. I ask all my rosacea patients to consider eliminating or reducing alcohol, especially red wine.
Have you ever seen skin conditions that you are unable to diagnose? Do you ever get stumped?
Of course I've seen skin conditions that have stumped me, but there are many ways to approach a diagnostic challenge. I believe in the power of slow medicine: taking the time to elicit a complete history and to expose and examine the patient completely can go a long way to solving mysteries. It can also be helpful to know your patients over time--continuity of care is a powerful tool!
I can think of an example: I saw a young man who happened to be an identical twin. Neither twin had experienced significant acne during the teenage years, but this young man suddenly developed severe cystic acne in his twenties. I couldn't imagine why this was happening out of the blue, but i suspected there must be some outside force at work. Sure enough, when I delved, it turned out the patient had been given an IV agent for an imaging study, and that triggered his terrible acne flare. If I didn't know him and his identical twin brother over the years, or if I didn't dig deeply into his recent history, I might never have figured out the cause of his issue.
Fortunately, skin is accessible to biopsy easily, and I work with some incredible dermatopathologists who can offer invaluable assistance. Finally, there is no shame in enlisting the help of other clinicians--sometimes it takes a village! Electronic medical records make it a bit easier to share information with other physicians, which can really create some synergy in difficult cases, and I try to leverage that. Of course, it also helps to have a solid relationship with the patient--physician-patient "teamwork" can make all the difference in tough cases.
Schedule your appointment with Dr. Jennifer Goldwasser at 210 N. Central Avenue, Suite 320 in Hartsdale by calling 914-422-3376 and learn more at her website at Goldwasserderm.com.
Why Practicing Acts of Kindness Improves Your Own Well-Being
Details

Written by

Wendy MacMillan

Hits: 1730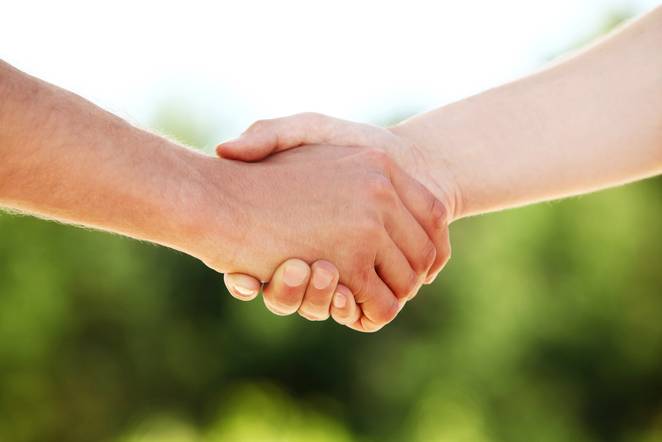 Happy New Year! It's that time of year again when we shed our regrets from the year past and resolve to start the new year in the best way possible. Maybe you have resolved to work on wellness, to exercise more or to practice mindfulness on a daily basis. Or perhaps you made a resolution to buckle down and be more productive at work and to move towards professional success. Or still yet, maybe you resolved to make improvements in your community through acts like volunteering. But what if there were a resolution you could make that would impact all of these areas at once? A practice, only taking a few minutes each day, that would improve your wellbeing, make you more successful in your work endeavors, and positively impact society? Think it sounds too good to be true? Well according to Cedars Sinai, practicing daily acts of kindness can achieve just that.
In their blog, the staff at Cedars Sinai outline how scientific research has proven that practicing acts of kindness releases chemicals in the brain such as oxytocin, sometimes called the "love hormone", which is responsible for "making us more trusting, more generous, and friendlier, while also lowering our blood pressure." In addition to oxytocin, practicing kindness causes the brain to release dopamine and serotonin, neurotransmitters also released during exercise. Dopamine when released while we exercise is responsible for what some people call a "runner's high" but when released while practicing acts of kindness it is instead called a "helper's high". Additionally, serotonin helps to regulate your mood, appetite, and sleep cycles, staving off depression and anxiety and improving an overall sense of well-being. Even more, Dr. IsHak of Cedar Sinai, says that engaging in acts of kindness is "believed to increase levels of an endorphin-like chemical in the body called substance P, which can relieve pain.
Sounds pretty good so far right?! But wait, there's more! Author and psychologist Shawn Achor argues that the happiness we gain from practicing random acts of kindness, can inspire us to be more productive, intelligent, resilient, and creative. Moreover, Achor maintains that practicing kindness is one tool we can implement to rewire our brains to be more positive and in turn, happy. In his Ted talk, Achor explains that we tend to believe that once we achieve success we'll find happiness, when in fact, it is the opposite. Through his scientific research, Achor has proven that the more happy and positive we are, the more we are likely (through our increased productivity etc.) to find success. You can see Achor's Ted Talk here:

So go ahead and send a nice email to a colleague, hold the door for the person behind you, let someone in while in traffic, or greet your neighbors on your morning walk...maybe this year we should all resolve to improve our health, find success, and to make the world a better place, one small act of kindness at a time.
"Kindness in words creates confidence. Kindness in thinking creates profoundness. Kindness in giving creates love."
Lao Tzu