Duncan Wilson Appointed Assistant Superintendent for Curriculum and Instruction at Ardsley
Details

Written by

Joanne Wallenstein

Hits: 2956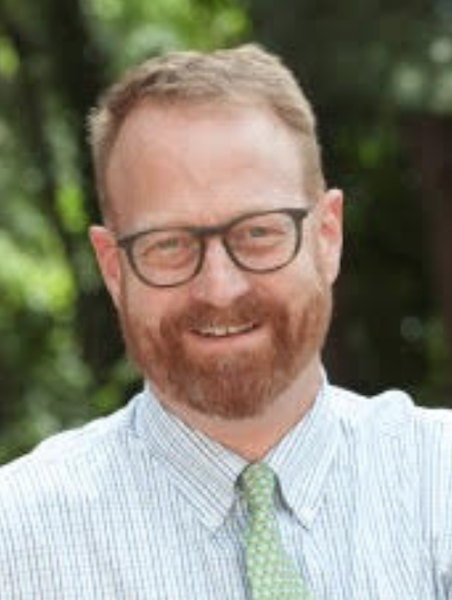 Duncan Wilson, longtime principal of Fox Meadow Elementary School who left just a year ago to go to Briarcliff, has now accepted a new position in Ardsley. A year ago, Wilson left Scarsdale to be the position of Director of Instruction and Human Resources at Briarcliff Manor. Now, Wilson has just accepted a new position as Assistant Superintendent of Ardsley School District. Here is the official release from Ardsley:
The Ardsley Board of Education has appointed Dr. Duncan Wilson, Assistant Superintendent for Curriculum and Instruction, effective July 1, 2019. Dr. Wilson will replace Layne Hudes who is retiring at the end of this school year.
Dr. Wilson comes to the district from the Briarcliff School District where he is currently the Director of Instruction and Human Resources. Wilson began his career teaching Social Studies and English in both independent and public schools. He moved into administration joining the Scarsdale School District in 2003 where he served as the Assistant Principal in the middle school and then Principal in the Fox Meadow Elementary School.
"I am very excited that Duncan will be joining our leadership team. His proven knowledge of curriculum and instruction, along with his commitment to educating the whole child, make him an ideal candidate for this position," said Dr. Ryan Schoenfeld, Superintendent of Ardsley Schools. "He has had a positive impact on the students and the faculty he has worked with throughout his career and I am confident that he will do the same for our district."
"I am looking forward to joining the administration at Ardsley and am grateful for the opportunity to serve in a district that clearly values its students and has a strong partnership between students, parents and teachers," said Wilson. "After meeting with administrators, faculty, and staff, and sensing the collaborative open culture, I knew this was a district I wanted to be a part of and I am thrilled to join the team."
Mr. Wilson received his undergraduate degree from Harvard University, his graduate degree from New York University and his doctorate from the Teacher's College. He resides in Scarsdale with his wife and son.
Festive and Fun Mexican Fare At Cantina Taco & Tequila Bar
Details

Written by

Judie Dweck

Hits: 3386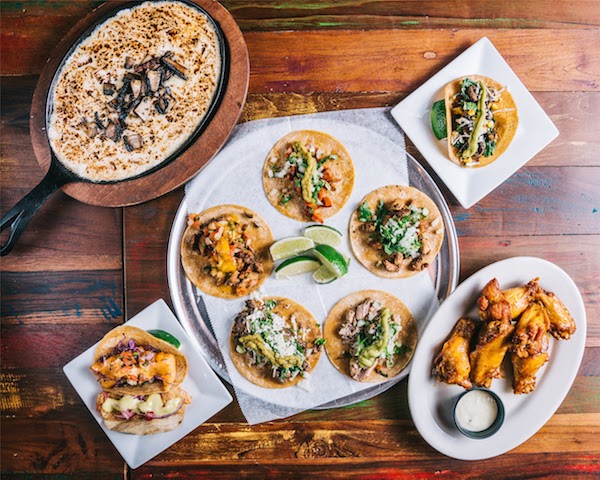 For a long time, it was new Italian restaurants that seemed to be lining our streets. Most recently, Mexican restaurants, both classic and contemporary seem to be making their mark in Westchester. Mamaroneck Avenue in White Plains just north of Post Road is filled with many popular restaurants and bars. Very new to the avenue is Cantina Taco & Tequila, a casual spot to enjoy tacos, empanadas and much more. With its friendly atmosphere, hospitality and good food and drink are its goals.
As you enter, a large bar seating about 20 is to your right. It has three t.v. screens, several high topped tables and is a comfortable spot at which to socialize. To the left are tables. The room seats about 84 guests and eventually the upstairs level will accommodate private parties of 25 to 30 guests.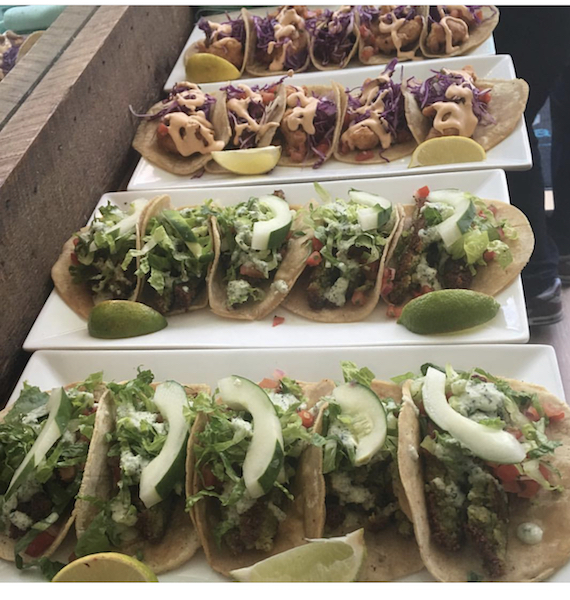 Cantina is owned by John Solo and Stefanos Katsikoumbas, who were childhood friends. Their families owned Greek diners and coffee shops and the boys helped in the family businesses at a very young age. Upon chatting with John Solo, I learned that he studied business in college and entered the corporate world. Eventually he realized that the restaurant business was the area he wanted to pursue. With restaurants in Astoria and Harlem, Solo and Katsikoumbas decided to open in Westchester, and when the space became available, Cantina Taqueria became a reality. The partners were familiar with the White Plains area and thought that this bustling area would be ideal for their restaurant concept.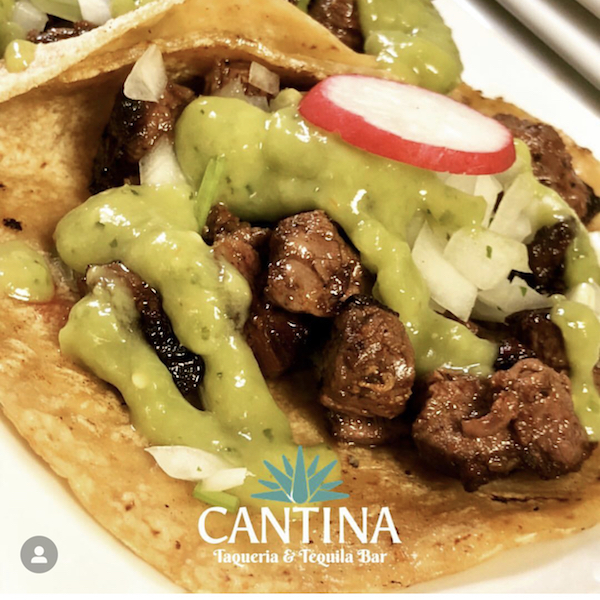 Solo, in addition to being a restauranteur, is an actor, as well said, "I learned hospitality while working at the family diners. Our goal is to have our Cantina simple and approachable, where everyone feels comfortable. A person in a suit as well as a guest in shorts will each feel welcome at our new spot. "When he thinks of whom he would like to serve at Cantina, he said." Of course some respected restauranteurs, but most of all , my two young children." If Solo was a guest at Cantina he would probably enjoy a coconut margarita and assorted tacos, and most of all good company. "We take great pride in our food and drinks as well as our friendly hospitality."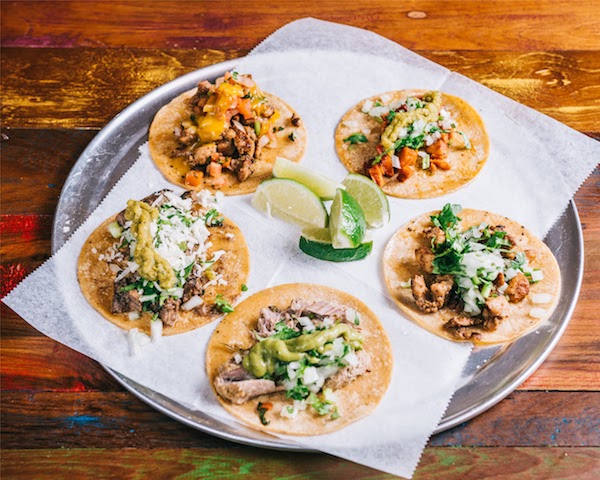 Heading the kitchen is Chef Martin Granados. He hails from Mexico where he received his culinary training. His dishes are based on the classics to which he has added a delightful contemporary touch. Our tasting started with a selection of varied tacos. These tortillas are piled high with toppings and are served flat, for the guest to customize with additional seasoning and fold up. Our feast was about to begin. There were pork tacos. Chopped onions, lots of fresh cilantro and a puree of avocado added a nice combination of flavors to the chunks of tender pork, all waiting to be wrapped around a corn tortilla. Beer battered fish tacos were excellent. The crisp battered catfish filet was topped with shredded red cabbage, and Cantina's house made chipotle mayo. While most of the tacos here start with a nice quality corn tortilla, the rock shrimp taco thrives on a flour tortilla. Pickled shredded red onion and an avocado sauce add flavor to this choice. A Jamaican style taco filled with mango jerk chicken was well flavored. Here, marinated cubes of chicken, pico de gallo and chunks of mango combine for a sweet and savory result. Future selections might include classic chicken tacos, chorizo with tomatillo sauce, Tijuana steak or vejetale with Portobello mushrooms, corn, spinach, queso fresco and avocado sauce. On many a street corner in Mexico, the aroma of grilled street corn entices you. At Cantina, a wonderful rendition of this treat awaits. Here, the fresh corn is charred and removed from the cob for easy eating. Topped with cotija cheese, sour cream and a generous sprinkling of cayenne pepper, this appetizer will perk up your taste buds in preparation for the many interesting dishes to come. We loved the sweet plantains as an appetizer. Here the thick banana segments were sautéed and topped with house made sour cream and cotija cheese. Plump empanadas can be enjoyed here when filled with pork, chicken or spinach and goat cheese. A nice shared appetizer is queso fondido, a baked Oaxaca cheese with tortillas and tomatillo sauce. It is tasty with the addition of mushrooms or chorizo. Cantina nachos are enjoyed by many guests, as well, with guacamole, sour cream, pico di gallo and shredded cheese. Very popular are the bowls filled with Mexican flavored rice, onions, peppers, black beans, avocado and fresh corn with choices of chili lime chicken, pork, shrimp, steak or spinach.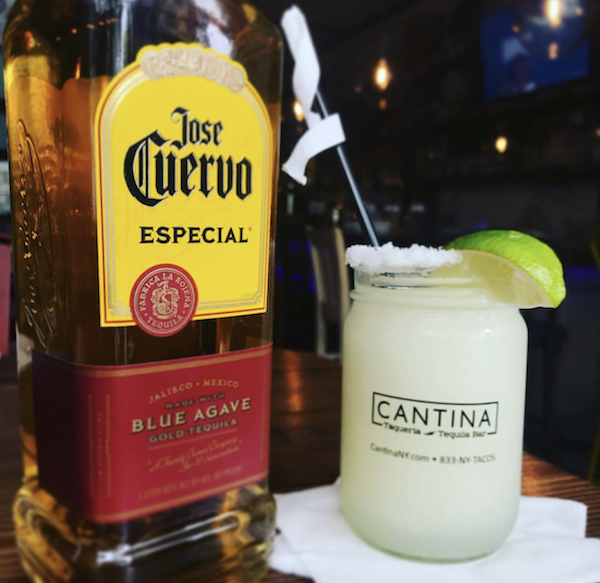 If you haven't satisfied yourself with tacos, appetizers or bowls, sample some of the entrees. We enjoyed the garlic shrimp with just enough garlic, without being too pungent. The tail on shrimp surrounded a mound of Mexican style rice in a mellow garlic enhanced sauce. Waiting to be sampled are chicken mole, carnitas and steak fajitas. Salads are popular here, as well. When enhanced by chicken, steak or shrimp, they become a complete meal. The southwestern salad with a honey mustard dressing mixes arugula, cotija cheese, corn, avocado tomato and strips of tortilla chips . The popular 7 th Avenue salad boasts spinach, strawberries, avocado, fried goat cheese and almonds with a tangy tamarind vinaigrette.
For those who must end the meal with something sweet, try the homemade churros with Nutella or flan. I especially enjoyed the tres leches cake, prepared by Chef Granados. Topped with freshly whipped cream and a sprig of fresh mint, it was the perfect dessert.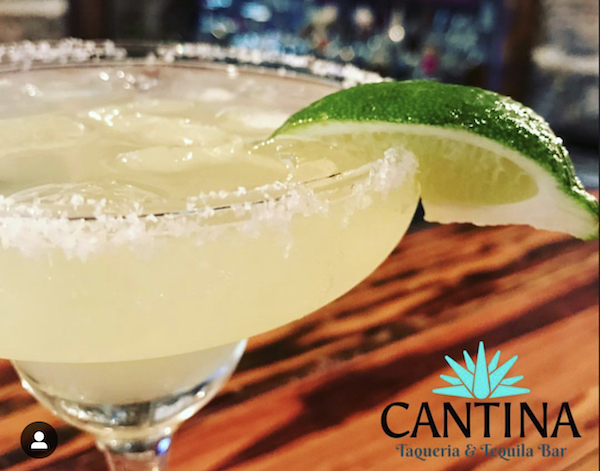 Mondays through Fridays between 3 pm and 7 pm, Cantina hosts a happy hour where tacos in several varieties, empanadas, a variety of margaritas, frozen rum punch, mojitos, wines and beers are a perfect change of pace after a day at work. Many cocktails, margaritas, sangria beers and wines are offered at dinner, as well.
Enjoy the friendly hospitality and tasty Mexican treats at the newly opened Cantina Taco & Tequila Bar in White Plains
Cantina
Taco & Tequila Bar
166 Mamaroneck Avenue
White Plains, NY
914-461-3959
cantinany.com

Steve Rambone Says Goodbye to a Job He Loves
Details

Written by

Joanne Wallenstein

Hits: 2196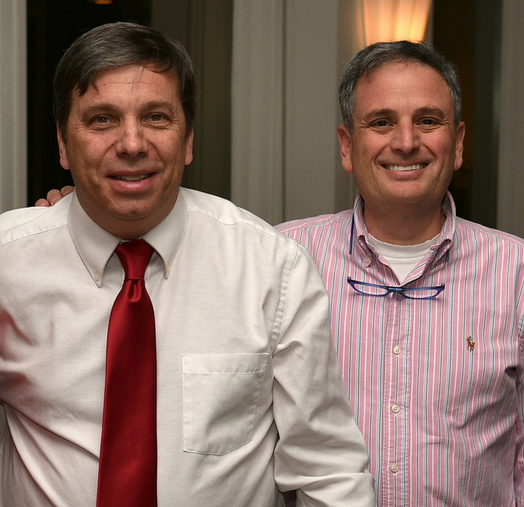 Steve Rambone and David RaizenSS Scarsdale Middle School Technology Teacher and SO Advisor Steve Rambone is retiring after 30 years on the staff of the school. A memorable teacher with a wonderful sense of humor, Steve is fondly remembered by generations of Scarsdale students. We asked him a few questions about his years in the 'Dale and here is what he shared.
We understand you grew up in Scarsdale – what are some of your best memories of being a boy here?
It seemed like a simpler time, I grew up on Barry Road in Edgewood and my friends and I would ride our bikes everywhere, the Village, our friends houses and the north end of Eastchester, as long as we were back home by 6pm. We would play hours of baseball at Edgewood field. Our parents had no idea where we were. And no cell phones!
Over the years you have lived and worked here, much has changed and much has remained the same. Please comment.
There are so many nice families living in Scarsdale, I don't think that has changed at all. As far as changes, the real estate has changed, squeezing homes everywhere and all the teardowns going on.
What courses did you teach during your 30 years at the school? What clubs/organizations did you manage?
I started teaching Industrial Arts my first year of teaching in Scarsdale in 1985. That changed around 1990 to Technology Education which is more computer based. I have been the faculty advisor to the Student Organization (the S.O.) for 28 years and have coached the school Volleyball team in the fall and softball in the spring.
What was one of the most unusual things that students built or designed in your class?
I had senior options students for many years and we built an amazing gas powered go-cart.
How has the curriculum of your class changed as technology has evolved? What units have been eliminated/added?
It started out basically a woodworking class but it has changed although we still do a small woodworking project we now do 3D printing which was unheard of 10 years ago.
What are some funny things that stand out in your tenure at SMS?
I remember when computers were introduced into the classrooms, the first were the Apple 2E. All staff members had to go through training to operate a printer. Now, I can't imagine anyone going through training to push "print".
Have there been many accidents? Lost fingers? Do tell!
A few scrapes and cuts but I have been proud of my excellent safety record.

What are some of the more challenging aspects of teaching in schools today?
The issue of cell phones in school and in the classroom. It is getting worse every year and some students (and parents) are addicted to their phones. God forbid they go without looking at the phone for a little while.
What will you miss after your retirement and what are you happy to leave behind?
The students and my fellow staff members have been great. I will miss them all.
What advice would you give a graduating senior this year?
To enter and continue a career that you will enjoy, I have loved every moment of my 34 years teaching in Scarsdale. I have no regrets, I am glad I picked a field I loved.
Let Your Body Feel the Heat! "On Your Feet" Brings Cuban Sizzle to Westchester Broadway Theater
Details

Written by

Barbara Solomon Josselsohn

Hits: 1878
Maria Bilbao (as Gloria Estefan) performing "Coming Out of the Dark."One of many musical biopics to hit the Broadway stage in recent years, "On Your Feet" tells the story of singer-songwriters Gloria and Emilio Estefan, the husband-and-wife team whose Cuban-fusion sound made them international superstars. Both Cuban immigrants, the two met in Miami when Emilio's early musical group, the Miami Latin Boys, went searching for a female voice to come on board. While love and talent are major factors in the long-lasting success of their marriage and careers, immigration and prejudice are major themes in their lives as well. The two had to battle attempts to pigeonhole their music, and to convince powerful music executives that their sound would appeal to an English-speaking audience. Theirs is a story of perseverance against bigotry – and in this way, feels even more relevant today than it did when it opened on Broadway in 2015.

It's a story that makes good theater, so it's no wonder that "On your Feet" won high acclaim on Broadway, and that WBT has chosen to revive this summer. The musical started on its Broadway journey in 2012, when the Estefans, who'd been approached a few times about dramatizing their story, decided to team up with the Nederlander organization. A condition of the deal was that the husband-and-wife duo would retain creative control over the show – and they bravely chose to include personal and painful moments from their lives. As the story unfolds on stage, we learn about Gloria's mother, who initially tried to dissuade her from going into the music business; her spunky grandmother, who supported her singing 100 percent; and her father, a Vietnam veteran who suffered greatly from multiple sclerosis. The musical also depicts the horrific highway accident that nearly cost Gloria her life, as well as her long, difficult recovery and ultimate return to the stage.

What's evident throughout this couple's story is the transcendent power of music – and music most definitely takes center stage in WBT's current production. As Gloria, Maria Bilbao has a strong and extremely appealing voice, whether she's singing ballads like "Anything for You" or spirited dance numbers such as "Conga," "1,2,3" and "Get on Your Feet." Jose Luaces is winningly fiery as Emilio. The secondary actors – notably Byron St. Cyr as Gloria's father, Karmine Alers as her mother, and Sandy Rosenberg as her grandmother – also deliver strong acting and singing performances, And the sheer energy and stamina of the ensemble as they glide, leap, and twirl from number to number will leave you breathless. The production's rendition of "Coming out of the Dark," which Gloria sang at the American Music Awards after recovering from her accident, is a celebration for both the characters and the audience.

"On Your Feet" was a hit on Broadway, winning seven Outer Critics Circle Award nominations, three Drama League Award nominations, and a Tony Award nomination for Best Choreography. It's a tribute to the enduring appeal of the Estefans and their music that WBT has brought this joyous show to its stage this summer

"On Your Feet" runs through August 4th. WBT is located at One Broadway Plaza in Elmsford. For ticket information, call 914-592-2222 or visit www.BroadwayTheater.com.
Seniors Celebrate the Completion of their EMT Course at SVAC
Details

Written by

Jamie Robelen

Hits: 2278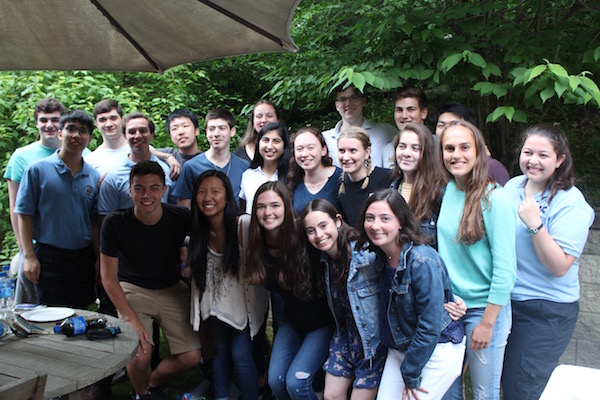 Did you ever wanted to become an EMT? If you're about to be a senior at Scarsdale High School, it might be easier than you think. This year, the Scarsdale Volunteer Ambulance Corps once again offered its EMT training course during senior options. Any senior who met the age requirements for the program was given the opportunity to spend six weeks completing their EMT certification, a course which otherwise might take anywhere from six months to two years to complete.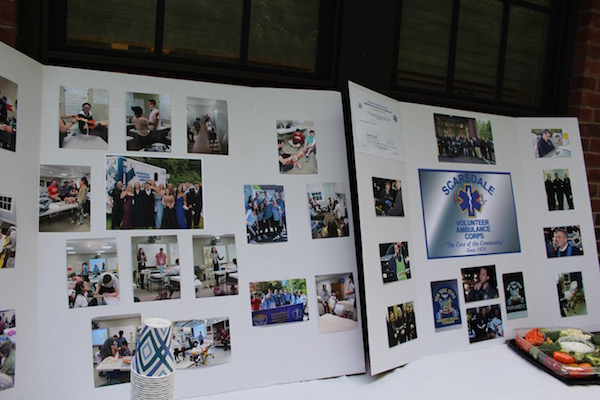 On Wednesday, June 12, all of the "graduates" and their families were invited to the SVAC building on Weaver Street to celebrate their accomplishments. 19 Scarsdale students were there, along with 2 other students from outside the district. Everyone got to socialize and reflect on the progress made over the past month and a half. Posted on the patio were pictures of different moments along the journey. SVAC President David Raizen and committed volunteer and retiring SMS teacher Steve Rambone were there, grilling hot dogs and hamburgers for everyone.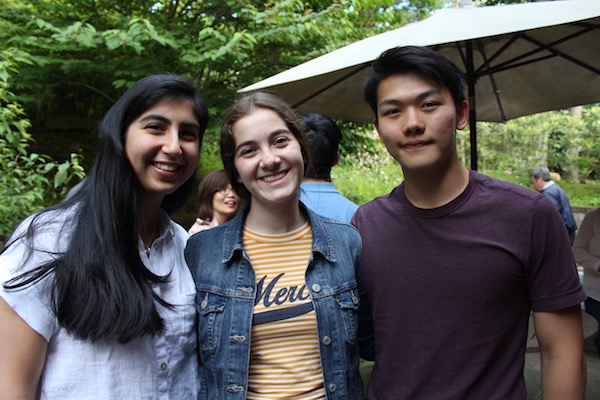 When asked about the program, the seniors had nothing but good things to say. Overwhelmingly, they said that the best part was going on calls. "Class is kind of just learning… ride-along is where you apply the skills," explained Alexa Widlitz. While most of the seniors had finished their ride-along hours, many still participated for fun. Senior Austin Tang commented that the best part was learning the life skills that they wouldn't otherwise learn, and being able to use those skills to give back. Austin also remembered that he'd known he wanted to do the EMT program ever since seeing the posters around the school as a junior. Adina Mistry added, "We all got to work off of each other." It was clear that the sense of community between the students, not all of whom had been friends before the program, was a big highlight of the program. Caroline Goldstein remarked that "yes, the program was a lot of work, but worth it". The skills she's learned have come in use already. "Just knowing you can say, 'Hey, I know how to save someone's life'... It's a crazy feeling," said Will Solie.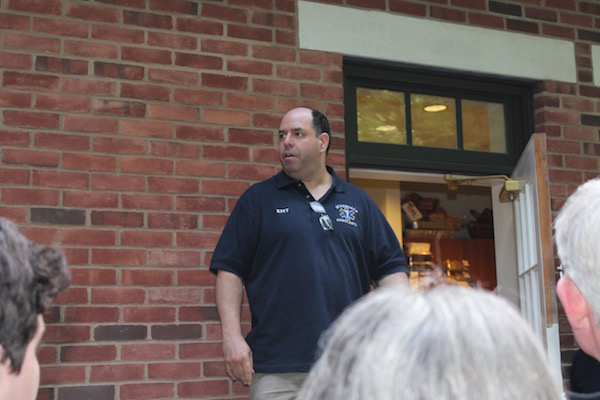 Before the festivities wrapped up, Jim Gross, who helped run the program, got up to give a little speech. He admitted that he was nervous, having so many seniors participating in such a challenging program. However, the group blew him away. "Every day," he said, "you guys came in, you were prepared, you were on top of the game." He recognized the seniors for their dedication and skill, especially on the practical exam the Friday before. He reminded everyone how important these skills are. While he knows some of them will use the certification and some won't, he believes the skills will last forever. "Every time somebody has a problem, you're going to be the voice of reason," he told them. Afterwards, the seniors called Caroline Osborn, another woman who helped to run the program, who was in Texas at the time so she was unable to attend.
Last to speak was David Raizen, President of SVAC. He reminded everyone that SVAC is self-supporting, and does not receive money from taxpayers. He asked everyone to spread information about SVAC around town, since that's the only way they can survive.
The celebration was well deserved by all of the seniors completing the program and everyone who helped them achieve it. It was truly a unique experience that none of the students will forget.
Support the vital work of the Scarsdale Volunteer Ambulance Corp by clicking here to make a donation.
Seniors pictured at top of article: (top row) Michael Romano, John Ceske, Bob Zhang, Emma Cahaly, Will Solie, Michael DiSanto, Austin Tang (middle row) Derek Chi, Michael Marom, Jack Rubbins, Adina Mistry, Kelly Rutherford, Sydney Mone, Caroline Goldstein, Allison Stafford, Ariel Feldberg (bottom row) Peter Godshall, Grace Vericker, Alexa Widlitz, Emily Lattman, Danielle Lemisch