Sidewalk Sale Draws Residents to the Village for Fashion, Food and Fun
Details

Written by

Jack Margolin

Category: The Goods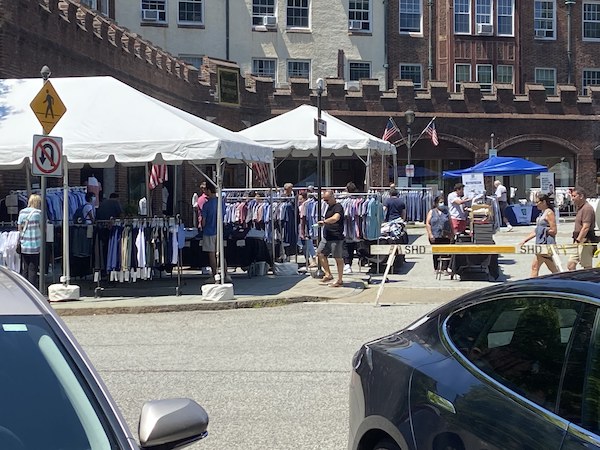 Hundreds gathered in and around Scarsdale Village from Wednesday July 28 to Saturday July 31 to celebrate an effort to slowly return to normalcy, shop, and enjoy the beautiful weather.
The annual sidewalk sale kicked off on Wednesday, July 28th from 10 am to 6 pm as the 4 days of shopping began. Right as the sale ended for the day, Orangetheory Fitness hosted a free, 45-minute class led by a professional coach. The class included cardio and bodyweight exercises.
On Thursday, July 29th the Sidewalk Sale continued for the same 10 am-6 pm timeslot. In addition, a 45 minute Pilates class was held in Chase Park, hosted by Club Pilates.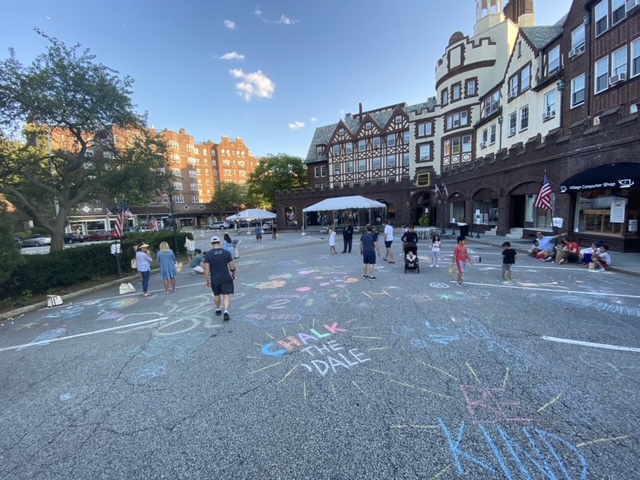 Chalk the Dale
On Friday, July 30th, day 3 of the Sidewalk Sale rolled on as scheduled. At the end of the day, children and parents of all ages assembled in the village to participate in the popular "Chalk the Dale" activity from 6-8 pm, produced by Scarsdale Youth Business and Advocacy Group. The event is designed to be a fun way for kids of any age to get creative decorating the village in whichever way they'd like, while also raising funds for Feeding Westchester. Each family gave $10 to help the cause.
"We thought it would be really fun for the girls, and we loved the idea that the money was going to Feeding Westchester," said Danielle Feldman. Everyone was able to chalk in their own areas. "It's pretty safe and spread out, so I feel good," said Stefan Feldman.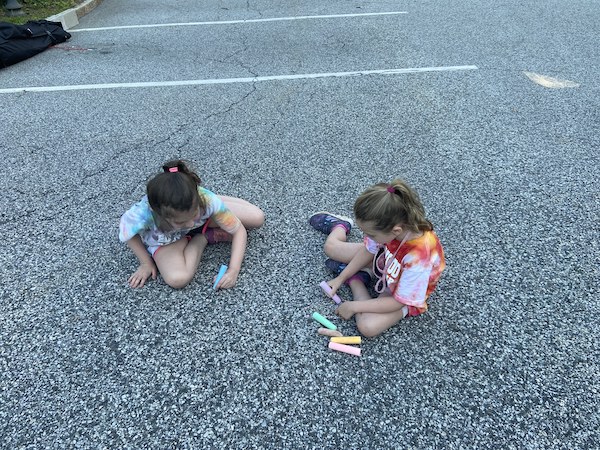 Anna Feldstein, head of Scarsdale Youth Business and Advocacy said, "Chalk the 'Dale was such a success!! Over 100 people came, and I think families really enjoyed it! We raised $350 which will defray the cost of supplies for SYBA Feeding Westchester food drives!"
At the same time, the "guess the scent" event hosted by Scentfluence took place. Kids and their parents were invited to the Scentfluence Aroma Design Studio to guess scents for prizes, followed by a raffle drawing. Furthermore, everyone helped to make an "original scent of Scarsdale."
The Westchester Burger food truck was available in the Dine the Dale tent from 5-8 pm, which gave families an easy way to grab a quick meal and then enjoy whichever activity suited them best.
On Saturday, July 31st, festivities continued in the village, with live music played from 12-4 pm to accompany the final day of the Sidewalk Sale that would continue from its same time of 10 am-6 pm. From 12-1, the White Plains School of Rock took the stage to entertain the crowd, followed by Where is Phi from 1-2:30, and then the Sidewalk Sale All-Stars closed out the music portion of the day until 4 pm.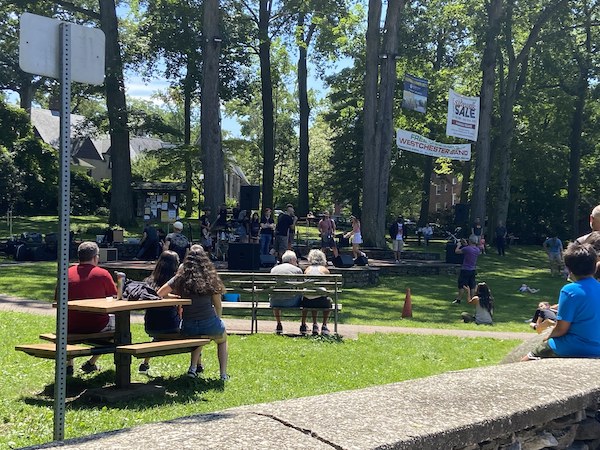 Music in Chase Park"The live music was a nice touch to finish out the sale," said Bonnie Loeser. "I really enjoyed it," she added.
"Moving from [New York City], it's cool to see events in Scarsdale to bring the community together," said Robert Horn, who witnessed the Sidewalk Sale for the first time.
Scarsdale Business Alliance Board Member Amy Nadasdi said, ""This year's sidewalk sale was a huge success. Instead of the typical 3-day event, we extended the sale to 4 days in order to accommodate all the special events that we were hosting. Fortunately, the mostly gorgeous weather allowed for us to hold all our outdoor events. The live music in Chase Park from three of our local bands attracted an especially large crowd on Saturday, adding to a great vibe and a huge sense of community. And on Friday evening, the village was hopping with our youngest residents participating in the popular Chalk the 'Dale event. Each morning, special events under the tent and in the park highlighted Scarsdale merchants, including Orange Theory, Club Pilates and Scentfluence. With opportunities to gather and eat under the Dine the 'Dale tent, participate in the various activities each day, and to take advantage of exciting sales, people had more reason than ever to come out and enjoy our village and support our merchants."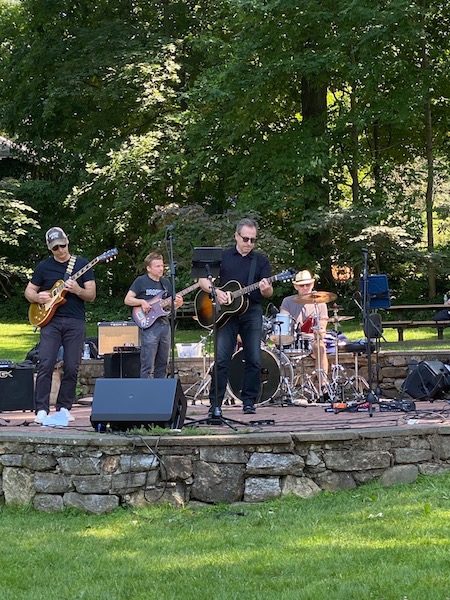 Sidewalk Sale All Stars Playing on Saturday July 31 in Chase Park
With options for all interests, this was a very successful week of events. The weather cooperated and everyone was able to enjoy a great deal of shopping, live music, and good food.

(Photos by Jack Margolin and Anna Feldstein)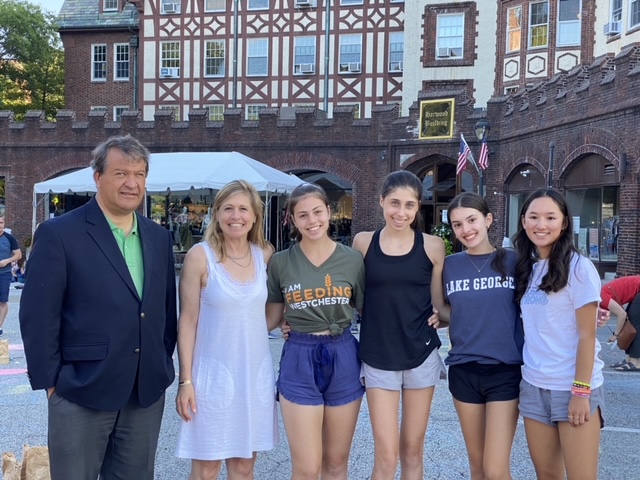 The Scarsdale Youth Business and Advocacy Group with the Westchester County Executive and the Mayor. Pictured here: George Latimer, Jane Veron, Anna Feldstein, Campbell Alin, Julia Kent and Katie Han.

SBA Announces Four Days of Events at the Scarsdale Sidewalk Sale 7/28 to 7/31
Details

Written by

Joanne Wallenstein

Category: The Goods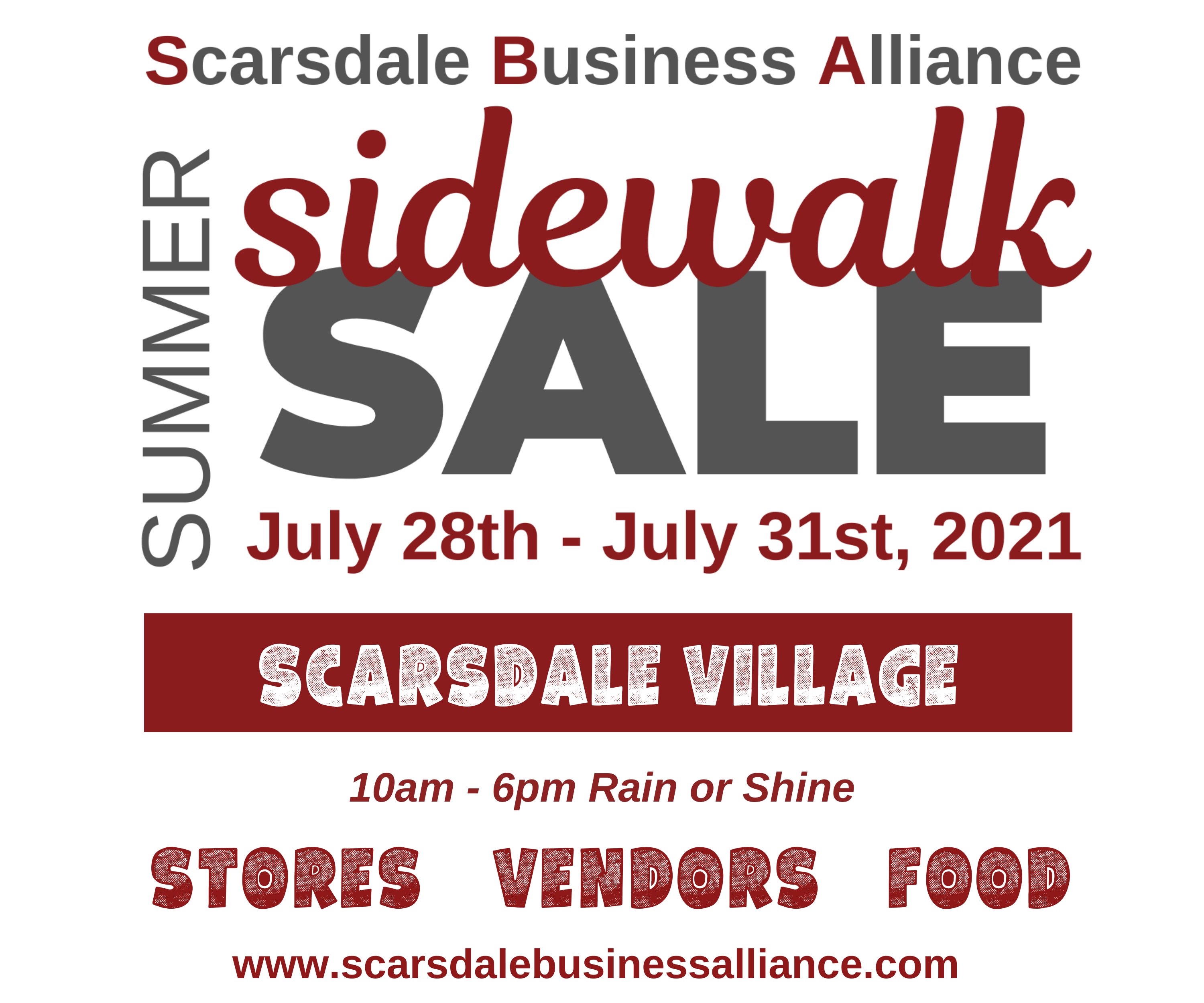 The Scarsdale Business Alliance (SBA) is on through Saturday July 31, 2021 with lots of great merchandise, events, music and more. Visit Scarsdale Village Thursday, Friday and Saturday from 10am-6pm, rain or shine. In addition to offerings from Village retailers, find tents from local businesses in Boniface Circle. On Friday night from 6-8, kids can chalk Village streets and on Saturday hear three local bands in Chase Park.
This year's sidewalk sale includes a variety of events throughout the four days. "The SBA is thrilled to be able to provide opportunities for the Scarsdale community to come out, socialize and celebrate in a safe and happy environment," from Marcy Berman-Goldstein, Co-President of the SBA. "We know that when our village residents come out in large numbers, our business community thrives. All residents should participate in these events in order to support our village and help make our downtown thrive!"
Visit the Village center during the event to take advantage of the fabulous sales and discounted deals from your favorite stores and outside vendors. In between all the shopping, be sure to stop by the Dine the 'Dale tent to order table service, delivery and carry-out from over two dozen Scarsdale restaurants. Enjoy music from venerated local bands while you shop and participate in creative and healthy activities throughout the week. See the full activity schedule below.
Parking: There is 8 hour pay-as-you-go Pango parking available daily in the Christie Place commuter garage (64 East Parkway), with free parking on the weekends for Village consumers.
Here is the schedule of events: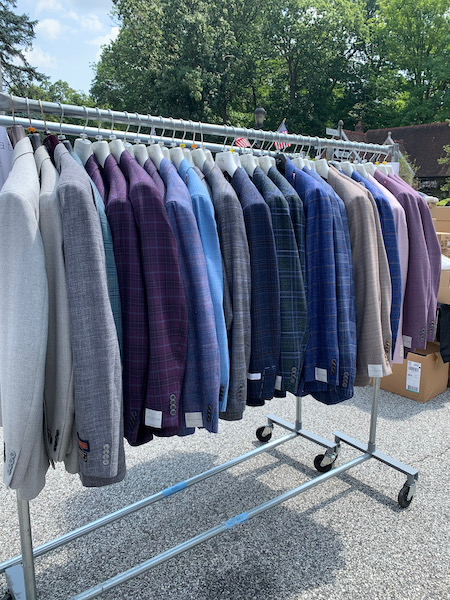 Thursday, July 29th
Sidewalk Sale 10am - 6pm
Club Pilates in Chase Park 10am
Club Pilates is a boutique reformer-based Pilates studio, offering group classes and semi-private and private sessions. Pure to Joseph Pilates' original Reformer-based Contrology Method, but modernized with group practice and expanded state-of-the-art equipment, Club Pilates offers high-quality, life-changing training at a surprisingly affordable price.
Sign up for our free 45-minute mat Pilates class at Chase Park by calling 914-449-4411 or online here.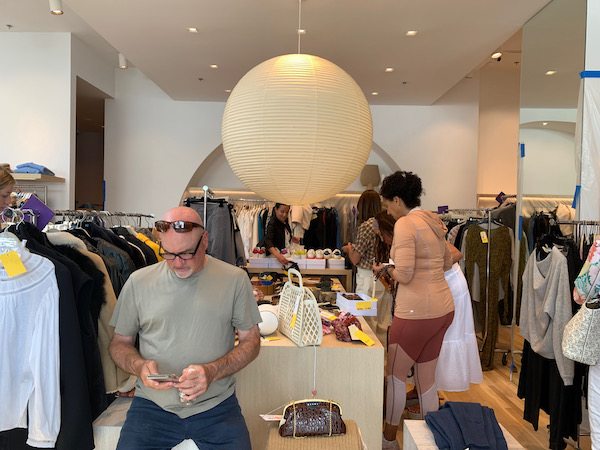 Friday, July 30th
Sidewalk Sale 10am - 6pm
Westchester Burger Food Truck 5pm - 8pm at the Dine the Dale Tent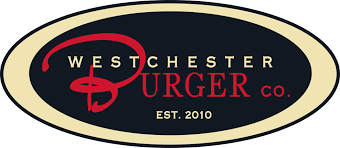 Both a brick-and-mortar restaurant and a food truck, Westchester Burger Co. offers burgers galore and all your favorite American classics. Their extensive menu features award winning brussels sprouts, handmade spring rolls, fish tacos, and more - including sangria, wine and beer. (Which must be consumed in the Dine the 'Dale tent). Their signature WBC Burger has been named in Westchester Magazine's best of Westchester and was voted the magazine's choice for the best burger in Hudson Valley. Come dine with us!
Chalk the Dale 6-8pm in Boniface Circle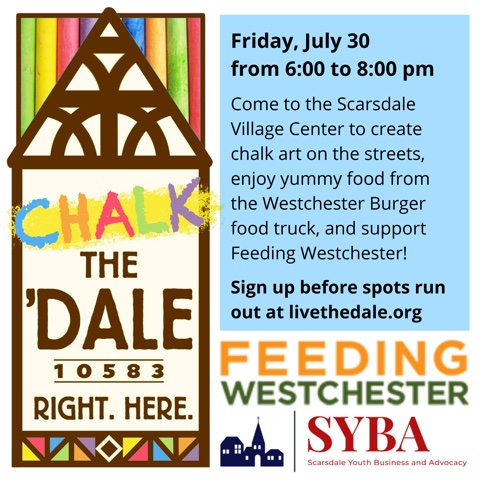 Back by popular demand, Chalk the 'Dale returns to Scarsdale Village Center on Friday, July 30 from 6-8 pm. This family event produced by the Scarsdale Youth Business and Advocacy Group (SYBA), is designed to bring the community together and add vibrancy to our Village while fostering creativity and raising funds for Feeding Westchester. Scarsdale residents are invited to create chalk art on Boniface Circle. To participate, residents should sign up at https://www.livethedale.org/chalk. The $10 admissions fee will be used to help defray the cost of supplies for the SYBA Feeding Westchester food drives.
ScentFluence Event 6pm - 8pm under the Dine the 'Dale Tent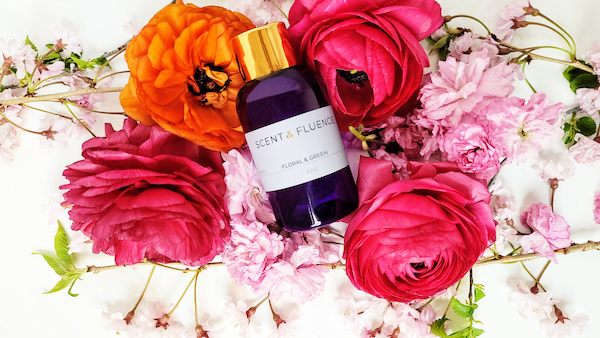 Challenge your kids and yourself to guess the scent! Scarsdale's own ScentFluence Aroma Design Studio invites you and your family to a fun and unique interactive scent event, with games, prizes for participants, as well as a raffle drawing. Plus... help us to create an original "Scent of Scarsdale." Stop by and let the smelling begin!
Saturday, July 31st
Sidewalk Sale 10am - 6pm
Music in Chase Park 12pm - 4pm
On Saturday July 31st, the last day of the Scarsdale Village Sidewalk Sale, there will be live music in Chase Park to make your shopping experience even more enjoyable. Three local bands will provide some stimulating summer vibrations to soothe your Covid-weary soul!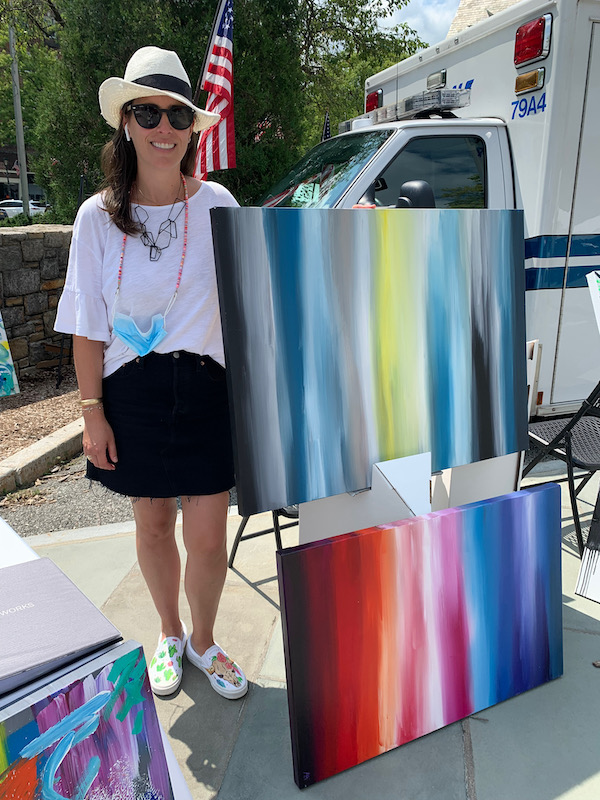 12:00 pm School of Rock
1:15 pm Sidewalk All-stars
2:30pm Where is Phi
Bring your lawn chair, blanket and picnic basket and relax in Chase Park while listening to some of Scarsdale's favorite musicians.
Scarsdale Says Goodbye to Village Manager Steve Pappalardo After 33 Years of Service
Details

Written by

Sammy Silberberg

Category: The Goods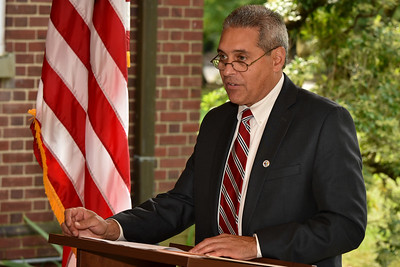 The Scarsdale Board of Trustees bid a bittersweet farewell to longtime Village Manager Steve Pappalardo, who has tirelessly served our local government for 33 years at their June 22, 2021 meeting which marked Pappalardo's last meeting.
During Mayor's Comments, Mayor Veron had many wonderful things to say about Pappalardo's dedication, work ethic, and love for the village. Below is an excerpt of her words:
"Steve, over the past 33 years, you have given every bit of your heart and soul to Scarsdale. There is no part of Scarsdale Village operations you haven't touched, and with your care, made that much better. You have risen through Scarsdale Village government to the pinnacle, serving as our Village Manager for these past six years. Throughout you have never missed a beat, working day and night to ensure that our residents and your staff are well cared for. Your work ethic is beyond compare, and you dive into the details to make everything right. From the very beginning of your tenure, no issue is too big nor too small for you to address. With sincerity and concern, you listen, support, and work to make things better. You are the true embodiment of public service."
Trustee Crandall followed and said she was "at a loss for words. [Steve has] been in Village Hall for the entirety of my volunteer career, close to 20 years… his work ethic is beyond compare. He works weekends, if there is any type of emergency, he is on it. He instructed our police chief to call him in the middle of the night if there is ever anything unusual… I thank you for all your hard work, your dedication, your service." Trustee Arest praised Pappalardo as a "dedicated and loyal public servant… a steadfast leader in times of crisis, a friend and mentor to many, and an invaluable source of knowledge."
Next up was Trustee Whitestone who commented that his deep appreciation for Pappalardo's work was "never more evident than during the last 15 months of unforeseen and unimaginable stress on the village… Steve maintained his firm stewardship of operations, the facts, and the finances which had to change on the fly, displaying throughout his signature calm and reasonable professionalism." He added that, "for Steve, this was not a five day a week job… he was always on the job. Ready to be present in the best sense of those words… I thank his family for letting us have so much of Steve's time." s
Trustee Lewis concluded the Board farewells and thanked Pappalardo "for the high standards you set for hard work, your dedication to our community, your humor, and most importantly for making our community a better place." Several residents, including Deb Pekareck, Max Grudin, Bob Harrison, and Michael Levine, also joined the meeting to recognize and thank Pappalardo for his work over the years.
Pappalardo thanked the Board for their kind words. Below is an excerpt from his parting words:

"Scarsdale has been a big part of my life… I only know one way to do this job, and you have to be all in. The job is not easy but it's so rewarding… by my calculations, after 33 years and 4 months… this will be my 800th regularly scheduled village board meeting, and I'm fixing to make it the best… Scarsdale is a special community… the residents, the heartbeat of this place, the caring about their village. It's an incredible place, people give so much of themselves and their time, and they are engaged and thoughtful on all important government matters. You couldn't help as a public official but to meet that, and to work as hard as they were working… I've always expected the best from our professional staff because of the standard you've set as volunteers… Thank you again for the opportunity to enjoy a fulfilling career in local government and public service."
At Last: New Dining Options in Scarsdale
Details

Written by

Joanne Wallenstein

Category: The Goods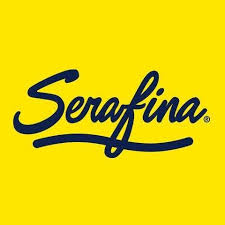 In a sign that happier times are ahead, we've noticed some new restaurants opening around town. After so many eateries closed their doors during the pandemic, it's great to see this infusion of new dining options in Scarsdale.
Serafina

First we noticed that Serafina, a local favorite for pizzas and pastas, will open in the Vernon Hill Shopping Center this summer, in the large space formerly occupied by Fig and Olive. The menu is already posted online and includes chicken, veal and fish along with antipasti and salads. Their website says they will be set up for online ordering and delivery too.
Here's a link to the menu.

The new Serafina will be located at 696 White Plains Road, Scarsdale. They will initially be open daily for dinner from 5 pm to 10 pm with lunch and brunch hours to be added in the future. Phone, 914-247-0500. Email: info@serafinarestaurant.com.
Aperiti Mediterranean Wine Bar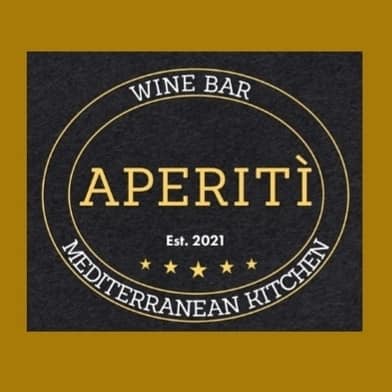 Another welcome addition is a wine bar and Mediterranean kitchen on Garth Road called Aperiti Mediterranean Wine Bar. It is run by the owner of Café Alaia, which relocated further up the street in the former location of Cooked and Co. The high top tables and stools spilling onto the sidewalk look like an inviting spot for a glass of wine and light summer dinner. Their post says, "Casual small bites, great wine list. Perfect for an impromptu night out with friends."
The menu is small but filled with tempting options. For appetizers there's baby octopus stew, baccala croquettes, lamb meatballs, fish and steak skewers, oven baked bread topped with prosciutto fresh tomato and manchego and more. There are salads, sandwiches and full entrees including grilled chicken paillard and paella. And of course, there's plenty of wine to choose from.
Stop by 66 Garth Road, Sunday – Thursday from 5 pm to 10 pm and Friday and Saturday from 5 pm until dinner wraps up. Phone: 914-713-4080.
Nonno's Restaurant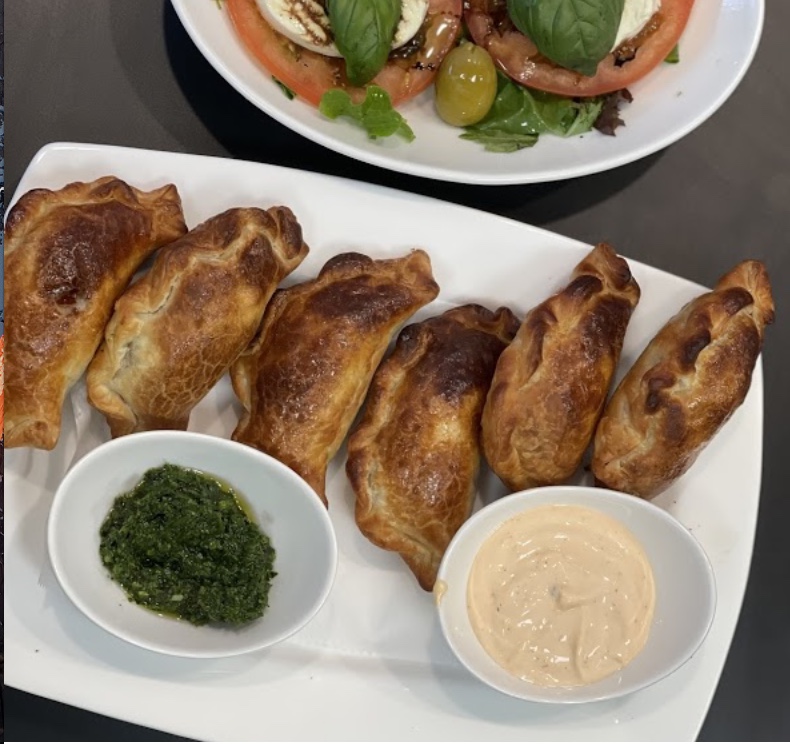 Just a few doors down at 62 Garth Road is another new kitchen offering take out or meals at a few tables inside and out. The cooks at Nonno's are Argentinian and there are delicious chicken and beef empanadas to eat in or take out. On the menu are pastas like Pasta Paolo, rolled pasta stuffed with spinach and cheese in marinara sauce, Linguine alla Vongole with clams and Homemade Gnocchi with broccoli rabe and sausage. Find Chicken Capri, a pan seared cutlet topped with mixed greens and Chicken Cardinale, a sautéed breast topped with prosciutto, eggplant and mozzarella. There are veal entrees, paellas, and grilled steaks, chops and seafood.

Also call for their daily specials at 914, 713-3947. Open Tuesday through Sunday, starting at 11:30 am.
Trustees Agree to Sell More Non-Resident Pool Passes to Narrow the Deficit
Details

Written by

Sammy Silberberg

Category: The Goods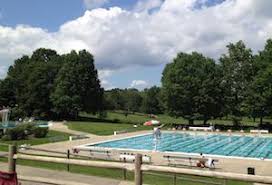 From the kiddie pool to the high dive to the snack bar, the Scarsdale Pool has always been a cherished facility in the village. In recent years however, the pool's membership has dramatically declined, and its aging infrastructure has become increasingly expensive to maintain and repair.
During a recent Work Session, the Board of Trustees debated the best way to increase membership and close the pool's financial deficit. Working with village staff, the Board drafted a Request for Proposal (RFP) so companies can bid on the project and make necessary improvements to the facility.
As of June 15, 2021, the pool sold 920 family resident passes, 97 family nonresident passes, and 113 individual passes. In total, all passes sold have accrued $755,042 in revenue, which is a distinctly lower number than in previous years. In 2011, the pool sold 1,766 family resident passes and this figure has steadily declined every year since. Given this year's figure, the village estimates a deficit of $117,958.
To address the deficit, the Board debated issuing an additional 50 nonresident passes to supplement the dip in resident sales. Sales at this point in the summer are often strongly affected by weather; several weeks ago, during the 90-degree heatwave, 384 permits were sold in just six days. While Scarsdale residents may continue to buy passes, the Board was hopeful that the strong demand for nonresident permits will close the deficit gap.
Trustee Whitestone, skeptical about issues of overcrowding, asked Village staff if they could present yearly attendance or percent capacity rates on peak days. He wanted to investigate further how an additional 50 passes would affect these figures. Superintendent Gray said that could find these numbers, but they will likely be inaccurate because typically only one family member will swipe their pass. Trustee Ahuja added that he does not think a little more data will change the debate at this point, and because time is of the essence, they should decide with the figures they have now.
Trustee Arest was also concerned with overcrowding, primarily because even if the pool is not nearing peak capacity, visitors tend to gather in the same areas, which intensifies the perception of a crowded facility. Superintendent Gray commented that the pool does start to feel crowded when it hits 1,300 attendees because they gravitate towards the most popular seating areas.
Mayor Veron added that kids leave for camp at the end of June, which could be an optimal time to open more pass sales. Trustee Whitestone emphasized the July 4th is a key marker, and it is important that the Board reach a consensus soon to capitalize on these holiday sales. Trustee Crandall agreed and said "the time is now" because if the Board waits too long, they cannot justify selling passes at full price.
Trustee Crandall declared that she would be in favor of selling an additional 50 nonresident passes, and Trustee Lewis agreed. He acknowledged that overcrowding is a potential issue, but said that the "numbers speak for themselves," and that the pool is not nearly at peak capacity with the number of permits sold this year. He noted that the Village must sell 200 resident family passes at $600 each to close the deficit and proposed a "simple and straightforward" plan that "keeps our eyes on the prize": Lewis suggesting that the Village adopt an aggressive marketing campaign to sell as many residents permits as possible in June. Then, starting in July, the Board could authorize as many nonresident family passes as it would take to bridge the financial gap. Trustee Lewis also added that if Scarsdale finds interested nonresidents, and given the context of this past year, "we should be welcoming to everyone."
In response to this proposal, Mayor Veron and others agreed that Scarsdale should adopt a robust marketing campaign for the remainder of June. Trustee Brew, in response to Trustee Lewis' proposal, was worried that selling more passes could have ripple effects in the following years. She asked what the Village would do if they had to revoke nonresident pass sales in the future, and how that change will impact public sentiment towards Scarsdale. Trustee Whitestone added that if people have the perception that the pool is crowded this summer, it could drive resident sales down in subsequent years.
Mayor Veron acknowledged that it is important not to let short-term revenue gain outweigh long-term impacts. She also pushed back on Trustee Lewis' feelings towards overcrowding by saying that the data doesn't show what residents see as the value proposition in their pass; is the value in being able to swim every weekday, or is the value in getting a prime spot next to the kiddie pool on a Saturday? While the pool is not close to peak capacity, Mayor Veron was wary that some residents may see less value in their pass if they cannot find space in the popular seating areas during peak hours.
Two residents provided the Board with their perspectives. John Schwarz asked the Village to consider the implications on parking capacity in addition to poolside crowding with new nonresident passes. He also suggested that the pool may be losing revenue because people have an increased desire to join clubs with multiple offerings. He recommended that during the renovations, staff consider making a joint pass with Crossway tennis courts. Finally, Mr. Schwarz suggested that the Board offer nonresidents pass holders the right of first refusal next year to preserve goodwill.
Resident Bob Harrison chastised the board, saying, "you've discussed this too much, it's simple… you've wasted a lot of time… don't worry about next year. Let's worry about today, let's close the gap." He stated that his family has been pool members for 40 years, and they go to the pool every weekend in the summer. Mr. Harrison said that he spoke with pool staff last summer who reported that the facility never had more than 1,100 attendees at once. He went on to say that over the years, the pool has reached 2,600 memberships, and yet there were no overcrowding issues even then. He urged the Board to sell more passes and move on to other matters.
Suggesting a compromise to Trustee Lewis' proposal, Mayor Veron proposed selling 25 nonresident family permits starting July 1 and another 25 individual passes. The trustees all agreed to the mayor's suggestion, and she authorized Village staff to sell these passes. The trustees also agreed to revisit the topic at the next meeting, evaluate how quickly the passes sold, and potentially authorize additional sales. Also, while nonresident senior citizens originally could purchase passes with the standard 50% discount, the Board agreed that going forward these passes will be sold at full price.
Local resident Bob Harrison sent in the following letter concerning pool memberships:
Harken ! Scarsdale residents, young and old, our beautiful '" GEM " of our outdoor pool complex needs you to join with your pool membership of choice NOW. The Rec Dept has an excellent choice of various memberships to meet our resident needs.
The pool complex has over seven beautiful acres of grass with 4 pools for all. The grounds are NOT overcrowded !!! Ten years ago the pool had over 2,600 +members. Today the membership is around 1,500. with an operating deficit.
We need 100+ new memberships or old members to rejoin the pool now.

We need Scarsdale residents to support our pool complex with some form of membership. The pool is a beautiful facility to support and preserve for our Scarsdale community.
You can register with the Rec Dept by phone at 722-1160 or online at www.scarsdale.com .
Contact Bob Harrison at 914 646-4054 cell phone or by email at proscars@aol.com to discuss the outdoor pool and the opportunity for various memberships including seniors .
Bob Harrison, Chairman
Scarsdale Taxpayer Alert