Lots of Laughs and Paddle Tennis Too at Fox Meadow Tennis Club
Details

Written by

Andrea Cantor

Category: The Goods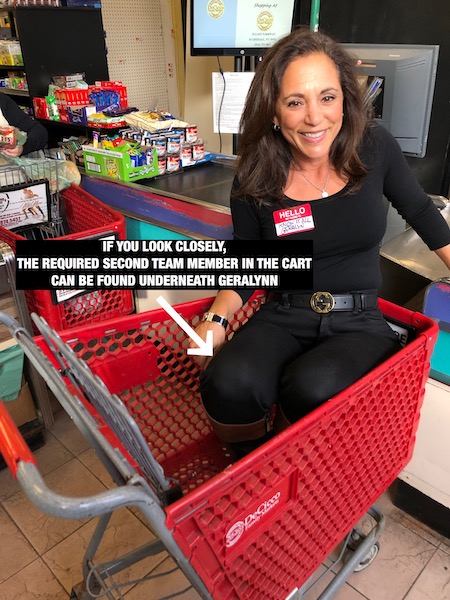 If you saw giggling adults climbing into a shopping cart or proposing marriage to a waiter at Moscato or dancing around a light post on Saturday October 26, you may have been wondering what was going on. Was it the Junior Class Road Rally? Or Scarsdalians gone berserk? No, it was Fox Meadow Tennis Club's first Scavenger Hunt that sent teams of four spirited players on a two-hour search of the Village to accumulate a long list of items and to make many embarrassing videos
The brainchild of Nanette Koryn, Debbie Graham and Ricky Sobel, the event proved to be a laugh a minute for almost 50 participants. Teams, with clever names like Bossy Pants and Know it Alls were given three lengthy sheets of instructions of items to be collected and tasks to be accomplished. Can four people sit on a swing at the same time? Could you walk up to a table of strangers eating dinner at restaurant and steal a French fry off their plate? Does anyone have the guts to ring a doorbell and run before the resident opens the door? You bet. The competitors reverted to teen behavior instantaneously and had a wonderful time completing their missions.
The team of winners received gift certificates for dinner at Colony Grill – and lots of kudos for their hilarious performances, captured on video.
And there's more than hijinks at the club. Founded in 1883, Fox Meadow Tennis Club (FMTC) has long been a distinguished part of the Scarsdale landscape. Besides its reputation of being a racquet club that prides itself on its warm social atmosphere and sense of fair play, the club enjoys a preeminent position in the world of platform tennis.


Platform tennis or 'paddle,' as it is affectionately known today, was invented in Scarsdale in 1928. In 1931, Fox Meadow built the first club court in the country. Today, it's estimated that there are more than 55,000 active players in the United States. We're proud that more national championships have been held on our courts than at any other location and Fox Meadow members have won more national titles than any other club.

Speaking of national championships – Assistant Paddle Pro, Ana Zubori and her partner Martina Ondrejkova won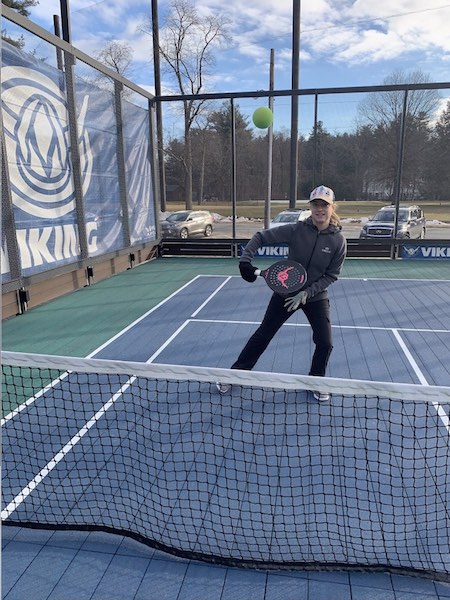 Assistant Paddle Pro Anna Zubori the Chicago Charities Grand Prix, one of the biggest events in the sport. Many of the best players across the country participated in this huge tournament on Saturday, November 9th. They won in the finals with a score of 6-4, 2-5 and a 3rd set nail bitter, winning 6-4. If you're new to the game or a seasoned player, outside players can take private or group lessons with our teaching staff.
Fox Meadow prides itself on their six Har-Tru tennis courts and nine heated paddle tennis courts, including six that are lit for night play. The clubhouse offers members a comfortable place to relax before and after matches, and a terrific place to view the tennis and paddle activities. As well, there are shower and kitchen facilities and our clubhouse can be rented to both members and non-members for private parties. Socially, there's never a dull moment.
Take Out or Eat In at Go Fish in Scarsdale
Details

Written by

Judie Dweck

Category: The Goods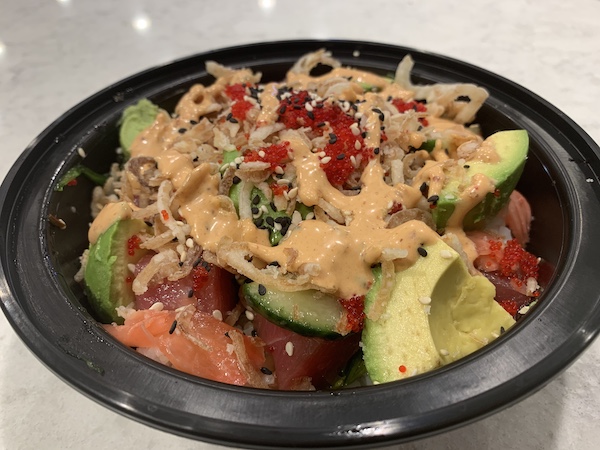 Poke BowlThe words go fish have taken on a new meaning. As a child, I remember those words as a delightful card game. In our Scarsdale community, it now is the name of a new dining concept conceived by Rick Ross, the owner of Eastchester Fish Market and Eastchester Fish Gourmet Restaurant.

It's early afternoon and you are ready for a quick lunch or it's nearly dinner time and you are not in "a cooking mood" but would like a nice fish dinner for your family. Any time between 11 am and 6 pm stop in at Go Fish, the newest addition to the Eastchester Fish Market and Fish Gourmet group of upscale operations. At Go Fish, the excellent quality of fish and seafood that we have grown accustomed to at the market and restaurant are available at the new take out or eat in super casual Go Fish.

I chatted with general manager Robert Pedott, who explained that Rick Ross, the owner, opened the fish market in 1981 where our communities can avail themselves of the largest and freshest variety of fish and seafood. This was followed by the opening of Eastchester Fish Gourmet in 1987, where the talented kitchen staff prepare top quality dishes. Pedott indicated that being in the fish business means very long hours. He described Go Fish as "a casual accessible high quality take out seafood spot. We are unique. Keeping up our high standards is necessary." Both Ross and Pedott have been in the fish business for a long time and are very knowledgeable about their product. Ross had a vision for each of his businesses and he felt a need for a takeout option. The space next door to the fish market became available. With its own kitchen, it is a simple, compact spot seating about 16 guests. A takeout counter, television, a shelf of help yourself condiments and a beverage refrigerator fill the space. Take note of the artwork of the old New York fish market by the well known artist Naima Rauam, that grace one wall.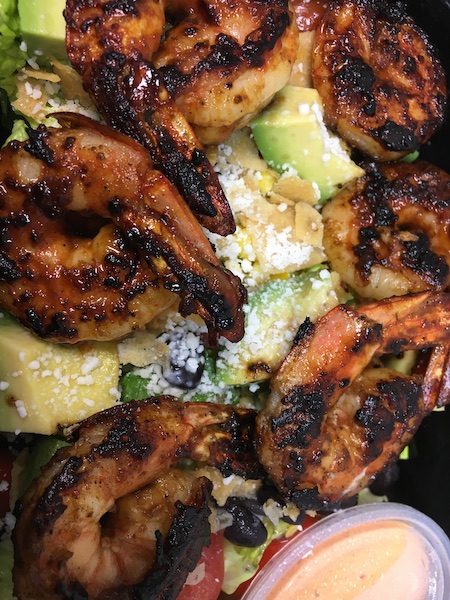 Chipotle SaladWith cool weather arriving, a bowl of hot soup is a perfect antidote for the chill in the air. At Go Fish both Manhattan and New England chowders are offered. I sampled the New England variety which was excellent. The chopped clams and cubed potatoes swam in a wonderful creamy broth, truly heaven in a bowl. I also savored the shrimp and corn chowder. Here, potatoes, green and red bell peppers, corn and segments of shrimp thickened the flavorful broth. Yet to be tried is the Manhattan style chowder.

Salads here are divine combinations from chipotle salad with romaine, corn, black beans and caramelized onions among the ingredients, to an iceberg and radicchio chopped salad with Kalamata olives, hearts of palm, with an oregano creamy dressing. The one I especially enjoyed was the kale and quinoa salad with golden raisins and pistachios tossed in a honey orange vinaigrette. Add salmon, shrimp, fried oysters, grilled chicken, tuna or salmon salad and you have a complete meal.

Go Fish serves a variety of south of the border specialties. I liked my seafood quesadilla. The tortilla was filled with fresh as could be scallops, crabmeat and shrimp, enhanced with cilantro, onion, black beans and Monterrey cheese. Served with housemade salsa it was quite good. On return visits I will try mahi mahi shrimp or chicken tacos. Each serving of two tacos is filled with the protein of your choice, chipotle seasoning, pico de gallo, shredded lettuce and cotija cheese. A variety of burritos packed with rice, black beans, onions, peppers, cilantro, cheese and your choice of mahi mahi, shrimp or chicken is accompanied by homemade chips.

Among the house favorites is the EFG Crabcake. The bountiful crab filling with bits of red and green bell pepper, is nicely crusted and served with a choice of housemade French fries or sweet potato fries. The chipotle dipping sauce is a fine accompaniment. Fish and Chips and Shrimp and Chips are excellent here. The cod is very fresh and flaky and dipped in a beer batter for a crisp, non oily result. The jumbo shrimp and chips was another winner, which we enjoyed with wedges of French fried potatoes. If you are feeling guilty ordering fried dishes, try the shrimp and avocado, a half avocado filled with shrimp and guacamole.

Even the sandwiches are enticing here. From our southern states we have a fried west coast oyster po boy or shrimp, as well. There are housemade tuna or salmon salad sandwiches, grilled mahi mahi, and fried eggplant sandwiches to enjoy.

Poke bowls have become a popular trend. At Go Fish, the generous bowl is layered with white sticky rice or brown rice, seaweed salad, avocado, crisp shallots, cucumber, pickled ginger and black and white sesame seeds. Tobiko added color. We had ours topped with sushi grade tuna. If raw fish is not on your agenda, try your poke bowl with cooked shrimp. These poke bowls are a symphony of textures and tastes.
You can order on line and pick up your dishes, stop in and order to take out, or sit down and enjoy these varied dishes from 11 am to 6 pm Monday through Saturday.

As I savored my dishes, one guest was preparing to leave. General Manager Pedott said thank you for coming and her response summed it up when she responded "thank you for being here."

On just one block on White Plains Road in Scarsdale, we can satisfy our craving for high quality seafood, whether you wish to prepare it yourself at home, enjoy a leisurely meal at EFG and most recently enjoy a quick lunch or takeout at the new Go Fish, where quality seafood, pristinely fresh at affordable prices await you .

Go Fish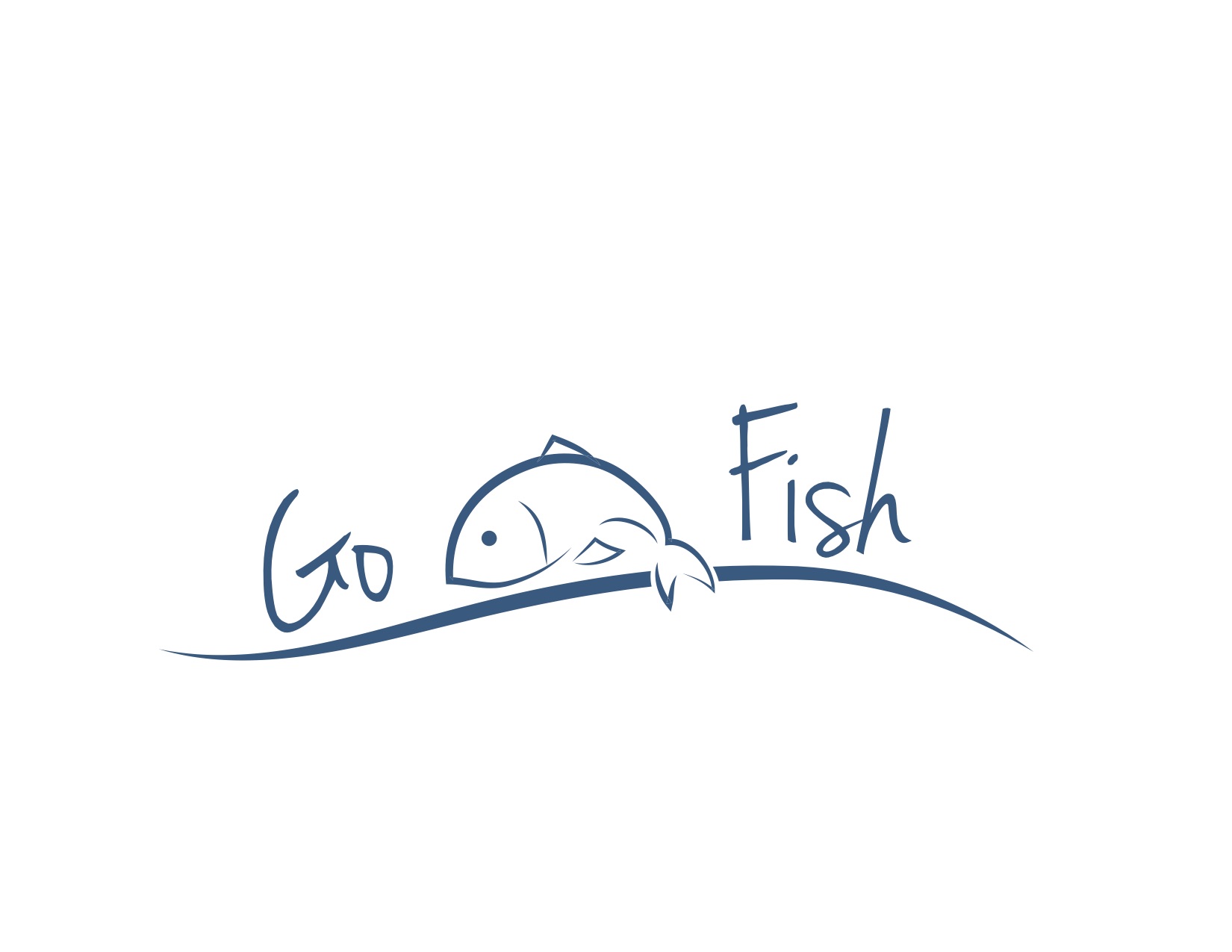 839 White Plains Road
Scarsdale, New York
914 723 3450 ext. 5
Bronxville Welcomes Tredici Social
Details

Written by

Judie Dweck

Category: The Goods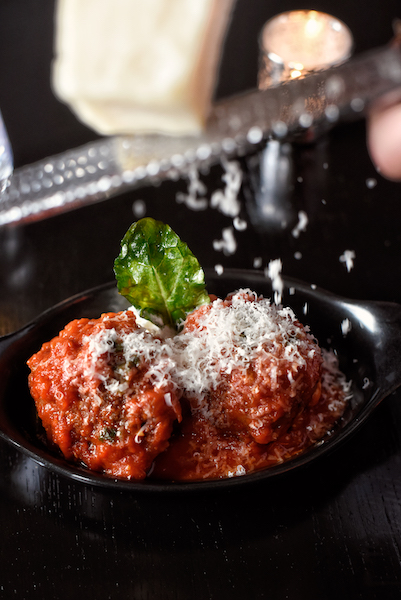 Inside out meatballsThe charming village of Bronxville has recently become the home of Tredici Social. With its convenient location across from the train station and steps away from the Bronxville Cinema, this cheerful sister restaurant of Tredici in Purchase is a welcome and unique addition to the Bronxville restaurant scene.

I chatted with co-owner Michael Colucci who described Tredici as, "A contemporary Italian restaurant serving dishes based on tradition with a most interesting modern flair. We serve superior Italian food that is creative and uniquely our own. Our guests enjoy a formal dining experience in a casual atmosphere." Colucci loves Bronxville because it is quaint and community oriented. "We hope to become a part of the fabric of the community and get to know our guests. The best part of the business is the people. Our goal is to have everyone who dines here exits in a better mood than when they entered. "If Colucci could invite anyone to Tredici Social it would include his grandfather who loved food and wine and was his best friend, as well as Anthony Bourdain who had an adventurer's spirit.
Heading the kitchen is Executive Chef Giuseppe Fanelli who hails from Puglia. His wide experience ranges from culinary school to the kitchens of many well known New York restaurants such as Felidia, and Rao's, as well as appearances on the Food Network. He was winner on Chopped where he contributed his expertise on meatball madness. He and Colucci owned Tredici and Tredici Steak in Manhattan until the building was demolished. They are the proud owners of Tredici North in Purchase and are excited about their new venture Tredici Social in Bronxville.

The décor has a modern edge which compliments the fascinating food. The space has been transformed from Kraft that preceded it. Seating about 50 guests inside and just a couple of tables outside, sets an intimate feeling. The color scheme of black, white and red is striking. A very friendly bar is at the front of Tredici Social, which fills up quickly on a Sunday afternoon when the movie theater empties out. An elaborate silver framed mirror hangs behind the bar and geometric red, white and black lighting fixtures illuminate the room. One wall displays black and white drawings by Banksy, cleverly mounted on large red acoustic sound absorbing mats which serve the double purpose of art display and helping with the noise level. Bravo to the owners who payed attention to comments of early guests about the noise level. Two glass checkerboard style screens add interest to the room. Black flocked wallpaper and a silver tin ceiling add to the eclectic atmosphere.

We sampled 3 of the 6 appetizer choices. Tuna Tartar appears on so many menus. Here, the chef prepares a truly creative variation of the dish. The sushi grade ahi tuna combines with soy sauce, sour cream, chopped charred jalapenos, wasabi oil, and black Himalayan salt. Sprinkled with mustard seeds, this mixture rests atop a puree of avocado and cucumber slices. Housemade waffle potato chips are the perfect "utensil" to scoop up the beautifully seasoned tartar mixture. One of the signature appetizers here are the "Inside Out" meatballs. Veal, pork and beef are combined for the large meatballs which are stuffed with ricotta, mozzarella and fontina chesses. They are sealed and rolled in panko crumbs and fried to form a crisp crust. The large meatballs are garnished with a chunky plum tomato sauce, housemade, of course. This was quite filling and could easily have been served as an entrée or a shared dish. Bang Bang Shrimp is another popular appetizer. Here, several jumbo tail on shrimp are awaiting to awaken your taste buds. They are sautéed with gigante beans and flavored with Meyer lemon and roasted sliced garlic. An abundance of red pepper flakes heat up this dish. Toasted bread triangles tone down the spiciness of the sauce and serve to balance this appetite wake up dish. Upon future visits I look forward to sampling Chef Fanelli's version of wild mushroom arrancini, artichoke salad and super greens Caesar salad with organic spinach, kale and Swiss chard.

Moving on to the entrees, there are several pasta choices. We chose the lobster ravioli and it proved to be a fine choice. The homemade burrata filled raviolis were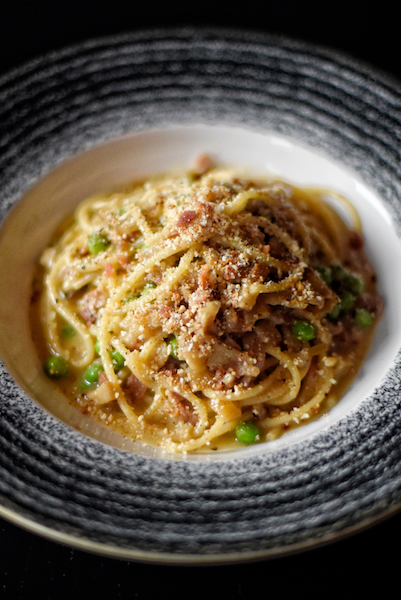 Spaghetti Carbonara presented in the center of a black and white contemporary plate. Surrounding the pasta was a mélange of chopped Maine Lobster, hence the name lobster ravioli, sweet corn, caramelized onions, English peas, baby spinach and yellow and red grape tomatoes in a light creamy sauce. This colorful dish was one I would order again…it was soooo good. Spaghetti carbonara, linguini vongole, garganelli ubriaco are each homemade and I look forward to seeing the innovative touches that Chef Fanelli adds to each of them. Salmon is often my fish of choice. I have enjoyed it prepared many ways. At Tredici Social the presentation was quite unique and tasty. A large portion of organic salmon was topped with a browned crust of breadcrumbs, smoked salmon and horseradish. It was surrounded by roasted fregola in tomato sauce and garnished with haricots verts and heirloom grape tomatoes. Free range chicken scarpariello style, grilled prime hanger steak and veal t bone parmigiana claimed to be, " the best in the city" are each prepared with Chef Fanelli's creative touches. He certainly has the skill of transforming a simple ingredient into a memorable dish. The menu is concise and each dish I tried had Chef Fanelli's signature on it.

Complete your meal with one of their sweets. They are homemade and would appeal to sweet lovers of any age. For the chocolate lover, try the Bronxville Blackout Cake. For the classic enthusiast there are tiramisu and vanilla panna cotta. Very popular is the Nutella semi freddo, a chilled Nutella mousse with vanilla gelato, whipped cream, toasted almonds and mixed berries. For the child in you try the cookies and cream, a vanilla milkshake with oreo cookie crumble and a black and white cookie.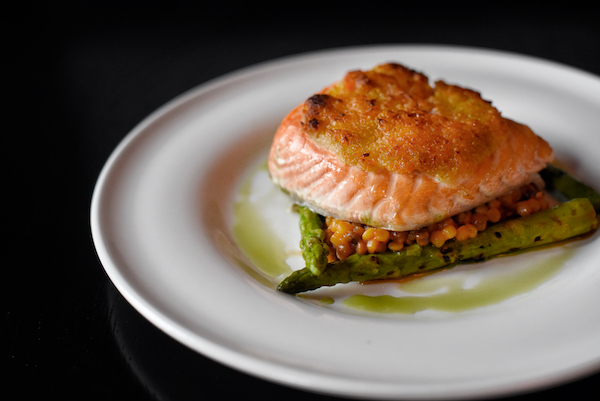 Organic SalmonOn Saturday and Sunday, Tredici Social serves brunch with over a dozen choices. There is a dish to please every taste. With the Bronxville Cinema a few doors away, brunch would be a fine choice before a late afternoon film or after a morning performance. Among the tempting possibilities are a lobster club, a fat bastard brunch burger with bacon, cheese, mushrooms, caramelized onions, beer battered onion ring, avocado and fried egg. Steak and eggs, several pasta choices, chicken and waffles, potato pancakes, each in unusual preparations, eggs Benny over Maryland crab cake, tiramisu French toast and classic buttermilk pancakes…..Quite a selection of dishes. Original "Bubbly and Bloody" choices are offered to complete your brunch.
Enjoy brunch or dinner and socialize ate the friendly, welcoming Tredici Social in Bronxville soon.

Tredici Social
104 Kraft Avenue
Bronxville
914 793 1313
Class of 2020 Turns Out in Costume for Halloween Breakfast
Details

Written by

Joanne Wallenstein

Category: The Goods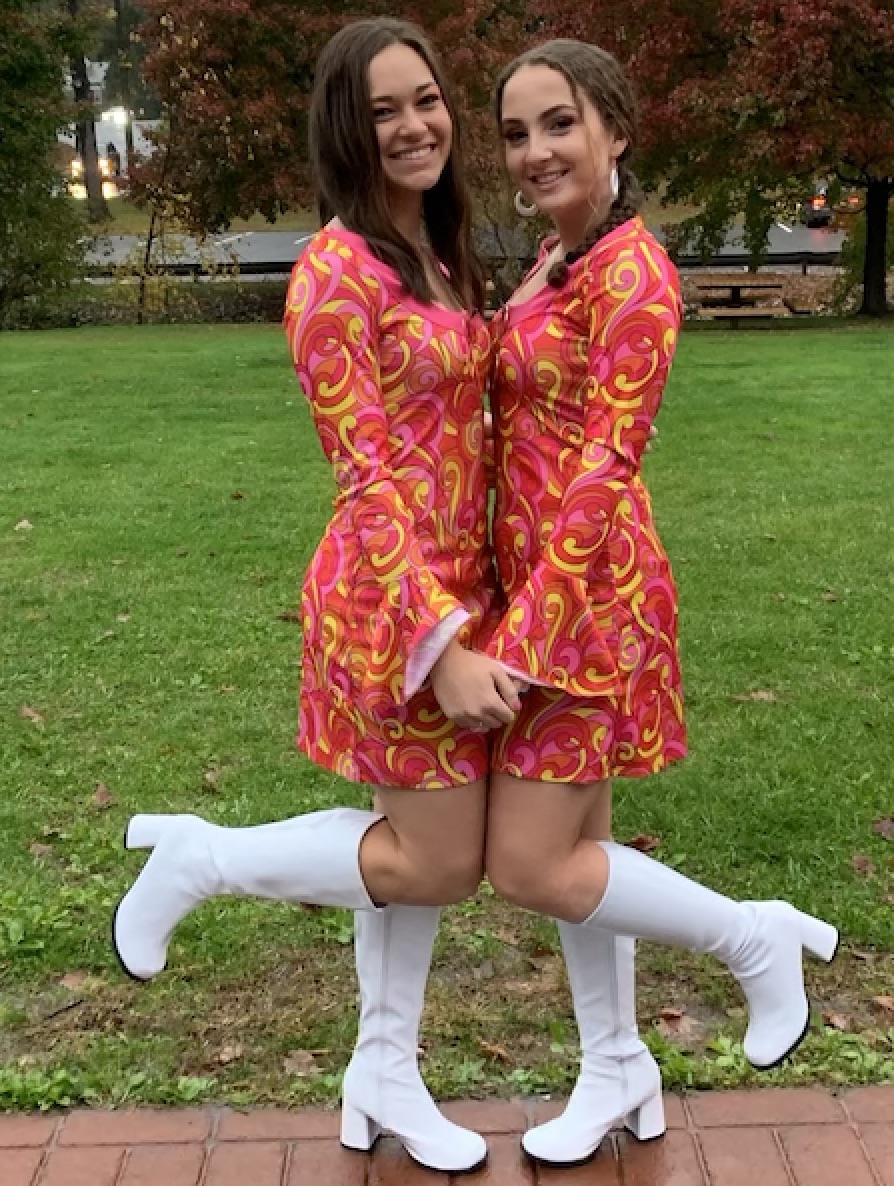 Every year the costumes get more innovative – and this year's display showcased the creativity of the Class of 2020. Though bad weather was threatening, mother nature cooperated permitting the costumed class to do their dance in the plaza of the school for the Halloween Breakfast on October, 31, 2019. Elaborate face paint and blood held us despite the morning drizzle.
We spotted big groups of cartoon characters, superheroes and smaller sets from Alice in Wonderland, the Avengers and the farm.
Check out the blow-up cows with inflated utters, giant sumo wrestlers, disco girls, go go dancers, Napoleon and Josephine, a line up from "The Shining," gorillas, Ninjas, tourists, dinosaurs, cheetahs, pandas, little red riding hoods, and all types of furry animals.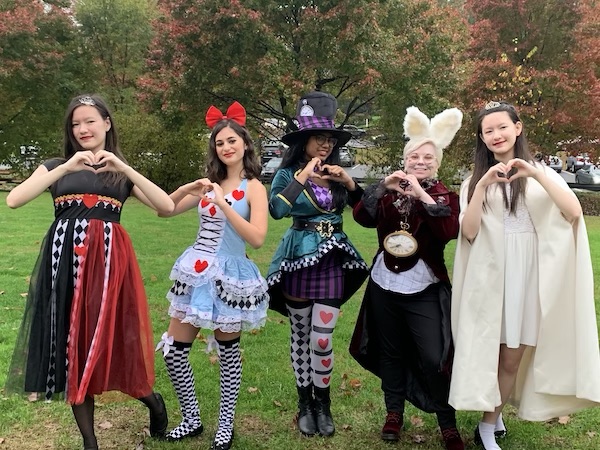 Visibly absent were any political candidates, with the exception of Bernie Sanders who did some time travel to argue with Napoleon.
The teachers got into the act as well - guess which teacher is posing as a snake and see the three assistant principals Andrea O'Gorman, Chris Griffin and Chris Welsh below.

Perhaps it's the seniors favorite day of the year – and it's ours as well!

For those trick or treating tonight, some streets will be closed to keep it safe.
Here are the street closings:
Fox Meadow: From 6:00 PM to 8:00 PM

Brewster will be closed from Fenimore to Butler
Hampton will be closed from Cohawney to Chesterfield
Shawnee will be closed from Cohawney to Chesterfield
Cohawney will be closed from Brite to Kensington
Chesterfield will be closed from Brite to Kensington

Edgewood: From 5:30 PM to 7:30 PM

Hamilton will be closed from Drake to Edgewood
Jefferson will be closed from Drake to Rodney
Rodney will be closed from Nelson to Madison
Richelieu will be closed from Nelson to Madison
Halloween coverage is sponsored by Julia B. Fee Sotheby's International Realty of Scarsdale.
Raiders Down Tigers In Field Hockey Rematch Thriller
Details

Written by

Ray Cooper

Category: The Goods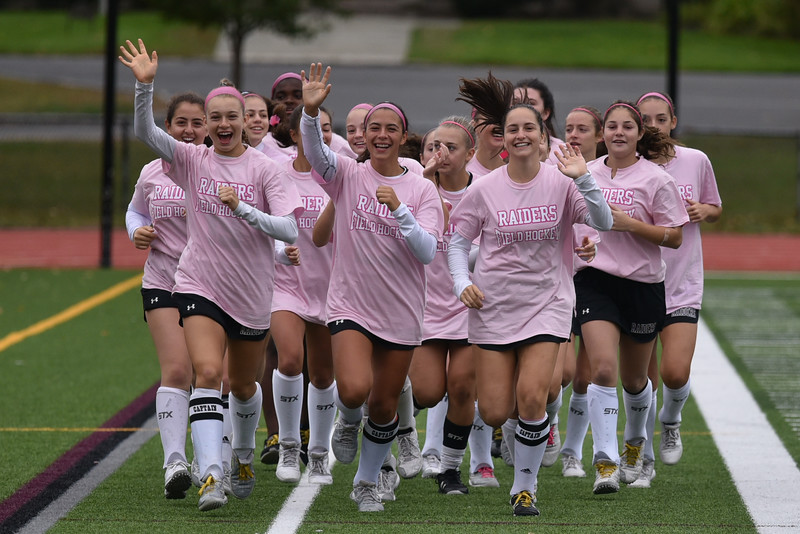 On a cloudy morning on Saturday October 12, the Scarsdale Raiders Field Hockey looked to defend their home turf against their eternal antagonists, the Mamaroneck Tigers. The teams had battled earlier in the season with the Tigers coming out on top 3-2. In another tightly contested affair, marked by stingy defenses on both sides, the Raiders won what was probably their best game of the season and earned an exciting 1-0 victory. Coach Lauren Barton remarked: "The guys were fired up for this one…. We had prepared for a competitive and intense game."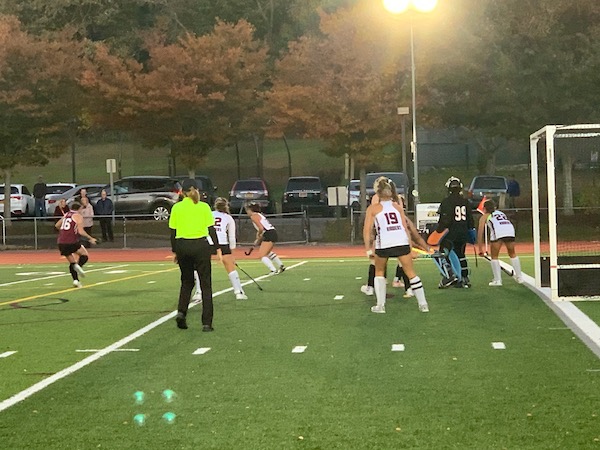 Sophie Carroll blows by the Tigers defense.Both teams sat atop their conference 1 and 2 with the Tigers boasting an 8-1-1 record and Scarsdale at 9-3-1. The Raiders were coming off a tough week marked by a 3-0 loss to the number 1 rated Lakeland and a 3-3 tie against unheralded John Jay. The Raiders were sporting their home "pink" uniforms (marking Breast Cancer Awareness) and showed no ill effects from the tough week.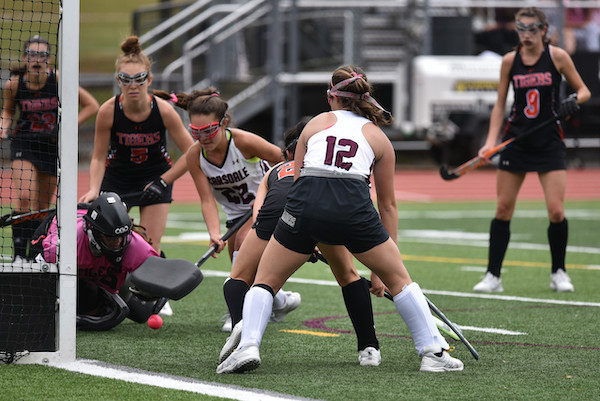 Andie Novenstein and Haley Matusz trying to knock this ball home in the first half.The first six minutes of the match had most of the action in the mid-field with the teams alternating possessions and looking for an early advantage. At this point in the game Scarsdale had its first opportunity as attacker co-captain Sophia Franco sent a ball toward the Tigers goal that the Raiders couldn't convert to a score. Mamaroneck then took the ball down the field – only to be repelled by Sophia's sister – defensemen Olivia. Olivia made multiple key stops all morning long and, combined with Emily Felder, kept the Tigers away from the Raider's cage. Fellow co-captain Liz Scarcella also made strong contributions to the defense from her middie position, as well as Andie Novenstein from her attack position early in the first half and throughout the match.
The next 10 minutes saw much of the same with the teams moving the ball largely in the middle of the field. The Tigers Ava Gristina, who scored twice in the first game between the teams, almost teamed up with fellow Sophomore Laine Pearson for a quality drive, but they were stopped by Scarsdale Freshmen defender MJ Callahan.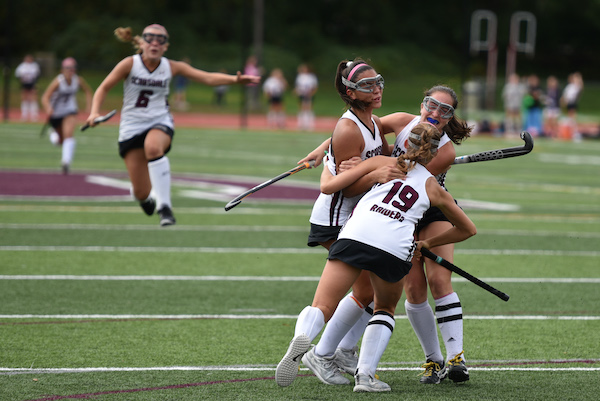 GOAL!! Raiders celebrate what proved to be the game winner.At the 13 minute mark, the Raiders were awarded their first corner. After a flurry in front of the Tiger's goal off the corner – Mamaroneck goalie Samantha Maresca had to come way out of her cage to clear the ball. At that point controversy struck. Scarsdale appeared to have scored a fantastic goal to break the deadlock off a long pass from the Raiders to a teammate who converted the ball into what would have been a beautiful goal. However, after much cajoling from Mamaroneck Coach John Savage the referee ruled that the goal came from a shot that took place outside of the circle – and disallowed the goal. Scarsdale kept the pressure on the rest of the half – with co-captain Sophie Carroll's shot stopped by Maresca, but with Novenstein nearly knocking in the rebound with five minutes left in half. The last two minutes of the half saw a lot of action as Scarsdale's second corner of the game almost led to fantastic scoring opportunity if not for the stop by the Tigers Sophie Showers with 1:30 left. The half ended with the Tigers first corner being easily stopped by Scarsdale and the contest deadlocked in a scoreless tie. The half saw a sharp reversal in what has been Scarsdale's biggest problem – giving up corners which have led to several goals throughout the season. In fact, the Tigers did not have a shot on goal off a corner (or any other reason) all half.
Coach Barton exhorted her team during the halftime break and the Raiders took the field for the second half with much enthusiasm. With only 2:30 gone in the second half, Carroll passed the ball near the Tiger goal and the Raiders almost had their first tally of the game. Carroll continued to put pressure on, leading to another Scarsdale Corner with four minutes gone. Two minutes later, Scarcella led a corner that presented a golden opportunity but Maresca came way out of the goal to clear the ball.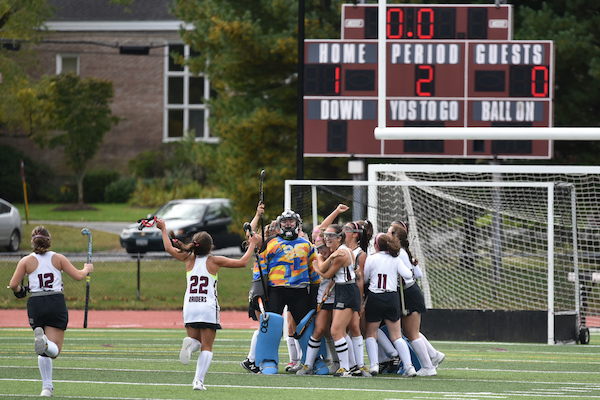 Raiders celebrate their victory.Scarsdale controlled much of the tempo for the next six minutes of the match – with a few chances causing Maresca to make multiple saves. At around the midpoint of second half, Novenstein had a shot that just missed the goal. Mamaroneck had its best chance to score a few minutes later – with eight minutes left in the game – but Scarsdale goalie Angela Hoey made a kick save, preserving the scoreless tie.
A few minutes later the tigers had a corner – but Carroll took the ball away and drove downfield – leading to a Scarsdale corner with just under four minutes left in the affair. At this point, the play of the game took place – as Sophie Carroll took a Scarcella pass and banged it home with 3:45 to play. The Raiders celebrated en mass – pouring onto the field – as they realized that this was probably the most important goal they have scored to date during the season. The series of events was recognized by Franco as she said, "I was very excited to score that goal. We've been working very hard all season to get better on offensive corners." Both teams were mentally and physically spent from such a fast paced intense game at this point – but Scarsdale did not fall into a defensive posture - keeping the pressure on for the remainder of the game. Novenstein drove the ball down the field and the game ended with the ball on the Mamaroneck side of the field. The team exploded onto the field in celebration and the general feeling was summarized by Scarcella: "The last few weeks we put in a lot of time and the team is so happy to have won here."
The win serves as a major message to the rest of the conference that the Raiders are a major threat going into the later part of the season and the playoffs. When asked the differences between Saturday's and the previous game against the Tigers, Barton was quick to say: "We were much more patient on defense and more composed throughout the game. We gave up a lot fewer corners." The Coach also praised her team's ability to thrive against teams that may be over the line on physicality by saying: "I'm proud of how our team receives praise for our sportsmanship. The referees remarked to me about this after our game against Lakeland and it helped today. Our team plays the game the way it should be played."
The win against Mamaroneck was the Raiders first against this foe since the 2016 conference championship team accomplished the feat. The Raiders hope to continue their winning ways as they take on Fox Lane on Monday Oc
Photos by Jon Thaler - see more and buy yours here: